---
Lipstick lovers, I'm elated to share My Top 5 Everyday Lip Colours with you today to kick off the return of beauty content here at JustineCelina — my first dedicated BEAUTY post in nearly 2 years! I'm thrilled to introduce a brand new series called MY TOP 5, where I shared tried and true beauty staples across categories. If you follow along with my FASHION content, you'll likely be familiar with my philosophy of investing in wardrobe staples — and that mindset also trickles into my 'beauty wardrobe'! While I absolutely love to experiment with beauty trends and keep up-to-date on the latest colours, textures and methods, I also have a core collection of well formulated beauty staples that I find myself wearing most often.
Today I'm kicking things off my sharing My Top 5 Everyday Lip Colours —  the ones that live in the bottoms of bags, that I've gone through multiple tubes of and that you'll find me in whenever I'm in mood for a flattering my lips but better shade! These are my most worn, most loved lip colours — the ones I most often recommend to friends and family. The formulas are luxurious and nourishing, they're easy to use and wear and they make your lips look perfectly defined, plump and juicy! My Top 5 Everyday Lip Colours are flattering on a wide variety of skintones and age ranges — and I've recently updated this post in 2021 to include recent favourites and drugstore dupes! Pull up a seat at my vanity and let's chat about my all-time-favourite lipsticks, glosses and lipliners across price points while I update you on what you can expect here in the JustineCelina BEAUTY department moving forward!

---
BEAUTY CONTENT UPDATE
---
If you read my 2018 Review + 2019 Goals post, you'll know one of my goals was to bring BEAUTY back to JustineCelina this year in a more meaningful way. Today, after many emails, comments and DMs requesting its return I'm thrilled to be doing just that!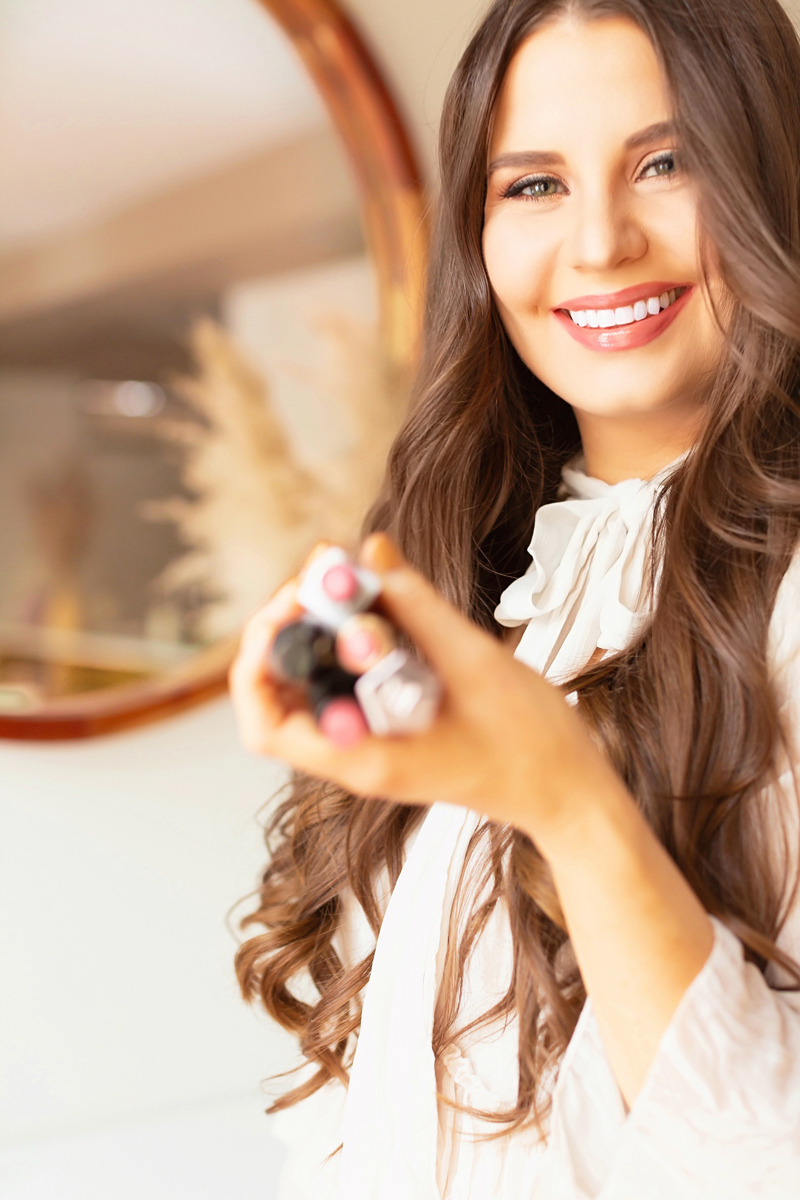 Up until 2018 when I decided to put BEAUTY on hold to pursue HOME based content and get our SPACE REFRESH series off the ground, JustineCelina had a fairly prominent beauty focus — and it's also where I secured the majority of my sponsorships. I was madly in love with all things BEAUTY from 2014 (even before starting JustineCelina), until about 2017. My beauty blogging career began in 2015 — and producing a steady stream of posts while also having the privilege of working with Sephora Canada was an absolute dream come true.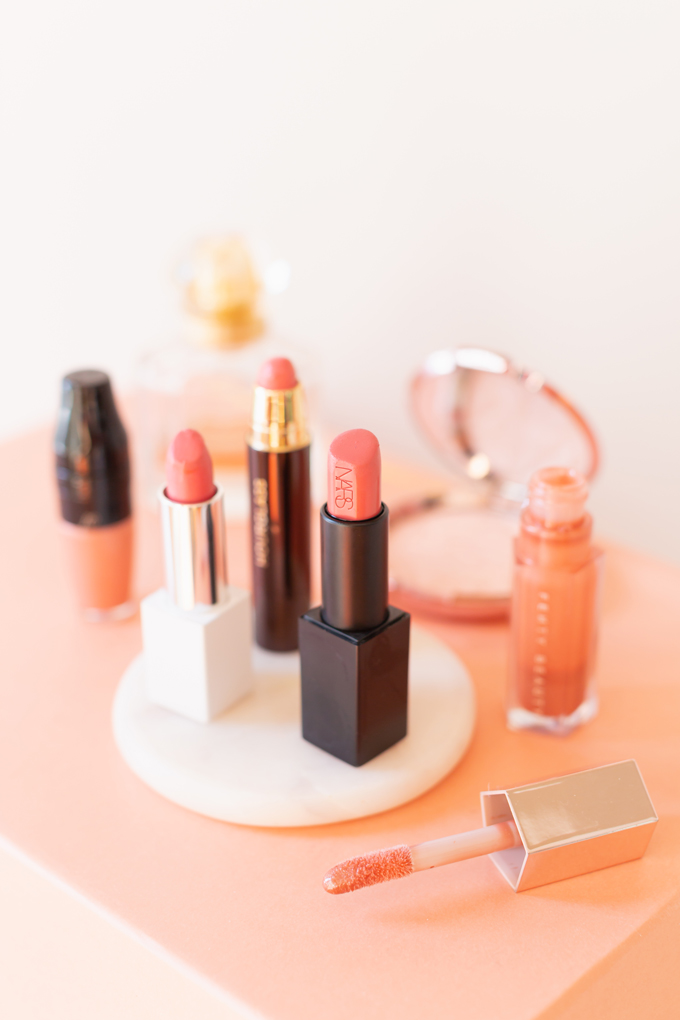 The industry, trends, my preferences and lifestyle have change significantly since then — and over my blogging career I amassed quite the collection of products. Although I was fortunate to receive press samples, I also purchased the majority of the products you see gracing these pages myself. This facilitated extensive beauty research, exploration, learning and the creation of some fantastic content while being able to offer my best recommendations, but it also became quite cumbersome. I didn't want to continue to purchase and review BEAUTY products at the rate I had been and I also didn't want to promote that magnitude of consumerism — I knew something had to give.
Now that our SPACE REFRESH series is thriving and I've had a chance to reflect on the type of BEAUTY content I'd like to produce (while working my way through tons of makeup!), I'm elated to reintroduce beauty to JustineCelina — but things are going to look a bit different!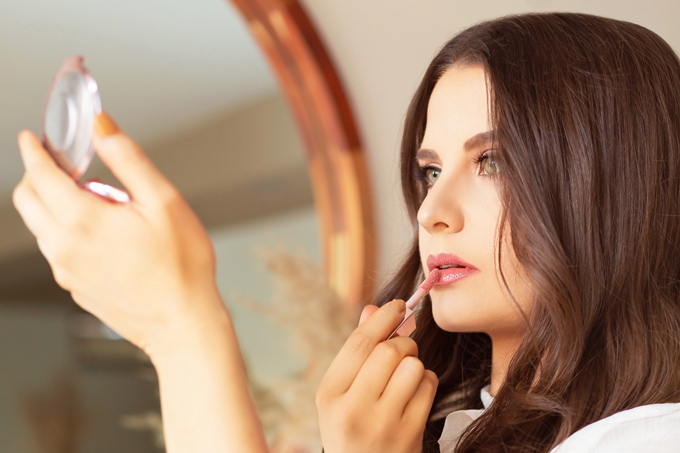 I started shooting beauty content on my iPhone in square format in 2015 (yes, really!) — I did the best I could with what I had. Since this blog's inception I've learned a ton about photography, purchased a professional set-up and completely changed the way I capture imagery. My taste has become more sophisticated, as has my desire to showcase topics in a more elegant and creative way. So, I'm doing away with the monotonous arm and lip swatches coupled with flowery flatlays you're used to seeing — in favour of content that's more artistic, and that I believe showcases the products, shades and formulas more beautifully (and accurately!).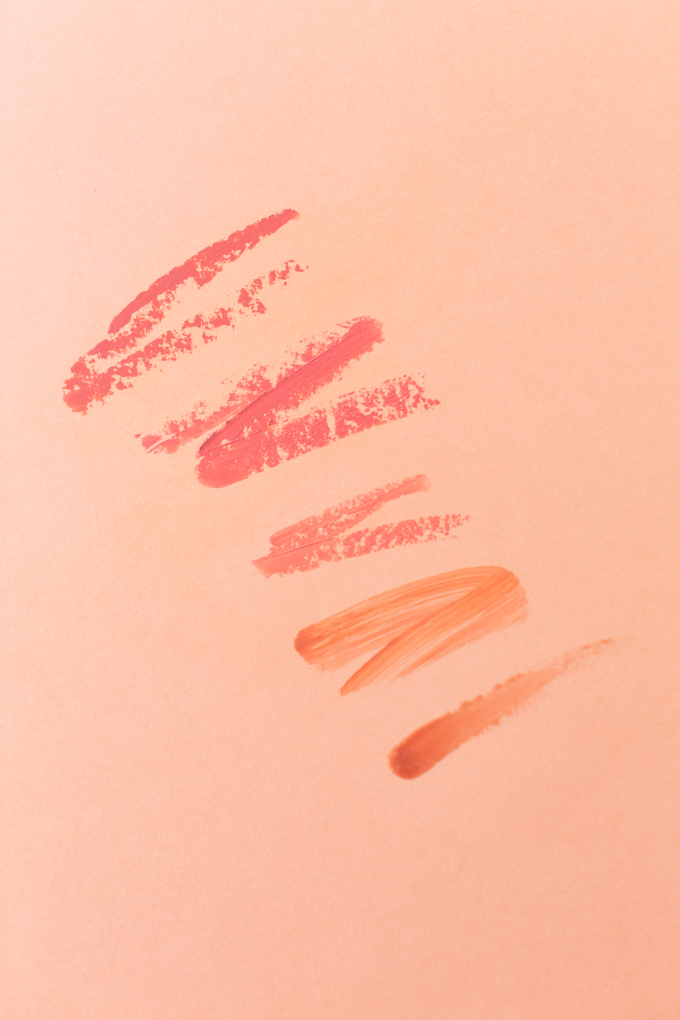 So, what type of BEAUTY content can you expect moving forward? While I won't be returning to Monthly Beauty Favourites or purchasing every hot new release to review, I'll instead be sharing my favourite products, techniques and beauty knowledge with you in a more thoughtful and relatable way. I'm planning fewer posts with carefully curated products — sprinkled with education and inspiring imagery fusing FASHION, beauty and my love of editorial, experimental photography.
You can count on JustineCelina to share products, techniques and beauty knowledge in a thoroughly researched, carefully curated, relatable way. I believe beauty should be accessible, inclusive and practical — and I promise to continue to spotlight and align myself with likeminded brands. My goal is to inspire you to make use of what you have by getting creative, trying new techniques and making more discerning purchases. One thing that's remained constant is my desire to look feel like the best, most confident version of myself — and help you do the same!
So without further ado, I present you with my all-time-favourite my lips but better lipsticks, liners and glosses! These are the ones that stand out in a sea of about 150 lip products — the absolute cream of the crop and my top recommendations in the lip category.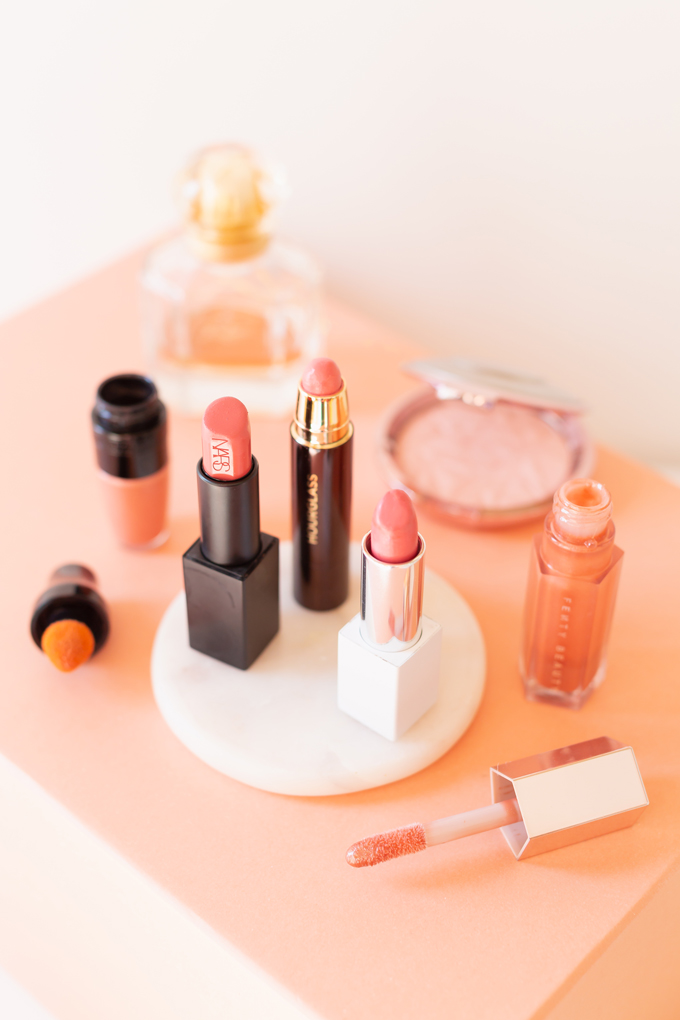 ---
MY FAVOURITE 'MY LIPS BUT BETTER' LIP LINERS
---
Whenever I'm looking to achieve a natural, flattering my lips but better look, I always start things off with a lipliner that mimics the shade of my own natural lip. It can be quite difficult to find your perfect your lips but better liner — but once you do, you can line your lips to any shape and fullness you desire! Personally, I like to slightly overline my top lips, making them appear a bit fuller and longer and also even them out (my left side is a bit thinner than my right!) before feathering the colour in to add fullness and dimension. This also create the perfect canvas for any nude or neutral lip and also increases wear time of your favourite lip product!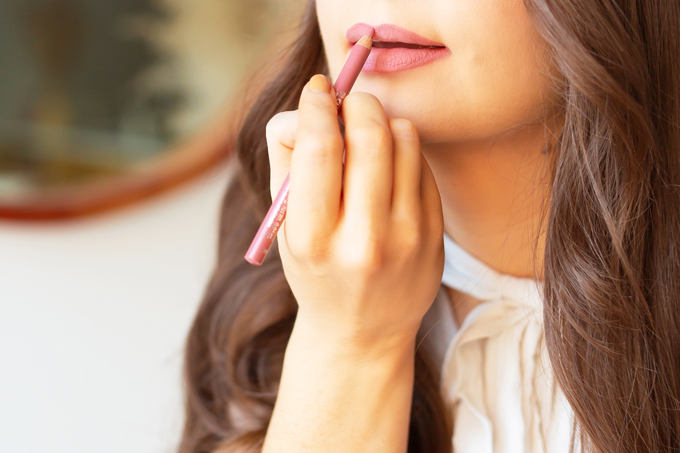 I have quite pigmented lips naturally and over the years I've grown to love their warm pink shade. I found my absolute lipliner match in Colourpop's limited edition Lippie Pencil in Polite Society (a warm, pinky nude — original review here), which of course, is no longer available after working my way through the entire pencil! Colourpop makes my all-time-favourite lipliners (beating out many high end competitors at a fraction of the price!) and I've recently (in late 2020) found a nearly  identical option in their Good & Plenty. Excuse me while I go purchase all the backups! 
So back in 2019 before I found Good & Plenty, I did what any desperate woman would do — I took the last bit of Polite Society to the drugstore and swatched up my arms until I could find something similar! The closest match I could come up with is Essence's Soft Contouring Lipliner in Lost in Love, which is slightly lighter and cooler toned (it's the one I'm wearing underneath all of My Top 5 Everyday Lip Products in this post) with Marcelle's Waterproof Lip Definition Crayon in Pebble coming in at a close second, as it's a bit more warm toned.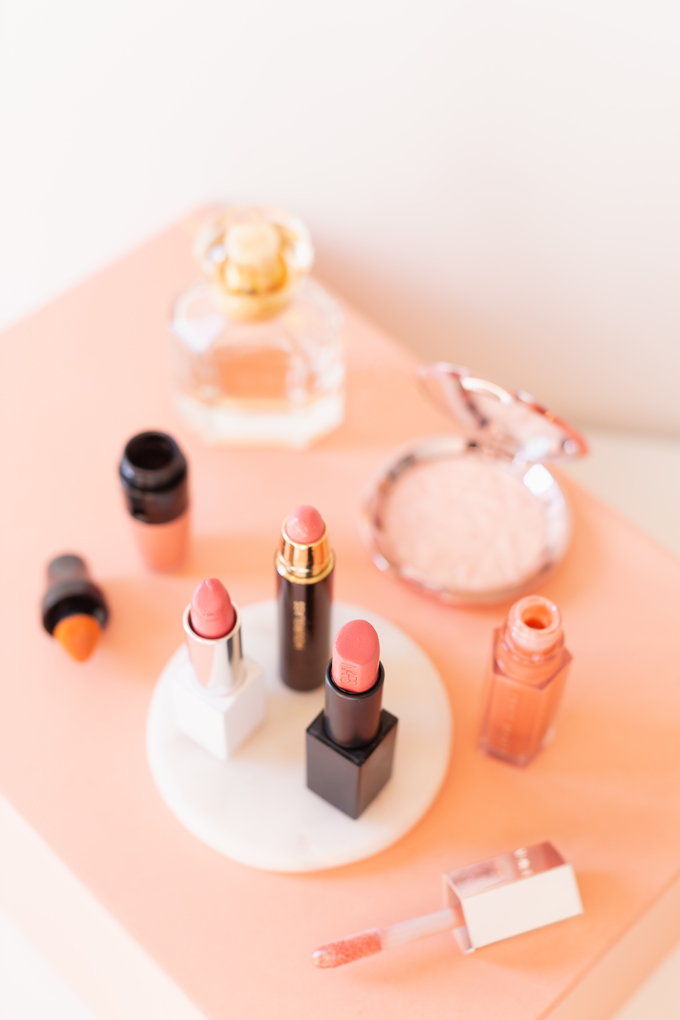 Upon further investigation in my stash, I discovered Wet n Wild's Perfect Pout Gel Lip Liner in Bare to Comment (review here) is quite similar but a bit less pink (although being discontinued!), Colourpop's Brink Pencil (review here) is slightly warmer and so is Jordana's Easyliner in Tawny (review here). Perhaps one of them will be your perfect your lips but better shade — but I'm so happy to rediscovered mine in Colourpop's Good & Plenty Lippie Pencil!

---
MY TOP 5 EVERYDAY LIP COLOURS
---
---
CDN $43.00
The NARS Audacious Lipstick in Brigitte is hands down my favourite classic lipstick, ever! If I was a lipstick, I would be this lipstick. Since discovering the her nearly 5 years ago, I've gone through 2 tubes! In fact, I had to dig it out of the bottom of my bag to shoot this post.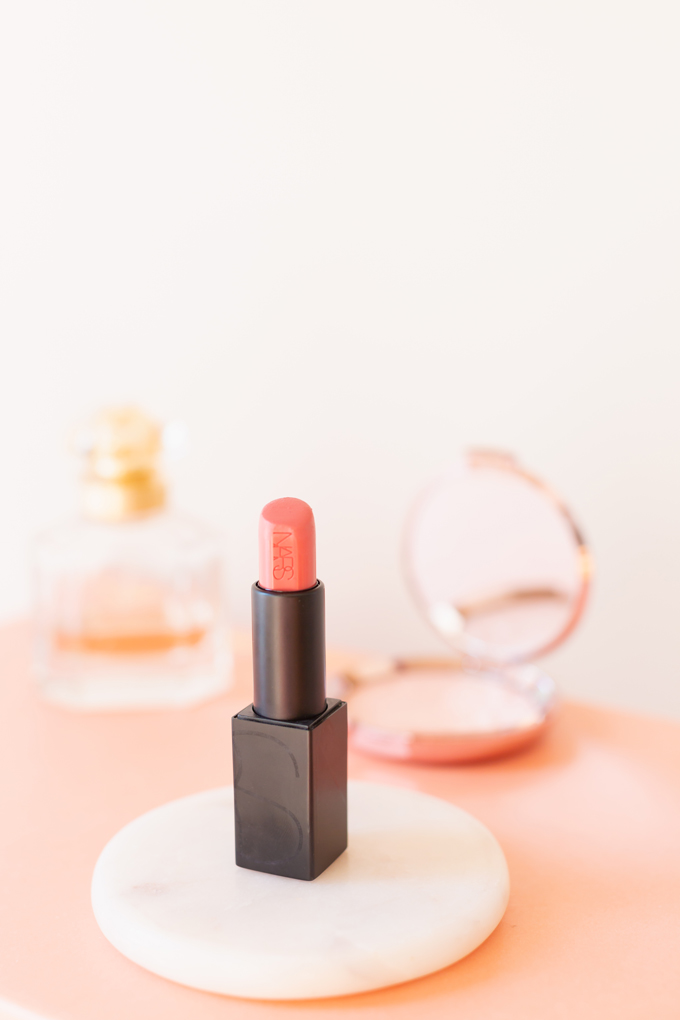 Brigitte will always have a place in my beauty routine. This warm, slightly coral based nude gives my complexion life, I can throw it on with anything and the formula is to die for. This lipstick is where my ultimate colour and formula meet — I believe I've found my perfect my lips but better shade. It's slightly warmer and a touch darker than my natural lip colour, which makes it ultra flattering. If you're looking for your perfect my lips but better shade, something slighter deeper and warmer is a fantastic place to start!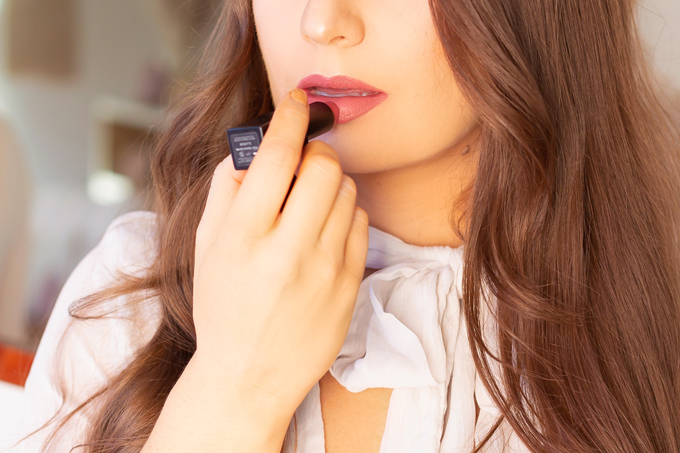 The NARS Audacious Lipsticks are quite spendy, but they're a truly beautiful, hydrating lipstick formula that oozes luxury. This formula delivers beautifully creamy, saturated color and complete coverage with one swipe. It doesn't bleed or feather and lasts for about 4 hours on me, which I find pretty typical of a classic lipstick formula. The component is substantial but straightforward with a magnetized lid, so there's no risk of it coming off in your bag and ruining your lipstick!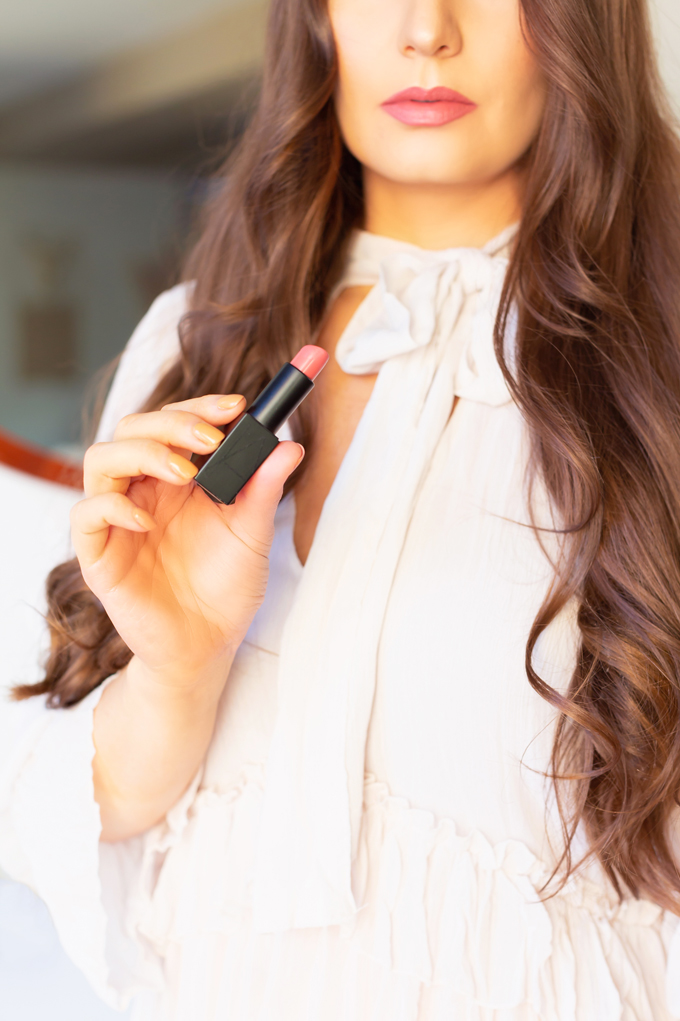 Brigitte is the darkest and most coral hued of My Top 5 Everyday Lip Colours. I've worn her many times here at JustineCelina and she's my go-to lipstick when I don't want a nude, but am craving a natural, defined look.

---
---
USD $23.00
I discovered Clove + Hallow last summer after their PR team reached out, offering to send a handful of products for editorial consideration. Although I love clean beauty and natural beauty, it's difficult to find products that perform at the same caliber as their conventional predecessors. Longtime readers will know how much I adore Bite Beauty — a Canadian lip-exclusive brand who's products are made with natural, food grade ingredients. I happily accepted the products after learning they were developed by a professional makeup artist, but knew they had some stiff competition!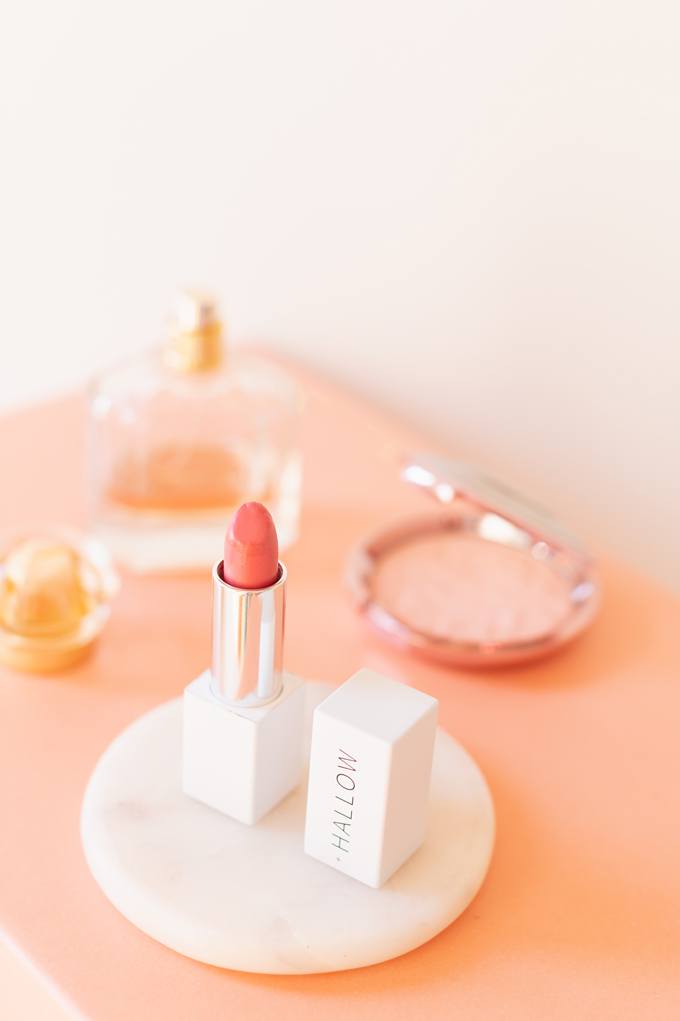 Although I love Bite Beauty's Amuse Bouche lipsticks (which are sadly being discontinued!) I wasn't able to find my perfect, everyday shade. Enter Clove + Hallow's Ballerina Slippers — my go-to lipstick whenever I want something on the pinker side without venturing into bubblegum territory. It's lighter than Brigitte and pinker than Dreamer, described by the brand as a light peachy pink.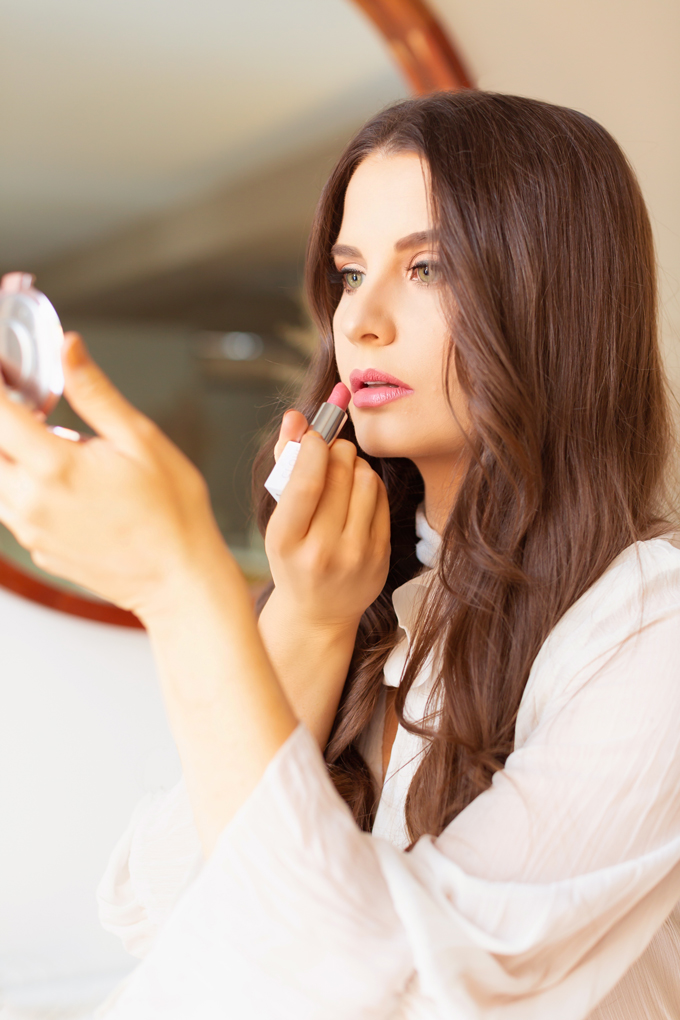 Clove + Hallow's Lip Crèmes are a saturated, ultra creamy lipstick — as you can see from these photos, this formula is extremely soft and almost melts onto the lips. They're 100% cruelty-free, PETA certified and vegan — formulated with a combination of natural and organic jojoba, castor and sunflower oils. Ballerina Slippers wears for 3 – 4 hours on me and feels like an intensively nourishing balm!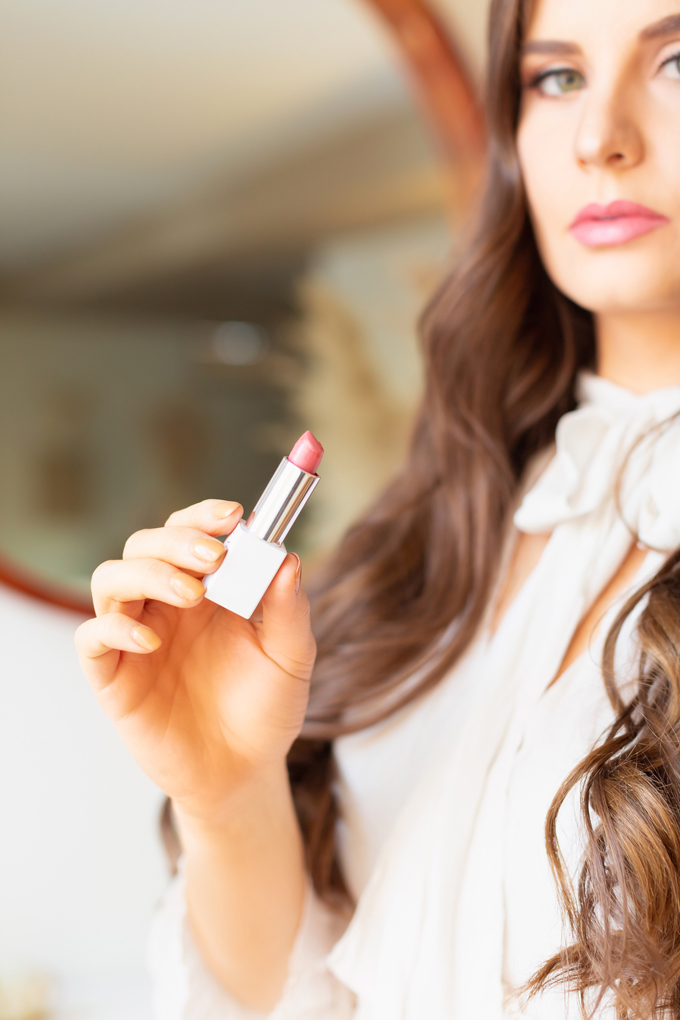 If you're interested in purchasing, you can use code JUSTINECELINA15 to save 15% on Clove + Hallow products.
---
---
CDN $45.00
I discovered the Hourglass GIRL Lip Stylos a couple of years ago as well. They're an incredibly formulated, buildable, ultra creamy, sumptuous lipstick encased in jaw dropping smoked metallic packaging with an absolutely stunning shade range — I particularly love the nudes, corals and neutrals!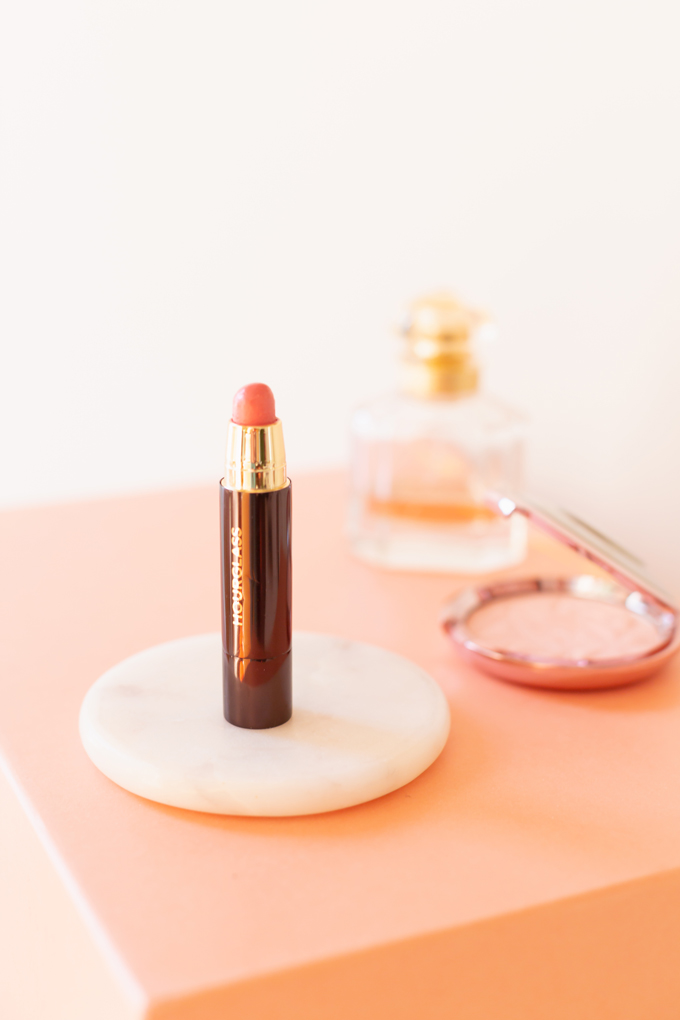 Dreamer is a beautiful, easy going nude coral (described by the brand as a peachy pink) that's my go-to when I want something lighter than Brigitte and less pink than Ballerina Slippers in an extremely luxurious, ultra nourishing formula. As is the case with most traditional lipstick formulas, it wears for 3 – 4 hours on me before I need to reapply — but it feels so intensively hydrating on the lips thanks to a blend of shea butter, jojoba, mimosa and sunflower seed oil I don't mind!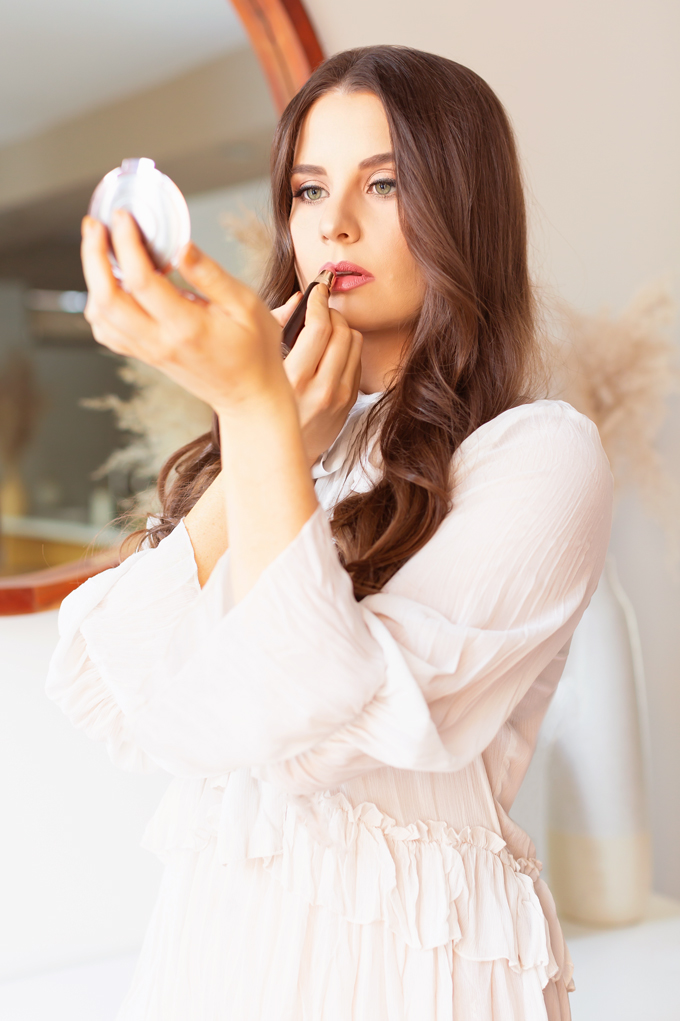 If your lips are in desperate need of some pampering as we transition into another chilly Alberta winter, pick up a GIRL Lip Stylo in a your lips but better shade and and treat your pout to the ultimate in luxe hydration. I'm partial to Dreamer but also own Believer (see it in action here), Creator, Influencer (although I despise that term, it's a beautiful shade!), Futurist, Explorer and Idealist.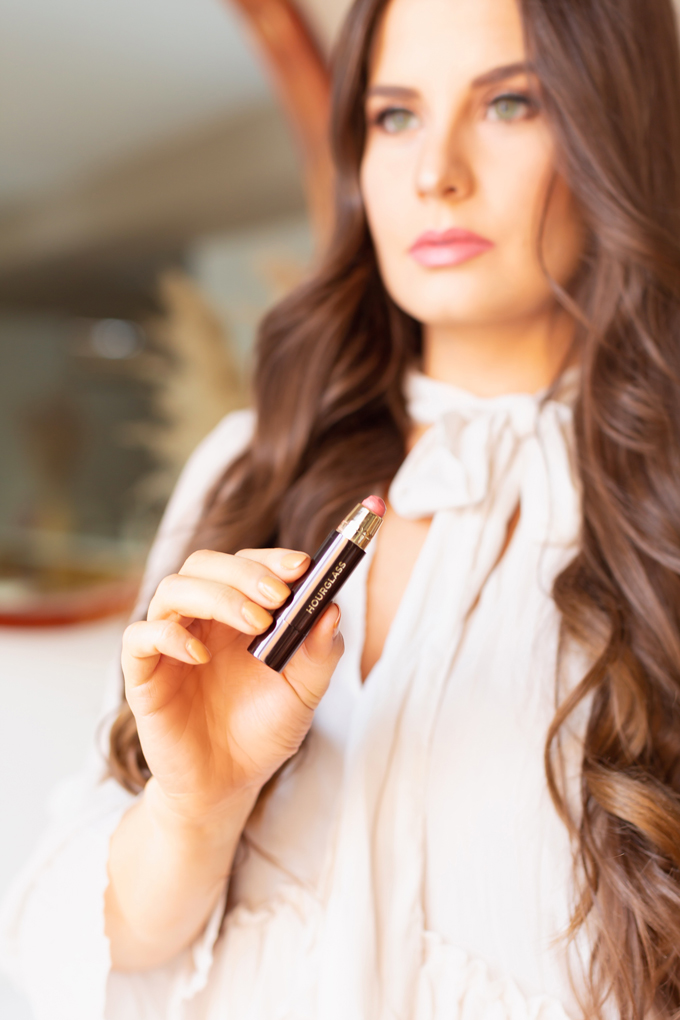 ---
---
CDN $33.00
I was completely blown away by the Lancôme Matte Shakers when I discovered them back in 2017 — so much so that I picked up every shade they had available at the time, which was 9. Much to my delight, they've since expanded the range to include approximately 30 shades. During my hiatus of posting BEAUTY content and working my way through my 100+ lipsticks over the past nearly 2 years, I only purchased 3 lipsticks — and they were all Matte Shakers! I now own 11 Matte Shakers and they've become my all-time-favourite liquid lipstick formula.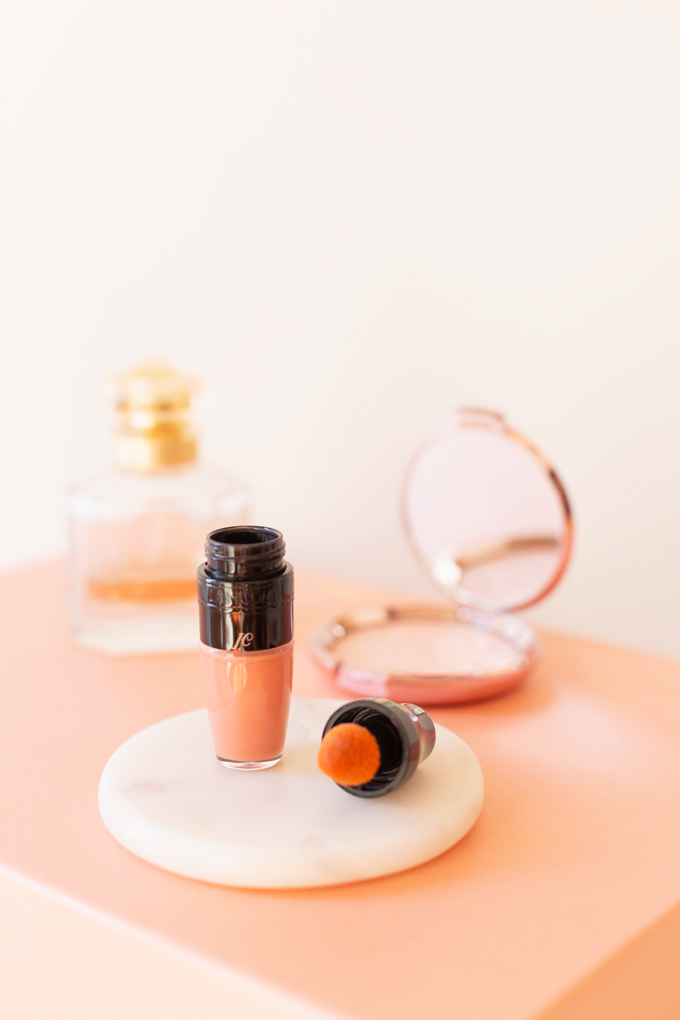 The Matte Shakers are one of the most innovative formulas I've tried — an extremely thin, saturated liquid that applies beautifully to the lips in a single swipe (don't let the applicator fool you, it's so easy to use!). I love the finish of the Matte Shakers — they don't completely dry down and aren't transfer proof, but they are extremely hydrating and light as air on the lips while offering a soft matte finish. They're also buildable in terms of coverage and lightly staining — plus, they make your lips look ultra juicy and pillowy!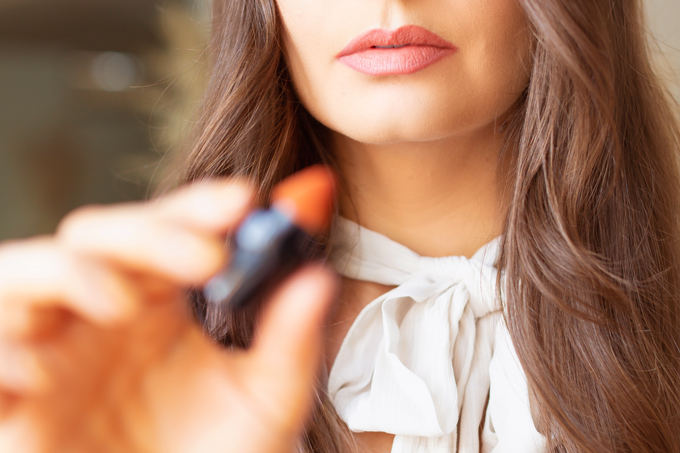 These days, I find myself gravitating to more hydrating formulas that may not wear all day, but still deliver long-lasting colour. Since this formula is an emulsion hybrid of pigment and gloss (the pigment seems to instantly saturate and stain, while a glossy coat rises to the surface), I find the Matte Shakers to be the best of all worlds! The stain wears for the better part of the day, but the gloss diminishes  after a couple of hours, which is usually when I touch up to replenish the glossy finish and intensify the colour.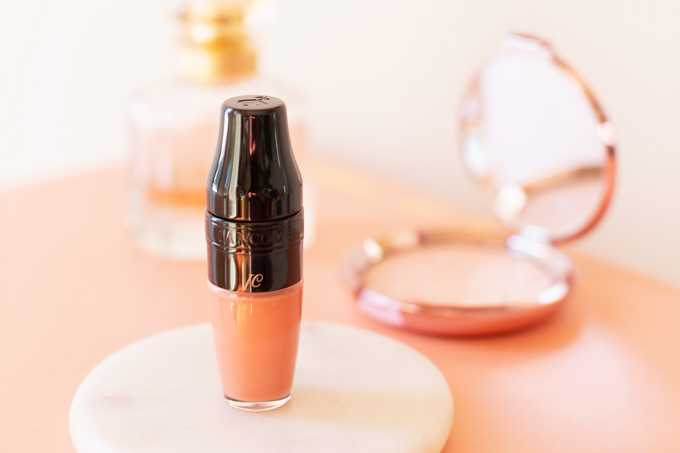 I picked up Nudevolution last year around this time along with a couple of others and it's since become my favourite nude. On me it's a creamy, warm nude — and paired with one of my go-to neutral lip liners it's absolute nude perfection. This is another lipstick that lives in the bottom of my bags and it's my go-to anytime I want the perfect nude lip. Unfortunately, as of 2021, this shade looks to be discontinued. The closest shade alternative I can find within this range is Sea, Sand & Sun, described by the brand as a Peach Nude — it's a bit deeper than Nudevolution, but equally as stunning! 

---
---
CDN $24.00
The FENTY BEAUTY by Rihanna Gloss Bomb Universal Lip Luminizer in Fenty Glow is my all time favourite lip gloss! Now, as someone who's pretty particular about lip gloss, that's a bold statement. I love my lip glosses high shine, gel like, non sticky and long wearing — and that's not a combination I often find (other than in my beloved Buxom Glosses and Creams!). I picked this up when FENTY first launched a couple of years ago — and you can see just how well loved it is by these photos (I'm almost due for another tube!).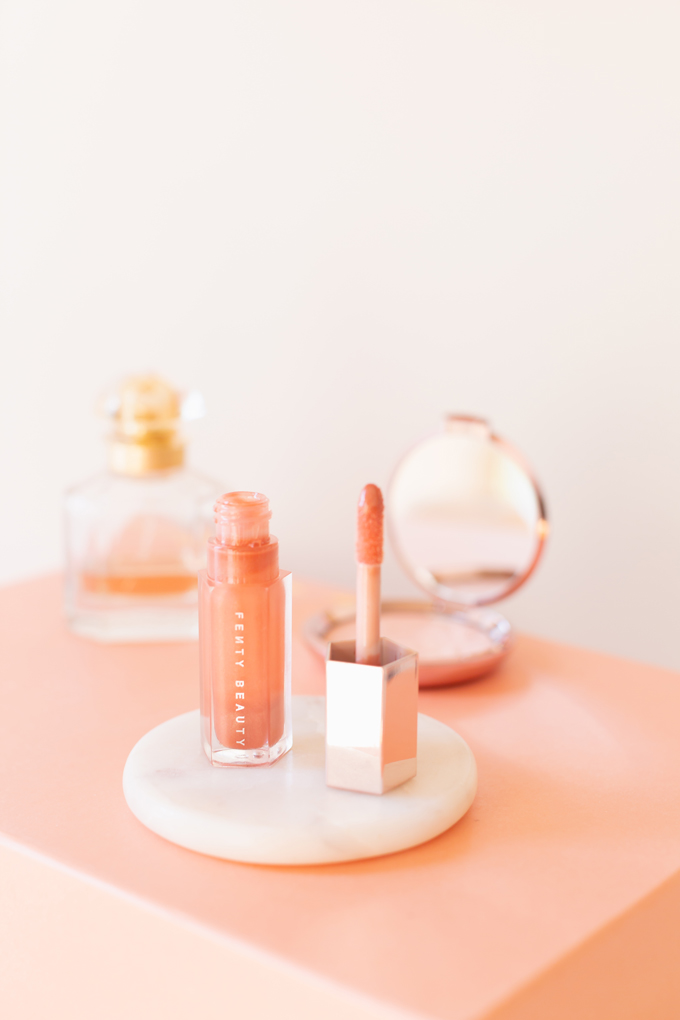 Fenty Glow is described as a shimmering rose nude shade, or more specifically, 'the unicorn of nudes that looks good on everyone'. And I couldn't agree more! It's a mid-toned, universally flattering gloss and the formula is to die for! It makes your lips look luscious, juicy and smooth — plus and it's infused with shea butter and has the most divine peachy vanilla scent (and taste). This tube also contains 0.30 oz, which is roughly twice the amount of the standard lip gloss (therefore making it a great value!). The larger than average wand makes application a breeze too, perfect for mirrorless, on-the-run application! I find myself slicking on a fresh coat every few hours.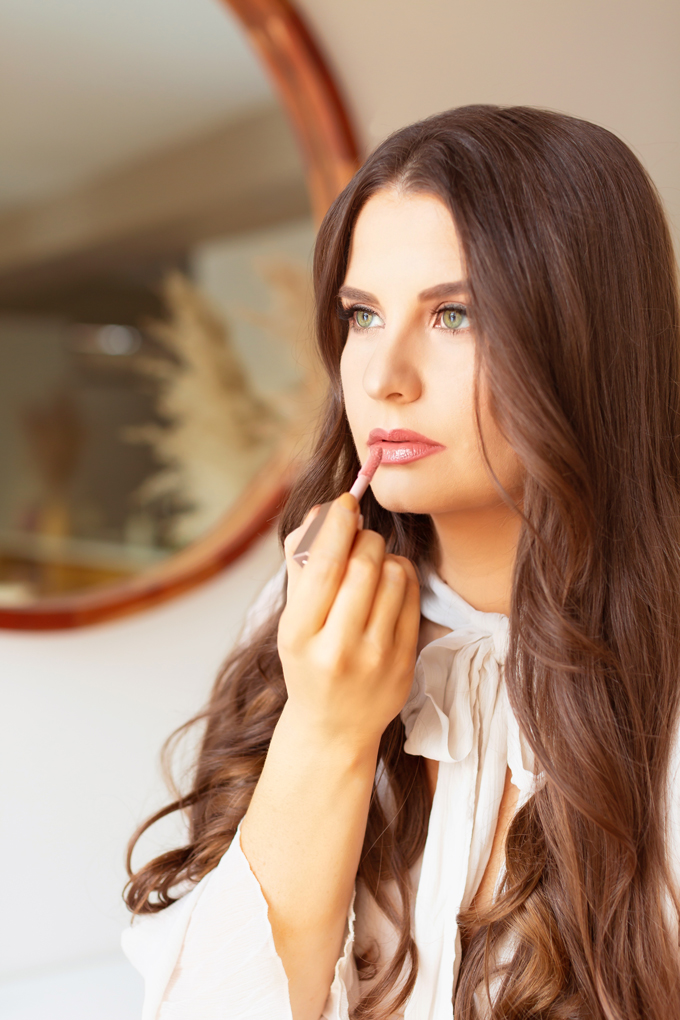 I've mentioned and worn Fenty Glow many times here at JustineCelina and it's another one that lives in my bags. I've recommended it to family and friends countless times, gifted it to the beauty loving ladies in my life, used it on shoots and probably made you try it on if we're hung out IRL and you've asked me what's on my lips! I'll be picking up another tube as soon as this one runs out, and possibly exploring the other shades as well. If you're looking for the perfect your lips but better gloss, your search is over!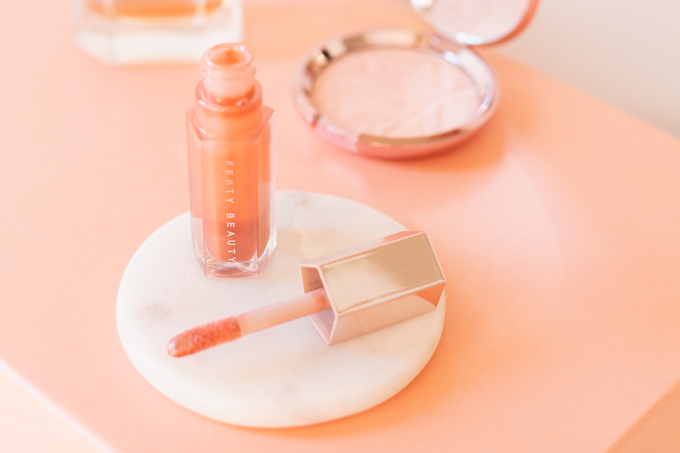 Fast forward to 2021 and I've found an incredible drugstore formula dupe for the FENTY BEAUTY Gloss Bomb Universal Lip Luminizer in Fenty Glow in Maybelline's Lifter Gloss in Moon. Moon is a bit cooler than Fenty Glow, however, the formula, applicator and even the packaging are extremely similar. In fact, I love the Lifter Glosses so much that I'll be adding additional shades to my tightly curated lip collection this year — stay tuned for a dedicated review! In the meantime, if you're looking for a more affordable dupe for the infamous Gloss Bomb in Fenty Glow, you'll find it in the aisles of your local drugstore (I purchased mine on sale at Shoppers Drug Mart!).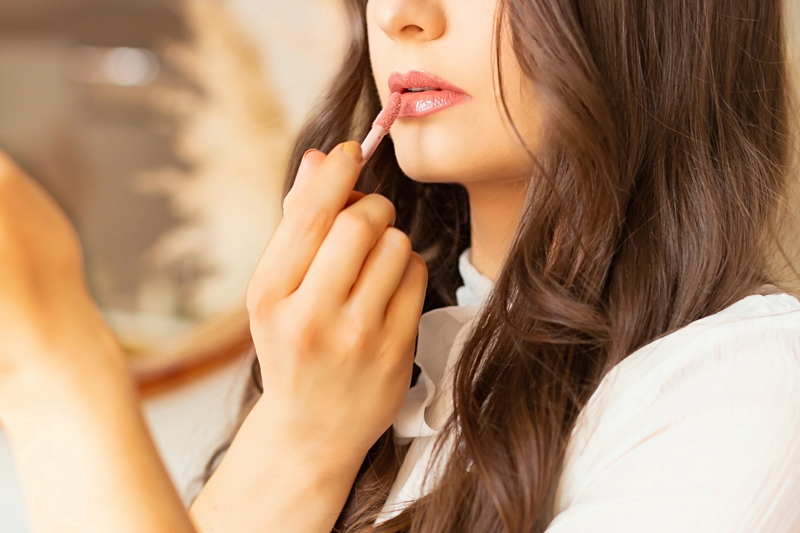 ---
ADDITIONAL MY LIPS BUT BETTER LIP COLOUR FAVOURITES
---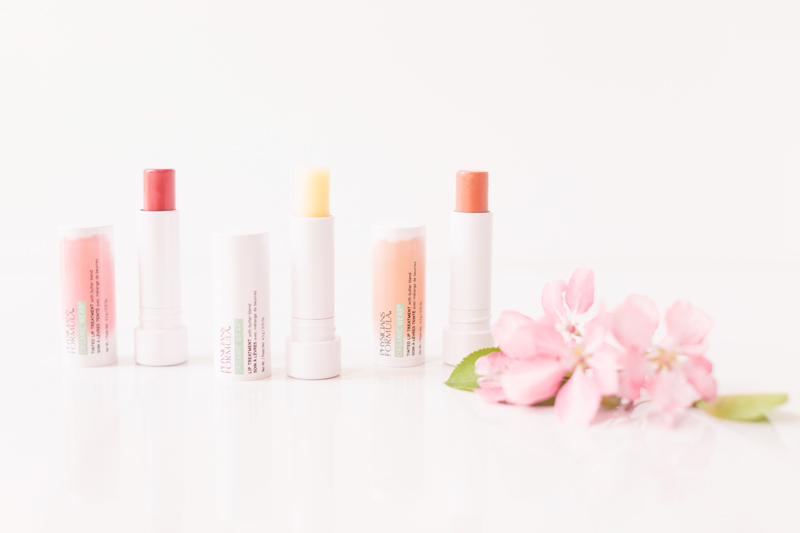 Since publishing this post, I've discovered the Physicians Formula Organic Wear Tinted Lip Treatments* — Tickled Pink and Tawny Nude (which I love to mix to create my perfect my-lips-but-better shade have become staples in my everyday beauty wardrobe. Truly, I don't think I could complete my daily beauty routine without them! Swing by My Top 5 Physicians Formula Products for a comprehensive review and photos of my favourite shades from this beautiful range, or shop these heavenly lip treatments below!

---
SHOP MY TOP 5 EVERYDAY LIP PRODUCTS + FAVOURITE LIPLINERS
---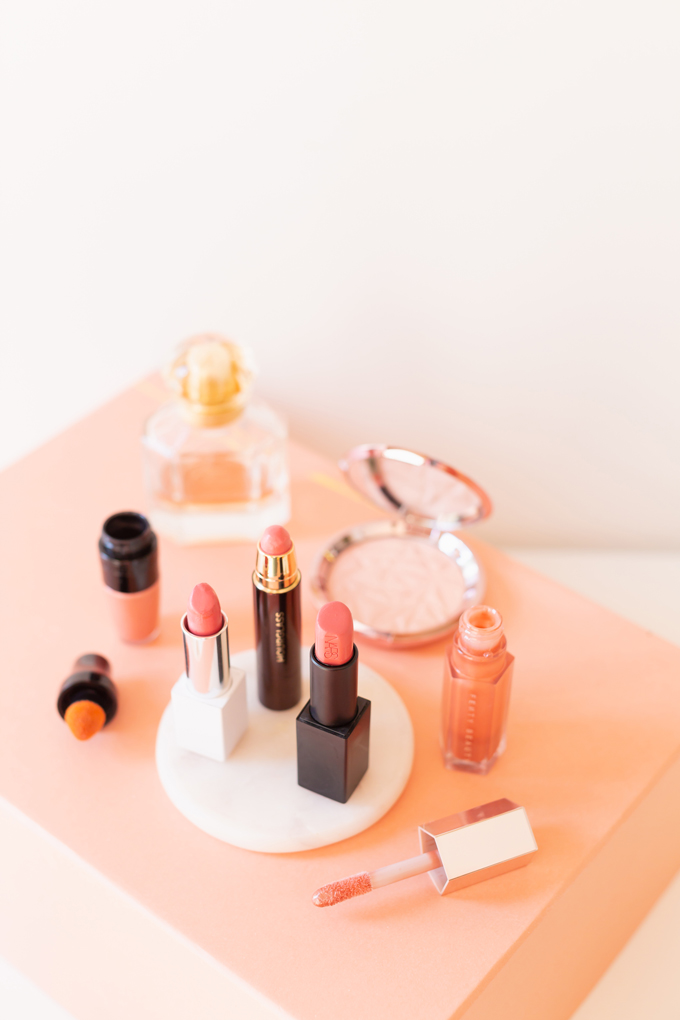 ---
MORE FROM MY TOP 5 SERIES
---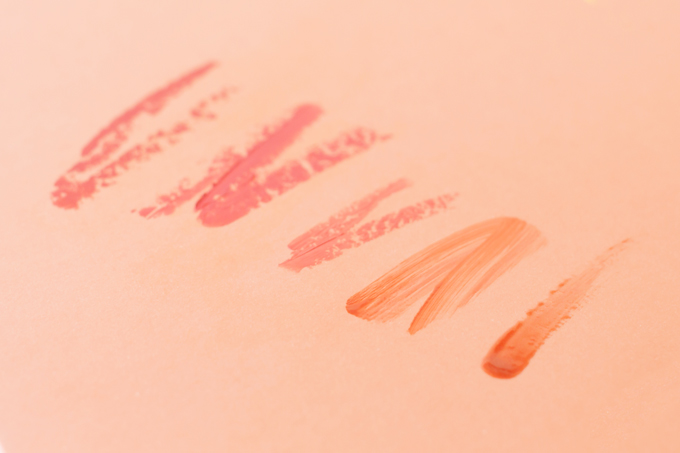 My Top 5 Physicians Formula Products
My Top 5 Red Lipsticks for the Holidays
My Top 5 Pumpkin Spice Lipsticks
---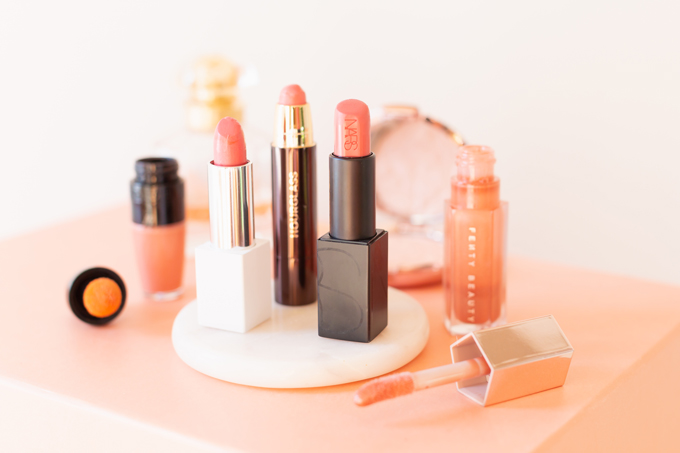 Thanks for stopping by to learn more about My Top 5 Everyday Lip Colours today, friends! I'm so thrilled to bring dedicated BEAUTY content back to JustineCelina in a more meaningful way — and I hope you find this new format more relatable, too. I have a handful of beauty and SKINCARE posts planned based on this new direction, but I'm always open to your requests!
Craving even more beauty? Be sure to visit the links above for seasonal inspiration, or check out my Pinterest board for all things beauty and skincare. If you try one of my recommendations I'd love you to leave me a comment or hashtag #justinecelinabeauty in your photos across social so I can find them! Wishing you all a beautiful Thanksgiving weekend — a few of these products are coming with me to celebrate with family in the country!
---
Disclaimer: Products marked with * indicate press samples sent for editorial consideration with no obligation for feature or review, or as part of previous partnerships. This post is not sponsored and contains my genuine thoughts, ideas and recommendations. JustineCelina uses affiliate and referral links, which allow me to receive a small commission when you make a purchase through one of my links. Thank you for supporting the brands and businesses that support JustineCelina.com!