---
Well hello, everyone! It's been a week since my last blog post — I took the long weekend off from blogging to enjoy some quality rest and relaxation — and it was absolutely fantastic! I headed to the mountains on Saturday for a peaceful drive, a much needed massage at my favourite spa and an incredible meal. I also slept in, caught up on some housework, read a book and generally just enjoyed a slow, semi unplugged weekend without my camera (yep, still working on that balance thing we talked about!) How did you spend your long weekend?
This week I'm back at it — feeling refreshed, renewed and so excited to bring you another collaborative post in our ALL ABOUT series where Rebecca Dawn Design and I team up to educate you about everything you've ever wanted to know to know about a certain flower! In honour of love month, it's been All About Roses here at JustineCelina and today we're reintroducing you to February's quintessential bloom, the rose. Learn about common and unique varieties, what to look for when purchasing roses, as well as how to care for and condition them so you can enjoy them for up to 14 days. Rebecca also shares her secret weapon for reviving droopy roses — you're not going to want to miss it! There's so much pretty in store for you today (did you know flowers are one of my favourite things to photograph?) as we take a closer look at Vendela, Quick Sand, Mother of Pearl, Cappuccino, Precious Moments and Roseberry rose varieties.
---
ALL ABOUT ROSES
---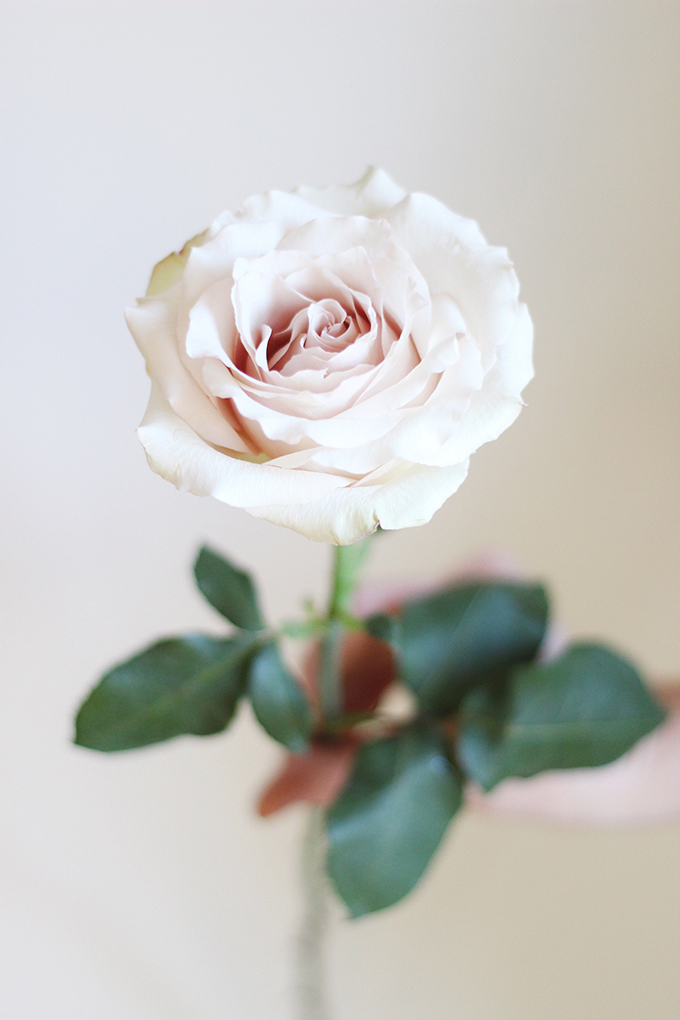 I've been waiting since last spring when Rebecca and I first started working together (can you believe it's almost been a full year?!) to bring this All About Roses posts to you this month! February has been all about celebrating, sharing and spreading the love here at JustineCelina and I couldn't think of a more perfect flower to express the sentiment than the rose. Rebecca and I are overjoyed to share these gorgeous roses with you today and bring a healthy dose of pretty to your screens!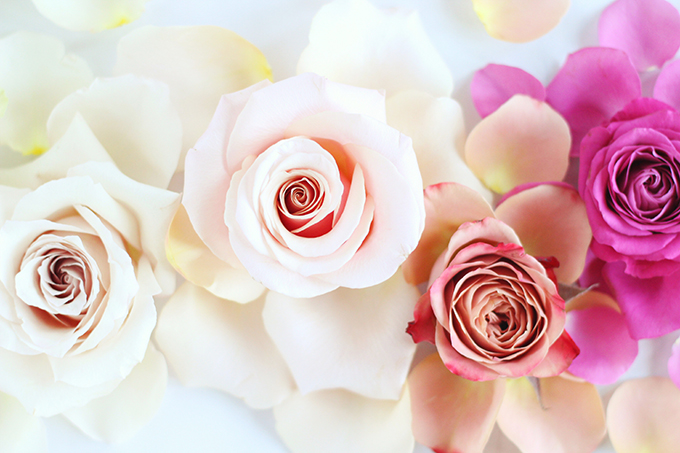 While there are over 100 species and approximately 13,000 identifiable varieties of roses throughout the world, we've chosen 6 of our favourite varieties for today's post. Each rose species varies in colour, shape and size — however, all but one rose species have 5 petals making them the world's most iconic and instantly identifiable flower!
---
GENERAL ROSE INFORMATION
---

Alternate Names & Meanings
The word "rose" is French, but originates from the Latin word, "rosa". When used in terms of endearment, rosa means "love".
Roses are classified in the division Magnoliophyta, class Magnoliopsida, order Rosales and family Rosaceae.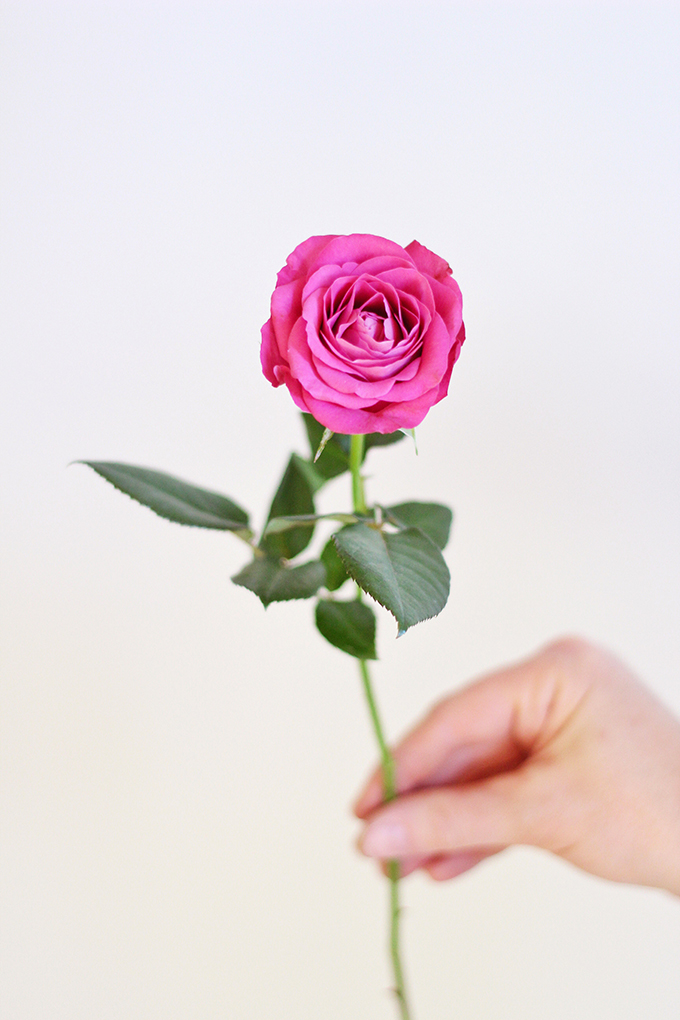 History
All roses were originally wild. Today they grow in several parts of the world including North America, Europe, northwest Africa as well as many parts of Asia and Oceania.
In Greek Mythology, Aphrodite (the Goddess of Love) is said to have created the rose from the tears she cried over the blood of her beloved, Adonis. The Romans turned Aphrodite into their goddess Venus, who also adopted the rose as significant.
One of the oldest rose fossils discovered in Colorado dates back from 35 million years ago! The world's oldest living rose bush (believed to be approximately 1,000 years old) grows alongside Hildesheim Cathedral in Germany.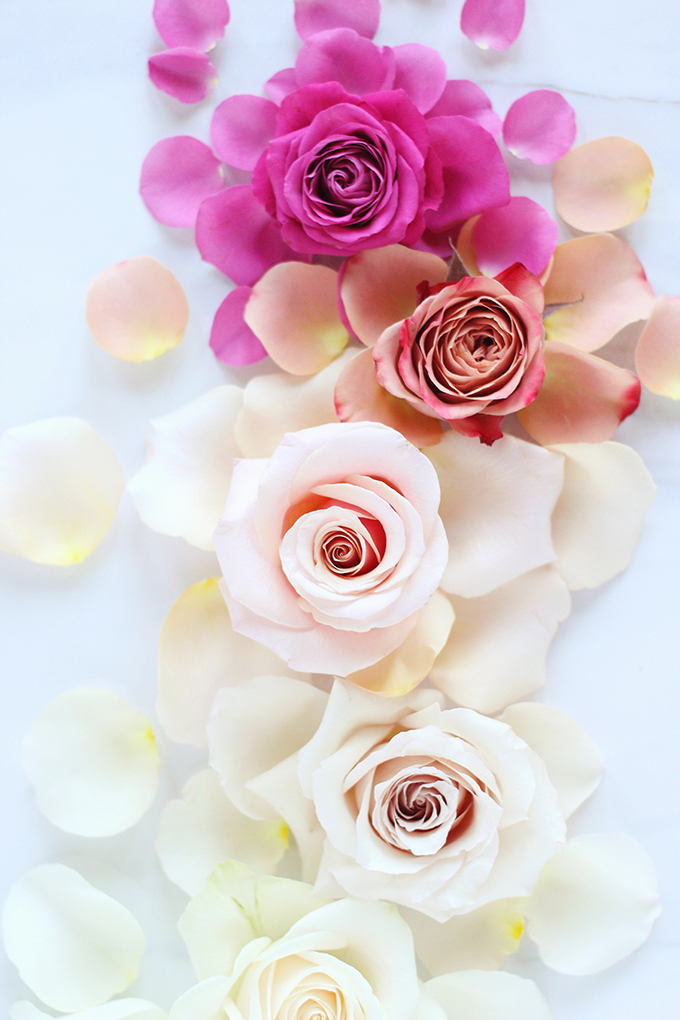 Colours & Varieties Available
Roses are available in almost every colour and shade imaginable — you've seen many of them here at JustineCelina! Each colour of the rose possesses a special symbolic meaning. Red roses are a symbol of love, yellow of friendship, orange of enthusiasm, white of purity, pink of joy, burgundy of beauty and violet of royalty.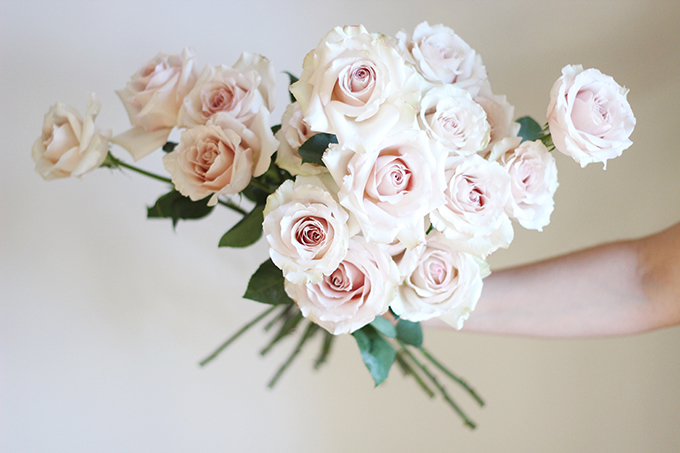 In Season
Year round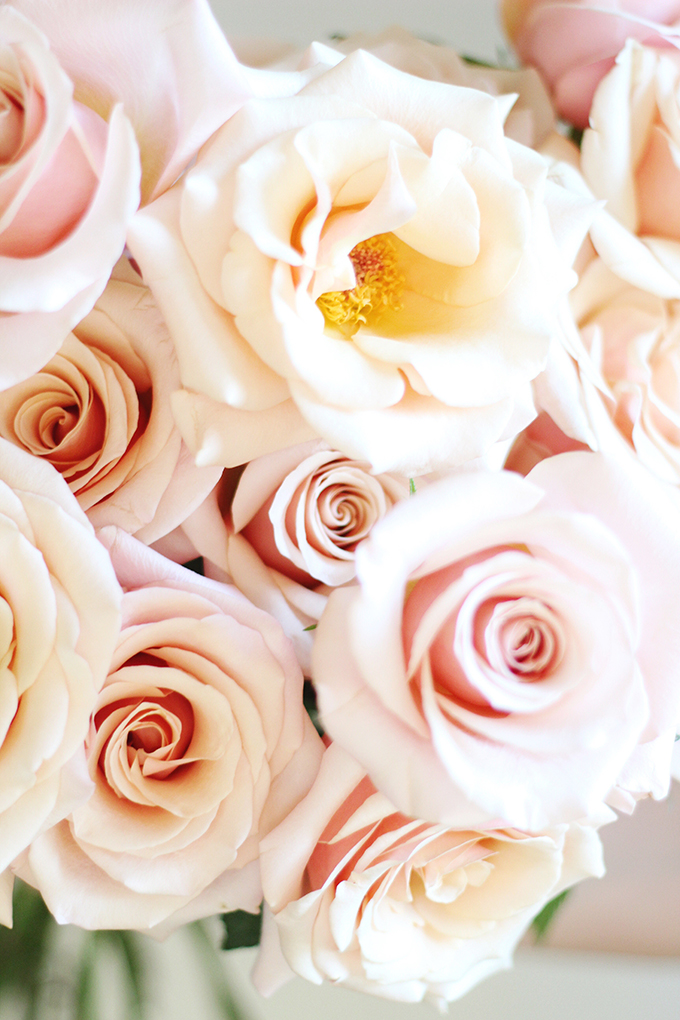 Vase Life
Rose life is dependent on many factors including rose type, growing method and their time in transit. Cut roses live between 5 and 14 days.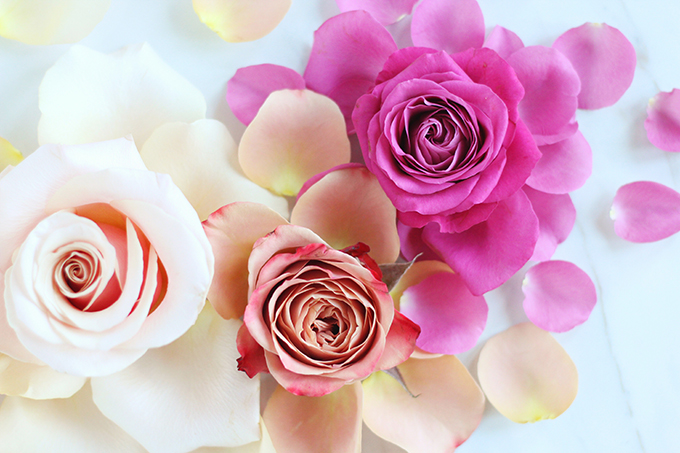 Purchasing Tips
When purchasing prearranged flowers, inspect the bouquet closely. The petals on each rose should be vibrant in colour and free from wilting or brown edges, both of which indicate age.
To check rose freshness, gently squeeze a few of the flower heads near the base where the petals meet the sepals. An older rose has a soft base and tired-looking petals, while a fresh rose has a firm base and tighter, crisp-looking petals. Fresh roses will have a longer life span.
Avoid purchasing any roses that are still tightly wrapped as they may never fully open. Known as a bullet, rose heads that are still very closed at purchase stand a good chance of staying that way. Instead of blooming, they may simply lose their outer petals and die.
The ideal time to purchase roses is when the flowers are slightly opened, not completely opened. If a rose has fully blossomed, it has already reached the peak of its lifespan and will not last a full 14 days. The petals should be a bit loose at the top of the rose head, which allows you to see that the rose has a decent chance of flowering.
Always ask the florist when they received the rose shipment. Knowing when the flowers arrived can help you determine how old they are and how long they have to live.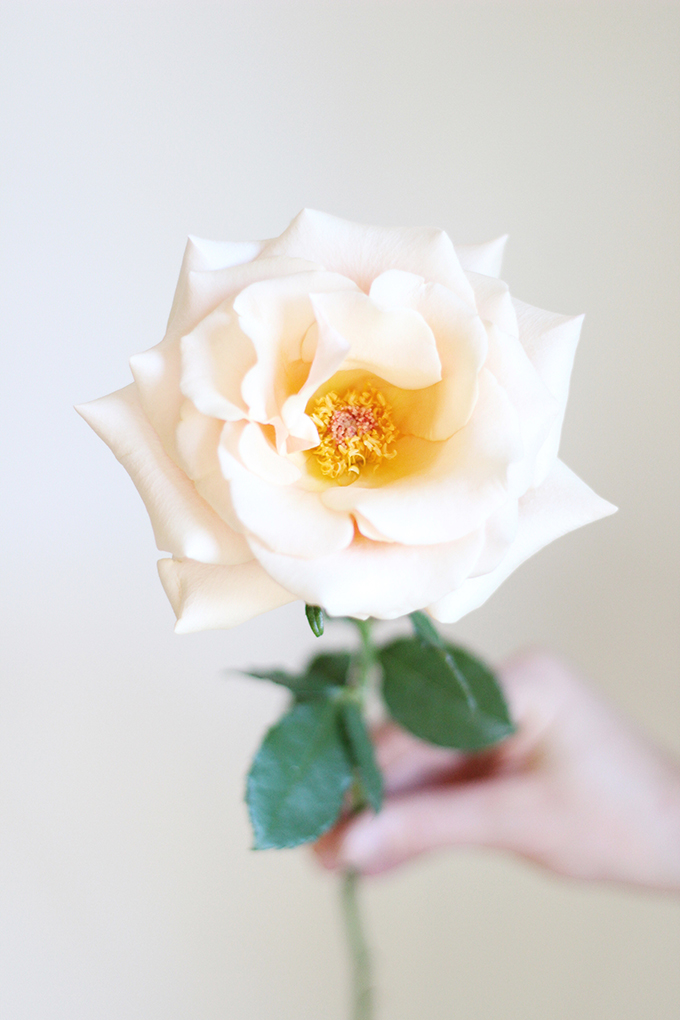 Did You Know?
We usually call the sharp spikes on the stem of a rose bush thorns, but they're technically prickles. Their hook-like structure facilitates bonding to other plants and protects stem from herbivores.
Rose hips (the fruit of the rose plant) contain high amounts of vitamin C as well as trace amounts of vitamins A and B. Rose hips are considered one of the richest plant sources of vitamin C. They grow wild here in Alberta (it is wild rose country!) — Rebecca and I incorporated foraged rose hips in our Foraged Prairie Wildflower Bouquet this past summer.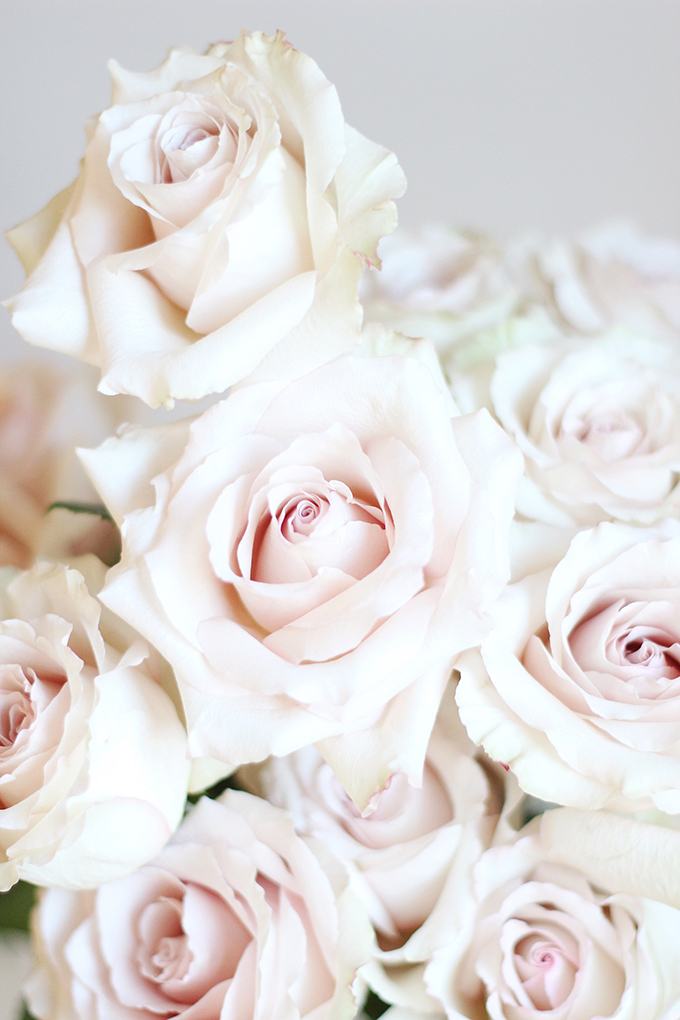 ---
FEATURED ROSE VARIETIES
---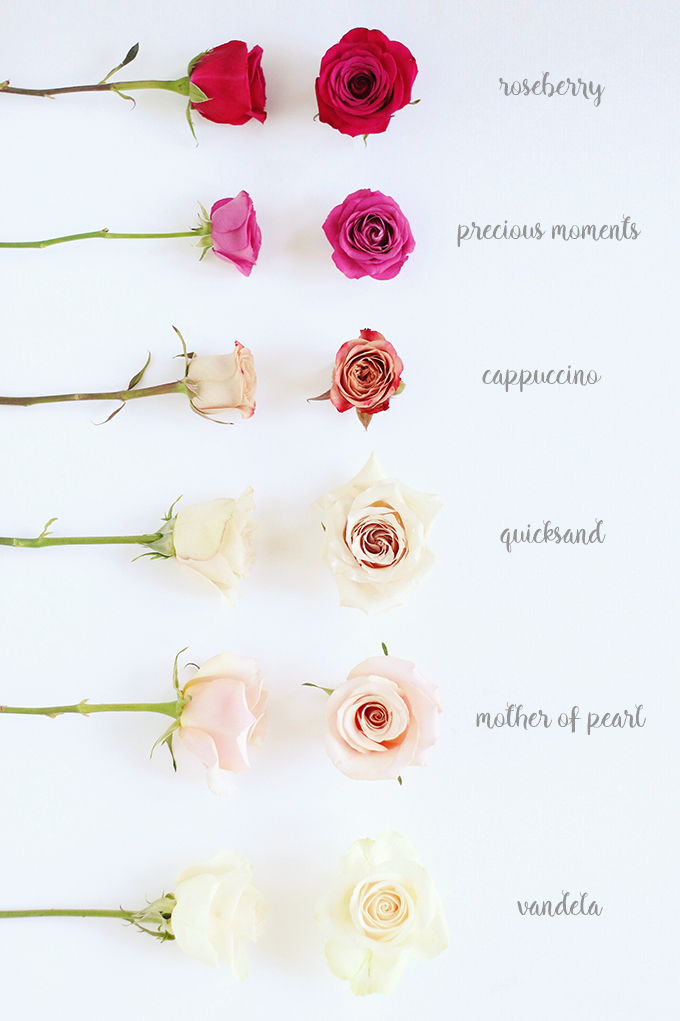 ---
 — Rose varieties top to bottom —
---
1. Roseberry

2. Precious Moments
3. Cappuccino

4. Quicksand
5. Mother of Pearl
6. Vandela
---
ROSE CARE AND CONDITIONING TIPS
---
Don't let the beauty fade! Pamper your roses and they'll last for up to 14 days. Utilize Rebecca's expert tips to maximize the life of your roses: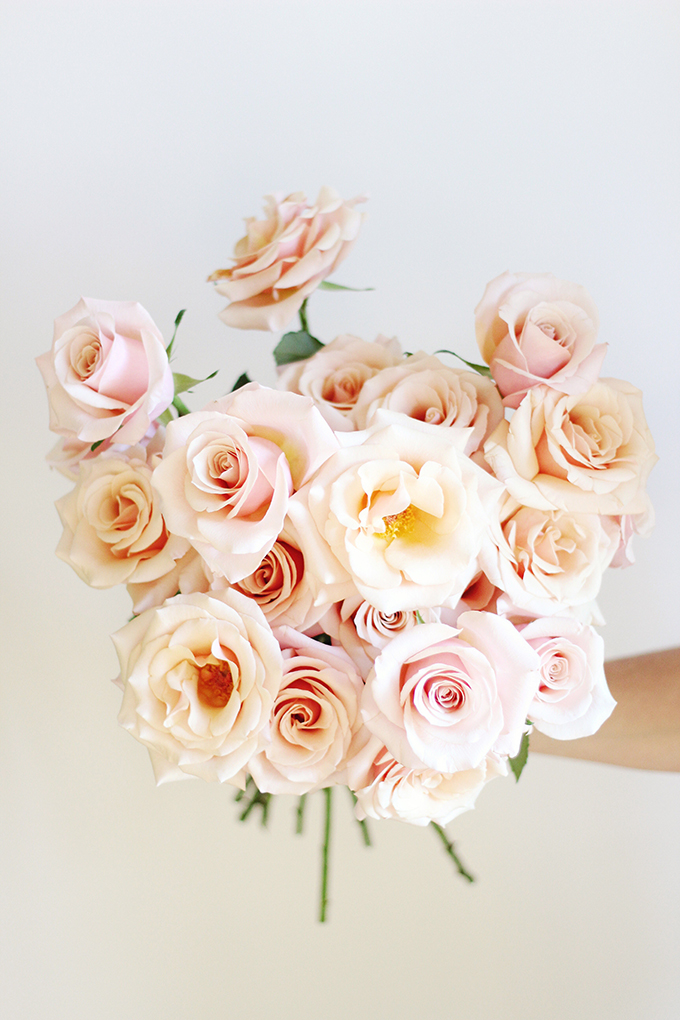 1. Use a pair of garden shears or a kitchen knife to cut the bottom 1/2 inch off of each rose stem at a 45 degree angle.
2. Snip off any leaves or flower parts that will fall below the lip of the vase. The only things that should be inside the vase are the rose stems and water.
3. Place the roses in a vase of cold water. For optimal rose life, change the water and trim the stems as described in Step 1 every few days.
Tip: Trimming rose stems every couple of days will help the roses take in water more effectively.
4. Add flower food to the water. Commercial flower food will provide nutrients the roses need to stay fresh for a longer period of time.
Tip: Ask for a few packets of flower food when you buy roses at the flower shop.

5. Set the vase of roses out of direct sunlight and away from heating vents or radiators.
Tip: Roses are delicate — they wilt and die very quickly if subject to heat.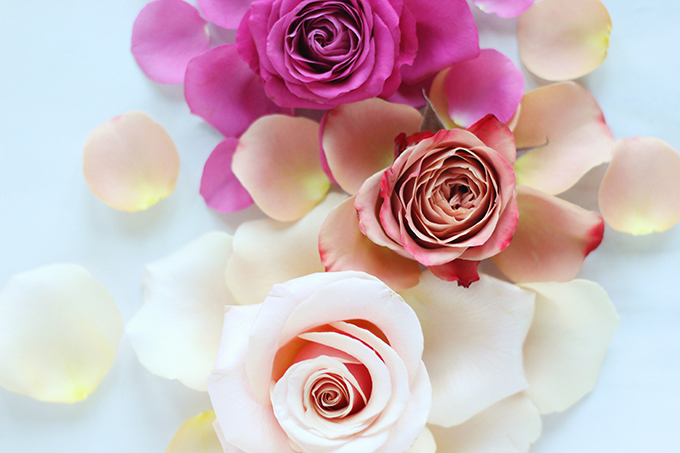 ---
HOW TO REVIVE DROOPY ROSES
---
Are your rose heads drooping? Not to worry — Rebecca to the rescue! Follow these 4 simple steps to revive droopy rose heads: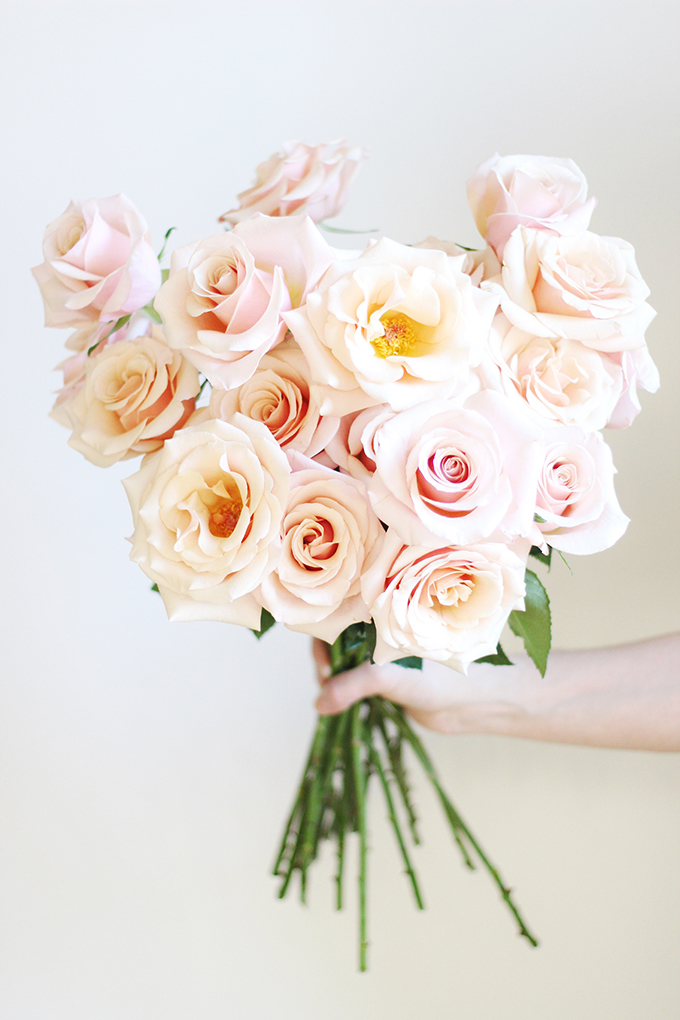 1. Fill a container large enough to hold your roses with warm water.
2. Cut the tip of the stem of each rose and immerse the droopy roses completely in the warm bath. In order for the roses to stay under water, you may need to use a weighted object to keep them submerged.
3. Leave the roses in their warm bath for 30 minutes to a maximum of 2 hours, until the heads begin to straighten out.
4. Dry the roses carefully and place them in a clean vase with cold water.
And volia — revived roses!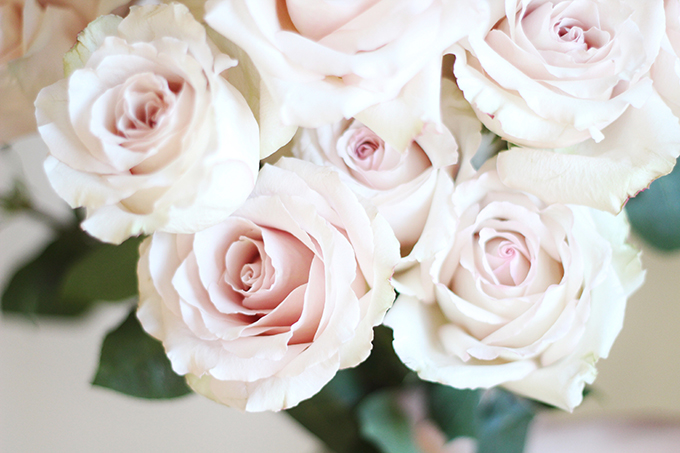 ---
MORE FROM OUR ALL ABOUT SERIES
---
---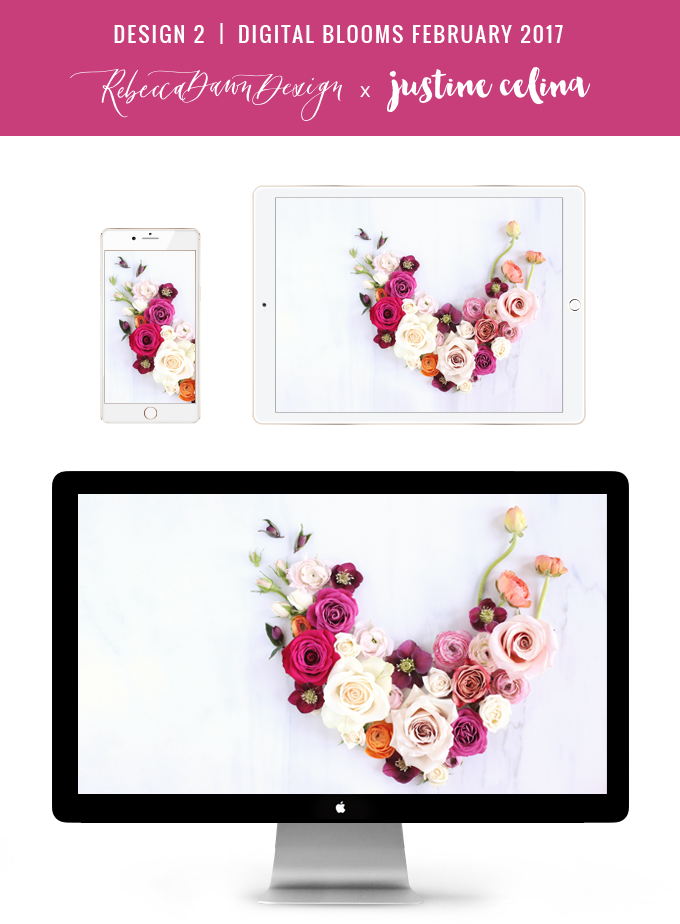 If you're craving more roses, you can download 3 free wallpapers for your digital devices inspired by these gorgeous roses in the special Love Edition of Digital Blooms!
---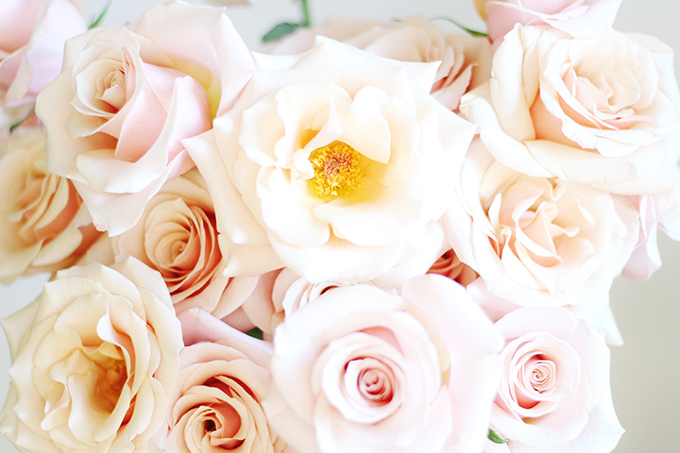 We hope you enjoyed the latest installment in our FLOWER EDUCATION series and learned something new today! Rebecca and I are working together to bring lots of fresh flower content to JustineCelina this spring — so if you have any flower related questions, feel free to leave us a comment and we'll do our best to accommodate your request in an upcoming post. Thanks for stopping by today to learn All About Roses!
---
Disclaimer: This post is not sponsored, and contains our genuine thoughts, ideas and recommendations. JustineCelina uses affiliate and referral links, which allow me to receive a small commission when you make a purchase through one of my links. Thank you for supporting the brands and businesses that support JustineCelina.com!