---
We love tulips here at JustineCelina. Who doesn't?! Every Spring, tulips make their debut in gardens and markets across the country to welcome the season. They're cheap and cheerful, and we're constantly inspired by their vibrancy, simplicity and ability to transform any space. Today's All About Tulips post is another installment in our FLOWER EDUCATION series, where Rebecca Dawn Design and I team up to teach you about seasonal blooms!
In this post you'll learn about our favourite varieties, what to look for when purchasing tulips and how to care for and condition them so you can enjoy them for up to 10 days. We also share our inspiration for this gorgeous cascading tulip bouquet. If you've always wanted to learn more about tulips, grab a notepad and let's chat about everyone's favourite spring flower!

---
ALL ABOUT TULIPS
---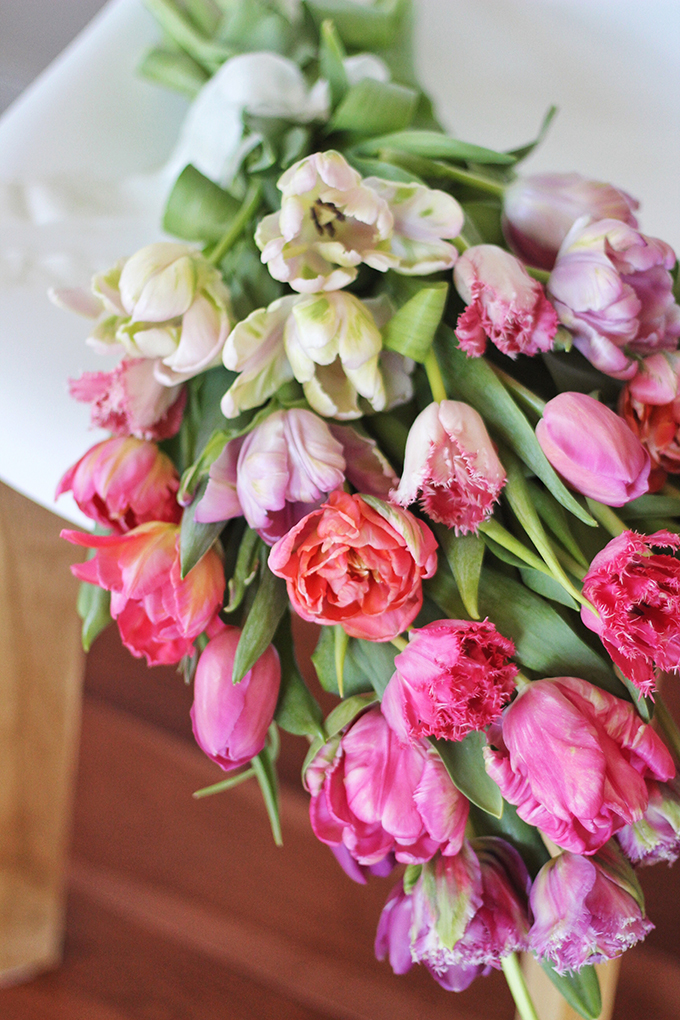 It's tulip season! Did you know there are 75 species and over 3000 varieties of tulips? Today we're going to introduce you to our 4 favourites. These beauties are in season from the late winter to early spring and have an average lifespan of 7 to 10 days when cared for correctly. Rebecca shares her expert tips to get the most out of your tulips at the bottom of this post!
---
FEATURED TULIP VARIETIES
---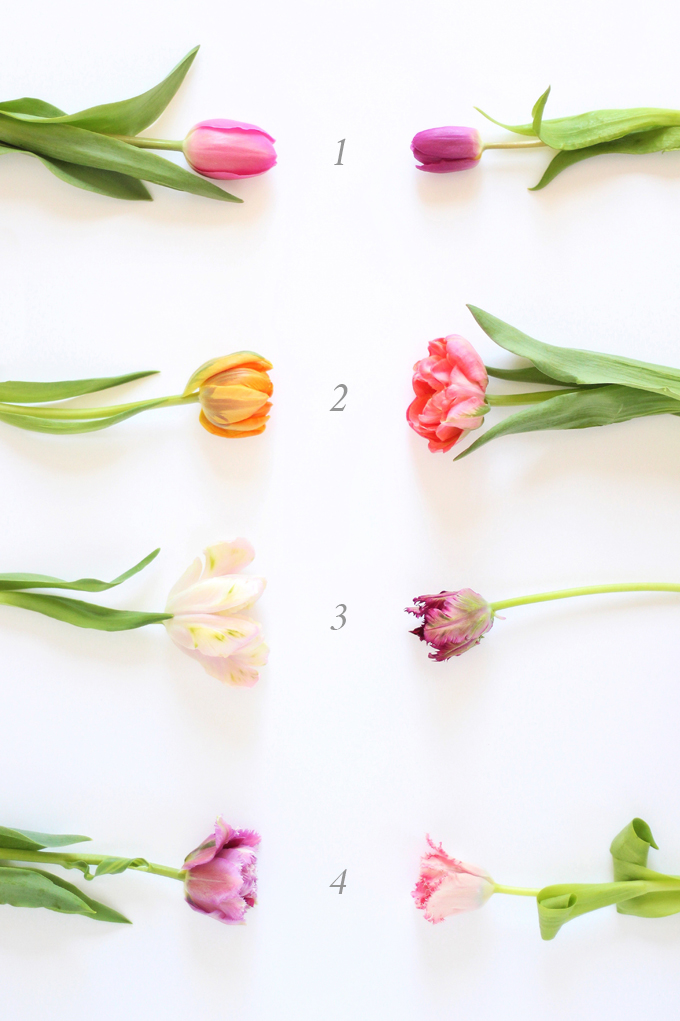 ---
1  Standard Tulips | 2  Double Tulips | 3  Parrot Tulips | 4  Fringe Tulips
---
1. Standard Tulips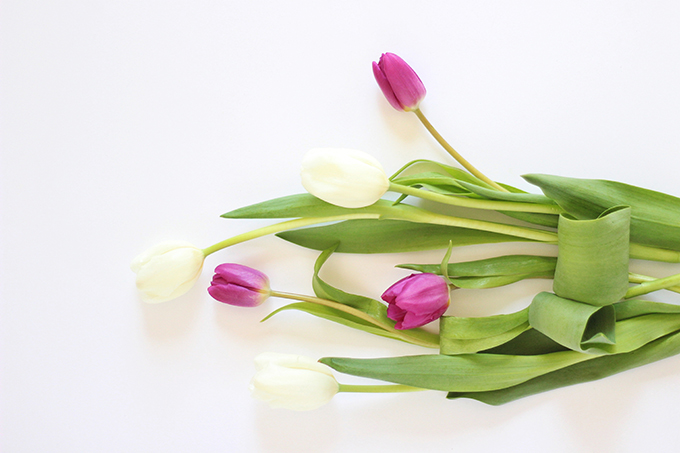 Standard Tulips are the most common, inexpensive variety. They're also the variety you're probably most familiar with because of their wide availability in local grocery stores and flower markets. They feature a single petal layer and are available in solid colour and bi-colour varieties.
---
2. Double Tulips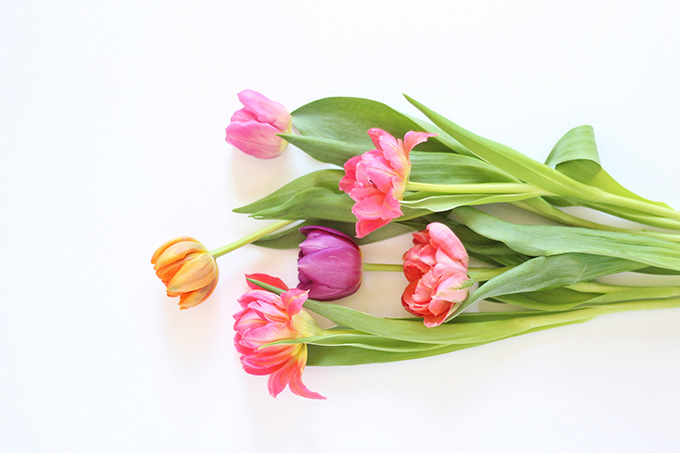 Double Tulips are also know as 'peony tulips' and feature more petal layers than Standard Tulips. They're the fullest and most lush of the tulips and are available in vibrant solid colour and bi-colour varieties.
---
3. Parrot Tulips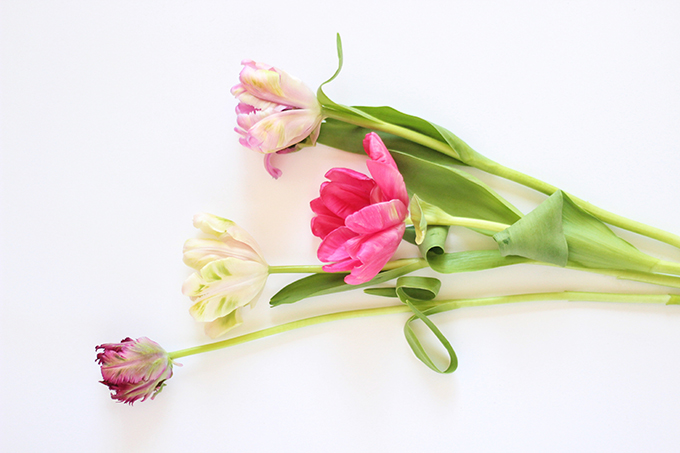 Parrot Tulips are perhaps the most visually unique tulip variety. They feature ruffled petals with colourful, multi-colour blooms (like a parrot!). The individual petals of Parrot Tulips are long and full.
---
4. Fringed Tulips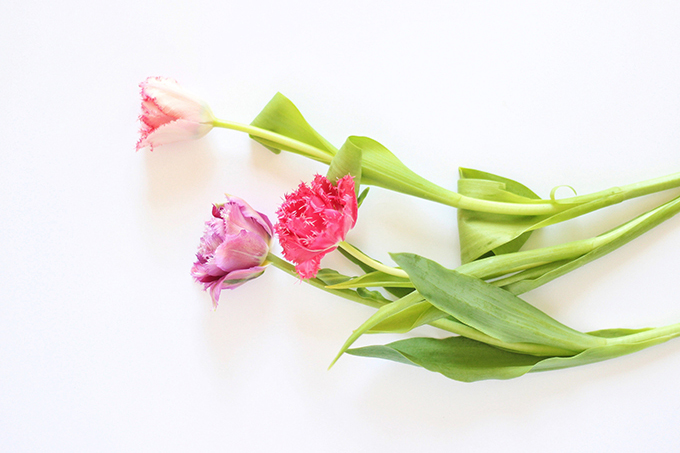 Fringed Tulips are very similar to Standard Tulips, except the edges of the petals are fringed and frilled. They also feature a single petal layer and are available in vibrant solid colour and bi-colour varieties. We think this is the most elegant variety!
---
TULIP BOUQUET INSPIRATION
---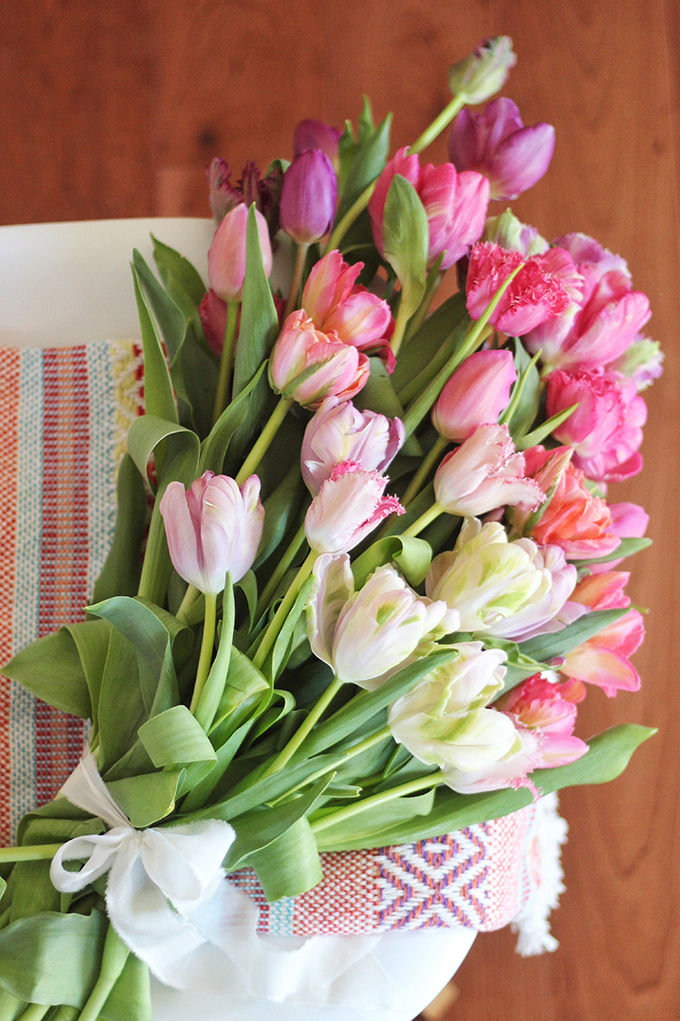 To highlight the brilliant shades and textures of our tulips, Rebecca created this gorgeous cascading tulip waterfall in tonal shades of bright pink and robust purple for an ombre effect! We were inspired by the causal elegance of tulips and the beautiful, subtle colour shifts of these shades. Rebecca created stunning depth and texture in this cascading bouquet by incorporating all of our favourite tulip varieties — starting with delicate whites and lilac shades in the parrot variety, transitioning into baby and hot pinks in all varities and rounding out the palette with rich, jewel toned purple standard, double and fringe tulips.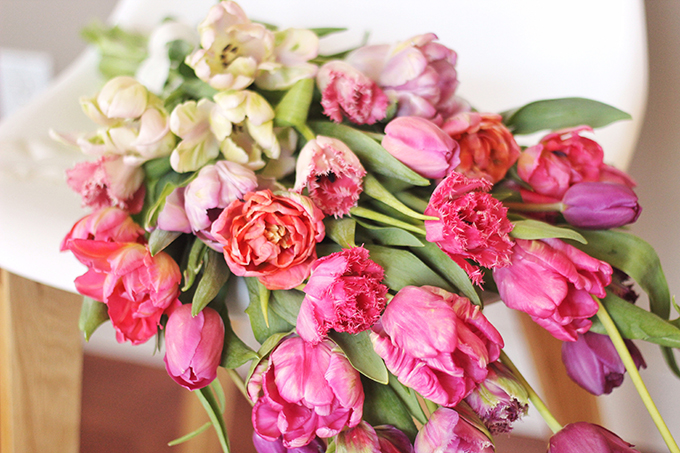 ---
— Also in my space —
Atelier Plastic Dining Chair with Wood Legs | Multicolour Aztec Throw | Paint
---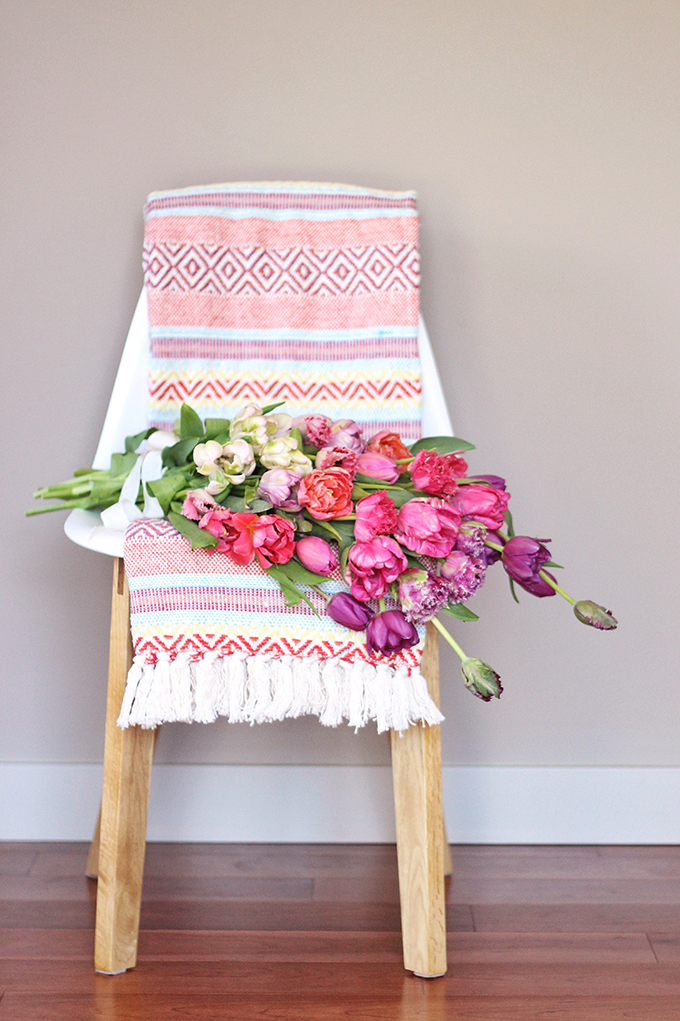 ---
CARE TIPS FOR HAPPY TULIPS
---
Tulips are very sturdy flowers that can last up to 10 days if you care for them correctly. Here are some expert tips that will allow you to enjoy your tulips for as long as possible!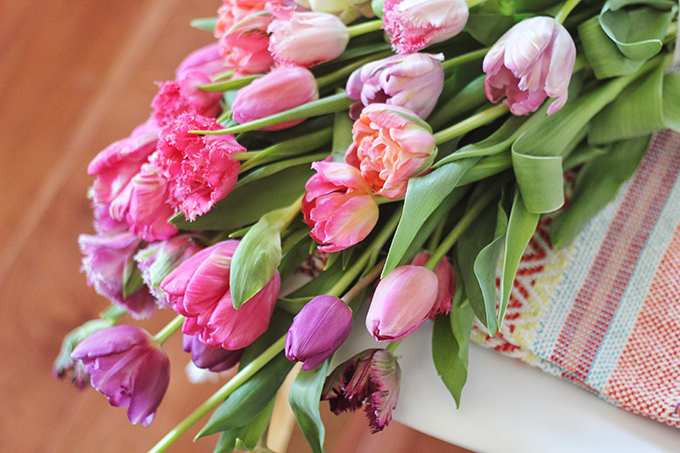 1. For maximum longevity, purchase tulips that are still tightly closed. They should also have bright green stems that feel crisp to the touch.
2. When you get them home, stand the wrapped flowers in water to give them a good drink while you're preparing their vase. To maximize your chances of keeping the stems straight, leave tulips in the vase with a wrap around them for a couple of hours. If you like those arching stems, feel free to start arranging right away.
3. Choose a vase that will cover at least half of the height of the tulips. If you choose a shorter vase, they will eventually bend over.
4. Using a sharp knife or scissors, cut stems at a 45-degree angle. Cut away any white stem tissue for better water absorption. Remove any leaves under the water line to prevent rotting.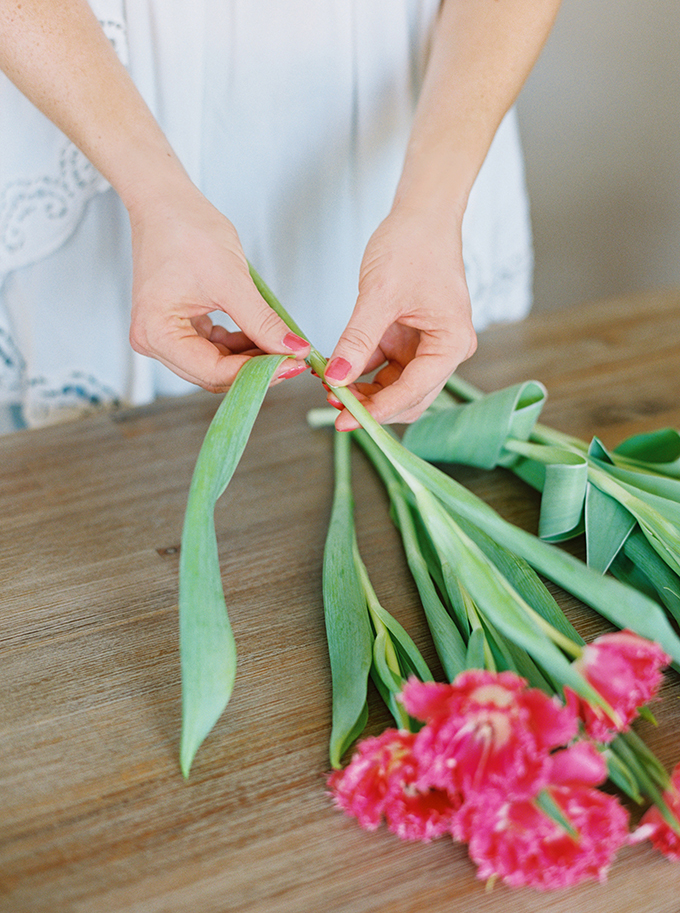 5. Keep the water filled 1/3 full with fresh, room temperature water. Tulips last longer in shallow water.
6. Arrange the tulips so that they each have breathing room in the vase. Giving each bloom a bit of space will prevent them from crushing one another, which will lead to premature petal drop-page and shorten the lifespan of your flowers.
7. Flower food will greatly lengthen the lifespan of your tulips. There are many options you can find around the home such as lemon juice, aspirin or pennies, however flower food is proven to be the most effective, and may be supplied when you purchase your flowers.
8. Recondition your tulips daily: recut the stems, change the water, and add nourishment.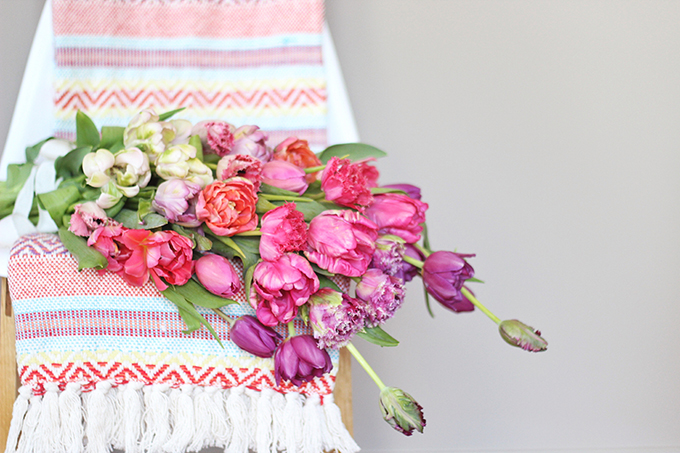 Tip: Remember to not arrange tulips with any flowers from the Narcissus family (such as Daffodils). Learn more about why you shouldn't arrange other flowers with Narcissus.

---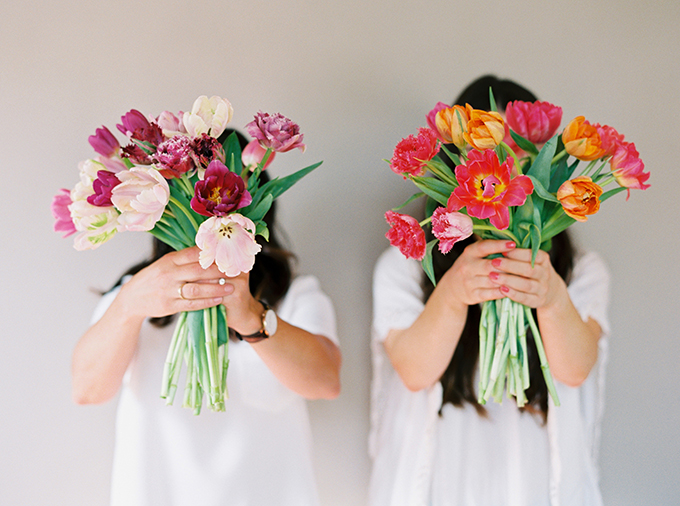 ---
MORE FROM OUR ALL ABOUT SERIES
---
---
I hope you enjoyed the second post in our educational series about flowers and learned something new today! I learned so much about tulips working on this post. If you have any flower related questions, feel free to leave us a comment and we'll do our best to accommodate your request in an upcoming post. And for more flower education, be sure to check out our Introduction to Spring Flowers post!
---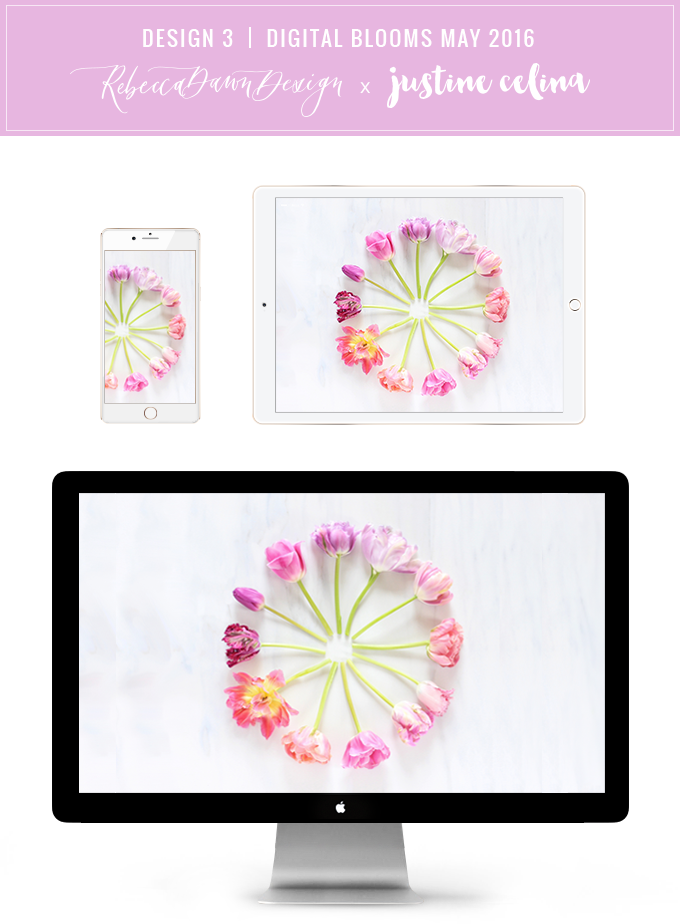 Craving more tulips? You can download 3 free wallpapers for your digital devices inspired by these gorgeous tulips blooms in our May edition of Digital Blooms!
---
Disclaimer: Thank you Rebecca Dawn Design for partnering with me on this post, and to Milton Photography for the 12th and 14th photos in this post. This post is not sponsored, and contains my genuine thoughts and recommendations. JustineCelina uses affiliate and referral links, which allow me to receive a small commission when you make a purchase through one of my links. Your purchases help to support JustineCelina.com!