---
Flower children, welcome back for another installment in our FLOWER EDUCATION series! Today Rebecca Dawn Design and I couldn't be more excited to share this Blushing Spring Arrangement with you — it's sweet, fragrant and right on trend for Spring 2017 (nope, I'm not even close to being done with the Spring 2017 Pantone Fashion Color Report!). Although I love each of the arrangements and bouquets Rebecca and I create, I have to say — this one is my all time favourite!
Blush tones are a huge trend this spring and its been so much fun translating seasonal colour inspiration across categories. This season, blush, peach and neutral tones have been present in my BEAUTY content and I can't stop wearing blush inspired neutrals at the moment (they'll be popping up in my next FASHION post!). Not only are blush and neutral toned blooms perfectly on trend, but the exquisite variety of shades that mother natures provides for us each spring is truly nothing short of amazing. Embrace the season with us today as we chat about our favourite spring blooms and flowering branches in this Blushing Spring Arrangement — including dreamy, oversized Japanese Ranunculus, standard Ranunculus, Quicksand Roses, Lisianthus, Hyacinths and fragrant Magnolia branches hailing from Canada's west coast! Rebecca also shares her expert flowering branch foraging and care tips to inspire you to enjoy the beauty of the season in your home this spring.
---
A BLUSHING SPRING ARRANGEMENT
---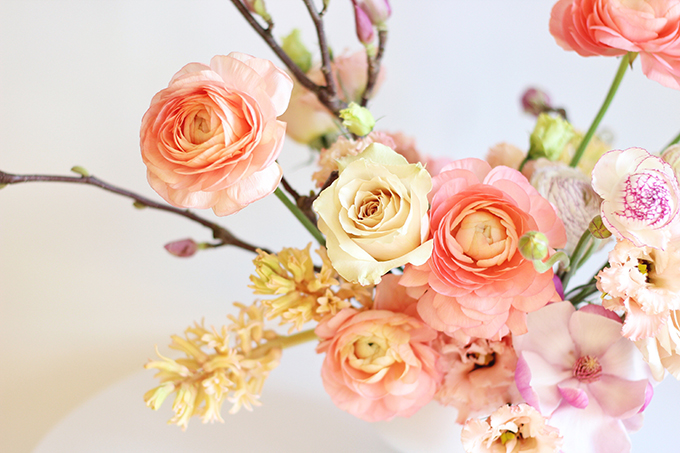 If this is your first flower post here at JustineCelina, thanks for stopping by — we're delighted to have you! Rebecca sourced some absolutely stunning blooms for us to work with for this post (like these peach Japanese Ranunculus!) and we're elated to share this Blushing Spring Arrangement with you in hopes that it inspires you to bring the outside in this season. Rebecca also provides expert flower branch foraging and care tips towards the end of this post — whether you're purchasing your branches from a flower market (they should be popping up this month) or doing some urban foraging, we've got you covered!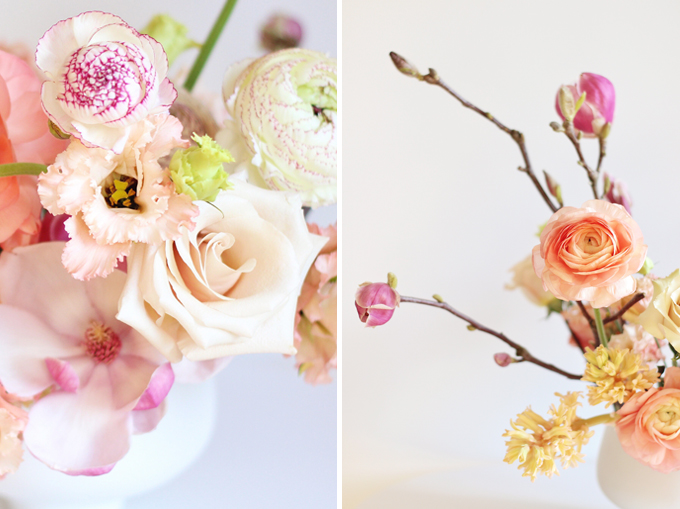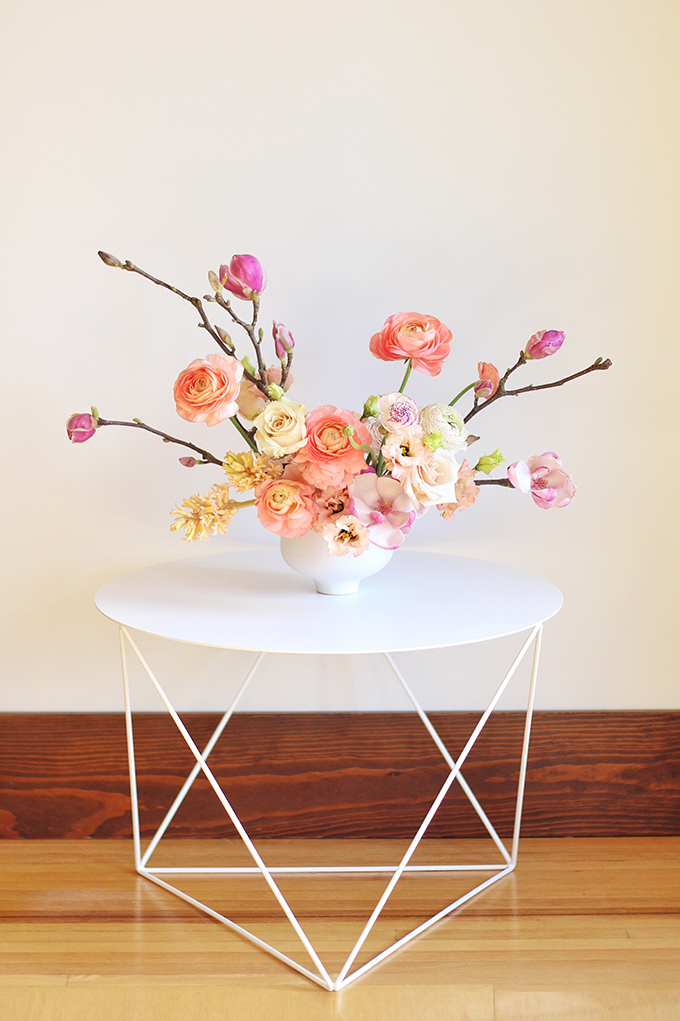 A few words from Rebecca

"With spring comes a bounty of blooms and a spectrum of flowering branches we've been eagerly awaiting all winter long! The combination of gentle hues and sweet scents radiating from this blushing arrangement usher the ethereal beauty of spring indoors to cheer up any space."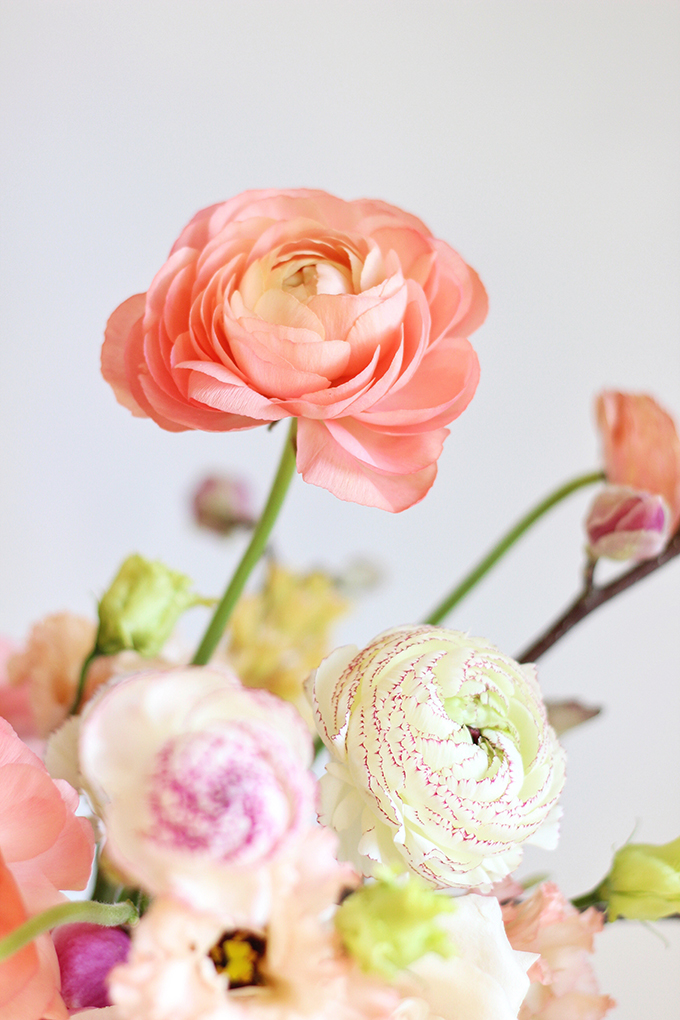 Flowers for an arrangement or bouquet are always divided into categories: primary flowers, secondary flowers and foliage or greenery (or in this case, flowering branches!). Today our primary flowers include those gorgeous, oversized Japanese Ranunculus, standard Ranunculus and understated Quicksand Roses (remember them?). Our secondary flowers are Lisianthus and Hyacinths, while fragrant Magnolia branches tie everything together with a whimsical, west coast flair and act as our foliage!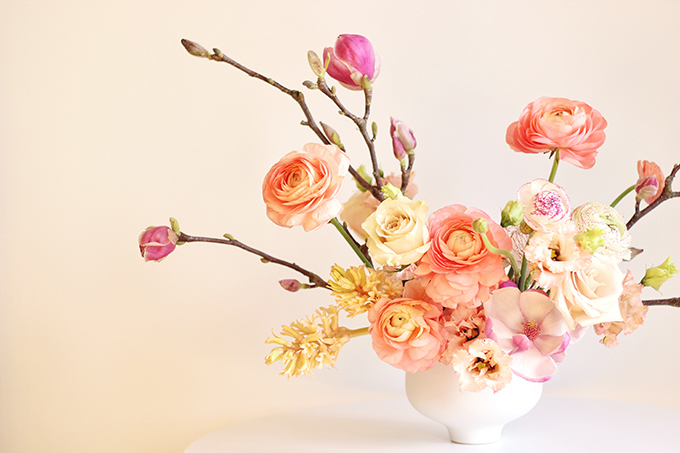 We drew colour inspiration from the softer side of the Spring 2017 Pantone Fashion Color Report — blush, neutral and muted tones are trending this spring and they just happen some of mine and Rebecca's favourites. They're so fresh intermixed with these pops of green! This sweet springtime arrangement features an array of quintessential spring blooms which we identify for you below if you'd like to recreate this arrangement at home or bookmark it as inspiration for an event or special occasion (a spring wedding, perhaps?). Let's break it down!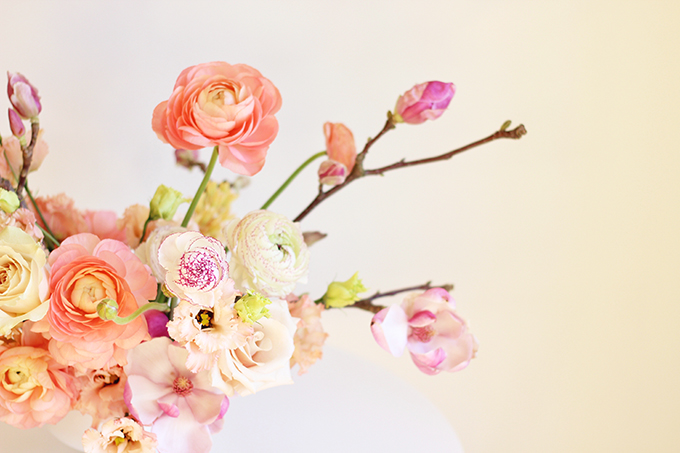 ---
OUR BLUSHING SPRING ARRANGEMENT INCLUDES
---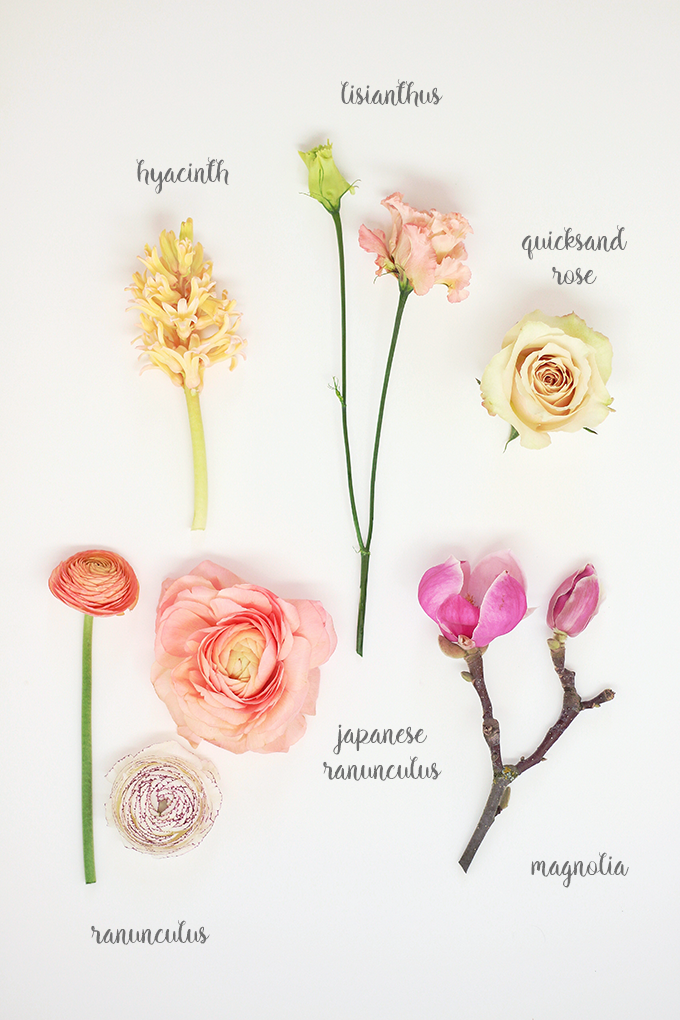 ---
 — Ingredients left to right, top to bottom —
---
1. Hyacinth
Learn more about them in our Introduction to Spring Flowers post from last April

2. Lisianthus
A brand new flower here at JustineCelina, native to the southern United States, Mexico, the Caribbean and northern South America

3. Quicksand Rose
Learn more about them in our All About Roses post

4. Japanese Ranunculus
The dreamiest Ranunculus ever!

5. Ranunculus
Learn more about them in our All About Ranunculus post

6. Magnolia
Transported to us from Canada's Gulf Islands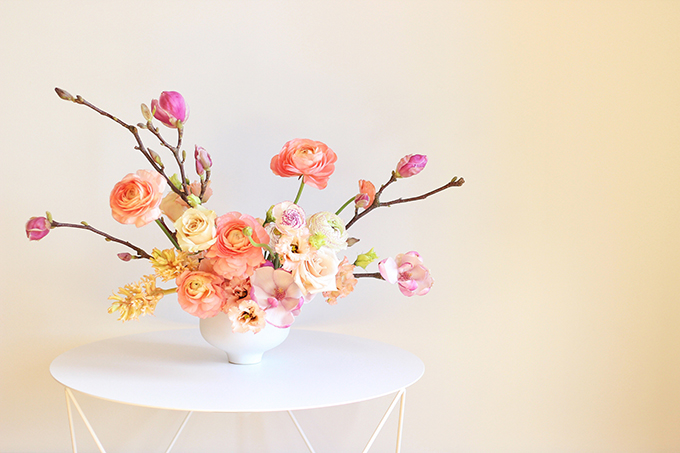 The flower list for this sweet springtime arrangement is actually quite minimal! Rebecca opted out of using greenery this time to impart a more monochromatic vibe and allow these gorgeous blooms and branches to shine. I love the quirky, organic note the Magnolia branches add. Aren't they charming?
---
FLOWERING BRANCH FORAGING & CARE TIPS
---
If you too are captivated by spring's blossoming branches, you're in luck — they'll be popping up in flower markets everywhere this month. Or if you're feeling adventurous, why not try your hand at a little urban foraging? Rebecca's expert foraging and care tips are ideal to successfully capture and care for any flowering branch!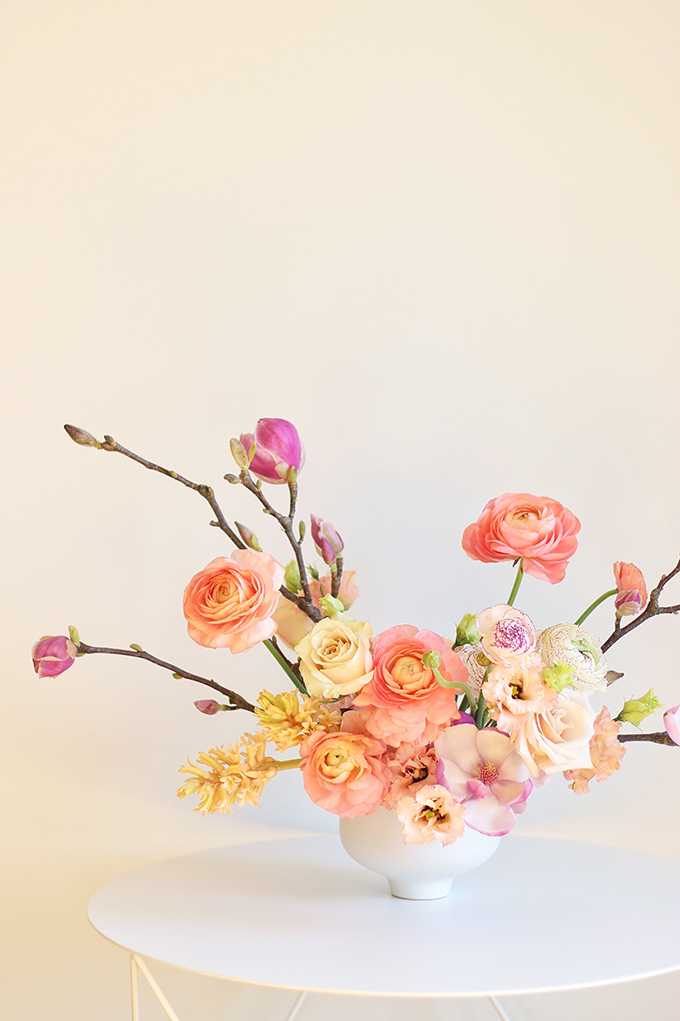 FORAGING TIPS
1. The best time to forage flowering branches is the early morning, when the flowers are fully hydrated.
2. Use a sharp, clean knife (and please be careful!) to trim the branches a few inches longer than the final length you would like. Always cut just above a leaf, bud or branch junction.
3. Immediately place the cut end of the branches in a bucket or other container filled with warm water.
---

CARE TIPS
1. Once you get the branches home, fill a clean vase with warm water and a floral preservative, preparing the mixture according to instructions on the floral preservative label.
2. While the branches are still submerged in the bucket of water, cut any leaves or small stems off the portion off of the branch that will be below the waterline in your arrangement. This will ensure the cut surface is not exposed to air and extend the life of the blossoms.
3. Use a diagonal cut to remove at least 1/2″ of each branch before arranging them.
4. Transfer the flowering branches quickly into the prepared, water-filled vase.
5. Replace the preservative-and-water solution whenever the water in the vase appears cloudy, which indicates bacterial activity. Each time you replace the water, trim off at least 1/2″ of stem from the bottom of each flower stem to prolong the life of your flowering branch.
---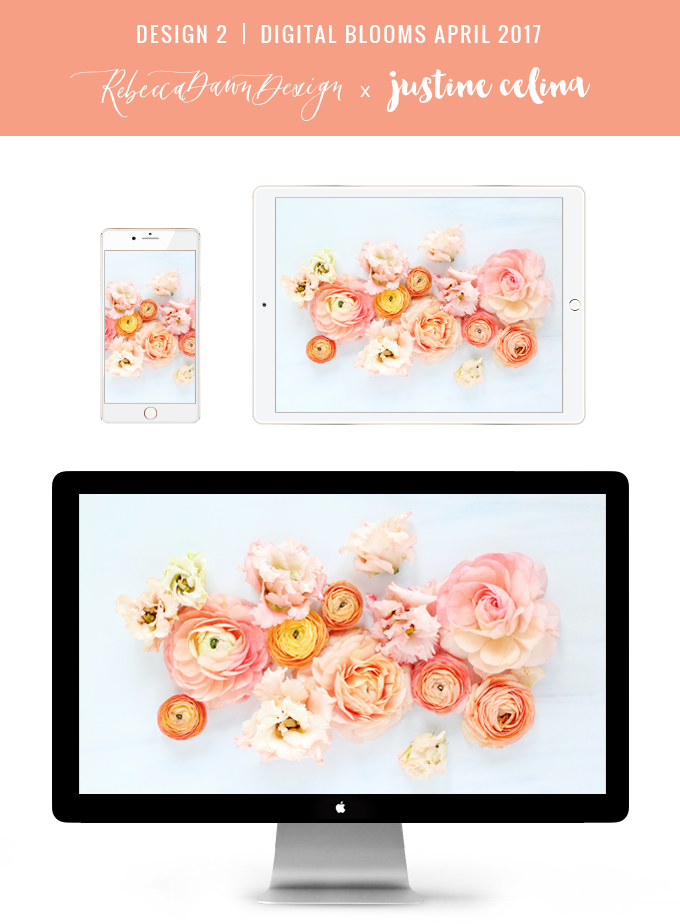 Craving even more blushing spring flowers? Hop over to our Special 1st Anniversary Edition of Digital Blooms post where you can download 3 free wallpapers for your digital devices inspired by spring's most beautiful blossoms!
---
MORE FROM OUR FLOWER EDUCATION SERIES
---
How to Unite a Room with Flowers
An Introduction to Spring Flowers
The Most Beautiful Autumn Arrangement, Evet
A Guide to Bringing Flowers Into Your Home
Luxe Holiday Floral Inspiration
---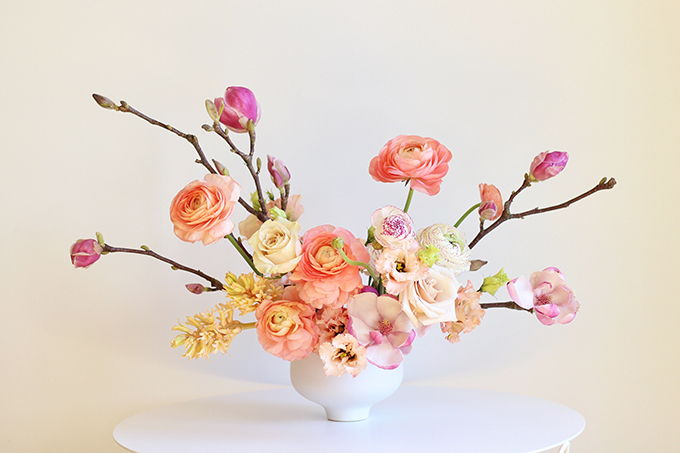 What are your favourite flowering branches? Magnolia sure are beautiful (I was in the Portland area at the height of Magnolia season a couple of years ago and it was so gorgeous!), but I'm also partial to cherry blossoms. I just missed them on my recent trip to Vancouver and the island, but Rebecca and I actually worked with them last year! Lilacs are also lovely, although it will be a couple of months before they pop out here in Calgary.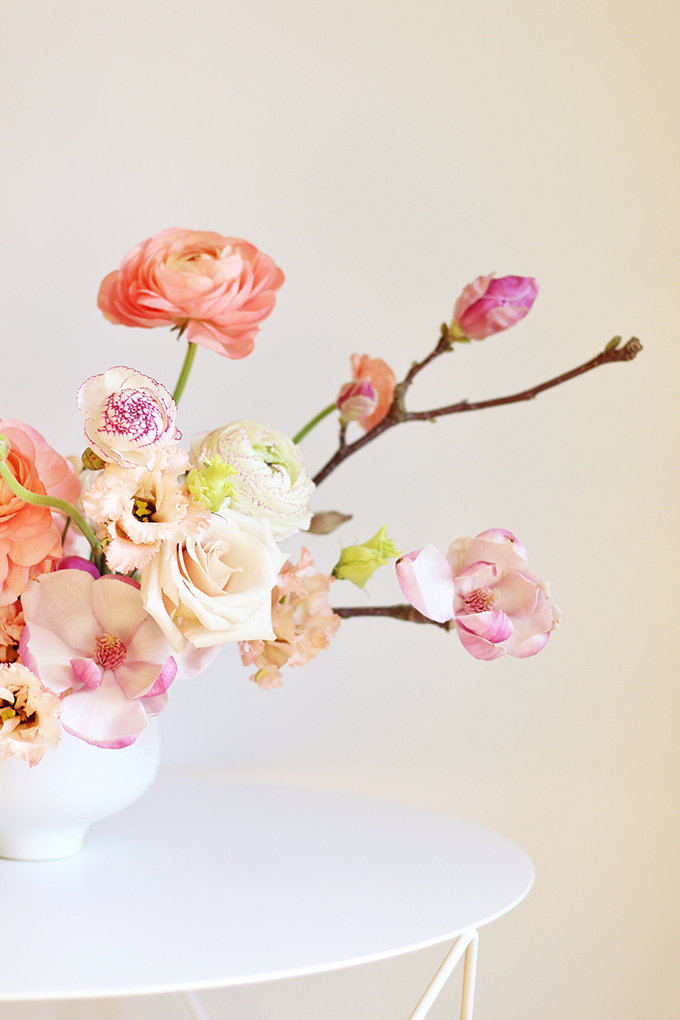 We hope you enjoyed this Blushing Spring Arrangement as part of our FLOWER EDUCATION series and learned something new in this post! If you have a summer flower question or request, just leave us a comment — we're currently planning new content and would love your feedback. Have a great rest of your week, friends!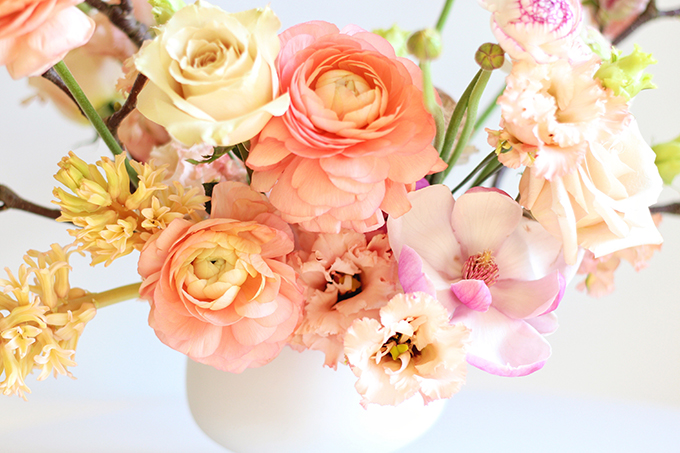 ---
Disclaimer: Thank you to Rebecca Dawn Design for partnering with me to create this post. This post is not sponsored, and contains our genuine thoughts, ideas and recommendations. JustineCelina uses affiliate and referral links, which allow me to receive a small commission when you make a purchase through one of my links. Thank you for supporting the brands and businesses that support JustineCelina.com!