---
Many of us are bringing fresh flowers into our homes this spring — but despite our best care, all flowers eventually fade. Today I've teamed up with my friend and incredibly talented flower designer Rebecca Dawn Design to share an extremely simple (and extremely beautiful!) DIY Floating Spring Centrepiece — the perfect way to extend the life of blooms that are on their way out! All you need is a large serving bowl, fresh water and a handful of blooms — either repurposed from a less than youthful arrangement, or foraged from your garden! We're covering everything you need to know to create a showstopping centrepiece to infuse any space with the fleeting beauty of spring blossoms — expert flower arranging skills not required.
You guessed it — we're still drawing inspiration from Pantone's spring palette and highlighting a melange of gorgeous spring blooms in soft shades of Pale Dogwood, Flame, Pink Yarrow, Hazelnut and (of course) a hint of the Colour of the Year for 2017, Greenery. Kick back with Rebecca and I tonight as we show you how to create this easy going, pastel hued centrepiece to adorn your coffee table, dining table, or enliven your al fresco entertaining this season!

---
DIY FLOATING SPRING CENTREPIECE
---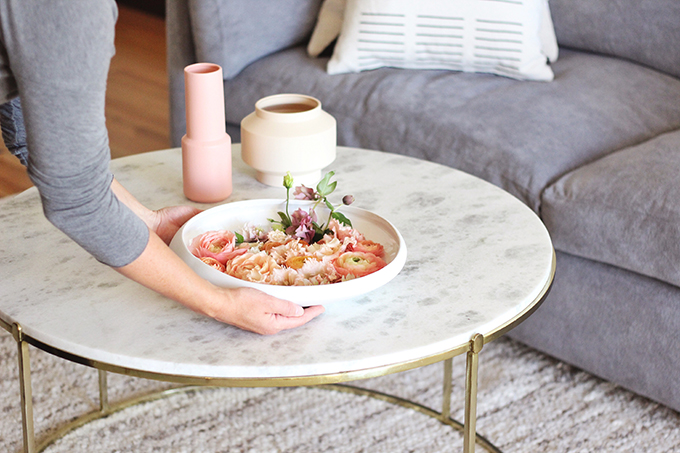 Placing flower tops on a bed of water to preserve them between shoots is something I've done ever since I started working with Rebecca to bring flower content to JustineCelina. I'd often catch a glimpse at our 'flower leftovers' and be amazed at how beautiful they were, with such minimal effort required! I was also surprised at how long the flowers lasted — up to a full week, if I changed their water daily and kept them out of direct sunlight.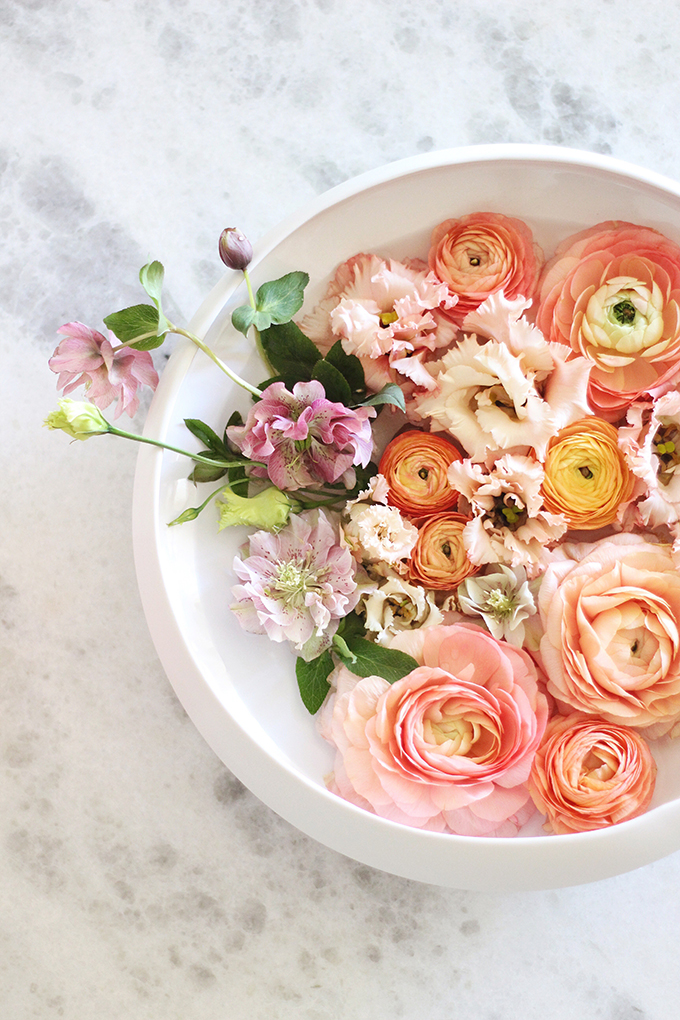 If you follow along with my Insta Stories (come join me for a peek into my day-to-day life and a behind the scenes look into my creative process), you'll know that Rebecca and I typically shoot a few months worth of content in one day to maximize the flowers. After a productive morning of shooting our Blushing Spring Arrangement and April 2017 Digital Blooms, we placed the cut flower heads on water to help keep them hydrated. Rebecca had just picked up a gorgeous serving bowl and we decided to shoot this DIY Floating Spring Centrepiece on the fly, completely inspired by our serendipitous creation! Our goal in sharing flower content here at JustineCelina is that we help to make flowers more accessible, so we knew it would make a great DIY! We loved the simplicity and elegance of this idea and thought you would too — it really is so easy to replicate at home. If you've always wanted to try flower arranging but feel like you want to start with something less involved, a floating centrepiece is the perfect spring DIY!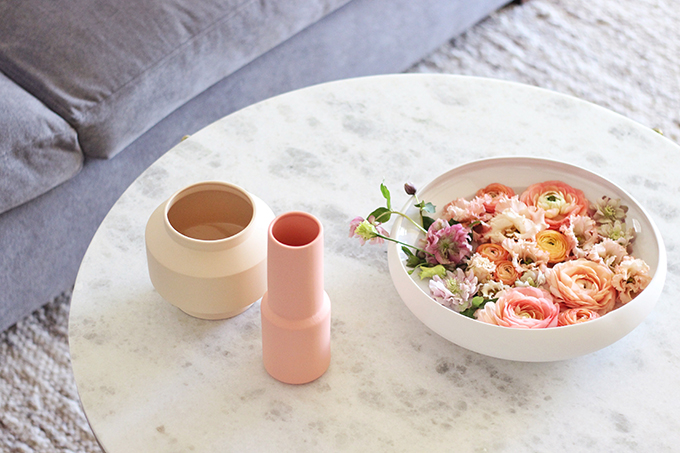 ---
HOW TO MAKE A DIY FLOATING SPRING CENTREPIECE
---
1. Start by selecting your flowers. Our DIY Floating Spring Centrepiece includes stunning, oversized coral Japanese Ranunculus, peach Ranunculus, blush Lisianthus (learn more about these 3 varieties here) and soft purple, Double Bloom Hellebores. As I mentioned previously, this project is ideal for flowers that are nearing the end of their vase life and have have begun to droop or loose their shape.
2. Then, select your serving bowl. Generally, flat styles with a large circumference work best — be sure to choose a bowl proportionate to the size and number of blooms you're working with.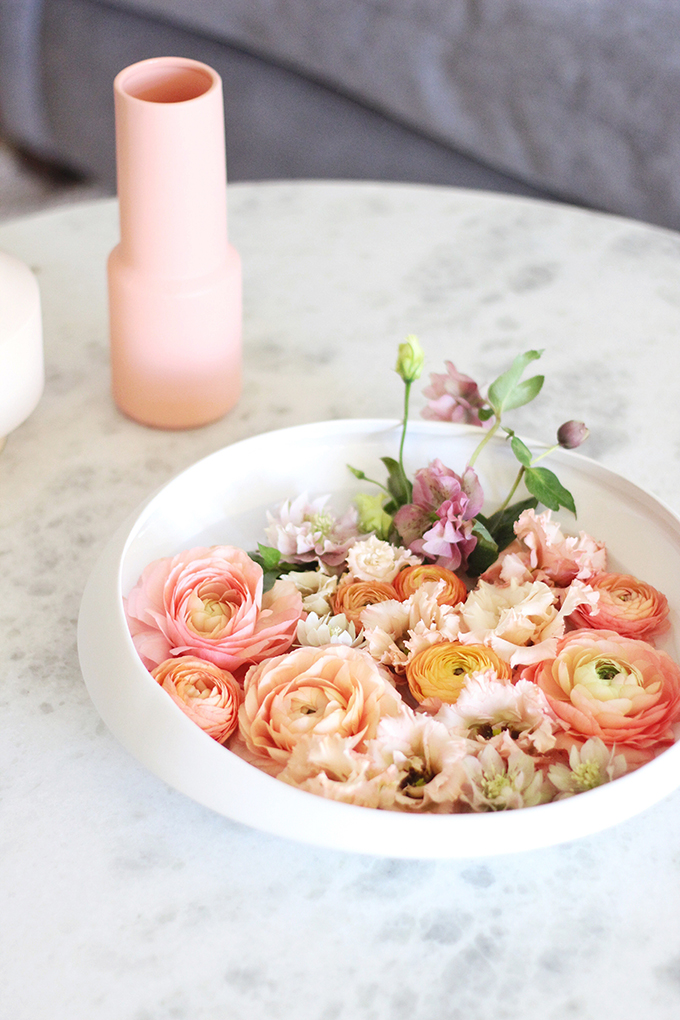 3. Trim stems away from the back of each bloom, so they lay completely flat.
4. Fill your serving bowl with warm water and a floral preservative, preparing the mixture according to instructions on the floral preservative label (or stay tuned for Rebecca's Homemade Flower Food Recipe coming to JustineCelina this summer!). You'll want to leave enough vertical space between the waterline and the top of the bowl to comfortably house your blooms.
5. Begin arranging your flowers in the bowl. Generally, the same principles apply to arranging in a serving bowl as they do to an arrangement! Start by adding the largest and sturdiest flowers first — these are your primary flowers (here, they're our oversized coral Japanese Ranunculus). Choose 3-5 primary flowers and scatter or cluster them in the bowl. Move them around in the water until you're happy with their placement.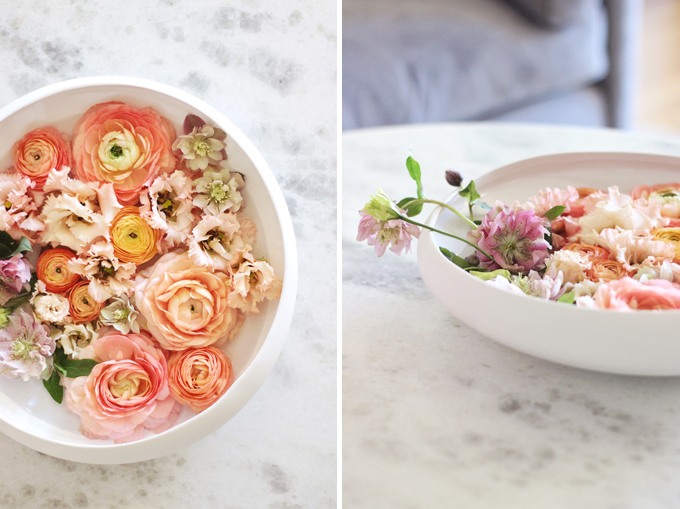 6. Next, add your secondary flowers to begin filling in any holes in your floating centrepiece (here, they're the peach Ranunculus and blush Lisianthus).
7. Lastly, round things out by adding your tertiary flowers or foilage (here, they're the soft purple Double Bloom Hellebores). Rebecca always adds the most delicate flowers last, so the heavier blooms don't squish or damage them.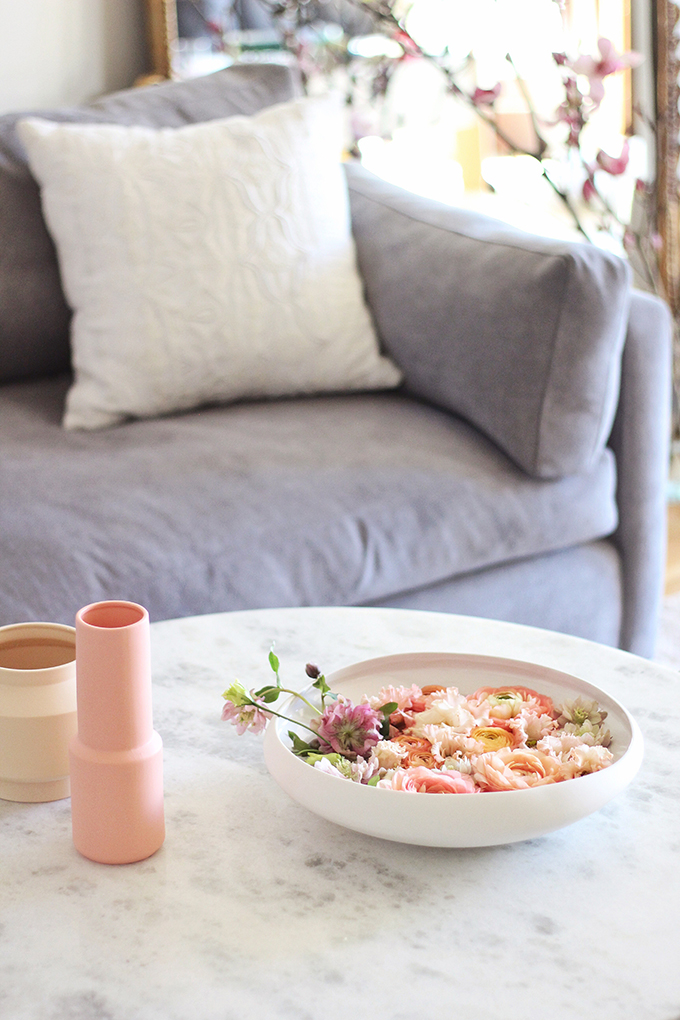 8. Feel free to move things around and adjust them until you're happy with your DIY Floating Spring Centrepiece!
9. To maximize the life of your centrepiece, replace the preservative-and-water solution daily and keep it out of direct sunlight. In our home, floating centrepieces have lasted for up to a week — especially if they contain flowers with a longer vase life, like Ranunculus!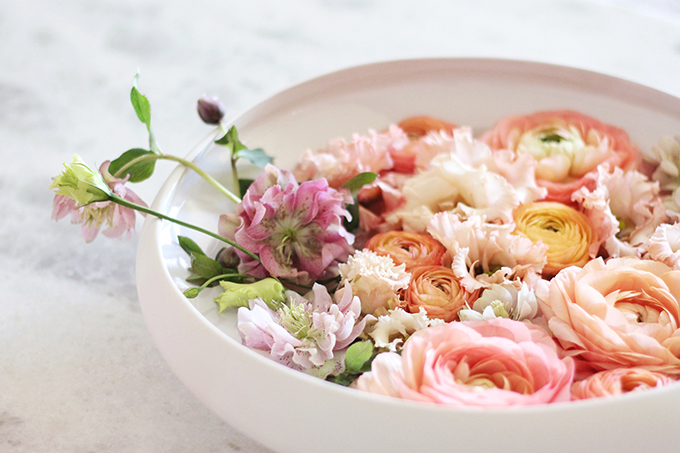 ---
GET YOUR SPRING FLOWER FIX
---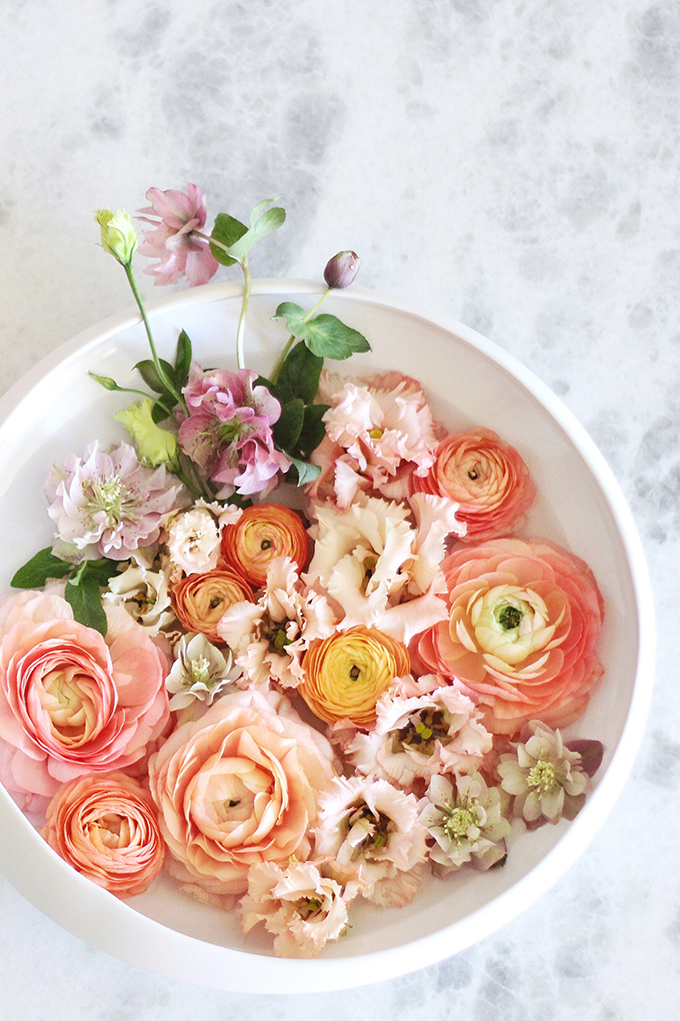 An Introduction to Spring Flowers
---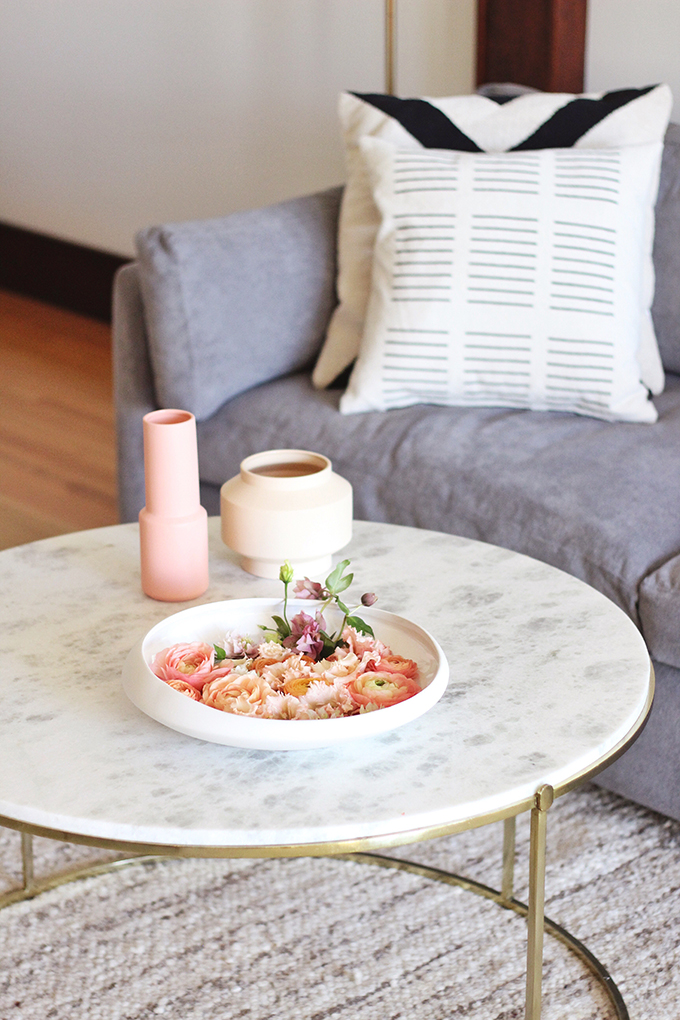 ---
I hope our DIY Floating Spring Centrepiece gives you some inspiration to enjoy the beauty of your spring blooms for a little while longer! If you haven't had your fill of flowers, be sure to check out our Blushing Spring Arrangement to learn more about seasonal blooms and flowering branches or download a free digital wallpaper from the DIGITAL BLOOMS archives. We can't wait to share June's flower content with you (hint: I hope you like peonies!).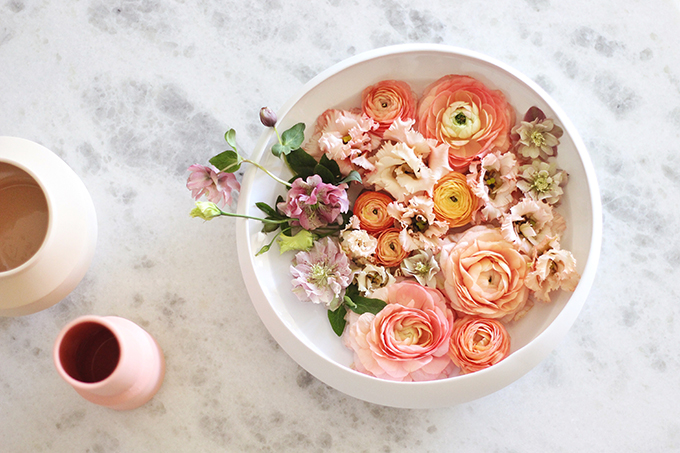 ---
Disclaimer: Thank you to Rebecca Dawn Design for partnering with me to create this post. This post is not sponsored, and contains our genuine thoughts, ideas and recommendations. JustineCelina uses affiliate and referral links, which allow me to receive a small commission when you make a purchase through one of my links. Thank you for supporting the brands and businesses that support JustineCelina.com!