---
With the promise of spring dancing on the warm Chinook breeze, I find myself looking to refresh my BEAUTY routine to reflect the transitioning seasons. You may have noticed a consistent colour story here at JustineCelina this month — I'm absolutely head over heels for all things pink and feminine, which seems to be a recurring theme each February! As we ease into spring (and through an extremely brown late winter here on the Alberta prairies), I seem to crave an extra dose of colour — in my wardrobe, my home and even in my beauty routine. I've noticed that each year February's arrival evokes my desire to swap My Top 5 Everyday Lip Colours in favour of warmer, rosier, more romantic hues — and today I'm elated to share them with you!
My Top 5 Rose Toned Lipsticks are tried-and-true shades that have secured a permanent place on my vanity (and in the bottom of my bags!) as we transition into spring. From ethereal rosy nudes to the richest, deepest roses and across a range of formulas, finishes and price points, these universally flattering rose-coloured lipsticks truly make me feel beautiful — and I think you'll love them, too! If you're looking to infuse your beauty routine with a fresh, romantic twist as warmer weather and approaches, pour yourself a glass of rosé and take a seat at my vanity to learn more about MY TOP 5 rose toned lipsticks — plus coordinating lip liners to create a full, defined pout!

---
MY TOP 5 ROSE TONED LIPSTICKS
---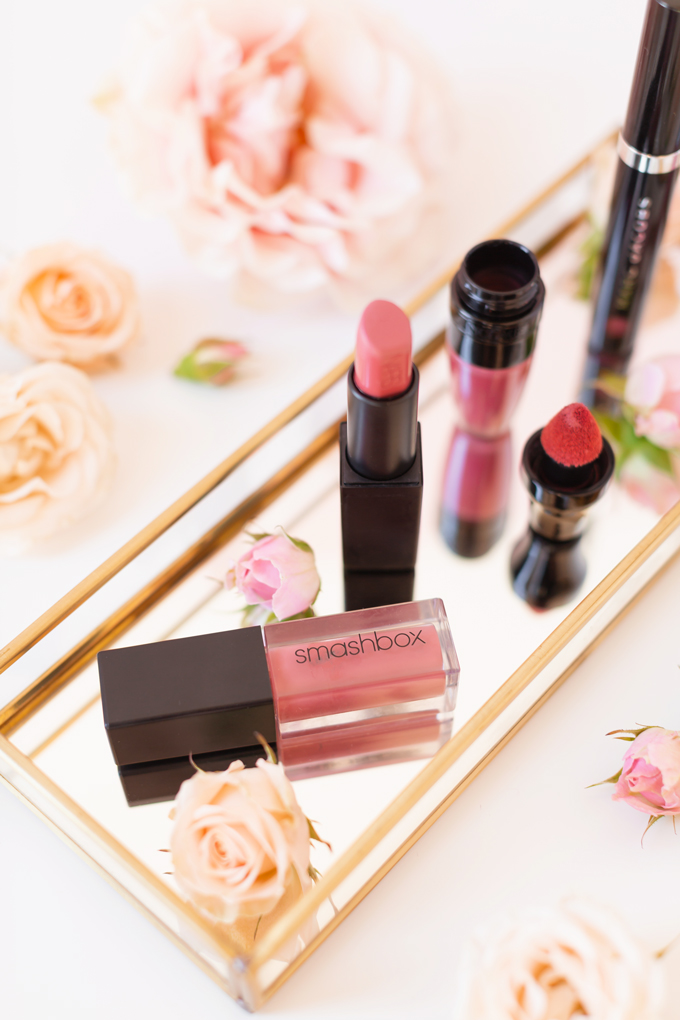 I'm elated to share My Top 5 Rose Toned Lipsticks with you today, in hopes that I inspire you to see your beauty routine though rose-coloured glasses! There's something about wearing a rosy lipstick that makes me feel so sophisticated, beautiful and elegant — and I truly believe there's a perfect rose shade for everyone. Whether you're a rose lip aficionado or looking to explore the world of rose toned lipsticks, you've come to the right place! For easy browsing, I've organized this post in order of shade depth  — the lightest, most nude roses appear first, followed by mid tones, concluding with the deepest, richest rose hues.
Keep in mind that I have warm / neutral colouring (MAC NC 25-30) and therefore colours will look different on me than they would on you, unless we have a similar complexion. There are a variety of warm and neutral shades featured in my My Top 5 Rose Toned Lipsticks — there truly is something for everyone, from drugstore to luxury, across an expansive range of formulas and finishes!
For those of you who like to use a coordinating lip liner to achieve a full, defined pout (learn more about my process in this post), I've also included lip liner recommendations at the end of each lipstick's section.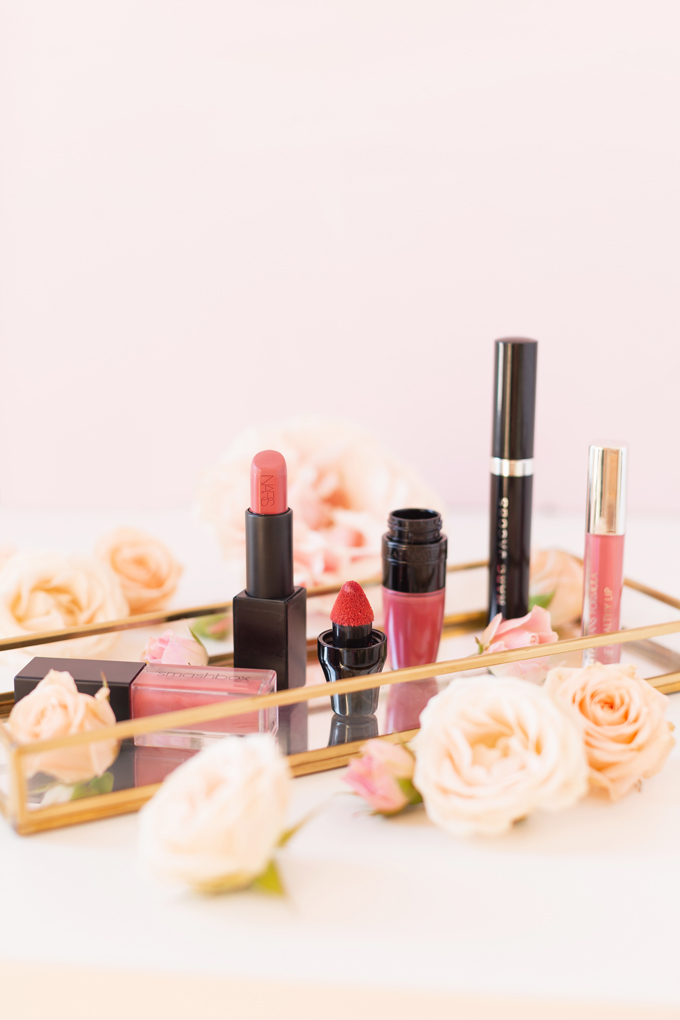 ---
---
Longtime readers will be no stranger to the NARS Audacious Lipsticks — one of my all-time-favourite classic lipstick formulas. Although Brigitte gets a lot of love around here (hop over to My Top 5 Everyday Lip Colours for a review!), today I'm introducing you to Anita — her rosier, more neutral cousin!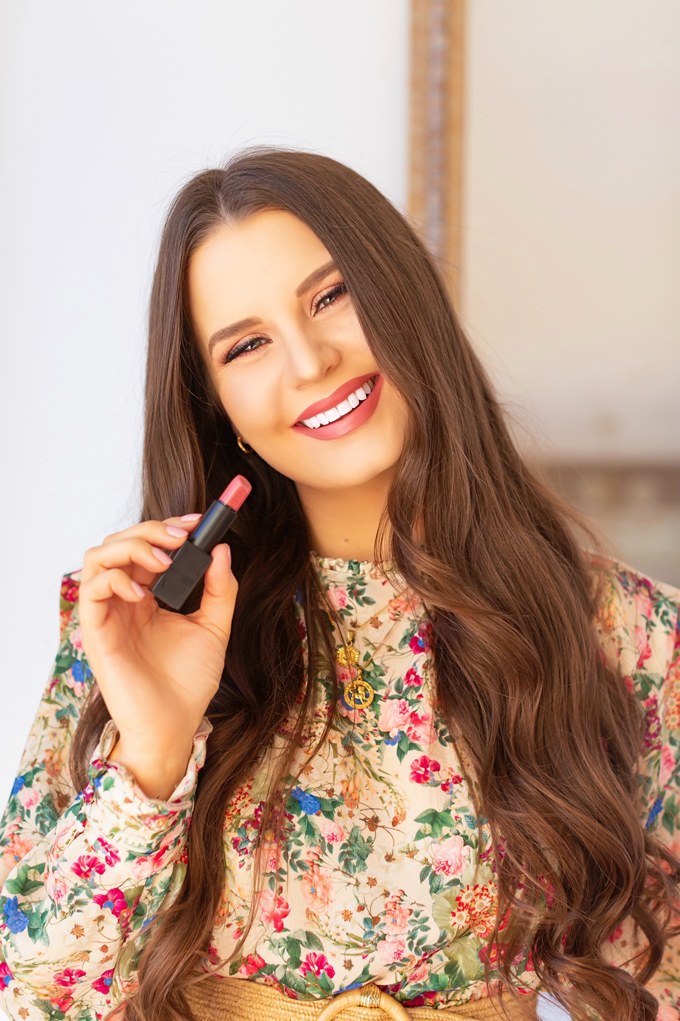 If you're up for a bit of a splurge, the NARS Audacious Lipsticks are an absolutely beautiful, hydrating lipstick that ooze luxury. This formula delivers beautifully creamy, saturated color and complete coverage with one swipe. It doesn't bleed or feather and lasts for about 4 hours on me, which I find pretty typical of a classic lipstick formula. The component is substantial but straightforward with a magnetized lid, so there's no risk of it coming off in your bag and ruining your lipstick!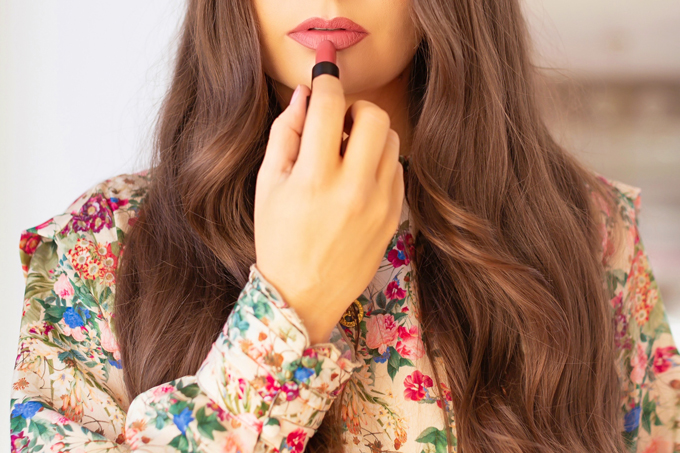 Described by the brand as an 'antique rose', Anita is my go-to shade whenever I'm craving a neutral rose shade for everyday wear. Typically, you'll find her hanging out in the bottom of my handbags and briefcase all month long (stay tuned to see her in action in my upcoming Winter / Spring 2020 Lookbook!). It's one of those beautiful, rosy pink, your lips but better shades and I've been reaching for it when I want something flattering, hydrating, professional and easy to wear.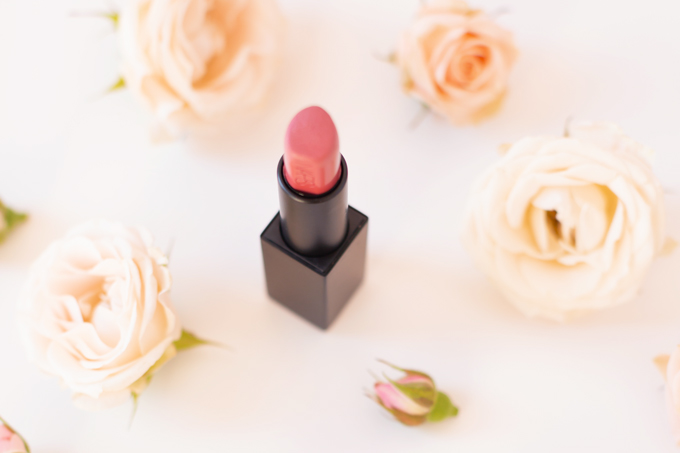 If you're a sucker for the classics, consider Anita my top neutral rose recommendation in a traditional lipstick formula. She's the lightest and most nude of all my rosy recommendations — and a fantastic place to begin exploring the world of rose hued lipstick!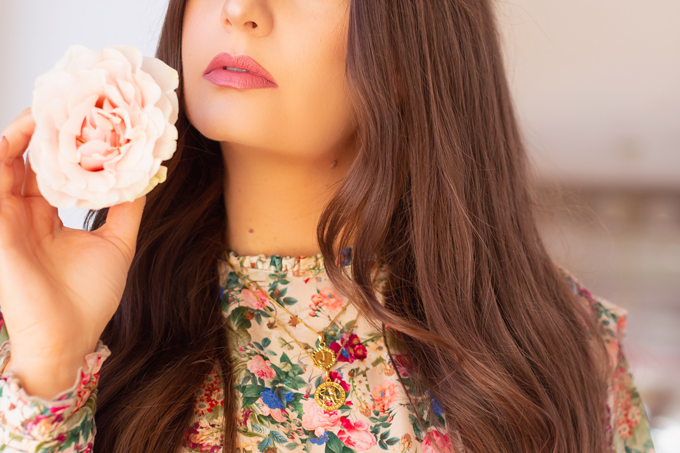 Pair Anita with Colourpop's Lippie Pencil in Good & Plenty (my all time favourite my lips but better shade!) for a perfectly defined, rosy nude pout.

---
---
CDN $32.00 (0.13 oz)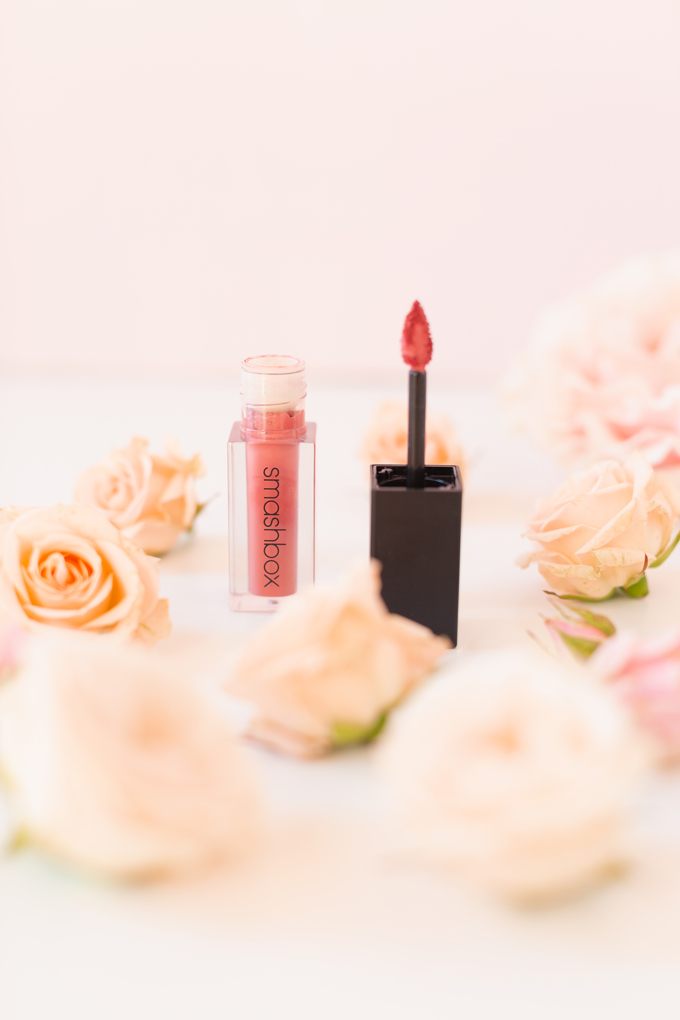 If you're a nude, liquid lip lover looking to dip your toes into rosy shades, try Smashbox's Always On Liquid Lipstick in Babe Alert! Described by the brand as a 'nude rose' (which is exactly how it translates on my skintone), this ultra feminine shade is what I reach for on days that I want a bulletproof lipstick with just a kiss of rose. I love it with more neutral, everyday makeup as well as smokier or more colourful eyes — it pairs well with pretty much any look!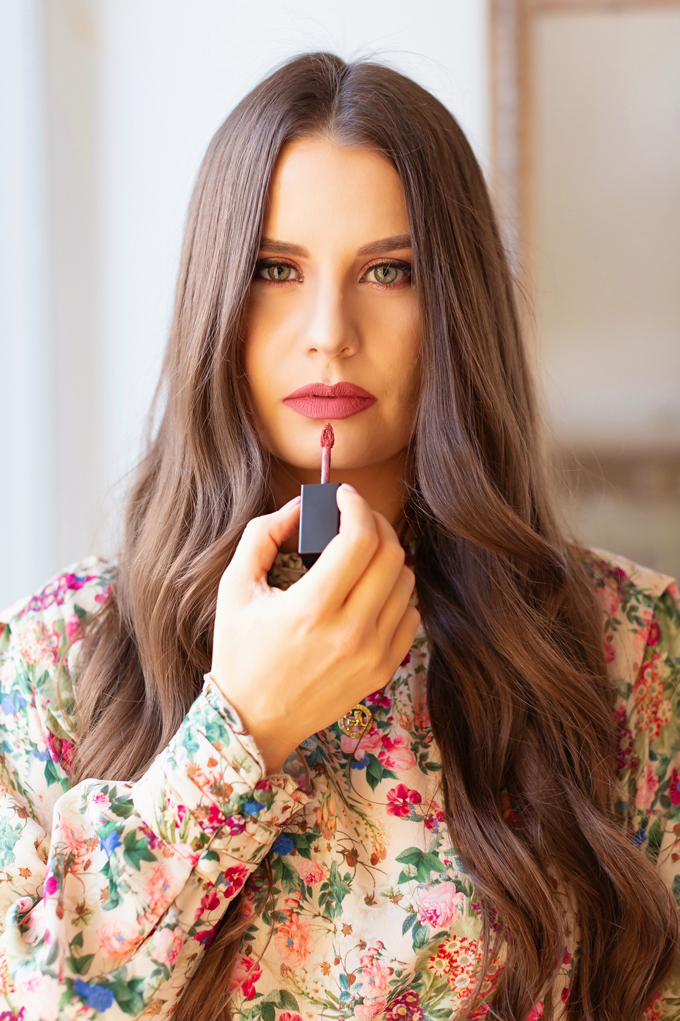 The Smashbox Always On Liquid Lipsticks are a classic, longwearing, luxurious liquid lipstick formula — and one I've been using consistently since first discovering it back in 2016. It's scentless, thick (almost whipped), and nourishing — gliding over the lips to create a smooth, defined pout. I also find this formula unique in the fact that although it dries down matte, it actually fills in lip lines (probably due to the lip-smoothing primer oil complex infused into the formula!). This product is also cruelty free.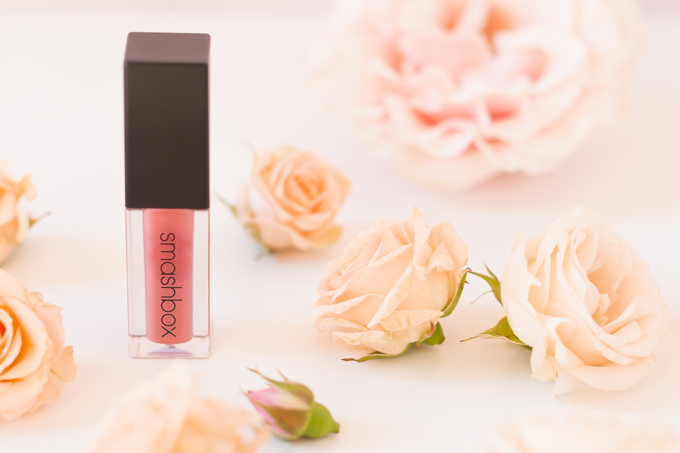 The pointed applicator ensures precise application, featuring a reservoir that collects product to ensure you have enough lipstick to completely cover your lips in one swipe. These liquid lipsticks remain slightly tacky for the first hour of wear and aren't totally transfer proof, but they're extremely comfortable, lightly hydrating and suede-like on the lips. The Smashbox Always On Matte Liquid Lipsticks last for about 7 hours on me.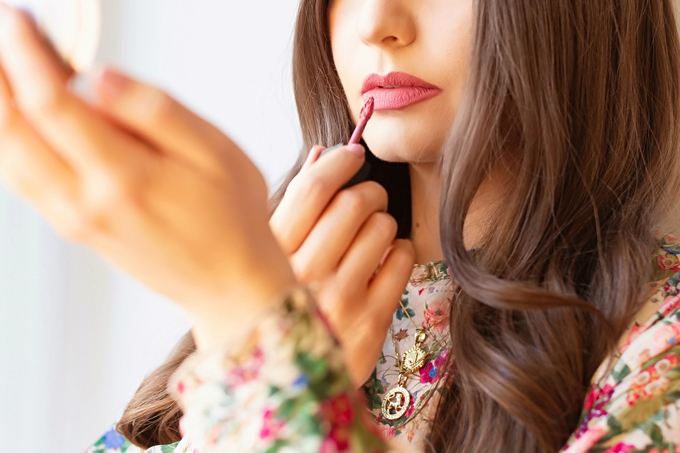 Babe Alert is the a stunning, mid-toned nude rose and my top recommendation if you're a classic liquid lipstick lover looking to dive into rose toned shades! Line your lips with Marcelle's Waterproof Lip Definition Crayon in Pebble for an extra defined look.


---
---
USD $8.49 (0.24 oz) | SALE $ $4.29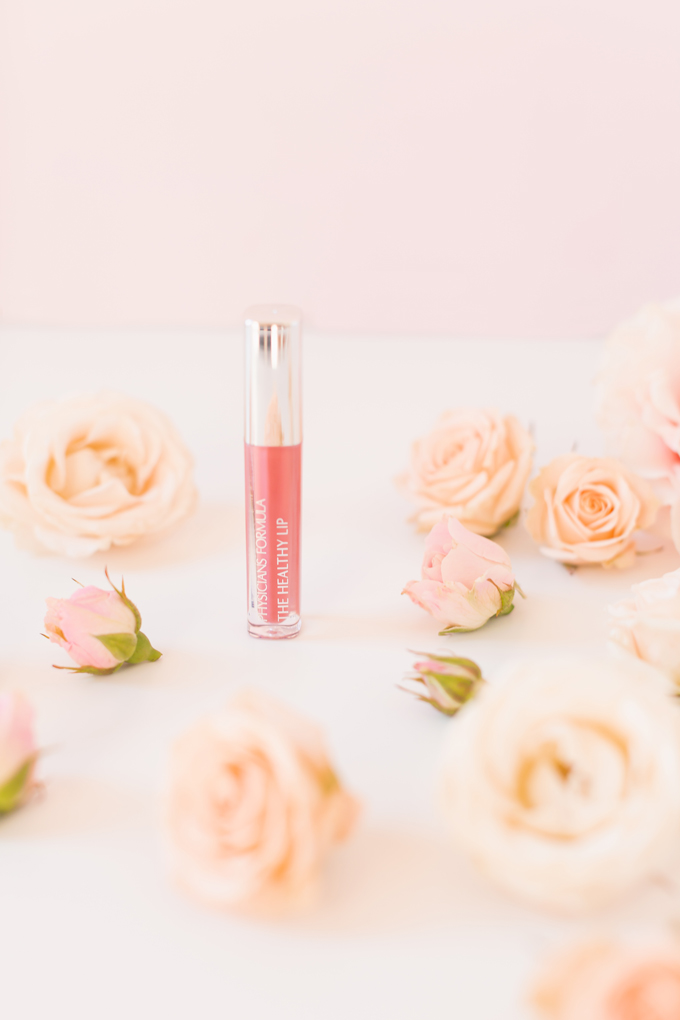 Looking for a truly luxurious rose toned lipstick at a drugstore price point? Allow me to introduce the Physician's Formula The Healthy Lip Velvet Liquid Lipstick in Coral Minerals — an incredibly nourishing and lavishly pigmented liquid lipstick offered at just a fraction of the cost of its rosy counterparts!
Coral Minerals is my most recent rose toned discovery — a gorgeous warm, mid-toned, rosy pink (rather than a coral, which the shade name implies). It's very similar to Smashbox's Always On Liquid Lipstick in Babe Alert in depth and tone, however, it's a kiss more pink and much less expensive!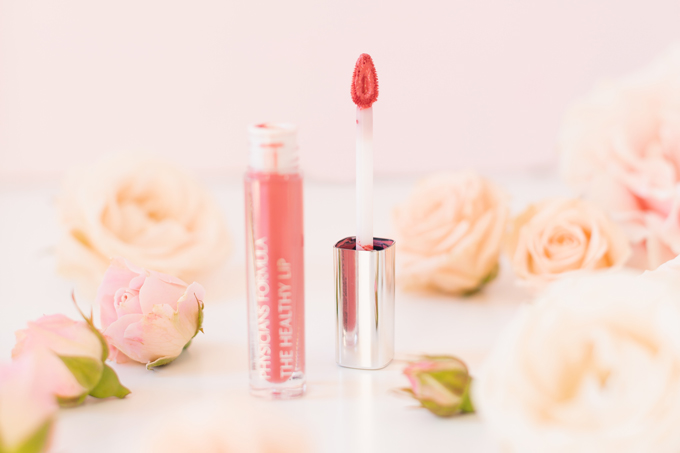 I'm completely blown away by the Physician's Formula The Healthy Lip Velvet Liquid Lipsticks, which fuse long lasting, comfortable wear with a smoothing, nourishing, whipped formula loaded with organic avocado oils and vitamins A and E. It's also cruelty-free, hypoallergenic, Dermatologist approved and free parabens, gluten, phthalates and aluminum — a fantastic option for those of us with sensitive skin and allergies or intolerances.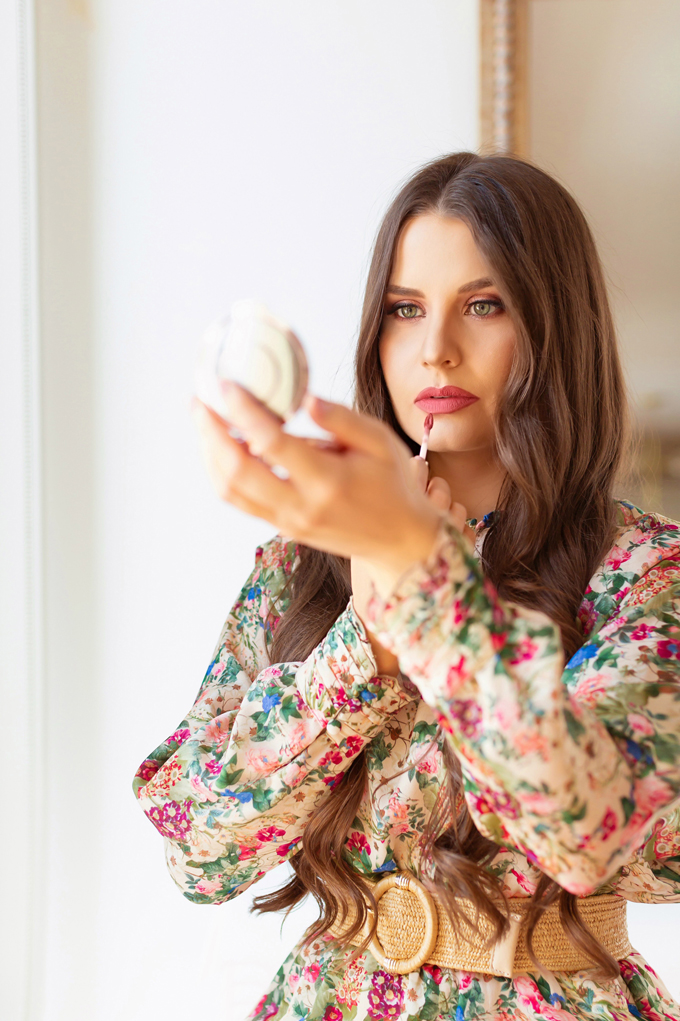 The Physician's Formula The Healthy Lip Velvet Liquid Lipstick in Coral Minerals delivers longwearing, decadent, high impact color with a light-weight, cushiony feel. It dries down to a matte (but not completely transfer-proof), comfortable finish that lasts about 7 hours on me. Oh, and did I mention they smell like the most decadent vanilla buttercream?!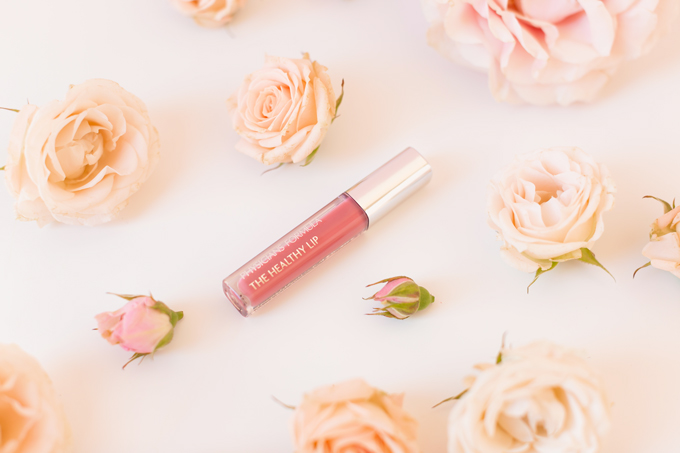 The Healthy Lip Velvet Liquid Lipsticks have become my all-time-favourite drugstore liquid lipstick, offering incredible value at an affordable price point. If you're a pink lip lover looking to venture into rosy shades, or looking for an affordable, warm toned lipstick rose lipstick, pick up Coral Minerals on your next drugstore run. While you're at it, grab Jordana's Easy Liner for Lips in Pink Love (another one of my favourite drugstore lip liner formulas!) for a near-perfect match.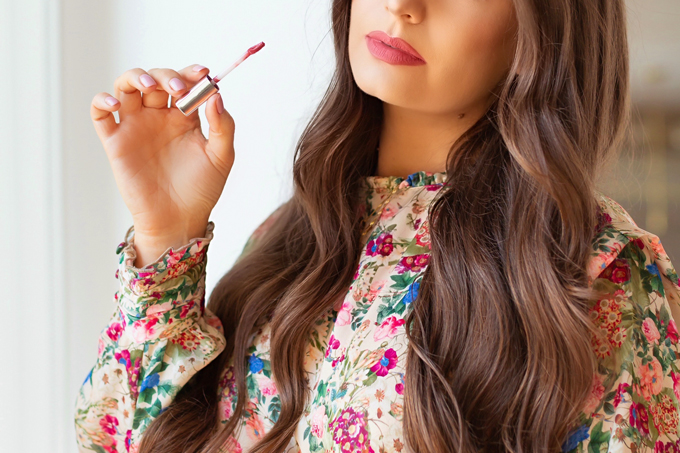 Looking to round out your order? Check out My Top 5 Physicians Formula Products for a comprehensive look at my must haves from the brand. Longtime readers will know their Murumuru Butter Bronzer is one of my all-time-favourites (review here), and I've also had the pleasure of working with Physicians Formula over the past year while discovering tons of new favourite products! I'm wearing the Murumuru Butter Bronzers and blushes in these images.

---
---
CDN $33.00 (0.20 oz)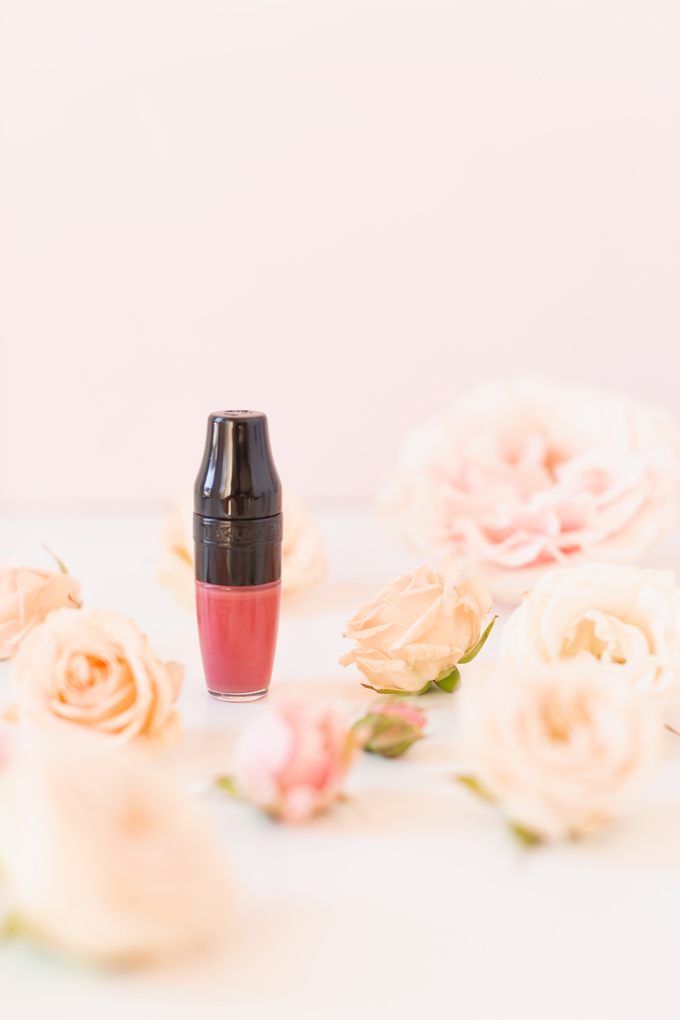 The Lancôme Matte Shakers are another product that needs no introduction here at JustineCelina — as I've reviewed and worn them constantly since discovering them back in 2017. I now own 10 Matte Shakers and they've become my all-time-favourite liquid lipstick formula at any price point!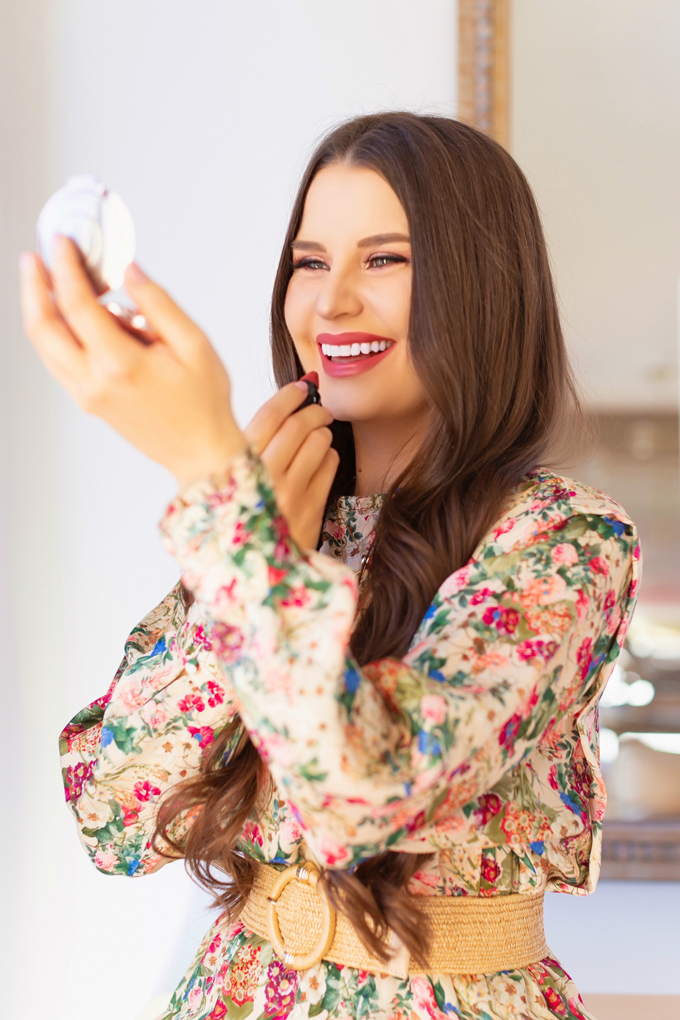 The Matte Shakers are one of the most innovative formulas I've tried — an extremely thin, saturated liquid that applies beautifully to the lips in a single swipe (don't let the applicator fool you, it's so easy to use!). I love the finish of the Matte Shakers — they don't completely dry down and aren't transfer proof, but they are extremely hydrating and light as air on the lips while offering a soft matte finish. They're also buildable in terms of coverage and lightly staining — plus, they make your lips look ultra juicy and pillowy!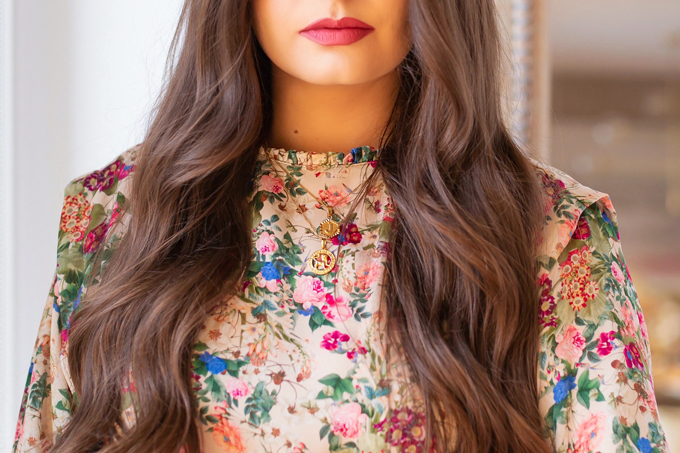 For everyday wear, I tend to gravitate to more hydrating formulas that may not wear all day, but still deliver long-lasting colour. Since this formula is an emulsion hybrid of pigment and gloss (the pigment seems to instantly saturate and stain, while a glossy coat rises to the surface), I find the Matte Shakers to be the best of all worlds! The stain wears for the better part of the day, but the gloss diminishes  after a couple of hours, which is usually when I touch up to replenish the glossy finish and intensify the colour.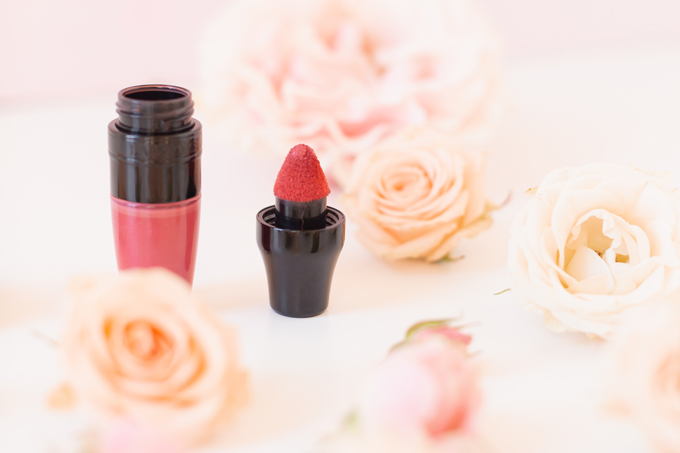 Although I've worn Beige Vintage in various style content over the years, I've actually never published a dedicated review, until now! It's a deep, neutral, rosy shade that's synonymous with spring in my beauty wardrobe — one of those easy, effortless shades that adds an air of sophistication to any look. I love to keep this one in my bag for foolproof touch-ups throughout the day! If you're on the hunt for an elegant, mid-toned rose shade in an innovative hybrid formula, swipe on Lancôme Matte Shaker High Pigment Liquid Lipstick in Beige Vintage this spring.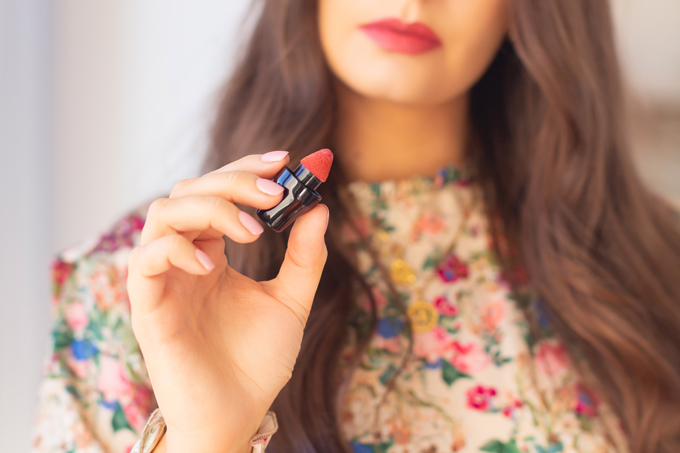 Pair Beige Vintage with the Charlotte Tilbury Lip Cheat Lip Liner Walk Of Shame* for a sultry, defined rose-toned pout.

---
---
CDN $38.00 (0.19 oz)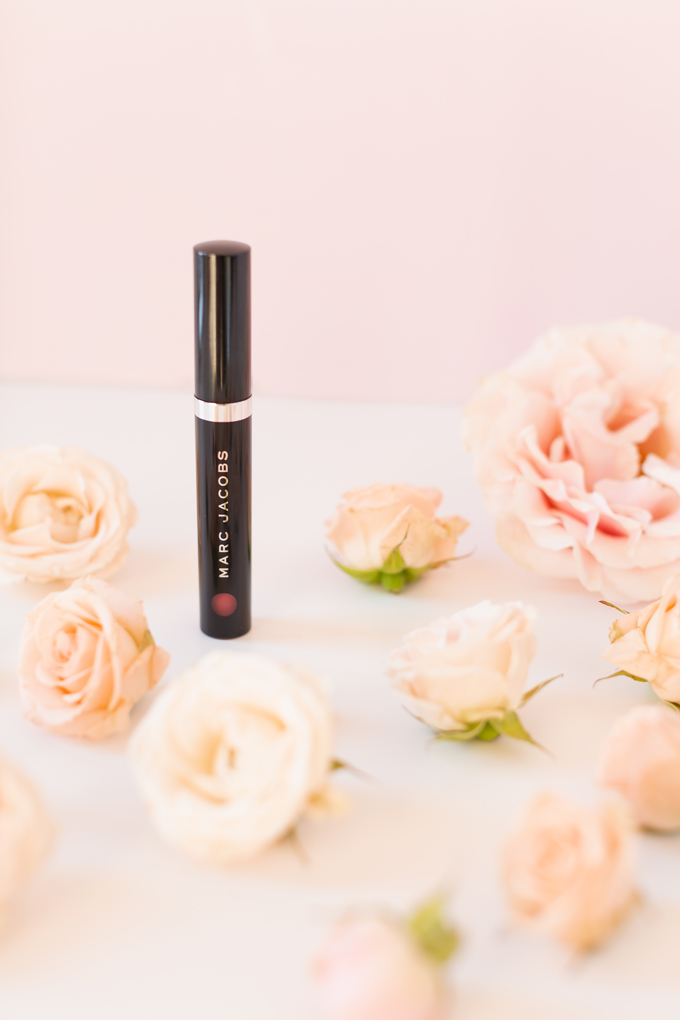 And finally, I bring you my deepest, richest rosy lipstick recommendation — Marc Jacobs Beauty Le Marc Liquid Lip Crème in Shush, Blush. If you're looking for an ultra romantic, sultry, warm, rosy pink, Shush Blush is a beautiful option! This stunning shade would be beautiful on a variety of skintones and is one of those shades that looks great year round and with any other makeup (or any outfit!) you may be wearing. It's a fantastic example of a deep neutral shade that acts as a bit of a chameleon while instantly elevating your look! I've mentioned and worn it many times over the years here at JustineCelina.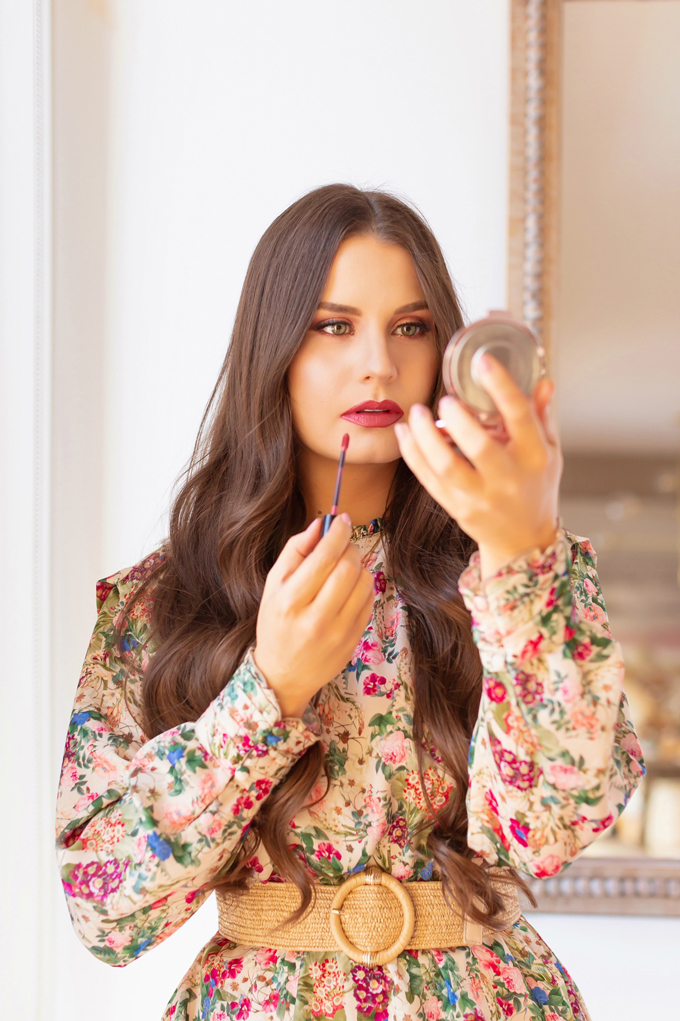 The Marc Jacobs Beauty Le Marc Liquid Lip Crèmes are another long time favourite liquid lipstick formula of mine — and I own every shade from the range (which I reviewed in its entirety here). This formula is comfortable, lightweight, ultra pigmented and extremely luxurious. If you've always wanted to try a liquid lipstick but thought they'd be too drying or simply not for you, these innovative lip crèmes from Marc Jacobs Beauty are an ideal place to start!
The Liquid Lip Crème formula dries down to a satin (not transfer proof) finish, while providing 6 hours of lightly hydrating wear. They fade evenly and retouching is no problem — I also love that they don't settle into lip lines. These ultra luxe Lip Crèmes are infused with Brazilian cupuaçu butter and collagen for a cushiony texture that makes your lips look extra plump, juicy and kissable!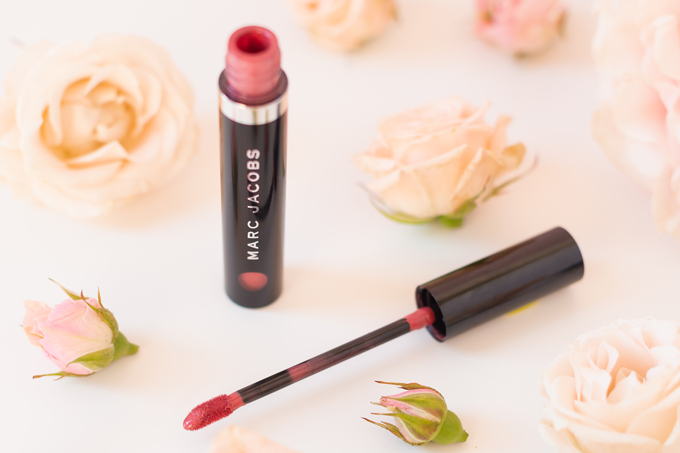 Marc Jacobs is committed to luxurious details — the packaging is simple, sleek, weighty and elegant with a circular colour window near the bottom of the component. The doe foot applicator is comfortable and plush — it works well to apply the product to the lips seamlessly for full coverage in a single pass, without any streaking. The Le Marc Liquid Lip Crèmes are also totally taste and scent free, which is an advantage for those of us sensitive to fragrance. They're also free of parabens, sulfates and phthalates.
If you're looking for a dramatic blush shade in one of the most wearable liquid lipstick offerings currently on the market, consider adding the Marc Jacobs Beauty Le Marc Liquid Lip Crème in Shush, Blush to your collection!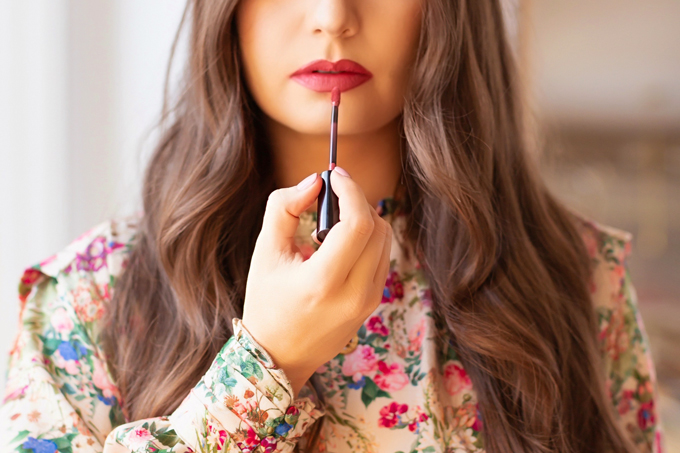 Line your lips with Charlotte Tilbury's Lip Cheat Lip Liner Crazy In Love before applying Shush, Blush for a beautifully dramatic, deep rose lip.

---
SHOP MY TOP 5 ROSE TONED LIPSTICKS & COORDINATING LIP LINERS
---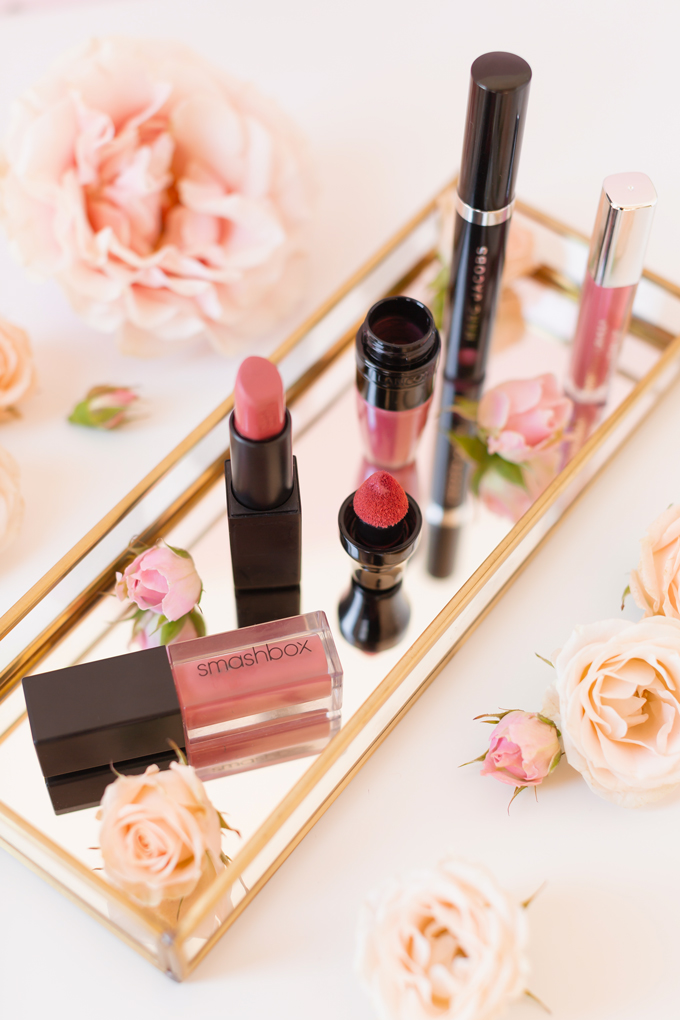 ---
I'M ALSO WEARING
---
MORE SEASONAL BEAUTY INSPIRATION
---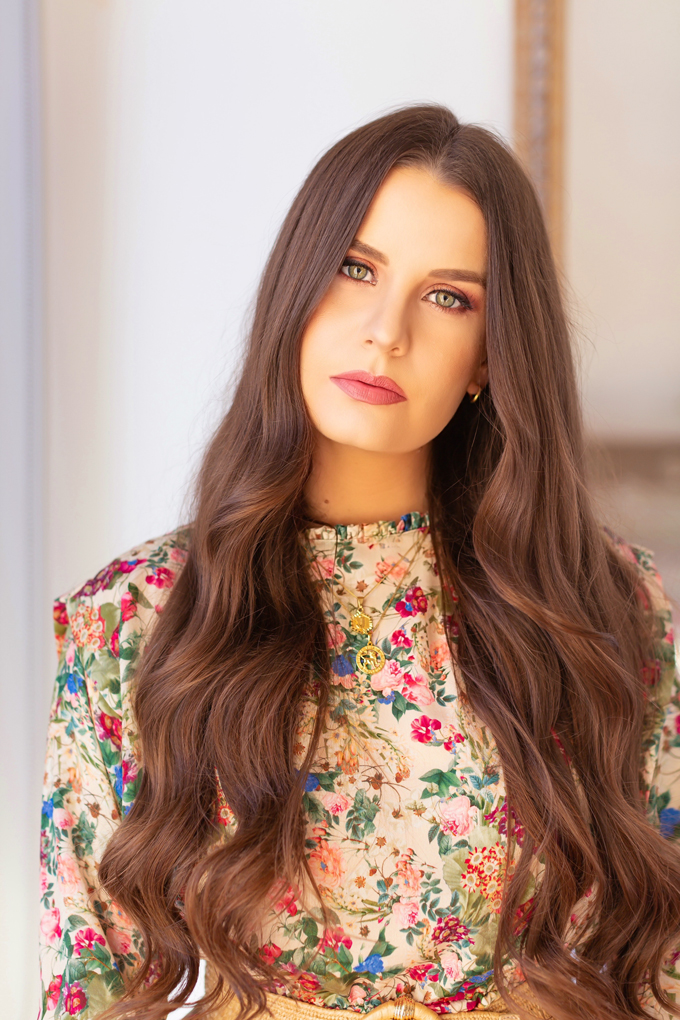 My Routine for Flawless Looking Skin
Marc Jacobs Beauty Le Marc Liquid Lip Crème Review
---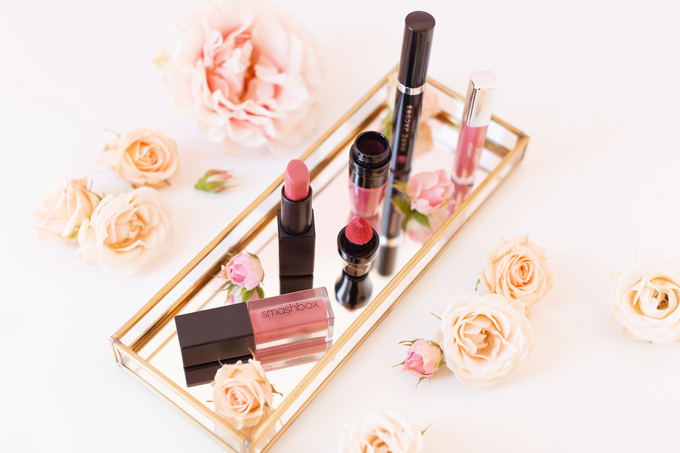 Thanks for stopping by for this romantic, February themed beauty post, beautiful people! I hope its inspired you to branch out and find your perfect rose toned lipstick as spring approaches. As always, if you try one of my recommendations I'd love you to leave me a comment or hashtag #justinecelinabeauty in your photos across social so I can find them! And feel free to drop your favourite spring beauty staples for me below, too — I'm always up to try something new.

Have an insatiable appetite for beauty? Visit the links above for seasonal inspiration, or check out my Pinterest board for all things beauty and skincare. And if you'd like to learn All About Roses (or my other favourite spring blooms!), be sure to check out our FLOWER EDUCATION resources! Thank you so much for spending part of your weekend with me to learn more about My Top 5 Rose Toned Lipsticks!
---
Disclaimer: Products marked with * indicate press samples sent for editorial consideration with no obligation for feature or review, or as part of previous partnerships. This post is not sponsored and contains my genuine thoughts, ideas and recommendations. JustineCelina uses affiliate and referral links, which allow me to receive a small commission when you make a purchase through one of my links. Thank you for supporting the brands and businesses that support JustineCelina.com!