It's rare that I publish dedicated review posts, but every once in awhile I fall so hard for a product that I know I just have to share it with all of you! Such is the case with the Marc Jacobs Beauty Le Marc Liquid Lip Crèmes — a newer range of comfortable (yes, really), lightweight, ultra pigmented, extremely luxurious liquid lipsticks. Sound too good to be true? I promise you, it isn't. You may remember me introducing them to you initially in my Spring 2017 Beauty Trend Guide — and since then, I've become completely smitten!
This weekend I've partnered with Sephora Canada to bring you a comprehensive review of the entire Le Marc Liquid Lip Crème range. If we've hung out in person over the past couple of months and you've asked me about my lipstick, chances are I've been wearing one of these (I've been purposely keeping them out of my Monthly Beauty Favourites posts so that I could share them all with you in this dedicated review!). Each shade from the range is absolutely stunning, consistently formulated and just easy to wear. We all know how obsessed I am with blush, peach and neutral tones this spring and these liquid lips are a neutral lovers dream! Each of these 6 shades are perfectly on trend for the season, yet wearable year round. If you've always wanted to try a liquid lipstick but thought they'd be too drying or simply not for you, I might just change your mind with these innovative lip crèmes from Marc Jacobs Beauty. They're my top recommendation for anyone looking to invest in a luxury liquid lipstick this season!
---
MARC JACOBS BEAUTY LE MARC LIQUID LIP CRÉME REVIEW
---
Product Overview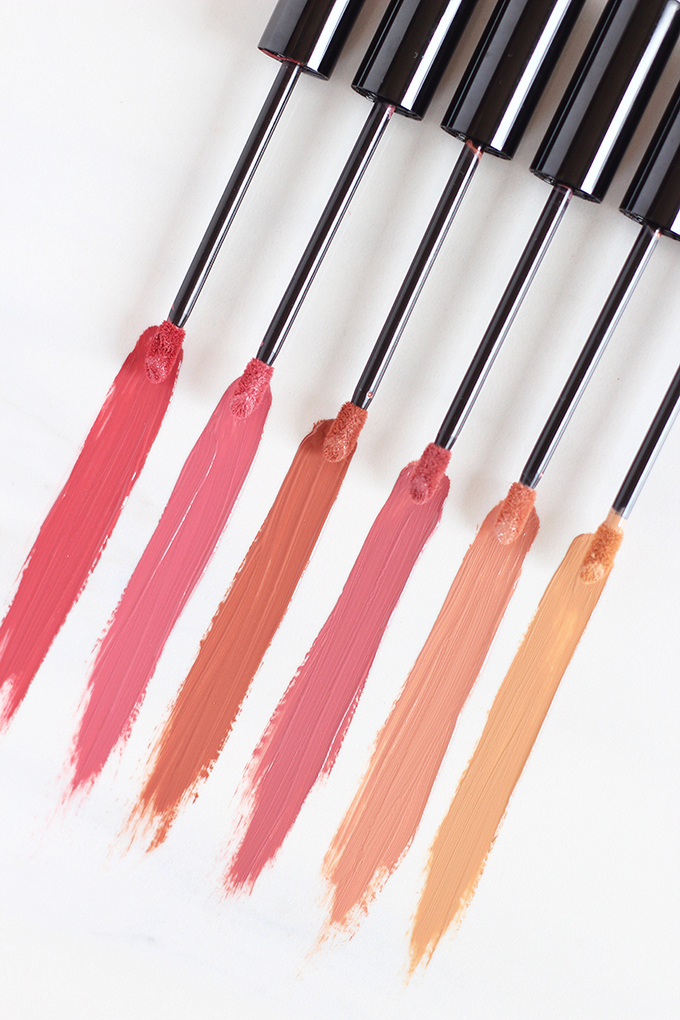 Welcome to the new world of liquid lipstick! This spring, traditional liquid lipsticks are taking a back seat to more elegant, weightless, hydrating formulas — and Marc Jacobs Beauty Le Marc Liquid Lip Crèmes are a shining example of this new wave of liquid lipstick. If you could never really get on board with liquid lipsticks or found them too drying, you'll probably love this range of neutral, long wearing liquid lipsticks! The formula is ultra lightweight but extremely pigmented — it also doesn't dry down completely and isn't transfer proof like traditional liquid lipsticks (which in my books is the best of all worlds!). Everything about these innovative liquid lipsticks oozes luxury, from the sleek packaging to the elegant formula, to the understated (but stunning) shade range. They're even infused with Brazilian cupuaçu butter and collagen for a cushiony texture that makes your lips look extra plump!
This is a relatively new release from the brand (launching this past December) and there are currently 6 shades available. The Le Marc Liquid Lip Crèmes retail at $38.00 CDN for 0.19 oz — and they're worth every penny. They dry down to a comfortable, satiny finish and are long wearing, but not transfer proof. These wear about 6 hours on me, and last pretty well through eating and drinking, but you'll likely have to reapply. They fade evenly and retouching is no problem. I also love that they don't settle into lip lines. Of all the lip products I've tried so far this year, these are my favourite hydrating liquid lipsticks!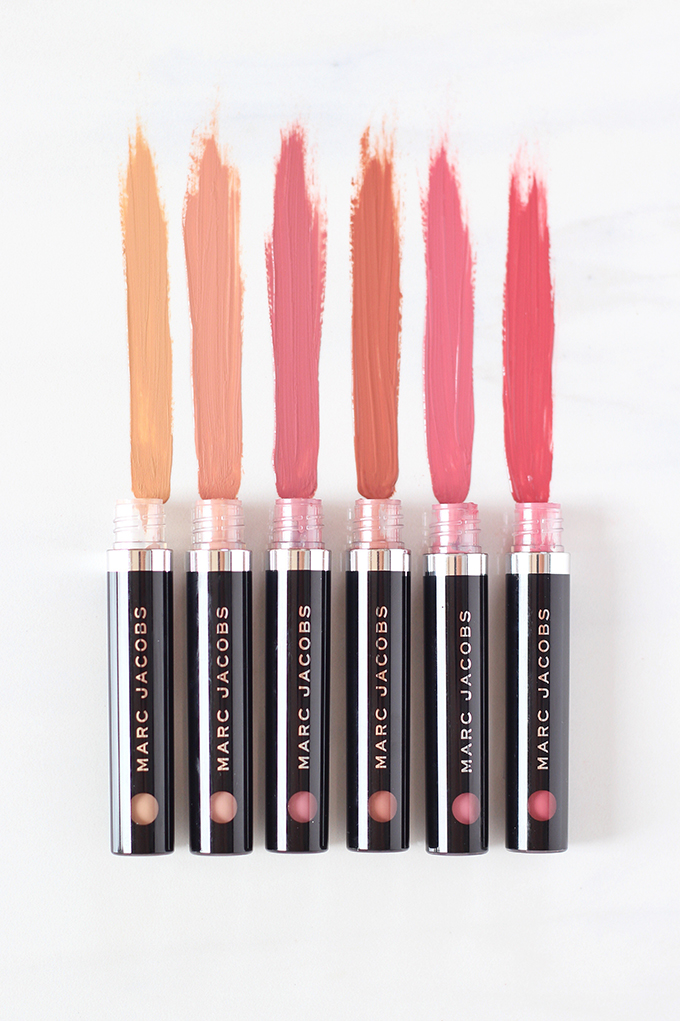 The packaging is simple, sleek, weighty and luxe with a circular colour window near the bottom of the component. The doe foot applicator is comfortable and cushiony — it works well to apply the product to the lips seamlessly for full coverage in a single pass, without any streaking. The Le Marc Liquid Lip Crèmes are totally taste and scent free, which is an advantage for those of you sensitive to fragrance.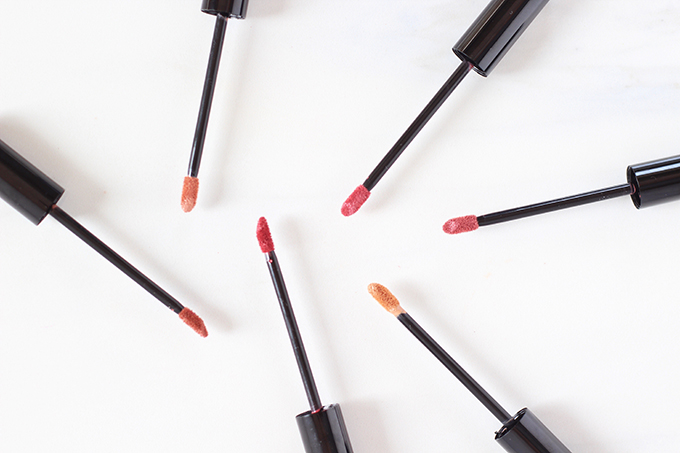 ---
Application & Removal
---
These don't require the same intense lip prep as more traditional liquid lipsticks that dry down to a matte finish, so as long and your lips are bare and dry you're good to go. What I like to do is apply a thick lip moisturizer (my favourite is the Bite Beauty Agave Lip Mask or the C.O. Bigelow My Favorite Night Balm) before I begin my makeup routine. I apply my foundation and base first, then once I'm ready to move onto the lips I remove the lip moisturizer with a q-tip (making sure my lips are dry) then apply the liquid lipstick. This ensures your lips are moisturized, smooth and freshly exfoliated — ready for lip product!

The Le Marc Liquid Lip Crèmes come off pretty well with my cleanser when I'm removing my makeup, but I use Desert Essence 100% Pure Jojoba Oil to remove any leftover traces of them. After I was finished photographing the swatches on my arm, I scrubbed at them with jojoba oil and my cleanser, and there were still traces of them left.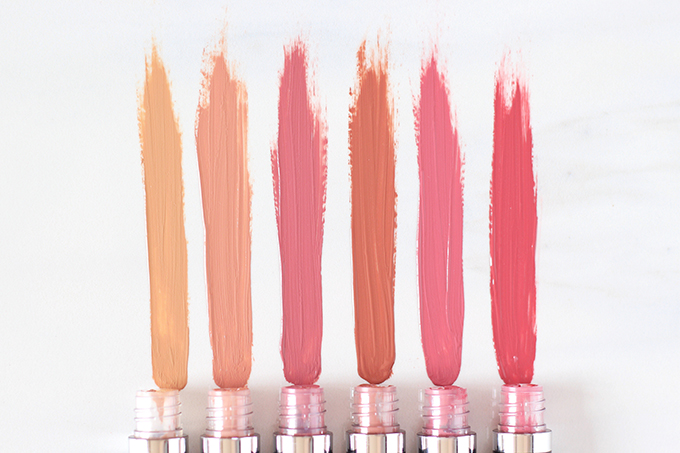 ---
Shade Range
---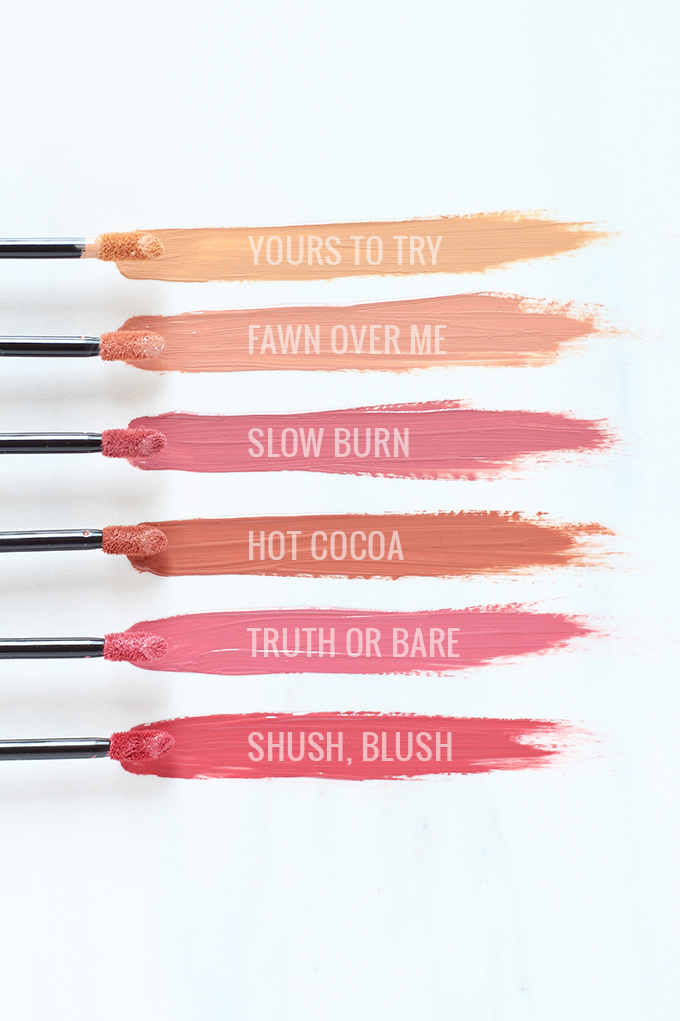 Currently there are 6 shades available and I'm reviewing the entire range for you today. At this time, I'm not aware that they have plans to expand the range, however, it's a possibility. One of the main reasons I love the Le Marc Liquid Lip Crèmes is the range of beautiful nudes and neutrals — and not just because they're on trend this season. I truly believe there's something for everyone in this range and it's undoubtedly one of the most wearable liquid lipstick offerings currently on the market — both in terms of formula and shade range. Let's take a closer look!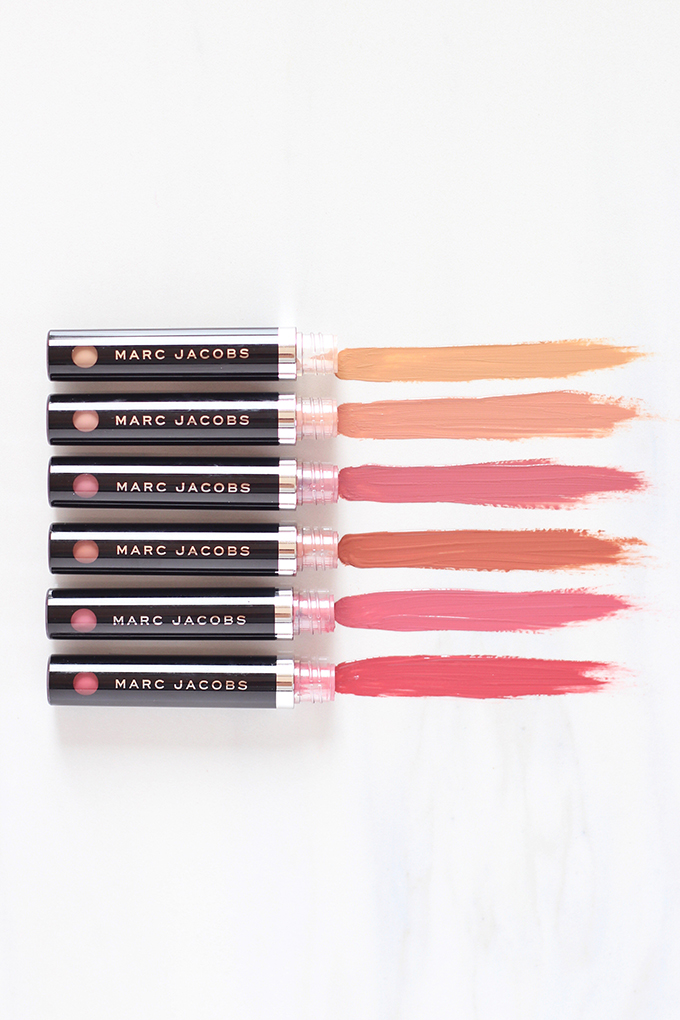 ---
MARC JACOBS BEAUTY LE MARC LIQUID LIP CRÉME SHADES & SWATCHES
---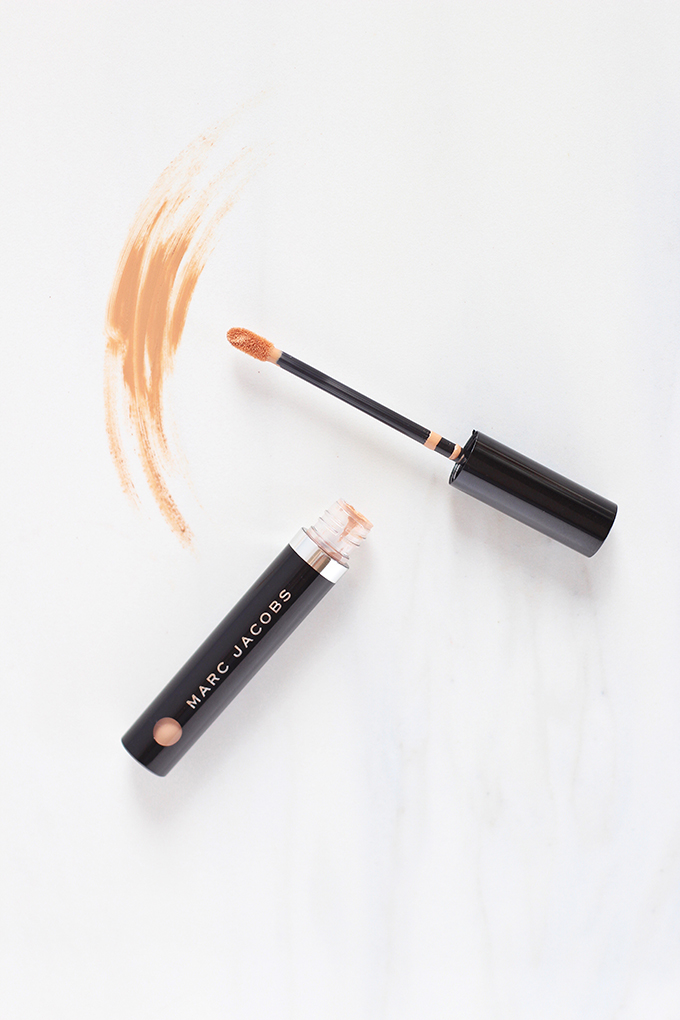 Are you thinking to yourself… 'Justine, that looks like foundation!'? Those were my initial thoughts, as well! Yours to Try a very light, edgy, yellow based nude that just happens to be very similar to the colour of my skin! The wildcard of the bunch is actually this offbeat nude shade — and although it's strange, I kind of love it. It's almost like a greige — but for spring! If you love to experiment with your nudes (or lip colours in general), then Yours to Try may be for you. I could see it pairing well with an ultra smoky eye for a more editorial look (funny — in reading the description at sephora.com I see that Diane Kendal specially developed this shade to create her favorite editorial nude lip look!). Yours to Try definitely won't be for everyone as it takes a very specific skintone (or a deeper lipliner) to pull it off, depending on your preferences.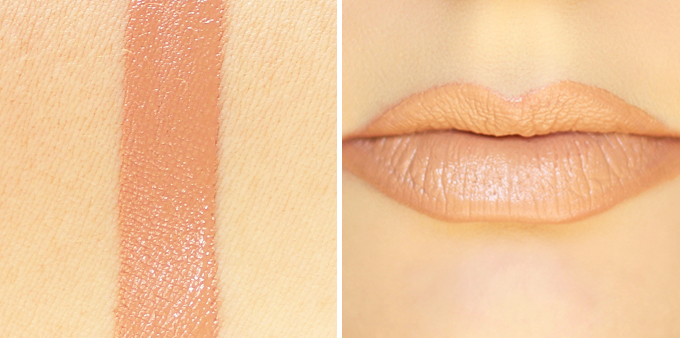 I'm wearing the Marc Jacobs Beauty Le Marc Liquid Lip Crème in Yours to Try on my lips
---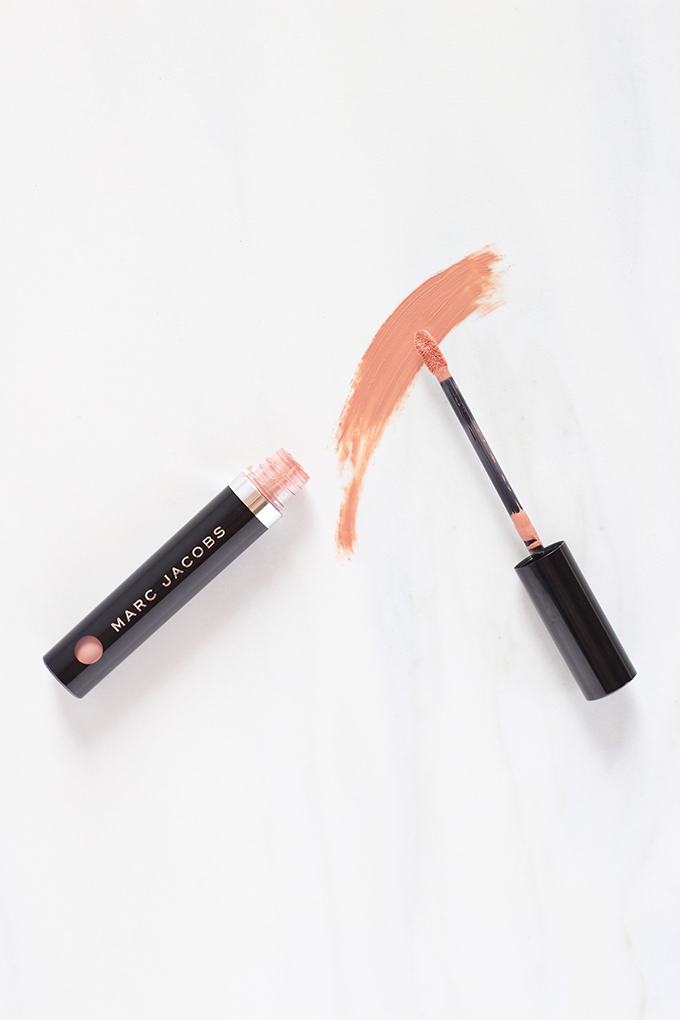 Fawn Over Me is a light, pinky peach nude with the perfect amount of warmth. On my skintone, it's a wearable, nicely balanced, light nude. Compared to the other shades, this is the most classic nude of the bunch — so if you're a traditional nude lip lover, Fawn Over Me is your shade! It pairs well with just about any makeup look and I've received so many compliments on this when I've worn it with a springtime smoky eye. It can also be worn with a deeper (or more pink) lipliner to add dimension to the lips and make it more wearable on deeper skintones. Fawn Over Me is a versatile nude shade that you can either wear alone or use in the centre of other neutral lipsticks to make your lips look fuller — one of my favourite tricks!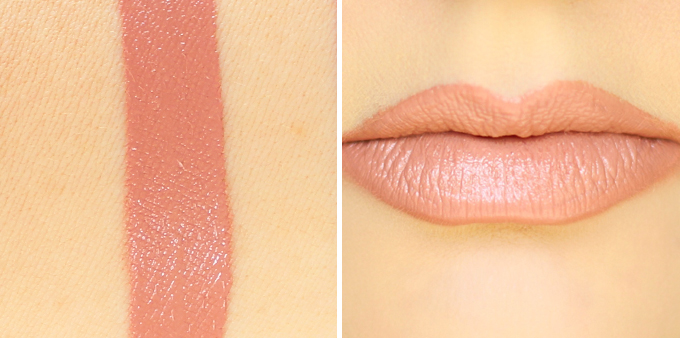 I'm wearing the Marc Jacobs Beauty Le Marc Liquid Lip Crème in Fawn Over Me on my lips
---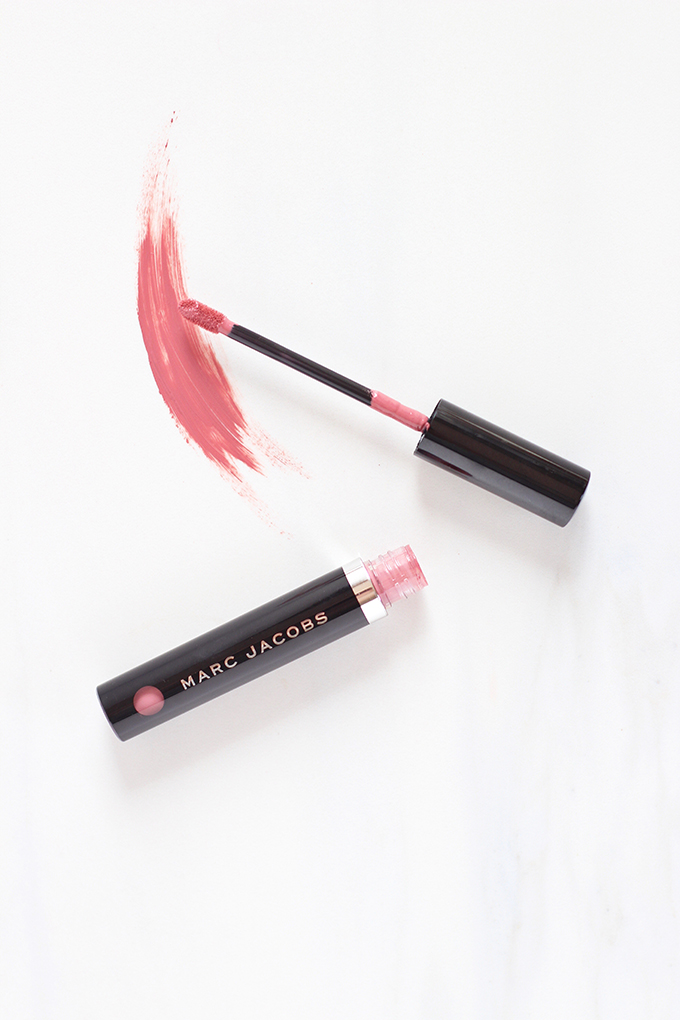 On me, Slow Burn comes off as a perfect mauve, while the brand describes it as a creamy rose nude. Since I have light / medium skin with warm, yellow undertones, I have a tenancy to pull shades cooler than they generally are, so keep that in mind (I list specific information about my skintone and shade matches near the bottom of this post). It's a beautiful, soft shade with just the right amount of depth that I can see it flattering a wide range of skintones. Compared to other shades in the range, it's most similar to Truth or Bare — with Truth or Bare being slightly deeper, warmer and more pink. It's a bit similar in tone to Kat Von D's infamous Lolita, but slightly more mauve and less brown — so if you weren't a fan of Kat Von D's liquid lipstick formula but have been lusting after Lolita, give Slow Burn a spin for a more forgiving alternative.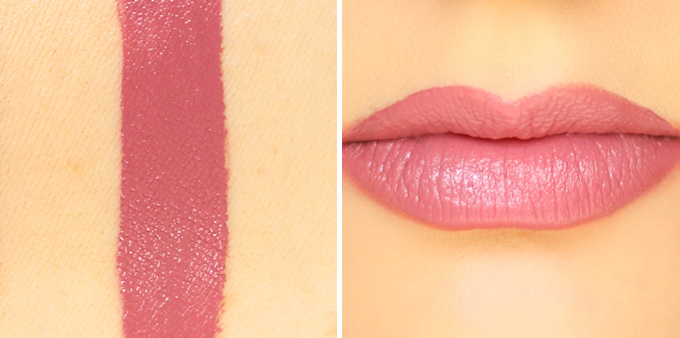 I'm wearing the Marc Jacobs Beauty Le Marc Liquid Lip Crème in Slow Burn on my lips
---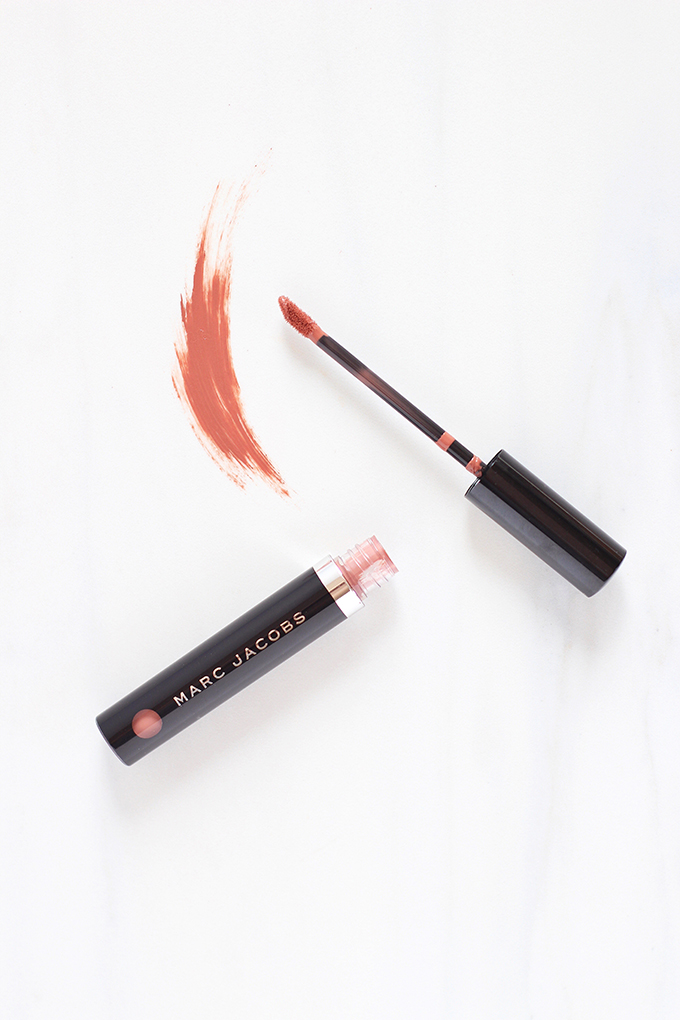 Hot Cocoa is a beautiful, slightly warm toned, medium brown (the brand calls it a 'cinnamon cocoa'). If you love the look of brown lips but haven't been able to find a shade that works for you, I'd encourage you to give Hot Cocoa a try! It's one of the most wearable browns I've even worn and this dreamy formula literally makes me feel like I'm slathering melted chocolate onto my lips — in the absolute best way possible! While I don't automatically associate brown based shades with spring, Hot Cocoa would be perfect for autumn. On deep skintones, this would make an absolutely stunning nude lipstick!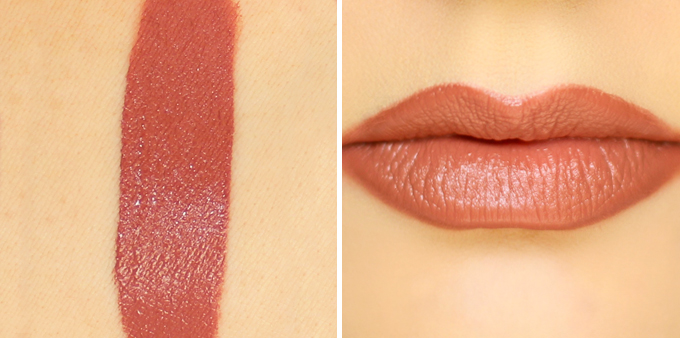 I'm wearing the Marc Jacobs Beauty Le Marc Liquid Lip Crème in Hot Cocoa on my lips
---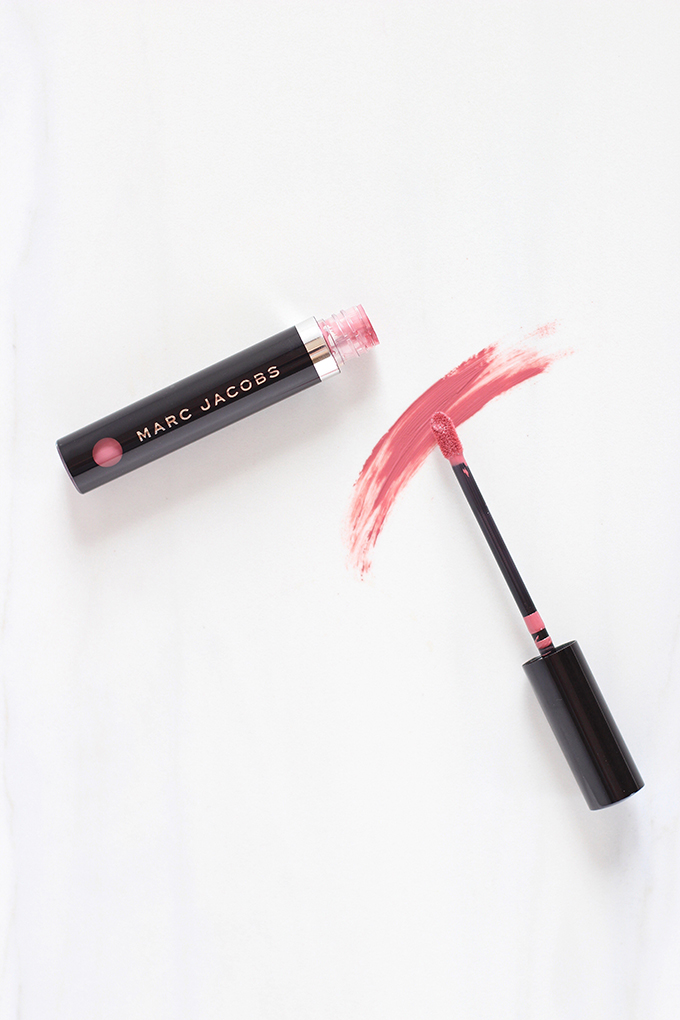 Truth or Bare is a a classic shade, perfect for everyday wear (described by Marc Jacobs as a medium, dusty rose pink) — I think would suit almost every skintone! If you're not crazy about super nude lips and like a bit of pink based warmth to your lipsticks, Truth or Bare is for you. If you've been following along with my BEAUTY section for any length of time, you'll likely have heard me mention that I think every woman should seek out a lipstick in a 'her lips but better' hue — and for me, Truth or Bare is like my own natural lip colour, slightly intensified. As I mentioned, it's similar to Slow Burn, but more intense, rosy and pink. Another fantastic mid toned neutral shade from the Liquid Lip Crème range!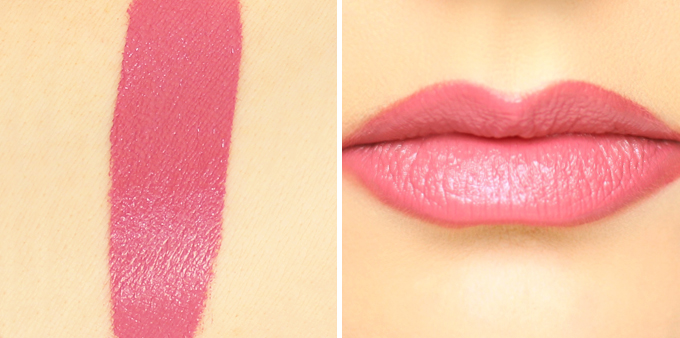 I'm wearing the Marc Jacobs Beauty Le Marc Liquid Lip Crème in Truth or Bare on my lips
---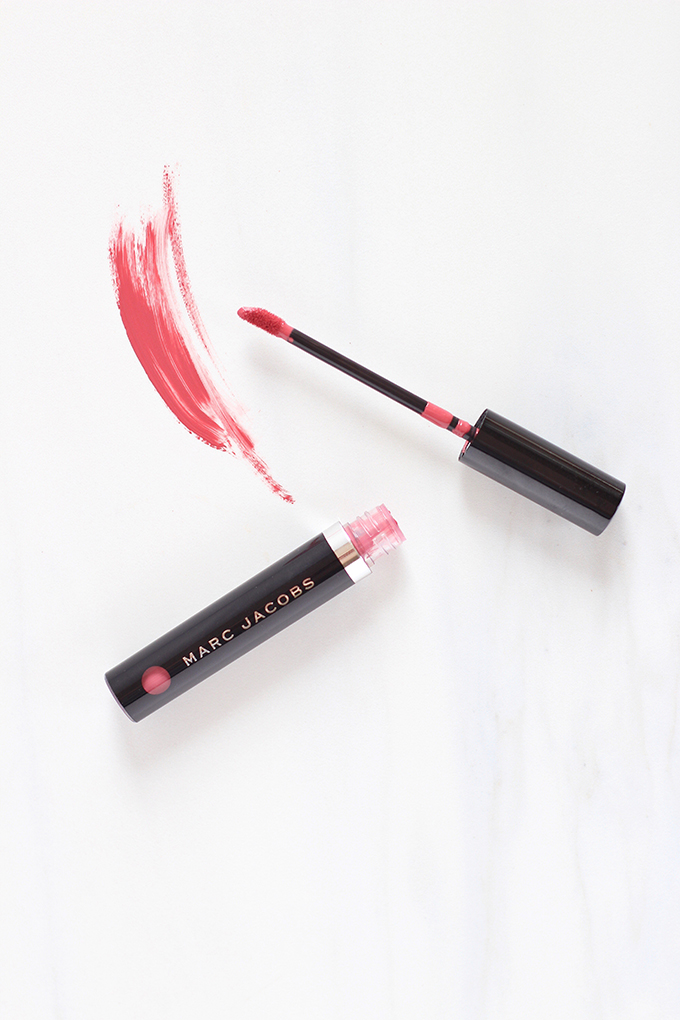 Shush, Blush is a deep, warm, rosy pink — a very romantic shade! If you love your deep neutrals, Slush Blush is a beautiful option. Again, I find this hue works on almost every skintone, transforming into a very deep, red based pink on fair skins, coming off as a warm rosy pink on us medium gals and translating as a stunning warm pink nude on deeper complexions. Shush, Blush is one of those shades that looks great year round and with any other makeup (or any outfit!) you may be wearing. I should also mention that this shade left a slight stain behind. It's an extremely versatile lipstick that I'm delighted to have on rotation!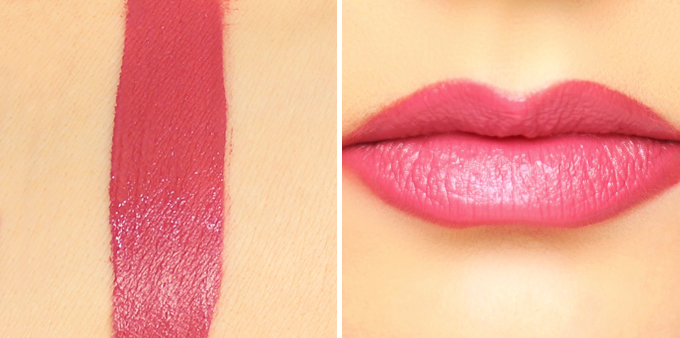 I'm wearing the Marc Jacobs Beauty Le Marc Liquid Lip Crème in Shush, Blush on my lips
---
Note: Keep in mind that these shades will look different on different skintones.
For reference, I'm a MAC NC 25 – 30 and have light / medium skin with warm, yellow undertones.
---
SHOP THE LE MARC LIQUID LIP CRÉME RANGE
---
---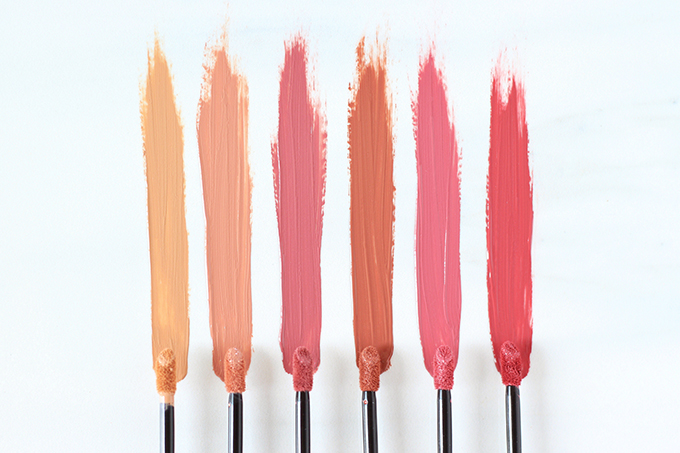 What do you think of this new wave of liquid lipstick? If you've never tried a liquid lipstick but have always wanted to, you absolutely can't go wrong with the Marc Jacobs Beauty Le Marc Liquid Lip Crèmes. As always, please let me know if you try one of my recommendations or have any questions for me — I'm always happy to help. Enjoy the rest of your weekend, everyone!
---
Disclaimer: Thank you to Sephora Canada for sponsoring this post. JustineCelina uses affiliate and referral links, which allow me to receive a small commission when you make a purchase through one of my links. Thank you for supporting the brands and businesses that support JustineCelina.com!