---
I've had an insane week. You probably have too, right? I've had tons of photoshoots and lots of personal and professional commitments, which are all wonderful things — but often weeks like this leave me feeling a bit frazzled and burnt out. I know we're all starved for time these days, so today I thought I'd share a few Simple Pleasures that bring me joy, in hopes that they might bring you joy as well! These are a few of my favourite things and small acts of self care that don't require a lot of time or money, but make a big difference to my mood and overall well being. Simply put, these are the little things I can do for myself even when I'm busy that make me happy and keep me sane! If you're in need of some R&R, come kick back with me and take 15 minutes to do a few nice things for yourself.
---
SIMPLE PLEASURES
---
After sharing my first ever photoless post about unplugging on Monday (which you guys really seemed to enjoy) I felt inspired to share a simpler post today as well. Although I love more involved posts and the whole process of conceptualizing, writing, styling, photographing, editing, publishing and promoting — I realize not everything has to be such a huge production and that I'm free to share simple concepts here as well. Although I use JustineCelina as a way to showcase my creative work, it is also a blog about my life — and these simpler things are just as much a part of my life as my creative work.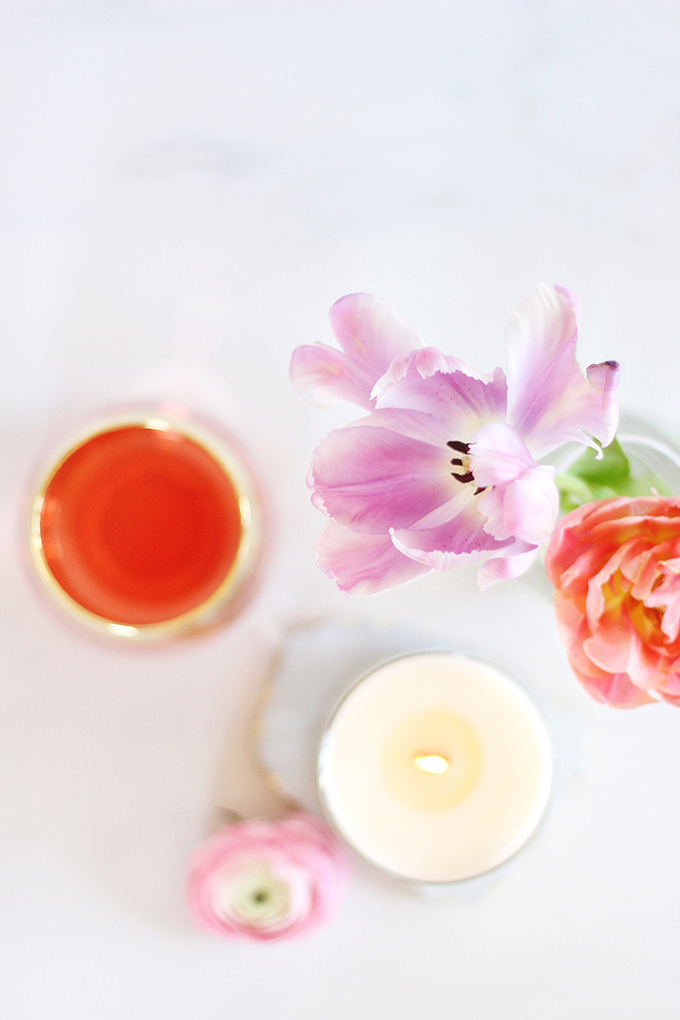 Yesterday I was kicking back after a shoot and I almost auto-piloted to do the things I'm about to mention! It's like a ritual for me after jam-packed days to help me unwind and decompress. I love the process of following my intuition and allowing it to guide my content for the blog, so I felt inspired to share these simple pleasures with you today! I hope this post gives you some small (but significant) self care ideas that I think are so important, especially because we lead such busy lives.
---
MUSIC
---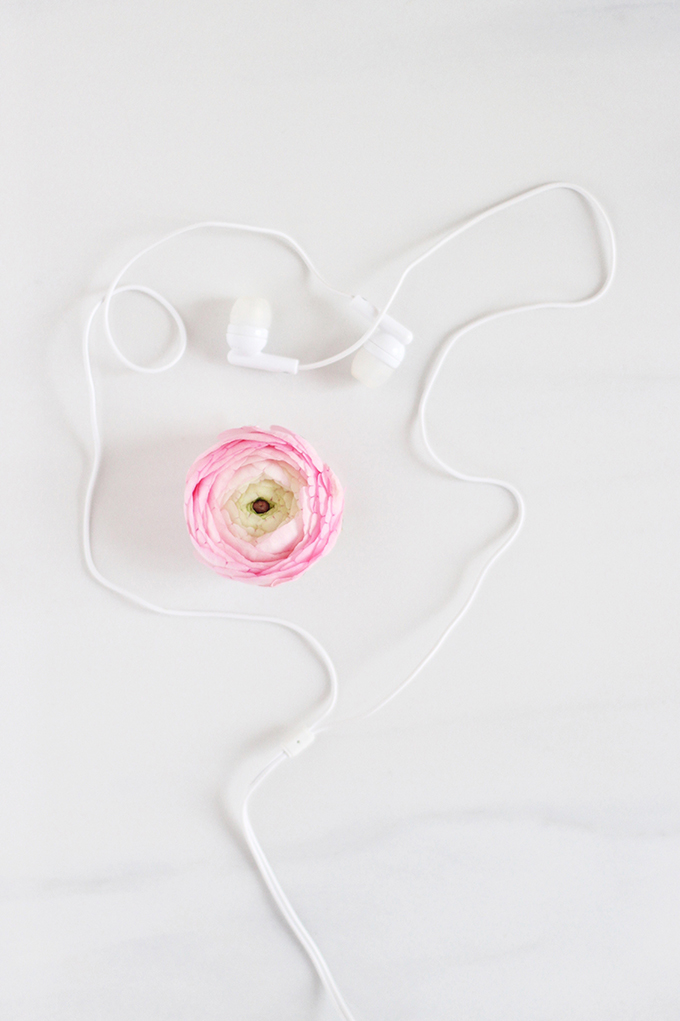 First things first, I love to throw on some great music to help me unwind! It doesn't cost a thing and always enhances my mood — whether I need energy, want to chill out, or am seeking inspiration. I'm constantly listening to music and have tons of playlist on Spotify, but yesterday I was listening to my April Soundtrack (which is currently a work in progress, it will be complete at month end!). I also wanted to share a quote I heard at this time last year that really resonates with me:
"Art is how we decorate space; music is how we decorate time".
So true, right?! I love to decorate my time with music!
---
WINE
---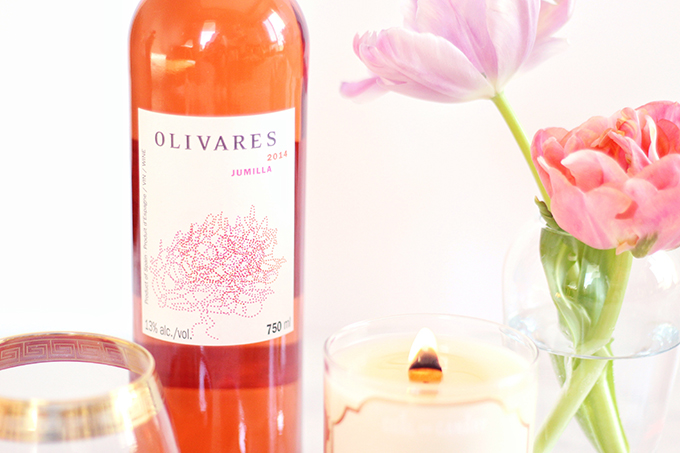 The photoshoot I was working on yesterday featured a rosé (yes way, rosé!), so I poured myself a glass to enjoy and kicked my feet up while I ploughed through my inbox. While I'm all for exercise to make you feel awesome and get those happy endorphins pumping in the morning, sometimes a nice chilled glass of wine after work is needed to help me relax! I've been really into dry, Spanish rosado (rosé) lately. I dropped by Highlander to grab my favourite bottle and they were out, so they suggested an alternative at a great value. This Jumilla rosé by OLIVARES is only $12.99 and it's super delish — fresh and fruity while still being dry and a bit earthy (which are all the things I love in a rosé!). It's an elegant blend of Grenache and Syrah with strawberry and herb notes — perfect for spring! Plus, I love the design of the label.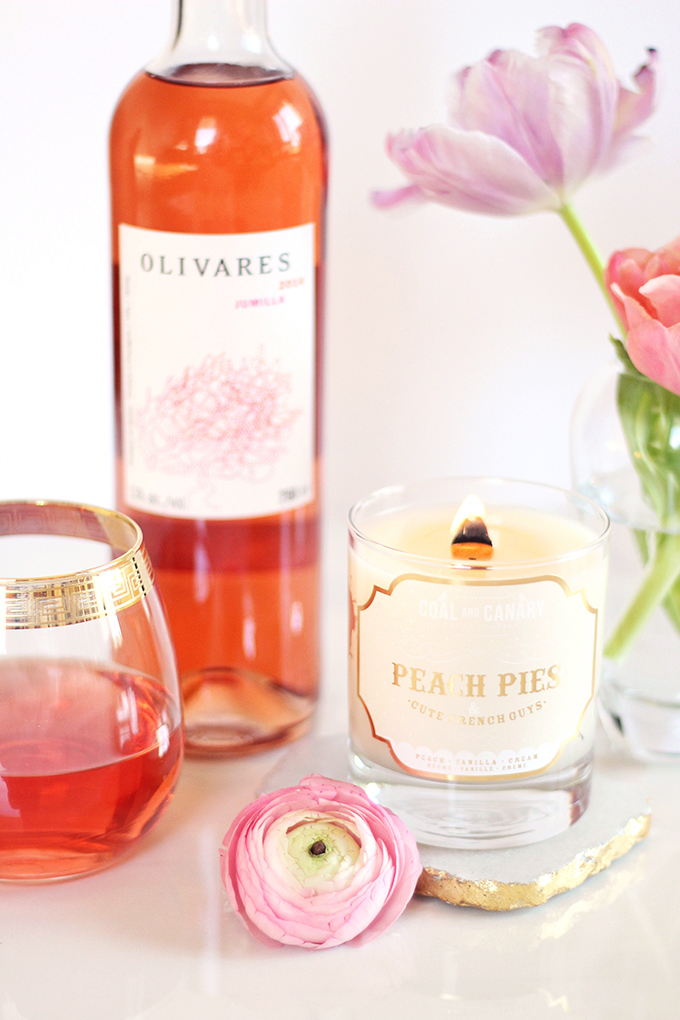 I picked up these wine glasses and coasters at HomeSense earlier this week (one of my favourite spots for unique home decor, entertaining essentials and props), so you may still be able to find them. Aren't they gorgeous? I love the Mediterranean vibe of the glasses and the stone coasters with gold detailing on the edges for a touch of glitz. I love natural, organic textures and patterns combined with polished metallics!
---
CANDLES
---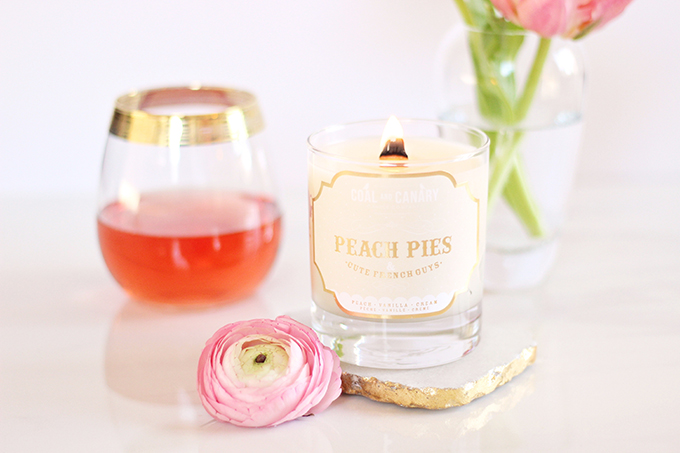 After I was done with correspondence, I lit a candle. Candles really do work to set a tone in my day and help me transition from work day to personal time (especially on days when I'm working from home). The one in these photos is Coal & Canary's Peach Pies and Cute French Guys from their new Cafe Collection and I'm totally obsessed with it. It smells exactly like fresh peaches with just the right amount of sweetness! It's so clean and not perfumey at all, which I love because perfume-based scents give me a headache.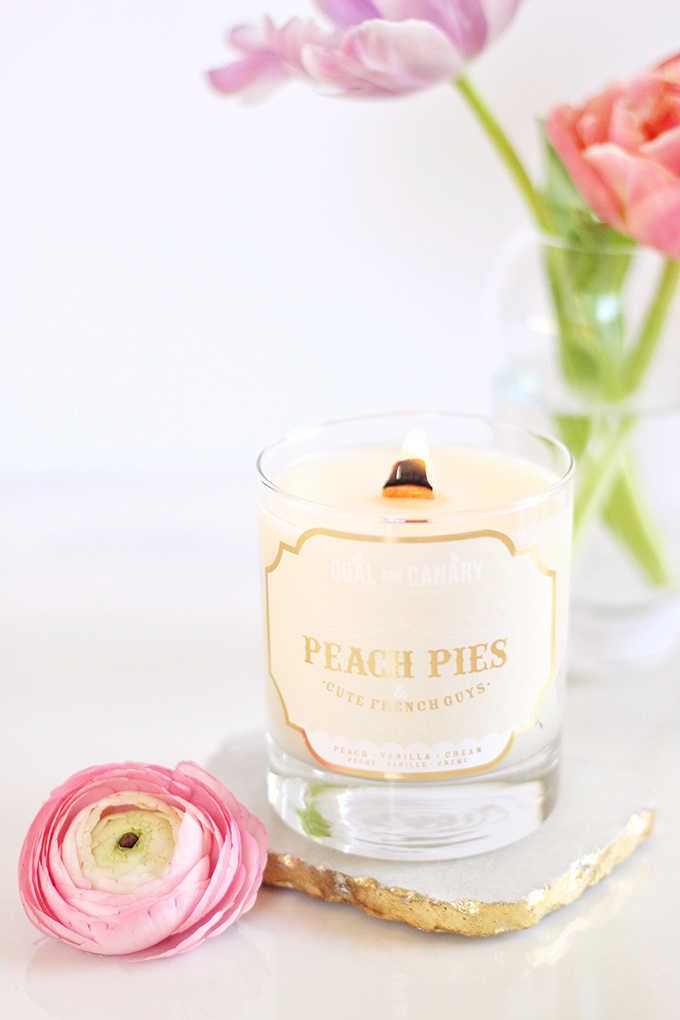 Coal and Canary candles ooze quality — they're made with a soy and vegetable wax blend and a wide wooden wick that doesn't produce soot or smoke. The wooden wick also makes a soothing crackling sound (like wood over an open flame), which I love during the warmer months when it's not an option to actually turn the fireplace on! These candles are a complete sensory experience. Kelly (total sweetheart and owner of Little Blue Canoe) gifted me this candle — and it definitely won't be my last from Coal & Canary, especially because they're so long lasting. The design nerd in me is also drooling over the packaging and branding. If you want to check out more from Coal & Canary, Little Blue Canoe has lots of their candles in stock. And just like everything you'll find at Little Blue Canoe, they're made right here in Canada (hailing from Winnipeg!).
---
FLOWERS
---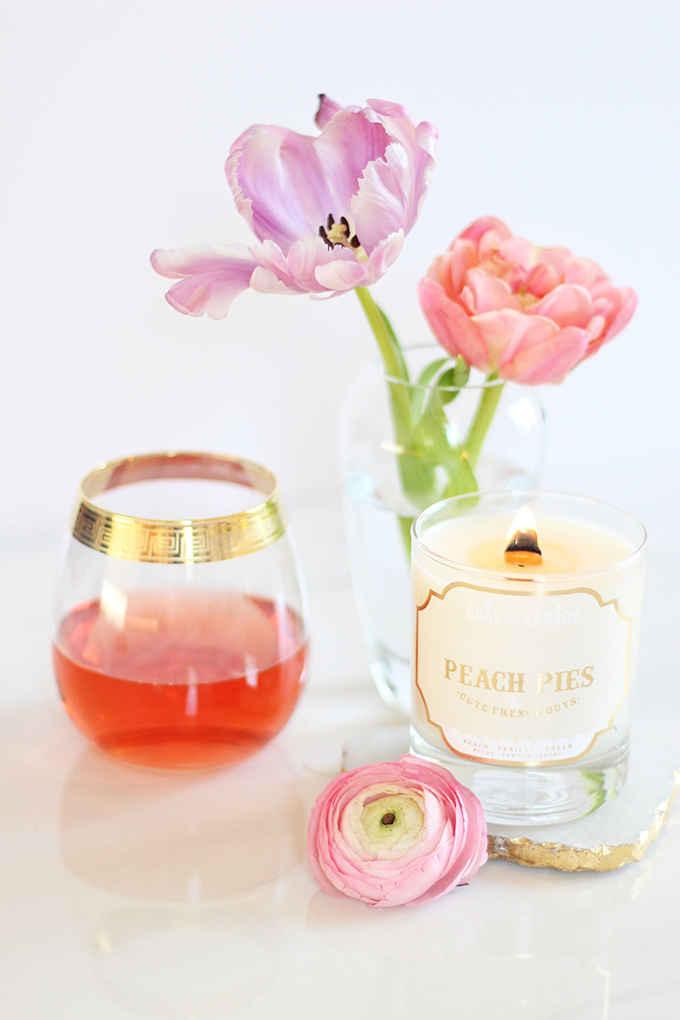 I'm sure you saw this one coming — the last of my simple pleasures is fresh flowers. The best part about fresh flowers is that you don't have to spend a lot of money to enjoy them! A couple of stems in a simple vase is a beautiful way to bring the season into your home and add a pop of colour to help enliven your space. Since I'm such a visual person, aesthetically pleasing things like flowers really do bring me joy and I love that I can change them up to suit my mood or whatever colours are currently inspiring me! These were guys were leftovers from our shoot — the flowers in the vase are double and fringe tulips (yes, there are different types of tulips!) and the pink bloom next to the candle is a ranunculus (one of my favourite flowers!).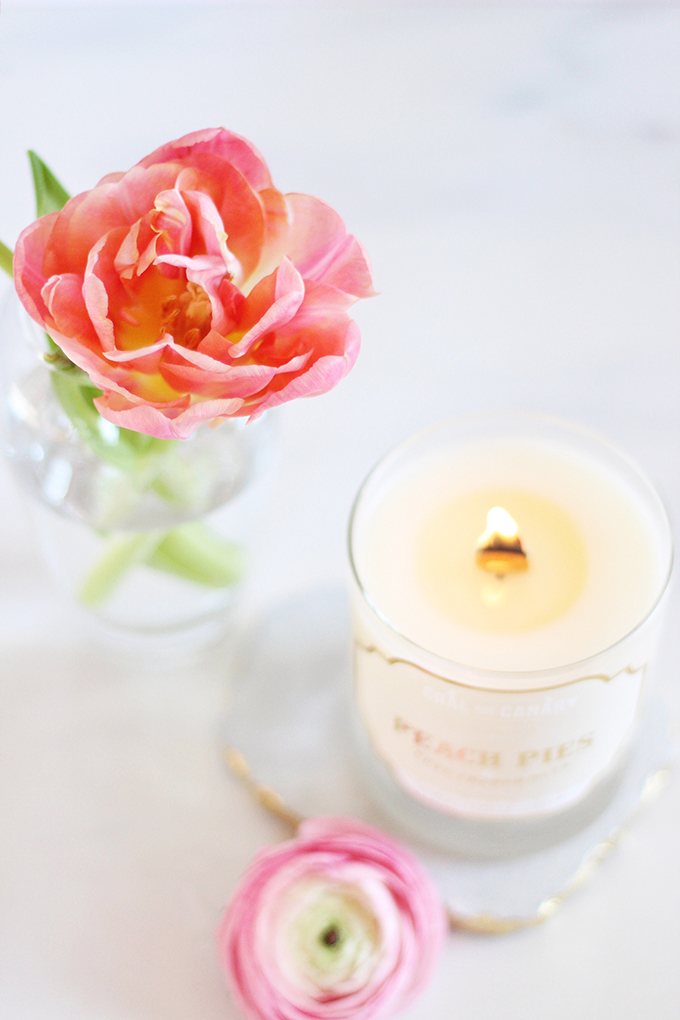 Rebecca Dawn Design and I will are chatting more about both Tulips and Ranunculus in our Introduction to Spring Flowers post this weekend! And, we have a post All About Tulips coming next month. But if you want some instant flower gratification just hop over to our April Digital Blooms where you can download free wallpapers for your digital devices inspired by what's in season this month.
---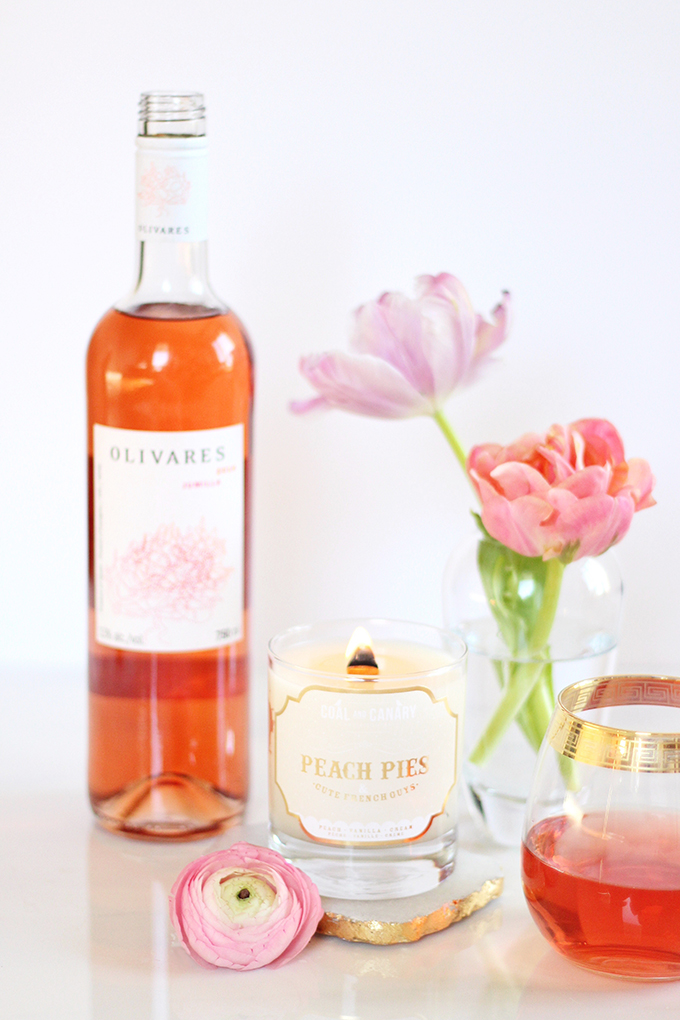 ---
I hope you enjoyed this simple post about my simple pleasures! What small acts of self care bring you joy? I'd love to read all about them, so feel free to leave me a comment. I hope you can find some time this week to do a few things that make you happy — whatever they may be!
---
Disclaimer: This post is not sponsored, and contains my genuine thoughts and recommendations.