Summer is here and I've been rocking a bit of a sun-kissed glow lately… that isn't actually from the sun at all. Today I'm sharing how to get a gorgeous summer glow using sunless tanning products! As a half-Irish girl, I've learned a lot about self tanning over the years — any colour I have comes from a bottle, not the sun. I'm also sharing a couple of my favourite SPF products today. So kick back, whip yourself up a tropical cocktail and let's chat about safe sunless tanning (and some cute bikinis)!
---
HOW TO GET A SUNLESS SUMMER GLOW
---
If you haven't heard me talk about skincare and sunscreen before, let's talk about that first. I'm a huge skincare advocate after spending way too many hours in a tanning bed when I was younger — and now I take really good care of my skin. I wear SPF daily and I never, ever lay out in the sun. Premature aging, increased risk of skin cancer, and tons of other nasty side effects from unprotected sun exposure have sent me on a quest to find awesome sunless tanning products — and today I'm going to share them with you! They're easy to use, and the results are beautiful. I promise no one will know that its not real!
---
FAVOURITE SUNLESS TANNING PRODUCTS
---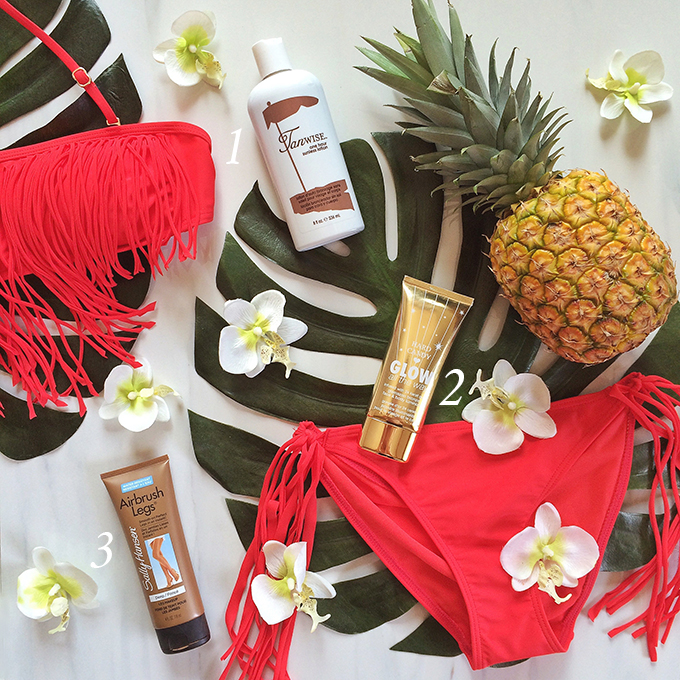 ---
1. Tanwise One Hour Tan Sunless Tanning Lotion | 2. Hard Candy Glow All The Way Face & Body Luminizer in Glamazon Bronze | 3. Sally Hansen Airbrush Legs Leg Makeup | ON SALE! Wirecien Fringe Bikini Top in Peach | Florenie Fringe Bikini Bottom in Peach
---
C $10.99
This is by far the best self tanner I've ever tried! It's easy to use, smells delicious (kind of like cinnamon) and it's provides a really beautiful, olive-based tan quickly. They also have a Dark Bronzing Sunless Mousse and a Sunless Tanning Lotion, which I've tried and are both good, but I don't like them as much as the One Hour Tan. To use it, I mix equal parts One Hour Tan with the Live Clean Sensitive Skin Fragrance Free Body Lotion (my favourite body lotion). This gives the product a diluted effect and an easier application. A word of caution: make sure to wear a glove, because this stuff will stain your hands!*** It also has a bronzer built into the formula, so while your tan is developing, it gives you a major glow — I get quite dark. And it really does work in an hour! The tan lasts for about 5 days on me and fades nicely and evenly. I'm wearing it in this photo if you're curious to see how it looks.
***Do you have a stained hand emergency?! Don't worry — I've got you covered! After you've finished self tanning, simply wash your hands as normal, then pour about a tablespoon of baking soda into one palm while your hands are wet. Rub your hands together, working the baking soda into your stained palms and / or fingers. Once you see the baking soda turning a tan colour, and your hands return to their normal colour, rinse them clean and pat dry with a dark towel. Voila! Make sure to follow up with a good moisturizer afterwards, since baking soda can be quite drying to the skin.
---
C $7.98
I use this as a body bronzer when I want to add a bit of a bronzed glow to my skin. I either use it alone or mix it into my body lotion when I'm moisturizing. I love the effect that it has — it makes your skin look luminous, sun-kissed and dewy. It also helps to even skintone. It also has a small amount of self tanner in it, but I haven't really noticed the self tanning aspect of this product. It's actually infused with 24 carat gold — and it's a pretty golden-bronze colour.
---
C $14.88
This is not a sunless tanner – but if you're ever tight on time and you have to wear something that shows a bit of skin, this stuff is a lifesaver! I like to use it if my legs are feeling a little pale and I haven't had time to self tan. It's also great at camouflaging veins, freckles and imperfections in the skin — it makes your legs (or anywhere else you want to use it) look perfect! Plus, it's water-resistant. I like to mix this with a body lotion to dilute it a bit and help it to spread evenly. It comes in 4 shades, and my favourites are Medium or Tan, but it also comes in Light and Deep for very fair, or very dark, skintones.
---
FAVOURITE SUNSCREENS
---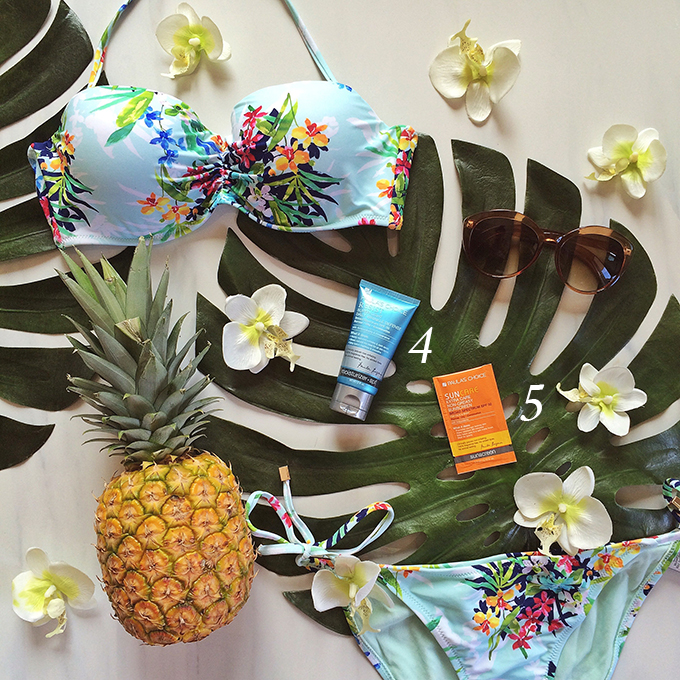 ---
4. Resist Super-Light Wrinkle Defense SPF 30 | 5. Extra Care Non-Greasy Sunscreen SPF 50 | ON SALE! Aferracia Floral Bikini Top | ON SALE! Makani Floral Bikini Bottom
---
Remember that a sunless tan is not a real tan (ie: even though you look fabulous, your skin will still burn in the sun, because sunless tanners don't provide a 'base tan'). So, I thought I would share my favourite SPF products with you. Don't forget to wear sunscreen this summer, and wear a hat and sunglasses whenever you're out in the sun for long periods of time. Your skin will thank you later in life!
US $29.00 (2oz)
This is my daily moisturizer with SPF. It's weightless on the skin while providing a good amount of sun protection, and it also has a slight tint. It dries to a fairly matte finish and provides a perfect canvas for makeup. On days when I'm not wearing makeup, this also wears beautifully throughout the day. I apply this to my face, neck and décolleté every day. I use this moisturizer year-round, but I especially love it in the summer.
---
US $17.00 (5oz)
I've discovered this sunscreen recently, and it's the best I've ever used. It's lightweight, non-greasy, and it stays put — it doesn't rub off onto your clothes at all. The sun protection is fantastic, too. I actually keep little samples (shown in the photo) in my bag during the summer, in case I'm out in the sun for longer than I thought and need sunscreen on the go! I've just placed an order for the full size bottle (it's on sale) and will be using it like crazy this summer. If you make an order at Paula's Choice, make sure you're not missing out on the 3 free samples per order — you'll see the option at the checkout. I always select these sunscreen samples and they come in handy quite often.
---
Thanks for stopping by to learn more about sunless tanning and SPF! If any of this information was helpful, or you try products I recommended, please let me know. If you have questions about sunless tanning, skincare or products, leave them for me below. Here's to a safe summer glow!
---
Disclaimer: This post is not sponsored, and contains my genuine thoughts and recommendations. JustineCelina uses affiliate and referral links, which allow me to receive a small commission when you make a purchase through one of my links. Your purchases help to support JustineCelina.com!