Are looking for supercharged ingredients take your skincare routine to the next level? Well my friends, this post is for you! If you're new to the world of chemical exfoliants, vitamin C, niacinamide, retinol and daily SPF you're in for some serious education — today I'm sharing 5 Powerhouse Skincare Ingredients that make the biggest difference in the overall appearance and clarity of my skin.
Many of you may not know this, but I had horrible skin in my early and mid 20's (read more about my skin story). What's even worse is how awful it made me feel. Those of you who've experienced (or are experiencing) skin issues know that there's nothing worse than not feeling comfortable in your own skin. So, a few years ago I set out a quest to educate myself about skincare and finally found a routine that gives me happy, healthy skin. It still feels so strange when I'm complimented on my skin, or when people think I'm much younger than I actually am. Today I'm sharing everything I know about skincare ingredients that deliver fast, supercharged results! I hope it aids you in taking the absolute best care of your skin and feeling more confident, empowered and beautiful.
---
5 POWERHOUSE SKINCARE INGREDIENTS
---
All the products I'm going to be chatting about today are from Paula's Choice (and this is not a sponsored post). I discovered Paula's Choice about 3 years ago and I've never looked back! If you've followed along with my SKINCARE posts, I've turned so many of you onto Paula's Choice and good skincare practices as well — I'm always so happy when I'm able to help people look and feel their best. Here are my top 5 picks if you're looking for ingredients to supercharge your existing skincare routine!
---
1. CHEMICAL EXFOLIANTS
---
Chemical exfoliants are one of the fastest ways you can achieve dramatically improved skin texture — so if you're looking for one product to start with, I would recommend either a BHA or an AHA. Since I'm combination skinned I use a BHA, but those of you with more you normal to dry skin may find an AHA more suitable.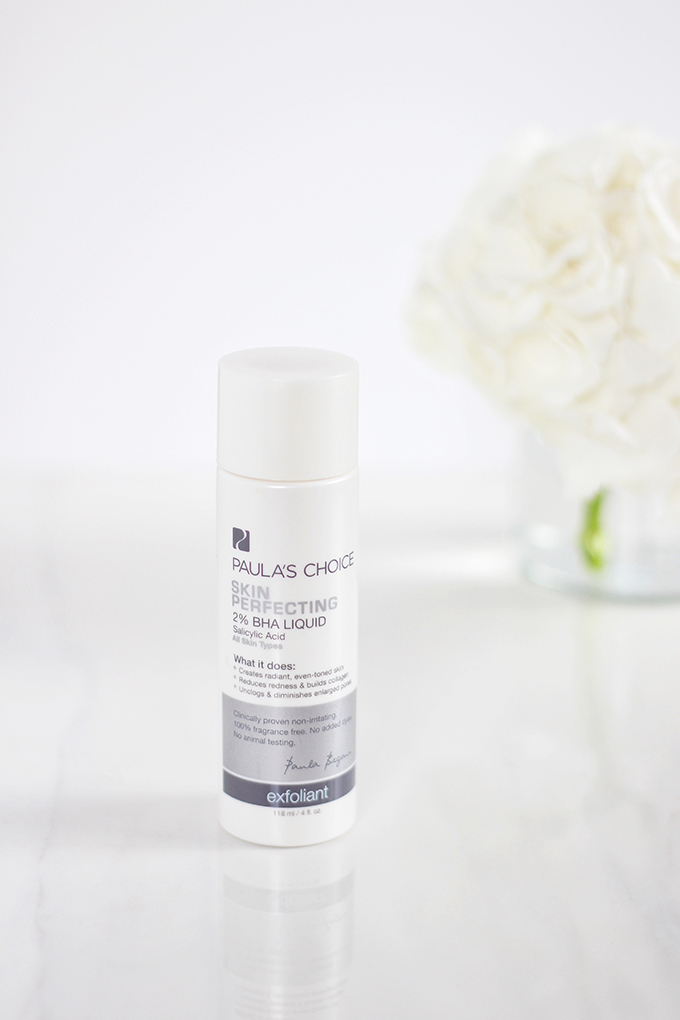 My favourite chemical exfoliant is the Skin Perfecting 2% BHA Liquid Exfoliant (US $29.00). After toning I use to it to help increase cell turnover and improve skin texture and pore size. I pour a few drops of this into the palm of my hand, rub my hands together to distribute the product, and massage it into my skin — concentrating most on any trouble areas where my skin might be congested. I love this part of my routine, it's so relaxing to massage your face! Massaging your face also helps to increase blood flow, plump the skin and increase firmness.
Learn more about how I incorporate chemical exfoliants into my skincare routine.
---
2. VITAMIN C
---
Vitamin C is an incredible skincare ingredient that helps to brighten overall skintone while diminishing acne scars, sunspots and hyper pigmentation. It's also helpful in reducing the appearance of fine lines and wrinkles. My favourite vitamin C product is the Resist C15 Super Booster (US $49.00) — a concentrated, feather light liquid containing 15% vitamin C.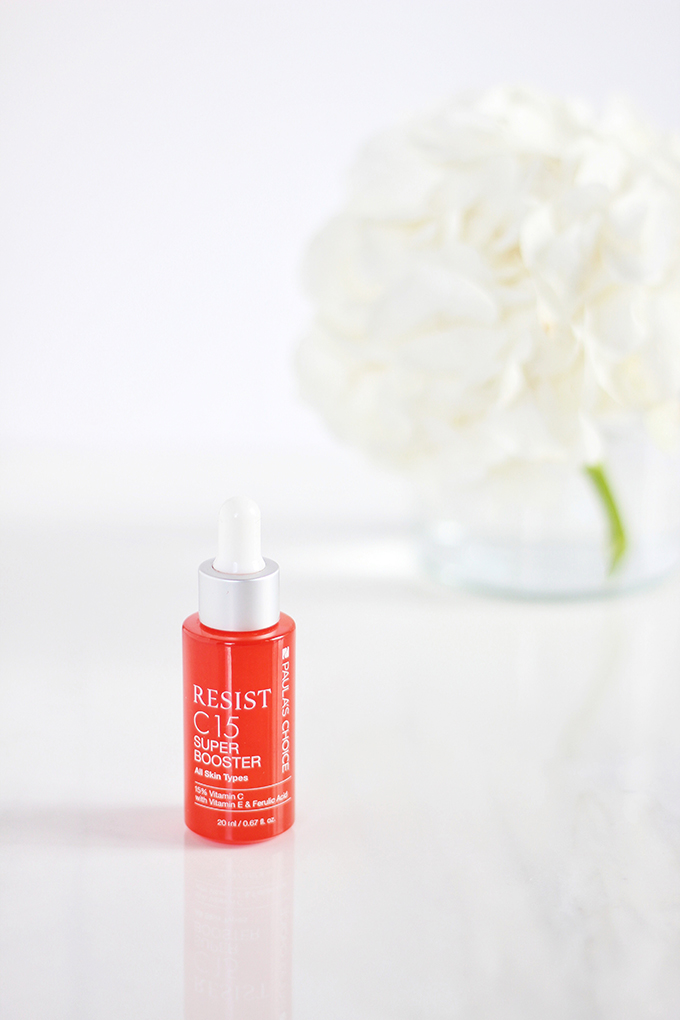 I use this in serum portion of my routine — and I love to mix a few drops of the Resist C15 Super Booster with my daytime and nightime serums (which I'll mention below). I've noticed a huge difference in the over clarity and tone of my skin since using this product!
Learn more about how I incorporate vitamin C into my skincare routine.
---
3. NIACINAMIDE
---
Niacinamide is a complex skincare ingredient with numerous benefits. I've noticed a massive change in the appearance of my complexion since I started using it — it's renowned for its ability to brighten and revitalize dull, unbalanced skin. I can't go a day without the Resist Pure Radiance Skin Brightening Treatment (US $34.00) which contains a specialized brightening complex of vitamins and plant based ingredients that imparts an instant radiance and doubles as a fantastic makeup primer.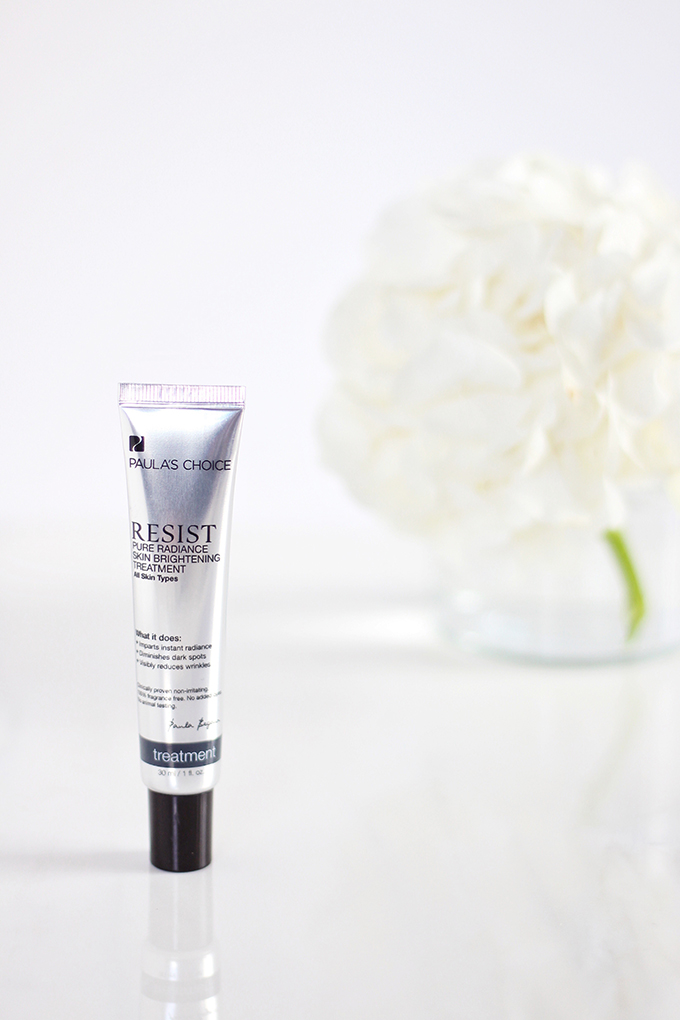 I use the Resist Pure Radiance Skin Brightening Treatment as the serum portion of my daytime routine, mixed with a few drops of the Resist C15 Super Booster mentioned above.
Learn more about how I incorporate niacinamide into my skincare routine.
---
4. RETINOL
---
If you're looking for the most powerful ingredient of the pack, retinol is it. Retinol is an intense anti aging ingredient and it's a huge part of my skincare routine — I used 3 products that incorporate retinol in different strengths. Everyone's skin reacts to retinol products differently — so while my skin loves it, your skin may not. If you're interested in adding retinol to your skincare routine, I'd suggest starting with a serum like the Skin Balancing Super Antioxidant Concentrate Serum with Retinol first and see how your skin reacts, then slowly build up your tolerance and transition into something like the Clinical 1% Retinol Treatment.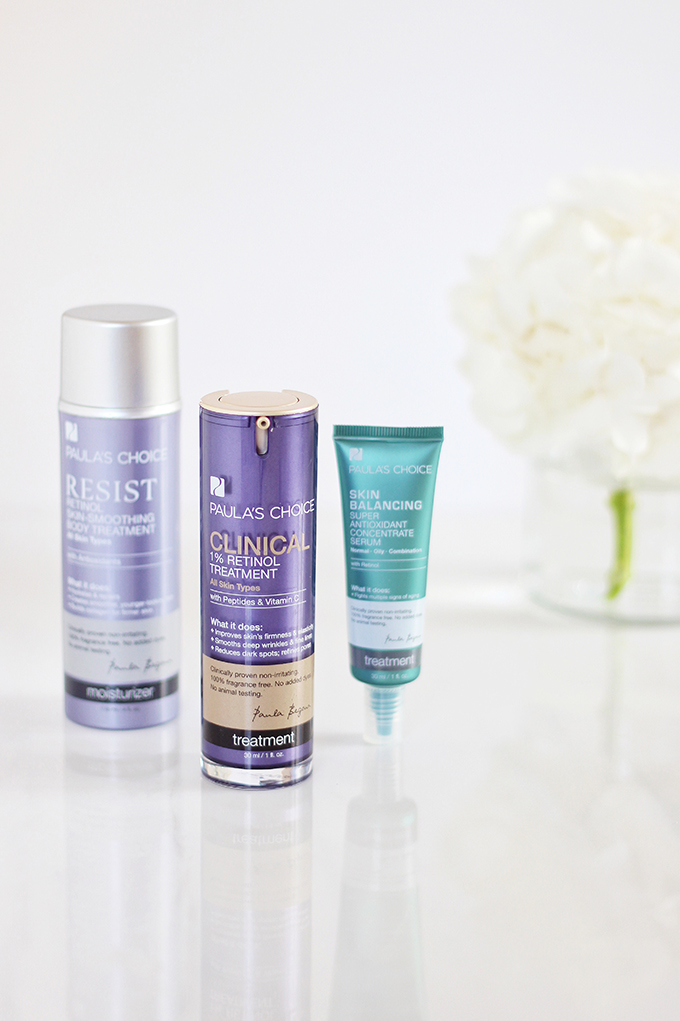 At night, I change up my serum to the Skin Balancing Super Antioxidant Concentrate Serum with Retinol (US $34.00). I love this serum because it contains a small amount of retinol and a prefer to use retinol products at night, since they can increase the skins sensitivity to sun. My skin feels totally smooth when I use this! I mix a few drops of the Resist C15 Super Booster in to supercharge it, just like I do with my daytime serum.
I use the Clinical 1% Retinol Treatment (US $56.00 1oz) in place of my evening serum every 2 or 3 nights and have noticed a remarkable difference in the overall appearance and health of my skin. It's actually the strongest retinol product you can purchase without a prescription in Canada! So if you start using this product, be sure to follow the directions and build your tolerance up slowly. To reduce irritation, you may need to eliminate your BHA exfoliant from your routine on nights when you use this product, or you can also add a few drops of beauty oil in with this treatment to dilute it and add some moisture.
I also love retinol for the body. I apply a pump of the Resist Retinol Skin-Smoothing Body Treatment (US $28.00 4oz) to my neck and décolleté and it really helps to keep that skin looking firm and smooth. It's great at reversing sun damage and keeping everything supple and hydrated. Don't forget to take your skincare down your neck and chest!
Learn more about how I incorporate retinol into my skincare routine.
---
5. SPF
---
And last but certainly not least is SPF. You can use all these fantastic skincare ingredients and products to improve your skin health and reduce signs of aging , but if you're not protecting your skin from the sun everyday, it's absolutely pointless and counterproductive!
I'm a huge sunscreen advocate after spending way too many hours in a tanning bed when I was younger. I wear SPF daily (even if I'm not leaving the house!) and I never, ever lay out in the sun. Premature aging, increased risk of skin cancer and tons of other nasty side effects from unprotected sun exposure have sent me on a quest to find great sunscreen products. If there's a single most important, powerhouse anti-aging ingredient for your skin, it's sunscreen!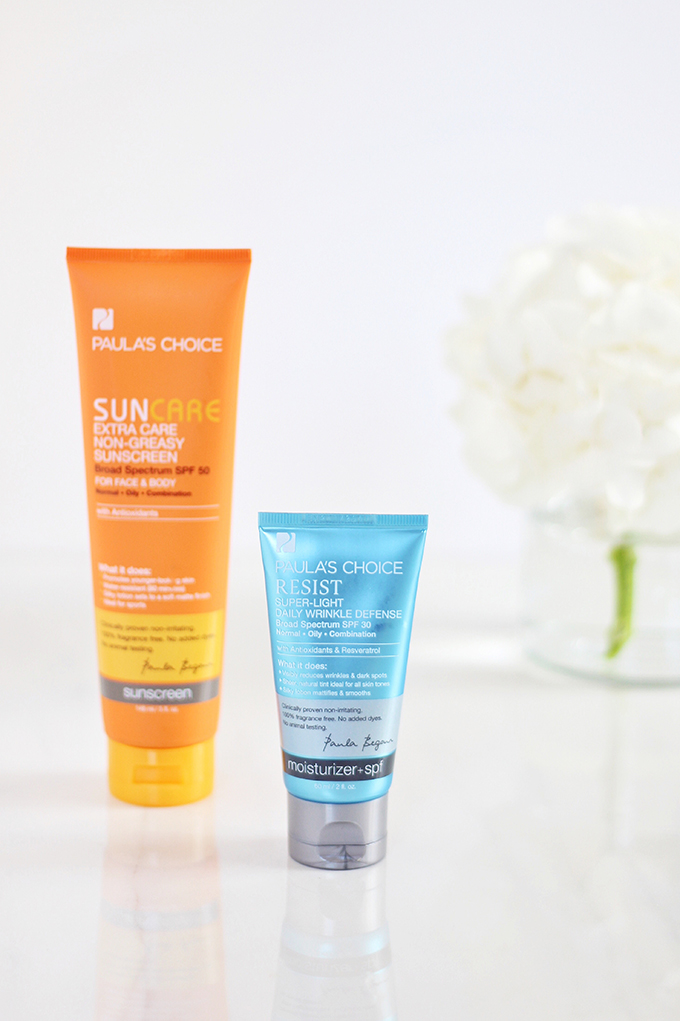 I use the Resist Super-Light Wrinkle Defense SPF 30 (US $29.00 2oz) every single day. It's weightless on the skin while providing a good amount of sun protection, and it also has a slight tint. It dries to a fairly matte finish and provides a perfect canvas for makeup. On days when I'm not wearing makeup, this also wears beautifully throughout the day. I apply this to my face, neck and décolleté.
If I'm going to be outdoors, I use the Extra Care Non-Greasy Sunscreen SPF 50 (US $17.00 5oz) all over my body and sometimes on my face if I need some extra SPF. It's lightweight, non-greasy and it stays put. The sun protection is fantastic, too. I actually keep little samples in my bag during the summer, in case I'm out in the sun for longer than I thought and need sunscreen on the go! If you make an order at Paula's Choice, make sure you're not missing out on the 3 free samples per order — you'll see the option at the checkout. I always select these sunscreen samples and they come in handy quite often.
Learn more about how I incorporate SPF into my skincare routine.
---
INTERESTED IN LEARNING MORE ABOUT SKINCARE?
---
Start Here! Skincare 101 + My Routine for Healthy, Happy Skin
Paula's Choice Resist Hyaluronic Acid Booster Review
Paula's Choice Resist Anti-Aging Eye Cream Review
---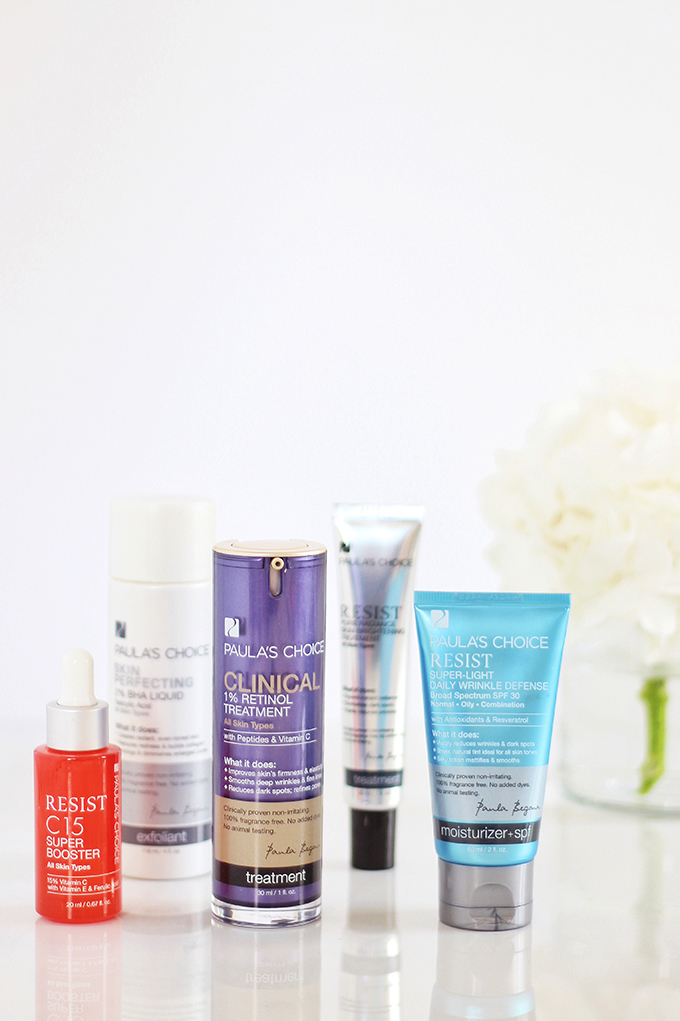 Thanks for stopping by to learn more about my 5 favourite powerhouse skincare ingredients! If any of this information was helpful, or you try products I recommended, please let me know. If you have questions about skincare or products, leave them for me below or send me a message!
If you're interested in ordering anything from Paula's Choice, they run promotions often — just Google for a coupon code!
---
Disclaimer: This post is not sponsored, and contains my genuine thoughts, ideas and recommendations. JustineCelina uses affiliate and referral links, which allow me to receive a small commission when you make a purchase through one of my links. Thank you for supporting the brands that support JustineCelina.com!
Save
Save
Save
Save
Save
Save
Save
Save
Save
Save
Save
Save
Save
Save
Save
Save
Save
Save
Save
Save
Save
Save
Save
Save
Save
Save
Save
Save
Save
Save
Save
Save
Save
Save
Save
Save
Save
Save
Save
Save
Save
Save
Save
Save
Save
Save
Save