I'm often asked what to wear to specific events, or to style people for special occasions — so I thought it would be fun to start a WHAT TO WEAR series here on JustineCelina, dedicated to these situations! Wedding season is upon us, and choosing an outfit as a wedding guest is something a lot of people have questions about, so today I wanted to share what I wore to a spring wedding. I've also selected a few alternate dress options for all different body types, so you can style yourself for wedding season with confidence. You know I've got you covered in the beauty department, too!
---
1. DRESS Midi Bandeau Dress With Ruffle Peplum | 2. SHADES Marlo Peach Sunglasses |
3. LIPLINER Jordana Easyliner for Lips in Silver Lilac | 4. LIPGLOSS Buxom Full-On Lip Cream in Lavender Cosmo | 5. SHOES Snake Around Single-Strap Heels | 6.CLUTCH Croco-Dialogue Yellow Clutch
---
This outfit combines all my favourite trends of the season — floral print, bright yellow and strappy sandals — into one outfit! When it comes to dressing as a guest for a wedding, it's important to keep it classy and modest. Low necklines, high hemlines, and skin-tight styles are a no-go. Instead, look for something that balances and flatters your figure, and something that you could wear again to other special occasions.
---
THE DRESS
Whenever I'm styling myself or someone else for a special occasion, I always start with the dress (or suit) first. That way it's easy to select accessories and coordinate the rest of the look, and you may be able to incorporate pieces you already own.
My dress is from ASOS (and it's on super sale), but there's limited sizing available, so I've selected a few options for you if you're looking for a dress with a similar colour palette and print, but in a different silhouette. I purchase a lot of dresses from ASOS, and Nordstorm — the quality is great and they have unique styles. I love this dress because of the print (still drooling over watercolour florals) and the silhouette; a bandeau style with a midi hemline, and a flirty peplum ruffle detail at the waist. It has a bit of a 60's vibe to it, but with modern styling.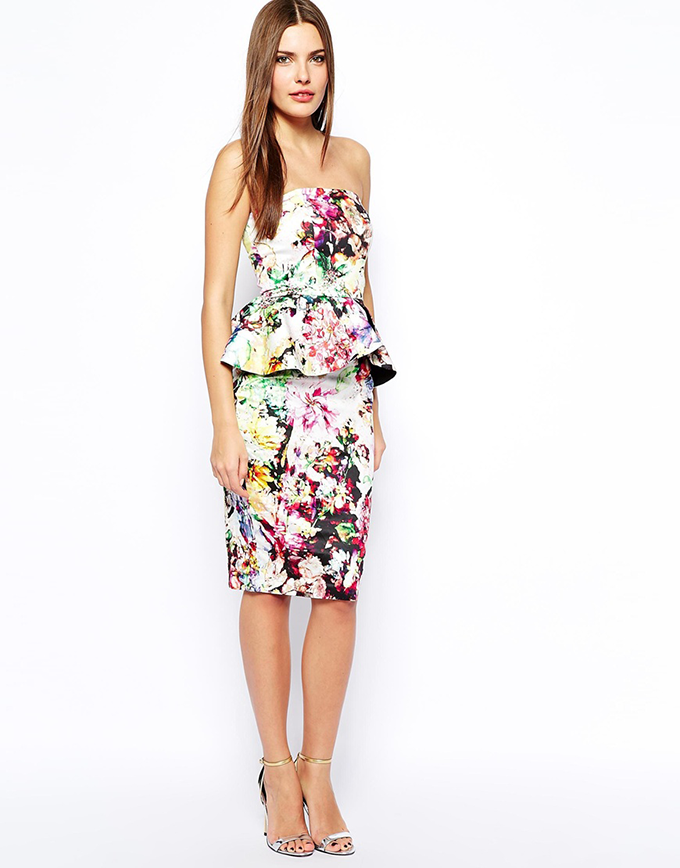 My Dress ASOS Midi Bandeau Dress With Ruffle Peplum (ON SALE! C $33.85)
Eliza J Belted Print Faille Fit & Flare Dress (C $174.35)
Maggy London Floral Print Chiffon Pleated A-Line Dress (C $212.26)
Eliza J Belted Floral Print Chiffon Maxi Dress (C $202.40)
---
ACCESSORIZING
After I have the clothing portion of the outfit finalized, I see what I (or another person) already owns that could be worn. I already owned all the accessories I wore with my outfit. I find that it really helps me to lay my items out when I'm accessorizing to see how everything's working. Once I'm happy with it, then I try everything on and make final tweaks.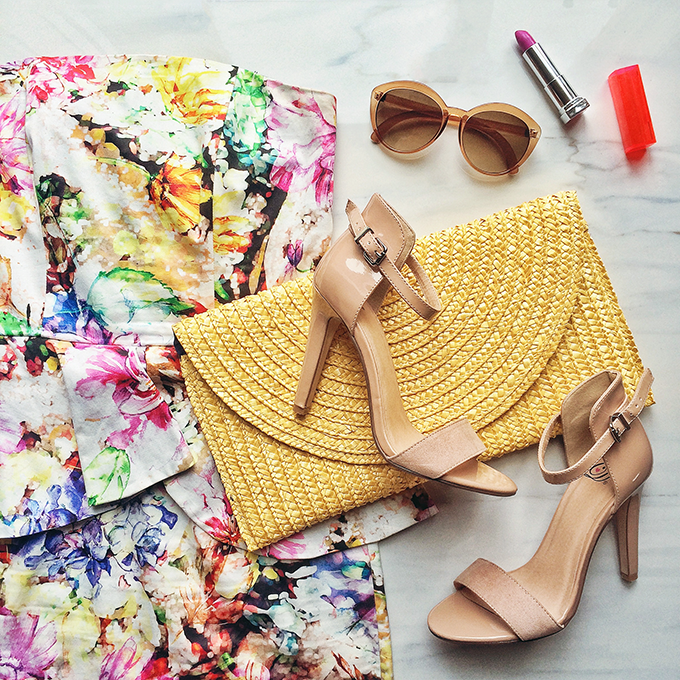 ---
Shoes
I always pick out shoes next. Since there's a lot happening with the dress, and since the hemline of the dress hits just below the knee, I knew I wanted to wear a nude strappy heel. They're on trend, the go with everything, they elongate the leg, and the ones I chose are actually really comfortable (I was one of the few who didn't change into flats by the end of the night!) The heels I wore are from Lulu*s (and they're out of stock), but I've selected some similar ones for you.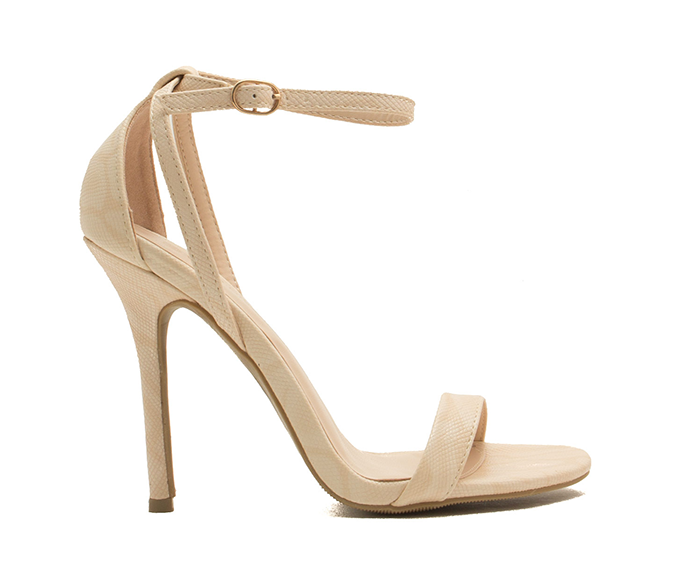 GoJane Snake Around Single-Strap Heels (ON SALE C $17.11)
---
Bag
I purchased the straw clutch I wore from Francesca's in Napa Valley last summer, and I thought it was the perfect pop of colour for this outfit. It's also a bit casual — and I like that with the dress since it's more structured. I love the size of the clutch, it's big enough to hold all of your stuff! The clutch is still available in orange, but I've picked out a similar style if you're looking for a versatile yellow clutch.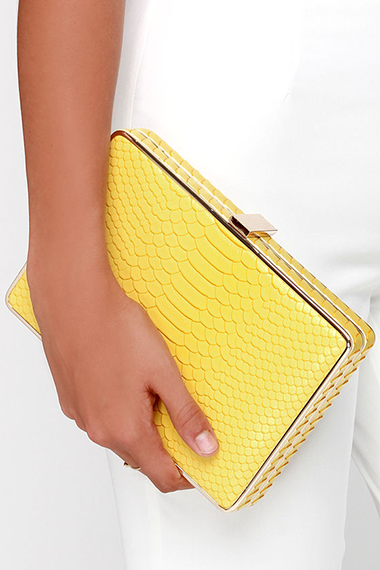 Lulu*s Croco-Dialogue Yellow Clutch (US $36.00)
---
Shades
I think a great pair of sunglasses are essential to a great outfit — especially if you're spending part of the day outside. These oval-shaped glasses have a slight 60's vibe like the dress, and the colour of the lenses coordinates with the tones in the dress. I love these shades!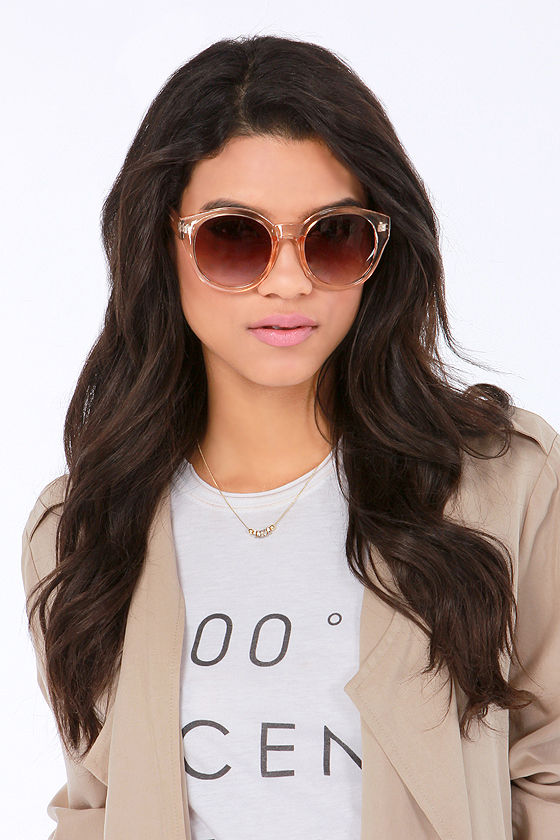 Lulu*s Marlo Peach Sunglasses (US $14.00)
---
HAIR & MAKEUP
I usually figure hair and makeup out after I choose my outfit. I wanted to wear a statement lip with this outfit, and I've been really into fuchsia tones (and this particular lip combo) lately. You've heard me rave about the Jordana Easyliners for Lips before, and I've also mentioned this lipgloss formula and these eyeshadows. When it comes to special events, I stick to products and formulas that I know work and are long wearing — now is not the time to experiment! For hair, I kept it simple with a centre part and soft waves, styling with my favourite tools and products.

On Lips Jordana Easyliner for Lips in Silver Lilac (US $2.49) with Buxom Full-On Lip Cream in Lavender Cosmo (C $23.00)
On Eyes Colourpop Supershock Shadows in 3 and Sequin (US $5.00 each) with Laura Mercier Eye Art Artist's Palette (C $70.00)
---
P.S. – Thanks to our friends Rob & Jill for inviting us to celebrate your special day with you! It was such a beautiful weekend. Congrats guys!
---
Disclaimer: This post is not sponsored, and contains my genuine thoughts and recommendations. JustineCelina uses affiliate and referral links, which allow me to receive a small commission when you make a purchase through one of my links. Your purchases help to support JustineCelina.com!