---
I wore so many soft, rosy hues in February! My pink obsession is still going strong and last month it definitely crept its way into the beauty department. A bit of a disclaimer — since it's my Blogiversary month (JustineCelina turned one on March 2nd!) you'll notice a strong Rose Quartz and Serenity theme on the blog this month leading up to my celebratory post. I'm super inspired by the Pantone colours of the year, and I'll be flooding your feeds with tons of pretty, flowery, pink and blue imagery in March. Sorry (not sorry) in advance!
I also developed a thing for deep green eyeliners, rediscovered an old standby mascara, and a multi-purpose baked highlighter. If you're a fan of soft, pretty, natural looking makeup then you'll love my February Beauty Favourites. All but one of my favorites are also under $10 — I firmly believe you don't have to spend a lot to look like a million bucks!
---
C $6.00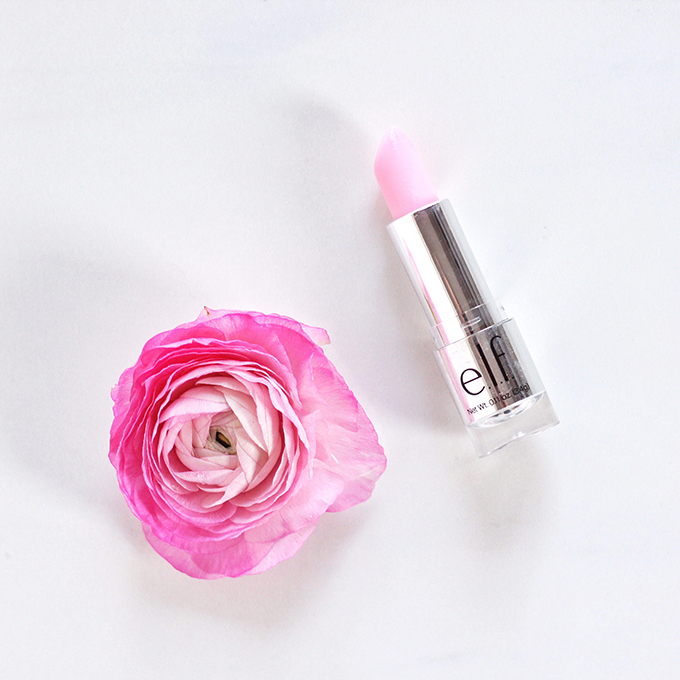 Quite a few of these natural, enhancing lip products have come to market lately — and I'm a fan. Think of them like the mood rings of lip products! They're an almost colourless, moisturizing, gel-based formula that reacts with your natural chemistry to give your lips (you probably guessed it) the perfect pink flush for your colouring. I'm happy to report that e.l.f. Gotta Glow Lip Tint in Perfect Pink compares to similar high-end counterparts such as the Dior Addict Lip Glow at a fraction of the price. So if you're curious to try a product like this but don't want to splurge, definitely pick this one up (and look around for my other e.l.f. favourites if you're placing an order!) On me, it pulls quite deep and (and leans magenta) after 10 minutes and I absolutely love it! The wear time is less than an hour, but I treat it more like a lip balm. It leaves a very pretty, magenta stain behind after the balmly sheen wears off. e.l.f. just released a few other colours and I'm interested to try them, as well! This is the perfect fuss-free product to throw in your handbag and use for mirrorless, on-to-go application.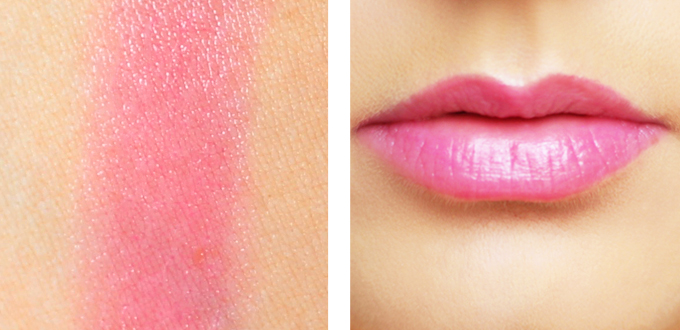 I'm wearing the e.l.f. Gotta Glow Lip Tint in Perfect Pink — this colour developed after 10 minutes.
---
C $5.00 – $7.00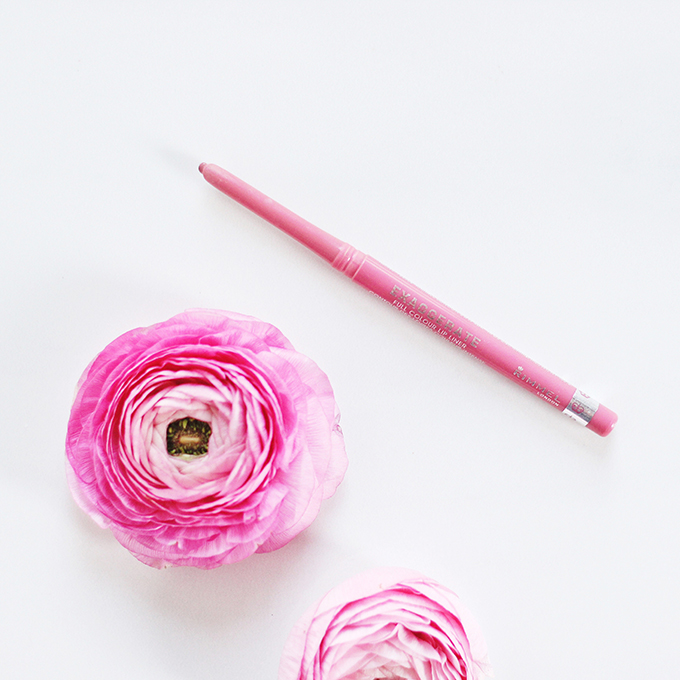 I've been using this lip liner so much lately that I've almost gone through it! The Rimmel Exaggerate Automatic Lip Liner in East End Snob is a perfect cool-toned pink that I use to enhance and slightly overdraw my natural lip line. It adds pillowy-soft volume without looking overdone, and it pairs so well with pink or nude lipsticks. You can also wear it all over your lips as a matte lipstick — it's super creamy and long wearing. The only negative thing to mention is learning curve with this product because of the unique shape of the liner. It's more an oval shape and takes awhile to learn how to maneuver it! I'm also wearing it in this fashion post, if you want to see how it looks in different light.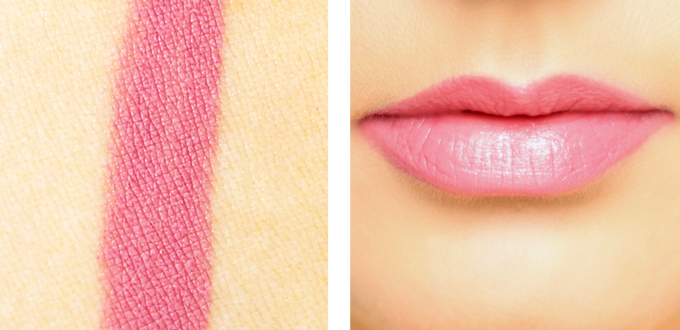 I'm wearing the Rimmel Exaggerate Automatic Lip Liner in East End Snob as a liner and lipstick with a light gloss overtop.
---
C $7.49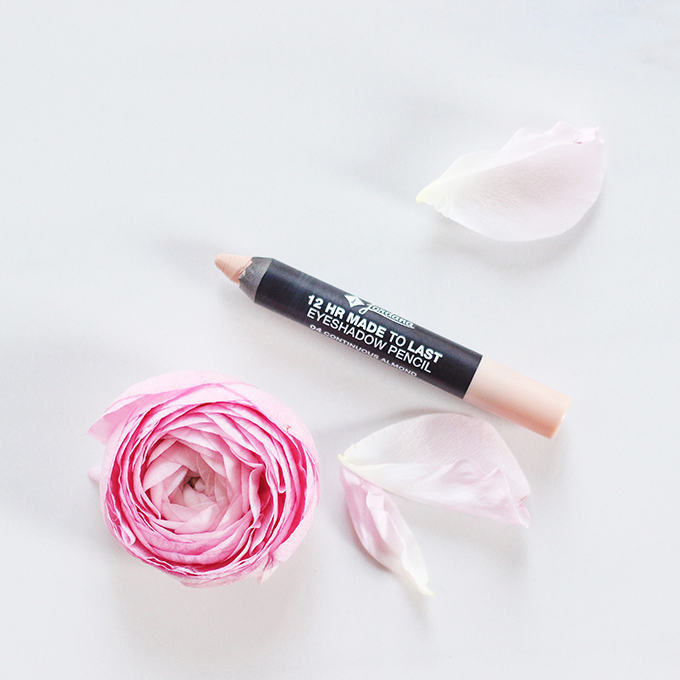 Who's been overworking and not sleeping enough? Guilty. Ladies, if you've never tried a nude eyeliner in the waterline to make your eyes look bright, awake and open, you have to pick one up! This neutral, nude liner totally counteracts any red, pink or purple tones on my waterline and gives my eyes an instant light and lift. My Mom is also a huge fan of this product. I remember the first time I tried it on her, she thought it sounded weird — and then after I was done she was amazed at how much more rested she looked! I grabbed the Jordana 12 HR Made to Last Eyeshadow Pencil in Continuous Almond during my last trip to the US (check Jordana out for awesome, inexpensive lip liners and eyeliners next time you're in the states!) but Milani and Jordana are owned by the same company, and we have Milani here in Canada at Superstore. My point being — you can pick up almost exactly the same product from Milani if you're on the hunt for a great, longwearing nude liner! Look for Milani's Shadow Eyez 12- HR Wear Eyeshadow Pencil in Almond Cream in Canada.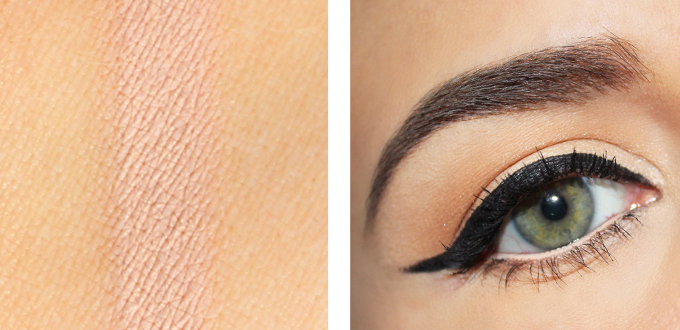 I'm wearing the Jordana 12 HR Made to Last Eyeshadow Pencil in Continuous Almond in my waterline.
---
C $5.00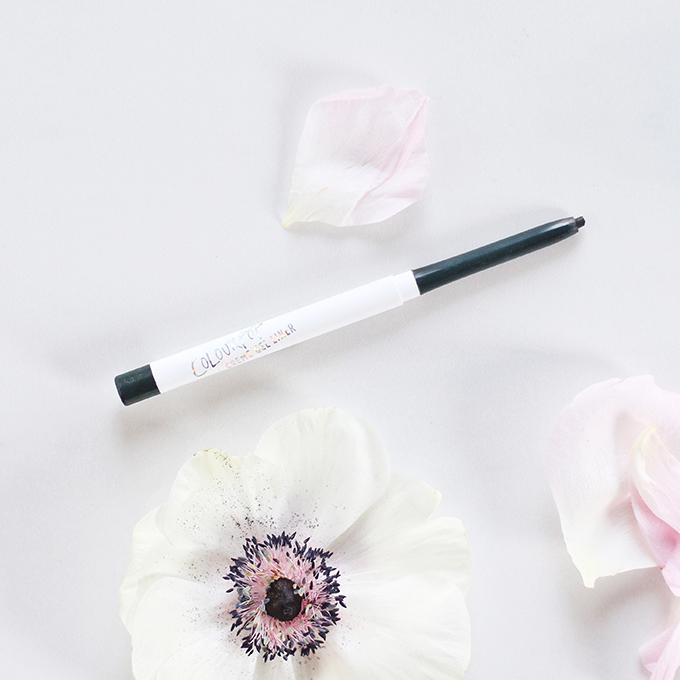 Workout is a gorgeous blackened forest green eyeliner. I've been loving it as an earthier alternative to black, and it pairs very well with great all the rosy tones I've been wearing for a bit of complimentary contrast. If you're looking for a full review on the Colourpop Crème Gel Liners, hop over to this post.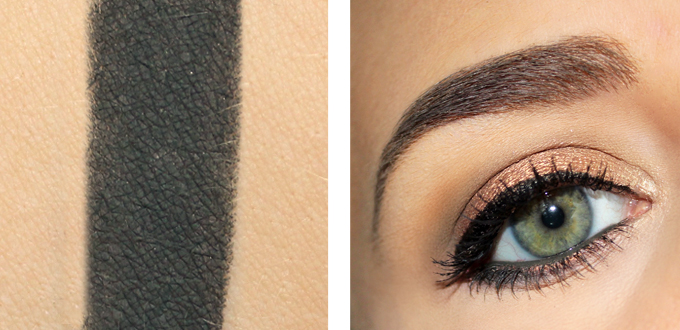 I'm wearing Colourpop Crème Gel Liner in Workout in my waterline.
---
C $5.00
Get Paid is a true metallic rose gold eyeliner. It's a unique shade that I find especially flattering on green eyes. Even though it's pink-toned, it's very wearable (you don't need to worry about looking like you have pink eye!). If you're looking for a full review on the Colourpop Crème Gel Liners, hop over to this post.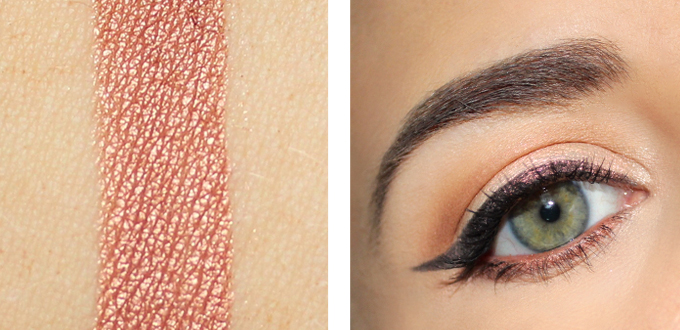 I'm wearing Colourpop Crème Gel Liner in Get Paid in my waterline and on my lower lashline.
---
C $7.47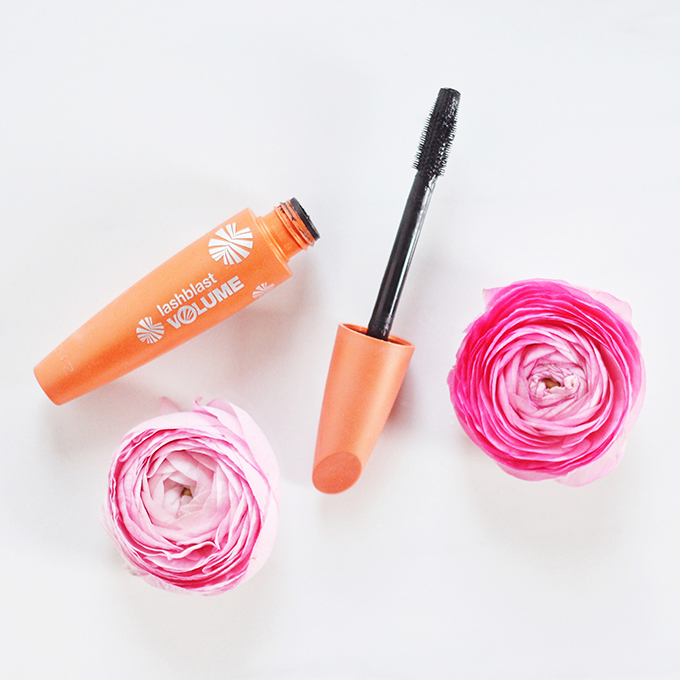 I can't seem to quit this mascara! It's a holy grail item that I end up coming back to over and over again (I actually mentioned it in my March Beauty Favourites last year). I've worn this mascara for over 10 years (long before I was really into beauty) and it's truly fantastic. It doesn't flake, smudge or irritate my eyes, and I can wear it alone of with more lengthening mascaras as well. Plus, you can't beat the price! Covergirl LashBlast makes my lashes look long, full and fluttery, while my other favourite Covergirl mascara, The Super Sizer by LashBlast Mascara in Very Black gives me a bit more definition and less flutter. You can hop over here for a review of that one. I like them both equally, but get bored and like to switch it up!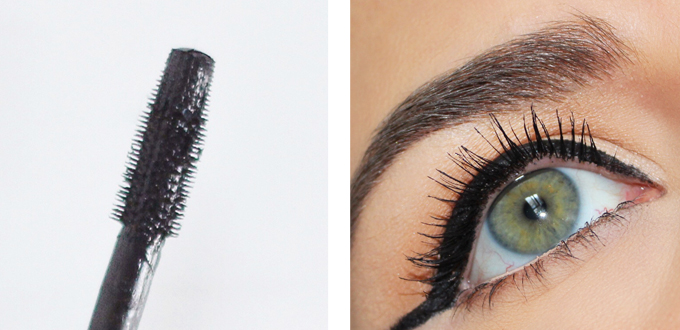 I'm wearing 2 coats of Covergirl LashBlast Volume Mascara on my upper lashes, and 1 coat on my lower lashes.
---
C $9.99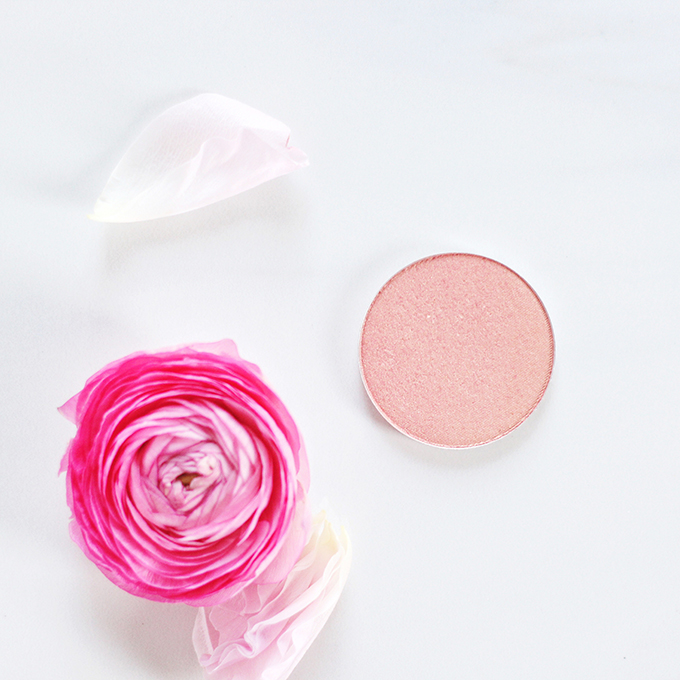 Makeup Geek's Blush in Romance imparts an ethereal, natural glow on the cheeks. It's a beautiful soft rosy shade with lots of gold shimmer — similar to the cult classic Nars Orgasm blush, but a bit lighter and more peach (and much less expensive!). I own both, and I actually prefer Makeup Geek's Blush in Romance. When I wear this shade I feel healthy and fresh — no highlighter required. If you're not into shimmery blushes, you probably won't like this. But I find it to be the perfect amount of shimmer (it doesn't emphasize texture on the skin) and think it would look beautiful on so many skintones. It looks a lot lighter in the pan then it applies to the cheeks. I'm a MAC NC 30 and it's quite pigmented on me. Like all Makeup Geek products, the ingredients, blendability and overall quality of the product are incredible. If you're looking for my additional recommendations from the brand, check this out.
I'm wearing Makeup Geek's Blush in Romance on my cheeks.
---
US $42.50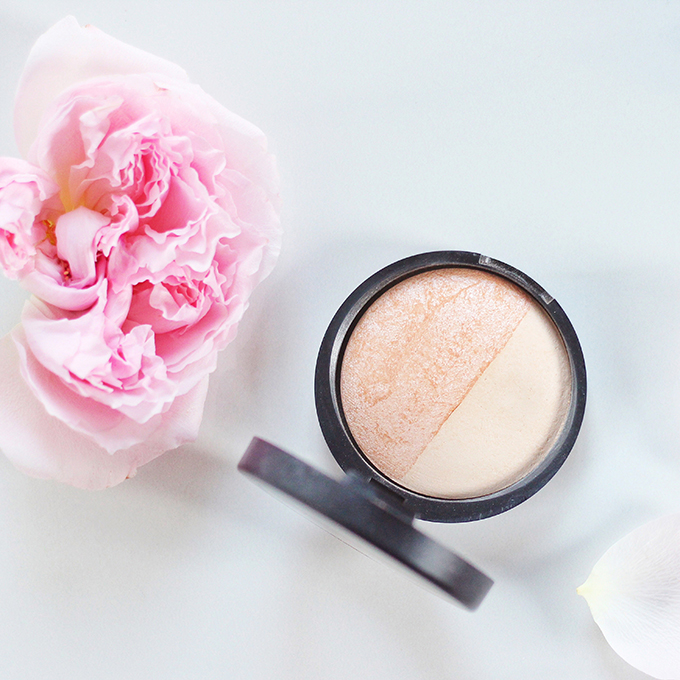 Again, another older product that's I've recently rediscovered (I actually mentioned it in my March Beauty Favourites last year). I picked it up at Ulta Beauty during a trip to the US. This is a baked highlighting product that features 2 shades; French Vanilla is a very light, opaque, almost matte beige, and Portofino is a sparkling peachy shade. This baked highlighter duo serves so many purposes; I use it mostly to highlight the tops of my cheekbones, tip of my nose, cupid's bow and inner eye corners — anywhere I want to add a subtle glow to my face. But, I also used both shades as eyeshadows. This product also travels well — I know I can throw it in my makeup bag and it won't shatter in transit — it has a denser, baked texture but it's still creamy. Since I prefer matte foundations, I love this product to add a little radiance back into my complexion. I'm so surprised I haven't put more of a dent in this product — I've been using it pretty regularly for over a year. A great value for money!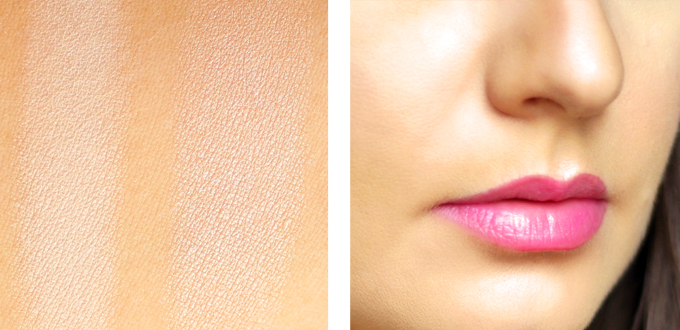 I'm wearing French Vanilla as a highlight on the tip of my nose and cupids bow, and Portofino on my chin and the the tops of my cheekbones.

---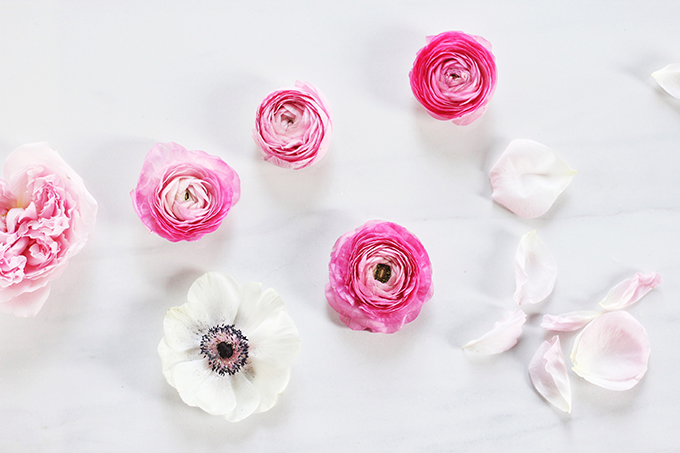 What were you guys loving in February? If you have a recommendation for me, please leave it below! And as always, if you have any questions, or a request for beauty content here at JustineCelina, let me know! Enjoy your Sunday, ladies.
---
Disclaimer: Thanks to Rebecca Dawn Design for the gorgeous blooms I used to style this post. This post is not sponsored, and contains my genuine thoughts and recommendations. JustineCelina uses affiliate and referral links, which allow me to receive a small commission when you make a purchase through one of my links. Your purchases help to support JustineCelina.com!