Today I'm chatting about my latest beauty obsession — the new Ultra Matte Lips from Colourpop! Currently there are 33 shades available, and I decided to pick up 10 from the range to try out. Colourpop's Ultra Matte Lips retail at $6.00 USD for 0.11 oz., just a fraction of the cost of their high-end counterparts. Lately, it seems like every brand is coming out with their version of a liquid lipstick, and I'm generally a fan of liquid lipstick formulas — they dry to a flat matte finish and are super long wearing. If you're a lipstick lover (or want to learn more about liquid lipstick) this post is for you! I also have a review of 10 shades from the Ultra Satin Lip range.
---
Product Overview
These are the driest liquid lipstick's I've used — it you want a 100% matte, super long wearing lip colour, you'll love these. If you don't like traditional matte lipsticks because they're too drying, you'll probably hate these. Personally, I love them! On the lips, they feel weightless and even a bit powdery, but there is absolutely no moisture in this formula. If you do find them too drying, you can always add their Lippie Primer underneath, or a gloss on top. The formula reminds of Limecrime's liquid lipsticks — it's a very thin, watery formula that glides on smoothly with intense pigmentation. But you have to work fast because they dry within 30 seconds, and it's best to get an even application in one go, rather than trying to layer. They have no taste or scent.
The packaging feels substantial and high-end. The doe foot applicator seems a little bit stiff compared to other brands I've tried, but that's a minor detail. It works well to apply product to the lips.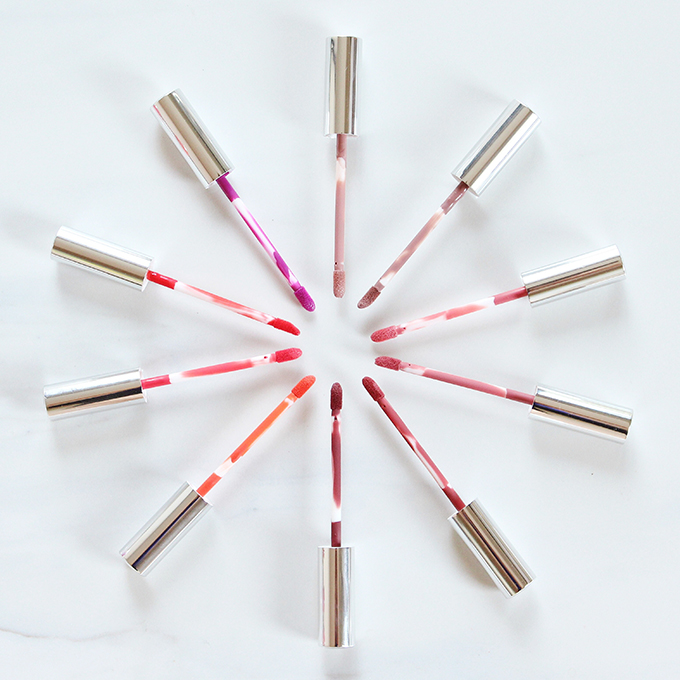 These wear about 8 – 10 hours on me, and last really well through eating and drinking. They start to wear off in the corners and the center of my lip first, around the 6 hours mark, but you can definitely retouch.
If you're interested in trying liquid lipstick, or you're looking to expand your collection, I say pick some up! The quality of the product is amazing and the wear time is fantastic, especially compared to high-end liquid lipsticks, which can run you anywhere from $15 – $30 each.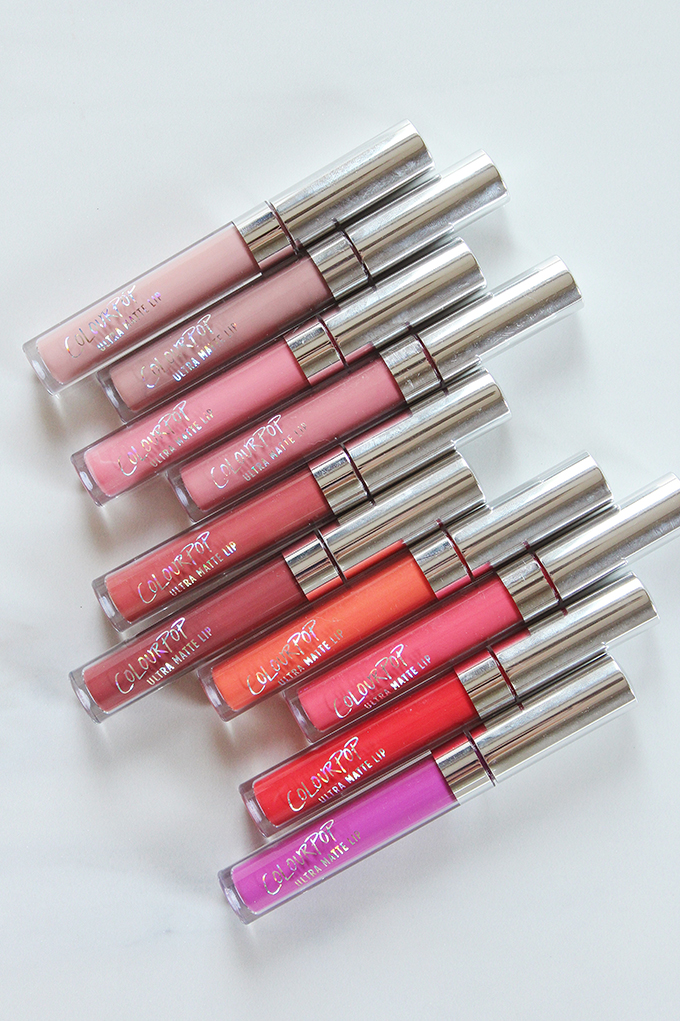 ---
Application & Removal
With a product like this, good lip prep is essential. What I like to do is put on a super thick lip moisturizer (my favourites are the Aquaphor Healing Ointment or My Favorite Night Balm) before I start my makeup. I apply my foundation and base first, and then once I'm ready to move onto the lips, I remove the lip moisturizer with a q-tip fully, make sure my lips are dry, then apply the liquid lipstick. This ensures your lips are moisturized, smooth and freshly exfoliated — and ready for lip product!
To get these babies off, you'll need a good oil, or oil based cleanser. I use Desert Essence 100% Pure Jojoba Oil. When I wash my makeup off, the first thing I do is apply some jojoba oil to my palm, then pick it up with my fingers and massage it into my lips, until I see all the colour come off. Then, I go about the rest of my evening skincare routine. In fact, they're so long wearing that after I was finished photographing the swatches on my arm, I scrubbed at them with jojoba oil, and my cleanser, and there were still traces of them left.
---
Shade Range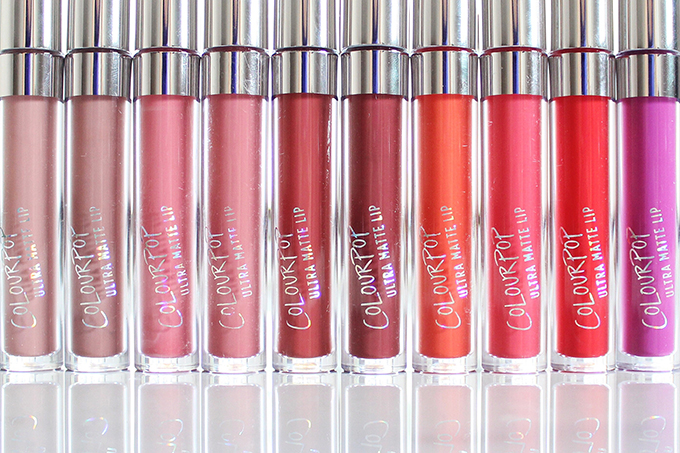 Currently there are 33 shades available, and I own 10. They just released 8 new shades last week, so I assume they'll continue to expand the range. I picked out shades that I don't have anything similar to in other liquid lipstick formulas, and I usually gravitate towards warmer colours (since that's what looks best on my skintone). I did pick up a few colours totally outside of my comfort zone, too! They have a wide range of colours available (even some greens and blues), so you'll definitely be able to find colours you like. Overall I think the nudes lean a bit cool toned — they're not what I would usually try, but I like them because they're different. One thing I found true for all shades is that they look lighter in the tube than they do on your lips once they're fully dry.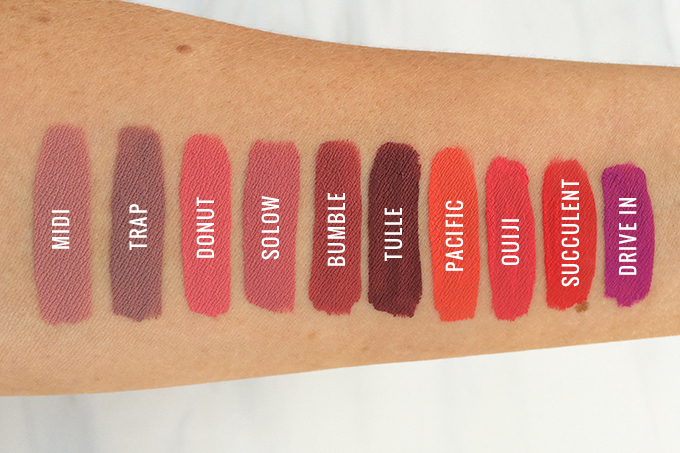 The other thing I like to do with these is mix shades. Sometimes I like to pop a lighter shade in the centre of my lips to make them look bigger, or mix shades together to create a custom shade, and apply it with a lip brush. On the weekend, I mixed Pacific with Solow, and it made a nice bright peach.
---
COLOURPOP ULTRA MATTE LIP SWATCHES
---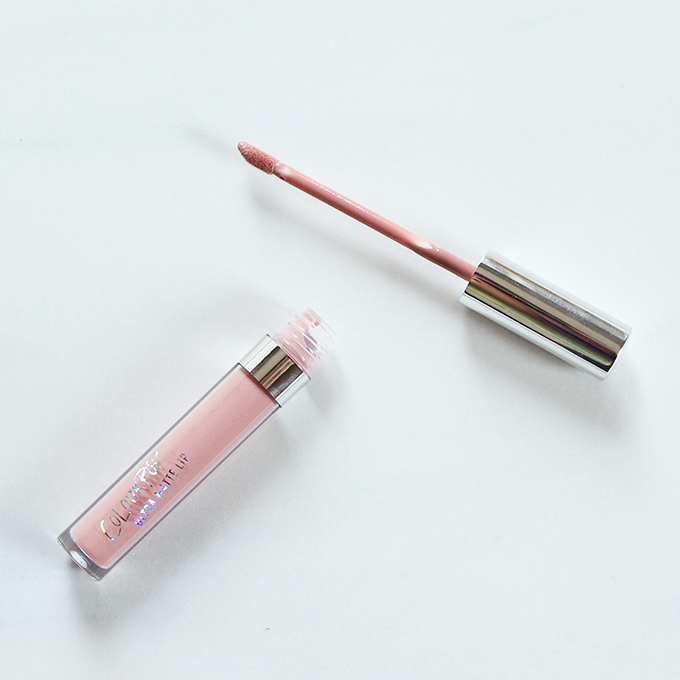 Colourpop describes this as a 'soft neutral beige'. It's the second to lightest shade in the range, and it's definitely the most nude I would go. On me, it has it's a cool, greyed pink nude. I think this one would be more wearable for me with a darker lip liner.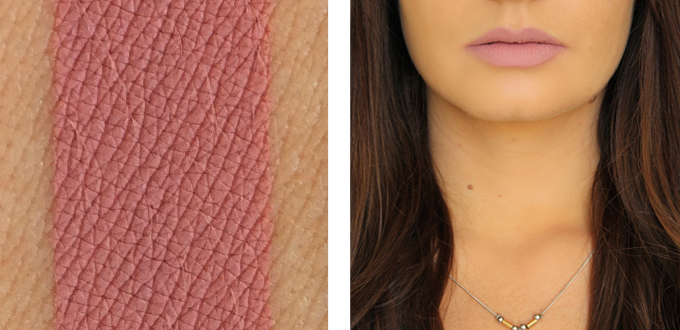 ---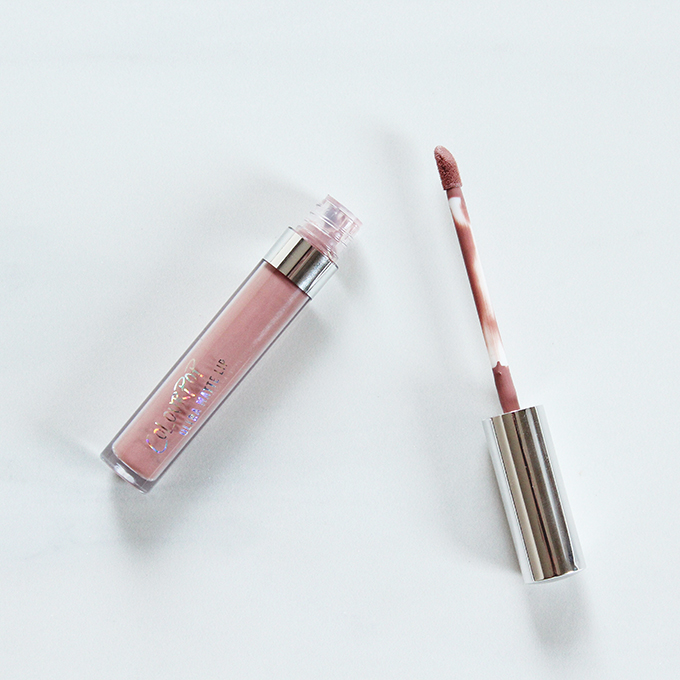 Colourpop describes this as a 'dusty greyed out beige ("greige")' — that's definitely accurate. Trap is a stoney grey taupe shade, with a bit of lilac in it. This is such a unique colour, very on trend, and I'm surprised how much I love it. It goes perfectly with their lip pencil in Tootsie (which I'm also wearing in this photo).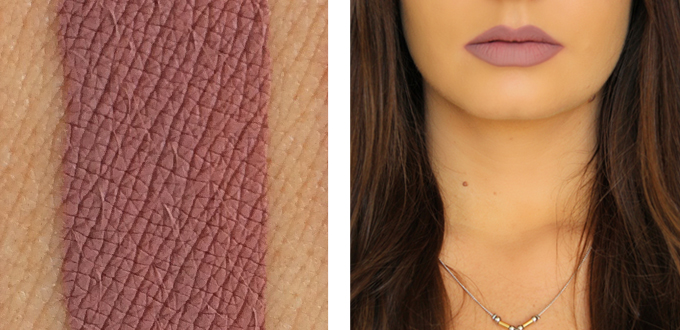 ---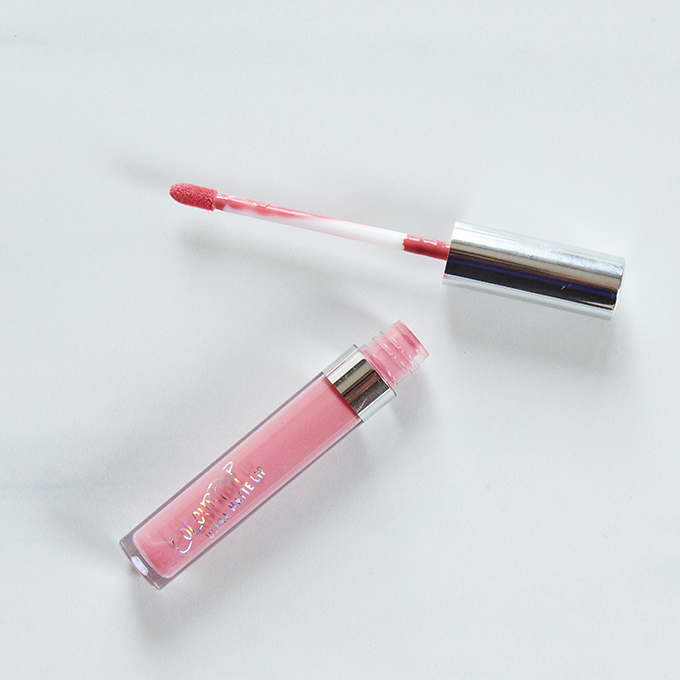 Colourpop describes this as a 'bright peach'. On me this colour is more of a warm bright pink, but it does have some peach it in. It's quite bright, especially in person — a neon pastel shade.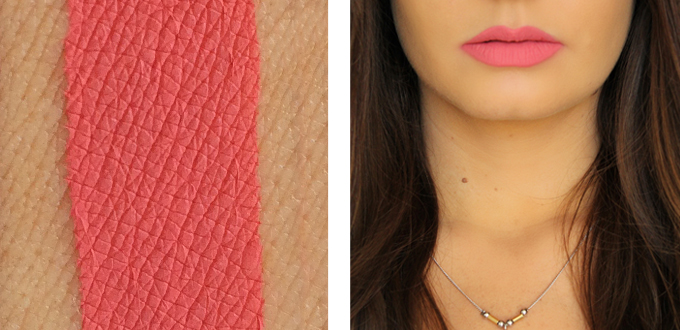 ---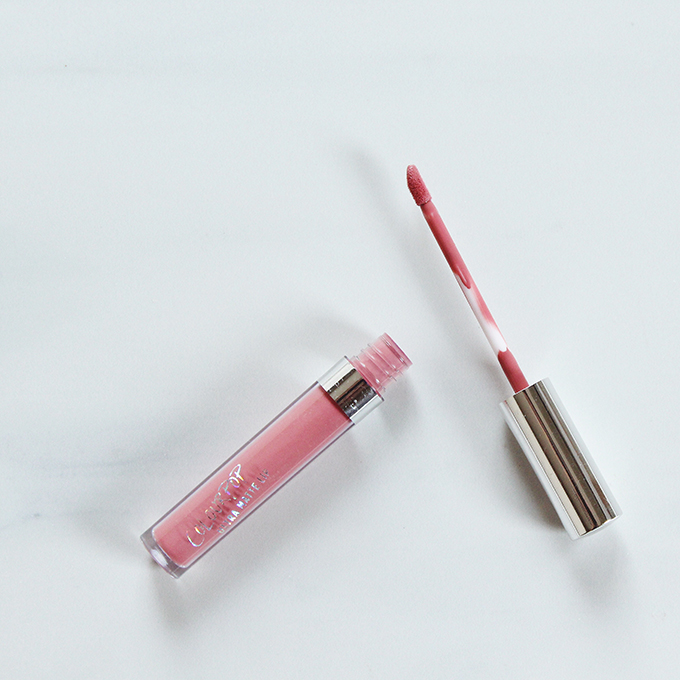 Colourpop describes this as a 'neutral nude pink', and I think that's accurate. On me, it pulls slightly cool, but I really love this colour as an every day pinky nude shade. It also mixes really well with the other colours.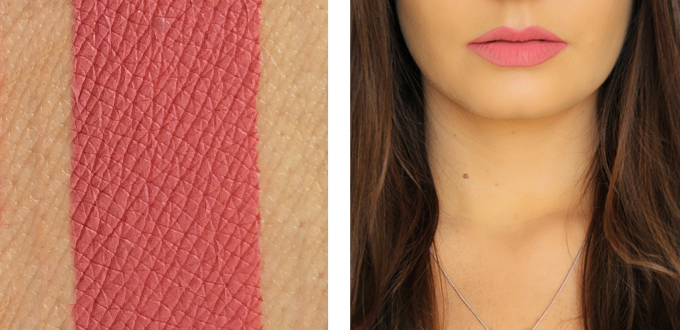 ---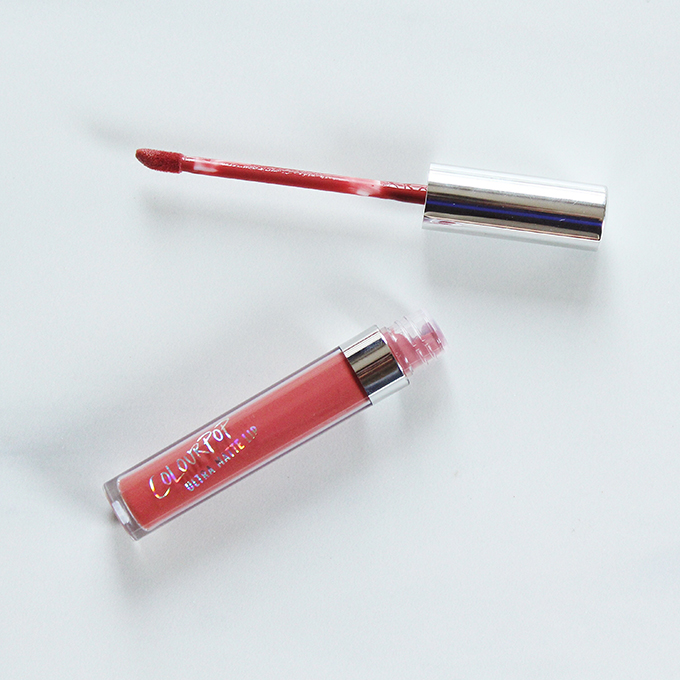 Colourpop describes this as a 'dusty warm terracotta'. It's a mid-tone warm pinky brown — definitely in the marsala colour family, which is super trendy right now. This is one of my favourites, and a perfect everyday fall shade.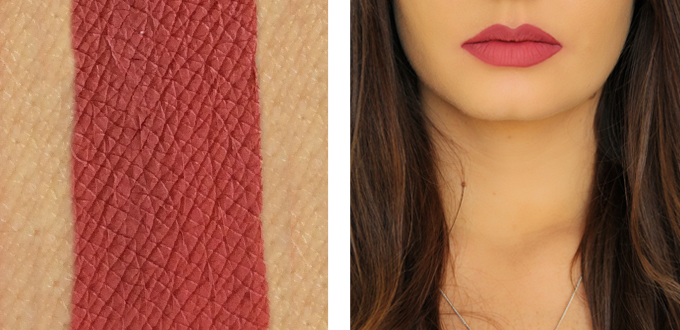 ---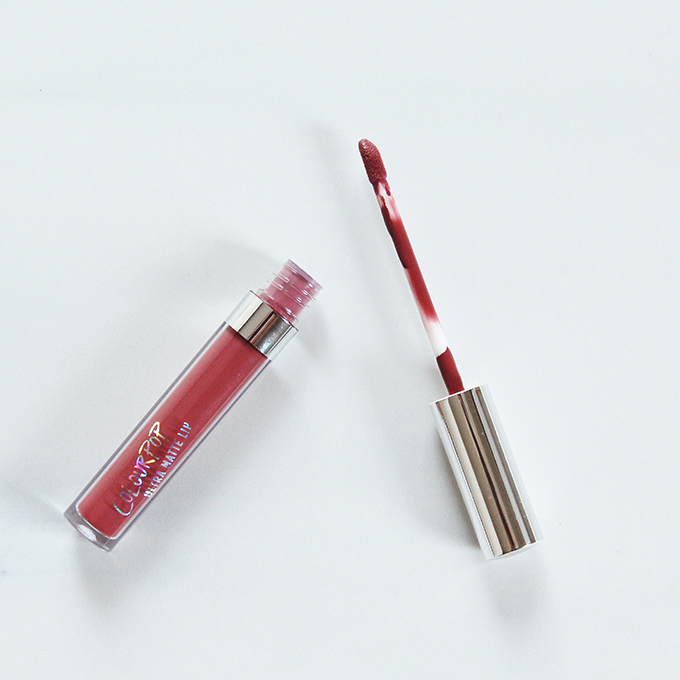 Colourpop describes this as a 'dusty mauve burgundy'. This one is so much darker on my lips that it looks in the tube — and I feel like it's even darker in person! It's a beautiful, very deep, vampy burgundy — along the lines of Limecrime's Salem (which is a straight-up chocolate brown), but more red-based. Another great fall colour, and one of my favourites.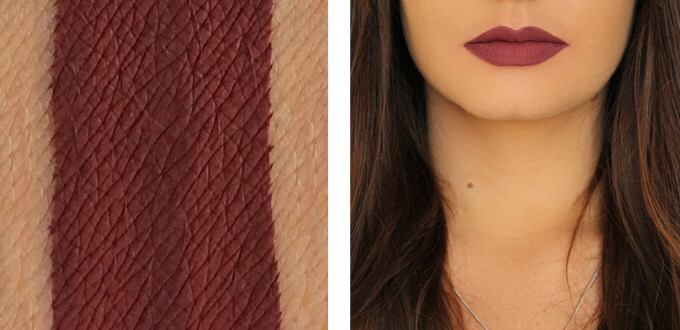 ---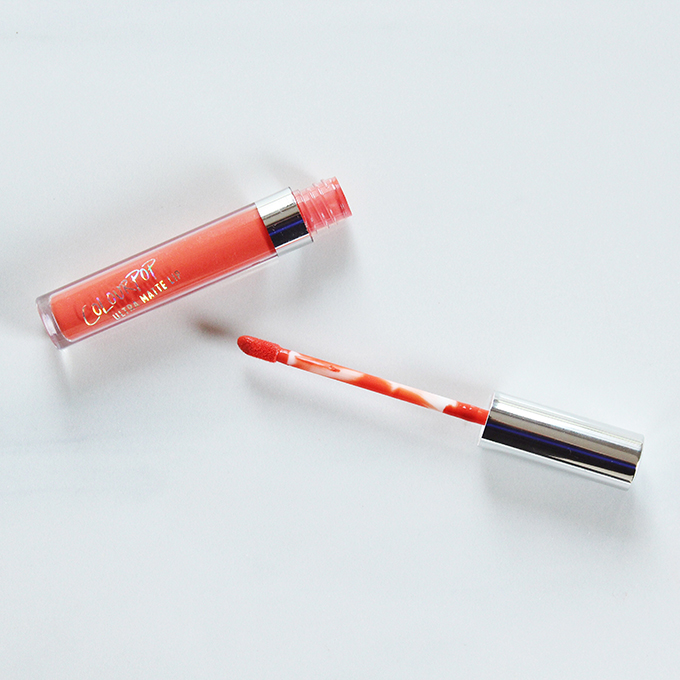 Colourpop describes this as a 'true bright orange' — that's how I'd describe it too. It's a super fun summer colour, and I think the shade is particularly flattering on medium / tanned skin.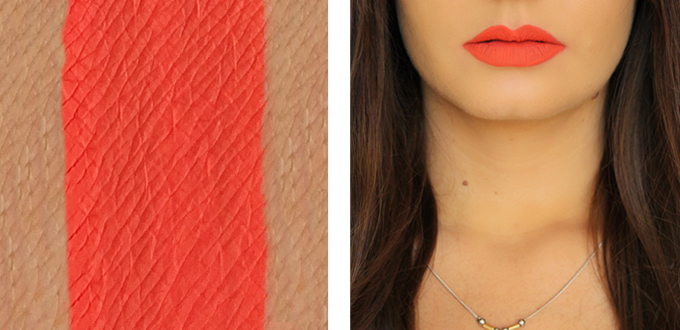 ---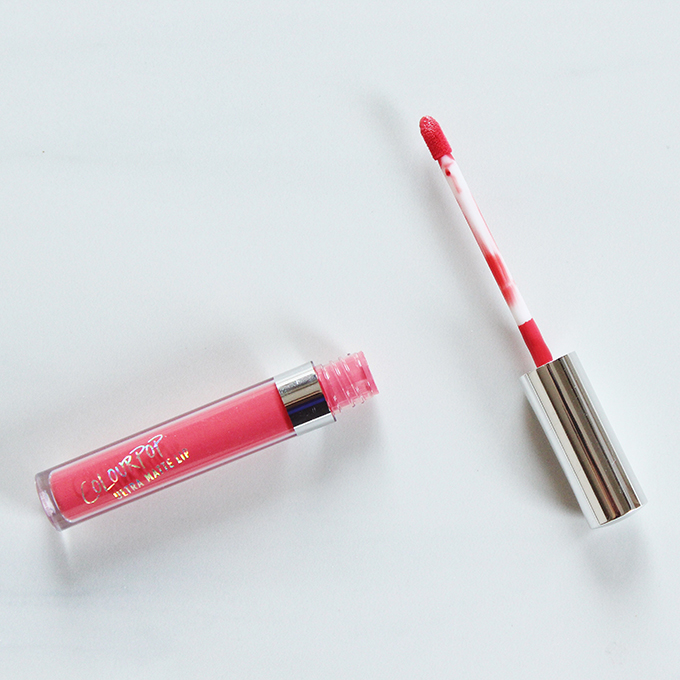 Colourpop describes this as a 'bright coral red' — I think it's more of a watermelon shade. It's in the coral spectrum, but definitely leans more pink than orange. I was surprised how much I liked this one, it's definitely bright, but very wearable and flattering. I think it would suit a wide variety of skintones as well.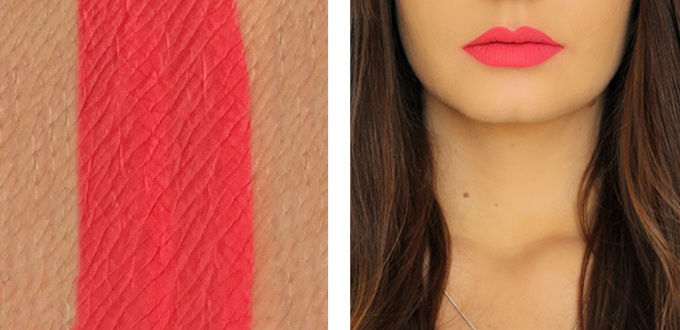 ---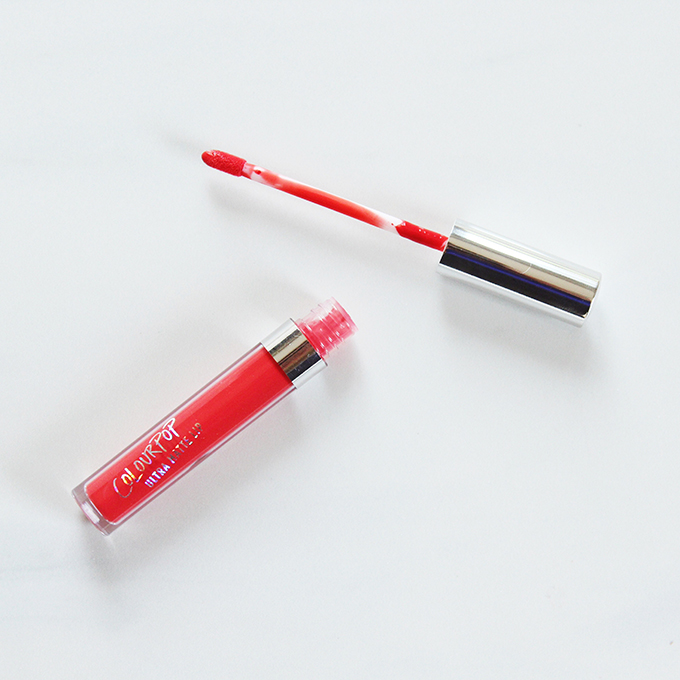 Colourpop describes this as a 'electric neon orange red'. On me, it's a bright orange-based red, which are my favourite reds to wear. This is the first shade tried on when I received them, and I think it's one of the prettiest colours in the range. This is a universally flattering red that makes your teeth look really white!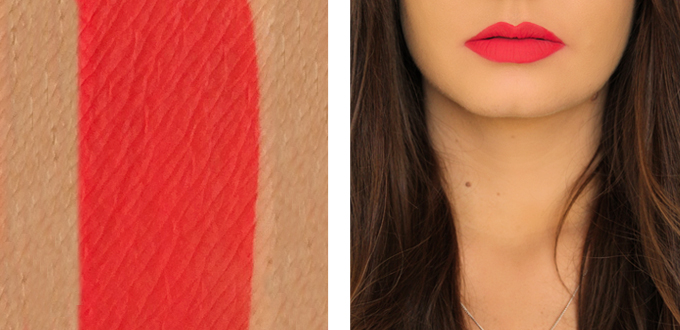 ---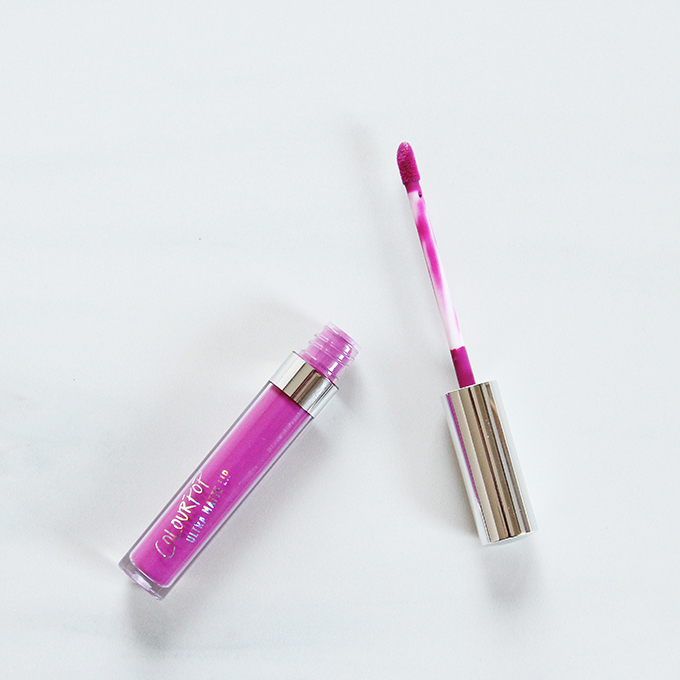 Colourpop describes this as a 'mid-tone bright magenta' — to me, it's a warm toned fuchsia purple. If you've never tried a purple lipstick and are wondering if they're for you, I'd try Drive In! It's strangely wearable, and it's more on the pink side. I love this shade, I think purple lipsticks really flatter green eyes and light up the face. I always get lots of compliments when I wear purple lipstick!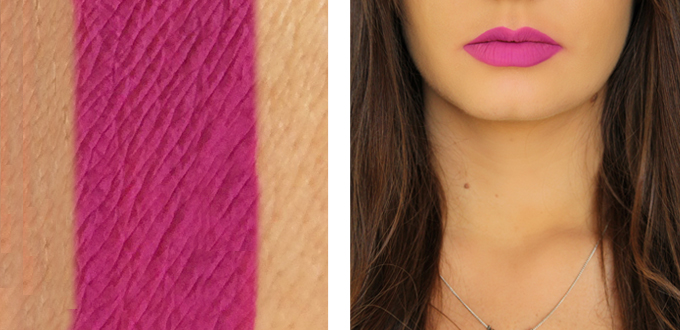 ---
Keep in mind that lip colours look completely different on different skintones. For reference, I have light / medium skin with yellow-warm undertones — I'm a MAC NC 30.
---
LOOKING FOR MORE COLOURPOP REVIEWS & RECOMMENDATIONS?
---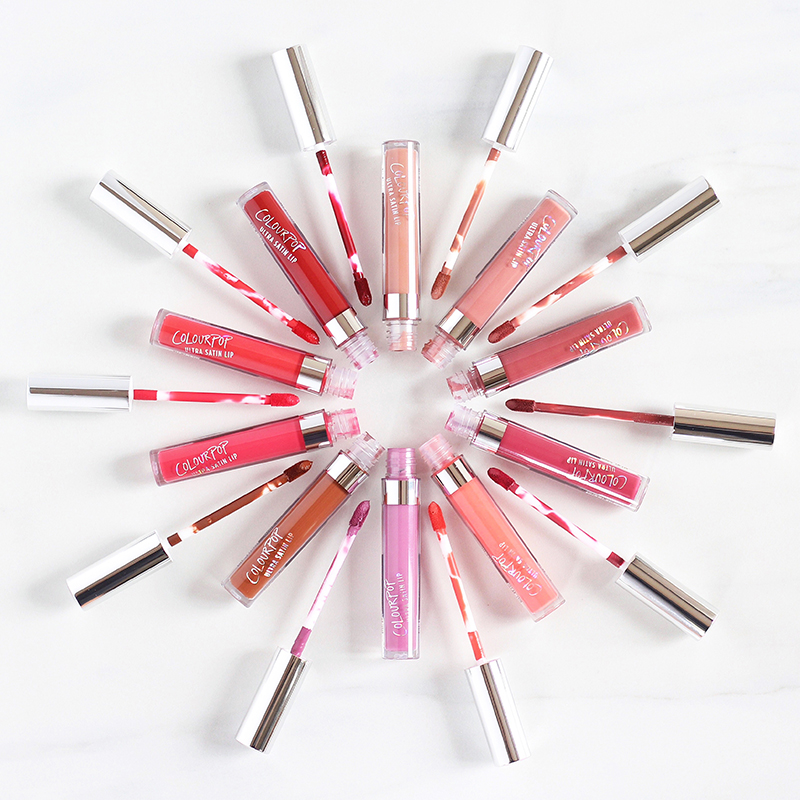 Colourpop Ultra Satin Lip Review (10 shades)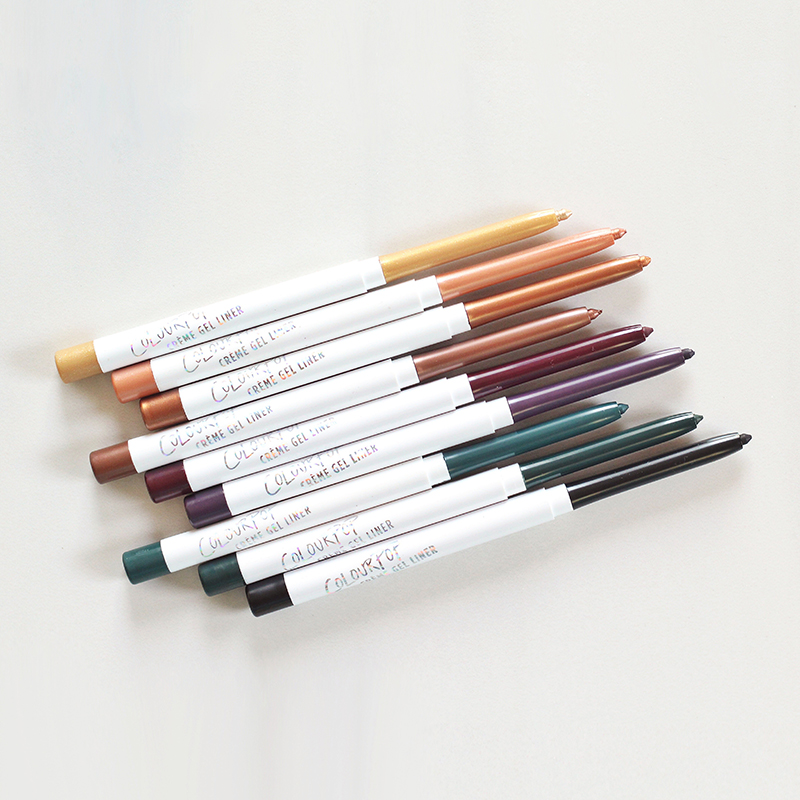 Colourpop Crème Gel Liner Review (9 shades)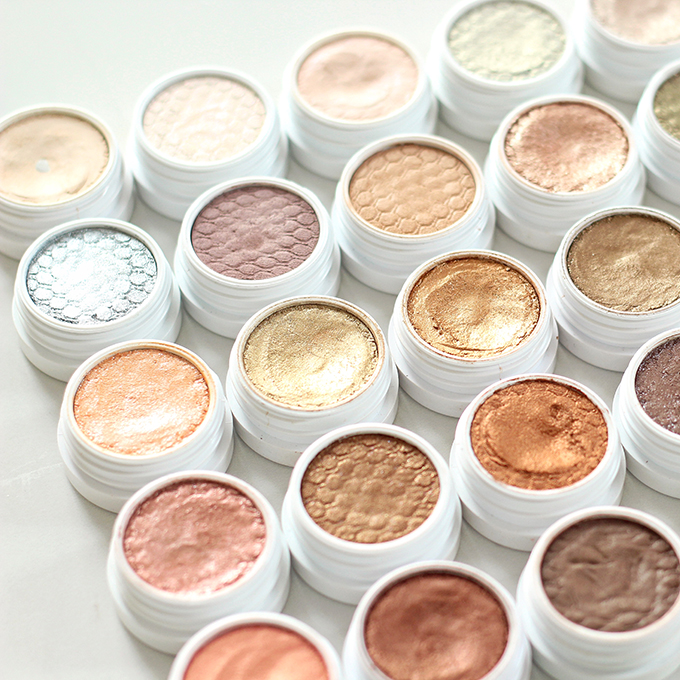 My Favourite Colourpop Super Shock Shadows (Multiple reviews)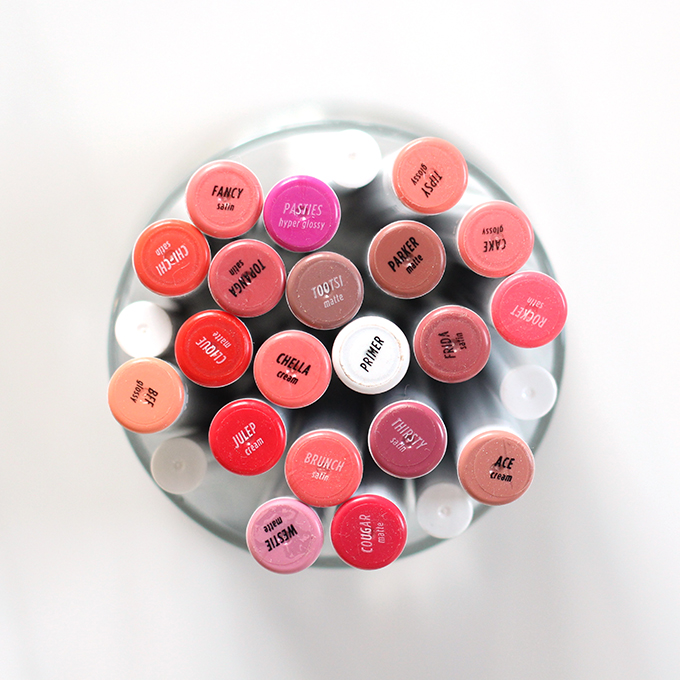 My Favourite Colourpop Lippie Stix (Multiple reviews)
---
Have you guys tried anything from Colourpop? What are your favourite products? They get a lot of love here on JustineCelina — I think they're such an innovative brand. I'm consistently amazed by the quality of their products and they have such unique colours and formulas. If you end up ordering any of the Ultra Matte Lips, let me know how you like them (P.S. – use the code THANKSBABE for $5 off your first order )! If you haven't tried them, what are your favourite liquid lipstick brands?
---
Disclaimer: This post is not sponsored, and contains my genuine thoughts and recommendations. JustineCelina uses affiliate and referral links, which allow me to receive a small commission when you make a purchase through one of my links. Your purchases help to support JustineCelina.com!