---
If you've been following along on social media, you may have read or heard a few times how exhausted I was feeling at the end of last week. There are some incredibly exciting things happening behind the scenes right now that can't wait to share with you soon — but it's been a ton of work getting them off the ground! I've mentioned previously that I'm a major workaholic (I absolutely love what I do!) and sometimes it can get the better of me. I'm definitely more mindful of it these days since balance is something I seem to be constantly pursuing. It can be really difficult for me to step away from my work — especially since I find myself really getting in a groove creatively and wanting to keep up the momentum. But, as I've also mentioned previously, I need to remember that while consistency is important in producing great creative work, so is taking care of myself so I can stay inspired and not completely burn out (which I was on the verge of last week). I'm sure many of you fellow creatives can relate!
So, I took this weekend to rejuvenate and rescheduled every commitment I had. Friday evening we grabbed sushi and wine at our favourite place (Kabuku downtown if any of you Calgarians are wondering), gave each other massages set to spa music and went to bed before midnight (yes I know, we're old). Saturday I chatted with my oldest friend on the phone for 2 hours, caught up on some housework, blog work and basic R&R. I'm talking skipping my daily HIIT workout and doing research for upcoming projects and content from bed with a big cup of freshly ground, french pressed coffee and a big messy bun — and not getting out of my pyjamas until I took an amazing, 45 minute shower (I actually had time to wash my hair!). I even did a face mask, which I used to do every Sunday evening, but sadly haven't had the energy for lately. On Sunday, we decided to make the most of this beautiful, early autumn weather and head west towards the Rocky Mountains for a wine picnic. I hope you enjoy coming along with us in this photo diary of our Mini Mountain Getaway!
---
A MINI MOUNTAIN GETAWAY
---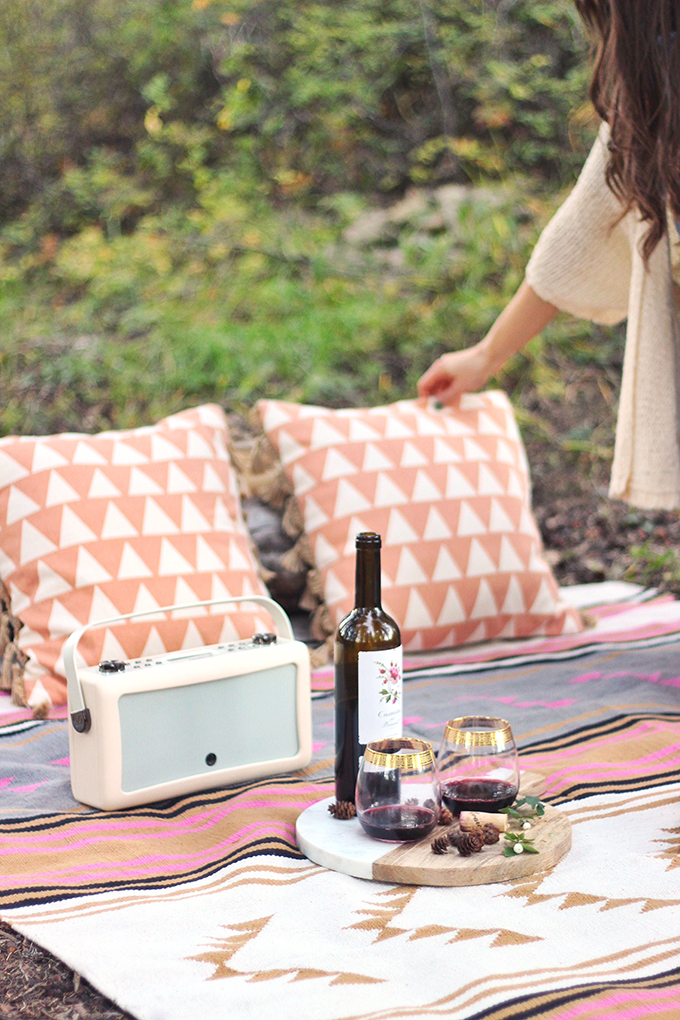 My boyfriend, Adam (who's camera shy, so you'll only see bits and pieces of him in this post), had to go into the office to do a few things on Sunday morning. I took that time to I pack up a the essentials for one of our wine picnics! This is actually something we do mostly during the summertime — it always feels like we're getting away even if we don't leave the city. We'll head down to the Bow or Elbow Rivers right here in inner city Calgary to decompress after work on a Friday with a bottle of wine. It seems the older we get the less time we have in our lives for spontaneity and that's something I greatly miss. So, we decided to make the most of our time together on Sunday and hit the open road to find a new wine picnic location — one of our favourite things to do!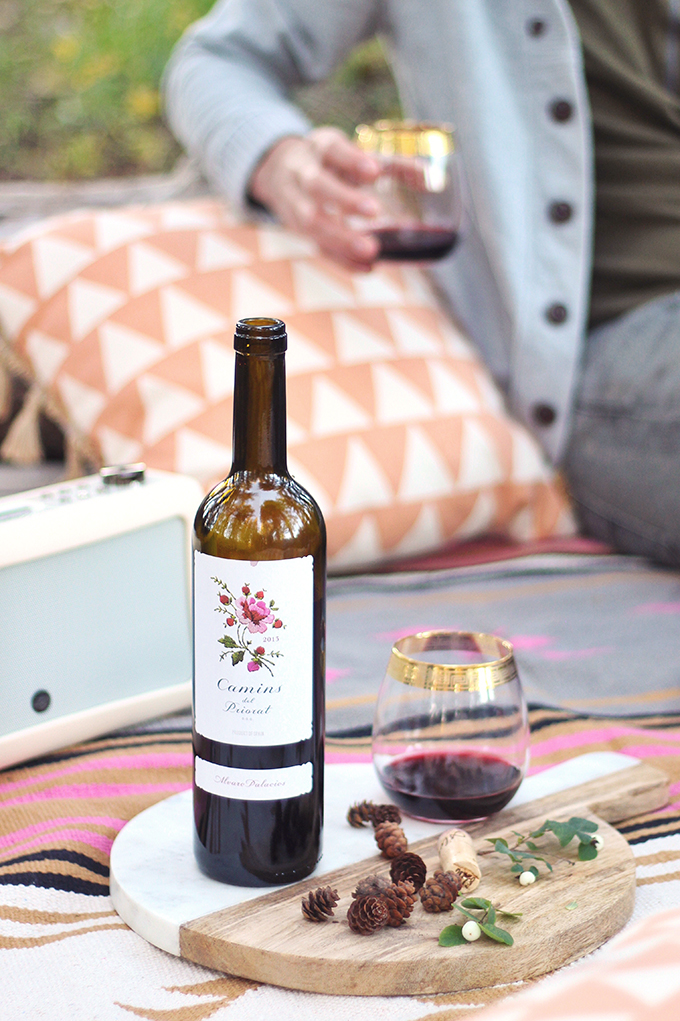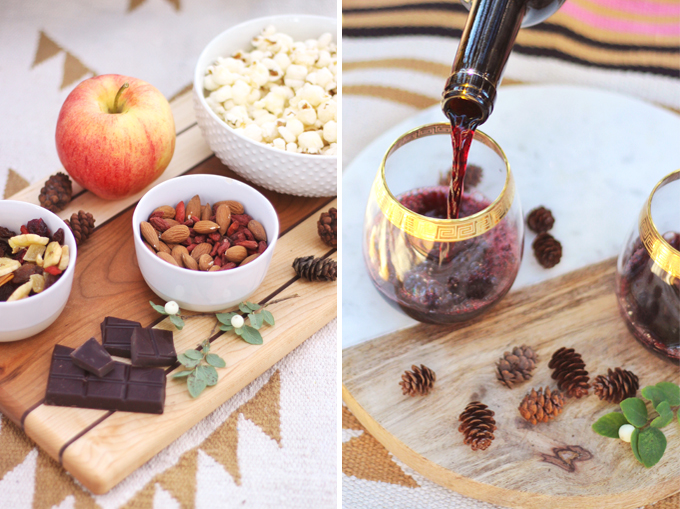 We stopped to pick up a nice bottle of wine and some snacks, then headed west on the old #1 highway east of Cochrane for a Mini Mountain Getaway. We both love music and roadtrips. A few summers ago we scheduled a couple weeks off (I think that was the last 'vacation' we had) and jumped in the car for a west coast roadtrip with absolutely no agenda other than heading to a music festival. After that, we just explored freely without any set destination in mind!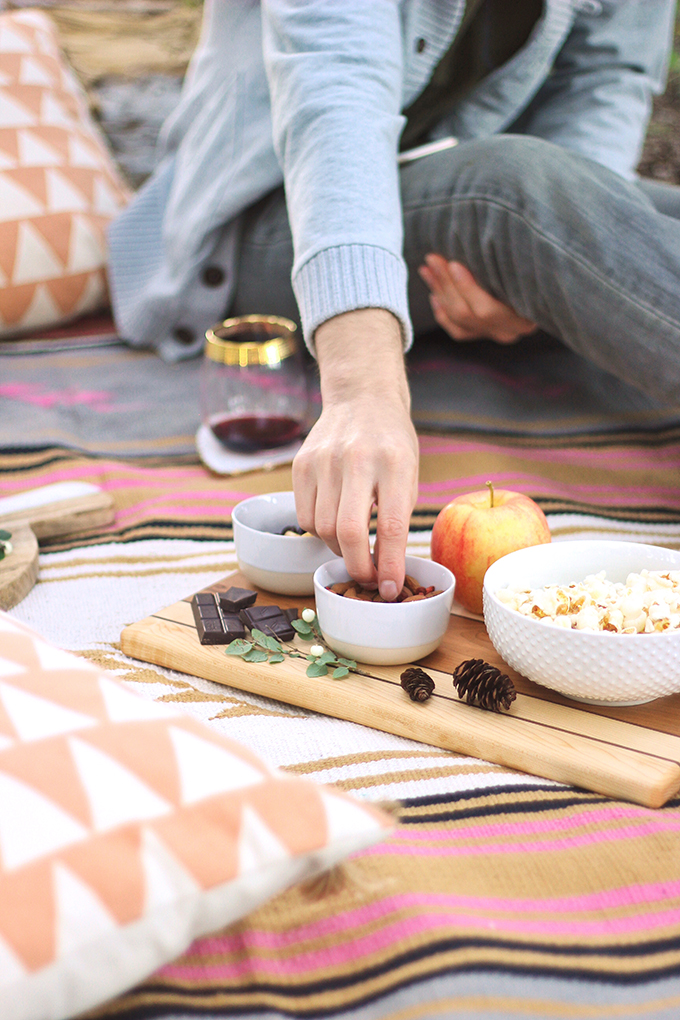 We're the type of people who prefer experiences over gifts. We head to the mountains just west of Calgary whenever we can on weekends (which is becoming increasingly rare) — or to celebrate birthdays or anniversaries. Mountain spa massages, dinner at our favourite Canmore restaurants, wine picnics and hikes are our some of our favourite things to do together. While the prairies represent a therapeutic, grounding place for me because they're where I grew up and where my family still lives, the mountains are where I turn for rest and rejuvenation. We ended up finding a charming little spot right off of the old #1 next to the Bow River. The drive itself is incredibly scenic (especially at this time of year), and I felt the stress of the week prior melting away with every kilometer.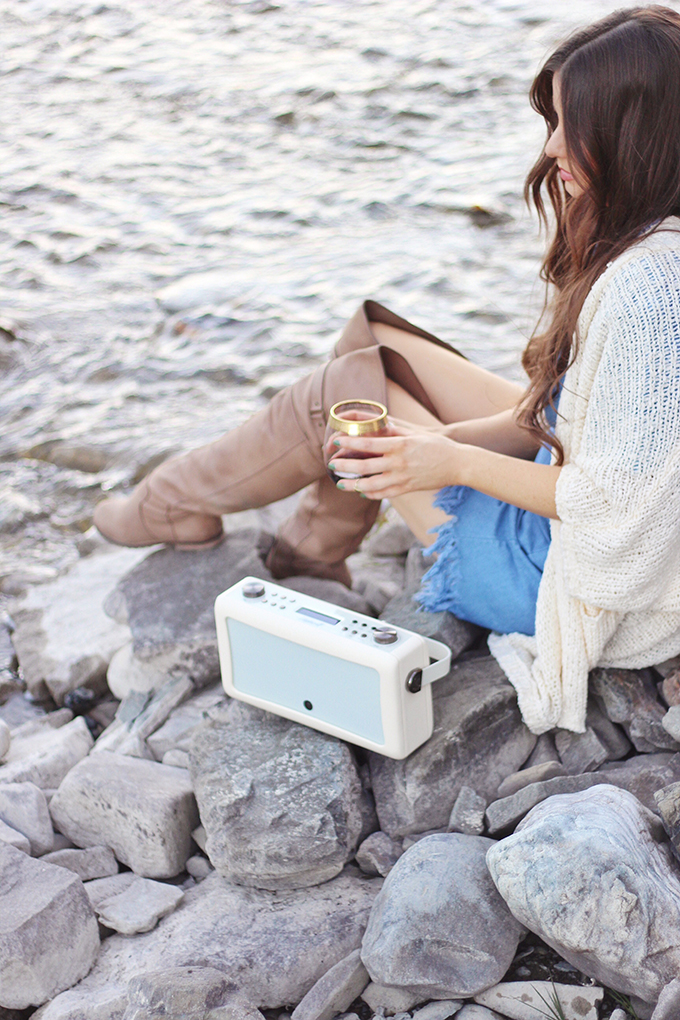 When I'm able to quiet the noise and hustle of everyday life, I realize it's the simple things that make me happy and fuel my creative inspiration. For me, those things include surrounding myself with people I love, travel and exploration, meaningful conversation, great wine, nourishing food and good music. A quote that really resonates with me in regards to music is "Art is how we decorate space, music is how we decorate time". So true, right? I love to decorate my time with music — whether I'm at home, in the car, traveling or adventuring! I'm constantly listening to music, even as I write this post.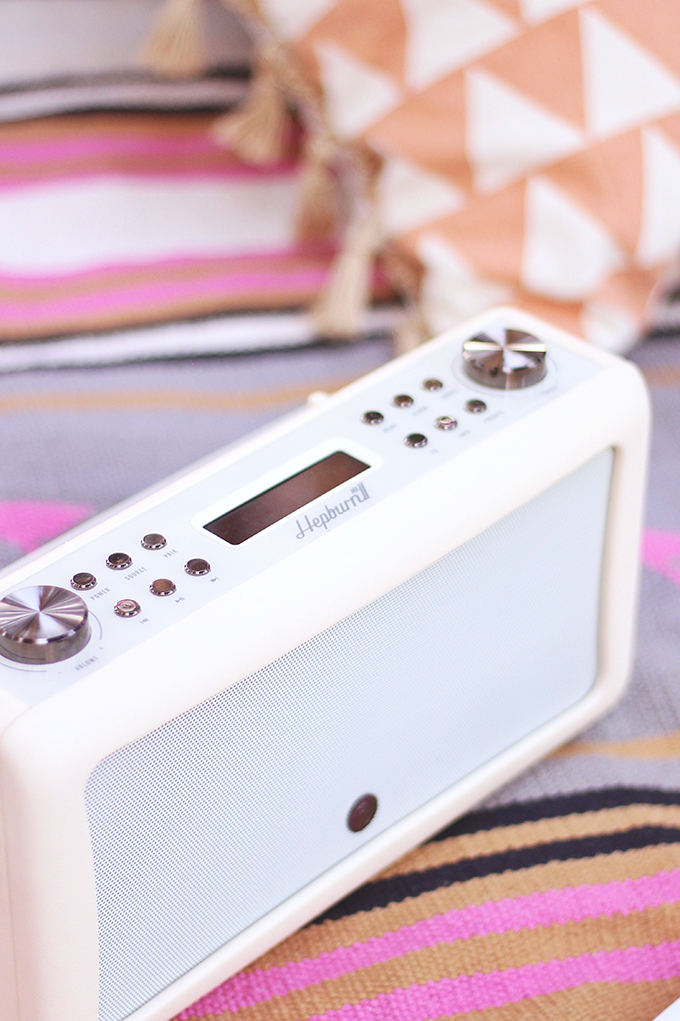 The beautiful device decorating our time on this Mini Mountain Getaway was the VQ Hepburn Mk II Radio in Cream — the sexiest radio I've ever laid eyes on. As you've probably gathered by now, I have a major softspot for great vintage and vintage inspired styles. This radio is a truly stunning creation and if you can believe it, it's even more gorgeous in person. When I took it out of the box was in total awe of the quality of craftsmanship, which was immediately apparent. Each radio is handcrafted in VQ's UK headquarters, nestled in the English countryside. Every detail on this beautiful radio is thoughtfully placed and styled — and the sound quality is incredible. When we're not whisking it away for weekend adventures, it's perched on our kitchen counter and provides background music for the hub of our home. It's truly a work of art that I love having on display!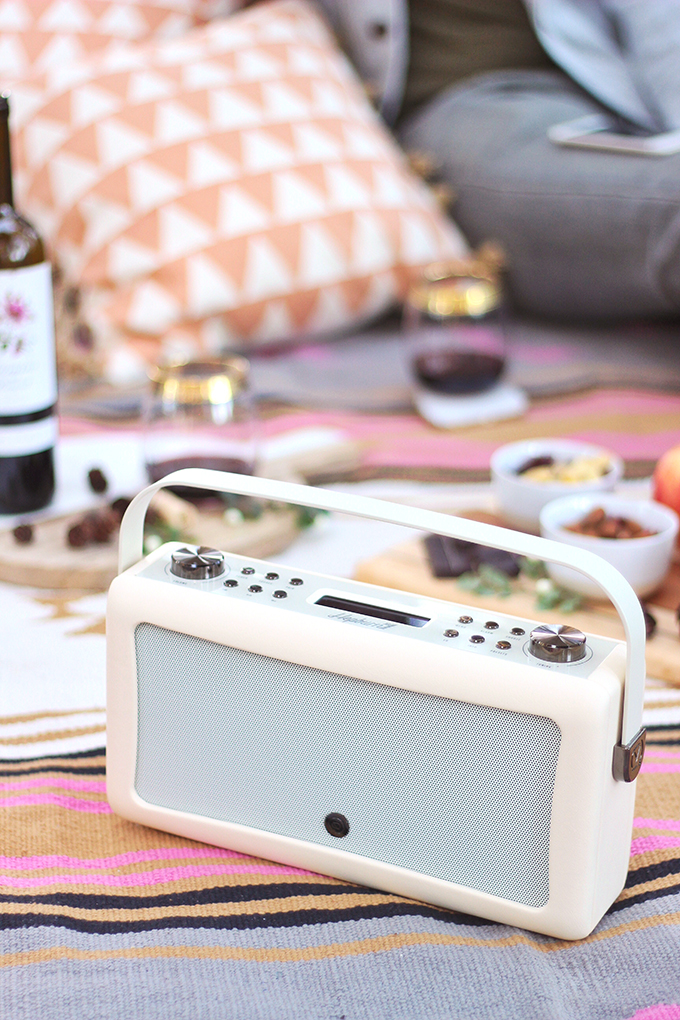 Being able to pair my iPhone to the radio and use Spotify is a must, since I'm not much of a traditional radio girl. So, what were we listening to? We had both my personalized Discover Weekly and Release Radar playlists on, because I'm still adding tracks to my September Soundtrack — which will officially drop this Thursday (it's now live!). If you're a fellow music junkie in need of some new tunes, I publish monthly soundtracks and have a year and a half of them available here at JustineCelina, or over on Spotify for your listening pleasure.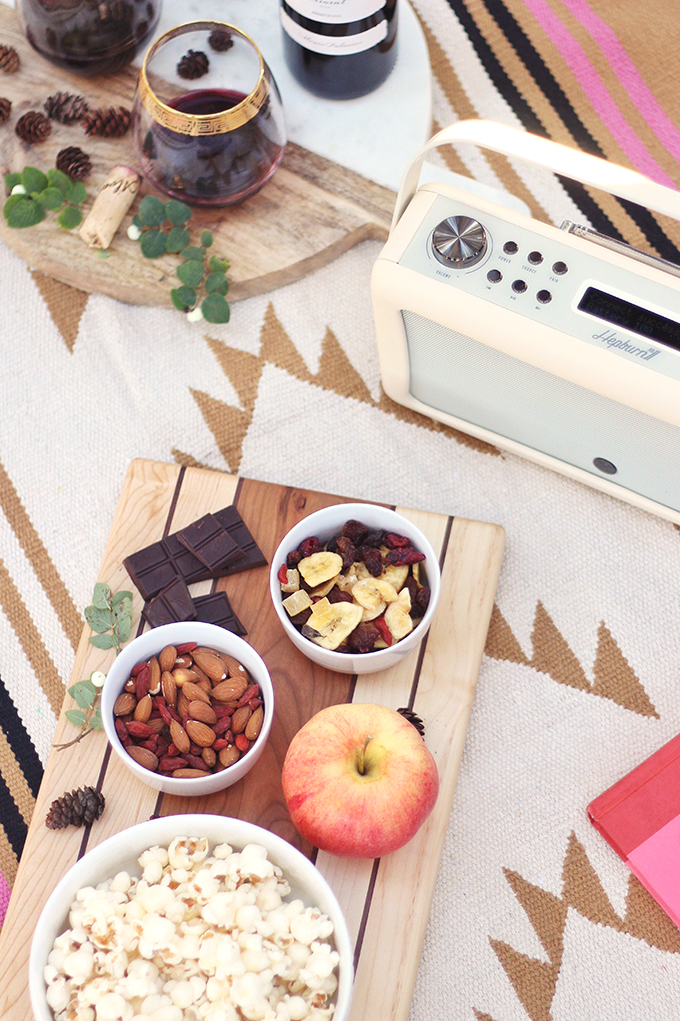 VQ radios were born in Britain and have just recently launched (along with HD radio) in Canada. These gorgeous radios are available at Amazon, BestBuy, Chapters Indigo, Hudson's Bay and Walmart, retailing for $249.95 — and they're a fantastic value. There are 3 different models and an entire spectrum of colours and patterns available, so you can find a radio that suits your personal style. I'm smitten with the simple, retro styling and sleek lines of the Cream Hepburn Mk II! You can also use VQ radios to charge your devices with a USB attachment (which is so helpful when you're off the grid) and set alarms if it's going to live on your bedside table.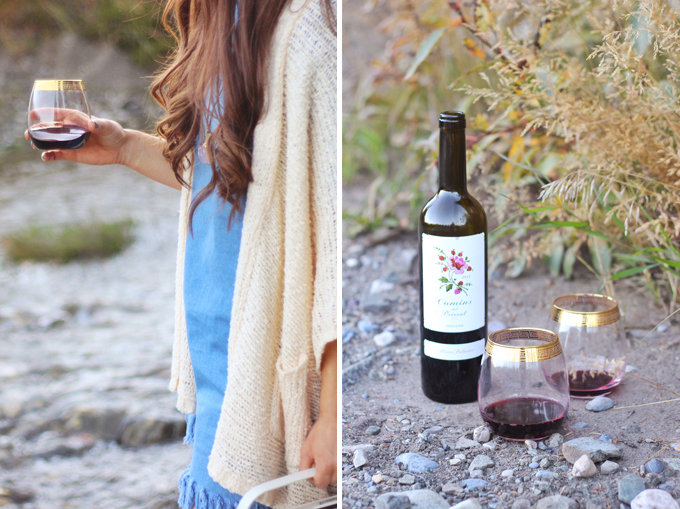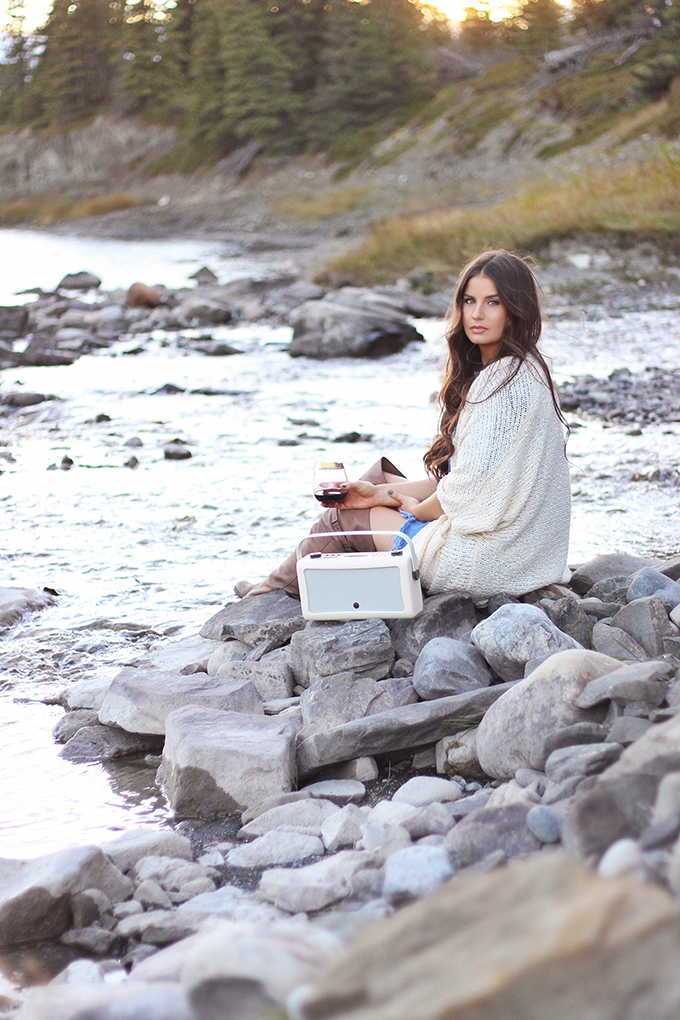 We wandered down to this beautiful spot along the Bow River to watch the sunset and capture the last light. It was so tranquil. Notice how one glass is always fuller than the other? Adam says his glass has a hole in it (while I'm a slow sipper) — but isn't he a great photographer? It's him behind the lens when I'm in these photos. The Hepburn Mk II only used 3% battery life over the course of our 2 hour adventure after being charged fully the night before. I was pretty amazed by that! I love that you can just pick it up and take with you — as long as you have your paired device close by you can enjoy some background music wherever you roam.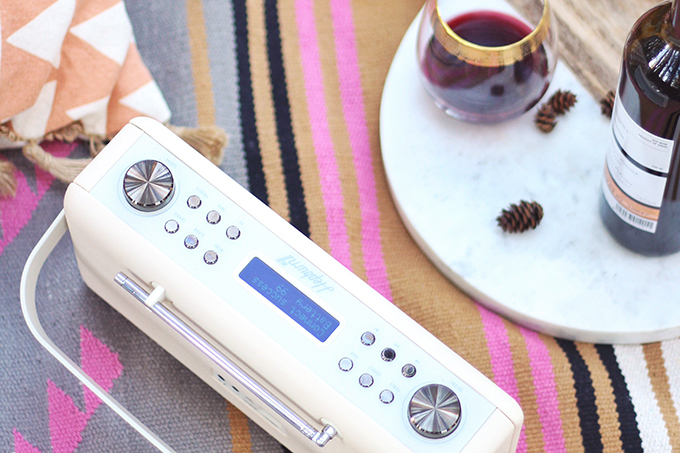 ---
PICNIC ESSENTIALS + WHAT I'M WEARING
---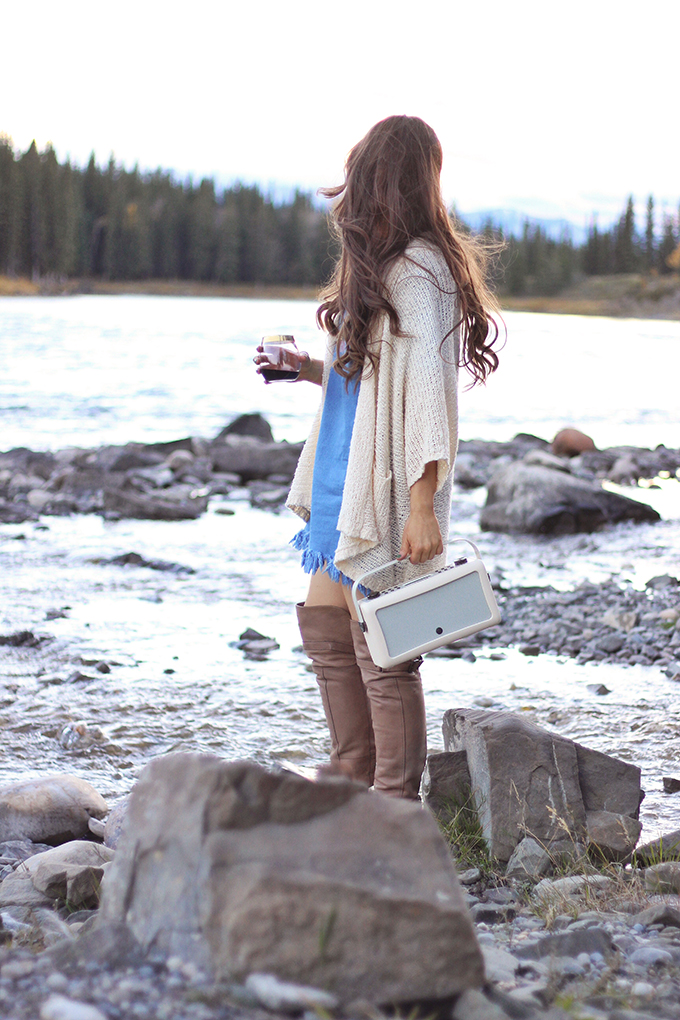 VQ Hepburn Mk II Radio in Cream | Assembly Home Maude Triangle Woven Rug | Tassel Triangle Pillows (from Target Canada, but similar here, here, here and here) | Emerson Pringle Carpentry Cressy Serving Board c/o Little Blue Canoe | Round Wood and Marble Board | Wine Glasses (a HomeSense summer find, but similar here) | Cocoon Tape Cardi c/o Kersh | Blue Crew Neck Tassel Denim Dress c/o Romwe | Tan OTK Leather Boots (similar, similar, similar) | Yves Saint Laurent Volupté Tint-In-Oil in Oh My Gold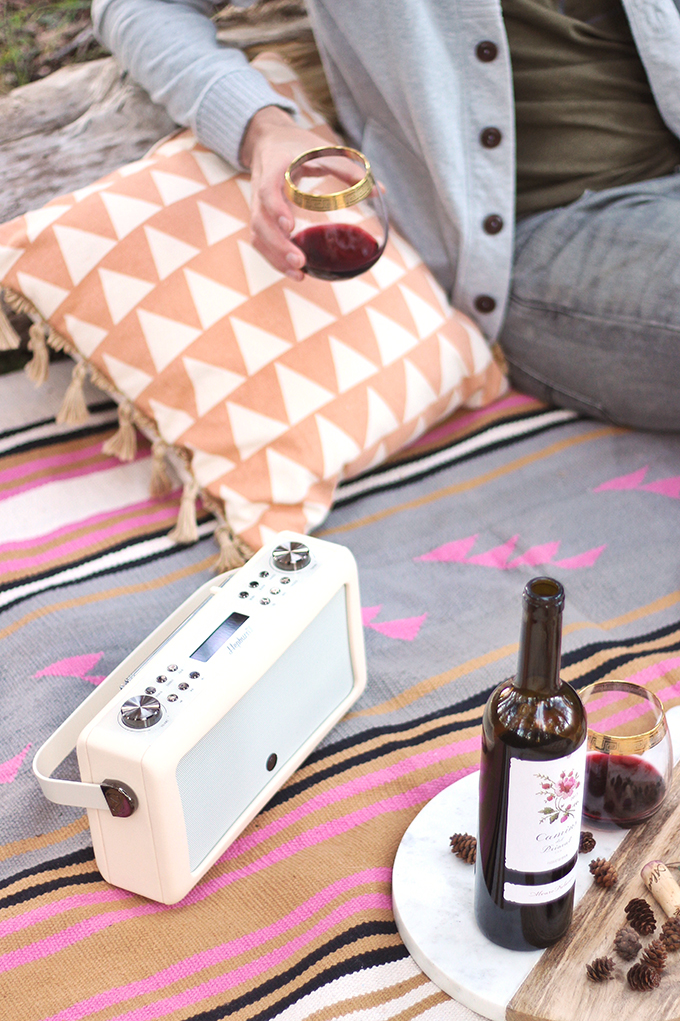 ---
I hope you enjoyed coming along on our Mini Mountain Adventure for a little piece of digital tranquility! What did you guys get up to last weekend? We're always looking for cool things to do outside the city, so if you have a recommendation for us please leave it in the comments. And if you end up purchasing one of these gorgeous VQ radios for yourself or someone special please let me know — I can't recommend them enough!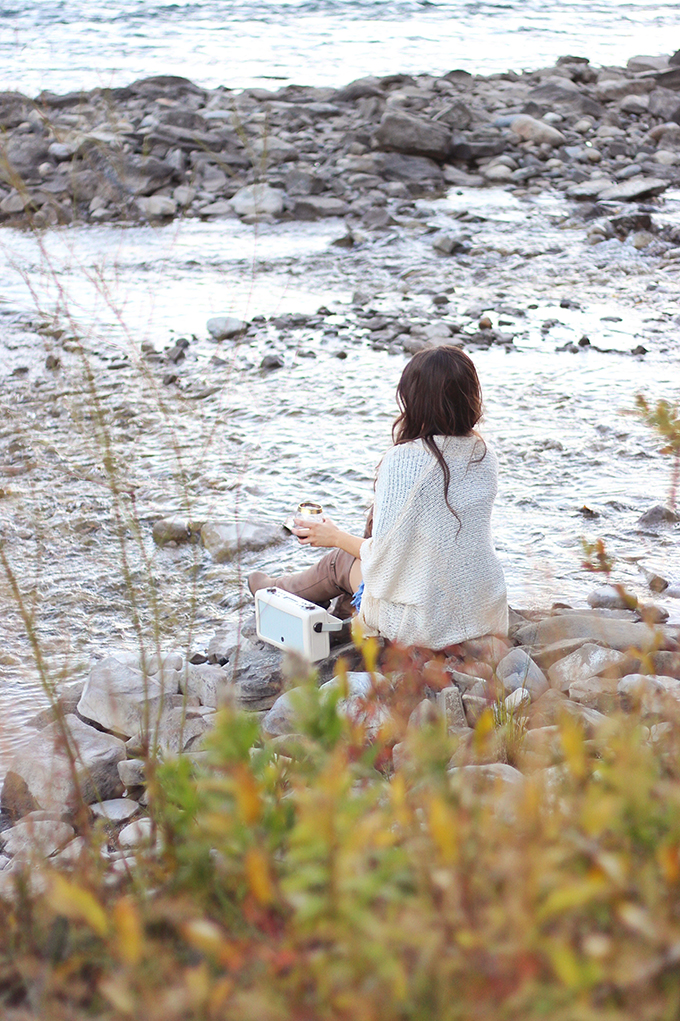 ---
Disclaimer: Thank you to My VQ for sponsoring this post. JustineCelina uses affiliate and referral links, which allow me to receive a small commission when you make a purchase through one of my links. Thank you for supporting the brands and businesses that support JustineCelina!
Save
Save
Save
Save
Save
Save
Save
Save
Save
Save
Save
Save
Save
Save