---
Welcome back, beautiful people! Today I'm chatting about my 10 beauty favourites from the month of March. I have lots of exciting new products to share with you — a few awesome drugstore finds, gorgeous contouring and bronzing products, fresh spring lip colours and a game changing skincare discovery.

---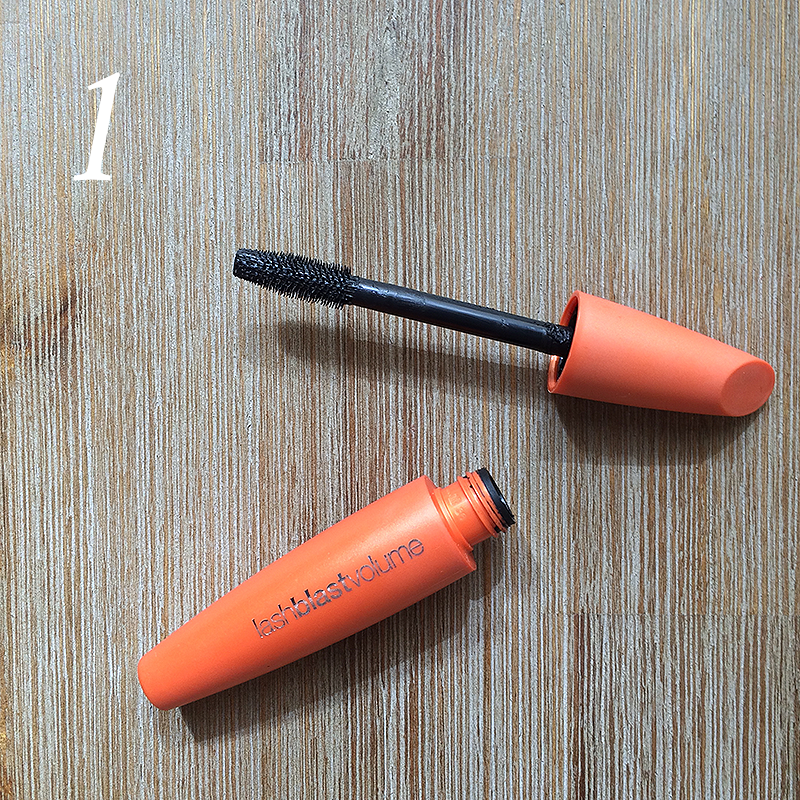 C $7.47
This is an holy grail mascara that I end up coming back to over and over again. I've worn this mascara for well over 8 years (long before I was really into beauty) and it's fantastic! Covergirl LashBlast is definitely my favourite drugstore mascara — I love the formula, the wand and the way it makes my lashes look — long, full and fluttery. It doesn't flake, smudge or irritate my eyes, and I can wear it alone of with other more lengthening mascaras as well. Once I even worn this jet-skiing and fell into in the ocean — I remember doing a quick makeup check when we got back to shore and my mascara looked perfect. Plus, you can't beat the price! I don't have a single negative thing to say about it.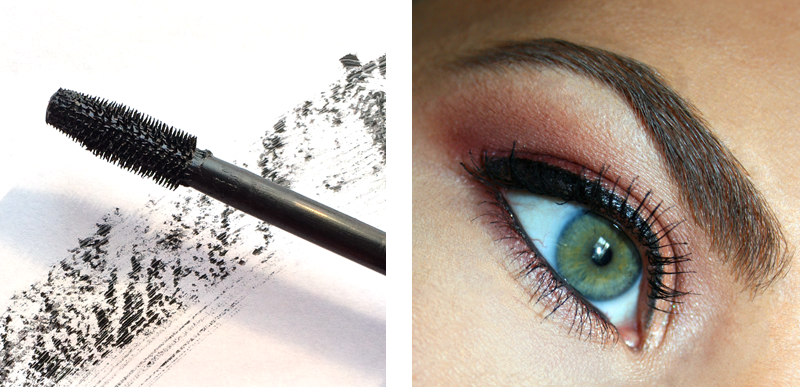 I'm wearing 3 coats of Covergirl LashBlast Volume Mascara on my upper lashes, and 1 coat on my lower lashes.
---

C $5.98

I have a love / hate relationship with the fringe I've been sporting for a last few month. I love the way blunt bangs look, but I have to trim them every week to keep when from driving me totally crazy! One of the perks is that I don't have to spend as long doing my eyebrows, since they're mostly covered anyway. The eyebrow portion of my makeup is usually quite time-consuming, so I set out in search of a product that could replace the spoolie, brow wax and pomade that I would normally use. That's when I found the Hard Candy Brows Now! Brow Fiber Gel + Highlighter at Walmart — it's supposed to be a dupe for the Benefit Cosmetics Gimme Brow so I thought I would give this more affordable option a try. Brows Now is a fiberized brow gel that basically attaches little fibers to your brow hairs to help fill them in and tint them. I wear the medium/deep shade, and it's a bit dark and cool for me, but I can still make it work. It's perfect for days when I need something quick to help define my brows and keep them in place. The highlighter end of this product is great for popping onto the inner corners of your eyes or using in the waterline to make the you look fresh and rested.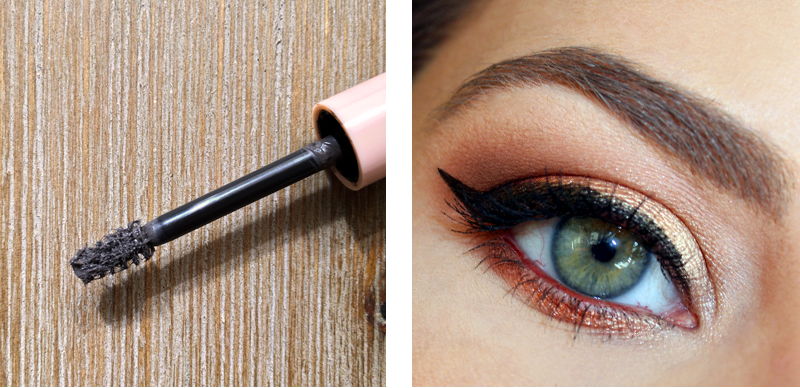 I'm wearing Hard Candy Brows Now! Brow Fiber Gel + Highlighter in Medium / Deep in my brows.
---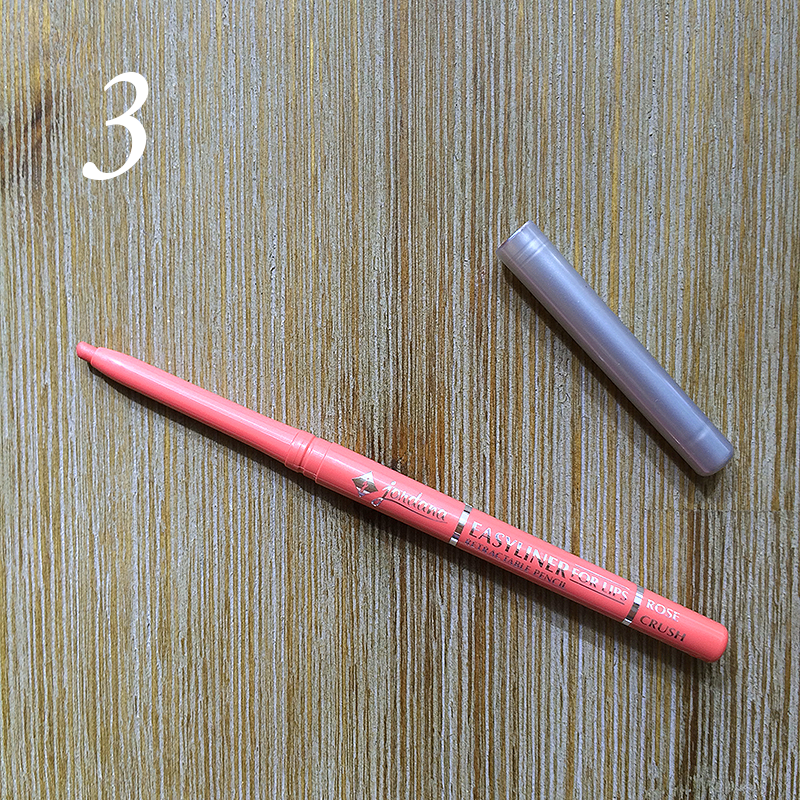 US $1.99
I picked this lip liner up at Walgreens during a recent trip to the US and have worn it constantly! Since we don't have Jordana in Canada, I usually check out what's new from the brand when I visit the states. Jordana makes some of my favourite lip liners at any price point, and the these lip liners happen to be under $2! I believe Rose Crush is new to their line for Spring 2015, and I think this medium warm pink shade is so versatile. It pairs well with pink, coral and nude lipsticks, and the formula is creamy and long wearing. This month, I've been wearing it a lot with MAC Ravishing Lipstick. Next time you're near a US Walgreens or Kmart, I highly recommend checking Jordana lip liners out.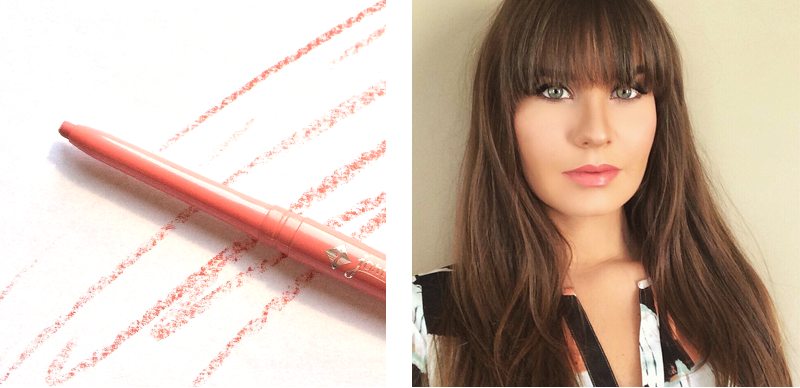 I'm wearing Jordana Easyliner For Lips in Rose Crush with MAC Ravishing Lipstick.
---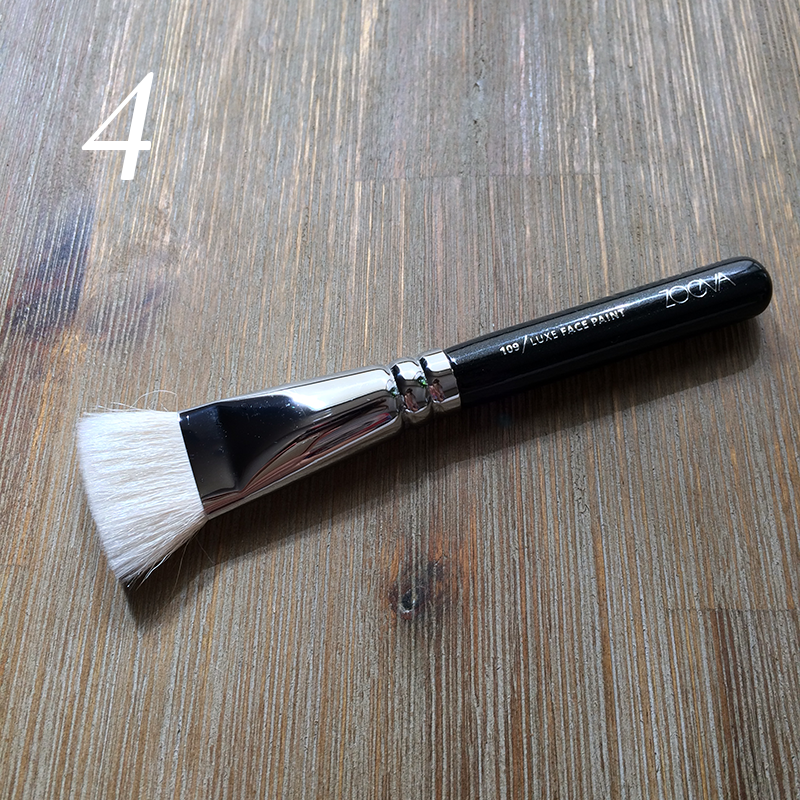 US $15.50
This is my favourite contouring / bronzing brush. I ordered a few brushes from German brand Zoeva in December and I'm very impressed with them. This brush has quickly become a staple for me — the rectangular shape is perfect for carving out the cheekbones, jaw line, nose, forehead, etc. Zoeva's brushes are handcrafted and I think they're some of the best brushes you can buy for the price. The 109 Luxe Face Paint Brush is made with a blend of white natural / synthetic bristles that are firm and dense, which allow for more precise or diffused product application, depending on how you use it. I've mostly been using it with another favourite product, theBalm Bahama Mama Bronzer, and they're a great team! The 109 washes very well with antibacterial soap and I haven't noticed any shedding.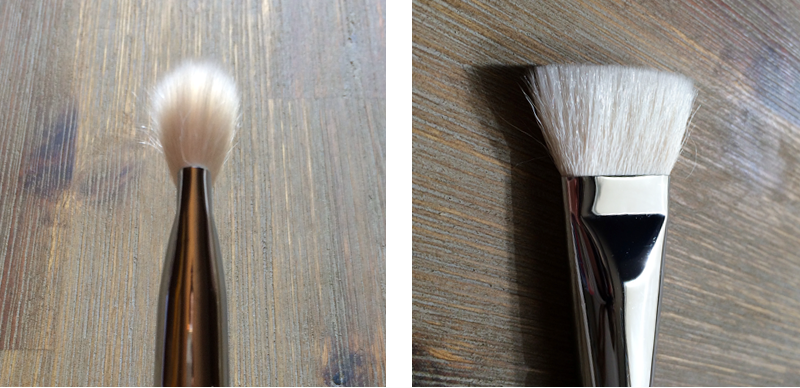 ---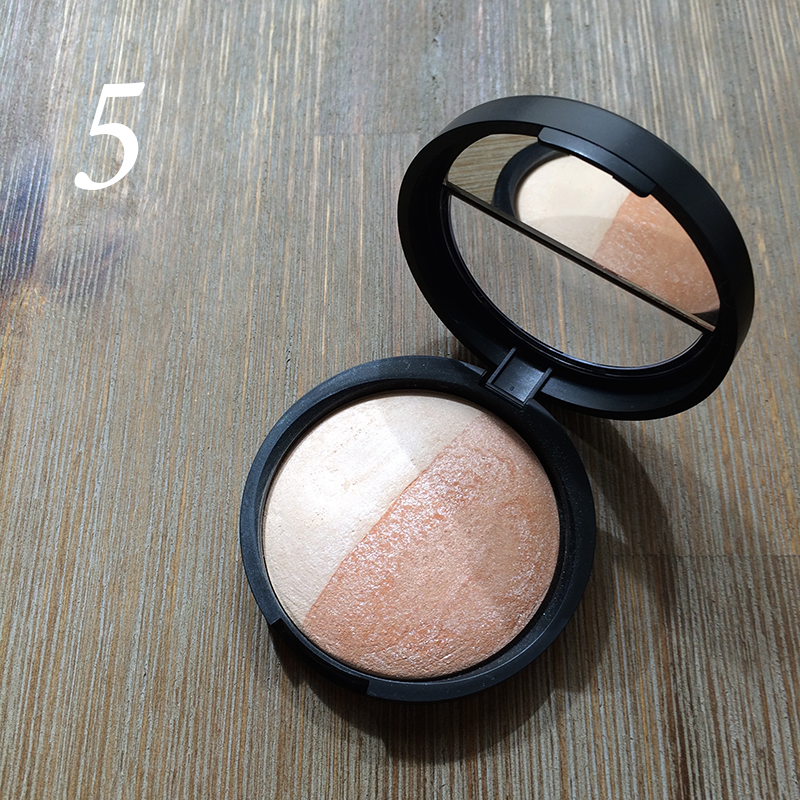 US $42.50
Here's another product that I've used almost daily since Christmas, when I picked it up at Ulta Beauty during a trip to the US. This is a baked highlighting product that features 2 shades; French Vanilla is a very light, opaque, almost matte beige, and Portofino is a sparkling peachy shade. This baked highlighter duo serves so many purposes; I use it mostly to highlight the tops of my cheekbones, tip of my nose, cupid's bow and inner eye corners — anywhere I want to add a subtle glow to my face. But, I've also used the French Vanilla side to set undereye concealer, and both colours as eyeshadows. This product also travels well — I know I can throw it in my makeup bag and it won't shatter in transit — it has a denser texture than most other highlighters. Since I prefer matte foundations, I love this product to add a little radiance back into my complexion.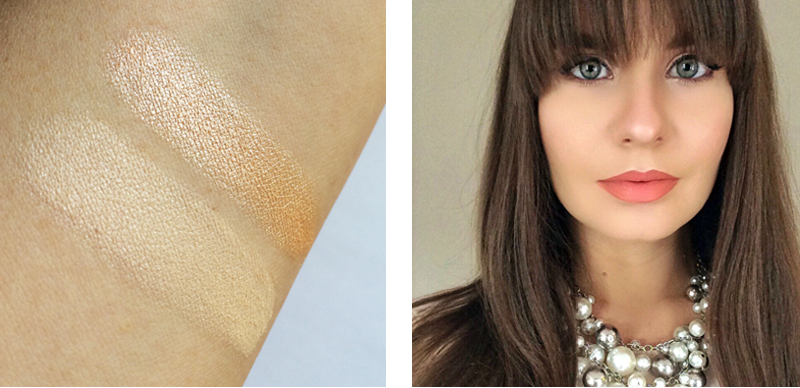 I'm wearing French Vanilla as a highlight on the tip of my nose and cupids bow, and Portofino on the tops of my cheekbones.
---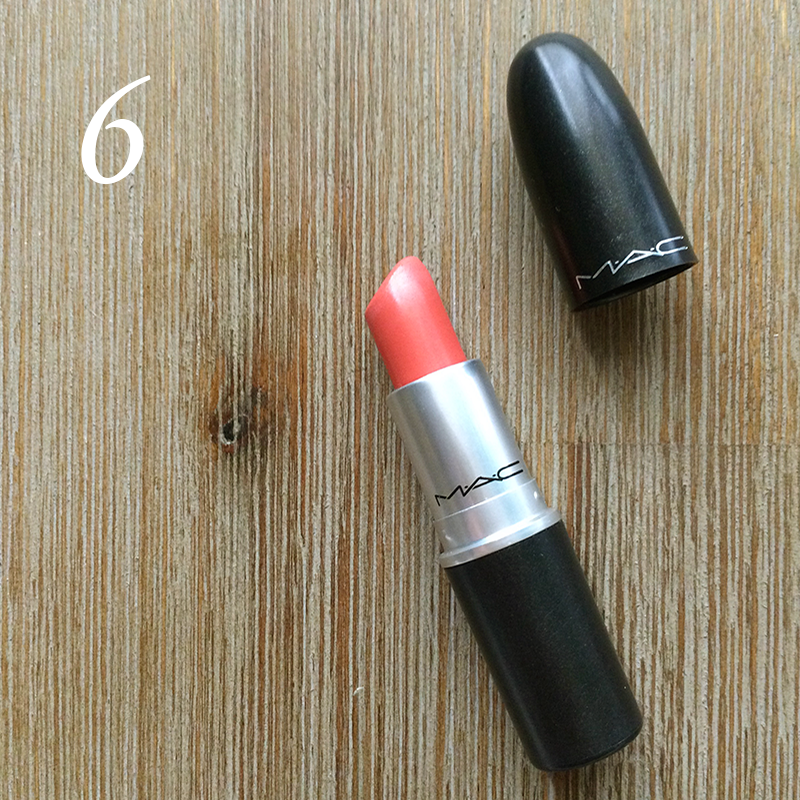 C $19
Ravishing was the first MAC lipstick I owned, so I'm a bit nostalgic about it! I get so excited to bust it out it when spring starts to roll around, and I've worn it quite often this month. On me, Ravishing is a coral nude — a perfect everyday spring shade, but I imagine it would work well on very fair through medium/deep skin tones. MAC's Cremesheen formula is my favourite of their range, it's comfortable and hydrating on the lips, with a subtle sheen. This month I've worn it mostly with another favourite, the Jordana Easyliner For Lips in Rose Crush, and I love that combination. Ravishing pairs well with most nude or warm pink lip liners, and it's a perfect spring lip colour.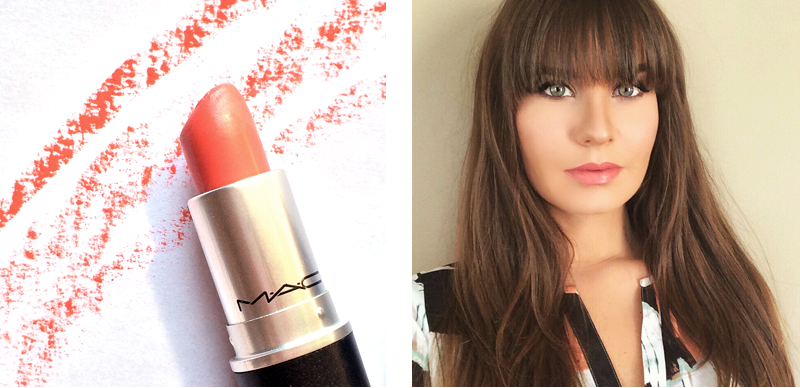 I'm wearing MAC Ravishing Lipstick with Jordana Easyliner For Lips in Rose Crush.
---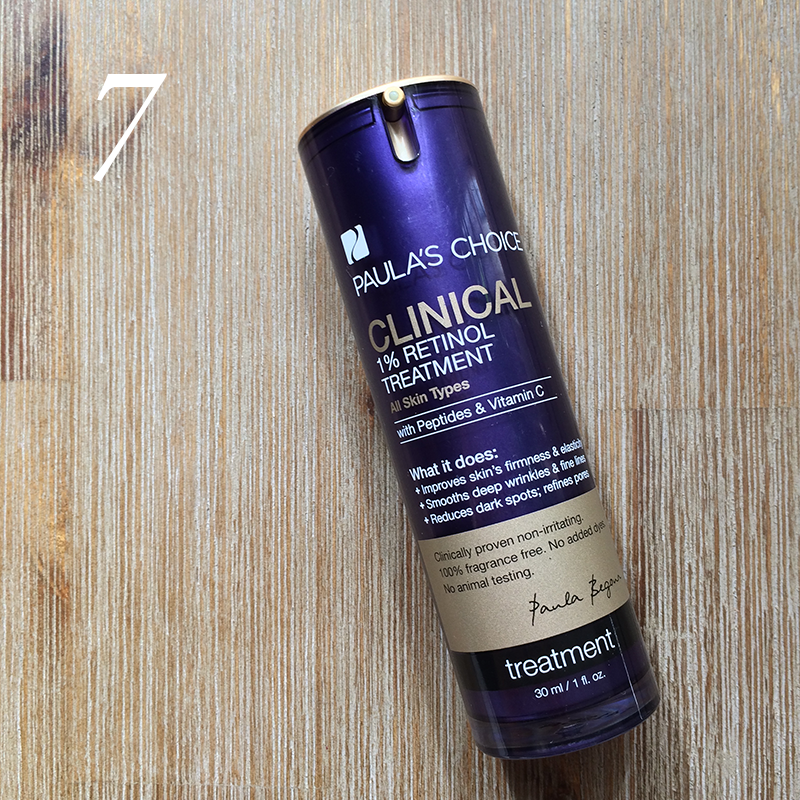 Full Size (1 oz) C $55
Trial Size (0.16 oz) C $10

I've mentioned previously that I use Paula's Choice skincare almost exclusively and it's really changed my skin. I use a few products in my routine that contain small amounts of retinol, and my skin seems to react very well to it. If you're not familiar with retinol, it's a powerhouse anti-aging ingredient that helps to firm and smooth the skin, prevent breakouts, even skin tone and reduce the appearance of wrinkles. So when they came out with the Clinical 1% Retinol Treatment I couldn't wait to try it! This product is very potent — at 1% it contains an even higher percentage of retinol than some prescription products, so if you're thinking of trying it, please follow the directions. I'm able to use this 3 times per week at night and my skin loves it — I wake up to glowing, fresh, younger looking skin.
If you're not sure whether you should start incorporating anti-aging products into your skincare routine, Paula's Choice explained it in a video once in a way that really resonated with me. Think of using anti-aging products like eating spinach — you can always enjoy the benefits of a healthy diet, no matter what your age — and the same thing is true for skincare. You're never too young to start taking great care of your skin and enjoying the benefits of anti-aging skincare products. So personally, I would rather start an anti-aging skincare routine while I'm (fairly) young and be preventative, than wait until I start to see signs of aging later on and panic!
If you're interested in a more in-depth look at my skincare routine, it's on my list of posts. In the meantime, I highly recommend checking out Paula's Choice Youtube channel, where they share general skincare information and beauty tips.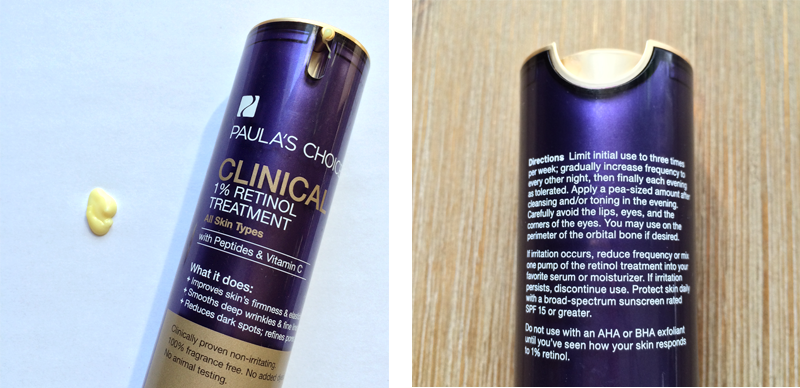 ---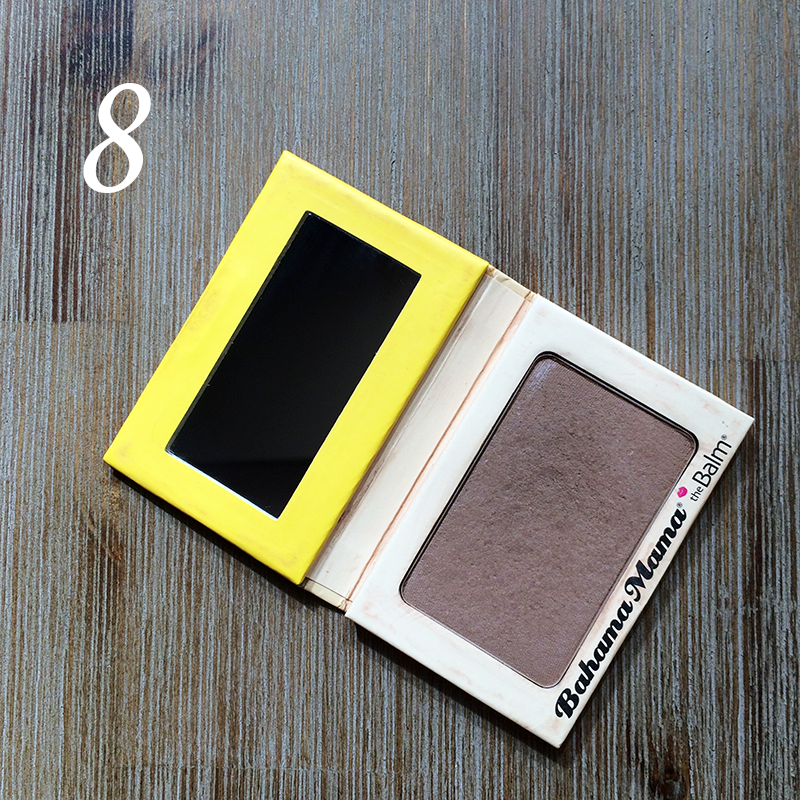 C $25
This has been my go-to contouring powder lately — it's the perfect shade to sculpt and add dimension to the face without any orange tones. This is a matte powder with a golden, cool undertone that reads as a believable shadow when used to chisel cheekbones, add a shadow underneath the bottom lip, contour the nose, bronze the forehead, or even use in the crease of your eye. It's another hybrid product for me, which it why I love this powder so much. Canadians, you can find this product at London Drugs, but theBalm also pops up frequently on Hautelook, a flash sale site I shop at occasionally. That's where I purchased mine (I believe is was around $12), along with some other products from the brand I wanted to try. If you're interested in purchasing anything from Hautelook, you're welcome to use my invitation link to sign up. I think this would work well as a contour powder / bronzer for light to tan skintones, although it is pretty dark, lighter skin can use a light hand to apply and have it still look natural.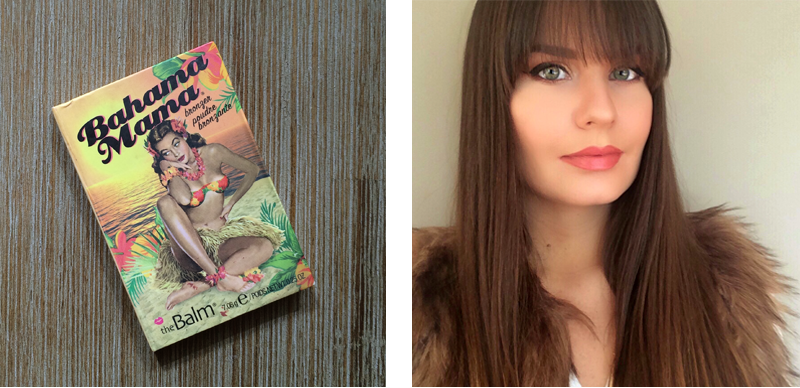 I'm wearing theBalm Bahama Mama Bronzer under my cheekbones, bottom lip and jaw line and along the sides of my nose.
---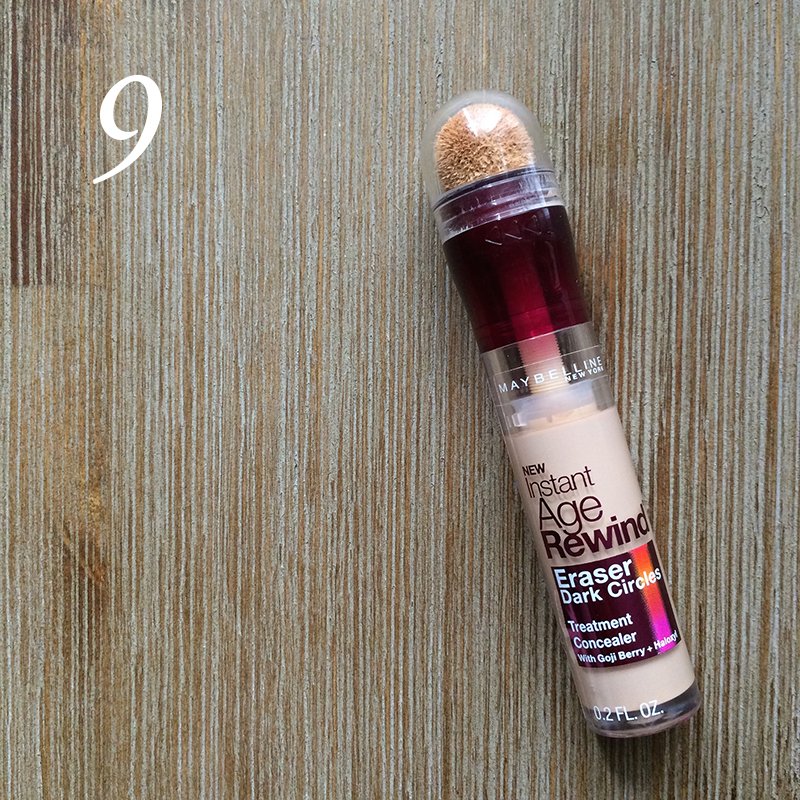 C $10.96
I discovered this product about 6 months ago and am already on my second tube. Sometimes I don't realize I've used something non-stop until I'm packing for a trip — that's when I really notice which items I've reached for consistently. I love everything about this concealer; it's lightweight, brightening and I like the applicator as well. I use the shade Neutrailzer (which is a yellow-based shade much lighter than my skintone) to brighten up under my eyes for a lifted, awake look. I also use it to highlight other areas of my face when I'm doing more intense contouring and highlighting; the centre on my chin, top of my lip, centre of my nose and forehead. This concealer is very blendable and works with every foundation I've tried it with. If you're looking for a good general purpose concealer that you can find just about anywhere, I definitely recommend this one.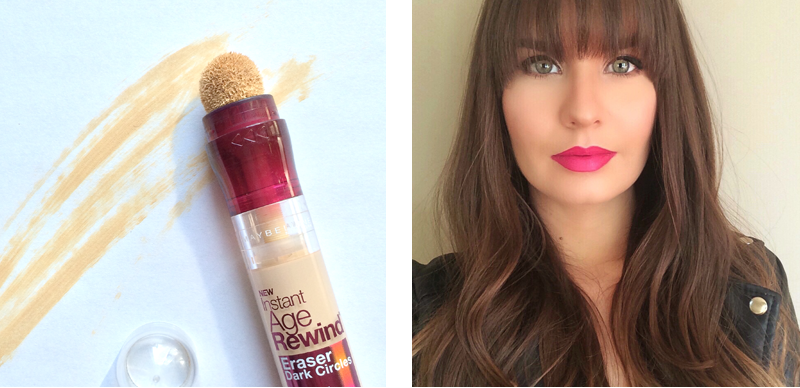 I'm wearing Maybelline Instant Age Rewind Concealer in Neutralizer underneath my eyes and in the centre of my chin and nose.
---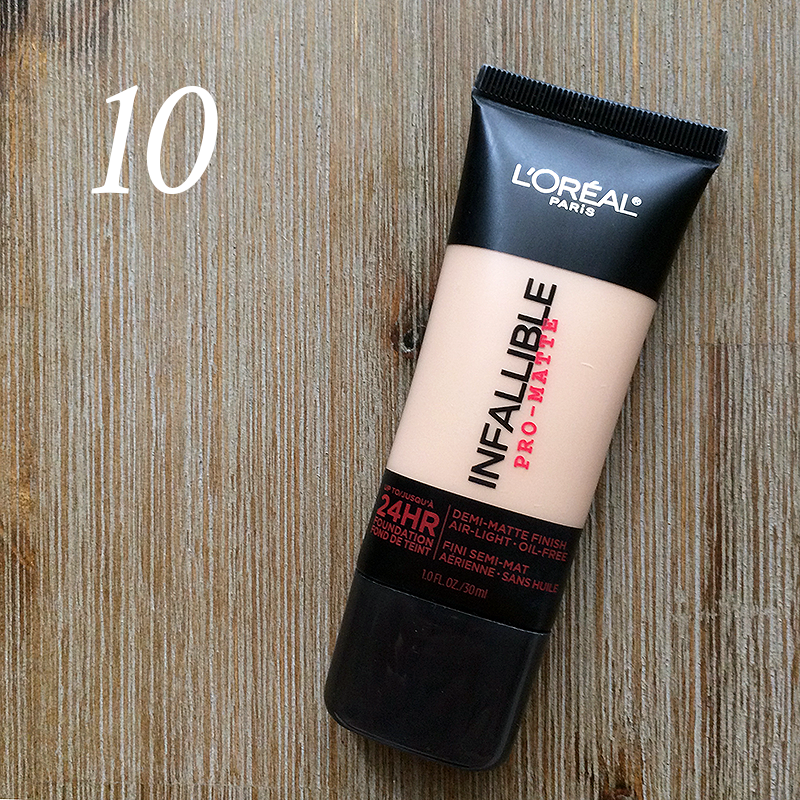 C $16.96
Here's another new matte drugstore foundation! I mentioned last month that recently there was a surge of matte formula's popping up at the drugstore and I've tried a few of them out. This foundation is super matte — on my combination skin it dries to such a matte finish so quickly that I've forgotten to set it with powder more than once, and the wear time has been totally unaffected. If you're ever tried the Hourglass Immaculate Foundation, this is very similar in wear time, finish and formula. Except, this one doesn't contain any fragrance and the colour match is better, so I actually prefer this one. Like the Hourglass Immaculate Foundation, it contains no SPF and is very flattering in photos. I haven't tested the 24 hour wear claim, but I can report that this foundation wears flawlessly for 12 hours on me, which is impressive. On the packaging, it states that this is a demi-matte foundation, and I have to disagree — I think it's fully matte — but the finish is very pretty and it does feel very light on the skin while providing medium coverage. When applying this you have to work quickly, I'd recommend working in sections to blend it out since it sets so fast. Unfortunately, if you have dry skin I don't think this will work for you. But if you're combination / oily skinned, give this one a try because it's fantastic. I wear shade 105 Natural Beige and it's a pretty good match for me. It has a nice golden undertone, but I found that 104 Golden Beige was orange and unnatural looking.
FYI: I'll always list more information about my skin type and my foundation shade comparisons at the bottom a post, if you have a similar skin tone / type and are curious if my shade might work for you.
I'm wearing L'Oreal Infallible Pro-Matte 24 HR Foundation in 105 Natural Beige.
---
What were you guys loving last month? Please feel free to leave me your recommendations and new discoveries in the comments, I'm always on the hunt to find my next favourite beauty product! And if you try something that I recommended, let me know how you like it. I'd love to hear from you!
---
About My Skin
Skin Type
Combination, sensitive, acne prone. I only use fragrance free skincare products.
Skin Tone
Light / medium with yellow-warm undertones | MAC NC 25 – 30
Foundation Shade Comparisons
High End
Best match: Estee Lauder Double Wear Stay-in-Place Makeup – 2W2 Rattan
Makeup Forever Matt Velvet + Mattifying Foundation – 40 Natural Beige
Kat Von D Lock-it Foundation – Medium 53
Dermablend Smooth Indulgence Foundation – Sand Beige
Drugstore
Flower Cosmetics BB Cream – BB2
L'Oreal Magic Nude Liquid Powder Foundation – 320 Natural Beige
L'Oreal Infallible Pro-Matte 24 HR Foundation – 105 Natural Beige
L'Oreal True Match Foundation – W3 – W4
Maybelline Fit Me! Matte + Poreless Foundation (Normal to Oily) – 220 Natural Beige
Physicians Formula Youthful Wear Spotless Foundation – Medium Beige
Covergirl Outlast Stay Fabulous 3 in 1 Foundation – 857 Golden Tan
EX1 Invisiwear Liquid Foundation – F200
---
Disclaimer: This post is not sponsored, and contains my genuine thoughts and recommendations. JustineCelina uses affiliate and referral links, which allow me to receive a small commission when you make a purchase through one of my links. Your purchases help to support JustineCelina.com!