It's been awhile since I've done a skincare post, so today I wanted to bring you a review of my new favourite eye cream — the Paula's Choice Resist Anti-Aging Eye Cream! Whenever I test a product out, I use it for as long as it takes for me to really understand how the product works, and see the results the product claims. I've been using this eye cream for the past two months, and I really love it! If you've been with me for awhile, and are familiar with my Skincare 101 post (where I walk you through my entire skincare routine), you may be a bit confused about by why I'm using a specific eye cream — because in that post I mention that you can use any well formulated eye cream around the eyes. And while that's true, Paula's Choice set out to create 'the best eye cream possible' to answer consumer demand (watch the video about Paula addressing the subject here). Their customers were looking for a product specifically formulated for the delicate eye area, so Paula's Choice answered back. And I just had to try the best eye cream possible!
---
General Skincare Information
If you're new here (or looking for more general information about skincare) and you haven't read my Skincare 101 & My Routine post, head over there first for a crash course on skincare and a look and what products I'm currently using. That post is still 95% accurate, except now I've switched from the Moisture Boost Hydrating Treatment Cream mixed with the Resist Hyaluronic Acid Booster that I used around my eyes previously, to the Resist Anti-Aging Eye Cream, exclusively.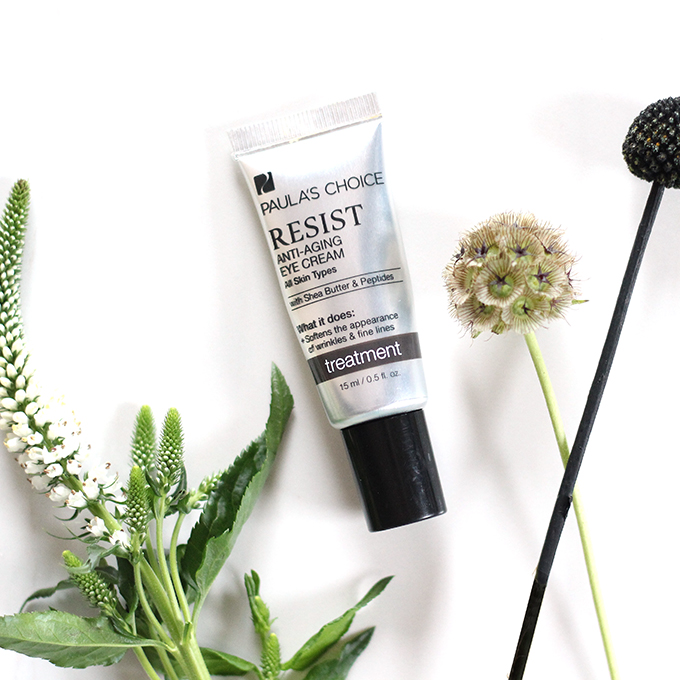 ---
First Impressions
My previous eye cream, mixed with the Resist Hyaluronic Acid Booster did a good job at keeping the skin around my eyes hydrated, but my skin is always a little bit more dry as we transition into the cooler months in Alberta. If you live here, you know our winters are downright frigid — my hair and skin always rebel! So, I thought it was the perfect time to give this eye cream a try.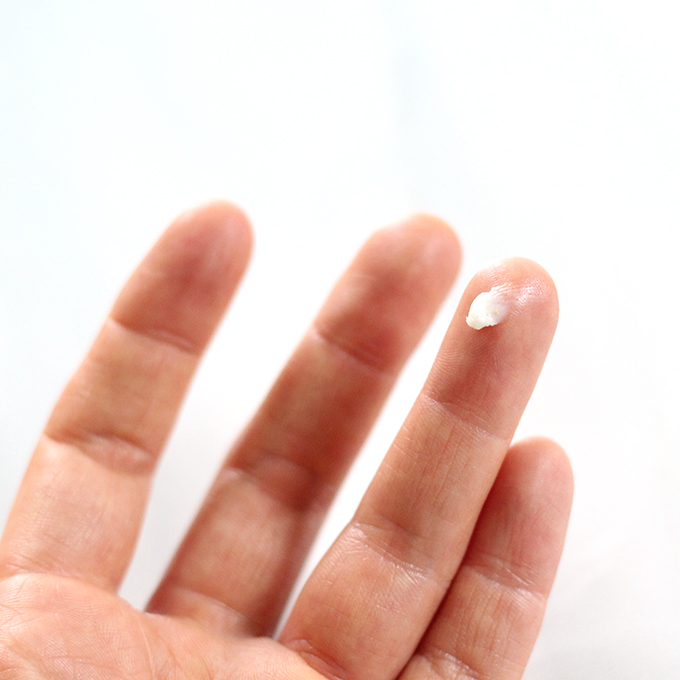 When I first squeezed a little bit of this cream out onto my finger, I was surprised at how thick it was. It's almost balm-like in texture. I thought there was no way that it was going to work under makeup, so I opted to wear it at night only for the first week. It's so emollient and moisturizing, I noticed that my undereye area was still very hydrated when I woke up — extra soft and supple to the touch. So, I decided to try it during the day, under my concealer and loose powder, but was skeptical. I was shocked that it wore so beautifully under makeup, too!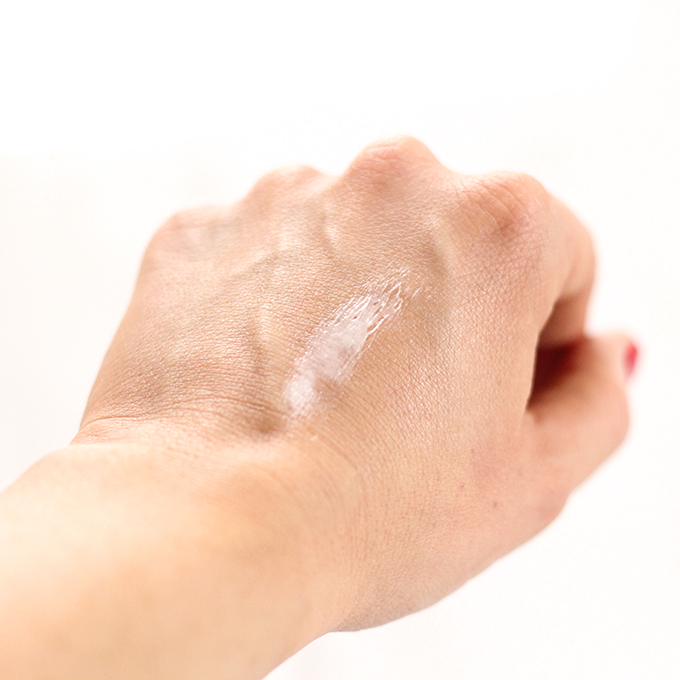 ---
The Packaging
The Resist Anti-Aging Eye Cream comes in a 0.5 oz triple-lined poly foil packaging, to ensure the ingredients remain stable throughout the duration of its use.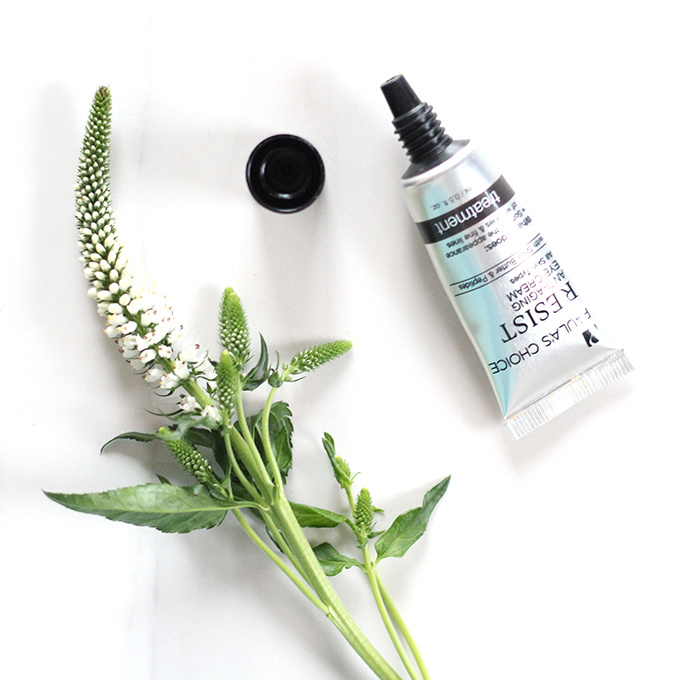 Like all Paula's Choice products, I appreciate the simple, fuss-free packaging. The cream is easy to squeeze out, and it's great for travel.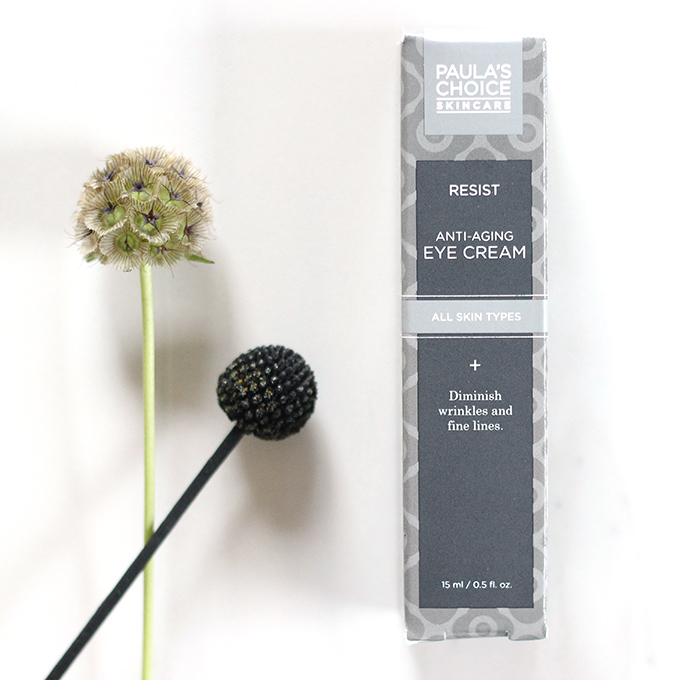 ---
The Product
The product itself is an extremely thick, balm-like cream — the formula is a rich and concentrated. It claims to reduces dryness, sun damage, discolouration, and loss of firmness around the eye area. It's formulated with age-fighting antioxidants, peptides and skin-identical ingredients to reinforce the skins moisture barrier and smooth fine line and wrinkles. Like all Paula's Choice products, it's fragrance-free and non-irritating.
The reason why I love and trust Paula's Choice products is because their claims about how product affects skin have to be backed up by published research — meaning they don't make outrageous claims without research to back them up (like most cosmetic and skincare companies!). If you're interested in learning more about the research behind this eye cream, check out the 'Research' tab on the product page. Or, do your own research by searching any ingredient on the product's ingredients list on the Paula's Choice Beautypedia database.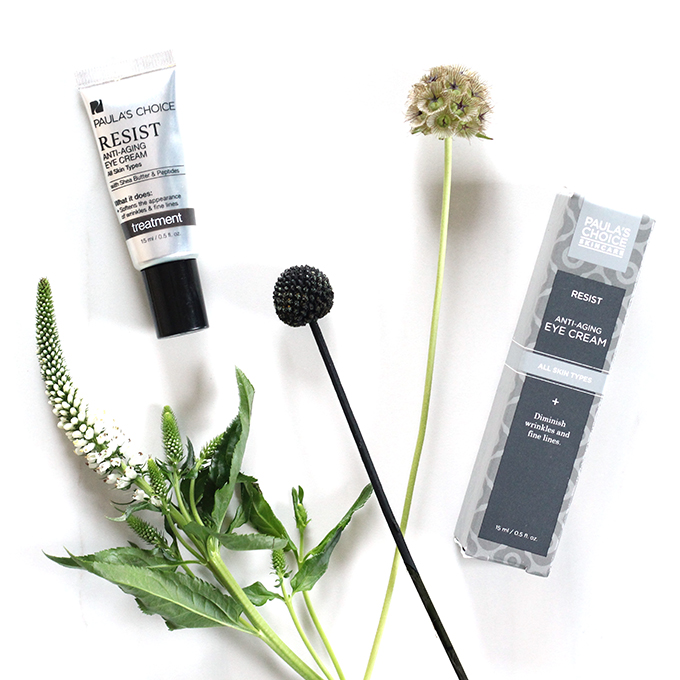 The Resist Anti-Aging Eye Cream does take awhile to soak into the skin, and remains a bit dewy throughout its wear time. It wears beautifully under makeup and on bare skin. Since I use a loose powder to set my undereye concealer, that mattifies the look of my undereye area during the day.
You need so little of this cream for both eyes — the amount I have shown below is the amount I use. What I like to do is squeeze a little bit of cream out onto the pad of my ring finger, then warm it up and spread it around with my other ring finger, dispersing it evenly on both fingers. Then, I gently pat the cream around my eye area. It spreads very easily once it's warmed on the skin, so there's no pulling or tugging at your eyes.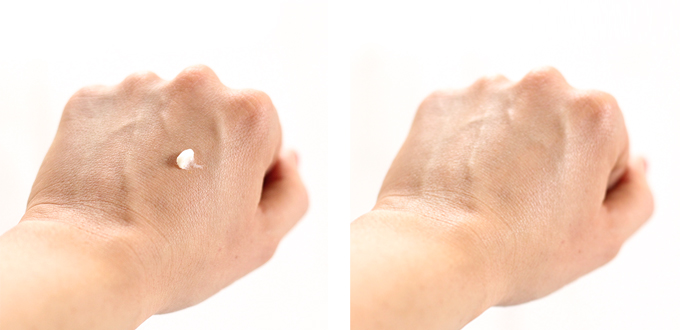 I can even see a difference in the skin on my hand before (left) and after (right). The skin on the right looks smoother, more hydrated and supple. Even as I sit here and edit this post (a few hours after I took these photos), the back of my left hand looks visibly more hydrated and smooth than my right. That small amount of cream covered the entire back of my hand, up to my wrist.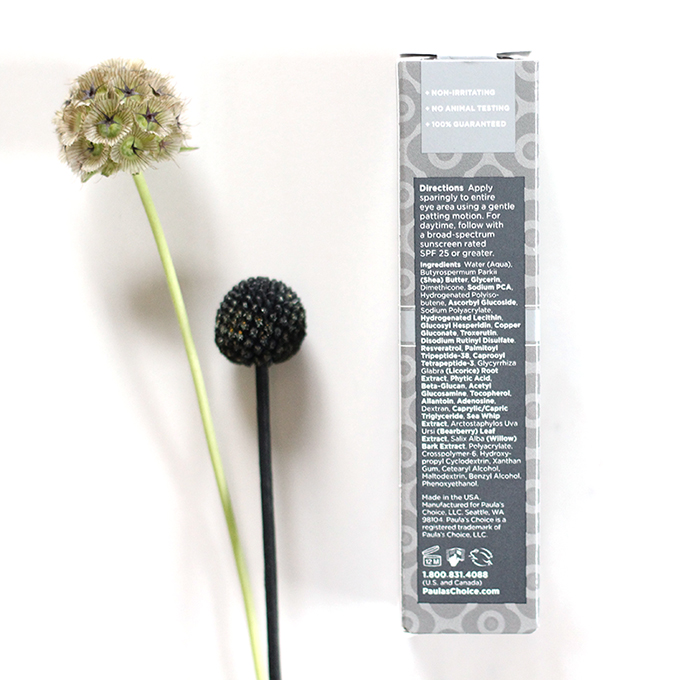 I should also mention that I have extremely sensitive eyes, and am a contact lens wearer. This cream doesn't irritate my eyes. Here's a full list of ingredients, which you can also find on their website.
---
The Results
I'm doing pretty well in the fine line and wrinkle department, but it never hurts to be extra preventative (I am 30 now!). Since I've been using the Resist Anti-Aging Eye Cream, the skin around my eyes definitely looks more supple and hydrated. I can notice a the biggest difference at the end of the day when I wash my makeup off — because my skin is more hydrated (and therefore has greater elasticity), product settles into fine lines less (which even the best products will do a little bit, if you're been wearing them for 15+ hours!).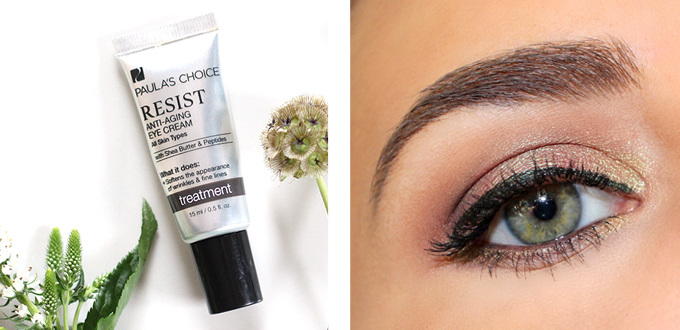 ---
The Final Verdict
Overall, I really love this product, and have switched over from the Moisture Boost Hydrating Treatment Cream mixed with the Resist Hyaluronic Acid Booster that I used around my eyes previously, to the Resist Anti-Aging Eye Cream, exclusively. It's less fuss, and it makes my eye area feel more nourished, especially in these colder temperatures. I still use and love the Resist Hyaluronic Acid Booster though — now I mix it into my nighttime moisturizer to help give my winter complexion some extra hydration.
I'd say if you're looking for a really heavy duty eye cream, or live in a very dry or cold climate, give it a try! If your skin is extremely oily, or you have oily eyelids, I wouldn't recommend this product.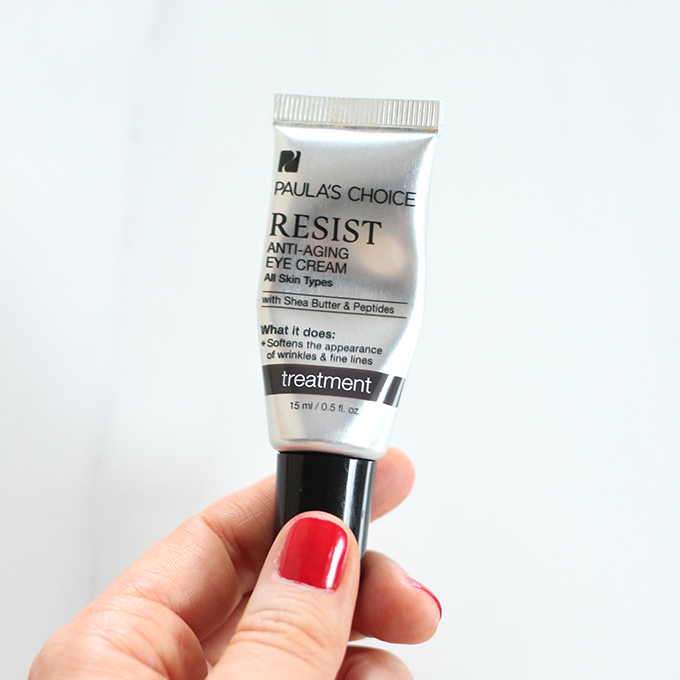 ---
SHOP
If you're interested in trying anything from Paula's Choice, always check to see if they have any promotions before placing an order — because they usually do! Personally, to help offset the exchange rate, I wait until they're having a sale. If you're ever contemplating placing a big order and want to know what their current promotions are, just message me, or leave me a comment!
---
INTERESTED IN LEARNING MORE ABOUT SKINCARE?
---
Start Here! Skincare 101 + My Routine for Healthy, Happy Skin
5 Powerhouse Skincare Ingredients
Paula's Choice Resist Hyaluronic Acid Booster Review
---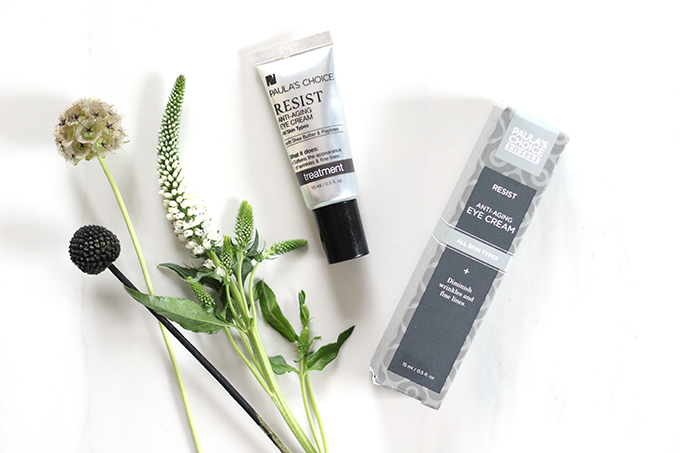 If you try the Resist Anti-Aging Eye Cream, or any of my other recommendations from Paula's Choice, please let me know how you like them. Paula's Choice has totally changed my skin, and I'm happy to pass my skincare knowledge along. I've been using their products almost exclusively for two years now, and everyone I've recommended them to loves their products just as much as I do.
If you have any questions for me, leave them in the comments (or send me a private message through social media) and I'll be happy to chat skincare with you! It's something I'm asked about frequently, and I'd love to help you out if I can!
---
Disclaimer: This post is not sponsored, and contains my genuine thoughts and recommendations. JustineCelina uses affiliate and referral links, which allow me to receive a small commission when you make a purchase through one of my links. Your purchases help to support JustineCelina.com!
Save