---
Happy snowy Sunday, beautiful people! I'm elated to be curled up in a cozy sweater and fuzzy slippers with a big mug of chamomile tea this weekend working away on my October 2017 Beauty Favourites post — it's a cold one in Calgary! If you're looking for an excuse to hole up inside and avoid stepping foot into the frigid outdoors this weekend (and getting out of your sweatpants!), you're in luck. Pour yourself a warm cup of whatever your little heart desires (mulled wine, perhaps?!), grab your iPad, phone or snuggle up in front of your laptop with your softest throw and let's chat autumn beauty!
October was a bit of a whirlwind — it included a lot of travel, a new haircut and desire to refresh my look, shake things up and discover new products! I had a love affair with red lips and liquid lips — and wore one red in particular most of the month whenever I felt like something bold. I also became totally smitten with a pretty autumnal shade from the Bite Beauty Amuse Bouche Liquified Lipstick range, continued to practically bathe in Colourpop Super Shock Highlighters, rediscovered my love for an innovative mattifying product and found an incredible, inexpensive nude eyeliner that makes my eyes look bright and awake (trust me, last month I needed all the help I could get!). In the FRAGRANCE and SKINCARE categories, I got acquainted with an ultra pampering, uplifting body soufflé from Crabtree & Eveyln and reacquainted with one of my favourite autumn scents. It was somewhat of a minimalistic month for me beauty wise, as it took me awhile to figure out what worked best with my new fringe (which I'm still loving, by the way!), my eyebrows and eye makeup have definitely taken a back seat (no one can really tell I haven't plucked or filled in my brows or spent those extra few minutes blending my eyeshadow — and it's kind of amazing!). Let's dive into my October 2017 Beauty Favourites, shall we?

---
OCTOBER 2017 BEAUTY FAVOURITES
---
CND $30.00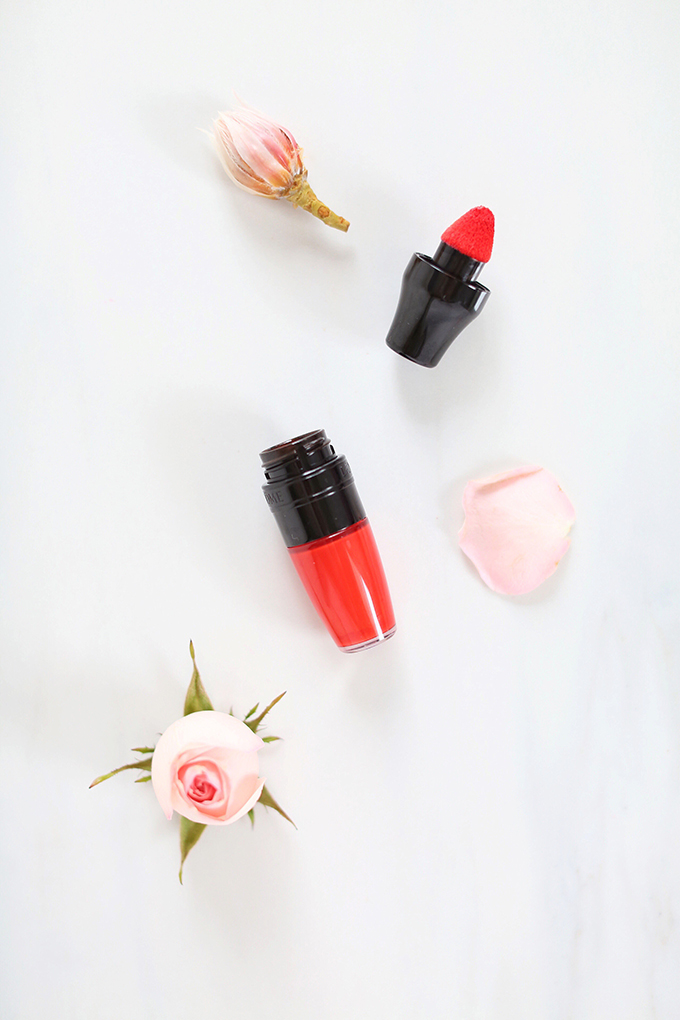 First things first, let's chat about that infamous red lipstick I wore in my first AW17 Trend Guide that so many of you had questions about! The Lancome Matte Shaker High Pigment Liquid Lipstick in Red'y In 5 has been my go-to lip lately — it's a very fiery, almost neon red and the formula is one of my liquid lipstick favourites (check out the other shades from the range I've reviewed or worn in style content!). I get tons of compliments on this lip both in person and online and truly don't think you can go wrong with this formula — these little tubes of liquid lipstick are one of the most innovative formulas I've tried! It's an extremely thin, extremely pigmented formula that applies beautifully to the lips in a lovely, buildable finish (don't let the applicator fool you, it's so easy to use!). I love the finish of the Matte Shakers — I find they aren't completely matte (they also don't completely dry down and aren't transfer proof), but they are extremely hydrating and light as air on the lips. They wear for about 6 – 8 hours on me and are a breezy to retouch — no weird bunching, crumbling or flaking. If you're a bold, classic, neutral red lover looking for a different kind of liquid lip, Red'y In 5 is your girl.

I'm wearing Lancome Matte Shaker High Pigment Liquid Lipstick in Red'y In 5 on my lips
---
CND $28.00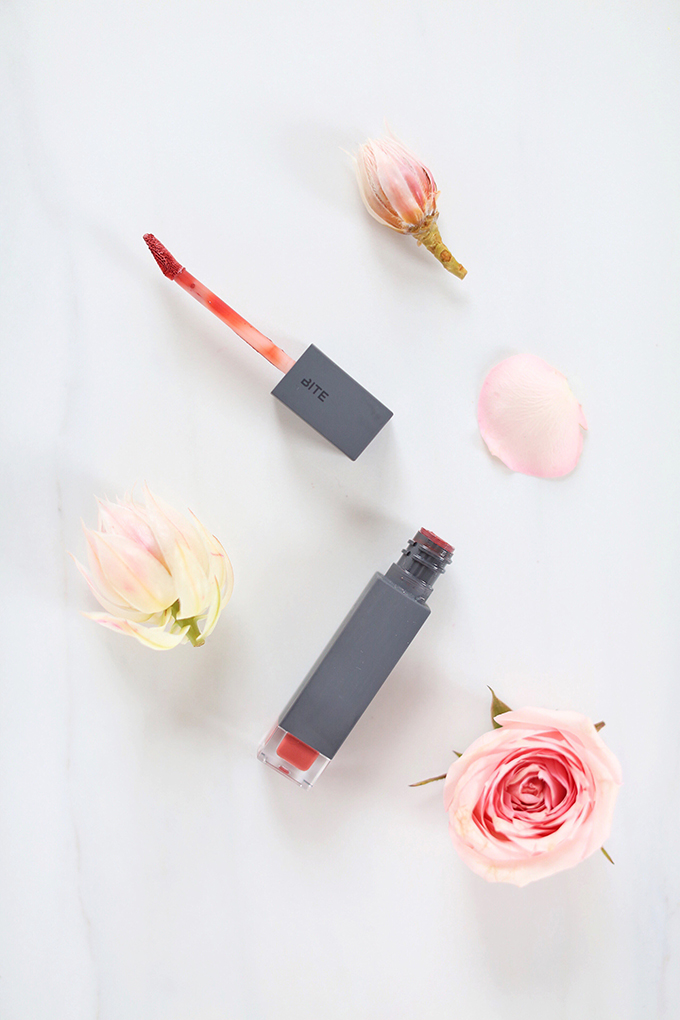 I discovered Bite's newest offering, the Amuse Bouche Liquified Lipsticks, this past summer when they initially launched. I picked up Purée the day they launched, thinking it would be such a lovely shade to wear during autumn — and that's exactly what I did! I actually meant to include it in my September Beauty Favourites, but forgot to photograph it, so it trickled through to this month. If you're a lover of Bite Beauty's natural, organic, food grade lip products and you love nourishing liquid lipsticks (this one contains natural monoi butter and coconut oil), you're definitely going to want to investigate this range! The Amuse Bouche Liquified Lipsticks offer an extremely moisturizing, satiny finish that make your lips look juicy, plump and healthy — and Purée is a gorgeous, muted burnt orange shade. It's a very unique shade and I have nothing else like it in my collection (think Smashbox's Liquid Lip in Out Loud, but more wearable). If you're looking to venture into orange-y, warm toned lips but want to try something less intense, I can't recommend Bite's Purée enough — it's a really flattering shade that I think would suit most skintones! It's not super long wearing (I get about 4 solid hours of wear out of this shade) and doesn't dry down to a matte finish — instead think of your favourite nourishing lipstick melted down into liquid format! I also love the precise, pointed applicator because it eliminates the need for a lip liner! I'll also be wearing Purée in my next FASHION post, if you'd like to see it in different lighting conditions.
If you're intrigued by this formula but not this shade, you could also consider the Bite Beauty Amuse Bouche Liquified Lip Set, which is currently available for Holiday 2017.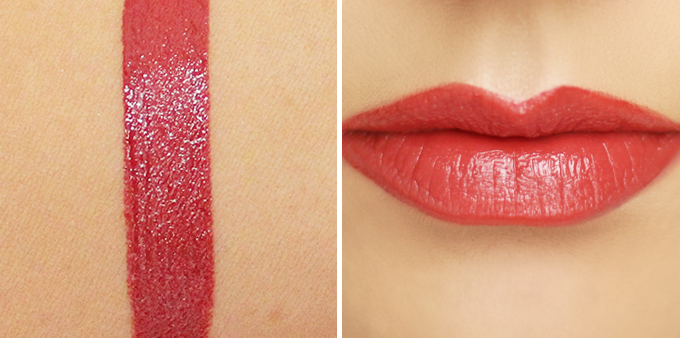 I'm wearing Bite Beauty Amuse Bouche Liquified Lipstick in Purée on my lips
---
CND $52.00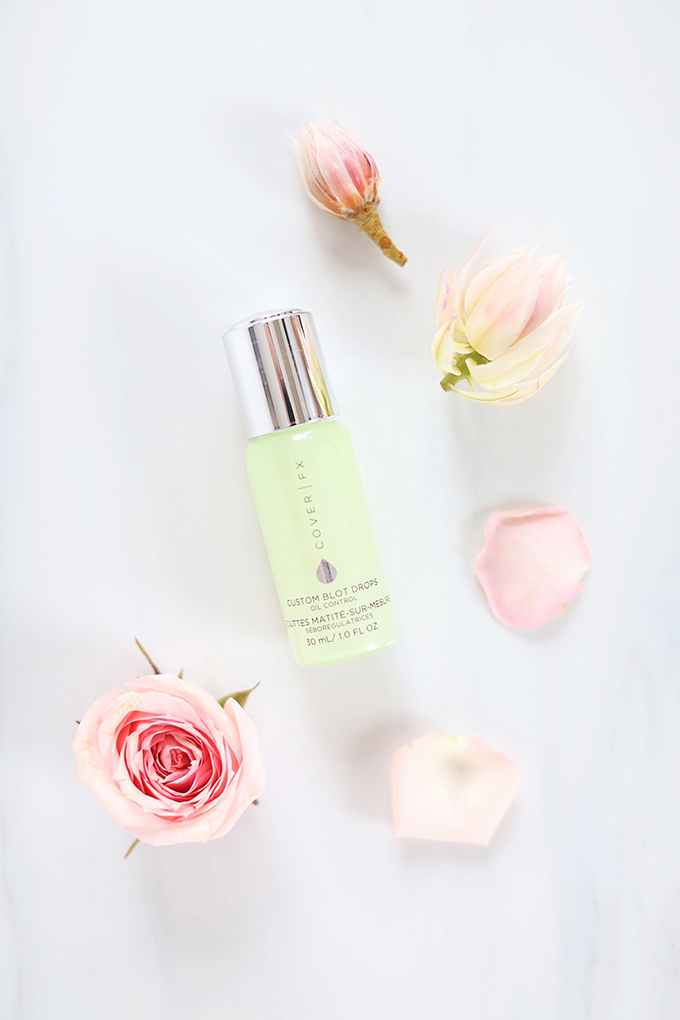 I'm probably one of the only beauty bloggers to ever say that I don't really think primers are important — for me anyway. My skincare essentially has a primer built into it, so I don't typically see a noticeable difference when I use traditional primers. However, I have been using the the Cover FX Custom Blot Drops since last year around this time when I need my base makeup to be extra long wearing and have seen a noticeable difference in the longevity of any foundation when I use it.
Basically, these innovative drops from Cover FX are meant to mimic the effect of blotting papers (you combo / oily skinned gals know what I'm talking about!) — except I use them before I apply my makeup. I take a small amount of the product and work into into my combination skin 'problem areas' (which tend to get oily first) in the centre of my face. My skin instantly feels mattified, smooth and ready for foundation! You can also mix it in with your foundation and use it before or after makeup. Over the past year it's become a welcome addition to my flawless looking skin routine, which you can learn more about here — nothing has changed except my go-to foundation (I'm still loving the FENTY BEAUTY by Rihanna Pro Filt'r Soft Matte Longwear Foundation 290, which I reviewed in September's Beauty Favourites post!). With a lot of holiday parties and events coming up, it may be worth looking into if you're searching for an innovative mattifying / oil controlling product!
---
USD $8.00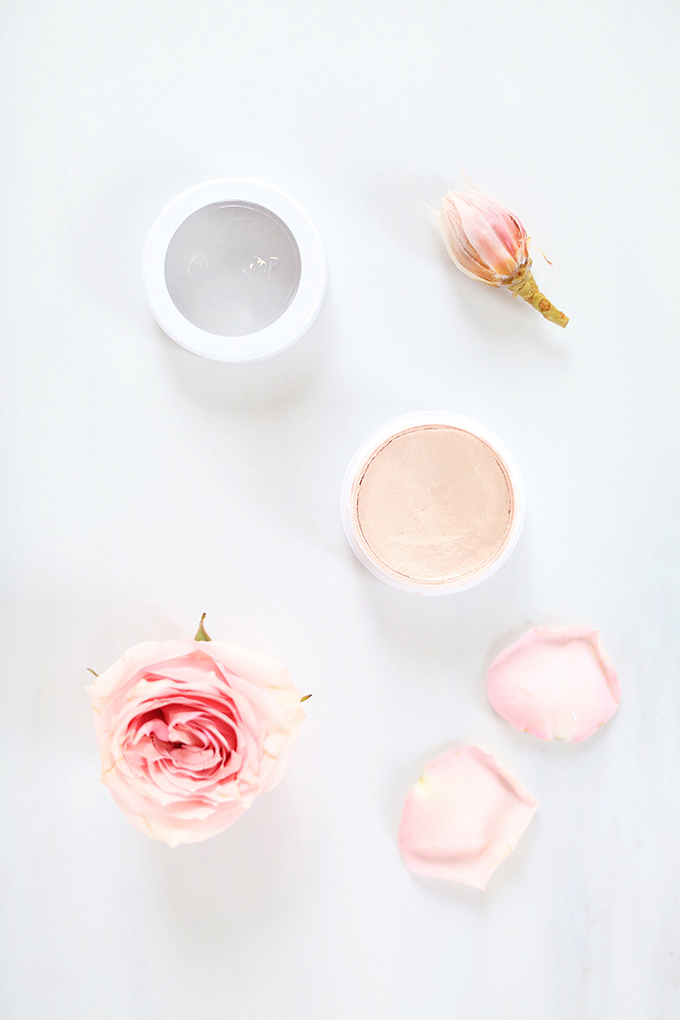 My obsession with the Colourpop Super Shock Highlighters continues — and this past month, I'll I've used in terms of glow is Lunch Money! Described by the brand as a soft light gold (on me it's a perfect champagne), this creme to powder highlighter offers some serious glow. Although I typically prefer a more natural highlight, I experimented this past month with a more intense glow — which you can see in my Autumn 2017 Trend Guide | Street Chic and How to Style | Kimonos for Autumn posts. The other thing I love about Colourpop highlighters is how seamlessly they buff into the skin — (which is really impressive for a cream-to-powder formula) — it's a beautiful, glossy, blendable formula that imparts a luminous, dewy look. As far as highlighters go, this one airs on the lighter side — so if you're medium / deep, it may be a bit ashy on you (check out my review of Butterfly Beach instead!).
I feel like there's a bit of a learning curve with this formula, so here's what I've found works best for application — I like to swirl a tapered, synthetic haired highlighting brush like the Sigma F35 Tapered Highlighter Brush (hop over to this post to learn more about my favourite makeup brushes and how to use them) into the product, coating the entire brush, then sweep it onto the high points of your face. I find that my loading my brush up with more product than I normally would and really buffing it into my skin allows me to achieve a glossy effect — and I can also layer it up if I decide to go for a more intense glow. Once applied, this formula is bulletproof on the skin and will wear until you wash it off! FYI, Colourpop products are cruelty free.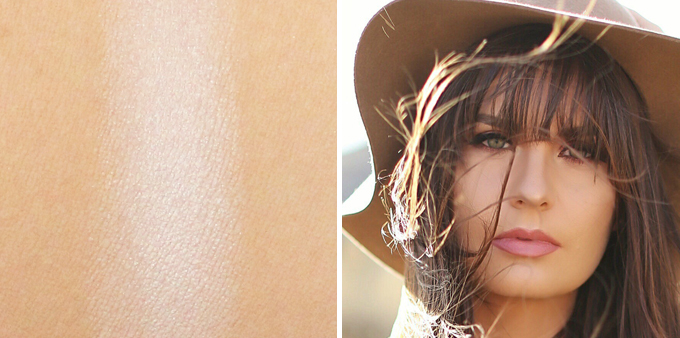 I'm wearing Colourpop Super Shock Highlighter in Lunch Money on the tip of my nose and tops of my cheekbones

---
USD $3.99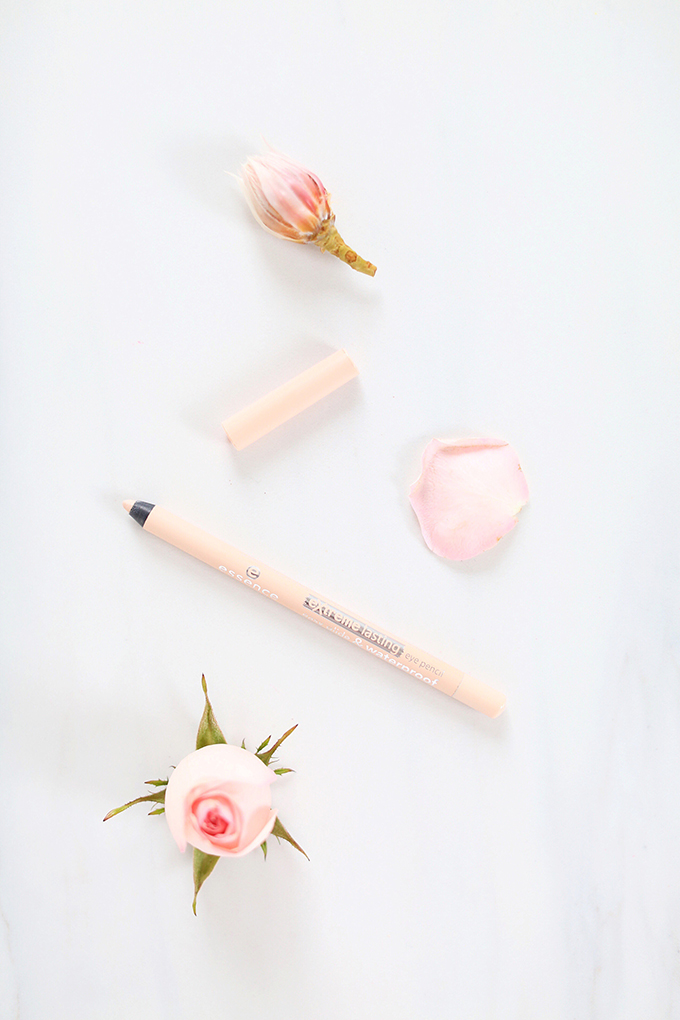 Anytime I spot a budget eyeliner what looks promising, I have to try it! I've been using the Essence Extreme Lasting Eye Pencil in 06 Silky Nude (which I found at the Deerfoot Meadows Superstore — FYI all my local readers!) for the past couple of months and it's become a staple in my beauty routine routine. This formula is indeed extremely long lasting, waterproof and glides on with ease! When I'm tired and my eyes need a little extra brightening, nude liners an absolute staple for me and something I can never be without! As someone with ultra sensitive eyes that water easily, I'm always on the hunt for a great nude liner to brighten my waterline, counteract any red or pink tones and make my eyes appear more awake and rested. Essence's Silky Nude shade is definately on the whiter side of the brightening, nude eyeliners that I've used — but I love it! If you're in the hunt for a budget friendly nude liner, give the Essence Extreme Lasting Eye Pencil in 06 Silky Nude a try!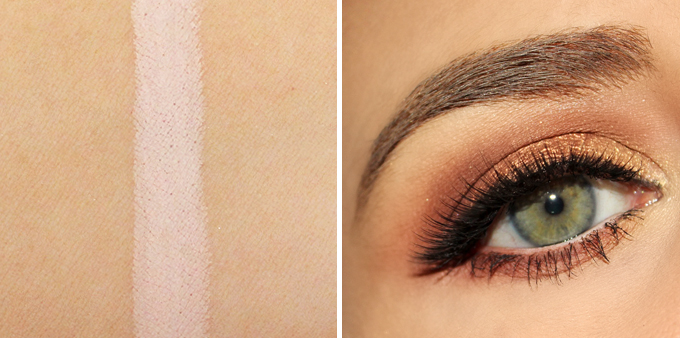 I'm wearing the Essence Extreme Lasting Eye Pencil in 06 Silky Nude on my waterline

---
CND $47.00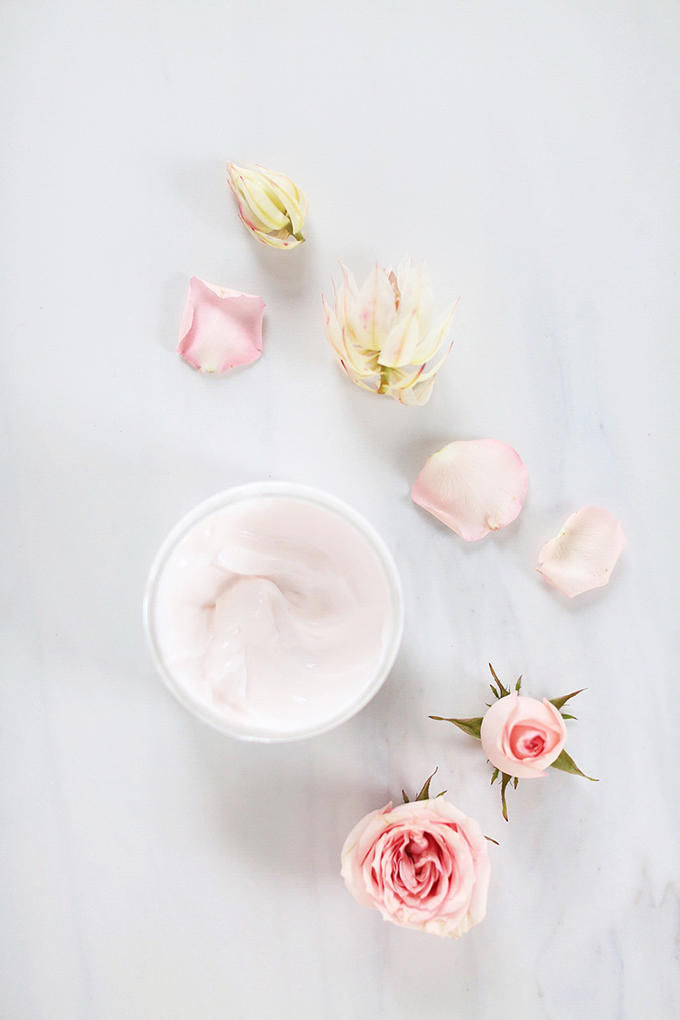 The team at Crabtree & Evelyn reached out earlier this autumn to see if I'd like to pop by their Market Mall location and learn more about their products (my Insta Stories peeps may remember me this unboxing in early October!). Admittedly, I'm not sure if I've ever shopped with them, but was happy to stop by and learn more about their products. I met Bayley (hello, if you're reading!) and she took me through their new offerings for Autumn / Winter 2017. I was able to pick out a few products to try — Pear and Pink Magnolia Uplifting Body Soufflé being one of them!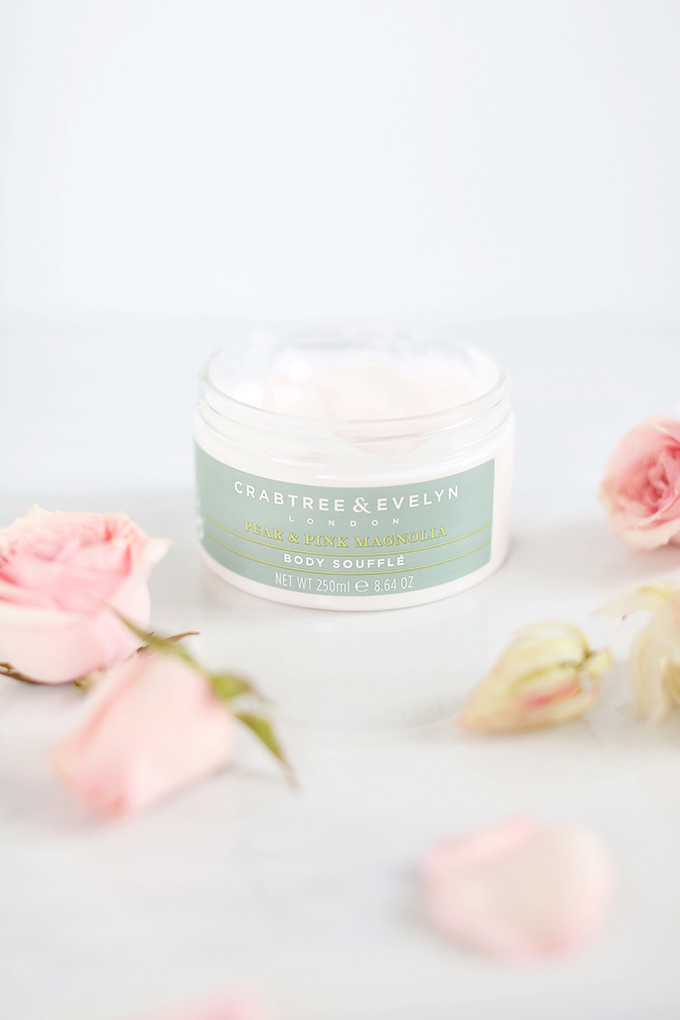 If you've read my Monthly Beauty Favourites posts, you'll know that I like to keep a few pampering products on hand for those days when I need a little extra pick up me. In October, I loved slathering on this body soufflé after a long, hot shower and letting it soak in while I was cozied up in my bathrobe! I've found Crabtree & Eveyln's products to be extremely high quality and love everything about this hydrating body treatment — the light and fruity scent, the gorgeous soft pink hue, the velvety texture and the way my skin looks and feels after using it (after I finish this post I'm going to hop in the shower, deep condition my hair, shave my legs and treat myself to another application!). The scent is so soft and feminine, but it lingers for quite awhile — read on to learn more about my favourite fragrance to pair it with! If you're looking for some ultra pampering, uniquely scented products for yourself or to gift this holiday season, I highly recommend diving into the world of Crabtree & Evelyn!
---
CND $58.00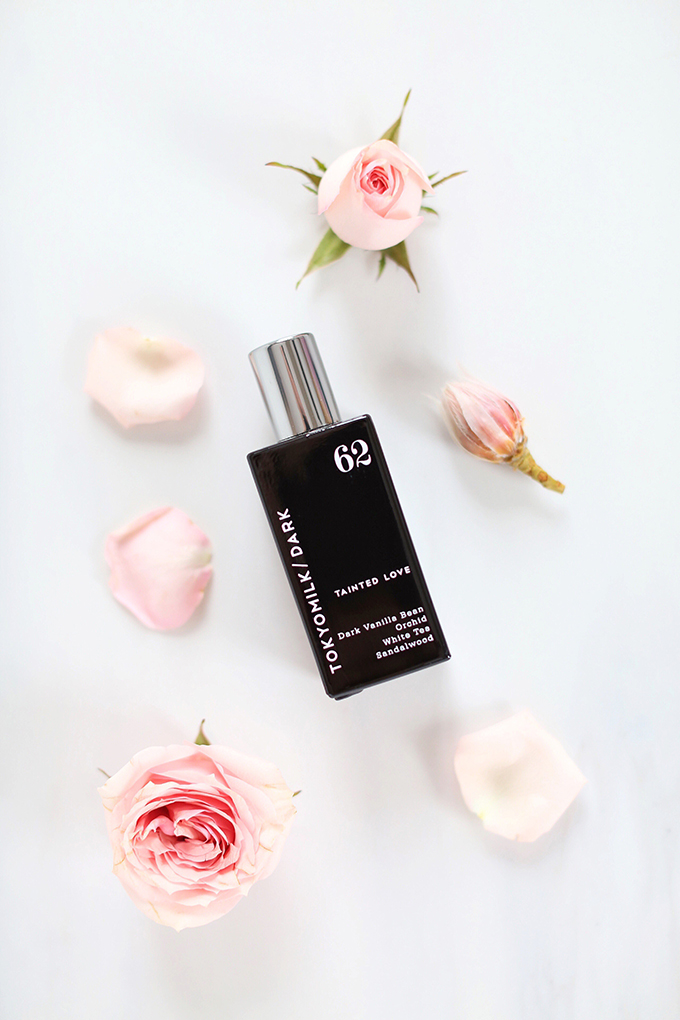 I first introduced you to ToykoMilk Dark back in my Autumn / Winter Fragrance Edit, published around this time last year. I haven't published an update this season, simply because I haven't discovered anything new — I have a large fragrance collection, therefore I look forward to rediscovering old favourites each season. The TokyoMilk Dark line of fragrances was created by acclaimed perfumer and designer Margot Elena. Through these fragrances, she encourages women to let go of the conventional and seek out the uncommon experience. Her fragrances are complex, provocative and mysterious — I reach for them when I'm craving a little bit of drama and romance!
The TokyoMilk Dark Femme Fatale Collection – Tainted Love No. 62 is gorgeous, neutral scent that I love to layer over scented body products (and lately the Crabtree & Eveyln Pear and Pink Magnolia Uplifting Body Soufflé) in cooler months! This scent makes me feel glamorous. It's dark and vanilla based with slight citrus and woody notes — and it smells of vanilla and tea in the most feminine, beautiful way and I receive so many compliments on. Also comes in a rollerball size if you want to trial the scent, travel frequently or want something you can stash in your bag!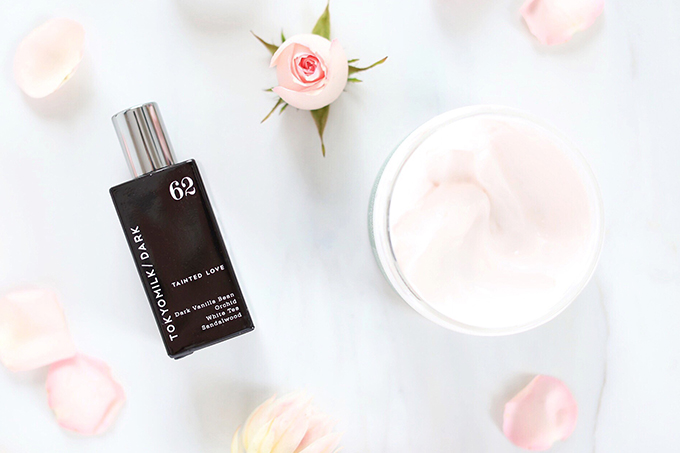 Notes:
Dark Vanilla Bean, Sparkling Citrus, Orchid, White Tea, Sandalwood, Tonka Bean.
Style:
Inquisitive. Dramatic. Darling.
---
SHOP MY OCTOBER 2017 BEAUTY FAVOURITES
---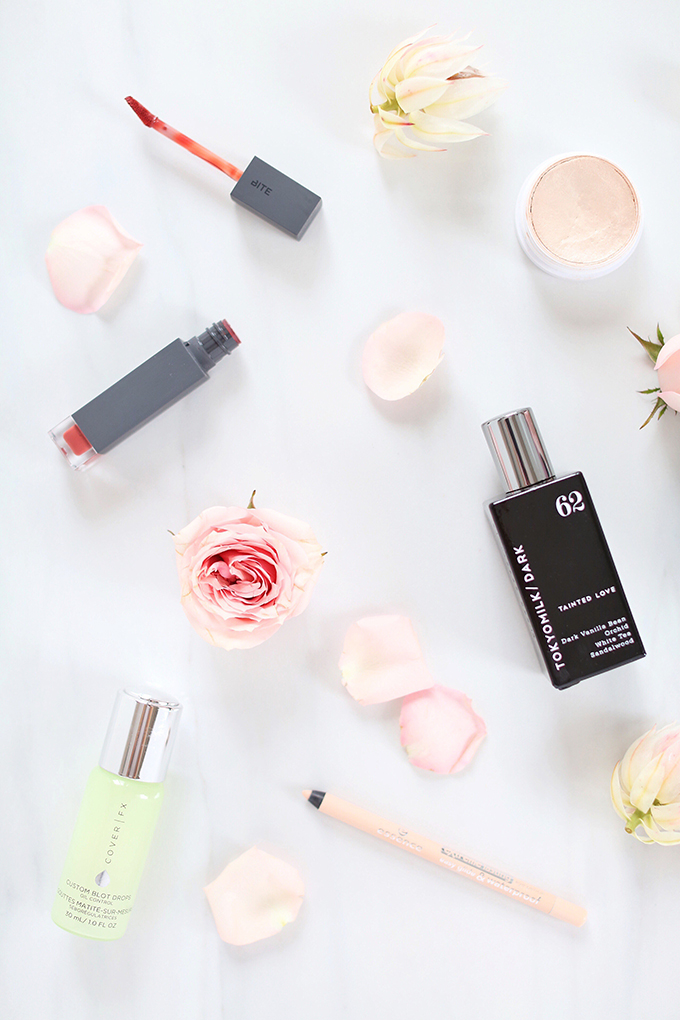 Lancôme Matte Shaker High Pigment Liquid Lipstick in Red'y In 5 | Bite Beauty Amuse Bouche Liquified Lipstick in Purée | Bite Beauty Amuse Bouche Liquified Lip Set | Cover FX Custom Blot Drops | Colourpop Super Shock Highlighter in Lunch Money | Essence Extreme Lasting Eye Pencil in 06 Silky Nude | Crabtree & Eveyln Pear and Pink Magnolia Uplifting Body Soufflé* | TokyoMilk Dark Femme Fatale Collection – Tainted Love No. 62 (full size) | TokyoMilk Dark Femme Fatale Collection – Tainted Love No. 62 (rollerball)
---
BEAUTY OBSESSED? ME TOO, GIRL!
---
5 Red Lipsticks to Try This AW17
September 2017 Beauty Favourites
---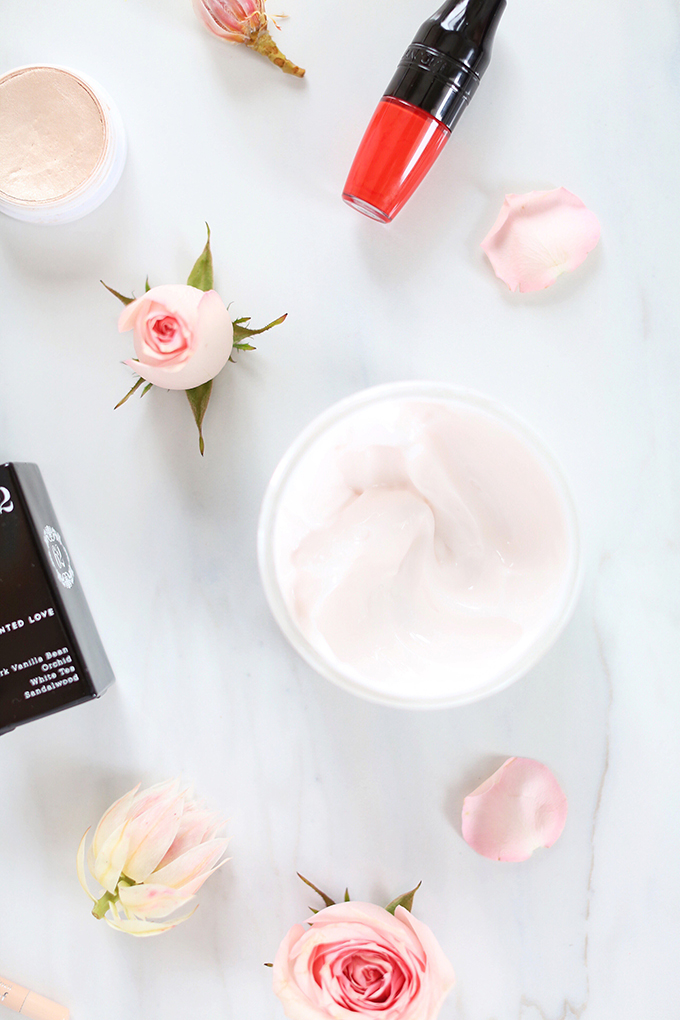 I hope you enjoyed reading more about my favourite beauty goodies today! As always, if you try anything I've recommended (or have a question for me), just leave me a comment. Have a great week ahead and stay warm, friends!

---
Disclaimer: Products marked with * indicate press samples provided for editorial consideration with no obligation for feature or review. This post is not sponsored and contains my genuine thoughts, ideas and recommendations. JustineCelina uses affiliate and referral links, which allow me to receive a small commission when you make a purchase through one of my links. Thank you for supporting the brands and businesses that support JustineCelina.com!