---
Today's post has literally been 1 year in the making! March 2, 2017 marked my 2nd Blogiversary. Can you believe it? So here we are — just over 2 years, 218 blog posts, 400 000 views, 100 000 images and 2 000 comments later, I'm sharing my My 2nd Blogiversary + 10 Things I Learned in my Second Year of Blogging!
Part of the reason I love blogging is that I have bookmarks into specific time periods of my life (albeit, a small portion of it). It's so interesting to look back and reflect on where I was 1 year ago versus where I am now. Today's post is different than last years Blogiversary celebration — because I'm different. This is a quite an introspective, raw post set to the theme of growth and change, which is also my overarching theme for March to welcome spring. This year, I wanted my Blogiversary to feel exactly how it would if we just hanging out as friends, sharing a glass of wine and having a conversation about the last year of this crazy journey of mine. It's not the shiny production that last year's post was — and it feels just right. Relaxed, casual, and simply more me at this specific moment (just as last year's post felt like me at that specific moment). I hope you enjoy my Pantone Greenery inspired 2nd Blogiversary + 10 Things I Learned in my Second Year of Blogging post, in collaboration with my friend Rebecca Dawn Design!
---
MY 2ND BLOGIVERSARY + 10 THINGS I LEARNED IN MY SECOND YEAR OF BLOGGING
---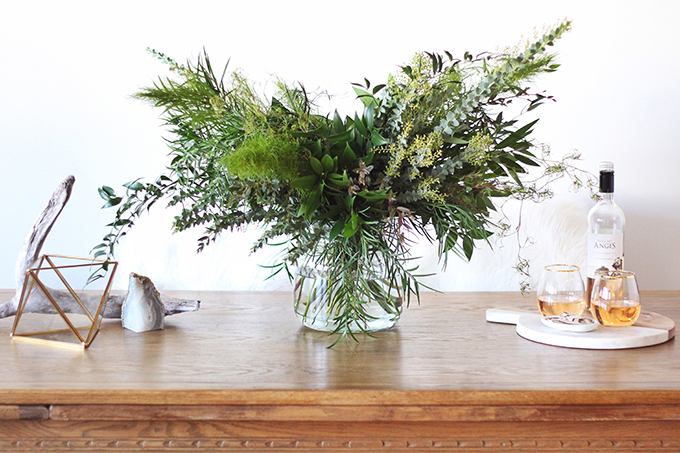 Wow, where do I even start?! I'd been thinking about what I wanted to do with this post for quite some time as I approached my 2nd Blogiversary. March 2, 2017 was a day like most others — I woke up and immediately began scrolling through my socials, just as I do every other morning. A Facebook memory popped up that I had shared 5 years prior (exactly 3 years before hitting publish for the first time at JustineCelina) — a beautiful illustration of Gandhi's Top 10 Fundamentals for Changing the World. I was completely taken back by how much it resonated with me in that very moment. So, I let those fundamental inform much of the content you'll see here today.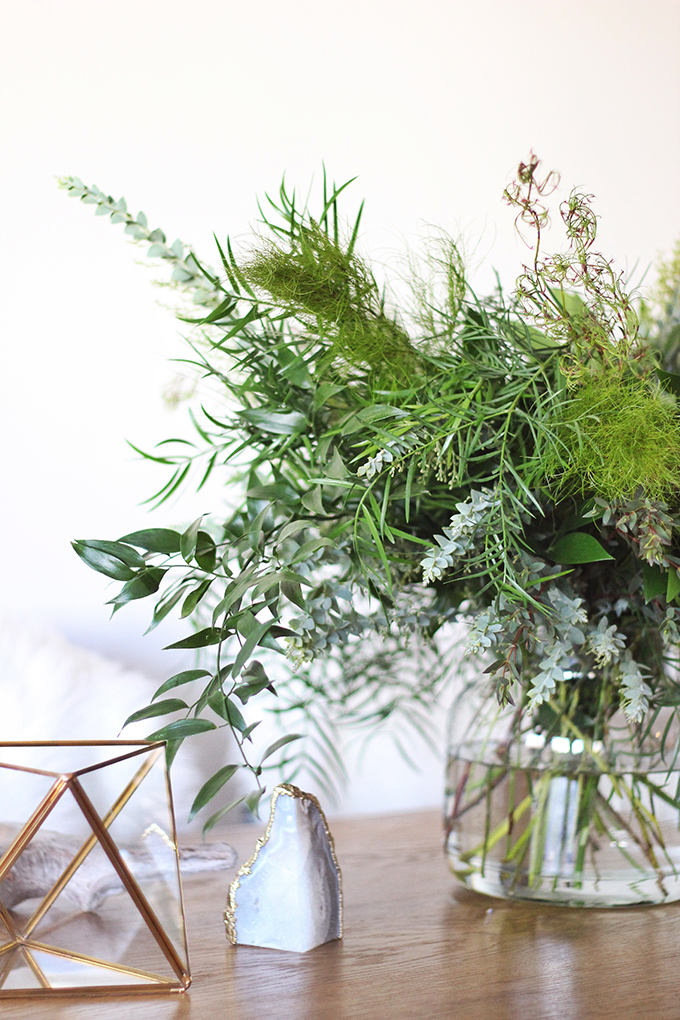 First, I want to thank each and every one of you reading from the bottom of my heart for coming along on this journey with me. JustineCelina is so many things for me (you've mentioned it's also some of these things for you) — it's my happy place, a quiet refuge from this insane world, my creative sounding board, a place for me to share my passions and inspirations, the ultimate form of self expression and a way for me to connect with amazing, like minded individuals I'm now lucky enough to call friends and colleagues from all over the world. I am so very grateful for this and for the beautiful community we've created together. I poured my heart and soul into this post and there's so much I can't wait to share with you!
---
1. Blogging is a Marathon, Not a Sprint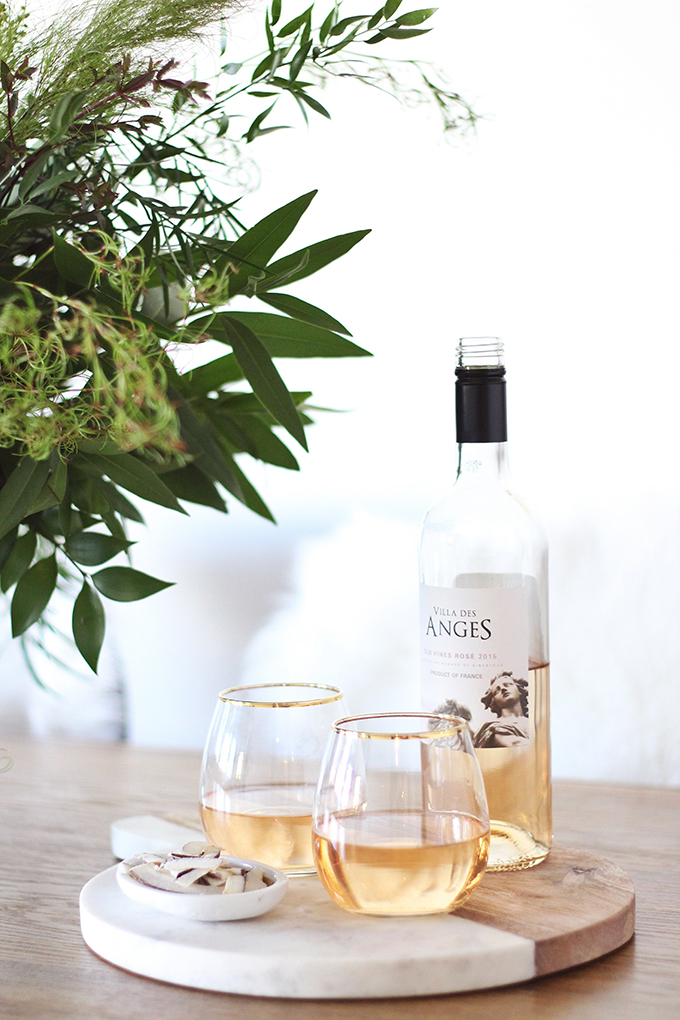 My first year and a half of blogging was a marathon. And afterwards, I was exhausted. For the beginning of 2017 I've been in recovery mode, actually taking the time to process what I've created here where I want to take it. JustineCelina's growth has been slow and steady — each month when I review my stats, engagement, revenue streams and editorial calendars, I see progress. And I know that progress has been made with meaningful intent to drive me closer towards my larger goals, month after month (and year after year). I've learned that reeling in the big fish takes a lot of time, but is so worth it. And I've discovered that an engaged, authentic community is really the most rewarding part of this entire journey.
Blogging is a marathon, not a sprint — at least in my experience. You can't expect overnight success (whatever that means to you). You can't get impatient, you have to stop comparing yourself to others and you have to be very honest about what you're doing and why. To stay ahead of the pack you have to train, evaluate the competition, sharpen your skills, educate yourself, get the proper gear, go your own way and always be working towards improving your craft. If you sprint down a path too ambitiously, or for the wrong reasons, you may just burn out. Stamina, along with calculated, focused efforts, a lot of planning and research and a consistent, steady stride are the keys to a healthy, happy, successful blog (and blogger!).
"Hold the vision, trust the process." ~ Author Unknown
---
2. When Doors Open For You, Run For It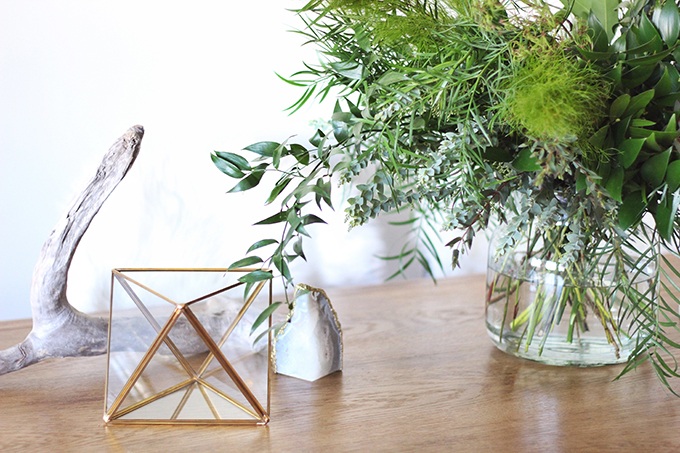 There have been quite a few instances this past year when I truly can't believe the opportunities that have trickled into my inbox. While I realize they're products of my hard work, I've definitely experienced my fair share of 'pinch me' moments. What I've learned is that when those opportunities present themselves to you, you owe it to yourself to make the most of them, whether you think you're ready for them or not. If if your creative journey scares and challenges you, you're doing it right.
Quit overthinking everything, kick it into high gear and seize your opportunities — they're coming your way for a reason! Propelling yourself into action before you think you're ready is wonderful thing and sometimes it's necessary to move forward. I honestly believe fate loves the fearless. When you're on the right path and putting your best self out into the universe, things align. Call it synchronicity, call it the law of attraction, call it what you will — I've experienced it more over this past year than I have in my entire life. I'm thrilled to be in this space creatively and so grateful to be able to share it with all of you.
"Without action you aren't going anywhere." ~ Mahatma Gandhi
---
3. You Can Do Anything, But Not Everything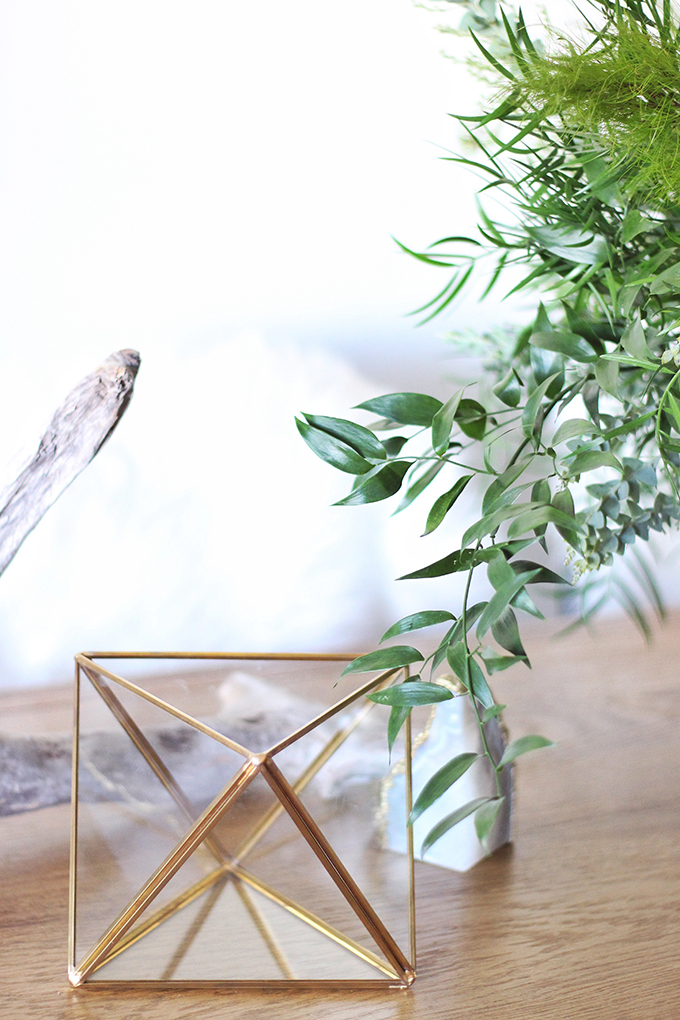 If there's one thing I know for sure, it's that burnout (especially as a creative) sucks. Looking back at the last couple months of 2016, I honestly have no idea how I was doing it — but thankfully I caught myself before I burnt out completely. At the start of 2017 I pulled back to look at the bigger picture and take stock of why I was doing what I was doing and how it was helping (or hindering) me in reaching some larger goals of mine.
In my second year of blogging, I came to terms that it's not only okay to take a weekend off or to take a break when you need it, it's absolutely necessary. While adhering to a fairly consistent publishing schedule is necessary to grow your platform (at least initially), so is learning how to roll with the ebb and flow of the creative process so you don't crash and burn. While I still publish 8 – 9 posts monthly, sometimes it works better for me to publish 3 posts one week and 1 post the next (heads up — you'll probably see 3 posts this week!). While it's not ideal, I've completely released stressing about it. 2017 has been all about being flexible, readjusting, cutting my losses where necessary and being more mindful of my overall well being.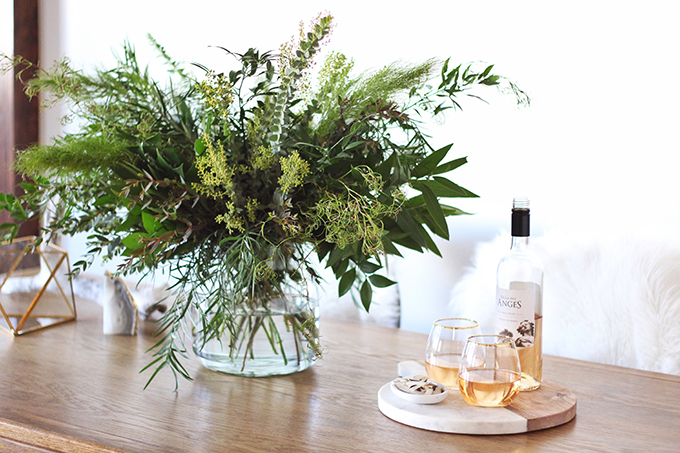 I've become more comfortable with saying no — both personally and professionally. If something doesn't work for me, it simply doesn't work for me. I can't be everything to everyone. When I try to be, I've learned that there's nothing leftover for me, which leaves me feeling like exhausted, overwhelmed, watered down version of myself — and that's a terrible place to be. Saying no means that I'm not at every event, sometimes I'm not as active on social media as I'd like, or that I have to turn down fantastic opportunities because there's just too much on my plate. In 2017 especially, I've learned that I can't continue to give so much of myself to others. I've also learned that people, both personally and professionally, have come to expect that of me — because it's what they're accustomed to. Re calibrating to my 'new normal' as a creative professional and blogger has meant pulling back in some situations to set boundaries and relearn balance in a major way. And while I'm still learning, I'm a lot further along than I was 6 months ago.
"Extremes are easy. Strive for balance." ~ Colin Wright
---
4. Content is King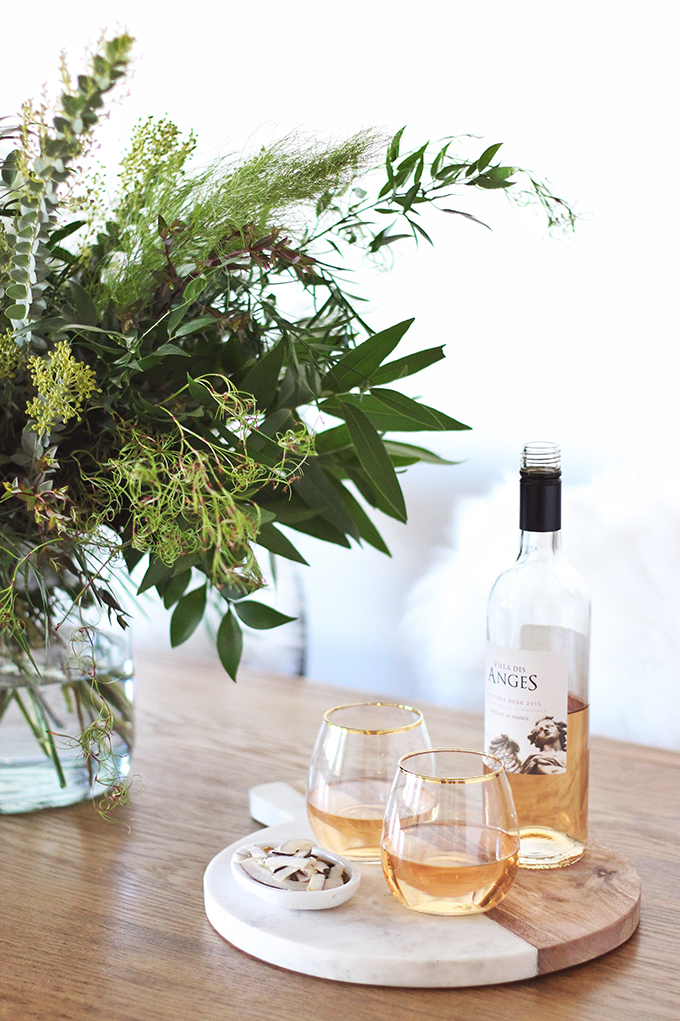 I think the single most important thing you can do to ensure your success as a creative is to find your edge and market yourself as a professional. Even through JustineCelina, I market myself as a Creative Director first (this is my professional background) and a blogger second — I feel that's given me a unique advantage in the 'blogger bubble' and I receive that feedback often from clients and partners. Being extremely selective about what I share on these pages and doing it a little bit differently has allowed me to develop long term partnerships with some of my favourite brands over the past year, whom I treat as valued clients. Last year, I said "The opportunities I seek out and accept are ones that allow me to produce exactly the type of content I love, with the quiet backing of a brand or business" and this couldn't hold more true.
All the brands I've been fortunate enough to work with over this past year have found my blog organically, because I mentioned them, got their attention via social media, or had a piece of content featured. Therefore, working with these brands is so natural for me because they're already a part of my life and were already present in the content I created, long before they reached out. This is a win-win situation for everyone — I'm able to produce the type of content you're already accustomed to finding here, but I'm able to craft more involved, artistic, educational stories for you with the support of a brand. I can attribute a content focused approach to nearly all of the fantastic opportunities I've had to date.
"The only way to do great work is to love what you do". ~ Steve Jobs
---
5. Be Congruent, Be Authentic, Be Your True Self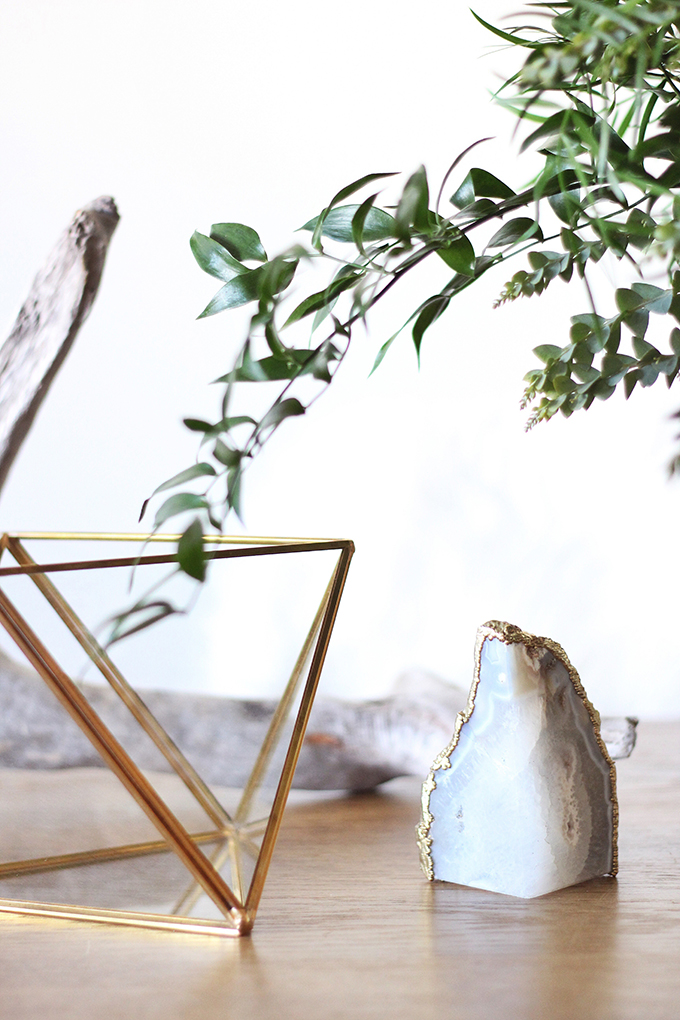 If you're looking for one take away from today's post, it's that authenticity is what will set you apart. Now more than ever, I keep my eyes on my own page and focus my energy on forging my on path by producing unique, authentic content. As I find blogs and social media accounts becoming increasingly more and more inauthentic and interchangeable, I focus more and more on maintaining my authenticity by continuing to hone my craft and share my passions in a meaningful way. I managed to quadruple my traffic in a year by investing my time and energy where they matter the most for me. As I mentioned last year, I have a business plan and a marketing strategy, and I stick with them — regardless of whatever bandwagon most other bloggers are jumping on that week.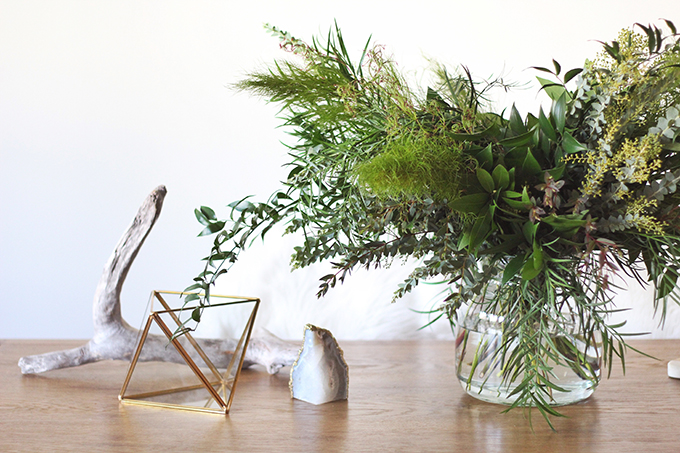 I could have been blogging full time by now (which for me means not having any other sources of income other than this blog — FYI, I still take on client work and love it!) by accepting opportunities that don't feel right, but do offer a big payout. That is so not what my blog is about. To be completely transparent with you, I turn down about 90% of opportunities that come my way. If it's not 100% the right fit for JustineCelina, you simply won't see it on the pages of this blog. You'll never see me giving away a designer handbag to gain followers, or promoting products or services that I don't genuinely use and love. My people are here for the right reasons — and I wouldn't trade that for all the designer handbags in the world. Authenticity, integrity and innovation are the cornerstones of my personal brand and that will never change.
"By your own soul, learn to live; if men thwart you take no heed. If men hate you have no care. Sing your song, dream your dream, hope your hope and pray your prayer." ~ Pakenham Beatty
---
6. Trust Your Instincts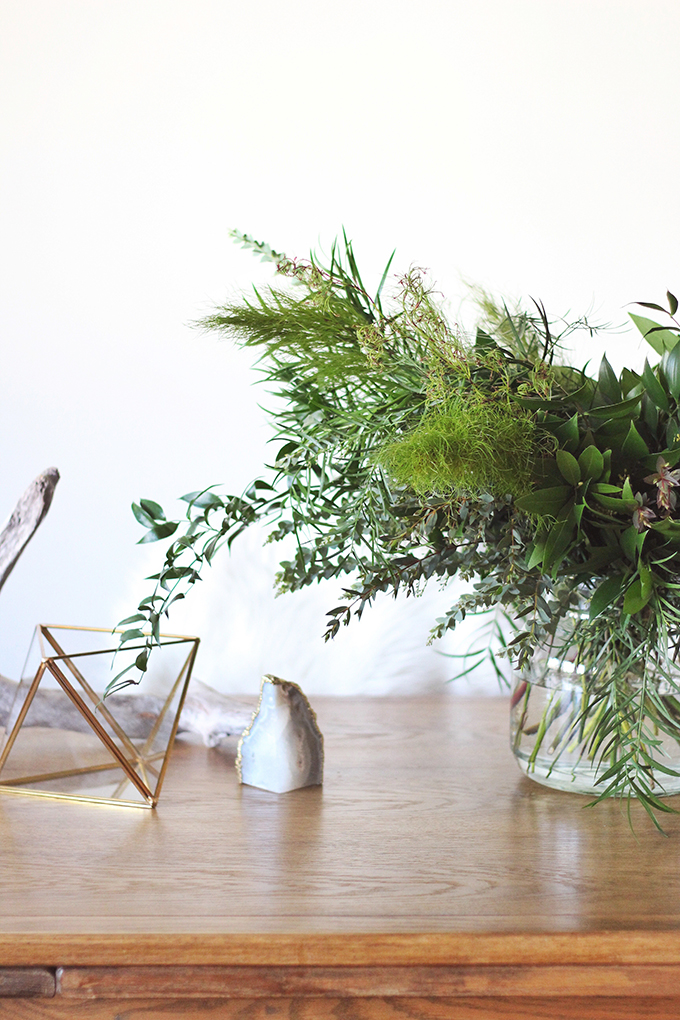 My intuition has never led my astray, and as such, I've become pretty good at trusting my first instincts. If something doesn't feel right, there's a reason. This is a huge part of blogging — each day you're bombarded with opportunities (sometimes 100's!) and everyone wants a piece of you. The sooner you learn that your first impression is almost always right, things become a lot easier.
One of the the true joys of blogging is that I'm able to meet and connect with people all over the world. While most of those interactions are positive, unfortunately I've also encountered some very dishonest, unprofessional individuals who want something for nothing or who simply don't have the best intentions. For the most part my interactions with these people and businesses are limited, and I always choose to take the higher ground — but that doesn't make it any less unpleasant. From the first email, I've learned to sniff these bad apples out and be very firm about my policies, procedures and contracts to deter individuals and companies looking to take advantage of bloggers and creatives. Consult a professional when necessary, stand up for yourself and your work, know your worth and don't settle for anything less.
"In art as in love, instinct is enough." ~ Anatole France
---
7. Invest in Yourself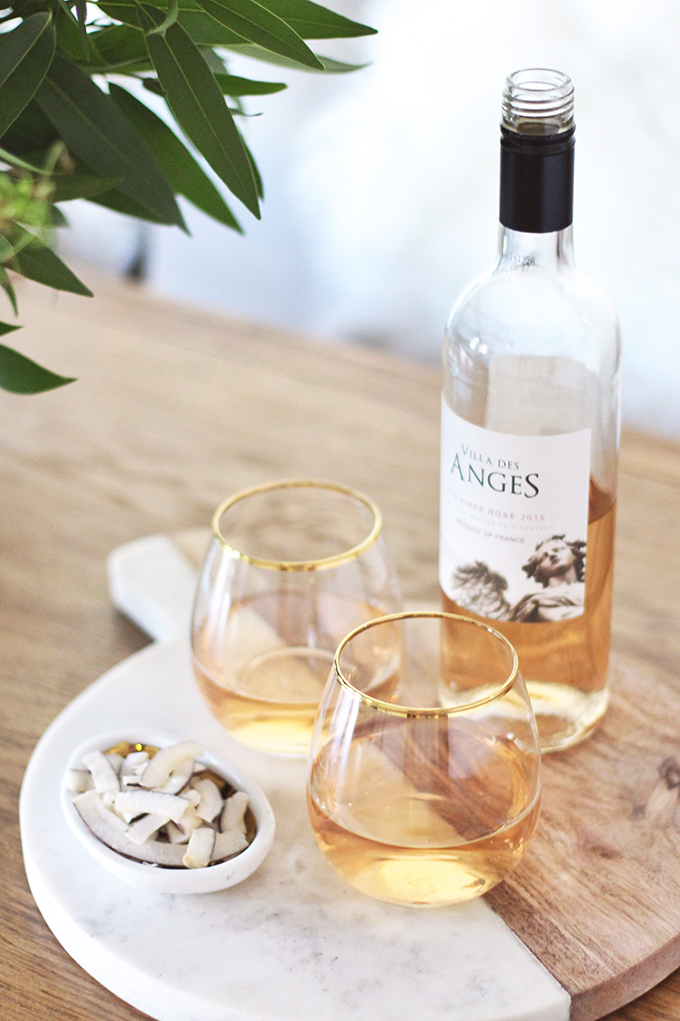 I vehemently believe that investing in yourself by whatever means you deem necessary to feed your creativity is one of the most important things you can do — assuming its within your means. If you're you're a little ball of stress desperately in need a massage, go get one. If you're craving peace, sign up for a yoga or meditation class, or leave the hustle behind for the day to explore nature. If you're a food blogger and you're lacking inspiration, treat yourself to a meal at one of your favourite restaurants. If you're feeling stuck and need a change of scenery, go somewhere totally new and soak your environment in. If you're craving travel, book your ticket. If you want to learn a new skill, buy a new book, subscribe to a new podcast, go to a conference, or take a course, do it! If you're dying to buy a new camera, software, or tools that will help you continue to advance your skills and perfect your craft, save up and make it happen. Your development as a creative is only limited by the constraints you put on yourself, so take some time to recognize what you need to continue to feed yourself creatively and bring it into your life (if you're interested, you can read about what I'm investing in this year). In my experience, investing in yourself is always worth it.
"Live as if you were to die tomorrow; learn as if you were to live forever." ~ Mahatma Gandhi
---
8. Continue to Grow and Evolve
This past summer, I had the pleasure of chatting with someone who was interested in starting a blog and online business of their own. They asked when I knew that I'd 'made it' as a blogger. I was a bit taken back (and a little flattered) by the question — had I made it? I suppose it depends what your definition of making it is. My first instinct was to tell her I felt that mindset is the kiss of death in the creative industry — you should never stop striving to grow, change and evolve. If you think you've perfected your craft, you need to switch it up, learn new things, try different techniques and experiment. The minute you get too comfortable you run the risk of stagnation — which is not something I ever envision for my life, my career or my blog. Change isn't only good, it's crucial. You'll always find me pushing myself to explore, create and execute fresh ideas because this is truly what feeds my creative soul.
In my second year of blogging, I learned that being flexible, revaluating and readjusting is essential. Some things work out the way you had planned and some don't — and that's okay. It's important to check in with yourself often and be realistic about what's working for you and what isn't, then making whatever changes need to be made to get back on track. Let go of what no longer serves you. Be honest about the goals you'd like to achieve, set realistic timeframes and hold yourself accountable. If the path you initially thought would get you there isn't working, take the scenic route. My life and creative career certainly hasn't been a straight line from point A to point B, it's been a complicated game of connect the dots riddled with opportunities to grow, learn, evolve and push myself — some positive, some negative and almost all of them extremely challenging. And I wouldn't have it any other way.
"Edit your life frequently and ruthlessly. It's your masterpiece after all." ~ Nathan W. Morris
---
9. Dream Bigger Than You Think Possible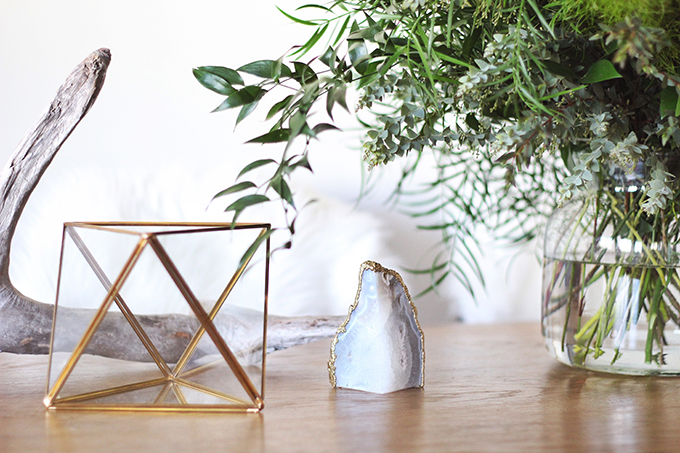 On my 1st Blogiversary, if you would have told me that one year later I'd be packing up Sephora's latest spring beauty launches so I could test them out during my trip to Vancouver in partnership Samsonite (there are some very exciting things in store later this month!), I would have never believed you! Some days I wake up and can't believe that I get to do this. But since I'm in it all the time, it's difficult to pull back and see just how far I've come. I can wholeheartedly say that putting yourself out there and producing unique, authentic content, releasing fears around what others may think and not letting anything (or anyone) hold you back truly does pay off.
Honestly, I still can't believe some of the opportunities I've had 2 years into my blogging career that wouldn't be possible if I hadn't consistently put out content I was passionate about and that was representative of my life, style and work. You never know who's reading, or what might pop up in your inbox — but you have to be prepared when opportunity comes knocking! It's important to set the bar high and always work towards achieving your goals — however unrealistic you may think they may be at the time. Don't let anyone tell you what you can and can't do. Some day you'll look back and be grateful that you were a dreamer who saw the world differently and pushed the boundaries in pursuit of a happy, fulfilled life on your own terms. Or at least, I hope I do.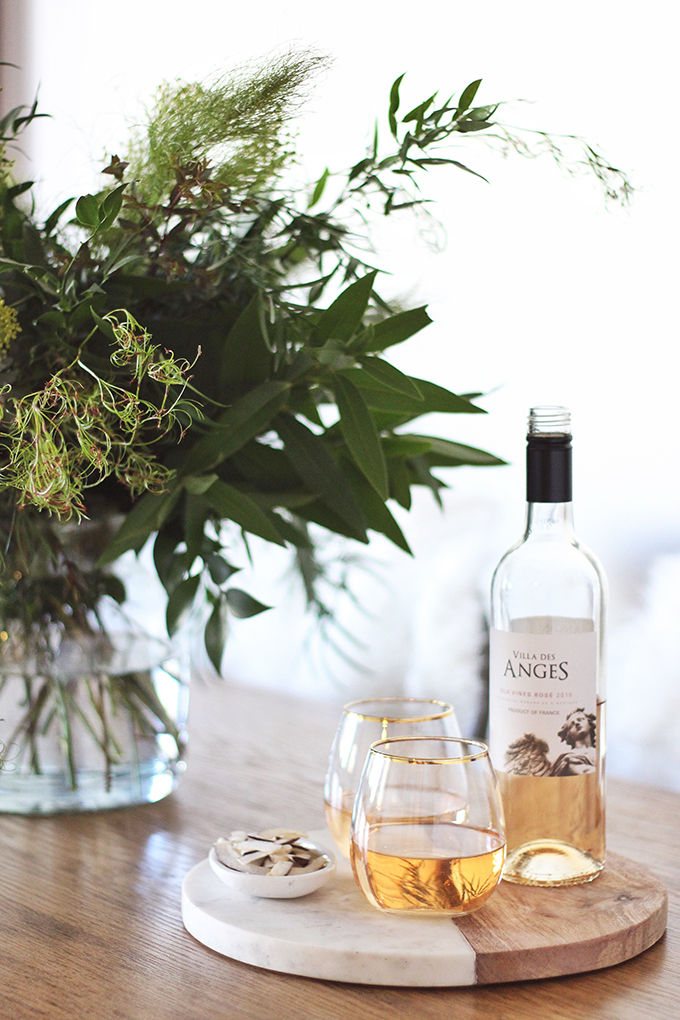 Managing all of this can be very stressful at times — this lifestyle definitely isn't without sacrifice. On my darkest days, I wish I'd chosen an easier path. On my brightest days, I'm on top of the world. The creative journey is a tumultuous roller coaster full of high highs, low lows and everything in between. It's definitely not something most people are cut out for and it's essential to have a great support system in place. Over the past 10 years I've become pretty good at taking it as it comes and recognizing this is all part of the creative process — but I'm always transparent about the struggles I face as a creative. I think it's important to keep it real and let you know that my life isn't as glamorous as it may seem from the outside looking in — that's something you'll always find on these pages as well.
"Life is like riding a bicycle. To keep your balance, you must keep moving." ~ Albert Einstein
---
10. Chill Out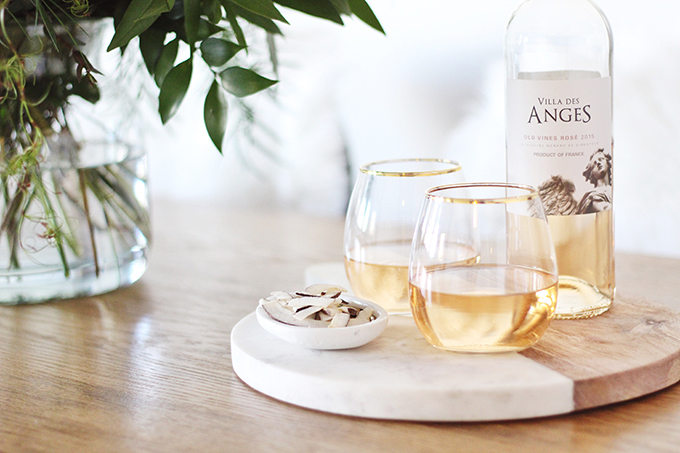 If you've read JustineCelina for any length of time, you'll know that I don't even eat (or make) cake and cupcakes (and I'm now dairy and gluten intolerant!) — it's not at all representative of my current lifestyle. My 1st Blogiversary was a huge deal for me, and while my 2nd is also a big milestone, this year a laid back celebration is just my speed. Last year's Pantone Rose Quartz and Serenity inspired 1st Blogiversary was a blast to put together, a fun concept to explore from a creative standpoint and will always hold a very special place in my heart (it really opened the flood gates for collaborative work here at JustineCelina!), but I don't throw my blog birthday parties in real life. My day-to-day life consists of creating as much as possible, doing things that make my heart happy and filling my life with people and experiences that inspire me and drive me forward (thank you so much to my amazing friend Rebecca Dawn Design for collaborating with me on this post). So that's what I've chosen to represent here today.
This past year has been all about (sometimes uncomfortable) growth and experimentation for me — so for my 2nd Blogiversary we swapped flowers in favour of a Pantone Greenery inspired arrangement to represent growth, new beginnings, reconnection and rejuvenation. I swapped cake and cupcakes for a bottle of delicious, small production, old vine rosé I picked up at one of my favourite local wine shops. And I swapped a strategically coordinated colour scheme, complete with custom backdrops to replicate 2016's Rose Quartz and Serenity, for a few simple pieces of decor.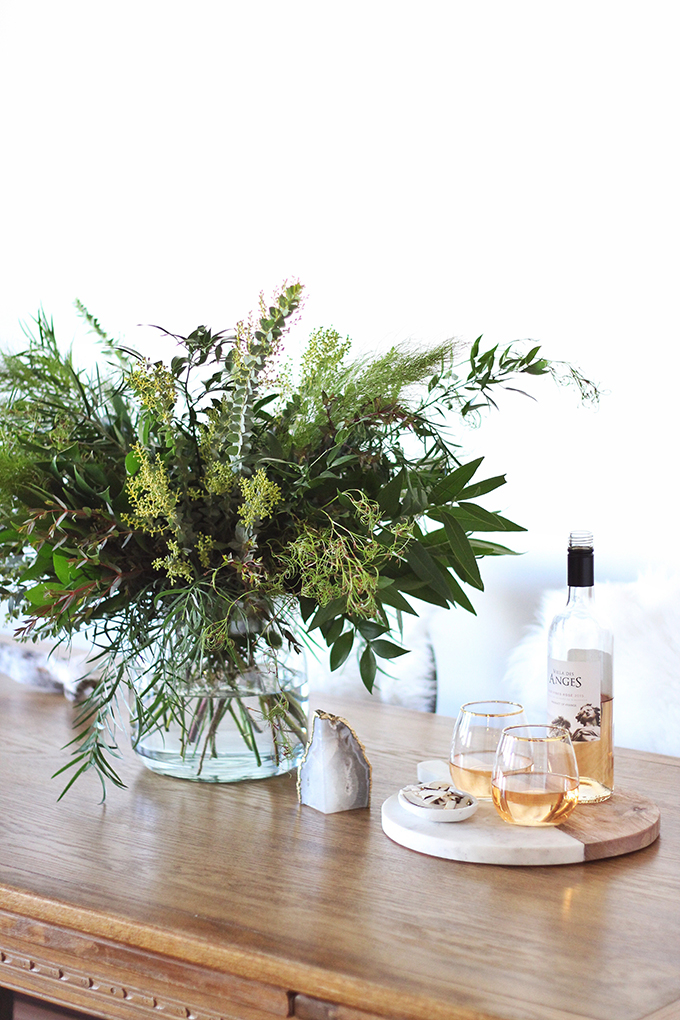 In my second year of blogging, I learned that not everything has to be such a huge production. Because of my professional background, I have a compulsion to make things beautiful ingrained into every aspect of my personality. Naturally, I want to use this space to showcase my skills and explore creative ideas on my own terms, however, sometimes I want to share more casual thoughts and concepts as well (and you really seem to enjoy those, too!). In order to maintain a balanced lifestyle and my sanity, sometimes it's necessary for me to tone things down and share more simplistic, raw content here, intermixed with the more elaborate productions you'll also see on these pages. And I'm 100% okay with that. It's part of the natural progression of my creative process and essential in order for me to continue to represent my life, passions and personal brand in an authentic way. This past year, I learned that less thought and more action is part of the formula for balance. I'm learning each day that my happiness equates to not forcing things and embracing more of what life throws my way.
"Happiness is when what you think, what you say, and what you do are in harmony." ~ Mahatma Gandhi
---
A PANTONE GREENERY INSPIRED ARRANGEMENT
---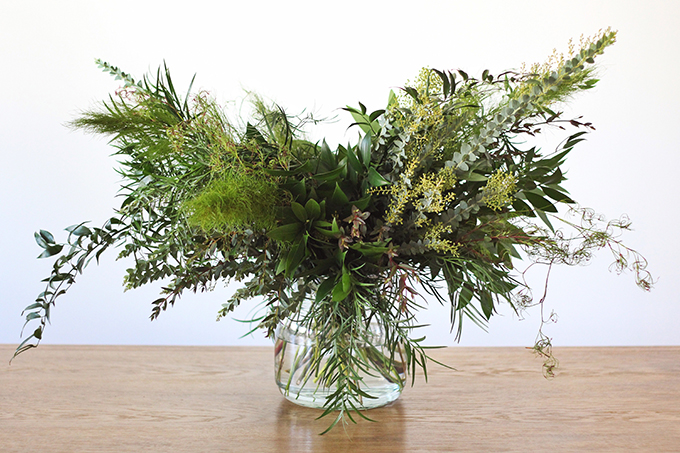 Okay — let's chat about this beautiful Pantone Greenery inspired arrangement Rebecca Dawn Design created for my 2nd Blogiversary! Since the palette is monochromatic, Rebecca focused on using unconventional foliage to play with different textural elements — combining Goanna Claw, Eucalyptus, Knifeblade Acacia, Koala Fern, Nagi Green, Weeping Podocarpus, Bay Leaf (yes, the ones you cook with!) and Italian Ruscus. I couldn't think of a more perfect way to welcome spring and usher in year 3 here at JustineCelina. I wasn't sure that I'd ever get here and I couldn't be more excited about what the future holds!
P.S. — If you're craving more Greenery, be sure to hop over to our March Edition of Digital Blooms, where we created 3 free Pantone inspired desktop downloads!
---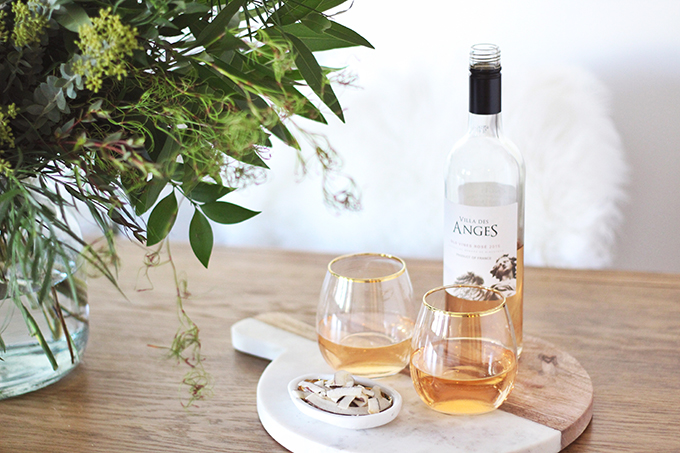 If you're still here, thank you so much for reading! I hope you enjoyed this raw chat about blogging, life, my creative process and what I've learned along the way. Thanks for coming along on this crazy journey and allowing me to share my interests, passions and inspirations — it truly means the world to me and I'm so grateful for each and every one of you! Cheers, friends — I'm off to enjoy this glass of rosé.
---
Disclaimer: Thank you to Rebecca Dawn Design for collaborating with me to create this post. This post is not sponsored, and contains my genuine thoughts, ideas and recommendations. JustineCelina uses affiliate and referral links, which allow me to receive a small commission when you make a purchase through one of my links. Thank you for supporting the brands and businesses that support JustineCelina.com!