I'm so happy to be sharing more fashion content with you this fall and winter! To kick things off today, I'm starting a new series here at JustineCelina called HOW TO STYLE — showing you how to style a specific on-trend item that you might not think you can pull off, or may be intimidated by.
I've loved ponchos for years, and will always wear what I love regardless of whether or not it's trendy — but I'm pretty excited that ponchos are everywhere this fall! They're such a statement piece, and a great way to add interest, depth and texture to your fall wardrobe. The one I'm wearing is actually from Garage Clothing
(yeah that's right… I was shocked too!) — it's so cozy and luxurious feeling. Come take a look at how I styled this beautiful bohemian poncho for autumn!
---
Hat (similar) | Knit Sweater | Lace Tank (similar) | Aztec Poncho (similar) | Bag (similar) | Denim | Booties (similar) | Long Tassel Necklace | Short Necklace | Triangle Ring | Leaf Rings | Colourpop Ultra Matte Lip in Bumble
---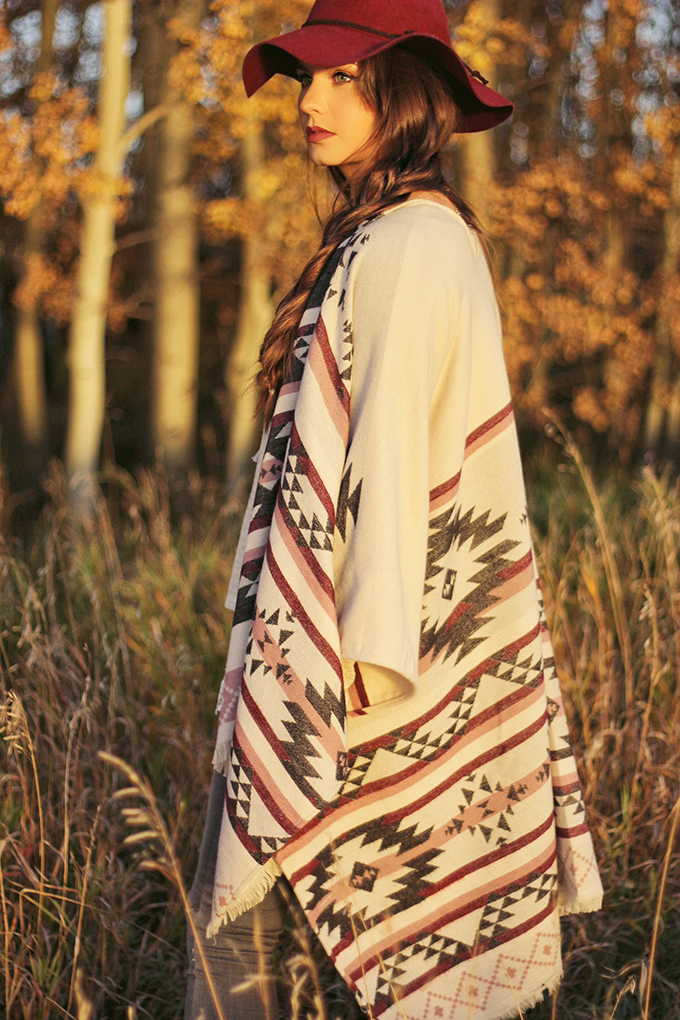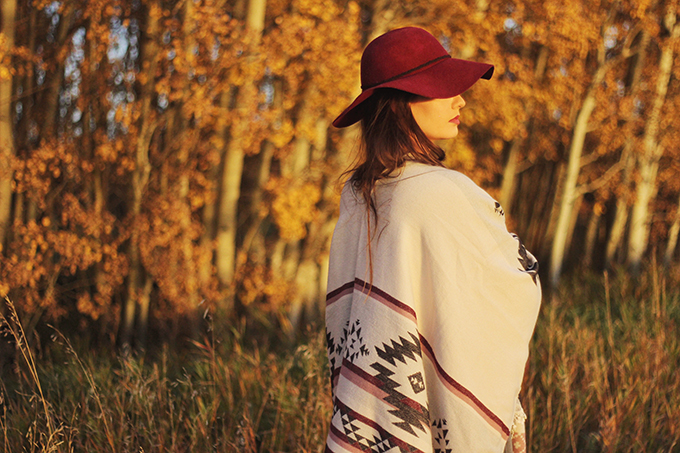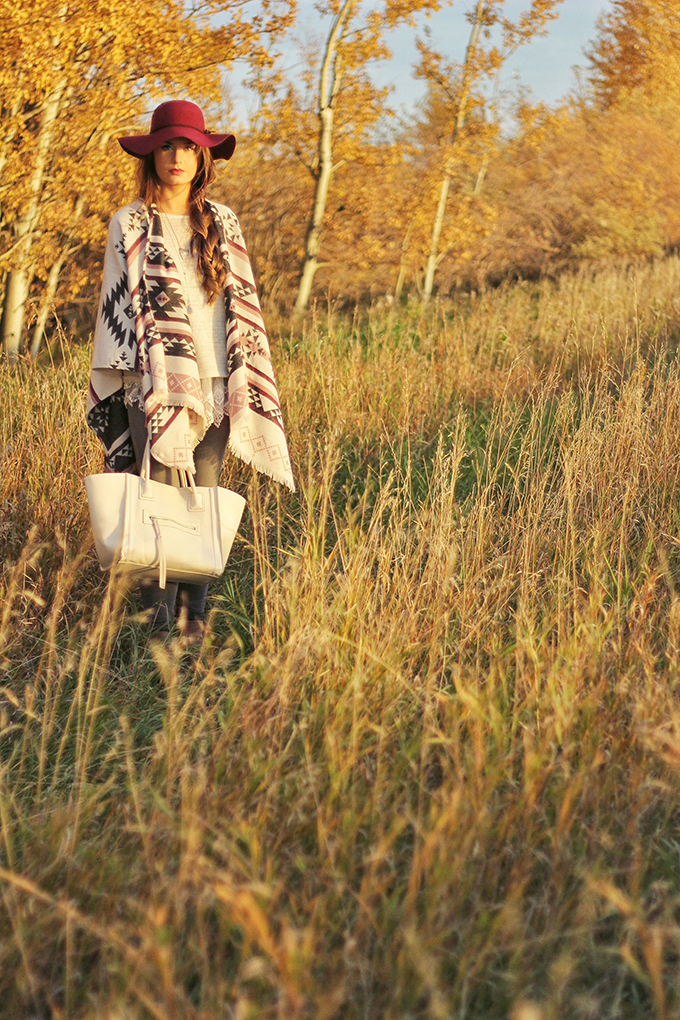 I mentioned this in my last fashion post, but I would never have shopped at Garage Clothing
unless I went there one day with my little sister (it's one of her favourite stores!). Their demographic skews very young, so I thought the clothing would be too young for me, and I wasn't sure about the quality. I was wrong! I've been shopping there for about a year now — I swear they have the best staples, and the quality for the price is unbeatable. I've purchased quite a few pieces there that I've been loving this fall, like this poncho (which actually just sold out as I was editing this post, but I've linked a similar one from Lulu*s here, and a similar one from Garage here). You'll definitely be seeing more from Garage Clothing this fall on the blog! I've already mentioned their plaid blanket scarves in this post.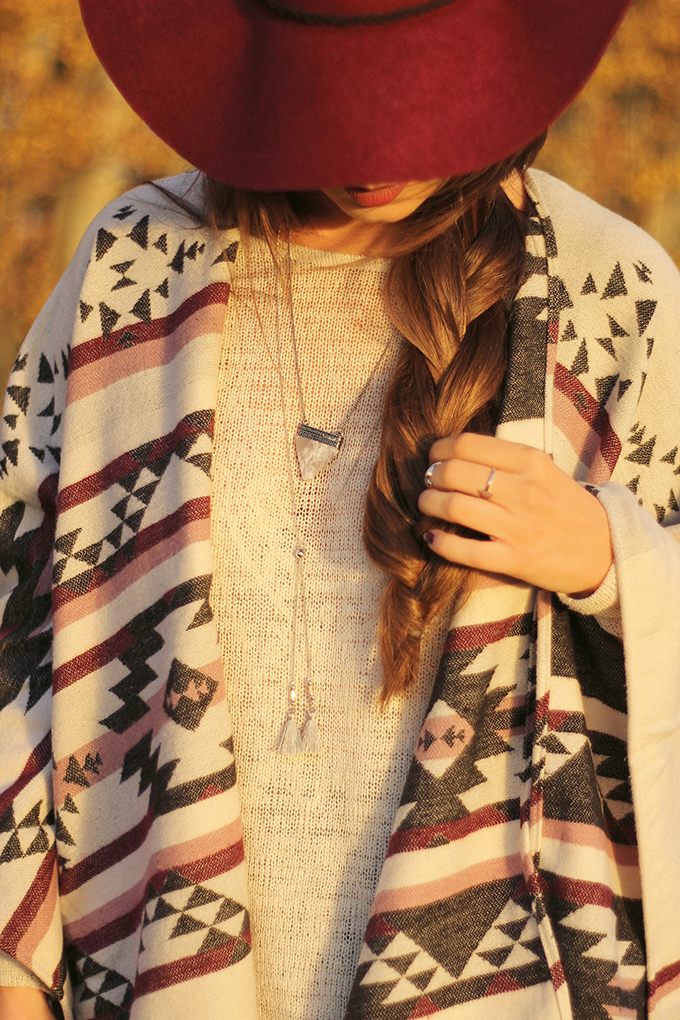 I really love the tones and textures of this poncho! I like to wear light colours in early autumn while the weather is warm — it keeps things light and airy feeling, even when you're wearing heavier, warmer items.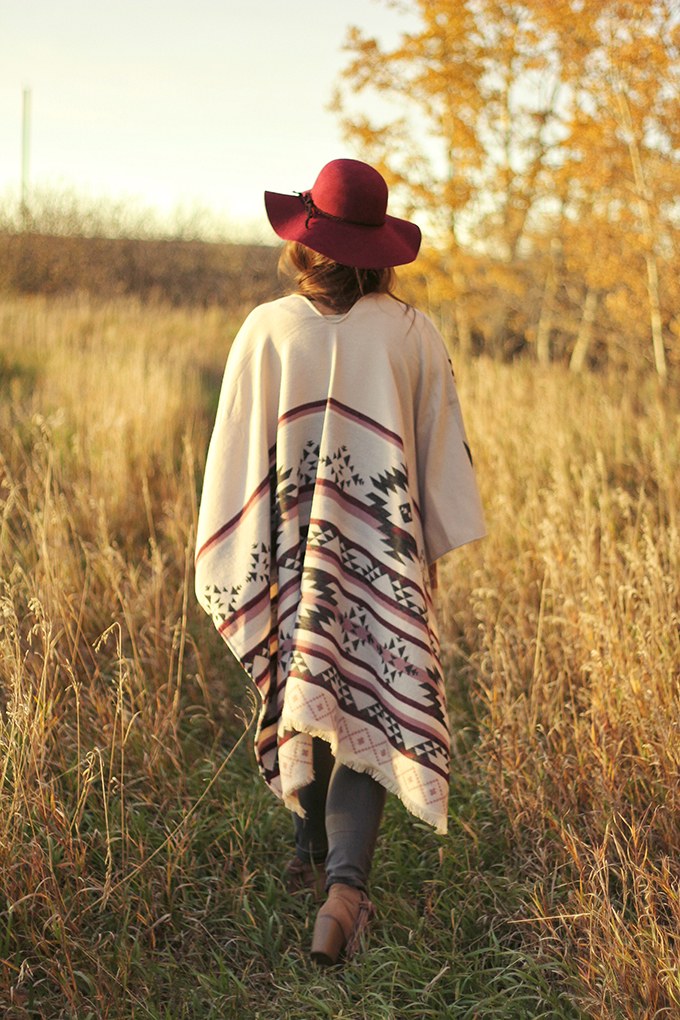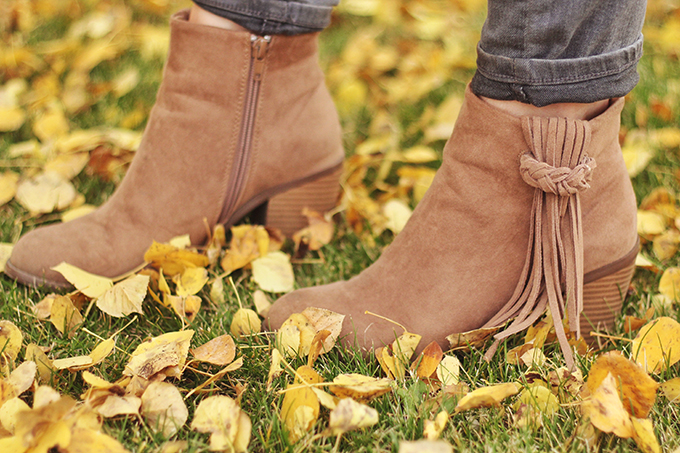 I've been living in these booties lately — they're last seasons, and I have them in black as well (they're super comfortable!). I'm still loving fringe (read more about my obsession here). I've linked a similar pair here. The fringe booties give a little bit of extra height to this look to keep the poncho in proportion, and I love the fun fringe detail.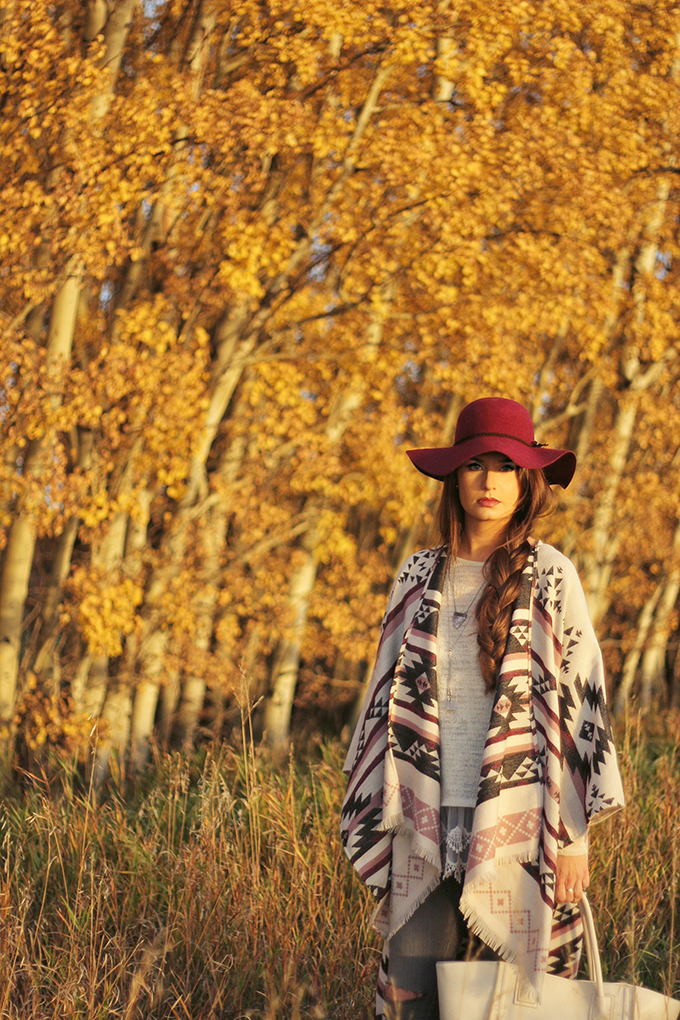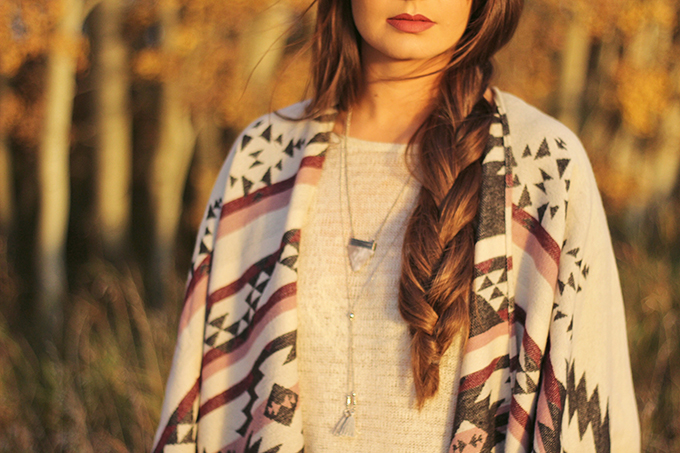 I accessorized the look with silver jewellery to tie in the tones of the denim, and the silver details on the bag. Personally I do like to mix metals, but since there was so much going on with the patterns and textures in the outfit already, I wanted to keep the jewellery monochromatic.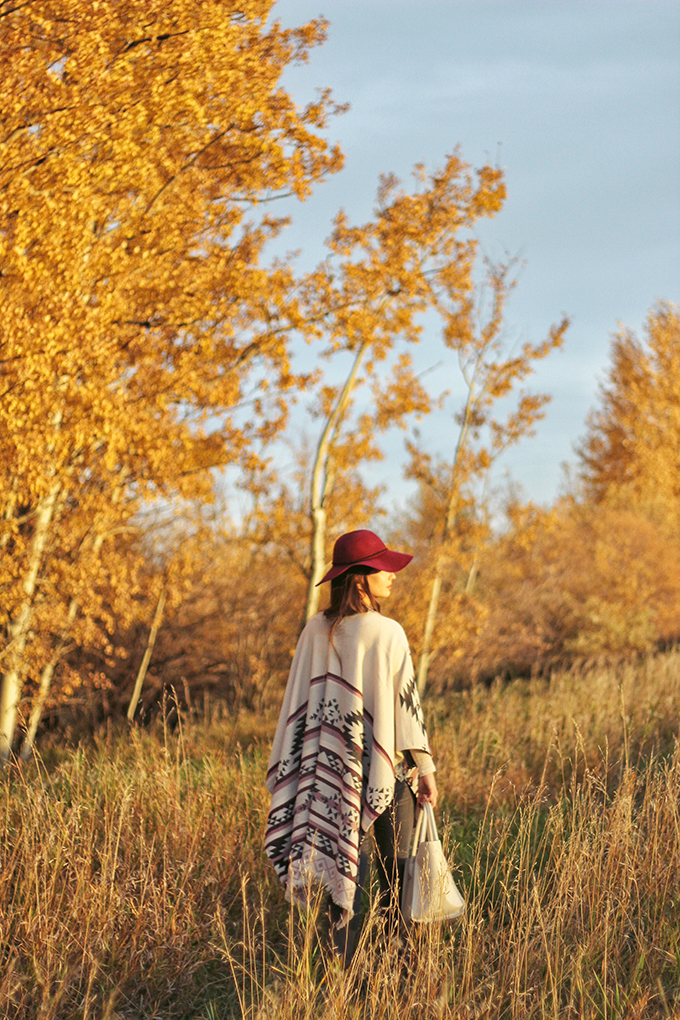 I think the trick to wearing really oversized items like this poncho to pair it with larger accessories, like the hat and bag, to help scale the oversized piece and bring balance to the outfit. The poncho doesn't look too big because the hat and bag are also oversized. Then, to add polish but keep the look chic, I've chosen grey skinny jeans with subtle rips at the knee — the slim line of the denim adds some structure to the look.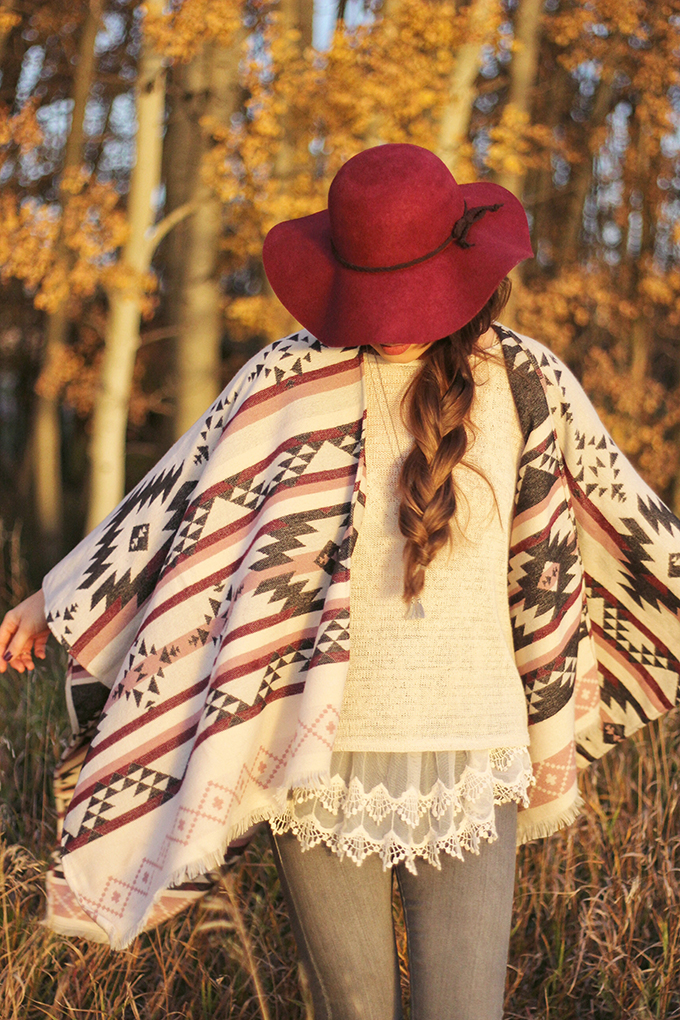 It's been a really beautiful autumn in Calgary (we're having an Indian summer!), and I've been doing a lot of light layering. The light colour and texture of the cream knit sweater and the lace tank I've layered underneath to keep the look light and fresh (and also keep you nice and cozy). And if you get too warm, you can always lose a layer or two. In the fall especially, I wear a lot of different textures — they add so much interest to an outfit.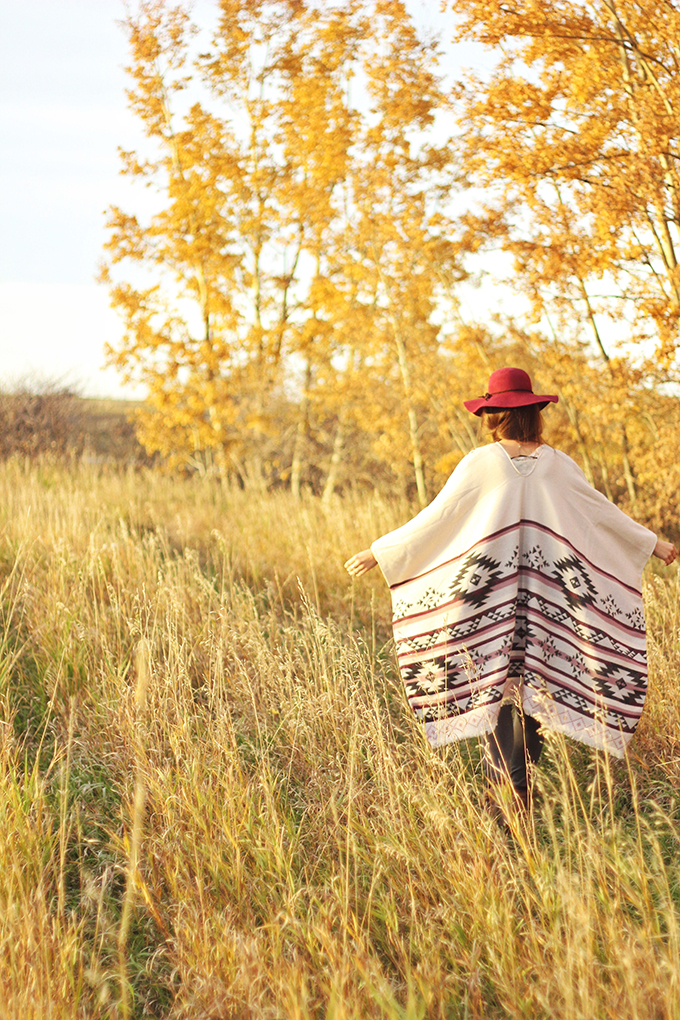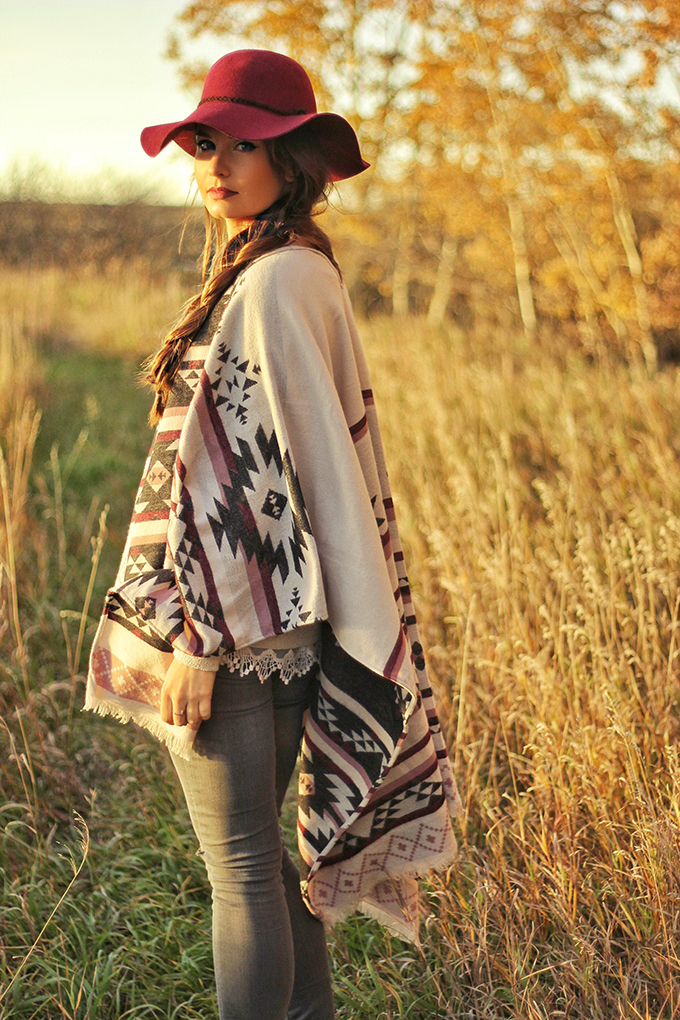 I'm all about hats and undone braids in the fall. They help to elevate the bohemian vibe of this outfit, and a loose side braid literally takes 5 minutes (or less). I mentioned a similar hat in my Fall 2015 Fashion Trends & Tips post, and there's also a similar one at Nordstorm. And, I'm still loving the Colourpop Ultra Matte Lips (I'm wearing Bumble in these photos). I've mentioned that shade a few times on the blog, and most recently in my 6 Marsala Lipsticks to Try this Fall post.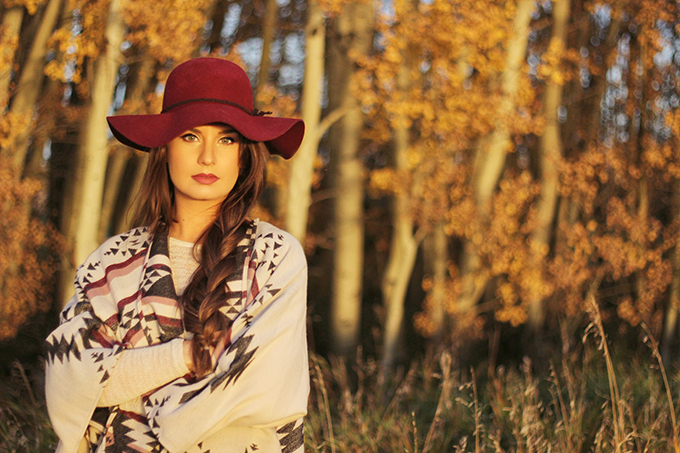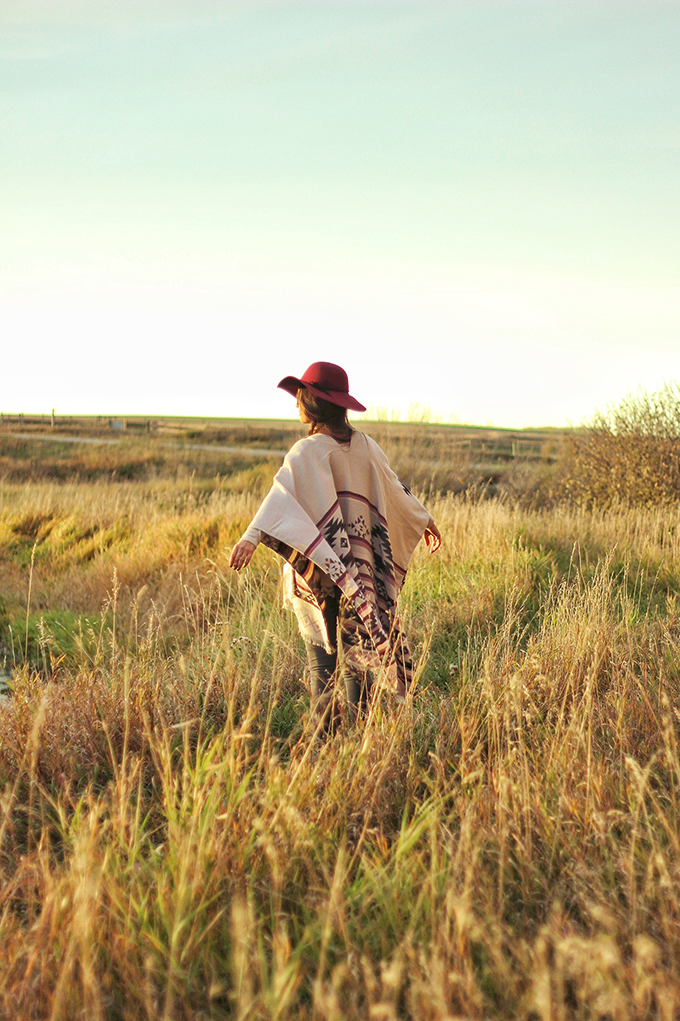 Another reason I love ponchos is because they're so versatile! I like to use them as blankets or throws too — they come in handy when you're traveling, or going somewhere you want to me extra cozy, like a movie. I always wear a poncho for long car rides, or flights.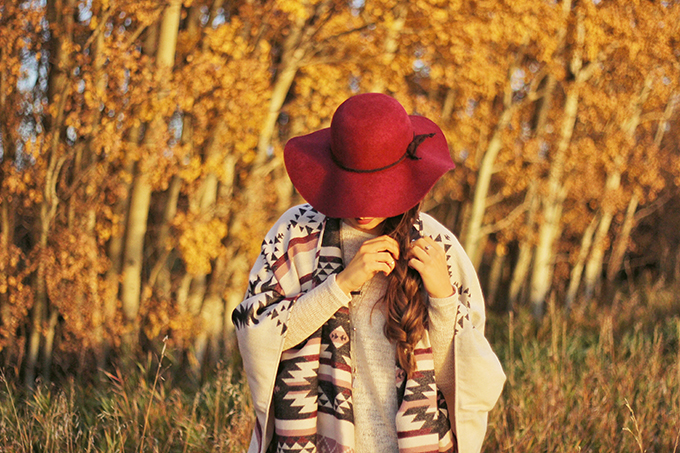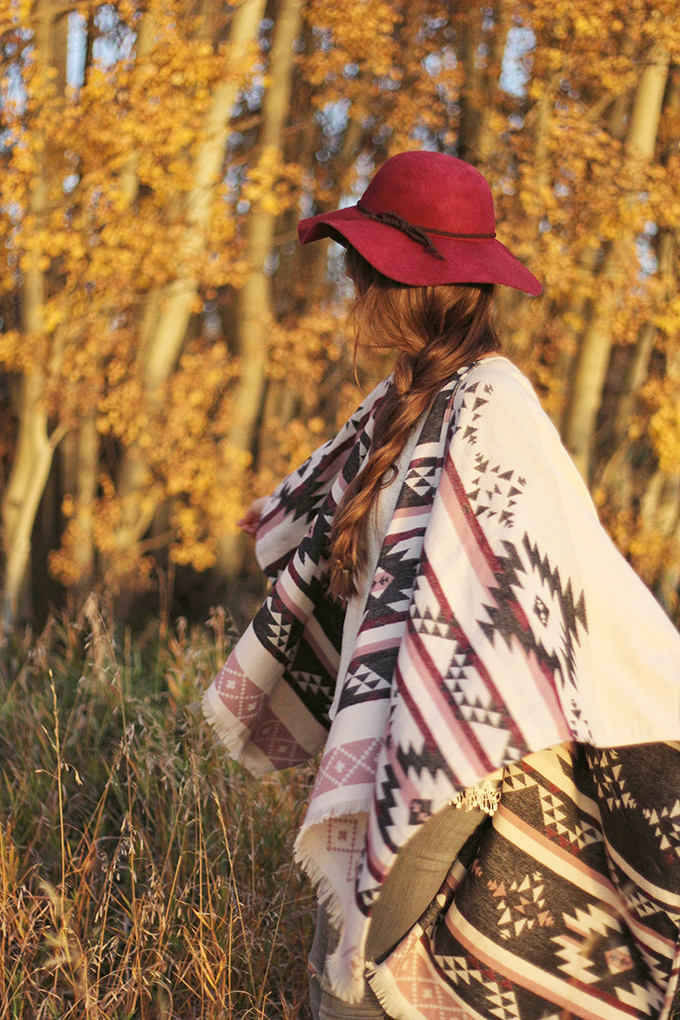 We shot these photos at my family's home, on an acreage in rural Alberta (where I grew up). It is so beautiful in the fall! I love to visit on weekends to escape the hustle of the city, and spend a lot of time there with my family. If you're interested in more photos of the area, check out my Summertime in the Country post, which I shot this summer.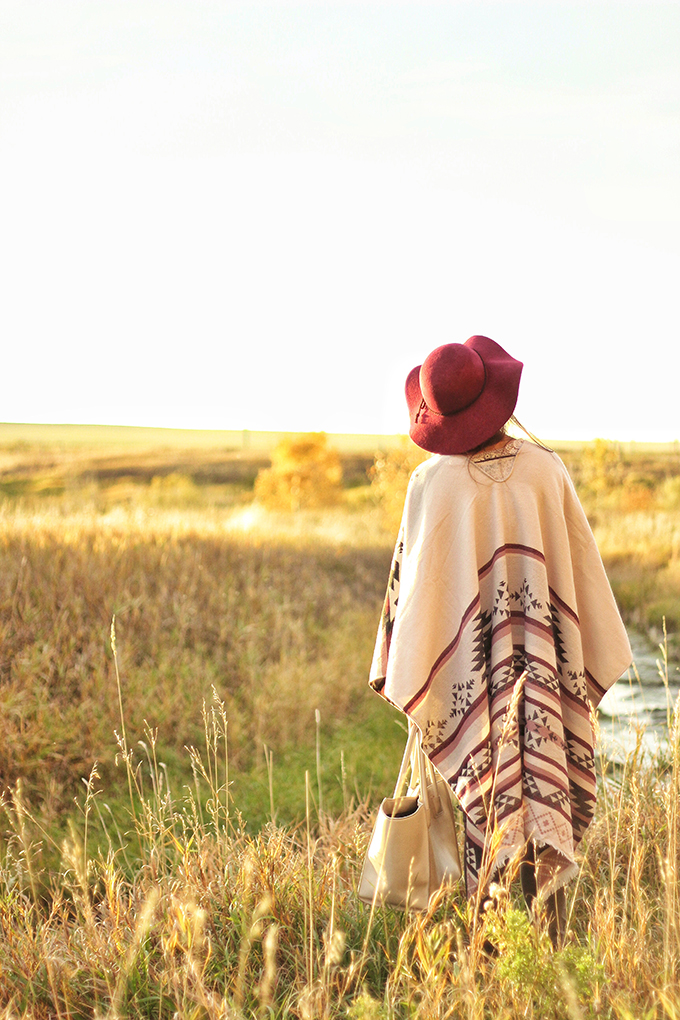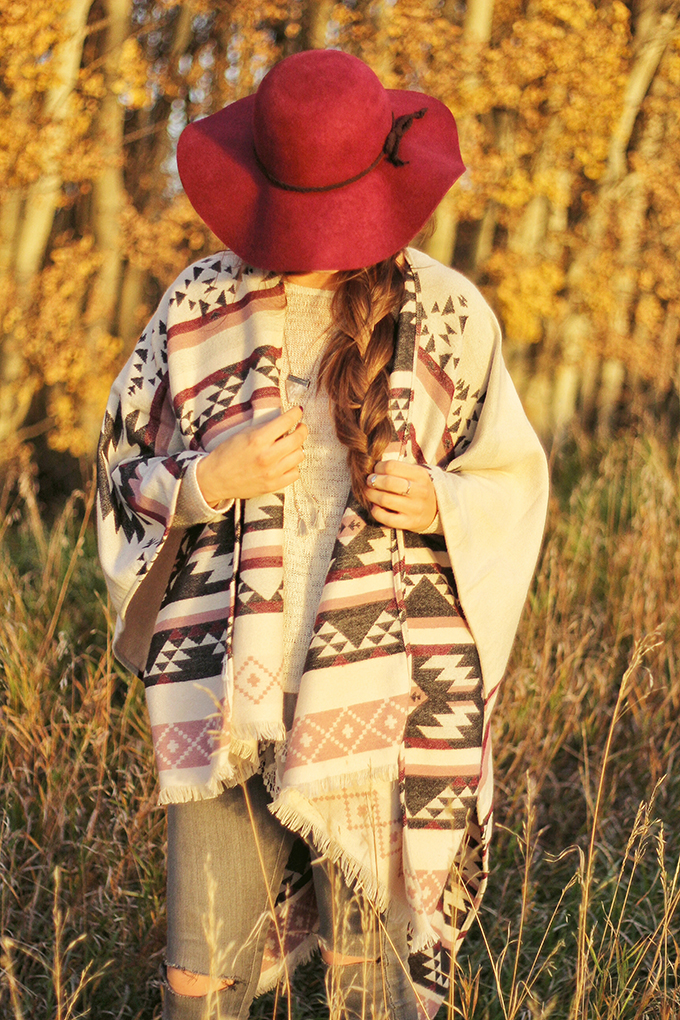 ---
SHOP THE LOOK
Hat (similar) | Knit Sweater | Lace Tank (similar) | Aztec Poncho just sold out online while I was editing this post, but the style number is 100010600 if you want to track it down in a Garage store! (similar) | Bag (similar) | Denim | Booties (similar) | Long Tassel Necklace | Short Necklace | Triangle Ring | Leaf Rings | Colourpop Ultra Matte Lip in Bumble | Foundation
---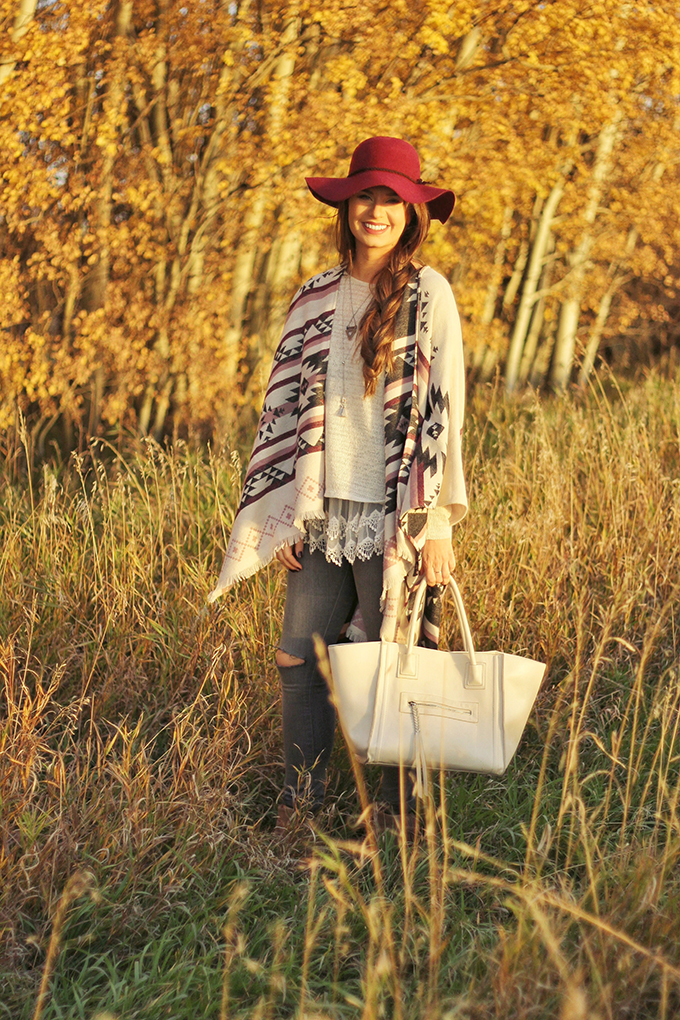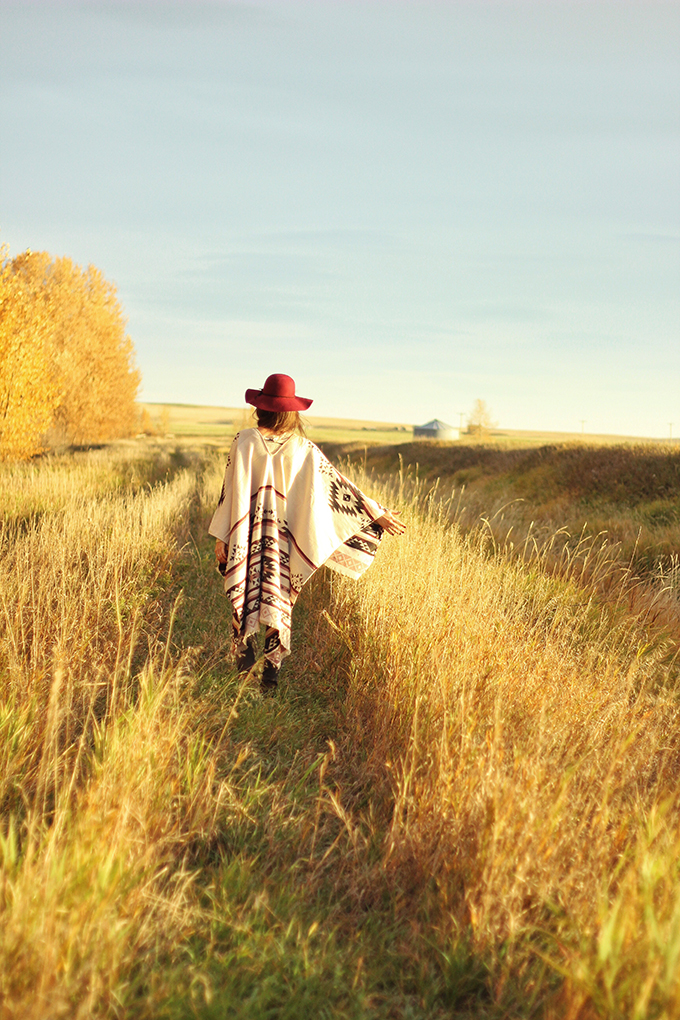 ---
Will you be wearing ponchos this fall? What are you favourite trends this season? Anytime you want to chat fashion, or have a question about what I'm wearing, just leave me a comment below. Have a great weekend, everyone!
---
Disclaimer: This post is not sponsored, and contains my genuine thoughts and recommendations. JustineCelina uses affiliate and referral links, which allow me to receive a small commission when you make a purchase through one of my links. Your purchases help to support JustineCelina.com!