---
For me, spring is synonymous with experimentation — especially in the beauty department! It's a time when I feel inspired to refresh my makeup routine, go lighter and brighter, try new trends and explore new colours, finishes and formulas. With the first days of spring finally upon us I'm already embracing the softer side of the season — on my lips! Spring 2017 is all about the un nude lip. These new nudes include a spectrum of matte, metallic, cream and gloss finishes ranging from fair nudes to the richest, deep neutrals. With so many new lip trends surfacing this spring, almost every brand has released new formulas, finishes and shades — and I've put them to the test behind the scenes here at JustineCelina!
Today I've teamed up with Sephora Canada to share 5 Fresh Neutral Lip Combos to Try this Spring — including my favourite traditional lipsticks, liquid lipsticks, glosses and hybrid formulas, paired with coordinating lip liners, across a full spectrum of neutral shades! Each of these 5 lip combos was carefully curated to showcase the best Spring 2017 has to offer in a variety of shades, formulas, finishes and price points. There's something for everyone — whether you can't resist a classic nude lip, tend to favour natural products, love your liquid lipsticks, live for luxury or just want to try something totally unique (there may be a glittery, duo chrome gloss on the menu!). If you're looking for some beautiful new lip products to update your beauty routine this spring, here's what's on my hit list!
---
LIP PREP & APPLICATION TIPS
---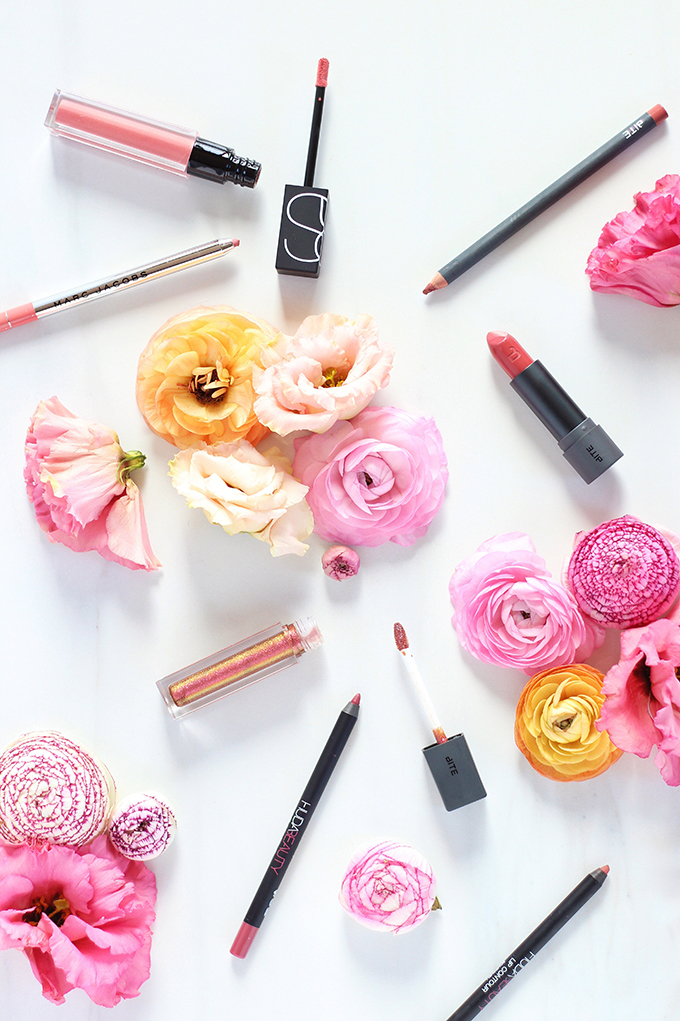 I've totally taken the guesswork out spring lips for you today with these 5 on-trend combos! For me, a great lip is all about finding those perfect lipstick and lip liner pairings. I don't know about you, but personally I feel like I can't do my lips without a lip liner. I always use a lip liner to outline, enhance and shape my natural lip line before filling my lip in with lipstick. It's my best kept secret to full, luscious lips!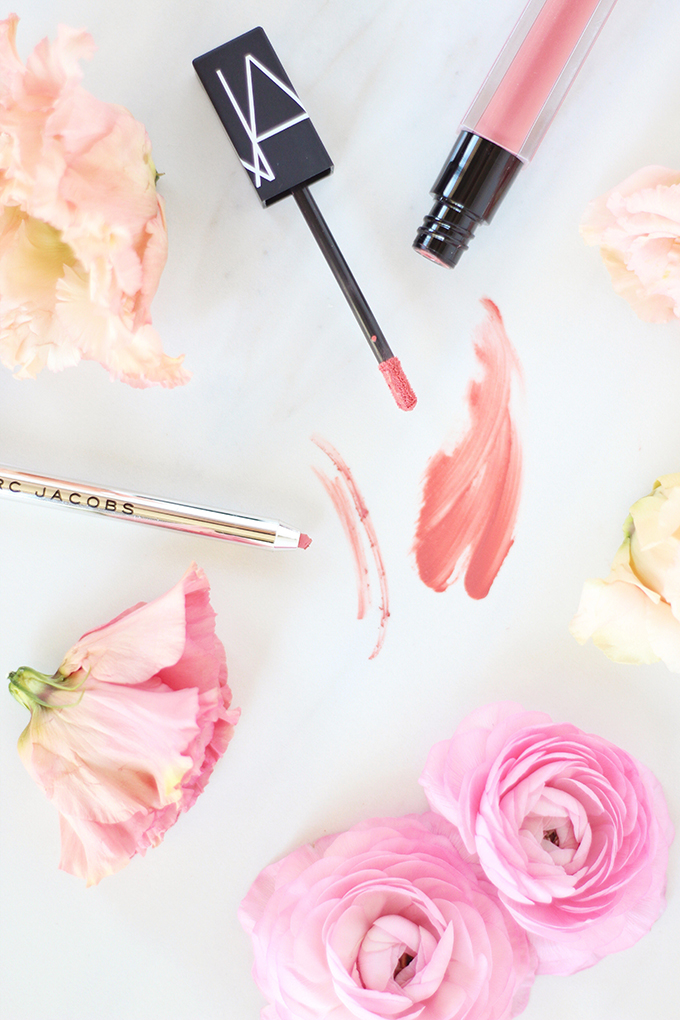 So let's chat lip prep and application! Before I begin my beauty routine, I always slather on a thick layer of lip moisturizer (currently loving the Bite Beauty Agave Lip Mask). This allows my lips to become fully hydrated before I apply my lipstick at the end of my makeup application. I begin with my base makeup, move on to powders, then work on my brows and eyes — I leave the lips for last to ensure the moisturizer has a chance to go to work. When I'm ready to apply my lipstick, I remove the balm (along with any foundation or powder that has fallen onto my lips) with a q-tip to ensure my lips are clean, dry and slightly exfoliated before application. Then, I go straight in with my lip liner — using it to outline, slightly over line and enhance my natural lip line before either completely filling my lips in with the liner (sometimes I wear it alone as a matte lipstick!), or lightly feathering the edges of the line inwards. Then, I apply my lipstick or gloss, overlapping the lip liner. This method makes my lips look much more voluminous than lipstick or gloss alone, but also helps with longevity.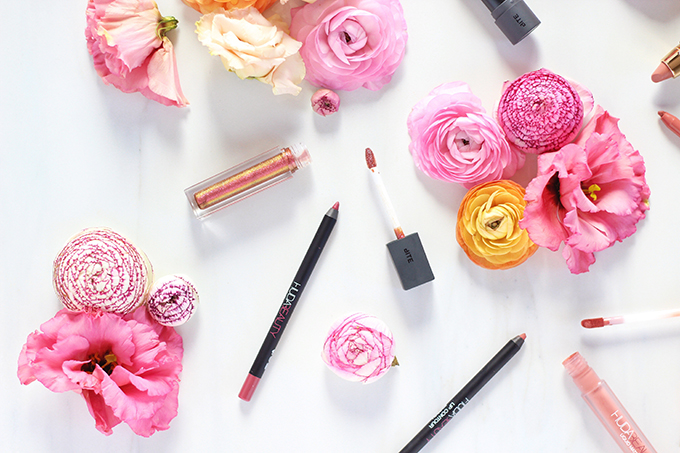 ---
5 FRESH NEUTRAL LIP COMBOS TO TRY THIS SPRING
---
CDN $40.00 + CDN $15.00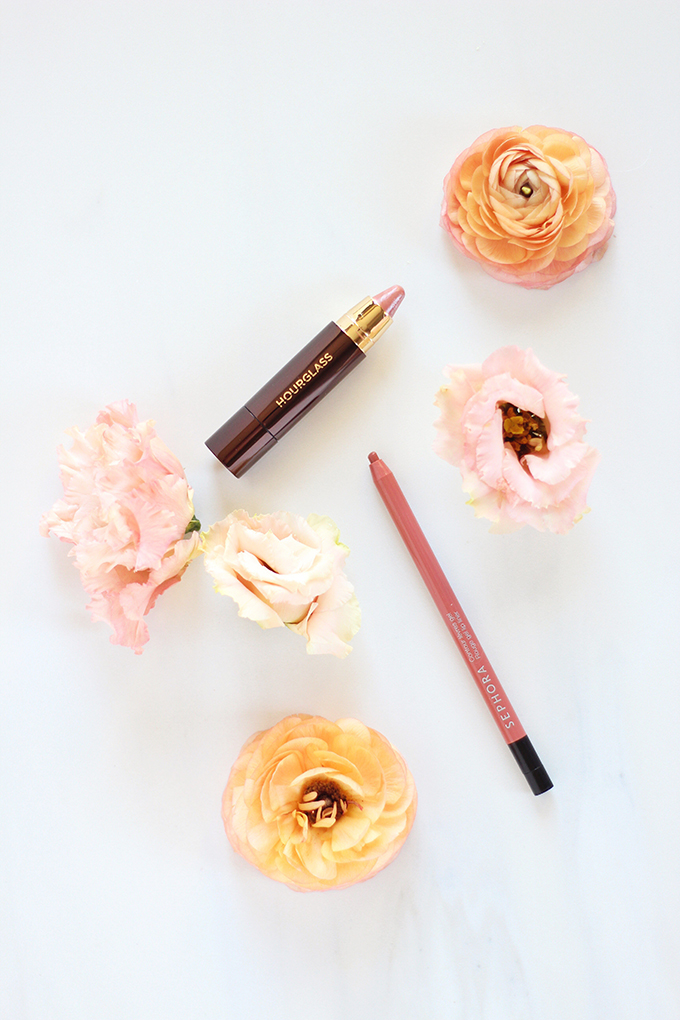 Are you looking for an updated spin on the traditional nude lip this spring? We're kicking things off today with a beautiful peachy nude combination that combines a creamy, long wearing lip liner with a sumptuous, hydrating, ultra luxe lipstick! I'm thrilled that peaches are trending this spring and nude lips have taken a more peachy turn — peachy nudes are some of my favourites to wear and they flatter such a wide range of skintones. The Hourglass GIRL Lip Stylo in Believer is a classic peachy nude and close the lightest I feel I can personally go without looking washed out (I'm a MAC NC 25 – 30 and have light / medium skin with warm undertones). I've never been a fan of ultra light nude lips — at least not on my skintone.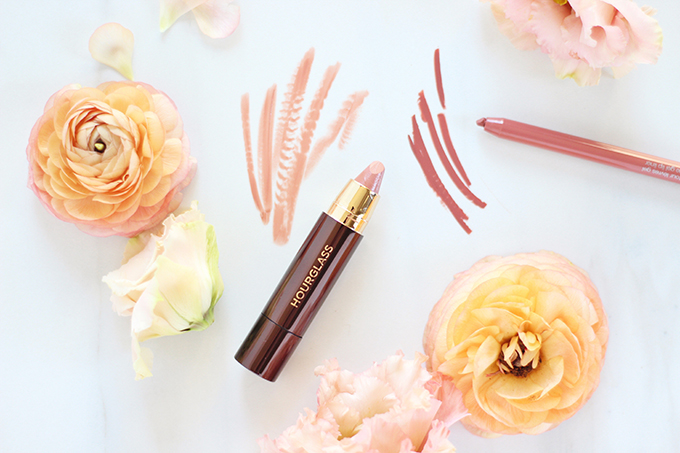 I've paired a midtone, peachy nude lip liner with a lighter, peachy beige lipstick. Why, you ask? I'll let you in on my best nude lip trick: nude lipsticks are always more wearable when I use a darker (but coordinating) lip liner to customize my shade! Using a darker nude liner with a lighter nude lipstick also adds so much definition and volume to the lips — especially when you leave the centre of your lips free of liner to create a subtle ombre effect, like I did here. The combination of the SEPHORA COLLECTION Rouge Gel Lip Liner in 04 Creme de la Creme and Hourglass GIRL Lip Stylo in Believer creates my perfect, lightly glossy, peachy nude that I can wear with anything — but I especially love it with a springtime smokey eye.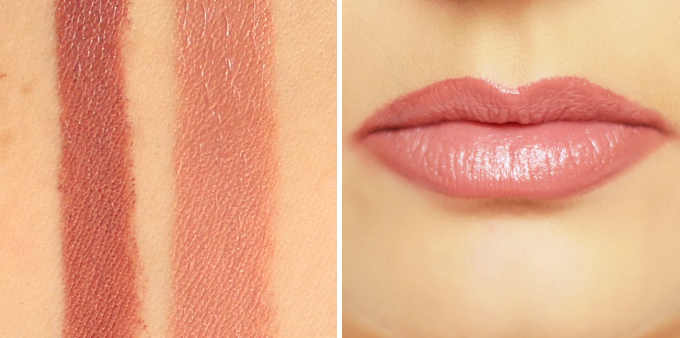 I'm wearing the SEPHORA COLLECTION Rouge Gel Lip Liner in 04 Creme de la Creme with the Hourglass GIRL Lip Stylo in Believer
---
CDN $26.00 + CDN $25.00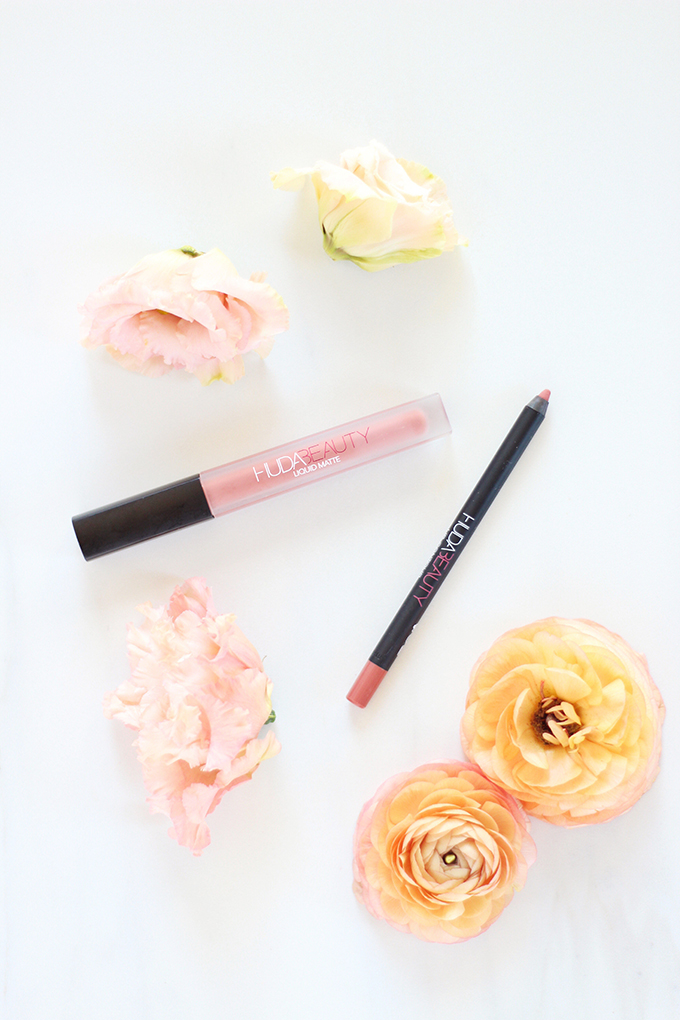 You may remember me raving about the Huda Beauty Liquid Matte Lipsticks this past autumn and winter — they've quickly become my all time favourite traditional liquid lipsticks! I love absolutely everything about them — from the super thin, extremely pigmented, easy to layer and touch up formula that's somehow lightly hydrating, to the delicious vanilla scent! And it turns out that I love her Lip Contour Matte Pencils just as much. They're a long wearing, ultra creamy, pigmented formula that glides effortlessly onto the lips. Of all the lip liners I'm mentioning today, these are my current favourite.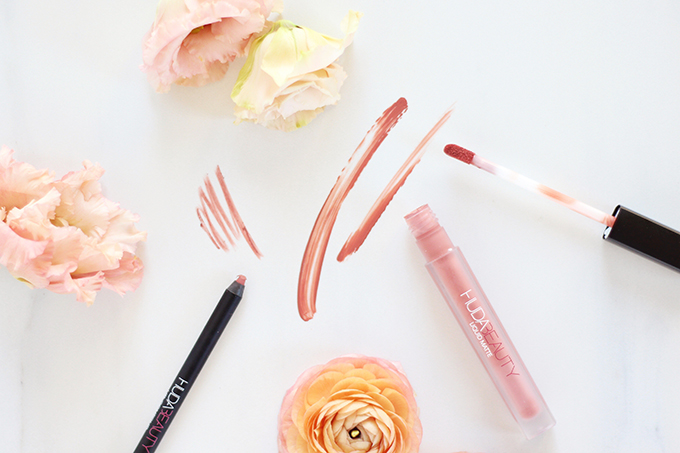 The Huda Beauty Liquid Matte Lipstick in Bombshell with the Huda Beauty Lip Contour Matte Pencil in Bombshell is pure pinky nude perfection! This combination creates a very wearable, warm pink nude that I see complimenting so many different skintones. This combination is deeper and more pink that the first — and dries down to a comfortable, long wearing, velvety matte finish. If you're looking for a gorgeous liquid lipstick in the warm nude family this spring, you can't go wrong with this stunning duo from Huda Beauty. It's so sexy (and aptly named)!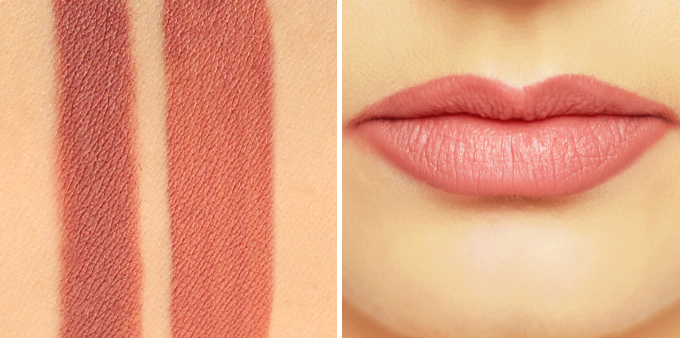 I'm wearing the Huda Beauty Liquid Matte Lipstick in Bombshell with the Huda Beauty Lip Contour Matte Pencil in Bombshell
---
CDN $34.00 + CDN $30.00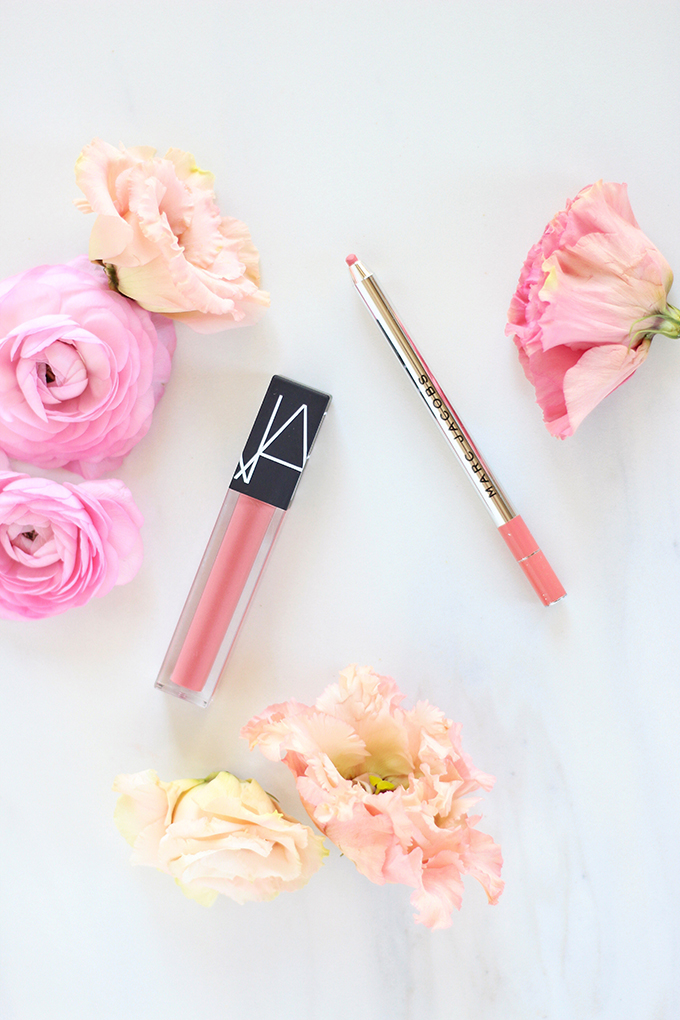 Coral-leaning peach shades are very on-trend at the moment — and I think they're one of the most universally flattering shades a woman can wear. Seriously, if you haven't tried out a pinky peach lip colour, it's the first shade I'd recommend to almost everyone! In testing out the NARS Velvet Lip Glide range, I was immediately drawn to Playpen. NARS describes it as a pink coral, but it comes off as a pinky peach on me and it brings so much life and warmth to my complexion — it's the quintessential spring lip! The NARS Velvet Lip Glides combine the pigmentation of a liquid lipstick with the hydration of a gloss and the non sticky texture of a gel — I've never tried anything else quite like them.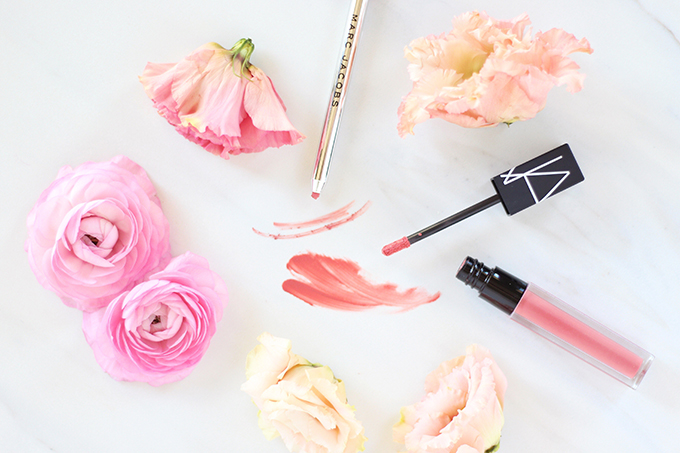 I've paired Playpen up with an almost identical lip liner in the Marc Jacobs Beauty Poutliner Longwear Lip Liner Pencil in Honey(bun) 302. They're a beautiful colour match and they also share some similarities in terms of formula, since this lip liner is surprisingly lightweight. Try this creamy, pinky peach combination if you're looking for something playful, comfortable and easy to wear this spring!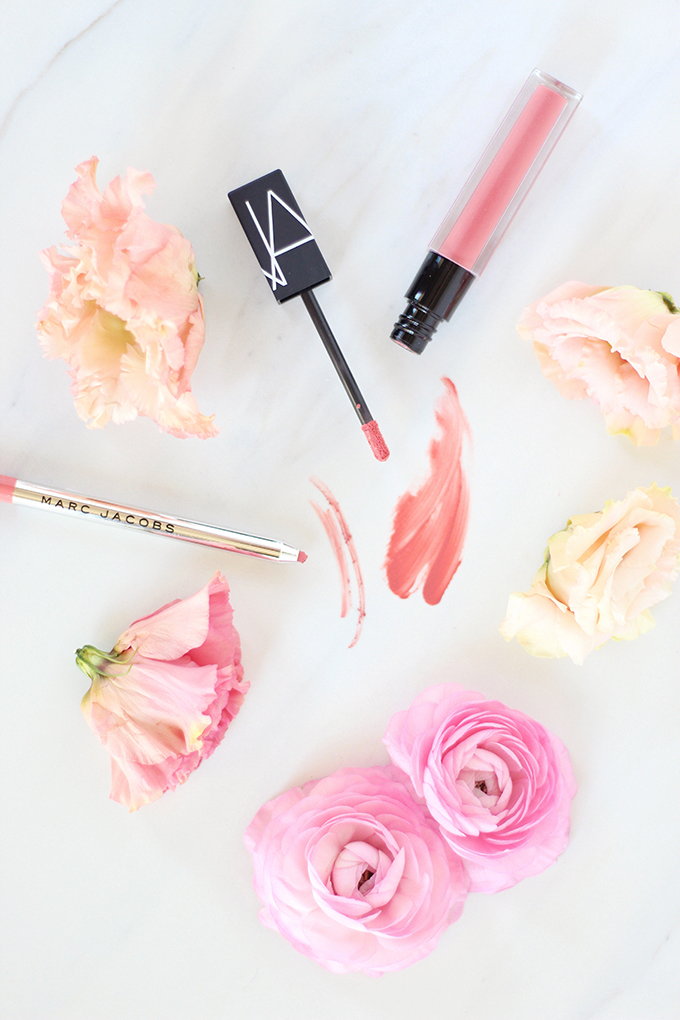 Note: If you like this colour family and are looking for a more traditional lipstick formula, try the Hourglass Girl Lip Stylo in Dreamer — which I wore in this recent style post and will be included in my upcoming March Beauty Favourites!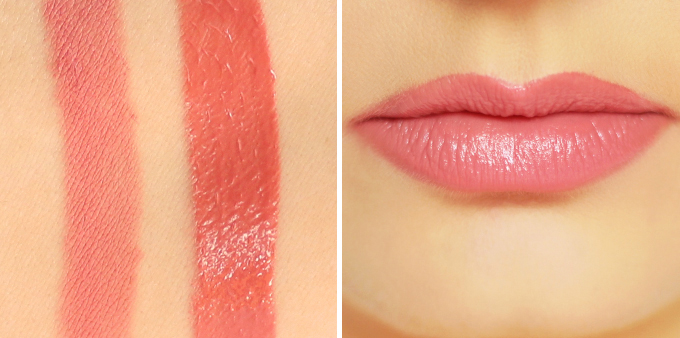 I'm wearing the NARS Velvet Lip Glide in Playpen with the Marc Jacobs Beauty Poutliner Longwear Lip Liner Pencil in Honey(bun) 302
---
CDN $25.00 + CDN $25.00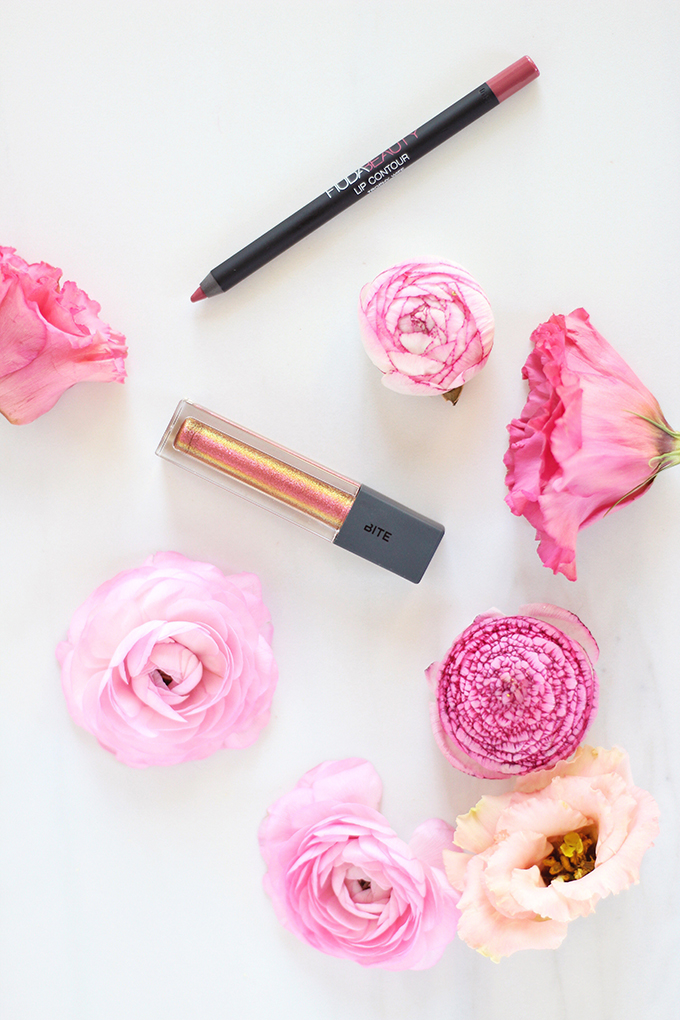 Now for the wildcard of the bunch — a combination for those of you looking to really shake things up this spring! The Bite Beauty Prismatic Pearl Crème Lip Gloss in Rose Pearl is an ultra metallic, glittery, glossy, duo chrome shade that's absolutely gorgeous and surprisingly wearable. Bite describes this gloss as a metallic rose with green and violet shimmer, but on me, it comes off a soft metallic plum (it's not as intimidating as it looks in the tube, is it?). These Prismatic Pearl Crème Lip Glosses from Bite are absolutely heavenly — ultra pigmented, comfortable and long wearing (plus, they smell like pink lemonade!). I originally discovered their gold shade during the holidays and have been embracing the metallic lip trend ever since!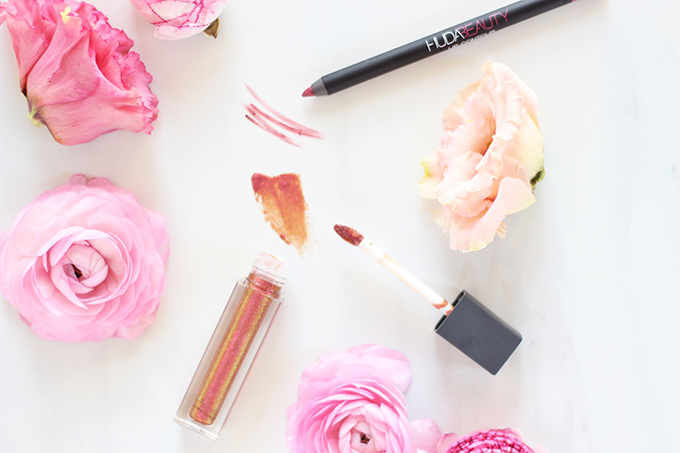 I've paired this unique metallic gloss up with the Huda Beauty Lip Contour Matte Pencil in Trophy Wife which is a stunning, versatile rosewood shade. Together, they create a harmonious duo that's perfect for special occasions, evenings out, or anytime you want something a bit daring — personally I love my metallic lips at night. Metallic textures are here to stay this spring, so if you're ready to jump on the bandwagon, these showstopping glosses from innovative Canadian brand Bite Beauty are a great way test drive the trend.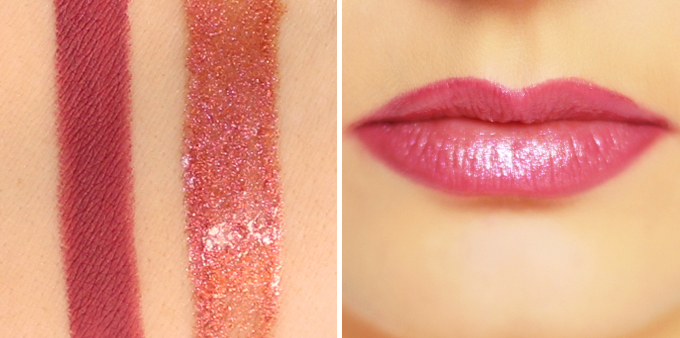 I'm wearing the Bite Beauty Prismatic Pearl Crème Lip Gloss in Rose Pearl with the Huda Beauty Lip Contour Matte Pencil in Trophy Wife
---
CDN $30.00 + CDN $20.00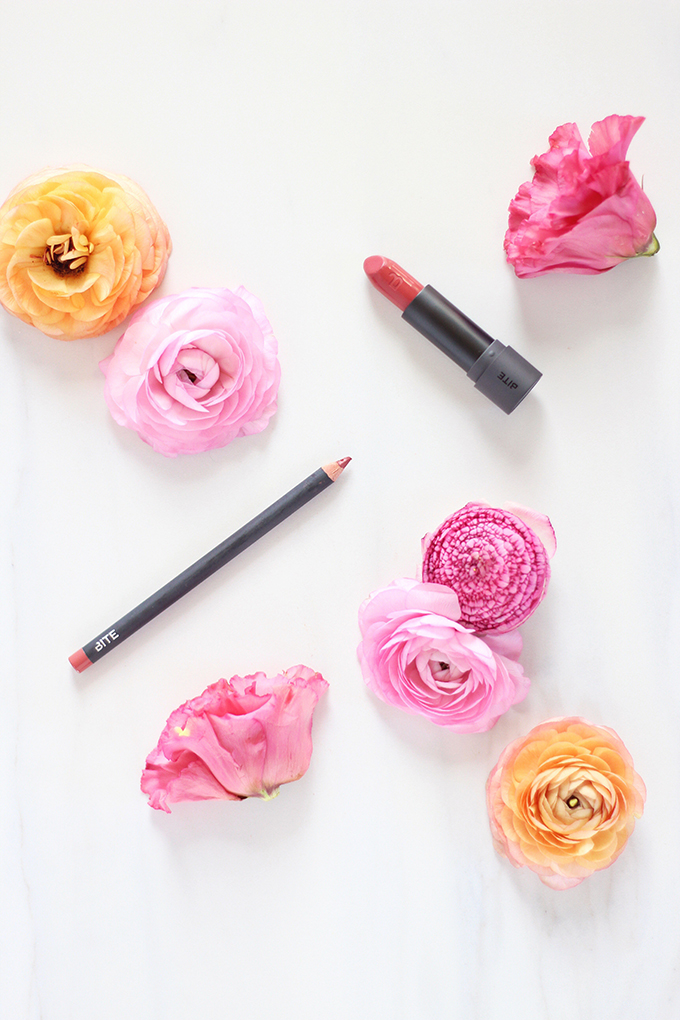 Last but not least, I have a beautiful, rosy lip combo for you! I love these types of shades for their versatility — on light / medium skintones, they come off as a pretty, mid tone rosy hue, but on tan / deep skintones, they can read as a warm nude. The Bite Beauty Amuse Bouche Lipstick in Verbena is a true, deep neutral shade with more warmth than the classic mauves we tend to wear during the fall and winter. It's such a sophisticated, rich hue that's perfect for any occasion or environment — it's become my new to-go shade for daytime wear over the past few weeks!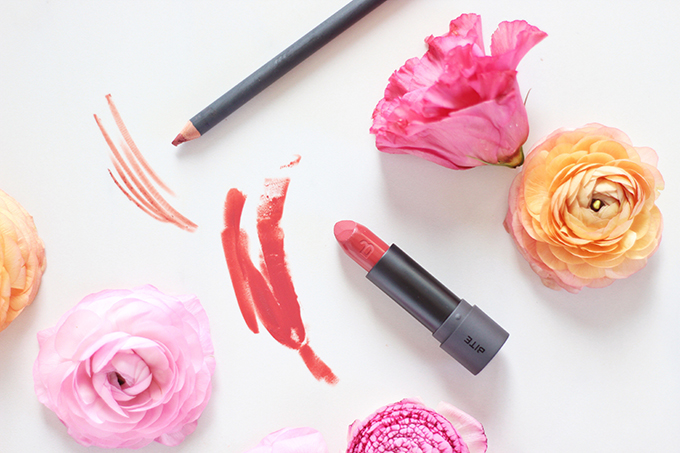 I've said it many times before, but I'll gladly say it again — the Bite Beauty Amuse Bouche Lipsticks are my all time favourite traditional lipstick formula (in depth review here). They're made with natural, food-grade ingredients, don't contain petrochemicals and are certified gluten-free — technically, you could eat them. If you tend to favour natural products or are looking to treat your lips to an artisinal, small-batch, hand crafted lipstick that delivers saturated lip color with weightless coverage, the Amuse Bouche Lipsticks are unlike anything on the market at any price point.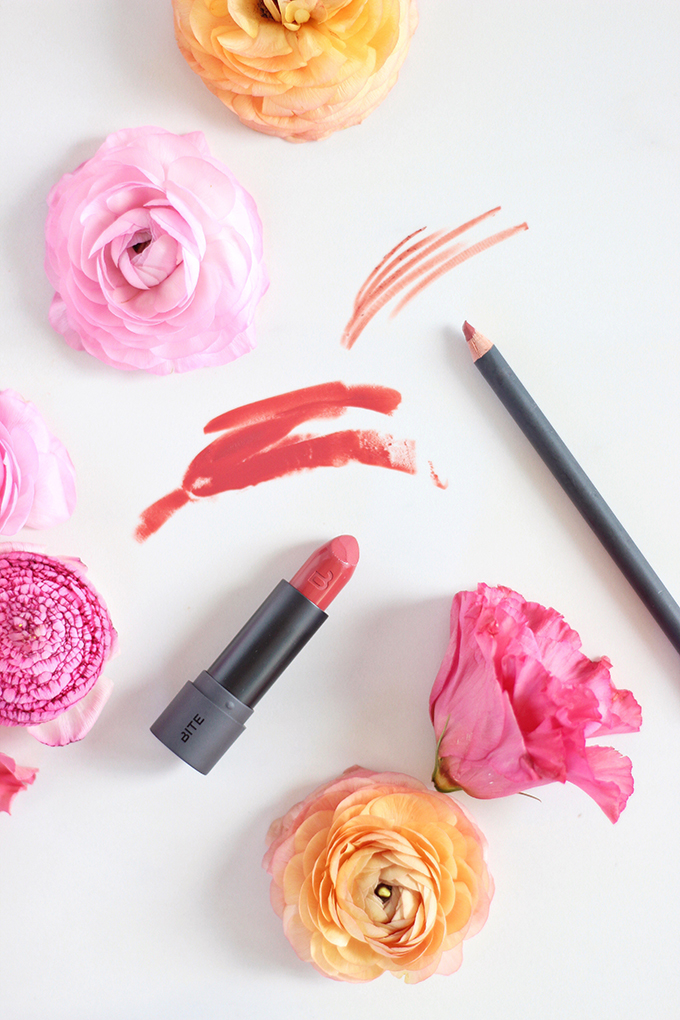 I've paired Verbena up with a lip liner from their newly launched The Lip Pencil range (read more about them here) in 022 — described by the brand as a rosey brown. Together they create a rich, neutral lip with a classic creme finish and just the right amount of warmth for the springtime.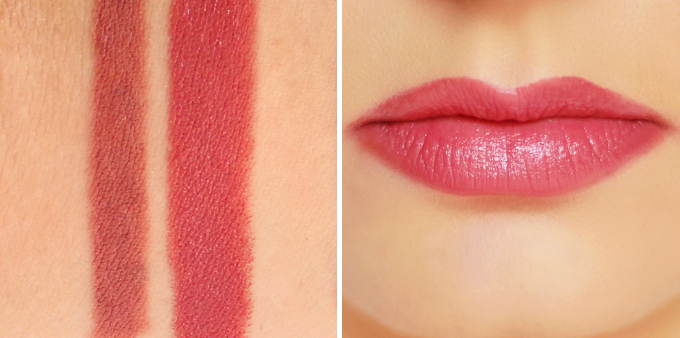 I'm wearing the Bite Beauty Amuse Bouche Lipstick in Verbena with the Bite Beauty The Lip Pencil in 022
---
SHOP MY FAVOURITE NEUTRAL LIP COMBOS
---
---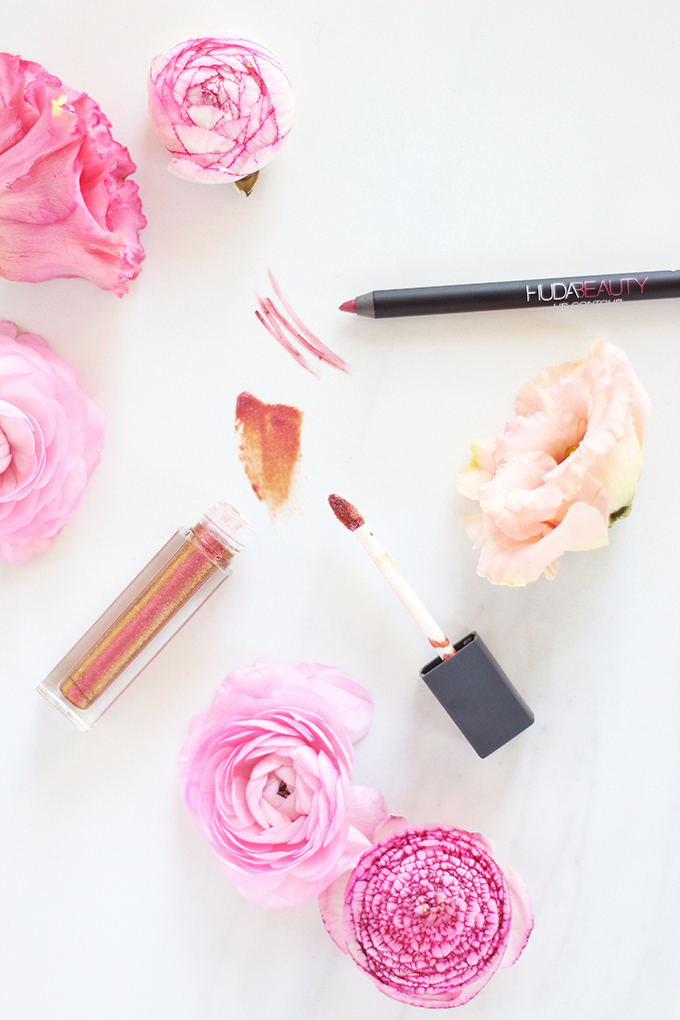 What are your favourite lip colours to wear during the springtime? If you end up trying one of my combos please let me know how it works out for you! And remember, it's just makeup — it washes off at the end of the day, so why not have a little fun? I hope this post has inspired you to get creative with your lip colours this spring and find your perfect combination!
---
Disclaimer: Thank you to Sephora Canada for sponsoring this post and to Rebecca Dawn Design for the beautiful blooms. JustineCelina uses affiliate and referral links, which allow me to receive a small commission when you make a purchase through one of my links. Thank you for supporting the brands and businesses that support JustineCelina.com!