Sometimes you just want to be really comfortable, am I right?! While I absolutely love dressing up, there are many occasions when I still want to look put together, but be comfortable and cozy (like a casual Thanksgiving dinner, for example — when I wore this exact outfit!). Today I'm chatting about my favourite comfortable, elevated basics for autumn. I love to add lots of texture and interest to my outfits with light layers and versatile accessories — my favourite pieces are made from soft, comfortable fabric, and their unique details make them more interesting than your basic leggings and oversized tee. Curl up with a big latte and let's chat about laid-back fall style!
---
Messer Wool Fedora | Oversized Sunglasses | Slouchy Open Cardigan in Crafty Khaki | Plaid Blanket Scarf | Drapey Chambray Button-Down Shirt | Sueded Ponte Pant in Navy | Lucky Brand Tolachina Boot in Burgundy (similar) | Similar Fringe Bag | Bite Beauty Luminous Crème Lipstick in Retsina
---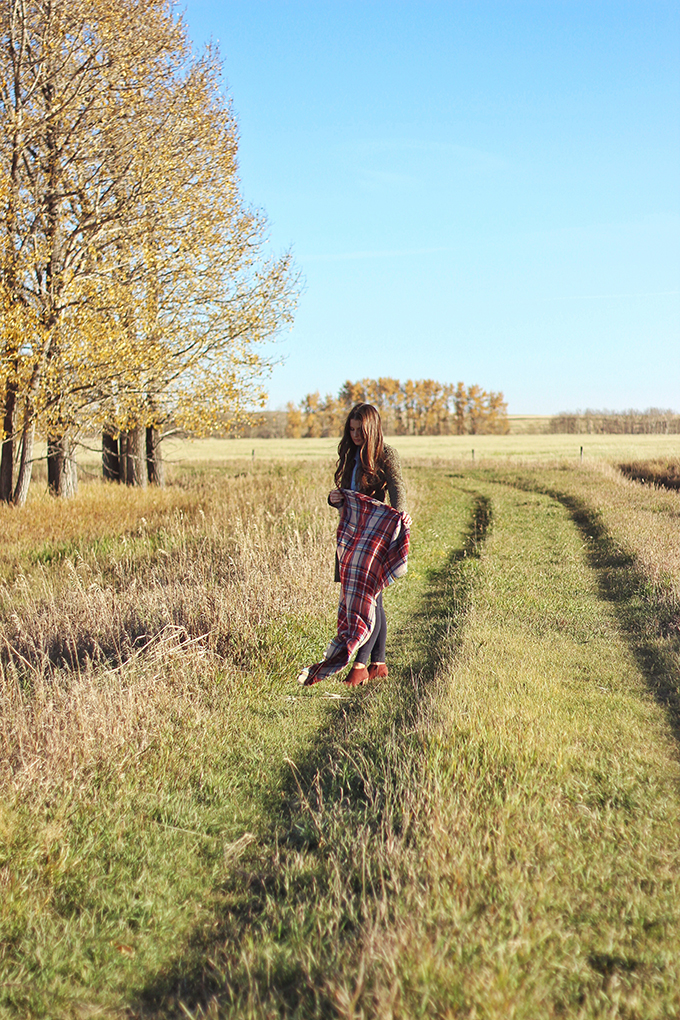 Each of these pieces are cornerstones in my casual autumn wardrobe. I can throw them on without even thinking about it, and look like I put effort into my outfit, even when I want to be comfy. They work well together, and separately as well. These items are so cozy, high quality and on heavy rotation!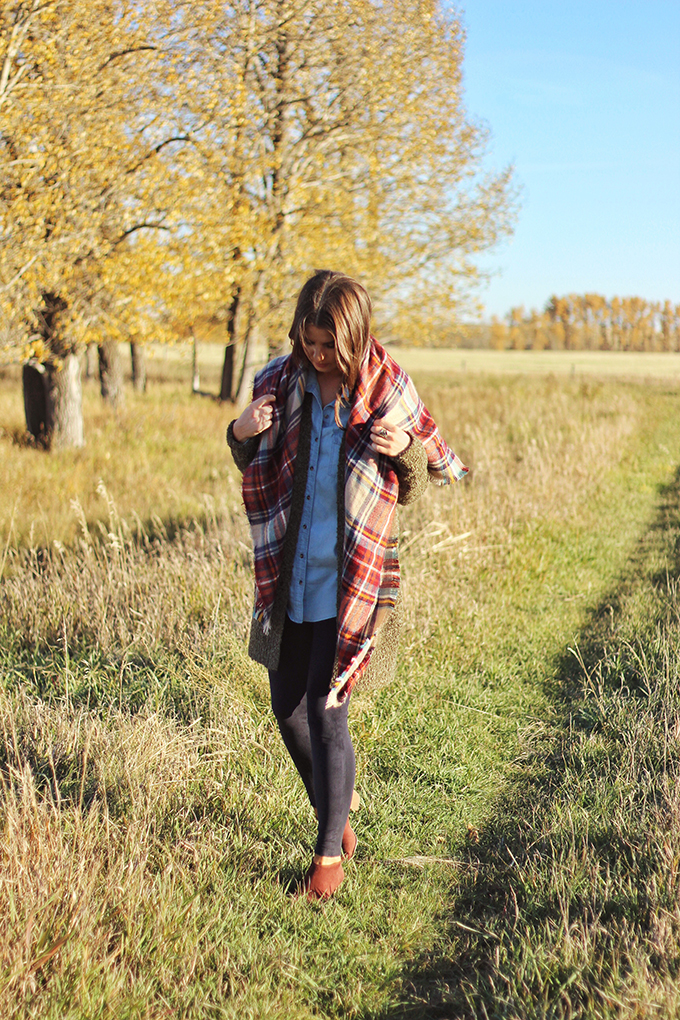 If you live in Canada, do yourself a favour — head to your nearest Joe Fresh and pick up these ponte pants immediately (or order online)! They're a cross between a legging and a skinny jean. They're made from ponte — which is a very a thick, double-knit fabric with two-way stretch! They're as comfortable as leggings (but they're way warmer) and they have a thick elasticized waist with soft, faux suede front panels. Suede is everywhere this autumn, so it's a fun way to wear the trend casually. I love them so much that I purchased them in navy and black. I'm wearing the navy pair here — they make the outfit a bit more unique.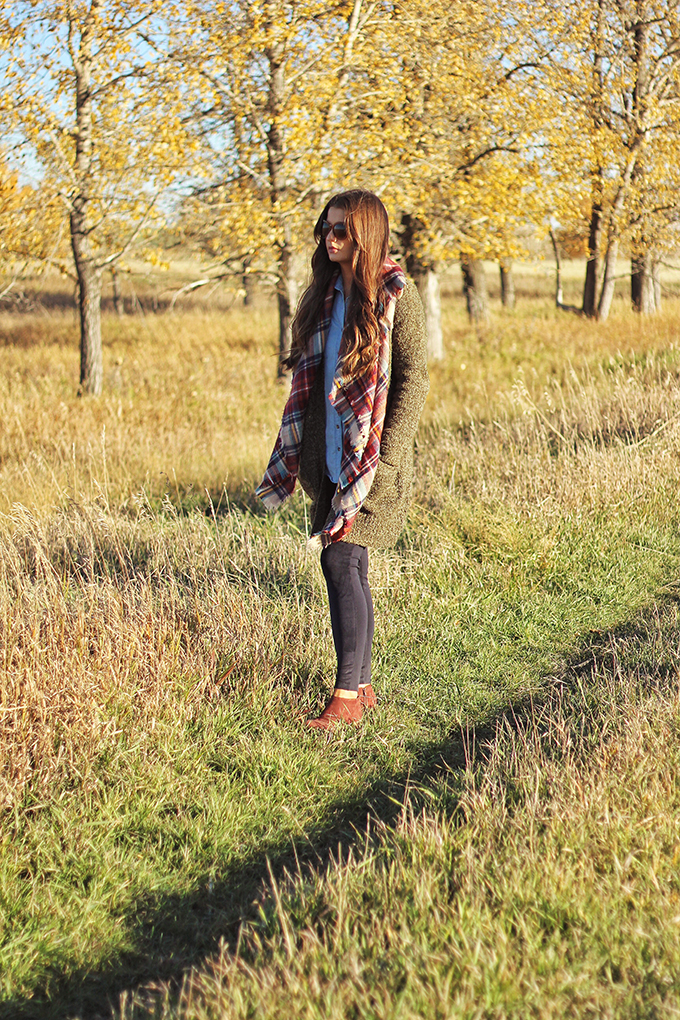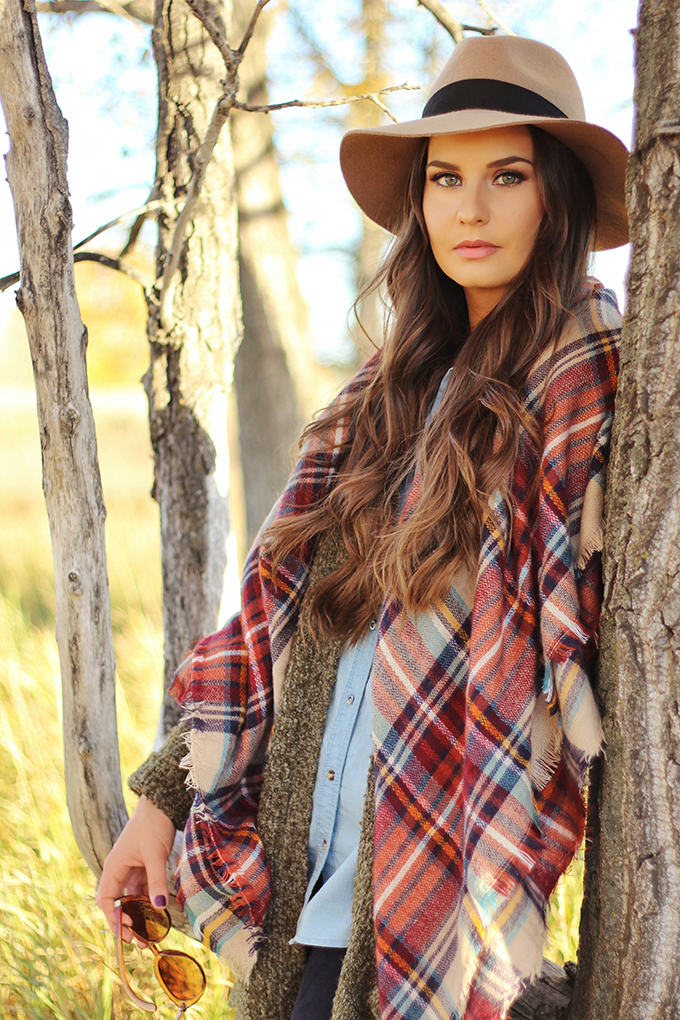 This super soft, drapey chambray shirt from Urban Outfitters is definitely a staple in my wardrobe! It's a great layering piece — in the fall it works well buttoned up under chunkier knits, and in the summer I throw it on over dresses and light, flowy tops. Invest in a good quality, neutral wash chambray shirt and I promise you won't regret it!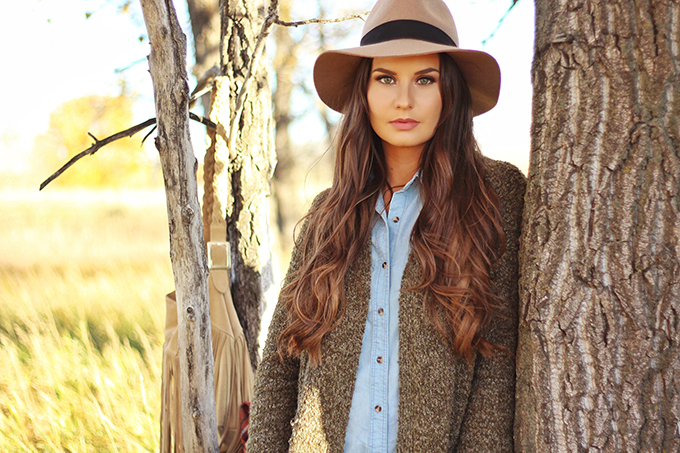 This beautiful olive cardigan from Garage Clothing has been my go-to for light layering. I love the earthy, olive tone — very on trend for this season, and neutral enough to go with anything! I've been wearing it so much that I'm thinking about picking up a few other colours. The knit is a bit smaller than most cardigans, so it's perfect for layering without looking too bulky. I love the length of this piece, especially with ankle boots!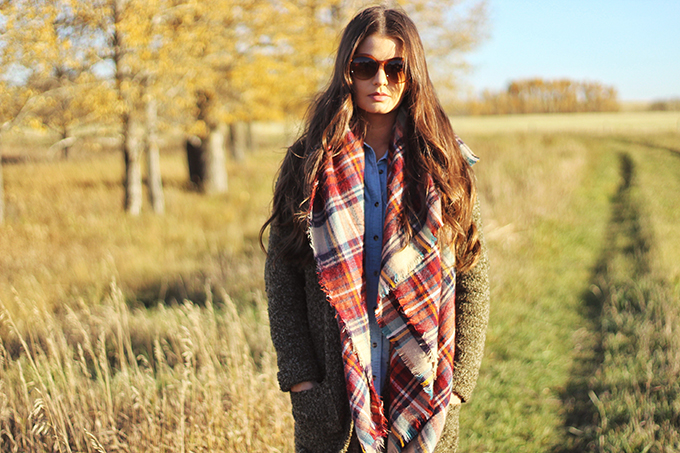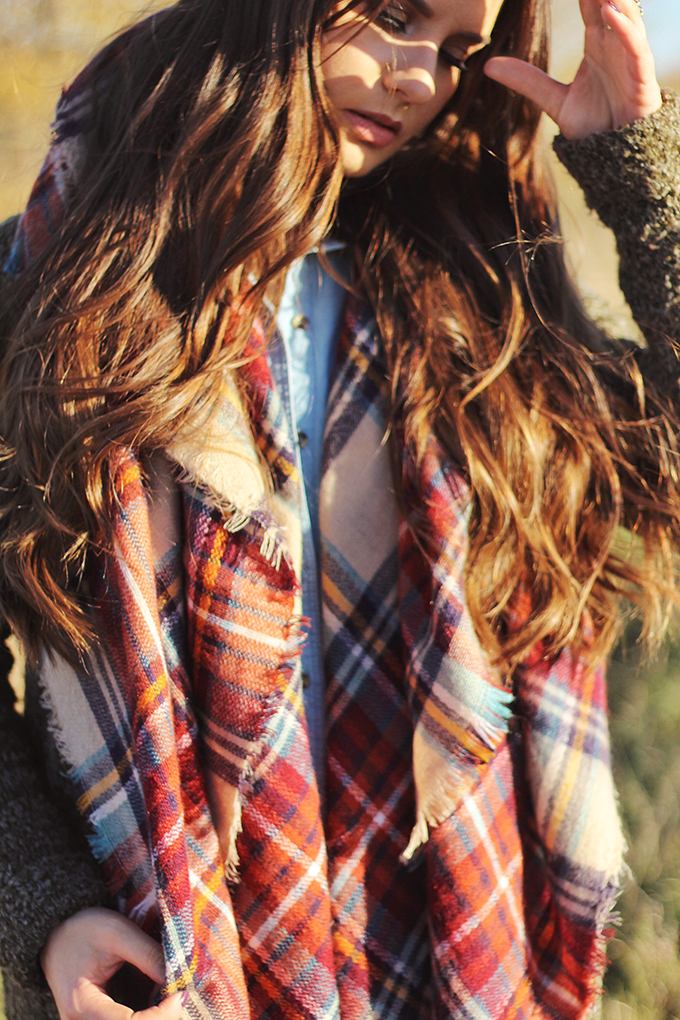 You guys must be getting sick of hearing me rave about these gorgeous blanket scarves. But just incase you're not, or you're new, I'll let you in on my favourite place to shop for great quality, inexpensive, soft blanket scarves: Garage Clothing! Pick up a plaid blanket scarf in a rich autumn colour palette and I promise you'll get a ton of wear out of it! You can wear it so many different ways, and also use it as an actual blanket if you're going to a movie, or traveling. Since it's the only pattern in this outfit, it adds a lot of interest to this look and helps to tie in the other colours I'm wearing.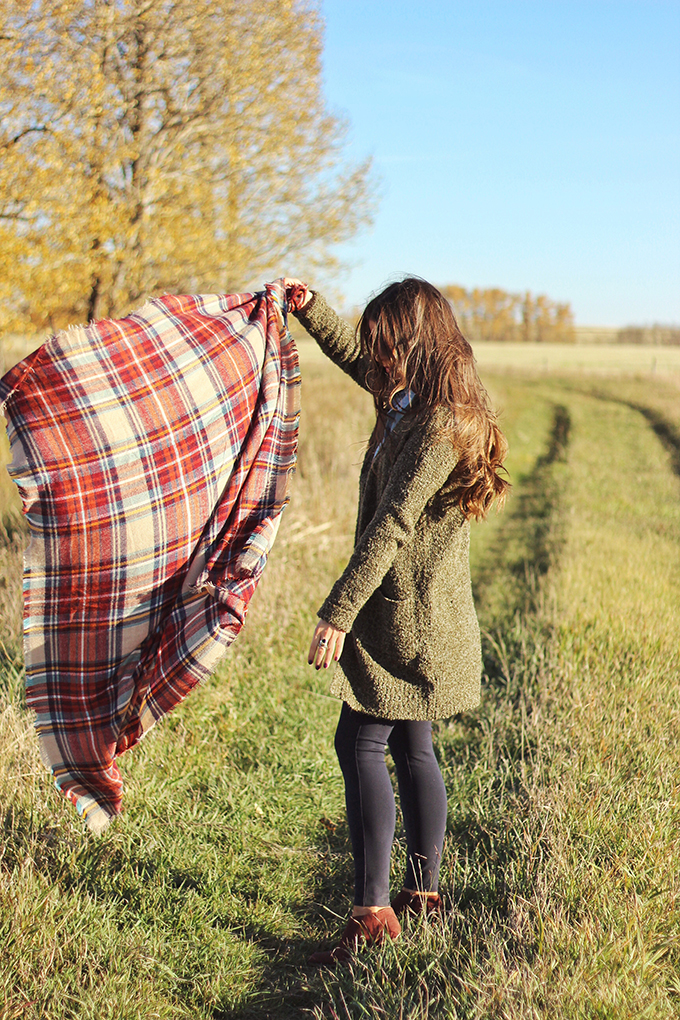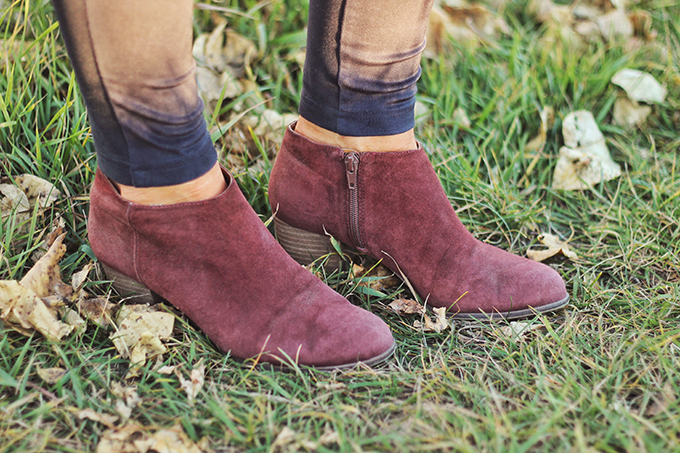 I live in ankle boots in the fall — they're so comfortable, and they go with just about anything! The rich, burgundy colour of these booties caught my eye immediately — it's another autumn earth tone that acts as a neutral and is surprisingly versatile. This is probably the lowest heel height I would wear. I like that it adds just a little bit of height to your look without compromising comfort.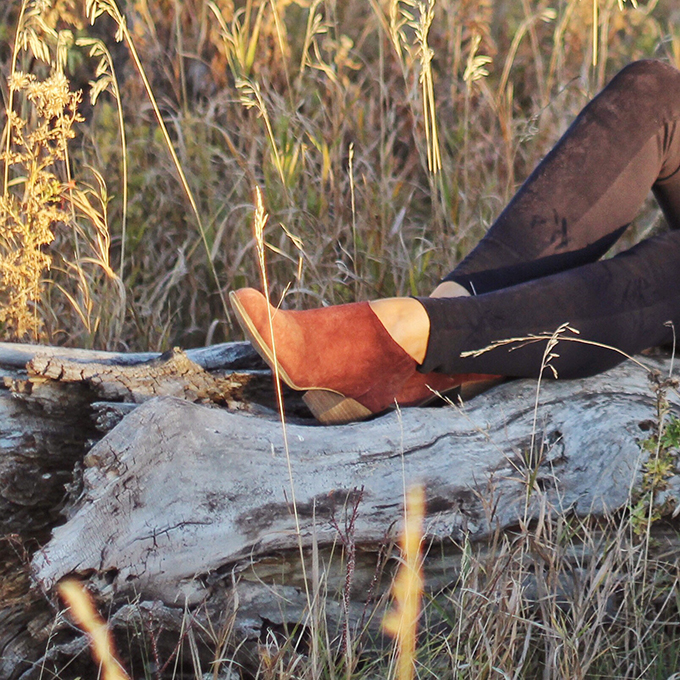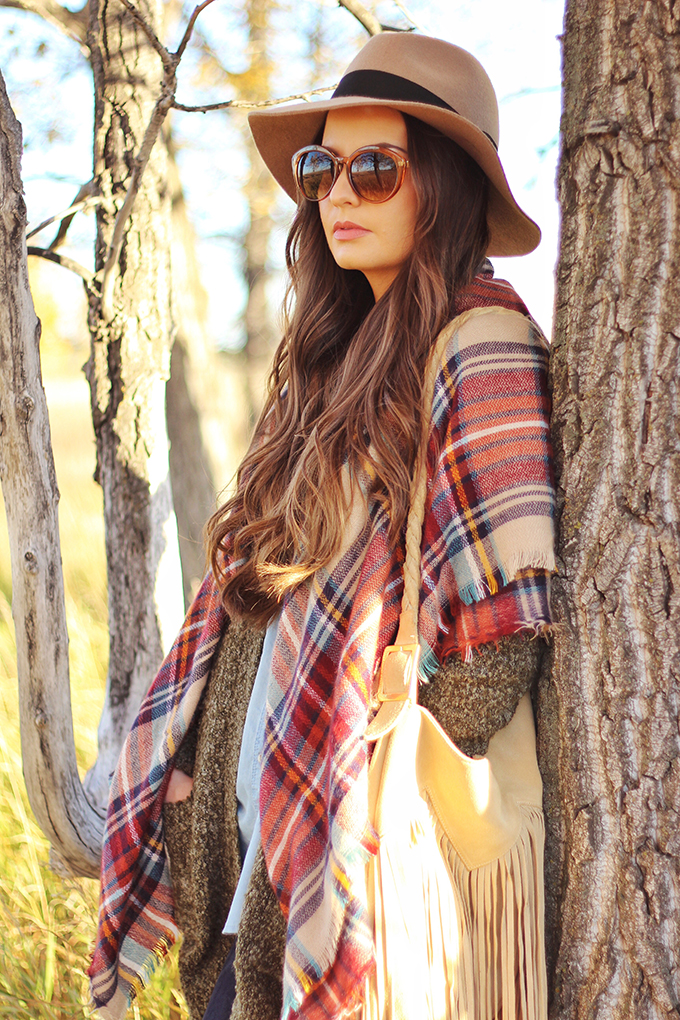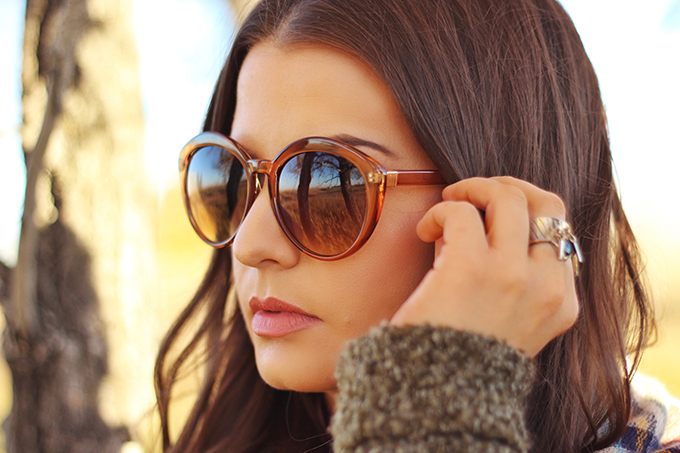 If you want to inject some extra style and mystery into your look with minimal effort, pick up a pair of oversized sunglasses. I can be wearing the most basic outfit and throw on a pair of oversized shades — I feel more glamorous instantly. In these photos I'm wearing two different styles, and I love them both — one is a bit more rounded and oval shaped, and one is square. They're both in the warm, brown colour family. Personally, I like to wear brown sunglasses when I want a softer overall look — and I think they pair perfectly with this casual outfit.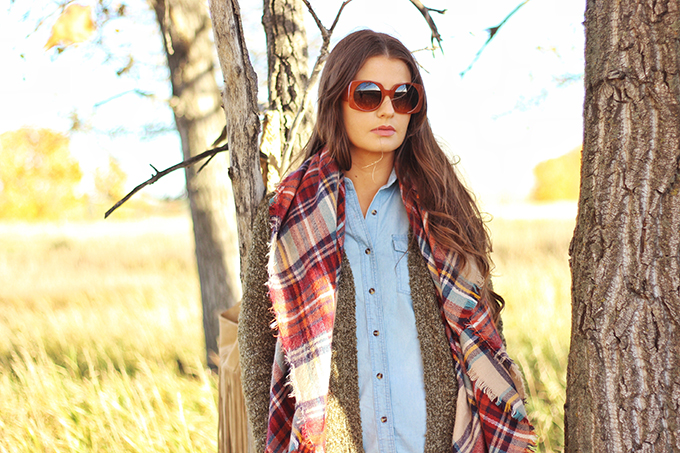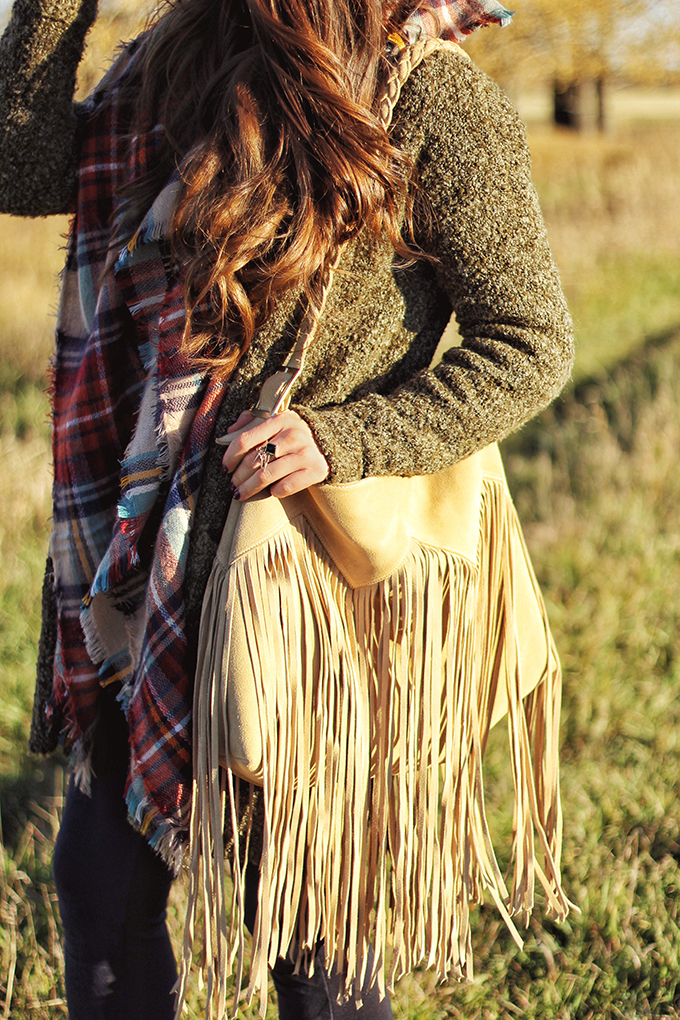 I'm all about high-low dressing — this suede fringe bag was definitely an investment. I spotted it at a boutique in Chicago last fall, and I don't regret it for a second! I wear it all the time. I'm totally obsessed with fringe, and this bag is so easy to style because of it's neutral tan colour. I love the way it adds some extra movement, texture and interest to this simple outfit. I've linked a similar one here.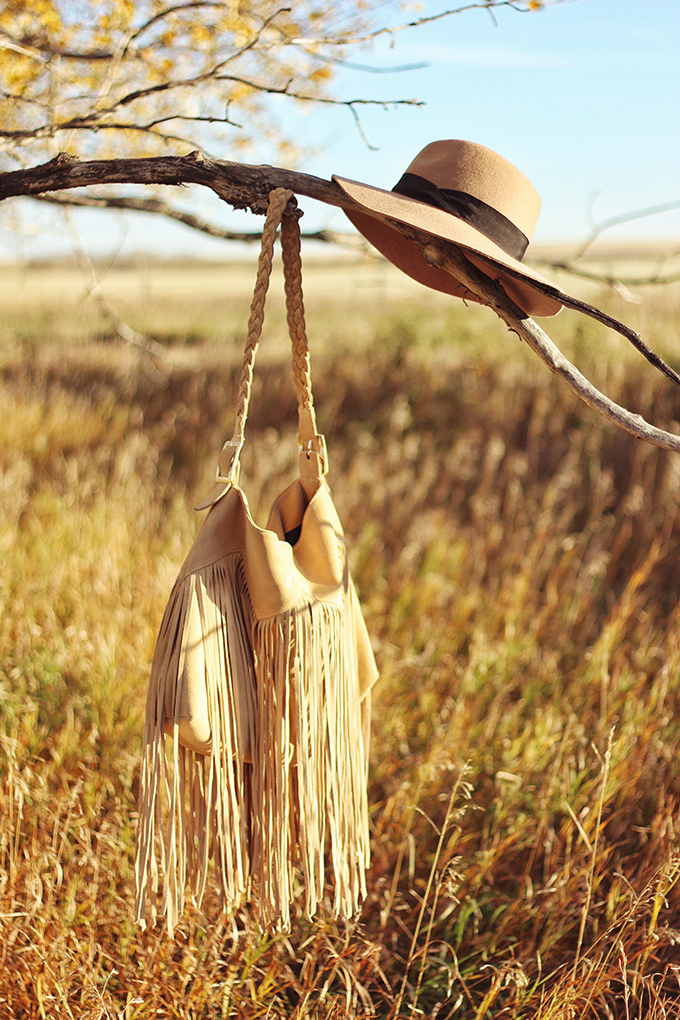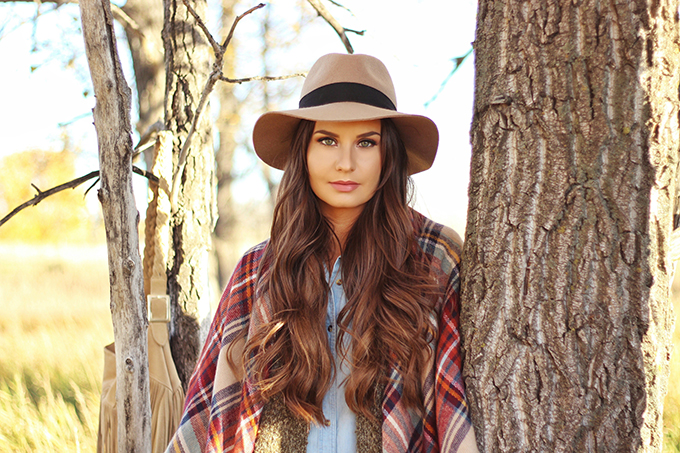 Yes, I love hats. If you're not a hat girl, I'm going to encourage you to try a simple tan fedora — you might be surprised at how easy it is to wear! Hats really elevate your look, and make you appear more put together then you probably are (hello, third day hair!). A neutral hat is a great way make any comfortable, basic outfit just a little more stylish.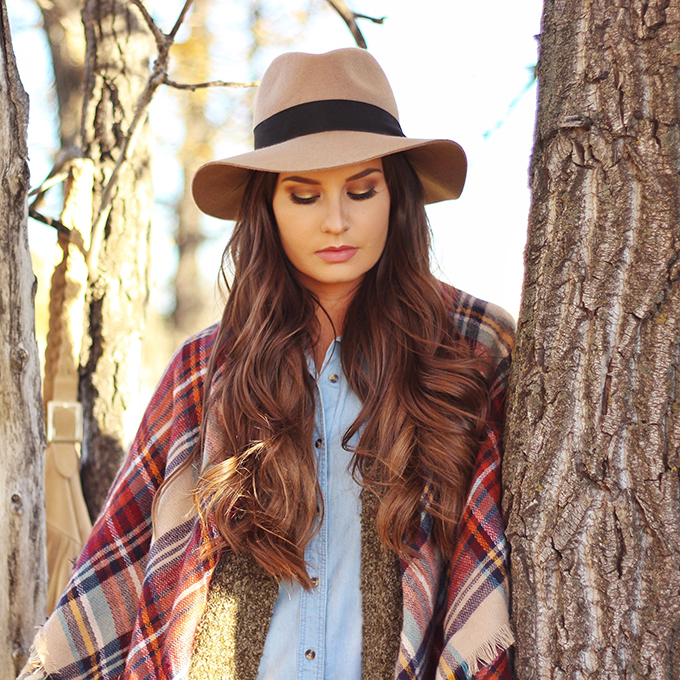 Once you find your perfect nude lip, it's a no-brainer. Throw it on with any outfit (or any other makeup) and you're good to go! I've been mentioning Bite Beauty's lipsticks a lot lately, the formula is amazing and they're full of natural, awesome ingredients. Usually I prefer darker nudes, but Bite Beauty Luminous Crème Lipstick in Retsina is the lightest I feel I can go without looking washed out. I love this shade with darker eyes, or anytime I just want something easy to wear and comfortable on the lips.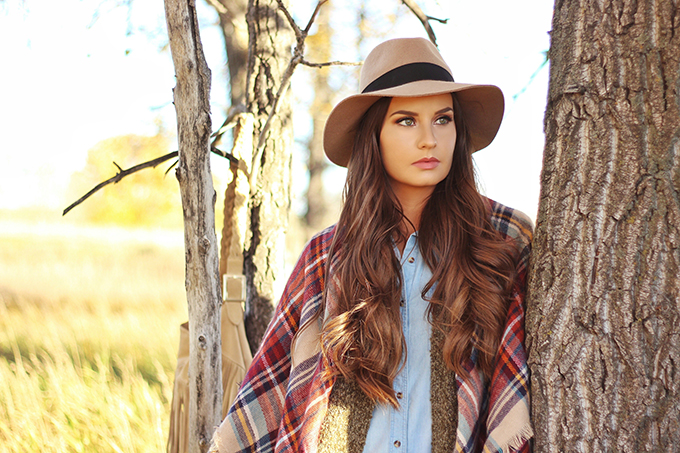 UNIQUE JEWELLERY
I mentioned in my last fashion post that most of my jewellery is either vintage, or inexpensive, or both. One of the ways I like to take a simple look to the next level is to accessorize with unique jewellery, like this vintage ring. I found it in a small town thrift store near Longview, Alberta (I always find the best stuff on the road, in small towns!). It even has a little fringe detail on it. Go check out your local thift stores or flea markets — you might find some gems!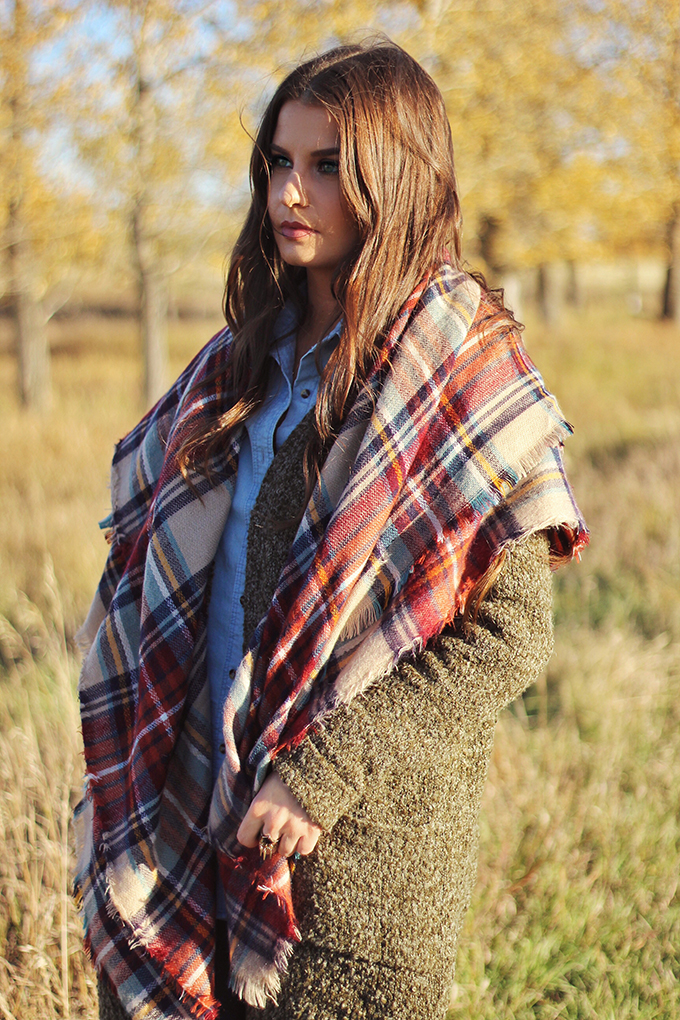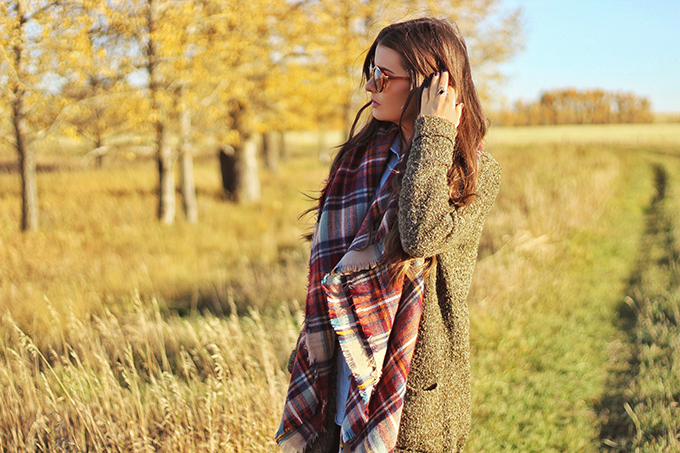 ---
SHOP THE LOOK
Messer Wool Fedora | Oversized Sunglasses | Slouchy Open Cardigan in Crafty Khaki | Plaid Blanket Scarf | Drapey Chambray Button-Down Shirt | Sueded Ponte Pant in Navy | Lucky Brand Tolachina Boot in Burgundy (similar) | Similar Fringe Bag | Bite Beauty Luminous Crème Lipstick in Retsina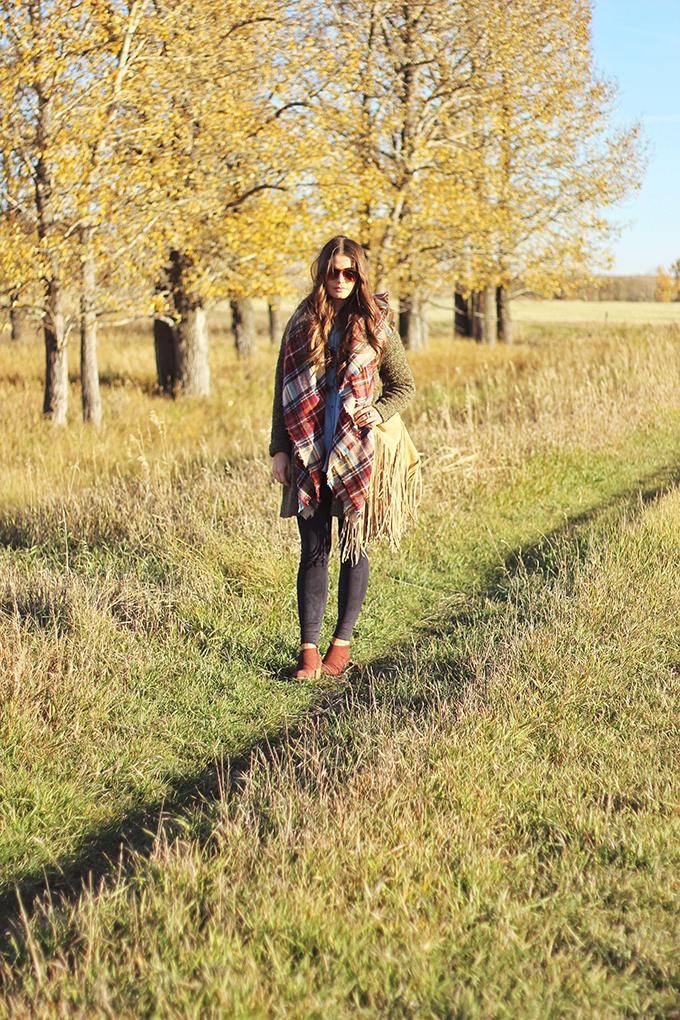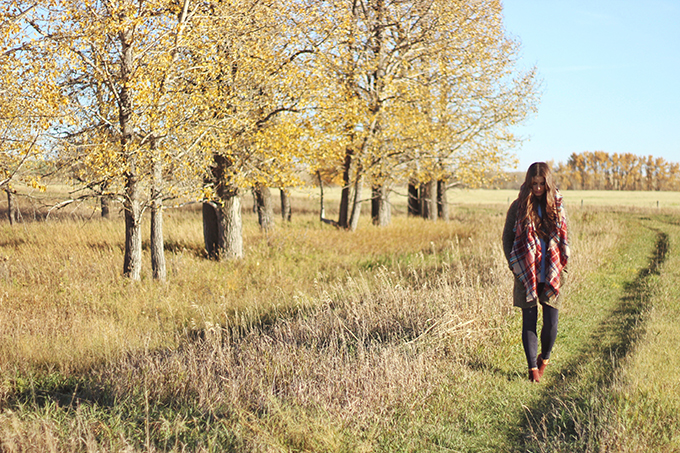 ---
What are your favourite comfortable basics this time of year? Anytime you have a question about what I'm wearing, need a recommendation, or want to chat about fall fashion, just leave me a comment! And feel free to leave me fashion post requests, too.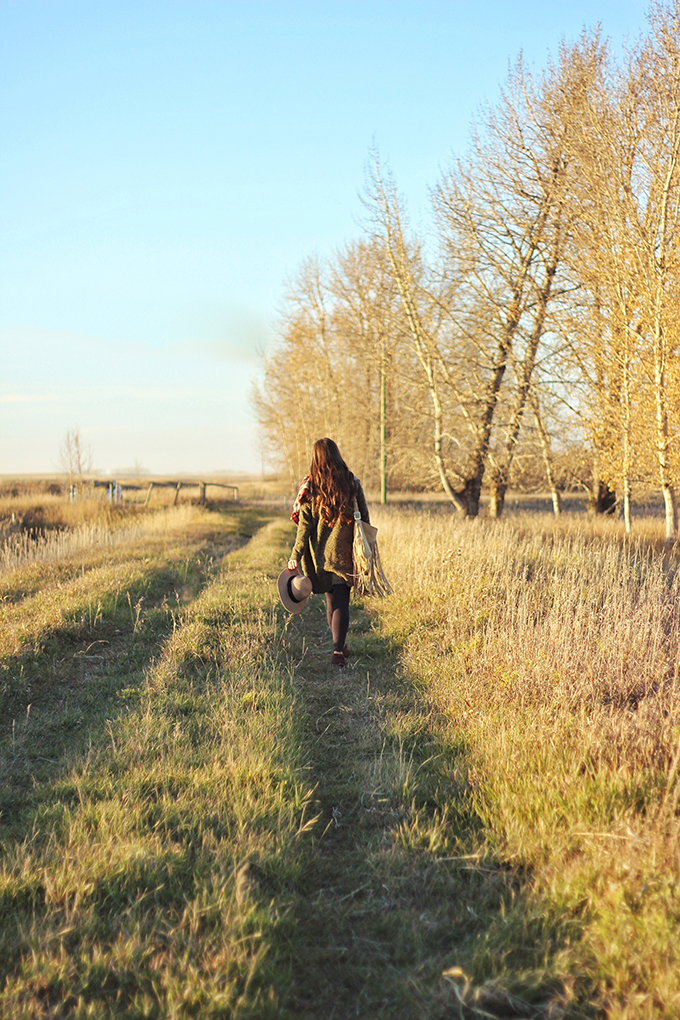 ---
Disclaimer: This post is not sponsored, and contains my genuine thoughts and recommendations. JustineCelina uses affiliate and referral links, which allow me to receive a small commission when you make a purchase through one of my links. Your purchases help to support JustineCelina.com!