I couldn't be happier that spring is officially here, so today I'm sharing my top 10 spring style staples and beauty tips! Year after year, there are a few pieces and colours I always look forward to incorporating in my spring wardrobe and beauty routine. While styles change and we see updated versions of key items each season, my quintessential spring style and beauty staples are actually pretty consistent. That said, spring is also a time where I feel super inspired to branch out and try new things, and that definitely filters through into my personal style! My spring style staples are a mixture of tried and true pieces and silhouettes — freshened up with trendy details, colours and accessories. Here's what's on my hit list for Spring 2016!
---
Leith Floppy Felt Hat in Grey Opal | Floral Rimmed Sunglasses (similar) | Longline White Vest (similar, similar) | Elbow Patch Striped Shirt | Mystic Labradorite Spike and Dagger Gold Necklace c/o Chan Luu | Yellow Straw Clutch (similar) | Periwinkle Polish | Busted Knee Denim (similar) | Garnish Leather Tassel Court Shoe in Camel | Peach Lip
---
SPRING STYLE STAPLES
---
1. Stripes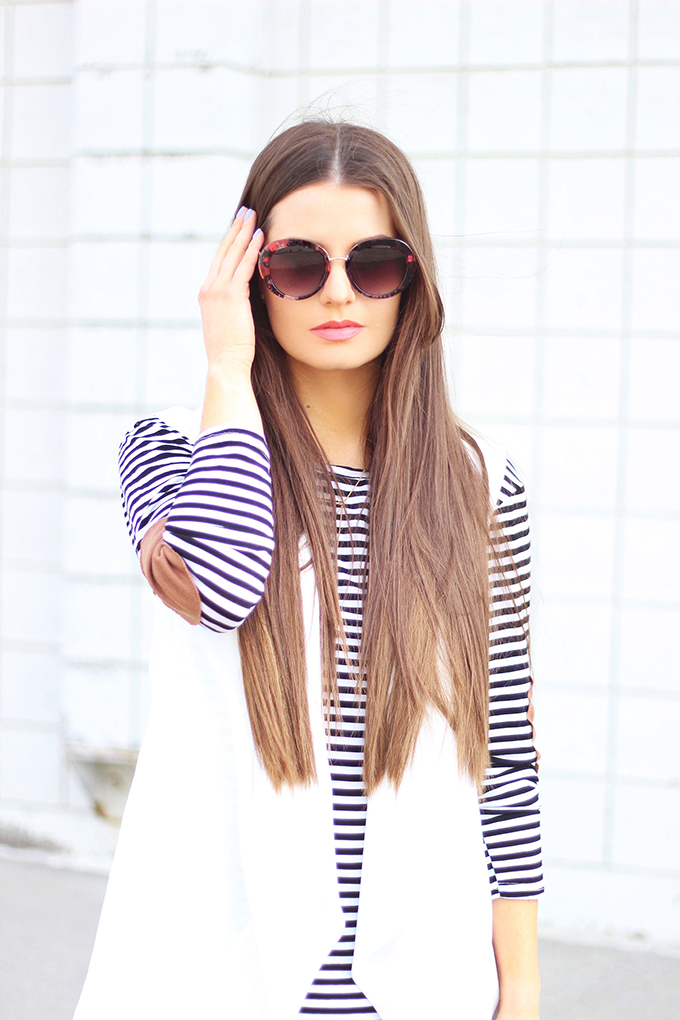 Something about spring makes me want to bust out the stripes, and this season I'm not alone because stripes are everywhere! Whether you prefer a more traditional navy and white stripe like I'm wearing here, or a bold, colourful stripe — anything goes this spring. If you're looking to add one clothing item to your wardrobe this spring, I'd suggest a stripped shirt, skirt or even stripped outerwear. The great thing about stripes is that you can dress them up or down so easily depending on how you style them. This super soft striped shirt from SheIn was less than $20 and the quality is amazing. I also love the cute elbow patches!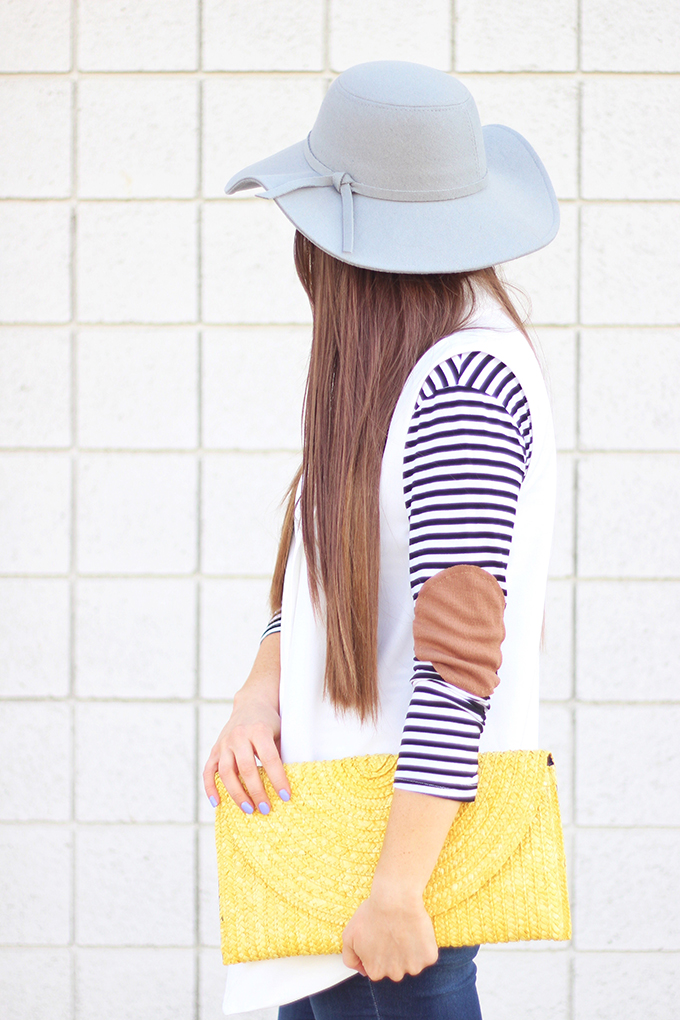 ---
2. Crisp Whites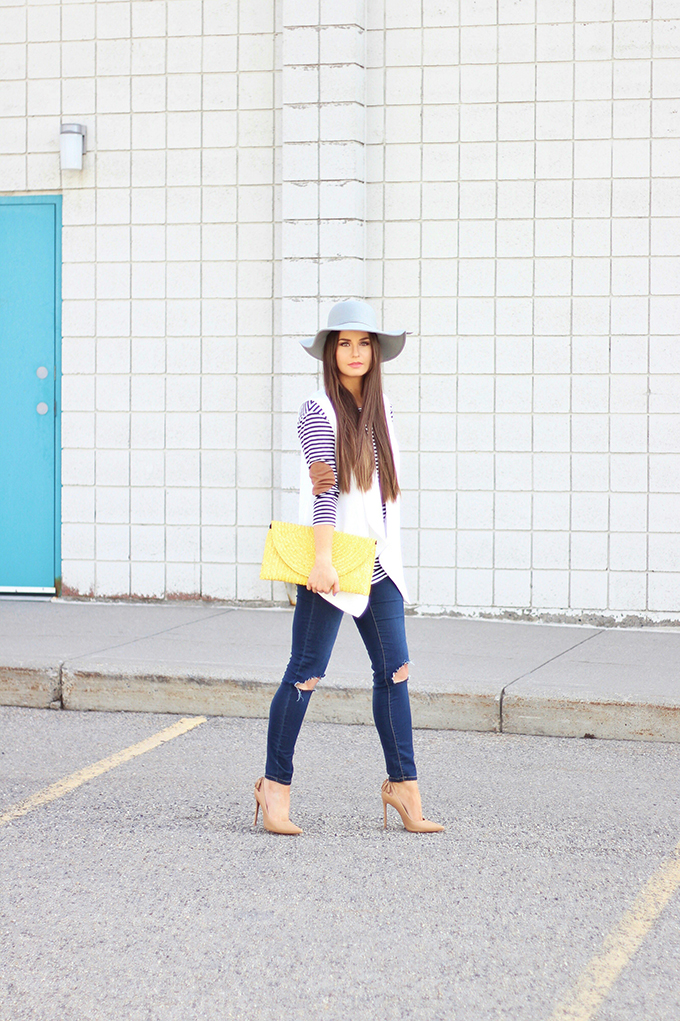 Ah yes, my favourite shade to wear in the springtime — white! White is having a major moment in both interior and graphic design right now, and I also love to wear it. I personally like to wear lighter, brighter shades in the spring and summer as the temperatures start to rise. If there's one shade that will instantly freshen up your look, it's white. This longline vest is from Forever 21 (a few seasons ago), but I've linked the most similar I can find here and here. I also have it in black and I wear them often for work, play and everything in between. My Mom loves these vests, too! I also transition white denim, shirts and outerwear into my spring wardrobe and personally look for sleek silhouettes and clean lines in my white clothing to add crispness to a look.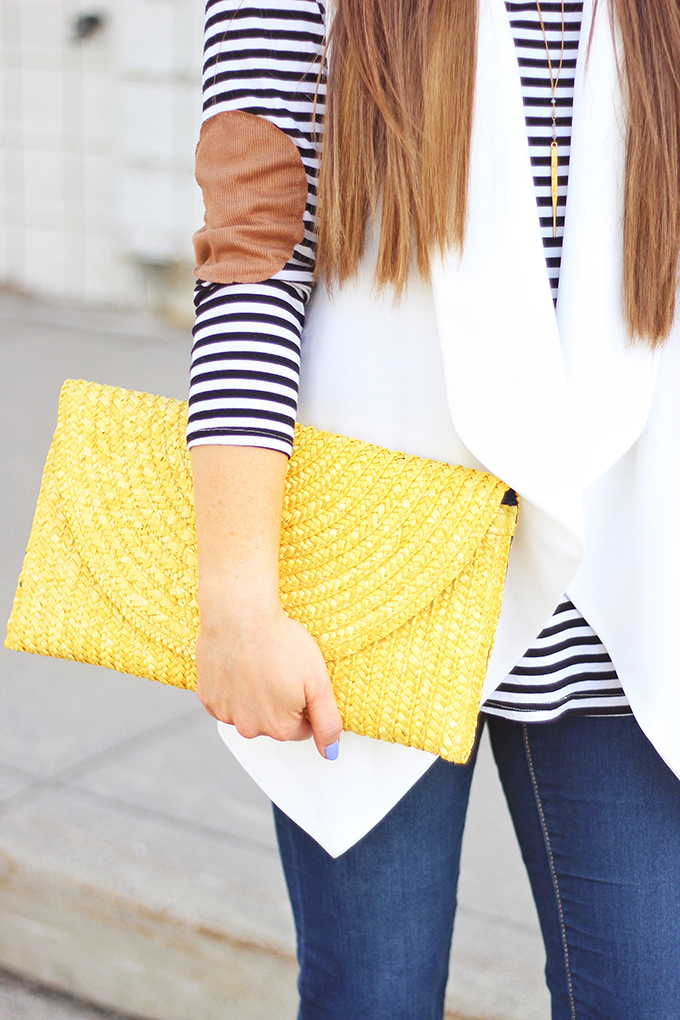 ---
3. A Pop of Yellow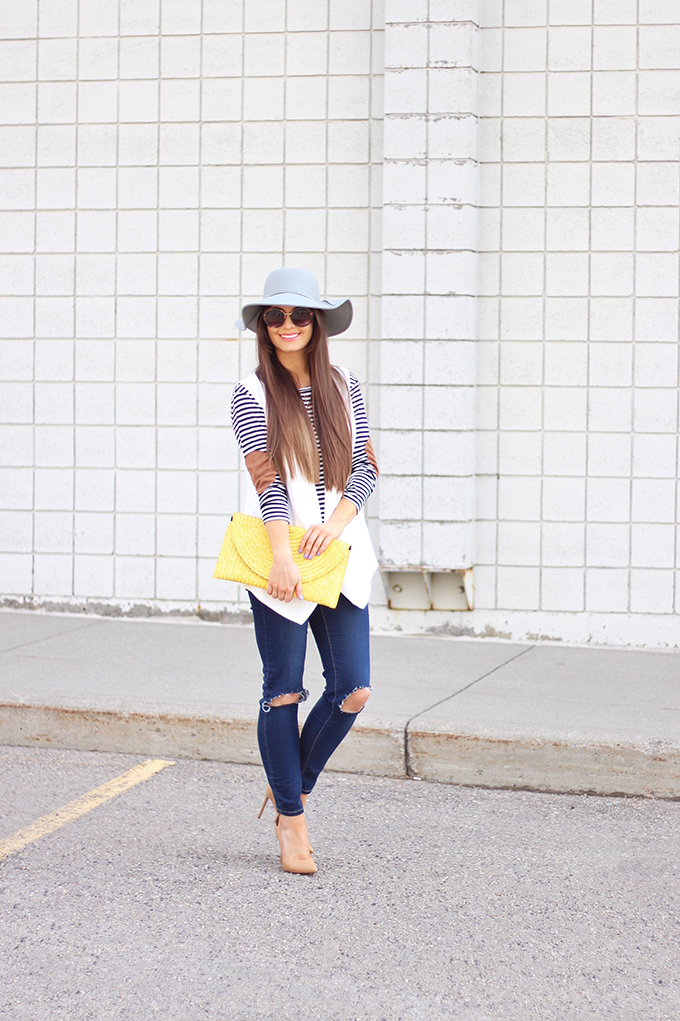 If you asked me what colour I associate with spring, I'd say yellow! For the last few years, yellow has been popping up everywhere come springtime. In fact, I mentioned yellow in my Lust List post last spring, and I also wore this same clutch to a spring wedding last year. I found it in Napa Valley a couple of summers ago so it's no longer available, but you can find a similar one at H&M. If you're not sure that you can pull off yellow by your face, try adding a fun pop of yellow in an accessory — like I'm doing here. Yellow is such a sunny, versatile shade and it immediately injects some fun into your spring style! This yellow clutch and my chartreuse sandals get a lot of love during the spring. Yellow also happens to be one of my favourite colours to wear and I think it suits just about every skintone. If you're a little uneasy about this sunny shade, just try it on — I think you'll be surprised and find a yellow that works for your colouring! If bold yellow isn't for you, try a more subdued pastel shade.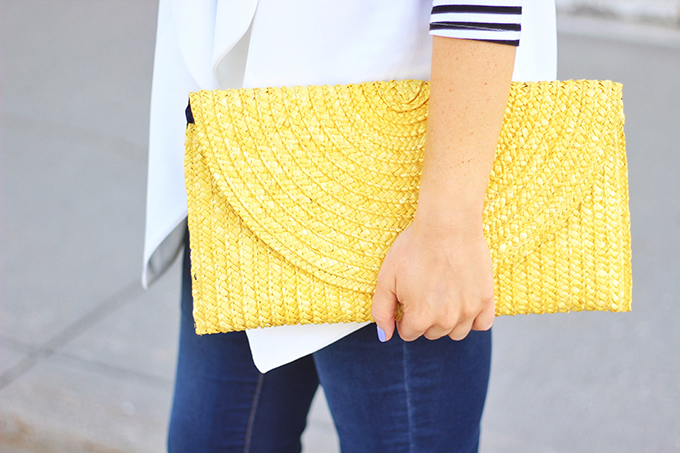 ---
4. Tassels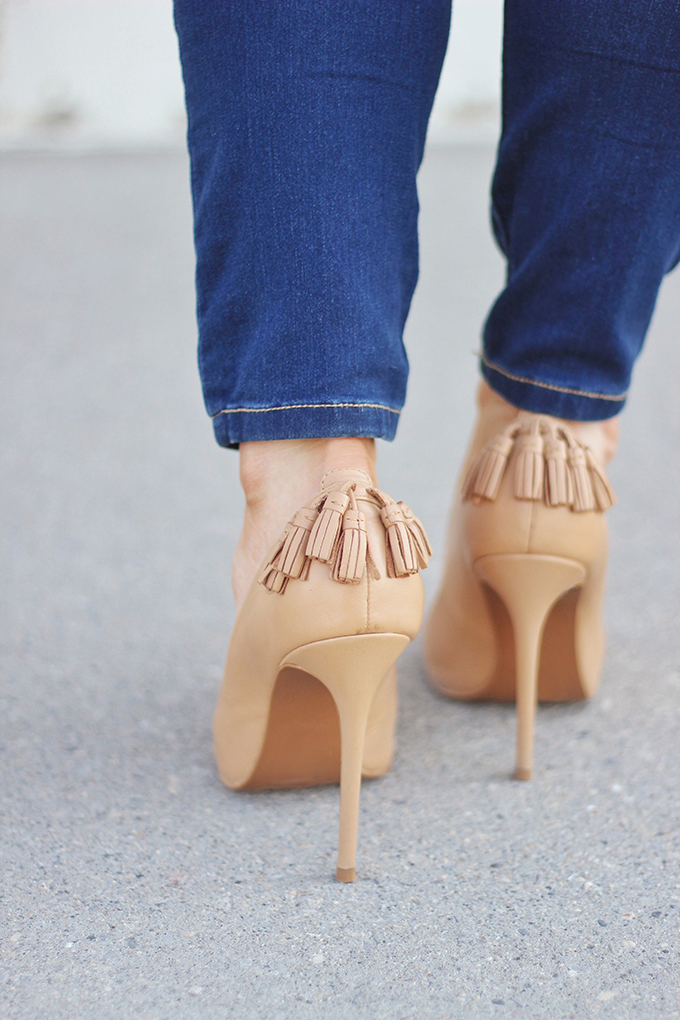 If there's one pair of shoes I think every woman should own it's a pair of nude, pointy toed pumps. I have another pair of nude pointy toed pumps from Zara that I haven't actually worn on the blog but they're by far my most worn pair of shoes. I love them so much that I even bought a back up pair because I knew I would wear my original pair out (and I did after about 3 years!). When selecting your perfect nude heel, the key is to match the colour of the shoe as closely as possible to your skintone if you want a truly seamless, leg-elongating effect. Once you find your perfect pair I guarantee you'll put some serious miles on them!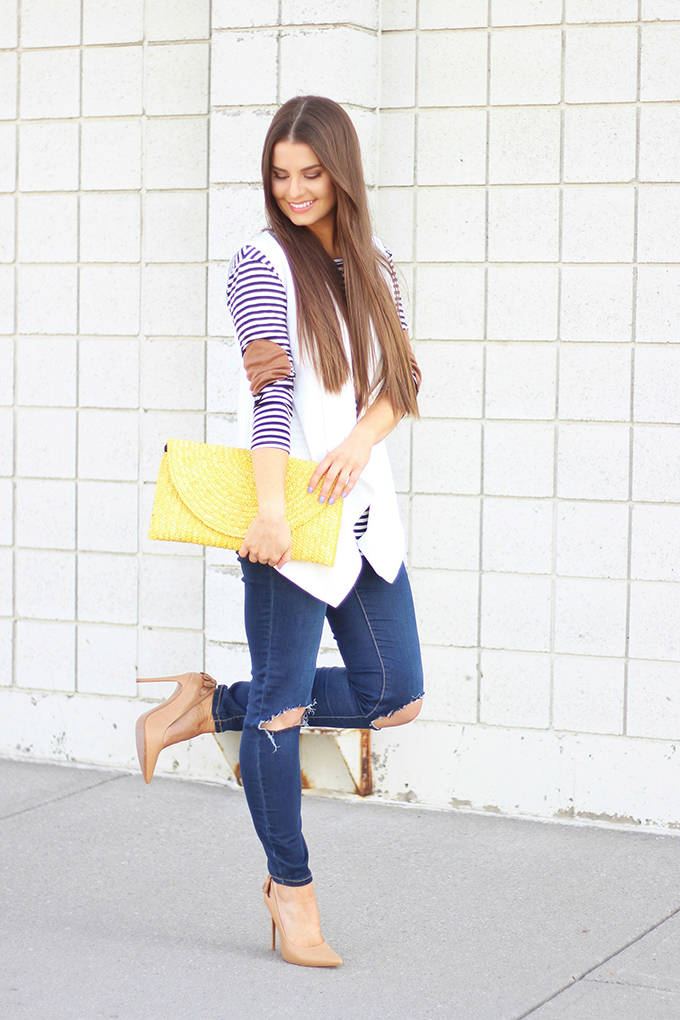 I think it's the details that take an outfit from boring to fabulous, and this season tassel details are everywhere! I fell hard for these adorable tassel back pumps from TopShop (like… I also purchased them in black!). And believe it or not, they're pretty comfortable. I've always loved tassels, but I especially love them on these nude pumps because they elevate a classic with a trendy twist. Adding tasseled accessories like shoes, bags and jewellery is a fun (and inexpensive) way to refresh your wardrobe this spring!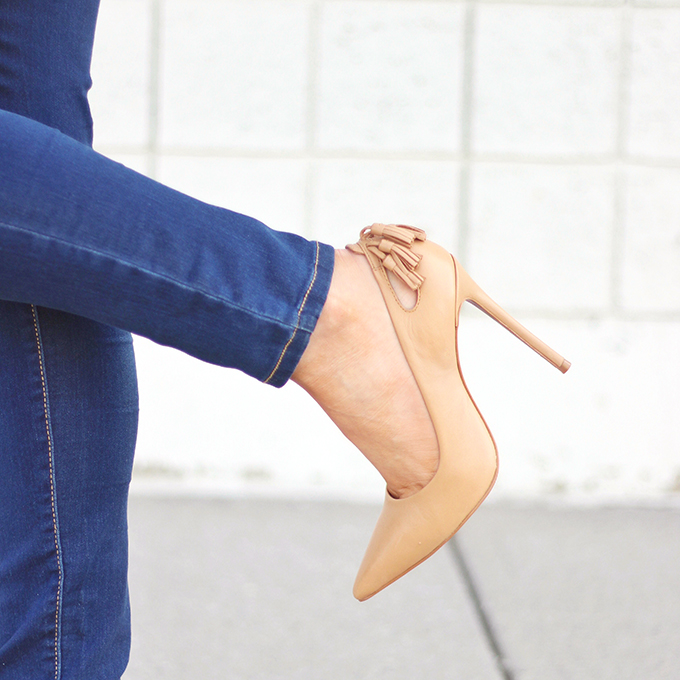 ---
5. Shades of Grey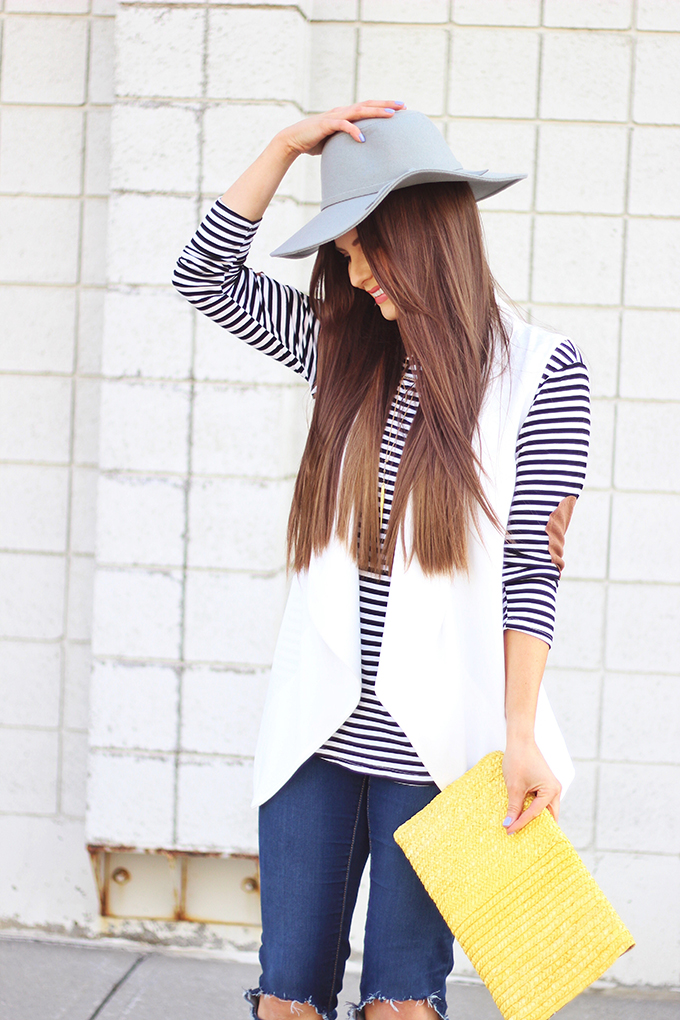 Grey is totally underrated. It's cool, sleek and modern — and it's my other favourite spring neutral. I've got major love for this gorgeous floppy felt hat from Nordstorm! I picked it up about a month ago and it's been on major repeat in my wardrobe. I do really love my hats! If you've never worn one, I totally suggest trying on a bunch of different styles to see what you like. They're so easy to wear and always add a little but of fun and extra style to an outfit! If you're not a hat girl, try incorporating grey layering pieces like light jackets, blazers, vests and skirts into your spring style. I love my grey staples because they're so easy to throw on with whites, pastels and pops of colour. Add a grey hat or layering piece to inject new life into your spring wardrobe and add a sophisticated touch to your style.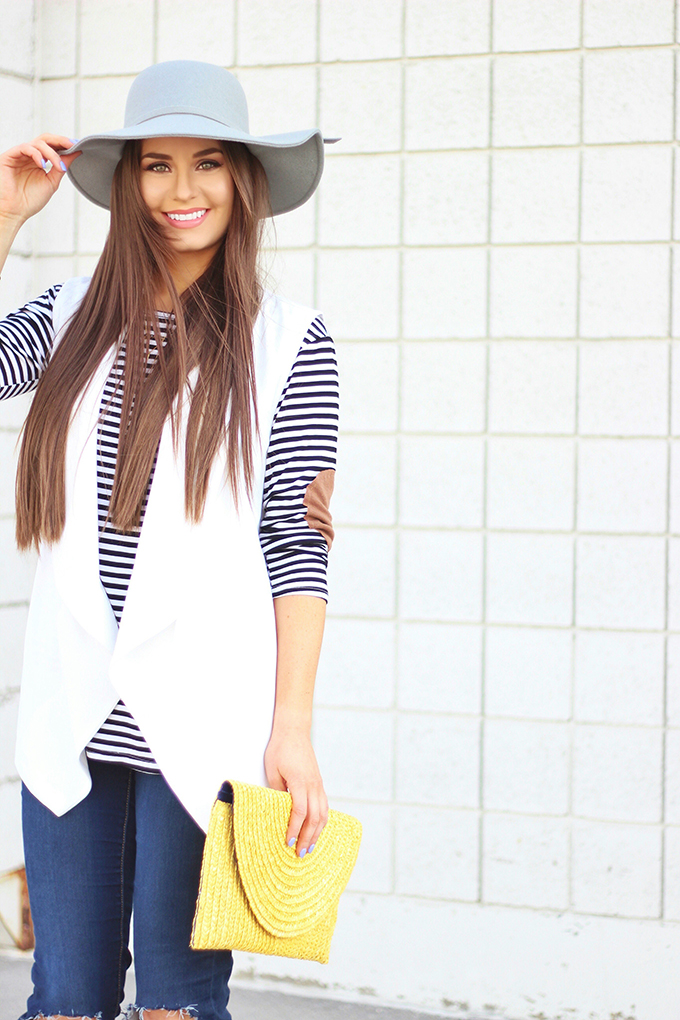 ---
5. Busted Knees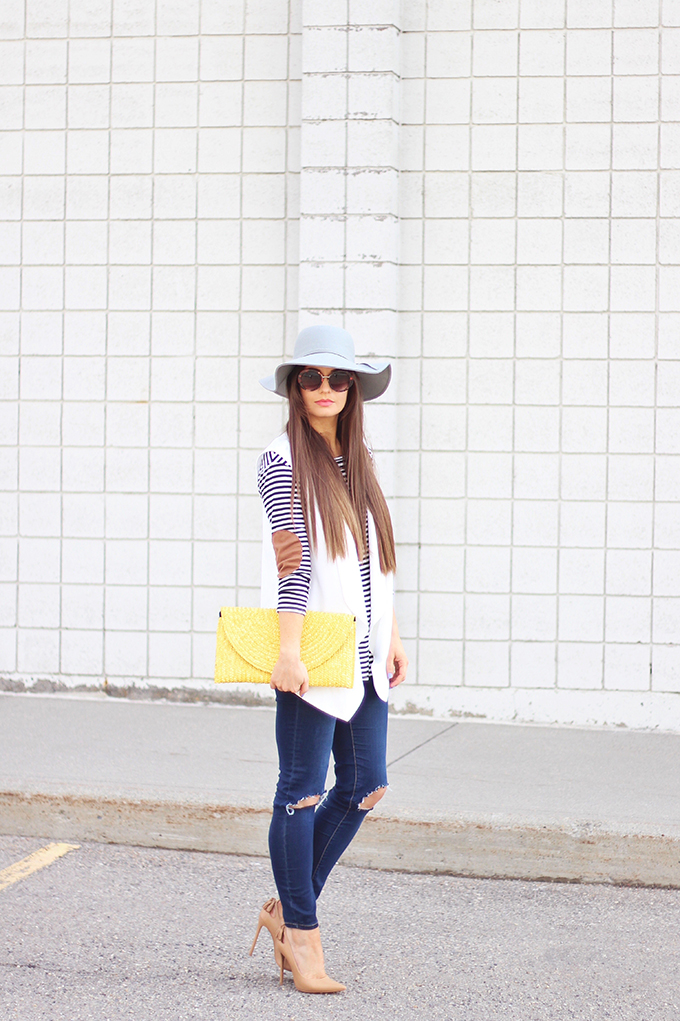 Distressed denim is here to stay — this season I'm crazy about busted and slashed knee denim. We're been seeing it everywhere for the past couple of years and I personally love the trend! Guess what? I found this super soft pair of denim on the Joe Fresh clearance rack for $9.94 and I busted the knees myself! If you're curious about how I did it, hop over to my DIY | Distressed Boyfriend Jeans post for an illustrated, step-by-step guide. Honestly it's super easy to do yourself (and it only takes about an hour) if you don't want to shell out for a pre-made pair. Or if you do, I've linked a similar style here. Bonus: these busted knees are super comfortable when you sit down — instant extra room for your knees!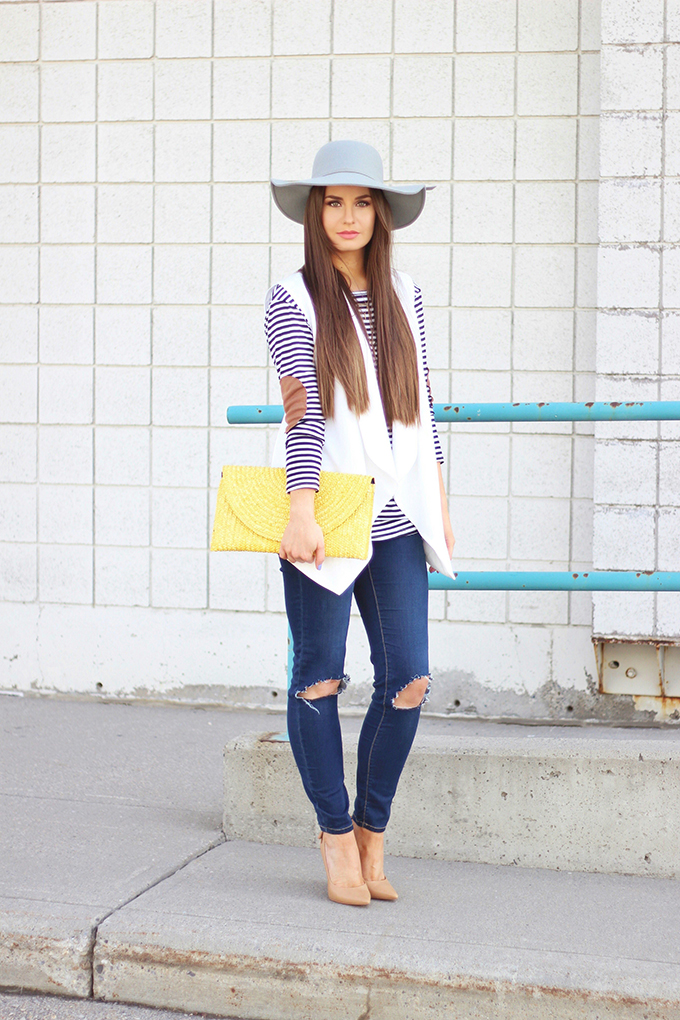 ---
6. Floral Rimmed Shades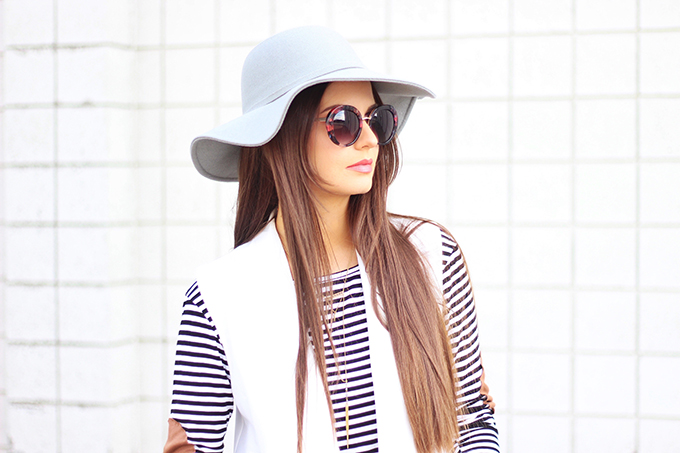 Here I am talking about sunglasses again, but they're kind of my thing. I have a full sunglass wardrobe and I'm not ashamed to admit it! I never spend more than $25 on a pair because I'm notorious for losing and wrecking them, and I also like to have fun and experiment with different styles. I'm totally crazy about this pair of floral rimmed shades from GoJane (but they're last seasons). GoJane is still one of my favourite sources for inexpensive, vintage-inspired eyewear, but if you're lusting after floral rimmed sunglasses I've linked the most similar ones I can find here. Floral print shades act as a neutral in the same way I mention leopard print shades act as a neutral here. I reach for them often during the spring when I want to add a subtle pop of colour and some mystery to my look! One of my favourite print combinations is stripes and florals — and I'm mixing them subtly here.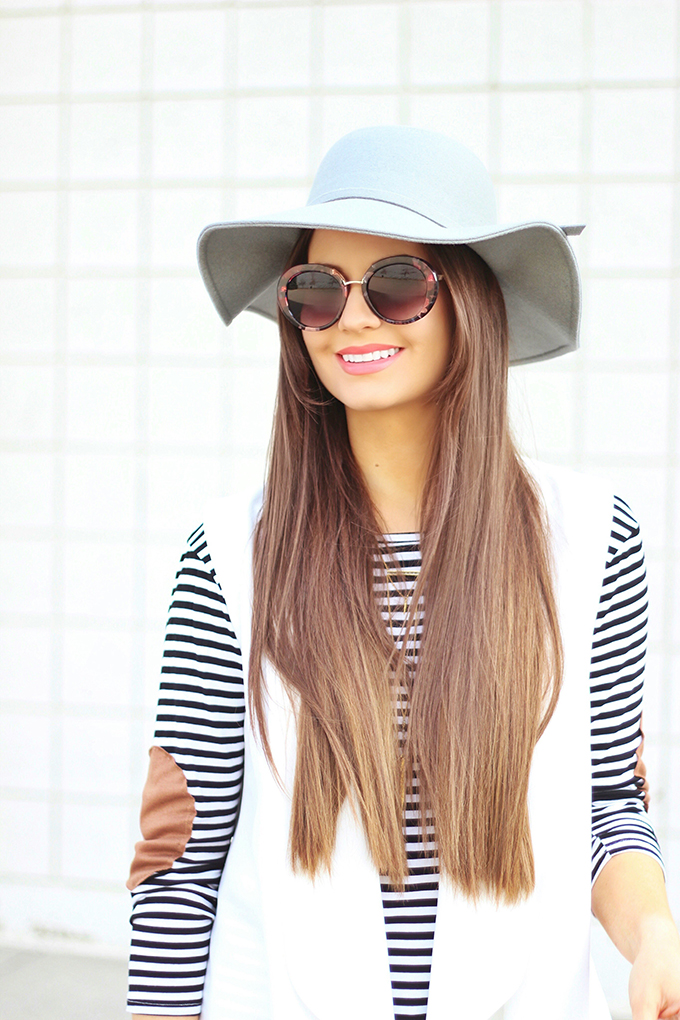 ---
7. A Peach Lip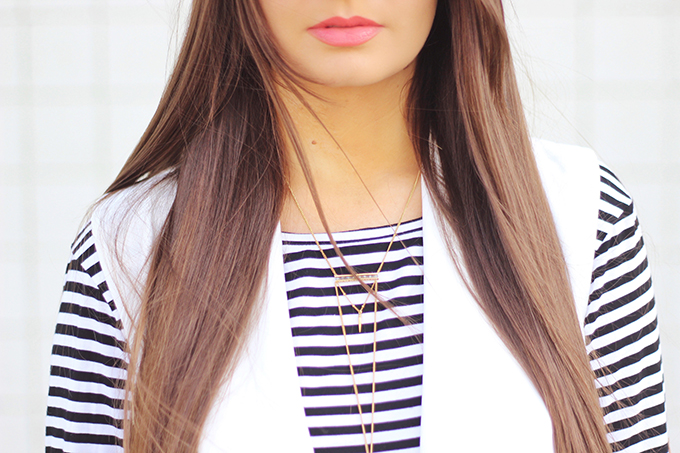 I've spoken about this before, but I think every women looks amazing in a peach or coral lip. These shades bring so much life to the face and they're a fresh option for spring that pair well with almost anything you do on the eyes and cheeks. I'm wearing the Bourjois Color Boost Lipstick in Peach on the Beach in these photos and it's my favourite peach lipstick, ever. You'll be reading more about it in my March Beauty Favourites, coming up shortly. I own these Color Boost Lipsticks in literally every colour — they're one of my all time favourite formulas! Plus, they contain an SPF of 15 which is great for daytime wear. Canadians, I purchase Bourjois products at Shoppers Drug Mart (they're on the boutique side). Or, you can order online from ASOS. I reviewed this lipstick in my March Beauty Favourites if you're interested in purchasing it or looking for some more information on the formula.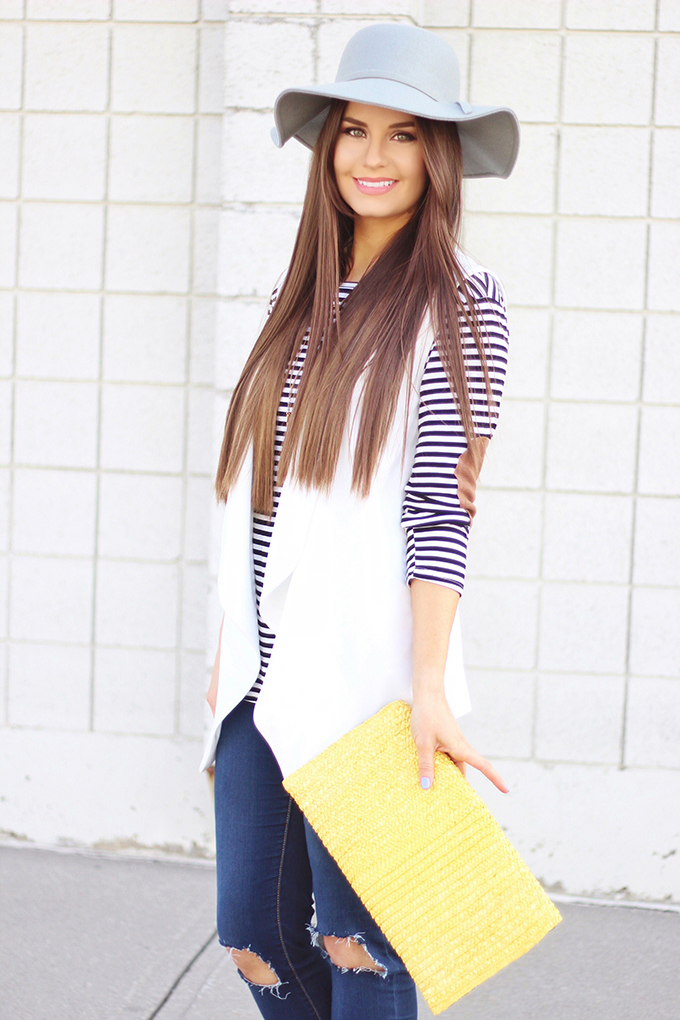 ---
8. Pastel Polish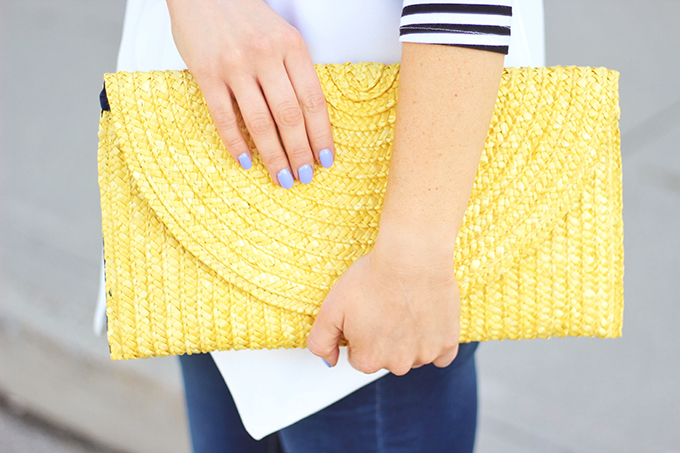 This Gelish polish in Po-riwinkle is the cutest, most unique shade I've put on my nails in a long time! Isn't it a gorgeous colour? I've been really into pastels this year (as you've probably noticed), but I especially love this Pantone Colour of the Year serenity-inspired shade (read more about the Pantone Colours of the Year on JustineCelina here). It looks so great with yellows, crisp whites and stripes! I have a professional gel manicure system at home, so I grabbed this polish at Sally's just last week — you might still be able to find it. If not, I've linked my favourite online store for nail stuff online here. Spring is all about pastel nails for me and I love the way this periwinkle shade compliments golden skintones! I reviewed this polish in my March Beauty Favourites if you're interested in purchasing it or for a regular polish dupe.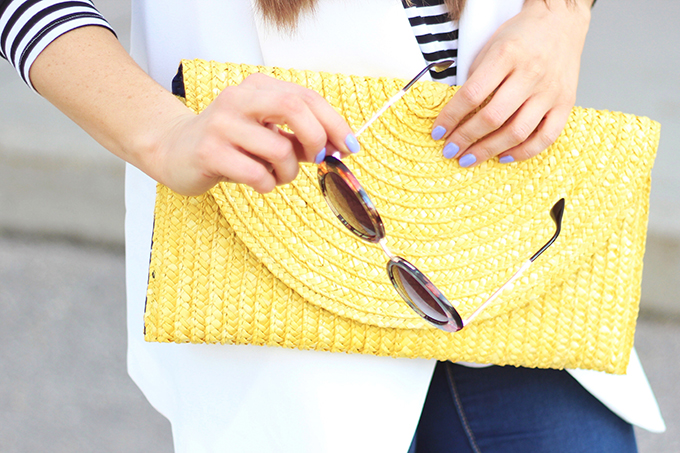 ---
9. Change Up Your Tresses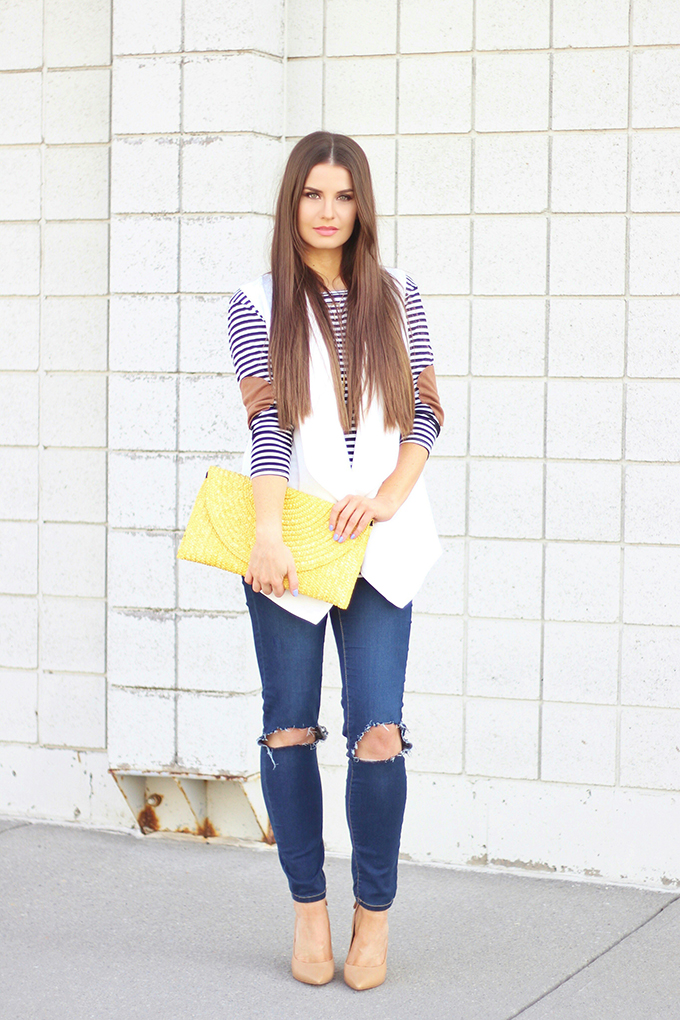 My hair is straight! If you know me, you know that almost never happens. Most of the time I wear my hair in loose waves, but I love to experiment and change up my look in the springtime. I find one of the quickest and most inexpensive way to do that is to experiment with your hair! If you usually wave or curl it it, try a sleeker style. If you rock straight tresses on the daily, try adding soft, face framing waves or go totally bold with big, voluminous curls! Or, simply try parting your hair in a different place. I usually wear a centre part, but I chat more in this post about how something as simple as changing where you part your hair can have a huge impact on your look.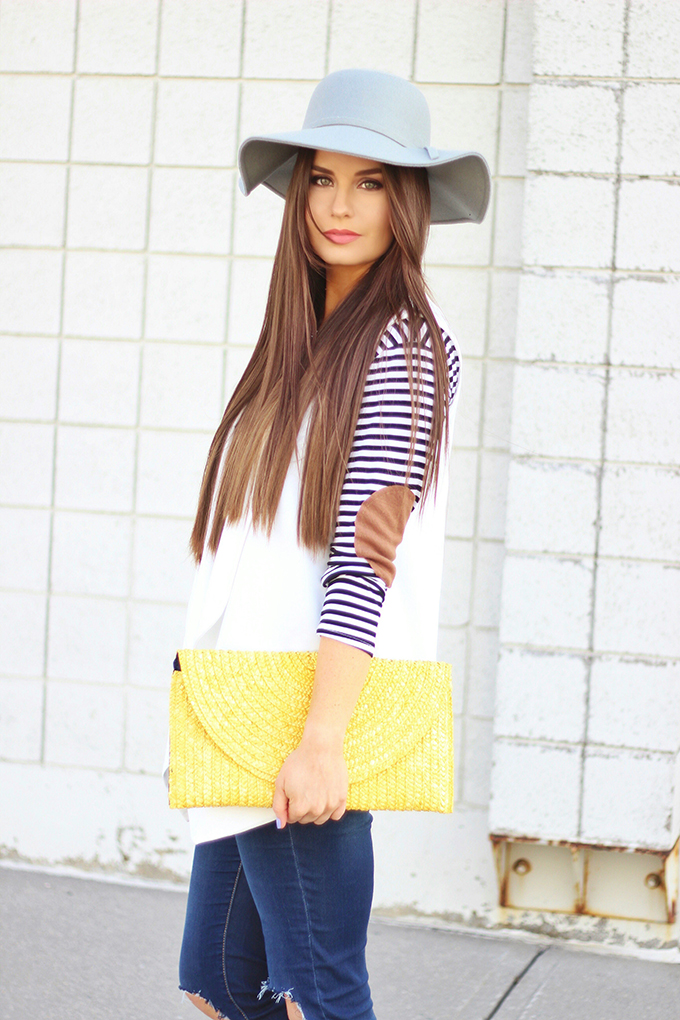 ---
10. A Delicate Longline Necklace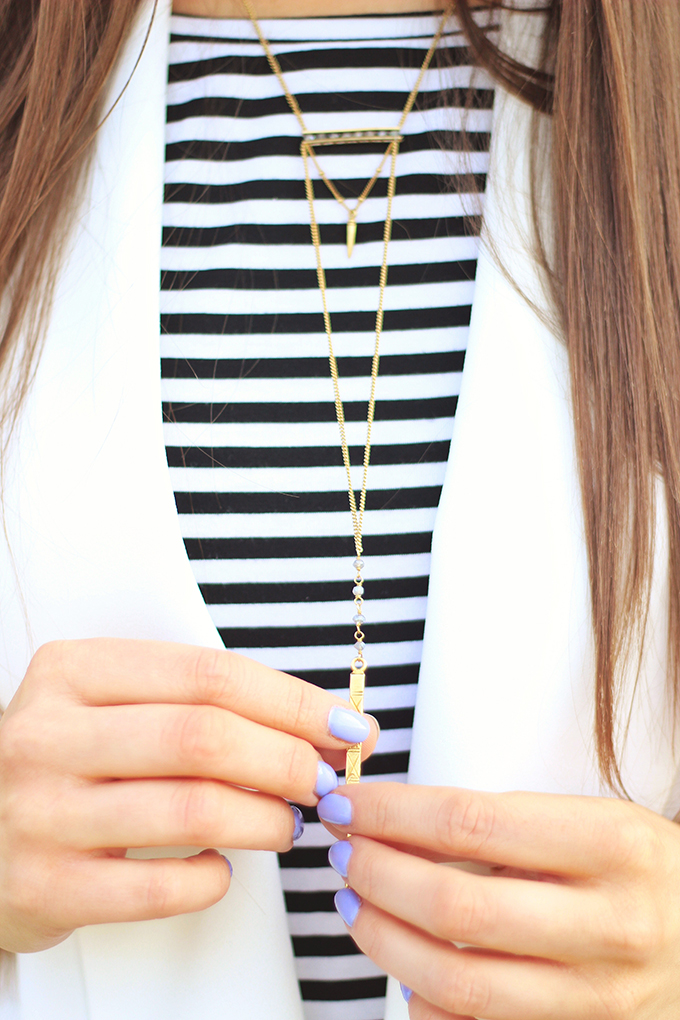 This Mystic Labradorite Spike and Dagger Gold Necklace is the most beautiful necklace I've worn… probably ever. I have a thing for delicate longline necklaces and this one is the perfect mix of edgy and sophisticated with a touch of boho. I could literally wear it with anything in my closet! I also love that it incorporates both gold and grey in the design which adds to its versatility and makes it so easy to pair with other metals and match to clothing hardware. Chan Luu creates pieces inspired by her travels around the world which really resonates with me — I love collecting jewellery, clothing and home decor from my travels. This jewellery is definitely an investment, but the quality is out of this world — if you're looking to treat yourself or someone special to a beautiful piece of jewellery I can't recommend Chan Luu enough. Each piece is handcrafted so they have a unique, a natural look — I'm drooling over everything on their site! You can also find select Chan Luu pieces at Nordstrom.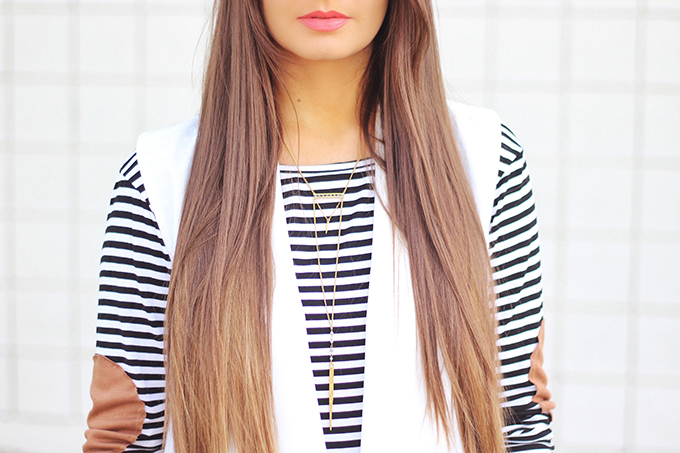 ---
SHOP THE LOOK
---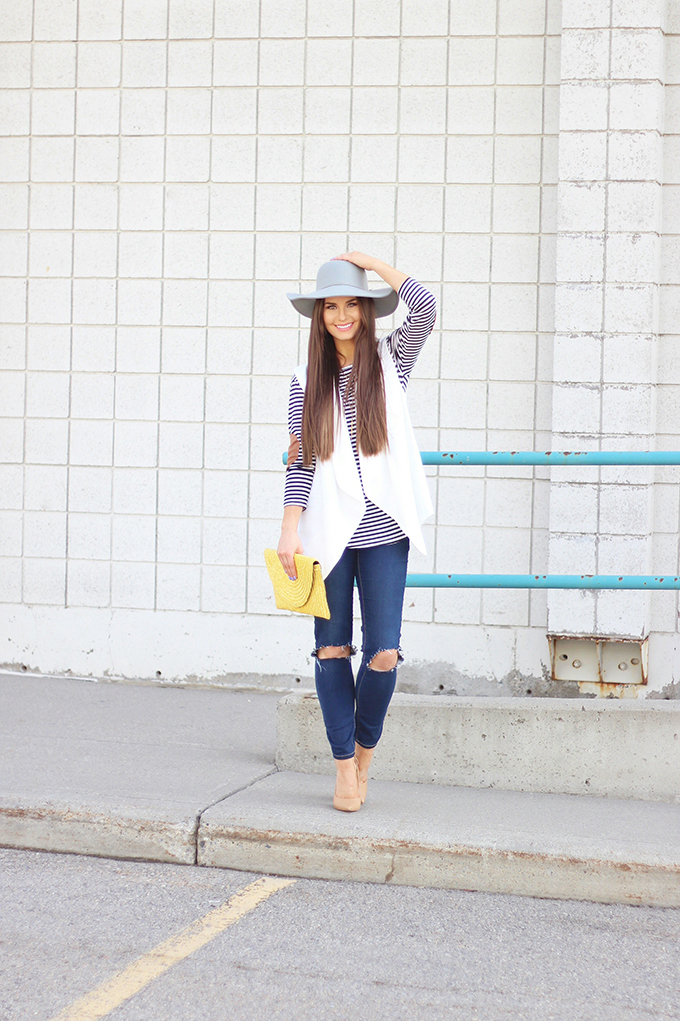 Leith Floppy Felt Hat in Grey Opal | Floral Rimmed Sunglasses (similar) | Longline White Vest (similar, similar) | Elbow Patch Striped Shirt | Mystic Labradorite Spike and Dagger Gold Necklace c/o Chan Luu | Yellow Straw Clutch (similar) | Periwinkle Polish | Busted Knee Denim (similar) | Garnish Leather Tassel Court Shoe in Camel | Peach Lip
---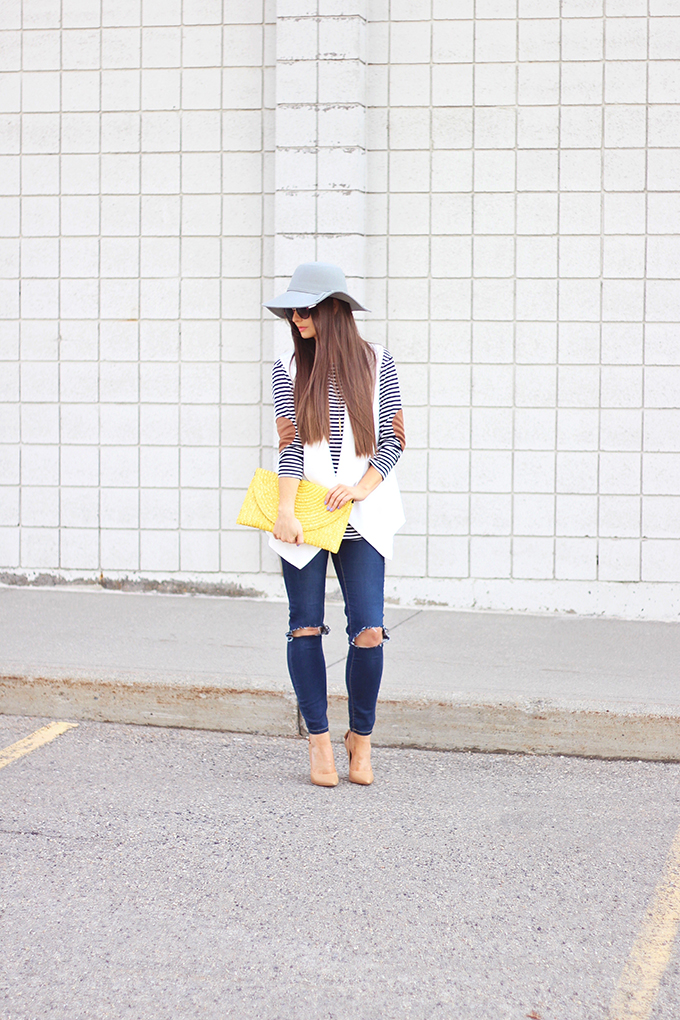 What are you guys wearing this spring? If you have a recommendation, question or comment for me please leave it below. I hope you're all enjoying an Easter weekend full of family, friends, a little R&R and lots of chocolate!
---
Disclaimer: This post is not sponsored, and contains my genuine thoughts and recommendations. JustineCelina uses affiliate and referral links, which allow me to receive a small commission when you make a purchase through one of my links. Your purchases help to support JustineCelina.com!