---
Happy Friday, friends! Things were a bit quiet here at JustineCelina during early June — and whenever that happens, I promise it's for good reason! As I mentioned, I was working on a couple of exciting projects BTS — and this was one of them. We spent a beautiful Sunday earlier this month Exploring East Village Junction — and you can read all about it in my second article for in partnership with with Tourism Calgary!
What are you up to this weekend? If you're craving an inner city adventure this weekend, I highly recommend spending a few hours exploring Calgary's colourful East Village Junction! Tucked away behind the iconic King Edward Hotel on the corner of 4th Street and 8th Ave SE, EV's liveliest lot showcases the vibrancy and charisma of Calgary's oldest neighbourhood in an innovative, market-like community space where 15 local businesses and artisans have utilized shipping containers to create an entirely unique retail experience in Calgary's core. Discover all #evJuction has to offer now through September 3rd — complete with unique wares for fashion, art, vintage and home decor enthusiasts, food trucks, delicious vegan eats, bicycle rentals, live performances and yes… even fitness classes! There's something for everyone at Calgary's East Village Junction Pop-up Retail Park — and today I'm sharing a handful of my favourite things to see, do, shop and eat!
---
EXPLORING EAST VILLAGE JUNCTION WITH TOURISM CALGARY
---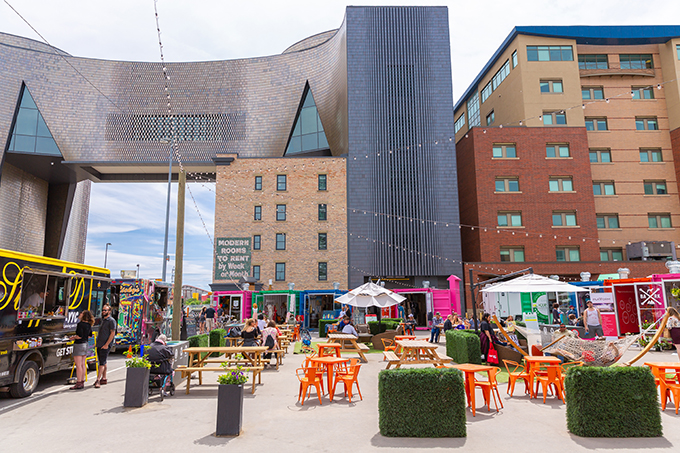 I've always joked that I can shop anywhere. But my family and friends will tell you that really is true! While I have my favourite major retailers, as someone with eclectic personal style, I also live for the hunt. You know, the thrill of finding that one-of-a-kind piece, or offbeat item? Whether it be for my wardrobe, home or kitchen, I love to seek out the extraordinary. At East Village Junction, I did just that — and today, you're coming along!
---
Live Performances
---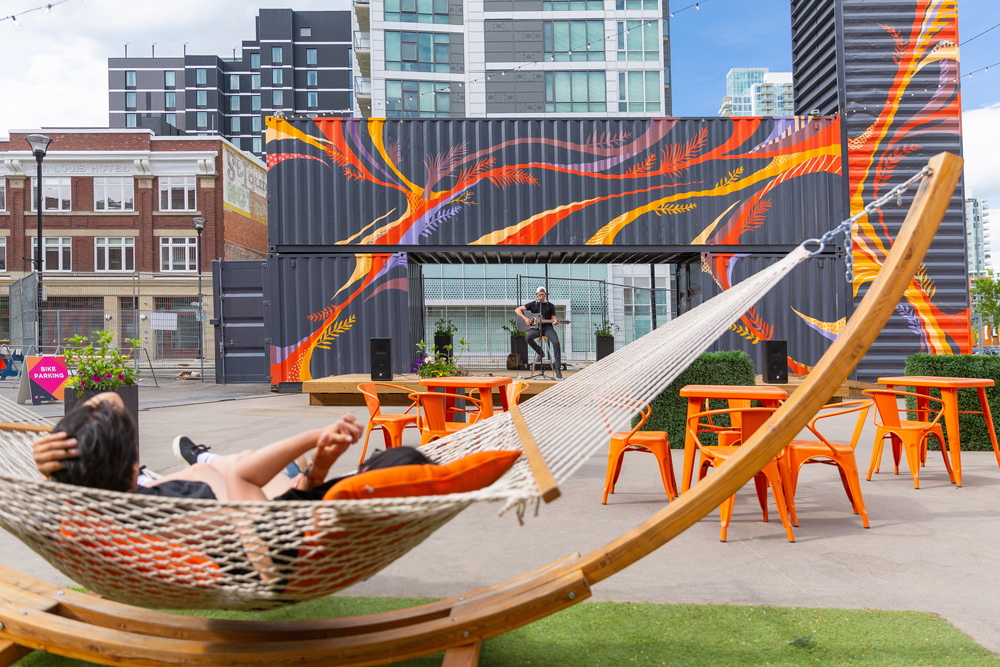 We visited East Village Junction on a beautiful, sunny, June day — and the ambience is like nothing else I've experienced in Calgary! As I sauntered over to the colourful lot, my ears were greeted by the musical stylings of Calgary folk artist Tanner James, who was performing on stage that afternoon as part of East Village Junction's Voices of the Village. Tanner's chords decorated the afternoon beautifully as we explored all of EVJ's intricacies and added such a richness to the experience.
Live music lovers, consider a trip to the Junction to soak in the sounds of Calgary's talented artists in a relaxed, outdoor setting adjacent to music lovers, home of the National Music Centre. You can even grab a bite to eat, enjoy a refreshing beverage and claim your spot on the nearest hammock to enjoy the free show!
---
Prairie Bazaar & Ox Eye Wild
---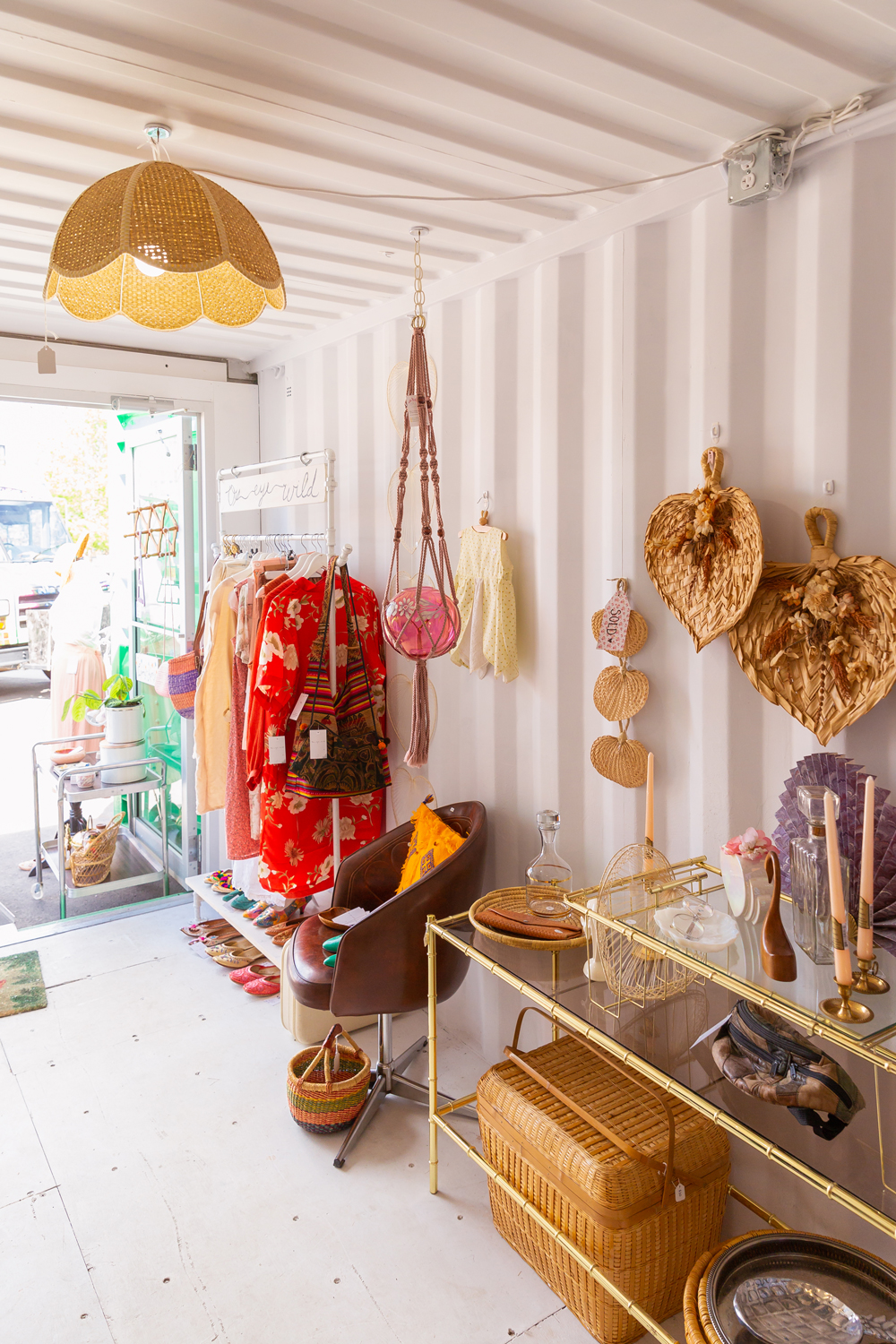 After stalking them on Instagram for the entire week prior to our visit, I knew our first stop at East Village Junction had to be Prairie Bazaar & Ox Eye Wild — a beautifully curated, vintage, bohemian dream! Located next to Rath Bicycle, this cheerful, kelly green container is the joint vision of owner, Ellen Crawford and her sister, who curates Prairie Bazaar's clothing section, Ox Eye Wild. As a vintage lover, I can spend hours thrifting and estate sale-ing for hidden gems — but Ellen and her sister have done all the work for for us!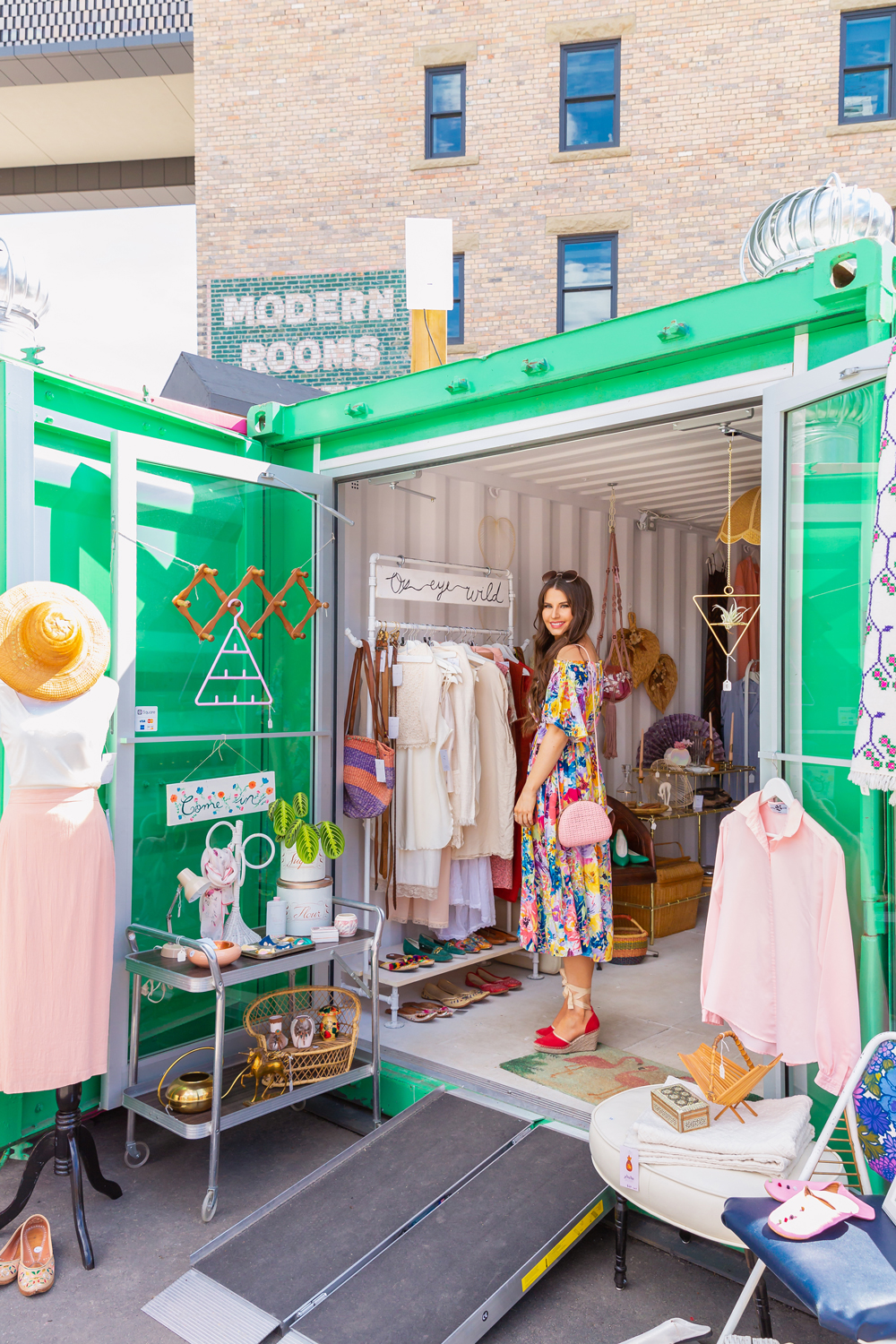 I've truly never encountered such a lovely selection of vintage goods anywhere, let alone in Calgary. These sisters have an impeccable eye and I had to seriously restrain myself in there! I was enamoured with the tasteful selection of mid century modern pieces and the barware — but on my way out, a beautiful, Italian made, pink straw bag caught my eye and simply I couldn't resist. If you're looking for that special piece to add to your wardrobe or home, pay Prairie Bazaar a visit for unique boho treasures — now located permanently on Centre Street!
---
MOB Honey
---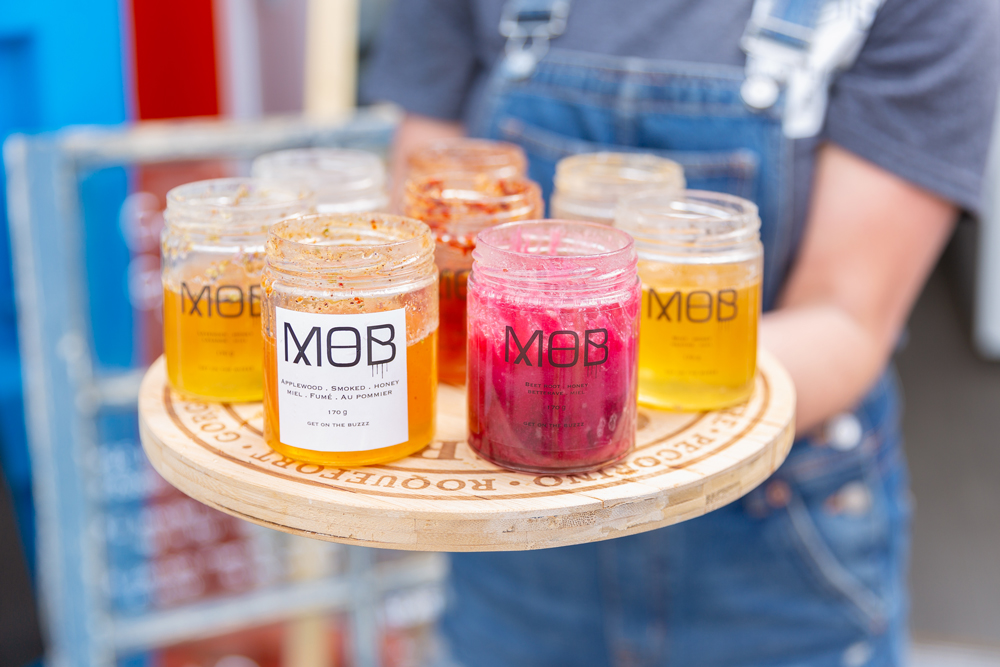 As someone who works with a variety of natural sweeteners (we don't even keep refined sugar in our pantry!), I was elated to learn more about MOB Honey. Relatively new on the Alberta honey scene but keeping bees for 7 years, MOB's Amber Yano is doing things a bit differently with her unpasteurized, organic offerings.
With artisanal honey blends like Beetroot, Applewood Smoked, Coconut, Truffle and Lavender (which came home with me — I have a summer cocktail recipe in the works!) my mind was buzzing with the culinary potential of MOB's inventive blends. Stop by the MOB container for a complimentary tasting and fall in love with Amber's passion for raw, local honey.
---
She[Empowers] by Alora
---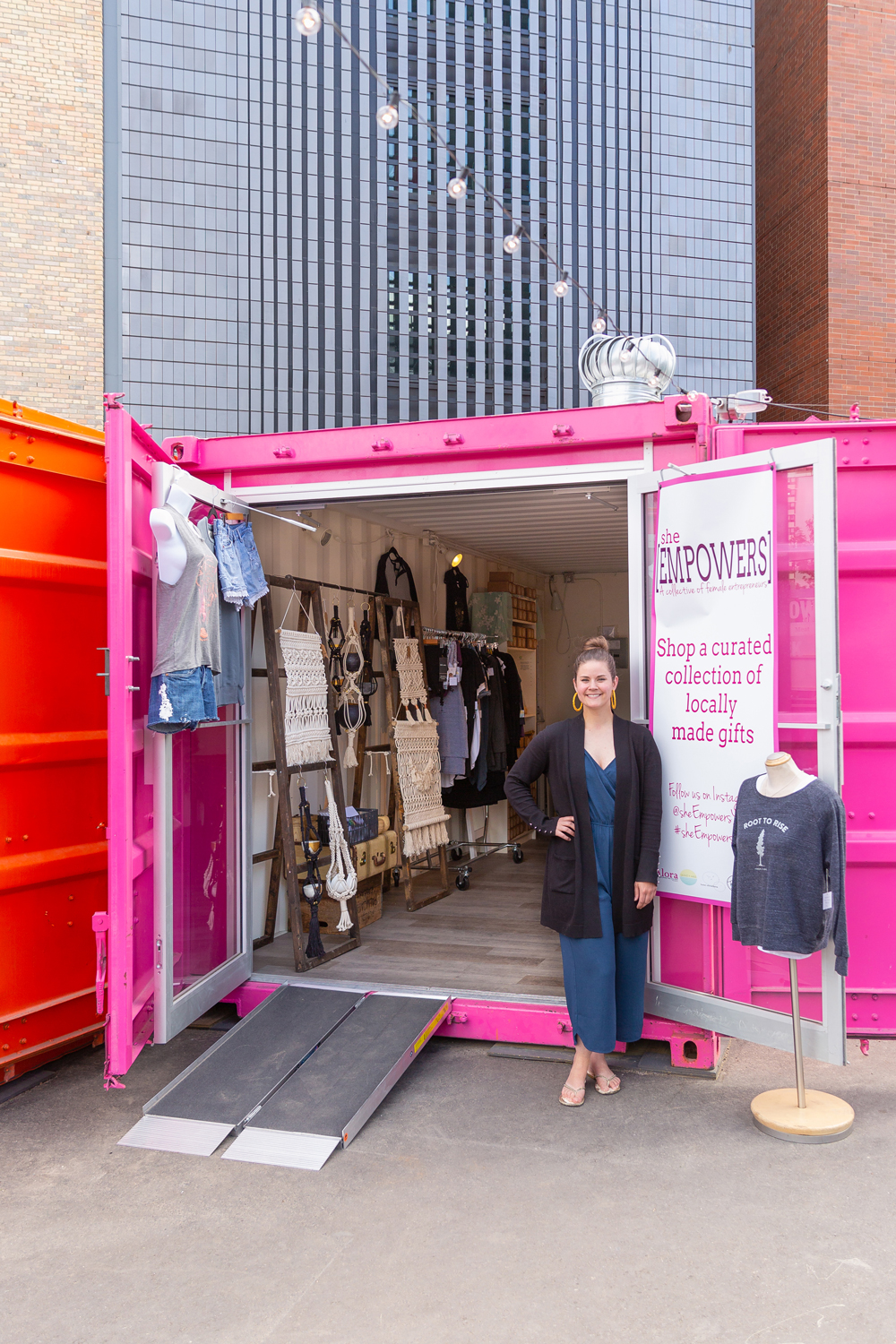 Next up was She[Empowers] by Alora — a hot pink container on a mission to empower female makers and entrepreneurs by offering up a unique selection of home goods, art, jewellery and self care luxuries. Brought to you by Alora Boutique and featuring a mosaic of goods from 7 local makers, everything about She[Empowers] is full of feel good vibes, including Alora's dedication to give back to women in need.
A few of my favourite things from this inspiring container included handwoven macrame wall hangings and beautifully blended essential oils. She[Empowers] by Alora is a giant step forward for the YYC girl power movement — and I am 100% on board!
---
BARK

's Green Thumb
---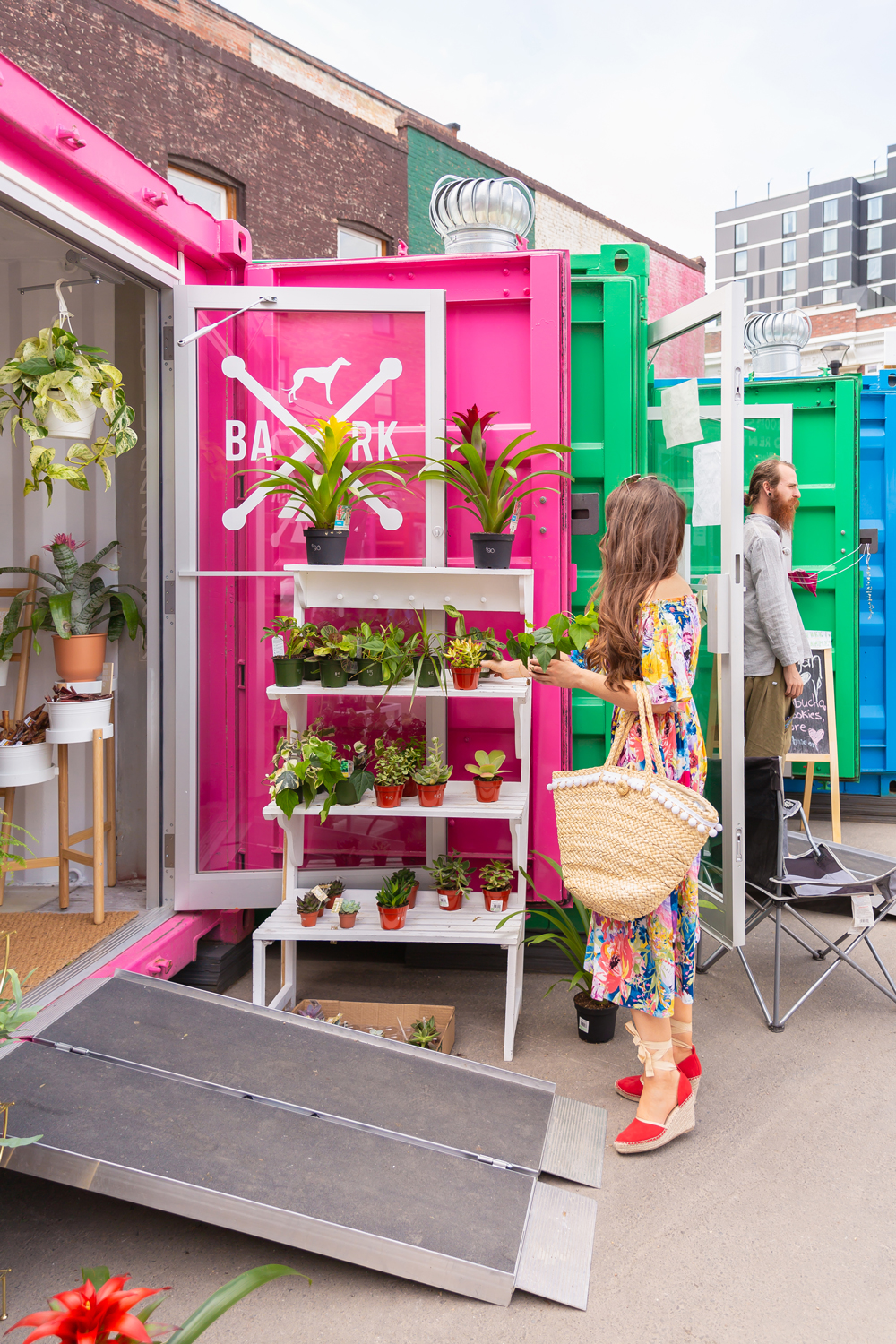 On my way over to our next top, the BARK container caught my eye. No, we don't have a dog — but the stunning assortment of plants outside of BARK's storefront had me picking out the latest addition to our urban jungle! If you have a canine companion, BARK can sort you out with dog treats, accessories, toys and apparel — and be sure to check out the exterior of their container for all your house (or office!) plant needs.
---
That Vegan Place
---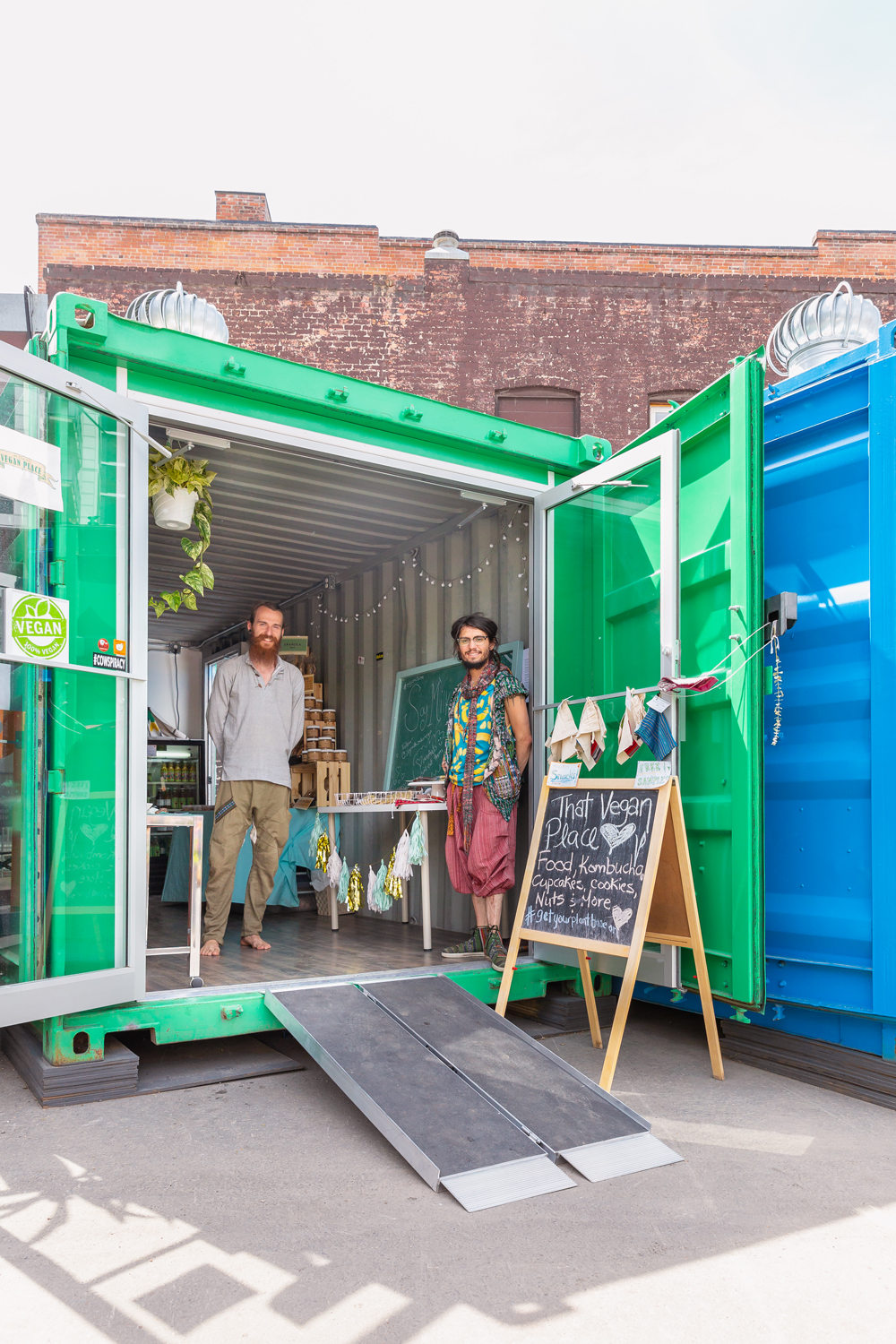 As a plant based eater, it can be difficult to find nourishing food on the go. But That Vegan Place has set out to change that — offering up coveted vegan goods from 5 Alberta businesses in one very kind container. Think of That Vegan Place like a mini vegan supermarket in the heart of the Calgary's East Village!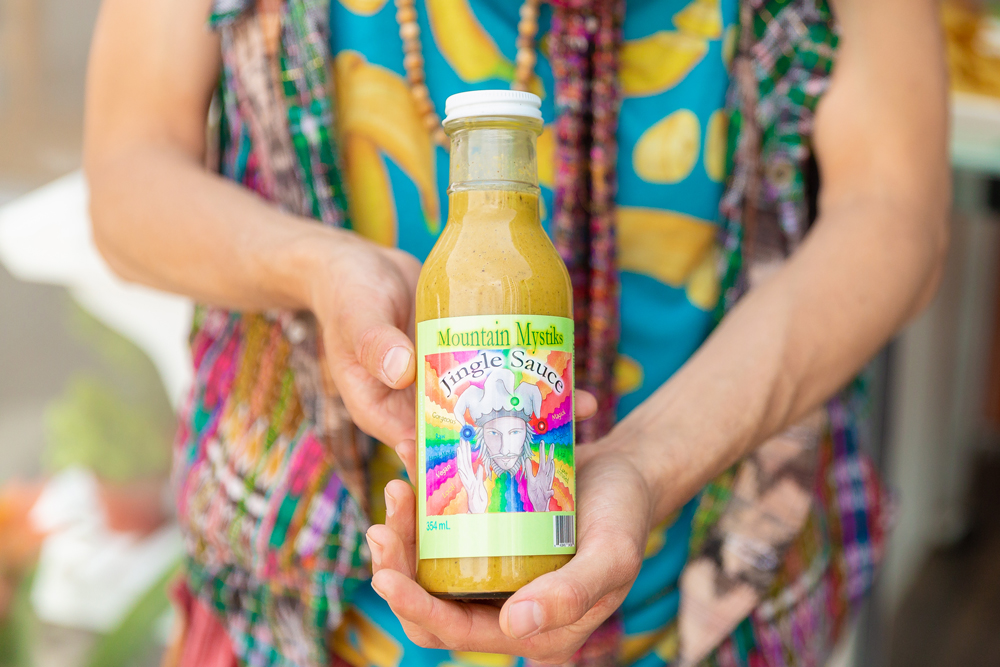 Co-owner Mateus Wachter is extremely passionate about making some of the best vegan eats Alberta has to offer accessible to everyone at the Junction — showcasing food from Mountain Mystiks, where the first ingredient is always love (you must try their Jingle Sauce and Pink Ajna Intuition Kombucha!), Baked From the Heart, Going Nuts, Soy Milk and Vinegar and The Kind Kitchen. Whether you're vegan or just in search of some healthy snacks to fuel your shopping adventures, stop by That Vegan Place to #getyourplantbasedon and learn more about the inspiration and evocative stories behind East Village Junction's greenest container.
---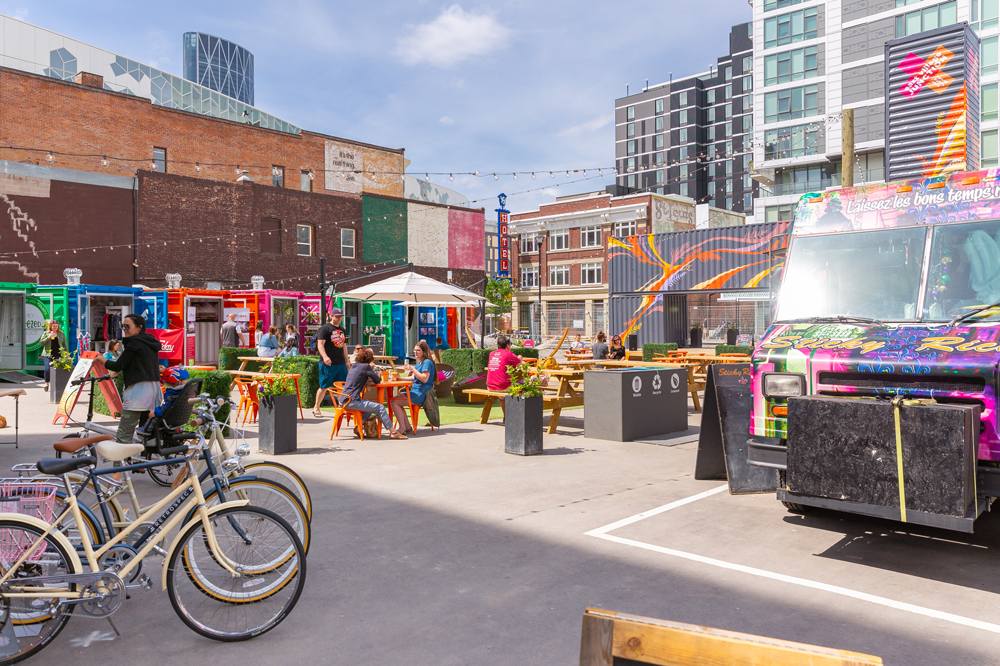 After we were finished exploring, we enjoyed our kombucha under the welcome shade of an umbrella at one of East Village Junctions comfortable seating areas as Tanner James winded down his set. It was such lovely way to spend a Sunday afternoon! We'll definitely be back for another visit before the season is over (or… as soon as we run out of Jingle Sauce!).
If you're looking for a family friendly, outdoor activity this summer, Calgary's East Village Junction is an eclectic, vibrant experience that can't be missed! Catch this colourful pop-up retail park at 439 8 Ave SE Fridays from 12pm to 8pm and Saturdays, Sundays and Holiday Mondays from 10am to 6pm.

Note: East Village Junction has closed since this article was originally published, but I've linked to each business mentioned where possible if you'd like to learn more about them individually!
---
Thanks for coming along with me to East Village Junction today, friends! Creating content for Tourism Calgary is truly such an honour and I'm so grateful for these opportunities. They wouldn't be possible without your support — so thank you!
---
MORE TOURISM CALGARY EXPERIENCES
---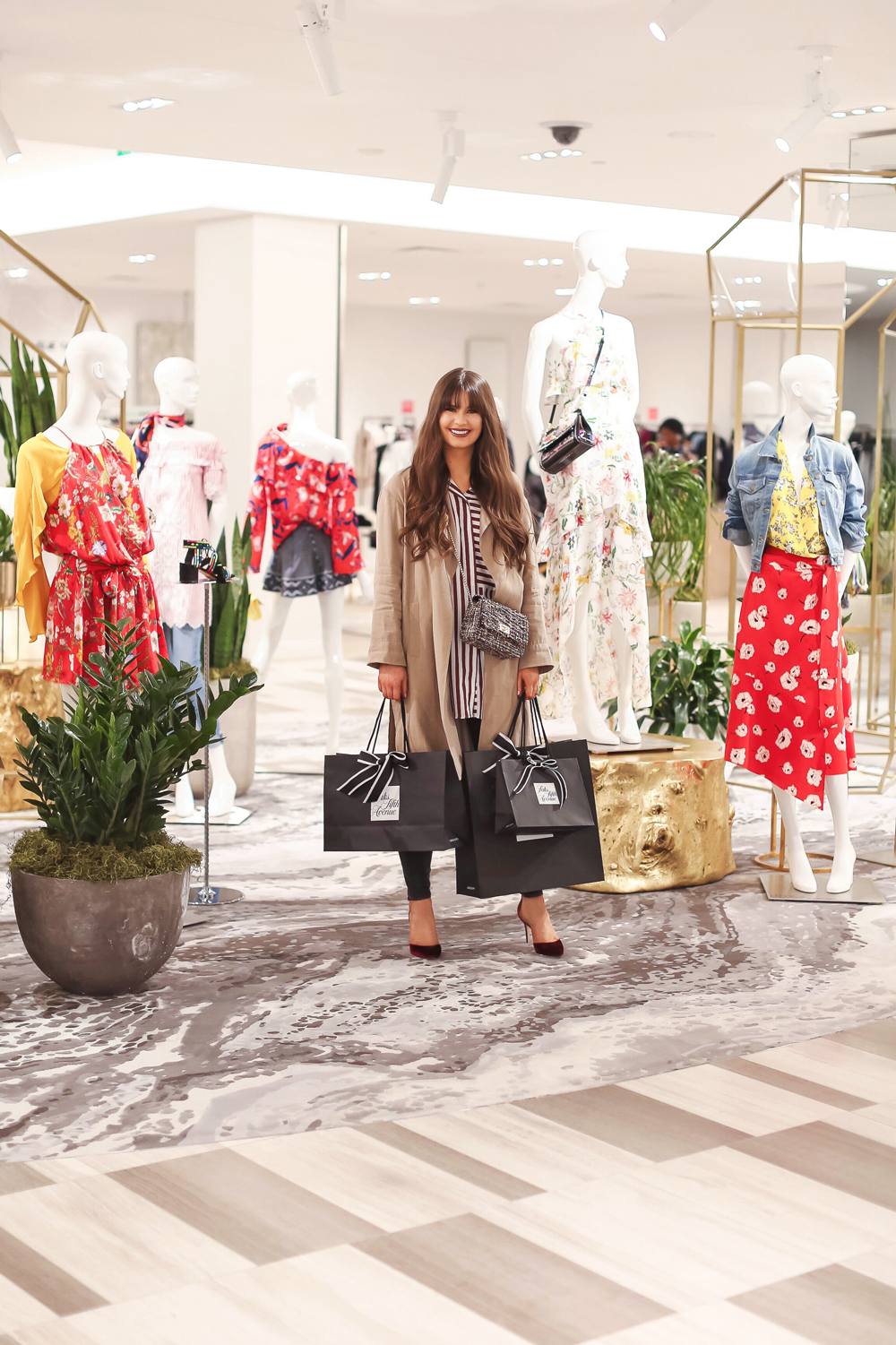 The Ultimate Girls Day at SAKS Fifth Avenue
---
Disclaimer: It was a pleasure partnering with Tourism Calgary to create this content for VisitCalgary.com, where this article originally appeared. This post contains my genuine thoughts, ideas and recommendations. JustineCelina uses affiliate and referral links, which allow me to receive a small commission when you make a purchase through one of my links. Thank you for supporting the brands and businesses that support JustineCelina.com!