---
Yahoo! The Stampede is in full swing and I'm back today with a fresh post in my HOW TO STYLE series dedicated to Calgary's iconic White Hat! Whether you're a seasoned Stampede veteran or have only glimpsed images of the Calgary Stampede from afar, you've undoubtedly seen this steadfast symbol of Calgary hospitality donned by many during these festive 10 days. This year I had the pleasure of styling a custom-fit Smithbilt 7x White Felt Hat for my latest article for Tourism Calgary about What to Wear to The Calgary Stampede — and I knew I wanted to bring a comprehensive post to JustineCelina in honour of this quintessentially Calgarian cowboy hat. I know it will remain a treasured piece in my Stampede wardrobe for years to come!
As a born-and-raised Alberta girl and lover of western, bohemian inspired FASHION year-round, I'm thrilled to offer up some fresh Stampede style ideas for 2019. Although I used the White Hat as my 'anchor piece' in this look, you can absolutely swap it out for any other western or cowboy hat and achieve the same effect! That said, if you're ready to fully commit to the finest, custom-made western hats in all the land, I'm also sharing my first Smithbilt Hat experience with you (it certainly won't be my last!). Saddle up for a free-spirited, modern take on styling The White Hat up for the 2019 Calgary Stampede, plus a breakdown of my favourite dresses, boots, belts and accessories to carry you through The Greatest Outdoor Show on Earth in style!

---
HOW TO STYLE | CALGARY'S WHITE HAT FOR THE STAMPEDE
---
With western-inspired fashion becoming increasingly mainstream, I'm so thrilled to have the maker of the finest, custom-made western hats in all the land here in Calgary!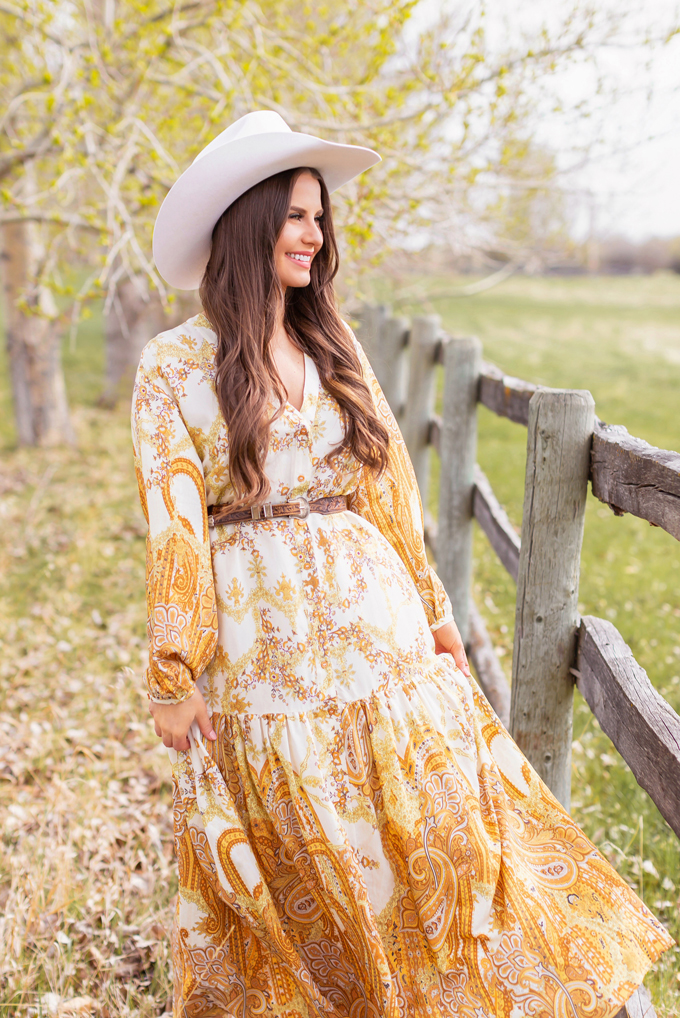 If you've been with me for any length of time, you'll know I love my hats — particularly anything western-inspired. I wear them pretty much year round! So when Tourism Calgary got in touch about me styling Calgary's White Hat for the Stampede this year, I was definitely up for the challenge!
If you're not familiar with the the history of the White Hat, it originally debuted in the Stampede Parade of 1947. Ever since, receiving a Smithbilt White Hat is recognized as an international honour and has become a globally-recognized symbol of Calgary hospitality. Fast forward to present day and you can purchase your very own White Hat in a variety of styles, materials and price-points — year-round!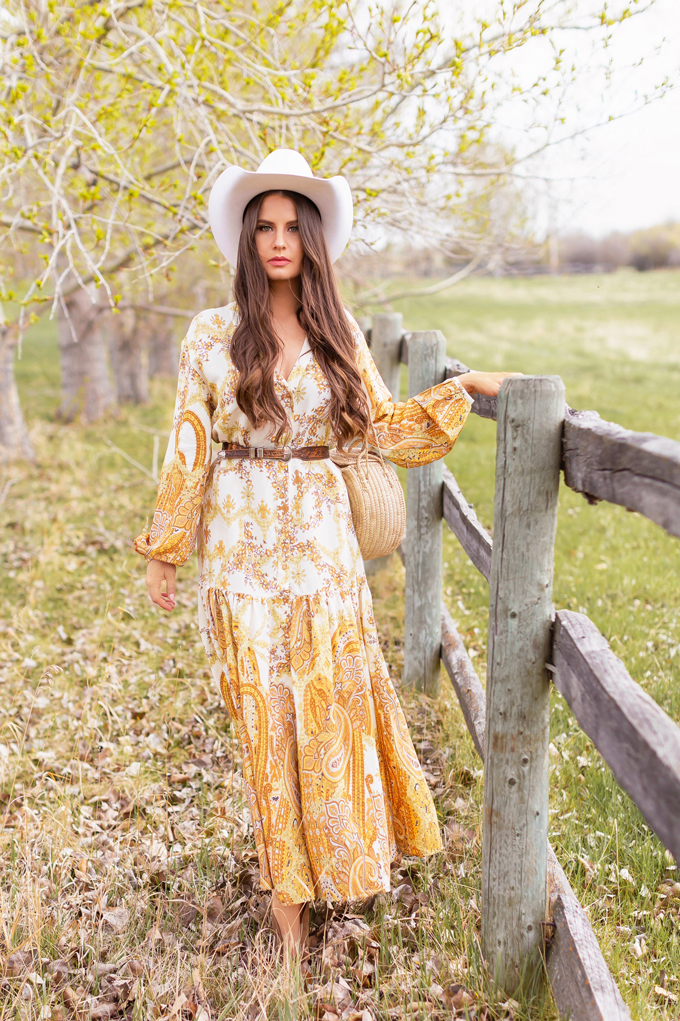 ---
MY CUSTOM-FIT SMITHBILT WHITE HAT EXPERIENCE
---
In preparation for my article I popped down to Smithbilt, located the historic Calgary community of Inglewood, for my first custom-fit hat experience. Upon my arrival I was greeted by Brian Hanson (Smithbilt's Master Hatter — it says so on his business card!) and expertly measured and fit for my White Felt Hat in under 15 minutes.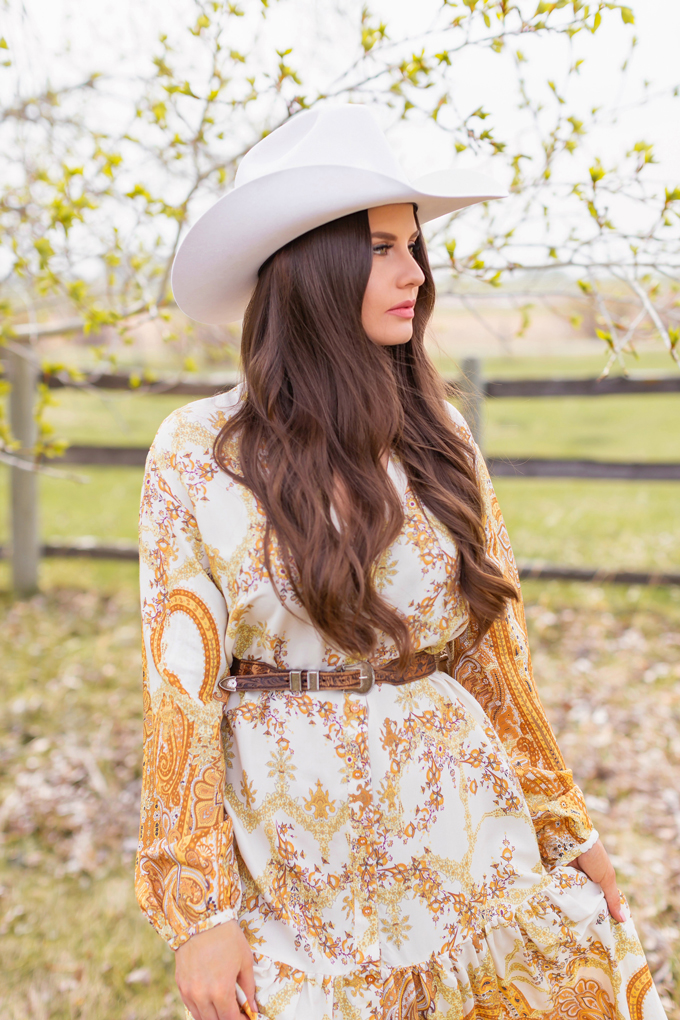 There really is an art to custom-fit hats — I was absolutely in awe watching Brian steam and shape my bespoke hat to perfection. He had me try it on several times before proclaiming it was finished, then packaging it up in a gorgeous hat box.
---
BOHEMIAN STAMPEDE 2019 OUTFIT INSPIRATION
---
Since I wanted my White Hat to shine, I used it as the base of my first Stampede outfit — pulling in a mixture of my favourite high, low, old and new pieces to style her up. Here's what's on my it-list for Stampede 2019!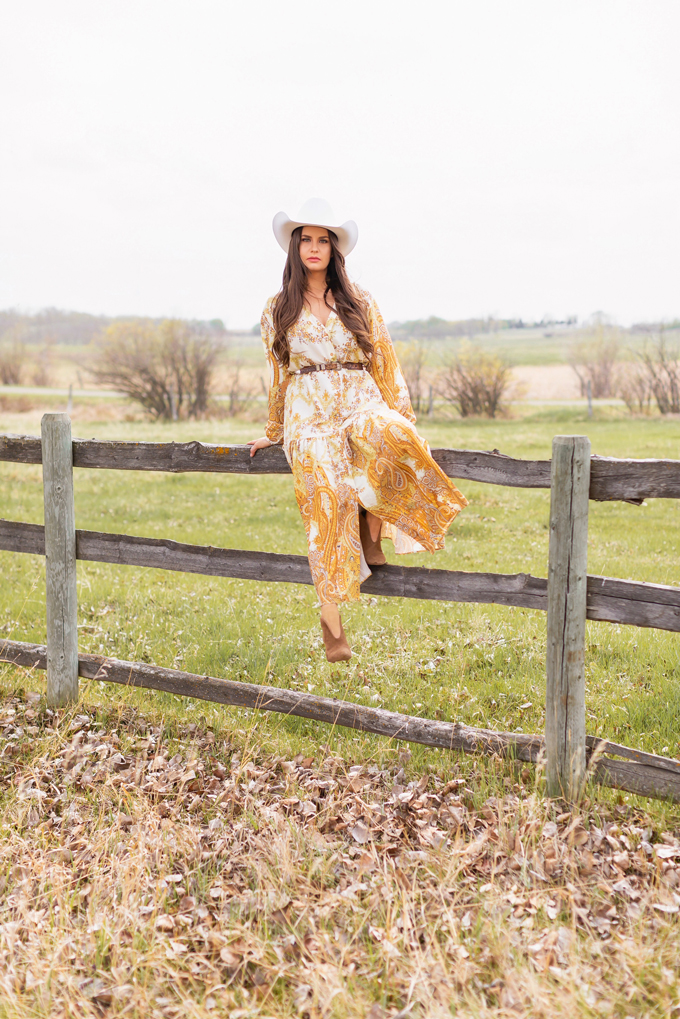 ---
STAMPEDE 2019 STYLE ESSENTIAL #1 | A FLOWY, BOHEMIAN DRESS
---
When I spotted this dreamy paisley dress at H&M earlier this spring it was love at first sight — and I had to order a dress a few sizes larger than I normally wear, because it sold out in less than a day! That said, the oversized look is in and I love the billowy-ness of it, but am eventually planning to have it altered. Not only does a flowy dress make a great Stampede outfit anchor piece because of its versatility, but also because of its breathability! Selecting a dress with a free-flowing silhouette in a light, natural fabric allows you to be as comfortable as possible while you take in the sights and sounds of the Stampede.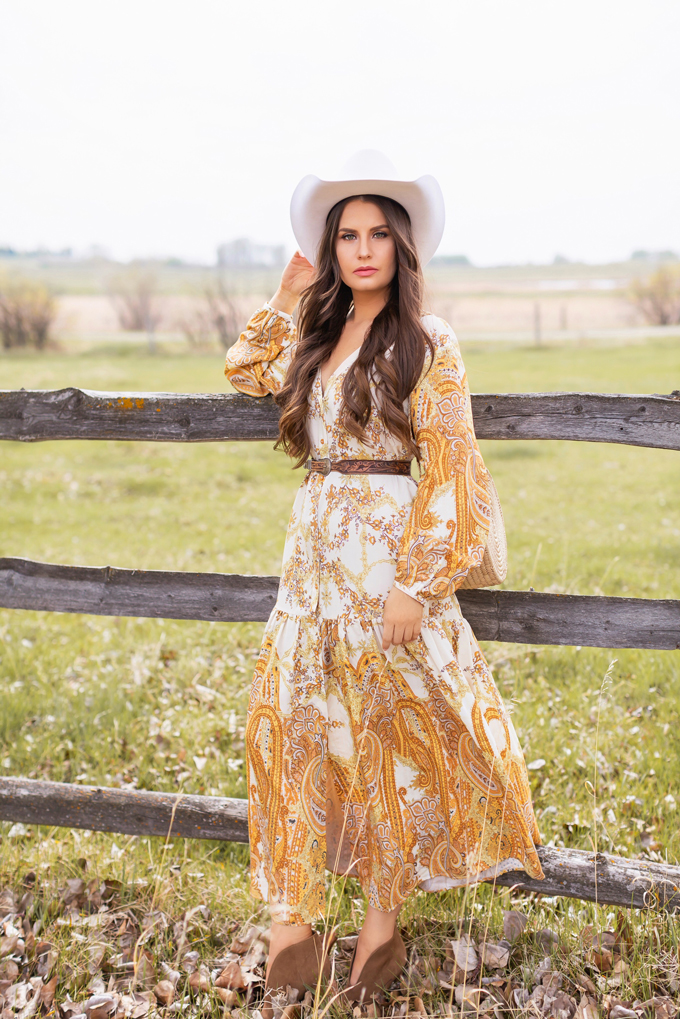 Paisley has been on trend since last summer and I've mentioned and worn it many times here at JustineCelina — but it's hotter than ever for Summer 2019 and perfectly aligned with the western aesthetic of The Calgary Stampede! If you're also in love this this airy bohemian frock I've rounded up a selection of similar dresses at every price point for you below.

---
STAMPEDE 2019 STYLE ESSENTIAL #2 | A WESTERN BELT
---
One of my favourite ways to add some structure to oversized, flowy dresses is to belt them at the smallest part of my waist for an ultra-flattering silhouette. Western-style belts are particularly on trend this summer and can be found in nearly every retailer for Summer 2019! I actually find them quite versatile and have collected a few this year that you've seen me style throughout the seasons here at JustineCelina.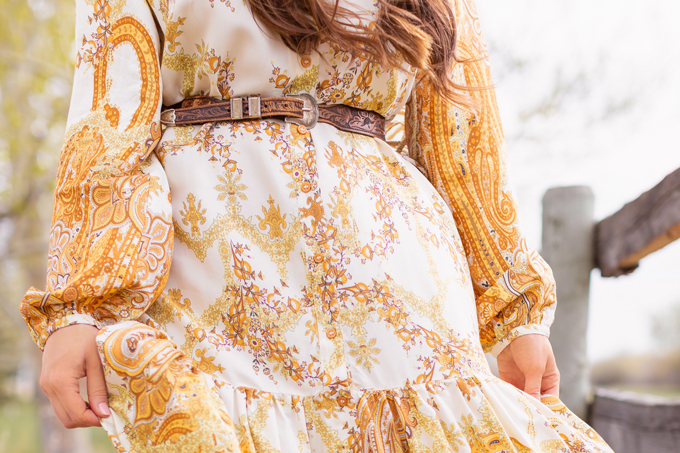 I'm actually wearing a vintage belt that belonged to my late father — I've just punched some extra holes in it with this ingenious tool to ensure it fits me perfectly! If you're in the market, you can shop my current western-inspired look-alikes below.

---
STAMPEDE 2019 STYLE ESSENTIAL #3 | A WOVEN, NATURAL MATERIAL BAG
---
Over the past couple of years, woven, natural material bags have been spotted everywhere — on the arms of your favourite bloggers, celebrities and fashionistas alike. And I'm personally a huge fan! In fact, I dedicated an entire post in my ACCESSORY EDIT series last summer to them.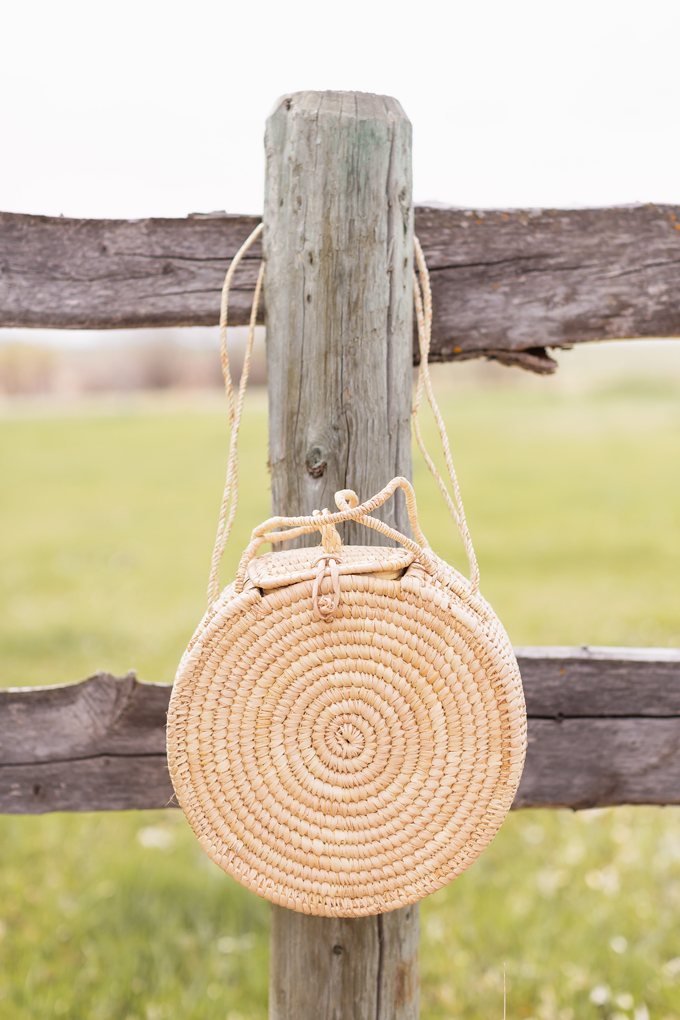 The natural tones and textures of these summery it-bags lend themselves especially well to Stampede styling, don't you think? I'm all about channeling inspiration from my surroundings into my personal style and love the free-spirited touch these bags add to any prairie-inspired ensemble!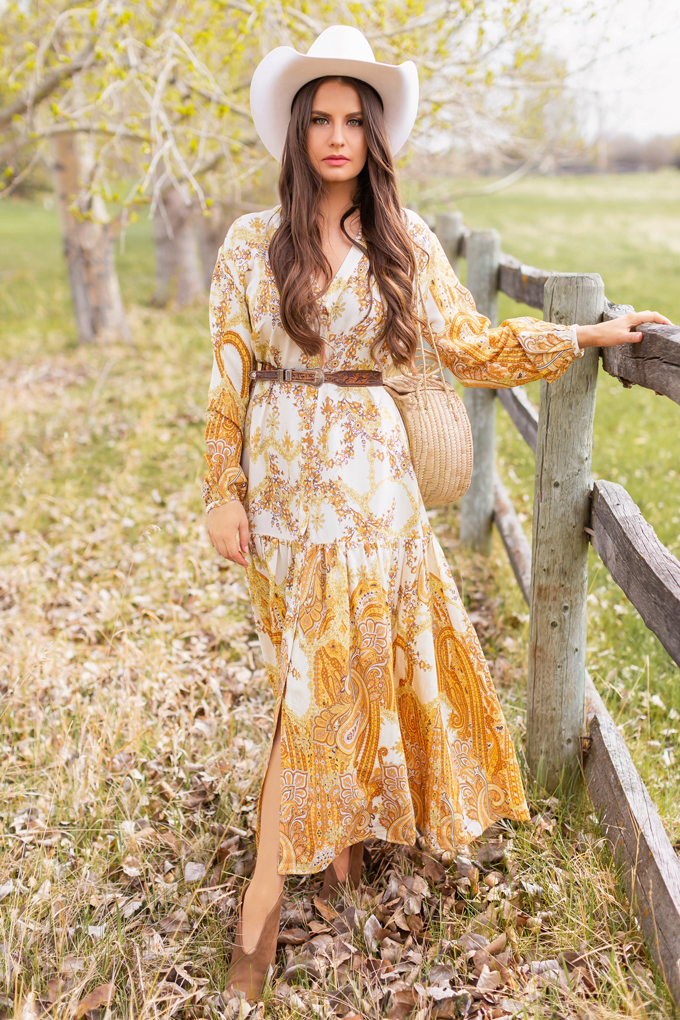 I actually picked this bag up last summer when I was working on my East Village Junction article for Tourism Calgary and knew she had to be mine. This jaw-dropping, hand woven, circular bag was sustainably made in Africa by a female artisan and magically transported to Canada for me to enjoy! Although the retailer I purchased it from unfortunately isn't selling this summer, I've scoured the internet for the best dupes I could find and rounded them up for you below.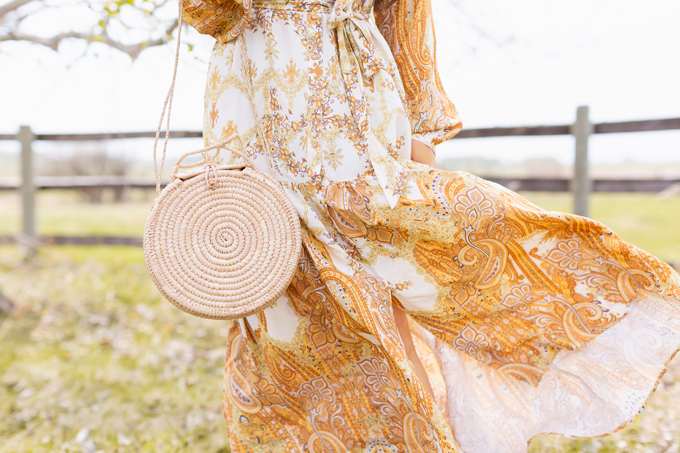 ---
STAMPEDE 2019 STYLE ESSENTIAL #5 | A PAIR OF NEUTRAL, LOW-HEEL BOOTS
---
If you're looking for one quintessential item to incorporate into your Stampede style, make it a pair of western-inspired boots. Now, that doesn't mean you have to go the route of traditional cowboy boots — although, you absolutely can! My inner bohemian loves western-inspired footwear and it's always had a place in my wardrobe, regardless of whether or not it's particularly on-trend. But, it just so happens that western-inspired boots are everywhere right now — which makes finding your perfect pair easier than ever!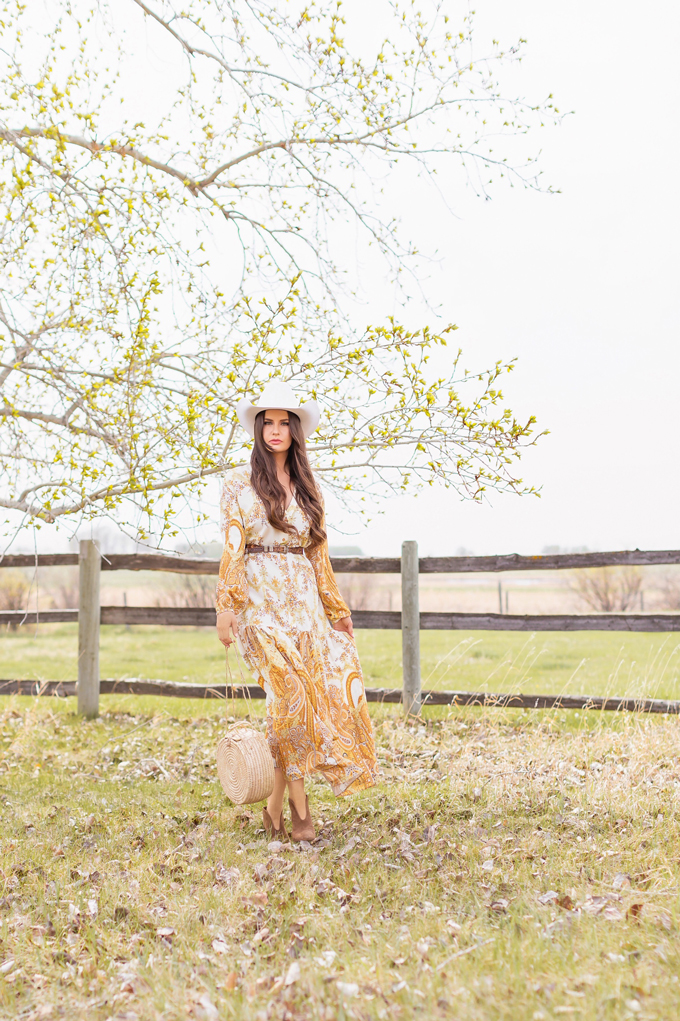 Although these boots are a far cry from the traditional cowboy style you seen ad nauseam during The Calgary Stampede, I knew when I spotted these Vince Camuto stunners at Saks OFF 5TH earlier this year they had to come home with me! I love the leg-elongating silouhette leaving a little extra skin on display (perfect for midi-length dresses) and the comfortable, wear-all-day, low heel (an absolute must for dusk-till-dawn Stampede festivities!). Shop my favourite neutral, low-heeled boots below!

---
SHOP THE LOOK
---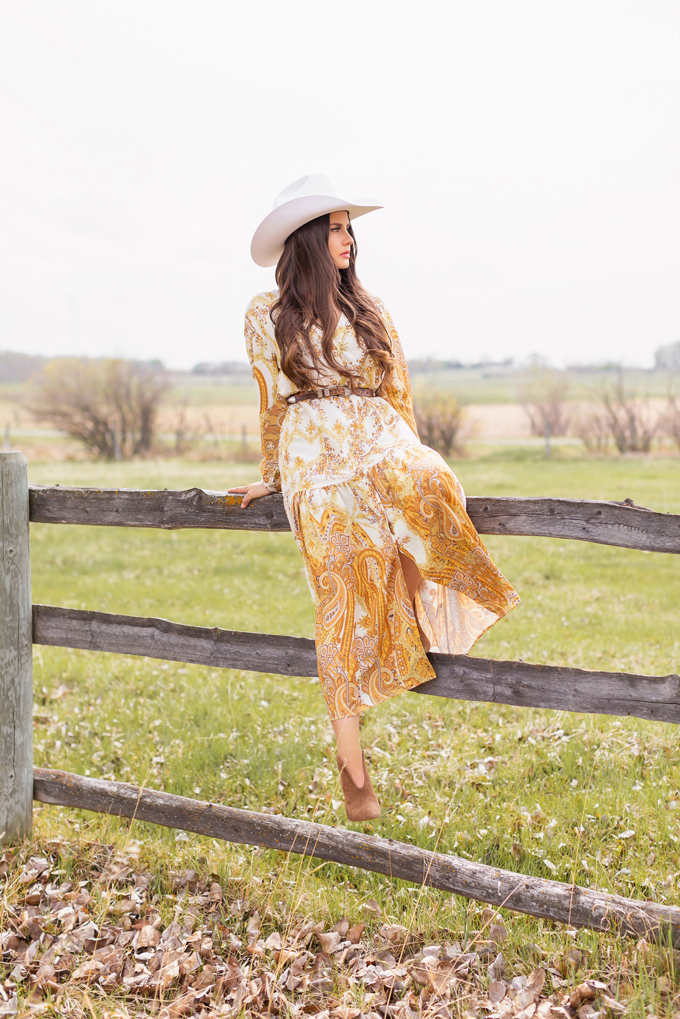 ---
MORE WESTERN INSPIRED STAMPEDE STYLE IDEAS
---
What to Wear to | The Calgary Stampede
Trend Guide | Bohemian Rhapsody
What to Wear to | The Calgary Stampede, Part II
---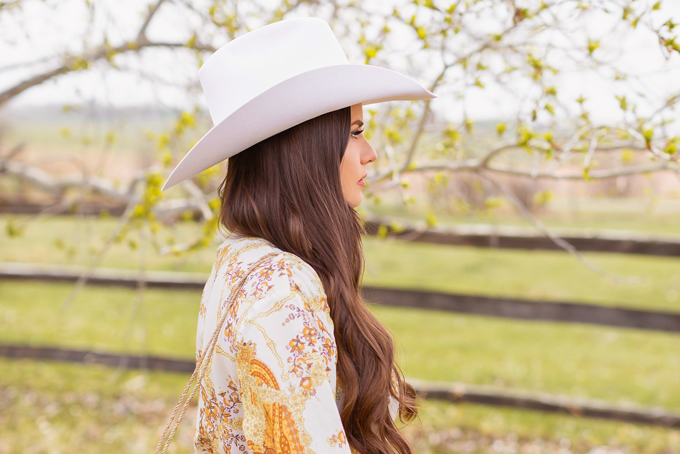 Are you heading down to the grounds this week, or partaking in any Stampede festivities? If you are, I hope you find my Stampede style tips helpful — I'm really passionate about embracing the roots of traditional western fashion and making it as accessible as possible. There are so many beautiful sartorial possibilities beyond the traditional cut-off, plaid shirt, belt buckle and cowboy hat uniform synonymous with the Stampede — and I hope this post inspires you to get creative!
We stumbled on the most gorgeous piece of property just outside my hometown in rural Alberta while we were location scouting for this shoot. It had the best energy and we had such a peaceful afternoon! I've actually been looking into purchasing land in the country for about a year — it's a goal of mine to end up there within the next 5-ish years. Fow now I'm just in the research phase, but I'll be sure to keep you posted on any exciting developments!
---
Disclaimer: This post is not sponsored and contains my genuine thoughts, ideas and recommendations. Thank you to Tourism Calgary and Smithbilt for my beautiful White Hat. JustineCelina uses affiliate and referral links, which allow me to receive a small commission when you make a purchase through one of my links. Thank you for supporting the brands and businesses that support JustineCelina!