---
Friends and fashionistas, welcome back for my first TREND GUIDE of Summer 2018! This season, I've resolved to have as much fun as possible (with FASHION and otherwise!) and that mindset is definitely reflected in this look. I actually picked up most of this outfit during a last minute shopping spree in preparation for my Exploring Calgary's Colourful East Village Junction article with Tourism Calgary! I had spotted this dress in the window at H&M a couple of weeks prior and couldn't get it out of my head, plus I knew it would be perfect for the setting! These fun (and super comfortable!) Topshop espadrilles also caught my eye that day, as did this jubilant circular bag from Zara. As someone who's typically a very calculated, mostly online shopper, it was a refreshing change of pace to let my impulses take over! This colourful, fun, free spirited outfit is the result — and one I've worn several times this season. Every time I do, I receive tons of compliments and questions — so naturally I thought it would be the perfect look to kick off my Summer 2018 TREND GUIDES!
Today we're chatting about a handful of this summer's hottest trends — including bold florals, rainbow brights, espadrilles, red, woven circular bags, shell details, tassels, pompoms, statement earrings and stained lips (because sometimes, more is more!). While I wouldn't typically wear these statement items together, this summer, I'm all about switching things up and getting out of my comfort zone. But some things never change! I'll always be a fan of breezy, statement summer dresses that almost style themselves — you know, the ones that you can just throw on and look fabulous, no matter the occasion? Today I'm sharing a selection of my favourite, flowy floral dresses with you, along with versatile styling tips to ensure maximum wear — whether you pick up something new or are looking for fresh ideas to rework your existing summer wardrobe!

---
SUMMER 2018 TREND GUIDE | FLOWER POWER
---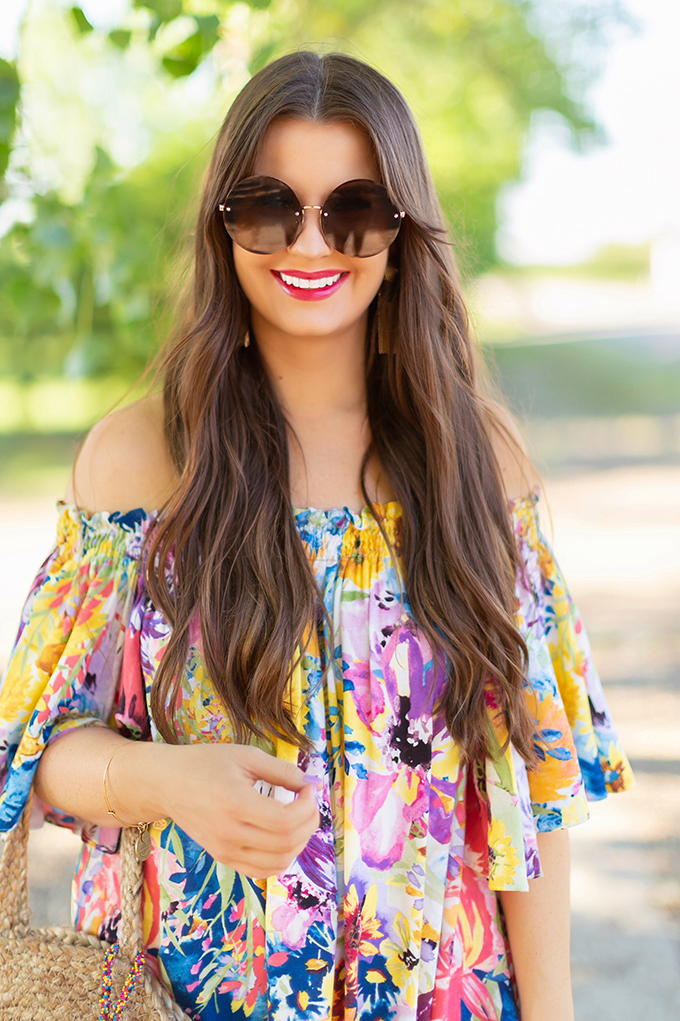 It's mid-July, summer is in full swing and the weather here in Calgary has been hot, hot, hot! We shot 3 looks on the day we captured these photos — but this was the first. It was scorching summer day and we ventured to a small village near my childhood home on the Alberta prairies called Rockyford, complete with the most charming Main Street (it's where we shot this look last spring!) and an adorable liquor store with a blue and pink shopfront.
Unfortunately, by the time we arrived the liquor store was closed and Main Street was drenched in direct sunlight at 4pm — which is the least desirable for capturing flattering portraits or style photos. So, we walked around and eventually found some dappled lighting among the reprieve of a few large trees next to a weathered cross walk. The setting reminded me of The Beatles Abbey Road album cover, so we decided to make it work! Despite the location for this shoot not panning out the way I had originally intended, I love the way these images turned out. They're super summery and fun — and I don't think they could suit the outfit more perfectly! So now that you know where we're hanging out today, let's dive into a selection of my favourite, free spirited summer trends — shall we?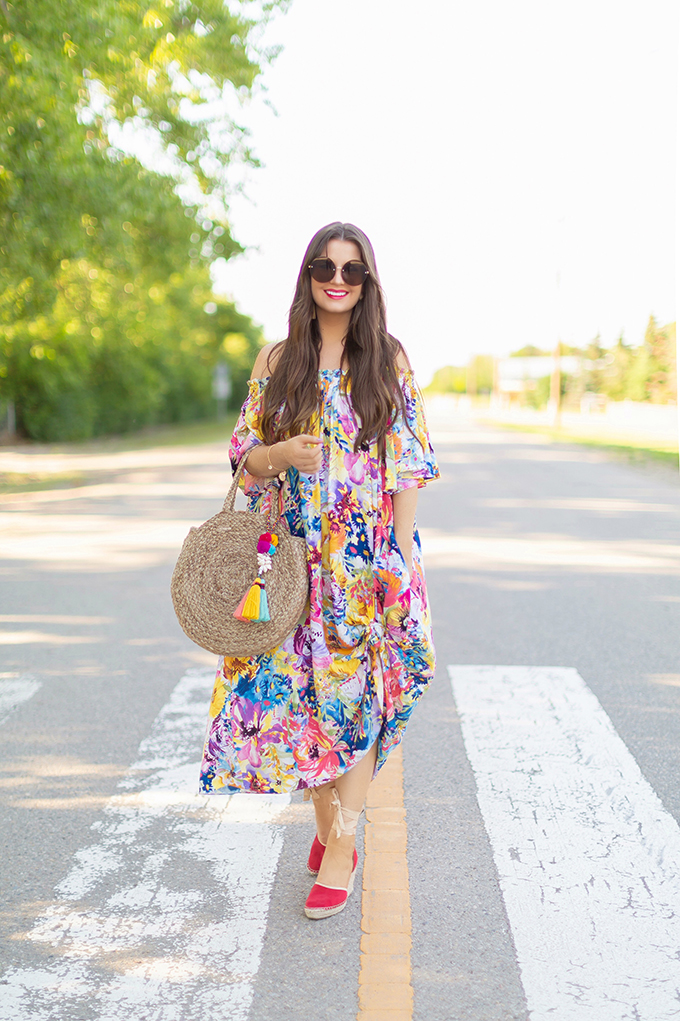 ---
TREND: BOLD FLORALS
---
You're probably seeing summery, statement florals everywhere right now — and that's because there's a massive trend. While I've always been a fan of florals no matter the season, this summer they're brighter, bolder and more colourful than ever. And I'm personally all for it!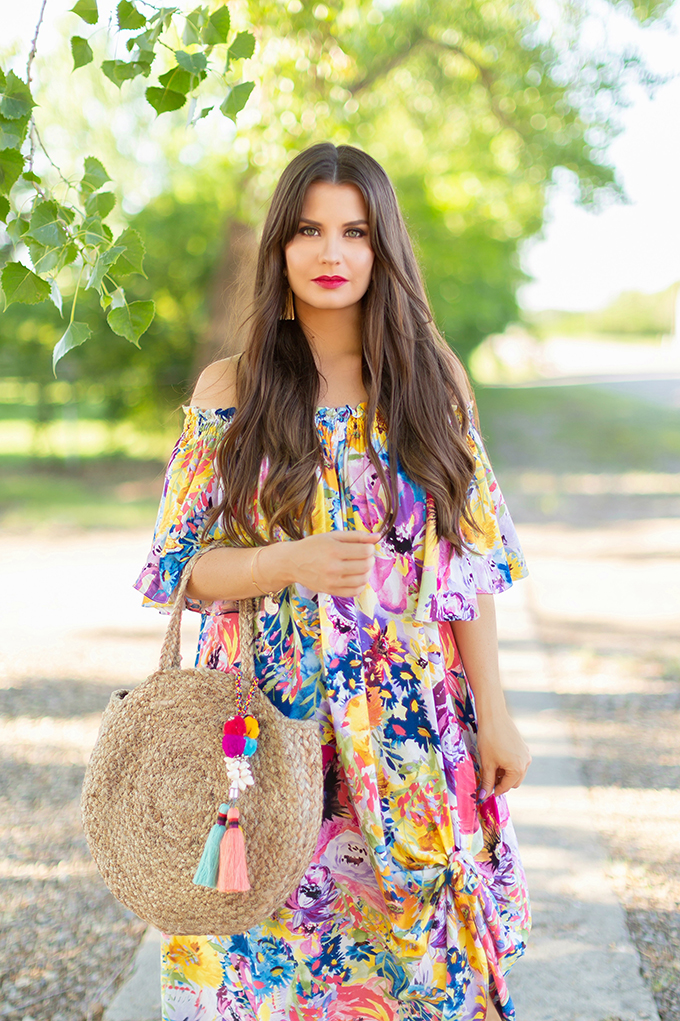 Ladies, I give you full permission to treat yourself to a free spirited, floral dress this summer — like this gorgeous, $29.99 H&M number (it even has pockets!). I'm all about easy, breezy dresses for these hot summer days and truthfully they're all I've been wearing as of late. I love the versatility of this oversized silhouette — you can belt it (like I did when we explored EJV), let it loose, or knot it at the hem to show off your shoes, like I've done here! It's like 3 garments in one — and it looks great with whichever accessories you style it with!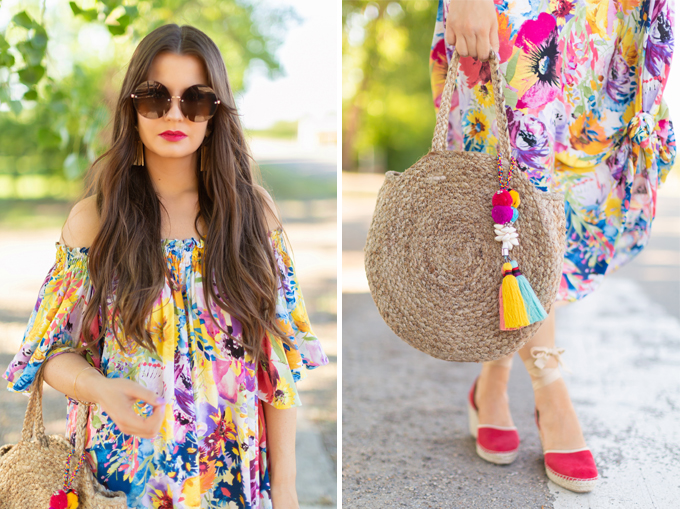 While I'm no longer able to find this dress online, there were quite a few available in store last week at the Chinook Centre location. H&M also offers this print in a high-waisted, button down skirt or a maternity dress (although, you could absolutely get away with the dress I'm wearing here if you're expecting!). Additionally, I've curated a lovely selection of bold floral dresses for Summer 2018 for your shopping pleasure below!

---
TREND: RAINBOW BRIGHTS
---
I briefly touched on rainbow brights in my last style post — but today I'm fully embracing it! This summer, it's all about colour. And I mean literally — every single colour of the rainbow is on trend!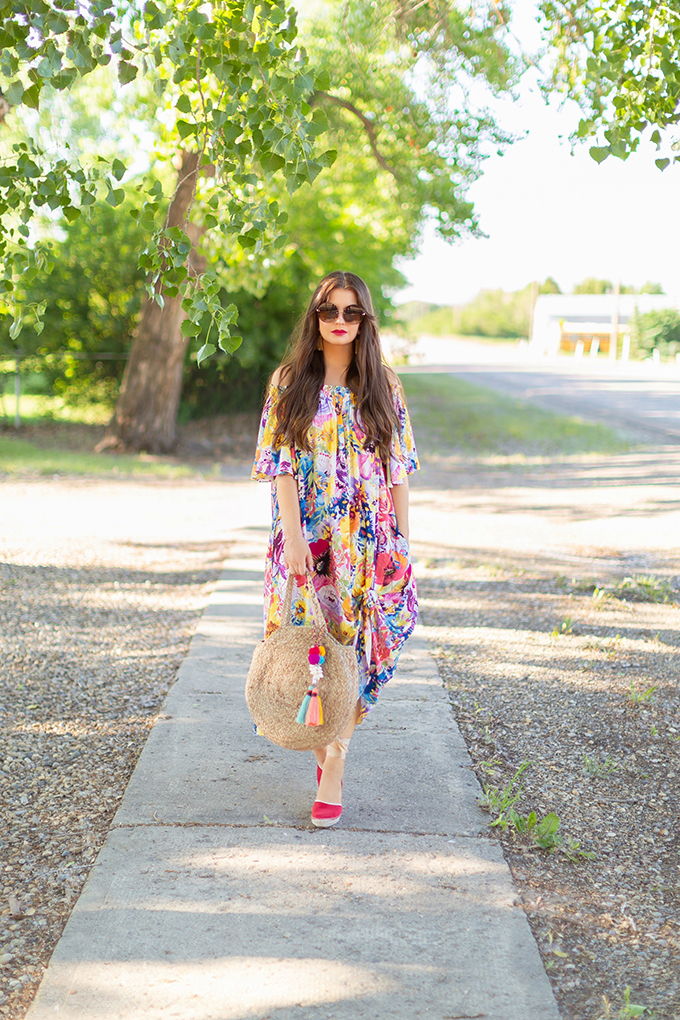 As someone who's always been very inspired by colour and allows it to shape my work and my personal style, I'm using this summer as an excuse to go all out — because, why not?! While typically I would have chosen a more neutral shoe, bag and lip to let my statement dress do the talking, I broke all my typical rules for this look — and I haven't had this much fun wearing an outfit in a very long time!
I have an entire TREND GUIDE publishing in August dedicated to the Rainbow Brights trend, but there are so many ways you can translate it into you personal style until then. If you're ready to experiment, try pairing your bold prints up with accessories in complimentary colours (my shoes, details in my bag charm and my lip all match colours in my dress), or go more subdued with a rainbow inspired accessory like I did with the earrings I wore in my Colour Crush | Red look. Anything goes when it come to wearing the rainbow this summer and there's only one rule to in mind — have as much fun as possible with it!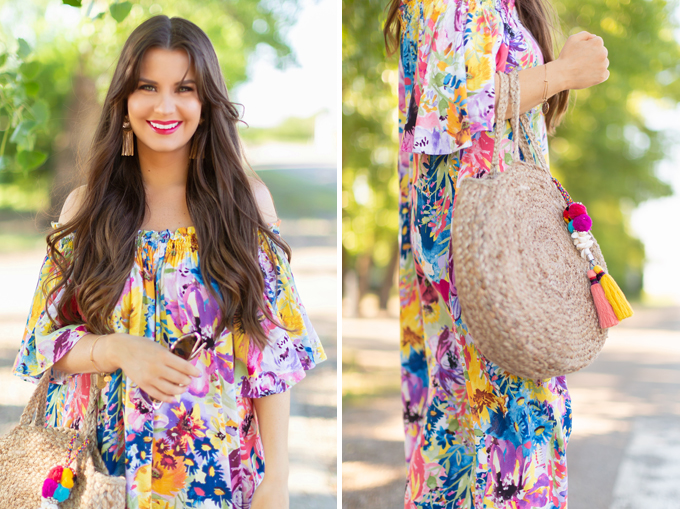 ---
TREND: ESPADRILLES
---
A quintessential summer shoe, the espadrille has been around for decades and never really goes out of style. It's always been one of my personal favourites! With natural texture accessories becoming increasingly popular over the past year or so (I have a brand new series kicking off this summer dedicated to this topic!), I now consider espadrilles a must have in every woman's summer wardrobe.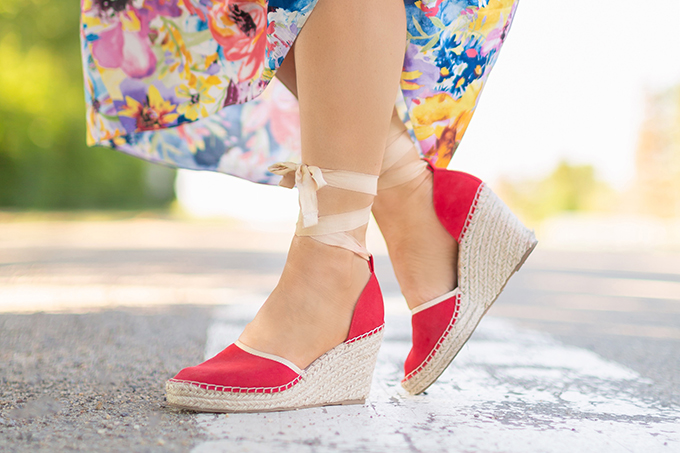 This colourful pair caught my eye on display at Topshop's Chinook Centre location — in person, they're so striking and unique! Impulsively, I tried them on (there was only one pair left — and in was my size!) and completely fell for them. They're insanely comfortable, well made and so cheerful — I love the playful pop of colour they add to my summer looks.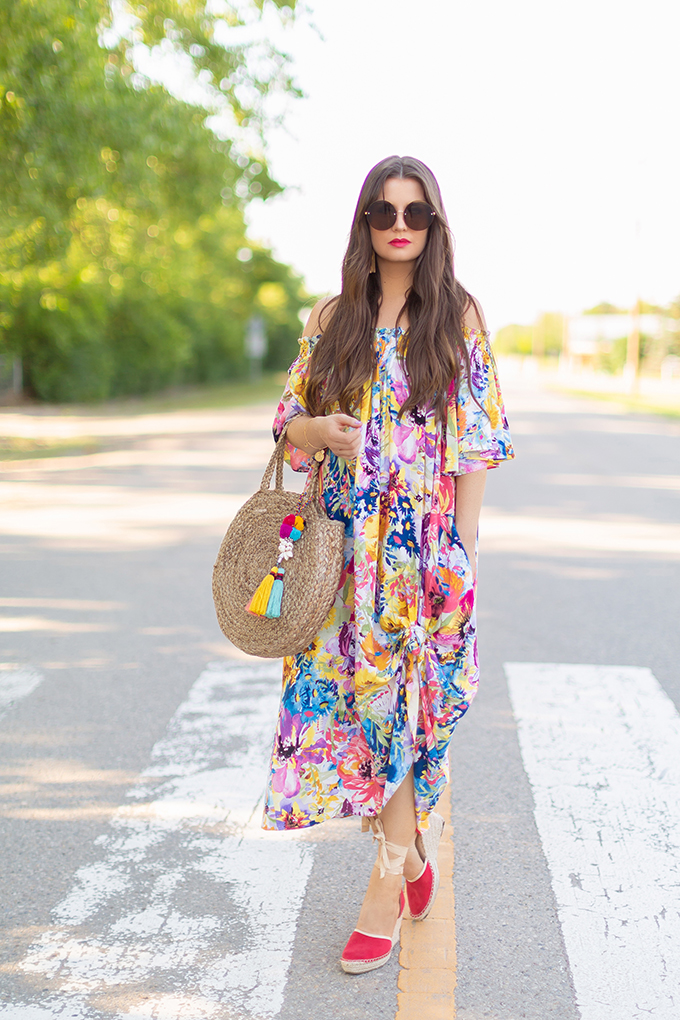 I have a SS18 SHOE GUIDE coming your way soon where you can shop my favourite espadrilles, but in the meantime, you can check out last year's version (which features a few espadrille styles), or shop this exact pair, along with similar alternatives below.

---
TREND: WOVEN CIRCULAR BAGS
---
No matter the size, this season's it bag is circular in shape and woven! While last summer, Cult Gaia's Ark was everywhere (and it still is — and I still love it!), this summer circular bags are hotter than ever and cropping up in tons of different iterations.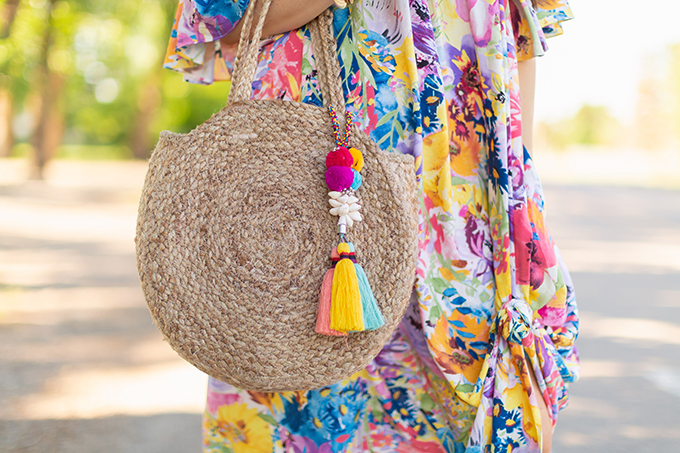 It was love at first sight when I spotted this funky, relaxed, oversized raffia bag at Zara on my East Village Junction shopping spree — and it matched my floral dress perfectly. I love an on-trend carryall to carry me through summer in style! The charm also incorporates a few other trends making eaves this season — shell details, tassels and pompoms, so it's the ideal accessory to inject some new life into your summer wardrobe! I love that I can tuck the charm inside if I want a more neutral look as well. I've rounded up my favourite circular woven, bags of of all shapes and sizes for you below, as well as in this post!

---
TREND: STATEMENT EARRINGS
---
Statement earrings are another trend that's been kicking around for quite some time, I think summer is the perfect opportunity to embrace it! Since I have long hair, I tend to opt for statement necklaces over statement earrings since they can get lost among my mane — but in the summertime I love to sweep my hair away from my face and show my earrings off!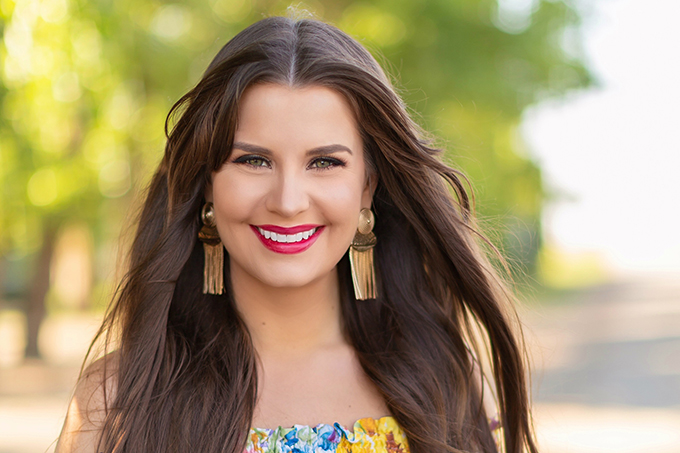 This summer, statement earrings come in every shape, size, style and colour imaginable — I highly recommend picking up a couple of new pairs to breathe new life into your existing wardrobe. These gold stunners were another Zara find and they're so versatile! I've rounded up some similar alternatives for you below if you're in the market for a bold pair or earrings this season.

---
TREND: STAINED LIPS
---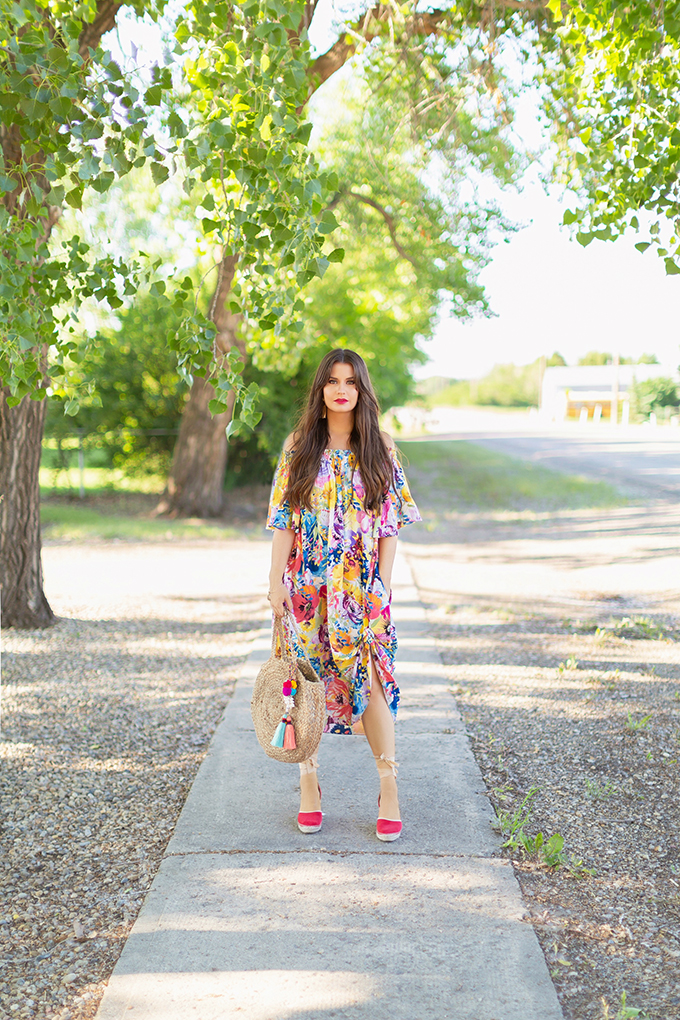 Bold, sheer washes of colour on the lips are where it's at this summer — a beauty trend I touched on in my last style post. And I wasn't kidding when I said you'd be seeing a lot more brightly stained lips around here this summer! I've recent become obsessed with the CLARINS Water Lip Stains after receiving all four colours from the range along with the Instant Light Lip Comfort Oil in Honey last month. They're the ideal lip product for summer, delivering a bold, sheer, staining wash of colour that you don't have to babysit! I'm wearing a mixture of Red Water and Pink Water here to create a juicy, watermelon red shade — which stayed on for the entire day, until I removed it later with jojoba oil when I was going through my evening skincare routine at 11pm!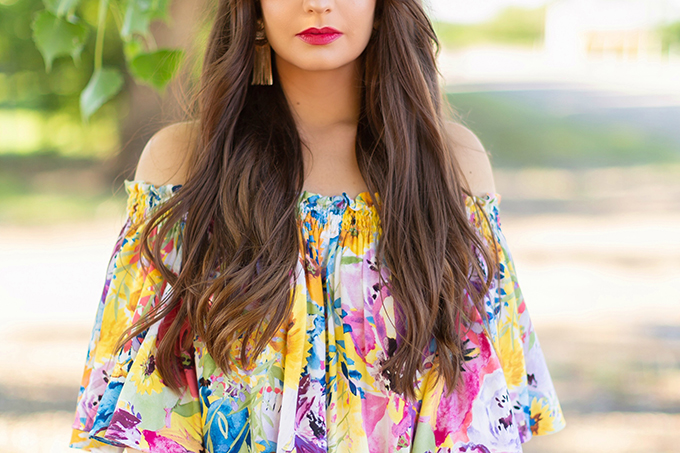 I'm happy to report that each shade from this range is absolutely stunning — either worn alone, mixed with another shade or topped off with the Lip Comfort Oil to impart a juicy hit of hydration. Are you guys interested in a dedicated review post about the CLARINS Water Lip Stains? It's been quite awhile since I've published one, but I'm totally crazy about these!

---
SHOP THE LOOK
---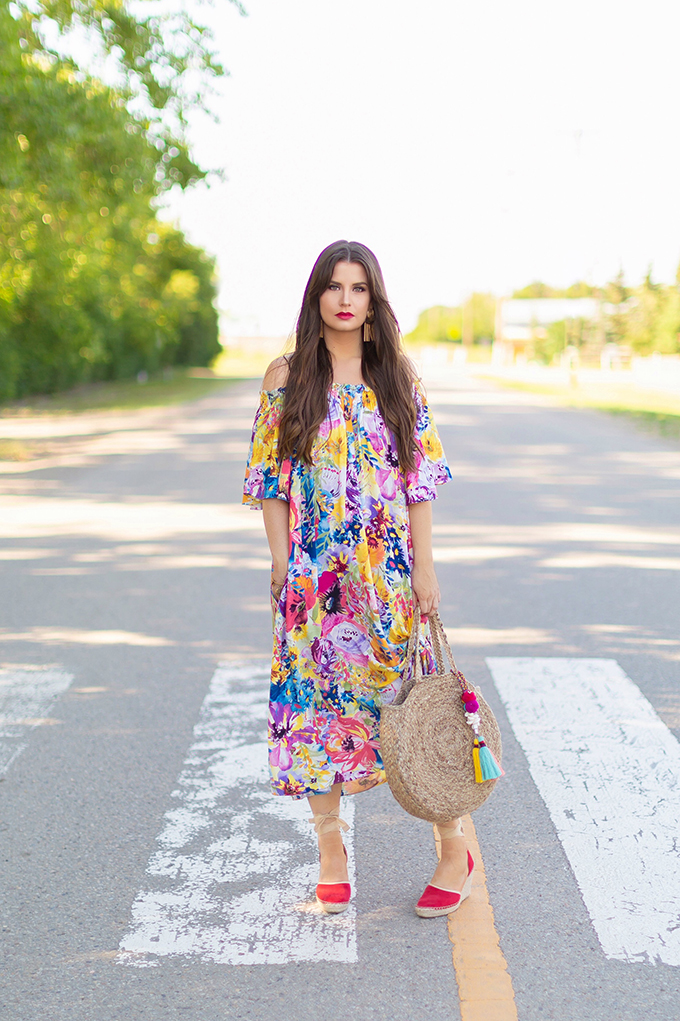 ---
MORE SUMMER FASHION INSPIRATION
---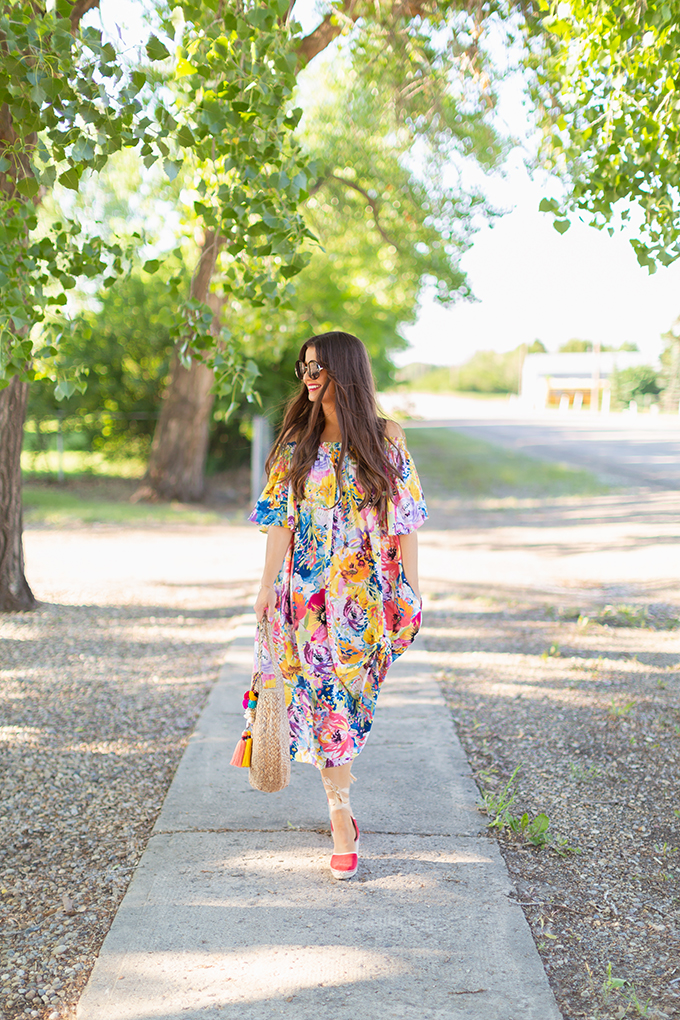 What to Wear to | The Calgary Stampede, Part II

Spring 2018 Trend Guide | Lavender Love
Summer 2017 Trend Guide | Weekend Wear
---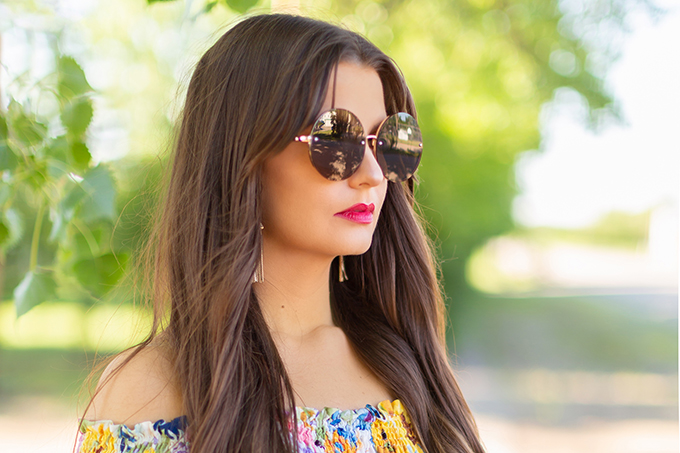 Thanks for stopping by for my first trend guide of the summer! I hope you enjoyed this colourful, free spirited look and it's inspired you to have some fun with your personal style this season. You'll be seeing tons of cute summer dresses on these pages this summer — I've found so many cute ones over the past couple of months!
If you're looking for even more sartorial inspiration, you can also follow along with my JustineCelina Fashion board on Pinterest. And if you want a sneak peek at what I'm wearing before it trickles onto these pages, as well as some exclusive fashion content you won't see here, come join me over on Instagram. I'd love you have you!
---
Disclaimer: Thank you to Clarins Canada for the beautiful lip stains, which were as a press sample with no obligation for feature or review. This post is not sponsored and contains my genuine thoughts, ideas and recommendations. JustineCelina uses affiliate and referral links, which allow me to receive a small commission when you make a purchase through one of my links. Thank you for supporting the brands and businesses that support JustineCelina!