---
Fashionistas, welcome back for my final TREND GUIDE of Spring 2018 — dedicated to my recent obsession with all things lilac (if you've been following along this spring, you probably saw this coming!). It's been an exceptionally busy couple of weeks (I'll be sharing some fun projects I've been working on BTS with you soon!), but before the lilacs faded, we managed to pop out to shoot some new style content in my hometown of Strathmore, Alberta. In fact, we squeezed this shoot into the only free hour we had on our way to Brooks to celebrate a birthday — I had to paint my nails at a sequence of red lights on my way out of the city (yes, I was driving!). All things considered, I love the way these images came out!
Regardless of current trends (or the season, for that matter!), a beautiful, flowy top (which I love so much I picked it up in 2 other colours and ordered one for my Mom!), skinny jeans, comfortable, low heels, a cute bag and a great pair of shades is what you'll find me in on most spring weekends or casual days — another one of my go-to outfit formulas that's ultra wearable, yet polished. But this spring, I've updated this classic look with a selection of seasonal trends and fresh accessories including lavender, pleats, fluted sleeves, straw bags, block heels, coin necklaces and pearls! If you want to dip your toes into the lavender trend but aren't sure where to start, stay tuned for a few tips that will help you integrate this of-the-moment hue into your wardrobe or beauty routine this season — even if you're not sure it's a colour you can pull off (because you totally can!). Today I'm sharing a handful of my favourite trend highlights to carry you from spring into summer (and beyond) in style!

---
SPRING 2018 TREND GUIDE | LILAC LOVE
---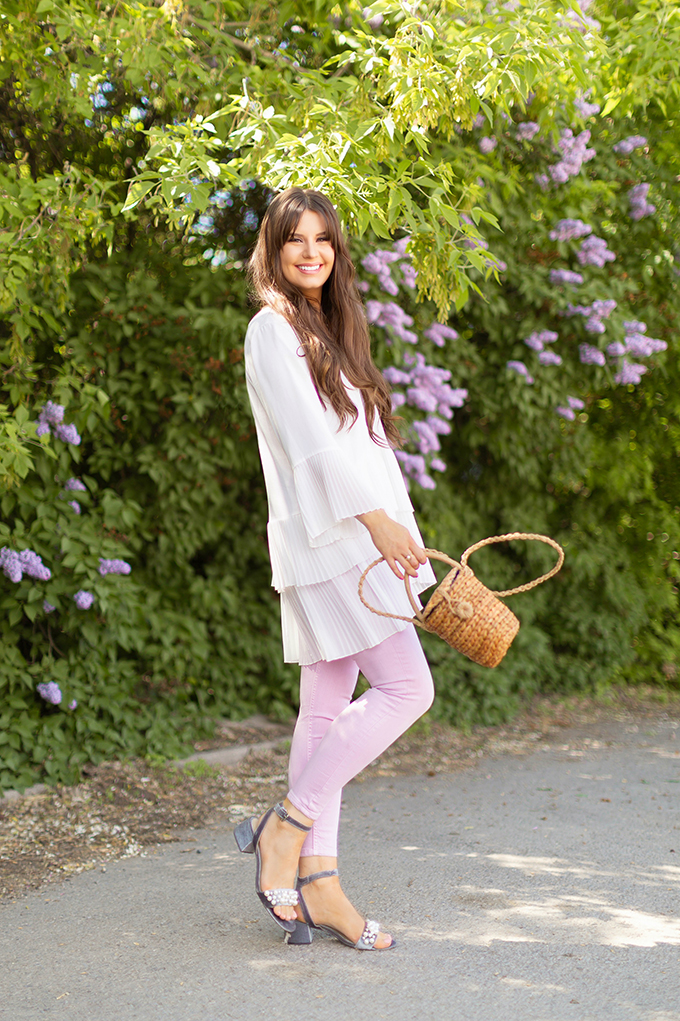 Although it seems like we jumped straight from winter to summer here in Calgary, I'm definitely not complaining. The majority of you reading are actually not local — but trust me when I say this was an absolutely brutal winter. Now that the sun is shining, the birds are singing and the weather is sweet (and we have phase one our SPACE REFRESH behind us!), I actually have a bit of free time and am feeling so inspired style wise. I can't wait to share tons of fresh FASHION content with you this season!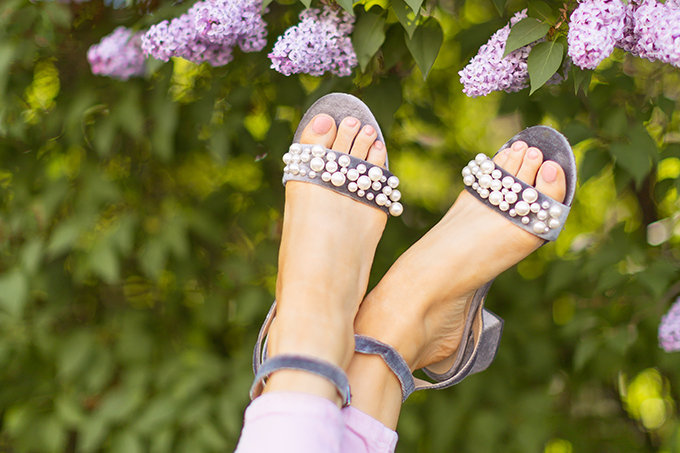 Also, a little disclaimer — with the exception of my necklace and sunnies, I'm wearing Zara head-to-toe. Typically, I make an effort to avoid that when I plan my style content, but this look just happened to work out that way (what can I say, it is one of my favourite places to shop!). Some of the exact items featured in this post are still available and some aren't — but regardless, I've linked tons of similar options and alternatives for you at every price point, as per usual!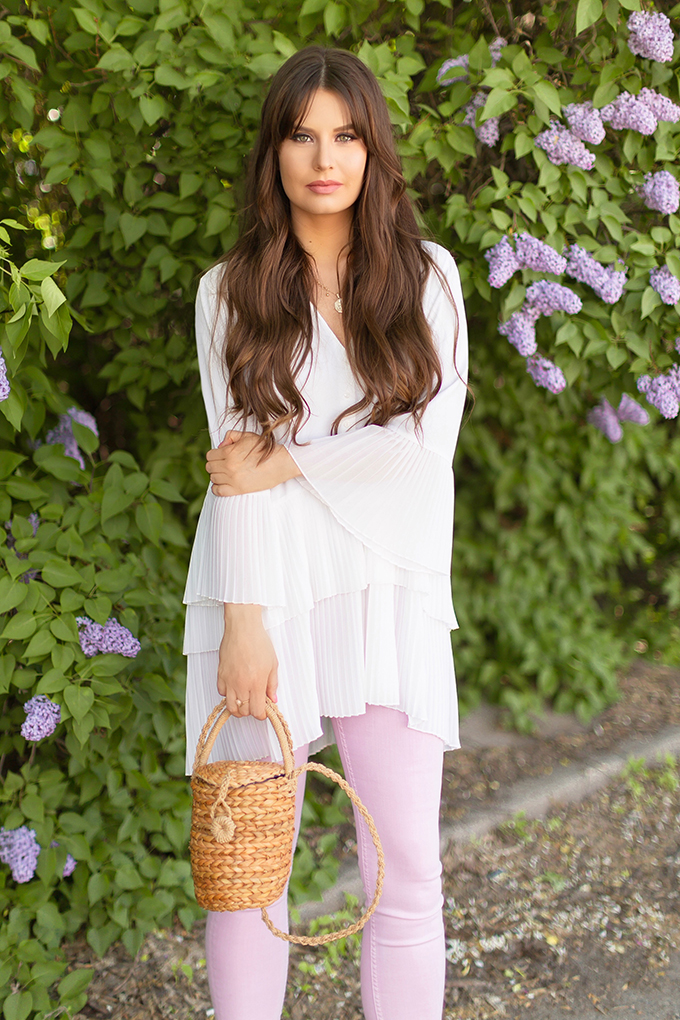 ---
TREND: LILAC
---
Lilac is spring's hottest colour trend (as partially dictated by Pantone's Spring 2018 Colour Trend Report!), and one I've been intrigued by since last year when I originally noticed it popping up — but I couldn't seem to find any lilac pieces I loved. So this year, I went on a mission to incorporate this trendy hue into my wardrobe (and content) and have been absolutely loving it!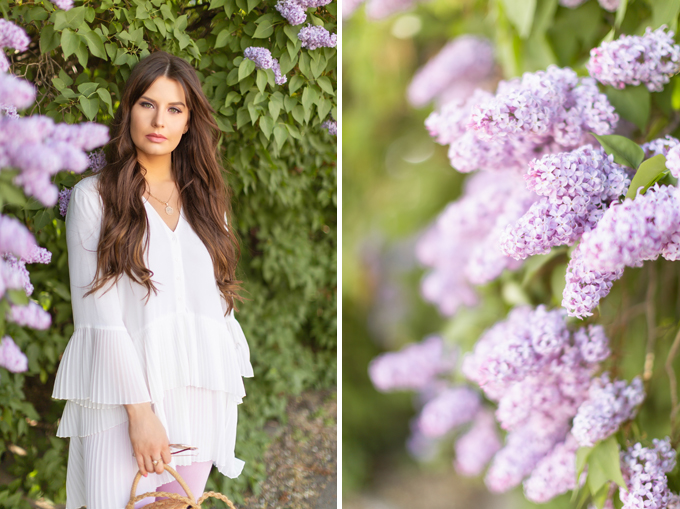 I feel like lilac is one of the more polarizing pastels — you either love it or you hate it (or maybe aren't sure how to make it work for you!). As a green eyed gal, I've always found lavender hues flattering since purple and green are complimentary colours (a little art college colour theory coming at you!). That said, if lavender doesn't do your eye colour (or your complexion) any favours, why not incorporate a lilac bottom into your SS18 style?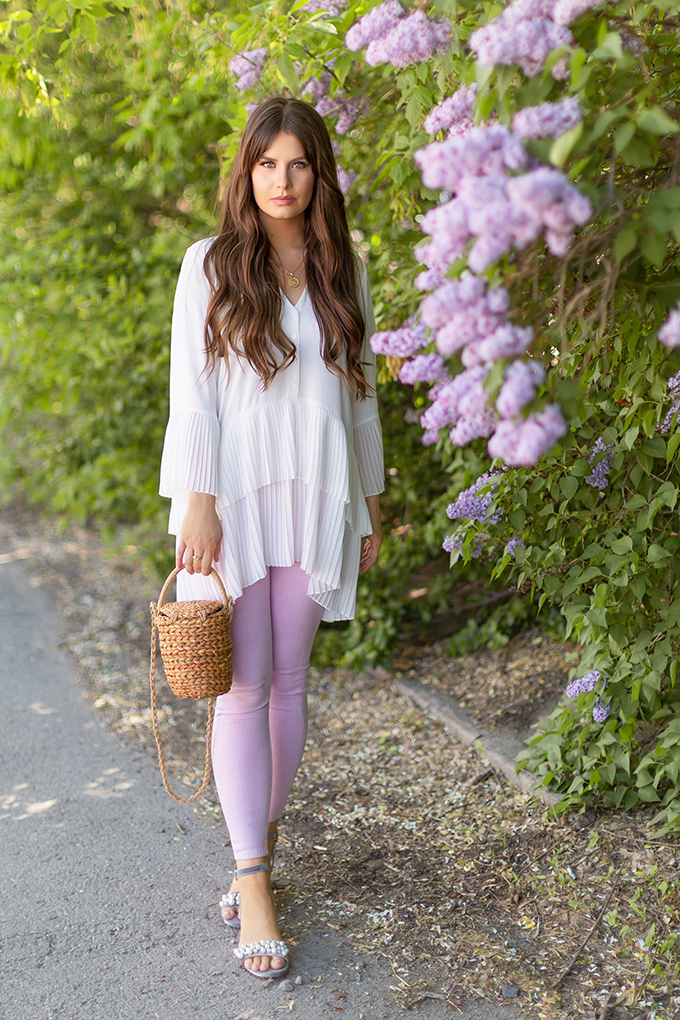 Since my top is so flowy, I opted for a classic pair of cropped lavender skinnies, as I know that's a cut that always flatters me when I wear oversized tops. Lilac is such a fresh, fun, vibrant shade that I think works well in various pant styles — so choose a cut that works for you (I absolutely think a pair of beautiful lavender trousers can be office appropriate when styled professionally!). This exact pair of lavender skinnies are now sold out, but I've linked my best dupes up for you below, along with Zara's current selection of lavender hued pants (a few of which I have an eye on!). If you aren't planning to sport lavender legs this season, cop a lilac accessory like a pair of shoes or a statement bag to inject a hit of seasonal colour into your wardrobe! Or, incorporate a pretty, plum or lavender toned eye into your beauty routine — I'm wearing my beloved Laura Mercier Eye Art Artist's Palette here (hop over to this post for a full review, eye look and swatches!).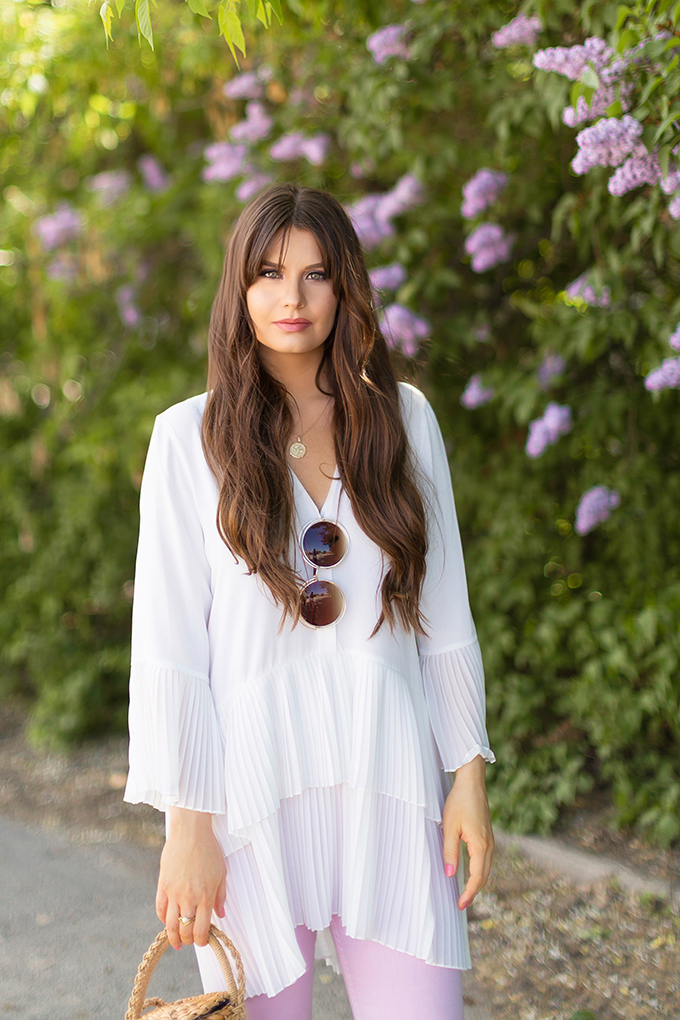 ---
TREND: TIERED, RUFFLED PLEATS
---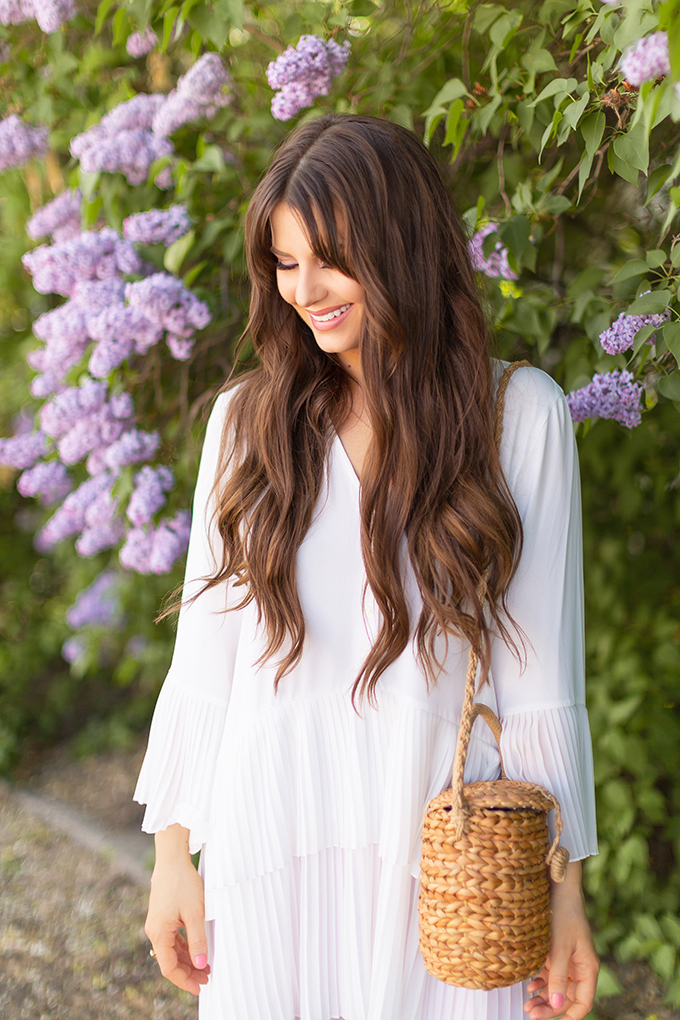 I've always been a sucker for a beautiful, pleated details (case in point), but this spring and summer, tiered, ruffled pleats are where it's at. While I own a few skirts and tops with this detailing, I'm always on the hunt for that perfect, updated basic to refresh my wardrobe — and I found it in this stunning Contrasting Pleated Blouse. I love everything about it — the oversized, but flattering, silhouette, the billowy tiers, and how cool and breezy it is to wear on those beautiful spring and summer days! In fact, I love it so much, I actually picked it up in blush and green — and even ordered the white version I'm wearing here for my Mom, who wore it to her highschool reunion this past weekend!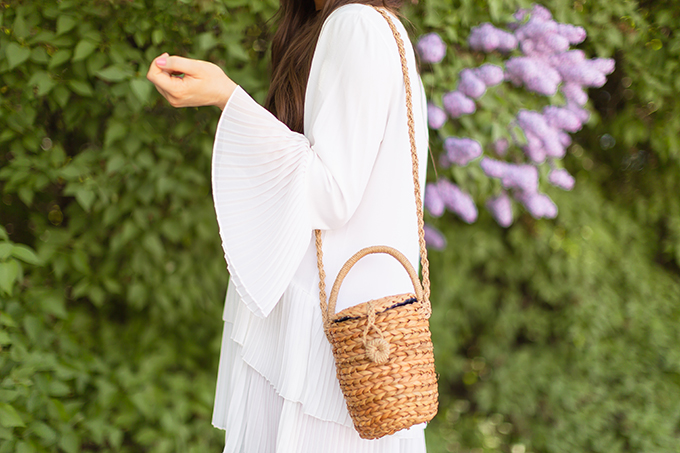 It's not often staple pieces like this can also check off a few boxes in the trend department, which is part of the reason I'm so crazy about this updated white button down. If you're button down game could use a feminine upgrade, please pick up this top — I promise you won't be disappointed! And if you're into the tiered, ruffled, pleated trend but this exact top isn't for you, I've also linked a handful of alternatives for you below.

---
TREND: FLUTED SLEEVES
---
Statement sleeves are a trend that's been kicking around season after season — but for SS18, this fluted, bell shape is fluttering arounf everywhere! Personally I think it's a very flattering sleeve and love the breezy effect of the silhouette in lighter materials. My beloved Contrasting Pleated Blouse incorporates the fluted sleeve trend into this look beautifully, without looking like it's trying too hard. If you're looking to add some playful movement into your wardrobe this season, try experimenting with fluted sleeves!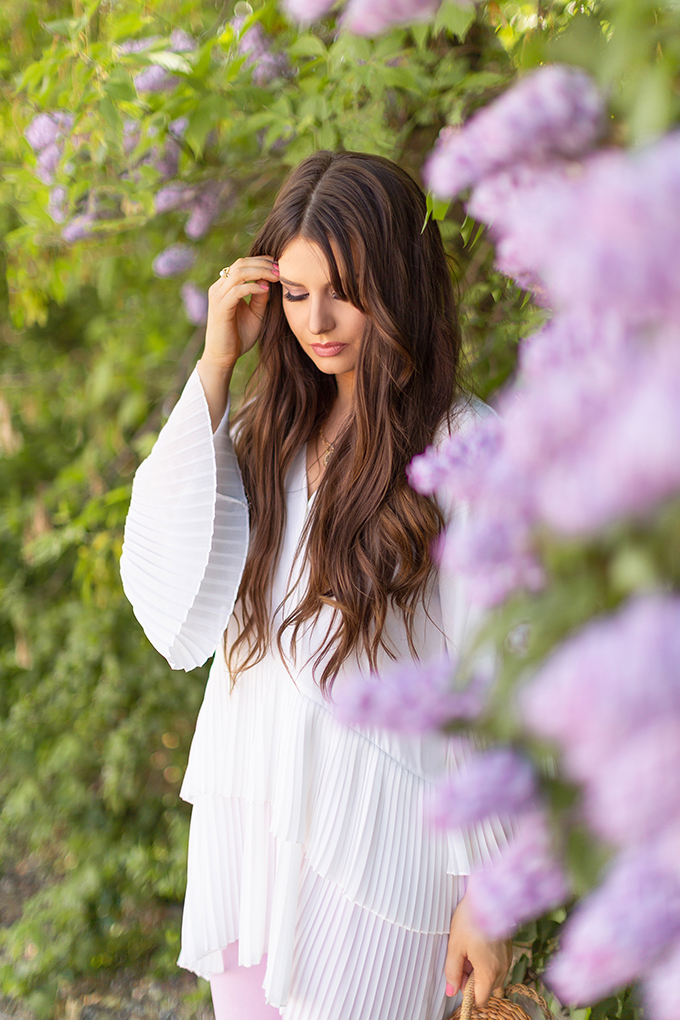 ---
TREND: STRAW, WICKER, RATTAN, WOOD & JUTE BAGS
---
If you've read JustineCelina for any length of time, you'll probably know that I've always had a soft spot for organic looking, natural details — both in my wardrobe and in my home. Straw and natural material bags are something I've always worn and loved, regardless of whether or not they're particularly on trend — but I love the wide selection available at the moment! If you've been following along with my Insta Stories lately, you'll know that I've amassed quite the collection this spring — in fact, as per your request, I'm currently planning a post about my favourites, along with some smart shopping and vintage hunting tips!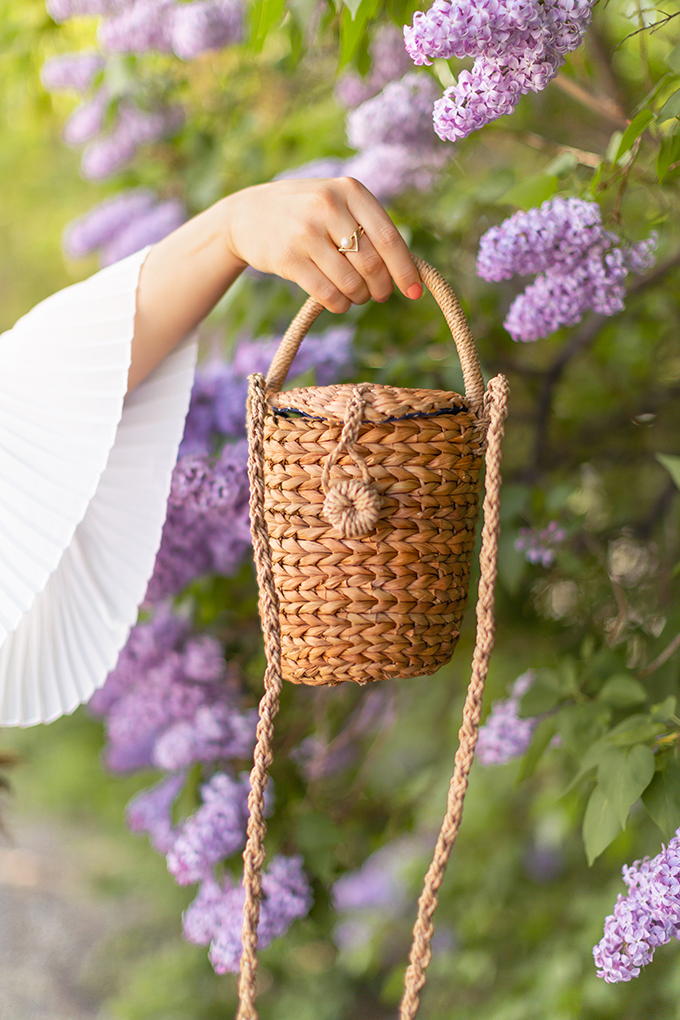 This exact straw bucket bag is from Zara (and is now sold out), but I seem to be finding cute ones literally everywhere lately. If you're in the market for a go-with-almost-anything natural material bag, I've linked all my favourites you for you below. It's such an effortless trend to wear and a breeze to incorporate into your personal style this season — I find they compliment most of my seasonal outfits, casual or formal. Expect to see a lot more straw, wicker, rattan, wood and jute bags here at JustineCelina this summer!

---
TREND: PEARLS
---
Seriously, how adorable are these sandals?! Believe it or not, they were a $9.99 Zara sale find that I picked out of a pile on the floor back in February (hey — I never let a little elbow grease deter me from a scoring killer deal!). Pearl details have been trending for well over a year now, and other than a pearl earring or necklace, I've never really found a way to embrace the trend in a way that feels authentic to my personal style — until now! Underneath the pile of mis-matched clearance shoes, these pearl stunners caught my eye immediately. I love everything about them — the comfortable, low block heel (which is also on trend for SS18), the subtle shimmer of the cool grey velvet and the charm of the bubbly pearl details on the toe strap.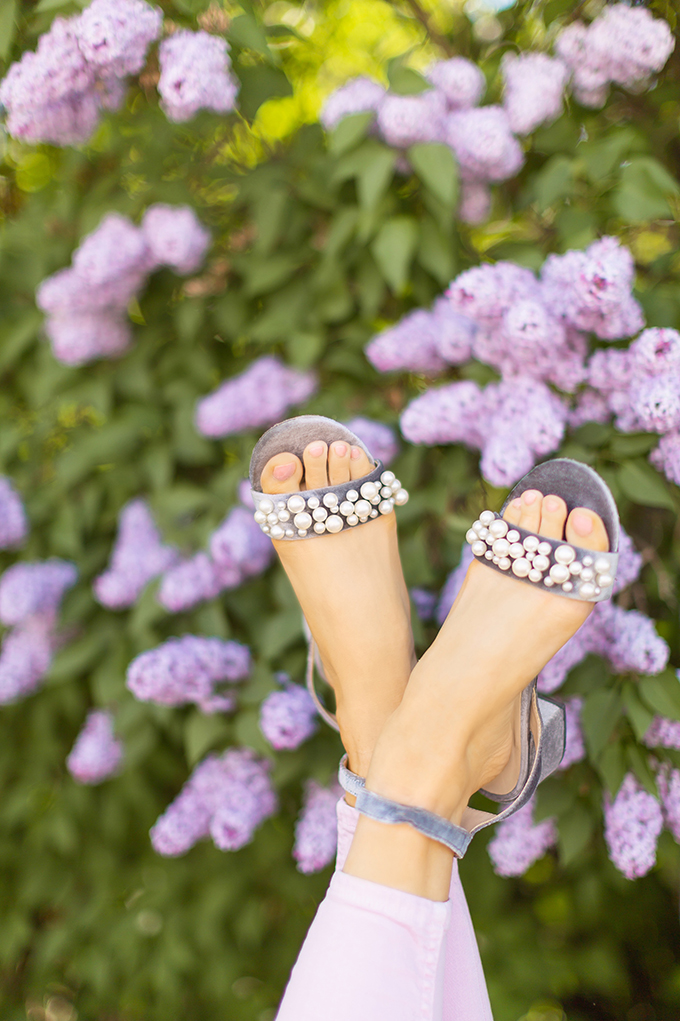 If you, too, couldn't really get on board with the pearl trend on a garment, try adding a pearl encrusted accessory to your wardrobe this spring! As my beautiful pearl sandals are now long gone from Zara's site, I've rounded up the most similar sandals I could find currently available online. You could also consider pearl earrings (which I wore in this post from last summer) or a bag with pearl details to infuse a subtle, trendy touch into your SS18 personal style.

---
SHOP THE LOOK
---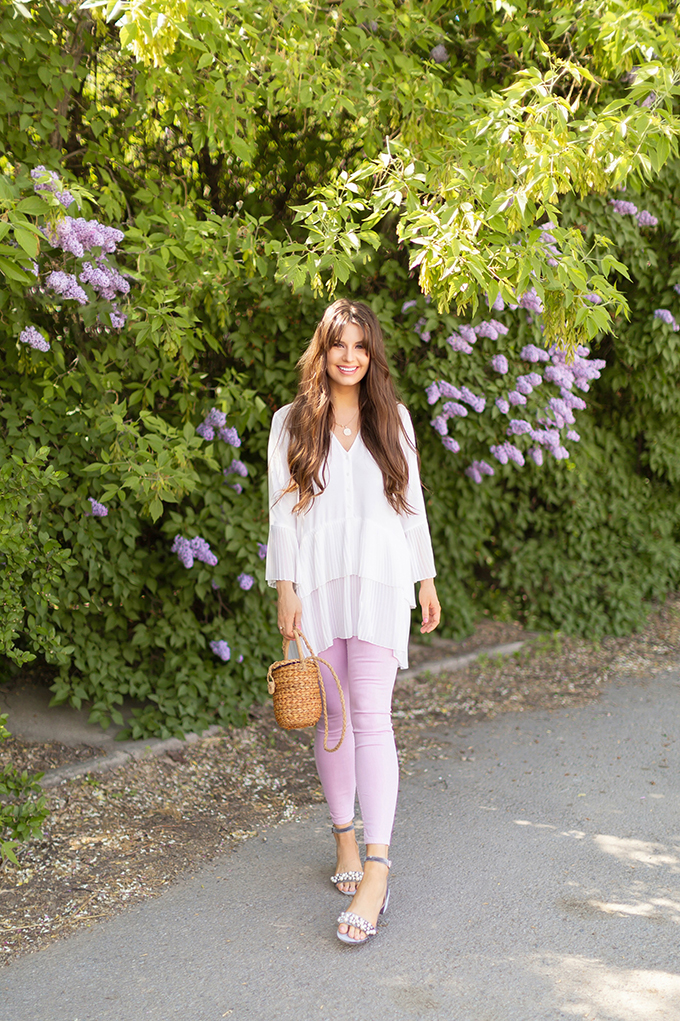 Exact Top in White | Blush | Green
---
STAY INSPIRED WITH MORE SPRING STYLE IDEAS
---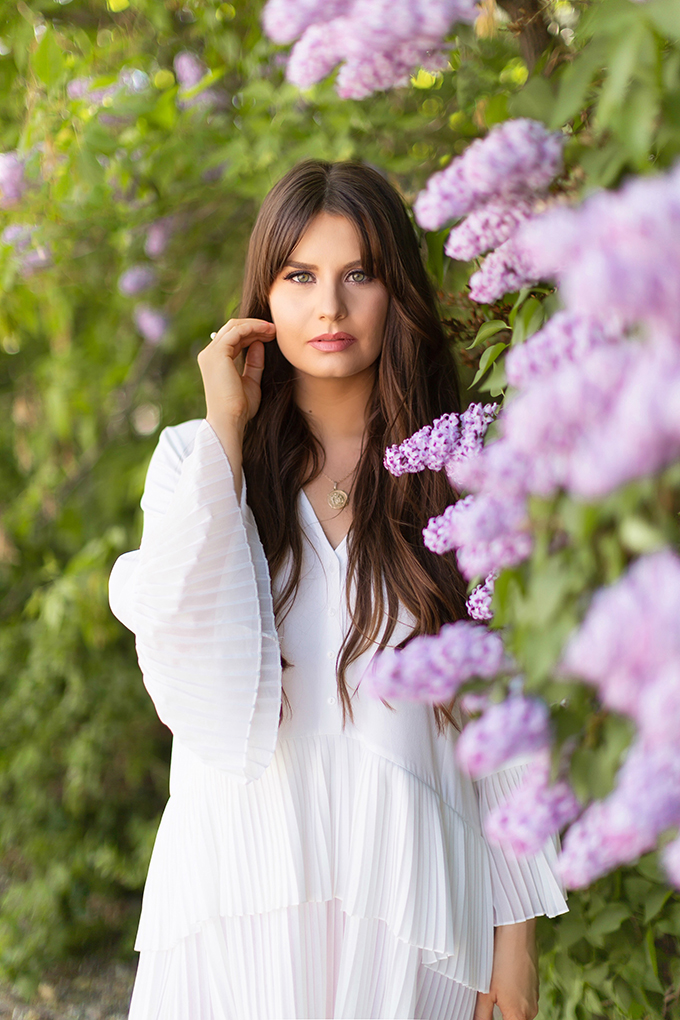 Spring 2018 Trend Guide | Check Yourself
Spring 2017 Trend Guide | Casual Chic
What To Wear To | Spring Weddings
Spring 2017 Trend Guide | Gingham Style

Springing Forward & Seasonal Wardrobe Staples
---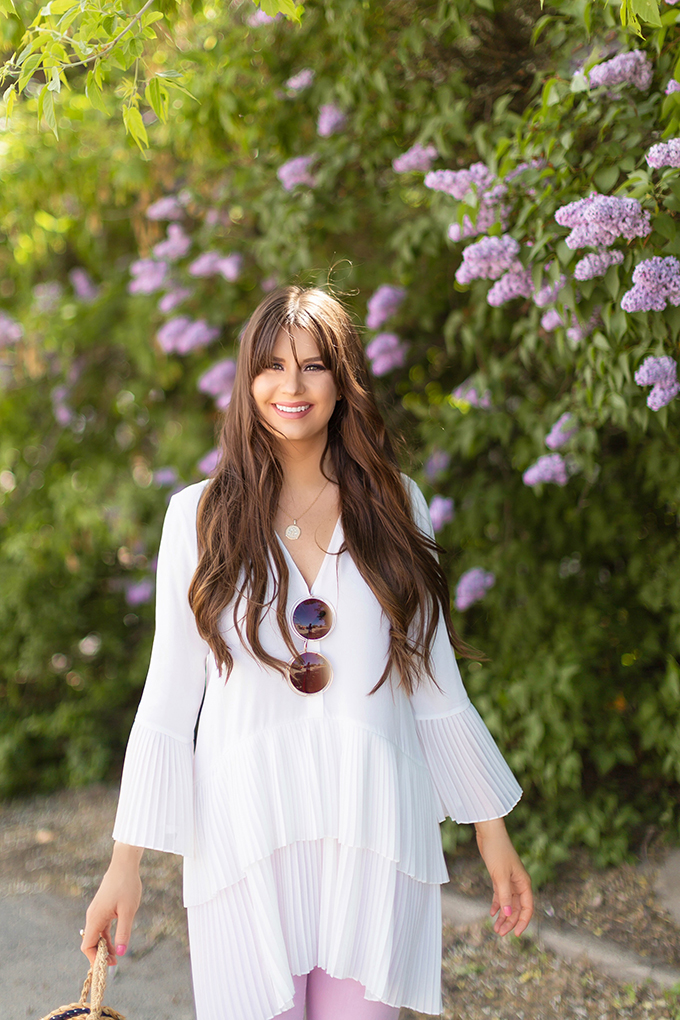 Thanks for stopping by for my final TREND GUIDE of Spring 2018! It was a very short season this year, but I'm excited for a more relaxed summer and have tons of fresh summer FASHION coming your way (including an update to my What to Wear to | The Calgary Stampede post!). As always, if you have a question about what I'm wearing or a request for me, just leave a comment.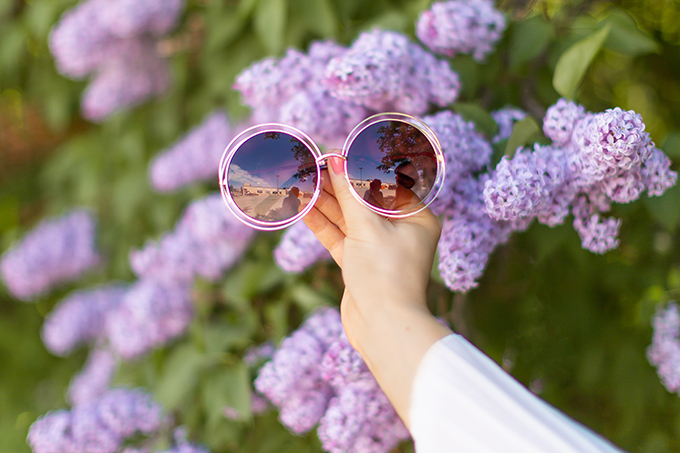 And if you're as crazy about lilacs as I am, make sure to clip a few and enjoy the fleeting beauty of the season indoors while you still can! Rebecca Dawn Design and I actually created a DIY post all about how to forage (and care for) a simple lilac arrangement. I'm actually about to go clip a few bushels myself — the scent is so intoxicating and I love to have fresh lilacs in our home! Enjoy this beautiful evening, friends!
---
Disclaimer: This post is not sponsored and contains my genuine thoughts, ideas and recommendations. JustineCelina uses affiliate and referral links, which allow me to receive a small commission when you make a purchase through one of my links. Thank you for supporting the brands and businesses that support JustineCelina!