---
Flower lovers, I'm elated to share a fresh post in my FLOWER EDUCATION series with you today — dedicated to this Pastel Easter Flower Arrangement! I actually ordered this charming spring arrangement from Meadow & Vine Floral for our first ever Easter Dinner for Two last year to bring some joy to our home during uncertain times. After after capturing about a thousand photos of it in all its beauty, I knew I wanted to bring this post to JustineCelina this spring to provide you with some cheerful Easter flower inspiration, too! Little luxuries in times like these bring me so much joy as I continue to support local businesses whenever possible — and I hope this post inspires you to do the same, in whatever capacity you're able.
Whether you're looking to recreate this arrangement for your Easter celebrations, bookmarking it as inspiration to share with your local florist for a springtime event or special occasion, or would like to educate yourself about spring flowers and arrangement care, you've come to the right place! This charming arrangement features a lovely array of my favourite spring blooms — including Quicksand and Spray Roses (learn all about Roses), Ranunculus and Butterfly Ranunculus (learn all about Ranunculus), Tulips (learn all about Tulips), Hyacinths, Lisianthus, Eucalyptus, Wax Flowers and Pampas Grass (learn all about Pampas Grass) and in a quintessentially  Easter inspired palette of dreamy pastels, cool greens and natural textures. Join me in learning all about these uplifting Easter blooms with your favourite glass of bubbly or a cozy cup of coffee!
---
A PASTEL EASTER FLOWER ARRANGEMENT
---
Spring is my absolute favourite time of year for flowers — and after another long winter here on the Alberta prairies, I couldn't think of a better time to share this Pastel Easter Flower Arrangement!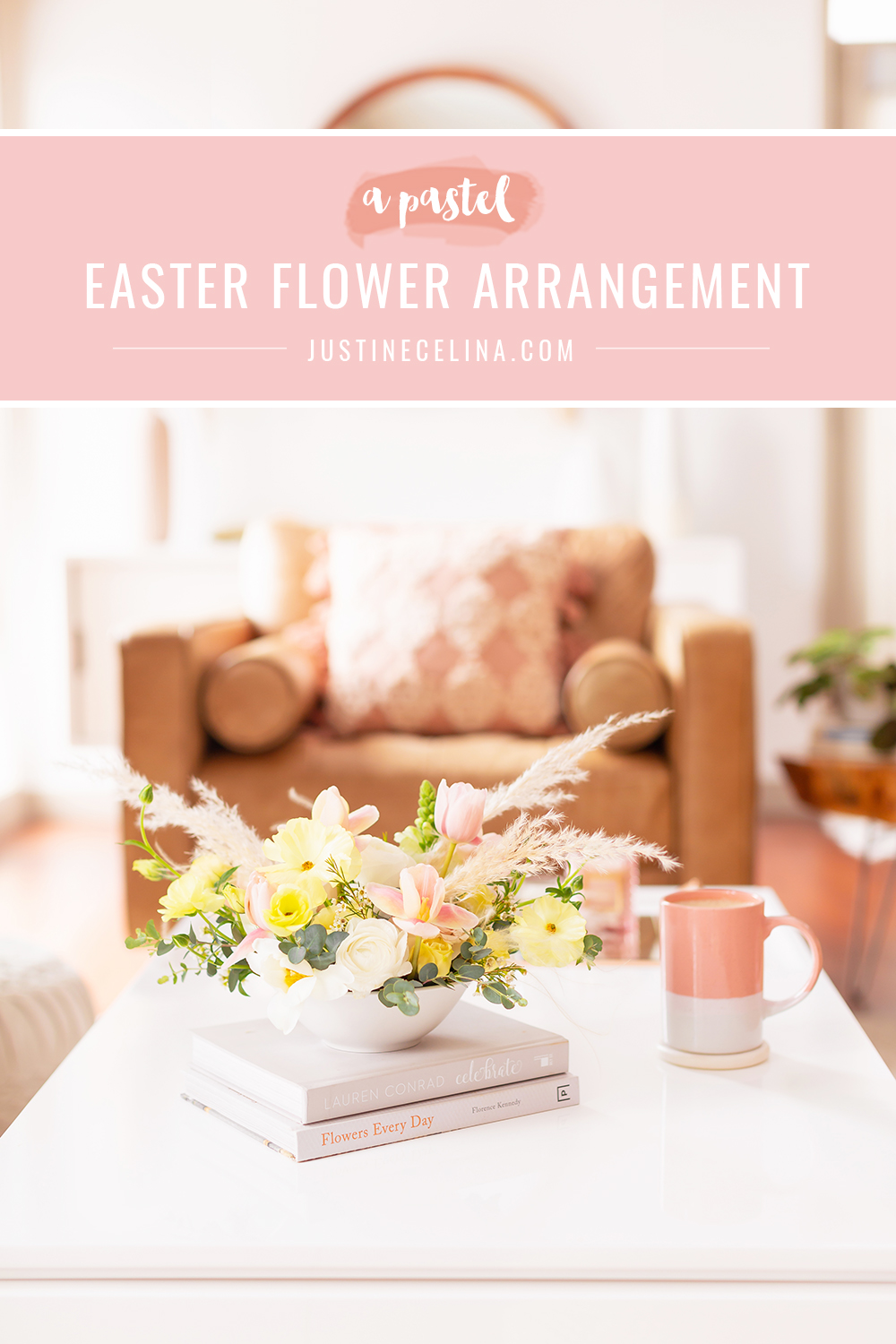 As we prepared to have our first Easter dinner with just the two of us here in our inner city apartment, I knew I wanted to incorporate some beautiful springtime blooms to make it beautiful and memorable. My local Meadow & Vine Floral has just begun offering their arrangement delivery service — and since flower shops were closed, it was an ideal option for us.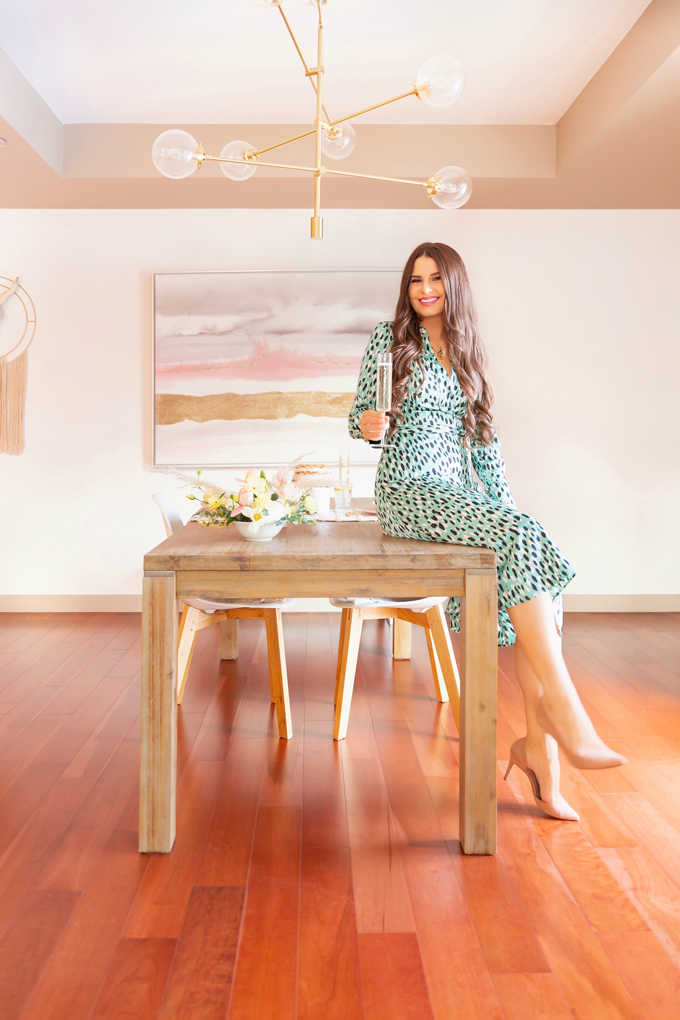 I've mentioned many times that flowers are my not-so-secret weapon to elevate any event or room. I love to have them in our home whenever possible — fresh flowers are something I'm always happy to splurge on for special occasions! We enjoyed this stunning Easter arrangement as the centrepiece of our Easter tablescape, as well as on our coffee table to infuse an uplifting energy to our Living Room in the week following.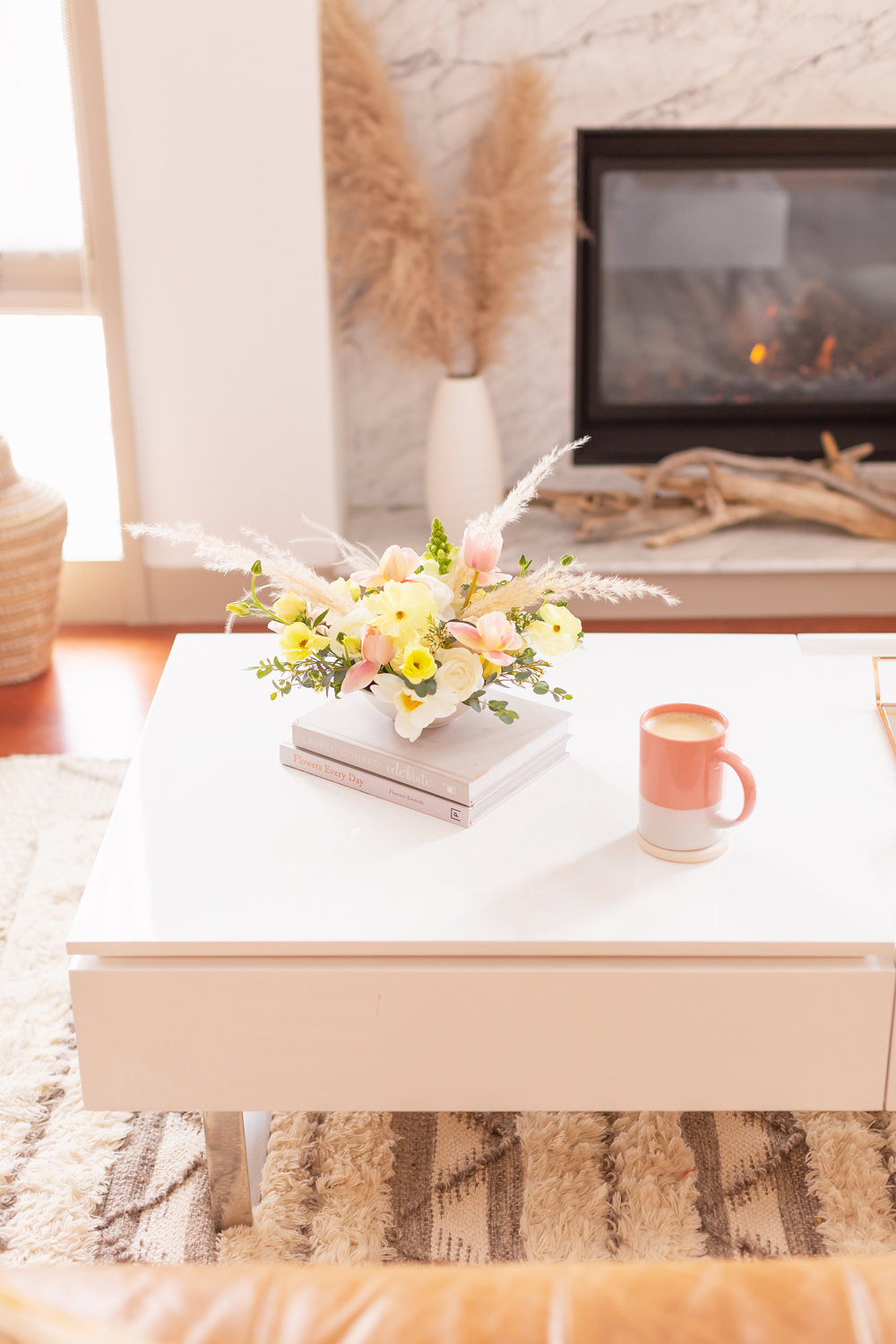 Without further ado, I'm eager to share some Easter flower arrangement inspiration with you today — along with some spring flower education my best arrangement care and conditioning tips!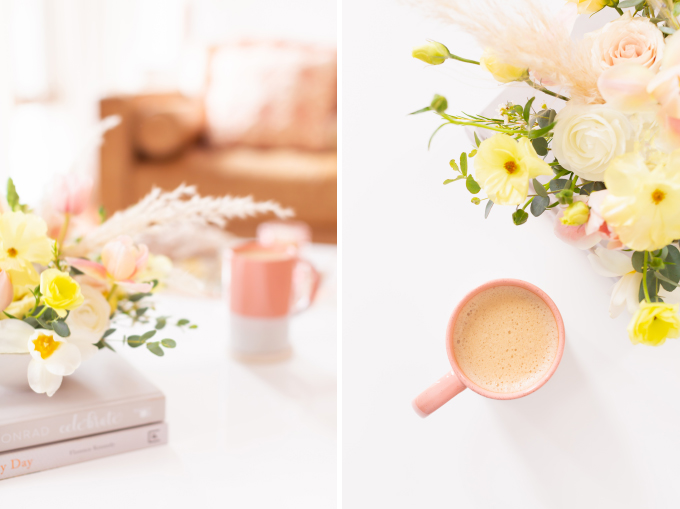 ---
EASTER ARRANGEMENT FLOWER LIST
---
If you frequent my FLOWER archives, many of the blooms in this charming Easter arrangement should look familiar. It features some of my all time favourite spring flowers — and the main ingredients in any seasonal arrangement you've seen here at JustineCelina over the years! So, let's break it down, shall we?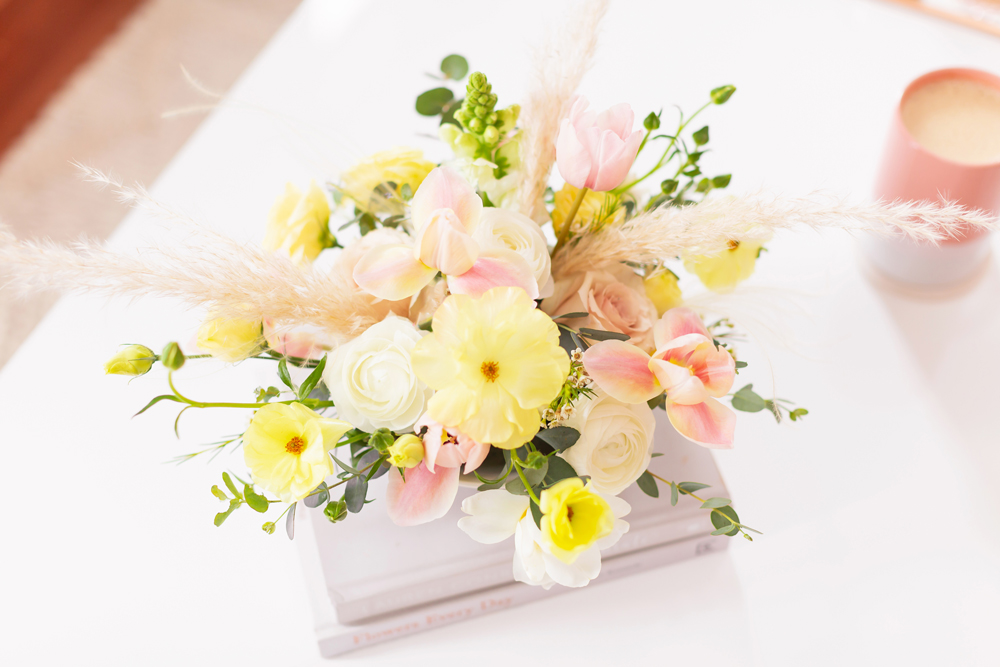 Flowers for any arrangement or bouquet are typically divided into categories: Primary Flowers, Secondary Flowers and Foliage or Greenery. Here's a closer look at all the ingredients in our Pastel Easter Flower Arrangement!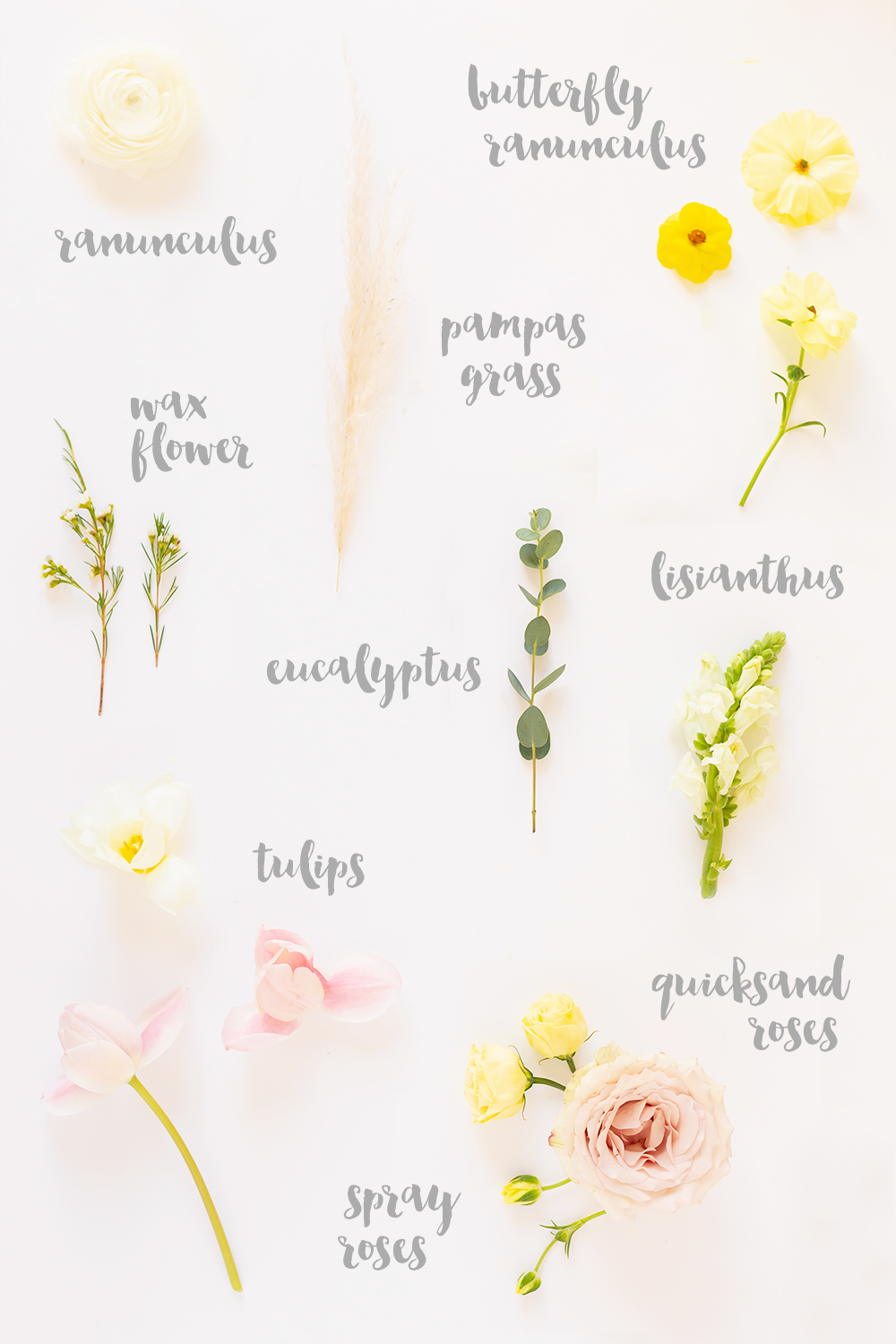 Quicksand Roses
Learn more about them in our All About Roses post
Spray Roses
Learn more about them in our All About Roses post
Tulips
Learn more about them in our All About Tulips post
Ranunculus
Learn more about them in our All About Ranunculus post

Butterfly Ranunculus
A brand new Ranunculus variety here at JustineCelina — an ultra fluttery version of the original!
Hyacinths
Learn more about them in our Introduction to Spring Flowers post 

Lisianthus
Native to the southern United States, Mexico, the Caribbean and northern South America
Wax Flowers
A gorgeous flowering shrub and perfect filler flower
Baby Blue Eucalyptus
Native to Australia
Pamps Grass
Learn more about them in our All About Pampas Grass post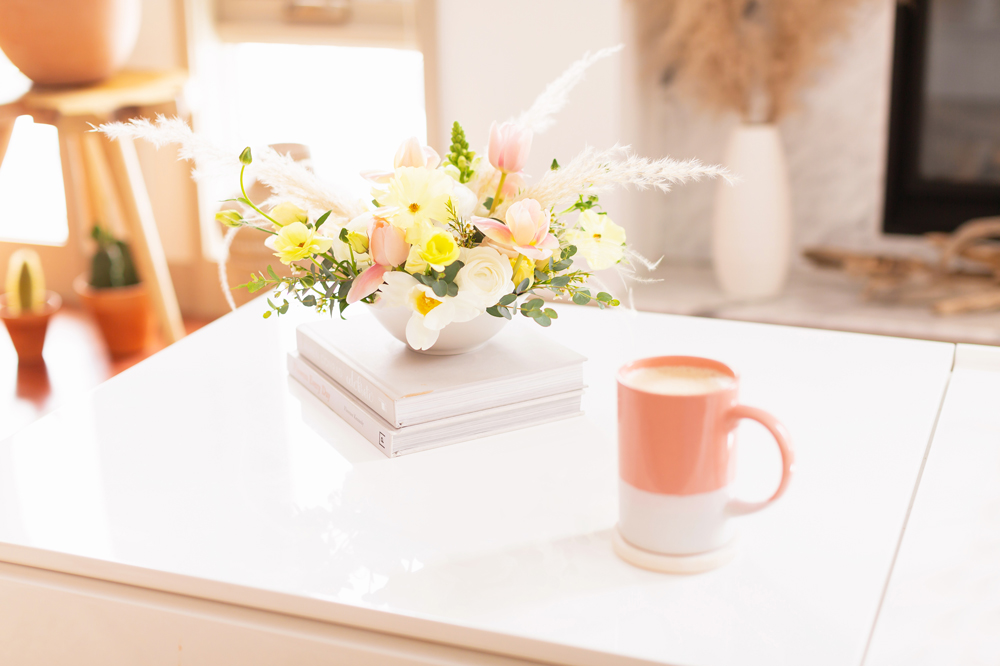 ---
Primary Flowers
---
Meadow & Vine Floral selected some of my favourite spring flowers in a dreamy pastel palette as the focal point in this Easter arrangement.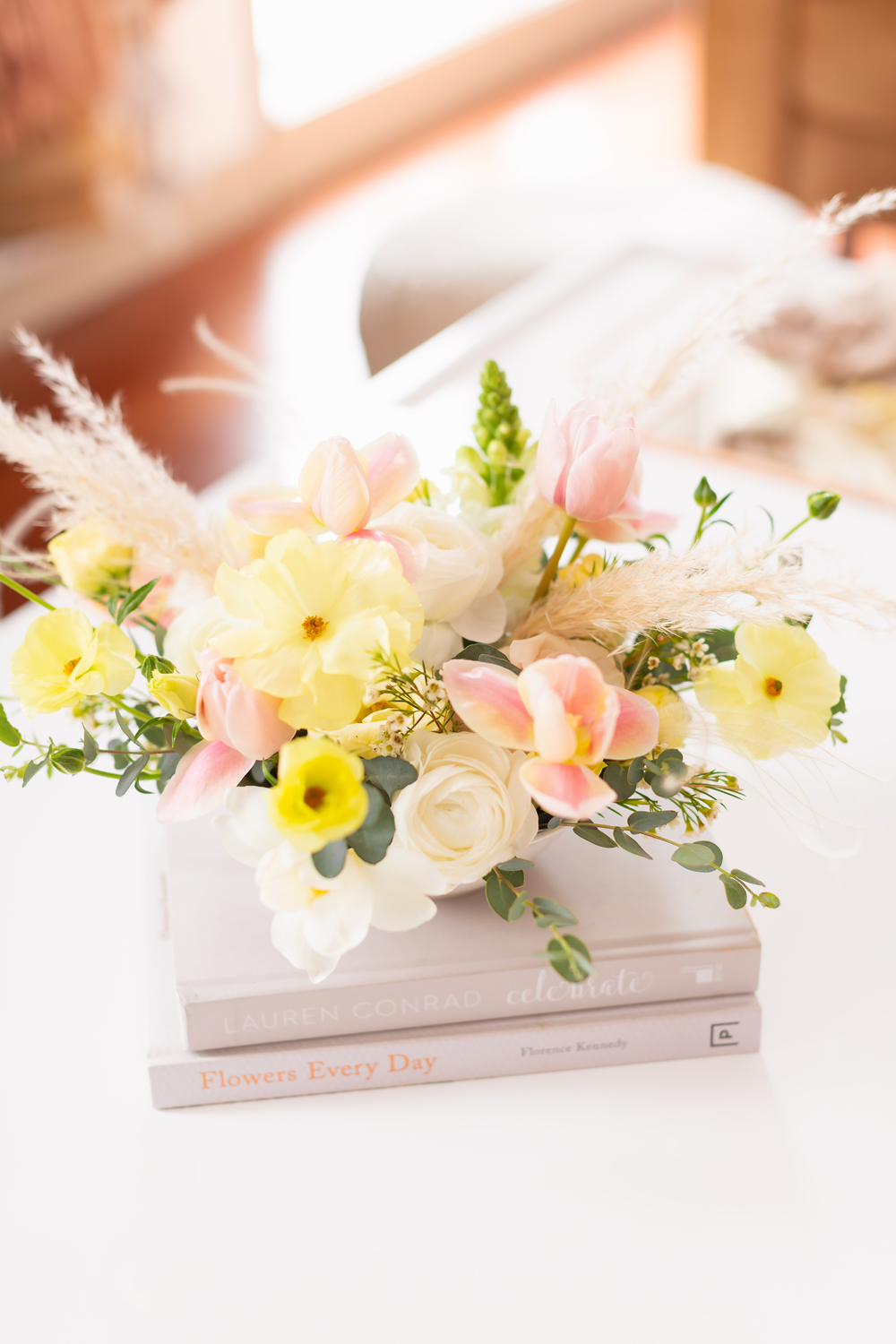 Our Primary Flowers include Quicksand Roses, pastel yellow Spray roses and Tulips in shades of white and blush. I love the way the Quicksand Roses anchor this arrangement, while the Tulips have been refurled and arranged high to create a whimsical shape, with the Spray Roses lending a beautiful contrast.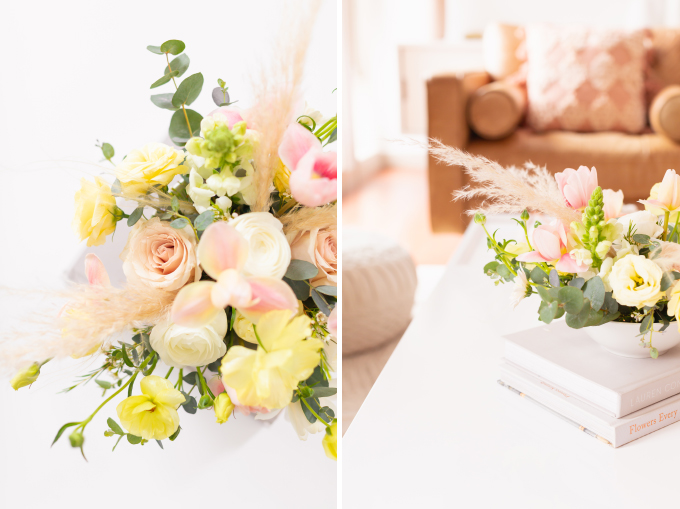 ---
Secondary Flowers
---
Our secondary flowers include creamy Ranunculus and cheerful yellow Butterfly Ranunculus, creamy Hyacinths and yellow Lisianthus. Together they create a beautiful medley of textures, shapes, heights and colours while flushing out this charming Easter arrangement and adding movement.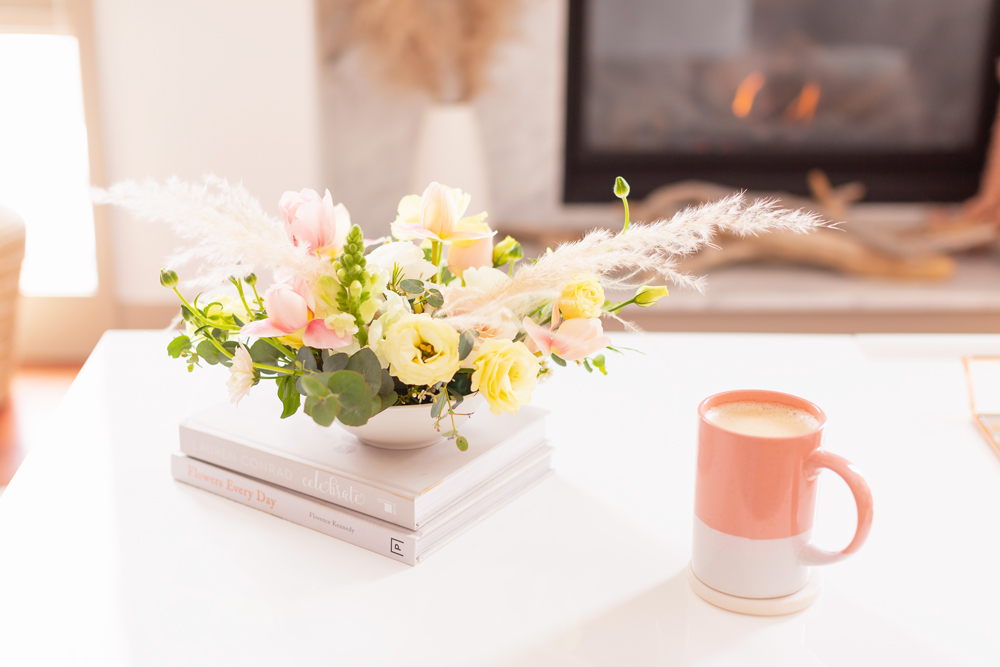 ---
Foliage & Grasses
---
I love the natural, earthy element that foliage and grasses add to arrangements. Foliage rounds out an arrangement, enhances the overall shape and adds beautiful organic note, while wild grasses give flower arrangement a bohemian touch!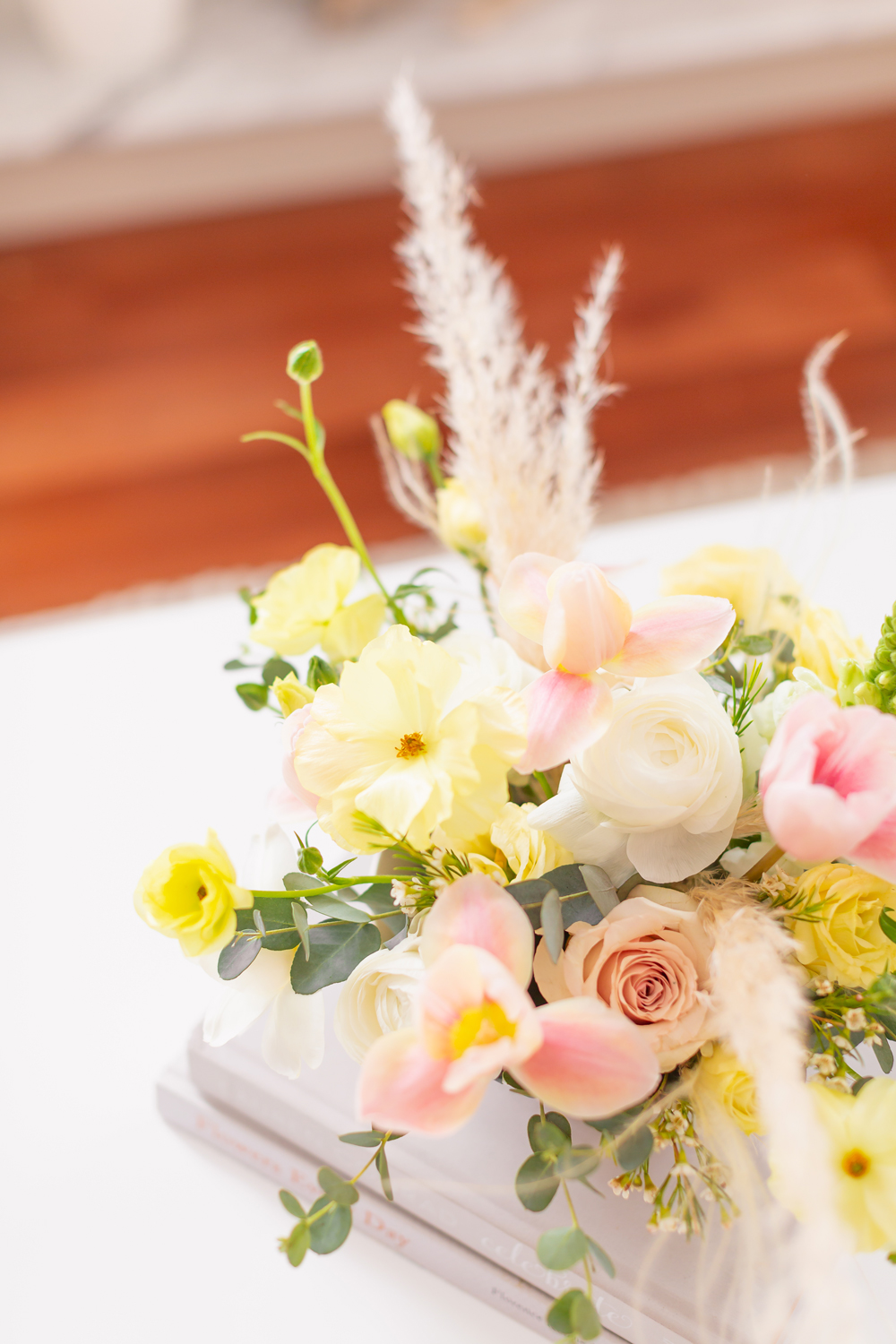 My Meadow & Vine Easter arrangement arrived with abundant Baby Blue Eucalyptus and and Wax Flowers sprouting from its base — and I also added a few small reeds of Pampas Grass to help integrate it into our decor. I absolutely adore their free spirited effect!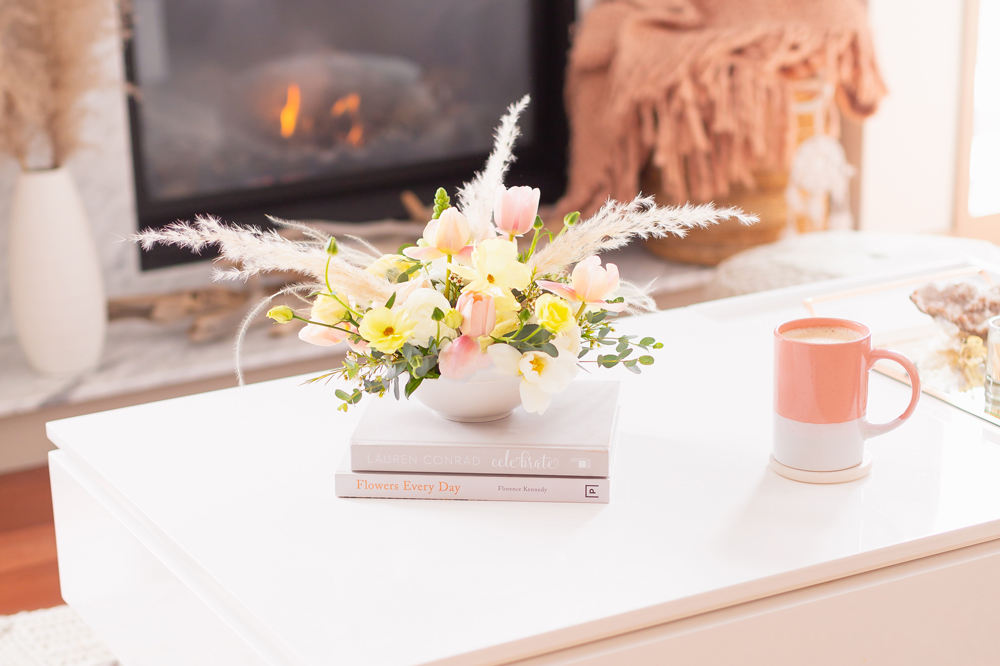 ---
FLOWER ARRANGEMENT CARE & MAINTENANCE
---
Follow these simple flower care and maintenance cornerstones to help prolong the life of any arrangement, so you're able to enjoy it for as long as possible!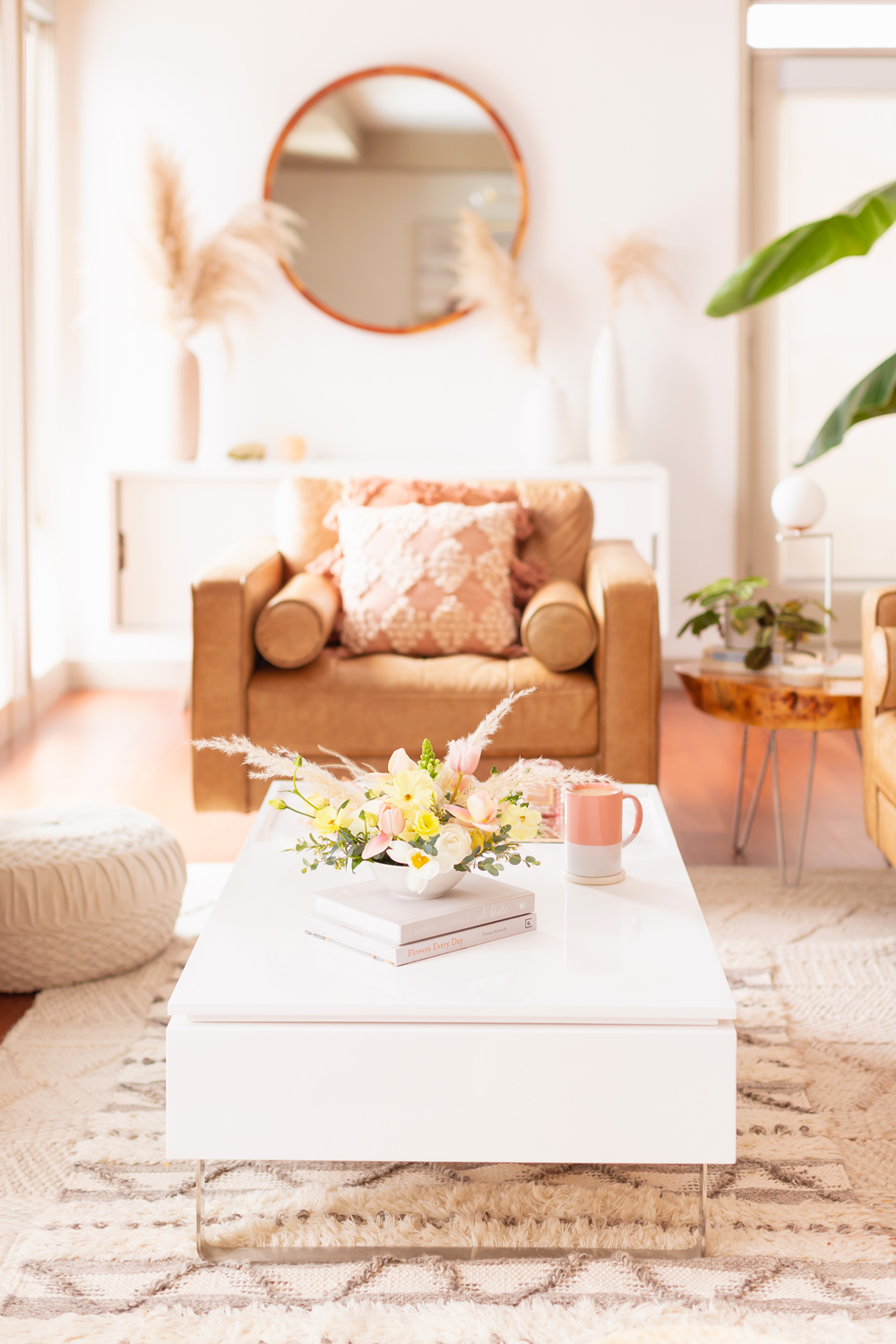 1. As soon as you get the arrangement home, remove the cellophane wrapping and release them from any bindings. This allows air to circulate freely between blooms.
2. Place the arrangement in your home away from any drafts or direct sunlight.
3. To maximize the life of your arrangement, replace the preservative and water solution (or make your own flower food!) whenever the water in the vase appears cloudy (usually every 2 days), which indicates bacterial activity. Flower food will help keep a vase clean and bacteria-free — prolonging the life of your flowers and helping buds and flowers open.
4. Each time you replace the water, trim at least 1/2″ from the bottom of each flower stem at a 45 degree angle to prolong the life of your blooms. This enlarges the stem surface area and enables them to take more water up.
5. Always place freshly cut flowers in lukewarm water. Warm water molecules move faster than cold water molecules, therefore are more easily absorbed. The objective is to get water and nutrients as quickly as possible to the head of the flower.
---
MORE SPRING FLOWERS & ENTERTAINING IDEAS
---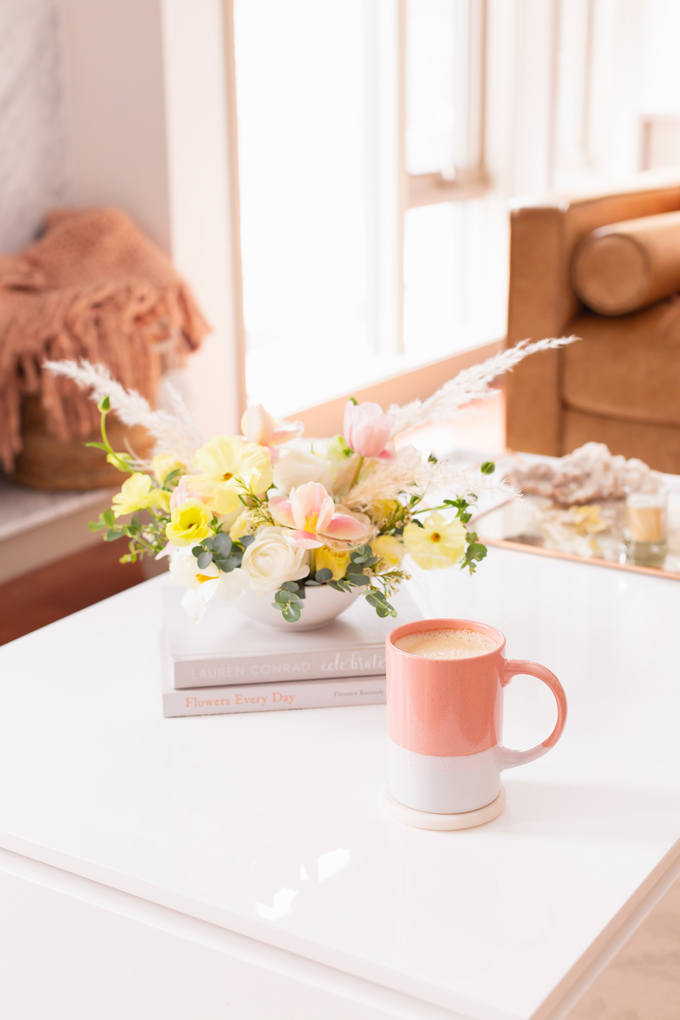 An Introduction to Spring Flowers
A Simple Easter Dinner for Two
How to Unite a Room with Flowers
DIY Floating Spring Centrepiece
---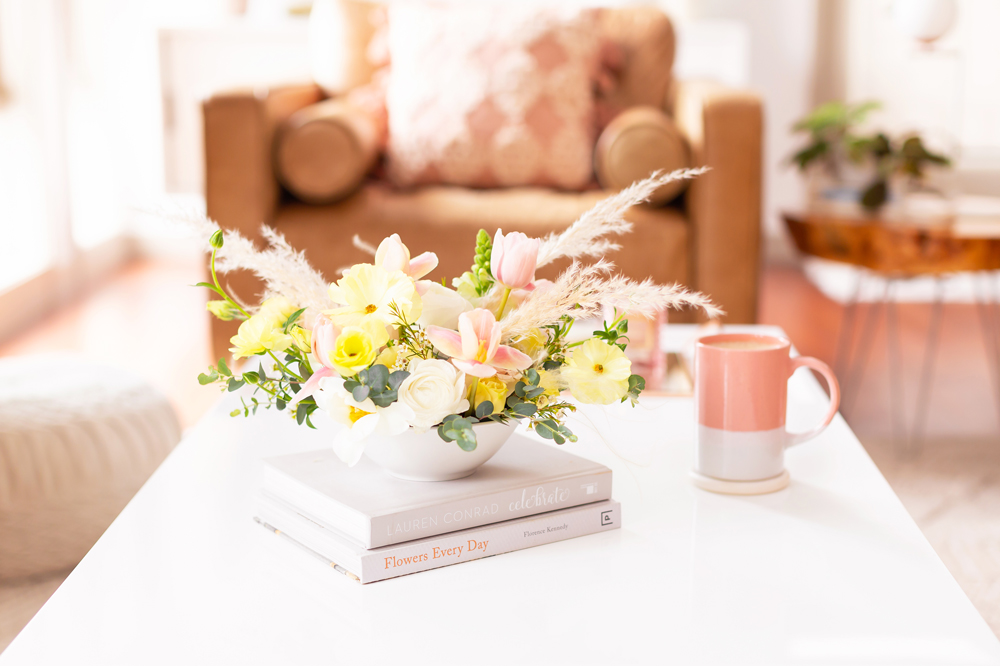 Thanks for stopping by today to learn more about this Pastel Easter Flower Arrangement today, friends! I hope this post inspires you to add some cheerful spring blooms to your table this Easter and brought you joy. If you're a Calgarian looking for a gorgeous fresh arrangement delivery service, Meadow & Vine is currently offering online orders and contactless delivery — and I can't recommend them enough!
If you're looking for even more flower inspiration, check out my FLOWER EDUCATION series and be sure to follow along with my Flower Board over on Pinterest. Wishing you all a beautiful and safe Easter long weekend full of love, laughs, delicious eats and beautiful blooms!
---
Disclaimer: This post is not sponsored and contains my genuine thoughts, ideas and recommendations. JustineCelina uses affiliate and referral links, which allow me to receive a small commission when you make a purchase through one of my links. Thank you for supporting the brands and businesses that support JustineCelina.com!