---
After the blur that was April, somehow it's May 1st — and Rebecca Dawn Design and I are back with a fresh, free, floral tech wallpaper! Although we've been experiencing Calgary's classic second winter as of late (insert eye roll), I'm eagerly anticipating balmy spring temperatures and find myself craving all things soft, dreamy and feminine. This month, we've created a simplistic, quintessentially spring design inspired by early seasonal blooms in sweet pastel shades complimented by earthy vines of green.
May's free tech wallpaper includes stunning Keira and Patience Garden Roses (learn all about roses), Blushing Bride Proteas and foraged greenery. Spring clean your devices and bring the uplifting essence of the season straight to your screen by clicking through to download our May 2019 wallpaper — absolutely free! You help summon spring and show off your DIGITAL BLOOMS in action by hashtagging #justinecelinadigitalblooms — we love to see how you're using them and I always share my favourites on Insta Stories. Here's to sunny skies, spring blooms and warmer weather ahead!
---
HOW TO DOWNLOAD
---
Desktop (iOS)
Click on the image you want to download and it will open in a new window. Right click and select 'Save Image As' or 'Set as Desktop Wallpaper'. If you selected the 'Save Image As' option, then just locate the image you saved, right click, and then select 'Set Desktop Picture'.
Phone / Tablet (iOS)
Click on the image you want to download and it will open in a new window. Then, click on the up arrow icon at the bottom of the screen, and select 'Save Image'. Navigate to 'Settings', then 'Wallpaper', then 'Choose a New Wallpaper' and select the image you downloaded from your photos. You'll be able to scroll across the image by dragging your finger across the screen and you can resize or crop it to your liking to display different sections of the design.
---
USAGE
---
These images are for personal use as digital device wallpapers only and cannot be used in any other way (including social media posts) without express permission from JustineCelina. I'm relying on the honour system here, but you guys are good people, right? You can still share the love — if you know someone who would enjoy these wallpapers, please send them our way by sharing the link to this post.
---
DIGITAL BLOOMS MAY 2019 | FREE DESKTOP WALLPAPER
---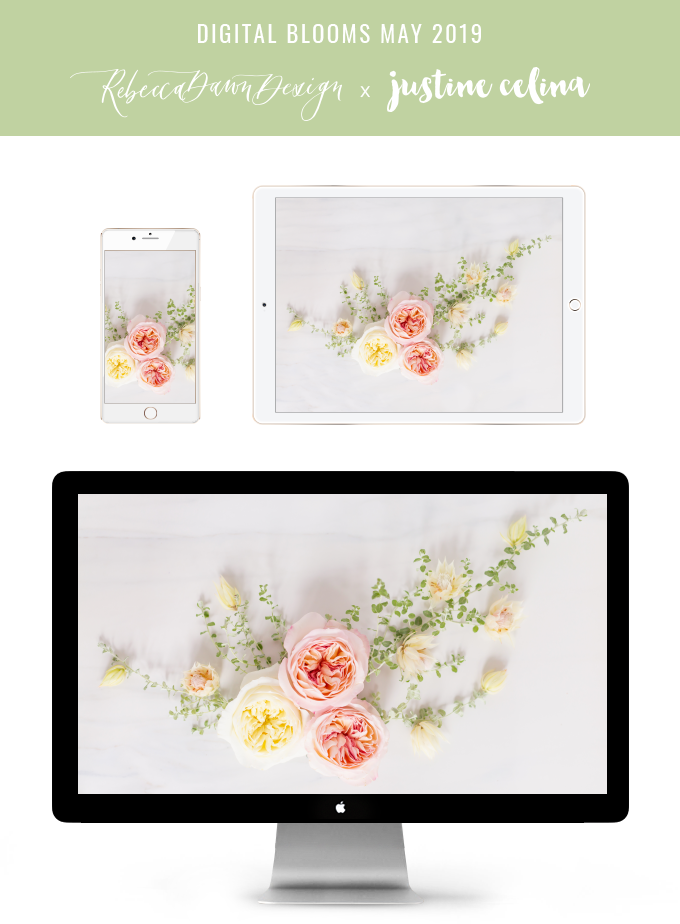 ---
— To download, simply click the image below and follow the How to Download steps —
---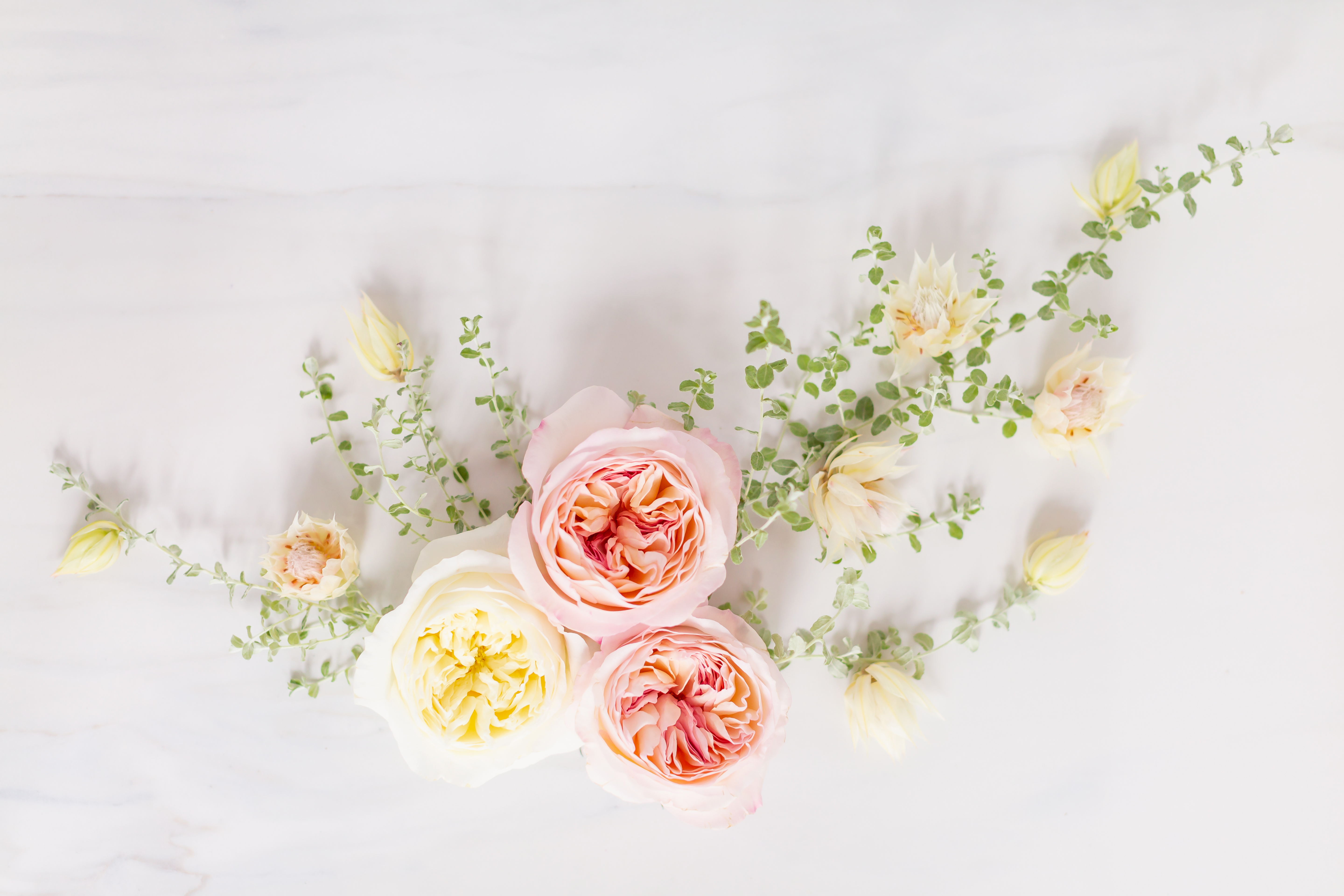 ---
BROWSE THE DIGITAL BLOOMS ARCHIVES
---
Visit our DIGITAL BLOOMS archive page to browse the complete free floral wallpaper archives, featuring over 100 designs!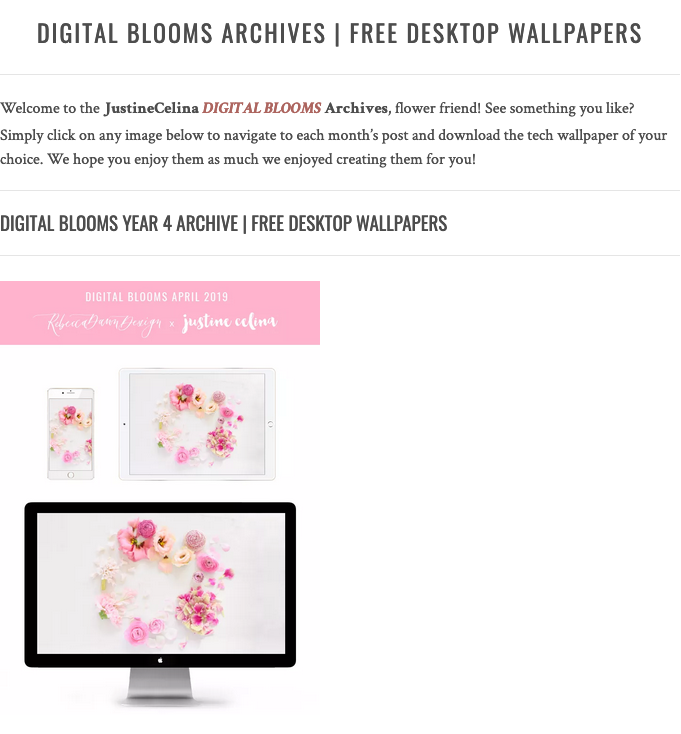 ---
Thanks for swinging by today to download May's DIGITAL BLOOMS today, beautiful people! Hey — at least we can get our flower fix digitally, right?! I'm really looking forward to shooting some spring style and flower content this month — as always, if you have a request, feel free to drop it in the comments below. I love to hear from you!
And if you're craving even more blooms, check out our FLOWER archives or follow along with our Digital Blooms Board and Flower Board on Pinterest for more even more floral inspiration. Have a lovely May, flower friends!

---
Disclaimer: This post is not sponsored, and contains our genuine thoughts, ideas and recommendations. All copyright of these images is retained by JustineCelina.com and Rebecca Dawn Design. If you're interested in licensing these images for commercial purposes, please contact me.