---
Have you seen this gorgeous, fluffy grass floating around all over your favourite social media platform lately and wondered what it is and where you can get yourself some?! Me too, my friend! In fact, my recent obsession with these beautiful, bohemian plumes has inspired a fresh installment in my ALL ABOUT series — and this time, it's All About Pampas Grass! You've likely seen a surge of pampas trickle into my recent content — I've been working with it since the holidays and have since incorporated it into nearly every room in our home (the obsession is real!). Typically my ALL ABOUT series is reserved for FLOWERS, but dried arrangements, grasses and foliage are having a major moment this year — so I've expanded!
If you're intrigued by Pampas Grass and want to know where to purchase it, how much it costs and how to condition it to it to keep it from shedding, consider my All About Pampas Grass post your one-stop educational resource to learn everything you ever wanted to know about this popular plume. Today we're chatting alternate names and meanings, where to purchase locally as well as online, varieties available, vase life, what to look for when purchasing, how to care for and condition your pampas so you can enjoy it for years to come. I'm also sharing some dried arrangement tips and innovative ideas on how to incorporate Pampas Grass into your decor. Fellow boho lovers, pour yourself a glass of Sauvignon Blanc and settle in for a relaxing read as we cover all things pampas — my favourite ornamental grass!

---
ALL ABOUT PAMPAS GRASS
---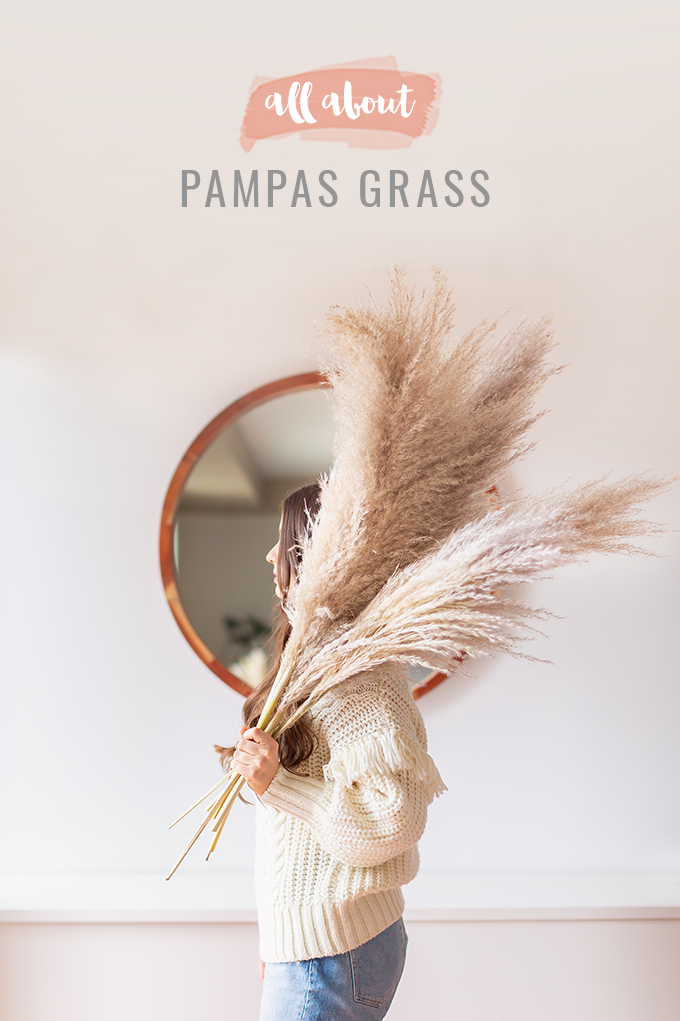 This year, we really embraced all the dried tones and textures of winter in our home. Things are still brown and crispy outside as our Calgary landscape slowly emerges from hibernation after a long, cold winter — and I actually think that can be quite beautiful. As I do in other seasons that are a little more colourful, I decided to bring the outside in.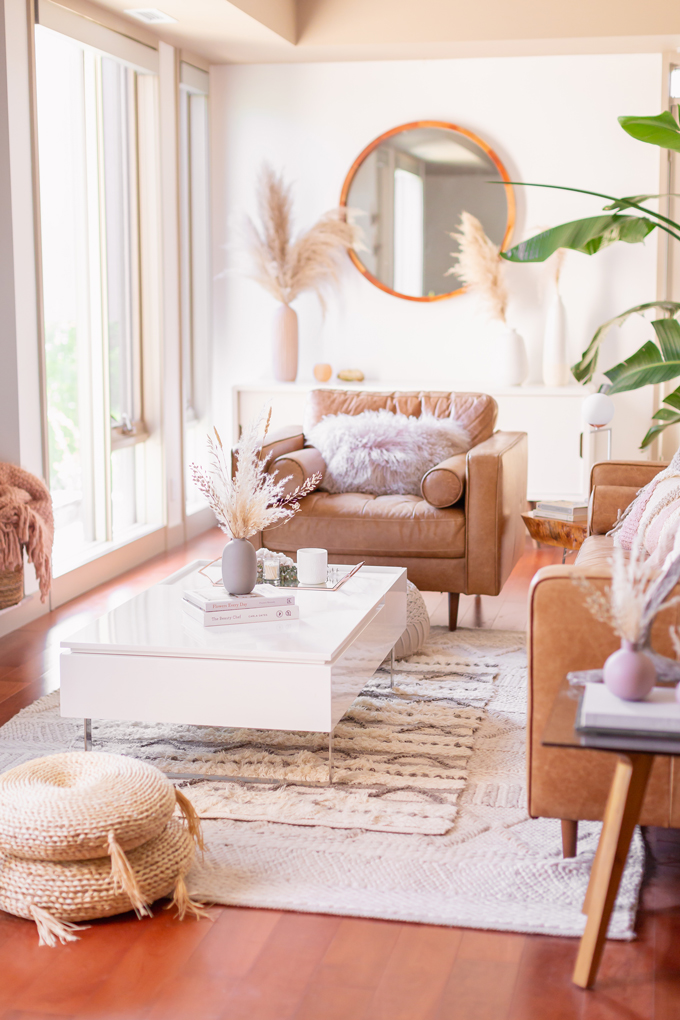 As someone who's always been inspired by their environment, I love to have reminders of my prairies roots in my home. Where I grew up, wheat, bohemian grasses and natural textures run wild — and you'll also find them at play in our inner city apartment. These free-spirited textures had always had a place in my heart, which is why I think I was so drawn to Pampas Grass!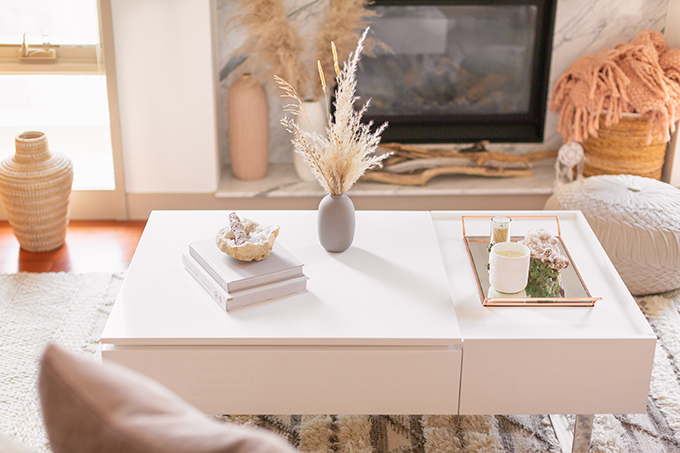 I actually went for a little country forage near my childhood home last month (once most of the snow had melted!) to hunt for some ingredients for these dried arrangements. Something about Pampas Grass and natural, foraged foliage is so calming and serene to me — and of course, it reminds me of the rolling fields and sunlit fields where I grew up.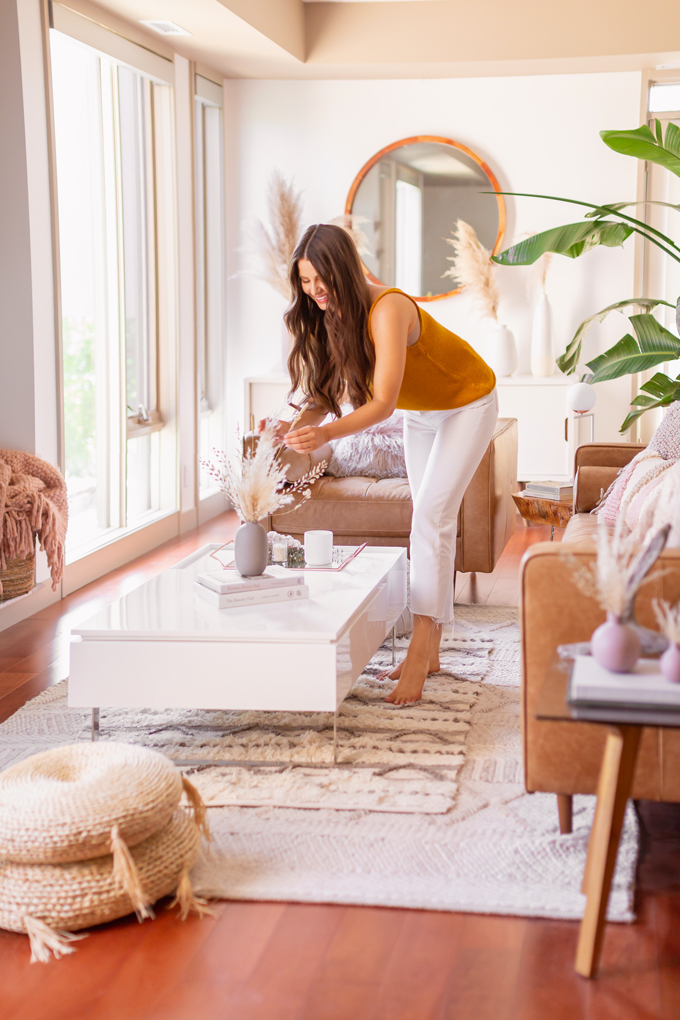 If you're also infatuated with this ultra trendy grass, consider my All About Pampas Grass post your one-stop resource for sourcing, styling and maintaining these free-spirited, feathery plumes!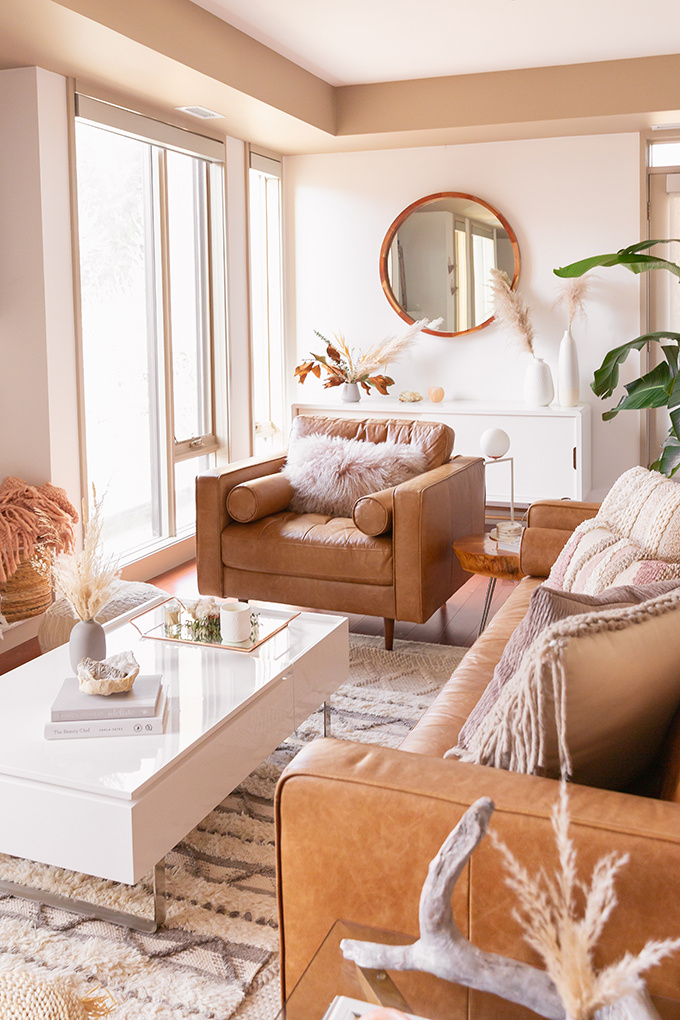 ---
GENERAL PAMPAS GRASS INFORMATION
---
Alternate Names & Meanings
Cortaderia Selloana, C. Selloana
There are approximately 25 species of Cortaderia Selloana, although the C. Selloana variety is commonly referred to as Pampas Grass.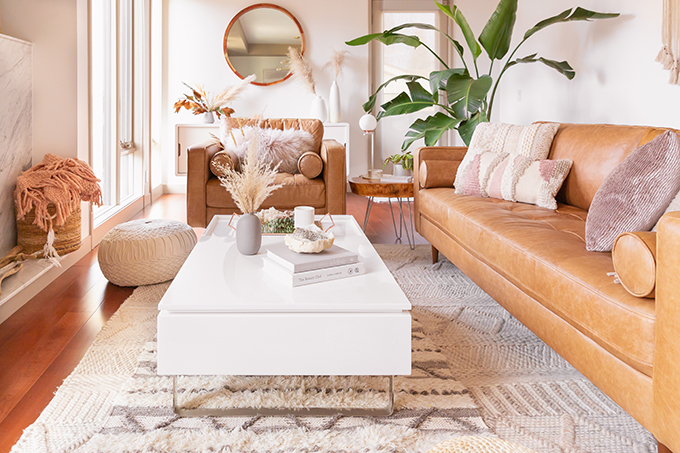 History
Pampas Grass is native to southern South America, hailing from the Pampas region (hence its name). It was planted in Europe, North America, Australia and New Zealand in the 70's primarily as an ornamental grass to be harvest and used for decorative purposes once dried — and we seen a huge resurgence in it's popularity over the past couple of years!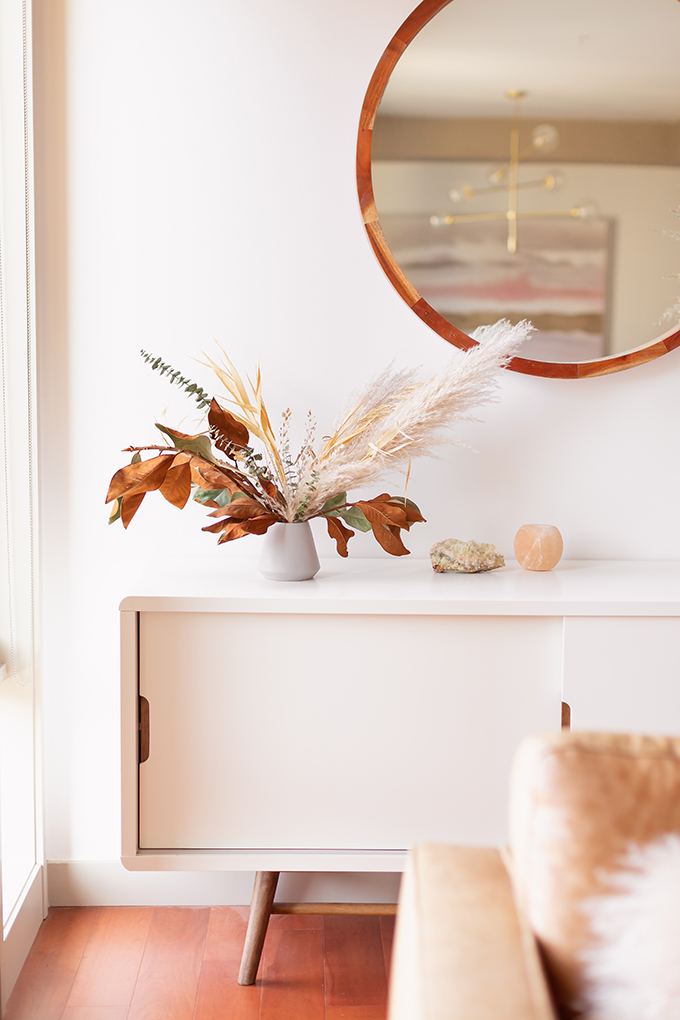 Colours & Varieties Available
Natural, although plumes can be sprayed to achieve the desired colour.
Cost
Varies widely, starting at approximately $20 per 5 reeds.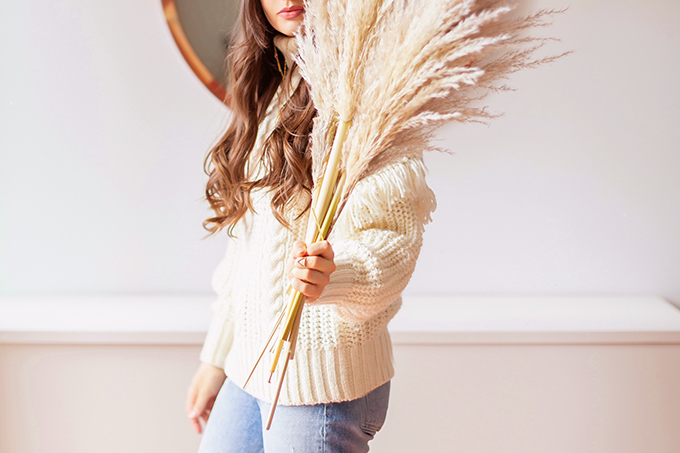 In Season
Pampas Grass blooms from September until February, although it is generally available year round.
Vase Life
Up to 3 years.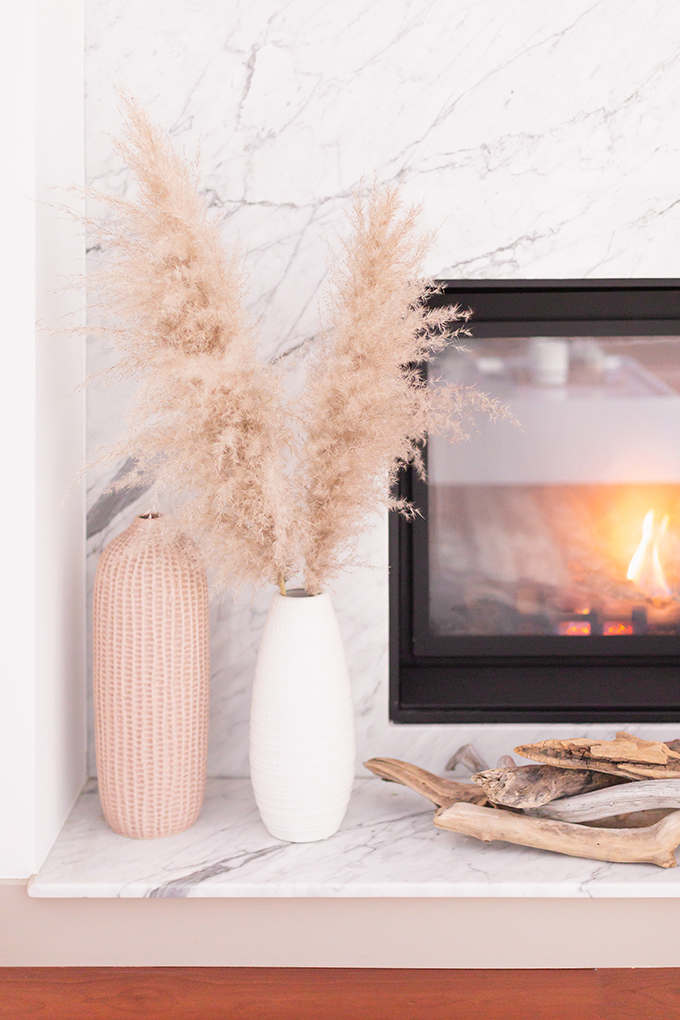 Purchasing Tips
Select Pampas Grass reeds that are tall and strong with plumes that are full and fluffy. To ensure the best value, consider reed height, as well as whether or not the plumes have been treated for minimize shedding (ask your vendor). You're bound to lose some volume to shedding if plumes have not need treated (more on how to condition them yourself at home below!), so the fuller, the better!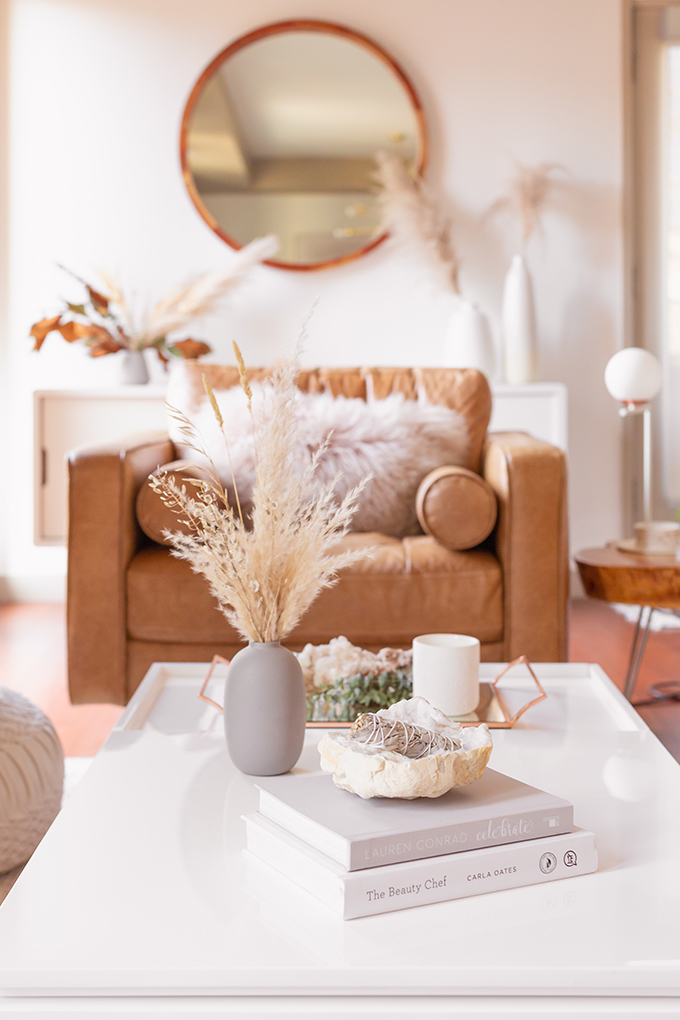 Did You Know?
Pampas Grass is actually considered an imposing grass (even an invasive weed in some areas!) and typically grow 5 – 10′ tall. It's highly adaptable and can grow in a wide range of environments and climates.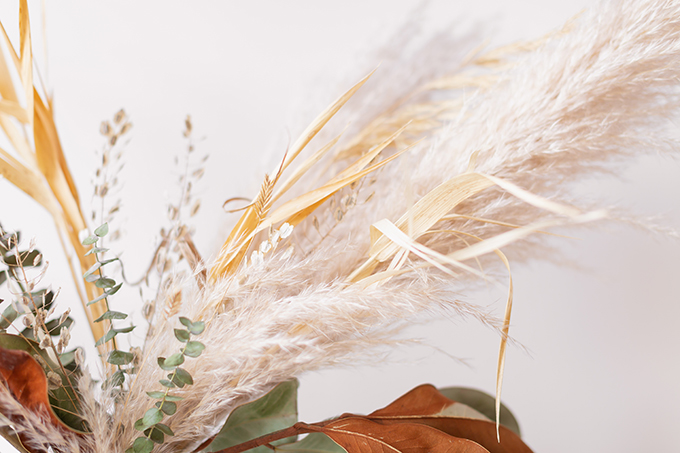 ---
PAMPAS GRASS CARE AND CONDITIONING TIPS
---
Although Pampas Grass is dried and generally low maintenance, it sheds like crazy when not properly conditioned. Follow my expert tips to maximize the life of those beautiful plumes!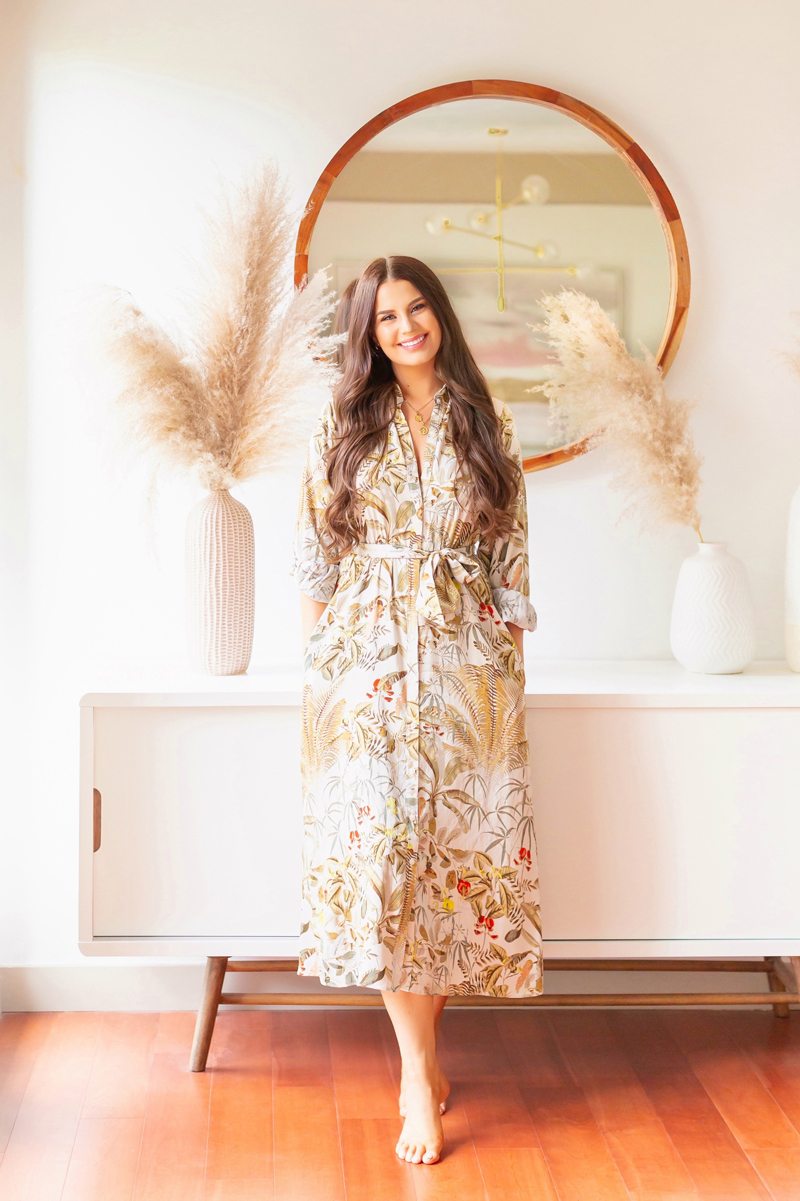 1. Before bringing Pampas Grass into your home, give each reed a good shake — allowing excess plume shedding to occur.
2. Use a pair of garden shears to trim the stems to the desired height for your vase or arrangement.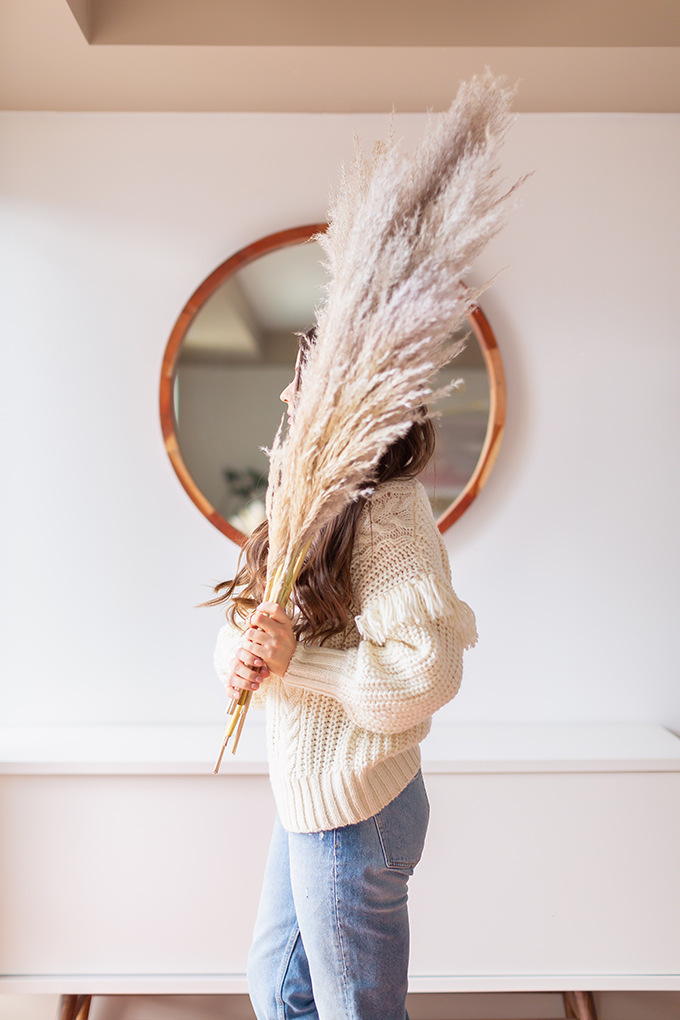 3. Arrange Pampas Grass reeds in your vase, delicately styling the plume until you've achieved the desired effect. If your Pampas Grass is untreated, additional shedding may occur.
4. Once you've styled each plume to perfection, grab a high-hold hairspray and give them a generous misting. This will ensure the stands stay put and helps to keep shedding at bay!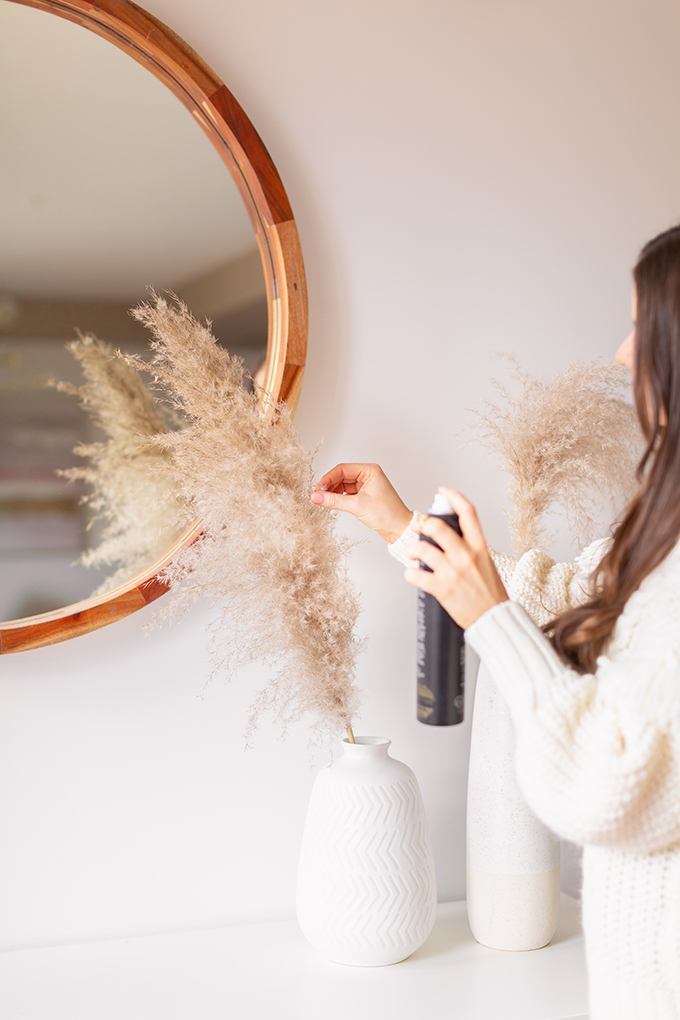 5. Since Pampas Grass reeds are dried, they do not require any water. To maintain your plumes, re-spray every 6 months to help maintain fullness.
Tip
You can also remove strands in sections from the bottom of each plume to use in smaller vases or arrangements. Just make sure to remove strands evenly from all sides to maintain the integrity of your pampas — and ensure you do so before you've sprayed the plume!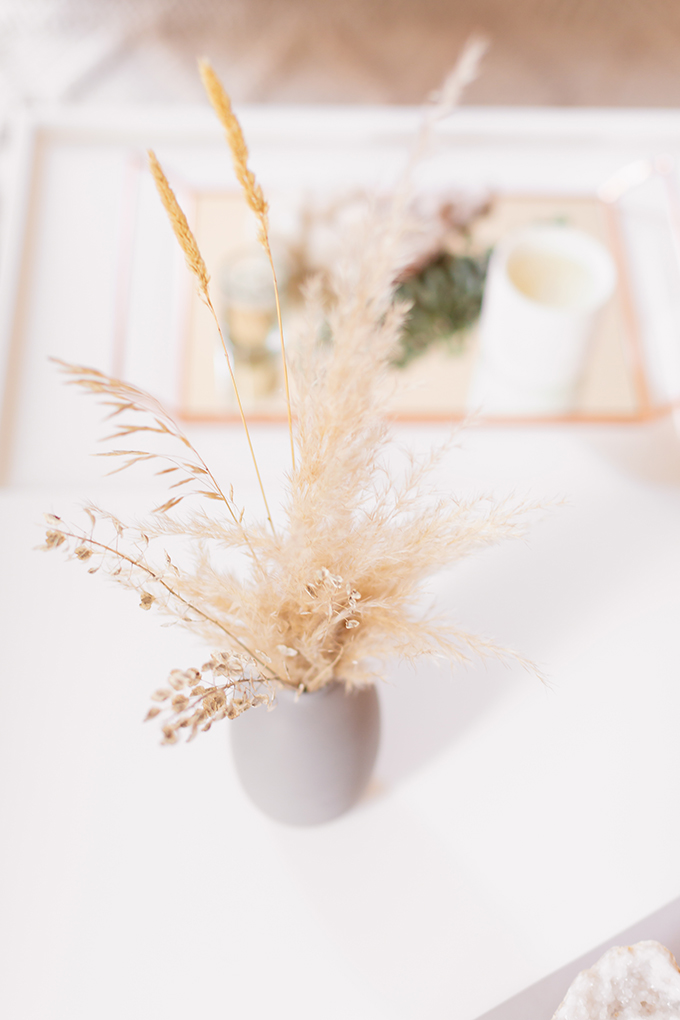 ---
WHERE TO PURCHASE PAMPAS GRASS
---
Pampas Grass can be a bit tricky to track down — especially here in Calgary!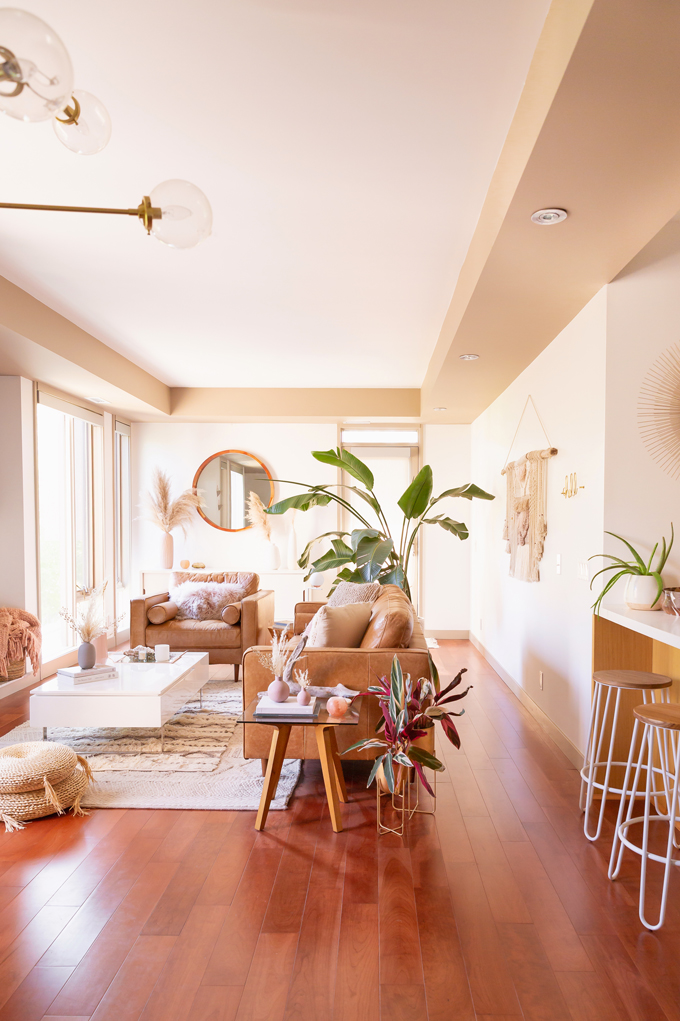 ---
WHERE TO PURCHASE PAMPAS GRASS IN CALGARY
---
Recently, Meadow and Vine Floral, Oasis Flower Shop, Plant and Wild About Flowers have begun to stock Pampas locally. Alternatively, you can always ask your local florist to source some for you!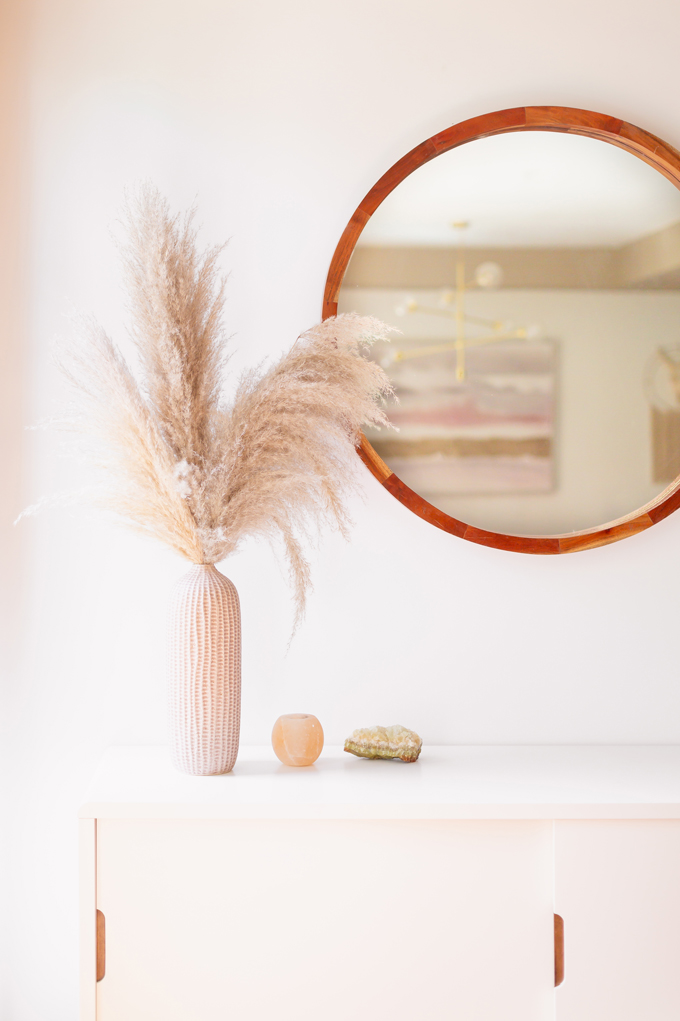 ---
WHERE TO PURCHASE PAMPAS GRASS ONLINE
---
Since most commercial growers are located in the United States, purchasing Pampas Grass online is a fantastic alternative — and in 2020, there are some incredible retailers to choose from!
---
LUXE B PAMPAS GRASS
---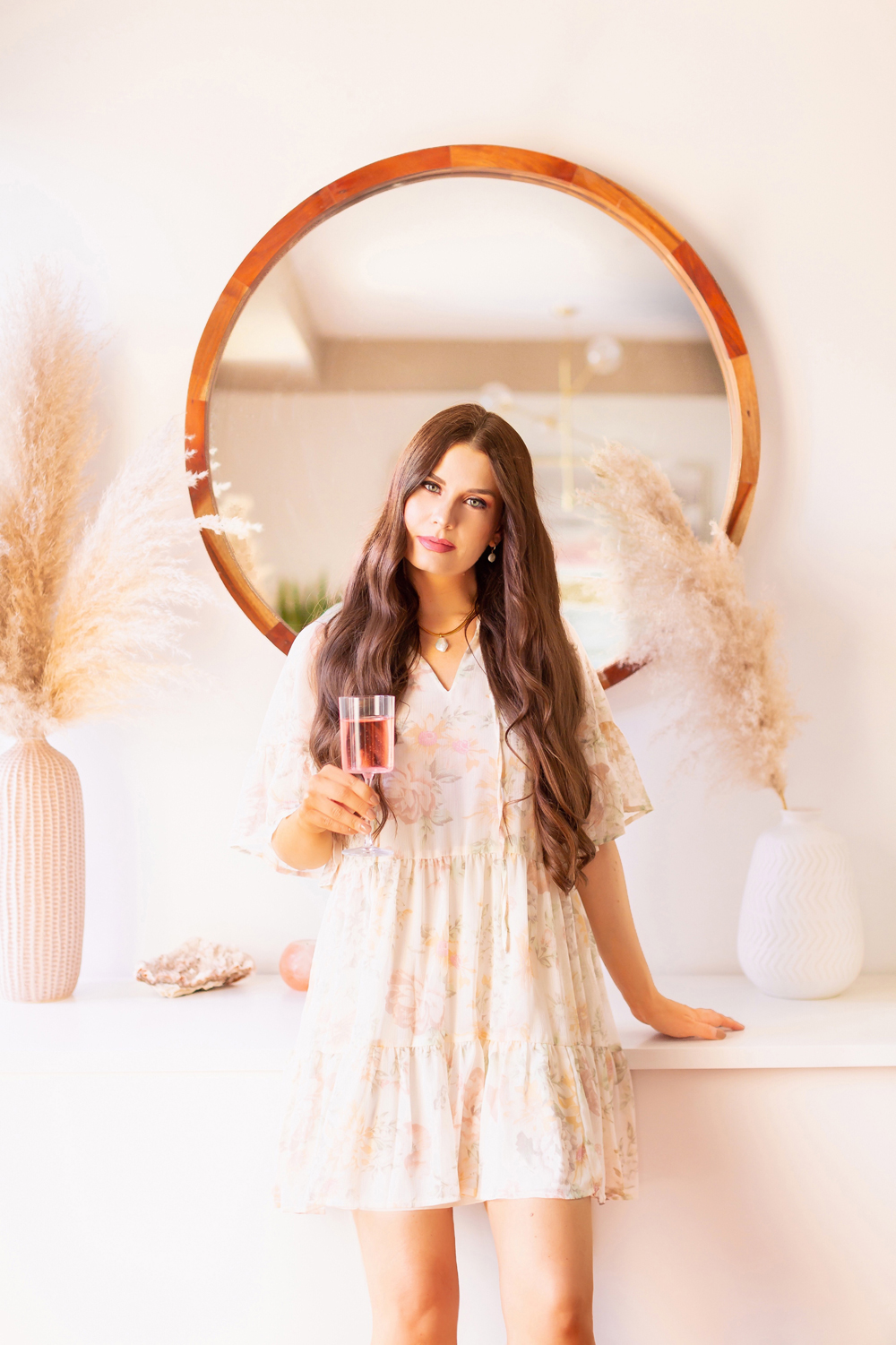 Luxe B Pampas Grass is based in Alberta and can ship to the United States and Canada (although they do not ship outside of North America currently).
NATURAL PAMPAS GRASS
They offer a wide variety of plumes from full and natural (like the variety seen in our home), to darker, more rustic plumes in all shapes and sizes to create any look you'd like to achieve. Shop all of Luxe B's natural pampas grasses below!

COLOURED PAMPAS GRASS
If you're looking to add some colour to your decor, Luxe B also offers a lovely array of hand dyed pampas in both natural and synthetic varieties in a range of blush and lavender shades.

DRIED FLOWERS, FOLIAGE, LEAVES AND GRASSES
If you'd like to create a mixed, dried arrangement like the one on my coffee table, Luxe B also offers pre-made vase toppers, bunny tails, smaller, fluffier pampas varieties in off white and a natural tones and a variety of other dried palm leaves, sun palm fan leaves and  sun spears. Shop Luxe B's additional dried offerings and pre-made dried bouquets below!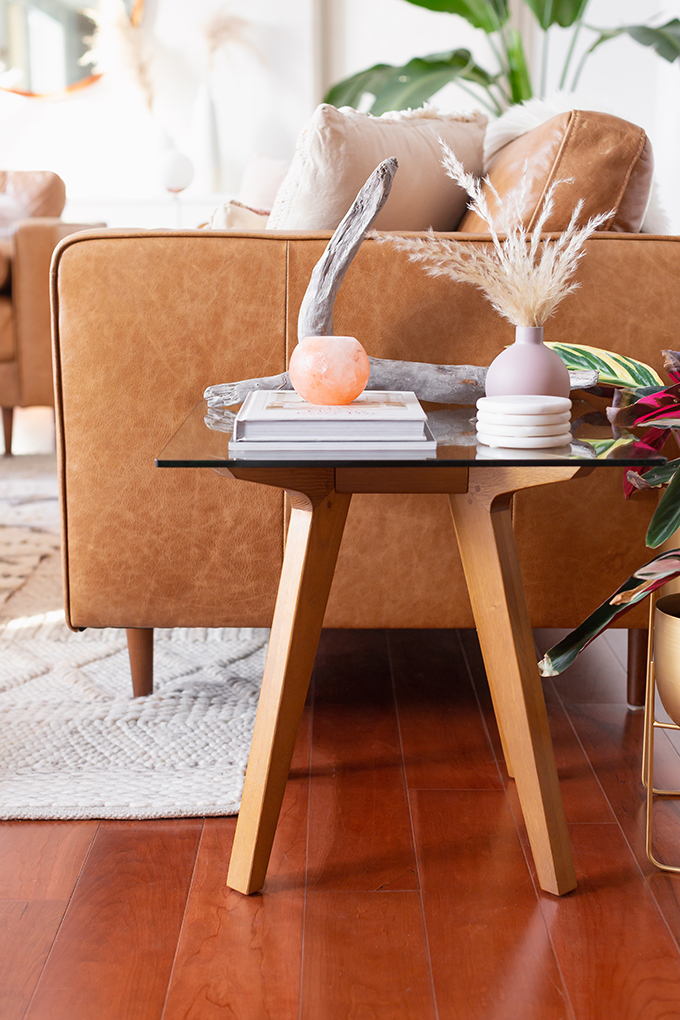 ---
GOLDEN AUGUST PAMPAS GRASS
---
Golden August is another Canadian, woman-owned business specializing in Pampas Grass and other dried decor that ships to both the United States and Canada. Earlier this fall they reached out to introduce themselves and offered to send a few of their more unique varieties of pampas over that I didn't already have — including their Arizona Pampas Grass,  Desert Pampas Grass and  Sonoma Pampas Grass, I used to make this oversized pampas grass arrangement.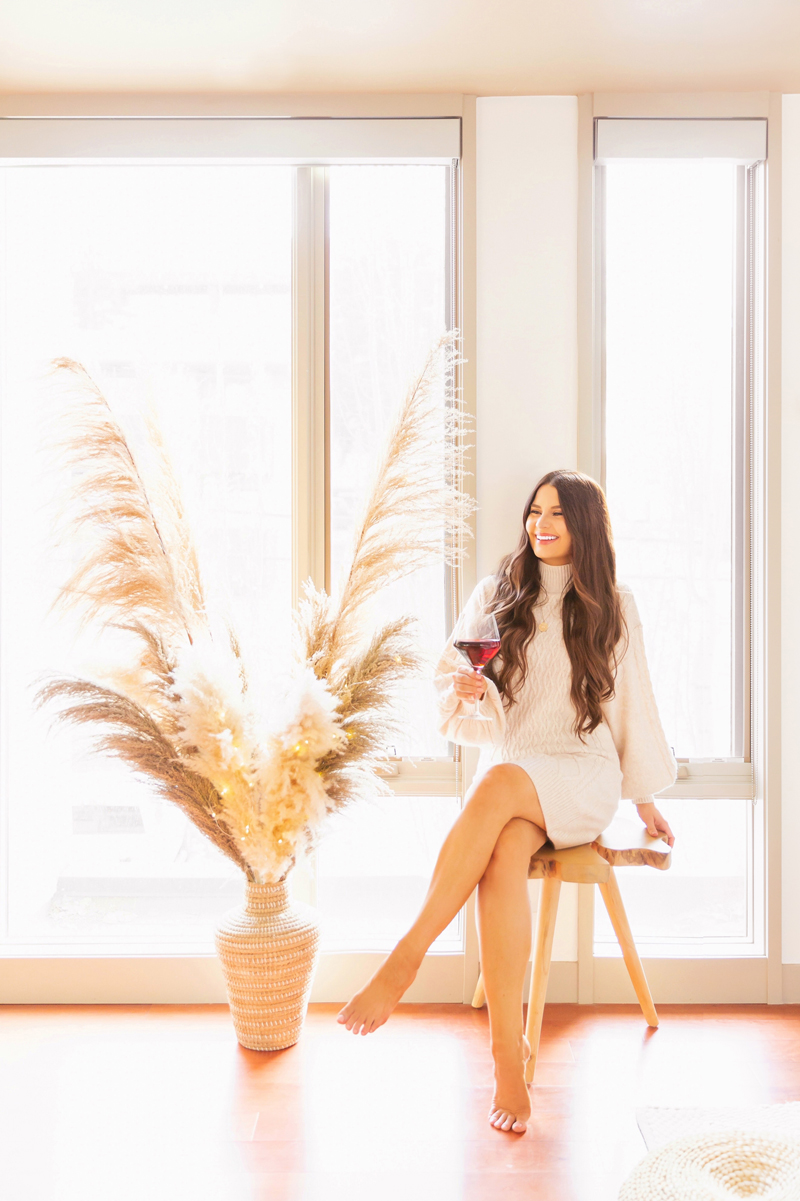 Their shipping was quick (my order arrived in less than a week) and everything arrived immaculately packaged. Golden August is another proudly Canadian Pampas Grass retailer I highly recommend! If you're interested in purchasing some of  their beautiful, bohemian dried goodies, be sure to use code justinecelina10 for 10% off your order!
---
ADDITIONAL ONLINE PAMPAS GRASS RETAILERS
---
If you're looking for other options, I've also linked some additional online Pampas Grass retailers for you below — offering a variety of shapes, sizes, tones and textures to suit your decor.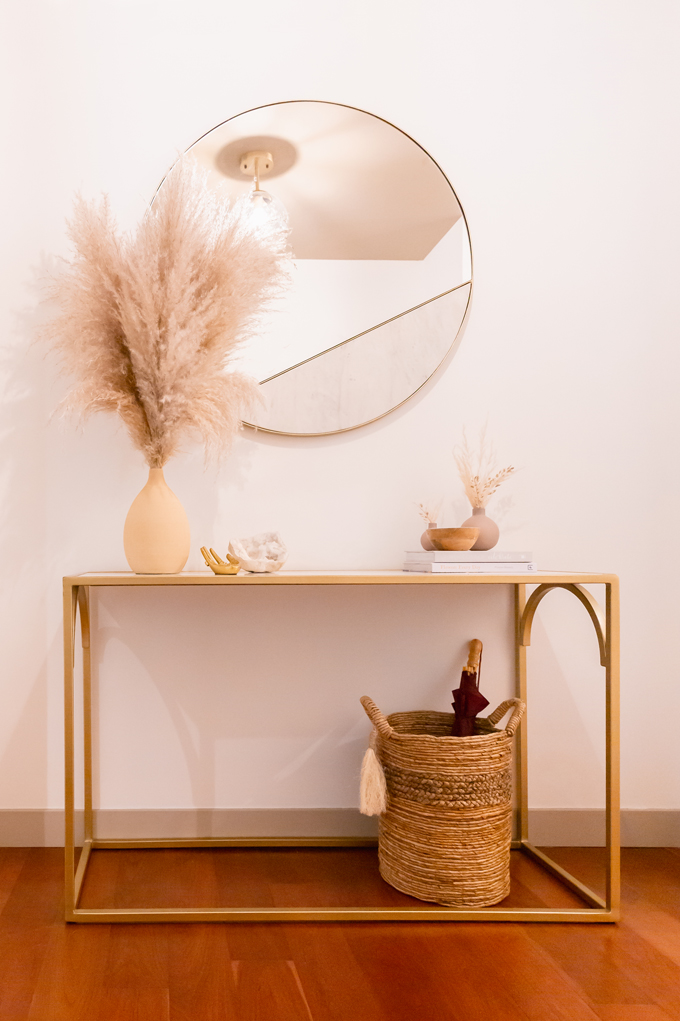 ---
WHERE TO PURCHASE FAUX PAMPAS GRASS
---
Fast forward to October 2020 and Pampas Grass has become so popular, many retailers are struggling to keep up with demand and have starting offering Faux Pampas Grass! While I adore the natural tones and textures in the real deal, consider Faux Pampas if you're after more of a uniform, feathery look and prefer consistency among plume size and shape. Bonus: you'll never have to treat it, spray it or worry about it shedding — plus, it lasts forever!
LUXE B FAUX PAMPAS
Luxe B also had a robust offering of Faux Pampas. Their plumes are ultra luxurious, feathery and available in a variety of hues.

OTHER ONLINE FAUX PAMPAS RETAILERS
I've linked my other favourite sources for high quality Faux Pampas Grass below in a variety of tones and textures below. Tip: mix and match colours of Faux Pampas Grass to create a more realistic looking arrangement!

---
HOW TO INCORPORATE PAMPAS GRASS INTO YOUR DECOR
---
I love the free-spirited, bohemian vibe Pampas Grass adds to our decor — so it's no surprise I've incorporated it in various vases and arrangements all over the apartment!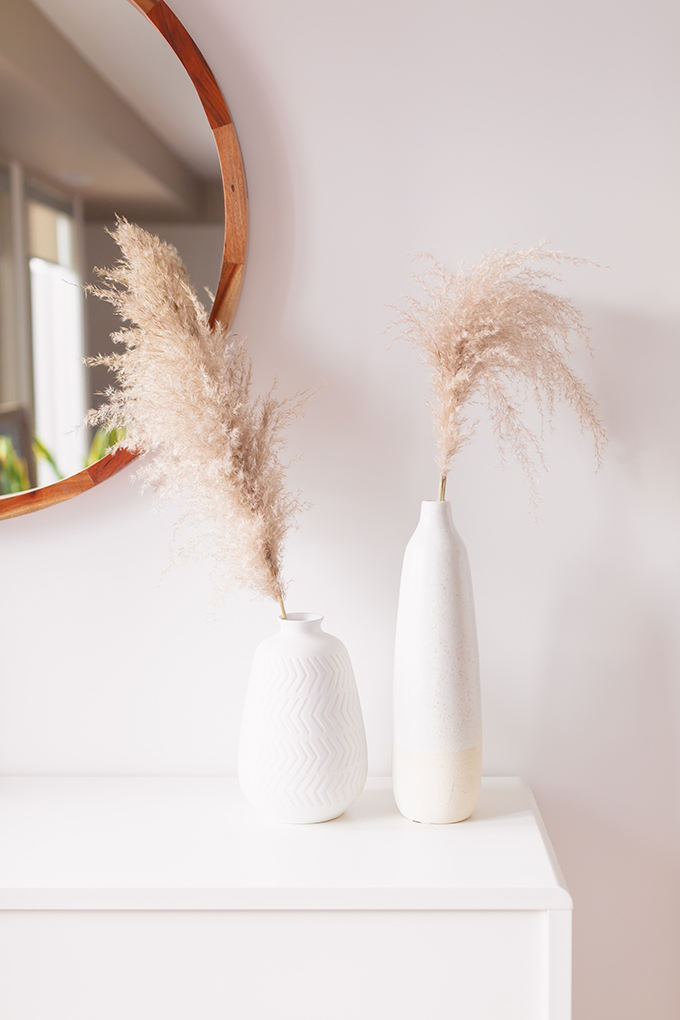 Although most of these photos showcase pampas in our Living Room, it also works especially well to add an organic touch to areas that don't get enough natural light for plants (like our Entrance Way and Main Bathroom — which is next up in our SPACE REFRESH series!).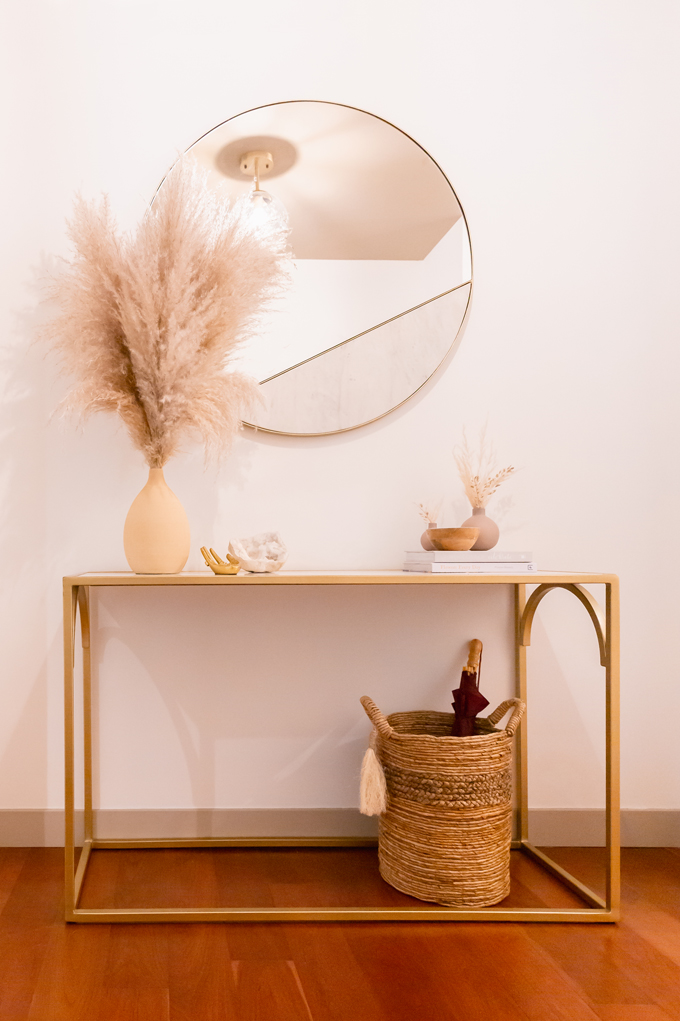 Adding single reeds to taller vases to creates a simple, yet striking, focal point. I love the light, airy feeling pampas plumes bring to our sideboard!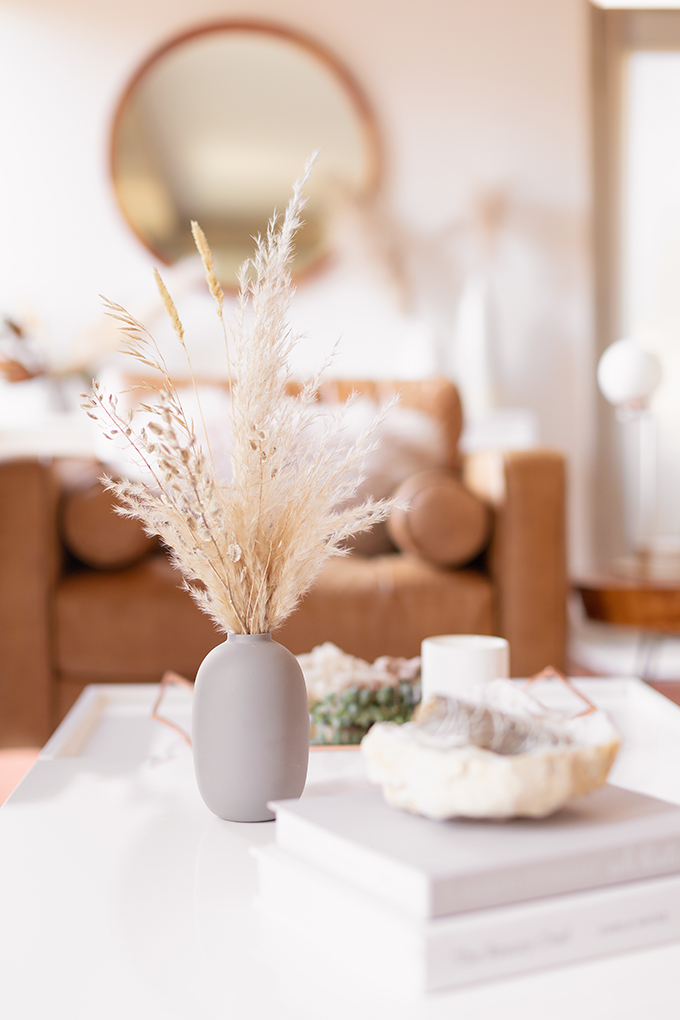 If you have smaller vases to fill, try removing strands in sections from the base of the pampas plume (as described in my Care & Conditioning Tips section above) to create mini Pampas Grass arrangements. These work especially well for side tables, centrepieces and bathrooms as they don't take up much room, but create ethereal impact.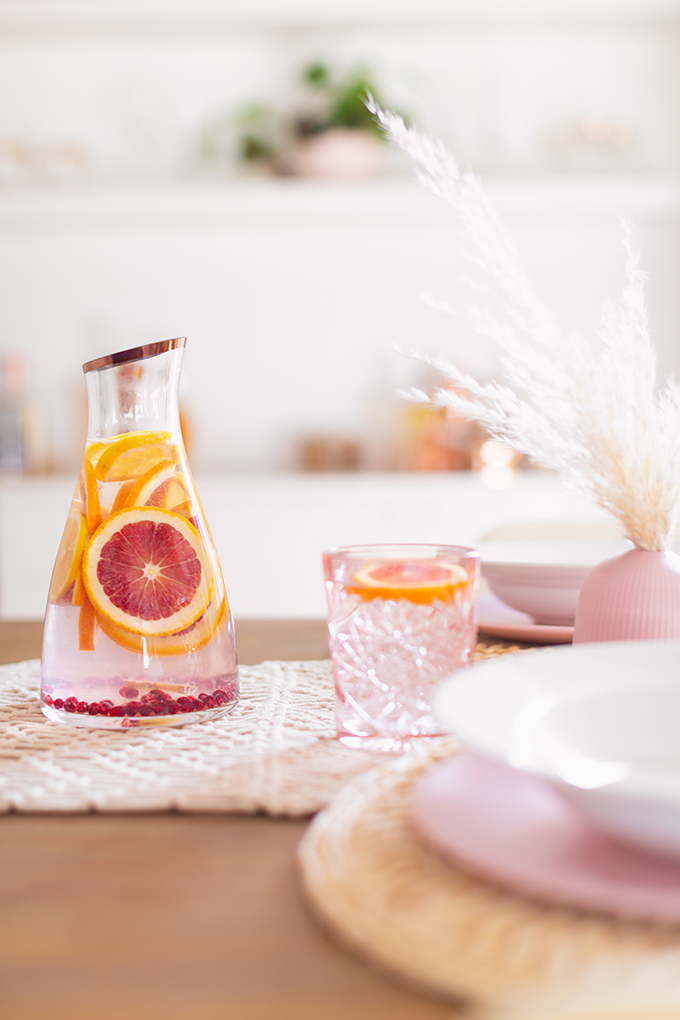 I've had a lot of fun experimenting with pampas plumes in dried arrangements as well. I'm continuously adding foraged or repurposed ingredients as I go and I love the soft, sweeping texture Pampas Grass adds.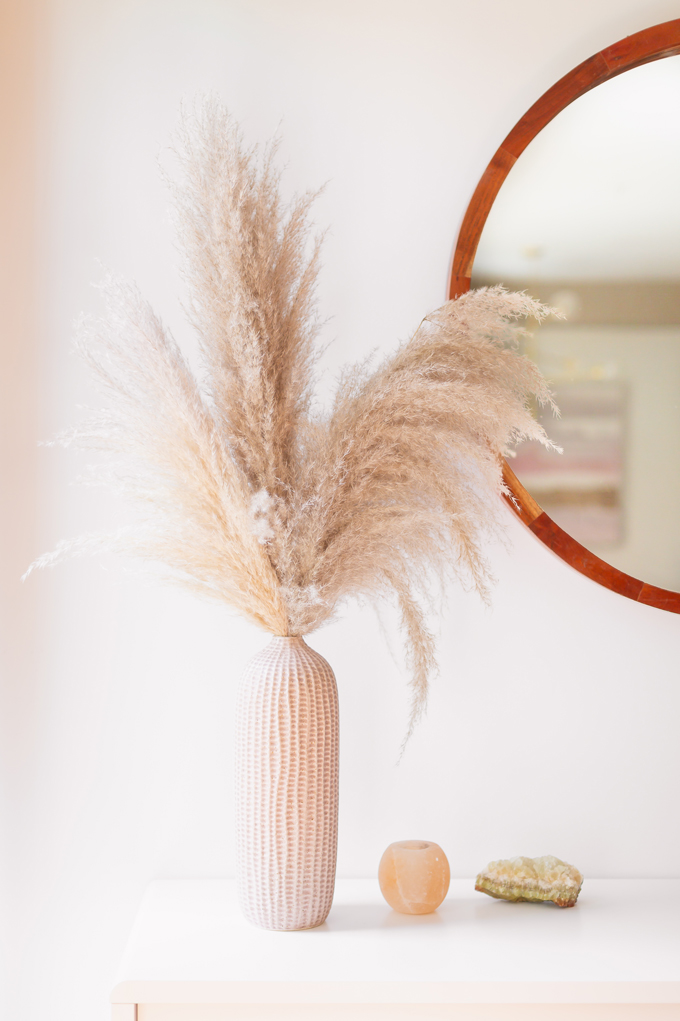 The best part is that unlike fresh flower arrangements, they require no maintenance once the plumes are conditioned! Dried, tonal arrangements are a FLOWER ARRANGING cornerstone for 2020 — so if you're inspired to get your DIY on, stay tuned for a dedicated DIY | Pampas Grass Arrangement post coming soon! That said, if you'd like to purchase a pre-made Pampas Grass Arrangement with dried grasses and foliage similar to the ones I've shared in the post, I've linked a couple of options for you below.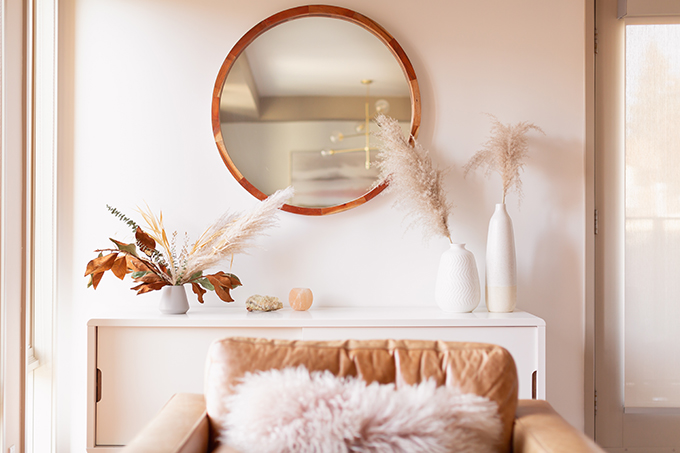 Pampas Grass is highly versatile and there are many ways it can be incorporated in your decor — the only limit is your creativity! To add a bohemian touch to our mid-century modern holiday decor, I added about 10 plumes to our Christmas Tree to create fullness and an interesting texture. I'm sure I'll continue to find ways to incorporate it into our decor — I have a couple of projects in mind for upcoming events, as well as the next rooms in our SPACE REFRESH series!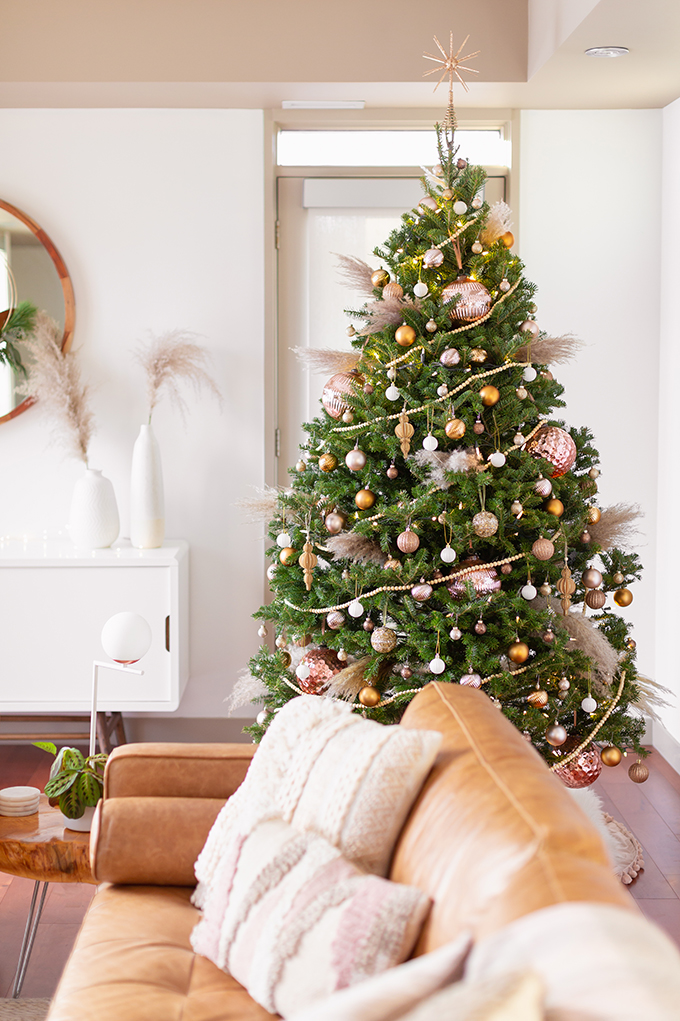 ---
SHOP MY FAVOURITE VASES
---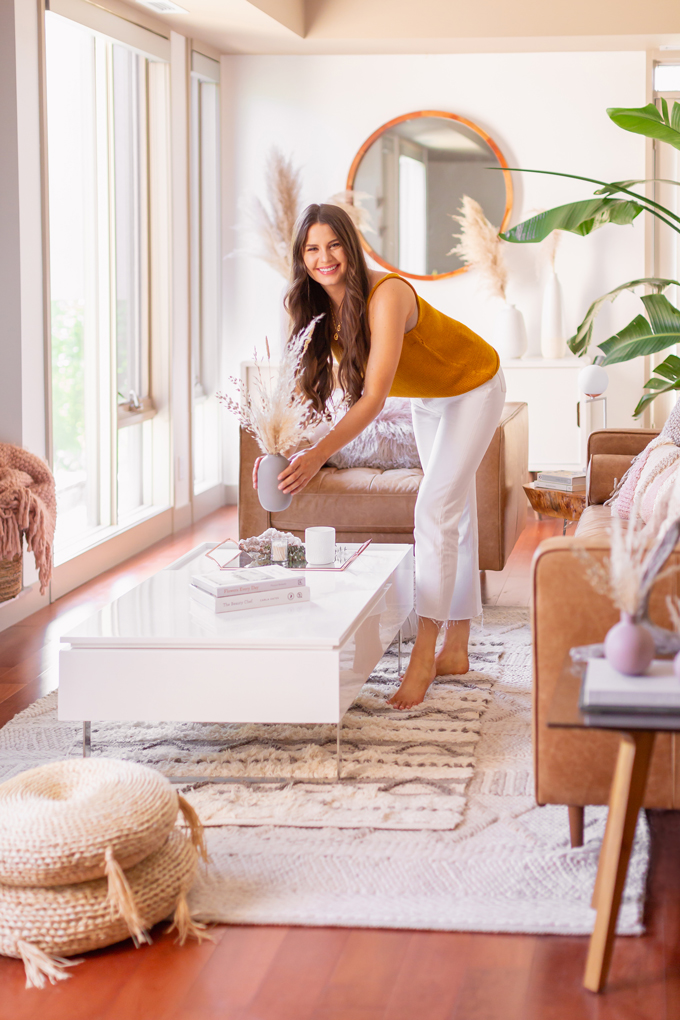 ---
LEARN ALL ABOUT MY FAVOURITE FLOWERS
---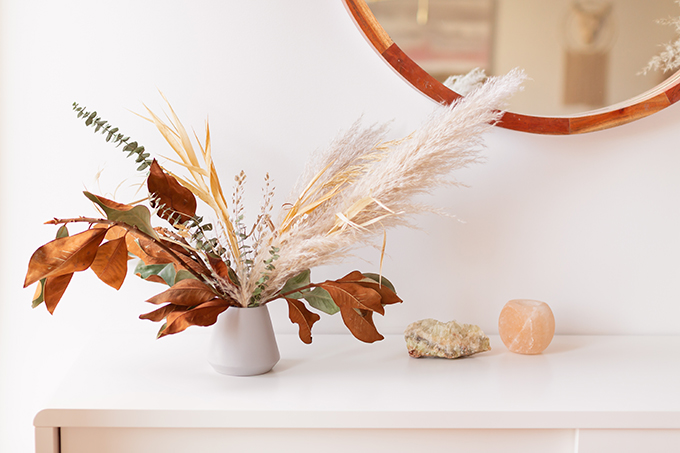 ---
MORE FROM OUR INNER CITY CALGARY APARTMENT
---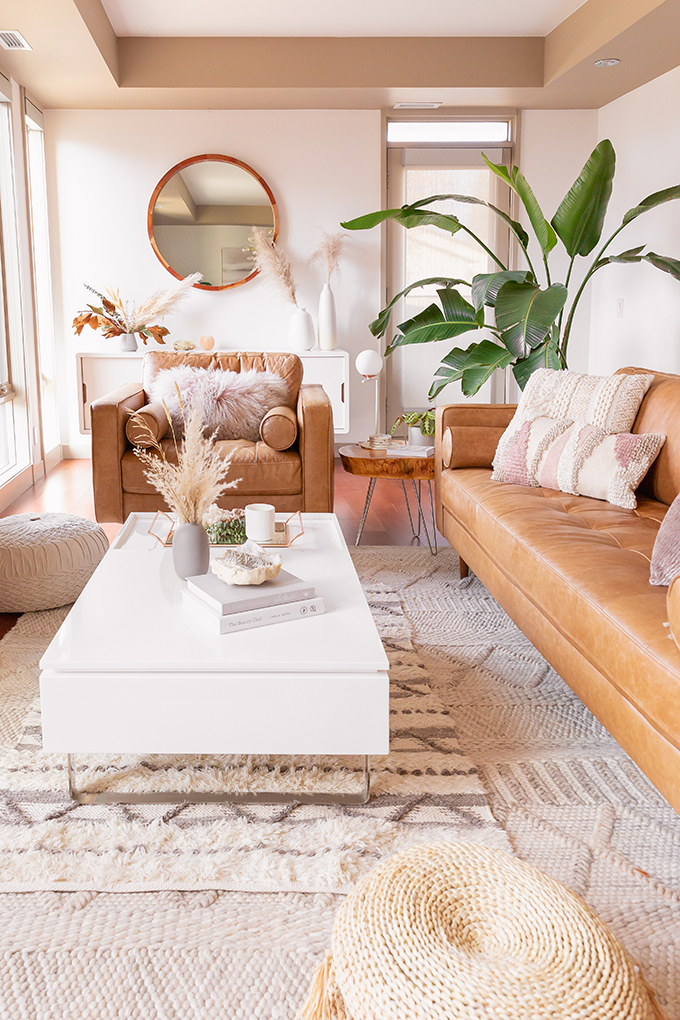 Space Refresh | Living Room Reveal
Space Refresh | Dining Room Reveal
How to Select and Care For Houseplants
Our Dining Room Bar | A Built-in Look on a Budget
---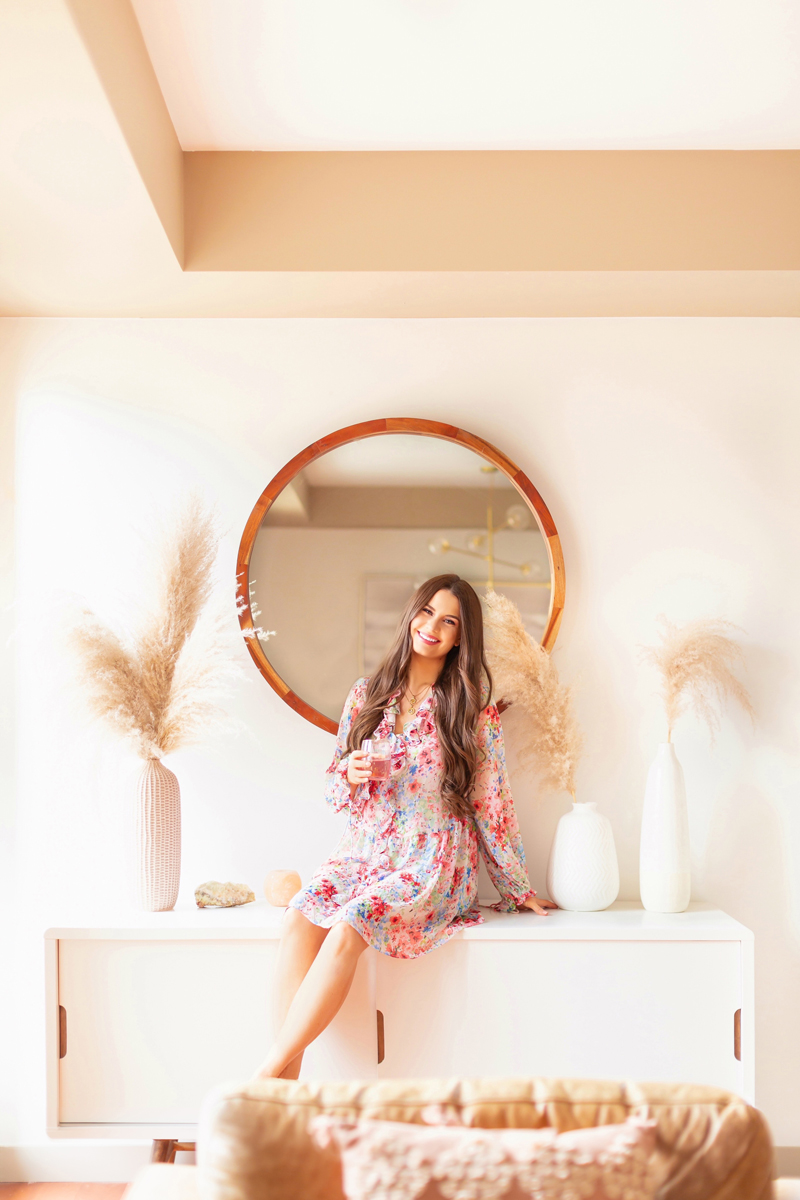 I hope you enjoyed the latest installment in my FLOWER EDUCATION series and learned something new today! Expect to see lots more pampas action across categories here at JustineCelina moving forward — I just love the natural, whimsical vibe it adds to any space. I also can't wait to share how I created the dried pampas grass arrangement you see to my left above. Are there any other flowers, foliage or grasses you're interested in learning more about this spring? As always, I'm happy to take your requests!
In the meantime, if you can get your seasonal flower fix by either browsing our FLOWER archives or following along with our Flower Board on Pinterest for more even more floral inspiration. Thanks for stopping by today to learn All About Pampas Grass, boho beauties! Enjoy that glass of Sauvignon Blanc.
---
Disclaimer: This post is not sponsored, and contains my genuine thoughts, ideas and recommendations. Some items featured in this space were provided by HomeSense as part of previous partnerships. JustineCelina uses affiliate and referral links, which allow me to receive a small commission when you make a purchase through one of my links. Thank you for supporting the brands and businesses that support JustineCelina.com!