---
Flower lovers, I'm elated to share the first arrangement of 2018 with you today — inspired by the Pantone Colour of the Year for 2018, Ultra Violet! This January, Rebecca Dawn Design and I are feeling re-energized by seasonal colour trends and winter's most beautiful blooms and foliage. Tonight we're showcasing a stunning array of Anemones, Spray Roses, Bella Donna Dephinium, Astrantia, Astilbe, Sedum, Ruby Silk Grass, Nandina, Umbrella Fern and Knife Blade Acacia in a cool, unconventional palette inspired by the Pantone Spring Fashion Colour Trend Report. Expect to become very familiar with these hues (along with Pantone's other spring selections) over the next few months as I work with this palette across categories here at JustineCelina!
If you've always wanted to learn more about winter flowers, you've come to the right place! Fix yourself a delicious latte or grab a glass of vino and settle in for another installment in our FLOWER EDUCATION series, where Rebecca Dawn Design and I team up to answer your most common questions about flowers and share expert tips and tricks. Learn about what's in season during the winter, what to look for when purchasing flowers, the basics of FLOWER ARRANGING, plus how to maintain your flowers so you can enjoy them for as long as possible. We hope this post helps to inspire you the next time you entertain, host winter event, or perhaps even your winter wedding!
---
A PANTONE ULTRA VIOLET INSPIRED ARRANGEMENT
---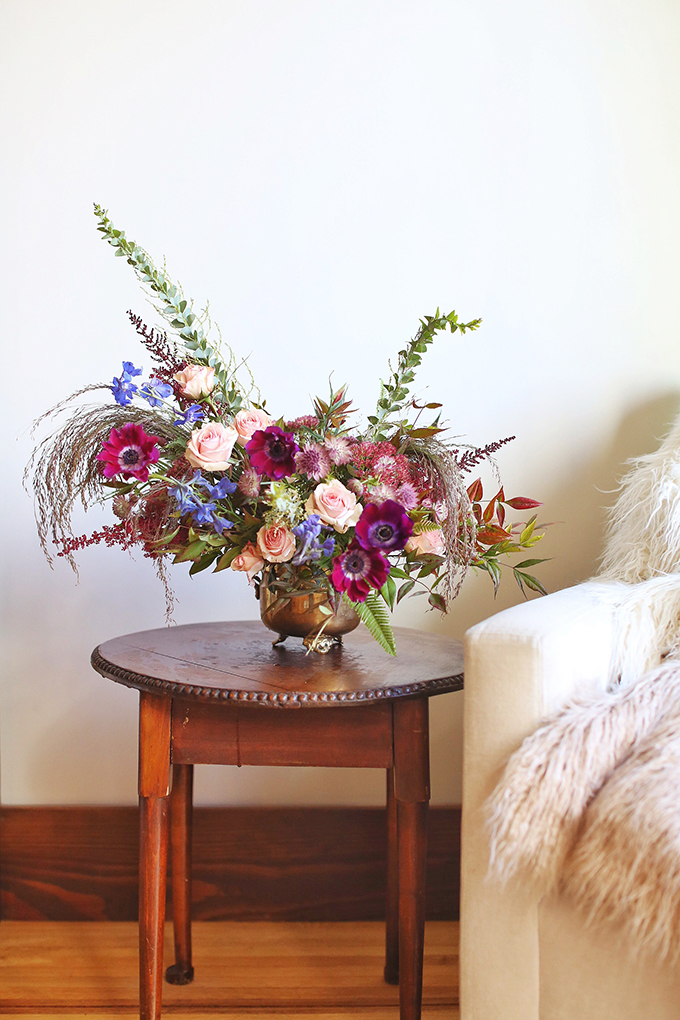 Flowers aren't really synonymous with winter, but there are some incredibly beautiful and unique varieties available at this time of year. Today Rebecca and I have set out to prove winter blooms can be totally stunning and we're excited to introduce you to some of our seasonal favourites! As always, Rebecca sourced some captivating flowers and foliage for us to work with for this wintery arrangement, inspired by a few key shades from the Pantone Spring Fashion Colour Trend Report — including Ultra Violet, Sailor Blue, Pink Lavender, Blooming Dahlia, Little Boy Blue, Spring Crocus, Chili Oil, Almost Mauve and Emperador (hey, spring can't come soon enough!). Admittedly, at first I wasn't a huge fan of Pantone's Colour of the Year selection for 2018 — but the more I work with it, the more I love it. If you're looking to brighten up your space this season, we hope this post inspires you to embrace seasonal colour trends and winter's most beautiful flowers!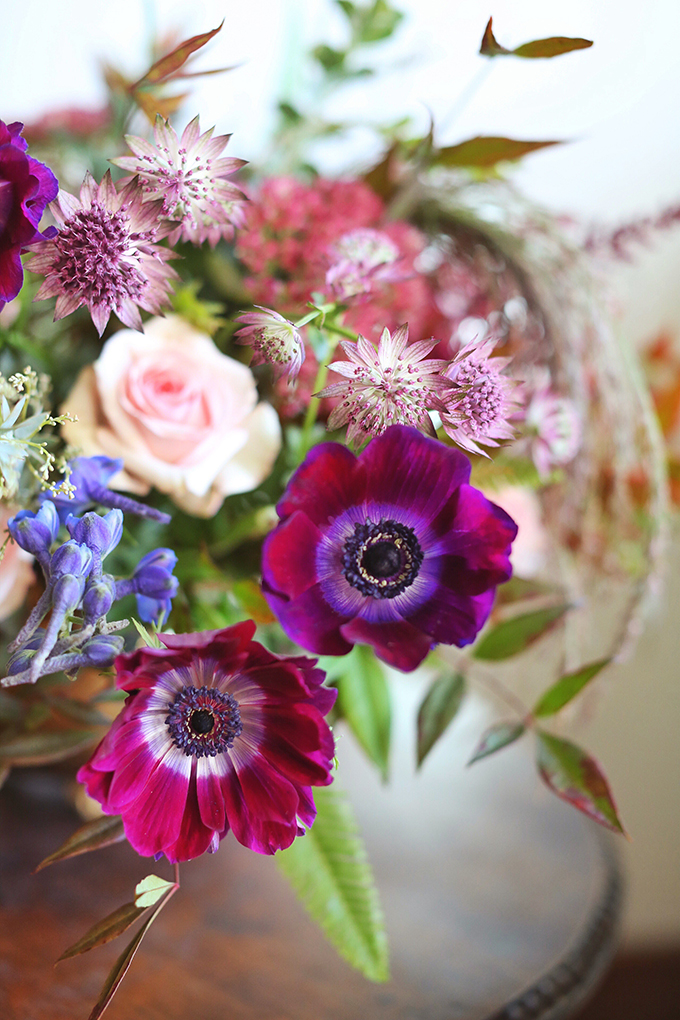 Whether you're looking to recreate this arrangement at home, bookmarking it as inspiration for an event or special occasion (a winter wedding, perhaps?), or are simply wanting to educate yourself about general flower care and conditioning, you've come to the right place! We hope you enjoy learning more about a handful of Winters's quintessential blooms in an on trend colour palette!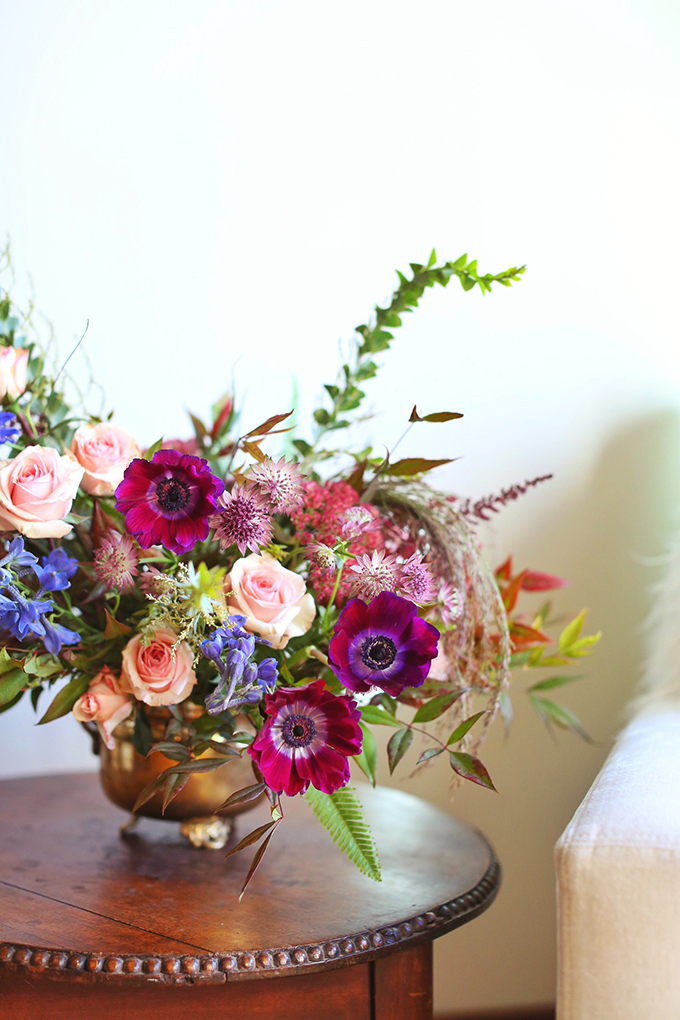 ---
PANTONE ULTRA VIOLET ARRANGEMENT INGREDIENTS
---
Flowers for an arrangement or bouquet are always divided into categories: primary flowers, secondary flowers and foliage or greenery. Here's a closer look at everything in our Pantone 2018 Ultra Violet Inspired Arrangement!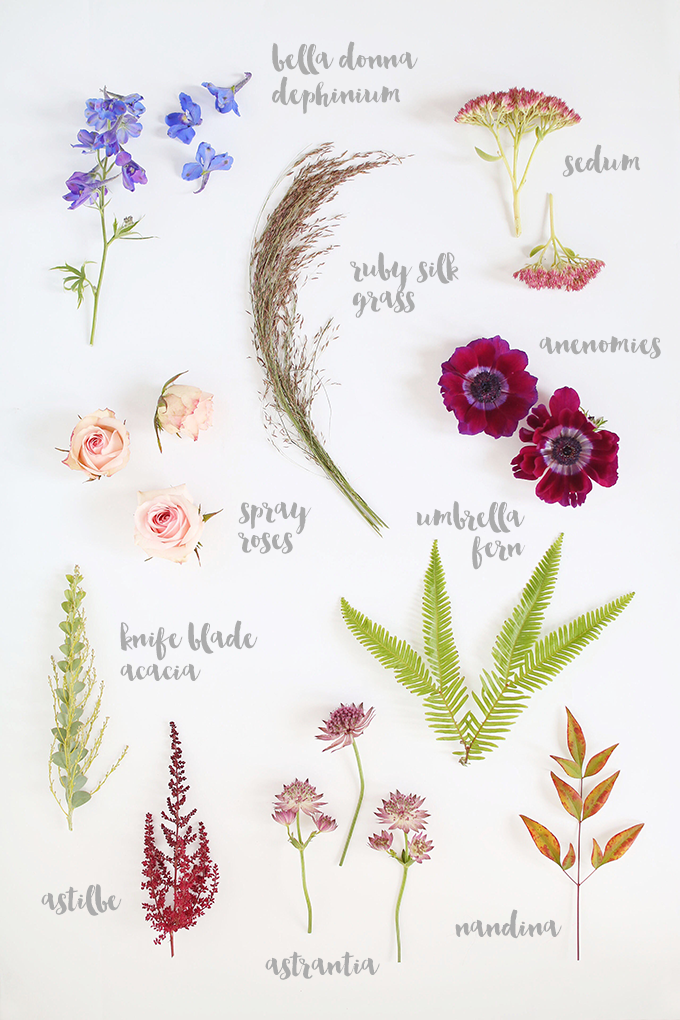 If you're creating a winter arrangement of your own or working with a florist to execute your vision, each of these blooms are currently in season — the key is sourcing plants with a variety of textures, shapes, heights and colours to keep things interesting! When selecting flowers, the petals should be vibrant in colour and free from wilting or brown edges, both of which indicate age. The ideal time to purchase flowers is when they are slightly (not completely) opened. This will ensure they fully bloom after you get them home — where you can enjoy them in all their beauty!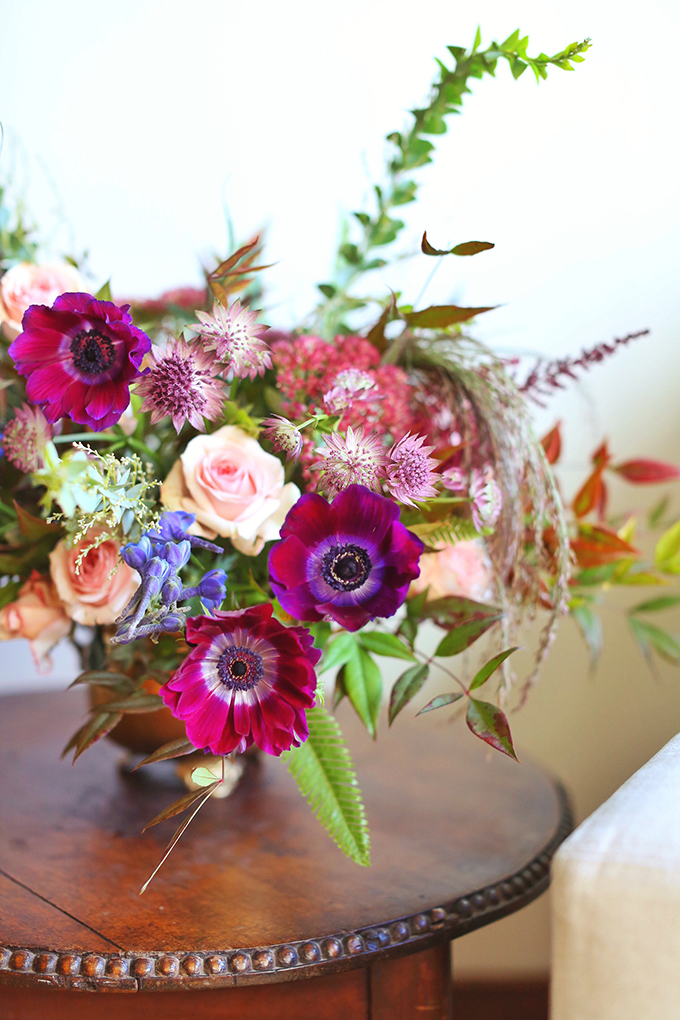 ---
Primary & Secondary Flowers
---
Rebecca selected some of my favourite winter flowers in a Pantone inspired palette to act as the focal point in this winter arrangement. Today, our primary flowers include Pantone Ultra Violet and Sailor Blue inspired Anemones (aren't they so vibrant and gorgeous?!) and blush Spray Roses (remember them from our All About Roses post?). Millennial Pink is still going strong into 2018 and I personally couldn't be happier about it!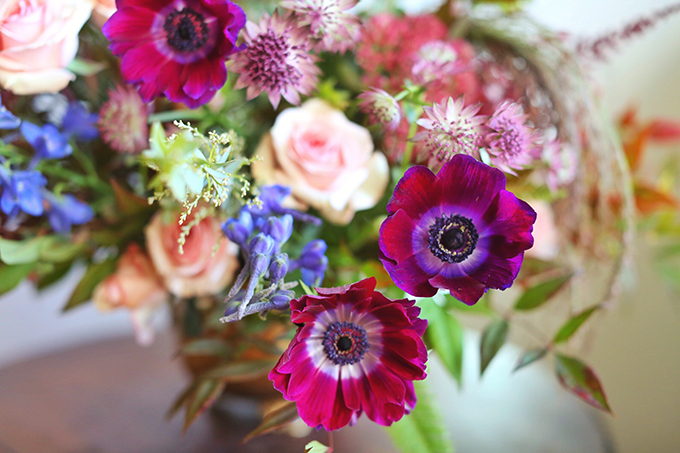 Our secondary flowers include Pantone Little Boy Blue inspired Bella Donna Dephinium, Pantone Spring Crocus and Pink Lavender inspired Astrantia, Pantone Chili Oil inspired Astilbe and Blooming Dahlia inspired Sedum (which we actually foraged from Rebecca's garden — it's hearty stuff!). I'm crazy about these rich jewel tones accented by pops of blush, lavender and cool blue!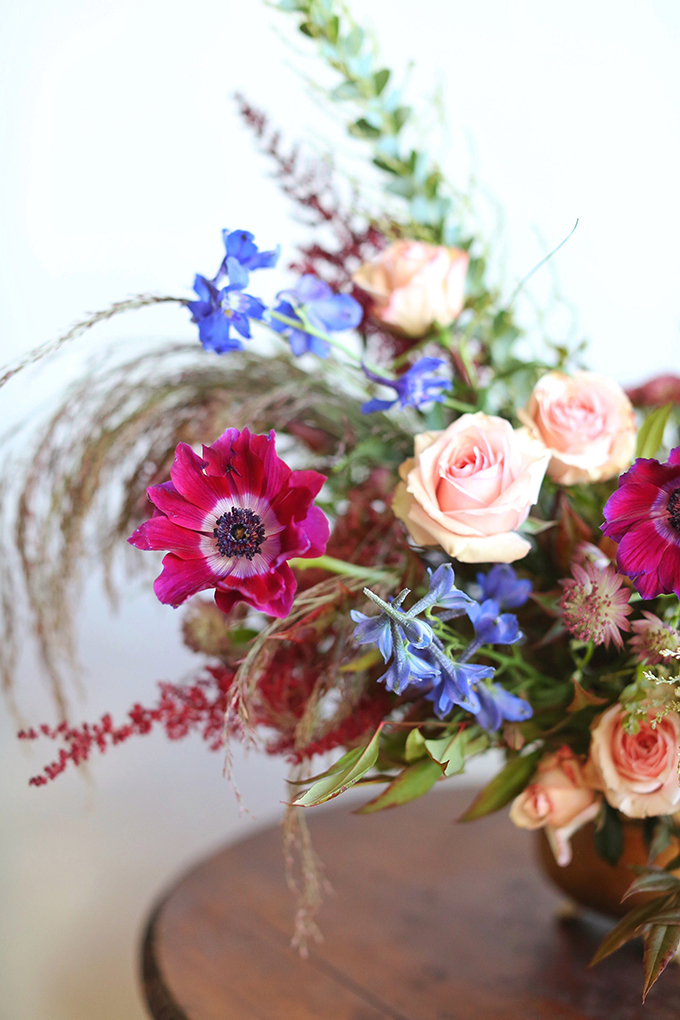 ---
Foliage
---
Rebecca's use of foliage and greenery infuse her work with a signature, artfully undone aesthetic. Foliage rounds out an arrangement, enhances the overall shape and adds beautiful organic note — I personally love a melange of foliage with my flowers! Today she's chosen Pantone Almost Mauve inspired Ruby Silk Grass, Pantone Chili Oil inspired Nandina, Umbrella Fern and Knife blade Acacia for our Pantone Ultra Violet Inspired Arrangement.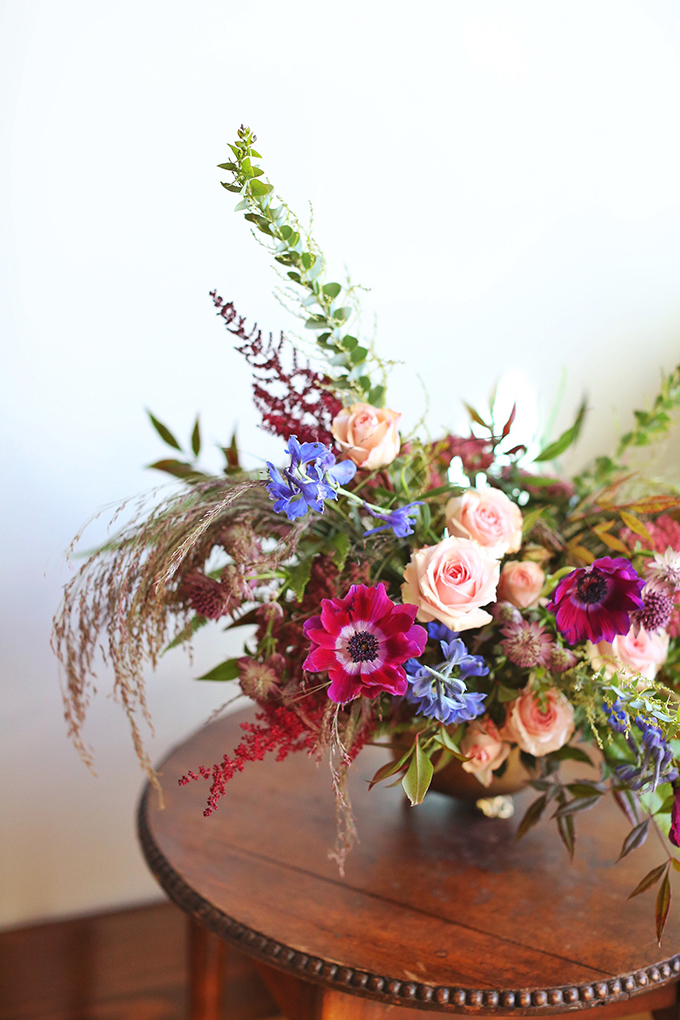 ---
FLOWER CONDITIONING & ARRANGING 101
---
1. Prep Your Flowers
Conditioning your flowers before arranging them is the most important step you can take to prolong the life of your arrangement! As soon as you get the flowers home, remove the cellophane wrapping and release them from any bindings — this allows air to circulate freely between blooms. Prep your flowers by giving them a fresh cut at a 45 degree angle to enlarges the stem surface area allow them to take more water up. Remove any foliage that may fall below the water line — any leaves in the water will create bacteria that will shorten the life of your flowers.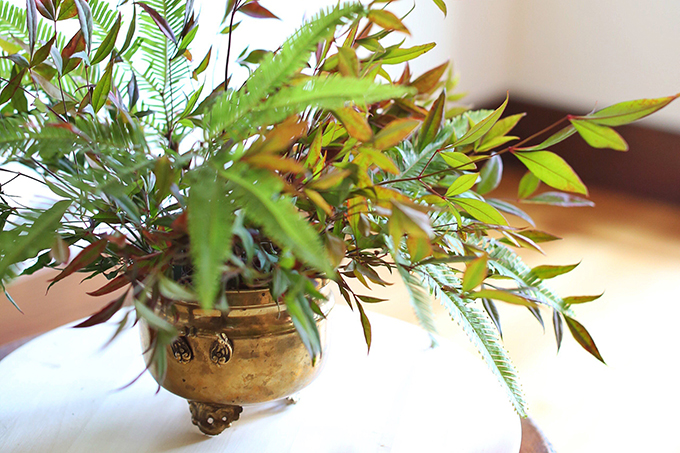 2. Prep Your Vase
Then, choose your vessel (the vase or whatever item you're going to use to contain your arrangement). The bronze vase Rebecca selected for this arrangement is actually an antique — choose what works best in your space and with your selected flowers and foliage. Fill your clean vase with warm water and a floral preservative, preparing the mixture according to instructions on the packet (flower food will help keep a vase clean and bacteria-free — prolonging the life of your flowers and helping buds and flowers open). For a more organic feeling arrangement, add chicken wire to the vase to help hold your flowers and foliage in place like Rebecca did here. If you're working with a clear vase, use floral tape to create structure for your arrangement, like we did in this post.
3. Measure Twice, Cut Once
Hold flowers and foliage up to your vessel to measure them — gauging height, size and testing out how you would like individual stems in your base layer to lie. Use their natural forms as guides for placement in the vase.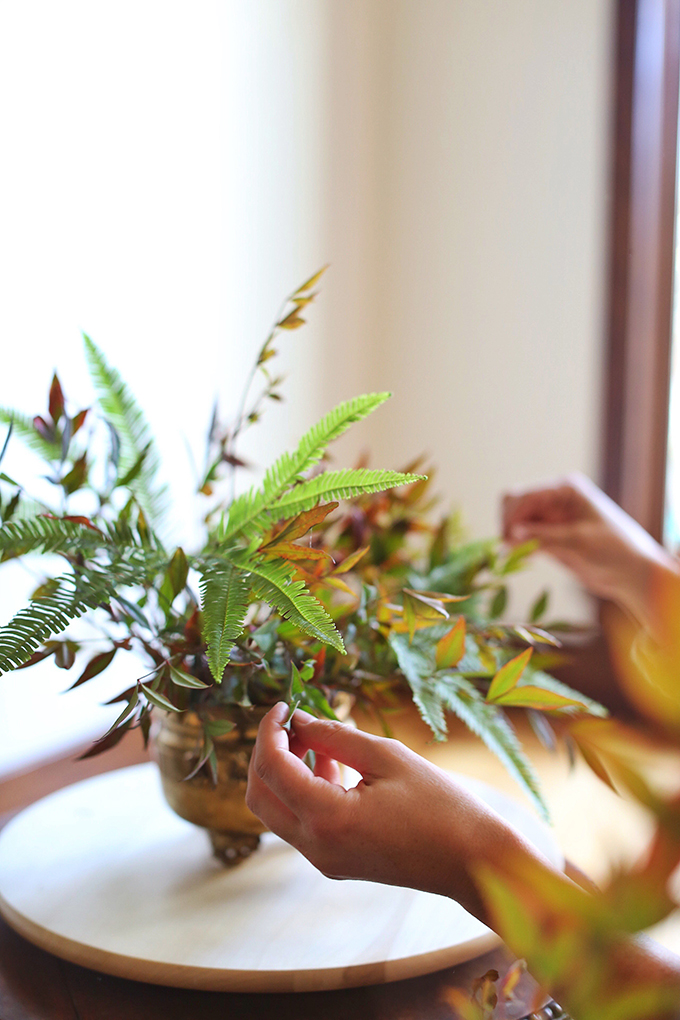 4. Build Your Foundation with Foliage
Begin mapping the shape of you arrangement by placing your foliage around the edges of the vase and crossing the stems — almost like you're constructing a nest. When you've finished, the base should be sturdy and able to withstand the impact of many additional flower stems. To keep your arrangement feeling natural, it's helpful to establish a singular high point and a few low points to balance out the shape. Rebecca built the foundation for this charming arrangement with Ruby Silk Grass, Nandina, Umbrella Fern and Knife blade Acacia — experimenting with placement and texture to build a strong foundation for our substantial primary flowers.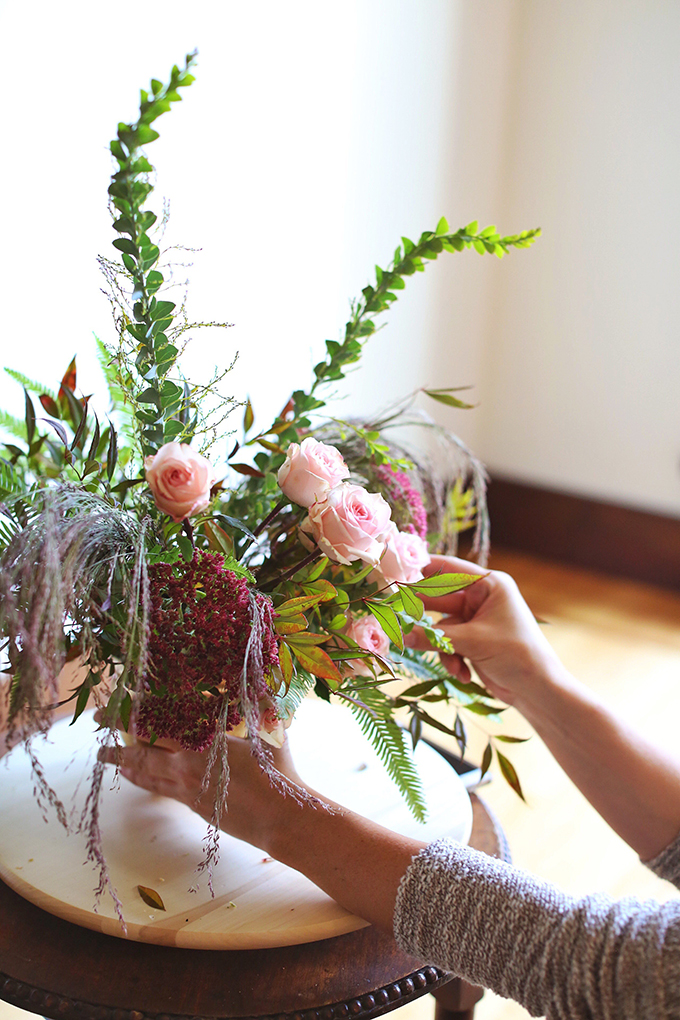 5. Add Primary Flowers
Begin adding the largest and sturdiest flowers that you have chosen as your primary flowers — in this arrangement they're those stunning violet Anenomies accented by blush Spray Roses. Rebecca recommends choosing 3 – 5 primary flowers and either scattering or clustering them in the arrangement to create balance. Keep the arrangement interesting by selecting plants that bloom at different angles and different heights — we think things look best when they're a little undone!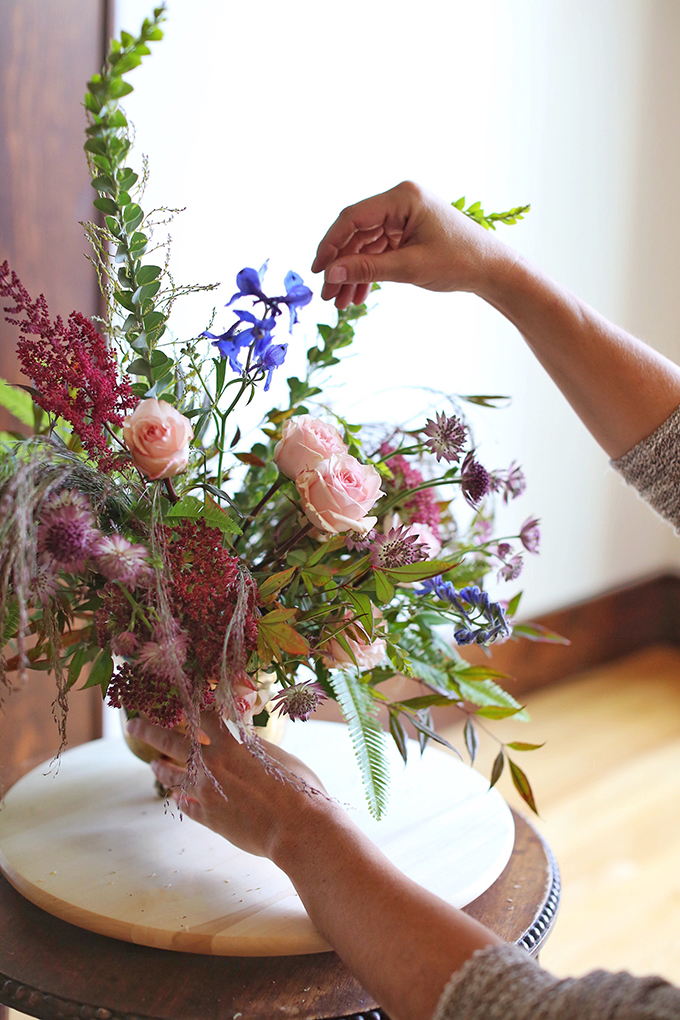 6. Add Secondary Flowers
Next, add your secondary flowers to begin filling in any holes in your arrangement. Rebecca always adds the most delicate flowers last, so the heavier blooms don't squish or damage them. She added depth, texture and splashes of colour with Bella Donna Dephinium, Astrantia, Astilbe and Sedum.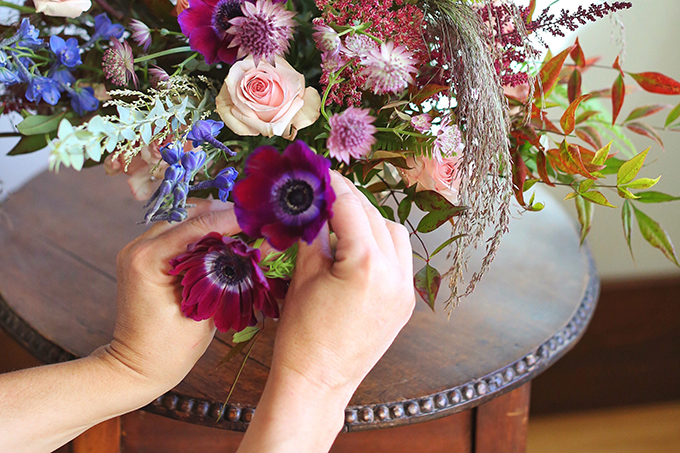 7. Inspect & Adjust
When you think you're almost finished, step back and view the arrangement from different angles to get a better look at the whole picture. Do a final check for stems that may not be securely placed or need another trim.
Congratulations — you've created your very own flower arrangement!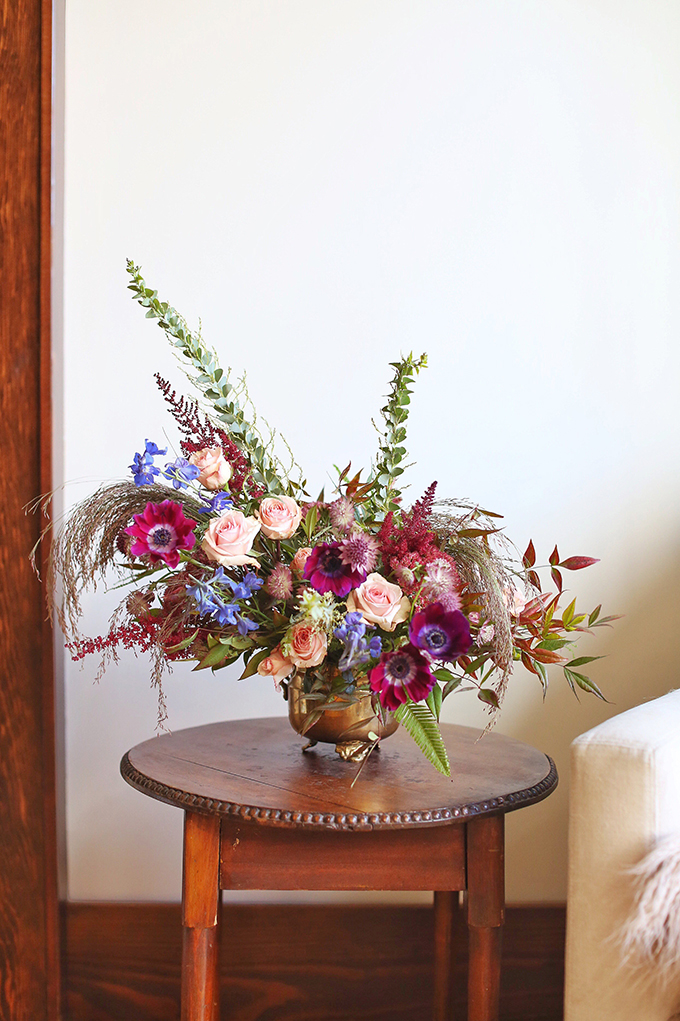 ---
FLOWER ARRANGEMENT CARE
---
To maximize the life of your arrangement, replace the preservative-and-water solution whenever the water in the vase appears cloudy, which indicates bacterial activity. Each time you replace the water, trim off at least 1/2″ of stem from the bottom of each flower stem to prolong the life of your blooms.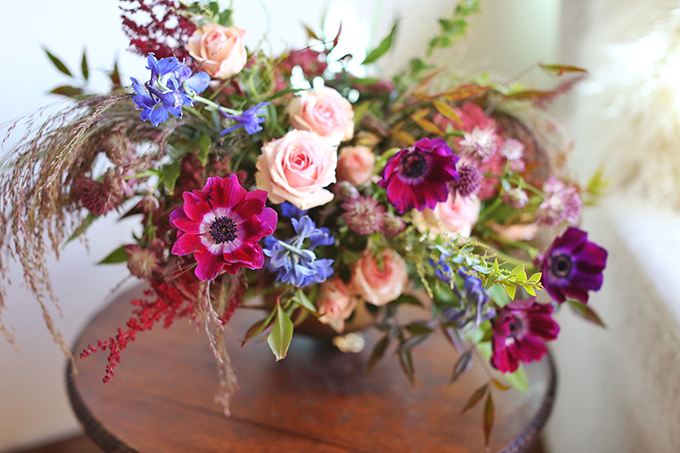 ---
If you haven't already downloaded our FREE January tech wallpapers, you totally should! Choose from 3 fresh, clean designs inspired by January's newness and the Pantone's Ultra Violet.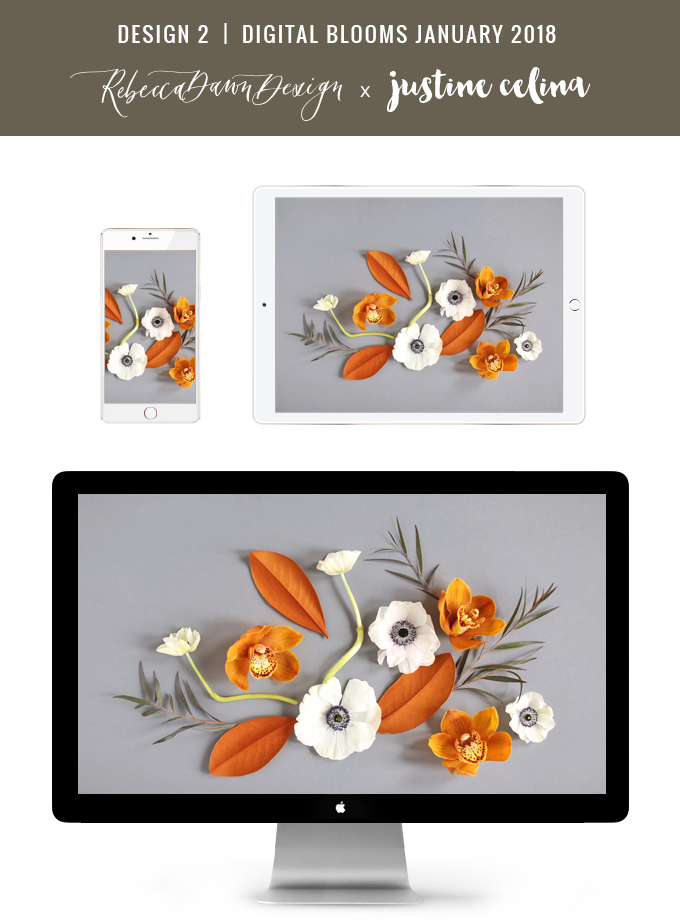 ---
MORE FROM OUR FLOWER ARRANGING SERIES
---
How to Make An Asymmetrical Holiday Wreath
DIY Floating Spring Centrepiece
How to Make a Summer Flower Arrangement
An Eclectic Globally Inspired Arrangement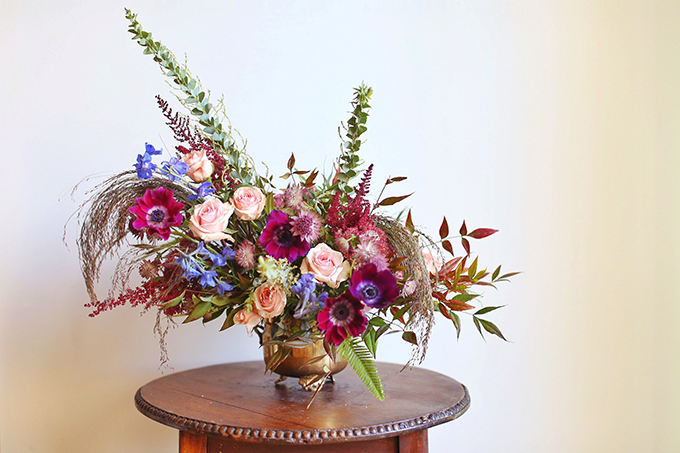 Thanks for stopping by today to learn more about winter flowers! If this post inspires you to bring winter flowers into your home or sparks ideas for a winter wedding or event, please let us know, or tag us on social media! We absolutely love hearing from you. And If you're looking for even more flower inspiration, check out our flower education series and be sure to follow along with our Flower Board over on Pinterest. Enjoy the rest of this beautiful weekend!
---
Disclaimer: This post is not sponsored and contains my genuine thoughts, ideas and recommendations. JustineCelina uses affiliate and referral links, which allow me to receive a small commission when you make a purchase through one of my links. Thank you for supporting the brands and businesses that support JustineCelina.com!