---
Flower friends, it's been awhile since our last FLOWER EDUCATION post — but today Rebecca Dawn Design and I are back with A Guide to Bringing Autumn Flowers Into Your Home! We've had an absolutely beautiful autumn here in Calgary and the changing landscape inspired us to switch up our decor and colour palettes indoors as well. With so many stunning fall blooms to choose from in October, Rebecca and I teamed up to create this moody autumn arrangement inspired by (you guessed it) the Pantone Fall 2017 Colour Trend Report — its been so much fun translating seasonal colour inspiration across categories!

If you're ready to learn all about autumn blooms, explore the darker side of fall florals and add a cozy touch to your decor, this post is for you! Rich bordeauxs, warm neutrals, blush and grey have been making waves in all things fall FASHION — and they also translate beautifully to flower and interior design. Welcome autumn into your home today as we chat about familiar and unconventional fall blooms and foliage in this Guide to Bringing Autumn Flowers Into Your Home — including velvety, wine hued Ranunculus, peach Ranunculus, Mother of Pearl Roses (remember those beauties?), Astrantia, Scabiosa, Saracena Lily, Poppy Pods and Angel Wings Begonia Leaves! Rebecca also shares her expert autumn flower care tips to help extend the life of your autumn blooms for as long as possible.
---
A GUIDE TO BRINGING AUTUMN FLOWERS INTO YOUR HOME
---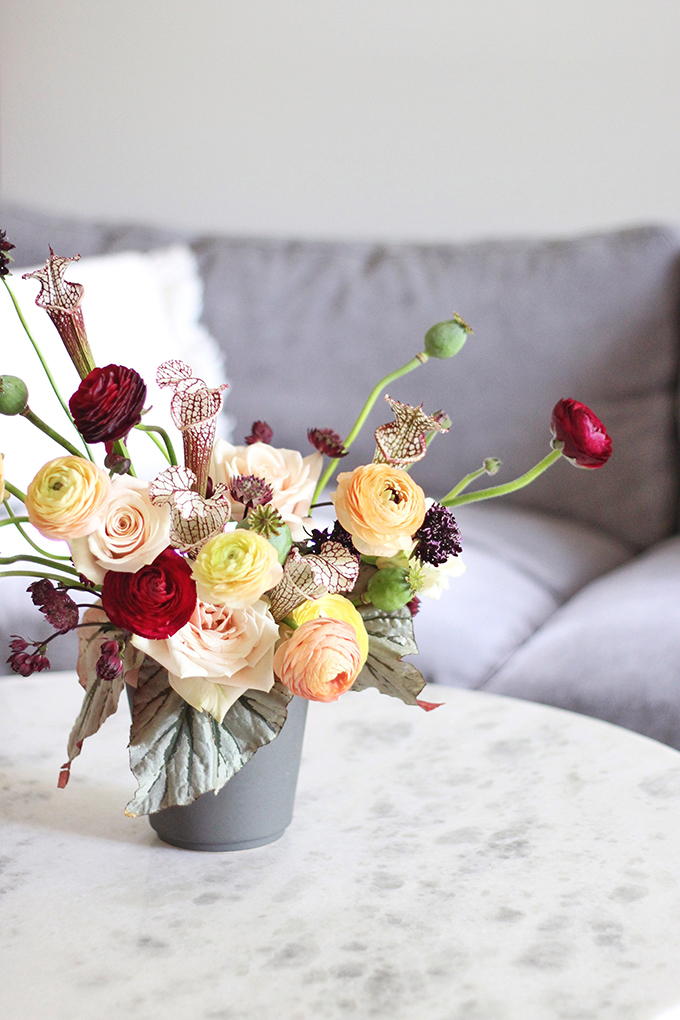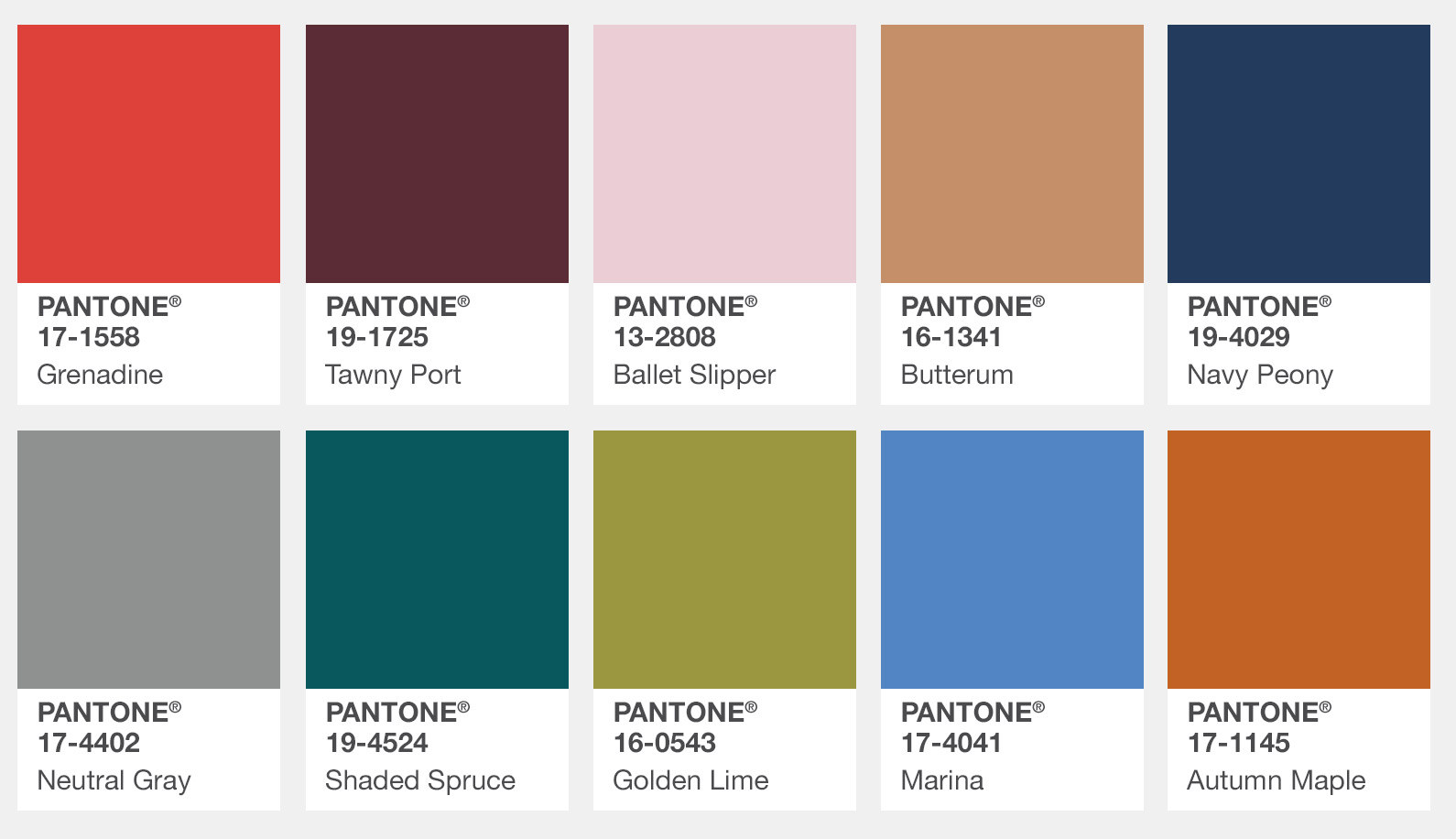 When you think of flowers, you probably automatically think of spring and summer, right? Well today Rebecca Dawn Design and I have set out to change that — autumn's blooms are bountiful and we're excited to introduce you to some of our seasonal favourites! Rebecca sourced some truly stunning flowers and foliage for us to work with for this post inspired by a few key shades from the Pantone Fall 2017 Colour Trend Report — specifically, Tawny Port, Ballet Slipper, Butterum, Key Lime and Neutral Grey. If you're looking to bring autumn blooms into your home this season, we hope this post inspires you to look for inspiration in unexpected places!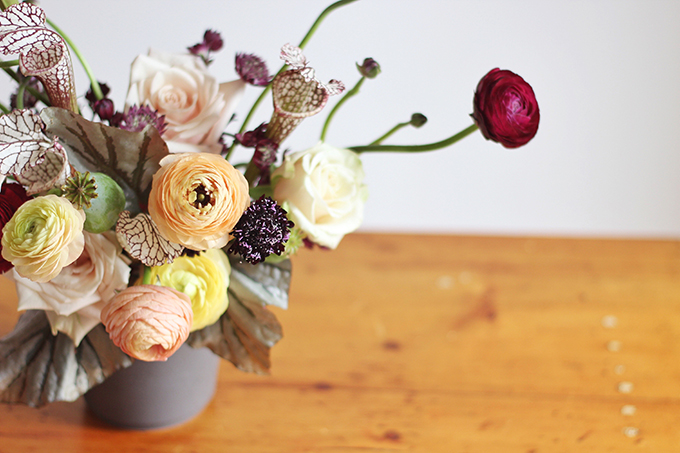 And if you're new here — we always start with a mini flower arranging lesson! Flowers for an arrangement or bouquet are always divided into categories: primary flowers, secondary flowers and foliage or greenery. Today our primary flowers include multi coloured Ranunculus and Mother of Pearl Roses, our secondary flowers include Scabiosa, Astrantia and those gorgeous speckled Saracena Lilies. Charming Poppy Pods and Angel Wings Begonia Leaves tie unite our moody, autumnal arrangement with an organic note.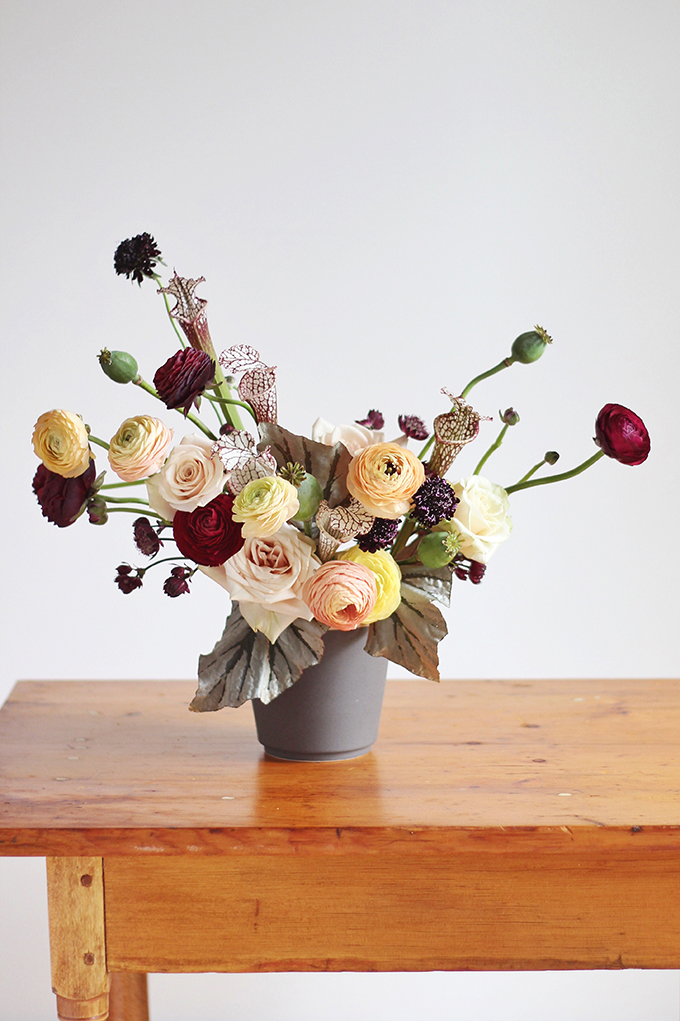 Whether you're looking to recreate this arrangement at home, bookmarking it as inspiration for an event or special occasion (an autumn wedding, perhaps?), or are simply wanting to educate yourself about general flower care and conditioning, you've come to the right place! We hope you enjoy learning more about a handful of Autumn's quintessential blooms in an on trend colour palette!
---
OUR MOODY FALL ARRANGEMENT INCLUDES
---
Ranunculus
Ranunculus come in a wide variety of colours and you've seen them here at JustineCelina in almost every single shade because we love them! This month we've included deep wine and peach varieties. Learn more about them in our Introduction to Spring Flowers post from last April!

Mother of Pearl Roses
These dreamy, blush coloured roses are a nod to Pantone's Ballet Slipper and are one of my personal favorites! Learn more about them in our All About Roses post.
Astrantia
Astrantia are a beautifully textured tertiary flower we've featured a couple of times in our Autumn / Winter Digital Blooms. Expect to see a lot more of them around here over the coming months!
Scabiosa
Scabiosa are a frilly secondary flower that comes in a variety of colours — hop over to these posts to see them in action. We actually used Pink Scabiosa in My 1st Blogiversary arrangement!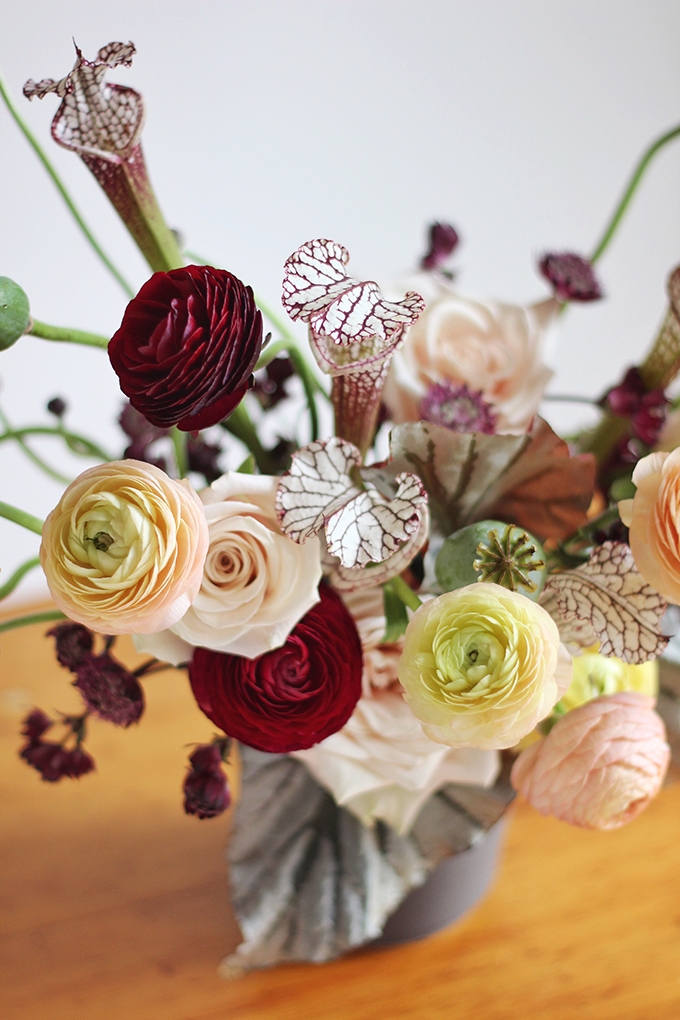 Saracena Lilies
These unique, speckled lilies are brand new to JustineCelina this month! They're also called Cobra Lilies and are a carnivorous flower that produces a liquid at the base of the bloom that attracts (and traps) insects. Keep them in your kitchen to help fend off fruit flies!

Poppy Pods
We featured Poppy Pods in our September 2017 Digital Blooms and love the fresh pops of green and unique texture they add. They're also incredibly hearty and dry very well so you can enjoy them year round!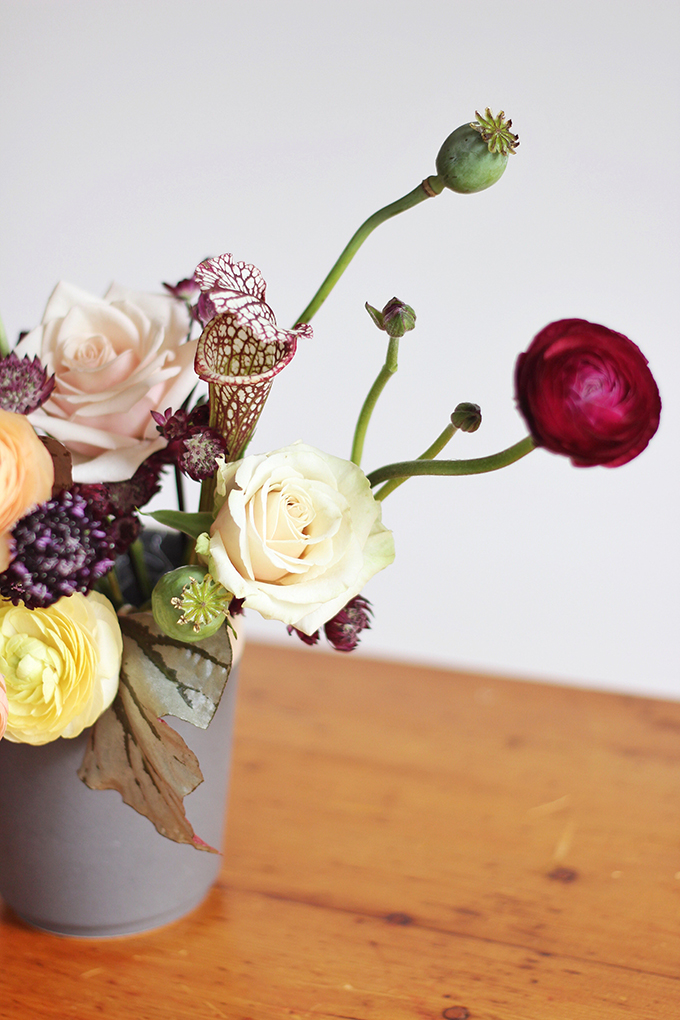 Angel Wings Begonia Leaves
We actually borrowed these leaves from Rebecca's houseplant for this arrangement! They're a stunning, marbled silvery grey on the front, but the reverse is a beautiful marsala shade. See both sides of them in our September 2017 Digital Blooms!
---
GUIDELINES FOR AUTUMN FLOWER CARE & CONDITIONING
---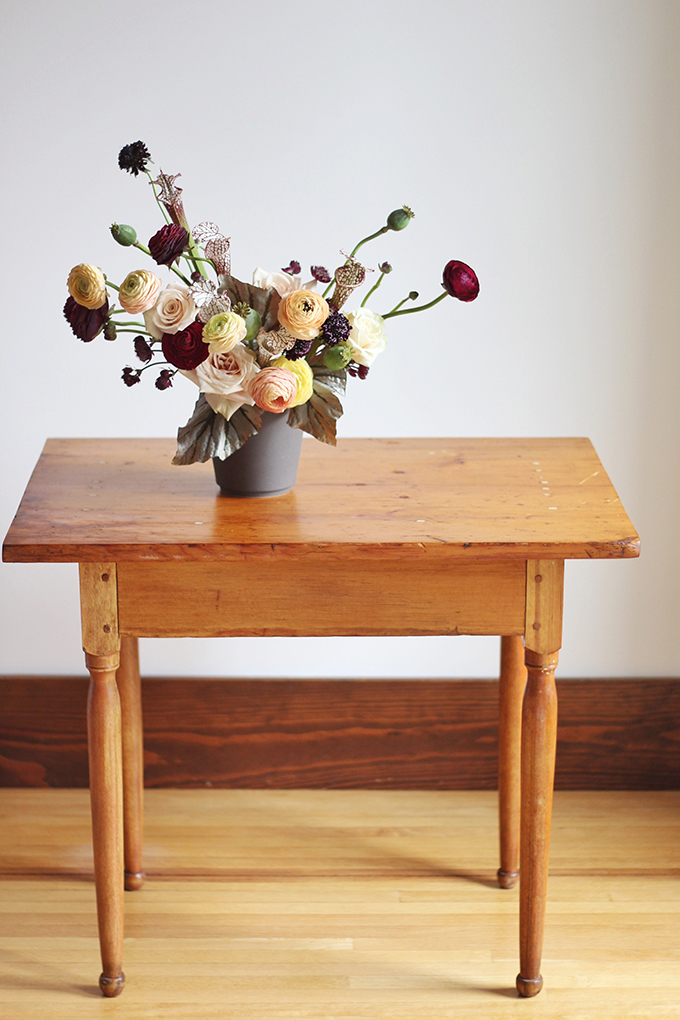 We want your blooms to last as long possible and have compiled a step-by-step guide to ensure you know how to properly care for them to maximize their lifespan.

1. As soon as you get the flowers home, remove the cellophane wrapping and release them from any bindings. This allows air to circulate freely between blooms.
2. Re-cut the stems at an angle. This enlarges the stem surface area and enables them to take more water up.
3. Remove any foliage from the lower part of the stem before arranging. This will help keep the water clean.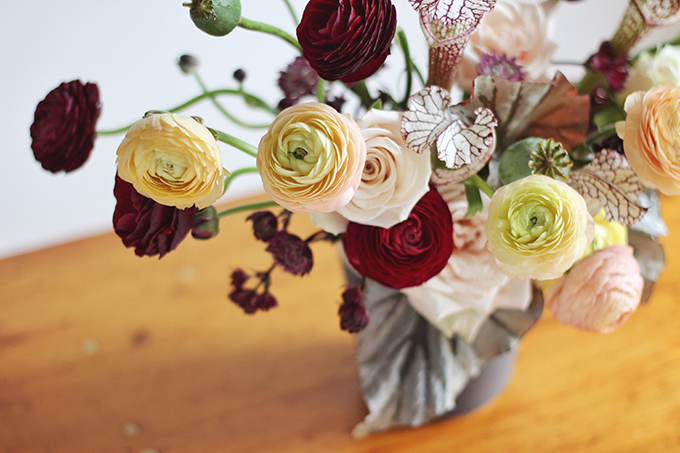 4. Use the flower food sachet that may be provided with your flowers. Flower food will help keep a vase clean and bacteria-free — prolonging the life of your flowers and helping buds and flowers open.
5. Always place freshly cut flowers in lukewarm water. Warm water molecules move faster than cold water molecules, therefore are more easily absorbed. The objective is to get water and nutrients as quickly as possible to the head of the flower.
Have droopy stems? Here's how to fix them!
• Loosely wrap paper around the blooms for the first 3-4 hours while they are in the water. This will help support the stems upright as they get their initial drink of water.
---
MORE FROM OUR FLOWER EDUCATION SERIES
---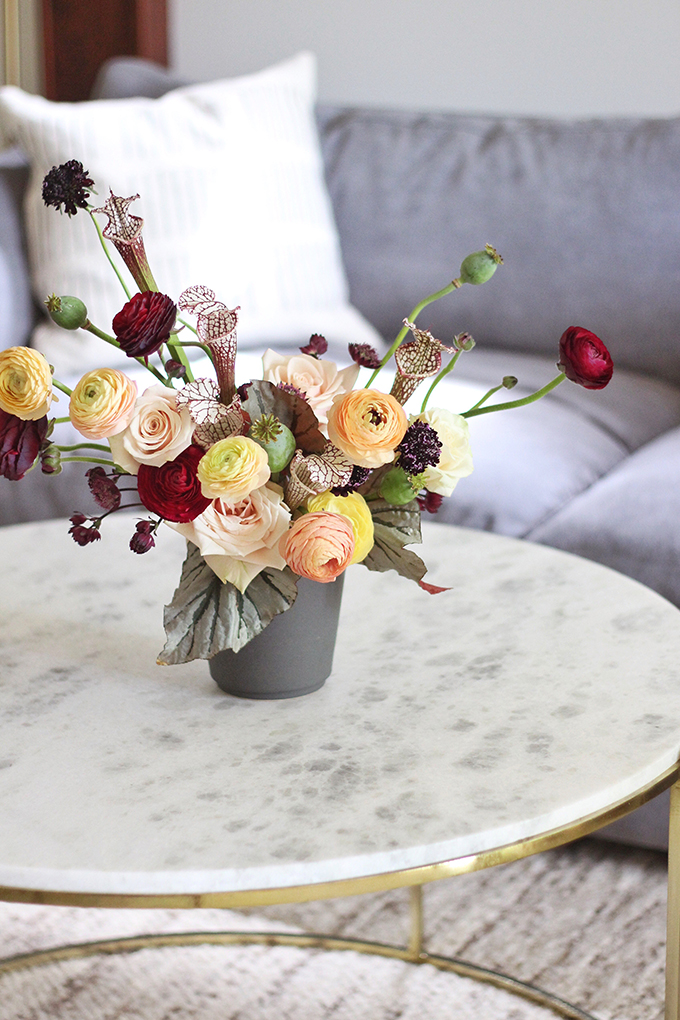 How to Unite a Room with Flowers
An Introduction to Spring Flowers
The Most Beautiful Autumn Arrangement, Ever
---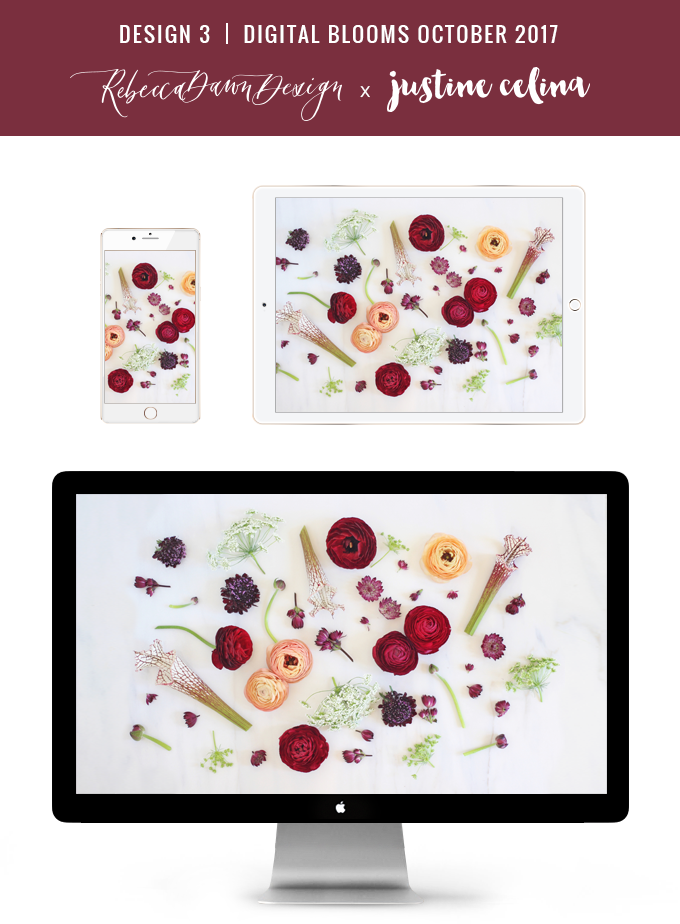 Craving even more moody autumn blooms? Hop over to our September 2017 Digital Blooms post where you can download 3 free wallpapers for your digital devices inspired by this gorgeous autumn palette!
---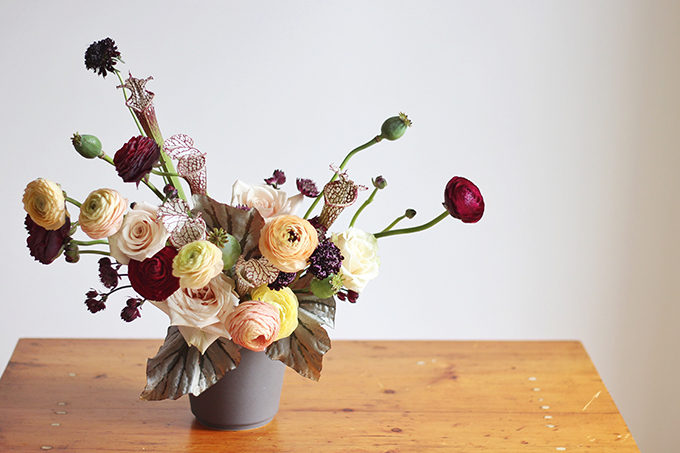 What are some of your favorite fall flowers? There are so many varieties available — it's difficult for me to to choose, although we both have a major soft spot for Rananculus and Roses! We hope this post inspired you to pop down to your local flower market and explore autumn's blooms through fresh eyes! If you end up picking anything up based on our recommendations, please tag me on social media or leave us a comment below. We absolutely love to hear from you!
If you've been tuning into Insta Stories lately, you'll know Rebecca and I have been very busy shooting our AW/17 content this week and I'm so excited to bring it to our FLOWER section over the the next few months. If you're looking for even more flower inspiration in the meantime, check out our flower education series and be sure to follow along with our Flower Board on Pinterest!
---
Disclaimer: Thank you to Rebecca Dawn Design for partnering with me to create this post. This post is not sponsored and contains our genuine thoughts, ideas and recommendations. JustineCelina uses affiliate and referral links, which allow me to receive a small commission when you make a purchase through one of my links. Thank you for supporting the brands and businesses that support JustineCelina.com!