---
Bohemian beauties, April 2020's edition of DIGITAL BLOOMS is for you! I've been wanting to incorporate Pampas Grass into one of my free monthly tech wallpapers for quite some time — and to celebrate DIGITAL BLOOMS 4th birthday (say what?!), I've done just that! This month I'm embracing all things free spirited, feminine and ethereal with April 2020's free desktop wallpaper, which combines Purple Haze Lavender Roses, Quicksand Roses, Spray Roses (learn All About Roses), Pampas Grass, and other foraged prairie grasses from my childhood home in rural Alberta. My All About Pampas Grass post has become the most popular piece of content here at JustineCelina over the past year — so I know you love pampas just as much as I do! 
As we transition into spring, I'm feeling inspired by delicate pastels and creamy off-white hues — so April 2020's free tech wallpaper embraces this seasons softer side. Enjoy this lovely selection of classic roses juxtaposed with modern pampas and foraged Alberta grasses in the background of your phone, tablet, laptop or desktop all month long, absolutely free! I hope April 2020's Digital Blooms provide a lighthearted reprieve during these dark times. Even though the flower shops are closed, my DIGITAL BLOOMS are always here and available for you 24/7 — simply click through to download April's free desktop wallpaper straight to your devices. Be well and stay safe friends — I'm sending light and love to each and every one of you!
---
HOW TO DOWNLOAD
---
Desktop (iOS)
Click on the image you want to download and it will open in a new window. Right click and select 'Save Image As' or 'Set as Desktop Wallpaper'. If you selected the 'Save Image As' option, then just locate the image you saved, right click, and then select 'Set Desktop Picture'.
Phone / Tablet (iOS)
Click on the image you want to download and it will open in a new window. Then, click on the up arrow icon at the bottom of the screen, and select 'Save Image'. Navigate to 'Settings', then 'Wallpaper', then 'Choose a New Wallpaper' and select the image you downloaded from your photos. You'll be able to scroll across the image by dragging your finger across the screen and you can resize or crop it to your liking to display different sections of the design.
---
USAGE
---
These images are for personal use as digital device wallpapers only and cannot be used in any other way without express permission from JustineCelina. I'm relying on the honour system here, but you guys are good people, right? 😉 You can still share the love — if you know someone who would enjoy these wallpapers, please send them our way by sharing the link to this post.
---
DIGITAL BLOOMS APRIL 2020 | FREE DESKTOP WALLPAPER
---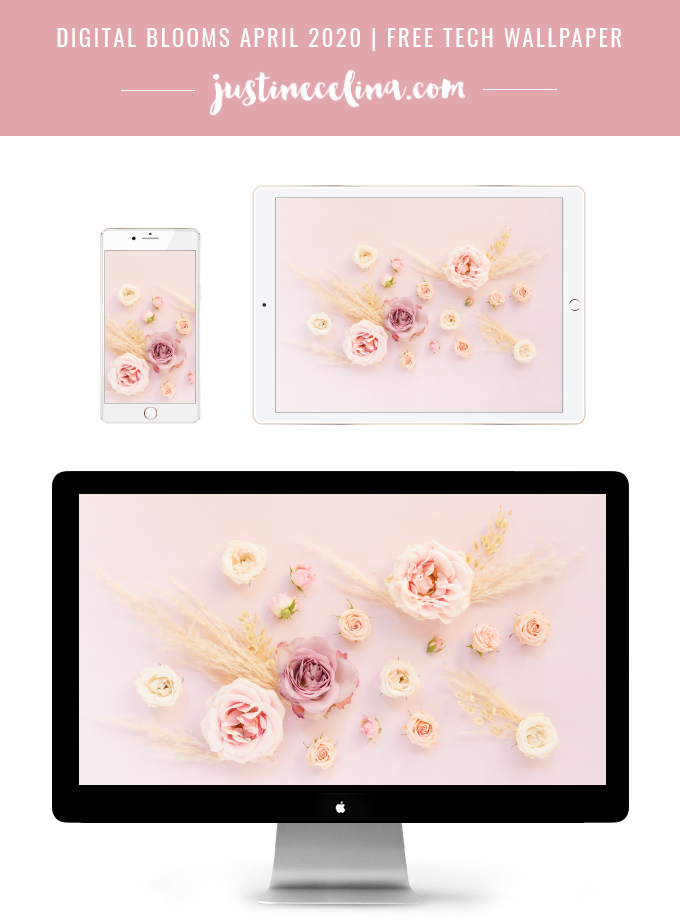 ---
— To download, simply click the image below and follow the How to Download steps —
---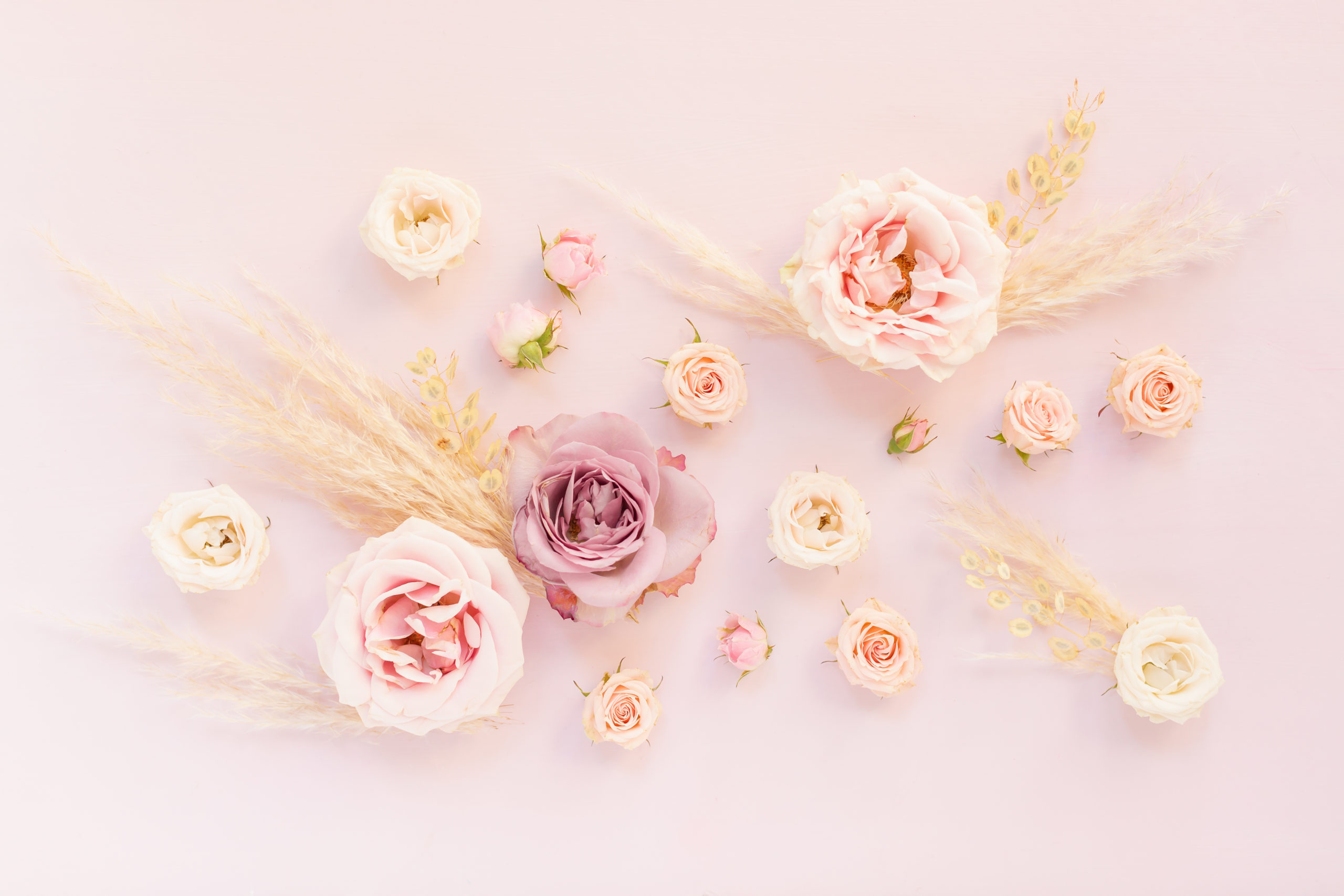 ---
BROWSE THE DIGITAL BLOOMS ARCHIVES
---
Simply click right here (or the image below) and you'll be taken to the archive page to browse thumbnails of each month. Happy tech wallpaper shopping!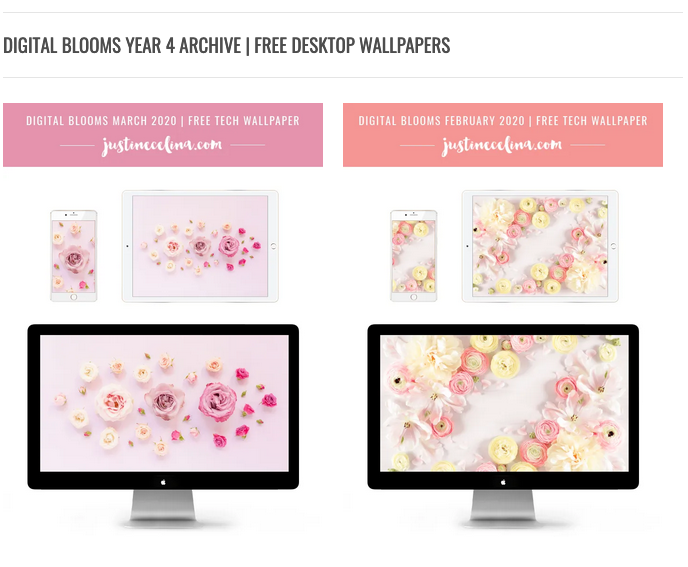 ---
Thank you for stopping by to download April 2020's DIGITAL BLOOMS today! I hope they provide some joy and levity amidst our current global situation. I can't believe I've been producing these free floral wallpapers for 4 years and want to take this opportunity to thank you for your continued support. Stay tuned for some exciting DIGITAL BLOOMS developments over the coming months — I can't wait to share what I've been working on BTS!
If you're craving more flower content, be sure to check out our FLOWER archives or following along with our Digital Blooms Board and  Flower Board on Pinterest for more even more floral inspiration. And if you're a pampas grass lover, I created an extensive resource last year All About Pampas Grass — including where to purchase, how to care for it and how to style it! You can also help me spread a little extra love and share your DIGITAL BLOOMS with #justinecelinadigitalblooms on social media — I always highlight my favourites on Insta Stories! Here's to a brighter month ahead.
---
Disclaimer: This post is not sponsored, and contains my genuine thoughts, ideas and recommendations. All copyright of these images is retained by JustineCelina.com. If you're interested in licensing these images for other personal or commercial purposes, please contact me.