---
Happy Summer Solstice, beautiful people! I couldn't think of a better way to celebrate than with a fresh collaborative post in our ALL ABOUT series — where the lovely Rebecca Dawn Design and I team up to educate you on an of the moment seasonal flower. We've already covered Tulips and Roses — but this June, it's All About Peonies here at JustineCelina! Today we're dishing everything you've ever wanted to know about everyone's favourite summer bloom.
Whether you're purchasing Peonies this summer or trimming some from your garden, consider this All About Peonies post your one-stop shop when it comes to summer's most beautiful bloom. Today we're sharing alternate names and meanings, colours and varieties available, vase life, what to look for when purchasing, as well as how to care for and condition your Peonies so you can enjoy them for up to a week. Rebecca also shares her expert tips for getting your Peonies to open more quickly! Otherworldly Coral Sunset Peonies (yes, we're still drawing inspiration from the Spring 2017 Pantone Fashion Color Report and into millennial pink) take centre stage in today's history lesson for the Peony obsessed — they're my absolute favourite variety!
---
ALL ABOUT PEONIES
---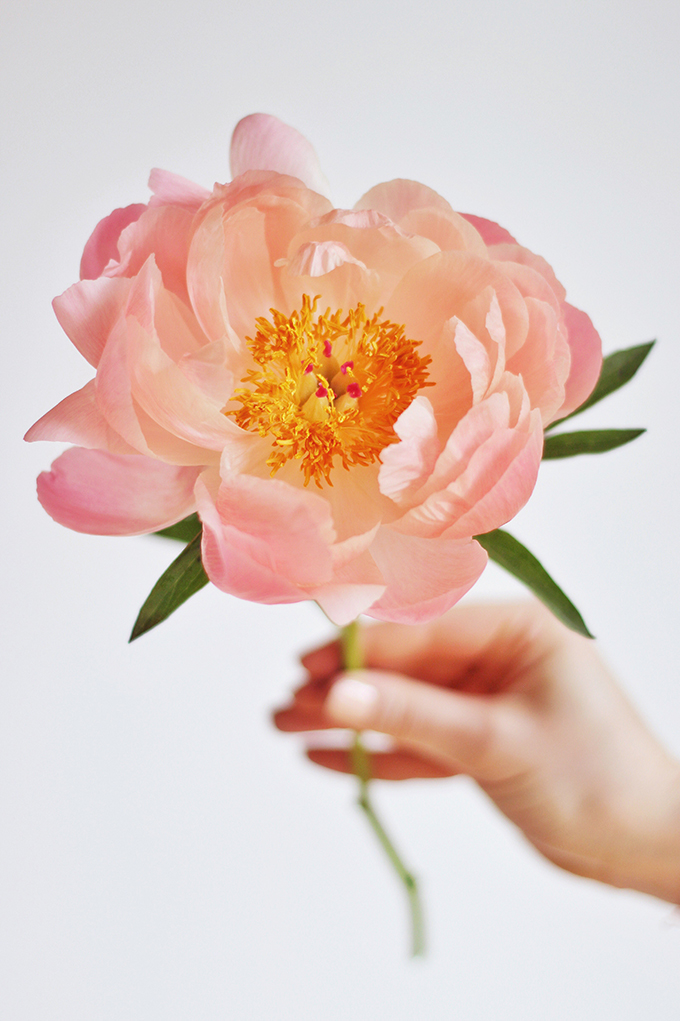 Full disclosure — I've been dreaming about this All About Peonies post since the last installment of this series we published back in February! I've always loved Peonies. They remind me of my Grandma (who still has a gorgeous, magenta peony bush in backyard) and my Mom (who also has pink peonies on her property… in fact, we used them for last year's July Digital Blooms!). It seems like almost everyone has strong memories or associations involving Peonies — they're beloved by many and they're my all time favourite flower (sorry, Ranunculus!). Rebecca sourced these absolutely stunning Coral Sunset Peonies for us to work with for today's post, which speak for themselves. When I posted a teaser of the photo above on social media to let you know this post was coming, someone remarked that they were so beautiful they didn't even look real. Well — they are, and they're magnificent!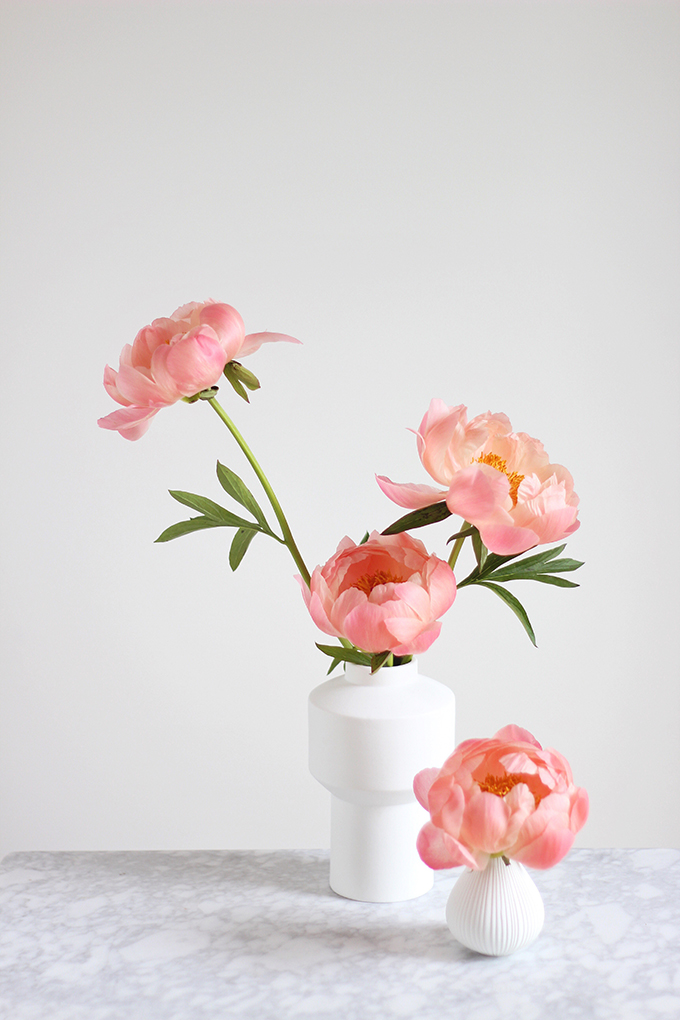 There are approximately 30 species of peonies available, but today we're keeping it simple, monochromatic and on trend with the Coral Sunset variety. We've created an understated arrangement using a couple of minimal vases and no extra greenery or flowers to show you that simple can be stunning. And we've also created a floating centrepiece — which is a great way to extend the beauty of peonies nearing the end of their lifespan. No matter how you choose to enjoy June's quintessential blooms in your home this season, we've complied our best tips and tricks for healthy, happy and long lasting Peonies!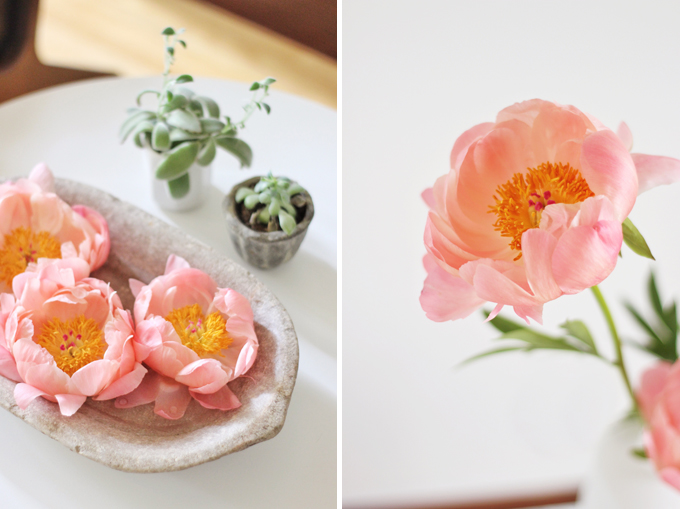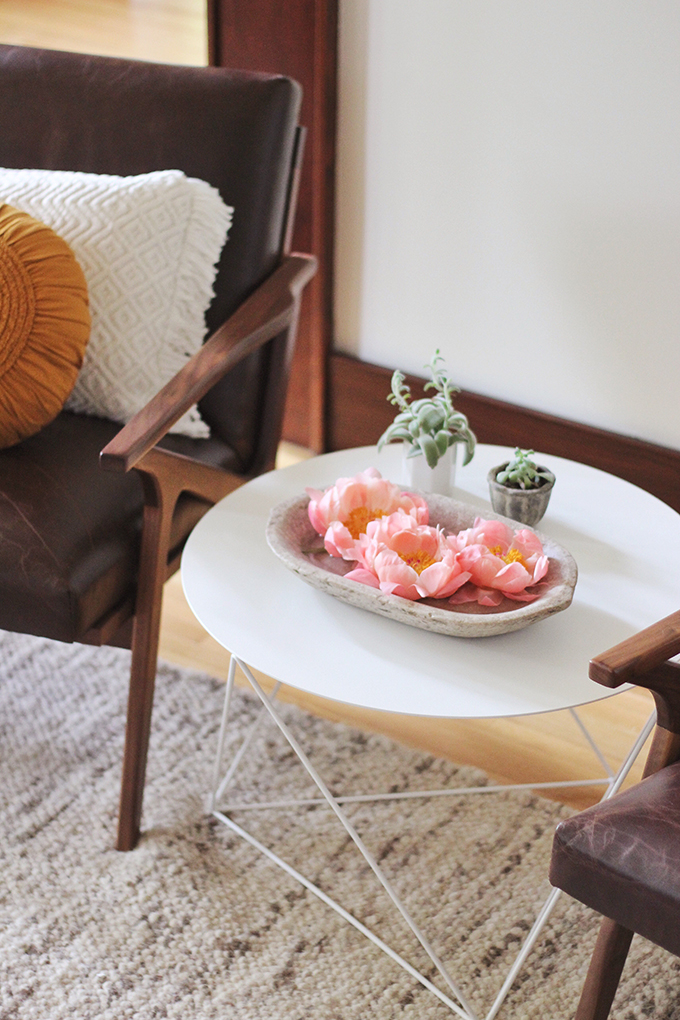 ---
GENERAL PEONY INFORMATION
---
 Alternate Names & Meanings
Peonies were originally called "sho yu" in China, where they've grown for over 1000 years. In English, "sho yu" translates to "most beautiful". We couldn't agree more! Today, Peonies are referred to as the "king of flowers" in China and are highly sought after.

History
Originally hailing from Europe and Asia, peonies now grow all over the world. However, they still grow wild in certain parts of Europe.
Peony root structure actually grows during the winter and won't bloom in climates that are too warm. No wonder they do so well in Canada!
Peonies have a strong medicinal history. In Greek mythology, the peony was rumored to be named after Paeon, a physician to the Greek gods. In ancient civilizations, peony seeds and roots were used to treat many diseases — ranging from animal bites to epilepsy. Children often wore necklaces made from peony root to help with teething pain.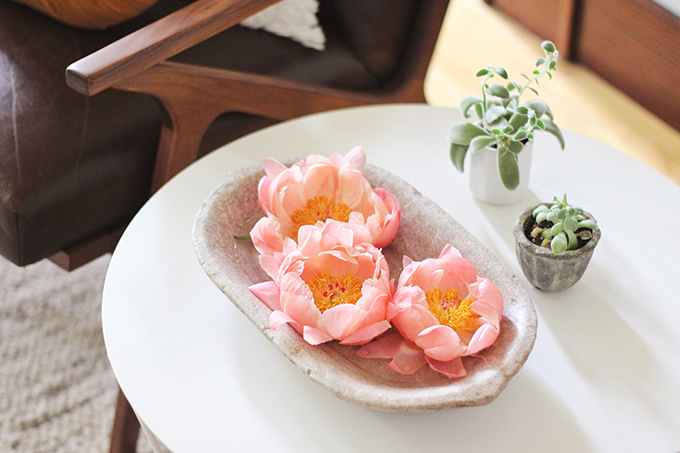 Colours & Varieties Available
Peonies are available in approximately 30 varieties and almost every colour and shade — with the exception of blue! Pinks, corals, white and yellow are generally the most popular, however, the deeper red and black shades are stunning as well, although less commonly used.
In Season
Peonies are in season late spring through early summer. They're considered perennials, meaning they live (and continue to bloom each spring) for more than 2 years.
Vase Life
Cut peonies generally live between 5 and 7 days.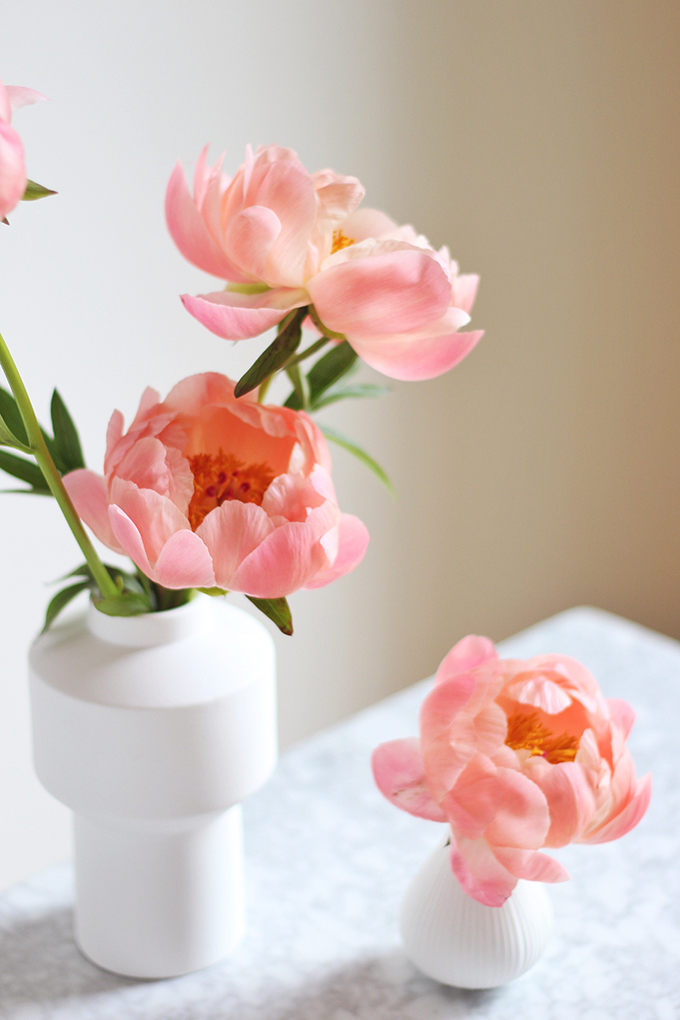 Purchasing Tips
Due to increasing popularity, peony prices have skyrocketed in recent years — in Calgary, they're currently running as high as $18 per stem! Reference Rebecca's expert purchasing tips when selecting your Peonies to ensure to you're able to enjoy them for a full 7 days.
When purchasing peonies, inspect the blooms closely. The petals of each bud should be vibrant in colour and free from wilting or brown edges, both of which indicate age.
To check peony freshness, gently squeeze a few of the flower heads near the base where the petals meet the sepals. An older peony has a soft base and discoloured petals, while a fresh peony has a firm base and a tighter bud. Fresh peonies will have a longer life span.
The best way to purchase peonies is when they're freshly cut and still in bud stage. They will open and bloom naturally over the course of their lifespan. If you want them to open faster, check out the bottom of this post for tips to accelerate the process!
Always ask the florist when they received their Peony shipment. Knowing when the flowers arrived can help you determine how old they are and how long they have to live.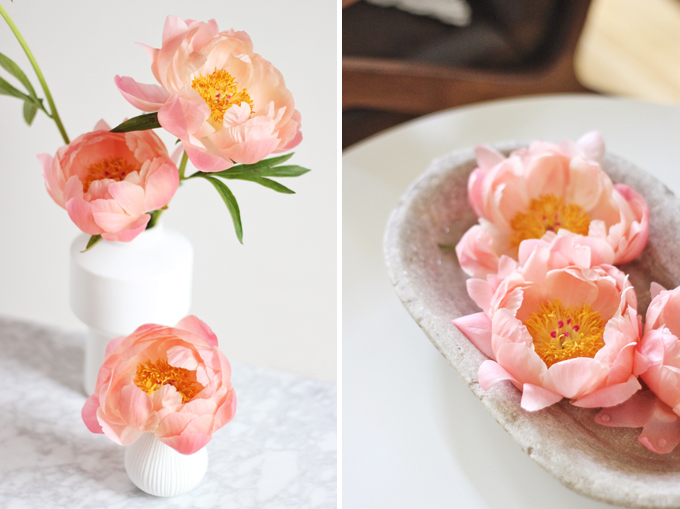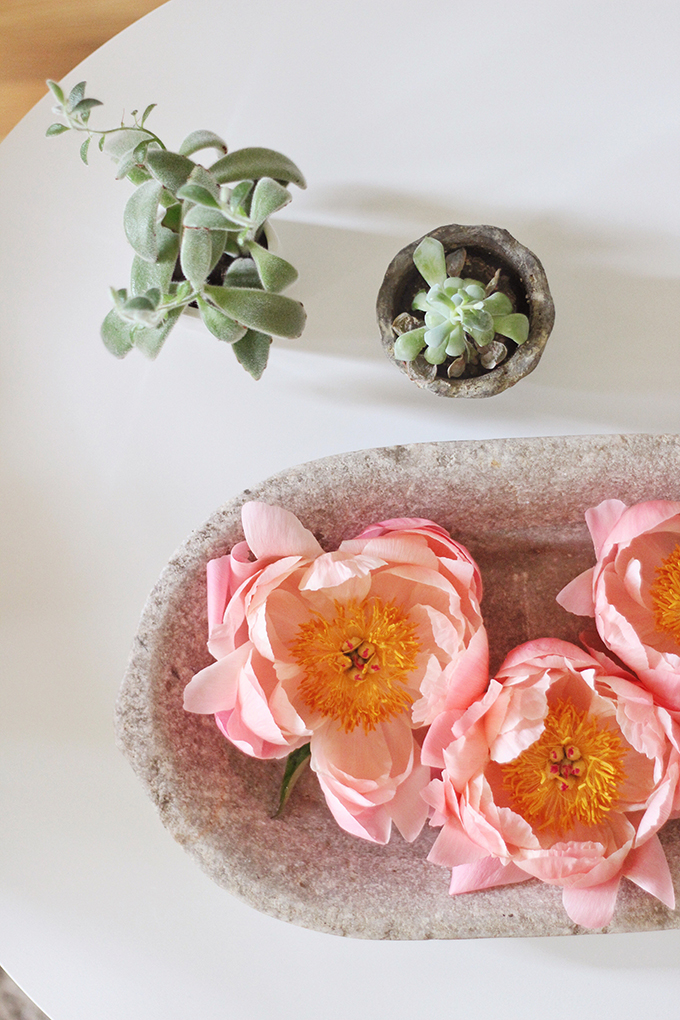 Did You Know?
Peonies can grow as large as 10 inches in diameter!
Double and white peony varieties tend to be the most fragrant.
The rarest specie of Peony is the Tree Peony. They produce extremely woody stems that allow them to grow upright — ranging in height from 3 to 7 feet.
All Peonies slowly lose their colour and fade to cream over the course of their lifespan.
---
FEATURED PEONY VARIETIES
---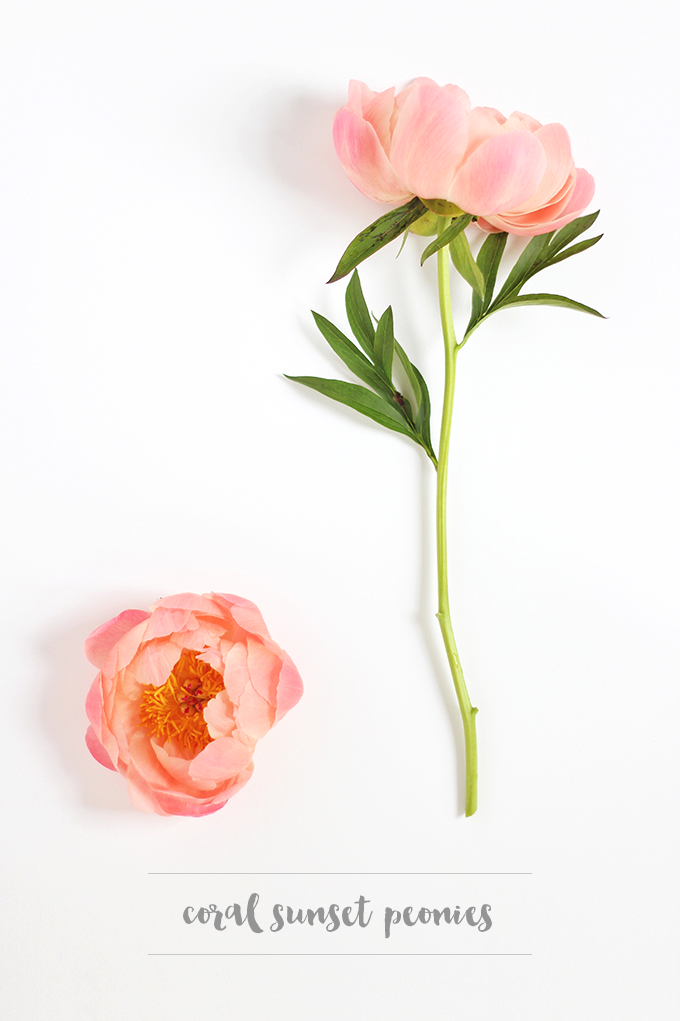 Coral Sunset Peonies are among the first to bloom in late spring and early summer. They're also exceptionally large, full and feature lightly ruffled petals ranging in colour from vibrant coral to light yellow. They bloom for 7 – 10 days and last for just over a week in water if cut in bud stage.
---
PEONY CARE AND CONDITIONING TIPS
---
Don't let the beauty fade! Pamper your peonies and they'll last for up to a week. Utilize Rebecca's expert tips to maximize the life of your Peonies: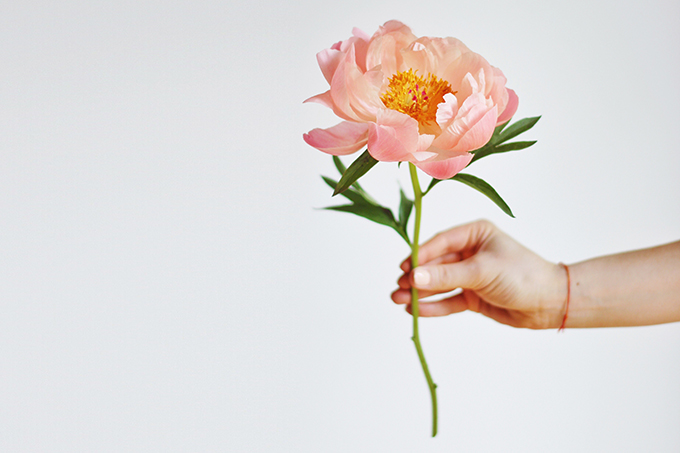 1. Peonies usually come wrapped when purchased. Once you get your Peonies home, remove any wrapping right away to allow the blooms to breathe and air to circulate freely.
2. Use a pair of garden shears or a kitchen knife to cut the bottom 1/2 inch off of each Peony stem at a 45 degree angle.
3. Snip off any leaves or flower parts that will fall below the lip of the vase. The only things that should be inside the vase are the Peony stems and water.
4. Place the Peonies in a vase of room temperature water. For optimal Peony life, change the water and trim the stems as described in Step 1 every 2 – 3 days.
Tip: Peonies have the tendency to drink more water than other blooms, so be sure to keep an eye on their water level.
5. Add flower food to the water. Commercial flower food will provide nutrients the Peonies need to stay fresh for a longer period of time.
Tip: Ask for a few packets of flower food when you buy Peonies at the flower shop — and stay tuned for Rebecca's Homemade Flower Food recipe coming to JustineCelina next month!

6. Set the vase of Peonies out of direct sunlight and away from heating vents or radiators. Different varieties of Peonies will open at different rates — but generally, Peonies will open faster in warmer rooms and more slowly at cooler temperatures.
Note: If your Peonies are nearing the end of their lifespan and beginning to droop, try transforming them into a Floating Centrepiece, like the one you see here.

---
HOW TO GET YOUR PEONIES TO OPEN FASTER
---
Need to accelerate the blooming process? Rebecca to the rescue! Follow these 5 simple steps to coax your Peonies to open more rapidly: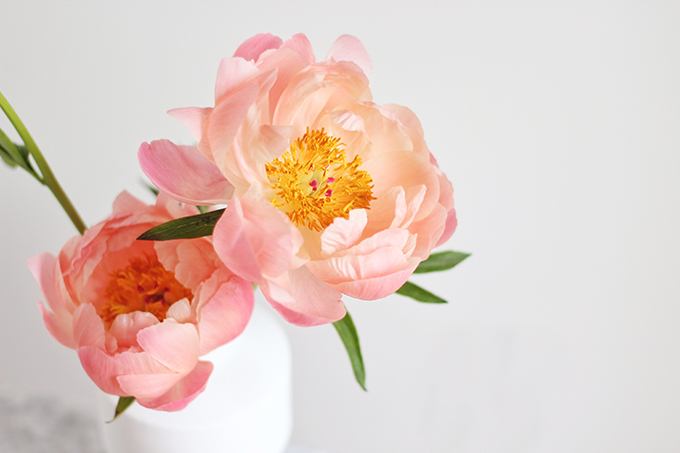 1. Remove all excess foliage from the stems. Excess greenery impedes water from traveling to the head of your Peony.
2. Fill your vase with a minimum of 6″ of warm water — Peonies will bloom faster the deeper the water. Warm water travels to the head of the bloom faster than cool water.
3. Recut each stem using the method outlined in Steps 2 – 3 above.
4. Place the vase in the warmest room in your home, or outside on a covered porch for a few hours. Peonies will bloom more quickly in warm rooms, but will cook in direct sunlight or under heating vents.
5. If your Peonies are starting to open, you can accelerate the process by using your fingers to help them along. Start by gently pushing the outer petals open and working your way in.
And volia — open Peonies!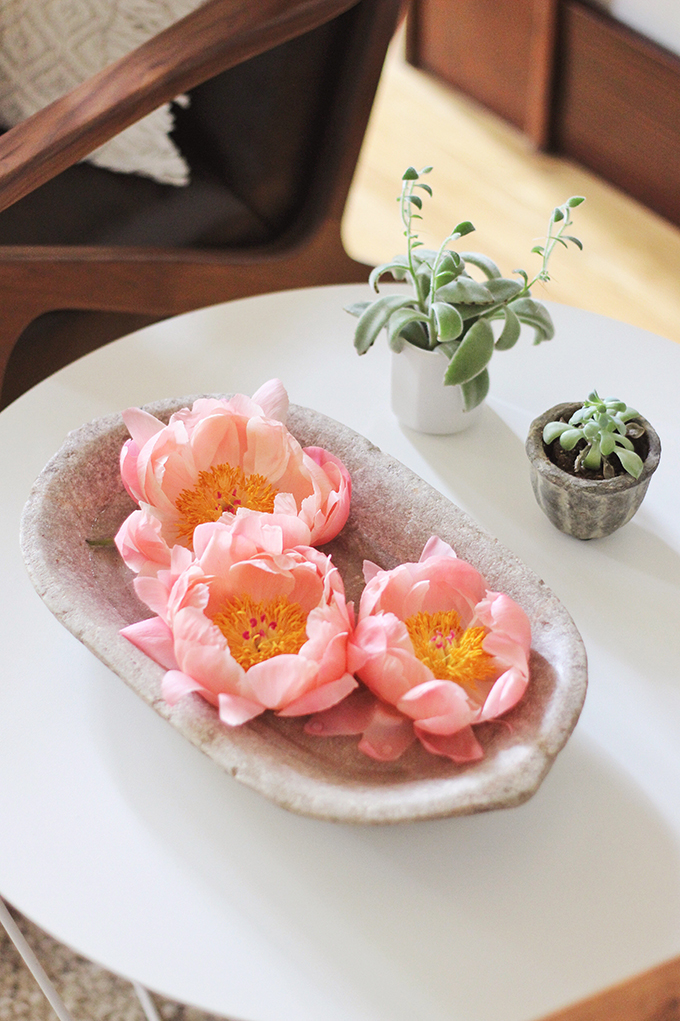 ---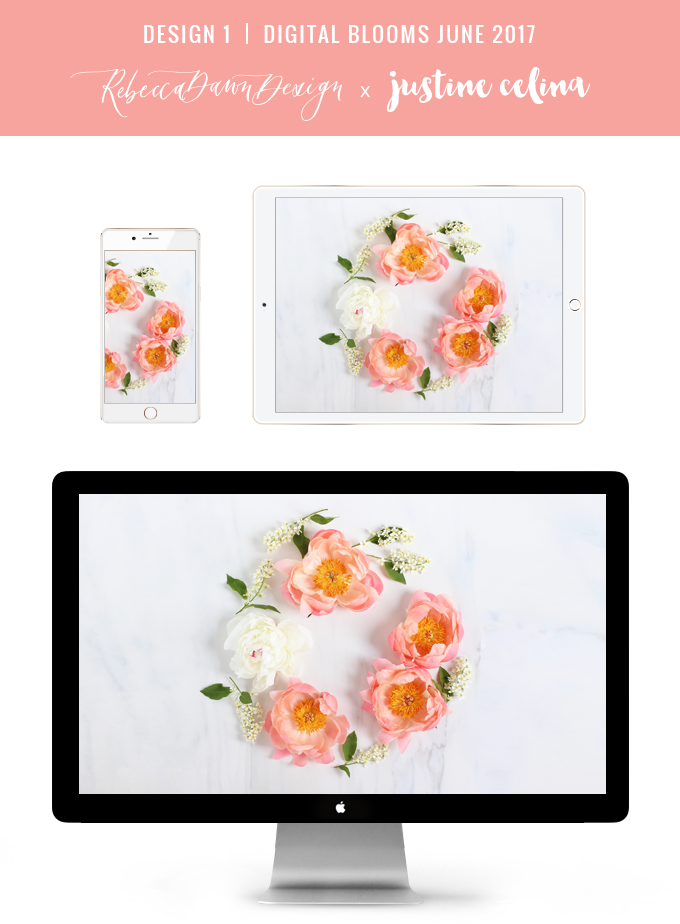 If you're craving more peonies, you can download 3 free (yes, really) peony themed wallpapers for your digital devices in our June Digital Blooms post!
---
MORE FROM OUR ALL ABOUT SERIES
---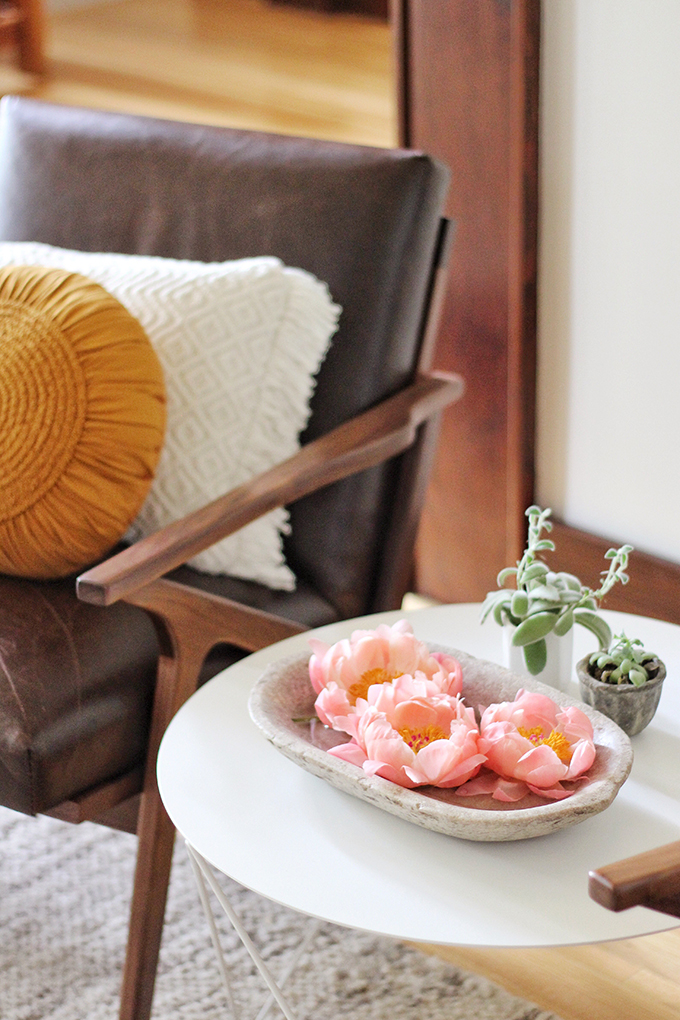 ---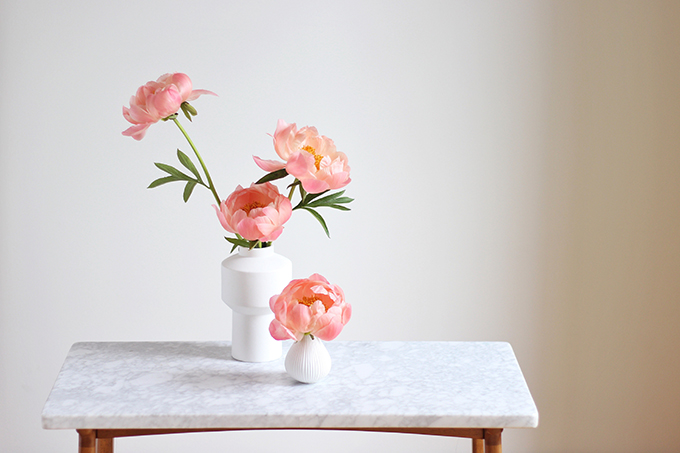 We hope you enjoyed the latest installment in our FLOWER EDUCATION series and learned something new today! I can't wait to share more flower content with you this summer — get ready for tons of colourful (hint: next month it's all about orange) seasonal blooms coming your way! Thanks for stopping by today to learn All About Peonies everyone. Wishing you all a healthy, happy and flower filled summer!
---
Disclaimer: This post is not sponsored, and contains our genuine thoughts, ideas and recommendations. JustineCelina uses affiliate and referral links, which allow me to receive a small commission when you make a purchase through one of my links. Thank you for supporting the brands and businesses that support JustineCelina.com!