---
I've been dreaming this post up since I first started blogging here at JustineCelina — and I'm elated to finally be able to share it with you today! Typically, people associate the mountains with wildflowers, but our Canadian prairies are brimming with wildflowers and gorgeous natural foliage, too. Rebecca loves to create foraged arrangements and bouquets whenever she travels, so I was excited to explore the prairies with her in search of some inspiring ingredients for our Foraged Prairie Wildflower Bouquet!
Come along with us today as we forage the lush prairies of Wheatland County near my childhood home in rural Alberta and Rebecca creates this absolutely stunning, no cost bouquet. She also shares her expert prairie foraging tips and guidelines to inspire your next weekend adventure!
---
FORAGED PRAIRIE WILDFLOWER BOUQUET
---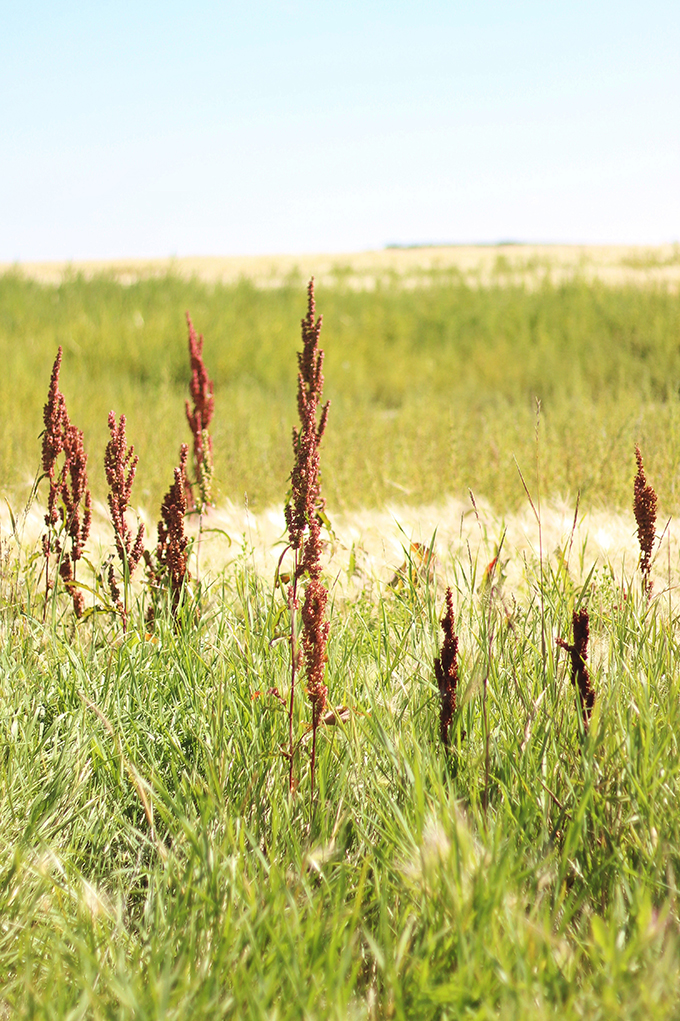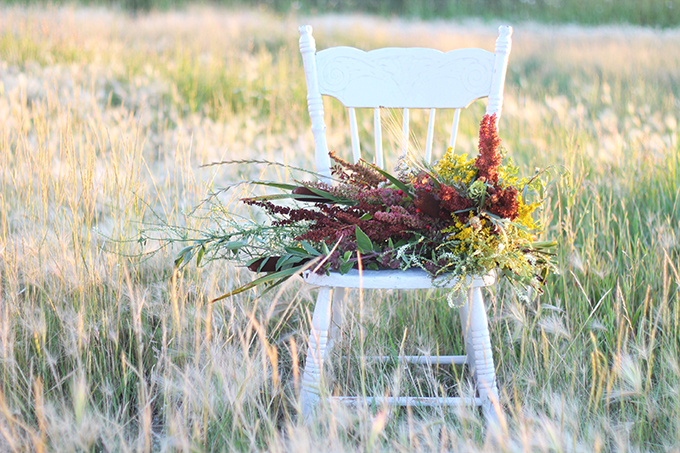 While I obviously have a deep appreciation and love for flowers, I understand that they can be expensive and not accessible to everyone. One of the many things Rebecca and I love about about creating foraged wildflower bouquets or arrangements is that they're absolutely free! It's all about being inspired by your surroundings and making something beautiful and extraordinary out of the everyday. Plus, you can be as experimental and creative as you like!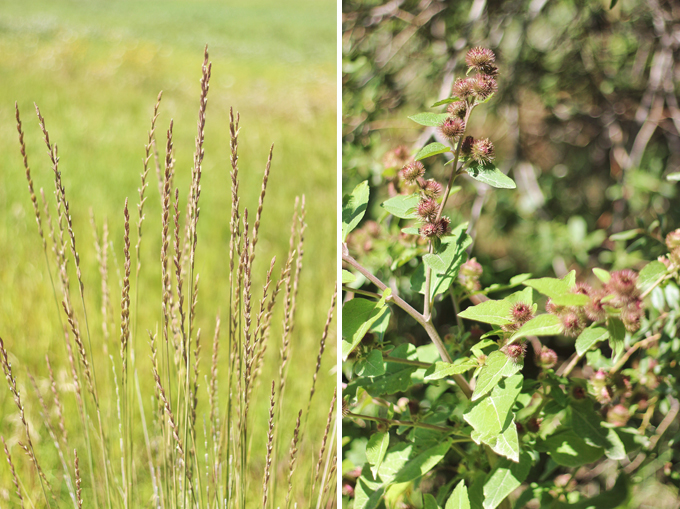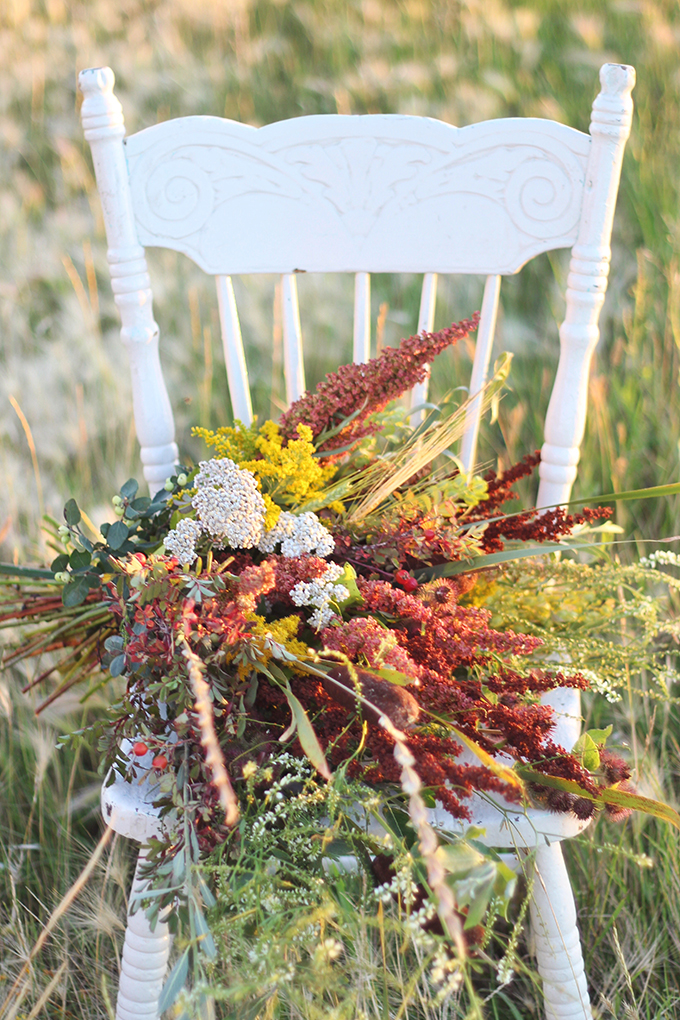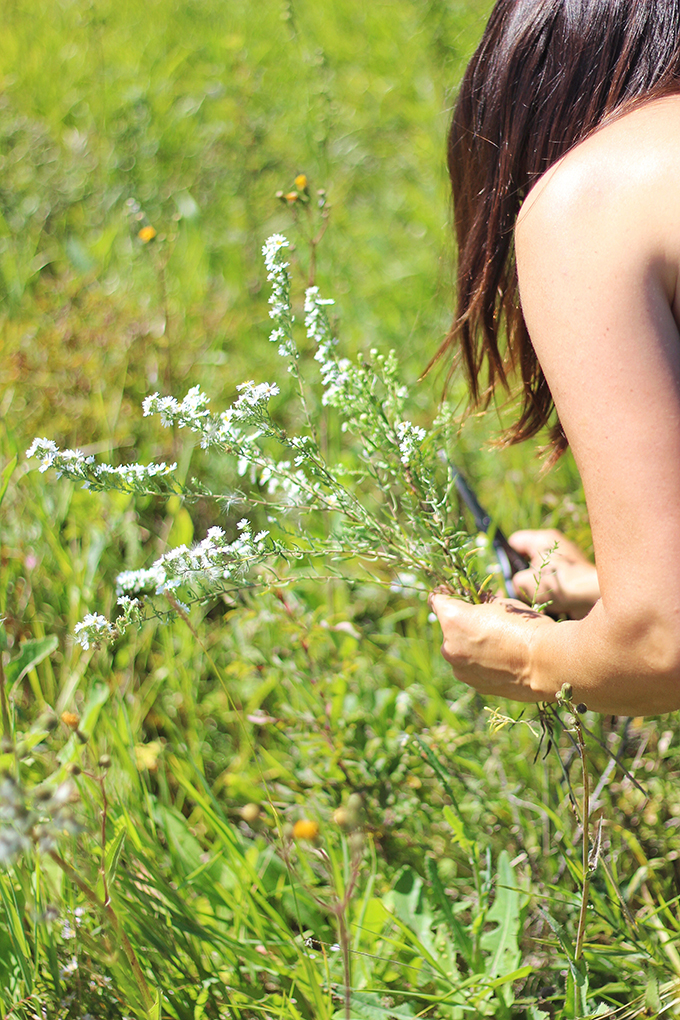 As Rebecca always says, flowers should feel natural to the environment they'll be in. Our Foraged Prairie Wildflower Bouquet embodies the spirit of late summer on the Alberta prairies with beautiful, natural textures and a palette of green, wheat, yellow, white, rust, pink, marsala and berry. This stunning bouquet would be the perfect addition to a prairie picnic, al fresco dinner party, or make a thoughtful gift.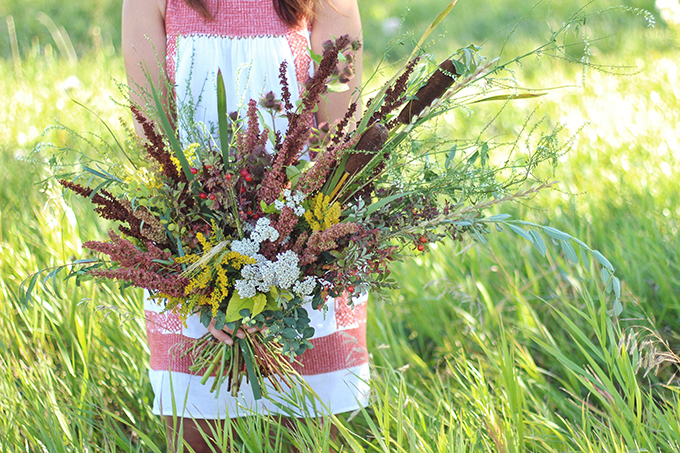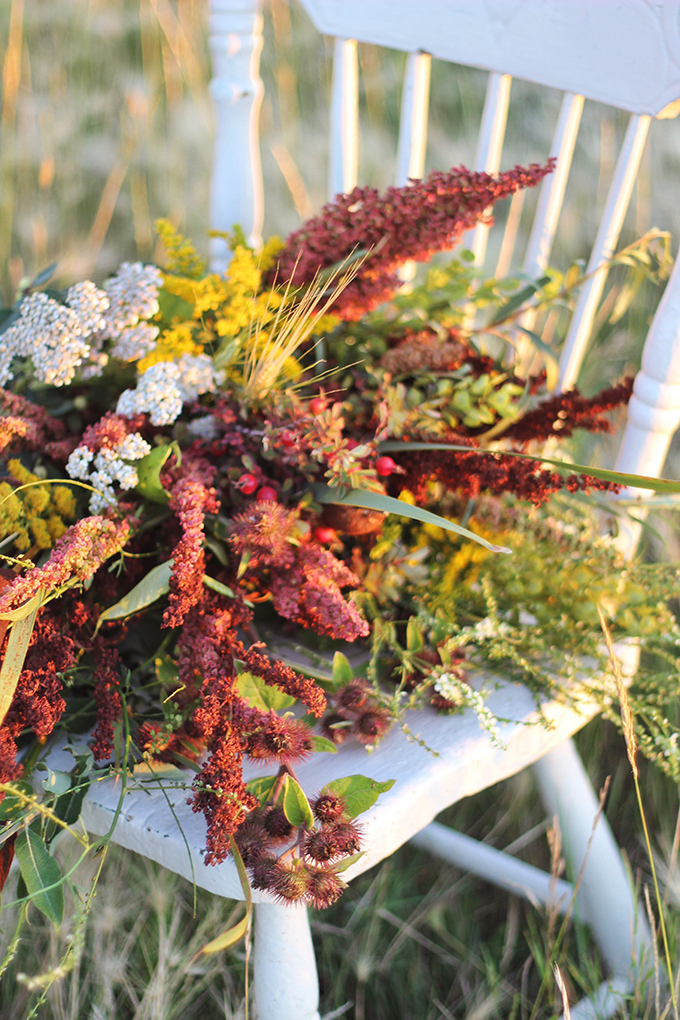 Something that I've learned in working with Rebecca is that plants and foliage you wouldn't normally think would work in a bouquet are fair game! In fact, they're what make Rebecca's work so unique and interesting. We set out in search of ingredients for our wildflower bouquet, driving along the 2 mile stretch of gravel road from my family's home to the highway — pulling over literally every 10 seconds to collect buckets of wildflowers, weeds and foliage.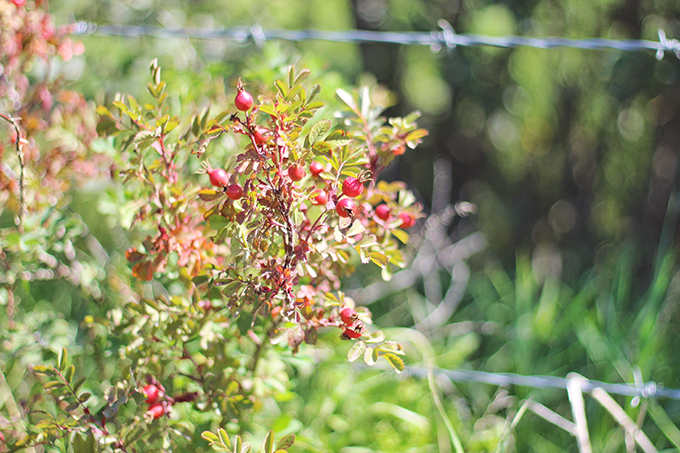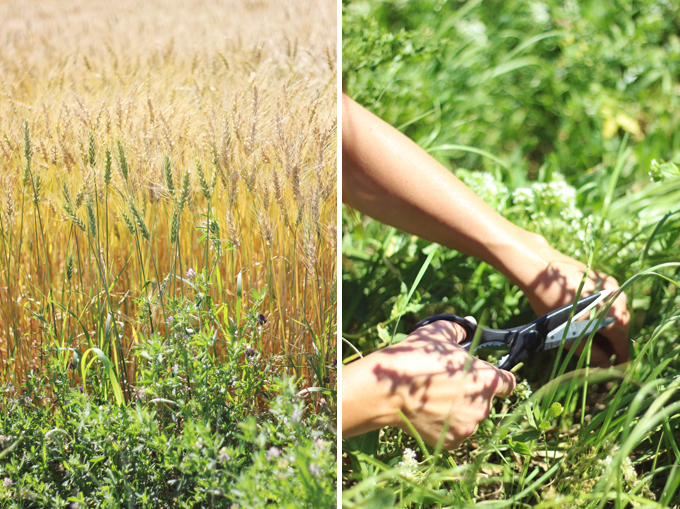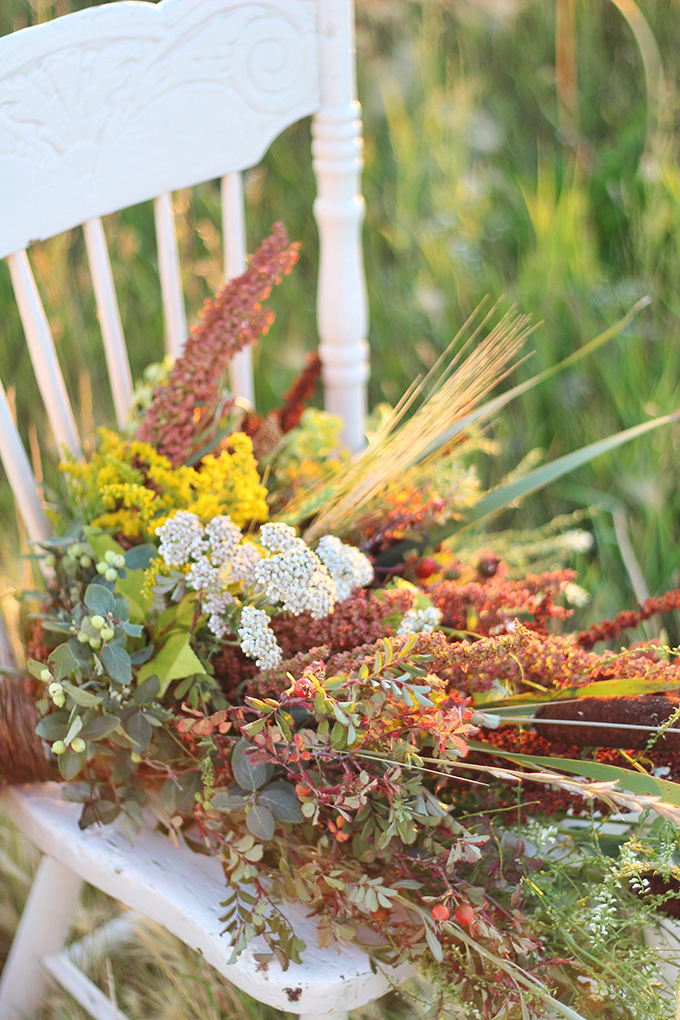 Believe it or not, most of our ingredients were foraged right from the roadside! With all the rain we've been experiencing in Calgary and surrounding areas this summer, the prairies are overgrown with lush, bountiful vegetation. You could drive along any remote gravel road in the Alberta prairies right now and find similar ingredients for your own wildflower bouquet!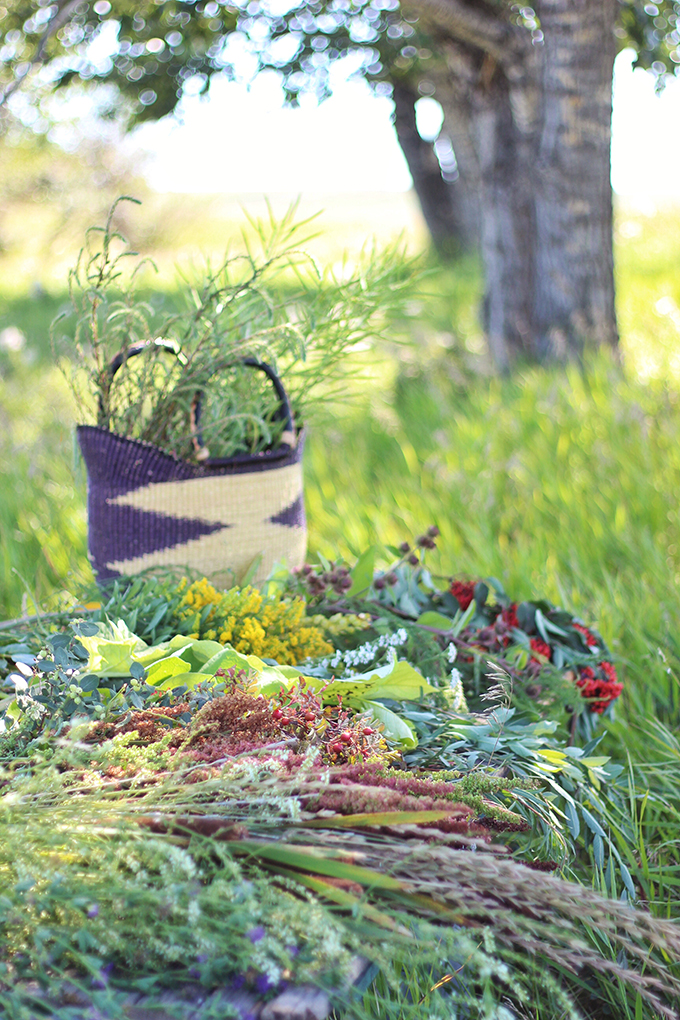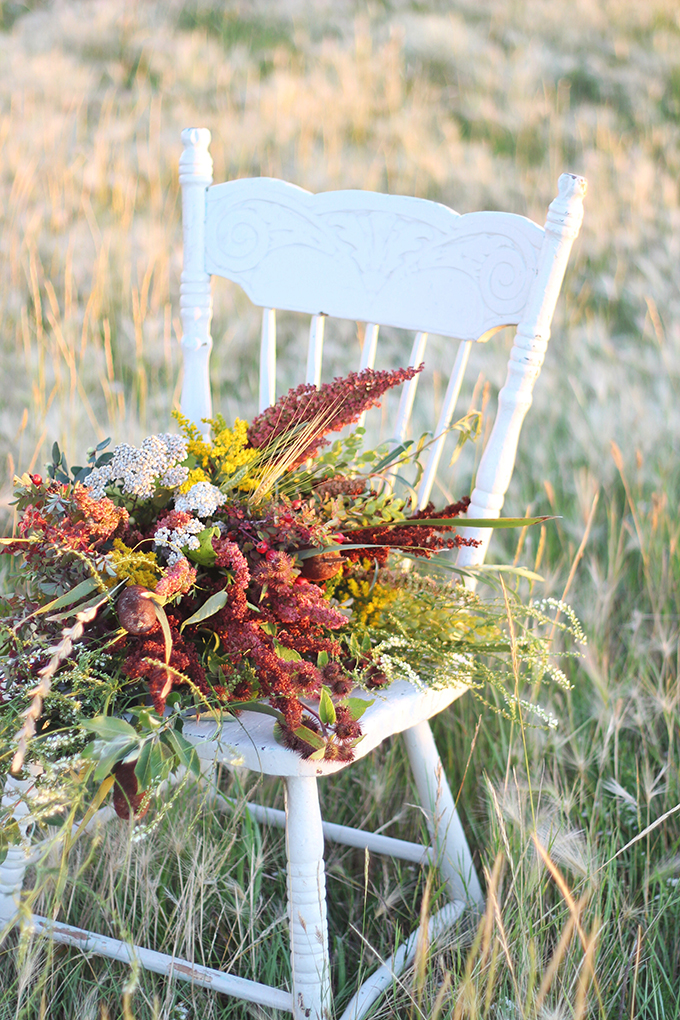 Our Foraged Prairie Wildflower Bouquet includes Yarrow, Canada Goldenrod, Cattails, Wheat, Wheatgrass, White Sweet Clover, Curly Dock (in various stages of bloom and shades of rust, pink and green), Wild Rose Hips, Snowberry, Silver Buffaloberry, Wolf Willow, Burdock and Stinkweed. Yes — a lot of our ingredients are actually (beautiful) weeds!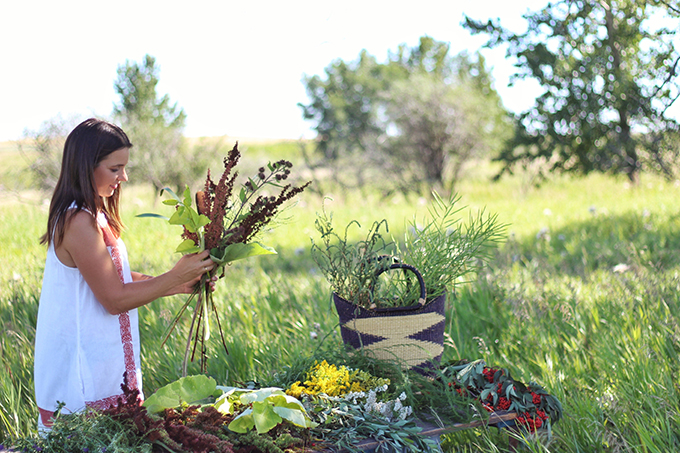 Calgarians, have you ever ventured east of the city to explore? It was such a beautiful, tranquil afternoon — we even snuck in a glass of Côtes du Rhône rosé on our lunch break. We set up our office for the day in a neighbour's field (thanks, Dale!) under a treed area to help shield the flowers and foliage from heat and sunlight. Rebecca worked away and I captured her process in creating this bouquet.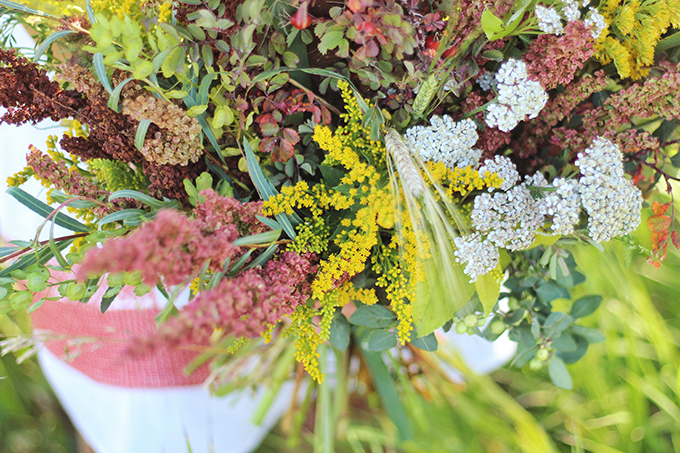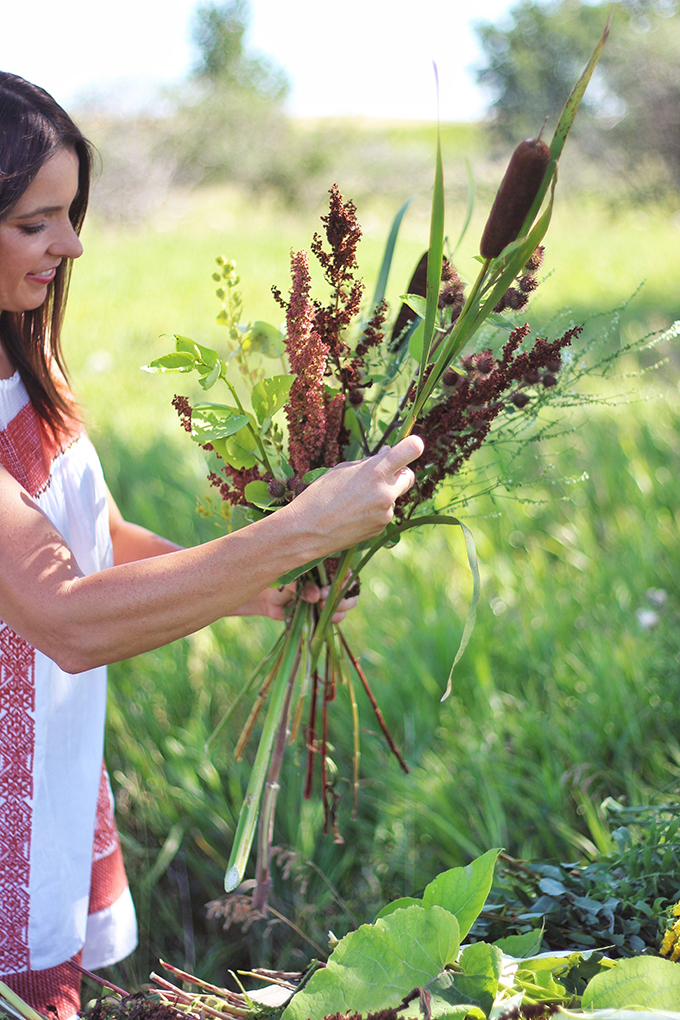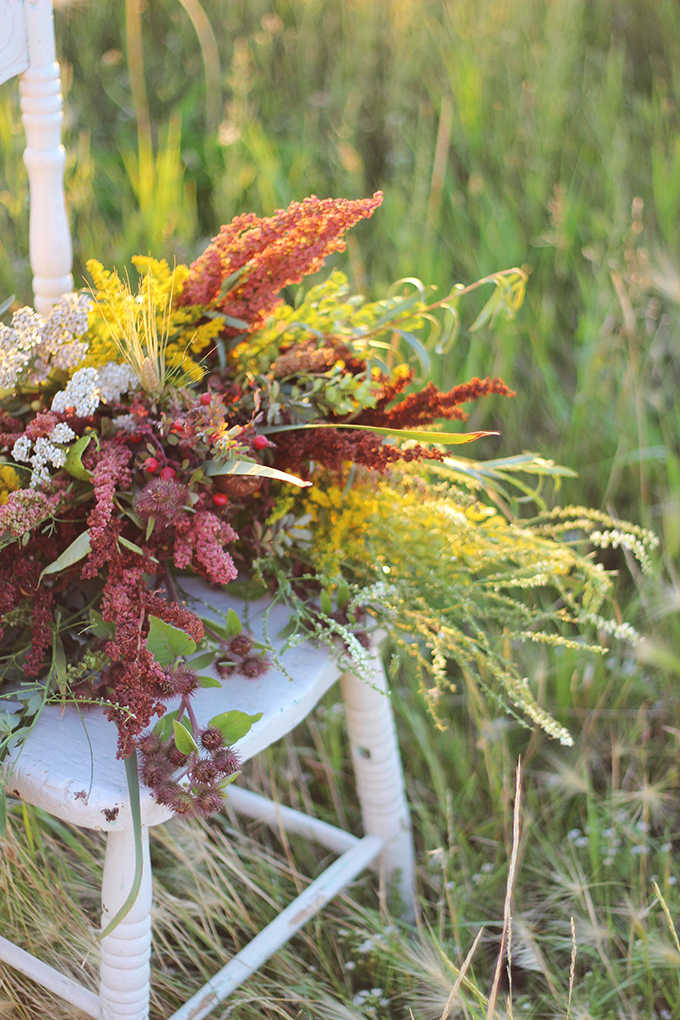 I'm crazy about all the gorgeous natural textures and tones in this oversized bouquet. It makes me really appreciate the prairies in a whole new light — my family couldn't believe all the different plants we found! Of course, Rebecca's wildflower bouquet is masterfully crafted, but you could achieve a similar result yourself with whatever you're able to forage. You'll want to look for plants with a variety of textures, shapes, heights and colours to create an interesting wildflower bouquet. If you're looking for some general guidelines for flower arranging, hop over to our DIY | How to Create a Summer Flower Arrangement post where Rebecca shares her expert flower arranging tips!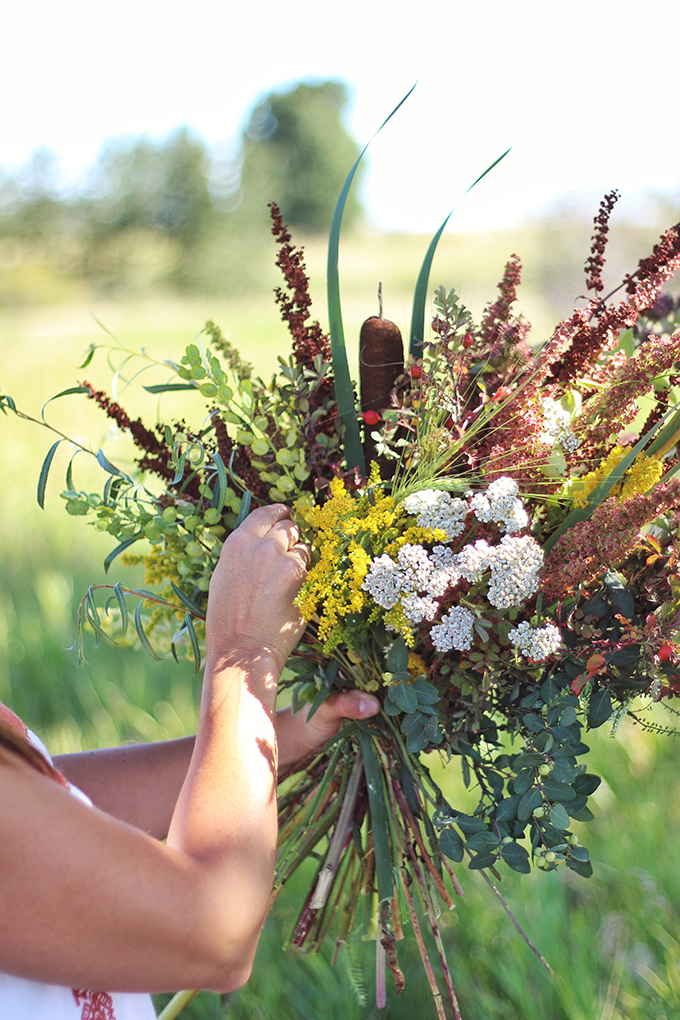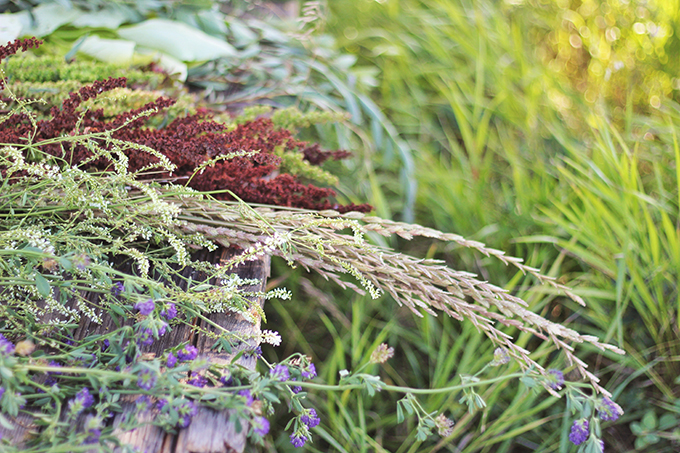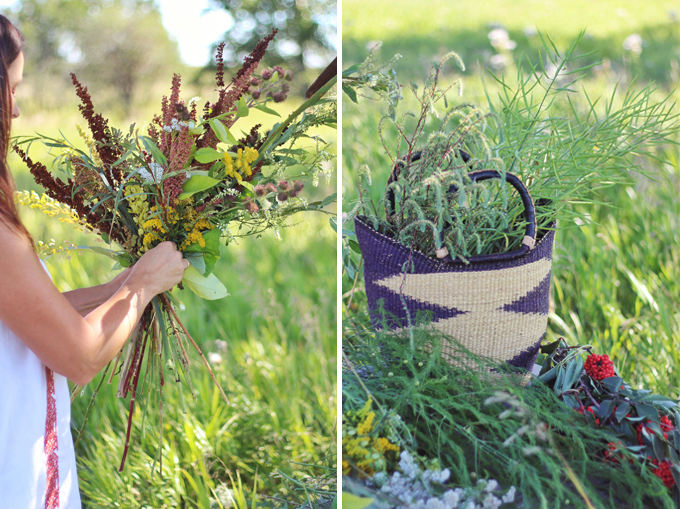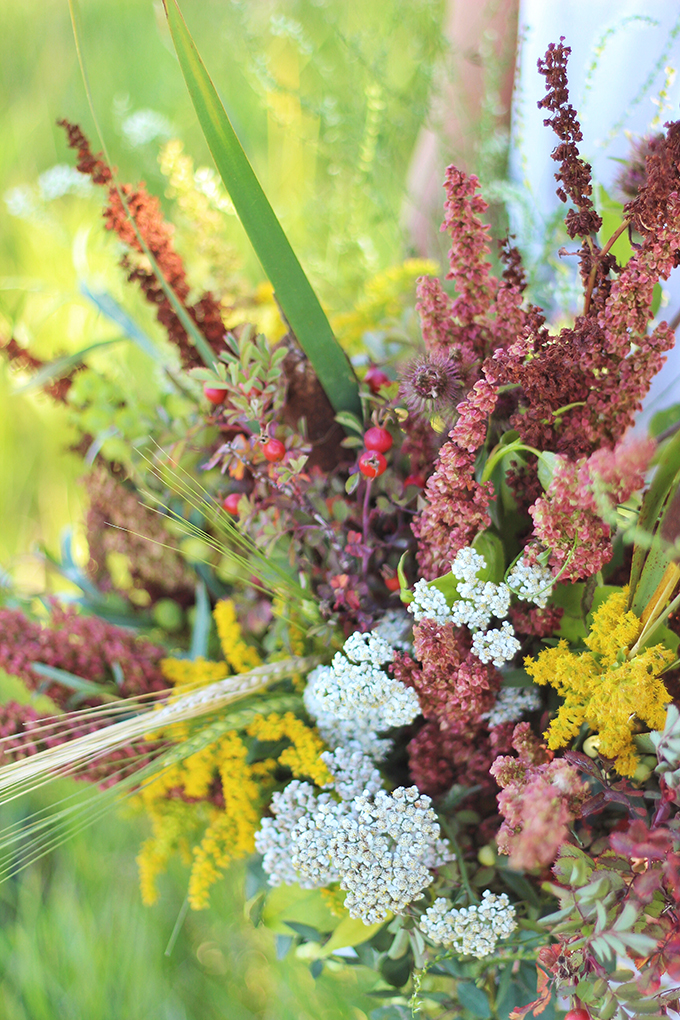 To complete this bouquet, Rebecca secured the stems with floral tape finished it with a simple twine band.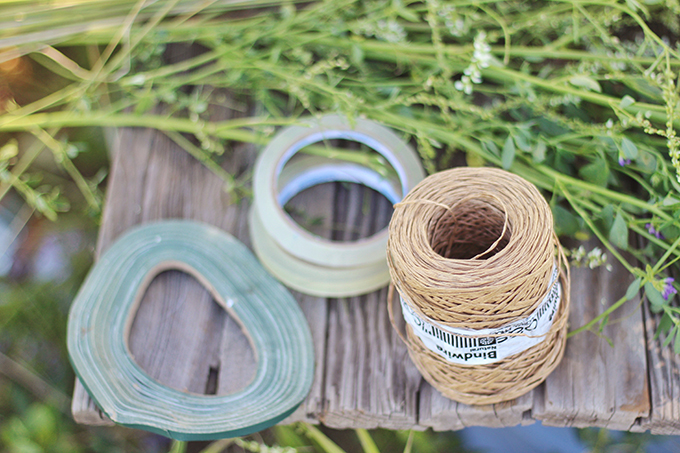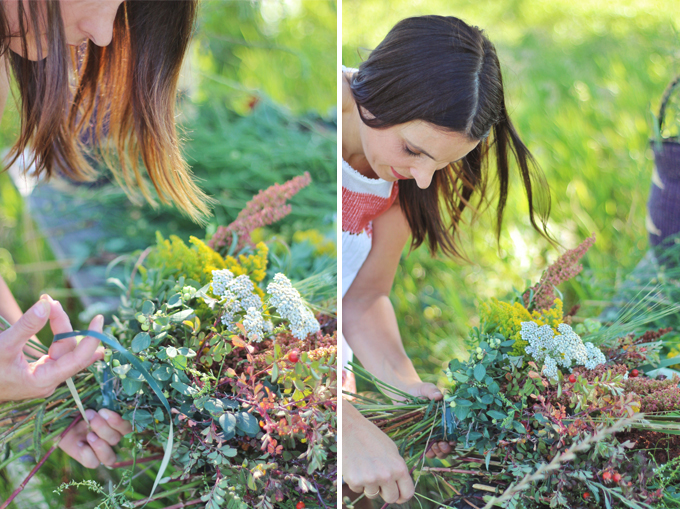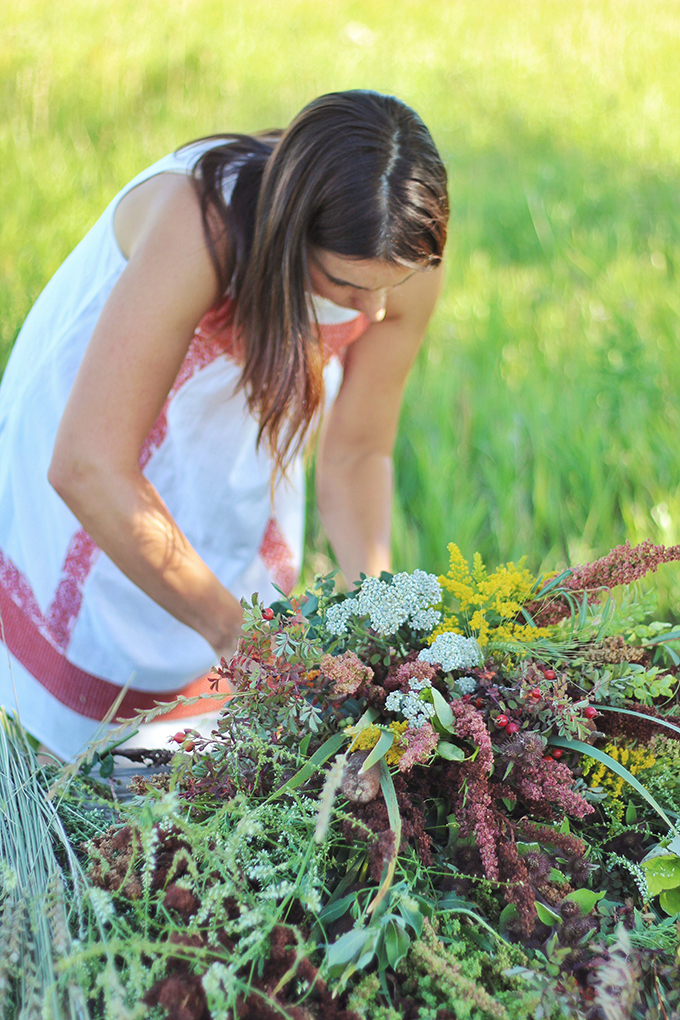 I couldn't resist waiting until golden hour to snap a few more photos of the finished bouquet. There's a beautiful meadow next to a prairie lake a few of miles from my family home, where I set up this antique chair and shot these photos just as the sun was setting. I love the way the fleeting sunlight catches the foxtails and illuminates the background!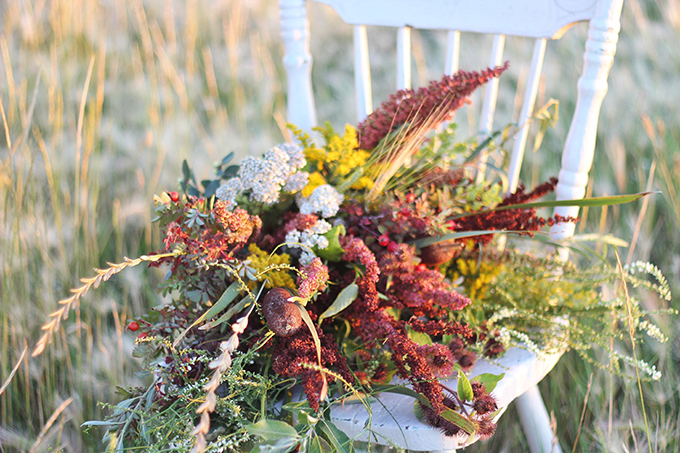 ---
A GUIDELINE TO PRAIRIE FORAGING
---
If you're planning to embark on your own prairie foraging adventure this summer but aren't sure where to start, here are a few things you may find helpful.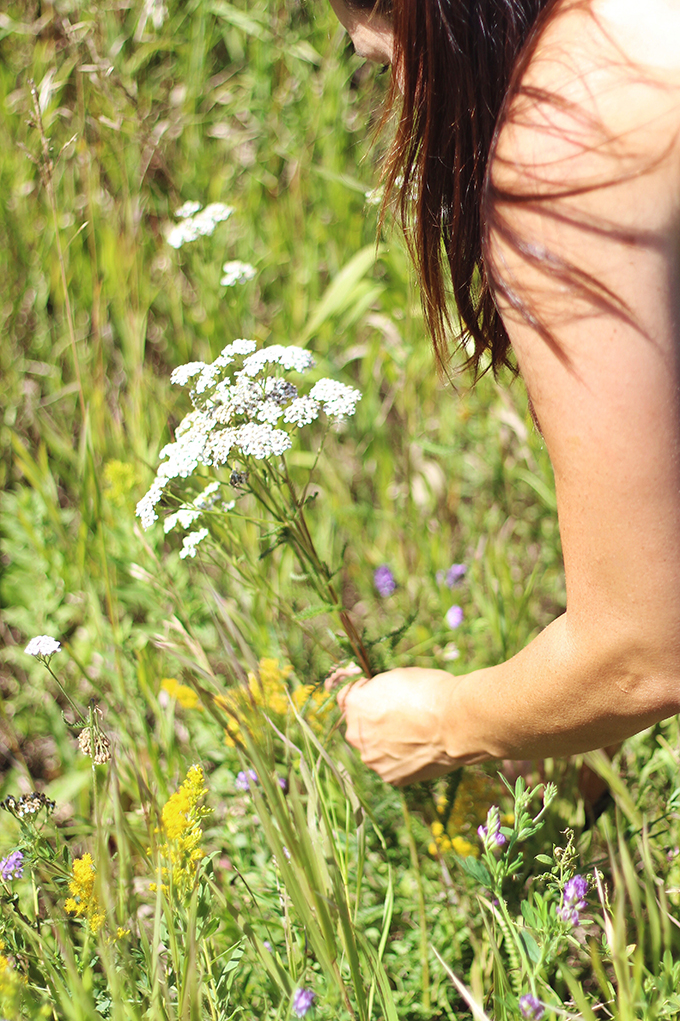 1. Preparation is key. You'll need: buckets filled with a few inches of water to collect your foraged plants, scissors or a sharp knife, gloves, good shoes and long pants to protect your legs from scrapes and scratches. Be sure to pack water, sunscreen and insect repellent — trust us, you'll need it!
2. Learn to identify the poisonous plants you're likely to encounter.
3. Be careful not to damage vegetation or surrounding plants while picking. Cut stems, flowers and leaves with scissors or a sharp knife, leaving the roots intact to minimize damage.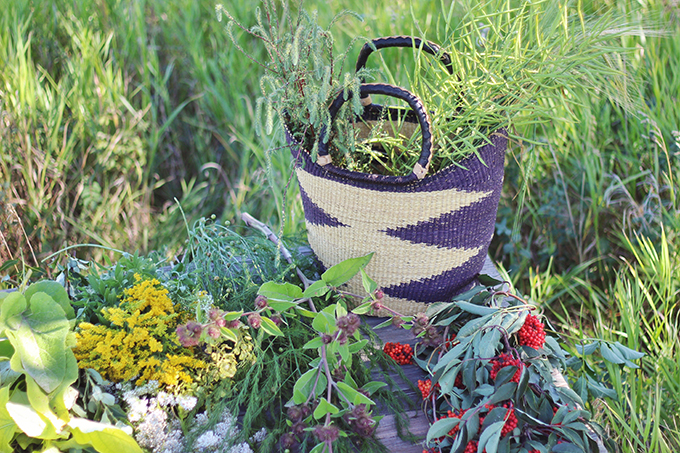 4. Always pick in moderation. Take only a few leaves or flowers from each plant to ensure that it can continue to grow, flower and produce seeds.
5. However tempting it may look, never pick in places that are subject to pollution, heavy spraying or farming chemicals (pesticides, herbicides, fertilizers, etc.).
6. If you aren't on open access land or a public right of way, ask the landowner for permission before foraging.
7. Be respectful of our environment — never leave any litter behind.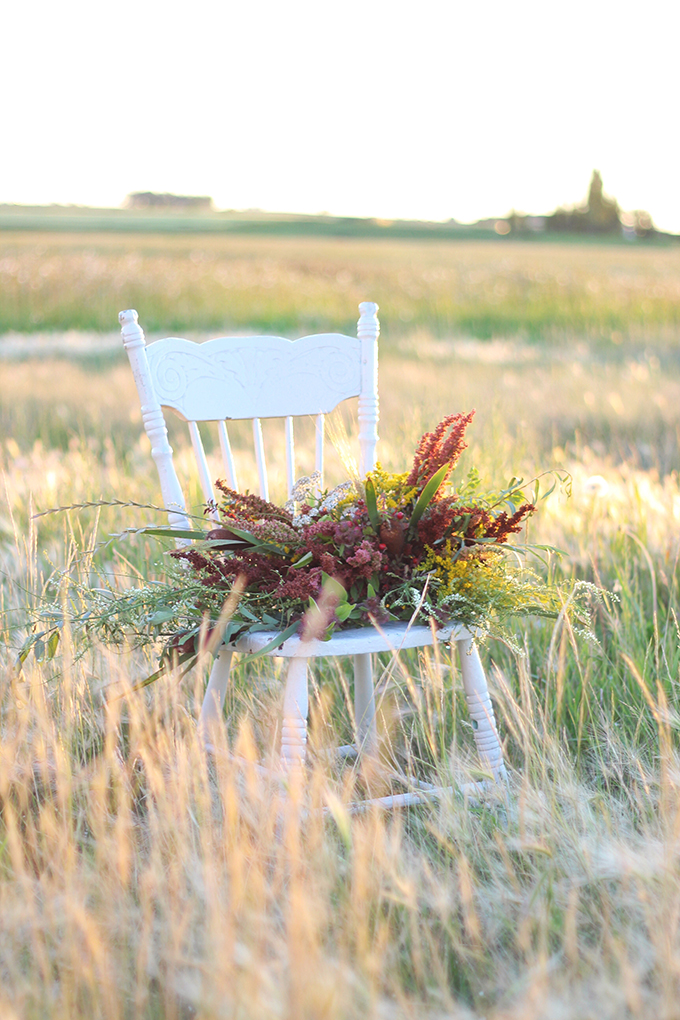 Love foraging but live in a city? For urban foraging tips, check out our DIY Foraged Lilac Arrangement where Rebecca shares more tips for flowering branches in urban areas — including care and conditioning to prolong the life of any foraged arrangement or bouquet.
---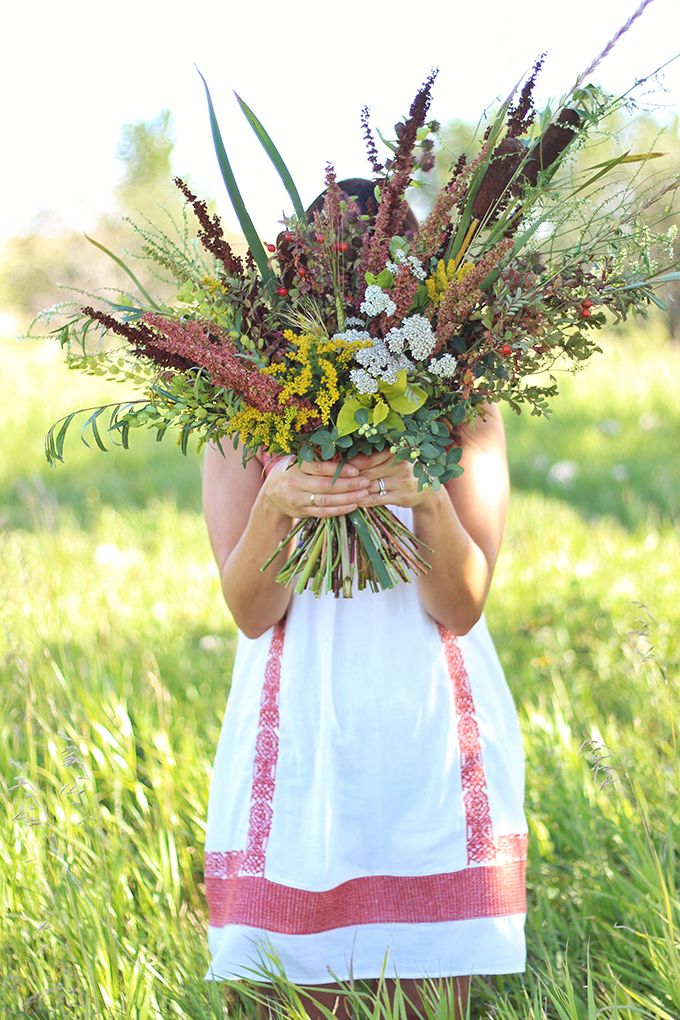 I hope you enjoyed this Foraged Prairie Wildflower Bouquet and learning more about foraging! If you create a foraged wildflower bouquet of your own and found this post helpful or inspiring, we'd love it if you tagged us on Instagram so we can see your work! Rebecca and I are currently planning flower content for the fall and winter, so if you have any specific requests for us feel free to leave a comment.
---
Disclaimer: Thank you to Rebecca Dawn Design for partnering with me to create this post and to Dale Hansen for allowing us to shoot on his gorgeous property. This post is not sponsored and contains our genuine thoughts, ideas and recommendations.
Save
Save
Save
Save
Save
Save
Save
Save
Save
Save
Save
Save
Save
Save
Save
Save
Save
Save
Save
Save
Save
Save
Save
Save
Save
Save
Save
Save
Save
Save
Save
Save
Save
Save
Save
Save
Save
Save
Save
Save
Save
Save
Save
Save
Save
Save
Save
Save
Save
Save
Save
Save
Save
Save
Save
Save
Save
Save
Save
Save
Save
Save
Save
Save
Save
Save
Save
Save
Save
Save
Save
Save
Save
Save
Save
Save
Save
Save
Save
Save
Save
Save
Save
Save
Save
Save
Save
Save
Save
Save
Save
Save
Save
Save
Save
Save
Save
Save
Save
Save
Save
Save
Save
Save
Save
Save
Save
Save
Save