---
Rebecca Dawn Design and I are back today with a fresh installment in our ALL ABOUT series, where we team up to educate you on an of the moment seasonal flower — and this winter, it's All About Anemones! We've already covered Tulips, Roses and Peonies in this series, but we've never featured a winter flower — and Anemones happen to be a personal favourite of ours. If this unique looking bloom seems familiar, it's because we've worked with them many times here at JustineCelina — and in many different colours. Today we're featuring these stunning, ethereal Panda Anemones (my all time favourite) and dropping some serious FLOWER EDUCATION on you!
If you're looking to purchase some cheerful, cold weather blooms to brighten up what has quite possibly been the longest winter in history, consider this All About Anemones post your one-stop shop when it comes to this season's most coveted flower. Today we're sharing alternate names and meanings, colours and varieties available, vase life, what to look for when purchasing, as well as how to care for and condition your Anemones so you can enjoy them for up to 8 days. Rebecca also shares her insider tips about when to purchase Anemones! If you'd like to learn more about these delicate, unique winter blooms or simply stopped by to brush up on winter flower care, come on in!
---
ALL ABOUT ANEMONES
---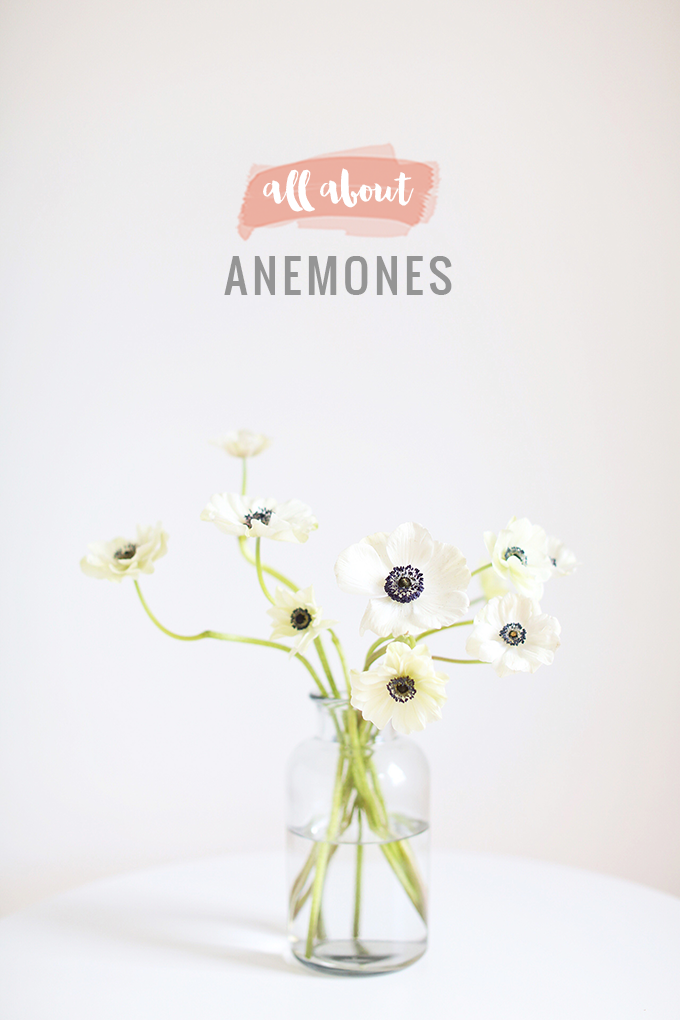 Ah, Anemones. I can't remember when exactly I discovered them, but it was one winter many years ago during a project Rebecca and I were working on together. Never had I seen a more interesting flower — I became completely infatuated by these quirky, snow white blooms with deep navy centres. I learned they were actually called Panda Anemones (how cute, right?!) and were in season during the winter. Ever since, I knew I wanted to highlight them in our ALL ABOUT series!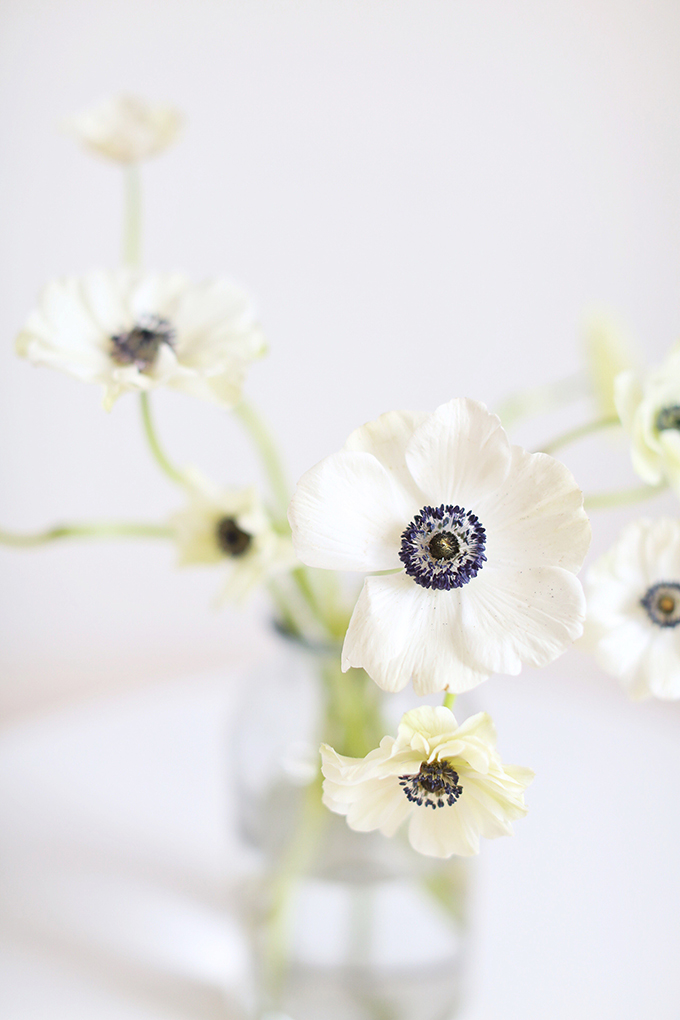 This winter, Rebecca sourced several Anemone varieties that we've been working with in our FLOWER content since December. In fact, we work with Anemones quite regularly here at JustineCelina! They were present in our very first flower education post, my first Blogiversary celebration, our December 2016 Digital Blooms, our January 2018 Digital Blooms, our Pantone 2018 Ultra Violet Inspired Arrangement, and most recently, our February 2018 Digital Blooms and my January 2018 Soundtrack. We've featured deep violet, light purple, white and Panda Anemones over the years, but I have to say, the Panda variety gives me major heart eyes!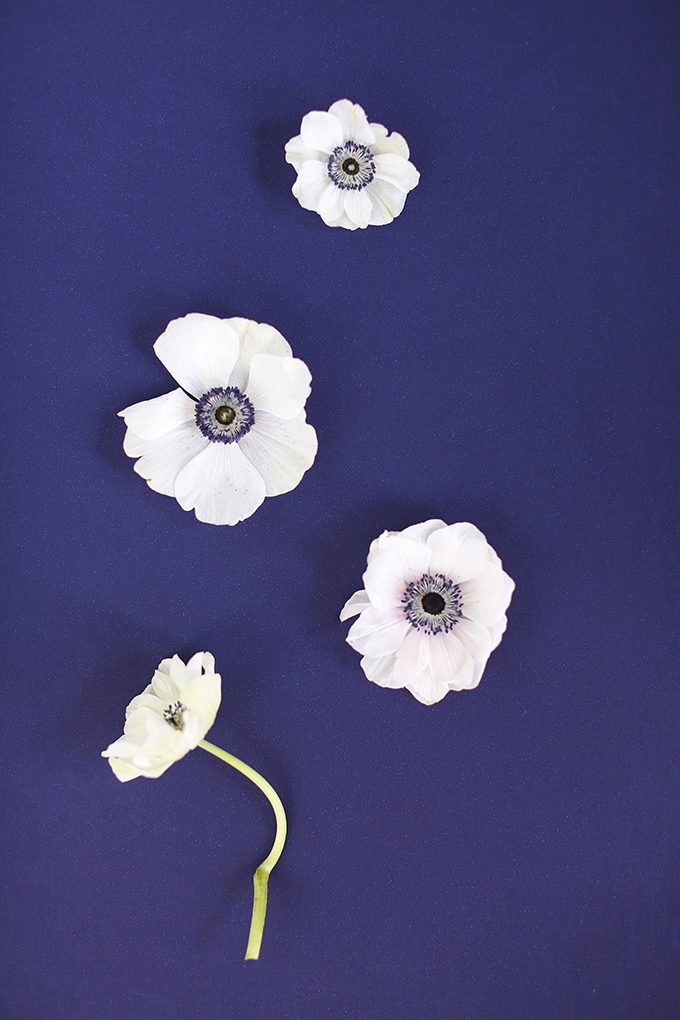 Today we've embraced the snowy, white aesthetic of our Canadian winters and created an ultra minimal arrangement using a small glass vase to demonstrate that simple can be striking. Rebecca loves to embrace the natural form of each individual bloom — and the irregular stems of our Panda Anemones created an almost sculptural feeling arrangement. If you're bringing these charming winter blooms in your home this season, we've complied our best tips and tricks for healthy, happy and long lasting Anemones!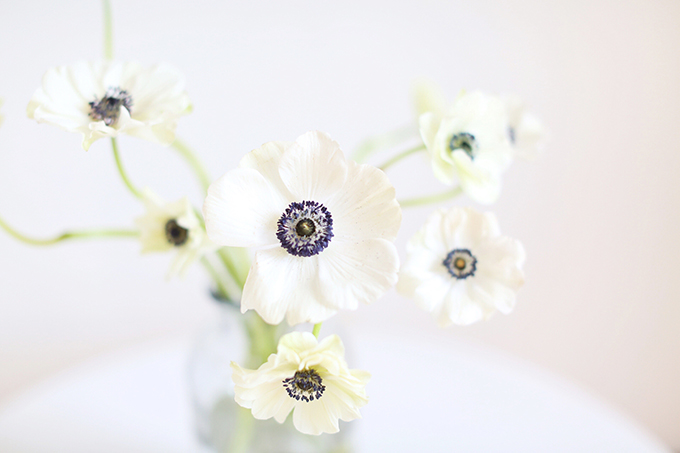 ---
GENERAL ANEMONE INFORMATION
---
 Alternate Names & Meanings
Anemone means 'windflower' in Greek, derived from the word anemoi (Greek wind gods). They're also sometimes called Poppy Anemone or Spanish Marigold. More technically, Panda Anemones are referred to as Anemone Coronaria.
History
Anemones are part of the Ranunculaceae family (as are Ranunculus, another favourite of mine!). There over 200 species of flowering plants in the Ranunculaceae family.
They have quite a colourful history and different meanings in different cultures. In western culture, their meaning is tied to Greek Mythology and the Anemone's origin traces back to Adonis and Aphrodite. Aphrodite and Adonis were lovers — and the other Greek gods murdered Adonis out of jealousy. Crimson Anemones were said to have grown where each drop of Adonis's blood (and Aphrodite's tears, as the mourned the death of her lover) landed. This is why Anemones symbolize unfading love in the west.
In European cultures, peasants used Anemones to ward off pests, disease and bad luck. English and Irish folks believed Anemones closed petals helped to protect sleeping fairies.
There's also an old wives tale about Anemones being able to predict rain. Apparently, when there's a storm's the way, Anemone petals close up!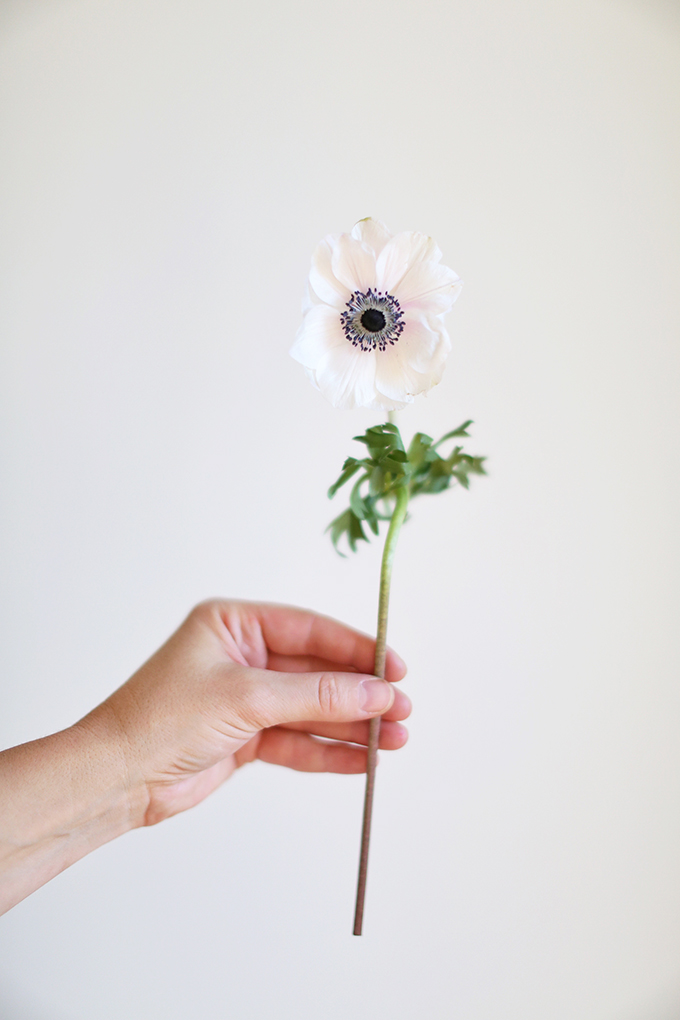 Colours & Varieties Available
Anemones are available in over 120 species in different shades of white, blue, pink, red and lavender.
In Season
Anemones are typically in season from October through May, with the winter months at the height of the season in Canada.

Vase Life
Cut Anemones generally live between 5 and 8 days.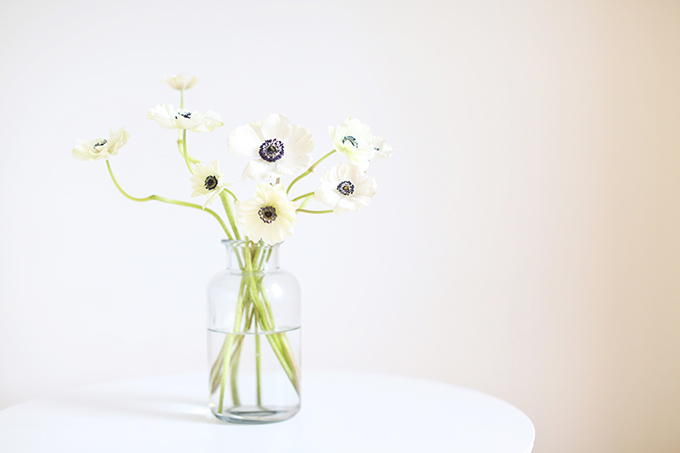 Purchasing Tips
Anemones are a flower Rebecca actually recommends purchasing in the tight bud stage. I know it seems strange, but they'll open and bloom naturally over the course of their lifespan. Be sure get them properly hydrated as soon as you get them home!
Always ask the florist when they received their Anemone shipment. Knowing when the flowers arrived can help you determine how old they are and how long they have to live.
Did You Know?
Anemones will grow in stem length as they open and develop in water.
They're relatively inexpensive.
I featured a track called Anemone in my September 2017 Soundtrack — it's one of my favourites by slenderbodies (although I rediscovered them while writing this post, so expect lots of slenderbodies in my upcoming February 2018 Soundtrack!).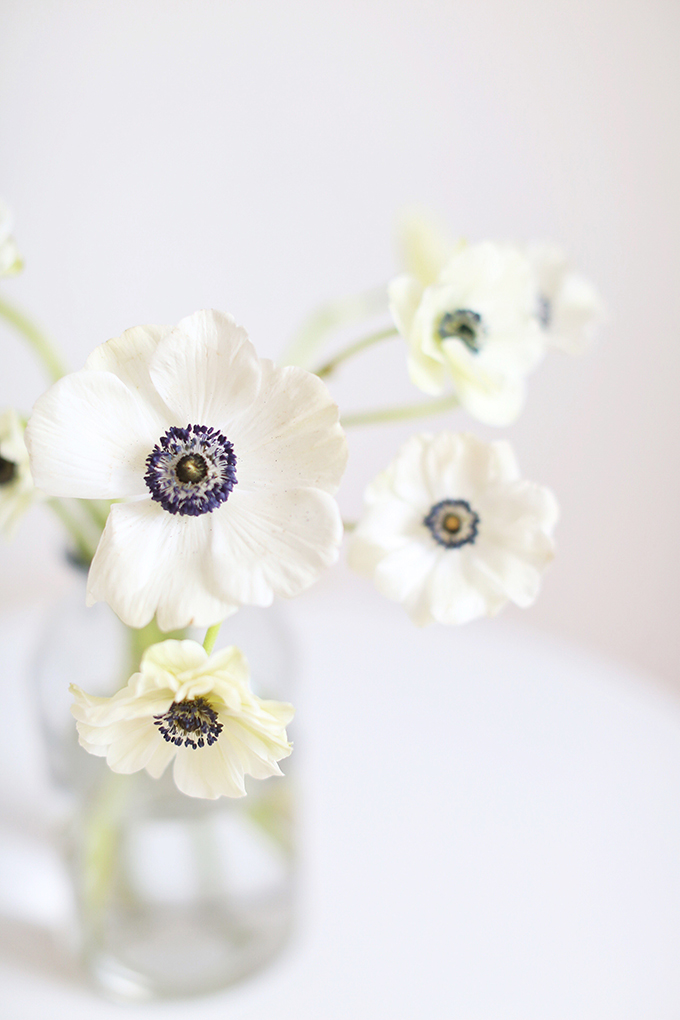 ---
ANEMONE CARE AND CONDITIONING TIPS
---
If you pamper your Anemones, they'll last for up to 8 days. Utilize Rebecca's expert tips to maximize the life of those beautiful winter blooms:
1. Anemones usually come wrapped when purchased. Once you get your Anemones home, remove the wrapping immediately to allow the blooms to breathe and air to circulate freely.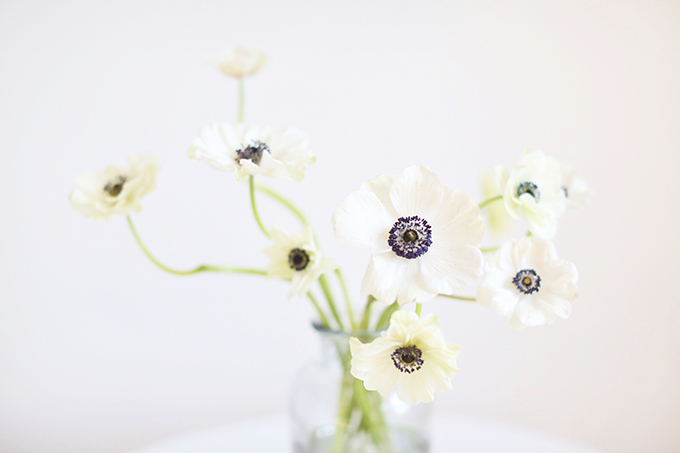 2. Use a pair of garden shears or a kitchen knife to cut the bottom 1/2 inch off of each Anemone stem at a 45 degree angle.
3. Snip off any leaves or flower parts that will fall below the lip of the vase. The only things that should be inside the vase are the Anemone stems and water.
4. Always place freshly cut Anemones in lukewarm water. Warm water molecules move faster than cold water molecules, therefore are more easily absorbed. The objective is to get water and nutrients as quickly as possible to the head of the flower. For optimal Anemone life, change the water and trim the stems every 2 – 3 days.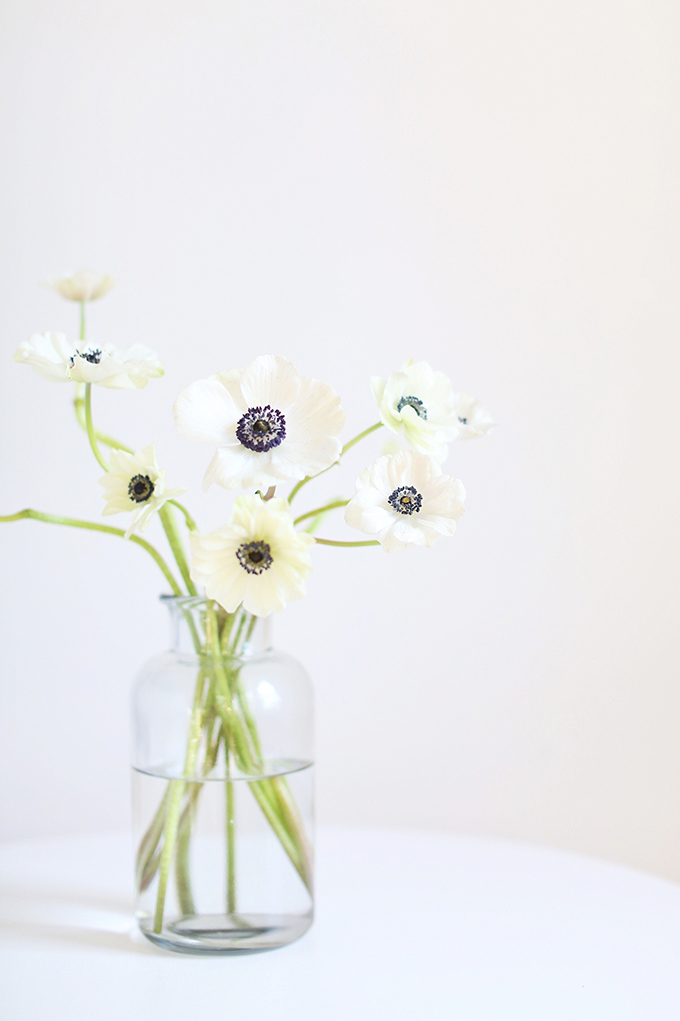 5. Add flower food to the water. Commercial flower food will provide nutrients the Anemones need to stay fresh for a longer period of time.
Tip: Ask for a few packets of flower food when you buy Anemones at the flower shop — or make your own at home!
6. Set the vase of Anemones out of direct sunlight and away from heating vents or radiators. Anemones are quite delicate and wilt if they're overly warm or close if they're too cold. Consistent room temperature (away from doors and cold drafts from the frigid February outdoors) will ensure happy Anemones!
---
MORE FROM OUR ALL ABOUT SERIES
---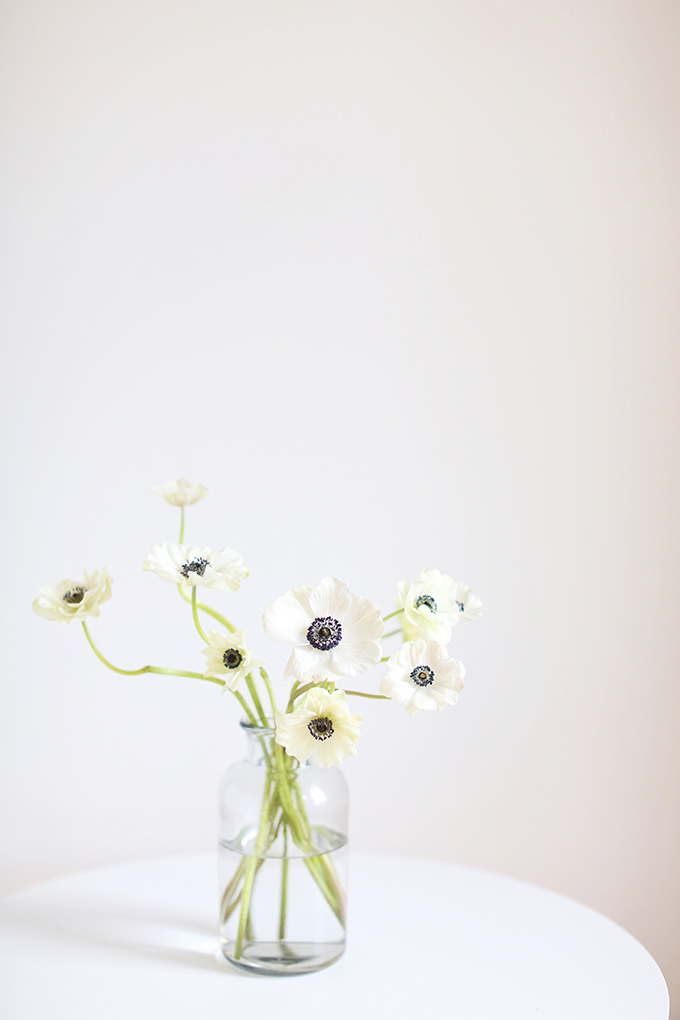 ---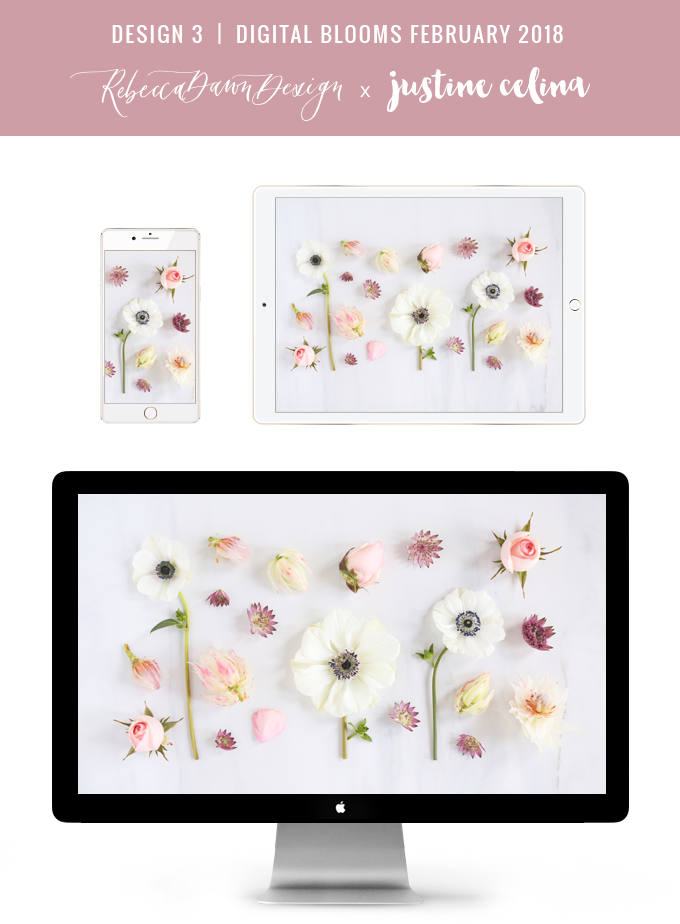 If you're craving more Panda Anemones, you can download free wallpapers for your digital devices in our January and February Digital Blooms post!
---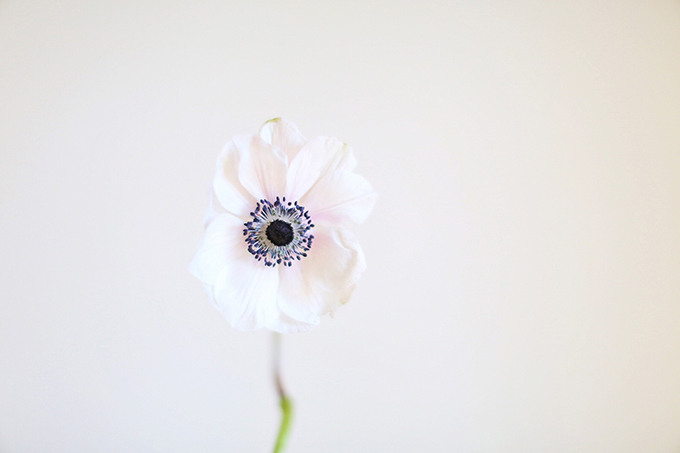 We hope you enjoyed the latest installment in our FLOWER EDUCATION series and learned something new today! Yesterday we shot our spring flower content and I'm feeling so inspired — get ready for tons of vivid brights and dreamy, pastel hued floral goodness coming your way starting month! Thanks for stopping by today to learn All About Anemones, friends. Enjoy this (finally) milder weekend!
---
Disclaimer: This post is not sponsored, and contains our genuine thoughts, ideas and recommendations. JustineCelina uses affiliate and referral links, which allow me to receive a small commission when you make a purchase through one of my links. Thank you for supporting the brands and businesses that support JustineCelina.com!