---
Happy 2020, beautiful people! I'm sitting here on this snowy Tuesday morning in my fuzzy slippers and housecoat with a big mug off coffee typing my first actual blog post of the new year (as January's Digital Blooms were prescheduled so we could enjoy a restful couple of days in the mountains ushering in a new decade, where I captured these photos!). I mentioned in my December Soundtrack that we had surprise New Year's Eve plans and I had absolutely no idea what was in store — that is until about 5pm that day! We spent the final moments of 2019 checking in to our favourite Canmore resort, sharing a bottle of wine and getting ready for an NYE-themed dinner at our favourite restaurant before dashing back to our room to ring in the new decade infront of a roaring fire with bubbly. It was absolutely lovely, relaxed and magical — just what we needed to wind down after a very full year and busy (but very merry!) holiday season!
From Christmas until January 3rd I prescheduled all of my content — and although it made for some very late nights and early mornings prior to my break, it's the first time since starting JustineCelina that I wasn't working at all over the holidays. Isn't that wild? While I'm fully aware that this the the norm for most, for me, for as long as I can remember, it's been anything but. I didn't log into social media, write or capture any content, check the blog or go online at all, really (okay — maybe to peruse some Boxing Day sales with my niece!) — and it was blissful. My first work day of 2020 commenced last Friday after some serious R&R in the mountains feeling recharged, refreshed and reinspired. What a concept, right? Just before the holiday season, I stumbled on a tweet that really resonated with me (wow, how millennial of me!) — "Please take your rest as seriously as your hustle.". For the first time in nearly 5 years since starting JustineCelina, I'm carrying that energy into 2020! So, unlike years past, this is not a 2019 Review + 2020 Goals post — but rather, a raw and transparent read about what's on my heart as we ease into a new decade.
---
HELLO 2020
---
I'm starting 2020 off with a short n' sweet post — so be forewarned that I don't anything especially profound to say. I simply wanted to check in before we jump on a plane to Mexico tomorrow morning! Say what?!
In the spirit of learning to take our rest as seriously as our hustle, late last month we booked a last minute trip to Huatulco, Oaxaca. To say I'm excited is a major understatement — this will be the first time in 6 years we've taken a vacation outside of Canada!
Huatulco is a very special place for us and it's been about 7 years since our last visit. It's a charming coastal town a bit off the beaten path in Mexico and the weather is absolutely gorgeous at this time of year! We've been talking about returning for years — but we finally decided to stop talking about it and just make it happen. Over the past 12 years as an entrepreneur, I've learned that these slow times are incredibly rare and when the opportunity to rest presents itself, you embrace it! So this year, rather than jumping right into a new decade, I'm hitting pause for a little longer.
From the Canadian Rockies to the sandy beaches of Mexico in less than a week, 2020 is beginning much different than years past and I'm so looking forward to fresh experiences and the gift of a refreshed mindset that travel brings. As always, I'm excited to ease into a new year, reflect on the past and continue pursuing my dreams, passions and the woman I want to become. But this time I'll be mapping out the year ahead with a mescalrita in my hand and my toes in the sand!
Although I have my camera in-tow to capture images as I feel inspired, I'm completely relieving myself of content creation pressure — and really looking forward to a week of unplugged rest and relaxation! Isn't it funny than after nearly 5 years of documenting my life and work online I'm learning that being offline is truly the greatest luxury?
---
MORE RAW, WELLNESS BASED OR GOAL RELATED CONTENT
---
---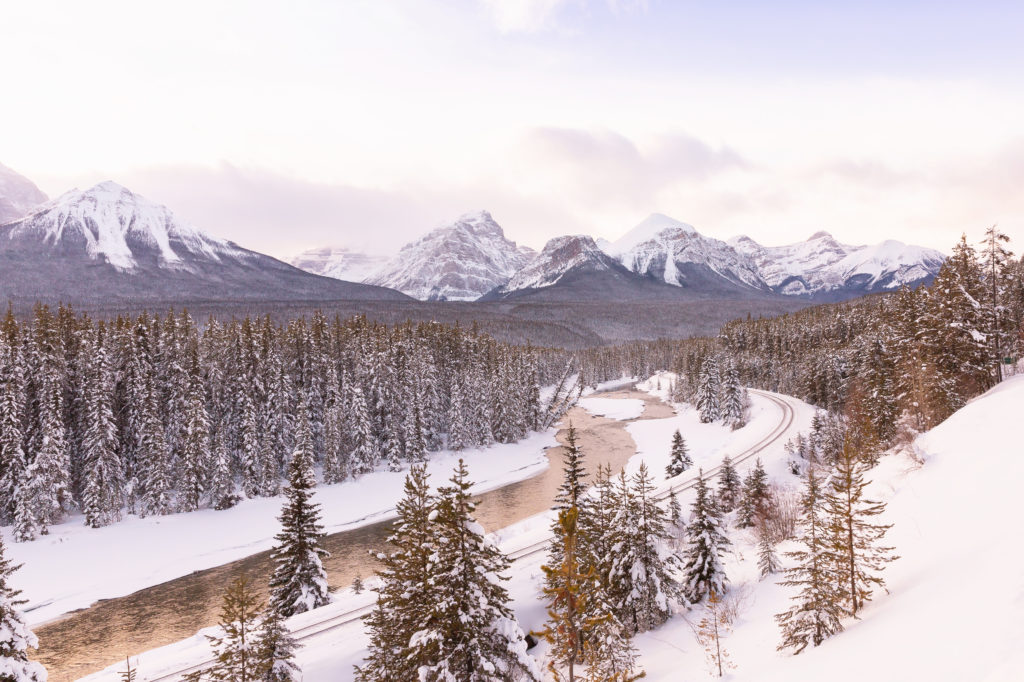 Thanks for stopping by today to learn a little more about my January plans and new year musings today, friends. By the time you're reading this I'll likely already be on the plane — although online you won't even notice I'm gone as I've prescheduled social content!
I captured this image at Morant's Curve last week during our adventures up the Bow Valley Parkway towards Lake Louise. I'd never driven this far north and had never seen this area blanketed in so much fresh snow — isn't it absolutely dreamy? Stay tuned for more from our trip this winter in a mega post about all of our favourite things to see, do, eat and drink in Canmore to Lake Louise area.
Wishing each and every one of you a happy, healthy and prosperous 2020 — your continued support and readership truly means the world to me! I'll be back toward the end of the month with a fresh perspective, a refreshed mindset, fresh content — and maybe even a tan that doesn't come from a bottle! Here's to learning to take your rest as seriously as your hustle — and to more travel, more fun and more spontaneity in 2020!
---
Disclaimer: This post is not sponsored, and contains my genuine thoughts, ideas and recommendations. JustineCelina uses affiliate and referral links, which allow me to receive a small commission when you make a purchase through one of my links. Thank you for supporting the brands and businesses that support JustineCelina!