There's a good chance that if you read my blog, you love lipstick just as much as I do. Today I'm elated to continue to the lipstick lovefest here at JustineCelina and have teamed up with Sephora Canada to bring you my favourite 5 Festive Lipsticks to try this Holiday Season! Whether you're a red lip connoisseur or you're still searching for your perfect shade, there's truly something for everyone in this post. I personally believe that a great red lipstick possesses some sort of magical power — anytime I swipe one of these shades on I instantly feel more confident, empowered and beautiful!
I'm sharing my top red lip picks across categories and in a variety shades, finishes and formulas — there's been some serious red lipstick testing going down at JustineCelina headquarters lately! If you're feeling bold this season, I've also included some on-trend metallic lip options ranging from all the way from subtle to full-on glitter (which surprisingly is more wearable than you may think!). If your lipstick game could use a festive touch this holiday season I've totally got you covered — grab a peppermint mocha let's chat about some of my favourite red lip options for Holiday 2016 this weekend!
---
5 FESTIVE LIPSTICKS TO TRY THIS HOLIDAY SEASON
---
Red continues to dominate colour trends as we transition into December — so what better time to share my favourite 5 Festive Lipsticks to try this Holiday Season? While I love red lipstick year round (case in point), I especially love it at this time of year and it's kind of become my signature holiday look (if you've been with me since last year, you may remember this post). If you're not sure if you can pull a festive red lip off, I encourage you to give one of these recommendations a spin this season — you may be surprised at how easy red lipstick is to wear once you find a shade that suits your skintone and colouring!
---
COLOUR THEORY & FINDING YOUR PERFECT RED LIPSTICK
---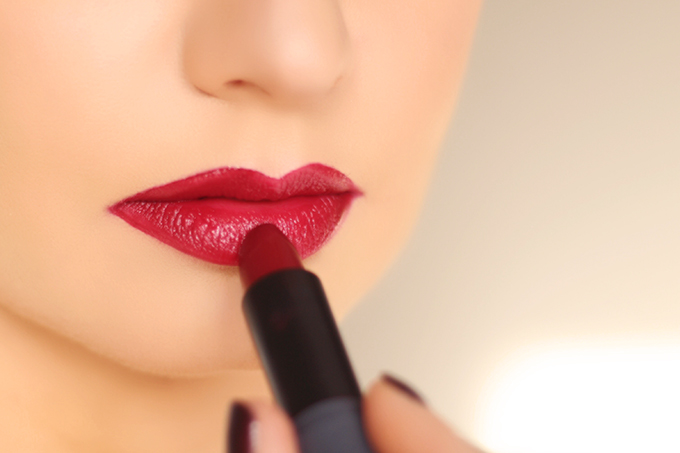 As a general rule of thumb, if you have warm colouring (you look better in gold than in silver) warmer, richer reds (ie: reds with more yellow in them) will flatter your skintone most. If you're a cooler skinned gal or guy (you look better in silver than in gold) brighter, cooler reds (ie: reds with more blue in them) will suit you best. And if you can rock both gold and silver and look equally fabulous (or you just love to experiment and wear whatever you feel like — like me!) give any red shade that catches your eye a try this season! Keep in mind that I have warm / neutral colouring (I'm a MAC NC 25-30), but most of my choices are neutral to accommodate the largest variety of skintones — but also because I love more classic, true reds for the holidays.
P.S. — If you're interested in learning more about colour theory and how it to applies to beauty and fashion please let me know — I'd love to create a series of posts educating you about it!
---
C $18.00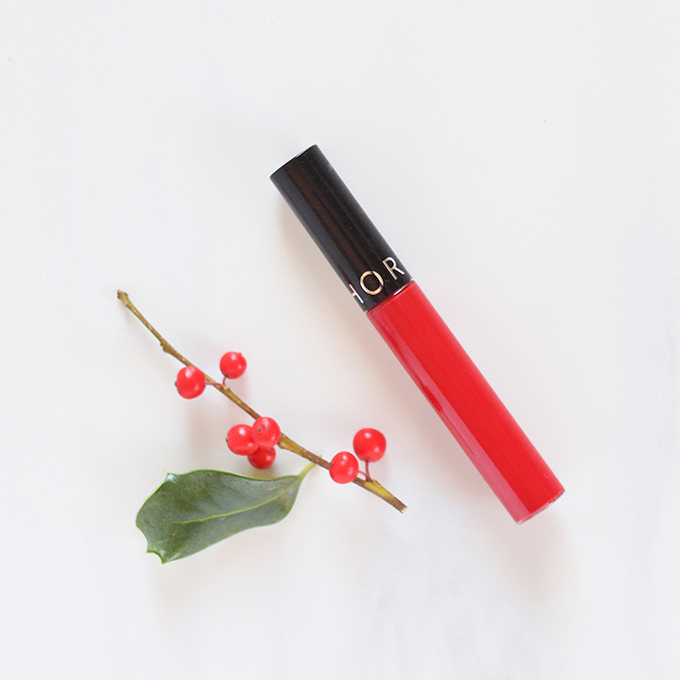 Did you swing by today looking for my top matte, long wearing, classic red lipstick recommendation for the holidays? Look no further than the SEPHORA COLLECTION Cream Lip Stain in 01 Always Red! If you've been following along with my BEAUTY section this autumn, you'll have heard me rave about the SEPHORA COLLECTION Cream Lip Stains which combine incredible value with one of the best liquid lipstick formulas I've tried to date. Always Red is an absolutely stunning, bold red lipstick that will keep the party going through all the eating, drinking and being merry you'll be doing this holiday season — this formula wears beautifully for about 7 hours on me! If you want to see this shade in action, check out my Winter Activewear Essentials post.
Liquid lipsticks are a great option at this time of year because they're so long wearing — and the SEPHORA COLLECTION Cream Lip Stains never dry my lips out. In fact, they're infused with avocado oil to help the formula remain comfortable for the duration of their wear time (this is essential for me during our frigid Alberta winters!). If you're still searching for your perfect red lipstick, or wanting to dive into the liquid lipstick trend for the holidays, I encourage you to give Always Red a try. It's a perfectly neutral shade that will suit a wide variety of skintones — plus it makes your teeth look incredibly white (great for all those holiday photos!). For a more in depth review of the formula, be sure to check out my 5 Liquid Lipsticks to Try this Fall post. And if you'd like to sample Always Red along with 3 other classic shades from this range, snatch up the limited edition SEPHORA COLLECTION Mini Cream Lip Stain Set, which I reviewed here.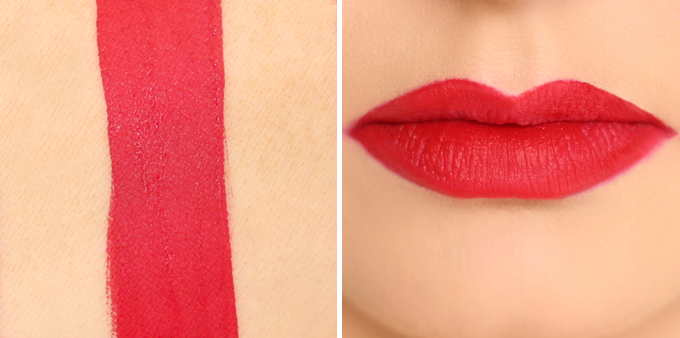 I'm wearing the SEPHORA COLLECTION Cream Lip Stain in 01 Always Red
---
C $30.00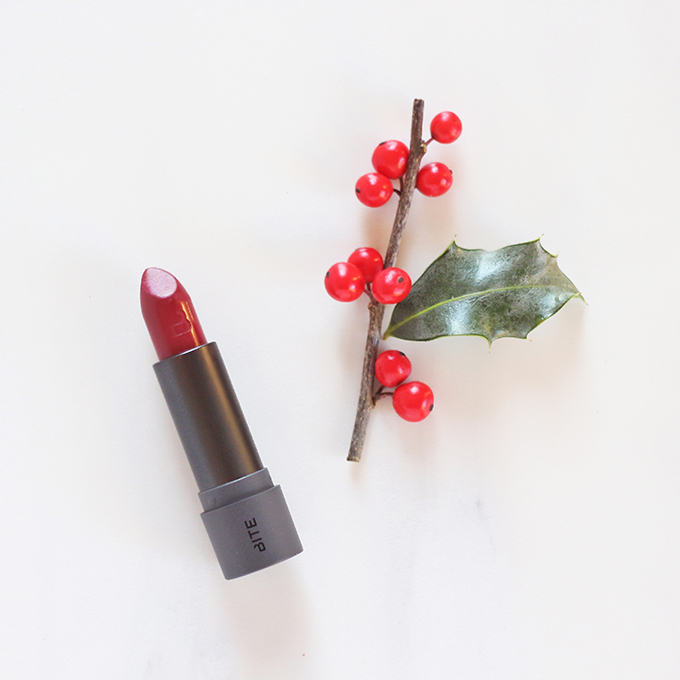 If you've been reading JustineCelina for any length of time, you already know how much I love Bite Beauty, so I'll save you the lengthy introduction and link all things Bite here. Think of Bite's Amuse Bouche lipsticks like intensified traditional lipsticks, handcrafted in small batches with incredible, anti aging, food grade ingredients — they're my all time favourite lipstick formula! Each year Bite nails it with limited edition holiday offerings — in fact, I've already covered them extensively this season.
Today I'm spotlighting a new, limited-edition lipstick in the perfect rich, holiday red shade — the Bite Beauty Amuse Bouche Lipstick in Mistletoe from the Sephora exclusive Holiday Kiss Collection. If you're in the market for a fantastic, full sized, classic lipstick this season (or are a major Amuse Bouche lipstick fan), consider this limited edition gem from Canadian brand Bite Beauty. Mistletoe is an exclusive shade for Holiday 2016 and is the ultimate festive lip — a deep, sensual, warm red with a lustrous, creamy finish. This stunning lipstick screams holiday glam infused with a touch of old Hollywood (right?!) and I adore this more dramatic, luxurious take on the classic red lip this season. Like most Amuse Bouche lipsticks, Mistletoe wears for about 6 hours on me and delivers a nice amount of hydration.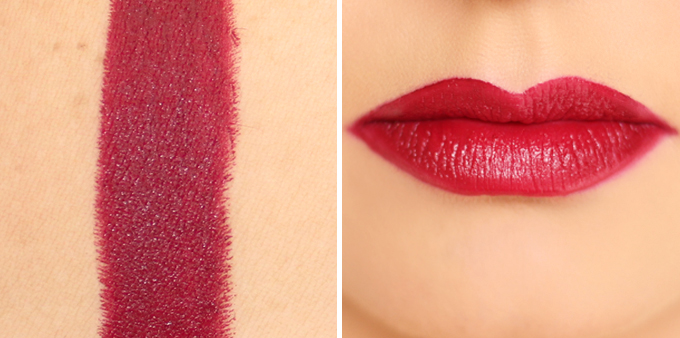 I'm wearing the Bite Beauty Amuse Bouche Lipstick in Mistletoe
---
C $26.00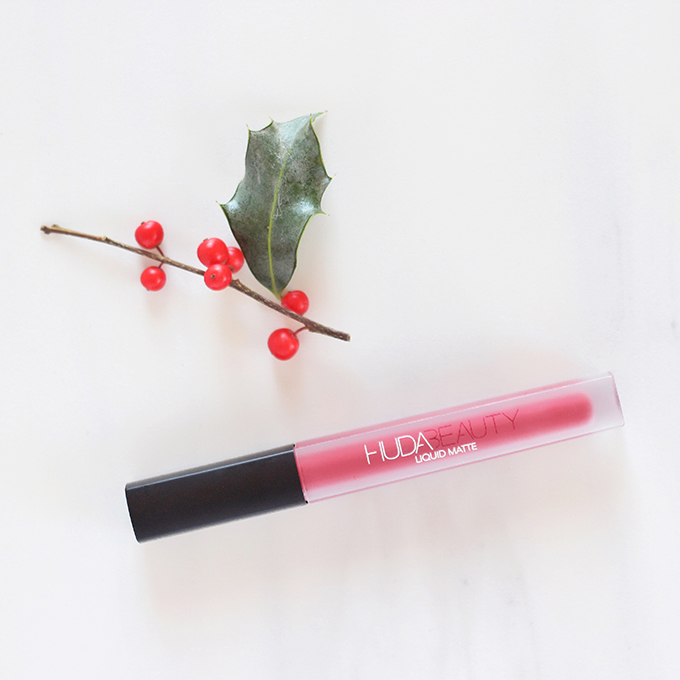 If you love the idea of red lipstick but can't quite get on board with a bold red lip this season, I have just the shade for you! The Huda Beauty Liquid Matte Lipstick in Cheerleader is described by the brand as 'a delicately muted red' and that's exactly what this ultra comfortable, lightweight, stunning liquid lipstick delivers. On me, it's a deep red with muted, dusty pink undertones — it's a very unique shade and I have absolutely nothing else like it in my collection! Huda's Beauty Liquid Matte Lipsticks are one of my more recent liquid lip discoveries and are quickly becoming one of my all time favourite formulas — they really check all the boxes for me in terms of ease of use, comfort, wear time, shade selection and even scent (they smell exactly like pure Tahitian vanilla extract!). Like many of my other favourite liquid lipsticks, Cheerleader wears for about 7 hours on me and the formula is a breeze to touch up on the go — just throw it in your bag and layer a fresh coat on whenever you need to, with absolutely no bunching, flaking or patchiness. If you're looking for a versatile, low maintenance, sophisticated red shade that will rock with you through all your holiday parties this season, pick up this unique liquid lipstick from makeup artist / beauty guru turned cosmetic creator, Huda Beauty!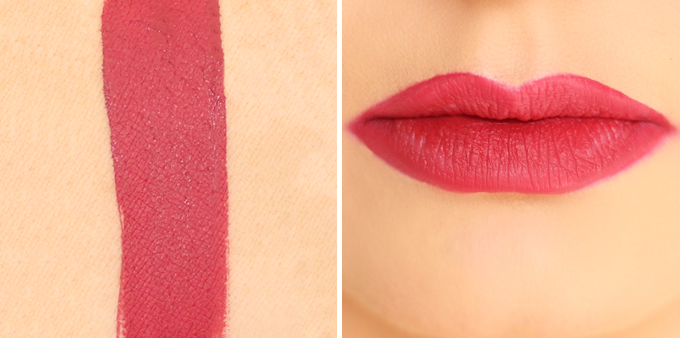 I'm wearing the Huda Beauty Liquid Matte Lipstick in Cheerleader
---
C $17.00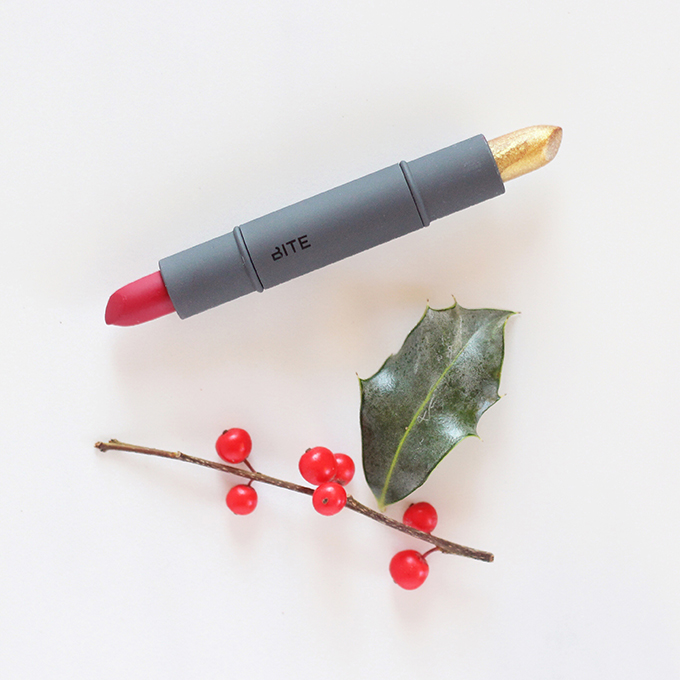 Alright guys, we're going to start dipping our toes into this metallic lip trend slowly! When metallic lips first starting hitting the market this past summer, I admit that I was intrigued — but like any trend (whether it be in fashion, beauty or decor), I won't jump on board until I can find a way to make it work for me. Today I'm happy to bring you my first ever metallic lipstick recommendation from none other than my all time favourite lipstick brand — Bite Beauty!
Now, if these mini lipstick duos look familiar, it's because I pick them up each year — both for myself and for gifting (I've also mentioned and worn them here at JustineCelina about a million times!). They're a hit with the ladies in my life and everyone loves them just as much as I do. For Holiday 2016, Bite has infused their traditional holiday lipstick duos with a metallic touch, so if you're looking to sample either the Amuse Bouche Lipstick formula after hearing me rave about it for so long, or the metallic lip trend with minimal commitment, now's your chance! Each Bite Beauty Amuse Bouche Lipstick Duo features deluxe-size, double-ended lipstick in a holiday shade pairing. Bite has totally the guesswork out of how to wear metallic lips this season — each Amuse Bouche shade is coupled up with with a limited-edition, foiled top coat. Today, I'm highlighting Sour Cherry / Gold — a classic, blue-based red lipstick, paired with a metallic gold top coat.
Bites suggest applying the lipstick first and then layering the metallic gold top coat over top, but you really can use this duo to create any lip look you like. Personally, I love wearing this duo just as Bite suggests — as you can see below it's quite subtle and pretty! Of course, you can wear either shade alone, or combine them to create your desired level of metallic finish — genius, right?! If you love this idea and are looking for options to experiment with foolproof metallic lip pairings, check out my Holiday 2016 Gift Guide for Beauty Lovers, where I mention 2 more shades from the Bite Beauty Amuse Bouche Lipstick Duo range.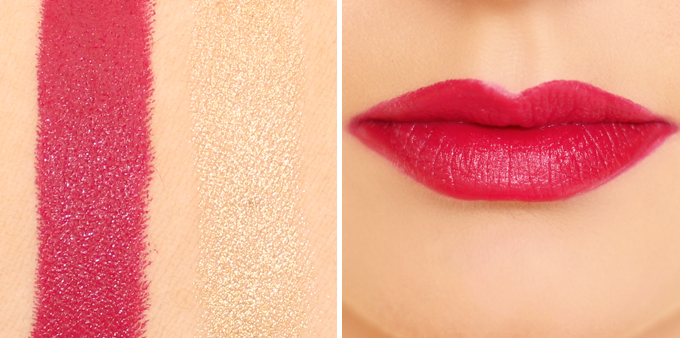 I'm wearing the Bite Beauty Amuse Bouche Lipstick In Sour Cherry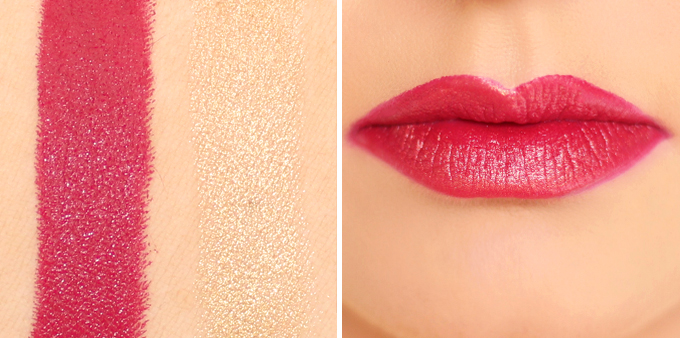 I'm wearing the Bite Beauty Amuse Bouche Lipstick In Sour Cherry / Gold with Sour Cherry all over my lips and Gold layered overtop

---
C $72.00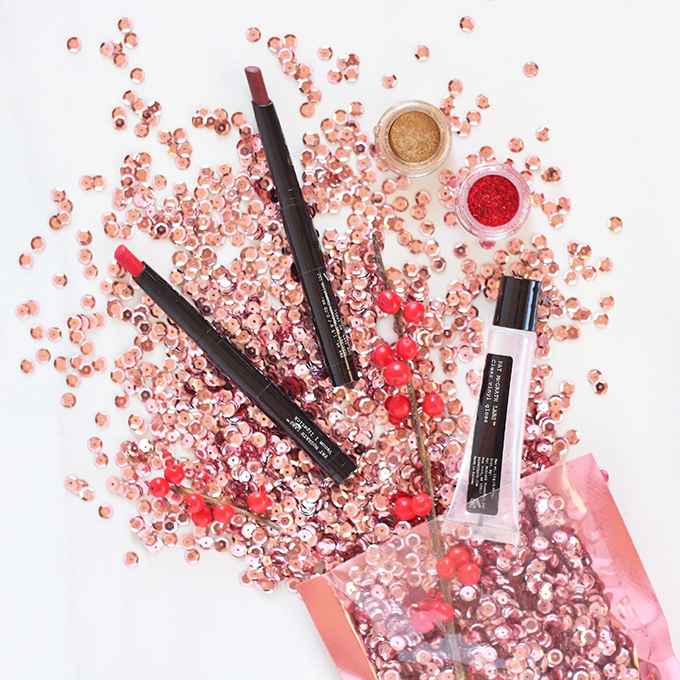 Now that I've introduced you to metallic lips and proven that they're not so scary — get ready for the wildcard of the bunch! Everyone, meet the PAT McGRATH LABS Lust 004 Lipstick Kit in Bloodwine — a five-piece kit that includes two intense matte lipsticks, a clear vinyl gloss, a metallic gold pigment, and a microfine red glitter. Say what?!
Are you over traditional red lipsticks for the holidays and looking to shake things up this season? I can't recommend this unconventional lip kit from editorial / runway makeup artist turned visionary cosmetic creator PAT McGRATH enough. Although you might scoff at the pricetag at first, I truly believe this kit offers good value. For $72, you're receiving 2 matte lipsticks — a true red and a vampy eggplant shade with a brown undertone (which are beautiful either on their own or paired with the rest of the kit), a versatile clear gloss that delivers some serious shine (add it on top of any lipstick transform it into an ultra glossy lip!), one gold pigment and one red glitter. Each item works out to just over $14, which is less expensive than anything else I've recommended today.

The brand suggests choosing a lipstick to lay down a 'velvety rich canvas of color' to begin. Then, you can either wear the lipstick on it's own, or combine it with the gloss and / or pigment / glitter to create your desired effect. If you want an ultra glossy effect, add the Clear Vinyl Gloss over the matte lipstick — it's one of the glossiest, wettest looking glosses I've ever tried! It also creates a perfect base for the glitter and / or pigment to adhere to. If you're craving more drama, layer the Metallic Gold Pigment or the Microfine Glitter overtop of the gloss by removing the lid, dipping your clean finger into the product, and they patting it into your lips. The Metallic Gold Pigment is also stunning all over the lid as a metallic shadow (see that in action here)!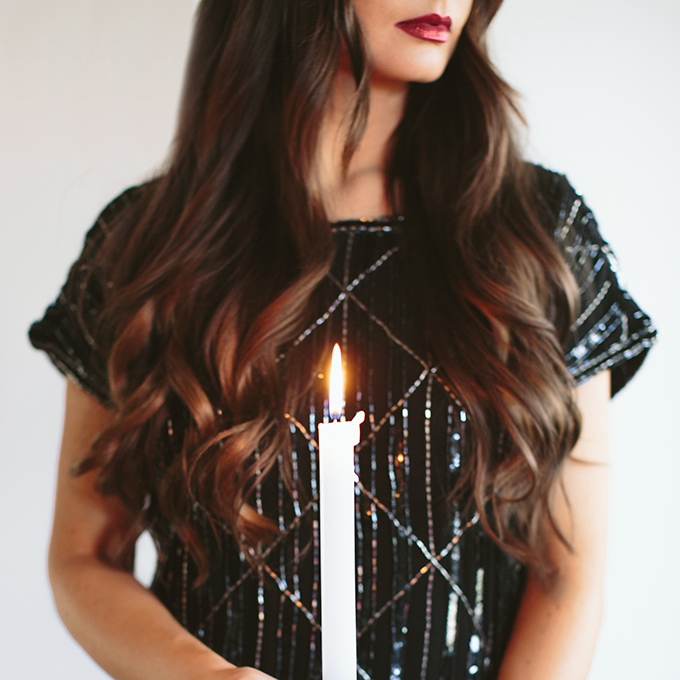 I was so surprised at the wear time on this set. I wore it for a New Years Eve entertaining post and I've included a photo above so you can see it in action — it's really more wearable than you may think!) and it held up literally all day. I applied this lip kit at 11am and it still looked immaculate when I washed my makeup off around midnight! The gloss does a fantastic job at binding the pigment and glitter to your lips and I really like the matte lipstick formula as well — it's ultra pigmented, smooth and glides effortlessly onto the lips. All in all, I think this is a fantastic option this holiday season for you adventurous beauties looking to inject your holiday look with a playful, experimental flair! Oh, and did I mention that the set comes packaged in pink sequins?! Everything about this set is over the top — in the absolute best way possible!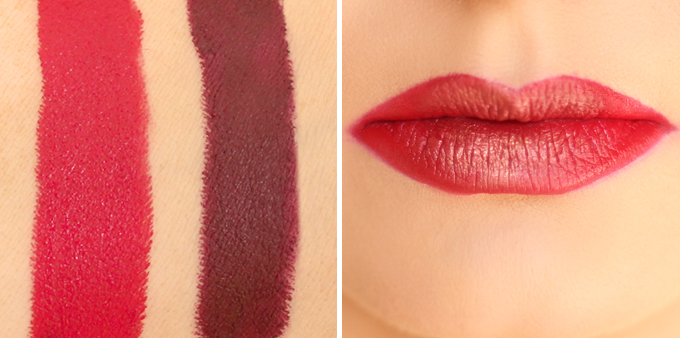 I'm wearing the PAT McGRATH LABS Lust 004 Lipstick Kit with Blood 1 all over my lips and the Metallic Gold Pigment patted in the centre for a subtle ombre effect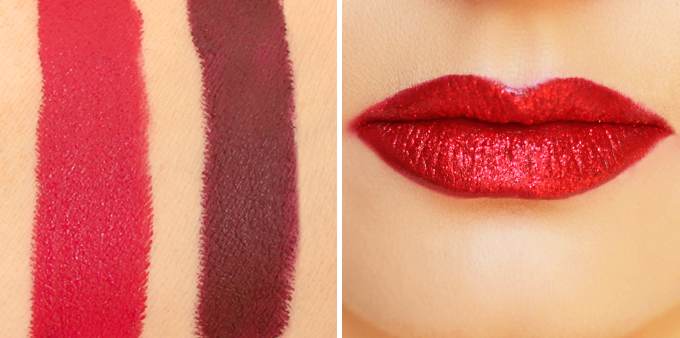 I'm wearing the PAT McGRATH LABS Lust 004 Lipstick Kit with Blood 2 and the Clear Vinyl Gloss all over my lips, with the Microfine Glitter overtop

---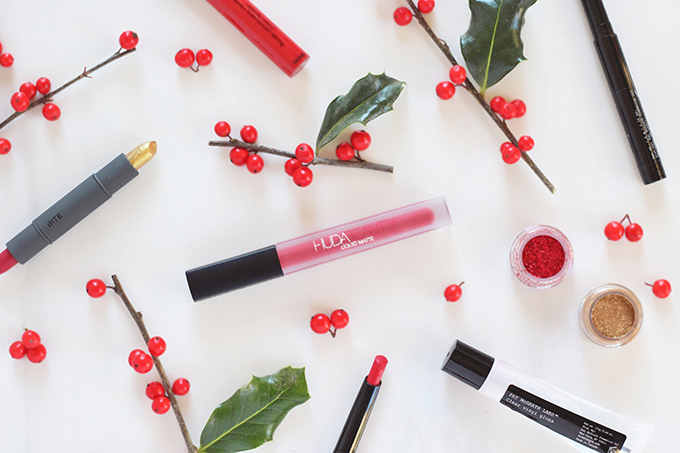 I hope you enjoyed my festive lipstick picks for Holiday 2016! Are there any lipsticks you've been loving this December? Feel free to leave me a recommendation or a request anytime! And if you pick up anything I've mentioned here today either for yourself as a gift I'd love it if you let me know. Wishing you many red lipstick-filled holiday celebrations this season!
---
Disclaimer: Thank you to Sephora Canada for sponsoring this post and to Genevieve Renee Photographie for the New Years Eve metallic lip photo! JustineCelina uses affiliate and referral links, which allow me to receive a small commission when you make a purchase through one of my links. Thank you for supporting the brands and businesses that support JustineCelina.com!