---
My July 2020 Soundtrack is undoubtedly my favourite of the year — and I'm so excited to share it with you today! This 33 track playlist features nearly 2 hours of ultra dreamy, uplifting tunes that have been decorating my summer days and keeping me inspired. MUSIC has always played a big role in my life and is inherently tied to my creative process, as I'm always listening to music while I work away on various projects before I bring them to JustineCelina. July was a very creatively fulfilling month with the perfect mixture of fresh scenery, local travel, lots of gardening and many photoshoots with our stunning Alberta prairies as a backdrop — and this feel-good soundtrack encompasses all the creative, happy vibes July was made of!
This month I could highlight every single track in this playlist as a favourite — so instead, I'll just let you take a listen! As I did last month, I'm also infusing some STYLE content into this month's Soundtrack and introducing you to my perfect linen sundress — which I purchased in 5 colourways and have literally been living in all summer long. If you're interested in additional details, you'll find them towards the bottom of the post, along with an update on when you can expect my Summer 2020 Lookbook, which I've been working away on BTS all month! (Canadian) friends, have an absolutely wonderful long weekend — and whatever you're up to, I hope you all stay safe and well!

---
JULY 2O2O SOUNDTRACK
---
---
NEED MORE FRESH TUNES? CHECK OUT MY LATEST PLAYLISTS
---
June 2020 Soundtrack (or listen on Spotify)
May 2020 Soundtrack (or listen on Spotify)
April 2020 Soundtrack (or listen on Spotify)
March 2020 Soundtrack (or listen on Spotify)
February 2020 Soundtrack (or listen on Spotify)
Or, browse the MUSIC archives here at JustineCelina for 5+ years of monthly playlists!
---
SHOP THE STORY
---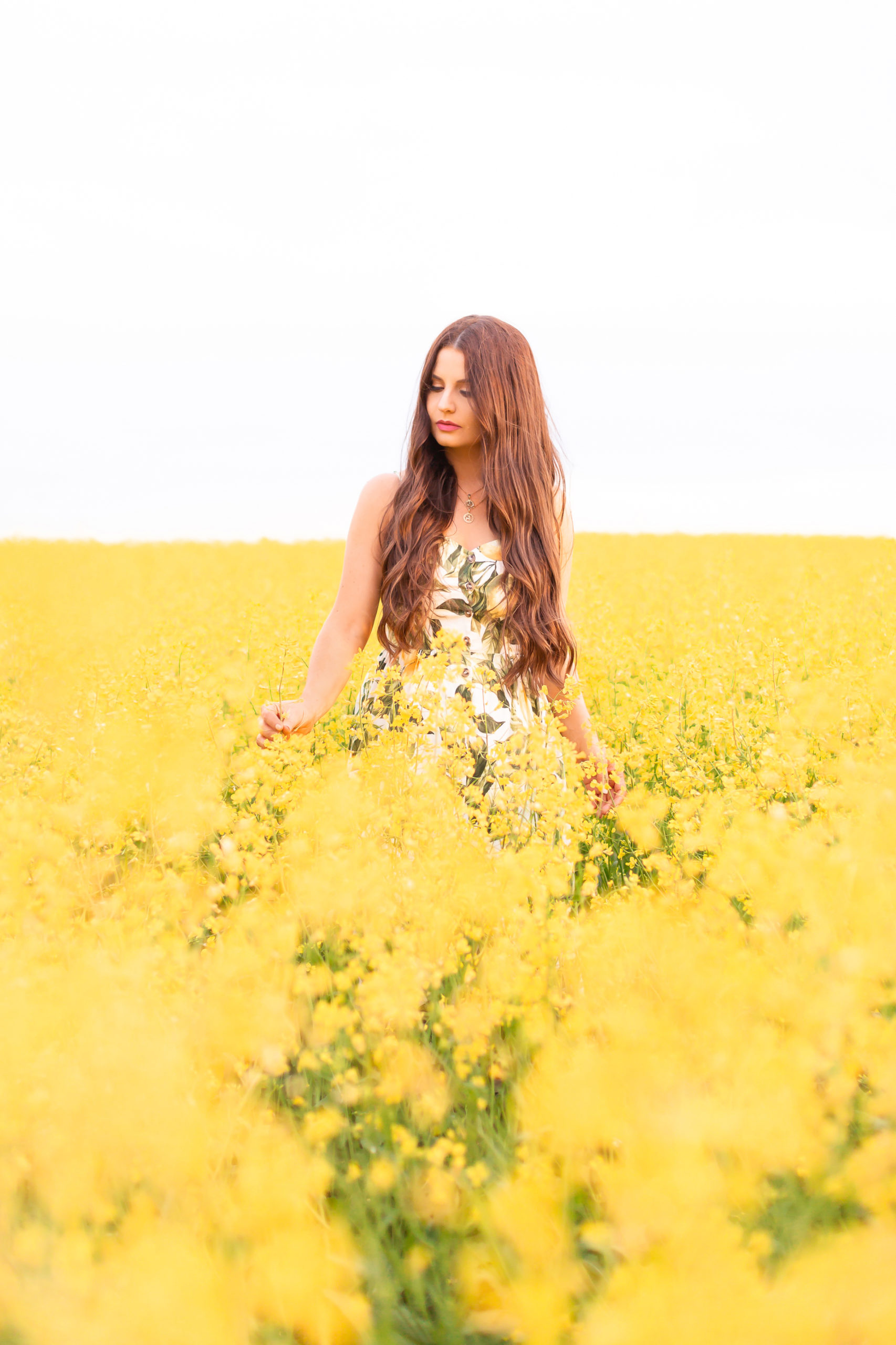 Linen-blend Dress (in White/Lemons)
---
We snapped this month's album cover earlier this month in the field behind my childhood home in rural Alberta. It was such a full circle moment, as it's the same field as our first canola field shoot — almost exactly 4 years ago! What started as a smiley, impromptu sunset photoshoot location after a glass of wine turned into an annual tradition — and we've been snapping photos in blooming fields of yellow every summer since. While they typically pop out just before my birthday, they surprised us early on Canada Day this year and we couldn't resist capturing them in all their beauty!
I finally found my perfect linen sundress in H&M's Linen-blend Dress — I love it so much I purchased it each of the 5 colourways and have been living in them all summer! You'll see them all in action in my upcoming Summer 2020 Lookbook, coming to JustineCelina next month. I've been working away on it BTS all month and I can't wait to share it with you!
---
What have you guys been listening to lately? Leave me your recommendations in the comments, I'd love to hear from you! Do you use Spotify? If you do, feel free to drop some links to your playlists, or playlists / artists you think I'd enjoy. Thanks for tuning into my July 2020 Soundtrack!
---
Disclaimer: This post is not sponsored, and contains my genuine thoughts, ideas and recommendations. JustineCelina uses affiliate and referral links, which allow me to receive a small commission when you make a purchase through one of my links. Thank you for supporting the brands and businesses that support JustineCelina!