With August barely underway, many retailers are beginning to introduce fall inventory. Well I don't know about you, but I'm not even close to being done with summer! Regardless of whether or not the sun is shining in Calgary (rain, rain, go away!), I've still been enjoying seasonal trends. Today, I'm sharing my Summer 2016 Trend Highlights and showing you how I've been wearing them — including bright whites, pompoms, off the shoulder tops, tassels, fringe, lace up details, frayed hem denim, 70's revival and layered gold and natural stone jewellery! I'm also thrilled to be working with my favourite local jewellery designer Coutu Kitsch to share some of my favourite pieces from their SS16 El Verano Collection with you.
---
Released Hem Skinny Jeans | White Off The Shoulder Colored Pompom Trim Blouse c/o SheIn | Jagger Turquoise Bar Necklace | Hendrix Turquoise Triangle Necklace | Hazel Turquoise Wrap Ring | Midi Delicate Double Ring | Midi Circle Ring | Midi Triangle Ring | Pinky Triangle Ring | Steve Madden Sassey Sandal in Red Suede | Vintage Hand Tooled Leather Bag (similar, similar, similar) | Colourpop Ultra Satin Lip in Cozy | Round Sunglasses (similar, similar, similar)
---
SUMMER 2016 TREND HIGHLIGHTS
---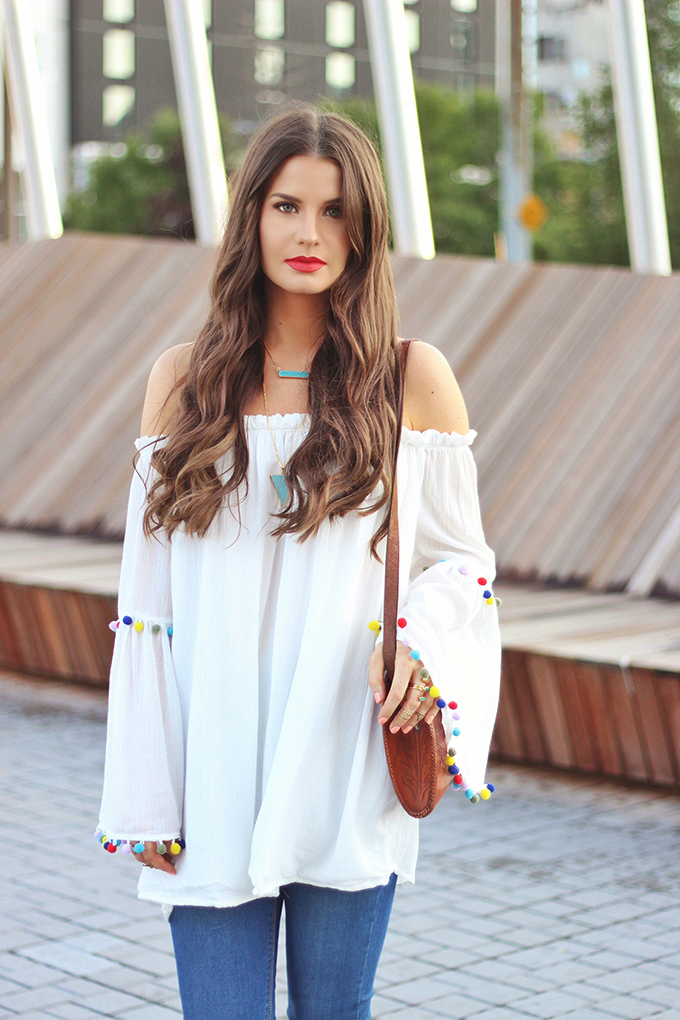 My best tip for incorporating trendier items into your personal style is to do so in a way that's authentic to you. You don't have to jump on every (or any!) trend — if there's something you just can't get on board with, don't force it. As the great Yves Saint Laurent once said, "Fashions fade, style is eternal." Personally, I like to focus on a few trends each season and make them my own, but this summer it just so happens that what's in style is what I love! In my outfits, I like to balance trendier items with wardrobe staples, or styles and silhouettes I know work for me. I also like to mix old and new and enjoy the juxtaposition of trendy items with vintage pieces to add some character to my looks. Let's chat about my favourite trends this summer!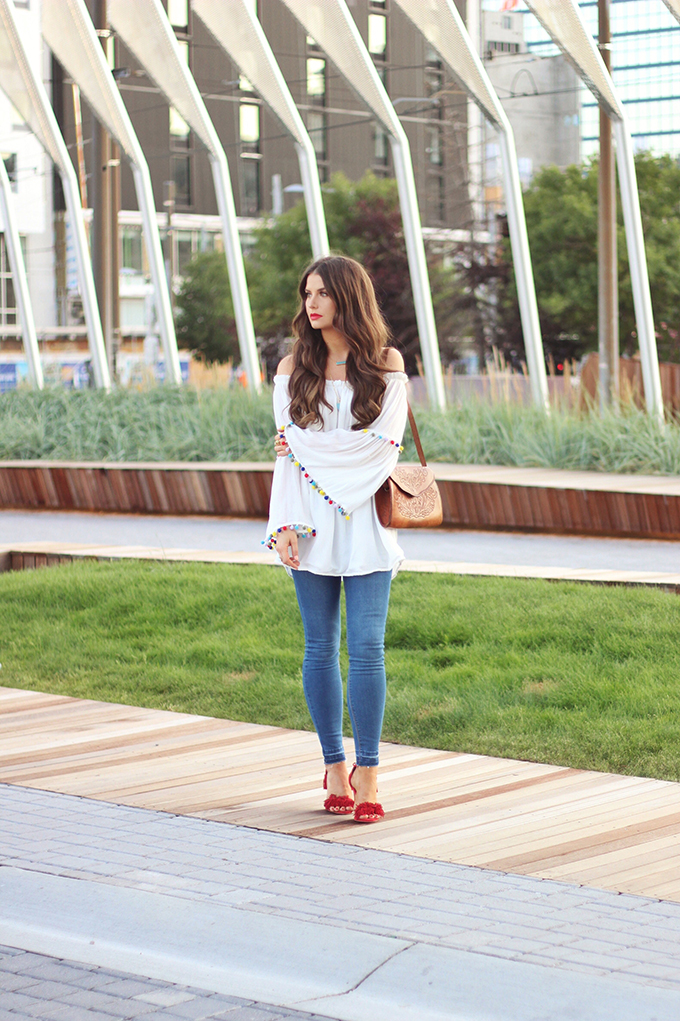 ---
TREND | Bright Whites
---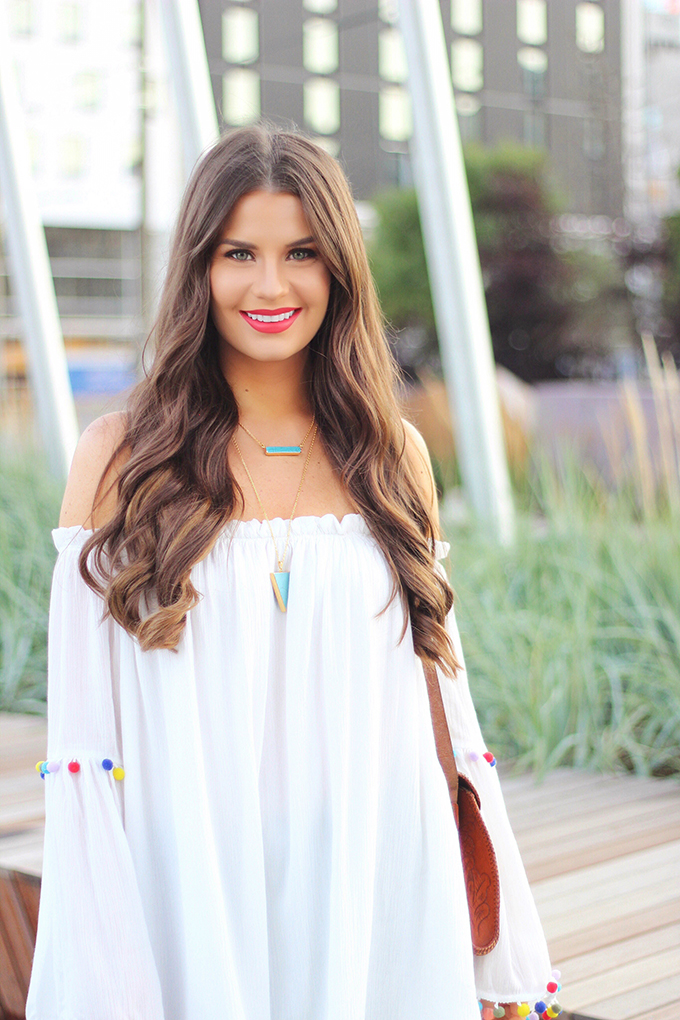 If you're been following along for any length of time, you'll know I'm definitely not afraid of colour. That said, I also have a major soft spot for whites and flowy silhouettes — in fact, there's a section of my closet dedicated to them! I've been living in bright whites all summer and love the way they compliment sunkissed skin. This trendy White Off The Shoulder Colored Pompom Trim Blouse is a perfect mixture of colours and silouhettes I wear often paired with a couple of major seasonal trends — off the shoulder and pompoms. Craving an instant style update? Look for a statement piece that combines a few of your favourite trends.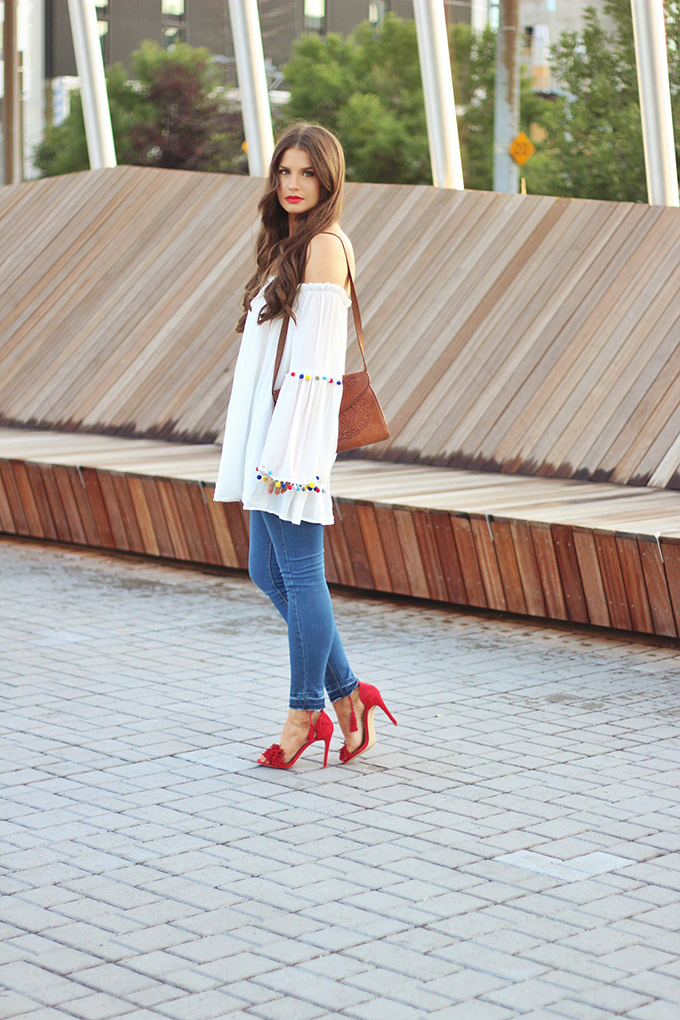 ---
TREND | Pompoms
---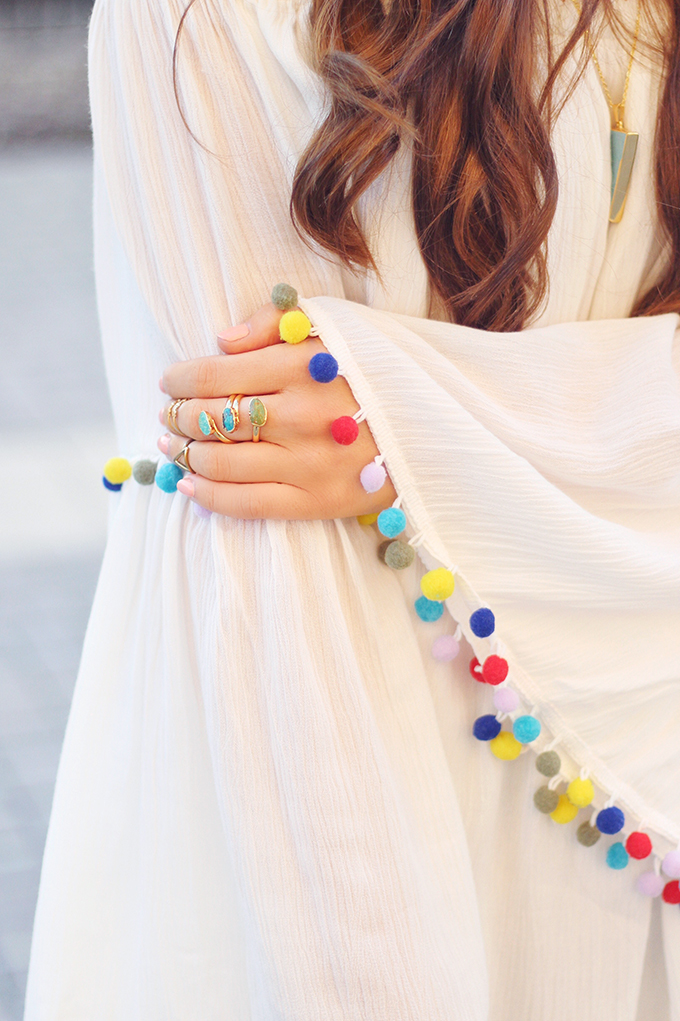 Pompoms! Doesn't the word just make you happy? This festive summer 2016 trend is definitely one I was excited to add to my wardrobe! While there are many variations of the pompom trend this season, my favourite way to wear it is paired with neutrals and bright whites. I love the playful pops of colour along the hemlines and elbows and the overall flowy, bohemian silhouette of this top.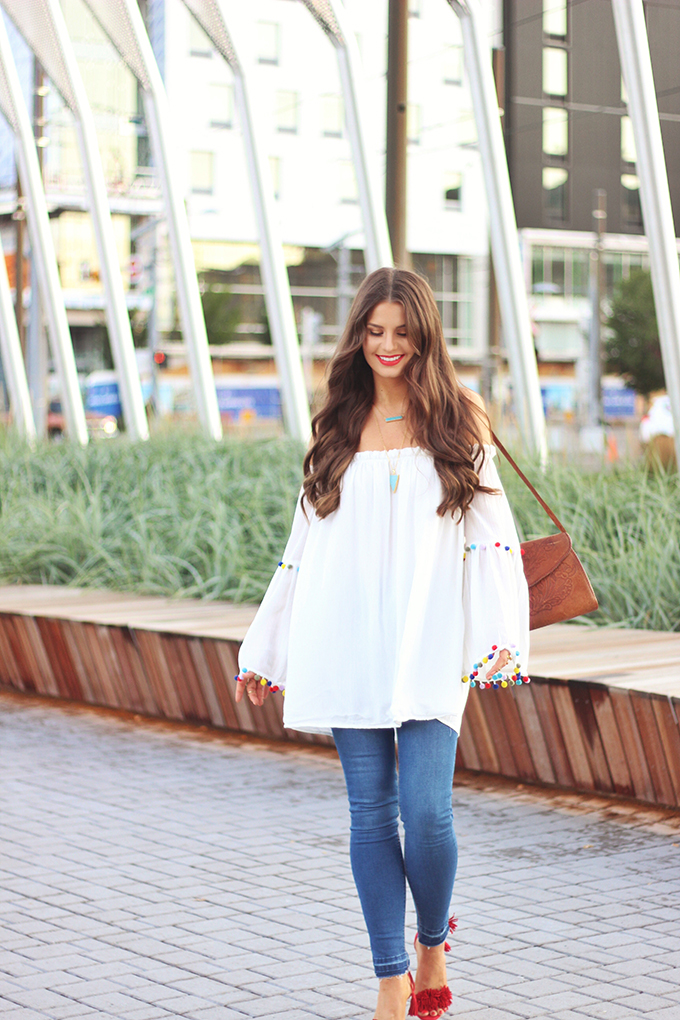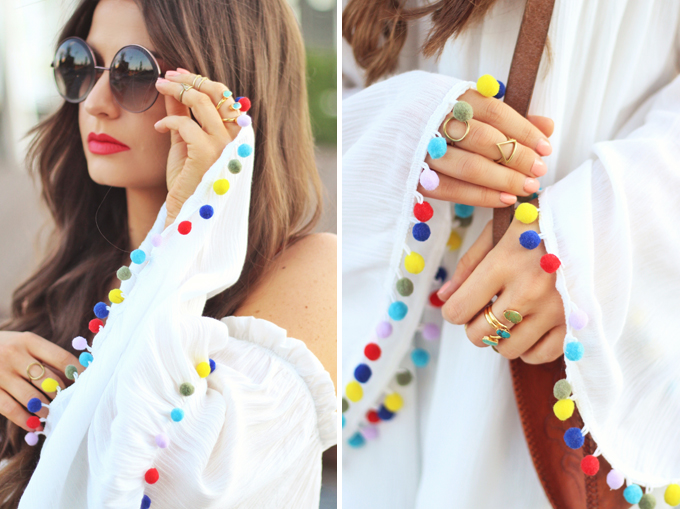 I couldn't resist the urge to pick up a few more pompom pieces this summer, so expect to see more pompoms in upcoming style content! I'm so obsessed that I also have two fun DIYs involving pompoms coming to JustineCelina shortly, including a project for the Calgary Home + Design Show's DIY Runway, benefiting Southern Alberta's Habitat for Humanity. I mentioned a few project details in this Instagram post — stay tuned for updates!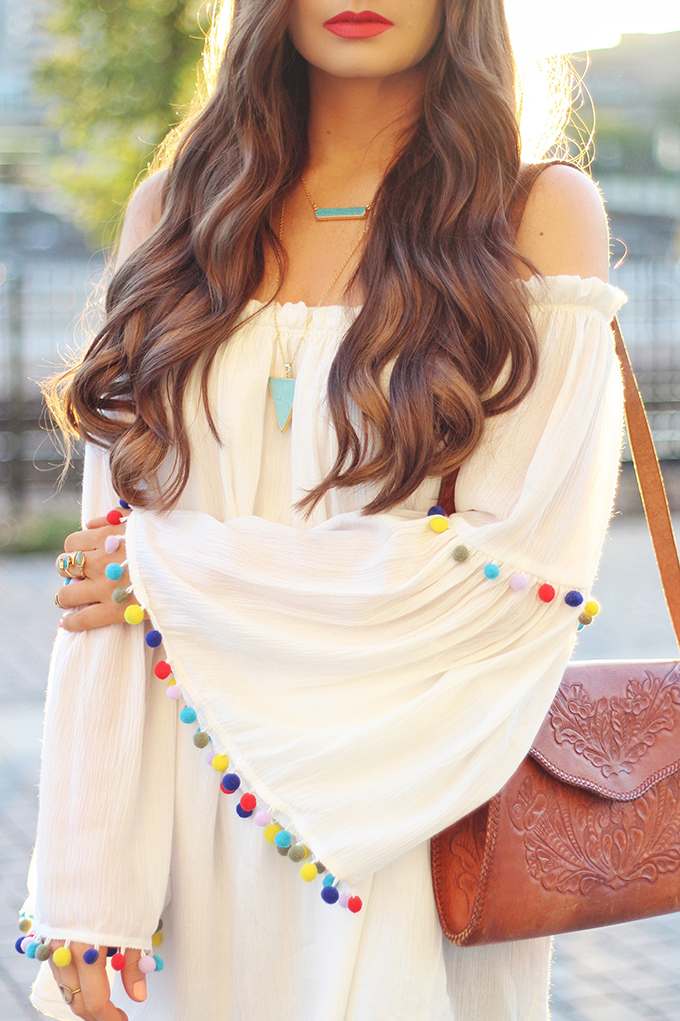 ---
TREND | Off The Shoulder Tops
---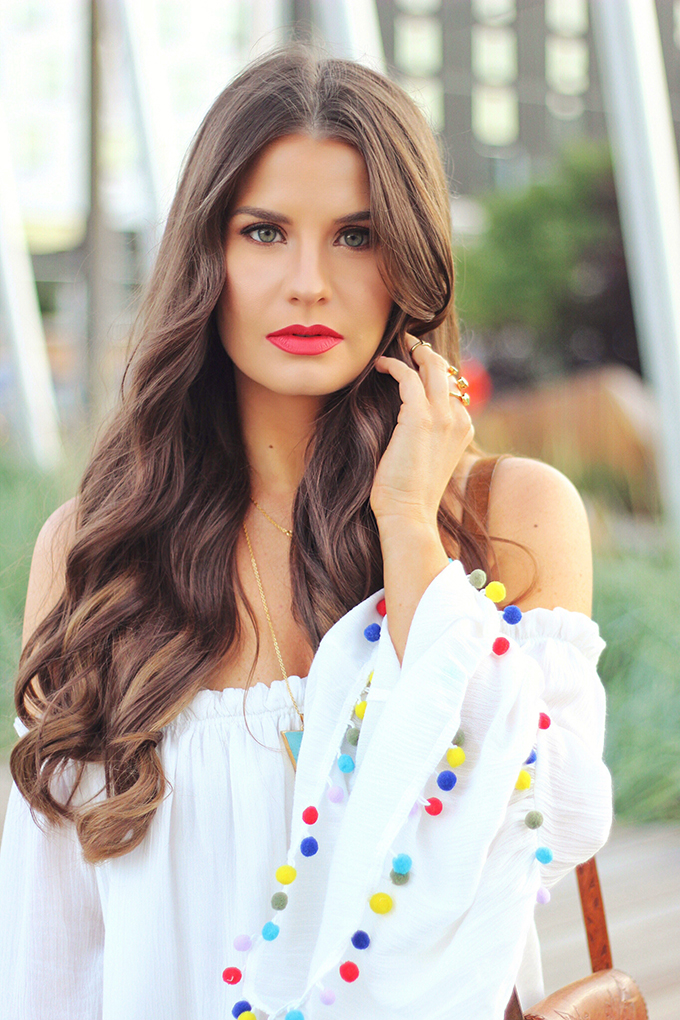 Here's another summer trend that I was really excited to integrate into my personal style! I'm all about showing skin in modest, unexpected ways and prefer to leave things to the imagination most of the time, so I love the off the shoulder trend. A woman's decollete and collarbones are such a feminine (and wildly underappreciated) part of the body and I'm happy to have mine on display this summer. I think off shoulder tops are so easy to wear for a variety of body types — the key is finding a great strapless bra, which I did this season! I've never worn a better strapless bra than this one and it's even lined with silicone bands to ensure it stays put.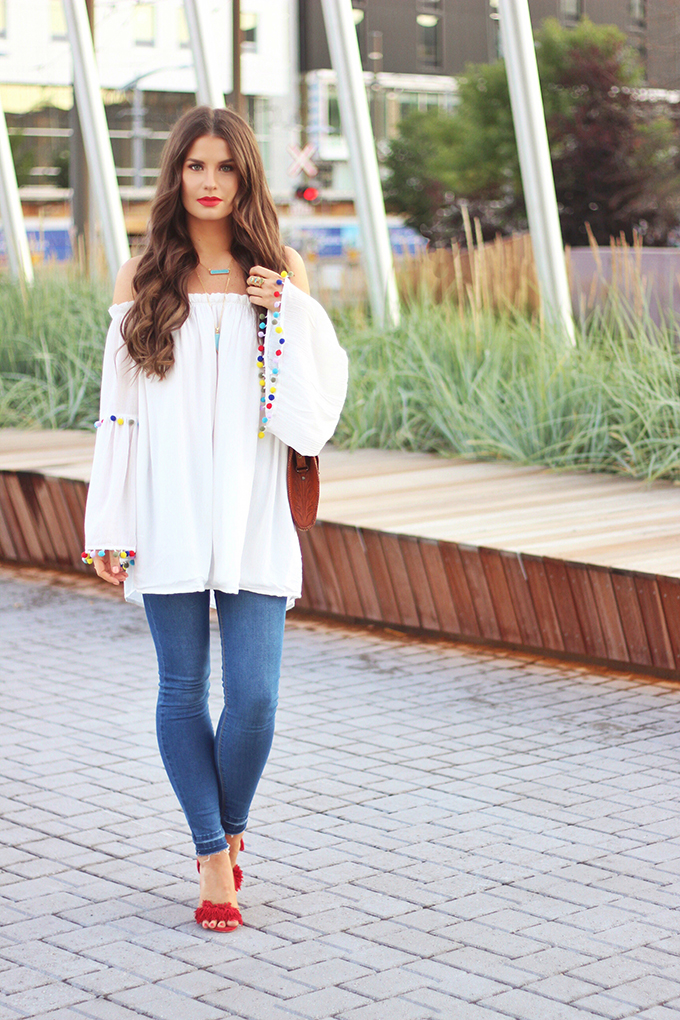 A red lip is always a good option when I want to add a classic element to my look to balance trendier pieces. I'm wearing Colourpop's Ultra Satin Lip in Cozy (review here) and it's extremely long wearing and comfortable. I love a good orange based red during the summer and the way it compliments turquoise jewellery!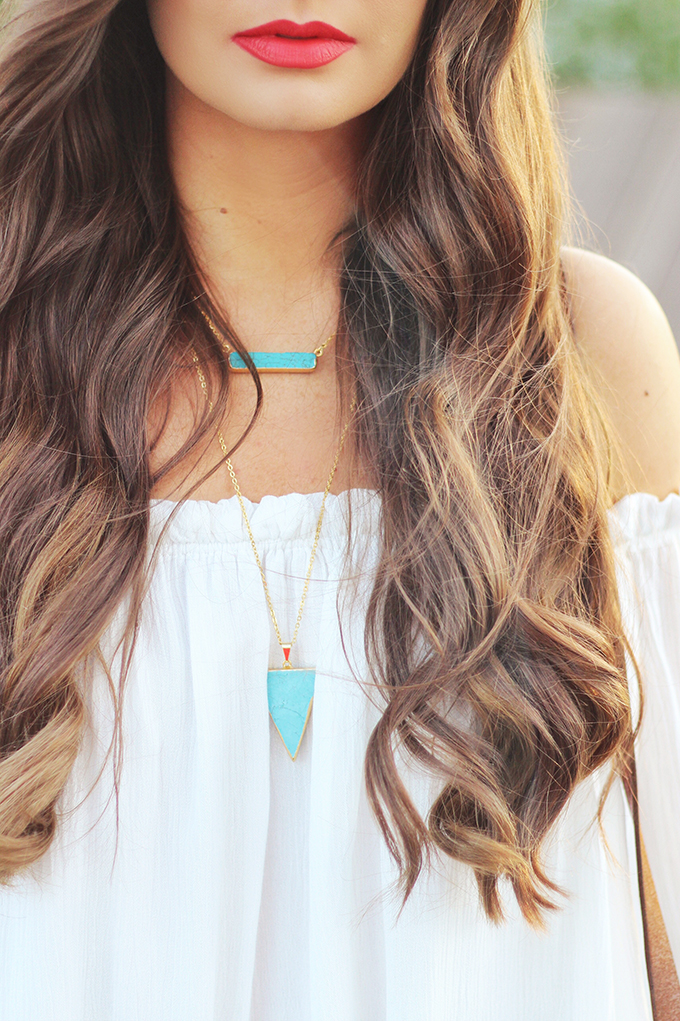 ---
TRENDS | Tassels, Fringe & Lace Up Details
---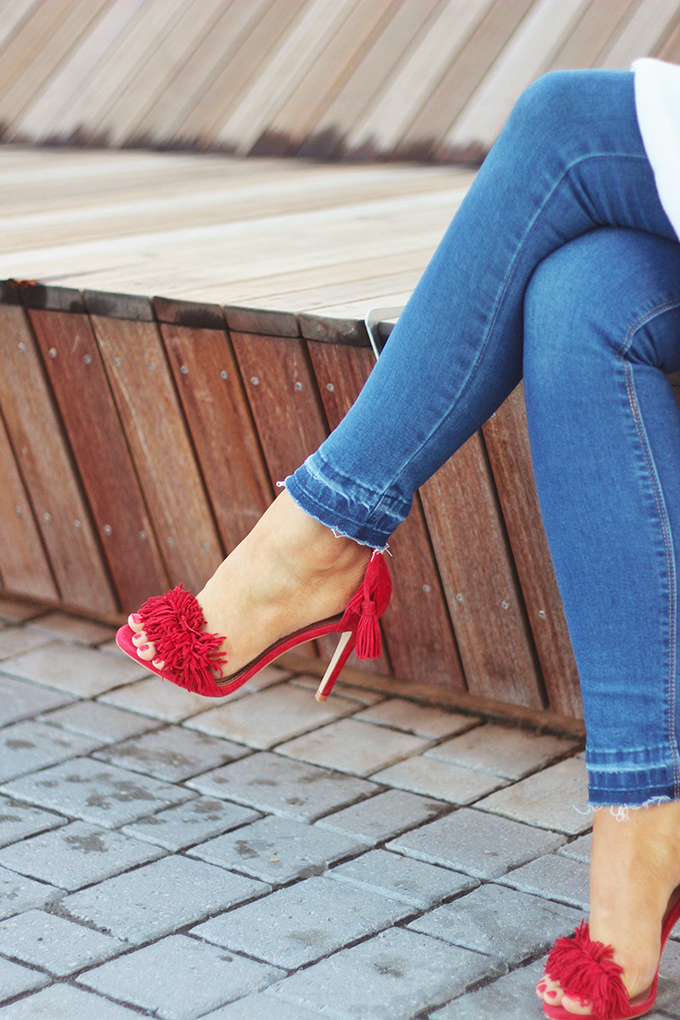 After lusting after these shoes for the better part of the summer, they finally went on clearance last month. Unfortunately they're now sold out on the Steve Madden site, but if you don't mind purchasing from a third party, I've managed to track them down on Amazon. I'm crazy about the details here — from the cherry red hue to the fringed toe and tasseled, lace-up ties! These beautiful sandals are another item that combines a few seasonal trends. They're a great statement piece for a night out, or anytime you want to inject a pop of colour and some extra personality into your look. While the ultra revealing lace-up shirt trend isn't for me, I love the subtly sexy lace up details on shoes that tie up around your ankle, with the option to extend up your calf. Tassels are here to stay and so is fringe, which I'm thrilled about. I've mentioned and worn both trends many times throughout the seasons here on JustineCelina!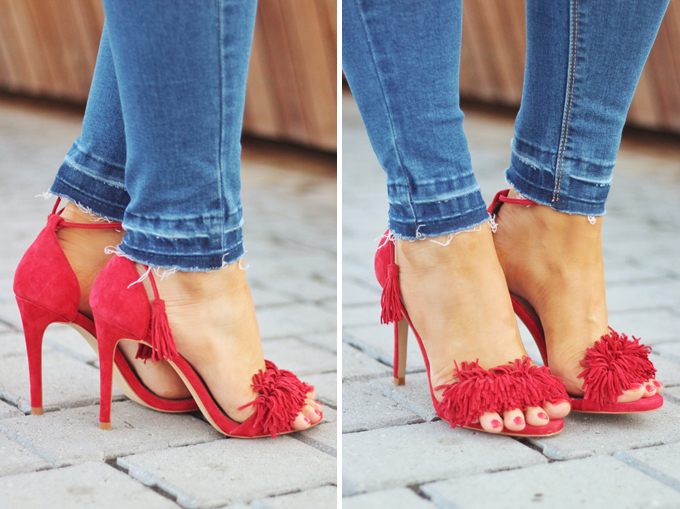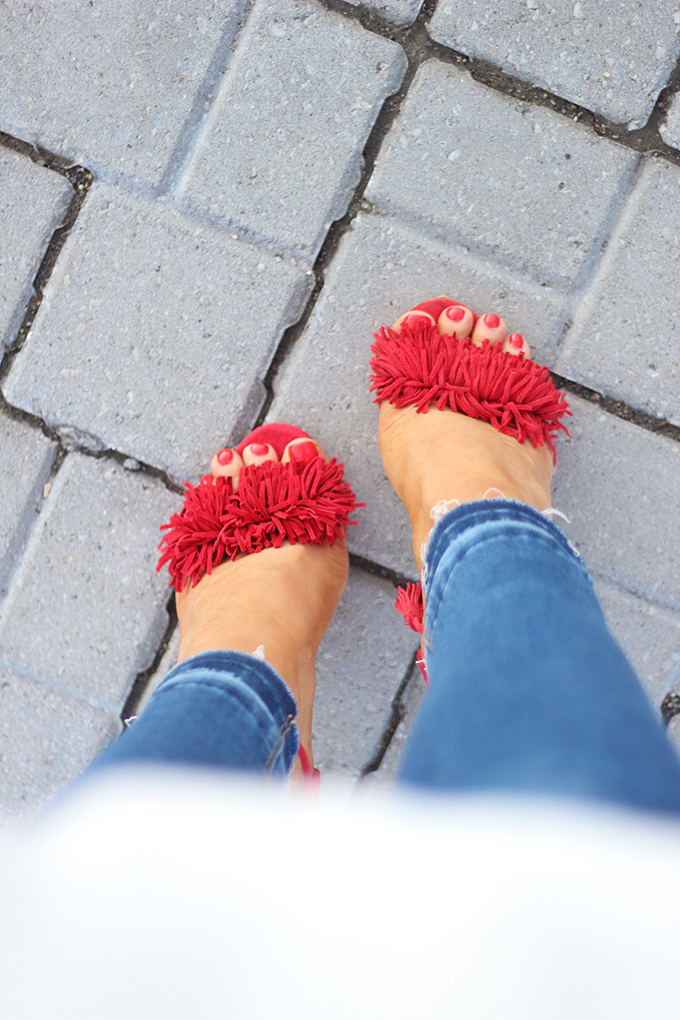 ---
TREND | 70's Revival
---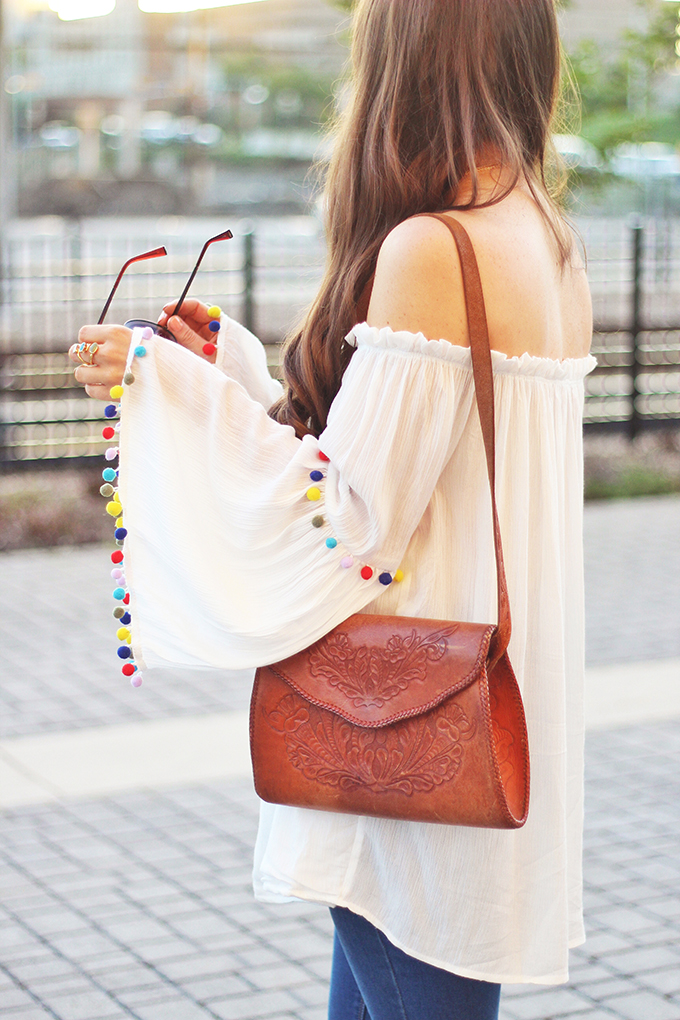 I've mentioned previously that I would have loved to be a young woman in the 1970's — I'm pretty sure I was born in the wrong decade! My personal style, although eclectic, has a lot of 70's undertones and always has. 1970's styles are having a major moment in fashion right now and I'm overjoyed about it! My hand tooled leather bag is part of my personal vintage collection and I love the warm patina of the leather to add a bit of texture and a lived in feeling to outfits — especially when I'm wearing new or more trendy pieces. My favourite places to shop for great vintage are estate sales, flea markets or small town thrift stores, but I've linked similar vintage handbags from Canadian Etsy sellers here, here, and here.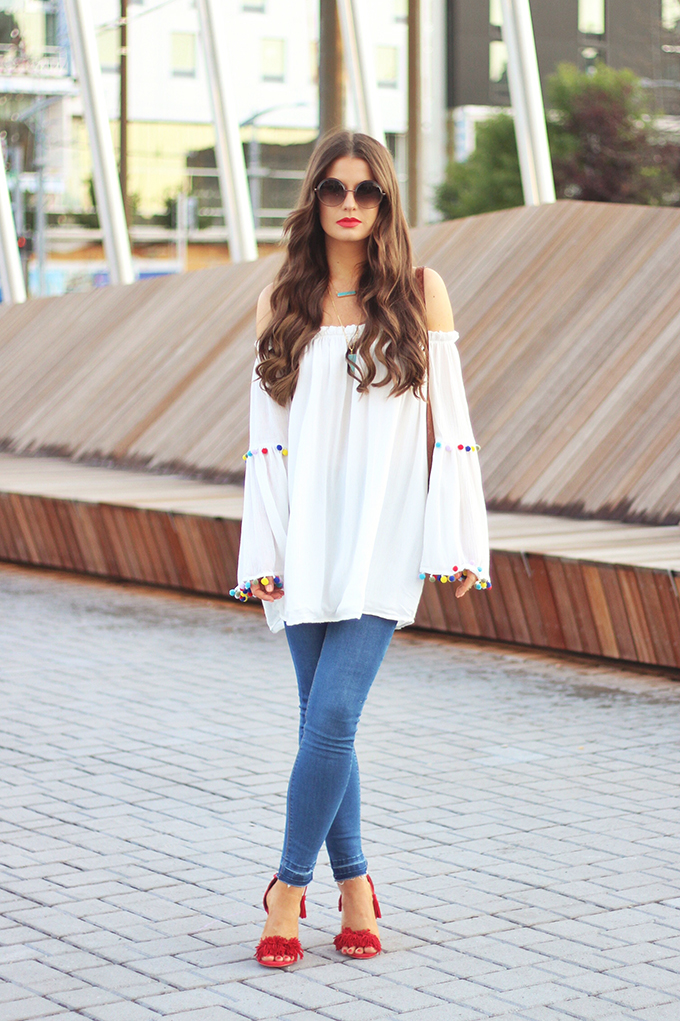 I'm also a huge fan of all the round, vintage inspired sunglasses I've been spotting this summer! If these shades look familiar, it's because I wore them and mentioned the trend in my Newtrals post, where I highlighted some of my favourite spring-to-summer trends in a neutral colour palette. Round sunglasses are a lot of of fun to wear and style — if you're in the market for a pair, I've linked my current affordable favourites here, here and here.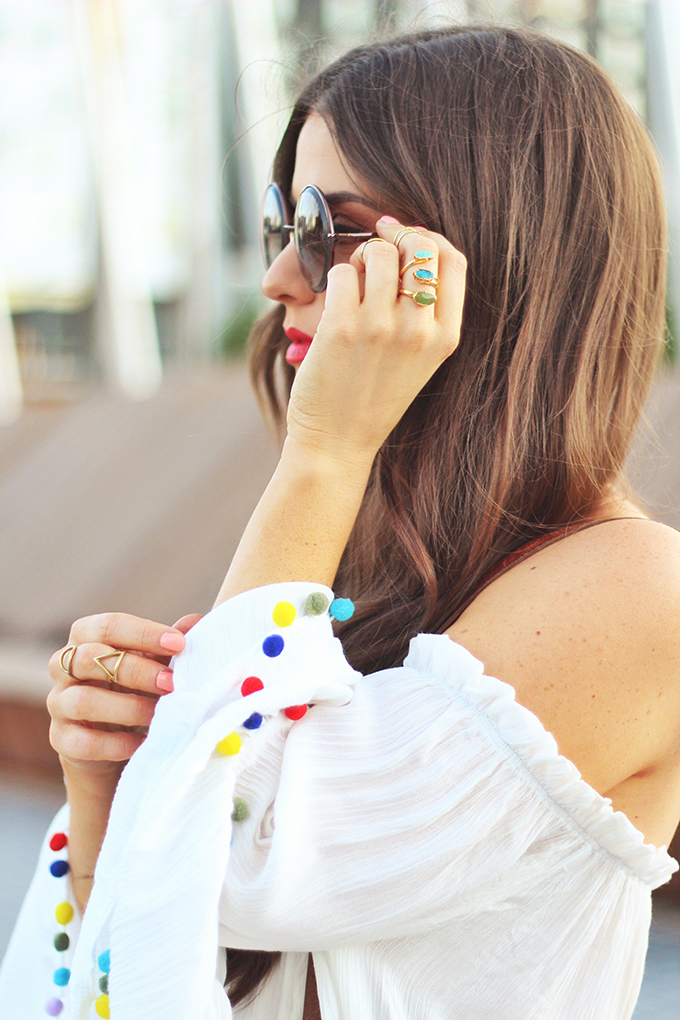 ---
TREND | Frayed and Released Hem Denim
---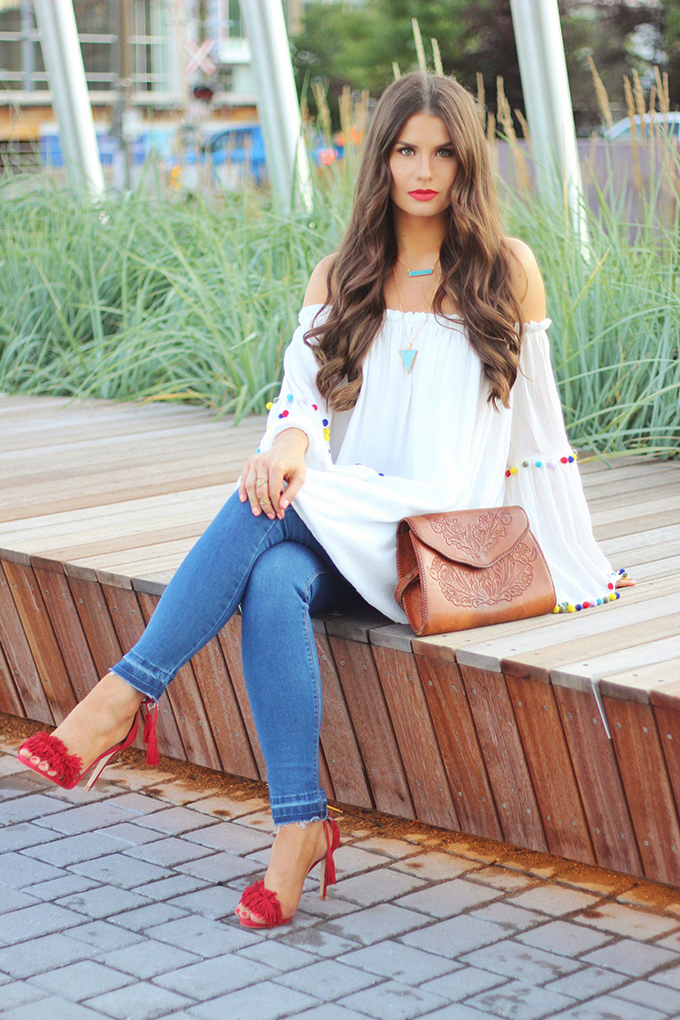 At first, I wasn't sure if I could get on board with the frayed and released hem denim trend. And to be honest, there are interpretations of this trend out there (cropped, flared and frayed?!) that I think are downright hideous! But, I found a way to wear the trend that suits my personal style. These Released Hem Skinny Jeans are an example of a piece that combines a seasonal trend with a the classic silouhette of a traditional skinny jean in a medium neutral wash. Skinny jeans and uniform wash denim are staples in my wardrobe, so I can really appreciate this updated seasonal twist on a classic! The frayed, released hem adds a bit of extra interest to my outfit and the slim silhouette of the denim keeps things long and lean.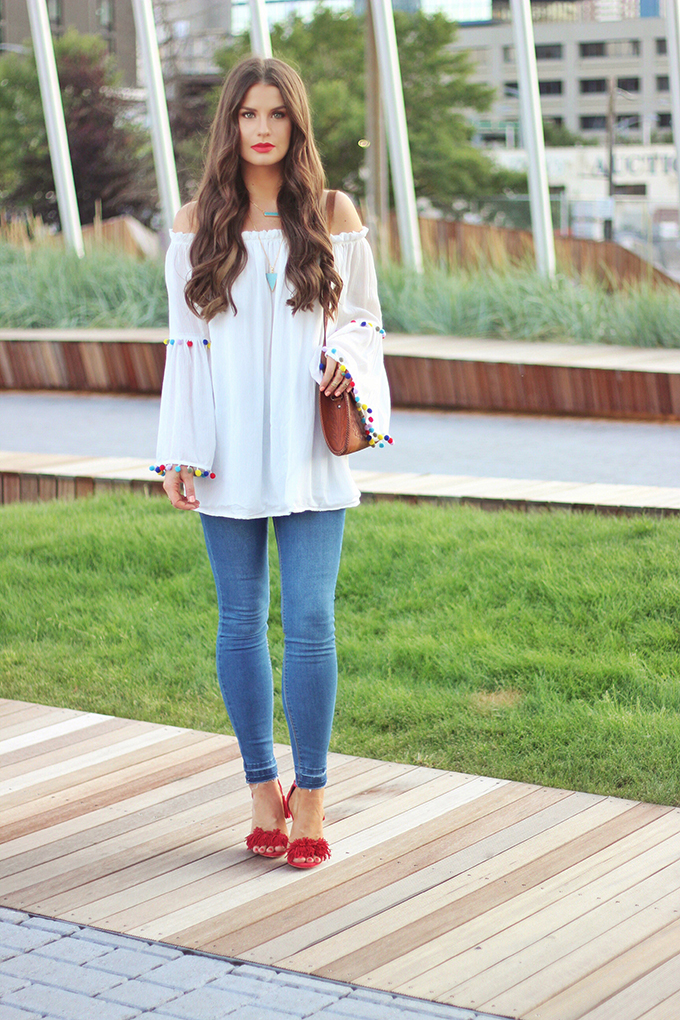 ---
TREND | Layered Gold & Natural Stone Jewellery
---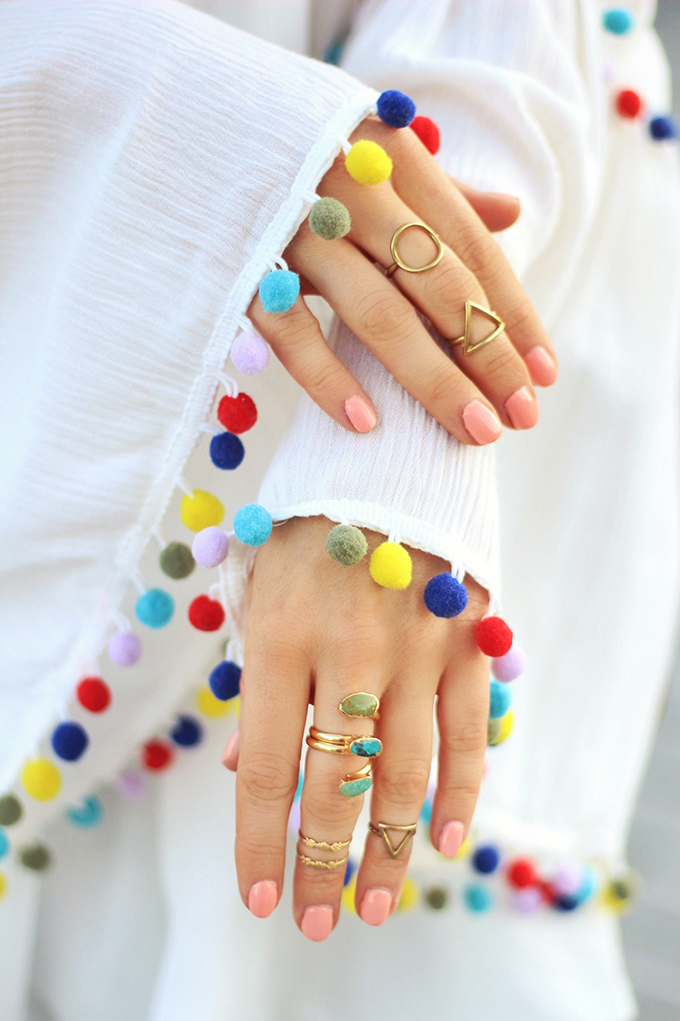 If you're ever read one of my fashion posts, you'll know I'm a jewellery girl. I love vintage inspired styles, natural stones and gold — and those things just happen to be on trend this summer! My favourite local jewellery designer Coutu Kitsch threw a lovely launch party for their SS16 El Verano Collection at The Livery Shop earlier this summer and I spent the evening drooling over every single piece! I've been wearing Coutu Kitsch items since I first spotted them at 27 Boutique (another local favourite) a few years ago. For this post, I selected a few of my favorite pieces and chatted with founder and designer Dorian Kitsch about seasonal jewellery trends!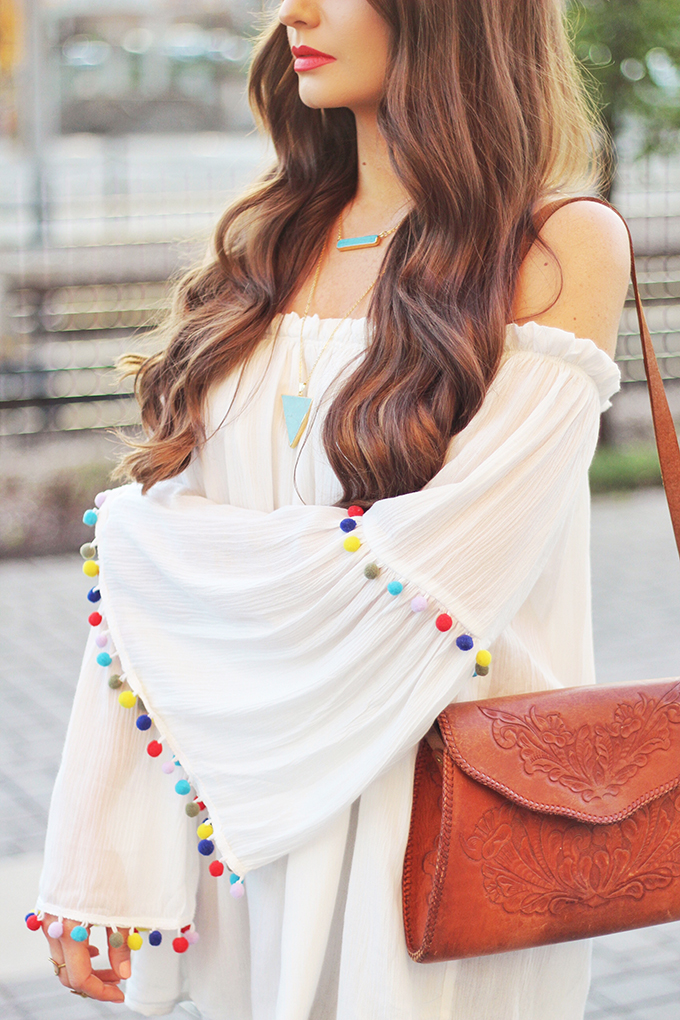 If Coutu Kitsch isn't already on your radar, they should be! I love the thought, detail and inspiration that goes into their designs. Summer 2016's El Verano Collection was inspired by the time Dorian has spent in Huatulco, Mexico. My favourite pieces this summer are the the geometric and turquoise rings that are meant to be layered and stacked, including the Hazel Turquoise Wrap Ring, Midi Delicate Double Ring, Midi Circle Ring, Midi Triangle Ring and Pinky Triangle Ring.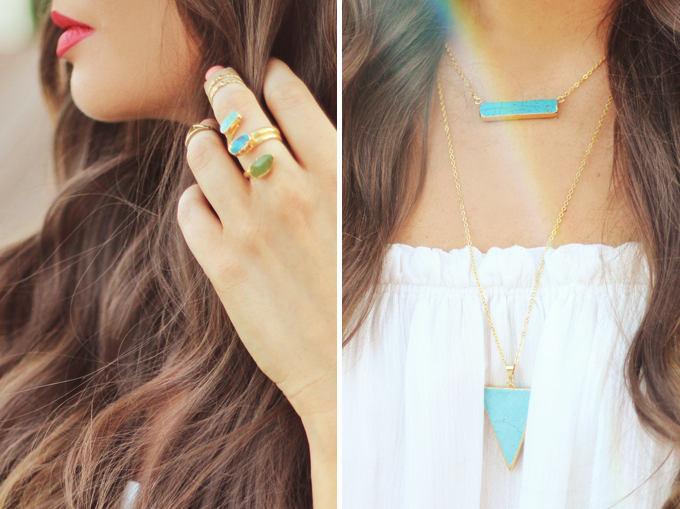 I love turquoise in the summertime and I adore the geometric shapes and delicate chains of El Verano's turquoise necklaces. Coutu Kitsch necklaces can be worn alone or layered, but here I've combined the Jagger Turquoise Bar Necklace and the Hendrix Turquoise Triangle Necklace. Each Coutu Kitsch piece is handcrafted using a variety of precious metals, vintage supplies and natural stones — the quality is something I noticed immediately.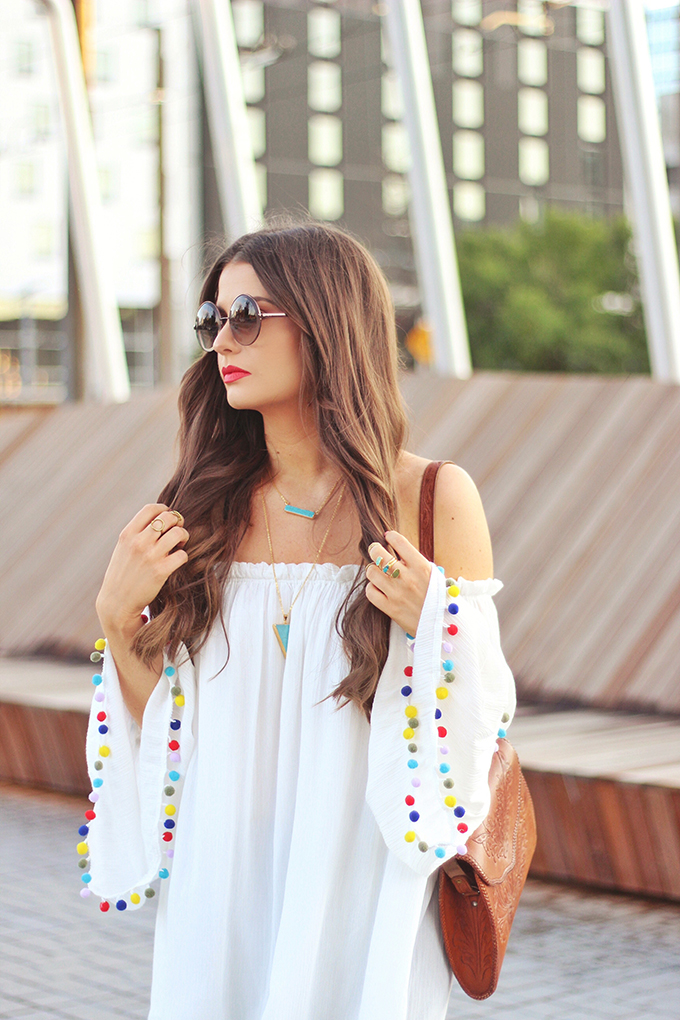 In addition to what I've featured, this summer Coutu Kitsch created pieces that echo trends I've mentioned above, including tassels and convertible wrap necklaces and chokers. I love their tassel earrings and they mentioned theyre's going to be adding some new colours for fall! I can't wait to see what Coutu Kitsch comes up with next. If you want to check them out, stop by The Livery Shop in Inglewood, or shop online!
---
SHOP THE LOOK
---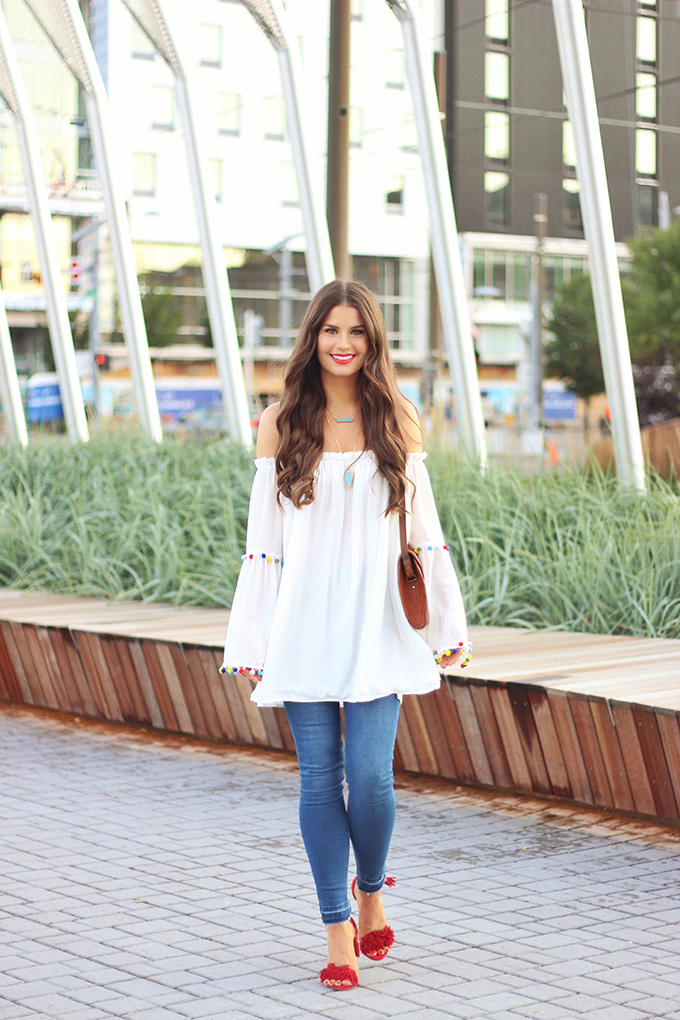 Released Hem Skinny Jeans | White Off The Shoulder Colored Pompom Trim Blouse co / SheIn | Jagger Turquoise Bar Necklace | Hendrix Turquoise Triangle Necklace | Hazel Turquoise Wrap Ring | Midi Delicate Double Ring | Midi Circle Ring | Midi Triangle Ring | Pinky Triangle Ring | Steve Madden Sassey Sandal in Red Suede | Vintage Hand Tooled Leather Bag (similar, similar, similar) | Colourpop Ultra Satin Lip in Cozy | Round Sunglasses (similar, similar, similar)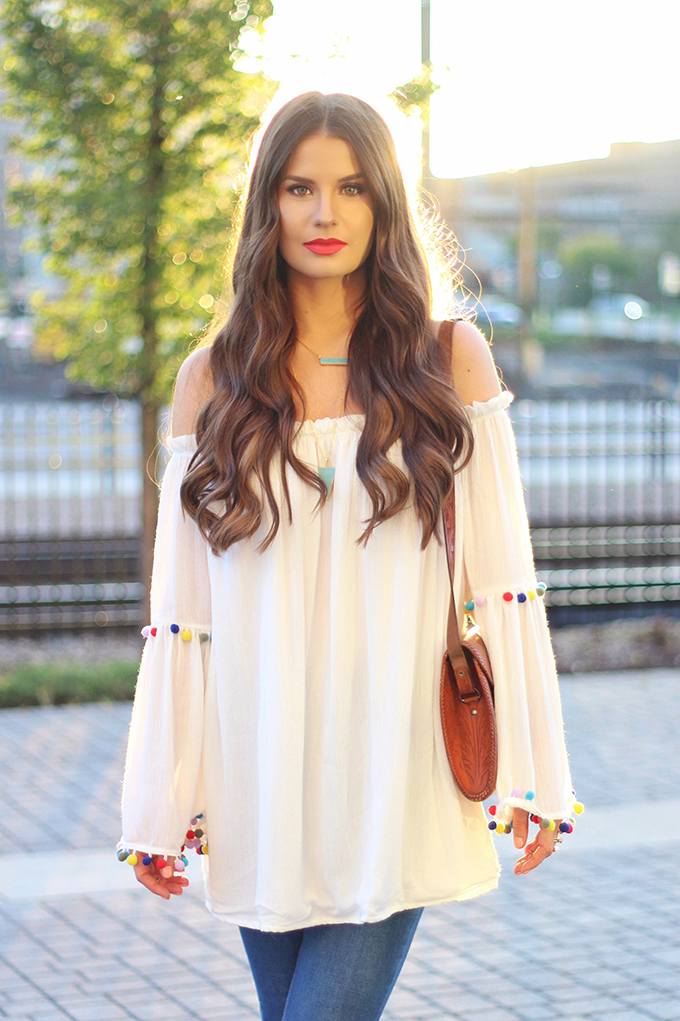 ---
What trends have you been loving this summer? Anything you can't stop wearing? Fun fact: there was some kind of religious rally going down in this East Village park while we were shooting these images, just out of frame to my left. It was… interesting to say the least. I couldn't pass up this cool location and magical golden light, though! Have you been over to East Village lately? I love what they've done over there!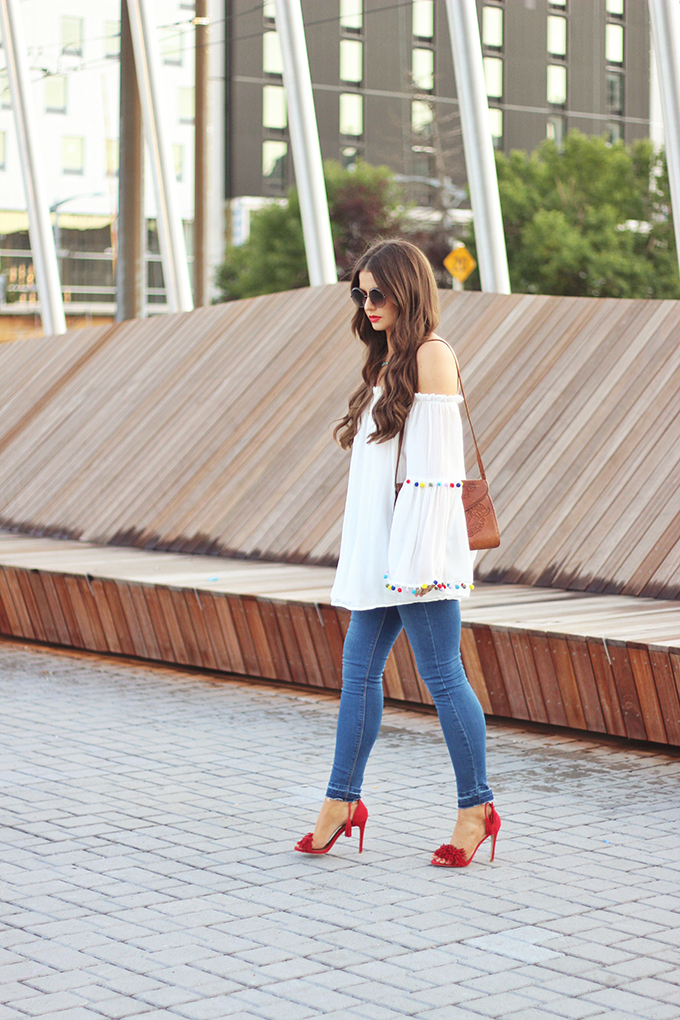 ---
Disclaimer: Thank you to the lovely ladies at Coutu Kitsch for providing the jewellery for this post. This post is not sponsored, and contains my genuine thoughts and recommendations. JustineCelina uses affiliate and referral links, which allow me to receive a small commission when you make a purchase through one of my links. Thank you for supporting the brands that support JustineCelina.com!

Save
Save
Save
Save
Save
Save
Save
Save
Save
Save
Save
Save
Save
Save
Save
Save
Save
Save
Save
Save
Save
Save
Save
Save
Save
Save
Save
Save
Save
Save
Save
Save
Save
Save
Save
Save
Save
Save
Save
Save
Save
Save
Save
Save
Save
Save
Save
Save
Save
Save
Save
Save
Save
Save
Save
Save
Save