---
Remember when I mentioned over the holidays that I wanted to bring more ENTERTAIN content to JustineCelina this year? Although these weren't quite the circumstances I envisioned (now that's an understatement!), I'm thrilled to share A Simple Easter Dinner For Two with you today! While Easter certainly looked a lot different for everyone this year given the current global situation, we decided to make the most of it and celebrate here in our home in Calgary — just the two of us. Never in my wildest dreams did I imagine we'd spend an Easter without the large family gatherings in the country we've become accustomed to over the years — but rather than mourning the loss of our cherished traditions, we resolved to stay home and create a few of our own!
In over a decade together, this was the first Easter dinner we've celebrated in our home — and I wanted to mark the occasion by capturing these memories to look back on. I put on a dress, ordered flowers, made some nostalgic family recipes along with my first ever carrot cake — then we popped some Prosecco and enjoyed A Simple Easter Dinner For Two (Adam was actually peeling potatoes in the kitchen to my left as I snapped these photos from my tripod!). I was reminded of my ability to find beauty in uncertainty and create amongst chaos — these are things I find very cathartic and truly bring me joy. While it wasn't a traditional Easter, it was still a lovely weekend — gifting us with lessons in resiliency, enjoying life's simple pleasures and doing the best you can with what you have, where you are! Whether you've stopped by today for details on our Easter in quarantine, are planning a more intimate Easter gathering of your own, or are visiting years in the future once this is all behind us in search of some easy Easter entertaining ideas, I've got you covered!

---
A SIMPLE EASTER DINNER FOR TWO
---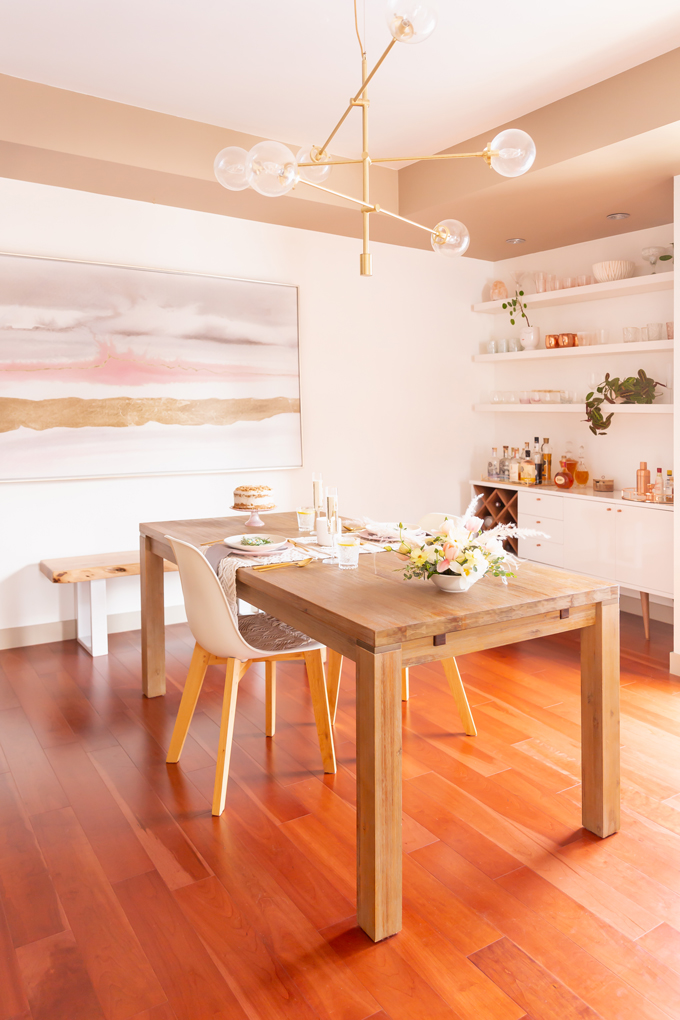 In all our years living in this apartment, I've never set a holiday table for two. Typically we spend the holidays in the country with our families, splitting our time between two large gatherings — but this year, we celebrated with them digitally via Facetime, Zoom and Skype. Although it was difficult not to see our families over Easter weekend, I know we made the right decision to stay home and make the best of it.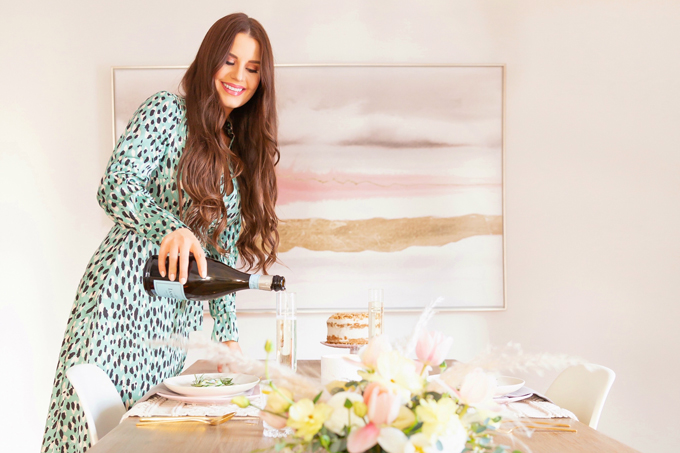 It was just the two of us, but I still wanted to make our first Easter dinner at home memorable and uplifting. Simply using what we had on hand for decor (with the exception of this stunning spring arrangement!), I was able to pull A Simple Easter Dinner For Two together easily and economically. In times of uncertainty I find great solace in creating, making things beautiful and sharing with others — which is one of the main reasons I started JustineCelina in the first place! So, let's dive into our A Simple Easter Dinner For Two, shall we?
---
EASTER TABLESCAPE
---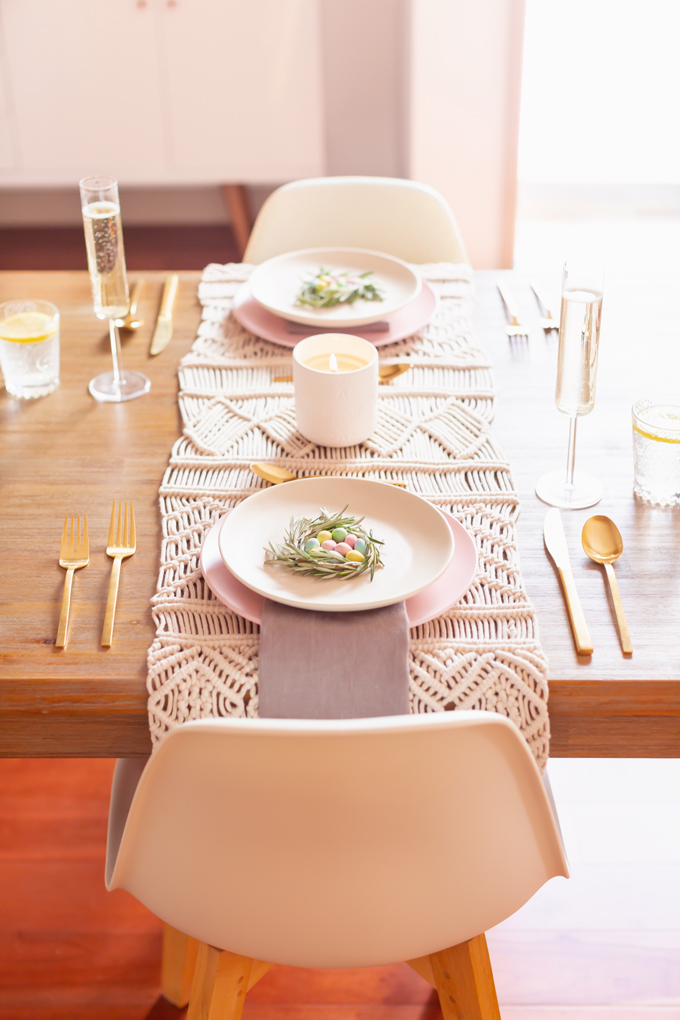 Since all of my favourite stores to source entertaining essentials and decor are closed, everything you see on our Easter table from linens to stemware are items we've owned for years! Much like my personal style, this simple tablescape contains a mixture of high, low, old and new(ish!). As always, I aim to incorporate a simple but eclectic mixture of tones, textures and fresh elements.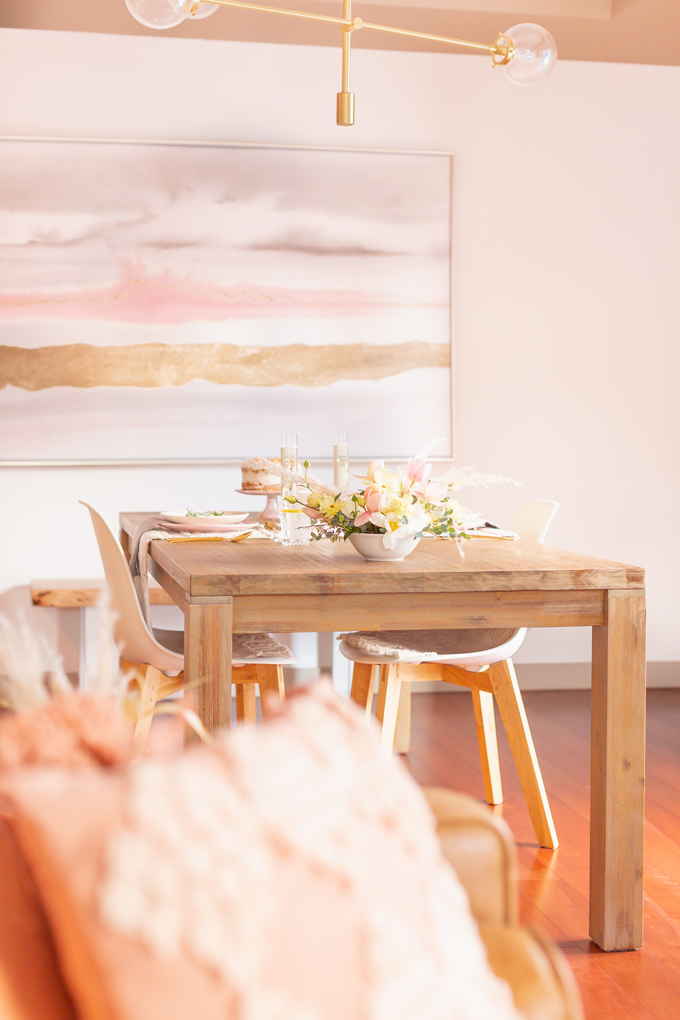 Up until last week, I had our wood bench along the side of the table for more intimate seating. Since it will just be Adam and I at this table for the foreseeable future, we centered the bench against the wall under our artwork and simplified our dining table seating to include just 2 chairs. To highlight this table intended to seat 6 set for 2, I rotated our macrame runner that typically runs the length of the table horizontally. This allowed us to use it as an interconnected place mat — and I love the effect!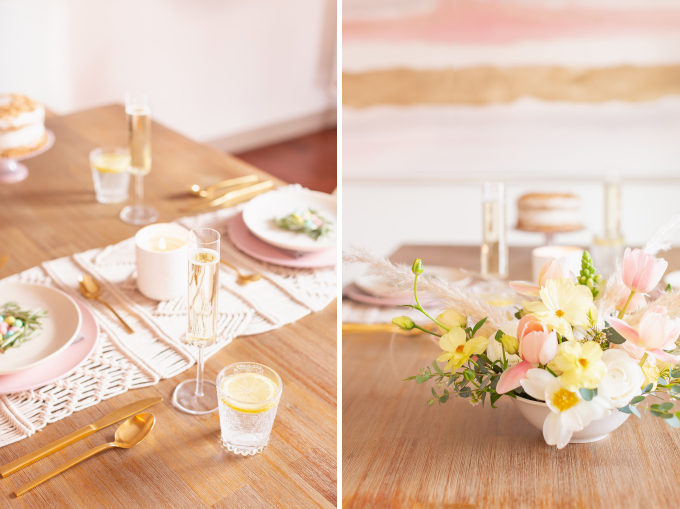 I adore Easter's traditional pastel palette — and I used our existing dinnerware we needed to pull together these sweet little place settings! The dinner plates are part of our very well used DINERA 18-piece dinnerware set, topped with Indigo's Artisan Salad Plate in Ivory. I also incorporated a pressed grey linen napkin from Indigo, William Sonoma's Modo Champagne Flutes, embossed glassware from HomeSense and our West Elm Gold Flatware. A crisp, white HomeSense candle offered a soft, flickering ambiance to our Simple Easter Dinner For Two.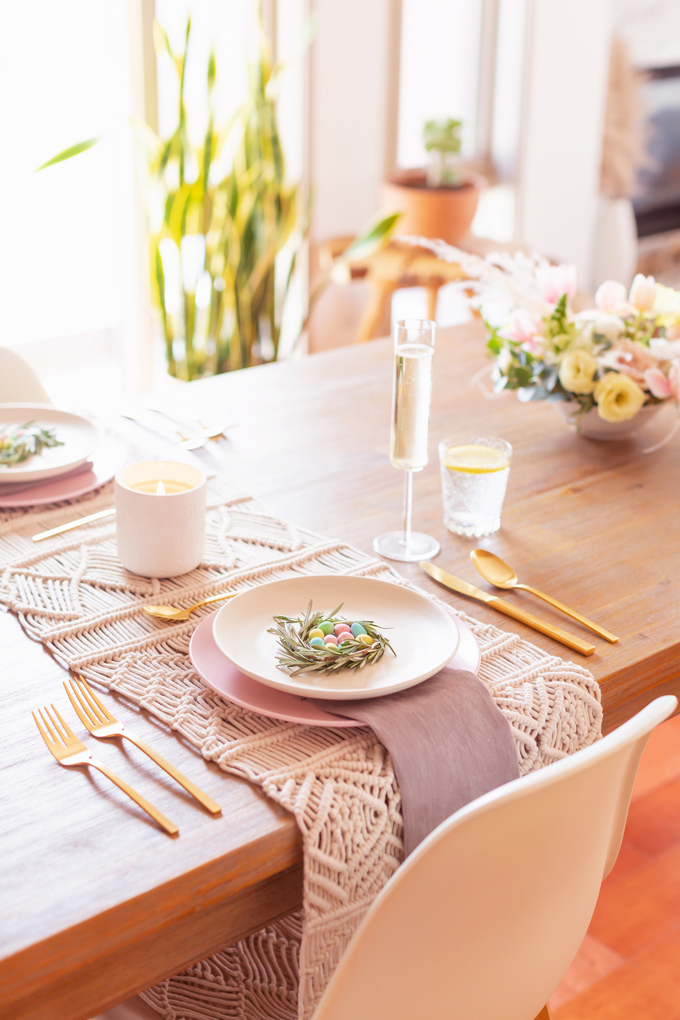 We always have fresh rosemary in the fridge and we had a bag of Mini Eggs on the counter — and the idea for this Easter-inspired bird's nest was born! Isn't it cute? I'd wanted to create a rosemary wreath on each place setting this past holiday season and completely forgot, but was very pleased with how these Mini Egg nests came together!
---
EASTER MENU
---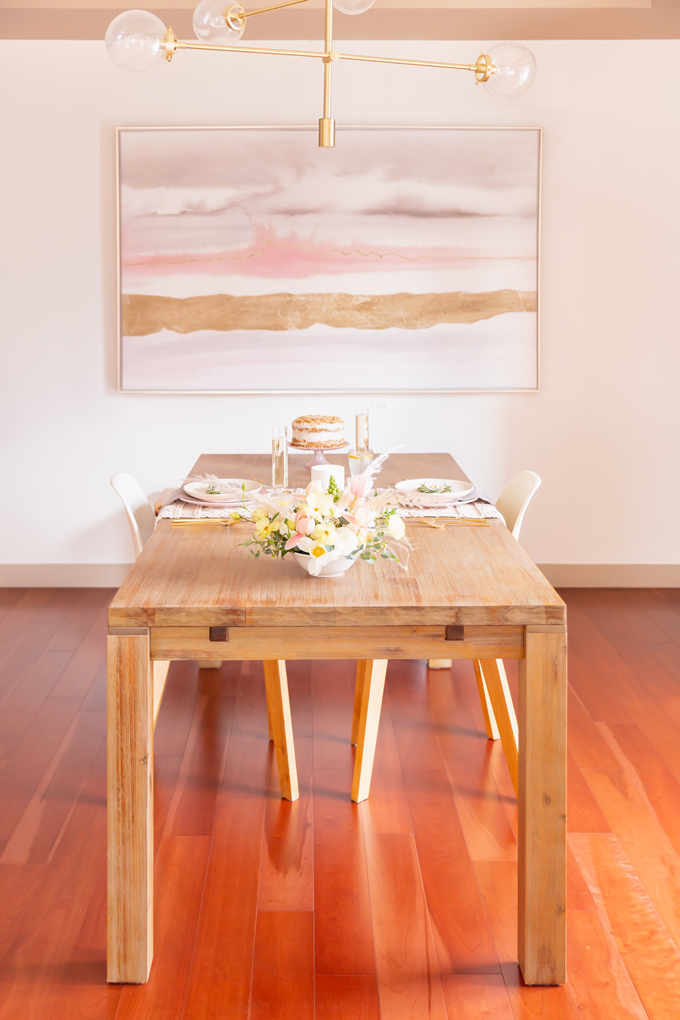 Spending hours perusing the aisles of my favourite grocery stores was one of my favourite things to do pre-pandemic — but lately, not so much. That said, we planned an Easter dinner menu that incoporated some of our favourite family recipes requiring minimal ingredients. Adam whipped up a batch of my Grandmother's Best Ever Scalloped Potatoes and I recreated my Mother's Herbed Carrots & Green Beans — substituting regular flour for gluten free and regular butter for a vegan version.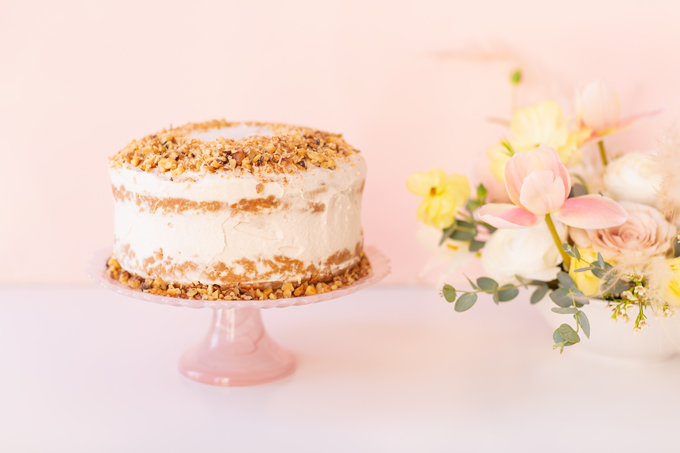 Adam loves carrot cake (his family recipe is to die for!), so I also I tried my hand at my very first dairy, gluten, oil and refined sugar free carrot cake — complete with coconut whip! The recipe isn't ready for publication just yet (although it was a great first attempt), but I had a lot of fun experimenting with something new!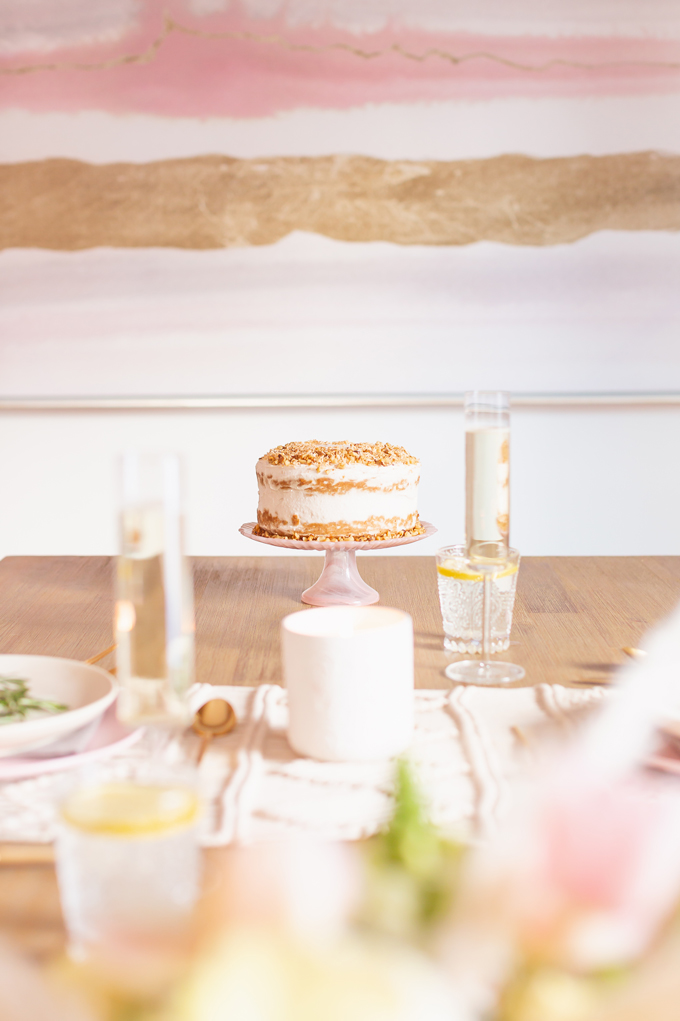 ---
EASTER WINE & COCKTAILS
---
If you follow along with my Instagram Stories, you'll know we've been indulging in a few more COCKTAILS and glasses of wine than usual around here lately!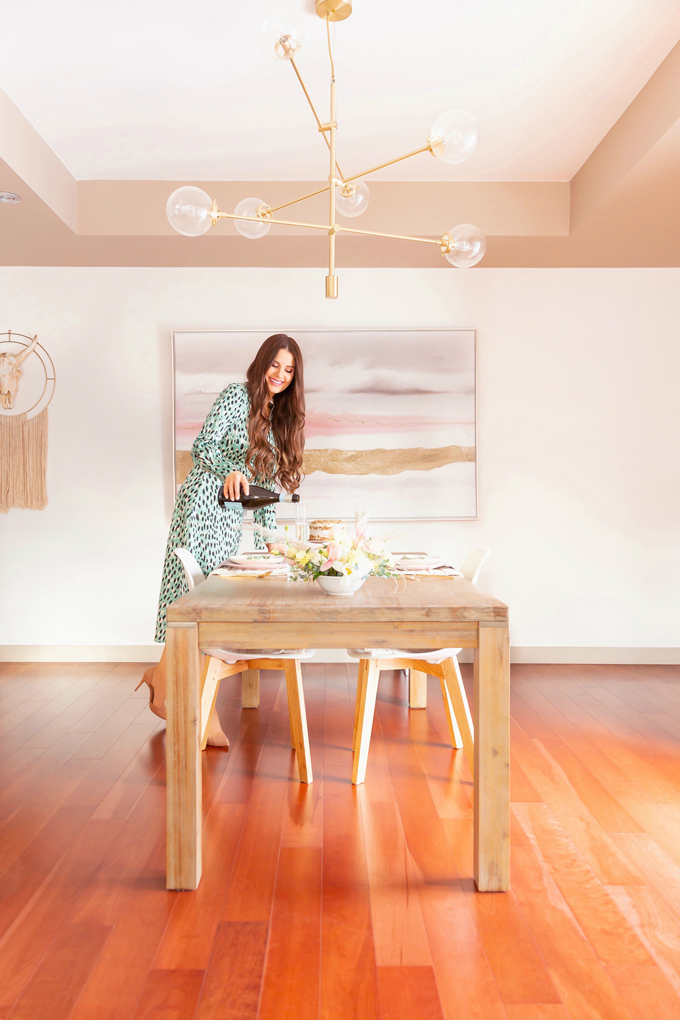 When COVID-19 hit Calgary, we decided that we'd start opening the bottles we'd been saving for a special occasion — and we invite you to do the same! As we prepared dinner, we popped a bottle of La Marca Prosecco that had been hanging out in our wine rack since NYE in the mountains (which seems like a lifetime ago). Despite its modest pricepoint, La Marca makes one of our favourite bottles of bubbly!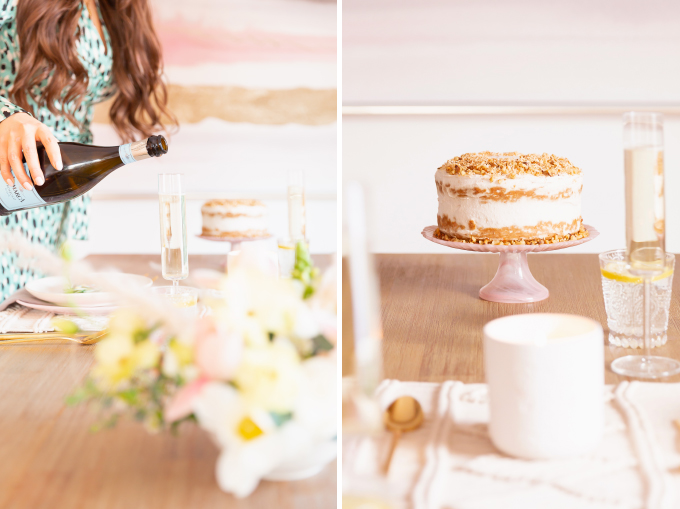 For dinner Adam selected a lovely bottle of Côtes du Rhône that we'd been holding onto for years — and it was absolutely delicious! For a night cap, I shook up some Rosemary Fig Japanese Whisky Sours with Nikka Super Rare Old Whisky (Adam's latest whisky obsession and my latest cocktail invention!).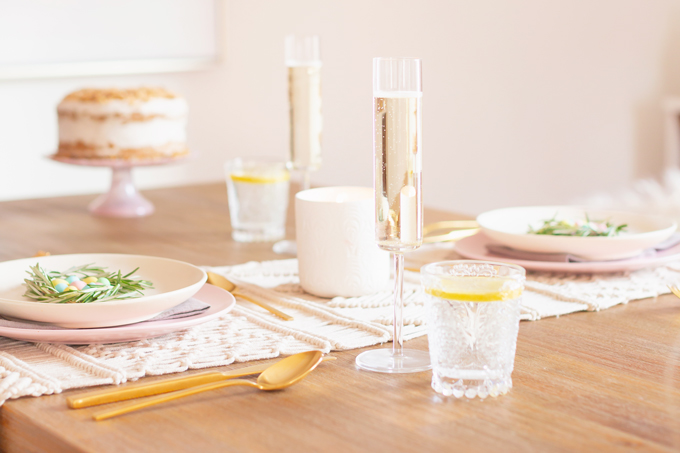 ---
EASTER FLOWERS
---
If you've been with me for any length of time, my love of FLOWERS is apparent. And while we're all being increasingly mindful of our spending habits, fresh flowers are something I'm always happy to splurge on for special occasions! As I've mentioned many times here at JustineCelina, flowers are my not-so-secret weapon to elevate any event or room — and I love to have them in our home whenever possible.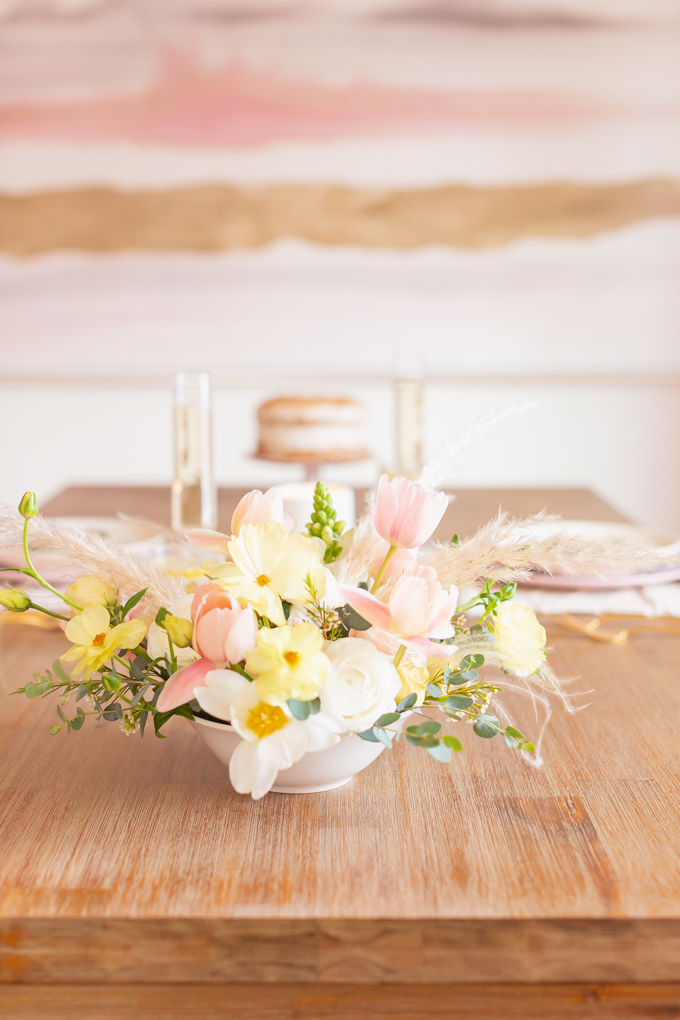 Here in Calgary, all of the local flower shops I would typically visit to pick up flowers to create my own arrangement are temporarily closed (as they're deemed non-essential services) — but I didn't let that stop me! I ordered this charming spring arrangement for our Simple Easter Dinner for Two from Meadow & Vine Floral and added a few pieces of Pampas Grass to integrate our decor.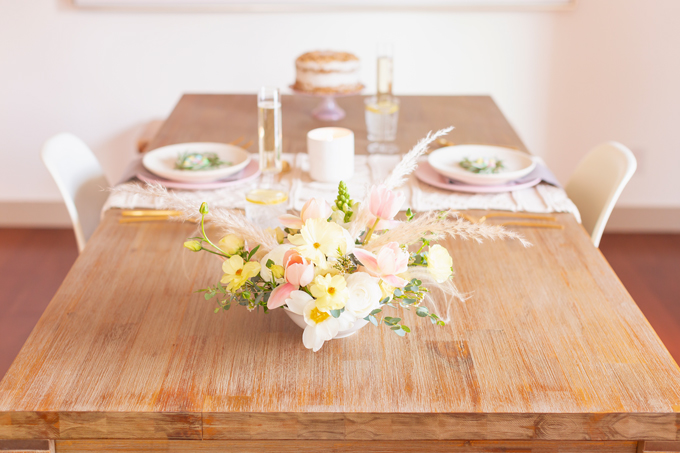 Little luxuries in a time like this bring me so much joy — and it's also important for me to continue to support local businesses. Meadow & Vine is currently offering online orders and contactless delivery if you or someone special could use a little pick-me-up!
---
EASTER FASHION
---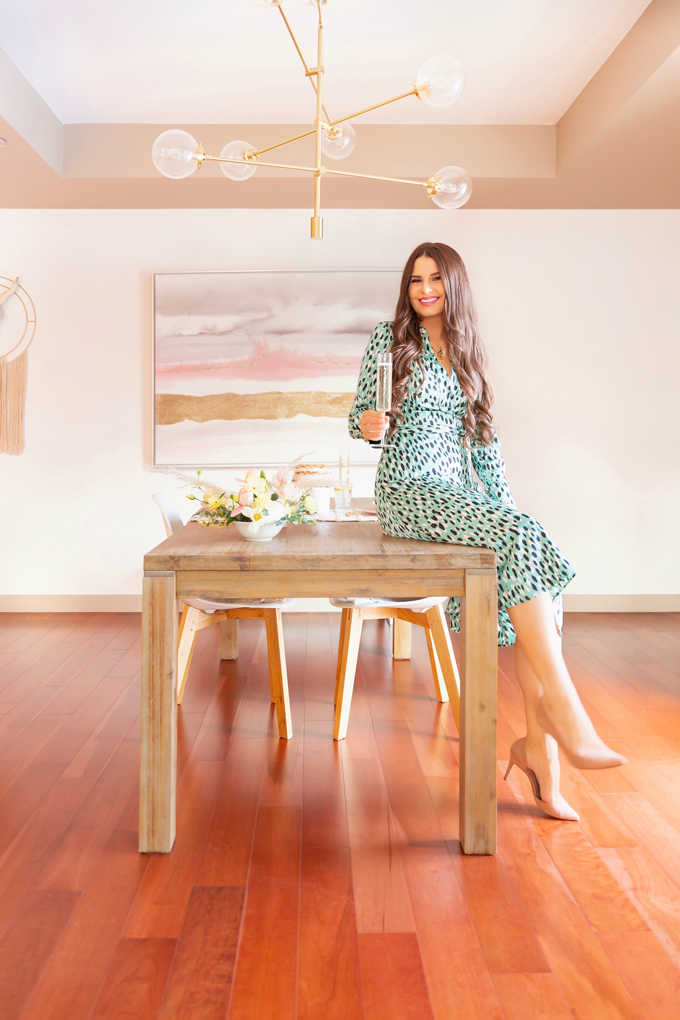 While I typically like to be as comfortable as possible when entertaining, I took this opportunity to wear a darling new dress I picked up at H&M last month. I had planned to wear it for Easter dinner in the country — and I wasn't about to let a pandemic stop me! It felt so nice to get out of the more casual clothing I've been living in lately and slip into something that made me feel like a million dollars (although this dress was less than $40, believe it or not!). I love it so much, I'm contemplating picking it up in the other pattern — but I've also linked some additional options for you below.  

I usually hang out at home barefoot, but this dress called for a heel — and I have a fantastic shoe wardrobe I refuse to let go to waste! I eagerly pulled out my Mango Asymmetric Stiletto Shoes ( I own them in nearly every colour), which were the perfect leg-elongating compliment, plus they're one of the most comfortable pairs of heels I own. While this particular colour is currently sold out, keep an eye on the Mango site later this spring when this style typically restocks in different colours!
---
SHOP OUR SIMPLE EASTER DINNER FOR TWO
---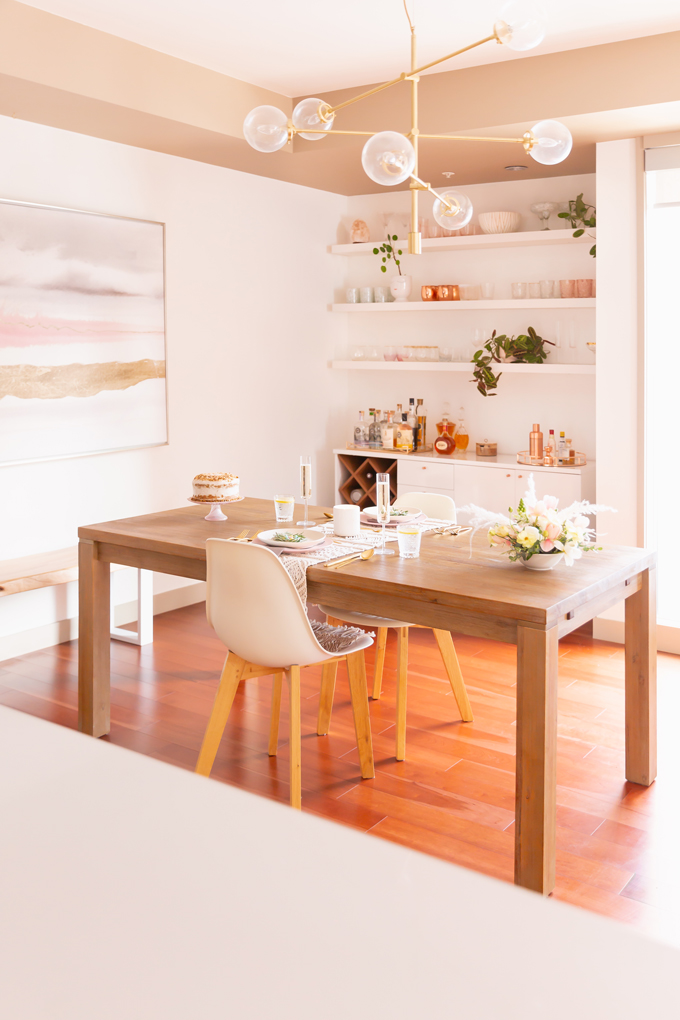 ---
MORE SPRING HOME, ENTERTAINING & COCKTAIL INSPIRATION
---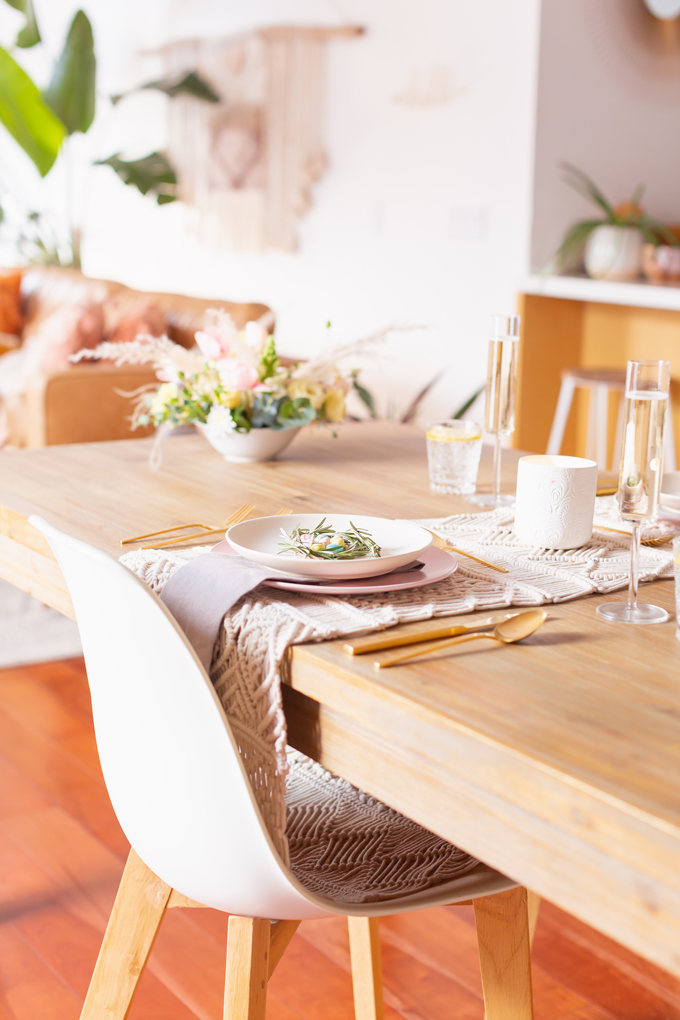 Dining Room, Bar & Kitchen Reveal
Spring Equinox Kiwi Elderflower Smash
Our Dining Room Bar | A Built-In Look on a Budget
Coastal Orange Blossom Gin Cocktail
---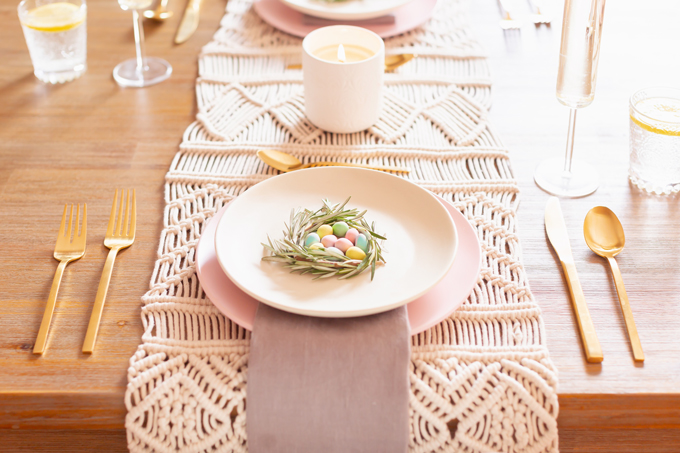 Thanks for stopping by for A Simple Easter Dinner for Two, friends! I hope it provided some inspiration if you're planning ahead for next years celebrations — or at the very least, brought you some joy today! While not seeing our families in person to celebrate Easter was difficult, I'm so glad we made the best of it and created some new traditions. I know one day I'll look back on this little Easter dinner for two and be glad we sacrificed face-to-face family time in order to keep them, and so many others, safe. Despite the circumstances, it was a lovely evening that left us feeling very grateful for each other, our health, the food on our table, the bubbly in our glasses and the home we've made together over the years.
As always, if you try one of my Easter entertaining ideas, or pick up anything I've mentioned in this post, I'd love to hear from you! Tag me, send me a photo, leave me a comment or shoot me an email — I always love to hear from you. And if you're looking for even more entertaining inspiration, you can also follow along with my Entertaining Pinterest Board, or check out the links above. Wishing you all health, happiness and peace during this difficult time! Happy Easter, from our home to yours.
---
Disclaimer: Some decor items featured in this post are press samples acquired from previous partnerships. This post is not sponsored and contains my genuine thoughts, ideas and recommendations. JustineCelina uses affiliate and referral links, which allow me to receive a small commission when you make a purchase through one of my links. Thank you for supporting the brands and businesses that support JustineCelina!