---
Happy holidays, friends! Can you believe we've nearly made it to the end of another year? What a year it's been. Despite everything that's happened and how different this season looks, it always brings me great joy to prepare our home for the holidays — and tonight I'm thrilled to share our Mid Century Meets Boho Holiday Decor! Even though it will just be the two of us this Christmas, I knew I wanted to keep things fun, fresh and festive this holiday season. This is our third year decorating our recently refreshed inner city Calgary apartment for the holidays — although our holiday decor went up much later than I originally intended, we love the way it came together. In fact, I think this year's holiday decor may just be my favourite yet! As always, I mixed high, low, old and new to infuse the apartment with Christmas spirit — and today I'm detailing exactly how I pulled it all together!
Whether you've been with me here at JustineCelina for years or have just recently joined (welcome!), you'll know I'm all about finding creative ways to make my favourite pieces feel fresh again — be it in my home or in your wardrobe. That said, given the state of the world (and in light of the current restrictions here in Alberta), I knew didn't want to rely on having to shop in person for our holiday tree this year. So, instead of purchasing fresh tree as we've done in years past, I decided to have some fun with it and ordered a flocked artificial tree — and I adore the effect! Other than our tree and a few small decor pieces, everything else we've owned for years. As we live in an apartment with limited storage, it's simply not practical for us to purchase entirely new decor each season (but to be honest, I don't think that's practical for anyone!). If you're in search of some creative holiday DIYs and boho Christmas decorating ideas, you've come to the right place — join me for a glass of bubbly as I share how I created a warm, modern and inviting holiday atmosphere in our home this season! 

---
MID CENTURY MEETS BOHO HOLIDAY DECOR
---
Welcome to our Holiday 2020 Home Tour, friends! Can I pour you a glass of bubbly? Oh, how I miss entertaining!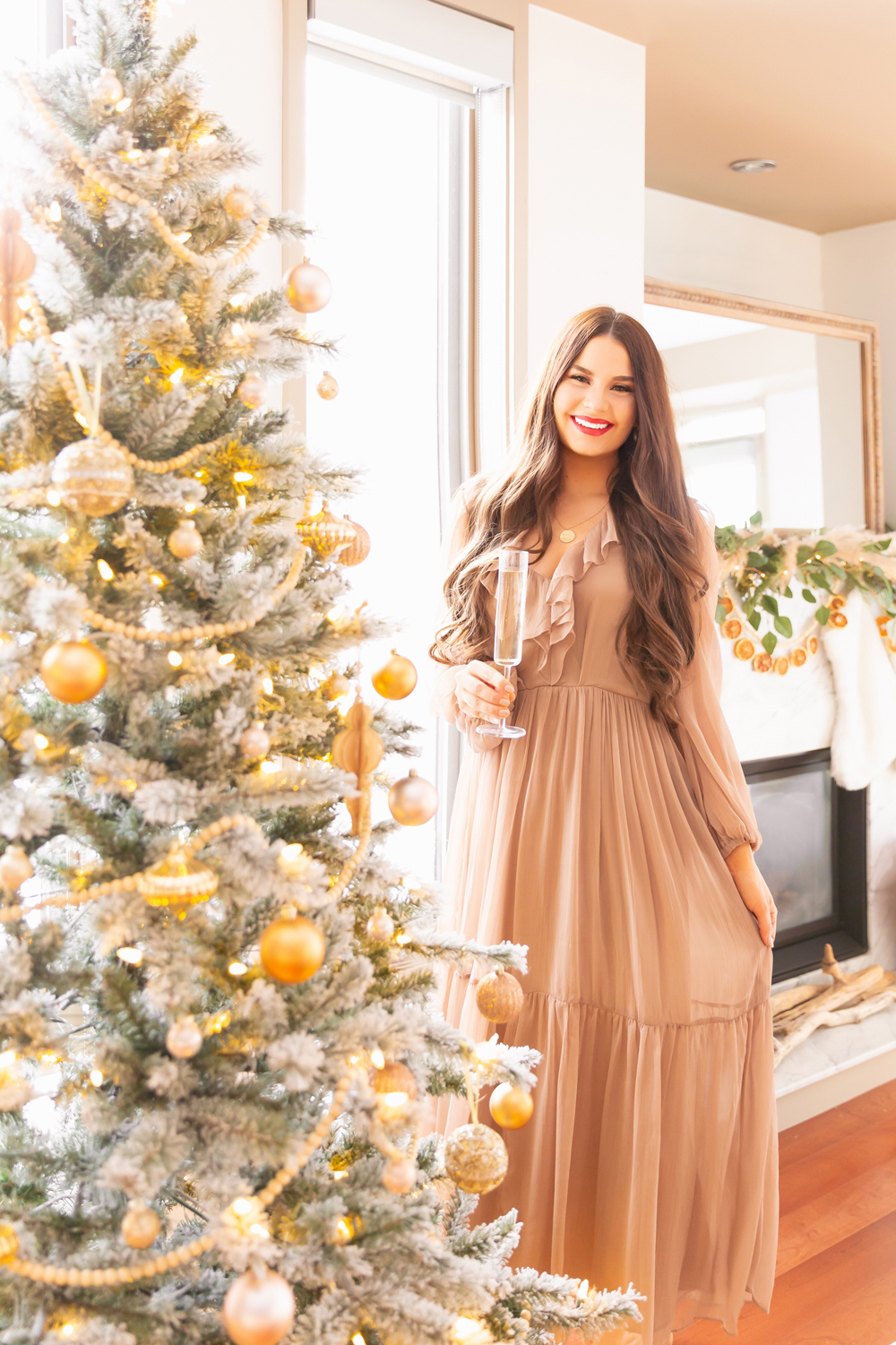 While there are many holiday traditions we're mourning this year, we resolved to make the most of it! I invite you to slip into something that makes you feel amazing, swipe on your favourite lipstick, bust out your best crystal and pop that bottle you've been saving for a special occasion. Surviving this pandemic is definitely a special occasion — and tonight we celebrate!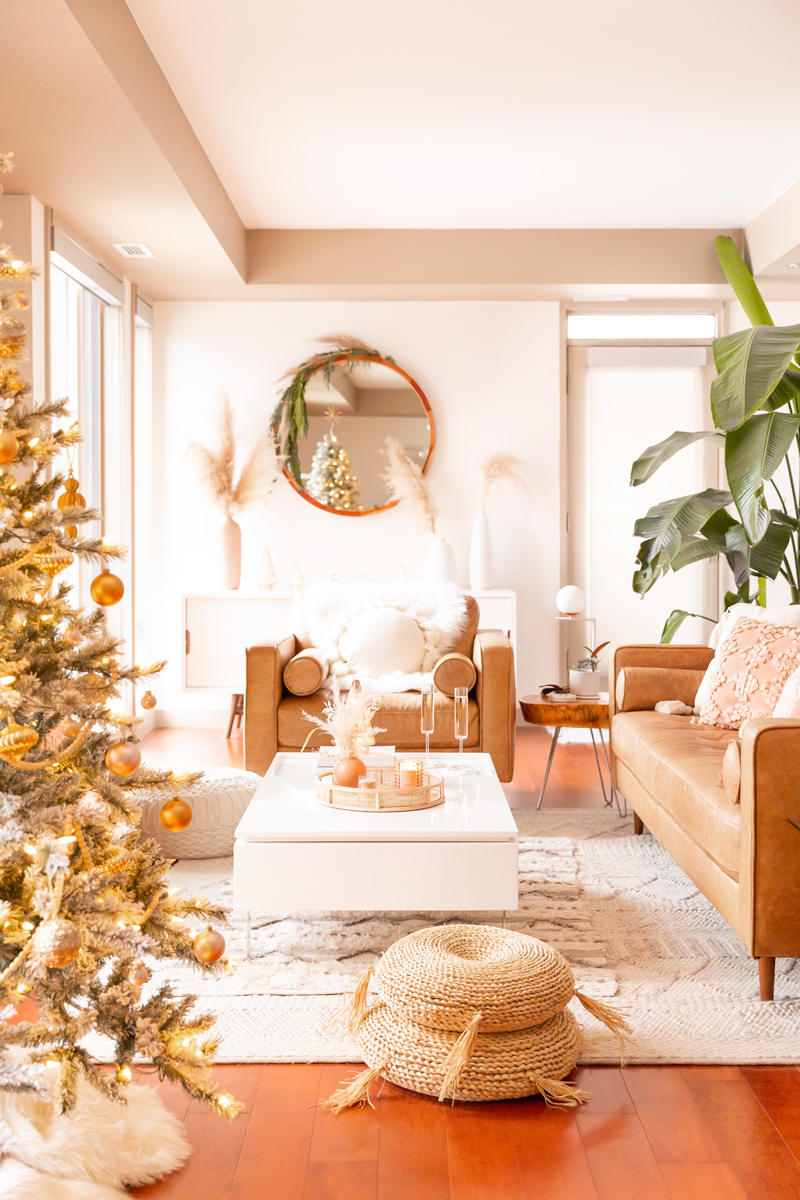 To commemorate a year unlike any other we've experienced in our lifetime, I knew I wanted to make our space feel festive, warm and inviting. With all the extra time we've spent at home this year, the way we live and work in this space has changed dramatically — and I wanted our 2020 holiday decor to be harmonious with our new lifestyles. While we've reused the majority of our existing decor from years past, I've kept things a lot simpler than in seasons past and gravitated to more neutral tones, natural textures and organic materials. This is common theme in 2020 — both in my personal style and in our home!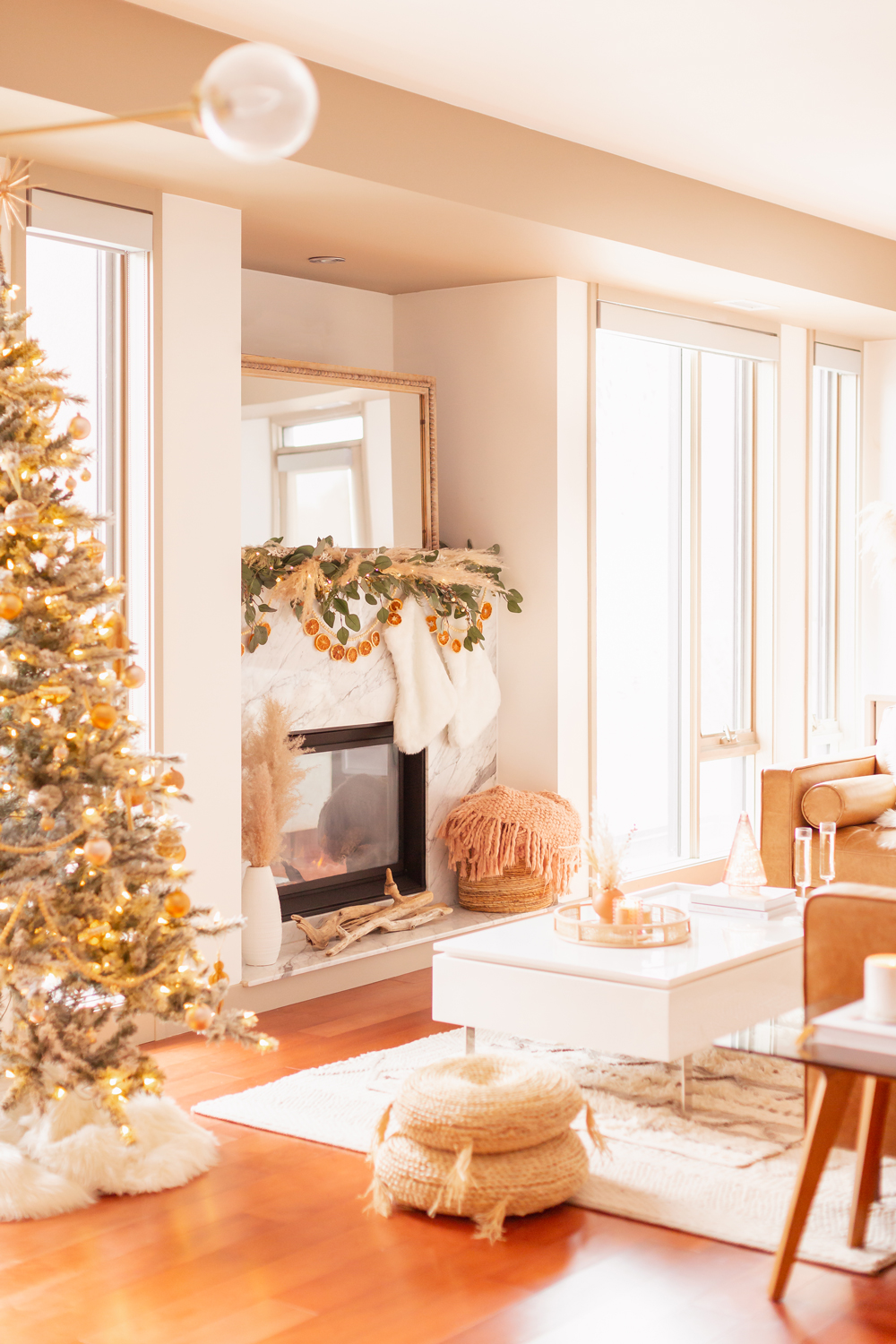 This year, I've infused our holiday decor with thoughtful, handmade, festive touches and to make it extra cozy and comforting — and I've been more resourceful than ever before. I firmly believe decorating your home for the holidays should be accessible, stress-free and fun! I hope you enjoy learning more about my process, favourite sources and best holiday decorating tips!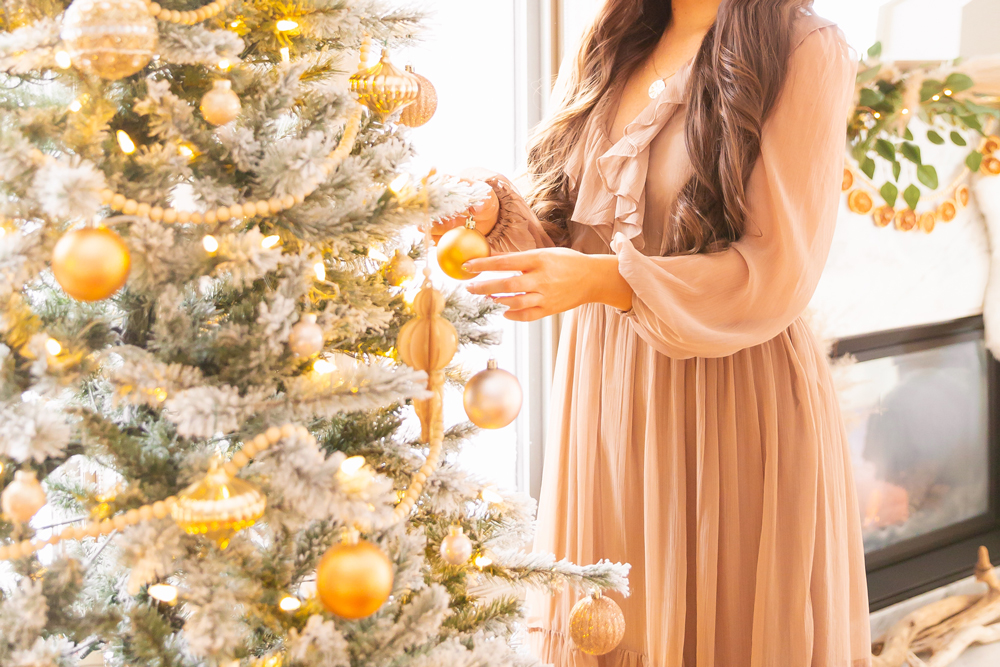 ---
HOLIDAY FIREPLACE WITH PAMPAS GRASS & DRIED ORANGE GARLAND
---
This year, we've spent more time unwinding from the stress of the world in front the fire (typically with a glass of wine!) than ever before. Our cozy little fireplace has brought us so much comfort and joy in 2020 — and I knew I wanted to make it the focal point of our holiday decor!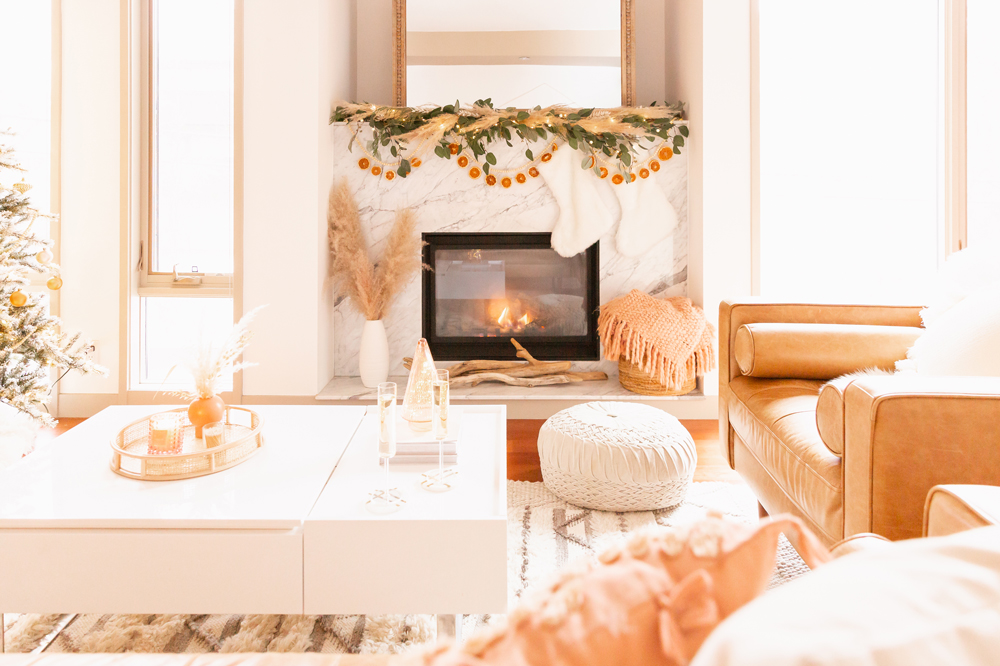 I actually began styling  the fireplace before our tree arrived, since it was a month late! Puttering away on different areas of our decor organically whenever I had a some free time made for the loveliest, relaxed process — and it also allowed me to really get creative. Believe it or not, I had everything on hand except a few sprigs of fresh holiday dried foliage to create this unique and cheerful holiday fireplace garland! This year, I updated our pre-lit eucalyptus garland (initially purchased in 2018!) by adding Pampas Grass, fresh Cedar boughs, bleached Italian Ruscus and a beaded / dried orange slice garland (which I actually DIYed in a bit of a unique way!) for a natural, modern look.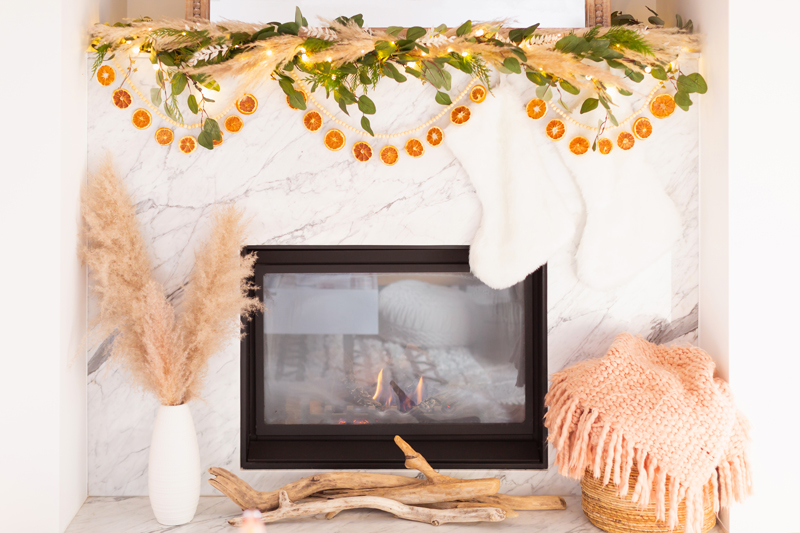 At the onset of the holiday season, I noticed a lot of dried orange slice decor and garlands popping up on Pinterest, where I pinned some inspiration to inform this year's decor! I actually had a bag of dried orange slices on hand (I typically use them to style cocktails!), so I knew I wanted to incorporate them into 2020's decor in some fashion. After I'd finished styling our holiday fireplace and hanging the beaded garland, I just felt like there was something missing — which is when I pulled out my bag of dried orange slices!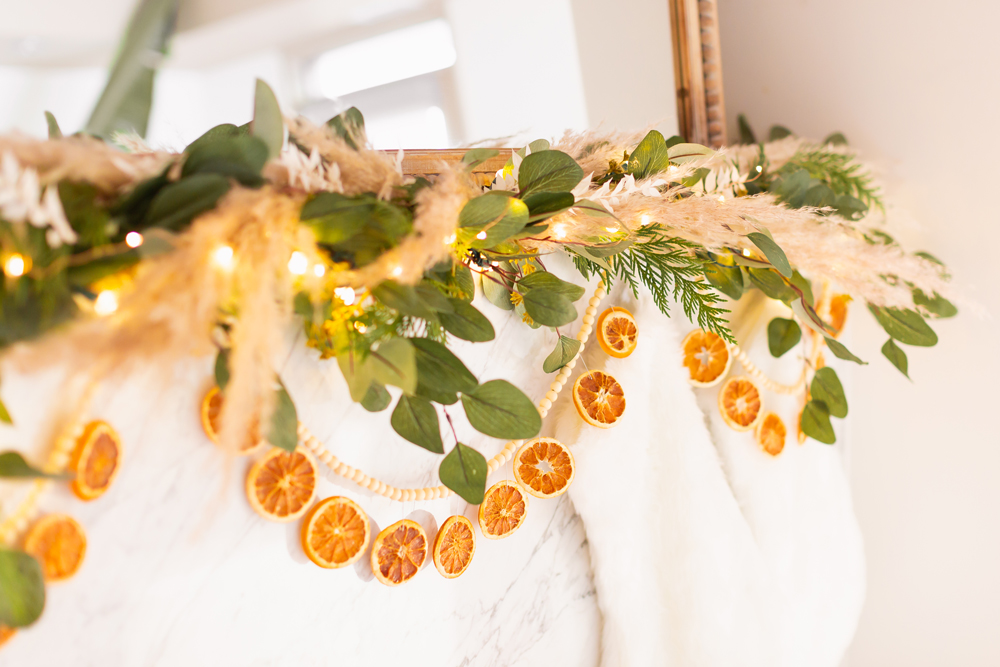 I actually secured the dried orange slices to my beaded wood garland individually with ornament hooks. Although it may be a bit unconventional, it worked perfectly with the materials I had on hand to achieve my desired look. The best part is that I'll be able to reuse them next year! Of course, you could also string them up and create your own DIY garland — or you could use my tree ornament hack and hang them anywhere you like, including your Christmas tree (which I'm going to try next year!).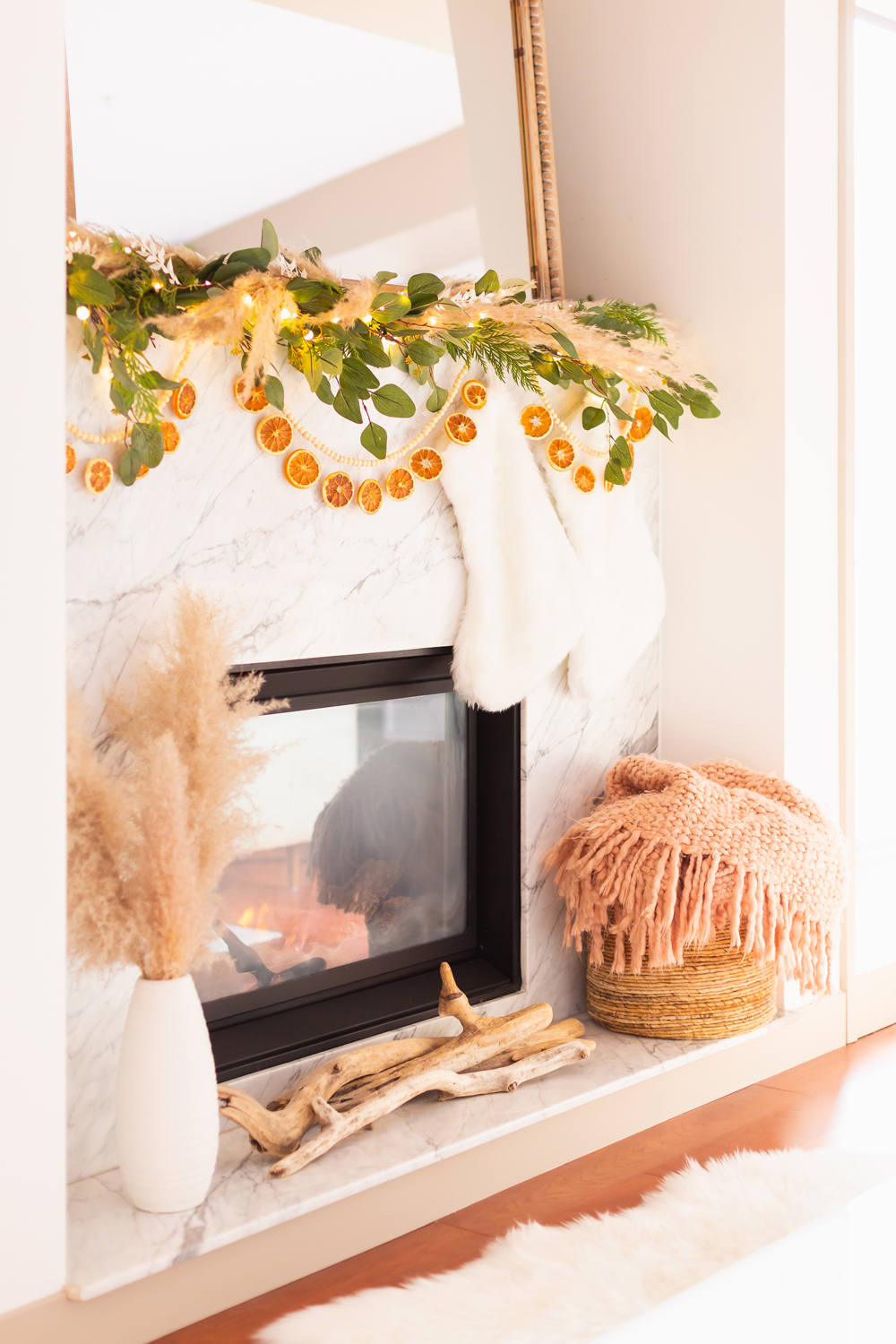 ---
FLOCKED CHRISTMAS TREE WITH NEUTRAL BOHO ORNAMENTS
---
I'm extremely particular about, well… everything — and pursue exceptional quality, no matter the pricepoint. Finding a gorgeous, 7'+ flocked tree that didn't cost an absolute fortune was no small feat! As I've mentioned previously, although I love the look (and intoxicating scent!) of real Christmas trees, if I was to invest an artificial tree, I wanted to have fun with it and opt for a style that was clearly derivative. I adore the way flocked trees mimic snow-covered branches, a sight we're very used to here in Calgary — and I love to bring the outside in while taking cues from my environment!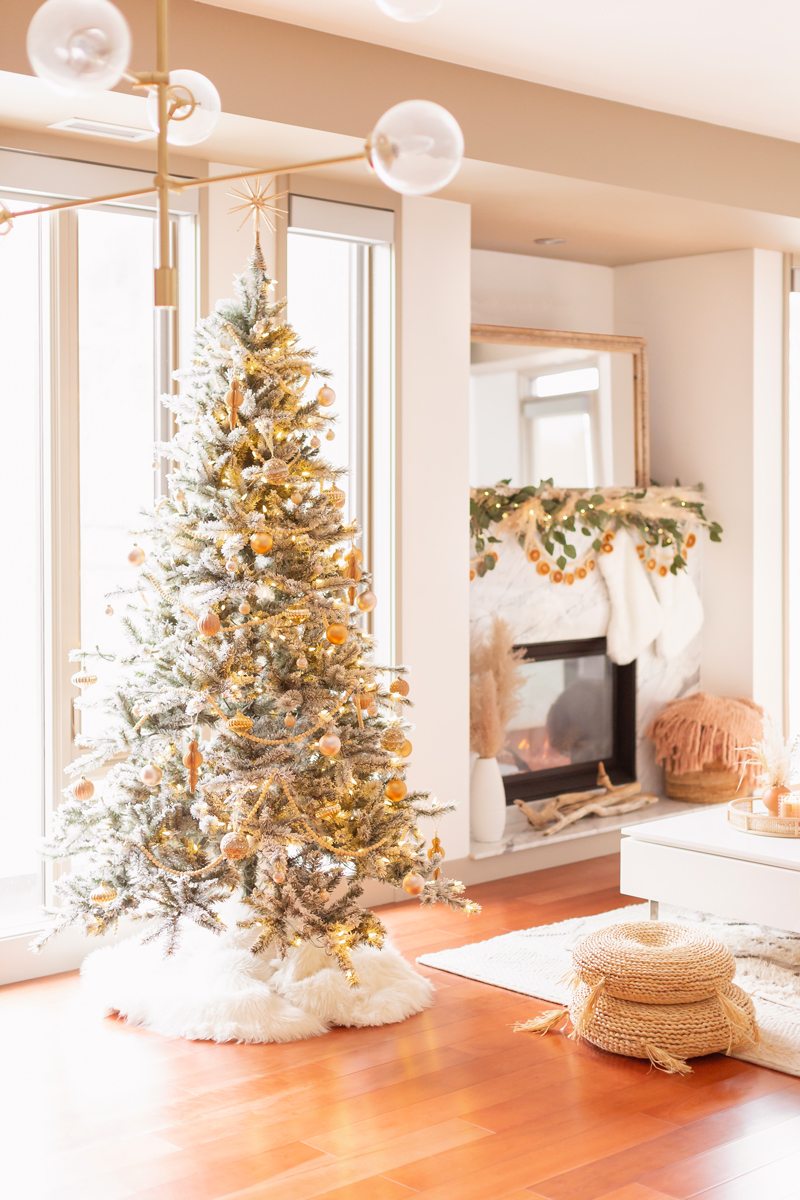 At the tail end of October I started scouting out flocked tree options online, knowing that with all the uncertainties of 2020, options may be scarce the longer I waited. Fast forward to the beginning of November and many of my favourites had sold out — including this Gluckstein Home 7ft Natural Jersey Flocked Pre Lit Fir Tree that was my first choice. So, in typical JustineCelina style, I stalked it online and ended up snagging it at 50% off the minute it came back in stock!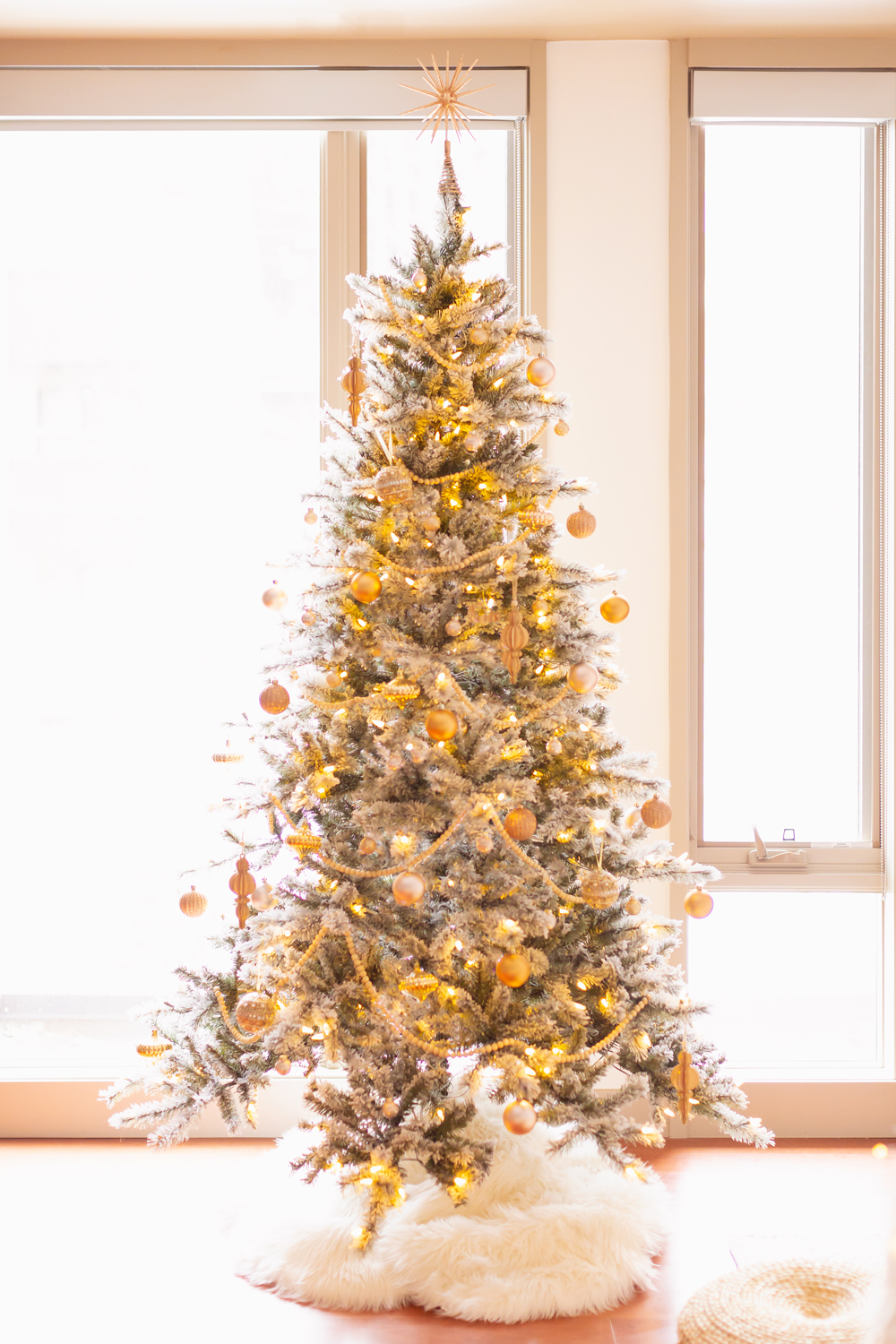 Although it took much longer than originally anticipated to arrive, I couldn't be happier with my purchase. The box our flocked tree arrived in is actually quite compact and should make for easy storage — plus it couldn't have been easier to set up!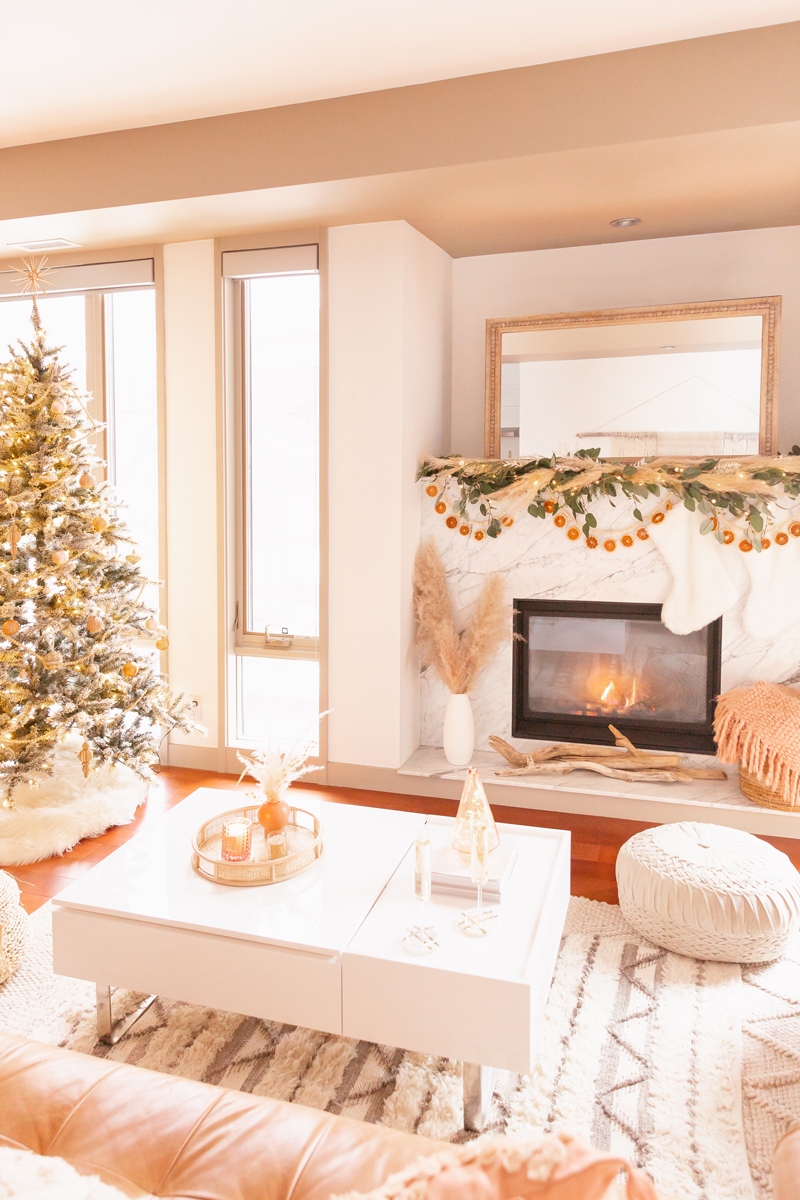 We've experimented with the placement of our Christmas tree each year we've decorated our recently refreshed main living area. In 2018 we enjoyed our first real tree — a huge 7.5′ Nova Scotia Balsam Fir Tree — and it was the focal point of our decor. We slid our then much smaller Bird of Paradise, Barry (learn more about our plants), into the Dining Room and it perched in the back corner in front of our patio door. This year that simply wasn't an option — as Barry has doubled in size and is now bolted into the roof for support!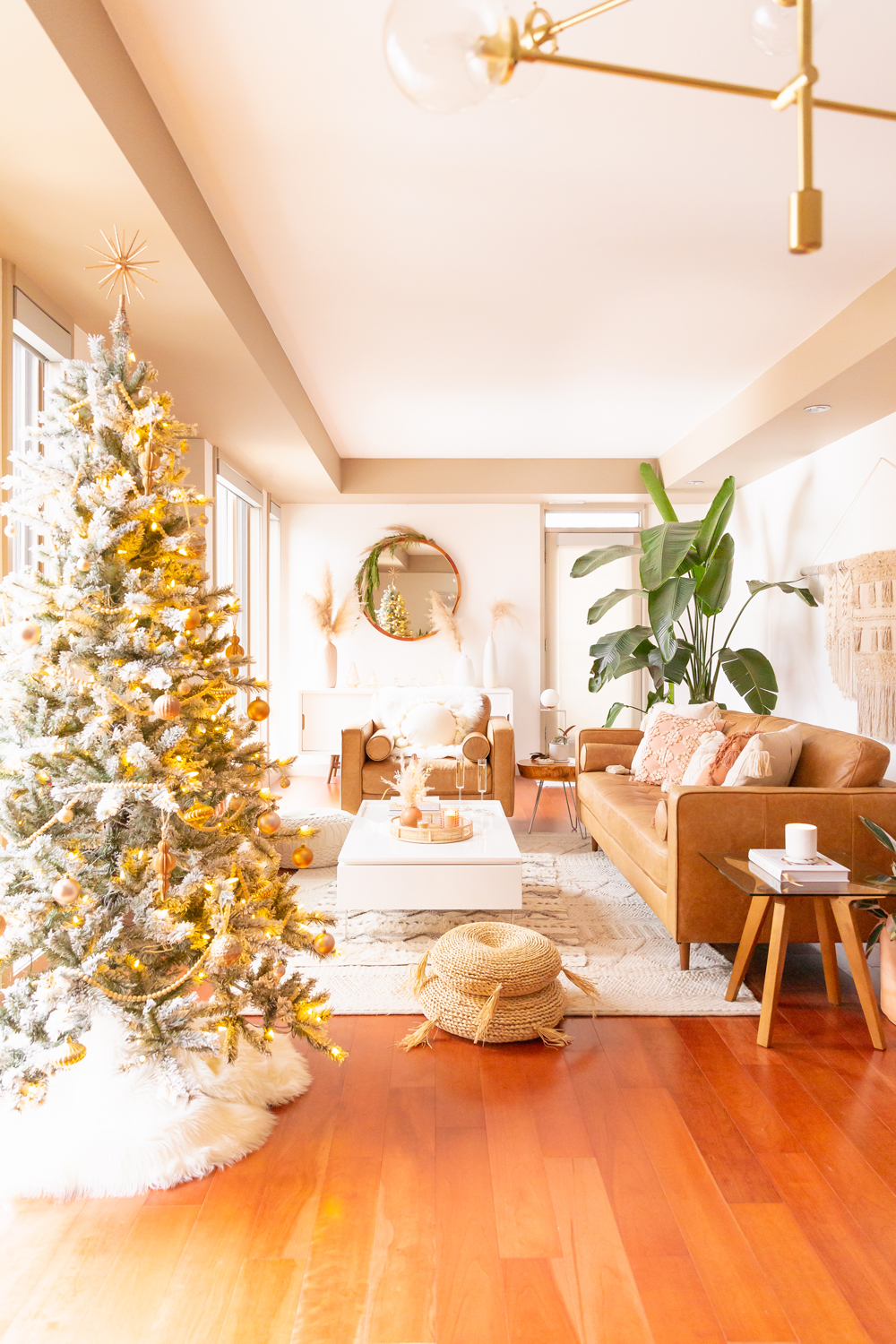 So, we set our flocked tree up right next to the fireplace in front of the windows this year — and it works perfectly for us! This placement allows Barry to stay put while also allowing us to move about freely and it creates a beautiful festive ambiance next to the fireplace, which we've really been enjoying.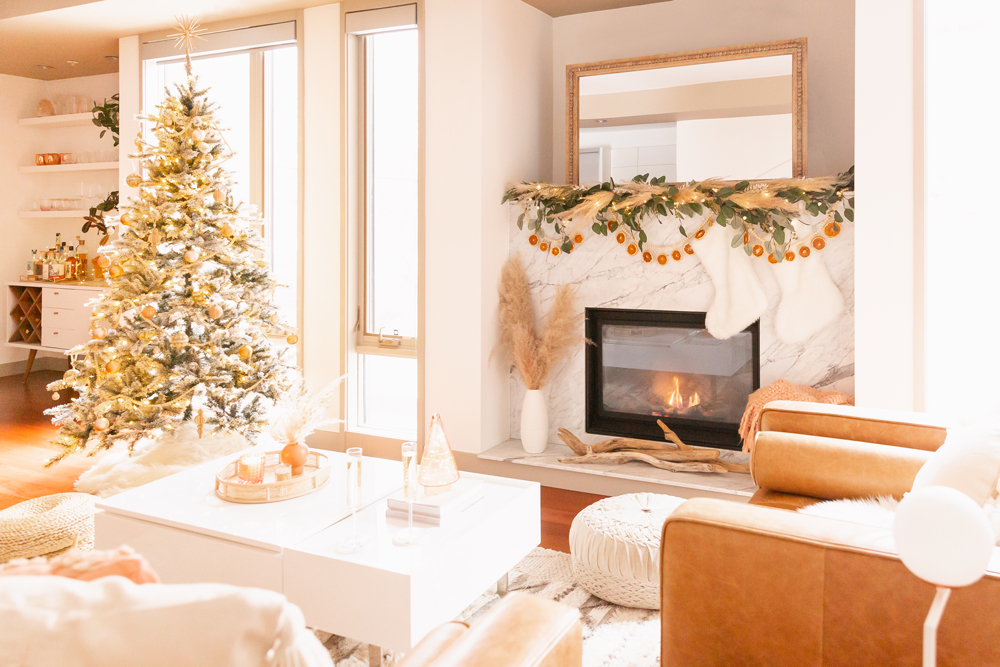 As far as tree trimming goes, we simply used our existing decor. I purchased most  of our ornaments back in 2018 (the others are ancient) and had fun dressing our flocked tree with an eclectic melange of metallic, matte, wooden, glass and beaded baubles of all shapes and sizes! To finish things off, I strung the tree with a beaded garland and capped it off with a mid century inspired sputnik topper. Most of our ornaments are from Canadian Tire and HomeSense, with some IKEA and vintage thrown into the mix — and I've linked everything I could for you at the bottom of this post!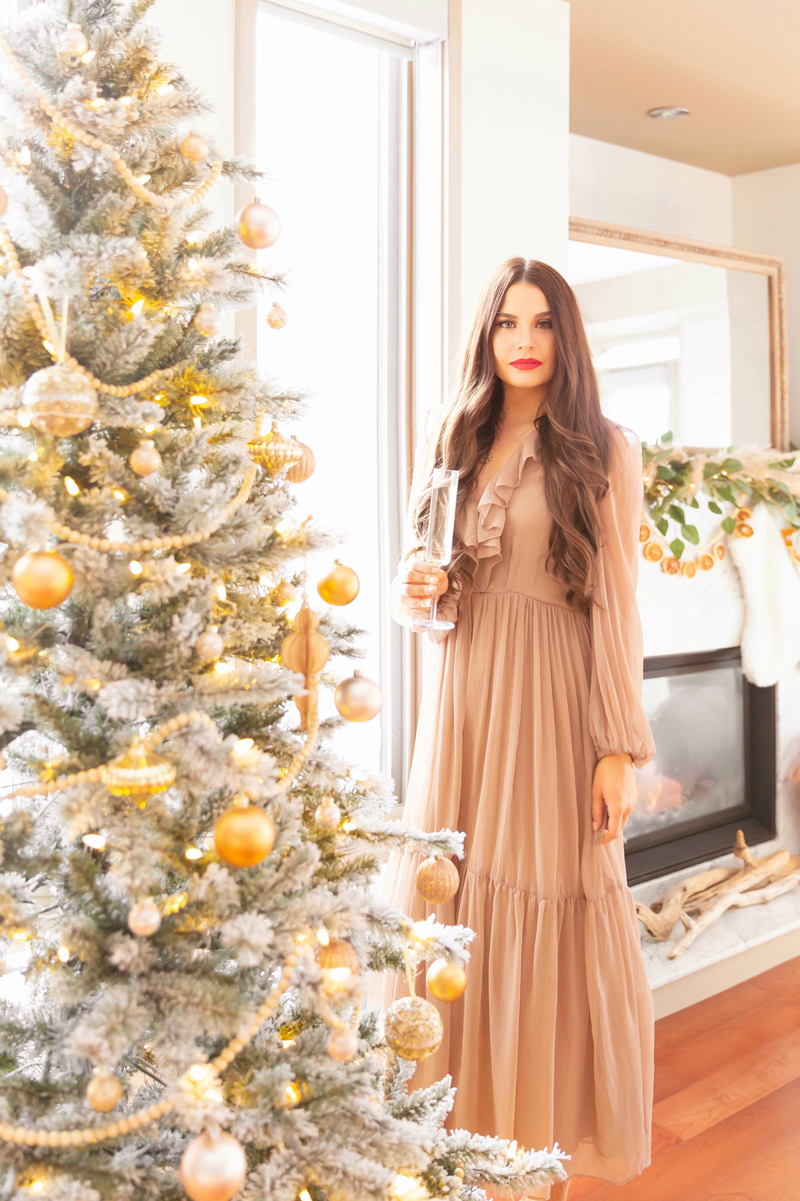 ---
HOW TO UTILIZE YOUR EXISTING DECOR FOR THE HOLIDAYS
---
As you can see, the majority of our existing decor remains throughout the holidays. We simply don't have the storage for excessive decor, pillows the like — so rather than swapping them all out during the holidays, I simply coordinate our holiday decor to our everyday decor!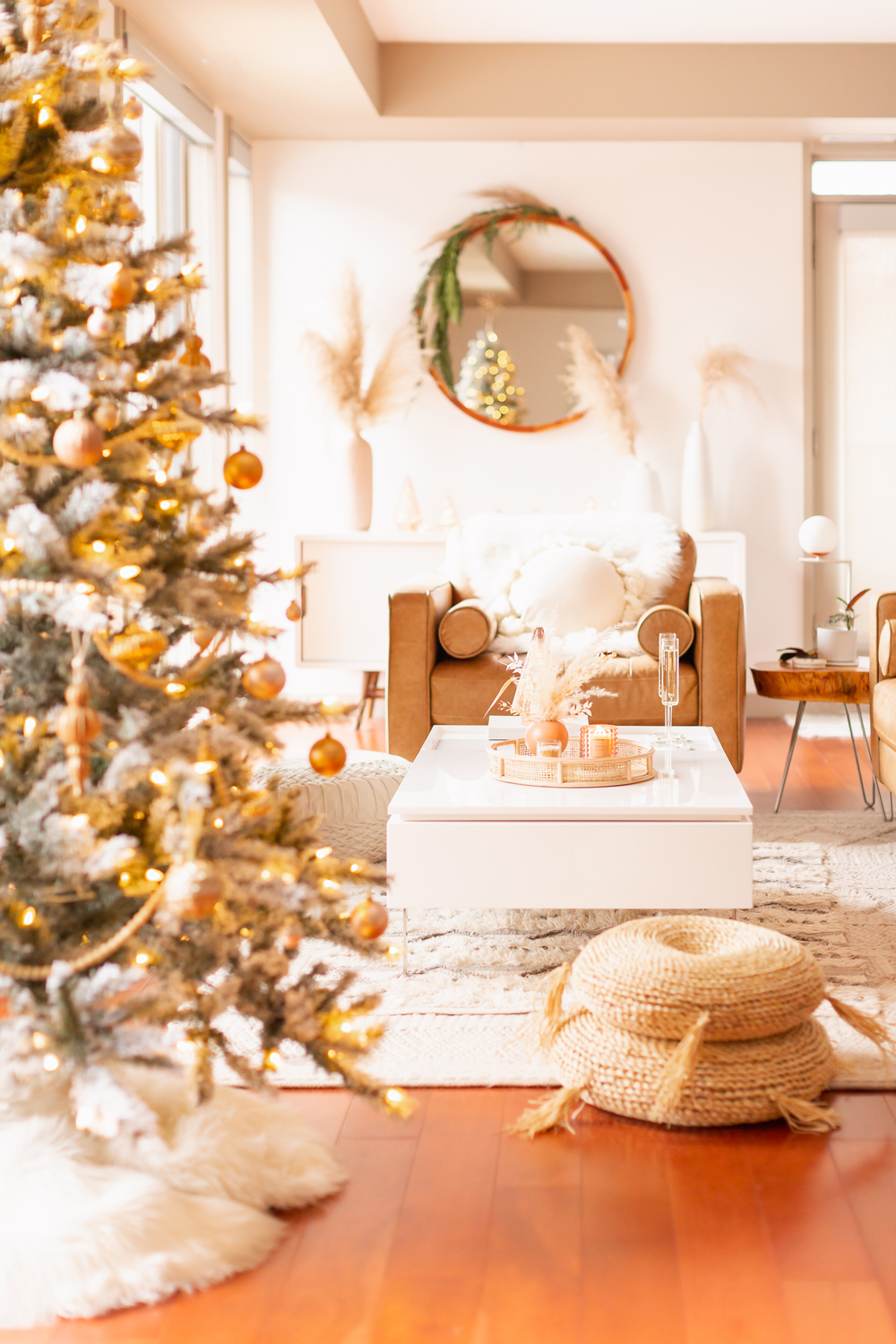 This year worked with a palette of rich caramel, soft creams, warm neutrals and pops of blush, which I find completely seasonless. Rather than adding tons of fresh greenery like I've done previously, this year I opted for more dried grasses and foliage to lend a free-spirited, bohemian touch to our holiday decor. Not only was this extremely cost effective as I already had it on hand, it's also extremely low maintenance!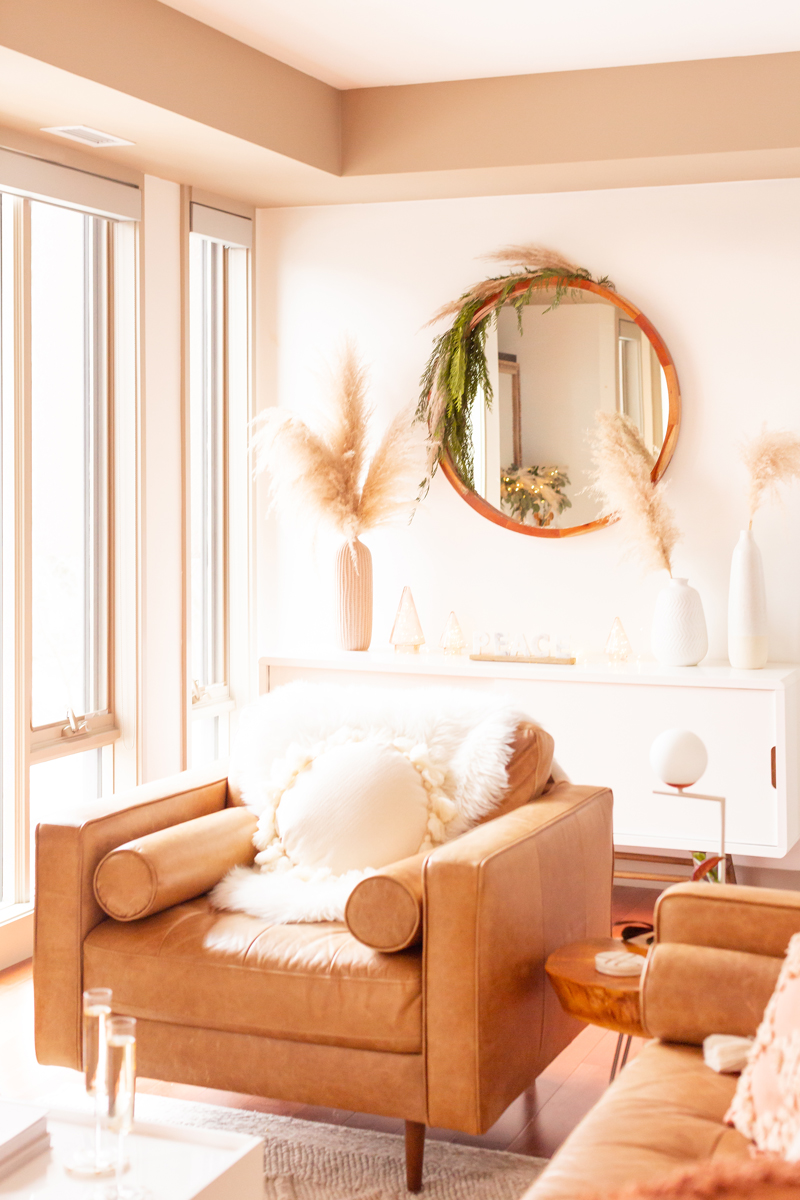 My favourite way to cozy our home up for the holidays is to layer in extra blankets, sheepskin throws and sumptuous textures. I love to drape sheepskin throws over the back of our armchair or couch, use them as rugs in front of the fireplace, or style them as tree skirts! Candles and fairy lights are another integral component in adding a warm, relaxing ambiance and a little extra sparkle your holiday decor.
---
SHOP OUR MID CENTURY MEETS BOHO HOLIDAY DECOR
---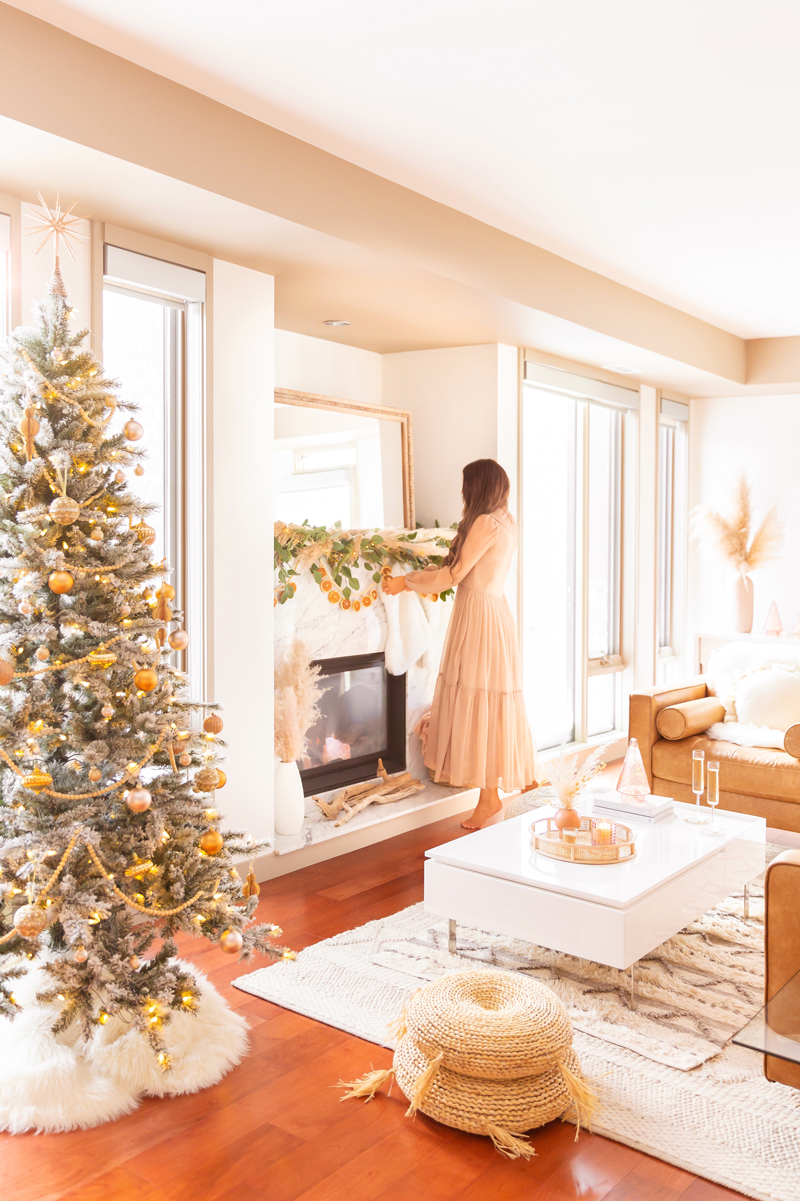 — FLOCKED TREE & ORNAMENTS —
Gluckstein Home 7ft Natural Jersey Flocked Pre Lit Fir Tree | Starburst Tree Topper | Gold Mixed Metallic Ornament Set | White Wood Bead Garland | Jewelled Gold Ornaments HomeSense Canada | Gold Metallic Ornaments IKEA (old) | Small Glass Ornaments (vintage)

— FIREPLACE GARLAND & DECOR —
Pre-lit Eucalyptus Leaves Garland |  Fairy Lights | Pampas Grass | White Wood Bead Garland | Faux Fur Stockings
— TABLETOP DECOR & STEMWARE —
Medium Dusty Rose Ribbed Glass Decor Tree | Small Pink Ribbed Glass Decor Tree | Fairy Lights Round Rattan Tray |  Scented Candle in Glass Holder | Edge Champagne Flute
— PILLOWS & THROWS —
Demba Round Tasseled Cushion | Cushion Cover with Tassels | Rumi Shag Throw Pillow In Rose | Faux Sheepskin Throws

— I'M WEARING —
Long Tiered Dress | Lancôme Matte Shaker High Pigment Liquid Lipstick in Red'y In 5 (full review)
— Please visit these posts for more information about our furniture and decor —
---
MORE HOLIDAY DECOR & FESTIVE INSPIRATION
---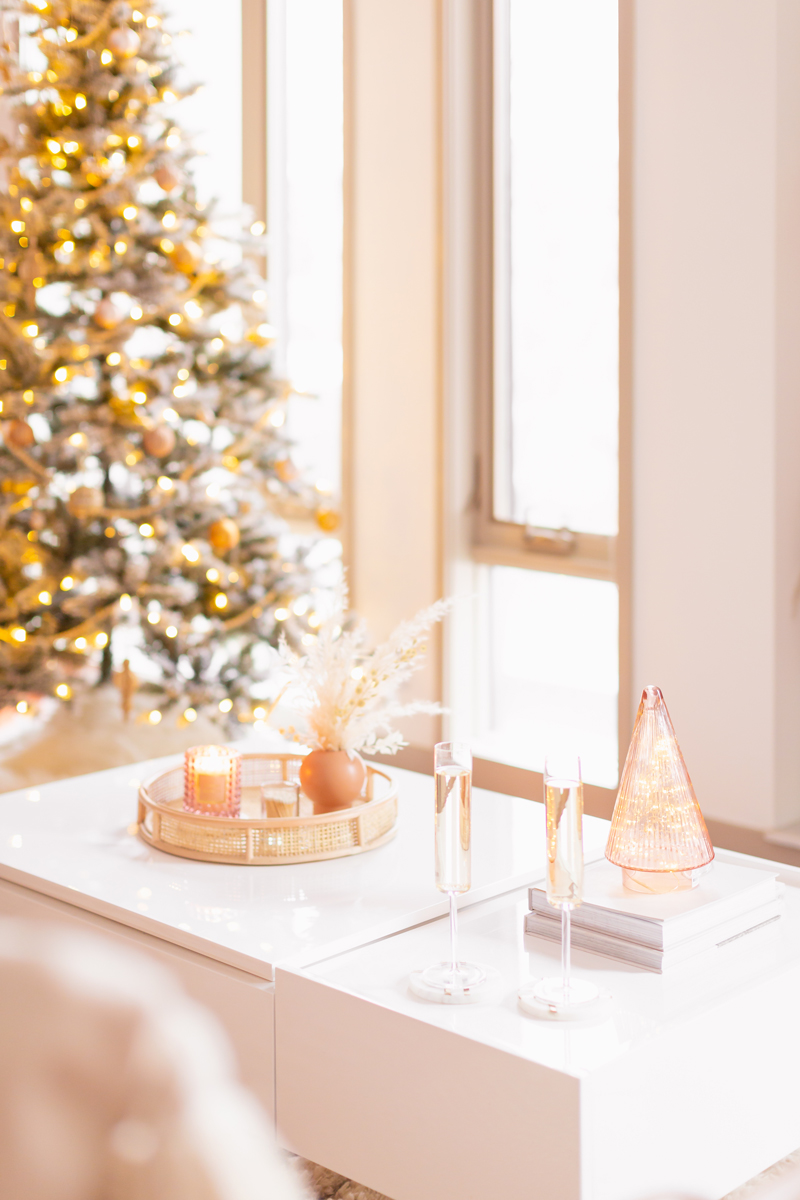 Ultimate Holiday Inspiration Roundup
Apartment Friendly Holiday Decor (2018)
Easy Holiday Entertaining Ideas (2019)
DIY | How to Make an Asymmetrical Holiday Wreath
A Luxurious New Years Eve Bash
---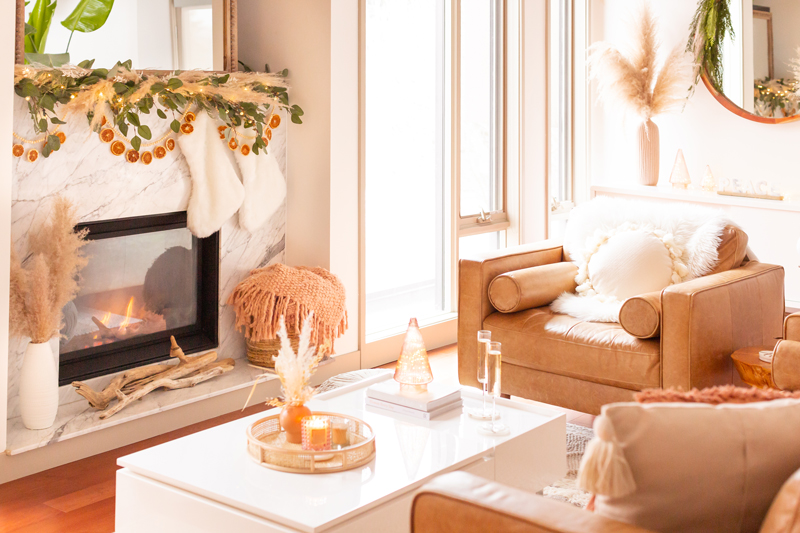 Thanks for joining me for a virtual glass of bubbly and a peek at our Mid Century Meets Boho Holiday Decor this evening, friends! December is always a busy time of year, but I've really enjoyed puttering away on our decor and making our space feel warm, cozy and festive — especially for our first (and hopefully, our last!) Christmas in quarantine. I hope you enjoyed this post as much as I enjoyed creating it for you — and that it brought you some joy and inspiration during these strange times! Personally I'm looking forward to some unplugged time this holiday season to recuperate. I hope you're able to rest and recharge, too — whatever that looks like for you!
As always, if you pick up anything I've recommended, try one of my holiday ideas or have a questions about anything I've mentioned in this post, I'd love to hear from you! Tag me, send me a photo, leave me a comment or use #justinecelinaholiday on social so I can see your beautiful work or assist you with your inquiry. If you're looking for even more holiday inspiration, you can also follow along with my JustineCelina Holiday Pinterest Board for a healthy dose of all things festive. Wishing you all a happy, healthy and peaceful holiday season! Take care of yourselves and stay safe.
---
Disclaimer: Some items featured in this space were provided by HomeSense as part of  previous partnerships. This post is not sponsored and contains my genuine thoughts, ideas and recommendations. JustineCelina uses affiliate and referral links, which allow me to receive a small commission when you make a purchase through one of my links. Thank you for supporting the brands and businesses that support JustineCelina!