---
Happy December 1st, beautiful people! With the festive season officially upon us, many of us are decking our halls for the holidays — and I always look forward to decking my tech, as well. Today I'm thrilled to bring you December 2020's Digital Blooms — a white Pampas Grass Christmas tree (learn All About Pampas Grass) inspired by my love of natural, bohemian holiday decor! I initially dreamt up the idea for this charming boho holiday tree last December and was so excited to finally execute it and share it with you! While I'm still in the process of putting the finishing touches on our 2020 holiday decor as I await the delivery of our tree!), I wanted to give you a sneak peek of the direction we're taking with this December 2020's Free Tech Wallpaper. Get ready for lots of pampas grass, dried florals, natural, warm tones, a healthy dose of sparkle — and, of course, tons of festive, cross-category inspiration coming your way all month long! 
This free holiday desktop wallpaper features a derivative white pampas grass tree strung with fairy lights, a star anise tree topper and a natural stem base whimsically arranged on a Pantone Autumn/Winter 2020/2021 Rose Tan inspired backdrop. Trim your tree digitally this year by clicking through to download December's DIGITAL BLOOMS straight to your computer, tablet or phone — absolutely free! I hope December's free tech wallpaper helps to make your holiday season a little more merry and bright  — think of it as a little Christmas gift from me to you. Wishing you all healthy, safe and joyous holiday season ahead and thank you so much for your continued readership!
---
HOW TO DOWNLOAD
---
Desktop (iOS)
Click on the image you want to download and it will open in a new window. Right click and select 'Save Image As' or 'Set as Desktop Wallpaper'. If you selected the 'Save Image As' option, then just locate the image you saved, right click, and then select 'Set Desktop Picture'.
Phone / Tablet (iOS)
Click on the image you want to download and it will open in a new window. Then, click on the up arrow icon at the bottom of the screen, and select 'Save Image'. Navigate to 'Settings', then 'Wallpaper', then 'Choose a New Wallpaper' and select the image you downloaded from your photos. You'll be able to scroll across the image by dragging your finger across the screen and you can resize or crop it to your liking to display different sections of the design.
---
USAGE
---
These images are for personal use as digital device wallpapers only and cannot be used in any other way (including social media) without express permission from JustineCelina. I'm relying on the honour system here, but you guys are good people, right? You can still share the love — if you know someone who would enjoy these wallpapers, please send them our way by sharing the link to this post.
---
DIGITAL BLOOMS DECEMBER 2020 | FREE DESKTOP WALLPAPER
---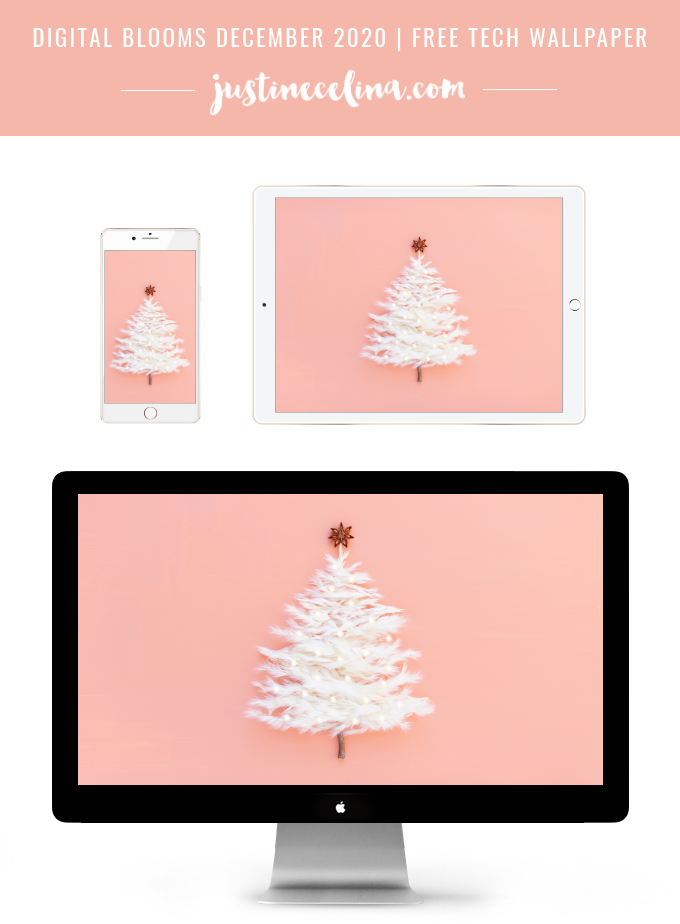 — To download, simply click the image below and follow the How to Download steps —
---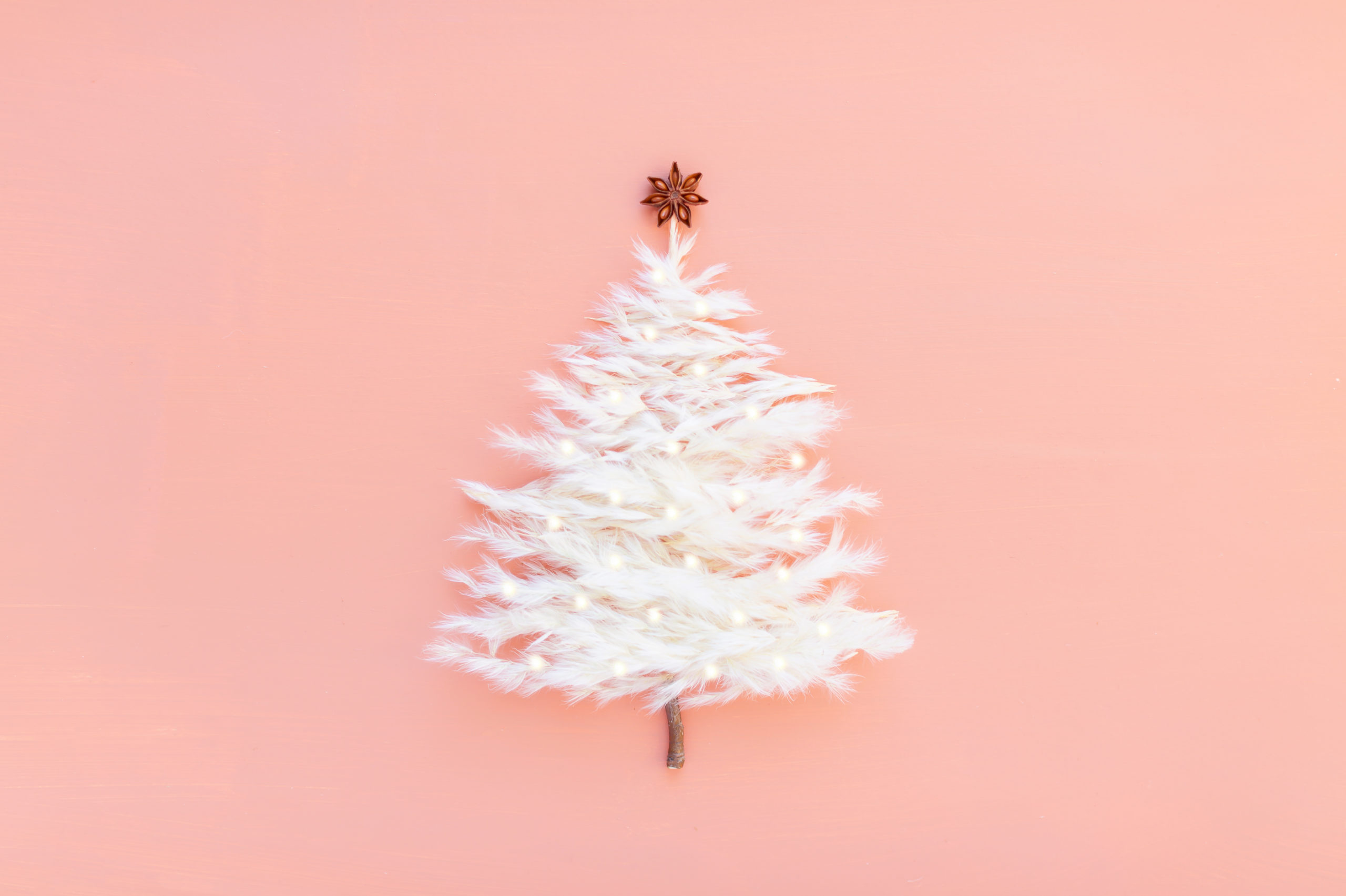 ---
BROWSE THE DIGITAL BLOOMS ARCHIVES
---
Simply click right here (or the image below) and you'll be taken to the archive page to browse thumbnails of each month. Happy tech wallpaper shopping!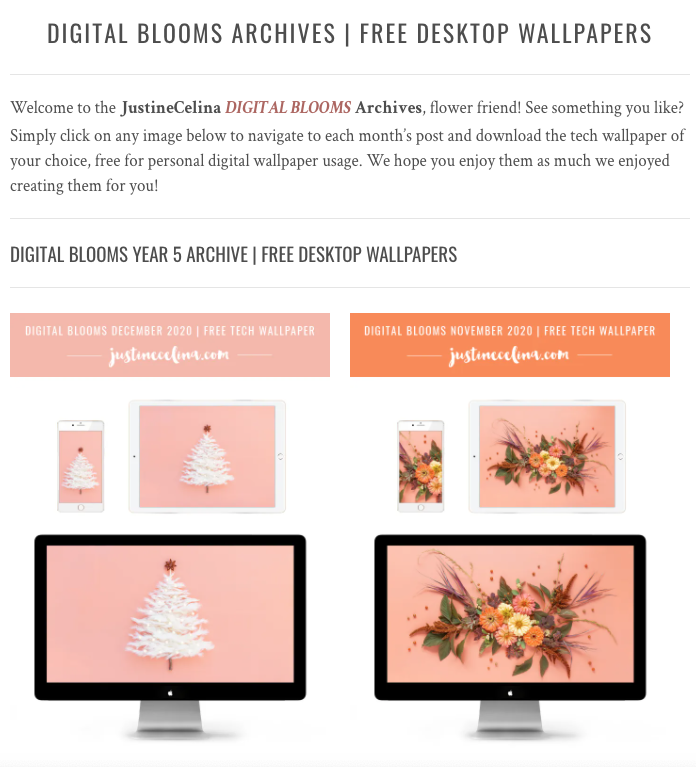 ---
Thank you for stopping by to download December 2020's DIGITAL BLOOMS today! I hope they bring you a little extra festive joy during these difficult times.
Know someone who could use a free, boho Christmas pick-me-up? You can help me spread a little extra love and share your DIGITAL BLOOMS in action with #justinecelinadigitalblooms on social media — I always highlight my favourites on Insta Stories and absolutely love seeing my floral creations out in the wild on the background of your devices! Wishing you all safe and healthy holiday season!
---
Disclaimer: Thank you Golden August for the Arizona Pampas Grass I used in this post (use code justinecelina10 for 10% off your order). This post is not sponsored, and contains my genuine thoughts, ideas and recommendations. All copyright of these images is retained by JustineCelina.com. If you're interested in licensing these images for other personal or commercial purposes, please contact me.