---
Happy Monday everyone — and welcome back for the next, highly anticipated reveal in our SPACE REFRESH series! Today, in partnership with HomeSense Canada, I'm elated to unveil the other half of our refreshed main living area — the Dining Room, Bar & Kitchen. While we've been refreshing our space since last summer (when we embarked on our huge Paint Transformation!), most of our time was spent gathering inspiration for the Living Room, as we almost completely started from scratch furniture and decor wise over there. Our Living Room took the better part of 6 months to pull together — and during my many HomeSense runs as it came to life (a lot of you came along via Insta Stories!), I also had a vision for the adjacent Dining Room, Bar & Kitchen in mind, picking up items for this space as I curated details for our Living Room. So, relatively speaking, this area came together quite quickly in comparison!
Our Living Room, Dining Room, Bar & Kitchen are all located in the same space — a large, long and somewhat narrow room. So, we kept the overall look and feel as cohesive as possible to unify the separate areas of the room with an overarching design sensibility. We took design cues for our SPACE REFRESH from our developer who was inspired by earth's natural elements — our space features natural materials and textures with a warm, mid century modern vibe, a touch of boho and an abundance of greenery! Not only are we thrilled with the aesthetic appeal of our refreshed Dining Room, Bar & Kitchen, this space is also very functional for the way we live in it, which I consider the true mark of great design. Today I'm sharing all my tips, tricks and inspiration for designating different areas within one large room, creating and maximizing apartment storage, as well cost effective ways to refresh your space while repurposing your existing furniture (our only new piece in this space is our sideboard — the rest has been with us for years!). Pull up a seat at our table and settle in for your evening read, friends — can I fix you a cocktail?
---
SPACE REFRESH | DINING ROOM, BAR & KITCHEN REVEAL
---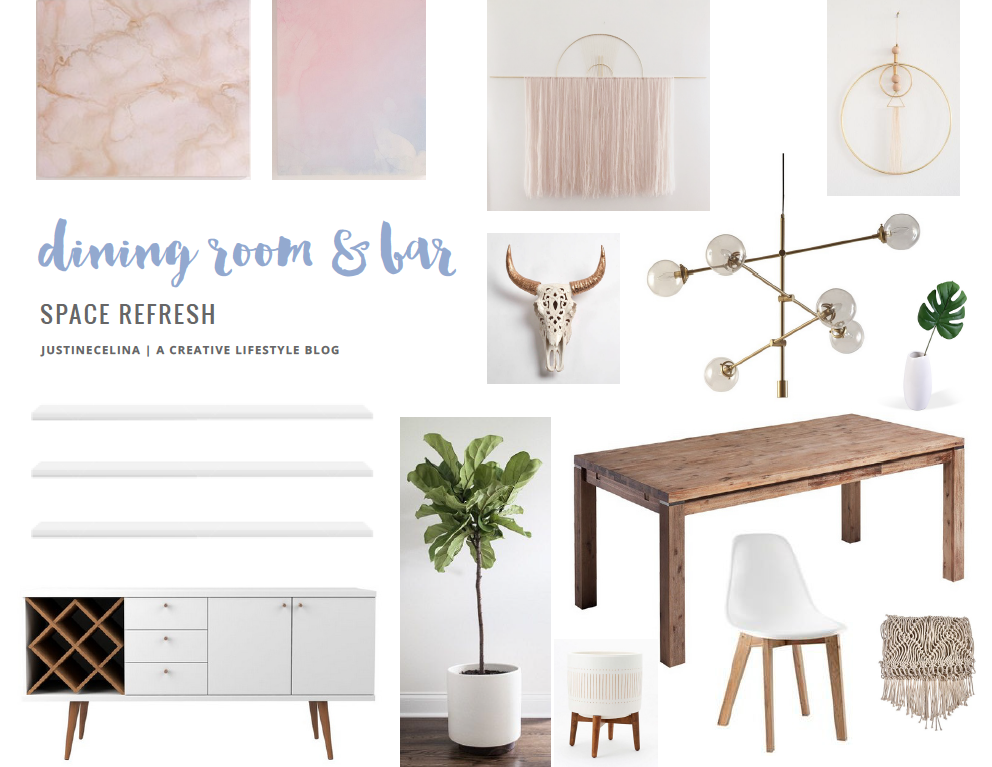 When we initially viewed this apartment 6 years ago, this expansive, airy space took my breath away with it's floor to ceiling windows, south facing exposure and beautiful natural light! In inner city Calgary, it's very rare to find large, open spaces like this (since real estate is so tight, developers tend to build up and most new homes in our area are over 3 stories). We weren't even considering an apartment at the time, but decided to take a look anyway — and this is the room that essentially sold us on the property!
We love to host friends and family and found a unique, inner city gem ideal for entertaining. That said, a long, narrow room like this presents its own unique set of design challenges — most of which I wasn't able to resolve in all our years living here. However, I feel like we've finally conquered them with this refresh!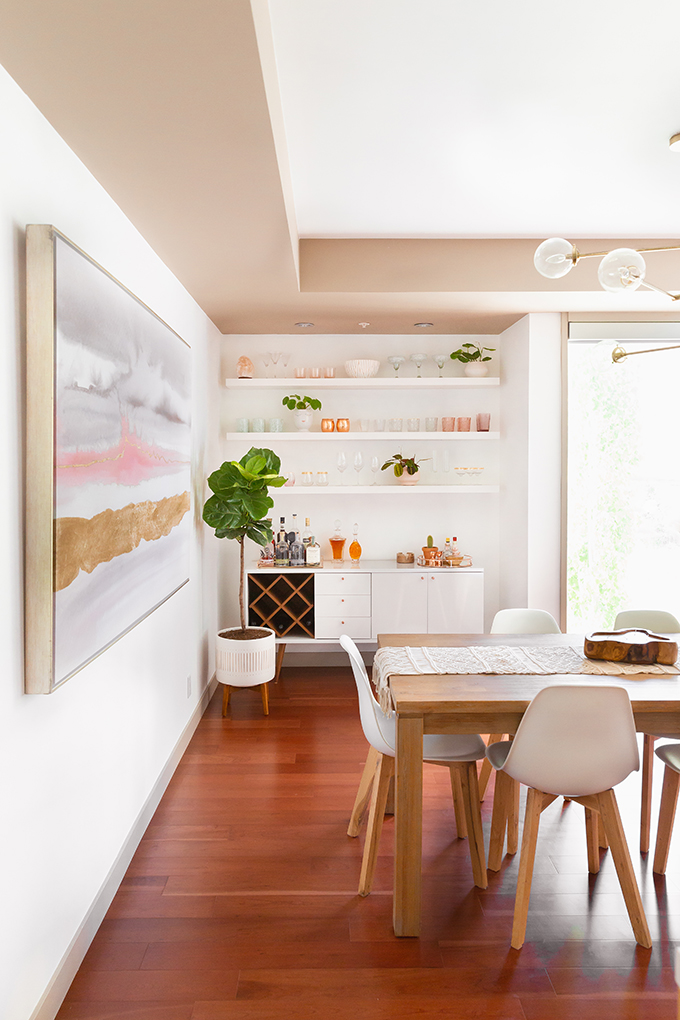 You enter the main living area of our home by walking through a very long hallway — and this view is the first thing you see. Our 4 floor to ceiling windows run along long the south facing wall, where there's a fireplace built in to the recessed space between them. You'll see we have another recessed spot along window wall. This has always been our bar area but it's sort of an awkward space — until I figured out a way to maximize our storage and make use of the depth! I also wanted to bring airy feeling to this prominent corner of the room which can get quite dark in contrast to the rest of the space.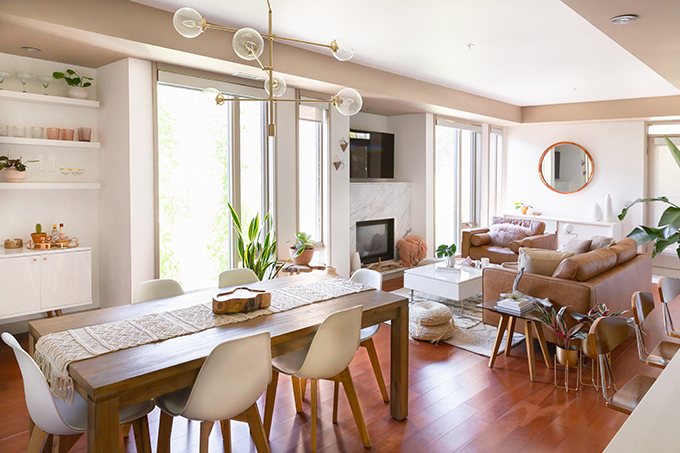 Adam and I love our wine, spirits and cocktails — and additionally, over all my years of creative direction, styling and recipe development, I've amassed quite the collection of glassware (if you follow along with my RECIPE content, many them will look familiar!). Now that you can see what the kitchen looks like, you'll understand why we needed some additional storage in this space. I knew I wanted to incorporate shelving into the dining room somehow, but didn't really want them on the long wall behind the dining table, since I shoot content there and need to easily be able to remove any art or decor for that purpose. Eventually I realized our little bar nook was begging for shelves — and I couldn't be more thrilled with the way it turned out!
It brings me so much joy to display our glassware and a selection of our wine and spirits (believe it or not, more than half of our collection is tucked away inside the sideboard and in another wine rack in the kitchen!) as art. About 80% of our glassware is from HomeSense — often if I'm working on a project or a recipe I'll pop in to find something to fit the vision for the shoot and I almost never leave empty handed! I love stopping in to hunt for the perfect pieces — their glassware starts at $1.99 per piece and they offer individually priced pieces or sets, which is perfect when I only need a couple of glasses.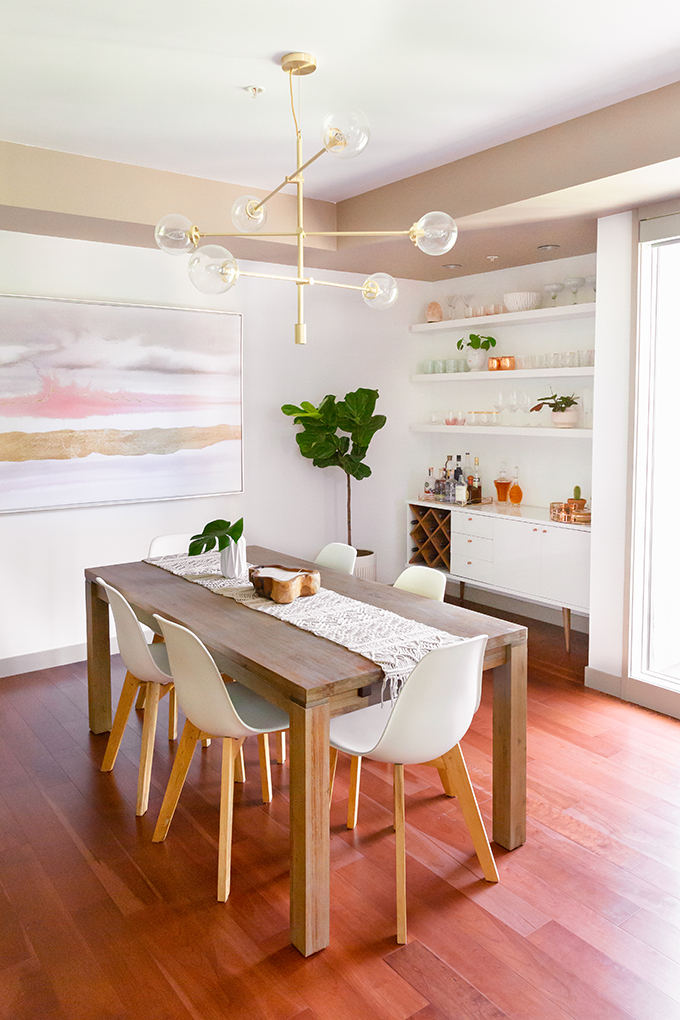 In fact, those purple glasses on the very right of the middle shelf were actually how HomeSense and I started working together! I was developing the recipe for my Blueberry, Lemon and Cucumber Gin Mojitos and knew I wanted to source some purple glassware for the shoot (purple foods were trending in the summer of 2016). Naturally, I found the perfect purple glassware during a trip to HomeSense! That recipe went viral shortly after it was published and was featured on the Food Network a few days later — it was my first 'big break' as a blogger.
I always mention brands organically in my content regardless of whether or not it's sponsored (that's how almost all of the partnerships here at JustineCelina take shape!) and shortly after the post published, there was email in my inbox from the lovely people at HomeSense inquiring about how we could work together. Almost 2 years later, we've created some beautiful content together and it's incredibly rewarding and serendipitous to see our partnership come full circle!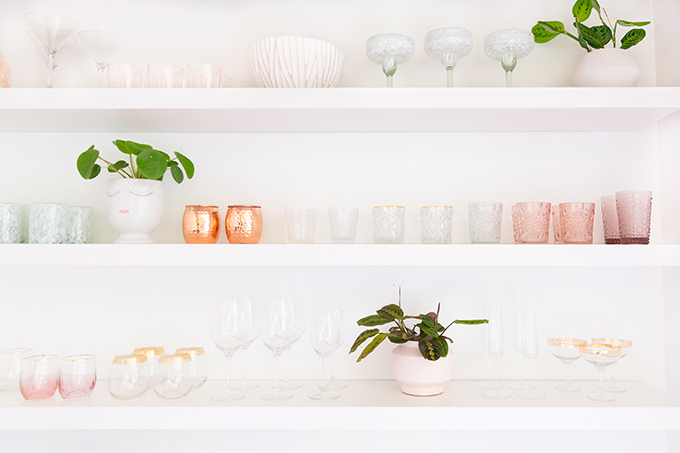 The mirrored copper trays (at $39.99) housing our spirits and bar essentials, our crystal decanters (at $19.99 — recognize them?) containing Adam's favourite scotches, copper bottle opener, wine opener, jiggers (ranging from $5.99 – $9.99), pink salt lamps (at $19.99) and decorative bowls on display in our bar are all from HomeSense.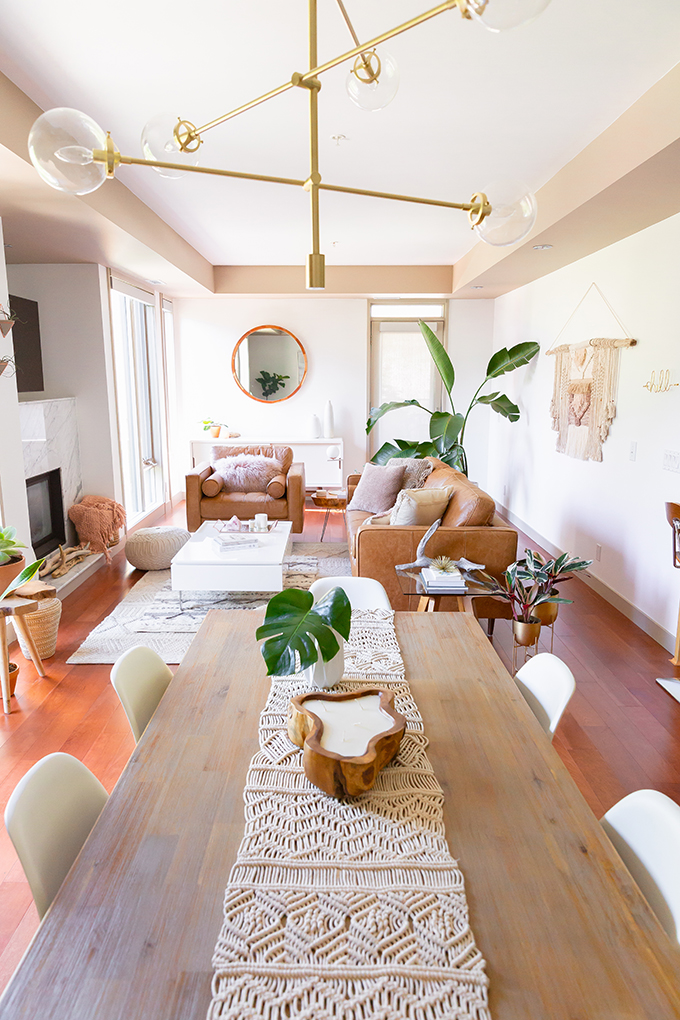 Moving onto the Dining Room area, we decided to keep our existing acacia wood table (it actually has 2 leaves we can add on either side to expand it for entertaining!) and chairs as we upgraded these pieces shortly after moving into this apartment — and we still love them! We did, however, replace the original chandelier with this antique gold, mid century inspired stunner. I love the open, airy feeling it brings to this area, while punctuating it with a touch of class! A simple fixture swap can make a big impact in any space, while helping to break up large rooms and designate separate spaces.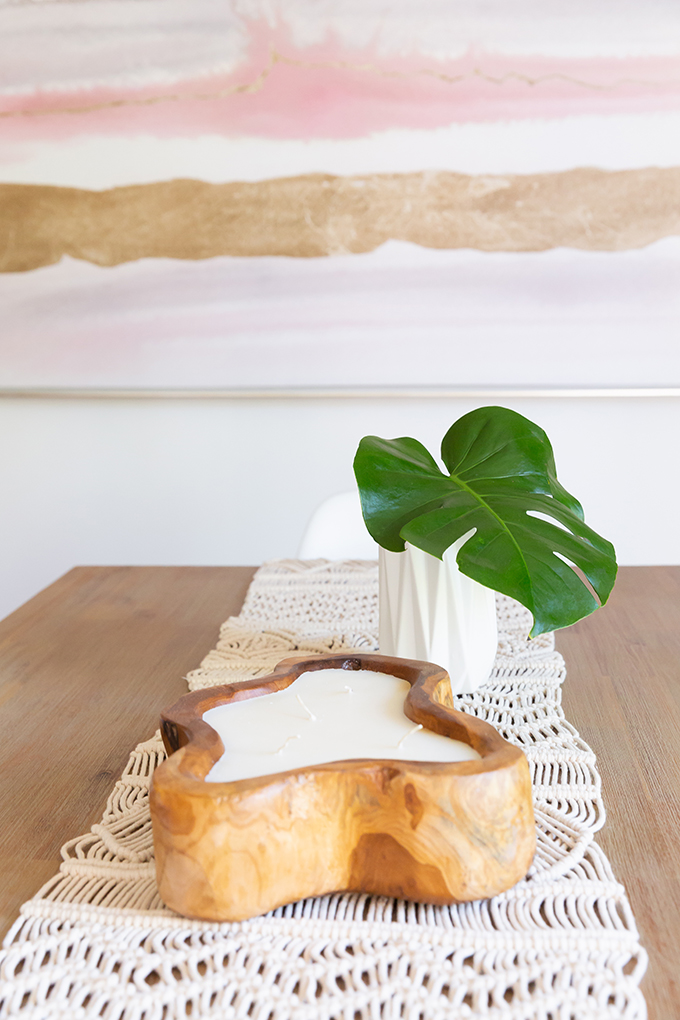 We updated our dining table with a macrame runner (at $19.99) to bring some free spirited texture over to this side of the room (did you catch my DIY post about how I made Large Driftwood Macrame Wall Hanging in the Living Room?), along with a beautiful vase (at $9.99) hosting a single Monstera Leaf. This is such an inexpensive way to infuse your space with a touch of life without committing to a plant (or splurging on flowers) — Monstera Leaves are less than $3 and last for 2 – 3 weeks!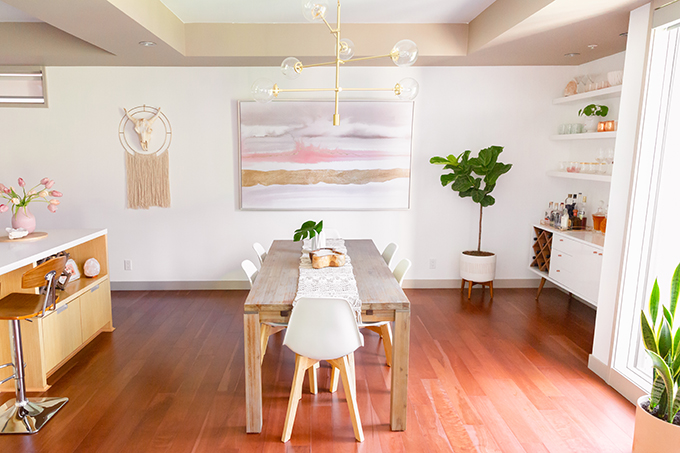 And now onto how I decorated the extremely long wall that extends all the way back to the entrance, past the kitchen — another challenging element of our space! This wall is huge and it always felt bare, but because of the small window right in the middle, it's a challenge to decorate. That said, feel like I manifested this painting, this faux skull and this wall hanging — because I was able to find almost identical pieces to the ones pictured on my moodboard at HomeSense!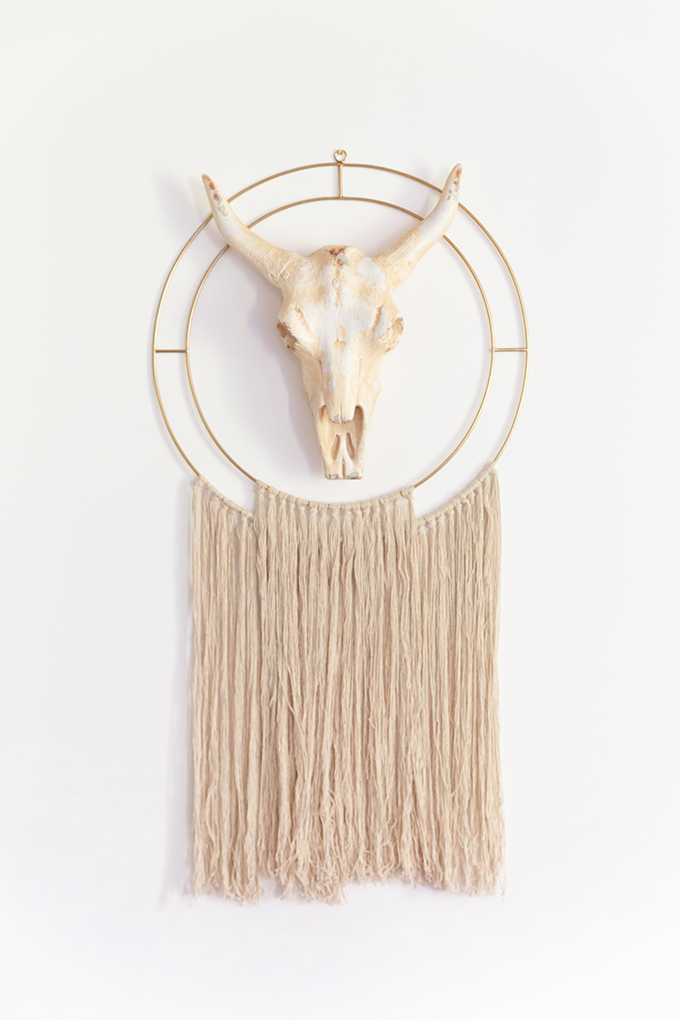 I'm so picky about art and had actually planned a large, mirrored wall hanging for this space, until I popped into HomeSense one afternoon to source some other decor — but from behind about 5 other canvases, that pop of blush caught my eye. It was truly love at first sight — I got such a cheerful, happy energy from this piece and it turned out to be the perfect size (it's 4′ x 6′ for reference — and it was just $179.99!). Oversized art is trending at the moment, but regardless, I feel like this piece balances our long wall so well and grounds the space with a fun splash of colour. It reminds me of an ocean, or a sunset (or an ocean at sunset!), but Adam thinks it has a bit of a desert vibe. Either way, we love it!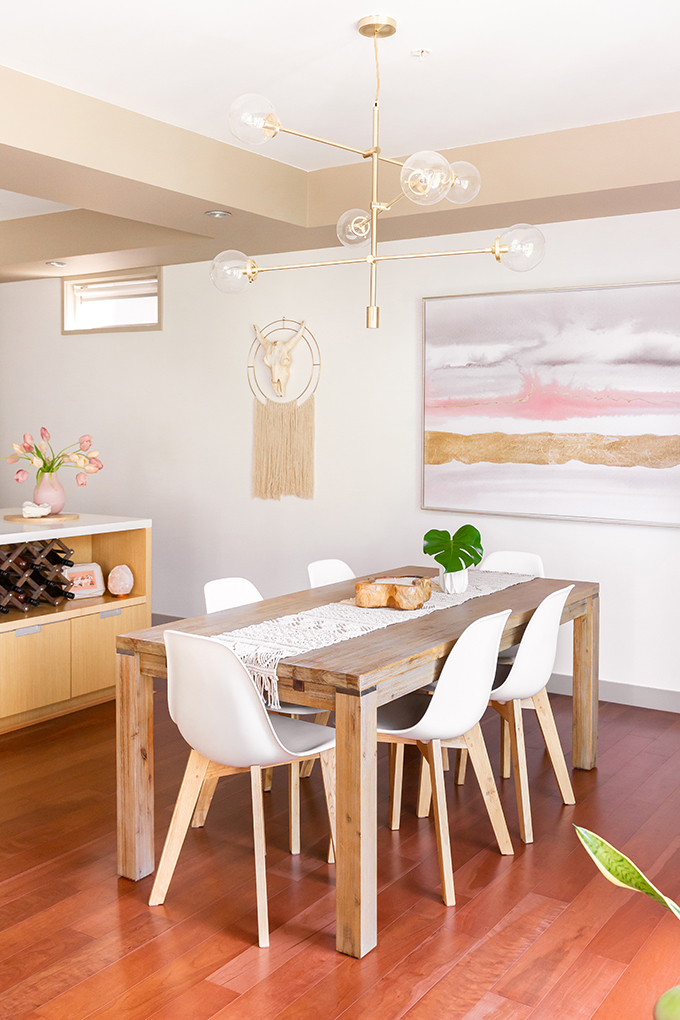 This skull wall hanging is a light DIY as it's actually 2 individual pieces hung together. This faux skull has been kicking around since late last year — I spotted it back in November (for $49.99) and knew it had to live somewhere in our home as a nod to our prairie roots. I'd seen similar pieces online (like the one on my mood board!) for quadruple the price, so I was ecstatic to find this guy in store! At first I wasn't sure if I wanted him to live in the living room or main bath, but once I found the wall hanging (at $19.99), I knew I wanted to amalgamate them to create a unique piece of decor. It was as simple as mounting the wall hanging first, then mounting the skull in the centre, overtop.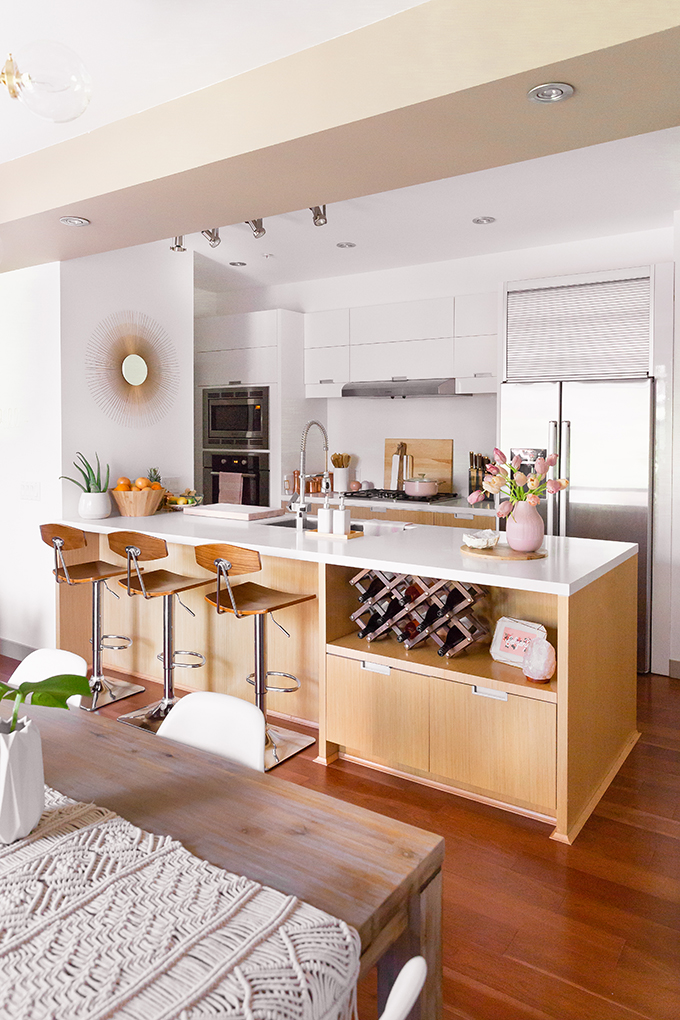 For the kitchen, we settled on going with an inexpensive surface refresh to start — and it made a really big impact. Our Kitchen accessories and serving essentials got a massive upgrade! We updated our cutting board (at $39.99), salt and pepper shakers, marble utensil holder (at $19.99), marble and wood serving boards (starting at $9.99), pots and pans (this cute blush number was $39.99!), fruits bowls and tea towels.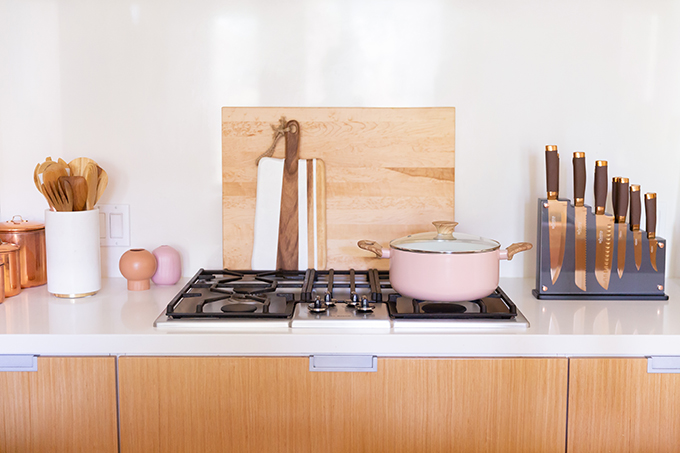 Since our kitchen is so white and there isn't a lot of wall space to update artwork, these small updates actually make a big difference to the overall feeling of the space. Oh — and our aloe plant pot is also from HomeSense!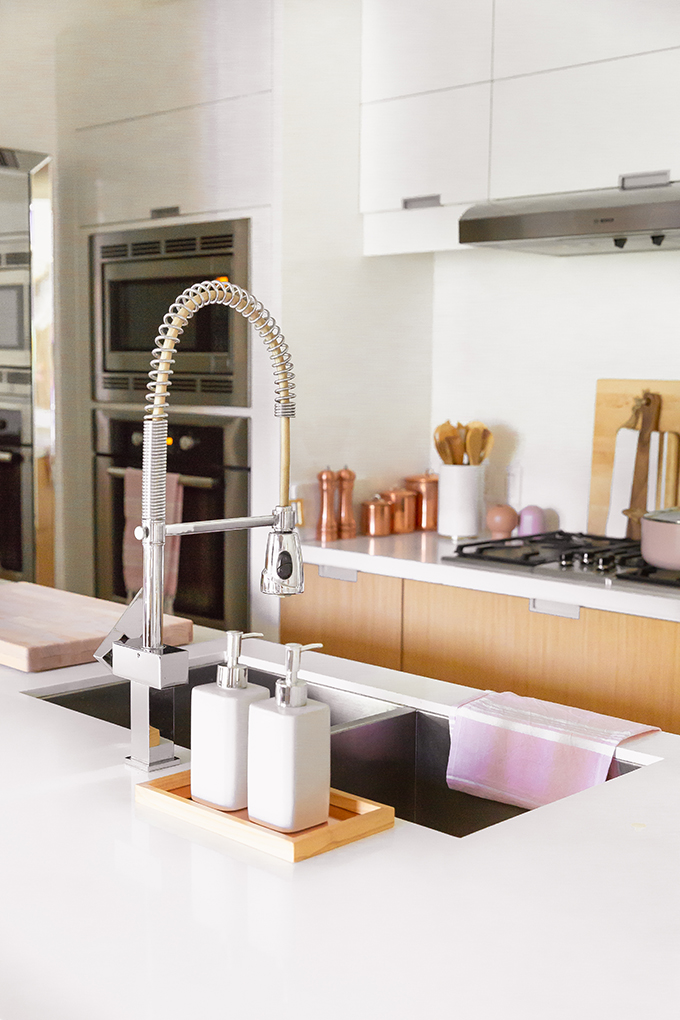 ---
SPACE DIMENSIONS
---
COMBINED LIVING & DINING ROOM
Total Area | 12′ 5″ x 29′ 6″
Approximately half the space is used for each area 
BAR NOOK
Total Area | 6′ 7″ x 2′ 7″
KITCHEN
Total Area | 6 ' 8″ x 13' 4″
Island | 3′ 6″ x 9′ 9″
---
MORE FROM OUR SPACE REFRESH SERIES
---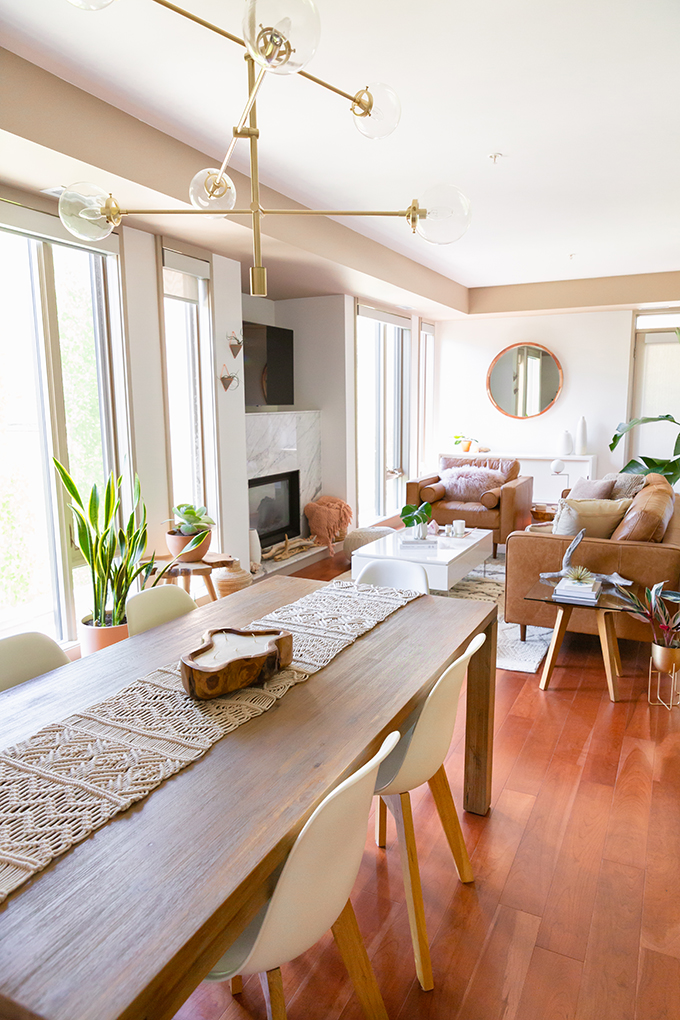 Our Dining Room Bar | A Built-In Look on a Budget 
Space Refresh | Paint Transformation
Space Refresh | Living Room Reveal
Our Apartment Therapy Living Room Feature
---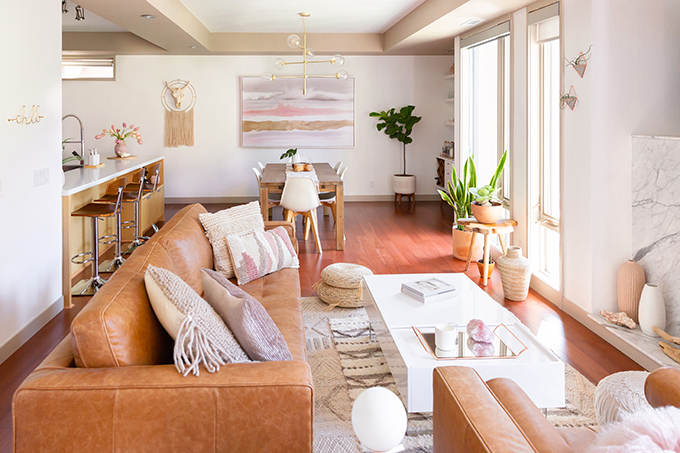 Thanks for coming by to check out our Dining Room / Bar Kitchen Reveal on this sunny Monday evening, friends! I really hope you enjoyed learning more about the how this space came together as well as how you can refresh a room without starting from scratch. I'll be sharing more about the design process and all the details that went into this space — so if you love interior design, decor and styling, be sure to check back often for new posts this spring or sign up to have my content delivered straight to your inbox (there's a blue bar at the top of the page where you can enter your email address!). I also reorganized the DWELL section here at JustineCelina so you can now browse by room or series from the tab in my main navigation!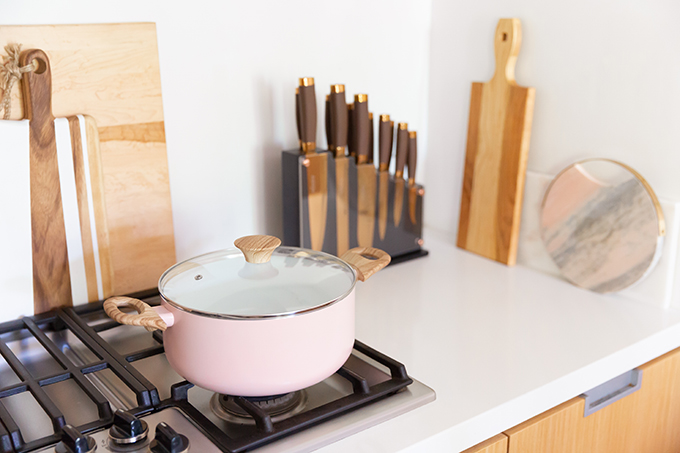 Wondering what's next in our SPACE REFRESH series? Other than a few tentative kitchen updates (which will happen organically as we live in the space and find the right pieces!), we'll be finishing up the main bathroom (it's almost there!), then moving onto the master suite and eventually, the office (it's going to be a massive project!) — so be sure to stick around to see those spaces come together! In the meantime, be sure to check out Our Dining Room Bar | A Built-In Look on a Budget for specifics on how I brought the home bar area of this space to life.
If you can't get enough home based content, you can also follow along with my Home Pinterest Board for more interior inspiration, or the JustineCelina Home board where I'll be pinning our refreshed spaces and other DWELL content as it rolls out. If you have any questions or requests for upcoming content, just leave me a comment! Have a great week, everyone!
---
Thank you to Hunker for featuring our refreshed kitchen in their 7 Midcentury Dining Room Ideas, Everything to Know About Designing a Midcentury Modern Kitchen and 8 Midcentury Modern Flooring Ideas to Try in Your Kitchen articles. 
---
Disclaimer: Thank you to HomeSense Canada for sponsoring this post. JustineCelina uses affiliate and referral links, which allow me to receive a small commission when you make a purchase through one of my links. Thank you for supporting the brands and businesses that support JustineCelina!