---
If you would have told me 3 years ago that I'd be writing an article about How to Select and Care For Houseplants, I would have never believed you! While my green thumb is fairly new, to say I've learned a lot since I began selecting and caring for our houseplants since November would be a major understatement. And while I don't yet consider myself an expert, I have managed to keep our 15 houseplants alive for 9 months and counting now — so I must be doing something right! Our plants are growing like crazy this summer and while I've wanted to publish this post for awhile now, seeing them thrive prompted me to push this highly requested post to the top of my list!
If you're considering plant parenthood, it's important to remember that plants are living things and they deserve their best chance to thrive. They become your responsibility as soon you bring them home and you should commit to caring for them just as you would a pet. Plants need a great home, water (and sometimes food!), sunshine and most importantly, consistent care and love! Today I'm kicking off a brand new PLANT section here at JustineCelina with a crash course in plant selection and care — including how to select the right plants for your space, cost, the best plant shops in Calgary, planter selection and potting tips, and watering guidelines and schedules! If you've always been curious about the details of our urban jungle and how I keep our houseplants healthy, happy and thriving, pour yourself a delicious glass of wine, kick back, relax and settle in for a in-depth mid-week read!

---
HOW TO SELECT AND CARE FOR HOUSEPLANTS
---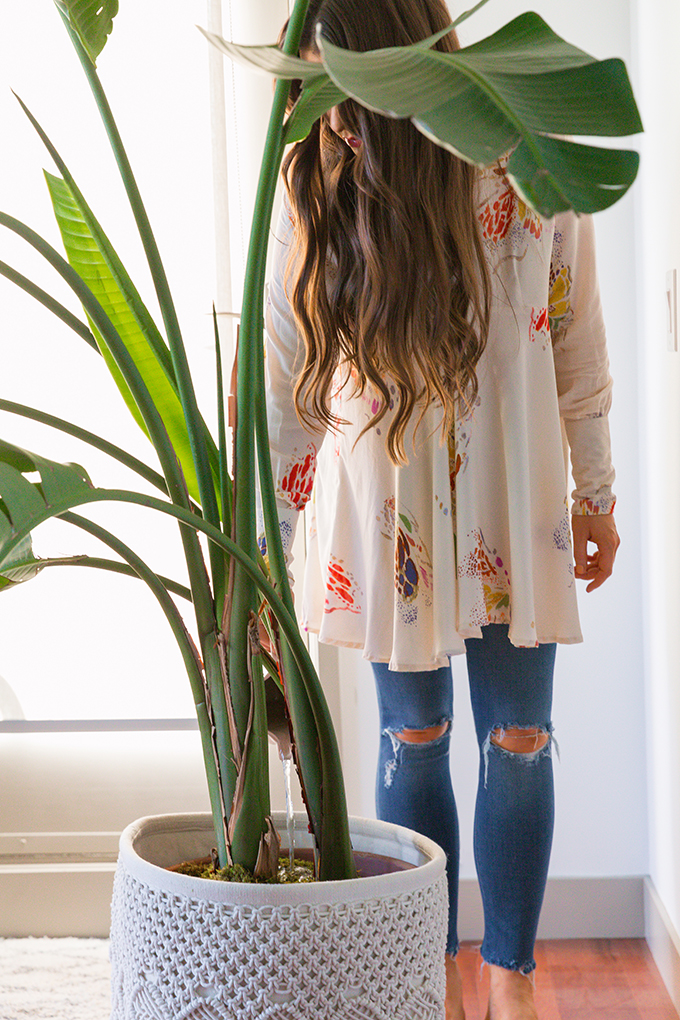 Plants, like people, are not perfect. Some are a little rough around the edges and they grow, evolve and change over time. It seems obvious, but that's really not something I thought about in the beginning! Most of the plants we purchased when we started on our SPACE REFRESH journey back in November of last year have completely changed in the time we've owned them. If you're currently shopping for houseplants, don't worry about selecting the most perfect looking plant — chances are, in a couple of months it will look completely different than the day you brought it home!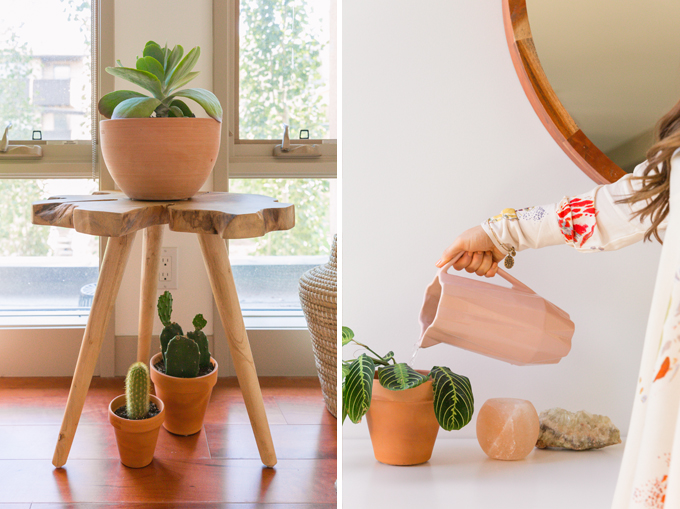 I'm proud to say that our urban jungle is happy, healthy and thriving — with many plants sprouting new leaves and chutes over the summer months. Today I'm sharing everything I've learned during the process of acquiring my green thumb! As this post is the first in JustineCelina's new PLANT education series, I'm going to keep things fairly general, but have organized this post into categories — so if there's something you're particularly interested in, keep scrolling to find it! Let's get started.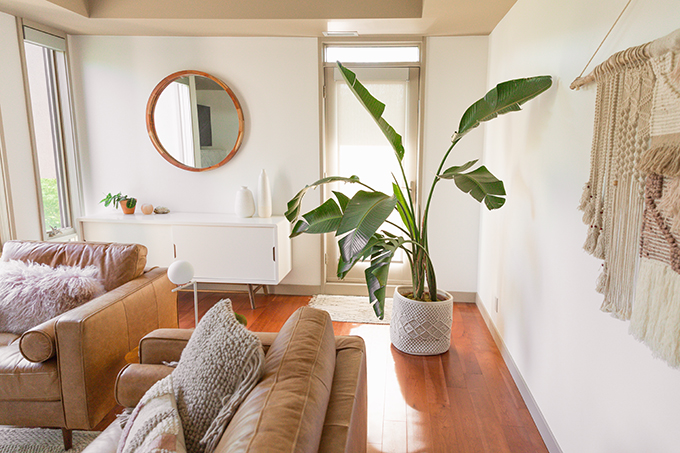 ---
Selecting the Right Plants for Your Space
---
Selecting the right plants for your space is undoubtedly the most important part of the plant parenthood journey. While we all have our preferences about the kinds of plants we like, you have to ensure your desired plant is going to thrive in your space — or there's no point in purchasing it! In fact, I'd be willing to bet that if you've ever had a plant last less than 6 months (and you cared for it properly) that it simply wasn't suited to the lighting conditions of your environment.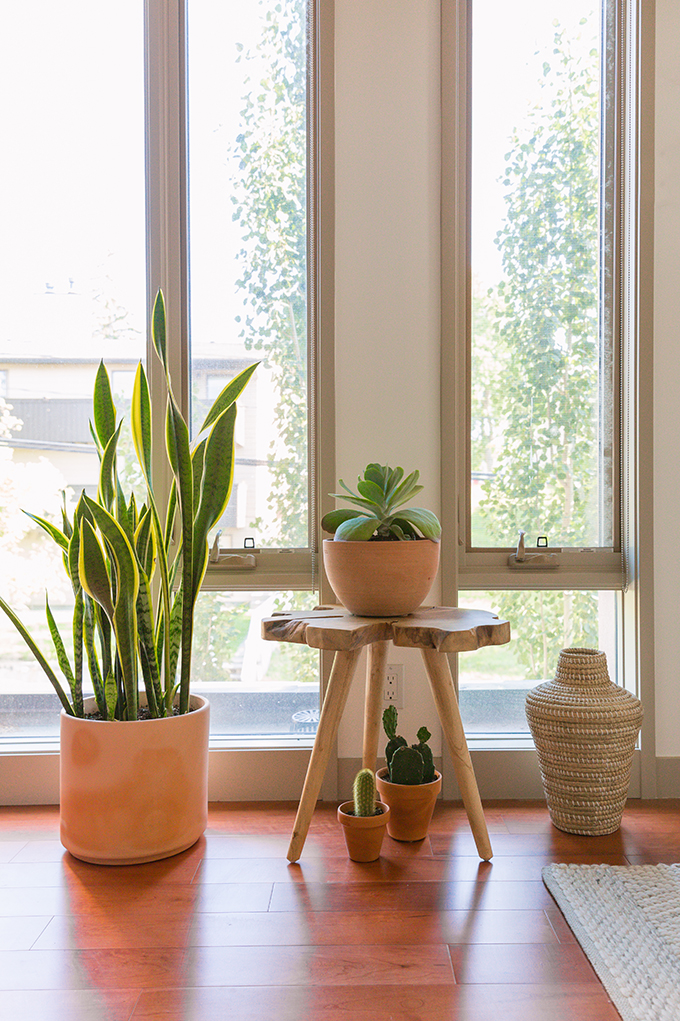 I'm so grateful that my first introduction to plant selection was at Plant here in Calgary! I had a vision for the area in front of our floor to ceiling living room windows — I wanted a Fiddle Leaf Fig potted in a gorgeous Mid Century Turned Wood Leg Planter. In fact, it was the first piece of decor I purchased for our Living Room Refresh! In true JustineCelina fashion, I stalked Plant, waited for a night when they were having a sale, called ahead to see if they had any Fiddle Leaf Figs in stock — and I was in luck! So, I popped down to Plant to check out their selection fiddles and began speaking with their staff about our space, our southwestern exposure and how much direct sunlight our living room gets all day. It was a Fiddle Leaf Fig's dream home right?! Wrong!
Not only did Plant inform me that Fiddle Leaf Figs hate direct sunlight (their leafs actually get sunburnt and develop brown spots!), I should be looking at entirely different plant families and species for our sunny, southwest facing living room. I was a bit heart broken, but kept an open mind as they walked me through the shop and educated me about different species, which plants like which lighting conditions, and alternatives I could consider for the spot next to the window.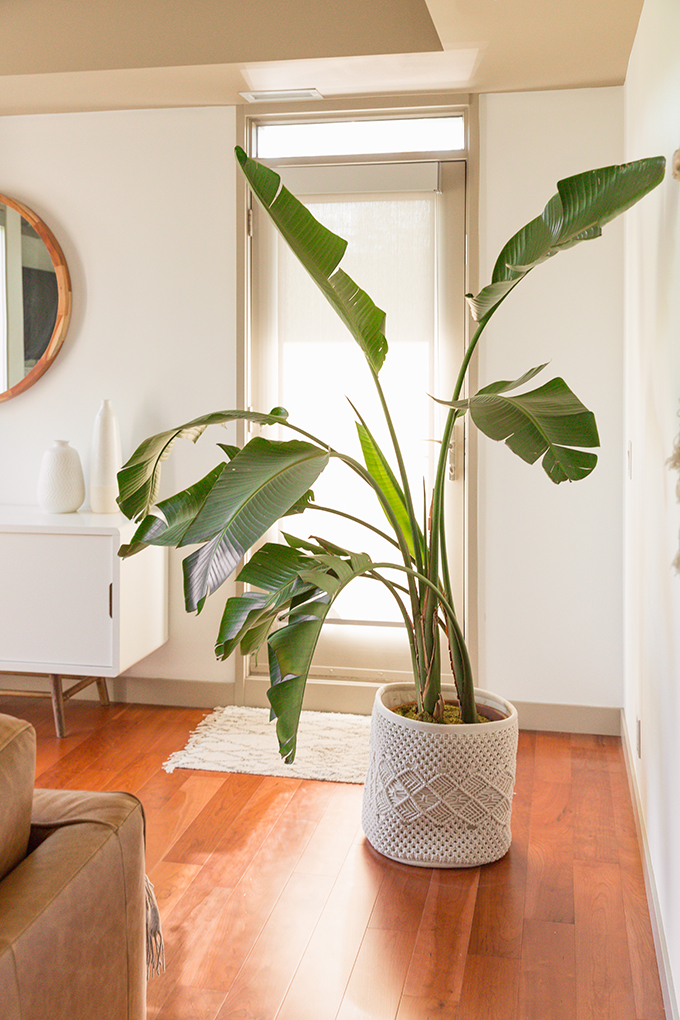 As we made our way around the shop, I was really drawn to the Birds of Paradise they had in stock. I'd never even heard of them — but loved their oversized, sculptural leaves and tropical flair. I learned that they were a hardy, tropical plant that can withstand a bit of direct sunlight — and that they would be perfect for the corner of our Living Room that gets direct, south facing sun all day, and direct, evening light though our west facing patio door.
So, Barry came home with us! He was the first plant we purchased (and a whopping $250!) and as soon as we set him up in his corner, I knew he'd make such a beautiful focal point in the room. He was our first plant in this space (actually, at the time we brought him home I had sold the majority of our old furniture so he pretty much had the place to himself!) and the one that inspired me to want to learn more about plants and how I could work them into our design plan to bring the living room to life!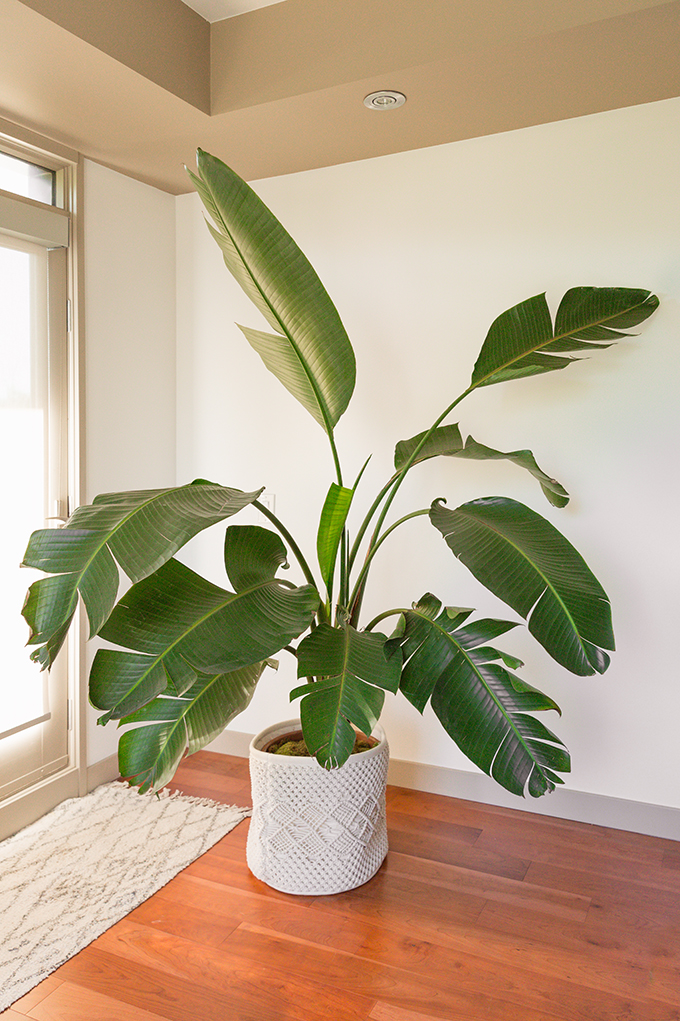 I learned that cactus and succulents would do best by the south facing windows, as they thrive in harsh, sunny conditions. So, one by one I purchased the family of cactus (actually, all from Plant as well!) and the Snake Plant (which can also withstand full sun and cleans the air) you now see perched next to our windows.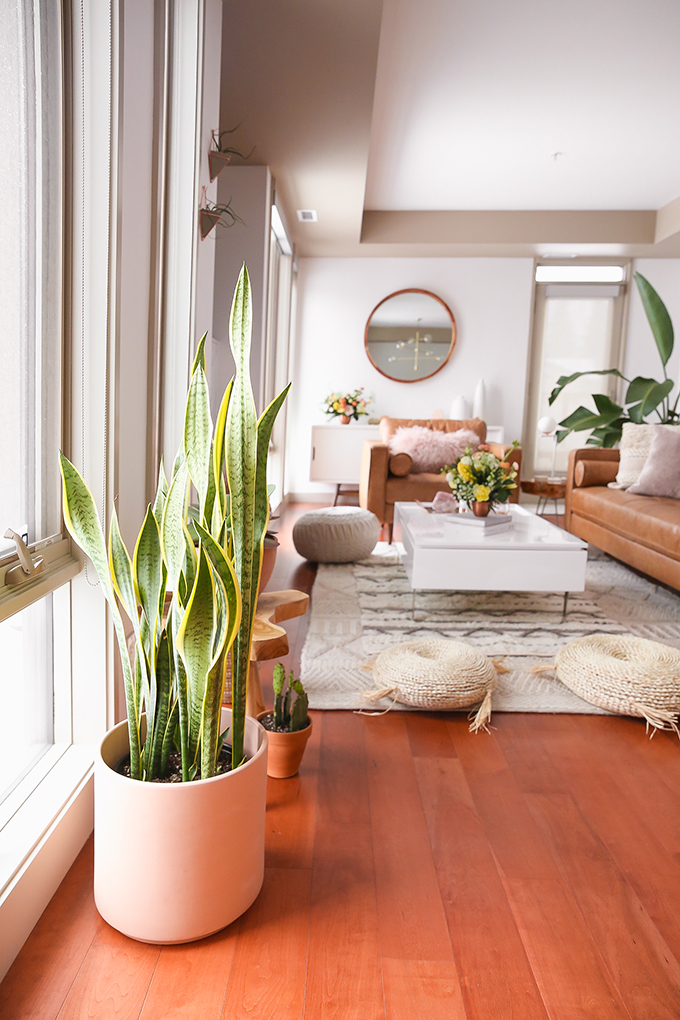 However, the majority of the plants in our space are tropicals. They're fairly easy going plants that like direct sunlight, plus, they're absolutely gorgeous! You'll see a variety of air cleansing Prayer Plants scattered around the living room — as they, along with our Stromanthe Sanguinea (in the gold planters) can also withstand various lighting conditions.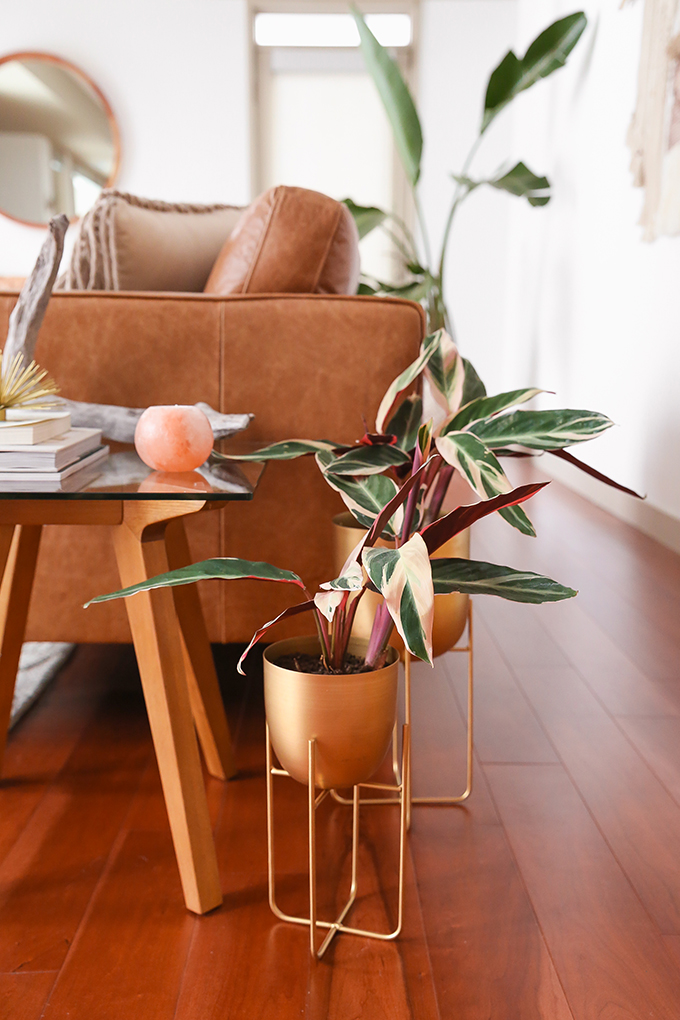 These colourful tropicals are all part of the same family, Marantaceae (native to Brazilian tropical forests) and I love their fun, variegated leaves. We have one on our sideboard, one on our tree stump side table and 2 in our bar area (which is actually very low light ) and they seem to be doing best there!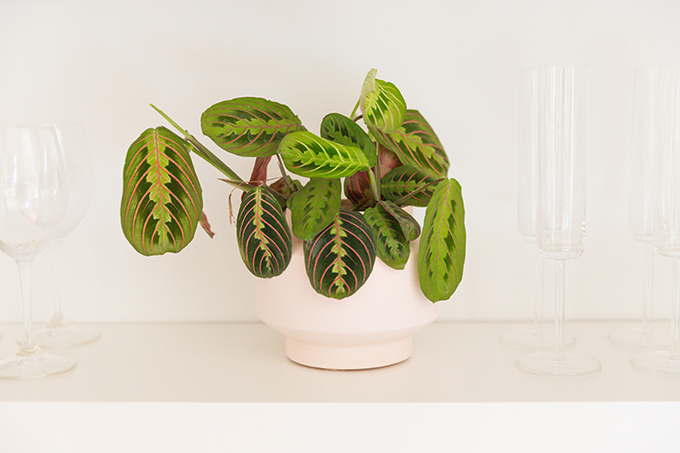 After about 6 months of owning the plants in our Living Room, as the Dining Room / Bar area came together, I still had my heart set on a Fiddle Leaf Fig for my beautiful West Elm planter. I'd heard horror stories of how fragile fiddles are, but I felt pretty confident that the area between out bar and dining table would be the perfect spot for it as it received bright (but indirect) light all day. I also felt that I had aquired enough plant parenthood skills by this time to care for the fickle fiddle!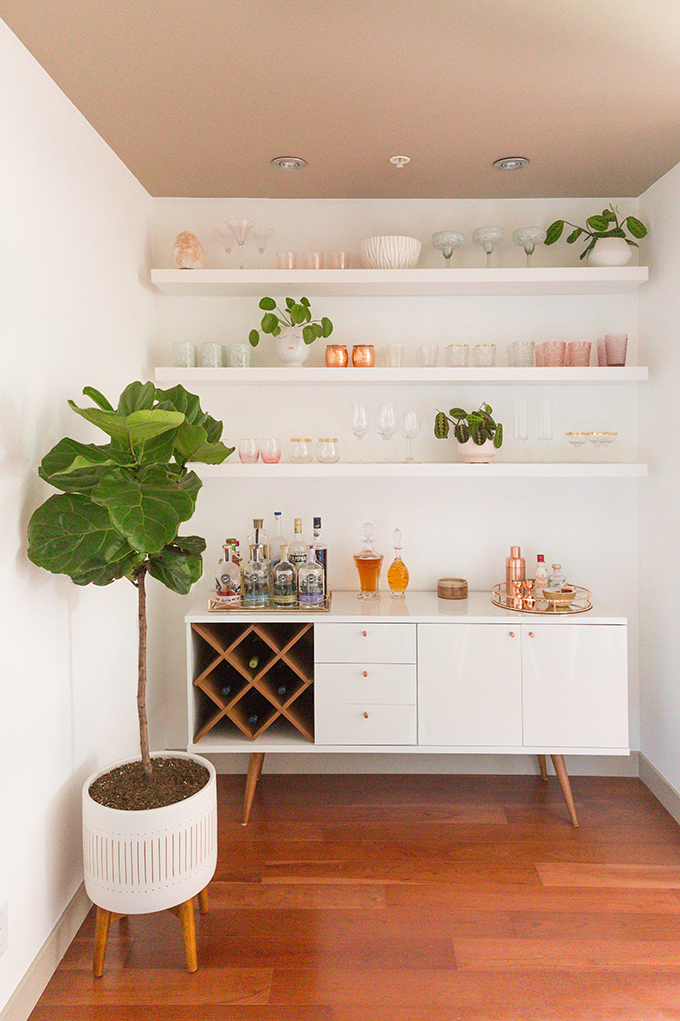 Wouldn't you know it, literally the Friday before my Monday shoot for our Dining Room / Bar / Kitchen Reveal, I found our Fiddle Leaf Fig (at Plant, of course!). They potted him for me on Monday, I drove him home, set him up and shot the post. It was a sunny day, so they wrapped his leaves up in plastic so he didn't burn — but they warned me that he may drop a few leaves and develop a few brown spots over the next few months because of the stress from the journey.

I'm proud to say he's doing well! He's developed a few brown spots and only dropped one leaf, but seems to be adjusting nicely. He's also started growing some new leaves this summer, which is a great sign!
And lastly, I also brought a Japanese Money Plant into our bar area. This was a plant I knew nothing about until I spotted it at Golden Acres (my other favourite plant shop) and loved it's unique leaves! I learned that it's an age-old token of good luck and an invitation to good fortune. It's also said to create positive energy — and it really seems to like it's placement on our bar shelf! Since I've brought him home, he's almost doubled in size and has sprouted 4 new mini plants at the base!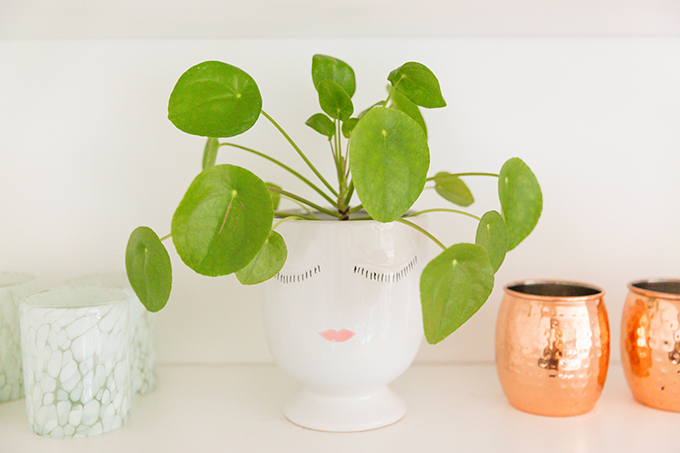 ---
General Cost & Best Plant Shops in Calgary
---
Plants are definitely in investment — typically, the larger the plant, the larger the price. Additionally, you also have to factor in pots, potting fees (if you'd like a professional to handle that for you!) and soil, fertilizer, etc. So, if you're looking to create your own urban jungle, I'd recommend doing so slowly and organically, adding a couple of plants at a time!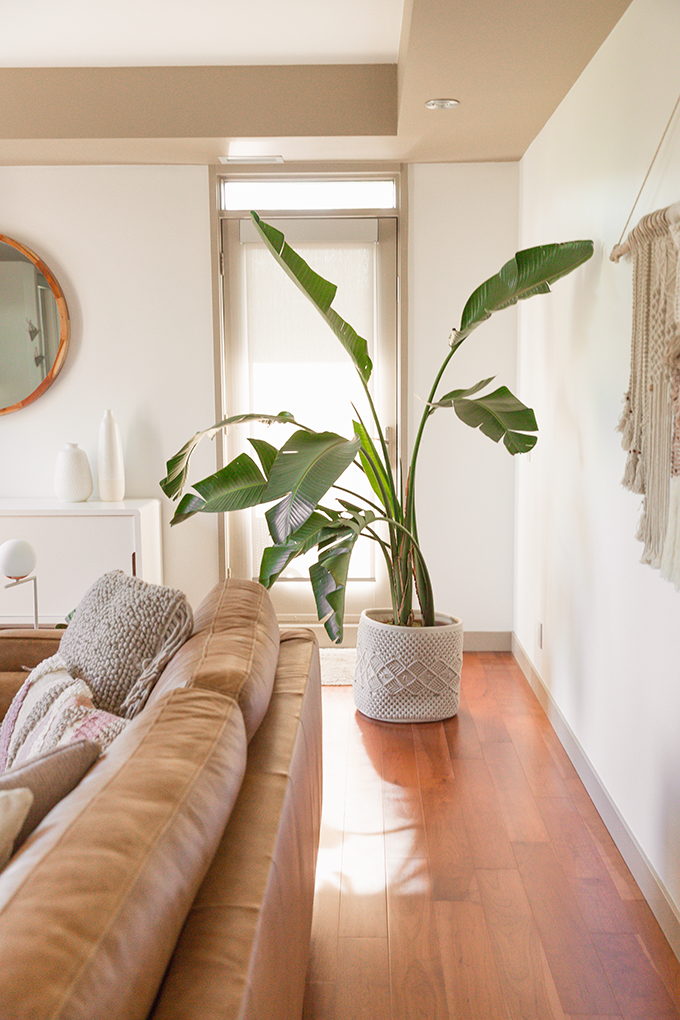 Curious about how much your favourite houseplants cost? While costs vary depending on where you live and where you shop, here's a general breakdown of the plants featured in our main living area, most expensive to least expensive:
Mature Bird of Paradise | $250
Fiddle Leaf Fig Tree | $90
Snake Plant | $80
Large Succulent | $45
Cactus | $20
Japanese Money Plant | $20
Stromanthe Sanguinea | $10
Prayer Plants | $8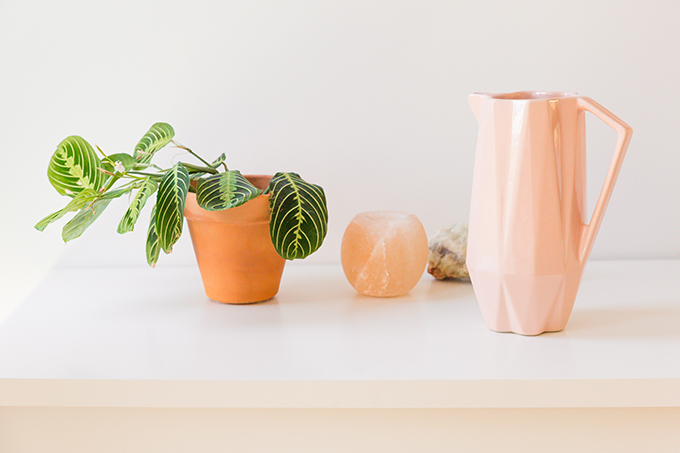 When it comes to my favourite places to purchase plants in Calgary, the number one spot goes to Plant, hands down. Every single time I visit they're always so helpful and really go above and beyond to educate you and help you make decisions. They also have a beautiful selection of planters and other gorgeous home goods — plus they offer a potting service for a reasonable price (around $20 — and don't mind if you bring a pot from another retailer!). My second favourite spot is Golden Acres Garden Centre in Calgary's North East. They're not as knowledgeable (or passionate) as the staff at Plant, and don't offer potting services, but you can find some really amazing deals, tons of variety and super healthy plants there! And lastly, I love to pick up smaller houseplants at RONA. Our Stromanthe Sanguinea came from a RONA Garden Centre (I find the location near Sunridge mall in the North East has the best selection!) and they were an absolute steal!
---
Planter Selection & Planting Tips
---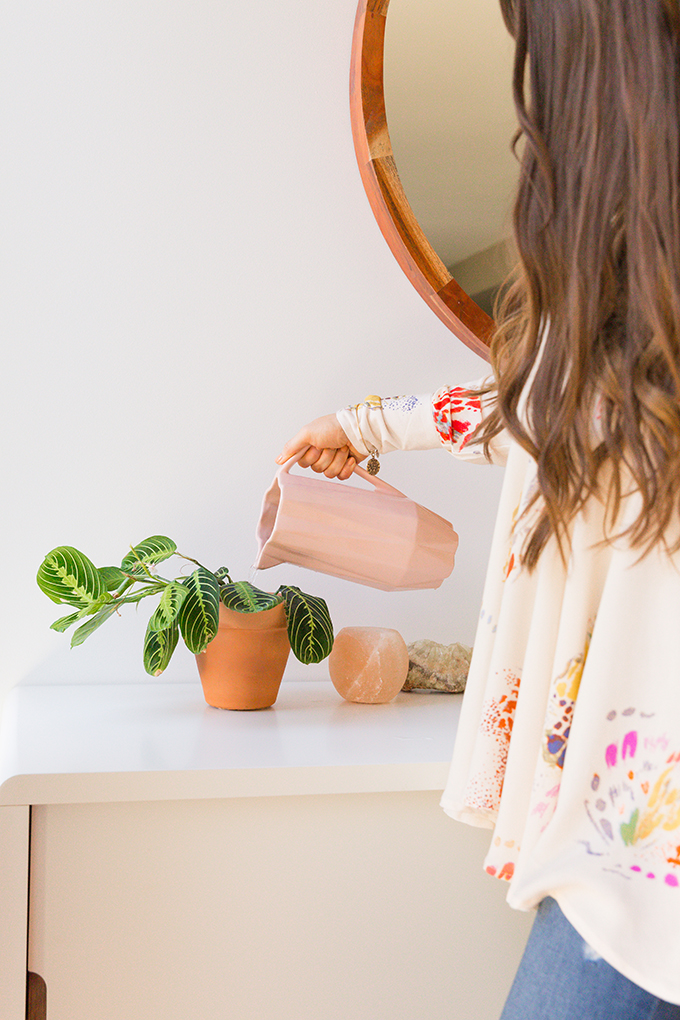 Another important factor in plant selection is also planter selection. This is something I knew absolutely nothing about before I started bringing plants into our Living Room! In general, I aired on the side of purchasing larger planters than I thought necessary to allow the plants to grow into them without needing to repot for a few years. The staff at Plant was really knowledgeable in helping me select the right sized planters for my plants — and I carried that knowledge into all my other planter purchases. Since I aired on the size of going a bit larger than required with our planters I won't have to repot any of our plants for a couple of years, which is ideal!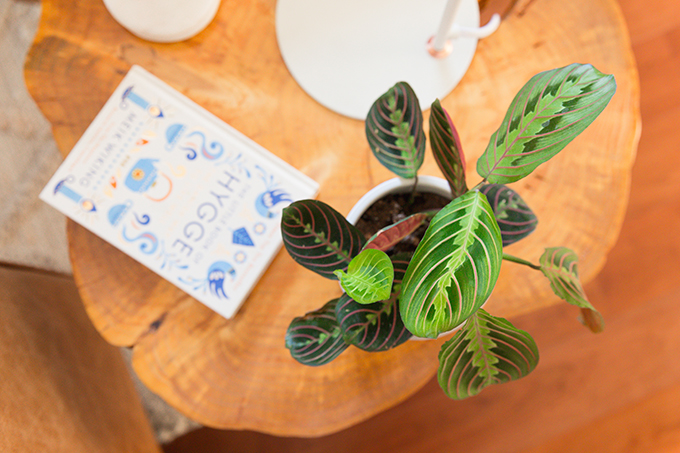 Another things to consider is drainage. Personally I don't like the look of drainage trays under pots, so I opted to cover up drainage holes and instead pot out plants with a generous layer of stones at the bottom for proper drainage, before adding the soil on top. I watched the staff at Plant pot our Bird of Paradise and our Fiddle Leaf Fig, so I learned how to do it — and I potted the rest of our plants myself!
---
Watering Guidelines & Schedules
---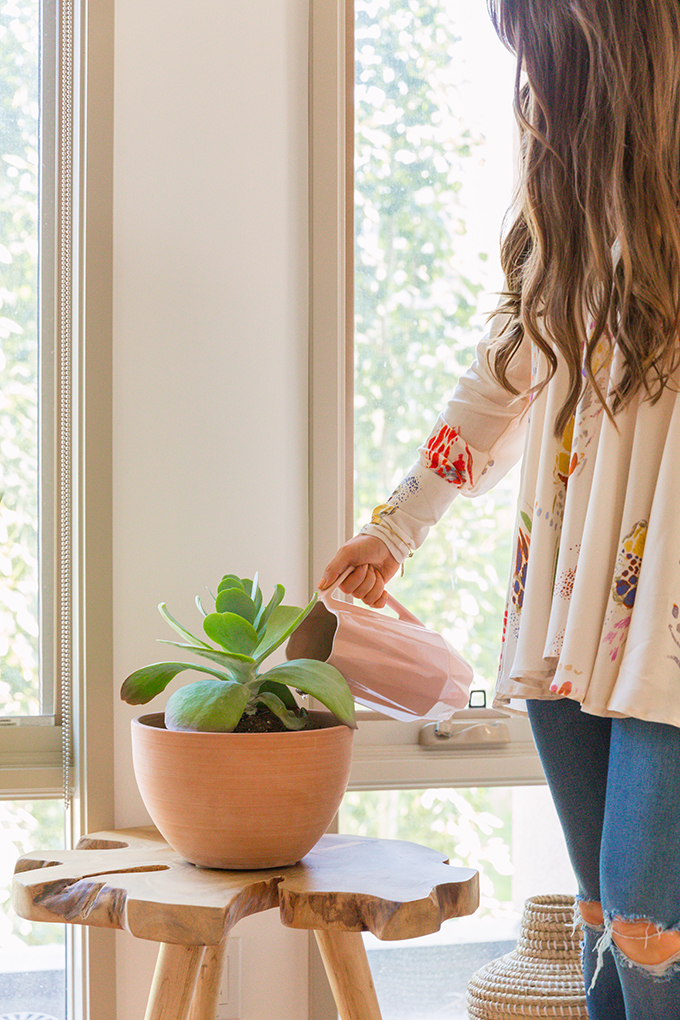 When it comes to watering our urban jungle, I keep things pretty simple. I've found that plants like routine, so for the majority of the year, I water once a week on Monday mornings, after I make my coffee (I've actually really grown to love this relaxing start to the week)! Typically I split 2 full pitchers between all the plants — with our Bird of Paradise, Fiddle Leaf Fig and the Snake Plants getting the majority of the share (a full jug).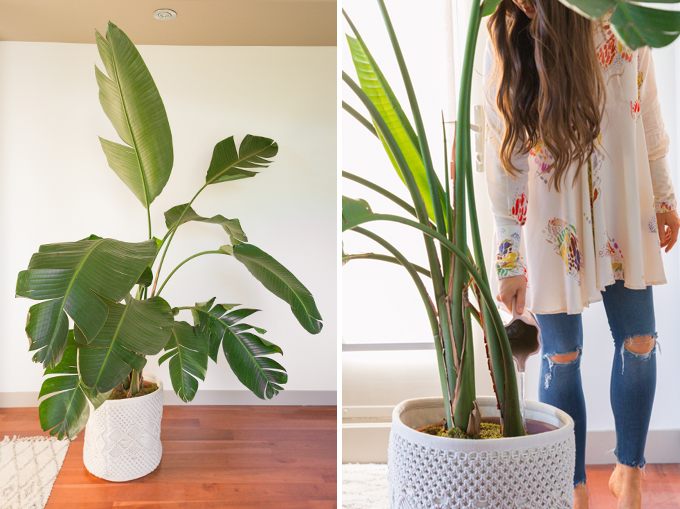 Just this summer, I began giving the Bird of Paradise and Snake Plant some extra water mid-week — about half of what they get on Mondays. It's been quite a hot summer and I found their soil was a drying out fully by mid week, so I wanted to experiment with giving them an extra drink. Since I started doing so, Barry has sprouted 2 new leaves which are growing like crazy, and the Snake Plant has gained a couple of inches in just a couple of months!
---
SHOP THE POST
---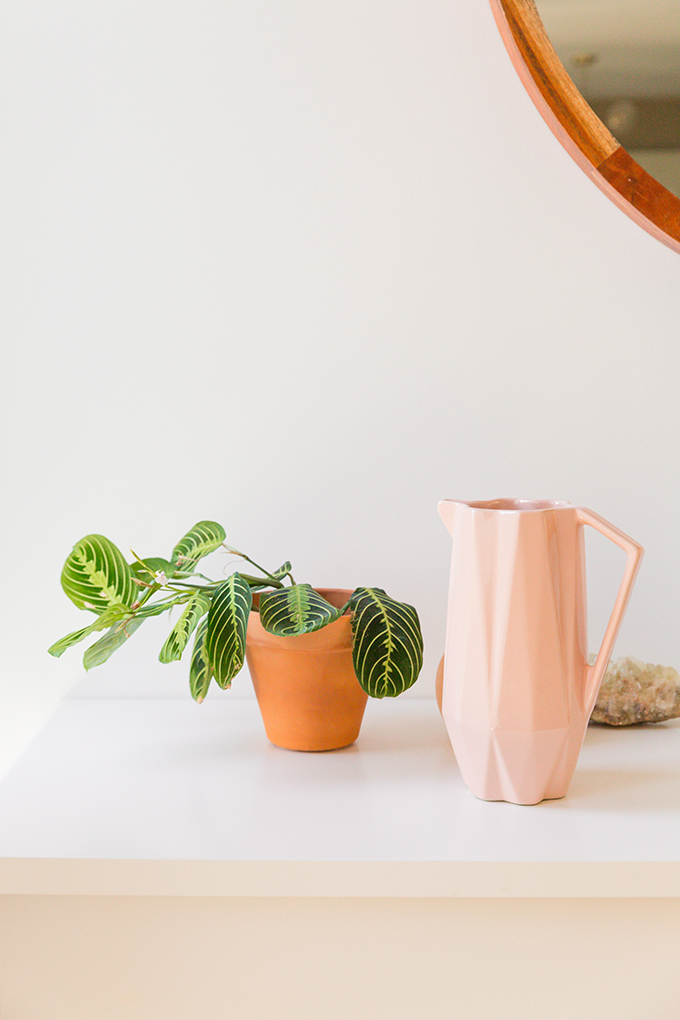 ---
MORE FROM OUR URBAN JUNGLE
---
Space Refresh | Living Room Reveal
Our Apartment Therapy Living Room Feature
Space Refresh | Dining Room, Bar & Kitchen Reveal
How to Use Flowers to Unite a Space
---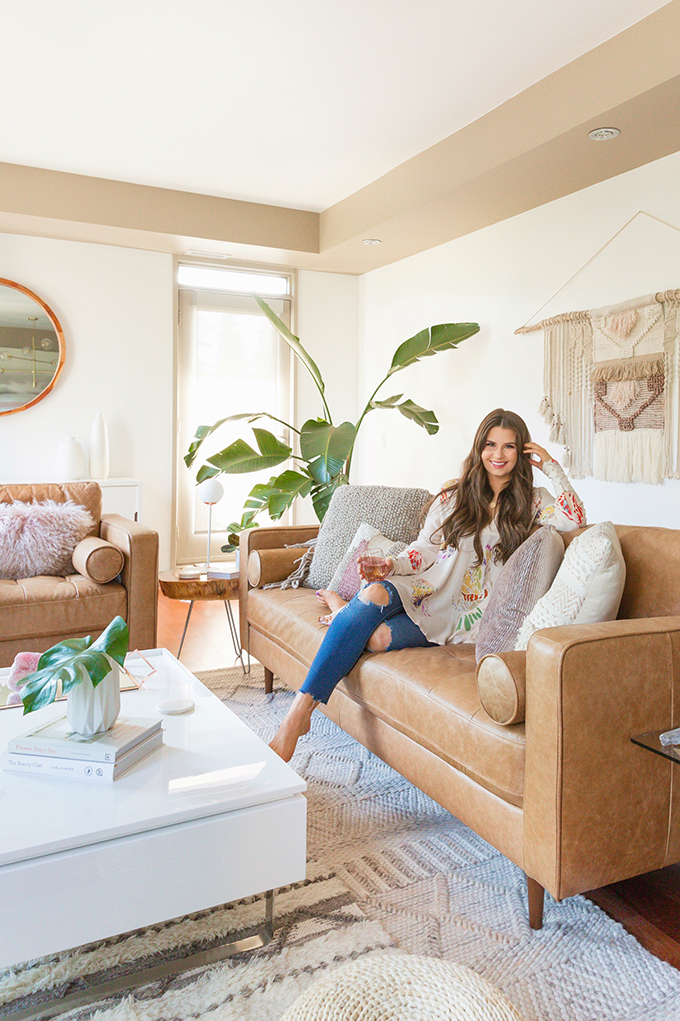 Thanks for stopping by to learn about How to Select and Care For Houseplants today, friends! I hope you found it helpful and informative — but if there's anything I didn't cover that you're curious about, just leave me a comment. Moving forward with this new PLANT EDUCATION series, I'm planning to create ALL ABOUT posts dedicated to specific plants, like we do in our FLOWER section. Which plant are you most interested in learning more about? We get the most questions about Barry (our mature Bird of Paradise), but I'm always open to your suggestions!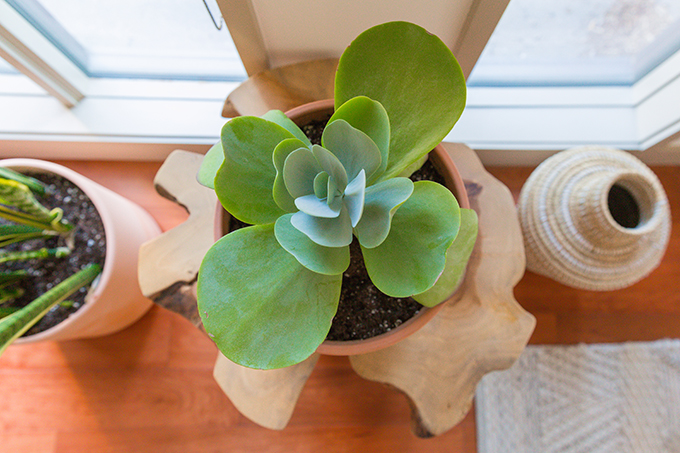 If you're looking for even more home home based inspiration, you can also follow along with my Home Pinterest Board for more interior inspiration, or the JustineCelina Home board where I'll be pinning our refreshed spaces and other DWELL content as it rolls out. I have so much home based content planned for the rest of 2018 and I can't wait to share it with you!
---
Disclaimer: This post is not sponsored and contains my genuine thoughts, ideas and recommendations. JustineCelina uses affiliate and referral links, which allow me to receive a small commission when you make a purchase through one of my links. Thank you for supporting the brands and businesses that support JustineCelina!