---
Friends, I'm elated to finally share our Apartment Friendly Modern Holiday Decor with you today! If you've been following along with JustineCelina this past year, you'll know we began refreshing our inner city Calgary apartment to create our dream home. We started from scratch with a fresh coat of paint, new furniture and new decor — and this year, I was so excited to decorate for the holidays for the first time in 6 years (we decorated fully for our first Christmas here… and never again!). Since we're always out of town for the holidays (we split our time between our families homes in rural Alberta), I usually just save myself the extra time and effort and keep our holiday decor super minimal. Because we live in an apartment and have limited storage, the thought of hauling down a huge artificial tree from recesses of our entrance way closet and sorting through boxes of decor was simply never a priority during this busy month! But this year, I decided to sell all the old decor that no longer worked of us and start fresh (literally!) with our first real Christmas tree, tons of greenery and festive DIYs, plus all new holiday decor — and tonight I'm sharing every detail about how I pulled it all together!
If you're a fan of mid century modern or more natural, earthy, bohemian elements, I'm sure you'll agree that traditional holiday decor leaves a lot to be desired. I knew I wanted the look and feel of our holiday decor to be cohesive with our space and bring in lots of living greenery, warm neutrals, natural wood and stone textures, mixed metallic accents and free spirited, whimsical textures. I also wanted to incorporate a nod to vintage, mid-century inspired design while keeping a mixture of traditional and contemporary elements and cozy up the space with layers of faux fur, wool and chunky knits. After many HomeSense, Canadian Tire and plant / flower shop runs, I'm so pleased with the way our holiday home has come together and can't wait to spend some downtime here as the year draws to a close! Pour yourself a juicy glass of red wine and come join me on our leather sofa as I walk you through our Apartment Friendly Modern Holiday Decor!
---
APARTMENT FRIENDLY MODERN HOLIDAY DECOR
---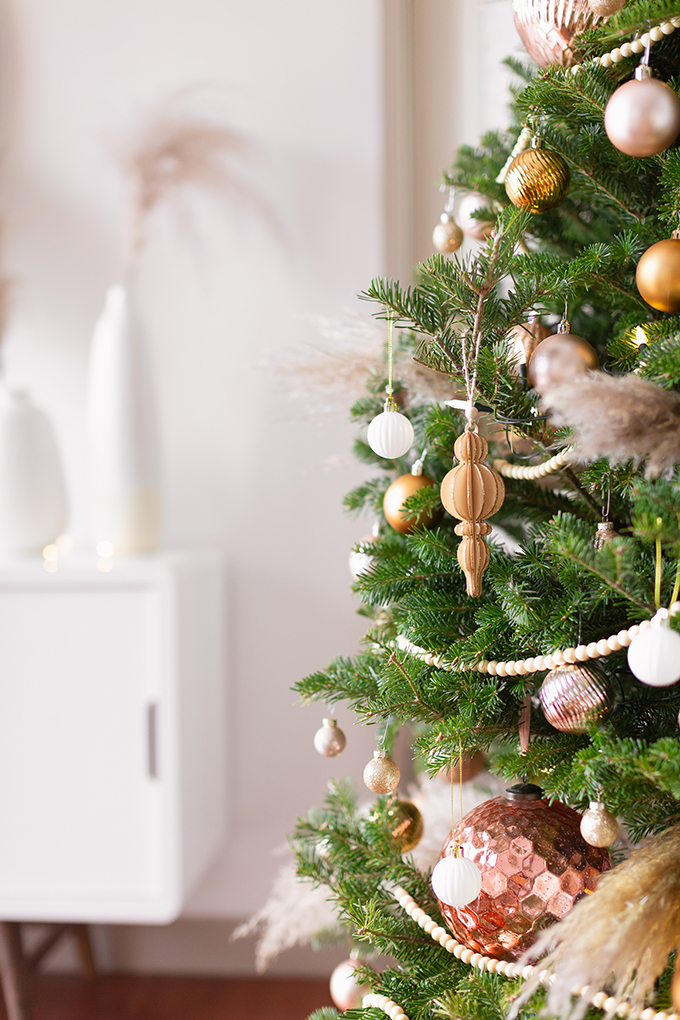 It all started with the tree. I was determined to decorate for the holidays this year — and as I was sorting though all our old decor to sell (including a massive, artificial Blue Spruce tree that had been taking up about 1/4 of our storage in the entrance way closet!) I took to Insta Stories to enlist your help deciding on our Christmas tree. I had 2 options in mind — a real tree (Adam and I have never had one of our own but I always had them growing up and evoked such fond memories) or a vintage inspired, smaller white tree (hey, if we were going artificial again, I wanted to have fun with it!).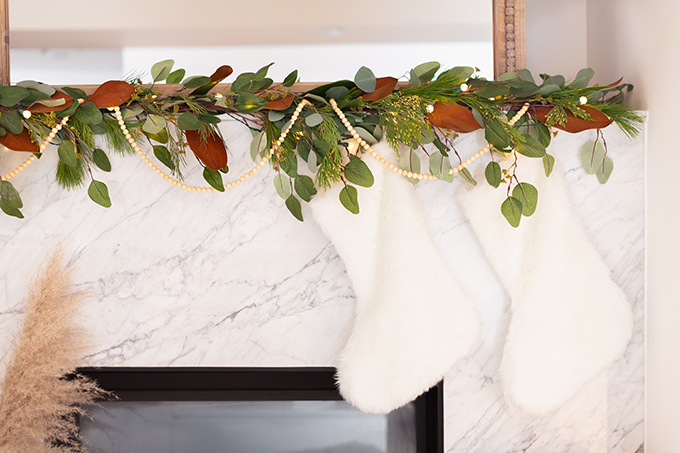 While both options had their pros and cons, something about purchasing another artificial tree just didn't sit right as we have so many plants in our space. Longtime readers will know I absolutely love to have plants and fresh flowers in our home — so I set out to research my tree options, both real and artificial. I discovered was real Christmas trees of all shapes and sizes were readily accessible here in Calgary and we could purchase a premium, real, 7.5′ tree for a fraction of the cost of an artificial white tree — which meant we wouldn't to worry about storing it. I was sold — and you also voted for a real tree on Stories!
I learned that Nova Scotia Balsam Fir Trees are the most popular Christmas tree species in Canada because of their brilliant green hue, gorgeous scent and soft, supple needles (which sounds strange, but really makes a difference in when you're transporting and decorating your tree!). We decided to purchase our tree from Golden Acre Garden Centre in Calgary's Northeast since we also needed a tree stand and a crash course on how to care for a real tree! We purchased a few plants in our living room from Golden Acres and the staff there is always friendly and helpful, so it was a great one-stop-shop for us (they also suggested an inexpensive tree preserving solution to keep our free super fresh and minimize shedding). I couldn't be happier with our purchase — nothing beats the fragrance a real tree infuses into your home and it's quite simple to care for!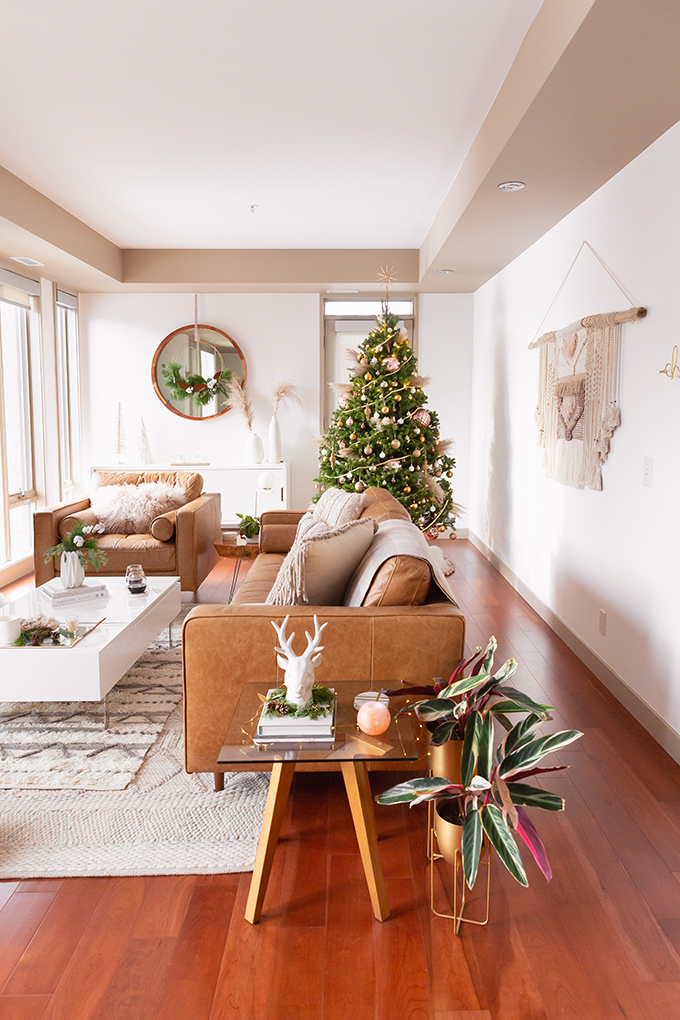 During my Black Friday shopping, I wandered over to the Canadian Tire website in my search for white artificial trees — and they had some incredible deals! Although we didn't go that route, I was pleasantly surprised when I stumbled on their CANVAS holiday decor range. Our old decorations had a completely different colour scheme, so we had to start pretty much from scratch (I only kept the smallest bulbs and lighting from the old lot) and I knew with a 7.5′ tree we had a lot of ground to cover, so cost was top of mind.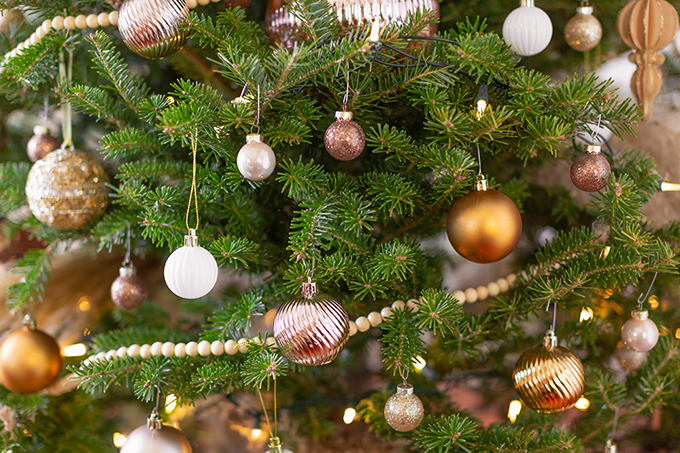 I wanted to keep our holiday decor warm and neutral with mixed metallics and pops of blush to echo the finishes and palette already present in our Living Room. So, I started with a base of this 150 piece Gold Mixed Metallic Ornament Set, which I picked up for 30% off. To add interest, I selected more detailed ornaments in odd numbers — 3 wooden ornaments also from Canadian Tire, 5 large metallic blush ornaments and a set of 3 gorgeous, gold, jewel-encrusted ornaments from HomeSense. I bring in a pop of white, I also purchase 2 sets of smaller ornaments from Canadian Tire. I absolutely adore the look of vintage wooden garland and was so pleased to also find these at Canadian tire — I loved them so much purchased 8 total and also used one for the fireplace! This stunning Starburst Tree Topper finishes the tree beautifully and imparts a bit of a mid-century, sputnik vibe.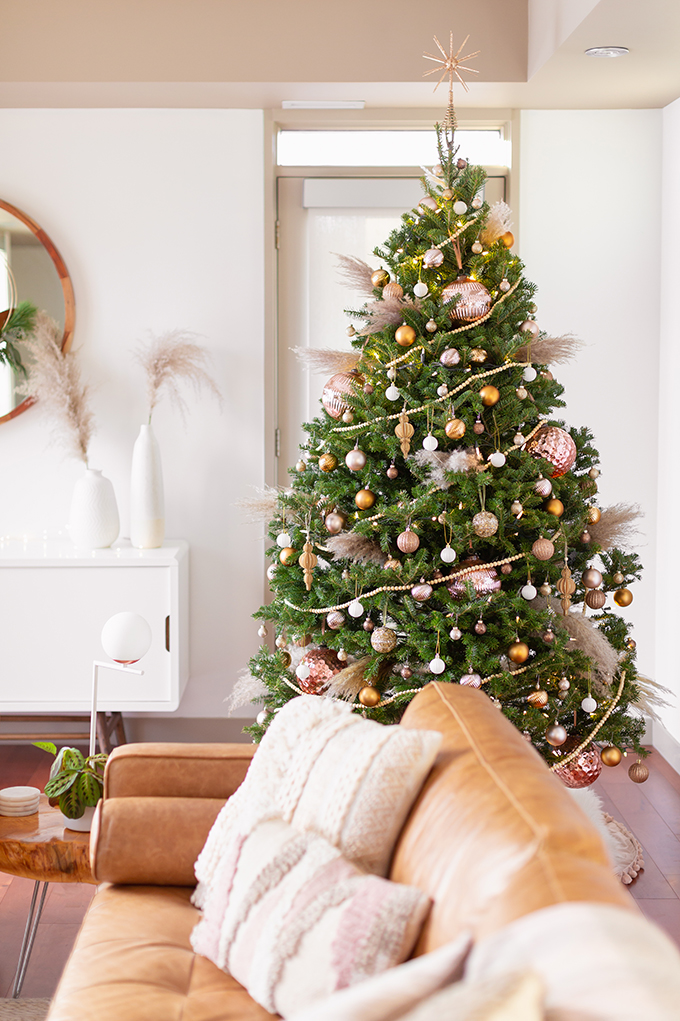 Once I had finished decorating the tree, I still felt like something was missing — and I remembered I had some extra pampas grass stalks kicking around! I had sourced pampas grass this fall to add to our vases and felt like it might work to add fullness and an interesting texture to the tree. This was a totally spur of the moment decision and something I had never seen before, but I started inserting stalks into tree in the same direction as the branches were growing — concentrating the fuller flourishes of grass at the bottom and the lighter, shorter grass at the top. While it may not be for everyone, I absolutely adore the unique, quirky vibe the pampas grass adds to our holiday tree and the way it ties in with the the other pampas grass we have in the space. It's fun to plan out decor and styling elements, but I also love trusting the creative process and allowing myself to be inspired by ideas that come naturally along the way!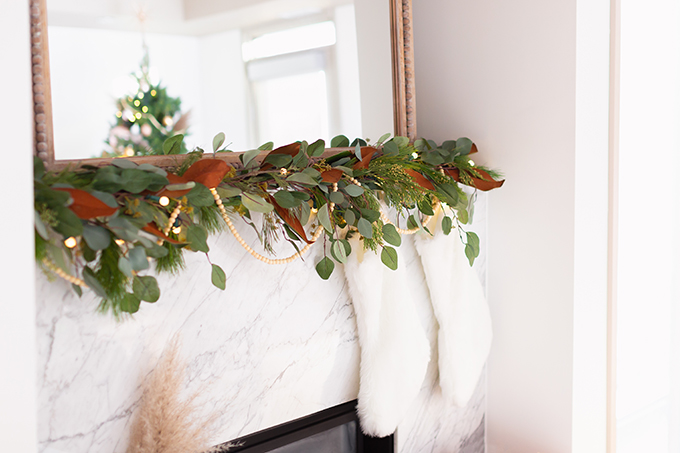 The next main focal area I wanted to infuse with some holiday charm was the fireplace. I knew I wanted to bring tons of fresh greenery into the space, but purchasing enough to construct a full 8′ garland by hand would be both expensive and time consuming. So, I ended up compromising and purchased a Pre-lit Eucalyptus Leaves Garland (also from Canadian Tire!), then added fresh greenery to it — and it turned out beautifully! The pre-constructed garland served as a fantastic base that I could use to add an assortment of fresh greenery to, securing it with paddle wire as I went. I added a string of wooden beaded garland to finish the fireplace, along with 2 Faux Fur Stockings to keep the area feeling light, bright and cozy.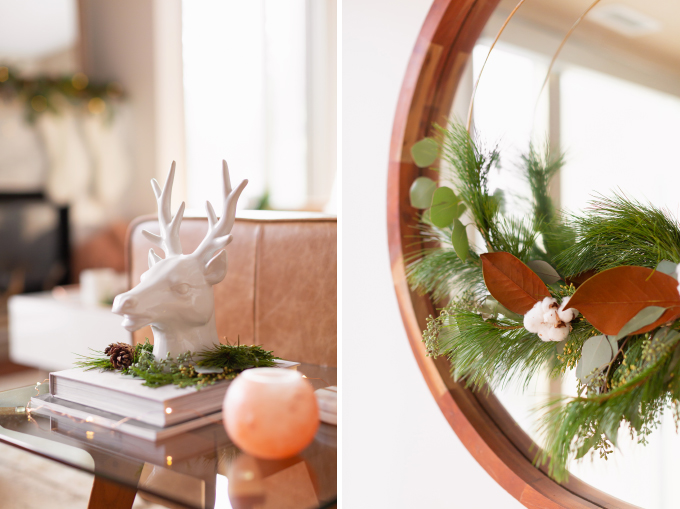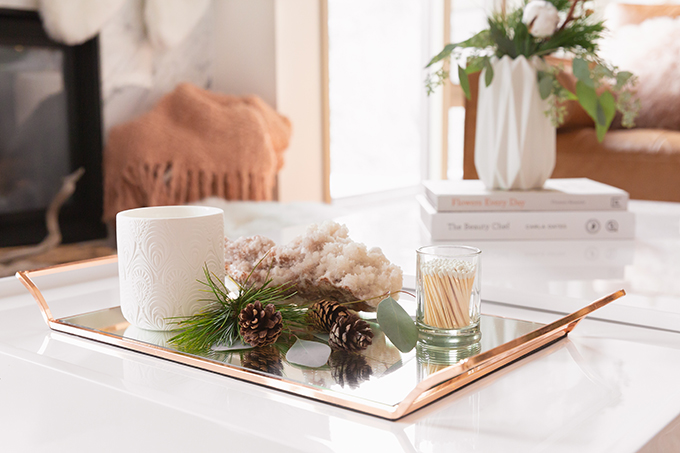 I ended up making a couple of runs to various plant and flower shops to source fresh greenery. One of my favourite spots for both plants and fresh greenery is Plant in Inglewood — which where I picked up the Magnolia Leaves, Cotton Stems, Silver Dollar Eucalyptus, Seeded Eucalyptus, Cedar and Insense Cedar you see strewn about the apartment! But if you're not local and looking for an accessible source for fresh holiday greenery, I also discovered Canadian Tire's Holly Days Boutique (located just inside the entrance way!) just this week, which has a beautiful assortment of greenery and stems at fantastic prices. Not only is holiday greenery long-lasting and fragrant, it's also relatively inexpensive. I spent $60 on 5 bunches plus 2 cotton stems and had enough for a garland, hanging wreath over the mirror, small arrangement and snippets to style serving tray and reindeer head — with tons left to spare! I love the fresh, organic quality that greenery, stems and foraged elements like acorns bring to our holiday home.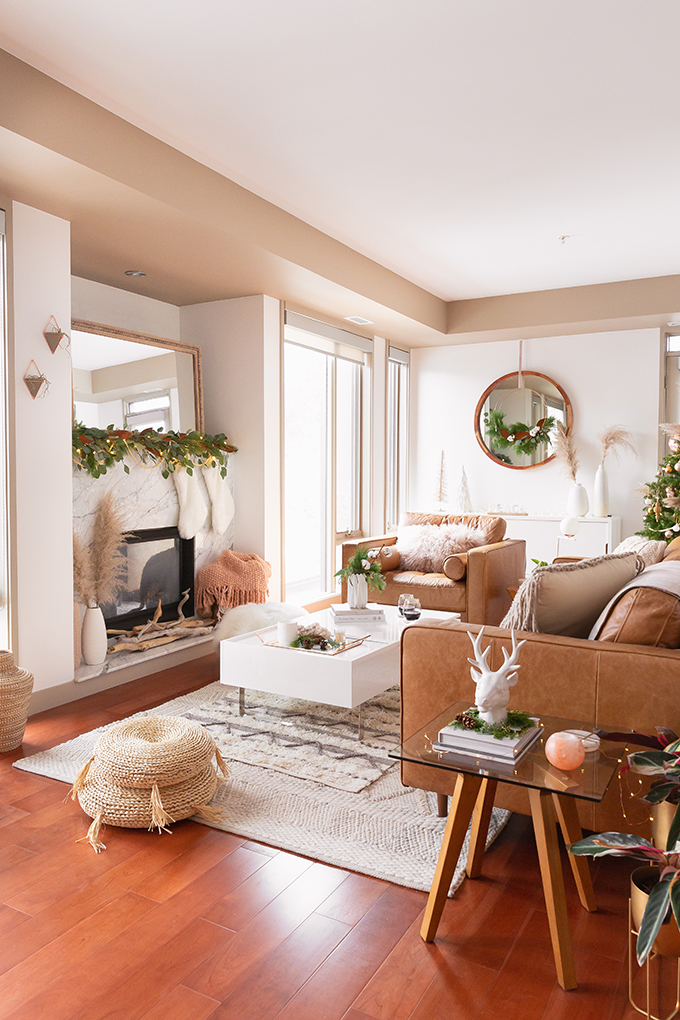 After I had finished the garland, I decided to whip together this little greenery and cotton stem arrangement for the coffee table — and it took me about 5 minutes! Basically, I just took the clippings I had leftover from the garland and arranged them in a simple, geometric vase we already had — then added a cotton stem for some texture and visual interest. It turned out super cute and is such an easy an inexpensive idea for a quick holiday DIY — I'm actually going to make one for each of the ladies in my family for hostess gifts during the holidays (let me know if you're interested in a dedicated post where I can get into more detail about exactly how I created this arrangement!). The best part is that they'll last for weeks with basic care and maintenance — be sure to check out our comprehensive FLOWER EDUCATION archives to brush up on greenery care and conditioning tips in the meantime!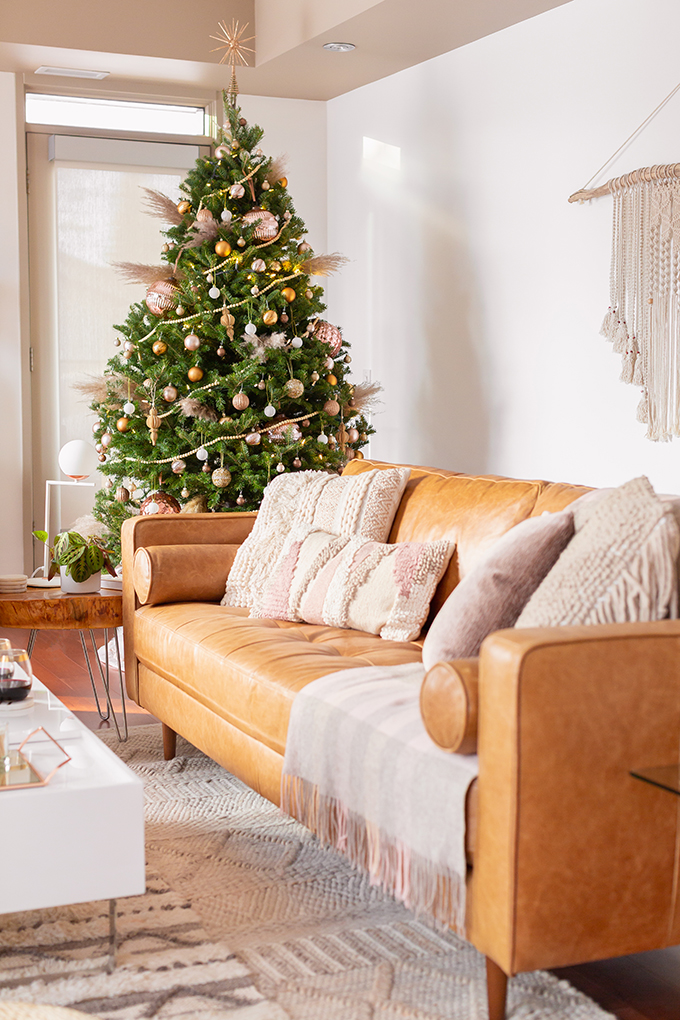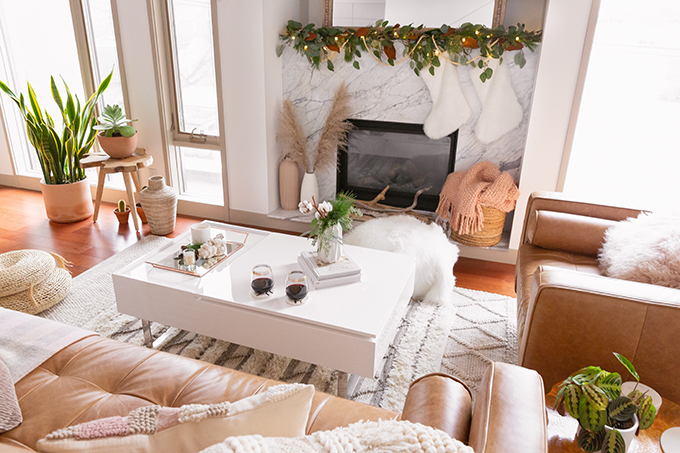 As you can see, most of our existing decor remains during the holidays — I've never really been one to swap out pillows or completely change up my colour scheme! Not only do we not have the storage for tons of extraneous pillows, throws and textiles, we also made a point of selecting a palette for our decor that is relatively seasonless. To cozy things up for the cooler months, we've simply brought in a few extra blankets and sheepskin throws. I love to have an abundance of throws and blankets on hand for curling up in front of the fireplace with a glass of red wine — and encouraging company to do the same!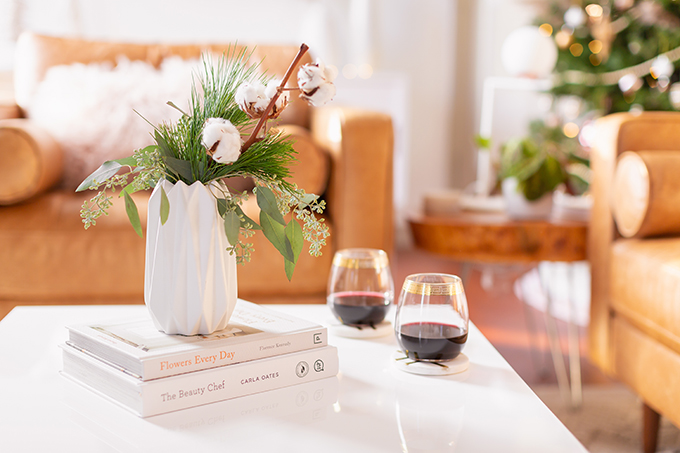 The last DIY project in our holiday decor was this modern wreath, hung over our circular wooden mirror with a piece of velvet ribbon. If it looks familiar, it's because I created a something similar last year — just with a few different ingredients! I actually wasn't sure if I was going to do a wreath this year, but wanted to add a festive touch to the sideboard area and thought this would be a simple idea that wouldn't require us to move or take down any existing artwork.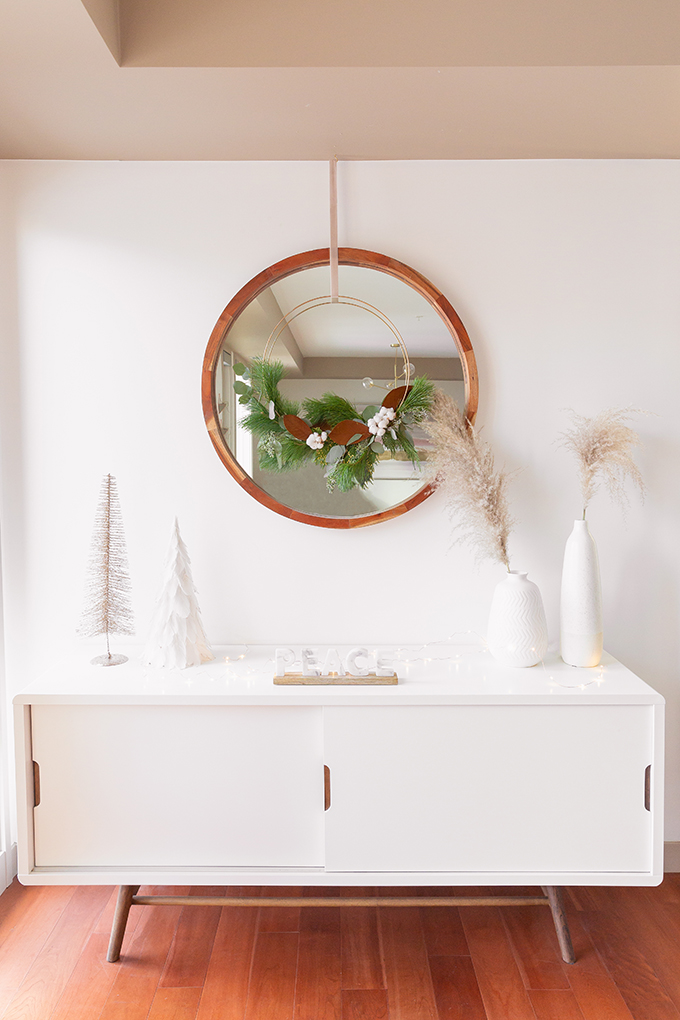 Following the same basic steps as my DIY Asymmetrical Holiday Wreath tutorial (which was recently featured on Style Me Pretty Living!), I created a smaller scale wreath that works beautifully to add a fresh touch to the area above our sideboard. It took less than an hour, start to finish — and I promise that with a few simple ingredients, you can do it too! To hang it, I simply screwed a hook into the bulkhead and attached a velvet ribbon (purchased at a local fabric shop) to the wreath and measured it to hang centered in the mirror. Handmade wreaths are a great way to personalize your decor and they also make a lovely gift!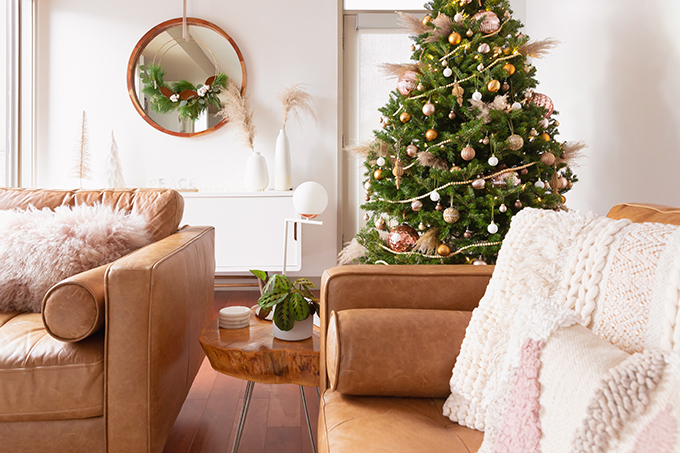 I kept the other holiday decor on our sideboard pretty minimal. The two vases on the right live there permanently — and the pampas grass was something I added during the fall, so it stayed. I found the beautiful marble peace sign at HomeSense on one of my first holiday decor runs and knew I wanted it to live on the sideboard! I love that it's simple but festive and echoes the marble finish of the fireplace. I purchased the Glitter Bottle Tree at Canadian Tire and the feather tree at Superstore — and the fairy lights were something we already owned (I often use them for styling holiday recipes!).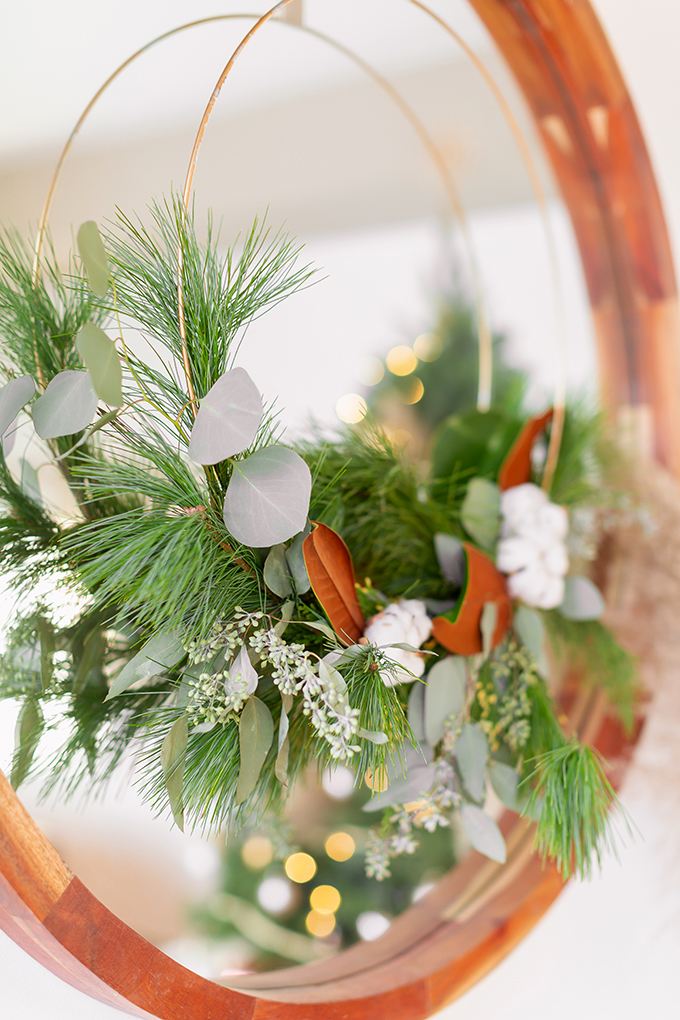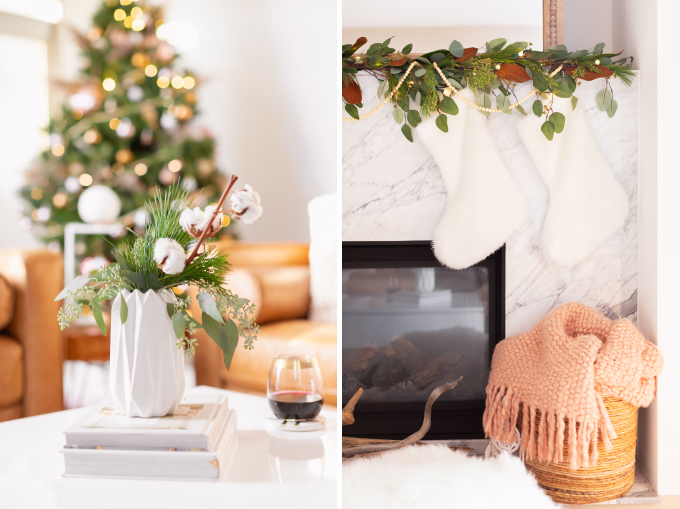 Although I realize it's a bit late to be sharing a holiday decor post, I really wanted to take my time decorating our refreshed space and mindfully selecting pieces that would work for us and our limited storage. It's been a busy month and I've had to just putter away at it here and there when I've had spare time — but this slow and steady approach allowed me to really enjoy the process. It made for the a completely non-stressful project and I also allowed me to get creative and infuse our space with thoughtful, homemade touches.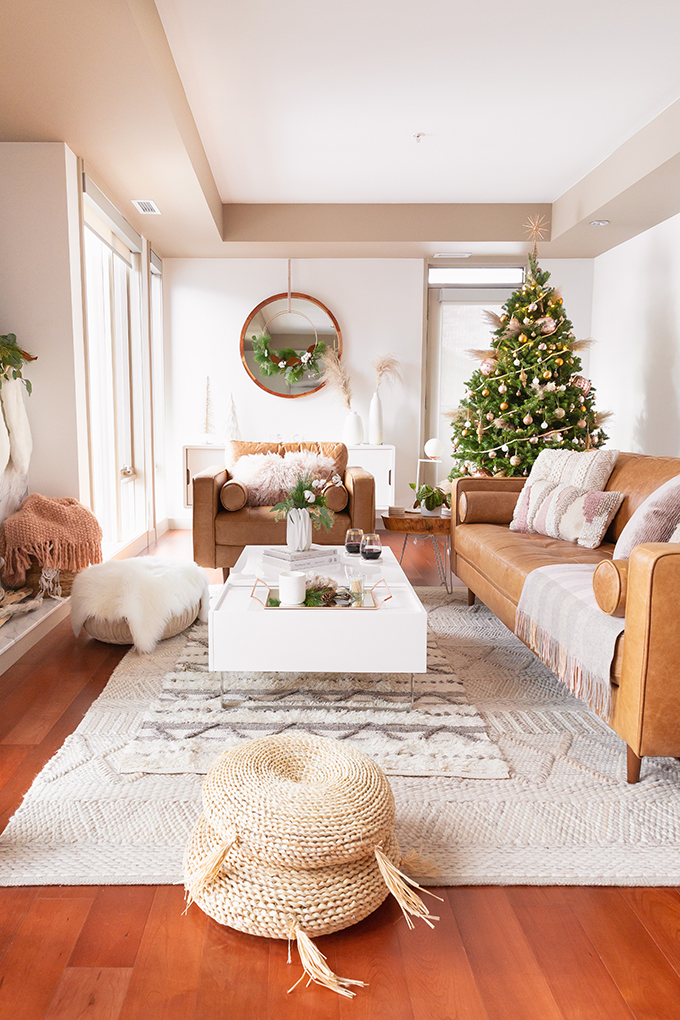 I love that the apartment isn't overly decorated but still feels festive and cozy. The best part is that all of our decor packs up into one large box that will take the place of our old artificial tree for easy storage! My top tip for anyone looking for apartment friendly holiday decor ideas is to purchase a real tree and utilize fresh greenery as a main components. It's fresh, modern and sustainable — plus, you don't have to worry about storage!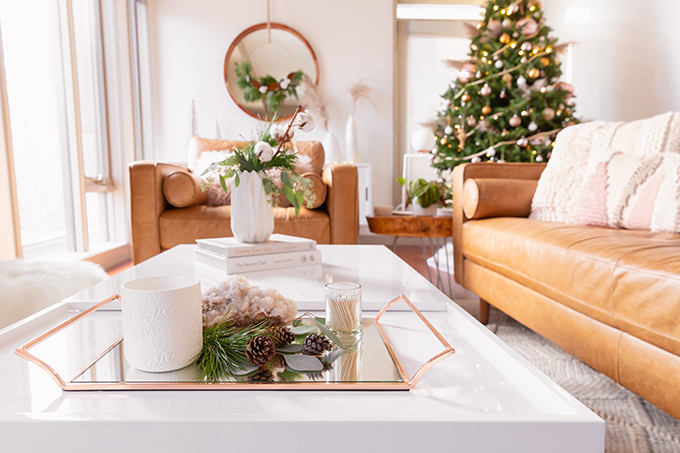 I hope this post has inspired you to hunt down a real Christmas tree or holiday greenery, try your hand at a festive DIY, or perhaps inspired you to freshen up your existing decor! If you'd like to try some of the ideas in this post, it's definitely not too late — the shops are full of festive greenery and there are also some amazing last minute deals on many of the items I mentioned in this post.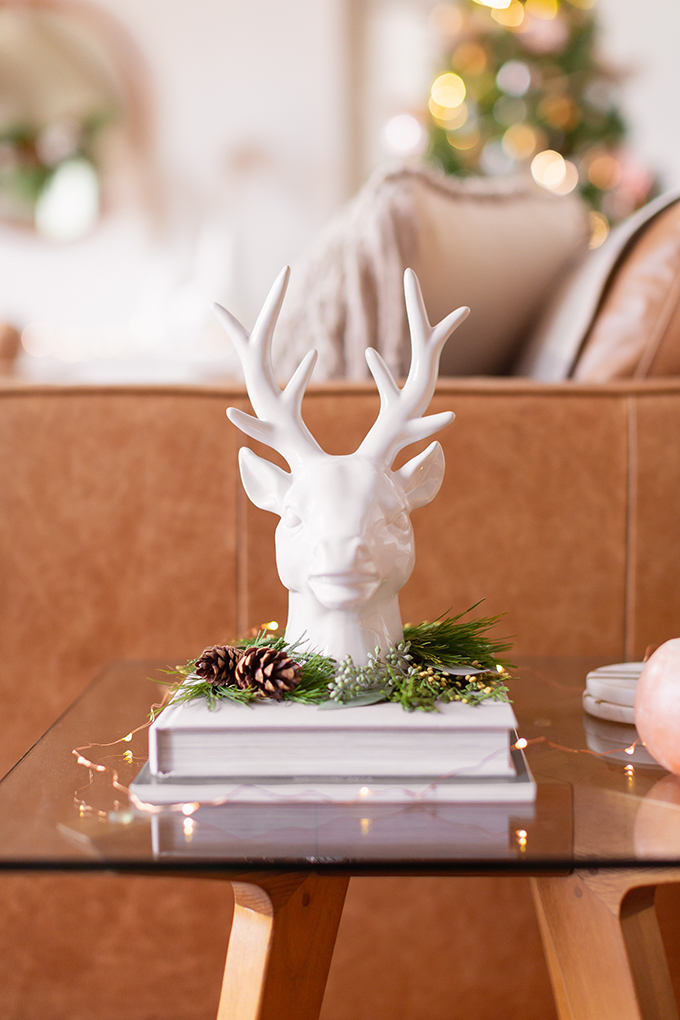 ---
SHOP OUR APARTMENT FRIENDLY MODERN HOLIDAY DECOR
---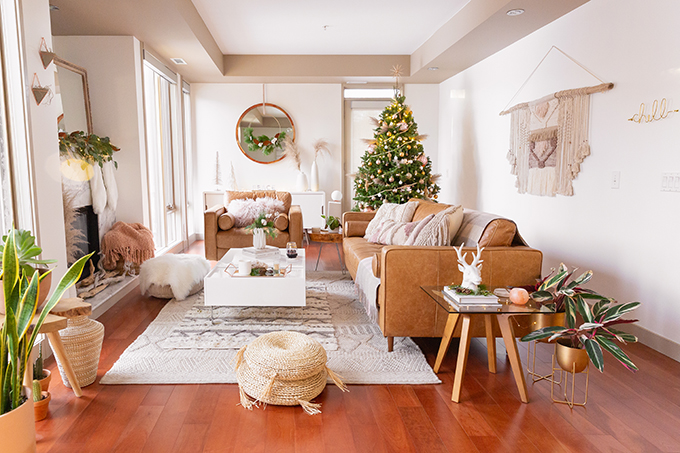 Premium Nova Scotia Balsam Fir Tree | Starburst Tree Topper | Gold Mixed Metallic Ornament Set | White Wood Bead Garland | Pre-lit Eucalyptus Leaves Garland | Glitter Bottle Tree | Aurora Copper String Lights | Faux Fur Stockings | Wooden and White Ornaments Canadian Tire (sold out online) | Small Metallic Ornaments Walmart Canada (old) | Feather Christmas Tree Superstore | Reindeer Head Bouclair (old) | Mirror above fireplace, Coffee Table Vase, Candle, Serving Tray, Marble Peace Sign, Large Metallic Blush Ornaments, Jeweled Gold Ornaments, Faux Fur Throws and Plaid Blanket HomeSense Canada | Blush Pompom Tree Skirt (it's actually a shower curtain!)

— Please visit these posts for more information about our furniture and our non-holiday decor —
---
MORE FROM OUR INNER CITY CALGARY APARTMENT
---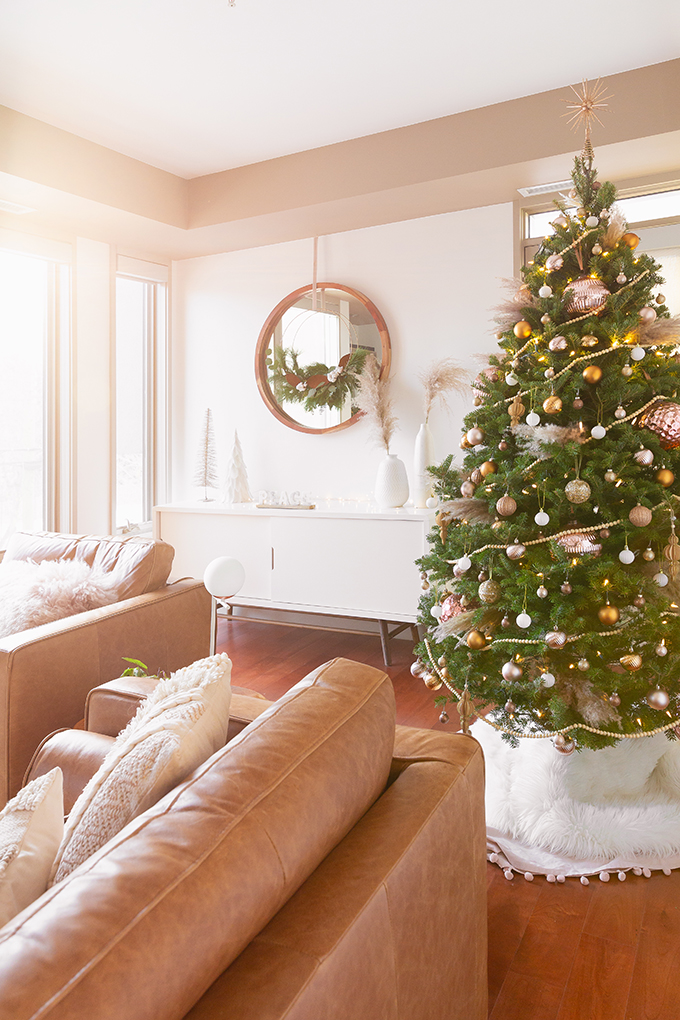 Space Refresh | Paint Transformation
Space Refresh | Living Room Reveal
Space Refresh | Dining Room, Bar & Kitchen Reveal
Our Dining Room Bar | A Built-In Look on a Budget
And if you're in search of more holiday content, check out my Ultimate Holiday Inspiration Roundup featuring a collection of 20 of my all time favourite festive posts across categories!
---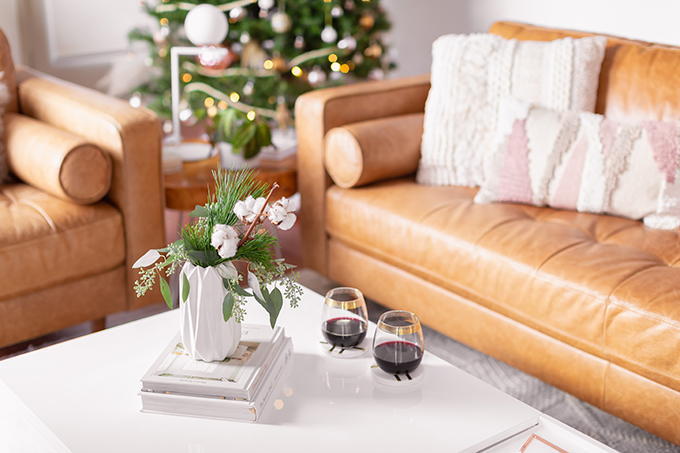 Thanks for coming over for a glass of wine tonight to check out our decor tonight, friends! I had so much fun decorating our apartment this year. I'm really looking forward to the holidays — but have my Homemade Dairy Free Coconut Rum Eggnog (plus a fun, festive giveaway!) publishing for you this Friday before I'm off (now live!).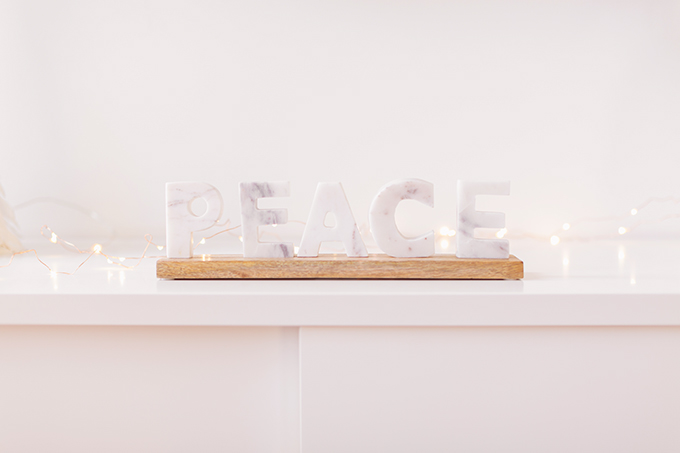 As always, if you try one of my DIYs or holiday ideas, I'd love to hear from you! Tag me, send me a photo, leave me a comment or use #justinecelinaDIYs or #justinecelinaholiday on social so I can see your beautiful work! If you're looking for even more home based inspiration, you can also follow along with my Home Pinterest Board for more interior inspiration, or the JustineCelina Home board where I'll be pinning our refreshed spaces and other DWELL content as it rolls out. Wishing you all a happy, joyous and peaceful holiday season!
---
Disclaimer: Some items featured in this space were provided by HomeSense as part of an ongoing partnership. This post is not sponsored and contains my genuine thoughts, ideas and recommendations. JustineCelina uses affiliate and referral links, which allow me to receive a small commission when you make a purchase through one of my links. Thank you for supporting the brands and businesses that support JustineCelina!