---
Interior design lovers, I'm thrilled to welcome you back into our sun drenched Living Room for my first dedicated DWELL post of the year! So what exactly have I been up to around here? Well, to be completely transparent, all the brand partnerships I had lined up for our SPACE REFRESH series this year were postponed (some indefinitely) due to COVID. I had so many plans for our remaining rooms, along with updates to spaces you've already seen, but due to the current situation, they simply haven't been possible. Instead, I've been focusing on making small tweaks and seasonal updates to already finished spaces so that we can fully enjoy them with all the extra time we've spent at home! I'm allowing things to come together naturally, ideas to ebb and flow organically and working away on our home when I feel inspired to do so — because if this pandemic has taught me anything, it's that life doesn't always go according to plan. Lately I've been cozying things up for autumn, picking up a few new key pieces and restyling items we already own in new ways, so I thought it was about time I share our Transitional Summer Meets Autumn Decor with you here at JustineCelina, if you're doing the same and looking for inspiration! 
This year we've opted to keep things lighter and brighter as we transition into a new season — and it feels like a perfect blend of summer and fall. It's the magical time of year where we can enjoy the best of both summer and autumn out in nature, in our homes, on our plates and in our wardrobes — and I'm fully embracing it! Despite the pandemic's challenges, we've experienced the warmest autumn I can remember — and I've definitely channeled that inspiration into our home this season. I love to experiment with juxtaposition in my personal style and in my home — I'm all about mixing high with low, old with new and modern with traditional. Each year, my inspiration hits an all time high as summer blends into autumn and I explore new ways to translate this seasonal shift into our inner city Calgary apartment! Fall decor doesn't have to be expensive, overwhelming or impractical — and today I've rounded up all my best transitional decorating tips and favourite sources for affordable, quality pieces to refresh your space. If you're a fellow apartment dweller, working with a small space (or a modest budget!), you've come to the right place — pour yourself a glass of crisp rosé and curl up on the sofa as I share our Transitional Summer Meets Autumn Decor! 


---
TRANSITIONAL SUMMER MEETS AUTUMN DECOR
---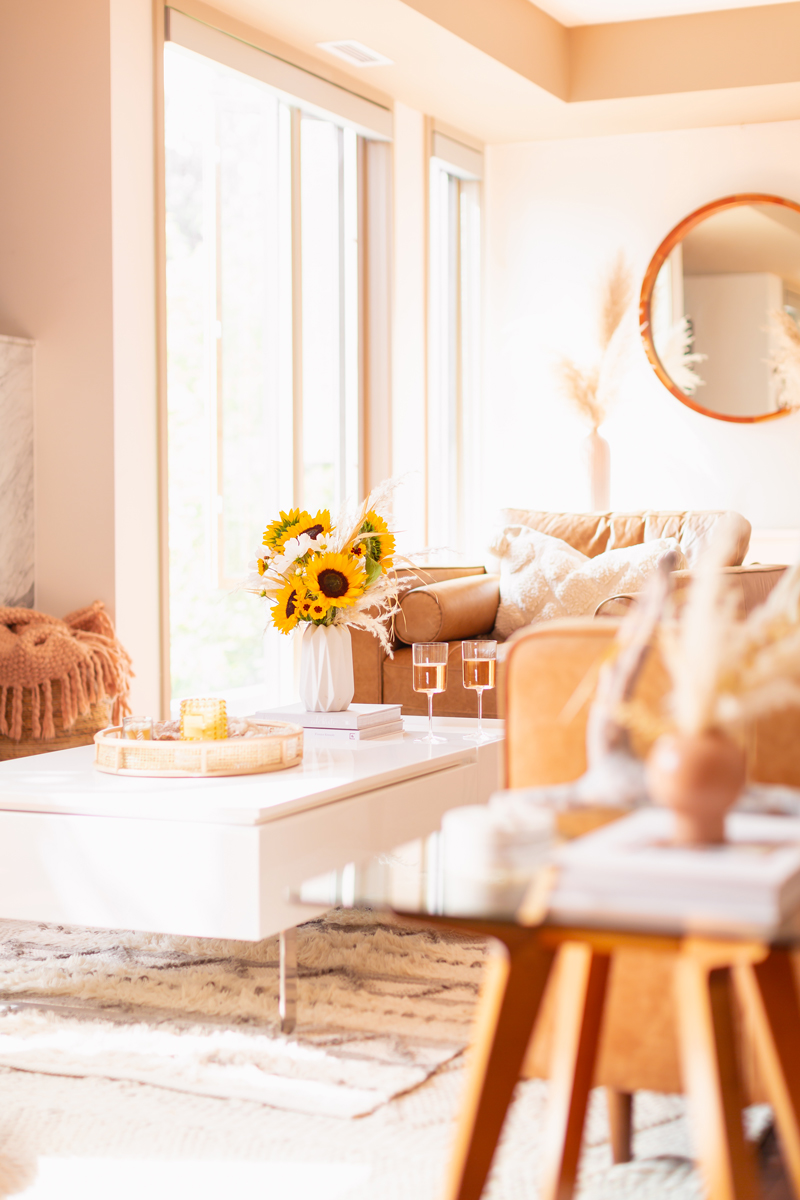 My absolute favourite time of year is when summer meets autumn. I love to blend the seasons and always go into content creation overdrive creating and capturing things that inspire me!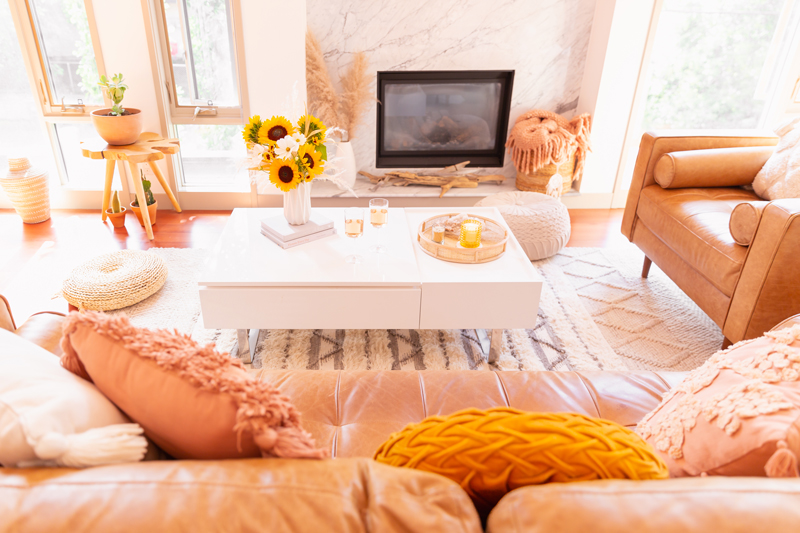 Due to the drastic change in plans to our SPACE REFRESH series caused by the pandemic, I've spent the majority of this year being grateful for our home rather than focusing on everything we have left to finish. It's definitely been an exercise in patience, but it's also afforded me with a renewed appreciation for our tranquil little oasis in the middle of the city — unfinished rooms and all!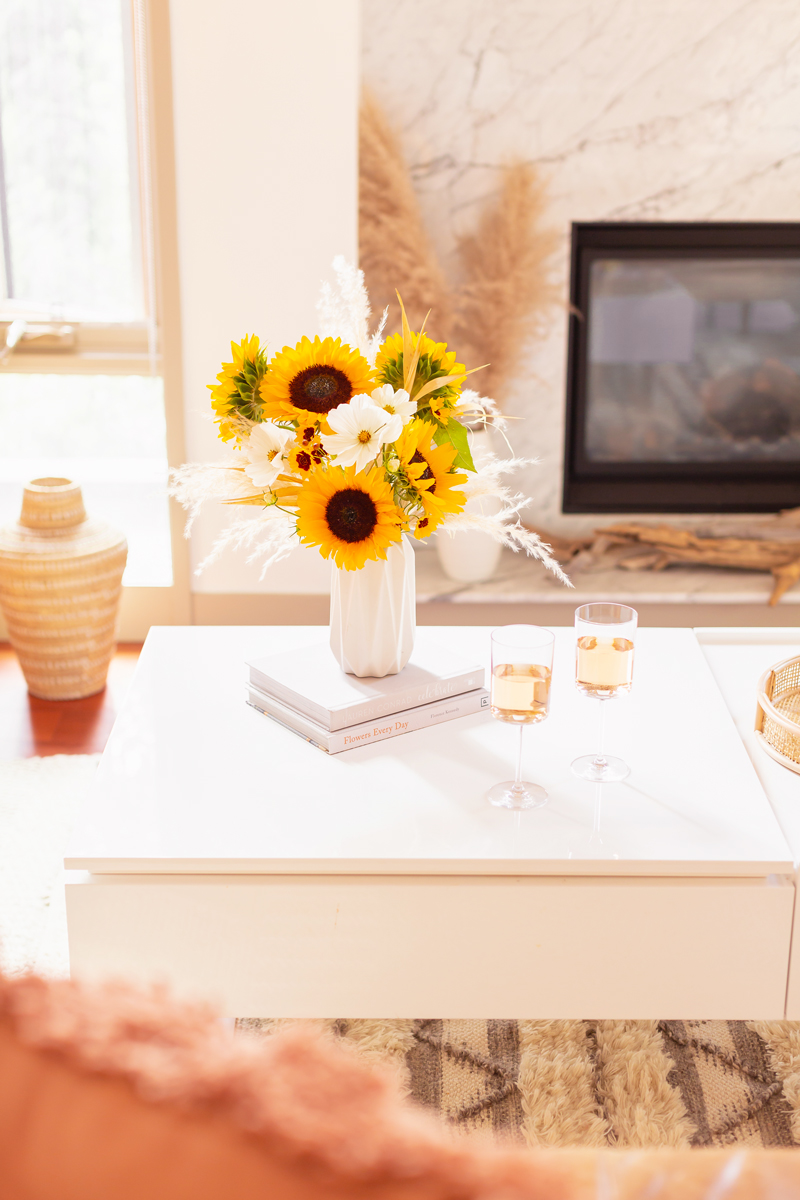 Over the past couple of months I've picked up a few key decor and stemware pieces organically (and very mindfully) to refresh our main living areas for the season — which is my favourite way to shop! In the years since our original Living Room Reveal, a few of our throw pillows and decorations had started to show wear (some of our pillow covers had actually started to unravel!), so I was thrilled to find these timeless and practical replacements.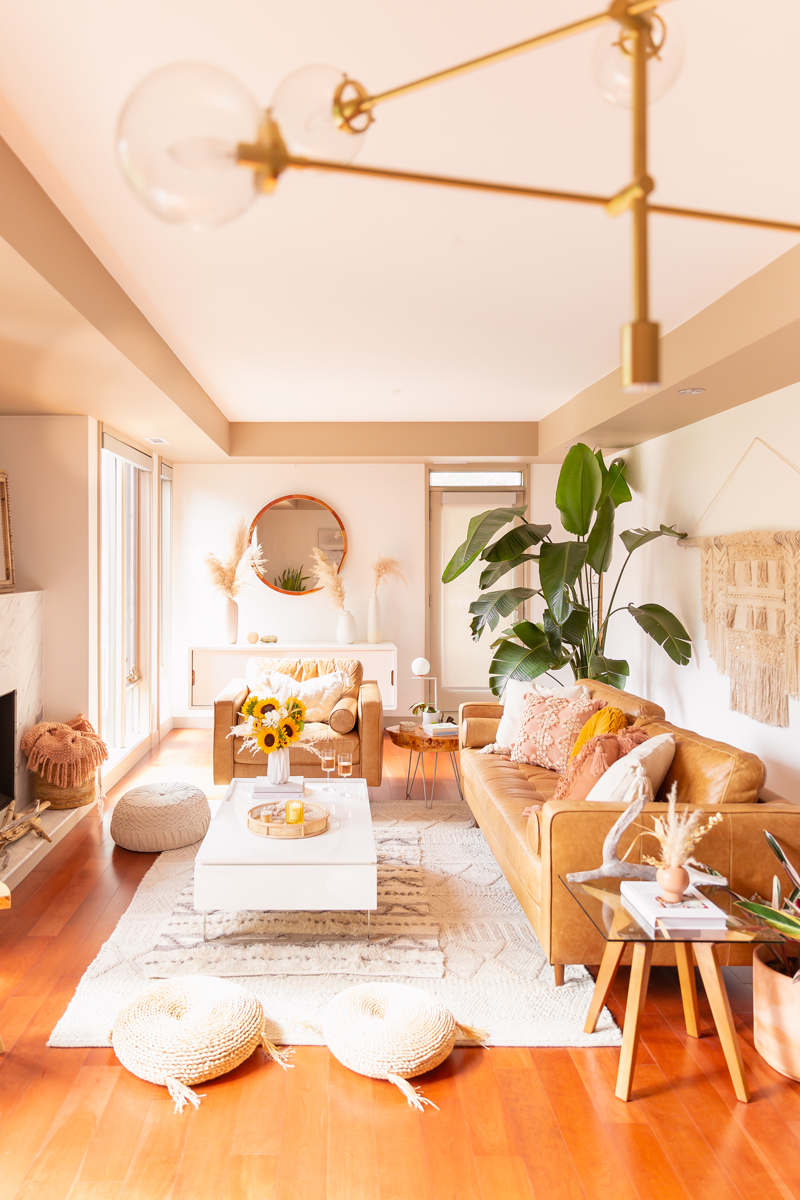 You may remember we were in Edmonton on business this summer — and one afternoon I had a few hours to kill, so I took the opportunity to stop into West Edmonton Mall, since we were close by. I was elated to discover H&M Home attached to the main H&M store (I believe it's the only one in Alberta!) and I ended up coming home with a cart full of new decor pieces! Several H&M Home pieces have tricked into our space over the years, as I often browse the home section while I'm shopping online for clothing (it's one of my favourite destinations for well priced, quality pieces that stand the test of time!), but items sell out fast. I was so happy to have a couple of hours to really explore the store, experience the quality in person and pick up a selection of gorgeous, timeless pieces I know we'll enjoy for years to come!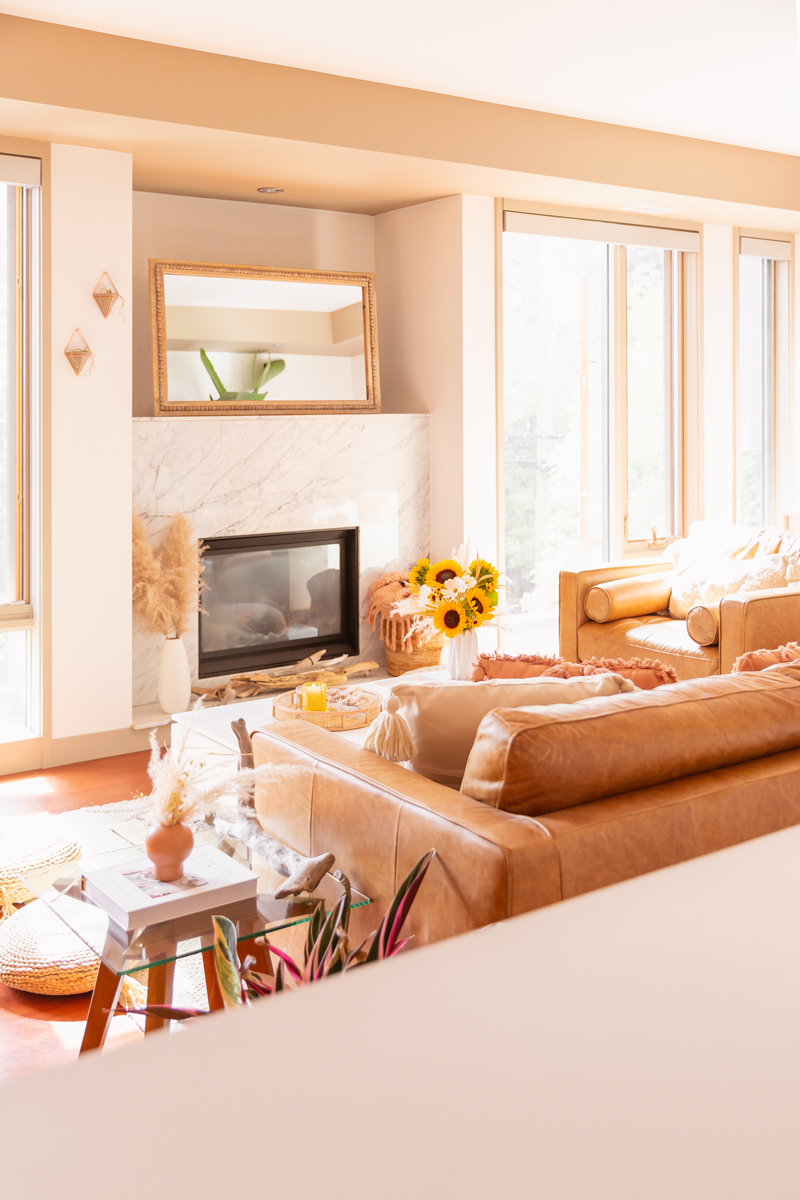 If you follow along with my STYLE content, you'll know that this year more than ever, I find myself increasingly drawn to classic pieces made from quality materials. Although this has always been a focus as I've curated my wardrobe (and our home!), it's something I'm mindful of now more than ever. As I've tweaked and updated already finished rooms with new accessories and decor pieces from various retailers this year, the majority of items I've added to my home (and wardrobe) in 2020 are timeless. This year I've been focusing on keeping things simple and only adding things to my life that fit seamlessly and bring us joy!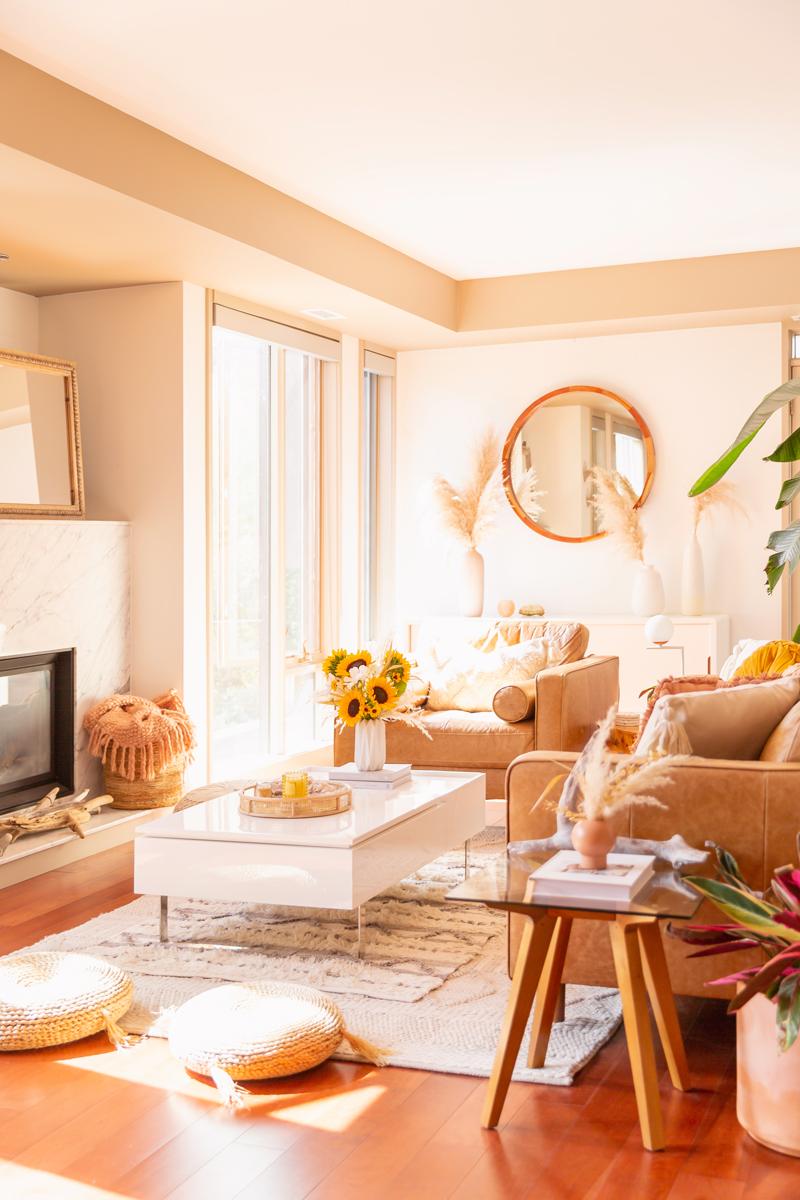 ---
HOW TO TRANSITION YOUR DECOR FROM SUMMER TO FALL
---
I'm so excited to share my best tips, sources and ideas on how to transition your decor into fall with you today! Here at JustineCelina I believe great style is accessible at any price point and that you don't have to have a large budget to make a large impact. In fact, this summer-meets-autumn Living Room refresh came together for just under $200! And below, I'm detailing exactly how I pulled it all together.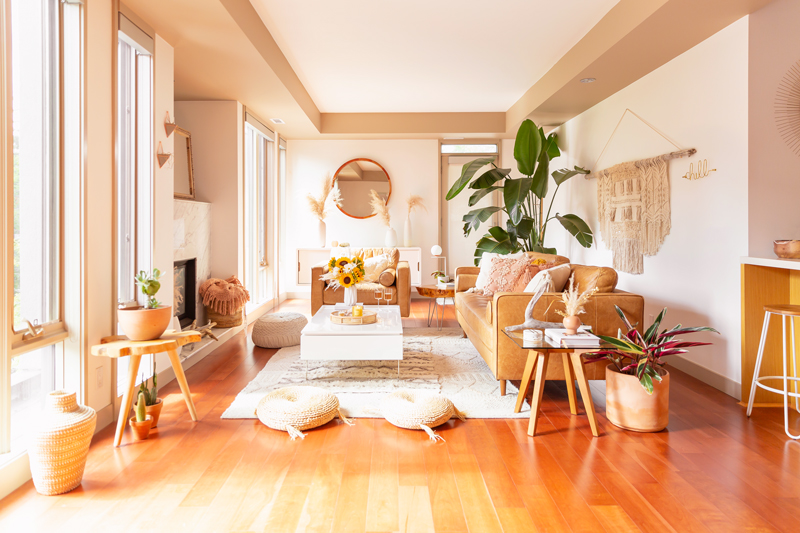 ---
DEFINE YOUR COLOUR PALETTE
---
As we transition into fall weather, we've settled on a tranquil and comforting palette of blush and dusty pink, mustard and cream for our accent pieces. In our Living Room full of warm neutrals, fresh greenery and natural texture, this palette feels simultaneously fresh yet cozy — a perfect blend of summer and fall! Once I'd defined my colour palette, it helped me to select new purchases and see repurposed pieces from other rooms through fresh eyes.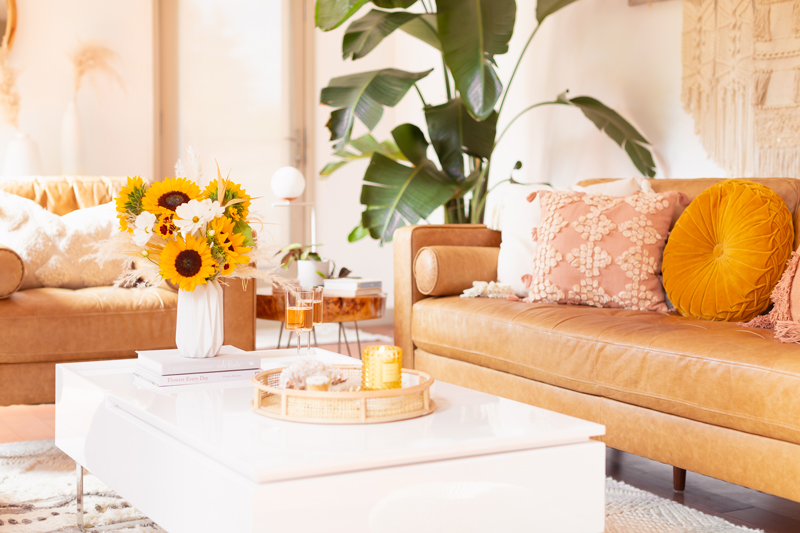 ---
CHANGE UP YOUR TEXTILES
---
As we've renovated and refreshed our home, we've opted to keep our walls and furniture neutral — adding pops of colour with accessories, to ensure our investment pieces transition well throughout the years (and the seasons!). This way, we can easily change up our palette seasonally with pillow covers, blankets, rugs, textiles and a few small decor pieces to keep things cost effective (and manageable for our limited apartment storage space!).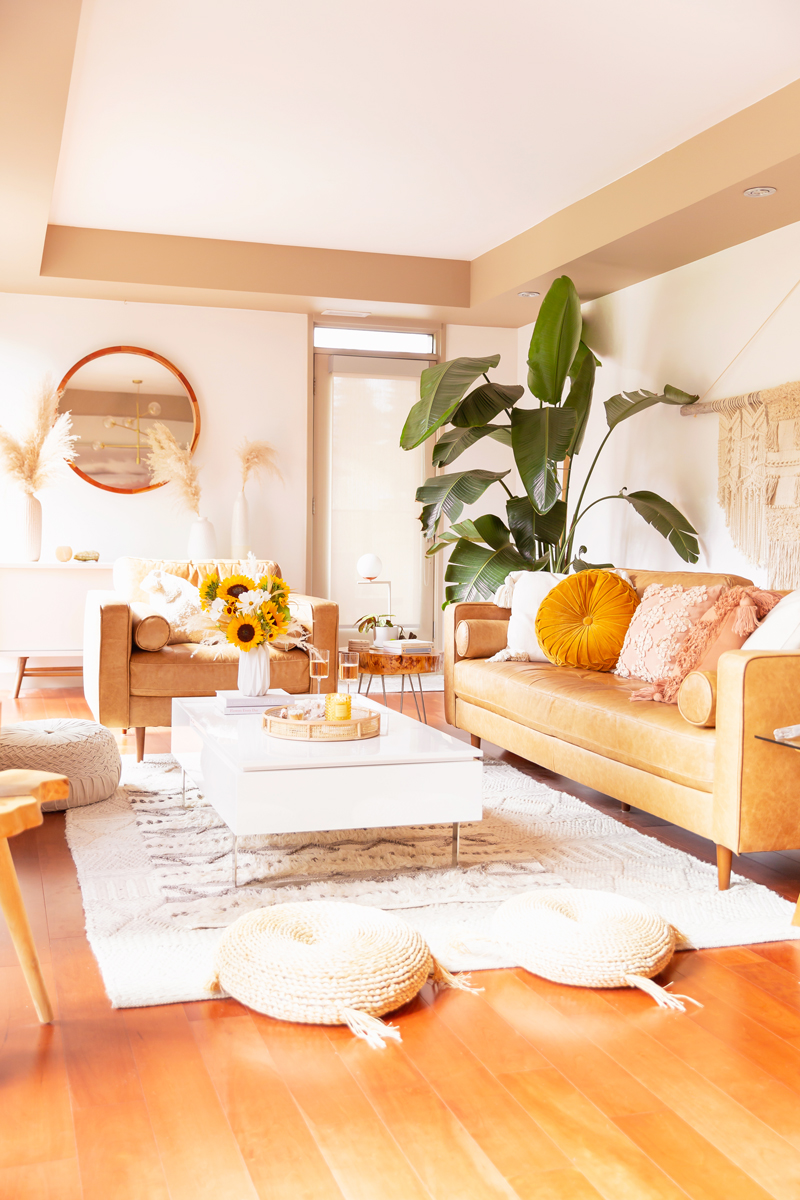 Over the past year I've picked up a few new pillows from Urban Outfitters (another one of my favourite sources for affordable decor) in a blush, mustard and burnt orange colour palette. In addition to the 3 new cream pillow covers I found at H&M, I now have a small rotation of throw pillows (and pillow covers) in a cohesive colour palette that I can easily swap as seasons change. During autumn, I also love to pull out our heavier blankets and throws to create a cozy, inviting ambiance. Shop our new, seasonally inspired textiles below!

---
ADD LAYERS AND NATURAL 
TEXTURES
---
We often associate autumn with layering — a sensibility typically reserved for our wardrobes that also applies beautifully to fall decor! As temperatures drop, I love to add to cozy up our living room with extra layers and organic textures — we're talking everything from rugs, to extra pillows, to dried grasses, to textured wall hangings and decor made from natural materials!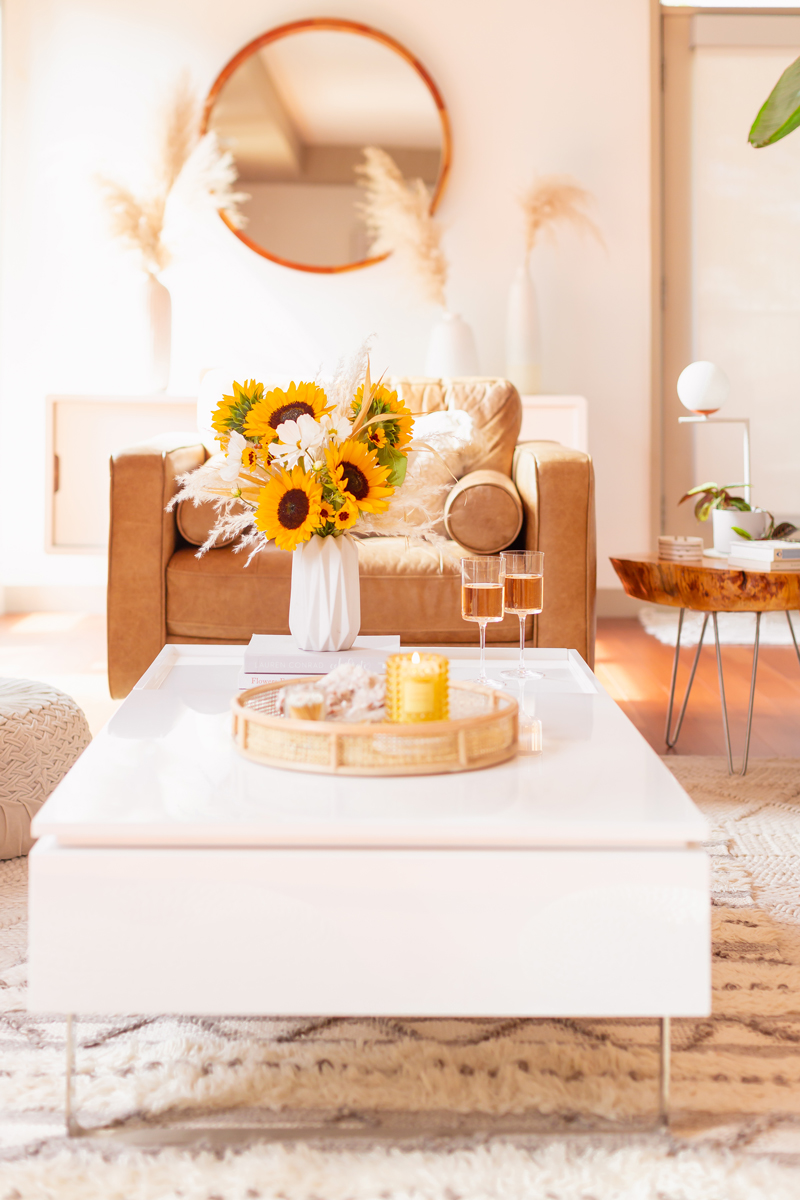 This season, I've also swapped our metallic accents for more natural textures — like our rattan serving tray. I love rattan during this transitional time of year as tone of the wood is a beautiful neutral that lends itself well to layering with accent pieces. As we transition into fall, I've styled our coffee table tray with a textured candle, matchsticks, a geode and dried grasses. 
I've also styled our vases with plumes of Pampas Grass to bring a natural, bohemian element to our space and mirror the changing landscape. I love how the natural, warm tones of our dried grasses coordinate with the rattan and natural wood elements in our space to tie everything together. Learn All About Pampas Grass in my dedicated post, or shop my favourite online retailers below! 

---
REPURPOSE & REARRANGE
---
Although sometimes I wish for a larger home, apartment dwelling has taught us to be mindful of each and every piece we bring into our home. Rather than always buying new, I'm constantly searching for ways to repurpose and restyle what we already own!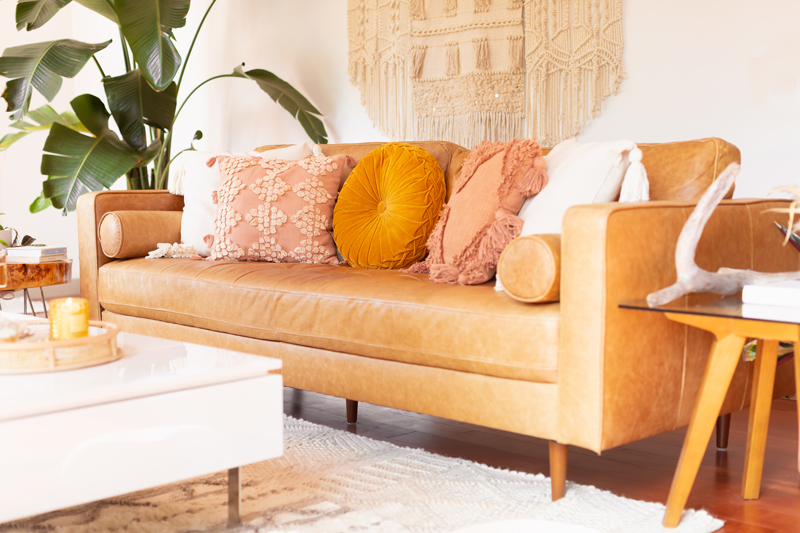 Did you notice that our macrame wall hanging behind the couch looks different? Well, that's because I actually created two a few years ago — one incorporating more muted browns and heathered purples that coordinated with our original decor (that you're used to seeing in this space) and this one, which used to live in our Hallway! Since I wanted to keep our Living Room lighter, brighter and fresher this autumn, I simply swapped the two — and I adore the effect of this larger scale, monochromatic wall hanging in our main living area. 
Of course, this principle doesn't just apply to wall hangings — or even wall art, for that matter! This fall, I encourage you to take a look around your home, move things around and spend some time restyling your existing decor in new ways. Can you move your wall art between rooms? Switch your vases up? Try the throw on the end of your bed in your Living Room? The possibilities are really endless — and I'm always amazed at how adding just a few new decor pieces styled with what we already own can create such a big impact!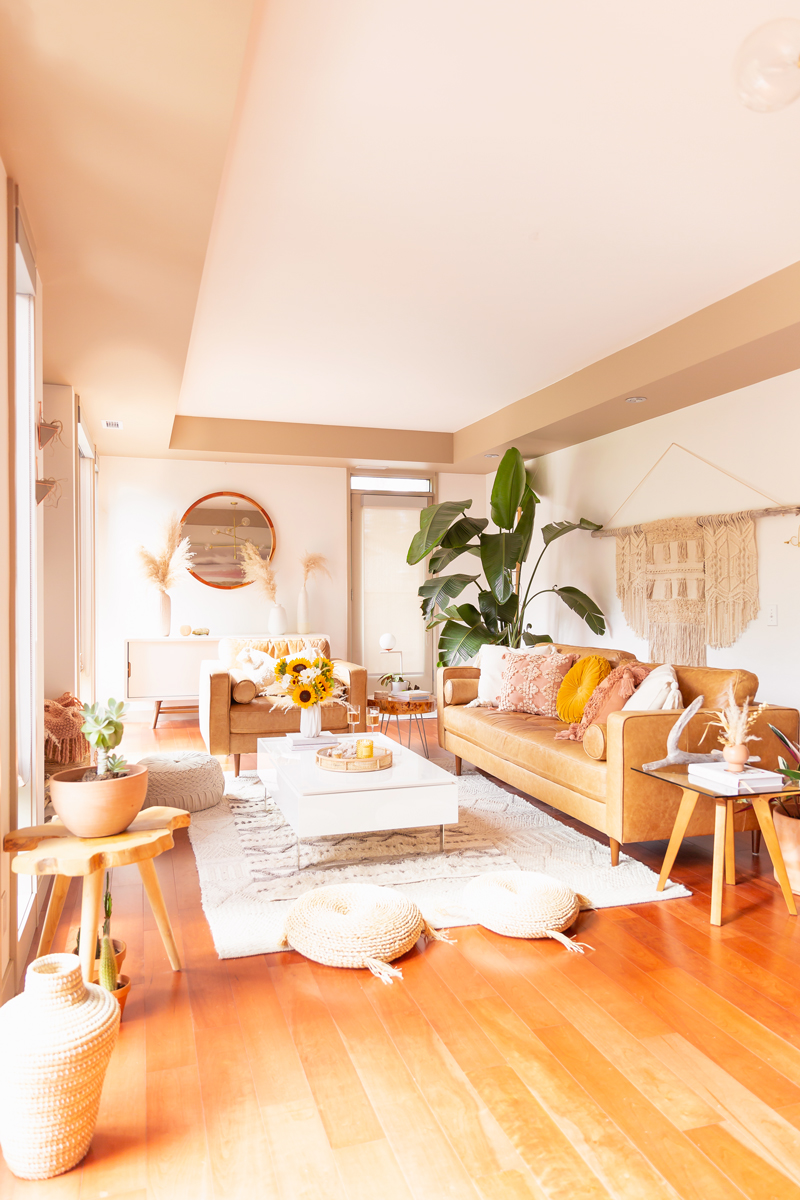 Late this summer, I also repotted the majority of our plants — giving them a new lease on life, along with a refreshed look! Barry, our massive Bird of Paradise, now lives in an appropriately sized terracotta pot (we've also anchored a bamboo rod to the ceiling with drywall screws and fishing twine to give him some extra support — his leaves were becoming so large they were comandeering the back corner and snapping because of their weight!).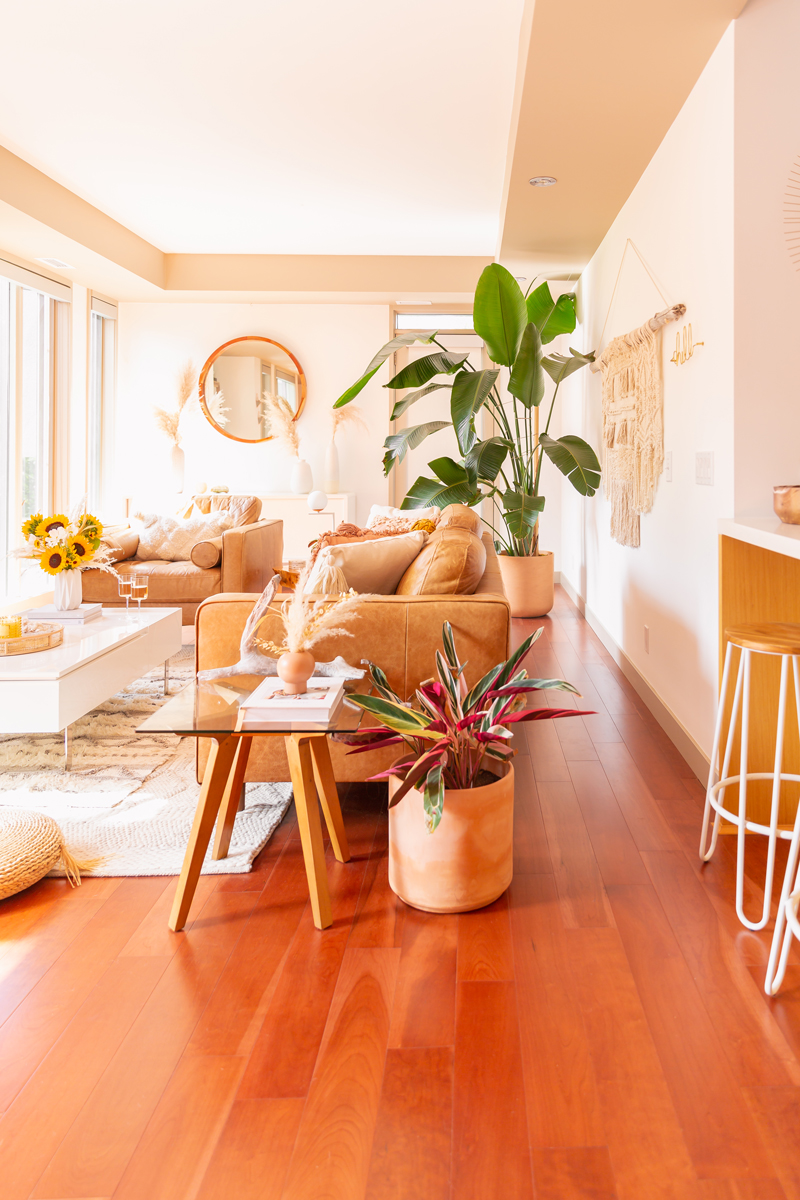 I've also repotted our Stromanthe Sanguinea into another terracotta pot, as well as repotted our Snake Plant (that used to live infront of the windows) and relocated him to our Bar! Repotting and rearranging your plants can make a huge difference to and room and bring a refreshed energy to any space. Learn more about How to Select and Care for Houseplants! 
---
INCORPORATE A SEASONALLY INSPIRED ARRANGEMENT
---
Whether you've followed along for just a couple of weeks or a couple of years, you'll know how much I adore sunflowers. From bringing them into our home, to incorporating them into my flower content, to road-tripping to see fields of these sunny blooms, I love including Sunflowers in my content while they're in season!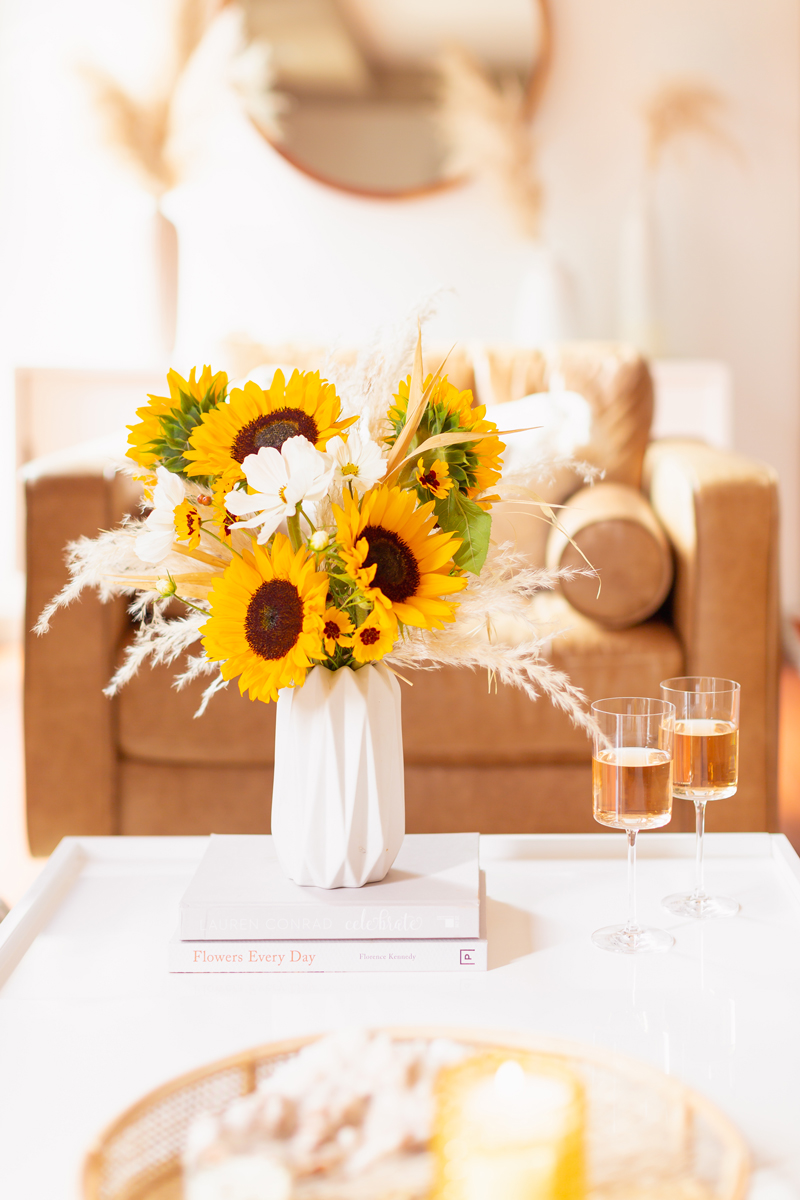 I whipped up this simple, sunny arrangement with an inexpensive bunch of grocery store sunflowers, white Garden Cosmos, Golden Tickseed, Pampas Grass and Whiskey Grass — and I love the happy energy it brings to our Living Room! No matter the season, I'm always turning to nature for inspiration and love combining purchased and foraged ingredients into seasonally inspired arrangements for our home. Fresh FLOWERS don't have to be expensive and I often find myself picking up a bunch of whatever looks lovely on my grocery run, then getting creative with what's growing in the garden and combining them with foraged wild grasses to create my arrangements. It's a beautiful (and cost effective) was to celebrate the season by bringing the outside in!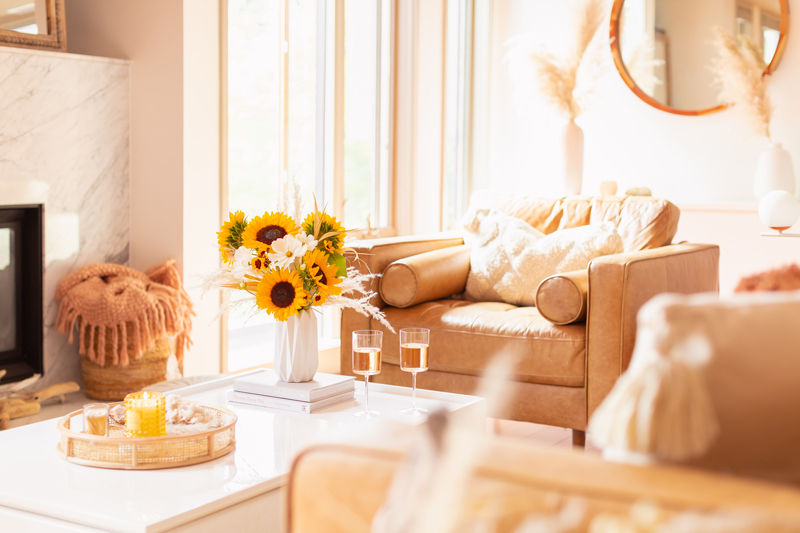 If you're looking more seasonal flower inspiration, be sure to check out our FLOWER ARRANGING series until a dedicated post about how I created this Free Spirited Sunflower Arrangement publishes later this autumn! And if you'd like to download a free floral wallpaper containing these gorgeous transitional blooms, hop over to September 2020's edition of DIGITAL BLOOMS. 
---
REFRESH YOUR STEMWARE
---
My final tip in refreshing your decor for a new season is to take stock of your stemware. Do you have any pieces that have broken over the years and / or are in need or replacing? A seasonal change is the perfect excuse to update your collection!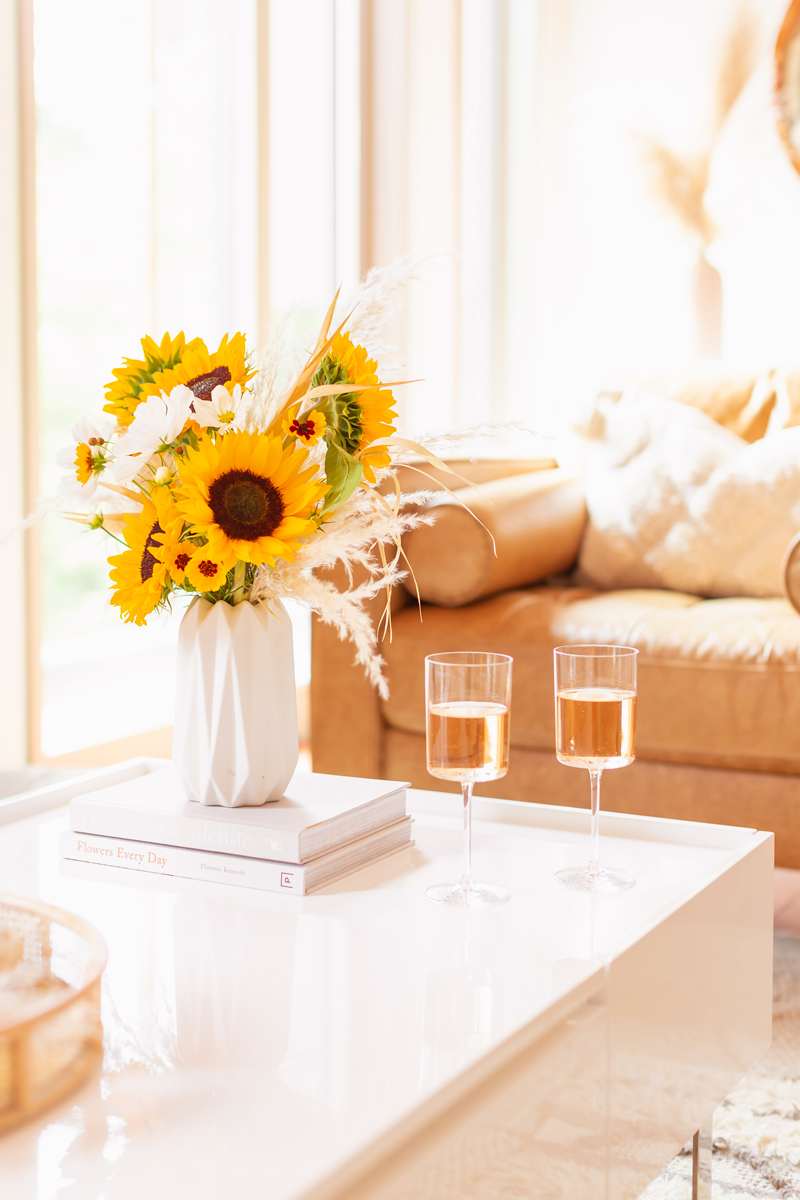 We like to enjoy many a COCKTAIL and glass of wine in our home, and subsequently, have broken quite a few glasses over the year! I love to have our glassware on display on the open shelving above our Bar and noticed quite a few incomplete sets as of late — especially in our wine glass section! We were down to just 2 white wine glasses and a few mismatched stemless versions, so I decided it was time for an upgrade. 
This year for my birthday, I treated myself to some new wine glasses and champagne coupes from Crate & Barrel and CB2 that I had my eye on for quite some time. Since I'm always using them for my RECIPES, ENTERTAINING content and styling work, over the years I've curated a beautiful selection of glassware that I update every few years, to reflect current trends and round out our collection. I'm so pleased with our recent additions and they make such a big difference to how we enjoy our space (don't these Edge Wine Glasses make these our rosé look extra beautiful?)!
---
SHOP THE STORY
---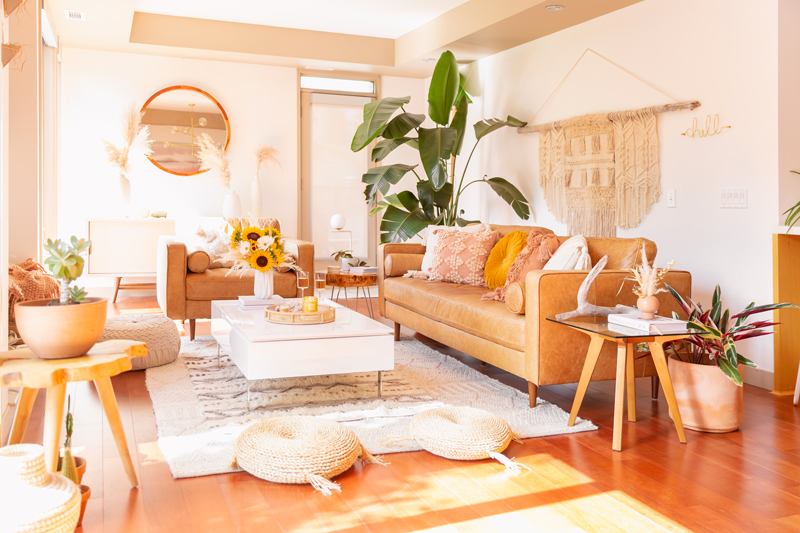 ---
MORE FROM OUR SPACE REFRESH SERIES
---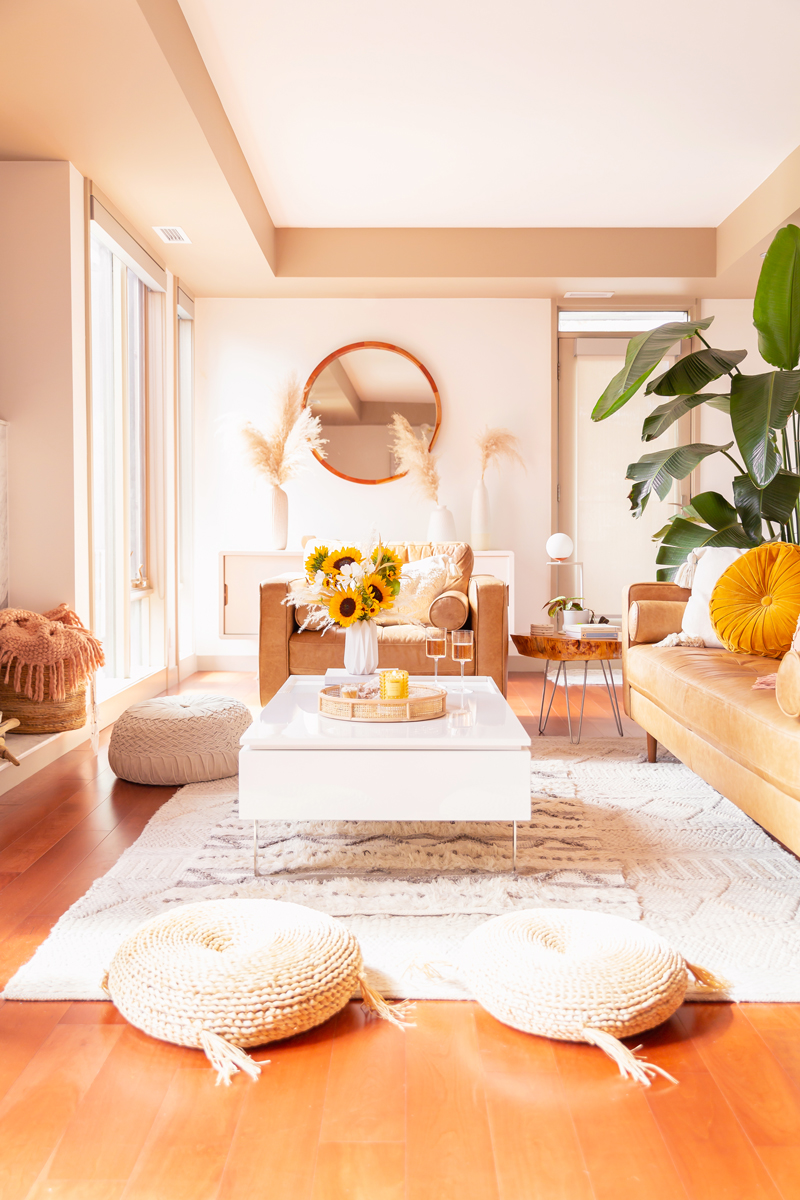 Space Refresh | Paint Transformation
Space Refresh | Living Room Reveal
Space Refresh | Dining Room, Bar & Kitchen Reveal
Our Dining Room Bar | A Built-In Look on a Budget
---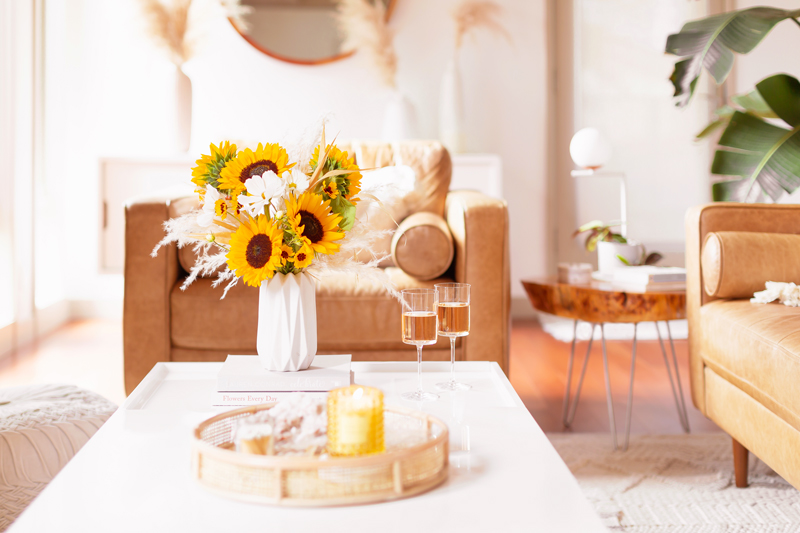 Thanks for stopping by to learn more about our Transitional Summer Meets Autumn Decor today, friends! If you also like to transition your home decor along with the seasons, I hope you found this post helpful. Now that cooler weather is finally upon us here in Calgary (we're currently awaiting fall's first snowfall!), I'm feeling the urge to cozy things up even more. Subscribe (via the bar in my header) to see our space transform throughout the seasons — and expect our Main Bathroom Reveal next! 
If you like, you can also follow along with my Home Pinterest Board for more interior inspiration, or the JustineCelina Home board where I'll be pinning our refreshed spaces and other DWELL content as it rolls out. As always, if you have any specific questions or request, just leave me a comment! Enjoy your weekend.
---
Disclaimer: Some decor items featured in this post are press samples acquired from previous partnerships. This post is not sponsored, and contains my genuine thoughts, ideas and recommendations. JustineCelina uses affiliate and referral links, which allow me to receive a small commission when you make a purchase through one of my links. Thank you for supporting the brands and businesses that support JustineCelina.com!