---
Well hello, beautiful souls! It's been a minute, hasn't it?! Not to worry — I'm back today with another Monthly Beauty Favourites post! The first part of September has been very busy with client work, so this post is coming to you a little late. That said, it's packed full of some great new beauty finds and rediscovered products across eye, cheek, lip, complexion and nail categories, so I hope it was worth the wait. I'm definitely starting to transition into more autumnal makeup but have been enjoying lighter, fresher lip colours — so I guess we have a little bit of a summer-meets-fall vibe happening again today (there's definitely a theme here at JustineCelina this month!).
Settle in on this crisp, late summer evening and let's chat about everything I've loved putting on my face (and nails) lately! My August 2017 Beauty Favourites including the ultimate warm eyeshadow lovers dream palette, a natural, neutral lip liner that goes with everything, a luxurious, extremely unique lip cream, a fantastic lipstick for everyday wear as we transition into fall, the most heavenly drugstore bronzer I've ever worn, the perfect rosy blush in one of my all time favourite formulas and a decadent berry polish with nail helping, healthy ingredients (it's infused with kale!). If you're looking to incorporate a touch of autumn into your beauty routine, I have so many fantastic recommendations for you today!
---

---
AUGUST 2017 BEAUTY FAVOURITES
---
CND $85.00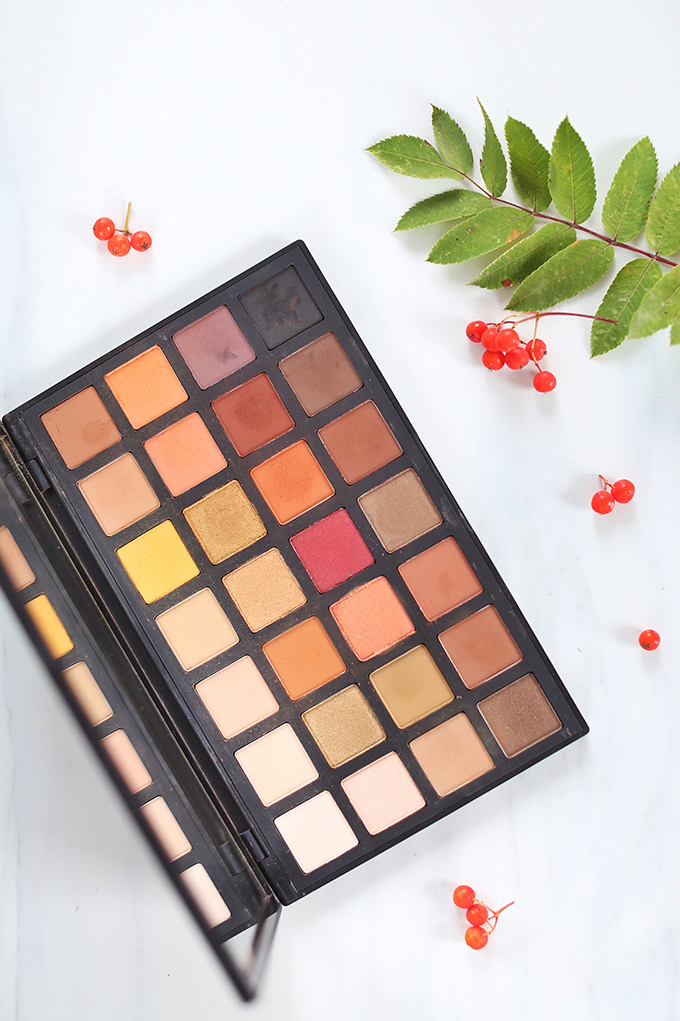 Are you guys getting sick of the onslaught of warm eyeshadow palettes popping up everywhere lately? I personally am not — as a green eyed gal, warm tones are my favourites to wear! When I saw the SEPHORA COLLECTION Sephora PRO Warm Palette trickle onto sephora.com earlier this summer I snapped it up immediately and have been wearing (and loving!) it ever since. It's been going in and out of stock since its debut and this was the first month I could actually link to it for you in the post (note: at the time I published this post, it's currently out of stock, but if you have to have it, be sure to sign up to be notified on restock!).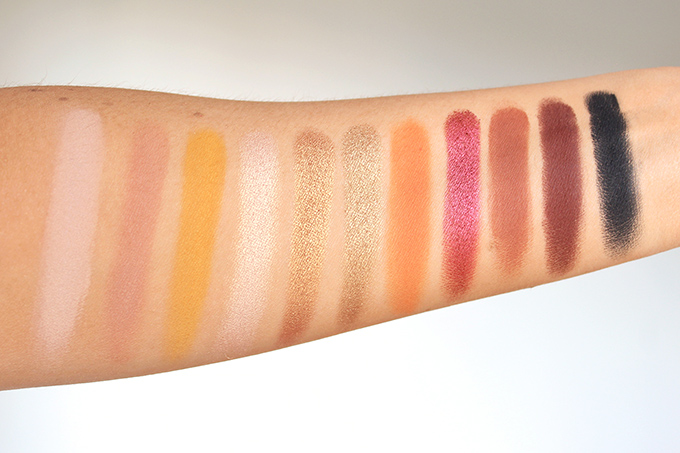 Swatches of the SEPHORA COLLECTION Sephora PRO Warm Palette left to right: Canvas, Biscotti, Ochre, Sand, Copper, Brass, Sandstone, Brick, Sepia, Burnt Umber, Obsidian
First, if you have all (or even some) of the warm toned eyeshadows palettes I've recommended lately, I don't think this is a necessity. Originally it piqued my interest because of its similarity to the ridiculously overpriced (and now sold out) Natasha Denona Sunset Palette, but with more shades for a better value and a rumoured better formula (personally I find Natasha Denona palettes hit or miss — I love my little Natasha Denona Eyeshadow Palette 5 in 4 palette (review here), but tried the Star palette and actually returned it because I found the shades so finicky and difficult to work with, which is not something I'm willing to tolerate at that price point!).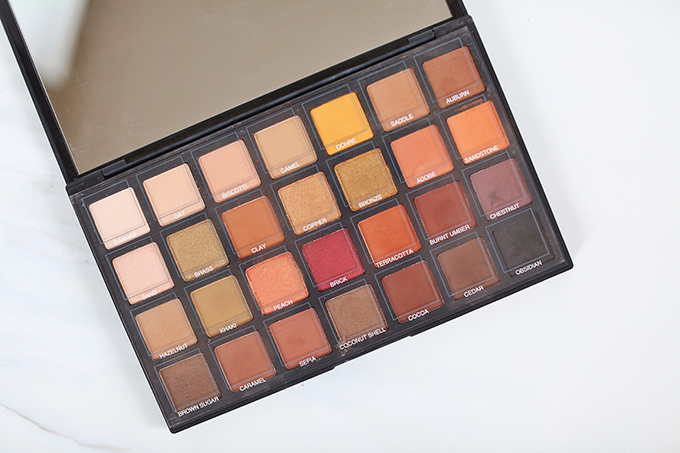 Long story short, I really like this palette. It contains 28 high pigment shades in chrome, matte, shimmer, and satin finishes — the matte formula (which comprises 20 shades) is the most pigmented, blendable formula I've ever worked with (you don't even want to know how many eyeshadows I have!). The metallic and shimmers however (which only comprise 8 shades of the palette) are hit and miss. The golden shades in the palette are all gorgeous, however very similar, especially on the eye. Peach is a total dud, as is Brown Sugar. But all in all, it's a fantastic palette for warm shadow lovers of any eye colour, professional makeup artists, anyone that wants a new palette as we transition into autumn. Personally I wish there were more metallic shades and more variety among them, but overall I'm very pleased with this palette. I've actually worn it in my last 2 style posts (Orange Crush and Weekend Wear) and love the range of looks I can get from the SEPHORA COLLECTION Sephora PRO Warm Palette. Although it's large, it's also very travel friendly!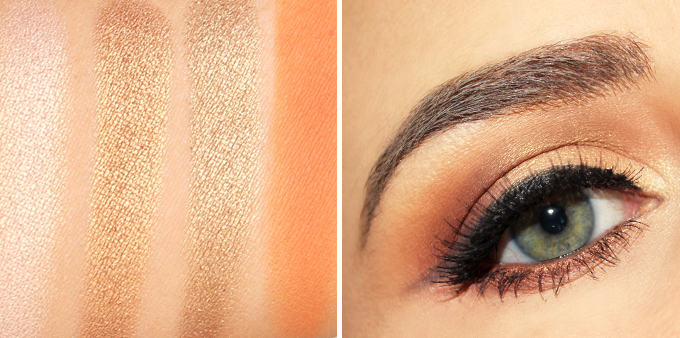 I'm wearing the SEPHORA COLLECTION Sephora PRO Warm Palette on my eyes
---
CND $42.00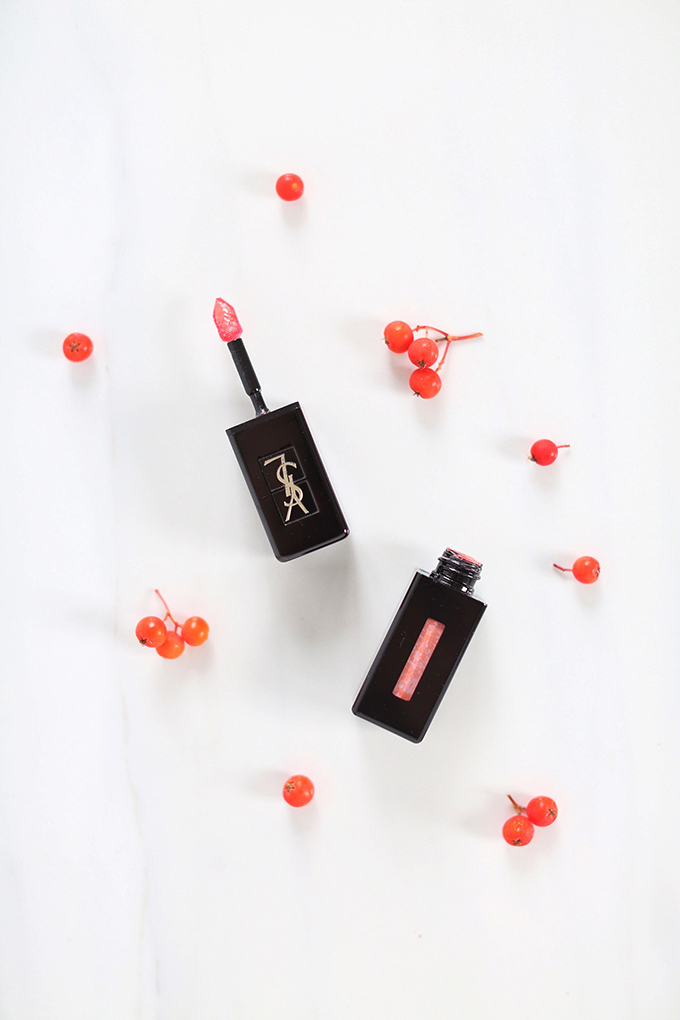 Interestingly enough, I absolutely detested this product when I first picked it up back in the spring. It has the strangest texture — almost water-like, yet intensely hydrating on the lips but not super glossy. It's also really long wearing for gloss-like formula and even this light shade leaves a light stain behind. At first, I just couldn't get into it — and I think it's because it's such a hybrid formula, I had no idea what to expect! Months later now that I've had a chance to work with it, I love to use it on days where I line and completely fill in my lips with a neutral lip liner, which is something I've been doing often lately. This month, it's been topping the Bite Beauty The Lip Pencil in 022 (hop over to this recent style post to see the combo in action) and I've also been wearing it often over my beloved Wet n Wild Wet n Wild Perfect Pout Gel Lip Liner in Bare to Comment. Basically, if you're looking for an easy going, long wearing lipgloss alternative to wear over any neutral lip liner, I recommend the Yves Saint Laurent Vinyl Cream Lip Stain in 404 Nude Pulse. It's a soft peach shade that slightly lightens, warms and locks in any lip liner base for a fuss free pout that you don't have to babysit!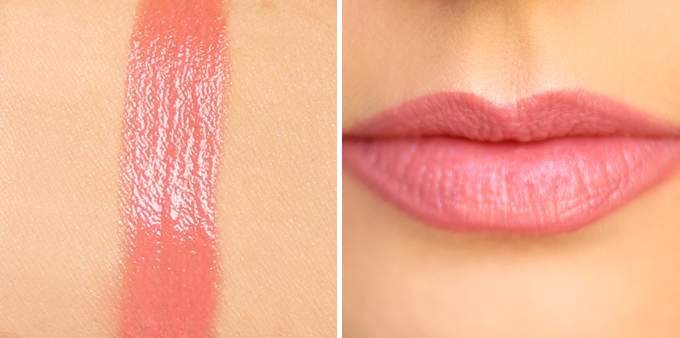 I've lined and filled my lips in with the Bite Beauty The Lip Pencil in 022 and topped it off with Yves Saint Laurent Vinyl Cream Lip Stain in 404 Nude Pulse
---
CND $20.00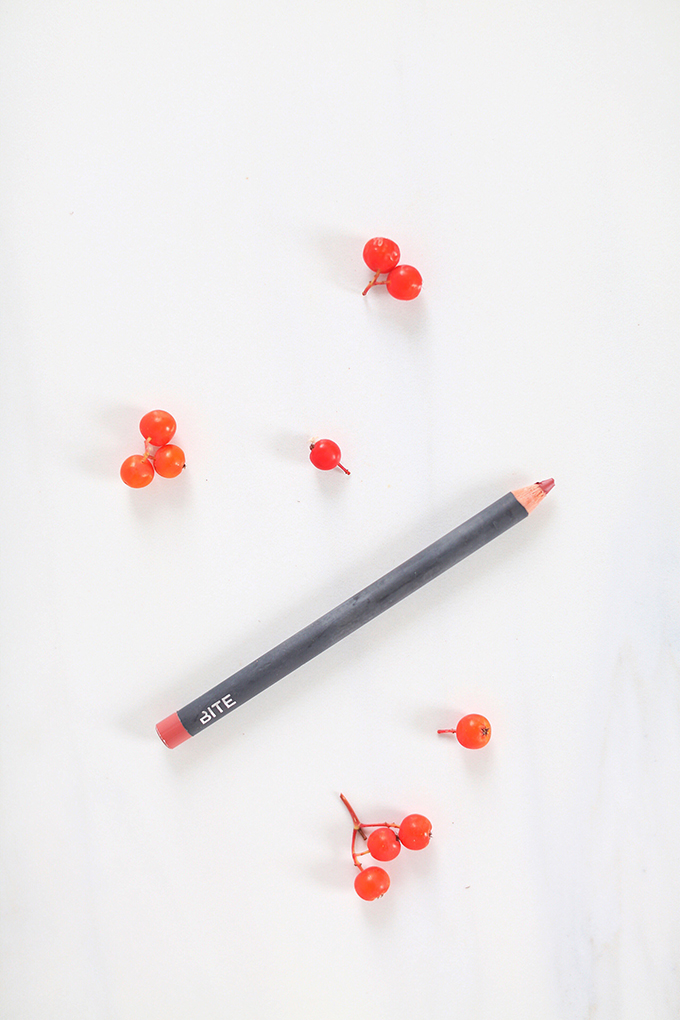 I've been wearing and loving the Bite Beauty The Lip Pencils regularly since I first reviewed them here at JustineCelina in my Spring 2017 Beauty Trend Guide. Longtime readers will know how much I love Bite Beauty, so I was beyond excited when they released a line of lip pencils this spring, then recently expanded it to include a full spectrum of shades! After extensive testing I'm thrilled to report that these gorgeous lip liners absolutely live up to the hype. The Lip Pencil range now contains 50 traditional wood barrel lip liners made with natural, food grade ingredients and whipped shea butter for creamy, long wearing coverage. My favourite shade of the 5 I picked up is 022 (which I also featured in this beauty post and wore in my last style post). It's that perfect neutral that I can wear with any natural lip in my collection — from the fairest nudes to deeper mid ranges tones. If you're on the hunt for a go-with-anything lip liner that's creamy enough to wear on its own, pop down to your local Sephora to swatch the range and find your perfect shade! It also pairs nicely with my next favourite lip product.

I've lined and filled my lips in with the Bite Beauty The Lip Pencil in 022 and topped it off with Yves Saint Laurent Vinyl Cream Lip Stain in 404 Nude Pulse
---
CND $40.00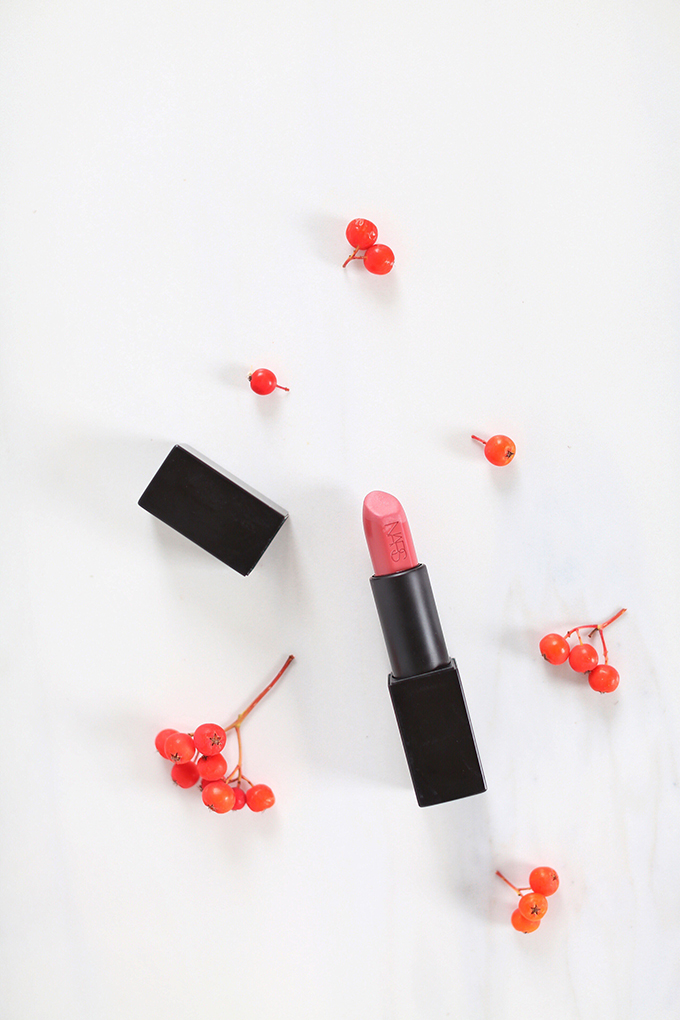 I've fallen hard for the NARS Audacious Lipsticks since first discovering them back in May — they're now tied with the Bite Beauty Amuse Bouche Lipsticks for my all time favourite formula! After burning though half a tube of Brigitte, I decided to pick up Apoline earlier this month because I was on the hunt for a deeper neutral for everyday wear as we transition into autumn. And that's exactly how I've been wearing it! In fact, she's lived in the bottom of my handbags and briefcase all month long. It's one of those beautiful, rosy pink, 'your lips but better' shades and I've been reaching for it when I want something I know is flattering, hydrating, professional and easy to wear. These are a very classic lipstick formula that glides on effortlessly and delivers creamy, saturated colour that wears for a solid 4 – 5 hours. I have a feeling Apoline will not be my last NARS Audacious Lipstick!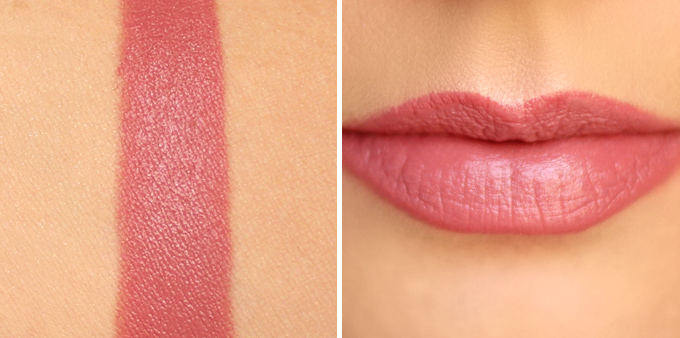 I'm wearing the NARS Audacious Lipstick in Apoline on my lips with the Bite Beauty The Lip Pencil in 022

---
CND $35.00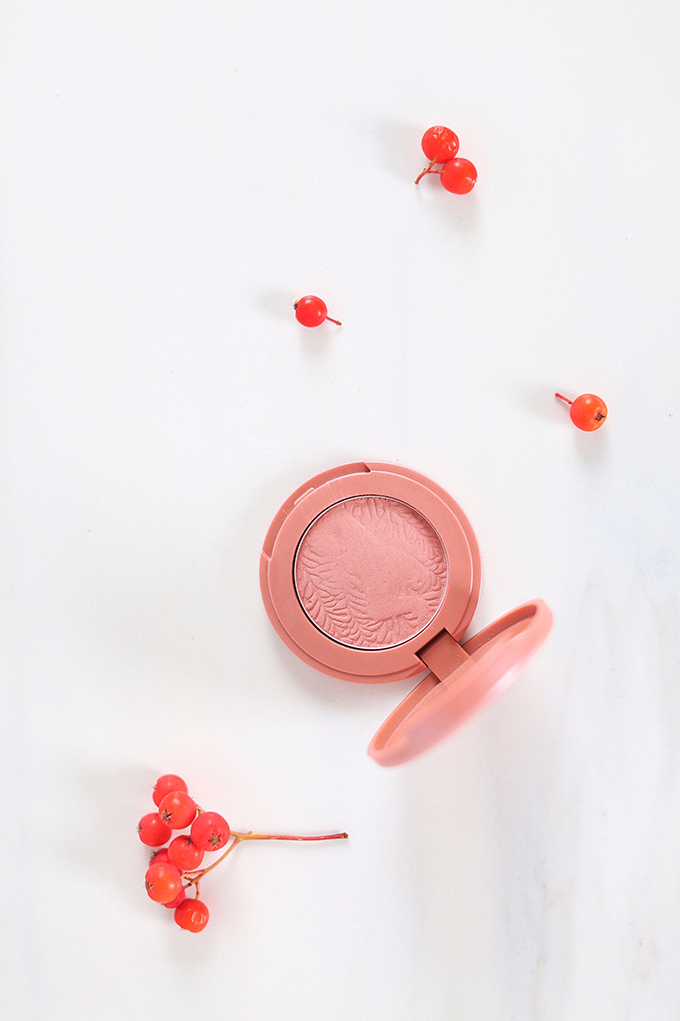 I received this cheerful blush from tarte as part of my Sephora birthday gift this year and have become completely smitten with it! The tarte Amazonian Clay 12-Hour Blushes are one my of favourite blush formulas (I can't believe I've never mentioned them here at JustineCelina!), but I'm pretty stocked up on blush right now, so haven't been purchasing anything new. Paaarty crept into my makeup bag this month and I wore it every single time I wore makeup — it's a midtoned rosy pink that goes with everything and imparts a youthful flush. On my light / medium skin I can be pretty liberal with it to achieved the desired effect (I tend to have a lighter hand with blush), but could see this shade working on very fair to tan skintones. I love the tarte Amazonian Clay 12-Hour Blush formula for many reasons — it's made with natural ingredients, it's extremely long wearing, buildable and it takes forever to get through! I'm so happy to have Paaarty in my autumn rotation (hop over to this style post to see it in action!).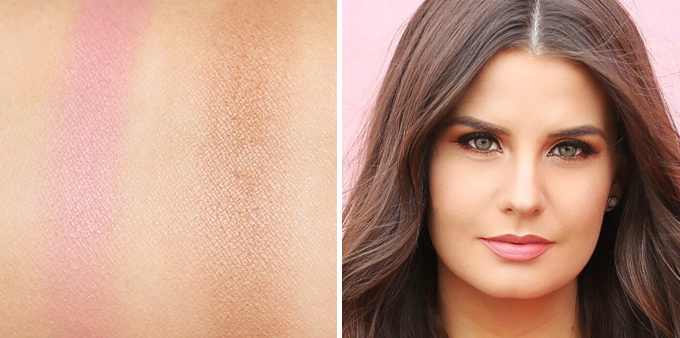 I'm wearing the tarte Amazonian Clay 12-Hour Blush in Paaarty on my cheeks
---
US $14.99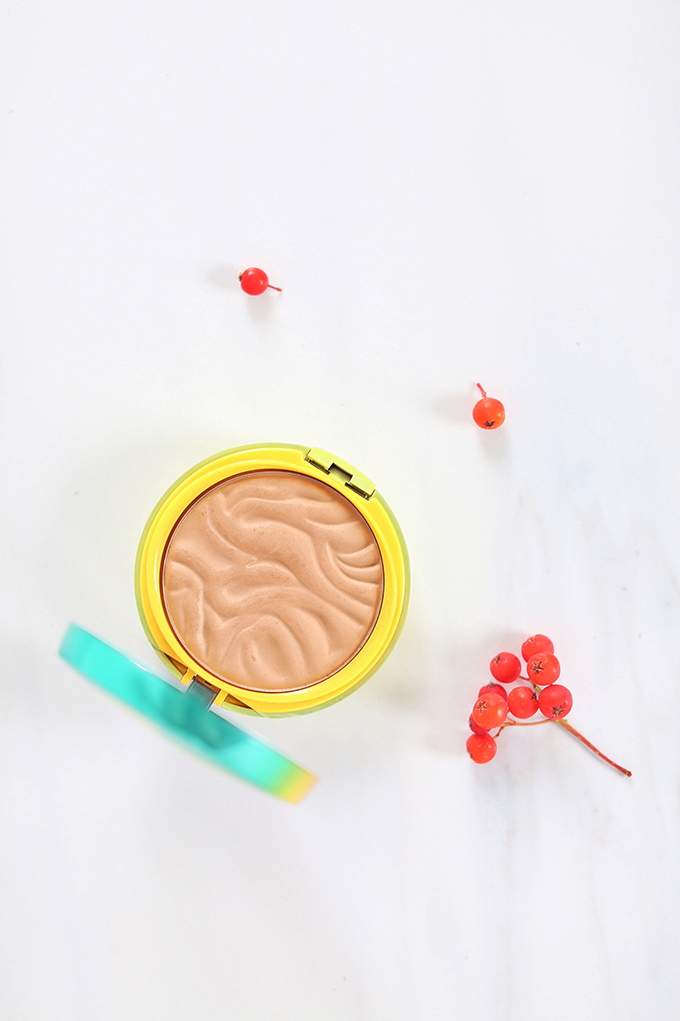 I may seem a little extra enthusiastic about all my favourite this month, but I've found products that will hold a permanent place in my makeup bag — like the Physicians Formula Butter Bronzer Murumuru Butter Bronzer, which is the most beautiful insanely buttery bronzer I've ever worn, at any pricepoint! I popped down to my local Walmart to pick up another Wet n Wild Photo Focus Foundation in Golden Beige (I used my first bottle up since posting about it back in March — it's become my favorite foundation of 2017!) when I spotted these bronzers. After the buzz they generated in beauty community earlier this year, I decided to pick one up and give it a try — and I'm so glad I did. First, this bronzer smells like tropical heaven. You know how strict I am about fragrance on my skin, so I was hesitant to give this a go, but I'm happy to report that it hasn't irritated my skin or broken me out. I'm crazy about the glowing, healthy warmth this bronzer imparts on my skin — it looks perfectly sunkissed with a golden undertone, so it's really hard to overdo. On my light / medium skin, the darker of the 2 shades available (simply named Bronzer) is absolute perfection. If you're in need of a tropical getaway (or maybe just an incredible bronzer) pick up one of the Physicians Formula Butter Bronzers — I bet you'll love it!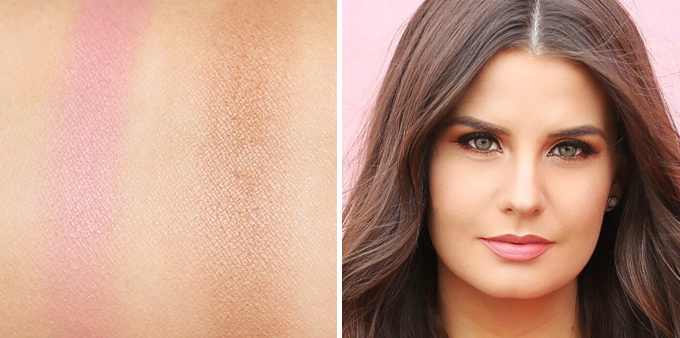 I'm wearing the Physicians Formula Butter Bronzer Murumuru Butter Bronzer on the perimeter of my face and over my cheekbnes
---
CND $35.00, Nail Fuel Polish Set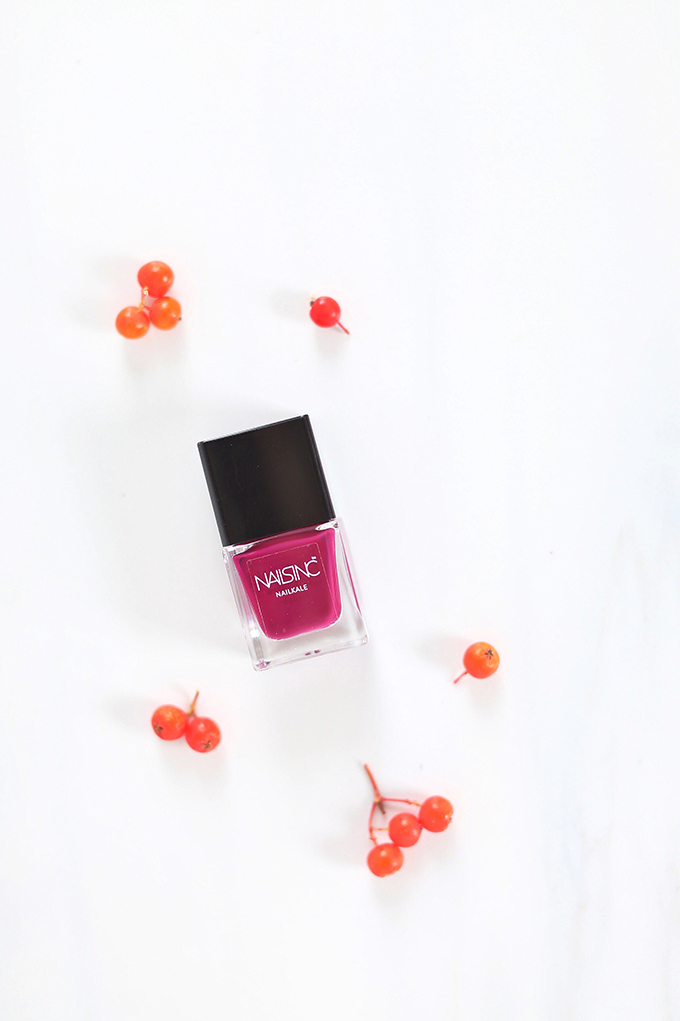 And last but not least this month, I have a new favourite polish from NAILS INC. Duke's Road NailKale nail polish from the Nail Fuel Polish Set has been on my fingers and toes since mid August and I can't stop wearing this gorgeous, glossy berry shade (catch it in action in my latest Summer to Autumn Trend Guide). I've mentioned almost every shade from the Nail Fuel Polish Set here at JustineCelina this year — so if you're looking to treat your nails to something new this autumn, this set is at the top of my list. What initially intrigued me about the brand when I initially discovered them was the ingredients — all NAILS INC. products are infused with nail loving ingredients and I've worn their polishes almost exclusively since discovering the brand. Duke's Road is the quintessential autumn berry that looks great after just one coat! However, if you'd like a full sized option that isn't part of a set, you could also consider Regents Mews or Victoria — both of which are infused with kale extract and a cocktail of nail superfoods. Truly, my nails have never been healthier!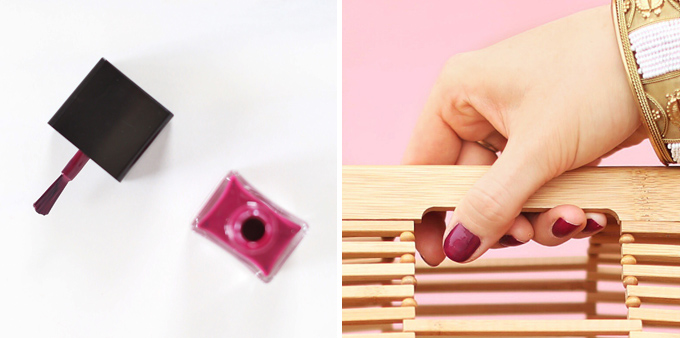 I'm wearing one coat of NAILS INC. Duke's Road NailKale nail polish on my nails
---
SHOP MY AUGUST 2017 BEAUTY FAVORITES
---

SEPHORA COLLECTION Sephora PRO Warm Palette | Yves Saint Laurent Vinyl Cream Lip Stain in 404 Nude Pulse | Bite Beauty The Lip Pencil in 022 | NARS Audacious Lipstick Apoline | tarte Amazonian Clay 12-Hour Blush Paaarty | NAILS INC. Duke's Road NailKale nail polish | Physicians Formula Butter Bronzer Murumuru Butter Bronzer
---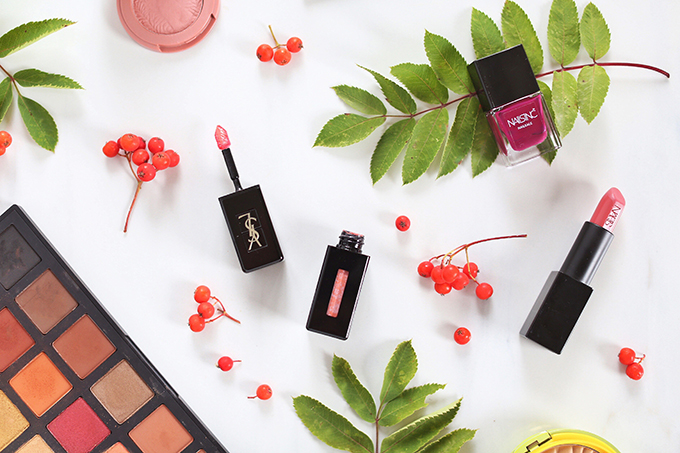 I really enjoyed chatting beauty with you guys this month! I'm gearing up for some of fresh, autumnal beauty content here at JustineCelina (I've been diving face first into the PANTONE Fall 2017 Fashion Color Report lately!) — so let me know if there's anything in particular you'd like me to cover. I'm always happy to take your requests!
---
Disclaimer: This post is not sponsored and contains my genuine thoughts, ideas and recommendations. JustineCelina uses affiliate and referral links, which allow me to receive a small commission when you make a purchase through one of my links. Thank you for supporting the brands and businesses that support JustineCelina.com!