Summer is in full swing here in Calgary and each season I look forward to updating my wardrobe with a few new pieces! Although I love colour, today's post is inspired by some new, neutral items I've picked up recently that have been on heavy rotation. I'm highlighting my favourite new accessories in a neutral, versatile colour palette and chatting about how I incorporate new pieces into my wardrobe to update old favorites. I also chat pairing a statement lip with neutral outfits to punch them up and add a pop of colour (because you know I can't get enough purple lips lately)! Stay tuned for summer style inspiration and my take on the seasons latest trends — including bucket bags, circle shades, tassels and cropped, frayed, distressed denim.
---
Grey Wool Fedora | Round Sunglasses | Cropped Utility Jacket (similar) | Striped Sleeveless Maxi Tunic | Black Tassel Necklace (similar) | Cream Bucket Bag | Distressed Skinny Ankle Jean | Black Ankle Strap Sandal | Colourpop Ultra Satin Lip in Molly
---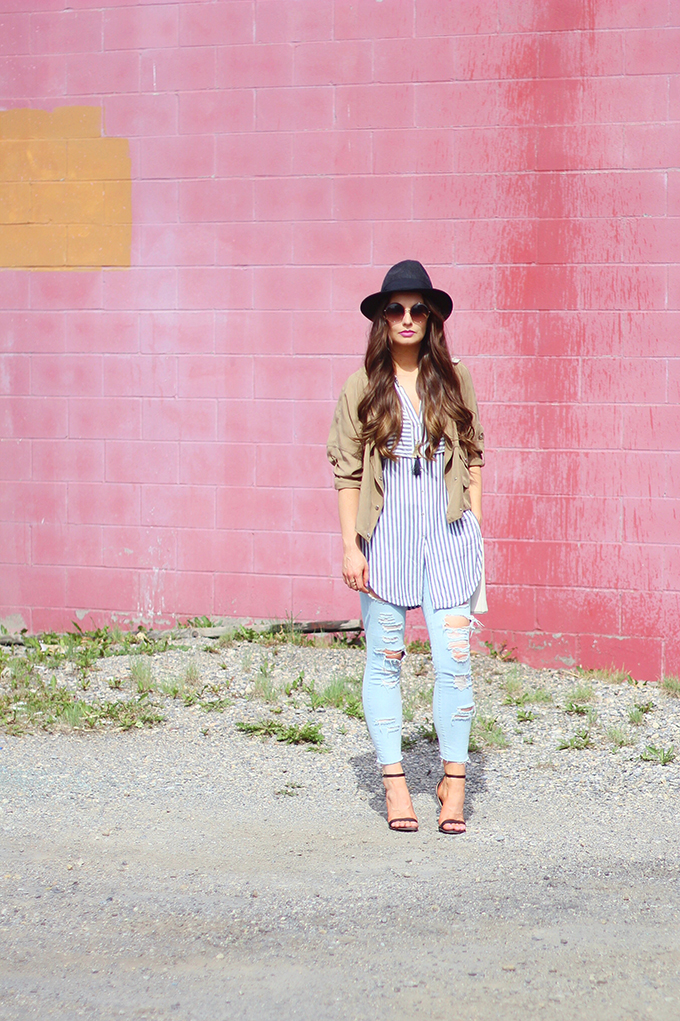 Let's take it from the top! Although I've always loved bowler and fedora style hats (this one is actually an old favourite!), I've been seeing them everywhere this summer in both wool and straw interpretations. If you've been with me for any length of time you'll know I love my hats and I especially like smaller brim hats like this Grey Wool Fedora when I'm going for a cooler vibe than a more bohemian, floppy brimmed hat can offer. Hats are a great option to help protect you from the summer sun and inject some extra style into your look!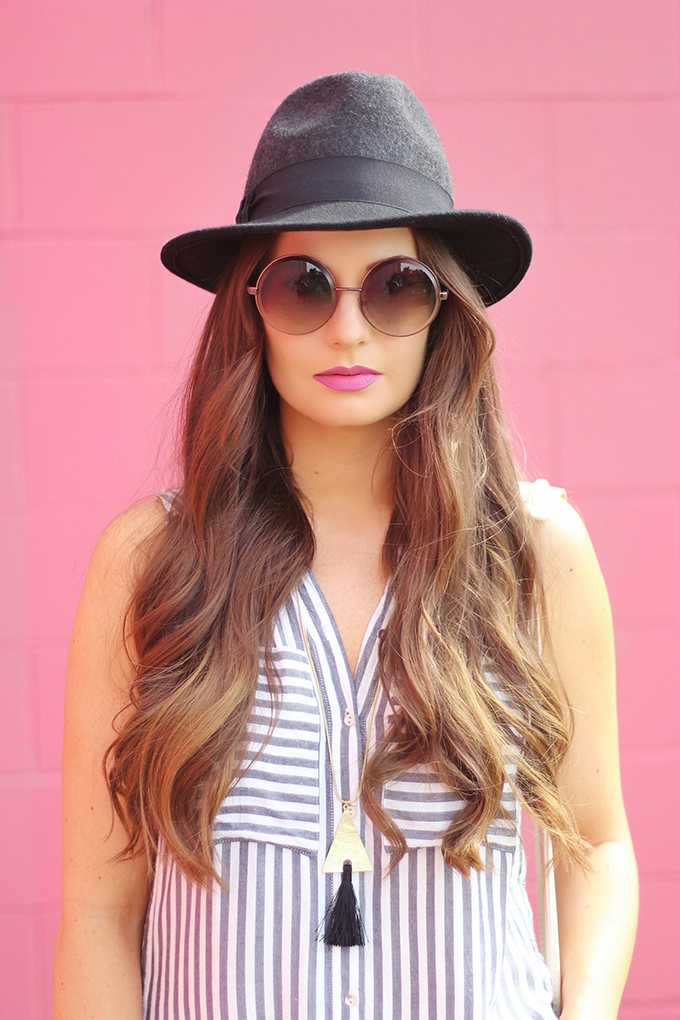 I've also been seeing a lot of Round Sunglasses this summer — like these ones from TopShop. Circular, 60's inspired shades are another item I've worn and loved for as long as I can remember and I'm happy to see they're on trend this season. I think they're so much fun and easier to pull off than you may think! Sunglasses are definitely my favourite accessory and I love vintage-inspired, oversized styles. If you're not sure you can pull a round shape off, my best advice would be to try a variety of styles, frames and sizes on and just have fun with it!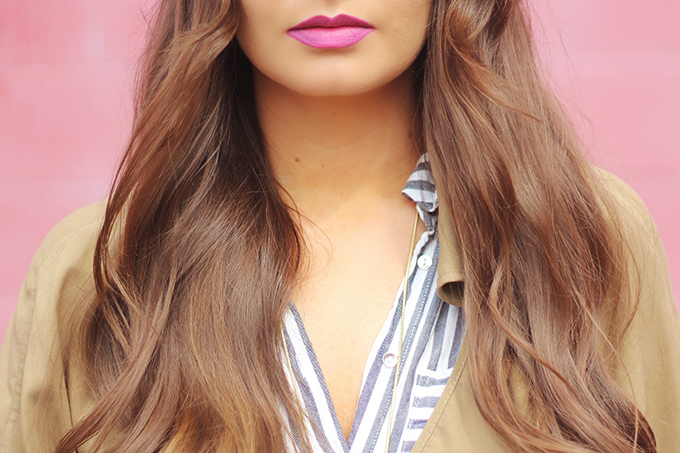 Now for the statement lip! I've been really into purple hues lately, and I can't stop wearing Colourpop's Ultra Satin Lip in Molly. It's the most beautiful, wearable lilac I've ever encountered and I especially love it with green eyes! I'm always inclined to wear a statement lip when my outfit is so neutral for a pop of colour — the options are endless and it's a simple way to elevate your look while adding interest. Need some statement lip recommendations? I mentioned my favourite fuchsia shade in my last style post, mentioned the Ultra Satin Lip in Molly in my last monthly beauty favourites post and also have a review of all the Colourpop Ultra Satin Lips I own.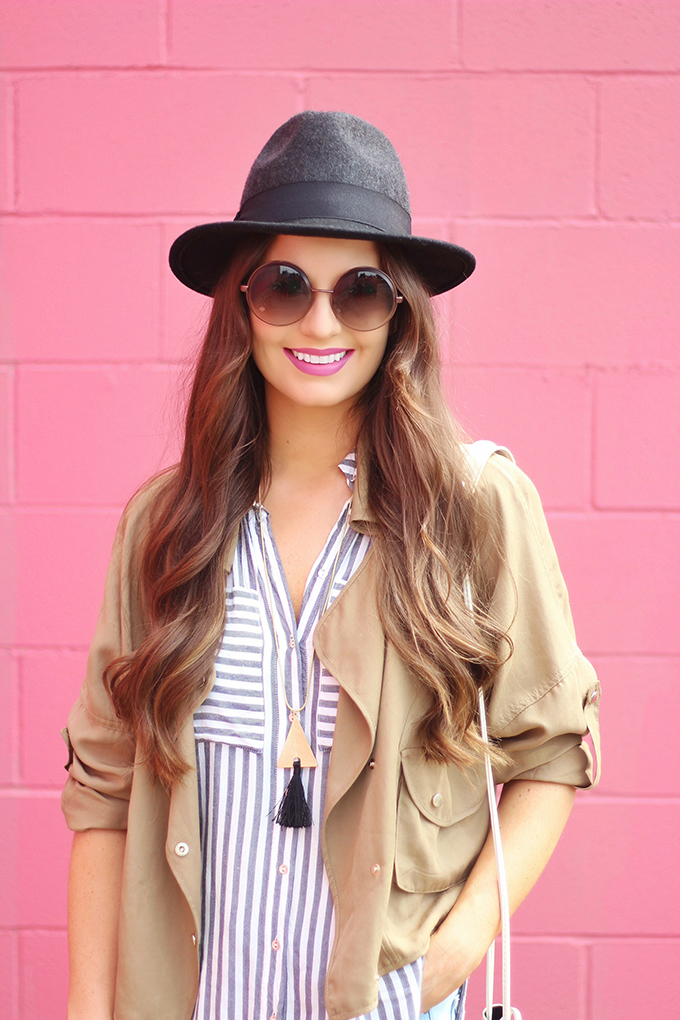 This cropped utility jacket is another old favourite of mine (I've linked a similar one here) and it's such a versatile layering piece for me in the summer. I can throw it over almost anything in my closet for an extra layer of warmth and style! I love to experiment with proportion and pair cropped siloulhettes with longer pieces like this Striped Sleeveless Maxi Tunic I picked up recently at the Dynamite event at Market Mall (deets on the new Dynamite concept here!). I've been living in this breezy, longline tunic lately and I love the groovy, vintage vibe it gives this outfit! I mentioned stripes in my Spring Style Staples post and I'm still loving them.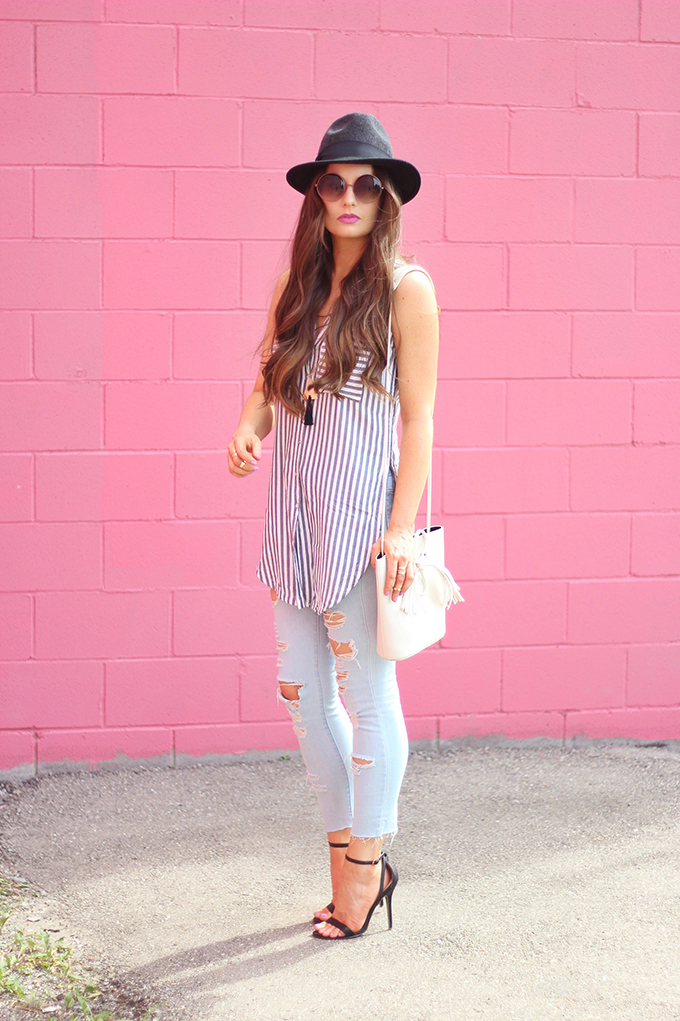 I mentioned tassels were going to be big in the winter, mentioned them again in the spring — well, it looks like they're here to stay! Both my necklace and my bucket bag feature tassels. I think purchasing trendy accessories is a great way to update your look without a major commitment! A neutral colour palette of black, gold and cream makes these accessories so versatile that I've been wearing them constantly.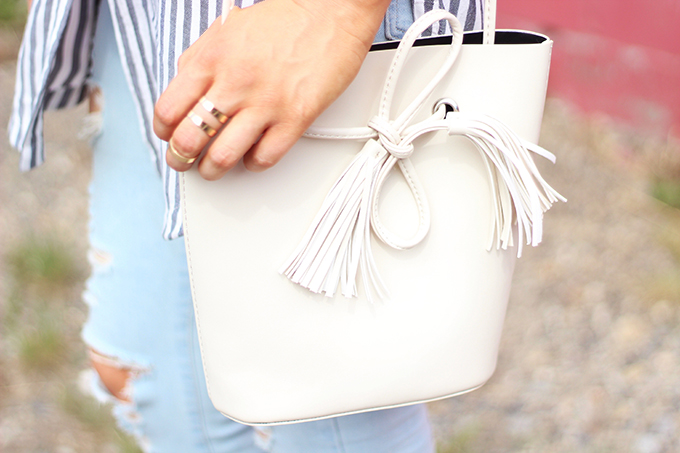 Bucket bags are another major trend this summer — and personally I've always loved them! They're an easy to wear accessory for day or night and they also transition well through the seasons. This inexpensive bag comes in cream and black if you're looking for an easy way to incorporate a couple of seasonal trends into your summer style with one accessory!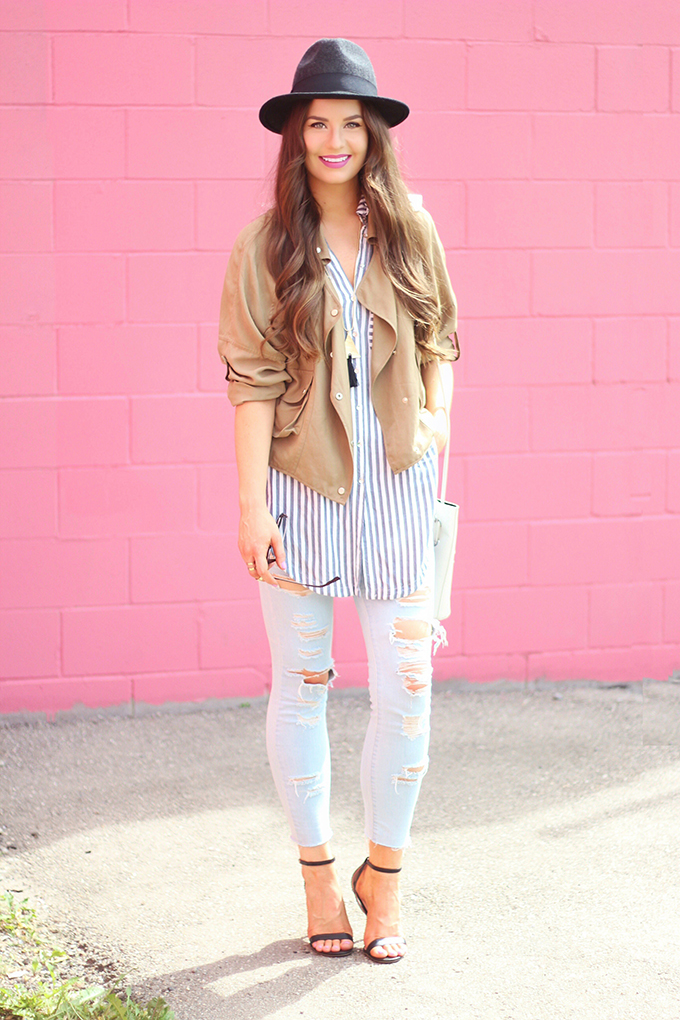 Ah, the cropped, frayed, distressed denim trend. At first, I wasn't sure what to think of it. But then, it started to grow on me! Like any trend, I think it's important wear it in a way that works for your body type and suits your personal style. After after many weeks of searching, I finally found a great pair of summer denim that I love! For me personally, if I'm going to wear super distressed denim I need to look for a neutral, uniform wash to keep things from looking too crazy (and too young). I also like the subtly frayed, cropped hem. I think the key to pulling off any cropped style of pant is to pair it with a heel — either a pointy toed pump (like I've done here), or a sleek sandal like I'm wearing in these photos. A great pair of heels with sleek lines help elongate the leg and keep things looking long and lean.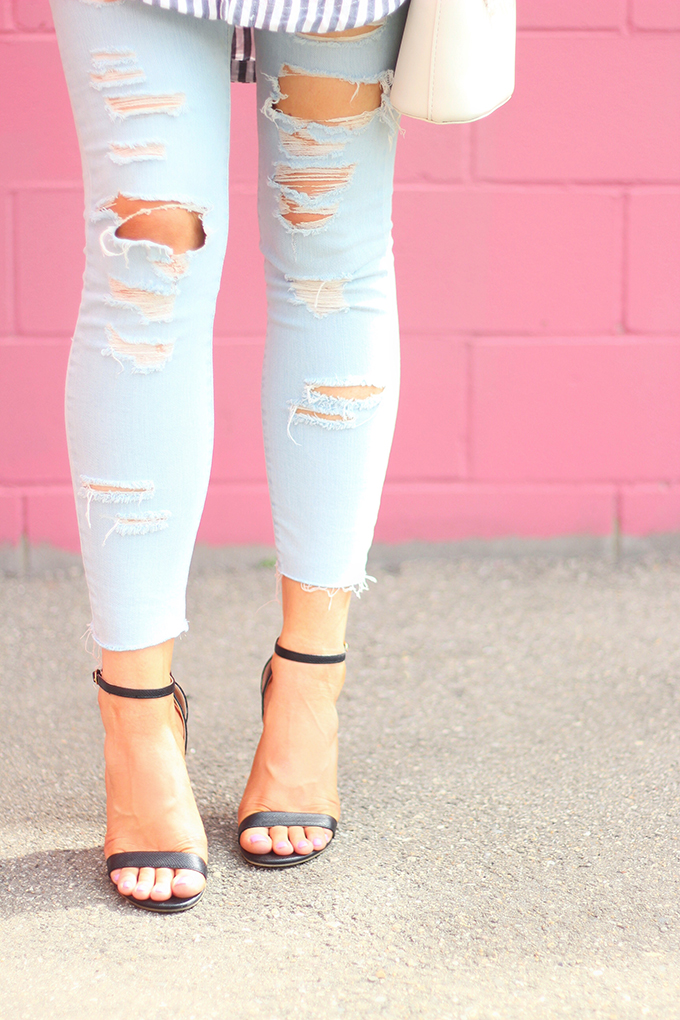 Now for shoes! For me, minimalistic, strappy sandals in a neutral colour palette are an absolute must for the summer. I mentioned my favourite nude pair in this style post, and I'm wearing my favourite black pair in these photos. You could take away all my other shoes and I would still have all my bases covered! These simple, black ankle strap sandals from Steve Madden are comfortable, versatile and sexy while elongating the leg — I can wear them with literally anything in my closet.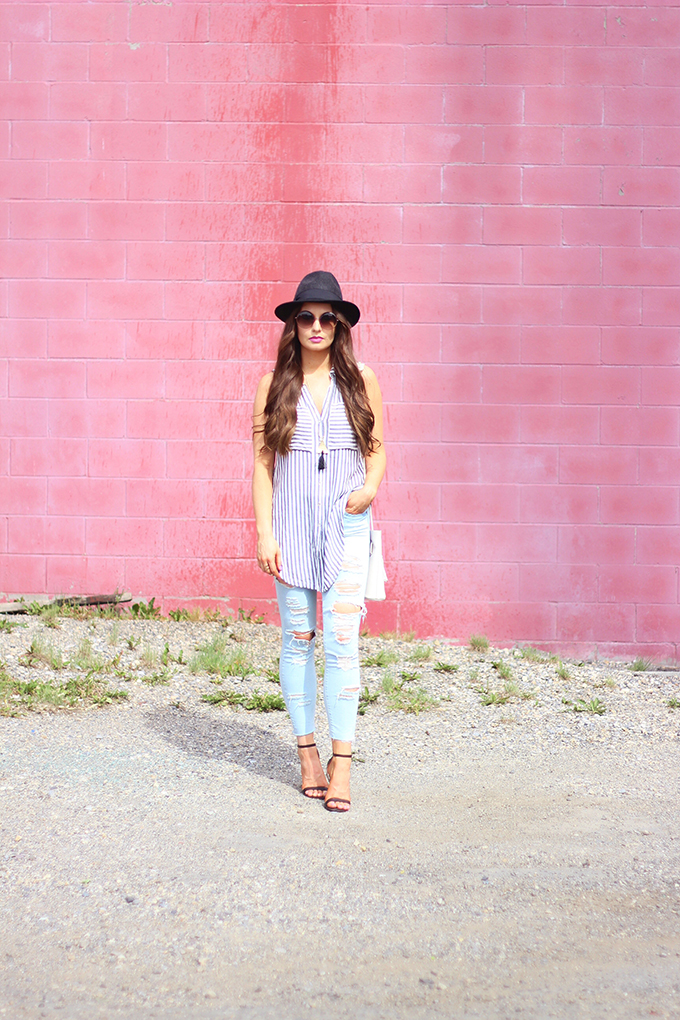 ---
SHOP THE LOOK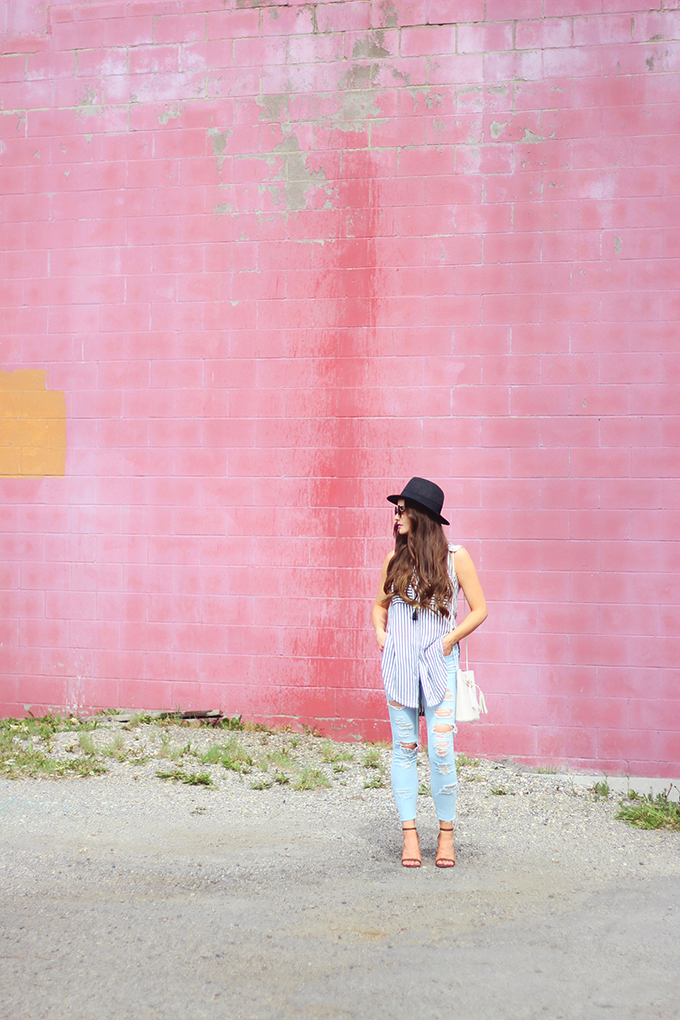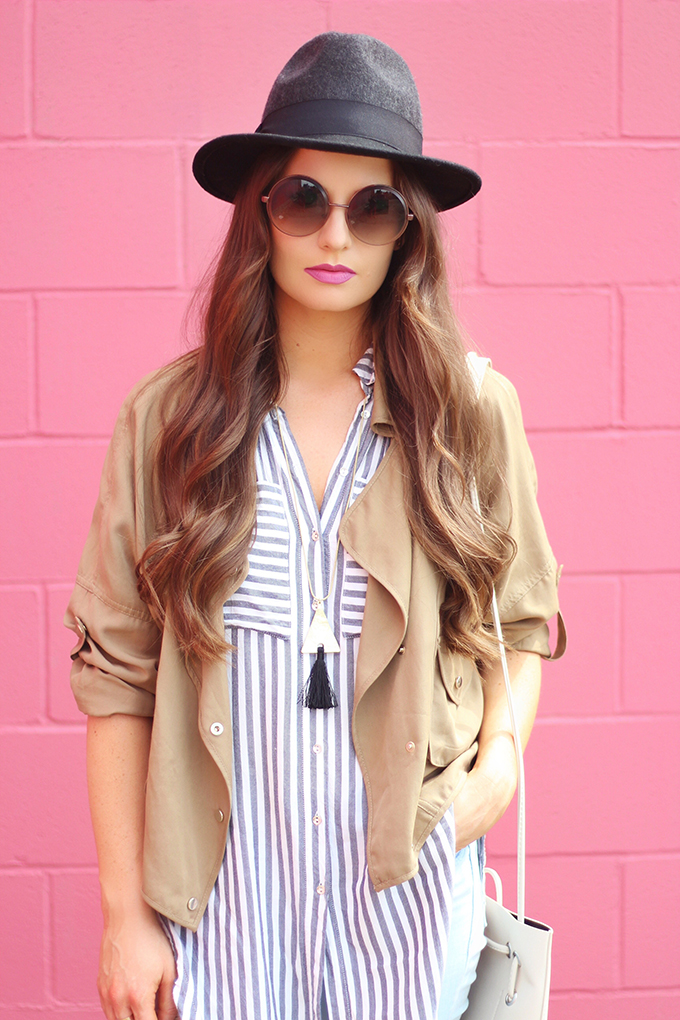 Grey Wool Fedora | Round Sunglasses | Cropped Utility Jacket (similar) | Striped Sleeveless Maxi Tunic | Black Tassel Necklace (similar) | Cream Bucket Bag | Distressed Skinny Ankle Jean | Black Ankle Strap Sandal | Colourpop Ultra Satin Lip in Molly
---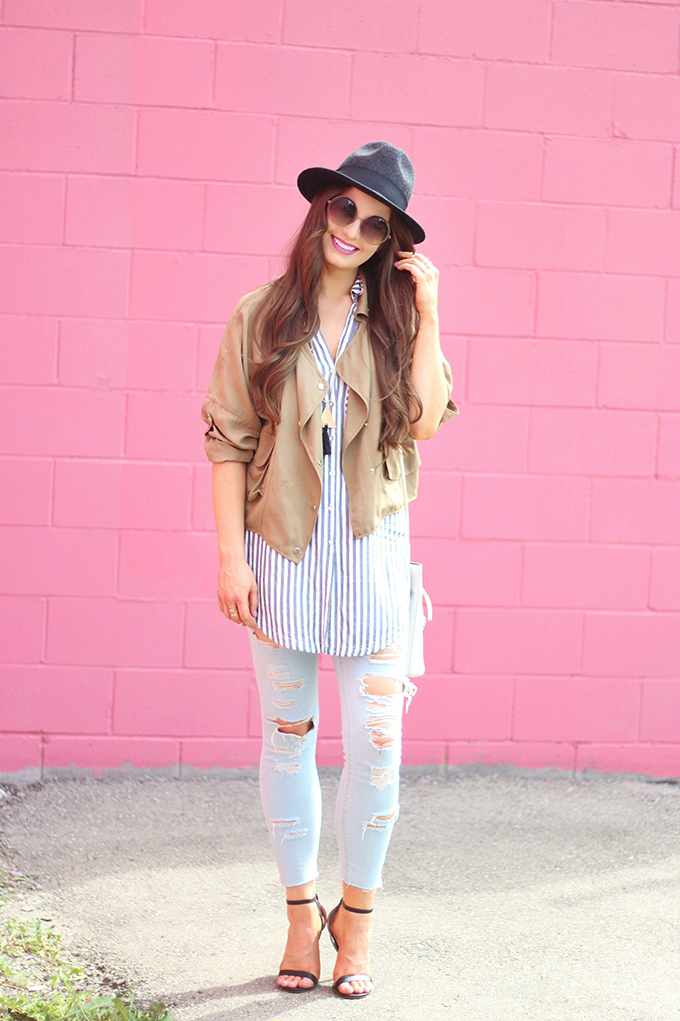 What are your favourite neutral pieces this season? Fun fact — these photos were taken next to 2 garbage dumpsters on a hot and sweaty 32°C day. Haha. Photographing style content for JustineCelina is definitely not as glamorous as it may seem, but I couldn't pass up this amazing pink wall!

---
Disclaimer: This post is not sponsored, and contains my genuine thoughts and recommendations. JustineCelina uses affiliate and referral links, which allow me to receive a small commission when you make a purchase through one of my links. Your purchases help to support JustineCelina.com!
Save
Save
Save
Save
Save
Save
Save
Save
Save
Save
Save
Save
Save
Save
Save
Save
Save
Save
Save
Save
Save
Save
Save
Save
Save
Save
Save
Save
Save
Save
Save
Save
Save
Save
Save
Save
Save
Save
Save
Save
Save
Save
Save
Save
Save
Save
Save
Save
Save
Save
Save
Save
Save
Save
Save
Save
Save
Save
Save
Save
Save
Save
Save
Save
Save
Save
Save
Save
Save
Save