---
Hey beautiful people — welcome back for another Monthly Beauty Favourites! June was a fun month here at JustineCelina, packed with events, roadtrips, and absolutely gorgeous weather. Summer has definitely arrived in Calgary and I've been taking every opportunity I can to get outside and enjoy it! In June I experimented with a lot of seasonal trends in the beauty department and really pushed the boundaries of what type of what type of products I incorporated into my routine. It creative month for me beauty wise — and it was a blast!
If you're so over spring pastels and nudes, this post is for you! My June 2017 Beauty Favourites are bursting with vibrant hues and unconventional finishes and formulas. I have mini reviews on a little bit of everything today — a beautiful, compact, warm toned eyeshadow palette (which is actually a fantastic alternative to the in-and-out of stock Urban Decay Naked Heat Palette), my favourite mascara of the year (and it just happens to be under $7!), more Lancôme lip products, a delicious vegan shower cream, a neon red blush, an ultra fine makeup setting mist, a spray that makes your locks super shiny, a metallic rose gold polish with good-for-your-nail ingredients. If you're looking for a relaxing mid week read, settle in with me today and let's chat about the best in summer beauty!
---

---
JUNE 2017 BEAUTY FAVOURITES
---
CDN $35.00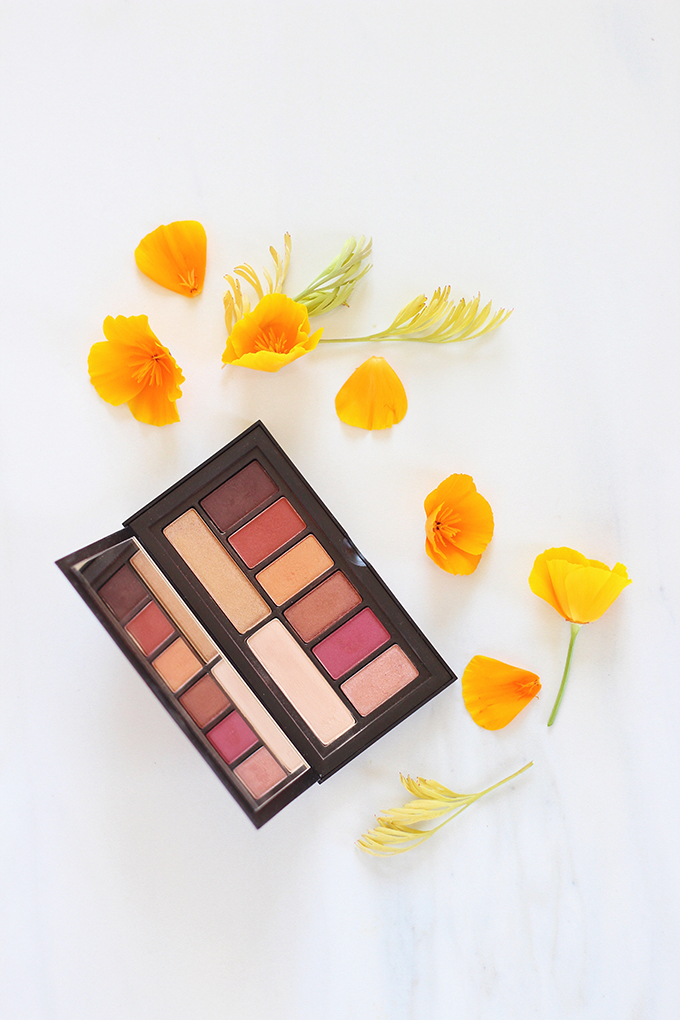 Do beauty products ever grow on you? Well that's exactly what happened with the Smashbox Cover Shot Eye Palette in Ablaze. I picked it up awhile back because I loved the warm shades and the compact size, thinking it would be a great palette for travel. After swatching it, I was less than thrilled and thinking about returning it — but I'm so glad I didn't!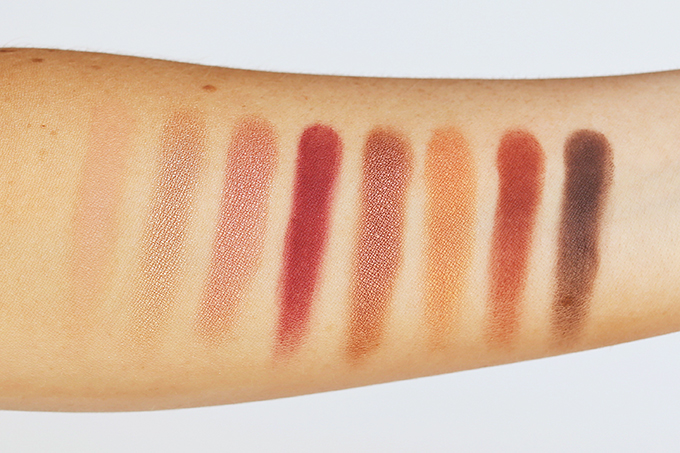 Don't get my wrong, it's not like these shades aren't pigmented. It's just that I love my ultra metallic golds and warm shades — and initially I was a bit disappointed (the gold shade on the left is one of the least pigmented in this palette and gold shadows are my go-to!). But this is one of those palettes that performs totally differently on the eyes! In fact, I've used this palette every single time I've worn makeup this month and I actually like that it's a bit more subtle. For travel, it pairs perfectly with the Viseart Theory II Palette in Minx I raved about last month (that's actually all I packed eyeshadow wise all month!). There are some really unique shades in this little palette (it's smaller than an iPhone) and it's a great alternative to the larger Anastasia Beverly Hills Modern Renaissance Eye Shadow Palette or Urban Decay Naked Heat Palette. If you're looking for a compact, warm toned eyeshadow palette that's ideal for travel, give the Smashbox Cover Shot Eye Palette in Ablaze a look! It's especially beautiful on green eyed gals, but universally flattering.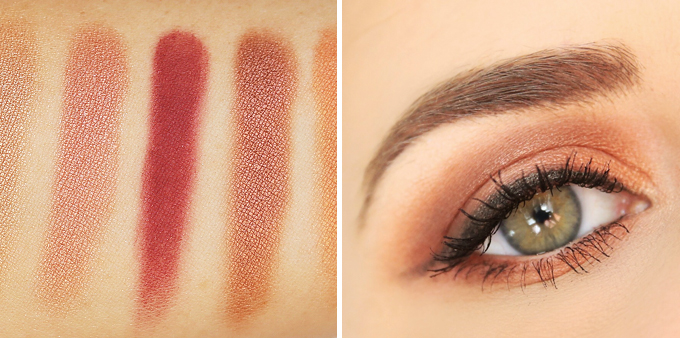 I'm wearing the Smashbox Cover Shot Eye Palette in Ablaze on my eyes
---
CDN $6.79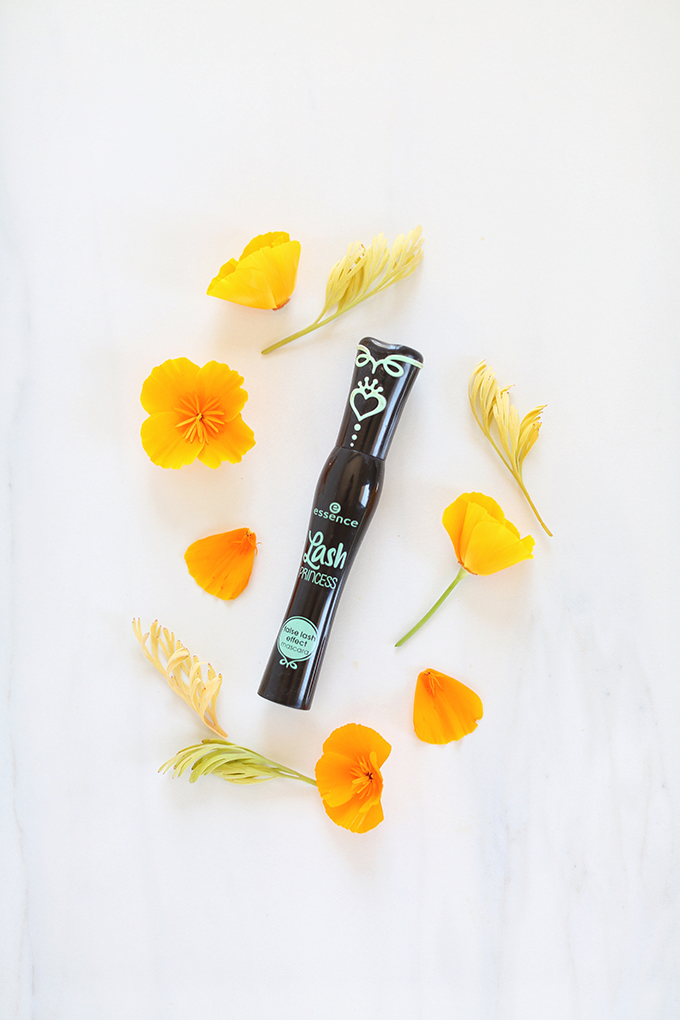 Guys, I've had a bad run with drugstore mascaras lately. Earlier this year, I decided to give high end mascaras a rest and explore some new options at the drugstore, but since I ran out of the Maybelline Volum' Express The Colossal Big Shot Mascara (which was good, but not great — hop over here for a review) I tested some truly awful mascaras (some of you may remember my PSAs over on Insta Stories!). I was feeling a bit discouraged, but on a grocery run earlier this month I stopped into the Essence section at Superstore — it was huge! Longtime reader will know I've been a fan of Essence makeup for years. I've always heard great things about their mascaras but never given them a try. I wasn't sure which one to grab (they actually have about 6 or 7 mascaras!), but there was only one Essence Lash Princess False Lash Effect Mascara left — so I figured it was a good one!
This rivals my favourite drugstore mascaras (Covergirl LashBlast and Clump Crusher), but it's completely different. First, it's a natural bristle, conventiallu shaped brush. But this formula is magic — it makes my lashes look amazing after just one coat (really!). I'm a 2 coat kind of girl, but I can get away with one with the Essence Lash Princess False Lash Effect Mascara. It also stays put all day, holds a curl beautifully and doesn't flake, smudge or irritate my ultra sensitive eyes. Ladies — this mascara is truly incredible! It makes my lashes look full and fluttery, but also adds tons of length without being clumpy. If you have a Shoppers Drug Mart or a Superstore near you, run out and grab it!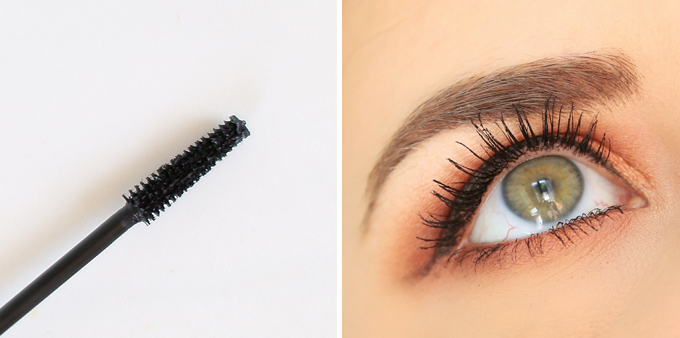 I'm wearing 2 coats of the Essence Lash Princess False Lash Effect Mascara on my eyes
---
CDN $29.00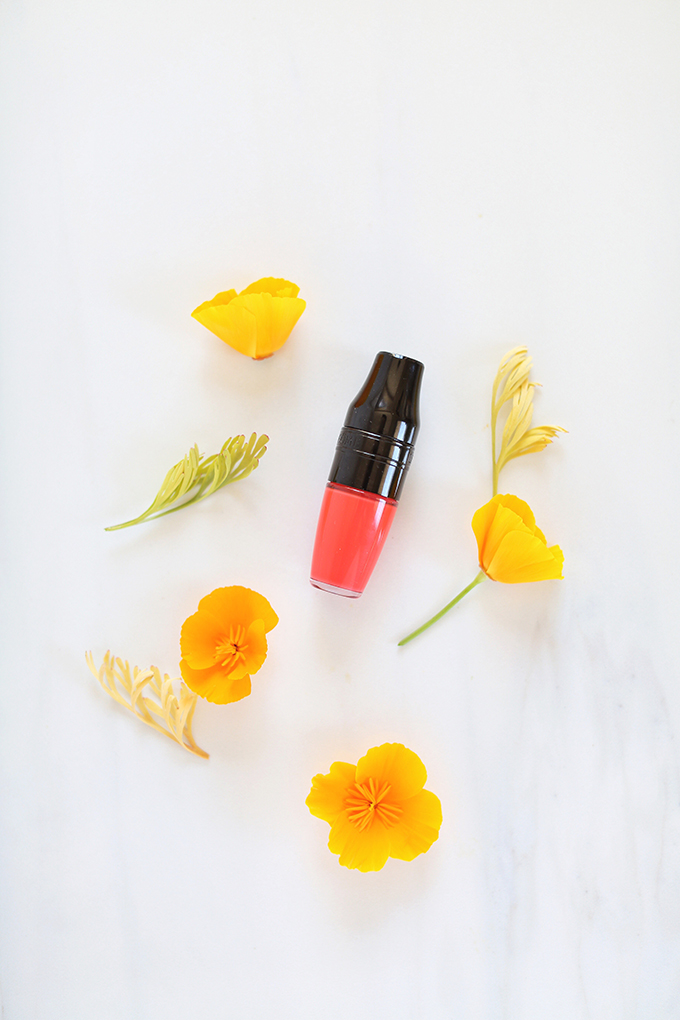 My obsession with the Lancôme Matte Shakers continues! They may sound familiar because I mentioned one of my my favourite shades in my May Beauty Favourites (hop over there for an in depth formula review). I love this formula so much picked up the entire range for a dedicated review and have been working my way through the shades. Nude lips have dominated the beauty scene for most of 2017, but this summer, vibrant shades are taking over! I'm crazy about the way orange and coral look against sunkissed skin (my glow comes from a bottle, BTW!) In June, I fell in love with Magic Orange and as you can see it's not really orange on me at all — but a gorgeous warm coral. I love this buildable, lightweight formula! Expect more on the Matte Shakers and my favourite vibrant lipsticks of the season coming your way soon, but you can see it in action in the meantime by hopping over to my Spring 2017 Trend Guide | Casual Chic.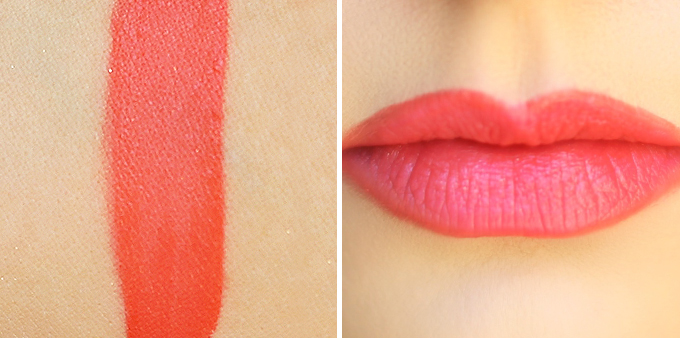 I'm wearing the Lancôme Matte Shaker High Pigment Liquid Lipstick in Magic Orange on my lips
---
CDN $28.00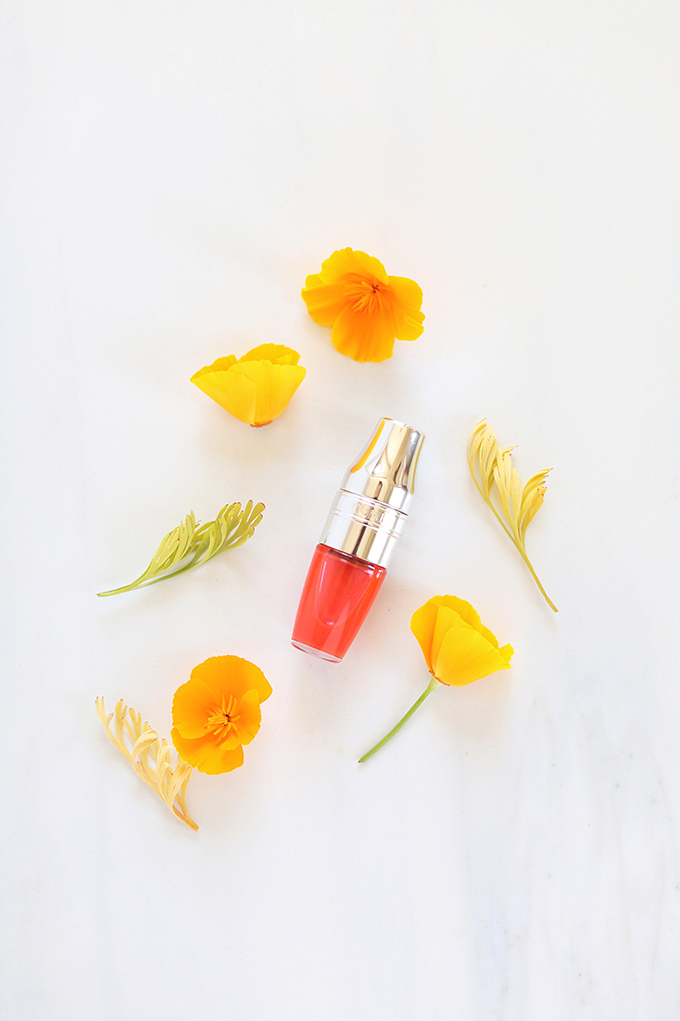 The Lancôme Matte Shakers have been getting a lot of hype in the beauty community recently, so in order to bring you the most comprehensive review possible, I picked up the Lancôme Juicy Shaker in Apri-Cute (which actually launched a couple of summers ago) as a basis for comparison. The Juicy Shakers and the Matte Shakers are polar opposite in terms of formula — only the packaging and the staining effect are similar. The Juicy Shakers are an ultra moisturizing, tinted oil that remind me a lot of the YSL Tint in Oils I fell in love with a couple of years ago — but with a more convenient applicator. They feel quite balm like on and provide a glossy hint of colour than lingers after the oil wears off. It lived in the bottom of my bags this month and is ideal for those of you looking for on-the-go application with a kiss of summery colour!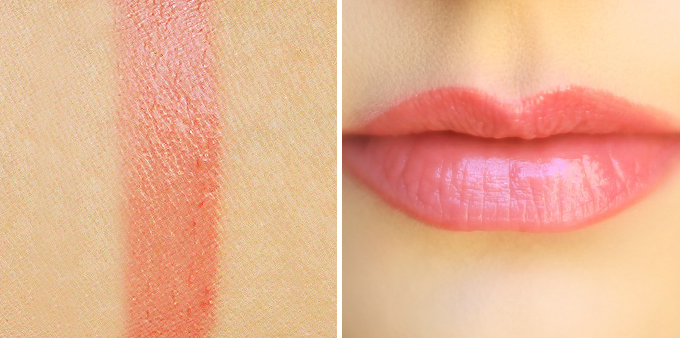 I'm wearing the Lancôme Juicy Shaker in Apri-Cute on my lips
---
CDN $25.00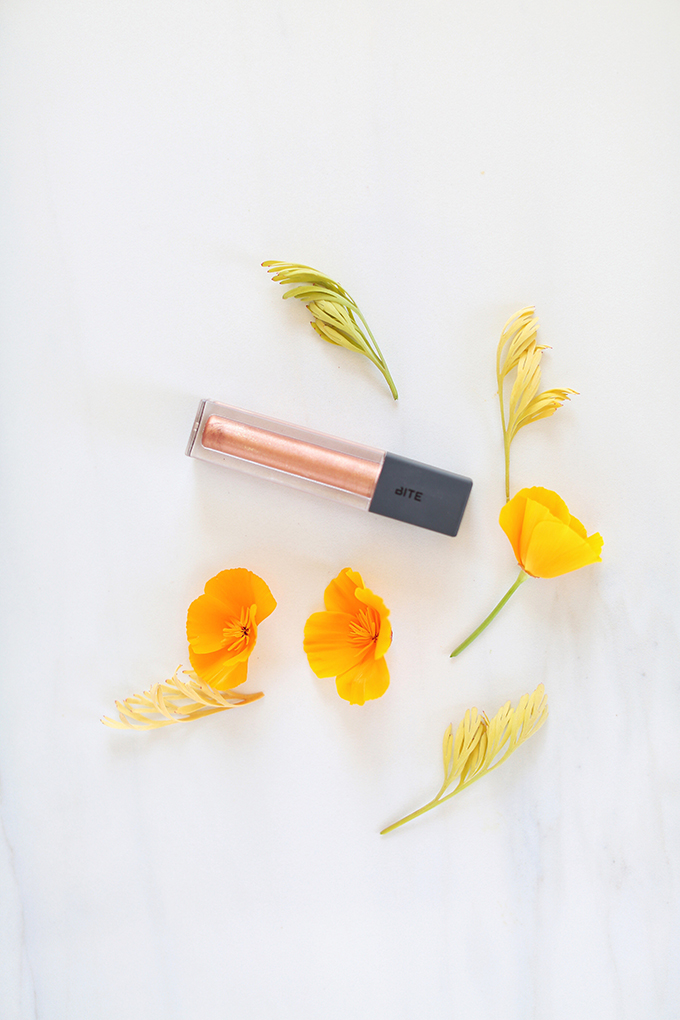 This isn't going to be for everyone — but this metallic champagne gloss is so, so gorgeous! In June I made an effort to dig out products I had picked up this year and loved but hadn't worn in awhile, like Bite Beauty's Prismatic Pearl Crème Lip Gloss in Champagne Pearl. It may look familiar because I've been raving about Bite's metallic glosses since December, but mentioned this specific shade back in my Spring 2017 Beauty Trend Guide. I'm so glad I busted it out this month — initially, Champagne Pearl was the shade of the 3 I picked up that I found least wearable (light nudes really aren't my thing). But I discovered that all I needed to do was to pair it up with a deep, warm nude lipliner to make it work for me!
To make metallic glosses more wearable, I personally love to line, then completely fill in my lips with a creamy lip liner (here I'm wearing Huda Beauty's Bombshell Lip Liner) and then apply the metallic gloss on top (here it's Bite Beauty's Prismatic Pearl Crème Lip Gloss Champagne Pearl), concentrating the most product in the centre of my lips for a plumping effect. If you're feeling a bit darling this summer and want to dip your toes into the metallic lip trend, Bite's metallic glosses are the best I've tried — they're extremely pigmented, thick and long wearing (plus, they're made with natural, food grade ingredients, they taste and smell link pink lemonade and they're Canadian)!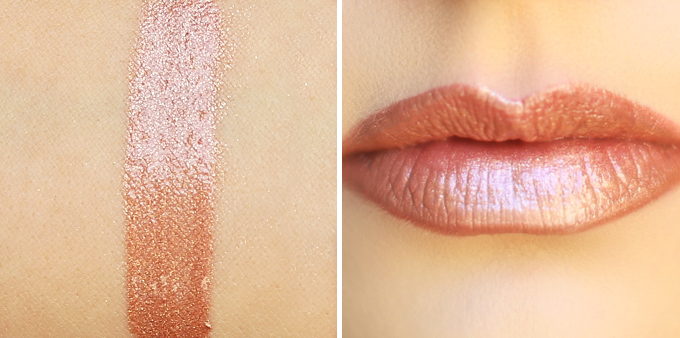 I'm wearing the Bite Beauty Prismatic Pearl Crème Lip Gloss in Champagne Pearl on my lips, lined with the Huda Beauty Lip Contour Matte Pencil in Bombshell
---
CDN $25.00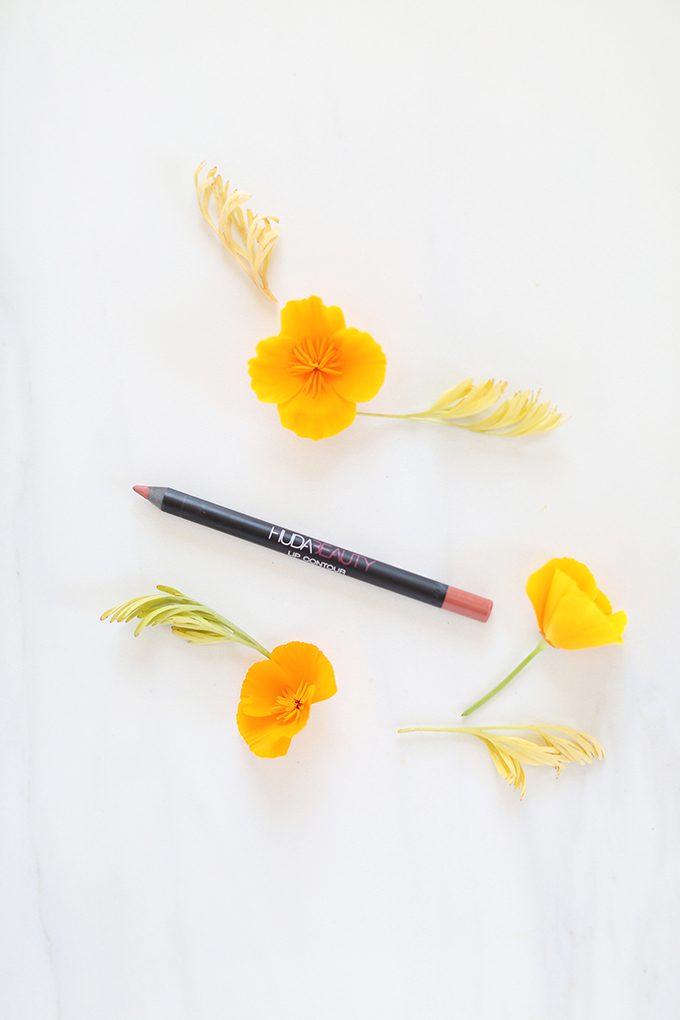 You're probably getting sick of me recommending a new nude lip liner every other month, but when I'm testing new lip liner formulas I always pick up the neutral shades first before branching out into other colours! After the Huda Beauty Liquid Lipsticks became one of my all time favourite liquid lips last year, I was excited to try her Lip Contour Matte Pencils and picked up a few shades to test earlier this year. Believe it or not, I've been testing them since March! This month, I've been loving the way the Huda Beauty Lip Contour Matte Pencil in Bombshell pairs with the Bite Beauty Prismatic Pearl Crème Lip Gloss in Champagne Pearl I mentioned above. On me, it's a darker, warm nude that I like to use to add dimension and depth whenever I've wearing a lipstick or gloss that's a bit too light or nude on it's own. It's the perfect lip liner — creamy, longwearing and opaque.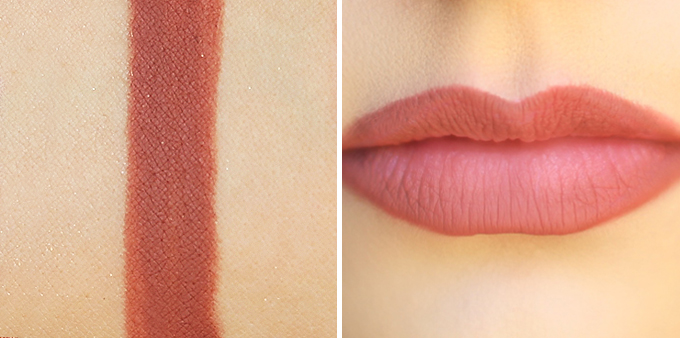 I'm wearing the Huda Beauty Lip Contour Matte Pencil in Bombshell to line my lips, feathered in to the centre

---
$9.95 – $29.95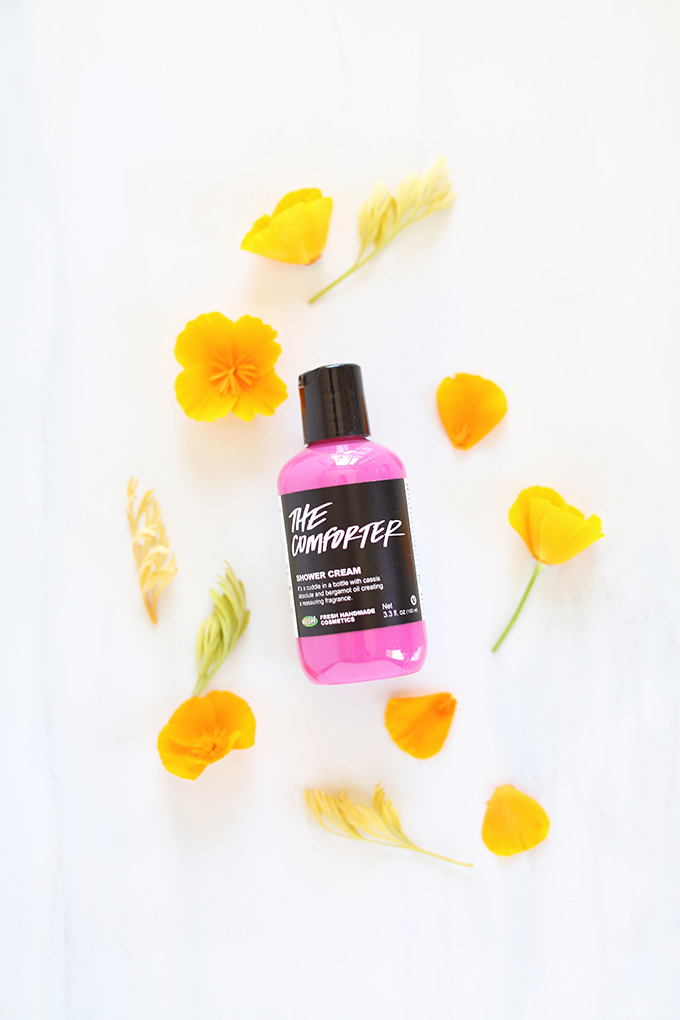 I've been working my way through all the goodies my friends at Lush sent over back at the beginning of this year — and in June, I popped The Comforter Shower Cream into our shower. It smells absolutely amazing — like sour keys combined with a creamy hit of vanilla (great, now I'm craving candy!). It's absolutely heavenly and something we've both really been enjoying! As the name implies, it's a comforting, fruity scent (Lush cites sweet cassis blended with fair trade vanilla to create a yummy blackcurrant aroma) and I love the way it cleans my skin feeling clean but not depleted. For those of you who enjoy more natural or vegan products, The Comforter is my summertime shower obsession!
---
CDN $38.00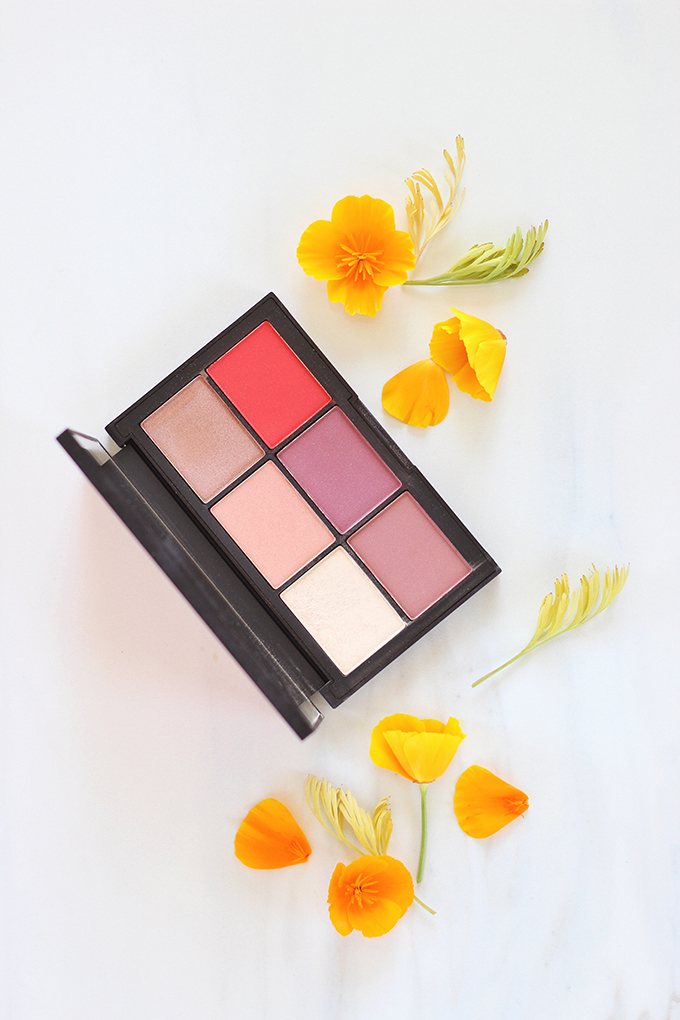 My most worn blush this month? A neon red, matte blush from NARS called Exhibit A! NARS blushes are a cult classic for a reason and having only sampled (and loved) a few shades from their range previously, I picked up the NARS NARSissist Unfiltered Cheek Palette in Unfiltered I this past spring! I tend to favour blush palettes over individual blushes (what can I say, I like my options!), so when I saw that Exhibit A was included in this palette at a smaller size then they sell individually, I was sold. I'd been lusting after Exhibit A for years and I absolutely love it on dewy, sun kissed summer skin — it looks a bit burnt and naturally flushed!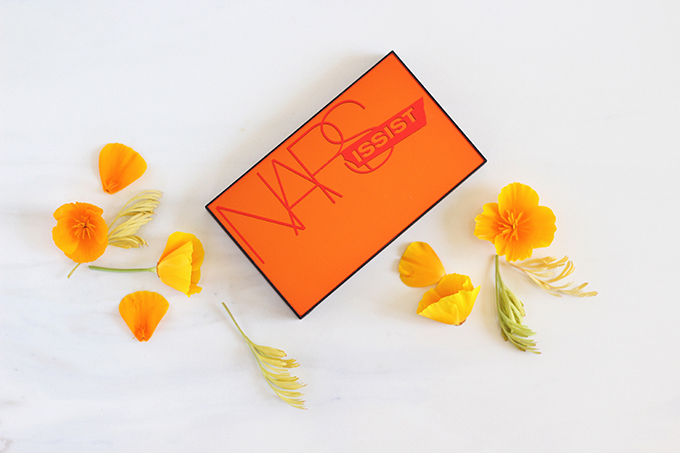 If you're looking for an unconventional blush option this summer, Exhibit A is sold individually. Or, snag the Unfiltered I Palette at select retailers — it's no longer available at Sephora, but I did find it still online at Barneys and Spring. The highlighter, Watch Me, is absolutely stunning (it's also LE and exclusive to this palette — I've been wearing it non stop!). Every single shade in the palette is gorgeous and you'll be covered in the blush / highlight department all season long!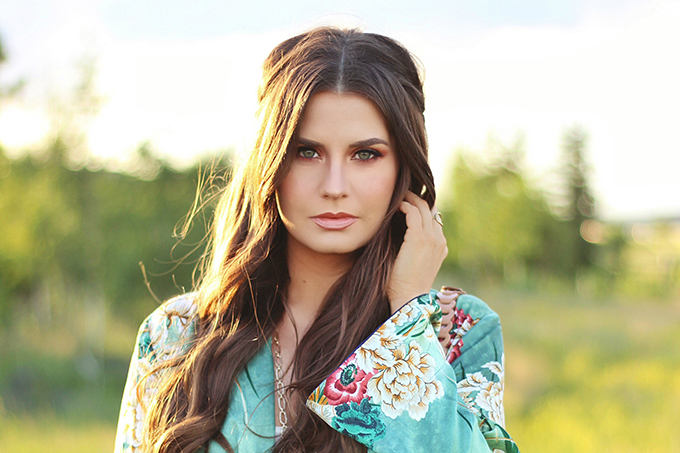 I'm wearing the NARS Blush in Exhibit A on my cheeks

---
CDN $33.00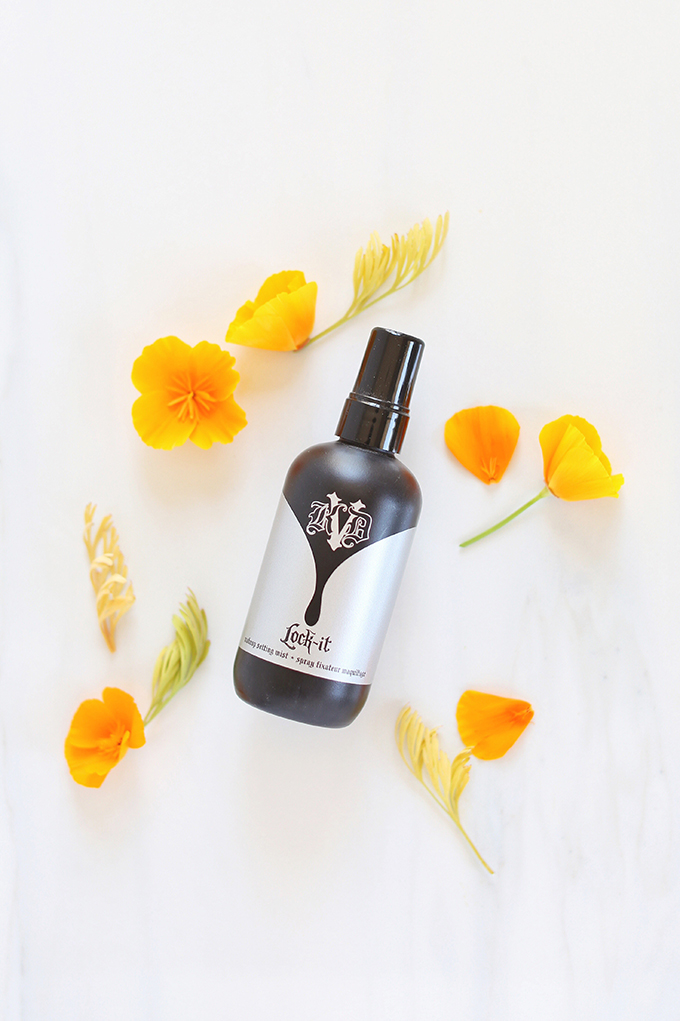 It seems like every high end brand has released a new setting spray over the last couple of months, so I set out to investigate! I think summer is the ideal time to test makeup setting sprays since I'm combo skinned and things can start looking a bit too glowy in a hurry — especially during the heatwave we've been having! The first time I used the Kat Von D Lock-It Makeup Setting Mist I was genuinely shocked at how fine the mist was. At first it felt like there wasn't anything spraying onto my skin, but when I looked in the mirror I saw microfine droplets coating my face (they were so small I didn't even feel them drop onto my face). It's the finest mist ever and it works incredibly well to keep my makeup matte throughout the day while prolonging wear time. If you're looking to treat yourself to a high end setting spray this summer, pick up the Kat Von D Lock-It Makeup Setting Mist — I've been keeping mine in the fridge for an extra refreshing experience!
---
CDN $35.00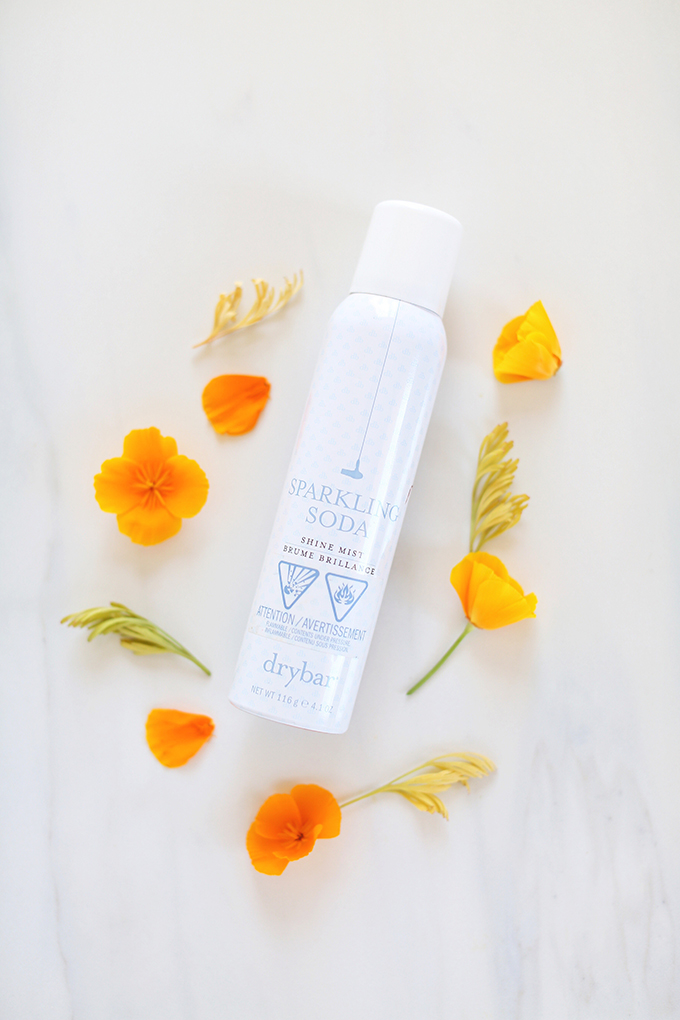 Now this is a product I've been meaning to mention for a few months, but everytime I round up my beauty favourites, it manages to slip through the cracks. If you've ever read a HAIR post, you'll know that I'm crazy about Drybar products — well, I've actually been using the Sparkling Side Shine Mist since November but haven't mentioned it here at JustineCelina! I love to use this mist as the very last step in my hair routine after I've styled it — particularly on days when I'm loaded up with dry shampoo and my ends may be looking a little dry (I'm looking at you, day 3 and 4 hair!). This light as air mist imparts a natural gloss (not grease!) to my locks and along with Drybar's signature fragrance. If your mane could use a bit of love this summer after all the heat, styling and sun exposure, treat it to Drybar Sparkling Soda Shine Mist!
I used the Drybar Sparkling Soda Shine Mist in my hair

---
CDN $16.00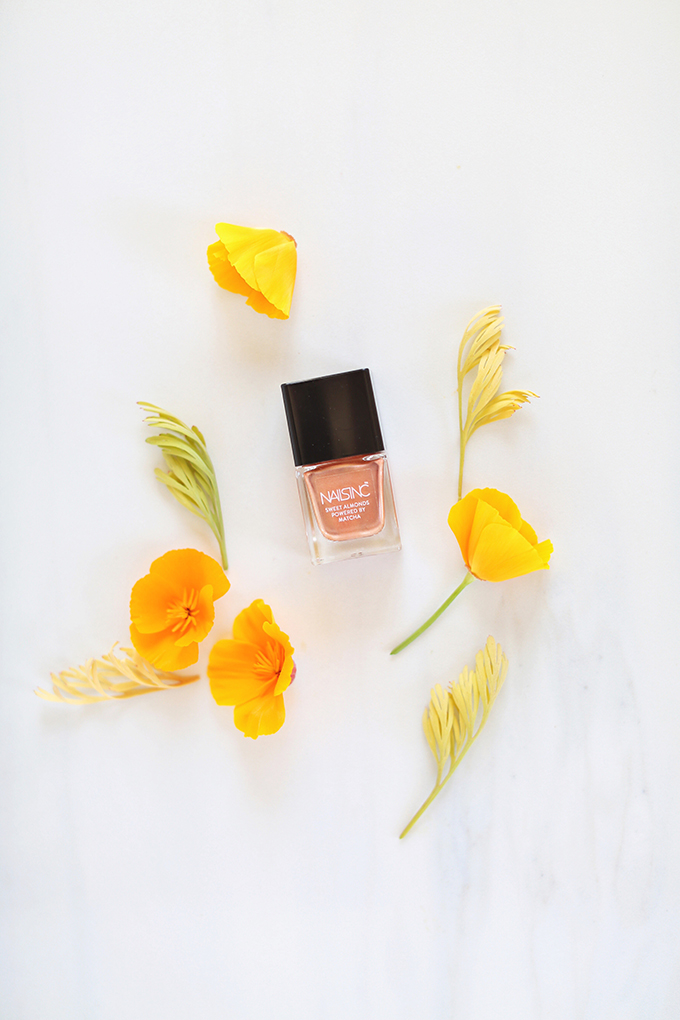 I'm also still loving NAILS INC. polishes! This summer, NAILS INC. Mayfair Market has been on my finger and toes back to back for well over a month (you saw it in action in my last spring TREND GUIDE!) If you're a still on the fence about this season's metallic trend, consider easing into it with a neutral metallic polish. Nails INC. has been getting a lot of hype on these pages since I first discovered it earlier this spring — and for good reason! I picked up the Nail Fuel set earlier this spring and have had the shades on rotation, but lately been really into Mayfair Market — a warm, metallic rose gold that looks great with a tan. A perfect summer neutral! Nails INC. is all about nail wellness and this particular shade is powered by superfood matcha and infused with sweet almond oil and it lasts for up to 5 days without chipping. Truly, my nails have never been healthier (I'm also wearing it on my fingers!). If you love Mayfair Market you can purchase it individually, or sample some beautiful offerings from Nails INC., by snagging the Nail Fuel set while it's still available.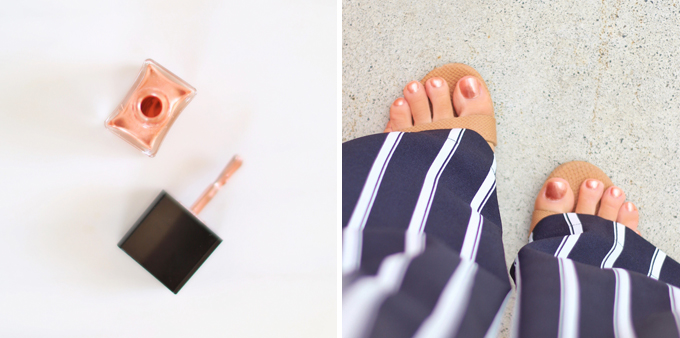 I'm wearing 2 coats of NAILS INC. Sweet Almond Nail Polish Powered By Matcha Mayfair Market on my toes
---
SHOP MY JUNE 2017 BEAUTY FAVORITES
---

Smashbox Cover Shot Eye Palette in Ablaze | Essence Lash Princess False Lash Effect Mascara | Lancôme Matte Shaker High Pigment Liquid Lipstick in Magic Orange | Lancôme Juicy Shaker in Apri-Cute | Bite Beauty Prismatic Pearl Crème Lip Gloss in Champagne Pearl | Huda Beauty Lip Contour Matte Pencil in Bombshell | Lush The Comforter Shower Cream* | NARS Blush in Exhibit A (or pick up the LE Unfiltered II Palette) | Kat Von D Lock-It Makeup Setting Mist | Drybar Sparkling Soda Shine Mist | NAILS INC. Sweet Almond Nail Polish Powered By Matcha Mayfair Market
---
Thanks for stopping by today to chat beauty, everyone! What summer products are you loving at the moment? I've got lots of exciting new beauty content and some mega review posts coming up this month that I can't wait to share.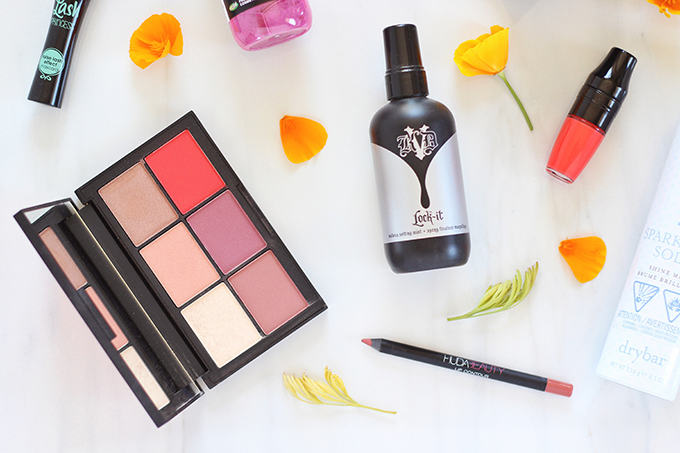 And exciting news — I shot most of this post with my new camera, lens and tripod! I can't begin to tell you how much easier it makes everything, although it's been a bit of a learning curve this week. Can you notice a difference in image quality? I'm planning to get into what exactly I purchased in a 2017 Goals Check In post I'll be sharing soon, but wanted to be sure to include a note in this post so I can reference it moving forward. I'm feeling so inspired by my new gear!
---
Disclaimer: Products marked with * indicate press samples provided for editorial consideration with no obligation for feature or review. This post is not sponsored and contains my genuine thoughts, ideas and recommendations. JustineCelina uses affiliate and referral links, which allow me to receive a small commission when you make a purchase through one of my links. Thank you for supporting the brands and businesses that support JustineCelina.com!