---
Happy Halloween, everyone! I know I say this every time I publish a monthly soundtrack but I seriously can't believe another month has flown by. October was a very full month for me in terms of content creation for JustineCelina, client work and a couple of larger projects I've been working on behind the scenes (that I hope to show you very soon!). I also cut a fringe and have been focusing on welcoming new experiences, projects and ideas into my life lately — hence our impromptu trip to the Alberta Badlands, where this shot was taken along side the Red Deer River near the Star Mine Suspension Bridge (isn't the landscape absolutely stunning?)! My October 2017 Soundtrack was blasting the whole time — a chill, easy listening, 2.5 hour playlist full of good vibes to inspire your next adventure, work or anything else you need some great background music for. As per usual it's a mash up of everything that sounded good to my ears this past month as I puttered away on various creative projects (and roadtripped all over Alberta and British Columbia!).
October's standout tracks include Rostam's Bike Dream, Broken Social Scene's Protest Song, Matt DiMona's Old School Turn Tables, Louis The Child and Ashe's Right To It, Krrum's Get The Girl, Wild Front's Southside, Aisha Badru's Mind on Fire, Sylvan Esso's Rhye remixed Die Young, the Marian Hill Remix of Electric with Khalid and Alina Baraz, Kygo and Jason Walker's Sunrise, Netherfriends Ride or Vibe, ICELANDIA's Magic, Koresma's The Overlook, Airia's Without You Here and Utah's People of the Future. Happy listening!
---
OCTOBER 2017 SOUNDTRACK
---
---
CRAVING MORE MUSIC? CHECK OUT MY LATEST PLAYLISTS
---
September 2017 Soundtrack (or listen on Spotify)
August 2017 Soundtrack (or listen on Spotify)
Summer Rewind (a compilation of my favourite tracks from last summer — it's a good one!)
July 2017 Soundtrack (or listen on Spotify)
June 2017 Soundtrack (or listen on Spotify)
Or, browse the MUSIC archives here at JustineCelina for 2.5 years of monthly playlists!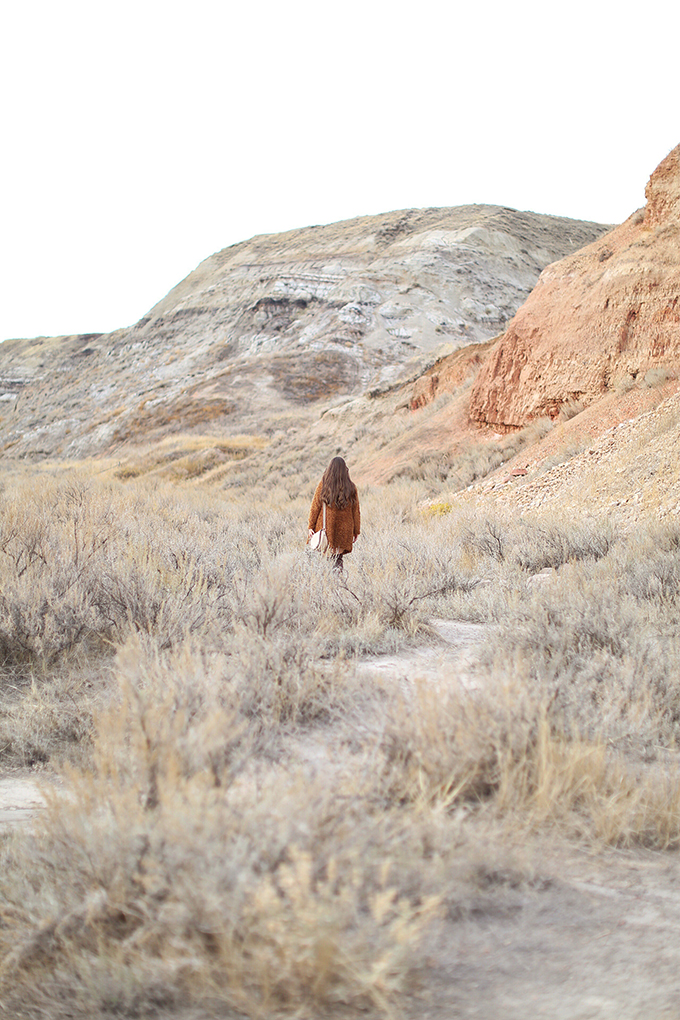 October's album cover was taken during our trip to the Alberta Badlands last week, near the Star Mine Suspension Bridge over the Red Deer River. You'll be seeing more from this look in the next installment in my TREND GUIDE series, where I'll be chatting about my love of 70's inspired style in November!
---
What have you guys been listening to this month? Leave me your recommendations in the comments, I'd love to hear from you! Do you use Spotify? If you do, feel free to drop some links to your playlists, or playlists / artists you think I'd enjoy.
---
Disclaimer: This post is not sponsored, and contains my genuine thoughts, ideas and recommendations. JustineCelina uses affiliate and referral links, which allow me to receive a small commission when you make a purchase through one of my links. Thank you for supporting the brands and businesses that support JustineCelina!